澎湖旅遊Ep2|跳島之旅|七美島|東吉島|南方四島|藍洞|雙心石滬|小台灣|阿真冰店|東吉嶼燈塔|日軍遺跡|Penghu Tourism|Qimei Island|Dongji Island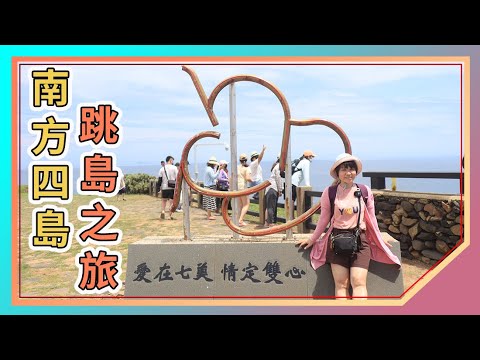 Show Video
Today we are in Penghu to participate in the island hopping tour of the four southern islands. We will go to Qimei Island and Dongji Island, and then we will also go to see the Blue Cave! We are going to island hopping today, then we are going to the four southern islands and Qimei! Around the island , there are a lot of people coming to report now! This is the Nanhai Visitor Center . Everyone has to take a boat. Come and report first. Wow ! so cool! They all use color to distinguish where you are diving! Some are on different islands! The itinerary is different and the boat is different.
Jinba Bada No. 6 is very big! This one is more stable! It's bigger than Guishan Island. We have arrived at the most beautiful and romantic Qimei Island. Now we are going to ride a motorcycle. We must go to two places, Shuangxin Shihu and Xiao Taiwan. There are many people! His itinerary, this Tour! He has a matching set, that is, he stays here for 3 hours.
Qimei Island, two people have provided a motorcycle, which is included in this! There is no need to pay any more. If some people can't ride motorcycles, there are tour buses, but the tour buses have to be paid at their own expense , and the motorcycles are included in it. We are 1300 per person! Island hopping plus Qimei roundabout is 1300 , including motorcycles, one for two people, but if one person rides one, he will have to pay for the difference and make up the difference. It
seems that I have something very important to make up for 130! I have to share with you guys that I'm going to start cycling. It's very important to bring this helmet liner. It will be thrown away after use. I brought it
from Taiwan because it's a rented car, so I have to do it like this so it's cleaner and I wear both With my magic weapon and I have to wear gloves, sun protection, these are my cycling gloves , be fully prepared, and be fully armed. The key point must be a coat, sun protection gloves, masks, glasses, and inner linings! A hard hat must be worn ! let's go roundabout yay ! We have arrived at our scenic spot in Qimei, Shuangxin Shihu, you can see that everyone is drying that helmet , drying it in the sun, and sterilizing it. We have come to the most important and most beautiful scenic spot in Qimei. This is Shuangxin Shihu . It is said that this double-hearted Shihu Shihu is natural because this Penghu is due to the tidal relationship! So he has more than 580 stones, but the design of the double heart is artificial, so this is a private land! Therefore, ordinary people can't go in. He deliberately used this double-hearted Shihu . There is a brief introduction on this, saying that in 1994, there were 99 couples who promised each other for life , so this place became more and more popular. It
is the double-hearted Shihu, so Come here, be sure to come here to take pictures! Then let's take a picture of Shuangxin Shihu . Now Shuangxin Shihu has become a very important attraction in Qimei, so he is very caring here! There are a lot of standing points for taking pictures, because you have to take pictures from the top down, so that people can be in the same frame as the shape of the double-hearted Shihu, so you can see that people have standing points. It 's quite caring, so let's take a look here. Love is in Qimeiqing and set your heart . Go to the scenic spots to see and take pictures! Wow! That's right, there's a photo zone here ! Isn't he very romantic and beautiful here? It is very suitable for lovers, couples, and couples. Be sure to come here to take a photo! It's really beautiful here. Qimei
(slip of the tongue) Penghu is surrounded by sea on all sides , especially Qimei (slip of the tongue) here is a small island surrounded by the sea. ! You can see it! White cobblestone? When we arrived, our second scenic spot was the little Taiwan in Qimei, and it was actually a sea eclipse platform . Because of the erosion over the years by the northeast monsoon and the waves, that sea eclipse platform! It forms the shape of our Taiwan! So he is called Qimei's little Taiwan! A lot of people took pictures on it, and we also went to take pictures together. Look at the familiar patterns! Our treasure island, Taiwan, is a small Taiwan , so when the tide is relatively receding, it can be seen more clearly, otherwise it will be submerged! I can't see it ! It was too hot to eat ice, although I felt windy when I was cycling in Penghu! It 's cool and quite comfortable, but the back is really sunburned, so you must come and eat ice to quench your thirst . Just now, the tour guide introduced that there is a real ice shop opposite the pier. Cut the ice! There are also snowflake ice, which are highly recommended. We started to eat 5 kinds of ingredients for only 50 yuan to cool off the heat and quench our thirst. Order your favorite ingredients , so good ! Brown sugar cut ice I came to Penghu today and finally got the cut ice. I
drank it all the time yesterday. It is delicious. We have to take a boat again at 12:10. I just went to buy lunch . I bought this because it was recommended by many people on the Internet . Meat dumplings
Southern dumplings are 40 yuan and 1 piece . When we arrive at Dongji Island, we will also ride a motorcycle when we come to this island. Now we are going to ride a motorcycle . We are going to ride a motorcycle around the island again, around Dongji Island. He also wrote a route around the island! In the past, there were no motorcycles on Dongji Island, and only walking was very tiring . Now there are only 100 of them on the island. You see, we have grabbed a new Gwangyang motorcycle, and the helmets are all new! We are going to round the island , Dongji Island, yeah! The first stop we arrived at the roundabout was the Dongjiyu Lighthouse because it was too hot. We went in and took a look . After we came out of the lighthouse, I thought this grassland was more beautiful.
This is their route around the island . long! But because it was full of heat, I found that there were more sheep on the island than people. The tour guide said that they couldn't feed them, they couldn't touch them, and they couldn't throw garbage here ! Because the garbage here does not land, it has to be brought back to the island, on the boat or back to the island , then we will move on to the next stop, yeah! It's finally here. This is the final point of the roundabout. This is the relic of the Japanese army. Then this is the Japanese occupation period. The Japanese army was stationed here and camped here
. Their barracks, their camps, and walls! This is all made of basalt, and there are relics left behind at the time. This is the final point of the Dongji Island roundabout. The Japanese army ruins. Let's go and see . We are going to take a boat from Dongji Island and return to Magong Island! This time we are participating in an island hopping trip with a travel agency! That is, there are four southern islands and a one-day tour itinerary for Jiaqimei Secret. The cost of one person is 1300, including a motorcycle . You can go around the island on Qimei Island! Then I think this itinerary is really great . It is very suitable for people who are afraid to play in the water.
2022-07-04 07:41
Show Video
Other news