경복궁 길바닥에서 소주 한잔!! 홍석천 비밀 맛집 최초 공개!! [ENG]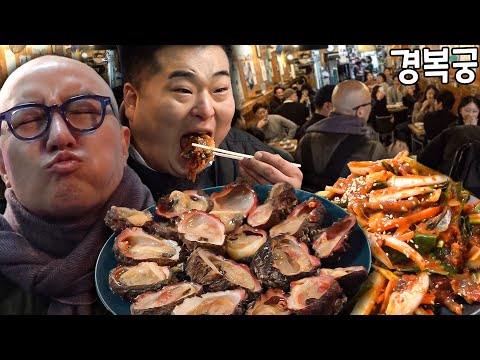 Show Video
Oh, wow. It's so good! haha (so touched) Can I please get a glass of soju, too?? ~~This is the festival~~ Gem with waiting lines, Ap (Hi!) Hi! Alright, let's dig into Gyeonggukgung palace today! Where's Mr. Hong? We haven't got the silver button yet, and he's so salty right now. They're wearing Hanbok! Are you Korean? (nope) Taiwanese. (so nice to see them!) Do you know me? Sorry... (what channel is it?) In English, Gay... Pig...
This is embarrassing. Like, Comment, Subscribe, and Set an alarm, please! Who names their channel "gaypig"? Everyone thinks I'm gay and fat. Actually, forget about the gay part. (tired) So where are we today? *Welcome to Gyeongbokgung Palace* (bothering) Do you have any gems around this area? A lot. A lot! Inside this alley, there's a seafood place... Is that a place going up those stairs? Yeah, that and.
(been there) Of course, I know that place, too! Actually, the place next to that stair place is really good too! (never been) Oh, really? I went there once because the stair place was closed. The food was so good and the owner is super kind. Do you know a tteokbokki place inside the alley? Which one? You may not know. I think there used to be Baewah Women's University here. I don't care about "women's university" though...
Right, you don't care! I am sincerely sorry for that. Oh!? They're filming us! (that's so cool) Come here. *Mom, I'm on YouTube!* What are you here for? (alcohol) (day drinking) What's your regular place, where are you going today? It's my first time here today lol (swearing hard with his eyes) What are you drinking then? Beer! *they know what they like for sure!* Actually, there are a couple of super famous gems in this area.
Where are they? Jjokgalbi. (briquet grill) With that and beer would be... So good ♥ And do you see "Anju Maeul" right there? That place is dope, too. Do I get some free food if I tell them your name there? Who are you again? Hey, your phone is ringing. Pick it up, please.
Hello? We are stuck in front of Exit 2. (friend) Alright, come over here. I've seen it!!! (really?!) Have you subscribed to us??? Yup! (found a subscriber, congrats!) *make sure to have your fan happy* I heard that it's their first time here today. (been here before) I came here recently. Where did you go? Vietnamese food.
Oh! The one in the alley! (she knows something!) She made you girls come here today, right? No, a guy friend on leave from military service... A guy?! When is he coming? Run away!!!!!! (found something) What are you guys eating?! Bungeo-ppang!! It's only 1,000 won each. Did it get that expensive these days?!!?!! (target) (+earned) I've only had 150 won's worth of it now. How is it? Tasty? It's delicious! Well, it just happened, let me be thick-skinned and have some.
(you've got to pull yourself together) It's 1,000 won for 1. *1,000 won disappearerd in a sec* It's crispy outside soft inside. Hey, give me 1,000 won.
Right now!! Oh?! I don't have 1,000 won bills. I only have 10,000 bills :( Ugh, seriously... *save it in my pocket* Mr. Jee!!! Do you have 1,000 bills? (expecting the money) Thanks for the food.
Do you know this area well? Not really, but we are here for an exhibition. Exhibition! Which exhibition was it? The Anonymous Project. (local pronunciation) Anonymous Project. Oh... Do you have a boyfriend? (that hurts) Um.
How long have you broken up with him? Well, I just don't have one :) You never had one? I just don't have one. She's forever alone. I just never had a chance... Recommend us some gems. Kanda soba. They are famous for mazesoba.
They're not even open yet but there is a big waiting line already. I love mazesoba. It has stir-fried seasoned pork.
It's so freaking delicious. Oh... I want some. After the noodles, you can mix some rice with the leftover sauce.
And there's an egg yolk on top, right?! ※tasty siren※ Ok, the recommendation is received. Thanks so much for hanging out with us old dudes. Oh! The next guest is in.
Can we take a photo together?! Oh, sure. Let's do this! [screaming with excitement] I'm a big fan of yours, seriously! I really enjoy your YouTube videos!!! (macho) *I'm too popular...* (Oh my!) You guys don't feel embarrassed in that outfit, right? (Hanbok touring) We're only visiting Seoul. We're from Gyeongsangdo.
Changwon!! CHANGWON!!! I liked the new cafe street in Changwon. Was it Sangsamdong? (how does he know that?) The name of that neighborhood is so sexy. Sangsam(ja)-dong. (sangnamja means macho guy)
There are a lot of macho dudes on that street. Aw, they're too wild. It's a joy to train those wild dudes to be trendy... The joy of being dominant!!! ~we have something in common!~ We have some mellow dudes in Seoul, what do you think about them? (that's my type ♥) I like them better.
Let's get some recommendations Why don't you do that for us? You don't know any gems up here, right? Of course not, what would they know!!?!? *it's gonna be a hard day* Let's look around in person. Oh? Wait! Is this "Anju Maeul" you mentioned earlier? Wow!!! This place always has a line. Let us check your anju for a second. stringy & fatty squid Have a bite, please!! The food here is extremely good! I'm drunk, so I can barely use chopsticks...
(don't care at all) It's all good. (oh?) As I chew it, it juices out some creaminess and it's so savory. Such a nice chewiness!!! Let's move to another table.
(stealing) (failed) Here's a guy that could be in my jewelry box collection. *Hong Seok-cheon's jewel shows up* What's this? (hammered) Herring... Herring roe bibimbap.
I think your tongue is already all twisted. (temperature checking) (Oh no!) Why do you touch him with your hands? *I gotta touch him with mine ♥♡* //He's boiling.// Cover your eyes!!!!! (saving her) How long have you guys been together? A little less than 100 days. (what a sweet time of the relationship!) What's the best thing about your bf? He's so handsome :) You have such high taste.
Make sure you stick with him forever!!! Keep what he's saying in your mind!!! May I ask how you guys met? (shaking eyes) I'm his subscriber... Are you a YouTuber?! (you little shit!) Did you hook up with a lady from your channel?! What's your channel? It's called "Papiwoong". Papiwoong?? She's one of them...
Oh, she's one of 564 subscribers! *0.2% chance of destiny* Hey, we trolled them so why don't we buy them a bottle of soju? *I only waited for this moment!* (Won-il's money) (a quick payment) Excuse me! (handing over the gift) *thanks for accepting the interview* (escaping) It's not a good idea to go to that place. It's too busy! Aw, hello! Wow! Celebrities! Are you drinking Makgeolli? (yup) Wow! Check this out, bro! (Dope) *well-cooked pancakes* Hey, I love this neighborhood. I literally forgot how awesome this area was.
Alright, this is the Jjokgalbi I mentioned. [Mugyo-dong Jjokgalbi, O-neun-jeong] This is a Jjokgalbi place I always go to when I go to Mugyo-dong. Hi! You must be the son of uncle, right? I'm the youngest!! His mother still has her restaurant in Mygyo-dong. Do you grill it here as you get orders? Is this it?! Are you about to start grilling?! Yup. Can you cook 2 pieces if I pay you 10,000 won? *request, accepted* (+10,000 won) Wow... Check out that shiny fat.
It's not a normal amount of fire. Oh my, it's too hot!!! (satisfied) This is it. (so clean) Wow! It's not attached meat; it's real Jjokgalbi! Sir! Would you like to be my business partner? Maybe he won't even count a junior chef like me.
Wow, seriously, it's so tasty... Hey, also, come this way. Why? Just come here. Hi :) We needed to interview a couple in this outfit.
How long has it been since you got off work? Oh... Sorry to say this but I didn't go to work today. Why not? Because I run a restaurant. Which restaurant? It's a sushi place. Where? It's in "Namseong market". Oh my! (perfectly matches with his type) How could a market be called "namseong market"? (shocked) Is it a date night for you guys today? We went to Gwangjang market and she wanted to go to a cafe in the Gyeongbokgung Palace area.
It's their market tour day! Do you happen to know any gems with big waiting lines? Gyedanjip! *Gyedanjip is just so famous* Isn't this place so cute, too? [Shim: seasonal fish & seafood by a fish curator] (curious) Let's just check it out for a bit. Hey guys! We saw your place from outside, the name and design made us all curious. It's like this. (so confident) Come in if you can! (goosebumps) Ohhhh, how did you know that?! (sharp eyes) That thing you're cooking now is... (browning) We have a dish "whatever the owner wants pancake". *laughing hard* [Whatever the owner wants pancake] So, what's the main ingredient for that today? It's a seafood green onion pancake with dried cuttlefish and fresh oysters.
We only use fresh ones from the place of origin. Aw, that looks so delicious! ♡ (flipping) Oh my, look at these oysters! (chubby) (so much meat) Let's deliver it. Here's your pancake. Hey, how did you find this place? We were too shy and wanted to avoid you, had no idea you guys would come in here... Huh, I noticed that you guys were avoiding us. Are you married? (graduate school student) (mom) (mom) (first child) (mom) (first child) (second child) Alright, mom! Have a piece of an oyster! (great!) Would you like to taste some, too? (rejecting) We shouldn't mug your food.
(watering mouth) Why not? Have some. (+oyster) *passing out* Hey, you shouldn't let your son eat this. He's gonna run out of the house today. mom :( What's that "Hyoja babe"? Aw, the front is so pretty. (hallucinated) (having so much fun) (having so much fun) My sis, Wan sun!!! *sexy attack* Isn't it Kim Wan Sun's song? That's our time... (masterpiece) The Pierrot Laughs at Us.
*let's get back to work* What's this? (BBQ) Do you come here often? It's our first time. Are you guys co-workers? Yup. Working in this area? Yup. Are you the youngest here? (rookie) What do you think about your seniors intercepting you instead of letting you go home? *my seinors are the best! :)* We're here to soothe her because she cried at work today. (understood) It's her adjusting period, right? Alright!!! Let me tell you something. Tell them if you're having a hard time!!! That's how you get a free meal :) Bro, I can't do this anymore, too! Get out of here.
(hurt) Could you take a photo with us? (of course!) Your boss is calling!!! Take it!! Talk to him. (boss) Mr. Ma! Do they pay for the work dinners with the company card? Oh, is there a work dinner today? Oh?! You didn't know?!?! (Oh no lol) (slandering) They kept saying they no longer want to work for you!!! You know, the good looking rookie of your company. *adding more fake news* No way, boss :( Hey, are you sure you're not trying to tank this company? ♥I was only joking, Mr. Boss♡ (Hi) *let's finally go get some food* Look, there's a line for "Gyedanjip" again.
[Seochon Gyedanjip] (waiting line for Gyedanjip) (A place next to Gyedanjip) The food here is really, really good. Excuse me!!! I came here once because Gyedanjip was closed. And it was so delicious! Was it? Then come on in :) I've got nothing to do!!! There are no customers!! What kinda delicious dishes do we get, if we dine in today? We have giant yellowtail only for 1 serving. You have that, and I'll bring out more food on the house!!!! Come on in. *laughing hard* Alright! Let us think about this! *let's keep this place for now* (so sad to let them go) *let's keep this place for now* Hey, there are so many people out here... Bro, it's an intestine place! Is it good?? (Let's take a photo together) (so kind) nice to meet you, guys! Seok-cheon doesn't really care about females.
what are you talking about? ♥♡ Was this restaurant your target place or you came to this alley and found it? It was our target place! Why is this place so famous? They serve so much food. Do they? You guys know how much I eat, right? (glancing) You guys know how much I eat, right? (gasps) You guys know how much I eat, right? I saw you looking at my belly just now. *I can see he's a big eater!* How do you feel hanging out in the Gyeongbukgung Palace area? It's too quiet. Busan has some beats and loud sounds but here is... (Busan people) I heard Gwangalli is the Mecca of hooking up! I guess oldies like us shouldn't go there, right? (of course, you can go) There are a lot.
(really?) Aren't they insane??? (don't misunderstand that!) There are a lot of oldies fishing. Are you talking about fishing fish? Oh! That and for me... (bait) (guy) Is Won-il considered hot in Busan?! Yes, he is!!! *you know something!!* How about me, am I considered hot for dude in Busan?! *that's good enough* Oh?! (you work so hard :( ) This is hard work. Because they work with people.
Is it your first time working in this area? (been 2 months) That's enough time to know all the gems. So you've been here for 2 months, which one is the gem? I saw you guys in front of the Jjokgalbi place earlier. (approve) I tried there and it was good. Hwanggeumjeong It's a BBQ place that serves black pigs from Chungju or Jirisan mountain. That place is pretty good, too. (expert in gems) Hey, he's dope! Beer be "TERRA" Soju be "Jinro"! ~~good job!~~ Are you watching us, Mr. TERRA president?
*let's please eat something* I actually have 1 place in my mind. A hidden gem!!! The one you know already? I just wanna go there because I feel empathy. We're supposed to introduce gems with big waitings. But let's do a "place next to the waiting gem". Let's go to DonghaeNambuseon! Hey... At the end...
Wait a sec, bro!!! Look how lonely the owner guy looks. (so lonely) I feel so sorry for him... Imagine how happy he'd be to have us in. We're here!! (I was waiting for you) We originally eat in front of a gem with big waiting lines. But we felt sorry about seeing you so lonely... (awkward) Can you say that a little quietly? (awkward) Seriously...
I guarantee his food is really good. Alright, show us what you can do and we'll enjoy your food! Yeah, I can cook (too talkative) and I'm a really a big fan of him and... (cut him off) We got it, stop talking and go already! (double blocking) Aw, he's so talkative. You know what? If there are a lot of customers he won't have time to talk.
He just misses humans. He just wants to say something. Oh!! That's our TERRA student! (met before) Have you tried this place, too? I haven't. It's a gem.
(twist) But there's only 1 table... But they're drinking something else. Go ahead and change their soju to Jinro. I'm very dedicated with my job... You got this!!! Wait!! There's a guy that should be joining my jewelry box. (handsome guy) He's so handsome! You like this type of face.
I like the mixture of Southeast Asia and Thailand. Yeah, he's got the Southern-type of handsome face. (Northern-type handsome face) (Northern-type handsome face) (Southern-type) Are you the Northern-type? I thought you were a pig-type. *How did he know that?* (food comes) seasoned anchovy sashimi anchovy sashimi He said it's a flavor ticket to Paradise. (Aw, that's exciting) The best anchovy is from the Southern part of Korea, right? They're fresh anchovies, so...
(smell check) Wow... It's not fishy, you know the fresh fish fragrance, right? That's some savory fragrance. Oh my! It just melts in my mouth.
This is it. Isn't it so good? (giving up) I gotta put about 3kg before I go... Wow!! (broken) Freaking anchovy sashimi. Aw, what is it? I got goosebumps on the back of my neck. (+more food) Dol-sea pineapple Why is this anchovy sashimi so good, sir? Keep saying that, please. Wait, I've got a question for you.
What kind of vinegar do you use? I have a secret. What's that? Green plum extract! No wonder it's so tasty! Don't say that too loud! *laughing* You may think it's nothing, but mix it with vinegar and with the extract and it's totally different. It's the in the Top 3 best seasoned sashimi I've had in 5 years. Alright, let's have it with Gim this time. (+seasoned sashimi) (sauce) (got annoyed) Bro, let me bring some soju ♡ *I can't wait anymore* Are you guys here for some food? Yup! This place is dope.
Wait! *on-site service* (so touched) Be honest, what do you think? (wet eyes) Oh my, I'm crying, seriously. :( (come in) Welcome! (customer enters) Hey, it's a crime if you don't eat this with soju. *Because I'm a Law Abiding Citizen* Glitter squid sashimi After eating it there will be some glitters on your body tomorrow morning. (exit quickly) So, glitter squid is thicker than normal squid. Mmm! Glitter squid ASMR (1 bite) Mmm! I keep chewing it and I can feel the creaminess.
You can only taste that if the squid is really fresh. And I can tell, this place offers that flavor. Dol-sea pineapple. This is crazy. He didn't do anything to it, just cut it in half.
You shouldn't pour the liquid away. Wow, that looks so yummy. (super serious) It is really tasty. *You should experience the delicacy* Can I please get a glass of soju, too?? Soju, hahaha (so clean) *carry on Dol-sea pineapple preaching* Oh, wow. It's so good! haha
It's not easy to find sea pineapples this good! Also, can you pour some soju into the shell, please? Dol-sea pineapple + soju (one-shot) (ambassador) Come to our "DonghaeNambuseon"! (+1 team) (+2 teams) (+3 teams) Because of us, he started getting more customers! *finally time for us to eat!* Wow!! It's literally the ocean. (drinking) Aw... Wow, what should I do? I feel like it's been over 10 years since I had Dol-sea pineapple like this in Seoul. It's been so long since I found a place with an amazing Dol-sea pineapple. This is dope. (+alcohol) (This is so great!) Bro, I'm not going home tonight.
~~I'm not going home tonight~~ ~~Just don't come to my place~~ You've been eating and have some leftovers, right? (+anchovy sashimi) You can mix everything. (glitter squid sashimi) (+chojang) (mix it) Ta-da! (yay!) There's a new dish again!! It's a magical food, never disappears! (this is it!) This is so delicious. Seafood ramen comes What a look! Isn't it dope? (+red banded lobster) (+blue crab) Thanks for the food! This is the finale of the food from here. Mmm!!! (satisfied) (customer) This is a little gift from us.
(+blenched cuttlefish) ~~This is a festival~~ Thank you!! (+cuttlefish) Guys ♥ I love you ♡ And sorry. Thanks to this blue crab's sacrifice... (blur crab fined) (cheers!) Wow, even the crab has so much meat! *gotta give them some compliments and applauses* I feel like we just opened up your jewel box today. I've been opening it so much I gotta fill it up again... We should get busy and go everywhere.
Gotta go everywhere, for sure. Excuse me!! How many tables did you get? 3 tables. Are you happy? It's been so long since I got this busy.
Thank you very much!! *that's what we want to say, thank you!* *Let's end this* Gem with waiting lines, Ap
2023-03-26 01:07
Show Video
Other news