【夏キャンプ】まさかの雷雨。夏のスキー場で避暑キャンプを楽しむはずが…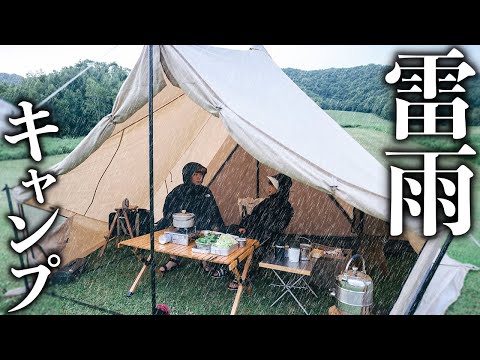 Show Video
We are couple who enjoy outdoor activities such as traveling and camping with our DIY light van Curry. This is the first video after traveling around Japan! There is also an important announcement at the end of the video! Hello. This is the first camping trip since the trip around Japan.
The location is Gunma prefecture. Gunma prefecture. This time we came to Oze Iwakura Campsite. Actually, this time I came to this campsite with an offer for shooting.
Thank you for inviting us. I always introduced campsites as a hobby. But this time I'm feeling a little pressured because of work. lol That said, rest assured that we will be camping as usual.
No favoritism. lol I would like to introduce you without favoritism. I will go to the campsite.
We arrived at the campsite. As you can see, this is a ski resort. It is open as a ski slope in winter. And it is open as a campsite like this in summer. In winter, it is a ski resort called White World Oze Iwakura. It's vast.
Since it is a free site, we will set up around here. Unfortunately the weather was a bit bad today and it started to rain, So I brought a rain poncho. We will set up while wearing a raincoat. It was hot so we ended up taking it off on the way. lol Finished setting up. Set up in a light rain.
It's raining on and off. Today I put up a tent called Sabbatical Morning Glory for the first time in a while. Behind you is the ski slope. lol Summer ski slopes. There is a slope over there. I would like to go there later.
With only one. I'm going to go for a standard campground walk. The pamphlet I got has a map. I am here now. This time, I put up a tent at a place called Kisuge site.
I put it in the middle of the Kisuge site. Next to this is the Yamayuri Site. And on the this side is the Cosmos Site.
It's not on this map, but there's a new Auto car site. You can use electricity there. It's in front of the Cosmos site. I will also introduce it.
First of all, this is a kisuge site. Right in front of the slope. Cars can't enter, so I parked near it only when setting up, and parked my car in this parking space. This side is quite open in front.
Normally you can see the mountains on the other side. Shirane is the highest mountain in this area. A mountain in Nikko. You can see it if the weather is clear. If it is sunny, it is a superb view.
Restroom is a little far away, but it's a quiet and private place. This is the water station. It seems that hot water can also be used.
in this. There is a water supply outside, but it seems that hot water can be used here. There is a water heater here, so you can use hot water.
Good. It's like home. lol It's a hut.
There is a garbage storage in the back, so you can throw away your garbage and go home. Let's go over there too. There is a lodge for skiers in front.
It is a sight that is rarely seen in the summer. I've never been here in the winter, so I don't know what it's like in winter. But it's two and a half hours from Tokyo, so it's pretty close.
And it's so cool. It's a little cold now. It's July, but it's cool here because it's 1000m above sea level. It seems that you can go up to 1700m in winter. Our tent site is over there. There is a center house here. reception.
You can buy lift tickets here in winter. Camp reception in the summer. This year's business is from April 29th to November 13th. After that, it's the winter season. It will become a ski resort again. interesting.
They sell firewood. You can borrow play equipment. There is a sled here, so you can slide down the hill. Various products are sold. Here is the reception desk for the camp. There is also a water service in front of the center house.
Something is coming. What's? springing up. Is it spring water? This tap isn't a faucet, it's running water all the time. Spring water. cold. Water is springing up. There is a water heater there, so you can use hot water.
The restroom is only here. toilet. The toilet is equipped with a washlet and is very clean. This is the cosmos site.
In front of the reception. I think this is the biggest slope here in winter. Well, it's wide. There is a course up to the top. long. There is only lift.
Oh, there's also a gondola over there. In winter, you can take a gondola to the top of the mountain. Whether a ski resort has a gondola or not is very important. Because it's cold if it's just the lift.
It is also recommended for family camping as there is a toilet nearby. The Auto car site is in front of the Cosmos site. Powered. This site was originally a free site.
There was a request to use a power supply, so it seems that they made a new one. It is relatively spacious. There are 5 sites. A thunder roared. Wow. It's not raining much now, but it might rain later. This is the end of the campsite.
There is a grand golf course. There is a hotel next to it, so I'll head there. Iwakura Resort Hotel.
It seems that there is a hot spring in the hotel. It is wonderful. Moreover, it seems to be 100% flowing directly from the source. Amazing. It seems that there is no water. This is the hotel. Oze Iwakura Resort Hotel.
I was told by the campsite stuff, but it can be enjoyed by three generations. It seems that grandpa and grandma can stay at a hotel, and dad, mom and children can stay in a tent. I think it's very good. Certainly grandpa and grandma may have a hard time camping. It is also possible to divide into hotel nights and tent nights. It's good because they can have meals and barbecue together.
It's raining. Shall we go back to the tent? It's rain. Whoa, it's raining. There is no sign that the rain will stop, so I wear this and take my luggage from the car. Two black Teruteru-bozu. lol (Teruteru-bozu is a doll that prays for the rain to stop.) drink coffee.
The water is the spring water that was drawn earlier. If it starts to thunder too much, it might be better to evacuate to your car. Coffee is ready. It's thundering a lot. rain and thunder.
It just shone a little. I've never camped in this kind of rain before. Luckily, we didn't get hit by rain during our trip around Japan, and the weather was mostly fine at camp.
It rained a little, but it was a passing rain. If you're in a tent, you won't get wet, so the sound of rain is rather comfortable. It is a soothing sound.
It may have been an opportunity to know the goodness of rain camping. I'm a little scared of thunder. If it's not raining when you set up or take down your tent, there's no problem. It's quiet today because we're the only ones there. Up to 30 tents per day on holidays. They don't seem to accept more.
It seems that everyone is taken care of so that they can spend their time comfortably. It is devised so that you can keep your distance from other people. I like the sound of rain.
I realized that I like the sound of rain. It has a healing effect. If you say that, thunder will ring. lol
Rain camp rather than thunder camp. It's a thunderstorm camp. lol The distance to thunder seems to be far. There is a time lag between when it lights up and when it makes a sound. It's raining, but the ground is grass, so there are no puddles outside.
It drains very well. that's good. Some campsites sometimes become like a quagmire. And the lawn is very well taken care of, so that's great. Shiny! It's so far away. still can't hear sound.
I think it's so far away. It took a lot of time. It was over 15 seconds. (probably more than 5km away) We are busy even after traveling around Japan. I get everyone's comments to say, "It's over, so take it easy," but I can't.
First of all, I have to edit the rest of the videos I shot. Preparing for a new life, tidying up our luggage, and checking our car. We had a lot of things to do.
I was rather busy. I want to come in winter too. The slopes are wide and the courses are long. Up to 3200m. I think it's quite long in Kanto.
It is the largest in Kanto. (And the scenery is also superb!) I didn't come to Gunma from Kansai very often. I don't know much about ski resorts in Kanto. But it looks like it's going to be very good in winter too. A thunderstorm is approaching, so we take refuge in our car. Dangerous in a tent.
It's shining. Hurry up. I evacuated once. Because thunder is dangerous. Moreover, our tent looks dangerous because it has one pole. The campsite manager brought me coffee. The original design of the campsite. It was thundering, so he was worried and came to see me. are kind.
The time was 17:30 in the evening. I was waiting in the car for over an hour. The thunder has gone far away, so I'm going back to my tent. Wow, it's fantastic with the clouds hanging over the mountains.
I will prepare dinner. The thunder has stopped. But it's raining a lot. Sorry for the heavy rain the day they invited me.
It's not like the stuff at the campsite asked me to come on this day. When we chose a convenient day, the weather was like this. I can't believe the weather is like this.
If it was a nearby place, flexibility worked, but Gunma Prefecture is far. So when I decided on the schedule, it turned out like this. The weather forecast said bad weather. But I never thought it would thunder. Glad the thunder stopped. I thought I couldn't get out of the car. lol
I was about to sleep in the car. lol Today is corn rice and sukiyaki. In Gunma Prefecture, all the ingredients for sukiyaki are produced within the prefecture, so It's pushing for sukiyaki. I heard it for the first time. lol When I was thinking about what to make and researched special products, information came out.
Shimonita green onions, Chinese cabbage. Konjac is also famous. I used to go to a konnyaku theme park called Konnyaku Park. Lol It's sukiyaki because it can be made using special products of Gunma. There was also a supermarket and a vegetable direct sales place on the way. I bought vegetables because they were cheap. It is convenient to be able to shop on the way.
There were many shops after getting off the highway interchange. There are also three roadside stations nearby. Today's lunch was at the roadside station "Katashina". very convenient. A variety of corn called Megumi Star from Gunma Prefecture.
They sold a lot of vegetables. Admirable. It looks like Totoro. lol It looks delicious.
Fine corn. Add plenty of corn. While I was preparing dinner, the rain became weaker, so I went outside. can you see There's a rainbow. Big rainbow. Amazing.
I saw a sunny break. It's a miracle. lol It's sun. I want the rain to stop like this. The rainbow is beautiful.
It's getting a little clearer. Wonderful. I can't see the other side of the rainbow. It's a Teruteru-bozu.
Thanks to Teruteru-bozu. lol The meat for sukiyaki. There are two types. This one is better. Grill the meat first. Kansai style.
Here is Kanto, but it's Kansai style. The rain has stopped. It's a miracle, don't you think? Even though it was a thunderstorm. lol
and I saw a big rainbow. You can't see a rainbow if it doesn't rain. It was a rare sight. I'll enjoy having this. Wow, looks delicious. delicious.
really delicious. Sukiyaki is delicious. I live for the very first meat. Lol The corn rice is cooked. Almost corn. lol
delicious. sweet. It goes well with sweet and spicy sukiyaki. Normally, you can't eat sukiyaki in the hot summer. But it's cool here so it's okay. The weather is cloudy today, so it's particularly cool. It can get a little hot when it's sunny.
Camping is fun even if it rains. Did you eat shirataki? ate. I forgot to cut it.
I thought it was long for some reason. lol long. It can be used instead of ramen when you are on a diet. Gunma was only able to go to Ikaho Onsen when I was traveling around Japan. I had been to Kusatsu and Tomioka Silk Mills before, so I didn't go.
I'm happy to have the opportunity to come here again. It was getting colder then. So I was in a hurry. It was quite cold because the leaves were turning red. I've stayed at campsites that have hot springs nearby a few times , and I think that's an important point when choosing a campsite. There is a bath. Hot springs are even better.
Here you can enter the hot spring even after snowboarding in winter. awesome. Even if you don't stay at the hotel, you can use the hot springs only. It is 700 yen per adult. If you stay at the campsite, you can use it for a discounted rate of 500 yen.
I want to see the stars. I think the stars are absolutely beautiful here. There are no obstacles and the altitude is high. Thank you for the meal. was delicious.
Clean up and take a bath. It's a hot spring. to the hot springs.
There is a large public bath on the first floor. This is the back. The hot spring is here. No one is here today, so let me take a video of the inside as well.
The washroom looks like this. It is a hot spring flowing directly from the source. There is also a sauna. I got out of the bath.
It was so good. I knew it the moment I entered. I could already smell the hot spring from the dressing room. Perfect. Thick and smooth hot water. There was also a sauna.
It was great. It was a hot spring that seems to be beautiful skin. The hot springs alone are worth coming here. Then go back to our tent. I entered the tent. I can sleep comfortably.
cool. see you tomorrow. good night. Kenji and Akari Good morning. The time is around 7:00 in the morning.
How sunny! can't believe it. It's not perfect sunny, but the sun is out. The rain has completely stopped. The forecast was for rain today, so I thought it would be cloudy at best.
But I never thought I could see the blue sky. The sun is out. Yay. It's a refreshing morning, so I'm going to take a walk. Take a walk on an empty ski resort. I'm going to climb on this ski slope.
I couldn't go yesterday because it rained on the way. There seems to be a hammock site in the middle of the slope. Halfway up. I can see a little. This is about halfway up the slope. There are 4 hammock sites.
There are stakes from which you can hang hammocks. interesting. It's a little higher, so the scenery is beautiful. It's cool with clouds in the morning. It looks like a sea of ​​clouds. Oh beautiful.
It was nice to see the mountains. I couldn't see it at all yesterday. LOL I looked beautiful today.
Nice views. I think winter is also beautiful. I couldn't go yesterday, but there is a shrine here. There is spring water inside. I think all the water coming out of the tap is this spring. It was here too.
It is said that it has been selected as one of the top 100 springs. Iwakura Spring. perfectly sunny. hot. lol This is the power of Sunny Woman and Sunny Man. lol I'll get ready for breakfast.
Today's breakfast. A whole loaf of bread. Lol I will make hot sandwiches using this bread.
This bread is made with natural yeast from the nearby Iwakura Bakery. This campground is run by the same company. You can buy it at the campsite if you make a reservation in advance. 400 yen per loaf. Oh, it looks delicious.
I cut the bread. good smell. I will eat it without burning it. Fluffy. It is chewy. delicious. soft.
It's delicious to eat as it is. Now for the real hot sandwiches. Good luck.
See you later. Complete. I'll enjoy having this. It's heavy because I put a lot of ingredients in it. lol The back side is charred. lol Did you find out? lol delicious.
The bread is so delicious. I heard something cry last night. animal voices.
You are good at imitating. lol high pitch voice. It looks like a deer. It was pretty close. It rang about 3 times.
I was scared at first. I didn't know what the noise was. This bakery is on the way home. That's why I want to eat other breads and want to go.
Other breads are also delicious. Doesn't seem to use yeast. natural yeast.
Thank you for the meal. I will clean up soon. I'm checking out. After we finished cleaning up, we went to the bakery. Iwakura Bread Factory.
It seems that natural yeast, wheat from Gunma Prefecture, and all domestic products are used. There are many kinds. looks delicious. Is this the bread we ate? Plain bread. Which one should I choose? I got bread.
This is hanamame anpan. It seems that the flower beans from Katashina Village are boiled at the bread factory. I learned about flower beans for the first time.
This is the most popular salted red bean paste butter. Both are red bean buns. lol this is sticky. delicious. Moderate sweetness. This tastes sweet and salty. delicious.
Delicious without favoritism. Lol The camp of 2 days and 1 night has ended. It was a good campground. The weather was bad yesterday, so I couldn't get the best out of the campsite. But it would be great because it was sunny today.
When I woke up in the morning and went outside, the scenery was so beautiful. I saw mountains that I couldn't see at all yesterday. Drainage was very good even in the rain.
There were no puddles at all. If you walk on the grass, you will get a little wet. Everything was dry in the morning. The ground was dry and so was the tent.
I was invited this time, but it was a really good campsite. We did our own research before going. Of course I didn't come if I thought I couldn't recommend it to everyone. We looked it up and it looked really good, and we wanted to go, so we introduced it to everyone this time. Unfortunately, I couldn't see the starry sky.
It's dark at night, so it's really beautiful when the weather is clear. The campsite had beautiful grass, beautiful scenery, and above all, the facilities were in place. The toilet has a washlet, hot water is available, and you can drink spring water.
We didn't get to play this time, but there was sledding too. Children can also enjoy sledding. There is also a hot spring. the best. I would like to come again if I can come nearby privately.
It was a very nice campsite. We are glad we came here. It may be far from Kansai, but it is recommended for people in Kanto or nearby. Summer is cool and there are hot springs.
The campground is open in the spring, summer, and fall, and will be open until November 13th this year. So if you are considering a campsite, I would like you to go there. And this our sticker. This is given to those who met directly and those who received the presents. I left about 10 of these at the campsite. When someone sees our video and comes to the campsite, the staff will give it to them.
Please go get it. Lol If you are visiting, please talk to the staff. We would appreciate it if you could tell they that you saw the video. Thank you for watching.
I have one final good news. From the viewers who watched this video, 15 pairs will be given a free invitation ticket to the campsite by lottery. Provided by the campsite. As for the lottery method, the URL of the entry form will be described in the summary column of the video, so please apply from the application form of that link.
The application period is until August 31st. Other details of the invitation ticket are described in the summary column, so please check it. We actually visited and it was a very good campsite, so please apply for it. We look forward to receiving many applications. Thanks.
Please subscribe to the channel.
2022-08-01 00:28
Show Video
Other news