207$ Horrible Tent Fan Village S06 EP.83 | MIDDLE EAST MOTORCYCLE TOUR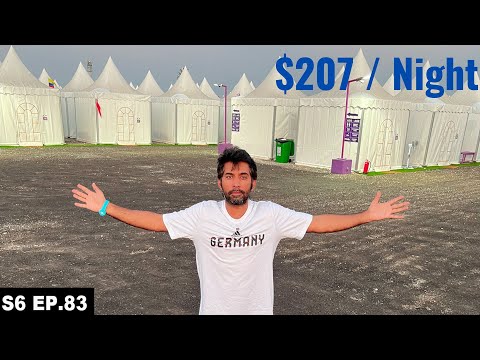 Show Video
First of all check the security of this tent. Now you can see our tent. No one can sleep here during the day time. It's right in the direction of the sun. That's the place to eat. This is the toilet area and washing section.
Assalam Alekum Everyone and Welcome Back to the Channel from Doha Qatar. Hopefully all of you will be fine. I've been making many videos from here. I have appreciated a lot of things about Qatar, Doha and this event. Many things here are really appreciable while many others are not so good.
The thing is when you get to face that situation. I've already made a video about a fan zone and it was a really good one. I stayed there for a few days. With time, more people are sharing their reviews about other places as well. So today I've decided to visit another place.
It's a tent city.. Sort of isolated like an island. It's not on walking distance by any means. It's almost 5 km away from Lusail Stadium.
I can even see the towers from here. But this a rather remote area. To my surprise, when I got here, I didn't even see any info regarding where the reception was. That made me think that the place is a little odd. You can see the tents behind me. So I want to make a review about this place.
You can then make an opinion about this place. I paid 207 dollars per night for this place. This is the same price that I paid for the cabin in one of my previous videos. So lets go and check their reception and other things. After that I'll show you the camp as well.
I'll also try to record all the facilities here for you. I won't try to pin point any positive or negative points; rather I'll just focus on my personal experience. I'll share my unfiltered experience with you. This is the reception. Let me show them my accommodation voucher first and then we'll get in. You'll get a good idea about this place.
It's a huge tent with two booths. It's not really crowded at the moment. So it just took me 20-25 minutes. But I have heard that people had to wait for 3 to 4 hours here.
I have personally got this information from some people. And if someone here shares their negative experience with us, I'll share that with you. People who are checking out have the option to leave their luggage here for a day or two. They just have to clear their luggage through security check first. You can also get SIM cards from here.
So this was the reception area. As soon as you come out, you can see buses parked in front. These buses connect this zone with different stadiums or metro stations. And mind you, these buses are not free. They charge you 20 riyals (almost 5 dollars) to drop you off at the nearest metro station.
If you want to go to a stadium... For instance there is a direct bus from here to Al Bayt stadium... You have to pay around 15 dollars for that. I was quite surprised to find out that you have to pay for this service here. Because you are already paying a lot for this accommodation.
Since this is a remote location, you can either call an Uber or Careem or use this bus service. There's no other option. I expected to be a free zone like the other ones. And you will be given free bus service in order to go anywhere.
But that's not the case. Well... I was actually disappointed to find that despite having paid 207 dollars... You have to pay 10 - 12 dollars each day to use the transport facility. It's just a couple of minutes walk from reception to here.
Not too far away. These tents are installed on a very huge area. There are 1800 tents here. So we can safely assume that 3000 to 3500 people must be staying here. Let me show you my tent now.
The atmosphere is quite weird here. Anyways, let me show you how it looks like from inside. The beach is right in front... Take a look.
There is not much traffic on this road at the moment. But in case of traffic, it can be noisy. Here's Shafqat and he's trying to help me out. But before that, just check out the security. It's just a tent with a normal lock without any number mentioned on it. In fact there are two locks; one on each side.
And you just zip it open like this. So this is the tent where we are gonna stay for the night. That's my bed and that's an extra one. I'm not sure if someone was here who moved this sheet.
This is the accommodation that you get in this area. There's a fan here but no AC. These are some ports for charging your equipment.
Here's a light... I don't know if it works or not. It's chargeable with a USB. I can't figure out how it works. We'll see about that.
I think this remote is to turn it on or off. Nope. Doesn't work. Since nobody lived here before, so we might need to remove the cover to use it.
Lets see... Nope... We might need to charge it first. These are the two beds that we got here... And they seem okay. No issues there. Quite clean. There's a light up there. Lets try to turn it on.
This one works. That's what we have here. This is some sort of a mirror...
And you can see me in the mirror. You can see what sort of accommodation you get in 207 dollars. You can't sleep here during the day because of the heat. Because it's straight in the direction of the sun, blazing through the day. People normally watch the game till midnight and get here around 2 am. After sleeping at 3 am, when the sun starts shining at 6 in the morning...
it's very difficult to sleep in there after that. Honestly, my heart..... When I saw the videos made by other people, I felt that I may have said too many good things in my videos. I, sort of, felt guilty because I thought everything here was perfect. However, after watching this setup, I'm seriously questioning the 207 dollars paid for this.
The rent of this tent should not be more than 50 dollars in any case. Because the free zone is offering you a proper room for 210 dollars. The caravan city is offering you a caravan for the same amount. But paying the same amount for this tent that doesn't even have an AC...
We've seen it from the inside so lets close it for now... Lets go and check out the toilets. As you can see that there is no toilet with this tent. The toilet facilities here are all shared.
Lets go and check them out. Let's see how clean they are. We are also gonna see if there are any cafes or restaurants here. One more thing...
The security arrangement for this tent is quite pathetic. I don't feel comfortable leaving my expensive equipment, my hard drives and everything, inside the tent. Because the provided locks are really small and easily breakable. Security cameras are installed but they are not everywhere.
By the way, what I said about the blazing sun the whole day was incorrect. The sun does not shine for 24 hours but for 8 to 10 hours only. Moving through the row of these tents now. Let's look for toilets. There's a guy here from Canada... We'll also talk to him.
I noticed that people come here after spending their time looking for other places. Since all other accommodations are getting full, people are being sent here. Where are the toilets? There's some sort of a map here. There's some info about breakfast and convenience store. You can get directions from this map. But I haven't found the toilets yet.
There's something over there. So, I have Mr. Umer here from Canada. From Toronto in Canada.
He told me that he has watched my videos and he is staying here. You were telling me you went to the caravan city. I showed them where I'm staying and they sent me to the caravan city. From caravan city they sent me back here.
And yes... now I'm here. I'm going to watch the game tonight... England vs Senegal. So lets enjoy the game. Hope you enjoy your stay. In Sha Allah... God willing...
I'm very pleased to meet you here. I always watch your videos and they are really really nice. I don't know how you do it... all the time on your motorcycle... roaming around... This is really fantastic. Thank you. All the best... Keep it up. Thank you so much. There's a small convenience store here. You can get food items from here.
Since breakfast is included here, I'm told I'll get a package like this. It will have a croissant... or may be some fruits as well. You take it from here and give them a voucher. And that over there is the place to sit and eat. You can see and imagine yourself what it might look like in the morning. They have also placed tea and coffee here.
More about that in my next video when I come here for breakfast. I'm gonna try and look for the toilets once again. I've been told a couple of times that I can't make a video here.. But I'm still trying to get some shots for the sake of this video. I don't think they want to get any videos from here published and let people find out about this place. They are definitely some good things but it's a responsibility to share the negative points too.
These are the toilets. A section for washing as well. That's a WC.
A rather small space but it's clean. The cleaning staff here is making sure to keep it clean. The showers are on the other side.
I'm gonna see how they look like. I'm told that you have to get the towel from the reception. This is the shower area.
Very disappointing to be honest. I mean they have kept it clean... But it's too small and the quality is average. Someone comes to me every few minutes to tell me that I can't make a video here. That's why I'm not using my main camera. Nobody objects when you are using GoPro or mobile camera.
But this is the only place where I'm being stopped again and again, for some unknown reason. Anyways, I have shown you the main things about the tent. They have given us this bracelet, using which we can enter the fan fest. Lets now go and check that area. The tent area is on my right side. Then there's this road in the middle and the fan fest area on the other side.
This is the Fan Zone or as they call it... Fan Fest. It's free for the people living here; Don't know about other people. I think they must pay something here. Let's go and ask them. Because my companion Shafqat hasn't got a bracelet yet. Do we have to use this? That's fine.
The bottle is not allowed. You can get it from inside. So, we get the food and drinks from inside? You have to get it from inside. Yeah. So, is there any... Is there any entrance fee? Free entrance.
So free entrance.. Anyone can get inside? Yeah. Just buy food and drinks from here. OK. Thank you very much. So this is how the fan fest looks from inside. I'll show you the whole area. The ship like building that you see back there, seems to me like some hotel or apartments.
But it feels like they are not finished yet. That's why no one can be seen here. They have made small sections for different sports activities.
There are some activities for kids as well. Let me show you. We have some small food stalls here. This is what I can see in this area. Sort of my first impression. Let's see what items we can get from here. For instance this is a small court.
If it's for football, it's too small for that. You can drink from here. This section is for outdoor bowling. Moving on... Most of the stalls here are by big brands and food chains. Assalam Alekum We can check out the prices of different items here.
For example... There are only drinks in here. It says that slush plus cone is for 20 riyals. That's almost 6 or 7 dollars.
That's the area. Prices seem okay... In the range of 40 - 50 or 60 riyals. That's what you get from here. Hello Sir Hello Sir That's the kids area.
Let's go to the other side. I wanna show you the beach which is right in front. And also walk to the area where they have installed big screens. That's the beach of this island. Shower facility is available here. I can see some cabins as well. Let's see what's inside them.
People can rent a deposit box or something similar here. That way you can safely place your valuables. All these chairs are also available on rent.
Lets ask them how much they charge for that. I think they will charge at least 10 riyals for that. It's not a very large area. Around 200 meters or so.
But it's okay. Quite enough for the number of people who come here. As you can see that there is no one here. The only people on the beach are sitting over there. That means one must pay for these chairs. Probably that's why people are not using them.
There's a screen over there. Let's walk towards that. This part actually feels quite nice. There's such a comfortable looking space to sit and watch the game.
The screen is large enough. People can sit on the ground but sofas are also available. I can see beach chairs as well. Well it's written on that board...
"Deck Chairs Available for Rent." For match viewing. They are charging almost 8 or 9 dollars for these chairs. I think these sofas are also available for rent. Nothing here is free... And that makes me a little worried. If even these sofas are for rent, you can simply sit on the ground and watch the game.
I'm not sure if they charge for sitting on the ground as well. But at least it's not written anywhere. You can watch the game there. If you look towards that side...
This sunset is rather beautiful. I can see the Lusail towers in the background. There are some sofas here and it's the Sheesha bar or Sheesha lounge. You can comfortably enjoy your sheesha and watch the game here. I like this part. At least after paying something, you get a really nice place to sit here. Here's the food court and you can get food items from these stalls. But there are not too many options available.
Mostly there are snacks and coffee items. You can get Arabic qahwa and juices here. Lets ask them how much they charge for a coffee. Excuse me... How much is for one cappuccino? That's the rate list.
Cappuccino is for 35 riyals... Almost 11 dollars... It's too much... Very expensive... I don't need to check other prices if the coffee is for 11 dollars. There's a large beach section on this side as well. There are arrangements for public viewing too.
Lets walk there... We can check that section as well. These are the guys with first aid. Quite a few of them.
They are here to take care of any emergency. There are some food cabins over there. Let's go there. Music is a bit loud here... Could be a little difficult to record my voice. There's a large screen back there. Let's go and check the seating arrangements there. Hi This area seems a little better to sit.
The sofas here are of much better quality. By the way, this area is also for rent. I mean you can use any of the facilities after paying. I don't think there's free access for anything here. Even the people who are staying here, have to pay before they can sit here. I can see big food chains here.
There's Lebanese food... Turkish food... Sushi... Hi Argentina... You can get beer from here.
This is a big incentive for people living here. I mean for the people who like to drink beer. So, here they can get it. Honestly, I really feel bad after seeing this place. I mean, feeling bad for myself as I have paid 207 dollars per night.
Or 415 dollars in total because you have to book the place for a minimum of 2 nights. Do you get the value for your 415 dollars... not at all. The services are quite substandard. Normally when you go to a camping site...
Since I camp regularly... They have really good washrooms there. They charge 15 to 20 or even 25 dollars. You can just pitch your tent, spend the night and use all the facilities. Because nothing is free here. Even if you are watching the game, you have to pay for the public viewing.
They charge you for everything. And then you can't bring any food item there. In the free zone, you had a nice public viewing space just outside your room. You can just sit there and enjoy the game. You can even bring your own food. That is if you don't want to buy anything expensive. Because things are expensive in there.
In this regard, you can say that it's a crappy place. I can't understand how people agreed for this quality of service. Looks like they have arranged this place in a hurry as they were running out of accommodation options.
This is the solution that they came up with. And the toilets here are shared toilets. So, if any Muslim woman wants to stay here... Someone with a hijab I mean... then she has to undo her hijab in front of everyone.
And they have to use this shared shower space or washrooms... These facilities do not match the standards of Qatar in any way... Nor is it worth all the money you paid here. 207 dollars per night is a huge amount. One could get a nice hotel for 70 or 80 dollars a night. And that makes me feel bad not just for myself but for everyone else. Anyways, that's all from my review.
I have to spend two nights here. I don't know how but I'm gonna do that. I'm used to that... I just wanted to share this video with you all. Don't forget to Like, Subscribe and Share... Remember me in your prayers. See you in the next one. Allah Hafiz
2022-12-11 15:30
Show Video
Other news