Tin thế giới mới nhất 12/6 | Trung Quốc phát hiện virus corona mới ở dơi, gần giống covid-19 | FBNC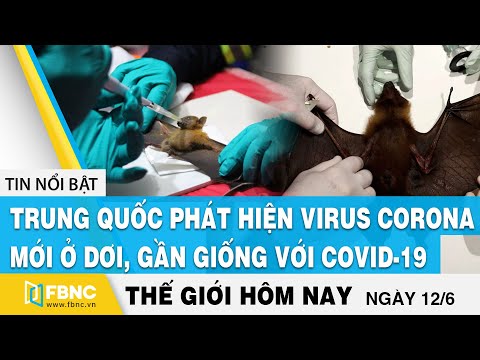 Show Video
USS Curtis Wilbur conducts bilateral operations with Hmas Ballarat China dismisses U.S.-Australia navy exercise in South China Sea as "showing off" '0 per cent' chance: former French official who oversaw safety standards at Wuhan lab dismisses leak theory Chinese researchers find batch of new coronaviruses in bats China invites Taiwanese to come to get vaccinated against Covid-19 Russia won't alienate China over us; 'we're smarter than Americans think': Russian ambassador to China China launches long march-2d rocket carrying four satellites China unveils new mars images showing national flag on MARS Ph eyes launch of 'bigger' earth observation satellite by 2023 South Korea's Moon heads for G7 summit overshadowed by China G7 eyes allocating $100 billion from imf funds to covid-ravaged nations Turkey to build world's tallest pedestrian suspension bridge above dark canyon Forces from the U. S. Navy and Royal Australian Navy concluded a week of bilateral operations in the South China Sea, June 11. The US Navy said this operation helps strengthen synergies between the two allies' navies, as well as demonstrates the US commitment to work with regional partners to maintain international order in the East Sea. Curtis Wilbur and Ballarat began the week of cooperative operations with maneuvering drills and a replenishment-at-sea with USNS Big Horn (T-AO 198). The ships honed their advanced mariner skills in a joint environment while enforcing the normalcy of routine operations throughout the region in accordance with international law. The US Navy has recently increased its presence in the South China Sea, amid rising tensions in the region following a series of Chinese activities, including the deployment of hundreds of fishing boats in the Ba Dau area and the incident of 16 fishing boats Lieutenant Colonel Anthony Massey, Captain of the USS Curtis Wilbur, said: "The close cooperation and mutual support between the US and Australian navies demonstrates our determination and commitment to sustaining the Indian Ocean region - Free and open Pacific, promoting regional security and prosperity."
The USS Curtis Wilbur is a member of the 7th Fleet, the largest fleet of the US Navy. The fleet is interacting with 35 countries to build partnerships to strengthen maritime security, promote stability and prevent conflict in the Indo-Pacific region. China's foreign ministry dismissed a joint naval exercise between U.S. and Australia in the South China Sea which concluded on Friday (June 11) as "showing off" of military might. Foreign ministry spokesperson Wang Wenbin said, "we hope the relevant countries will do more to promote regional stability and peace, rather than showing off military power."
A former French government official who oversaw safety standards at the Wuhan Institute of Virology's maximum security laboratory ahead of its opening has dismissed the theory that Covid-19 escaped from the institute, as a growing clamour of voices lends credence to the previously fringe hypothesis. Gras was one of the people who oversaw the development and certification of the BSL-4 biosecurity standard at WIV Labs, the first facility in China to do so. He insisted there was "no doubt" about the safety of the WIV lab. A top WIV researcher said that bat corona virus research did not take place at this facility, but it has become the focus of the Covid-10 hypothesis that emerged from the laboratory, after the US media published a memo in 2018 showing that US officials questioned operations there, citing a lack of adequately trained personnel. Gras, who worked at WIV from 2012-2017 and is knowledgeable about its operations, said that it is unlikely that Chinese scientists would use the BSL-4 facility to study corona virus because it takes too much time and costs.
He also expressed support for the safety standards and professionalism of the researchers at WIV. "I had no problems working at the BSL-4 facility," he asserted. I don't feel like I'm in danger. The laboratory has a very high standard. It's my daily duty to confirm that, I have expertise in safety consulting, lab design and virology, I'm 100% involved there.
The chance of the virus leaking from a BSL-4 level lab is 0%." Chinese researchers said Thursday they had found a batch of new coronaviruses in bats including one that may be the second-closest yet, genetically, to the Covid-19 virus. According to the researchers, their discoveries in a single, small region of Yunnan province, southwestern China show just how many coronaviruses there are in bats and how many have the potential to spread to people. Weifeng Shi of the University of Shandong and colleagues collected samples from small, forest-dwelling bats between May, 2019 and November, 2020. They tested urine and feces as well as taking swabs from the bats' mouths. One was very similar, genetically to the SARS-CoV-2 virus that's causing the current pandemic, they said -- a viral sample called RpYN06 taken from a horseshoe bat species called Rhinolophus pusillus.
It would be the closest strain to SARS-CoV-2 except for genetic differences on the spike protein, the knob-like structure that the virus uses when attaching to cells, they said. "Together with the SARS-CoV-2 related virus collected from Thailand in June 2020, these results clearly demonstrate that viruses closely related to SARS-CoV-2 continue to circulate in bat populations, and in some regions might occur at a relatively high frequency," they wrote. Researchers are trying to find where SARS-CoV-2 came from. Although a bat is a likely source, it's possible the virus infected an intermediary animal.
The SARS virus that caused an outbreak in 2002-2004 was tracked to an animal called a civet cat. "Bats are well known reservoir hosts for a variety of viruses that cause severe diseases in humans and have been associated with the spillovers of Hendra virus, Marburg virus, Ebola virus and, most notably, coronaviruses. Aside from bats and humans, coronaviruses can infect a wide range of domestic and wild animals, including pigs, cattle, mice, cats, dogs, chickens, deer and hedgehogs," they wrote. Most of the samples came from species of horseshoe bats.
In 2017, researchers sampling a cave in Yunnan found viruses very close genetically to the SARS virus in horseshoe bats. Three of the samples described in Thursday's report were also close to SARS genetically. China's government said on Friday that it welcomed Taiwanese to come and get vaccinated against COVID-19 and called on Taiwan to remove obstacles and allow its people to receive the "highly effective" Chinese shots. China claims democratically ruled Taiwan as its own territory and has repeatedly offered to send vaccines to the island, which is battling a spike in domestic infections but has expressed concern about the safety of Chinese shots and has not cleared them for use. China's Taiwan Affairs Office said in a statement two Chinese-made vaccines had been granted emergency use authorisation by the World Health Organization and its shots were in use or approved by more than 90 countries, showing their safety and efficacy.
Taiwan people can come to China to get vaccinated against COVID-19, provided they strictly comply with China's pandemic control measures, the office said. It urged Taiwan's government to "quickly remove artificial obstacles for mainland vaccines being sent to Taiwan and allow the broad mass of Taiwan compatriots to receive the safe and highly effective mainland vaccines". Only 3% of Taiwan's 23.5 million people have received at least one shot, though millions of doses are on order. Japan donated 1.24 million AstraZeneca Plc shots last week
and the United States has pledged 750,000 doses, which have yet to arrive. Ahead of the first summit between Russian President Vladimir Putin and US President Joe Biden in Geneva on June 16, Russian Ambassador to China Andrey Denisov said that Russia welcomes any measures to reduce tensions and competition, but also "very cautious" about expectations for Russia-US relations, especially in the context of very tense relations between the two countries. In an interview with the Global Times, Denisov said that it is unlikely that this summit will help resolve important issues between the two countries. When asked if Russia would move away from China and approach the US, given the analysis that the Biden administration could adopt a strategy of "somewhat softening relations with Russia" to focus on dealing with China, The Russian ambassador said that "this view is too short-sighted, it can't happen". "We are smarter than the Americans think," the Russian ambassador to China said.
Another information related to South Korea. On Wednesday last week, Korean people gathered outside the Japanese embassy in Seoul to protest against Japan pouring 1.25 million tons of radioactive waste water containing tritium from the Fukushima Daiichi nuclear power plant to the Pacific region within 2 years. On the same day, the Blue House said that South Korea was considering taking Japan to an international court over this decision. South Korea president Moon Jae-in has gone to England for G7 submit which all eyes are aiming to critic China – this is the thing South Korea does not want to deeply involve. They don't want to be tense with China – their biggest trade partner and biggest influencer to North Korea.
South Korea was invited to G7 submit as a visitor alongside with Australia. One of the most important thing which G7 submit has reached until now is an agreement about donation vaccine to poor countries. Facing with climate change and global warming are also hot topics. Before going to England, President Joe Biden said in an article posted on Washington Post that he will persuade G7 nations more coalition to face with China's assertiveness. Australian Prime Minister Scott Morrison also said that he want to bring the Chinese abuse of their economy to the G7 table. UK Prime Minister Boris Johnson also said that they want to be with US to find the orgin of Covid-19. EU support this effort from United States and United Kingdom.
Generally, there are many arrows aiming to China at that time. Beijing is main topic of G7 submit. This is an awkward situation for South China. One side, they want to ensure their position as a great power has influence to the region.
Other side, they don't want to have tension with China – their biggest trade partner and most influencer to North Korea. South Korea is strongly following a negotiable solution to solve the nuclear problem of North Korea, to do this, they need help from China. After many bitter defeats against President Moon Jae-in's party, the conservative faction of Korea has begun a new move to restore the confidence of voters in the face of a challenging political situation and tumultuous, it was to elect Lee Jun-seok, the founder of a startup company as the leader of the conservative party. At just 36 years old, Mr. Lee has become the youngest leader of any major political party in South Korea's democratic history. In his inaugural address, the new leader of the conservative Korean Party said, "Our biggest task is to win the presidential election."
Mr. Lee also pledged to end the politics full of stark divisions that Koreans have witnessed for decades. Mr. Lee's surprise victory underscored the emergence of young centrist voters as a key bloc in the election, as people increasingly lose faith in what many South Korean believe as hypocritical, incompetent leaders.
President Moon congratulated Mr. Lee and said his victory was a "sign of change". He also hopes to be able to cooperate with Mr. Lee, although political confrontations ahead of the election will be inevitable. Meanwhile, the People's Power Party has yet to choose its presidential candidate. Britain's foreign minister Dominic Raab said that it was up to the European Union to respond to the UK's proposals on resolving the Northern Irish trade issue.
Raab told Sky News on Friday: "The ball's very much in the EU's court. We've put forward proposals, it's up to the EU now to come forward with a way that delivers win win, rather than the divisive approach we've seen recently." A bilateral meeting between British Prime Minister Boris Johnson and U.S. President Joe Biden was "incredibly warm" but Raab said that the pair did not "linger" on discussions on the Northern Irish issue.
Northern Ireland is a part of Ireland Island and has border with Ireland Republic – an EU member. After BREXIT in 2021, this territory fails to a difficult situation about tax and trade with EU. Many voices call this place has special rules in trade with Ireland Republic the same as before BREXIT although is a part of United Kingdom. President Joe Biden has origin from Ireland.
He has warned that UK should solve the Northern Ireland well to keep the good relationship with Washington. Yesterday, at 11:03 Beijing time, China launched a Long March-2D rocket with four satellites from the Taiyuan Satellite Launch Center in northern Shanxi province into orbit. Specifically, the "Beijing-3" satellite is part of a project on a commercial remote sensing satellite used to meet the needs of satellite data in the fields of resource investigation, ecological environment monitoring, urban management and disaster response. The remaining three satellites, including HISEA-2 and YW-1, are mainly used for coastal ecological research, asteroid resource exploration and related training. aerospace in universities. The launch center said this was the 373rd flight mission of the Long March missile series. Recently, during a ceremony held in Beijing to mark the success of China's first Mars exploration mission, China's National Space Administration (CNSA) released a series of pictures the first image was taken by the country's Mars rover Zhurong, which shows the Chinese flag on the red planet.
The images include the landing site panorama, Martian landscape, and the landing platform with the Chinese national flag on it, as well as a selfie of the rover on the landing platform. The rover Zhurong drove down from its landing platform to the Martian surface on May 22, starting its exploration of the red planet, and making China the second country after the United States to land and operate a rover on Mars. As of June 11, the rover has been working on the surface of Mars for 28 Martian days to detect the environment, move around the surface, and carry out scientific exploration. A Martian day is approximately 40 minutes longer than a day on Earth. The world's aerospace industry has recently shown its charm when the Philippines is the next name to officially join the race.
Accordingly, the country's space agency revealed that it is developing a satellite with features to help observe terrestrial ecosystems and assess environmental conditions to prepare for disaster prevention. This is the largest project ever of the Philippines and is expected to be launched into space in 2023. On its official website, the Philippines' space agency said the satellite, called MULA, is being developed to be able to capture sharp images of land-based activities at a scale of 100,000 square kilometers per year. These images can then be used as data for disaster response, land use management, crop monitoring and forestry management. In addition, the new satellite will also be equipped with an Automatic Identification, Broadcast and Monitoring System that can be used to detect and track ships and aircraft.
Project Director John Leur Labrador said MULA was created with the aim of enhancing the country's space technology: "It is clear that we not only want to keep pace with the development trend of the world, but also want to reduce dependence on foreign technologies. That way we will have scientists and engineers with expertise tailored specifically to the needs and characteristics of our country. Currently, MULA satellite is being designed and manufactured by British company Surrey Space Technology In addition, the project also received support from the University of the Philippines and DOST-Advanced Institute of Science and Technology.
Although it was applied nearly a year ago, the Hong Kong National Security Law has not escaped the reputation of being the most controversial law in its history. For example, recently, in a recently published report, British Foreign Secretary Dominic Raab denounced Beijing for "undermining Hong Kong's autonomy". Mr Raab said the law had "dramatically curtailed freedoms" and restrained the forces of political dissent.
The British foreign secretary cited the 1984 Joint Declaration signed by both China and Britain to guarantee wide-ranging freedoms for Hong Kong and said China had made clear violations, especially with its complete overhaul of the city's electoral system and prosecution decisions made by the Department of Justice. Carrie Lam's government immediately responded, saying the British foreign minister's allegations were "inaccurate, one-sided remarks and showing double standards." Polish Foreign Minister Zbigniew Rau has criticised U.S. President Joe Biden's decision not to meet eastern European leaders on his first trip abroad.
In an interview published by Rzeczpospolita newspaper on Friday, Rau also regretted Washington had waived sanctions on the company behind the Nord Stream 2 pipeline that is being built to carry natural gas from Russia to Germany. Besides that, he also has been sad because US leader will not meet any eastern leaders. He said: "Unfortunately, the American delegation coming to Europe, headed by President Joe Biden, is so busy with his meeting with President Putin that it has not found time to organise meetings with allies on the eastern flank." Poland's nationalist government set great store by its relationship with former U.S. President Donald Trump, securing a pledge of a permanent U.S. military deployment in Poland without fee. Poland was one of closest allies of US in EU at that time.
During his campaign for last year's U.S. presidential election, Biden accused Trump of backing authoritarian leaders around the world including in Poland. The United States and other Group of Seven nations are considering reallocating $100 billion from the International Monetary Fund's warchest to help countries struggling most to cope with the COVID-19 crisis, the White House said. The issue will be on the table when G7 leaders discuss how to help steer the world's recovery from the coronavirus pandemic at a three-day summit in Cornwall, in southwestern England, which begins on Friday. The U.S. president's office said: "The United States and our G7 partners are actively considering a global effort
to multiply the impact of the proposed Special Drawing Rights (SDR) allocation to the countries most in need. At potentially up to $100 billion in size, the proposed effort would further support health needs – including vaccinations – and help enable greener, more robust economic recoveries in vulnerable countries, and promote a more balanced, sustained, and inclusive global recovery." French President Emmanuel Macron on Thursday called on the other G7 nations to find an agreement on reallocating $100 billion in SDRs to African states. Turkey has just shown to the world that it is unrest in modernizing the country. Less than a month after the opening of the ultra-modern TV tower, the country plans to build the world's tallest pedestrian suspension bridge in the eastern province of Erzincan. This bridge is expected to be 750m long and 560m high.
According to the information given, this bridge will cross the Dark Canyon in Kemaliye district. This town, which was located on the routes of the Silk Road, became an important trading center in the region. In addition, this town is also blessed with unique natural phenomena. Turkish officials hope that the bridge will attract more tourists, athletes in skydiving and field flying sports.
Once the bridge is completed, visitors will be able to walk or off-road on the Rocky Road, one of the "most dangerous roads in the world" with its sharp cliffs and dangerous bends in the Gorge. is located between Kemaliye and Dirrigi. Mr. Ferudun Celikmen, Head of Kemaliye Culture and Development Foundation, hopes the bridge can welcome 1 million visitors a year once completed. "I hope this bridge and similar projects can stimulate people's passion for nature and desire to return to nature." He also hopes the bridge will make people who want to migrate to big cities rethink about continuing to live a healthy and comfortable life in their ancestral homeland.
2021-06-14 08:41
Show Video
Other news