Tin quốc tế 23/11 | Đài Loan cảnh báo Nhật - Triều thận trọng trước mưu đồ của Trung Quốc | FBNC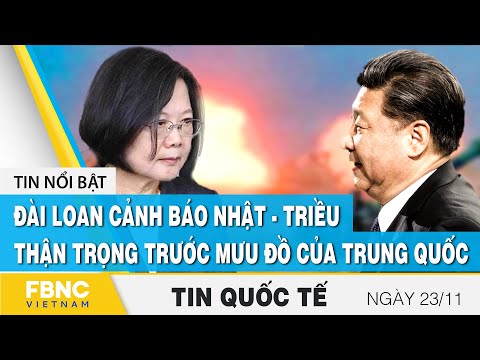 Show Video
Chinese hypersonic weapon fired a missile over South China Sea PLA Eastern Theater Command commissions more J-10C fighters AUKUS raises questions about Australia as an 'Asian' nation Chinese foreign minister says countries should not be forced to pick sides in rivalry with US US-Israel model apt for Taiwan: expert Kremlin accuses West of artificially whipping up Ukraine tensions Polish PM visits Belarus border, warns Poland in danger Austria locks down, Merkel says new steps needed as Europe faces COVID freeze The region of the South China Sea has been a hotly contested one in recent years, as within the area is also another conflict between China and Taiwan. As tensions remain, a member of Taiwan's parliament has warned that the infighting within Chinese President Xi Jinping's government may lead to a military conflict in the region. Speaking with Express, Taiwanese MP Wang Ting-yu said that the international community should pay attention to what is happening within Xi's government. "To China, war, or the conflict sometimes goes with political needs, not reasonable calculation," said Wang. "Especially when Xi Jinping tries to get his third term as a national leader to China. When he faces inside challenges with China, the more that he needs the outside conflict." The MP explained that if there is a serious internal conflict within Beijing, then countries should be cautious, citing that it will not just be Taiwan who needs to be careful, but also Japan, India, and even North Korea.
Wang stressed that this is why the international community needs to come together to stand up to China. Wang has vowed that Taiwan is prepared to fight China in case of an attack by the People's Liberation Army, sparking a military conflict in the region. Among the countries that would get involved in the military conflict are the US and Australia. According to a congressional assessment by the US Congress, the
PLA is now close to having the capability of invading the island nation and succeeding. The report by the US-China Economic and Security Review Commission found that the PLA is now able to carry out air and naval blockade, cyberattacks, and missile strikes against Taiwan. China tested a hypersonic vehicle in July that was able to fire off its own missile over the South China Sea while travelling at five times the speed of sound, in a physics-defying display of technology that no other country has demonstrated, according to a new report. The Financial Times on Sunday revealed fresh details of Beijing's hypersonic weapons test earlier this year, which saw a nuclear-capable hypersonic glide vehicle circle the globe in low orbit before landing. Reacting to the news on Twitter, Ankit Panda, the Stanton Senior Fellow in the Nuclear Policy Program at the Carnegie Endowment for International Peace, said the reported test "would be technologically unprecedented as far as I am aware". "If correct, this assertion of a second projectile is a very concerning advance that appears to go well beyond earlier reporting about the Chinese hypersonic missile tests earlier this summer," added national security expert Jamil N. Jaffer from George Mason University.
China has previously denied the reports, saying the July launch was a routine test of reusable spacecraft – but according to the Financial Times, that occurred 11 days before the hypersonic missile test. struggling to understand, with one source earlier telling the newspaper the achievement appeared "to defy the laws of physics". "Military experts have been poring over data related to the test to understand how China mastered the technology. They are also debating the purpose of the projectile, which was fired by the hypersonic vehicle with no obvious target of its own, before plunging into the water." Some Pentagon experts believe it was an air-to-air missile, while others think it was a countermeasure to destroy missile defence systems, according to the report. General Mark Milley, Chairman of the Joint Chiefs of Staff, described it as close to a "Sputnik moment", in reference to the Soviet Union's successful launch in October 1957 of the first artificial Earth satellite.
The Pentagon hopes to deploy its first hypersonic weapons by 2025 and has said their development is one of its "highest priorities". Indonesia and Malaysia are concerned about the submarine deal, which is clearly designed to address security challenges posed by China, saying it could fuel a regional arms race and heighten strategic tensions. Vietnam, which is on the front line of territorial disputes with China in the South China Sea, has yet to take a clear position on AUKUS to avoid provoking Beijing. Cambodia, which took over the chairmanship of ASEAN in late October, will host key ASEAN meetings and summits next year.
China plans to hold a special summit with ASEAN later this month chaired by President Xi Jinping, during which Beijing is certain to criticize AUKUS. Hence, before the China- ASEAN summit, Australia held talks with key ASEAN members to reassure the bloc that its plan for nuclear-powered submarines will not harm the group's strategic interests. Payne visited ASEAN members Malaysia, Cambodia, Vietnam and Indonesia despite Prime Minister Scott Morrison having already met online with leaders of the Association of Southeast Asian Nations 10 days earlier during the first ASEAN-Australia summit. In a statement on Nov. 5 before departing Australia, Payne said her objective was to "advance our relationships with key partners, including to strengthen our shared work to promote the region's economic and health recovery from COVID-19."
Australia is particularly concerned about how neighboring Indonesia -- a leading ASEAN member -- will respond to Beijing's criticism of AUKUS. During the ASEAN-Australian summit in October, Morrison told ASEAN leaders that AUKUS would "add to our network of partnerships that support regional stability and security." Jakarta's bitter reaction to AUKUS seems driven partly by its resentment over Australia's failure to provide substantial information about the pact during a high-level Sept. 9 meeting in Jakarta. "Just as ASEAN was in the process of considering Canberra's request for an upgrade of its dialogue status to a comprehensive strategic partner later this year, the country gave the bloc a big slap in the face," said Kavi Chongkittavorn, "No ASEAN member expected its oldest dialogue partner to behave in such a disrespectful manner."
"Jakarta's quick and rough reaction was understandable. So was that of Malaysia. Other members were disappointed but did not show it," Chongkittavorn said. Third parties should not be forced to choose sides in a great power competition, the Chinese Foreign Minister Wang Yi said on Saturday. He compared China and the United States to two giant ships and said they must not collide with each other, repeating a phrase used by Xi Jinping in his virtual summit with Joe Biden last week. "Instead of a vicious competition of decoupling and breaking ties at will, let alone forcing third parties to choose sides, competition should be positive and benign, based on the principle of mutual benefit and win-win results," Wang told an online conference. He said the "world's future and destiny" depended on Washington and Beijing managing their relationship properly, adding "any zero-sum game will only end up hurting us both." At the conference hosted by the Foreign Policy Community of Indonesia, a think tank, Wang also said that China is willing to manage its differences with other countries, especially its territorial disputes.
China has disputes with four members of the Association of Southeast Asian Nations over the resource-rich South China Sea. Many Asean nations have also expressed concern over being forced to take sides in the competition between China and the US, which is centred on the Indo-Pacific. China has asked Japan's top diplomat to visit the country, Foreign Minister Yoshimasa Hayashi revealed Sunday, in what would be the first such trip since December 2019 "We've received the invitation, so we will make arrangements," Hayashi said on a television program, noting he had received the request to visit China during a telephone discussion with State Councilor and Foreign Minister Wang Yi on Thursday. No date has been decided on.
telephone discussion with State Councilor and Foreign Minister Wang Yi on Thursday. No date has been decided on. Next year will mark the 50th anniversary of the normalization of diplomatic relations between Japan and China. The Japanese government has stated it aims to build "constructive and stable Japan-China relations." The government will consider whether and when to visit China. There are a slew of issues between Japan and China, such as Beijing's intrusions into waters around the Japan-administered Senkaku Islands, which China claims and calls the Diaoyu islands, and its displays of military might near Taiwan. Hayashi conveyed his concerns in Thursday's discussions.
Concerning a diplomatic boycott of the Winter Olympics in Beijing, an idea that U.S. President Joe Biden said was being considered, Hayashi said "each country has its own way of thinking." With the aim of better safeguarding aerial and maritime security as well as national unity, the Chinese People's Liberation Army (PLA) Eastern Theater Command Air Force recently replaced some of its old J-7 fighter jets with advanced J-10C fighter jets, the state broadcaster revealed on Sunday, shortly after the island of Taiwan commissioned the first combat wing of F-16V fighter jets on Thursday. Nine J-7E fighter jets recently left an airbase in the east of South China's Guangdong Province, as they have been retired from active combat service and are being replaced by domestically developed J-10C fighter jets, China Central Television (CCTV) reported on Sunday. The J-10C, which has been in service with several other PLA Air Force units, is one and a half generations more advanced than the J-7E, and will give pilots significantly more advantages in combat, analysts said.
Colonel Wang Hongbo, one of the pilots in the brigade affiliated with the Eastern Theater Command Air Force switching to fly the J-10C, has been practicing on the new warplane for nearly half a year. Wang said on CCTV that the new aircraft has changed the way he perceives the battlefield. With the J-10C, the pilot needs to switch his role from just being a pilot to being a combatant, Wang said, noting that since the old J-7 uses mechanical flight controls while the J-10C uses fly-by-wire, the new warplane allows the pilot to focus on the battlefield instead of on steering the aircraft. The announcement of the commissioning of the new batch of J-10Cs came after the commissioning of the island of Taiwan's first combat wing of US-made F-16V fighter jets on Thursday. Media on the island of Taiwan claimed that the F-16V can face down the J-20 stealth aircraft of the PLA, which is a fifth-generation heavy fighter jet. But in fact,
the F-16V is just a 4.5-generation medium fighter jet, and the PLA's J-10C is enough to rival it, a Chinese mainland military expert told the Global Times on Sunday, requesting anonymity. The commissioning of more J-10Cs will further widen the power gap across the Taiwan Straits, the expert said. In addition to the J-10C fighter, the PLA Eastern Theater Command Air Force has previously received delivery of the advanced J-16 heavy fighter, CCTV said, highlighting the speed of new aircraft deliveries. Taiwanese envoy to Hungary Liu Shi-chung (劉劉劉) on Saturday (Nov. 20) emphasized the importance of Taiwan's security to the world and called on Central and Eastern European countries to expand their relations with Taiwan. Liu was invited by the International Republican Institute to speak on Taiwan's security at a Transatlantic Security Initiative seminar in Budapest, Hungary, attended by regional think tanks, scholars, and former government officials, CNA reported.
During his address, Liu said that in the face of multiple global challenges, the security of Taiwan is no longer limited to just the military. Technology, economics, and democracy are now also vital to keeping the nation safe while establishing international trust and a positive image, he said. The representative pointed out that during U.S. President Joe Biden and Chinese leader Xi Jinping's ( 劉 劉 劉 ) recent online
summit, they spent a significant amount of time discussing Taiwan, which demonstrates how important the nation's security is. The global supply chain is in the process of restructuring, Liu noted, adding that chip shortages have become a serious issue. He said Taiwan is now the leader in semiconductor technology and that many governments are beckoning Taiwan Semiconductor Manufacturing Co to set up factories in their countries, highlighting Taiwan's advantages in technological security, per CNA. The diplomat showed a photo of the Taiwan representative office in Lithuania to show that it is possible for a country to resist pressure from Beijing while expanding relations with Taipei. He called on Central and Eastern European countries to not only be aware of the impact of China's incursions into Taiwan's air defense identification zone on cross-strait peace and security but also deepen economic and trade cooperation with Taiwan and jointly establish a "global democratic supply chain." The US should consider helping Taiwan build an indigenous defense industry to boost its qualitative military edge (QME), amid rising threats from China, similar to what the US has done for Israel, a local defense academic wrote in an article.
Wu Tzu-li ( 吳 吳 吳 ), a researcher at the government-funded Institute for National Defense and Security Research, said in an article published on Friday by the institute's journal, Defense Security Brief, that the long-standing US commitment to maintaining Israel's QME forms a central pillar of the Jewish state's security strategy. US legislation passed in 2008 defined QME as "the ability to counter and defeat any credible conventional military threat from any individual state or possible coalition of states, or from non- state actors, while sustaining minimal damages and casualties, through the use of superior military means." Israel has a relatively small population and territory, but is surrounded by neighbors that remain hostile toward the country. Understanding the dangers of this quantitative disadvantage, Israel has worked to ensure that the country develops a qualitative edge: the ability to defend itself through military superiority, by heavily investing in high-quality training and equipment, with help from the US, Wu said.
The US has provided Israel with foreign aid surpassing US$1.25 trillion, with almost all of it for military assistance, Wu said. Israel now has one of the world's strongest armed forces, a robust domestic defense industry and is one of the largest weapons exporters in the world, he said. The US buys weapons from Israel on occasion, and is investing in Israel's Iron Dome, a system that is meant to intercept incoming rockets, he added. The Taiwan Deterrence Act, proposed by Republican Senators Jim Risch, Mike Crapo, Bill Hagerty, Mitt Romney, John Cornyn and Marco Rubio, seeks to authorize directing US$2 billion a year from the Foreign Military Financing program to Taiwan from 2023 to 2032 Another bill proposed earlier this month by US Senator Josh Hawley, the Arm Taiwan Act of 2021, would allow the US to authorize US$3 billion annually from 2023 through 2027 to provide assistance to Taiwan's government, such as equipment, training and other support.
However, the proposed legislation also adds that Taiwan should in return invest more in its self-defense capabilities, Wu said. The Kremlin on Sunday (November, 21) accused the West of artificially whipping up tensions around Ukraine with repeated statements suggesting Russia was poised to launch an attack on its neighbor and told Washington and its allies to stop a military build-up nearby. U.S. Secretary of State Antony Blinken said on Saturday his country has real concerns, widely shared with partners in Europe, over Russian activities at the Ukrainian border, after Ukraine said it feared Russia might be preparing an attack.
U.S., NATO and Ukrainian officials have been making similar statements for nearly two weeks, referring to what they say are unusual Russian troop movements in the proximity of Ukraine. The head of Ukraine's military intelligence told the Military Times outlet this weekend that Russia had more than 92,000 troops amassed around Ukrainian borders and is preparing for an attack by the end of January or beginning of February. Kyrylo Budanov said such an attack would likely involve air strikes, artillery and armored attacks followed by airborne assaults in the east, amphibious assaults in Odessa and Mariupol and a smaller incursion through neighboring Belarus, Moscow has dismissed such suggestions as inflammatory and complained about what it says is increasing activity in the region by the NATO alliance. In comments due to be broadcast later on Sunday on state TV, Kremlin spokesman Dmitry Peskov said "a provocation" in the area could not be ruled out given all the U.S. rhetoric.
"This hysteria is being artificially whipped up. We are being accused of some kind of unusual military activity on our territory by those who have brought in their armed forces from across the ocean. That is, the United States of America," Peskov said. "It's not really logical or polite." Peskov said Russia wanted NATO to stop "concentrating a military fist" near Russia's own borders and to stop arming Ukraine with modern weapons. A ship carrying two refitted former U.S. Coast Guard patrol boats designed to beef up the Ukrainian Navy transited the Dardanelles strait on Saturday. Ukraine, which strives to become a NATO member, received a large consignment of U.S. ammunition earlier this year and Javelin anti-tank missiles, prompting criticism from Moscow.
Polish Prime Minister Mateusz Morawiecki said he would continue to speak to the country's allies to head off "the worst that could be waiting for us" as he visited a guard post on Poland's border with Belarus on Sunday (November 21). Earlier Morawiecki made similar comments in Vilnius after meeting with his counterparts from the Baltic states. The European Union accuses Belarus of flying in thousands of people from the Middle East and pushing them to cross into EU and NATO members Poland, Lithuania and Latvia, in response to European sanctions.
Minsk, which denies fomenting the crisis, cleared a migrant camp near the border on Thursday (November 18) and started to repatriate some people to Iraq. He also said border guards had dealt with migrants efficiently and normally, saying accusations of mistreatment were "vile". Poland denies accusations by humanitarian groups that it is violating the international right to asylum by hustling migrants back into Belarus instead of accepting their applications for protection. Warsaw says its actions are legal. Belarus is waiting for an answer from the European Union on whether the bloc will accept 2,000 stranded migrants from the Belarusian border, President Alexander Lukashenko said on Monday (November 22).
Lukashenko said Belarus would demand Germany take in the migrants and said the EU was not contacting Minsk on the issue. He also warned that Poland should consider the consequences of acting on a threat to close a border railway crossing, saying rail traffic could be diverted to run through a conflict zone in eastern Ukraine in such a scenario. The European Union accuses Belarus of flying in thousands of people from the Middle East and pushing them to cross into the EU in response to European sanctions. Minsk denies fomenting the crisis. Austria entered its fourth national lockdown on Monday after tens of thousands of people, many of them far-right supporters, protested in Vienna against renewed curbs on movement as Europe again becomes the epicentre of the coronavirus pandemic. The Austrian government also announced it would make it compulsory to get vaccinated as of Feb. 1 in a country where many are deeply sceptical about inoculations, a view encouraged by the far-right Freedom Party, the third biggest in parliament.
The streets of Vienna were quieter than usual on Monday as cafe terraces stood empty and most shops remained closed. Restaurants, cafes, bars, theatres, non-essential shops and hairdressers cannot open their doors for 10 days, and maybe as many as 20, the government says. Christmas markets, a huge draw for tourists that had only just begun to open, must also close but, in a last-minute change, Austrian ski lifts can remain open to the vaccinated.
About 40,000 people protested peacefully in Austria's capital on Saturday, with only six arrests. But protests against the reimposition of restrictions meant to contain COVID-19 contagion spreading anew turned violent in Belgium and the Netherlands over the weekend. Stock markets kicked off the week on a cautious note after posting a second consecutive weekly drop, and the euro struggled as traders weighed the risks of new lockdowns. "The problem in Europe is the spread of COVID-19 which means that more lockdowns and other health restrictions partly against the non-vaccinated should rapidly increase in the next two weeks," said Sebastian Galy, a strategist at Societe Generale. Roughly 66% of Austria's population is fully vaccinated against COVID-19, one of the lowest rates in western Europe.
Thousands of Italians got into the seasonal spirit on Sunday (November 21), visiting the Christmas market in Italy's northern city of Trento during its open weekend despite fears of growing coronavirus infection rates. Those attending the market had to show a COVID-19 health pass, the so-called Green Pass - which shows if someone has completed the vaccination cycle, has recently tested negative or recovered from the disease - to be allowed inside. On Saturday (November 20), bracelets were distributed to visitors to show their health status had been checked. Masks are required unless eating or drinking at one of the food stalls, and security checking health passes at the entrance were making sure numbers of visitors inside were limited. There are multiple entrances to avoid gatherings at queues, and security officers patrol inside the market to ensure people are complying to the rules. Italy has also seen a rise in daily cases in recent weeks, especially in some northern areas. The country recorded 46 coronavirus-related deaths on Sunday and 9,709 new infections. Even so, visitors at the market stocking up on Christmas presents and decorations said they felt safe to enjoy the market thanks to the security protocols.
These are FBNC's morning International news Thanks for watching
2021-11-24 06:05
Show Video
Other news