WCC Showcase Series: Health Science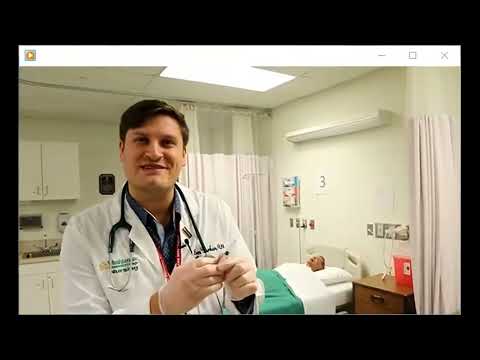 Show Video
--for recruitment and outreach, and I just want to take the opportunity to welcome you here this evening. We have a month-long series going on right now devoted to our academic divisions and tonight's feature presentation is with Health Sciences so we're really excited to have you here. Just so you, kind of, get a sense for how things go, we work really closely and in tandem with Health Sciences throughout the year and a variety of different programs and our goal is to help them with the process of introducing their programs to prospective students and also to help those individual students with their enrollment process after they've made the decision to attend Washtenaw Community College. The college is blessed to have an incredible health science program with some excellent, excellent faculty and staff and obviously the programs and the connections that we have with area hospitals makes us an incredible destination for education and health science.
So we're very proud of what we've accomplished and we're excited to have you here this evening. I just want to, kind of, give you a few ground rules. We want to make sure-- they're going to be-- the Health Science folks-- are going to be showing you a number of video based things this evening and so we are going to all, sort of, shut down microphones and cameras during the presentations to help with bandwidth to make sure that you can clearly see the video demonstrations. We are also going to provide a link to this presentation after the event. There are a couple of things that we probably won't show tonight that you may be interested in specifically in surgical tech we won't be showing the full video of that this evening, but it's something we want to have available for you. And of course, the excellent people that are here, both Kathryn Wagner and Whitney Lee, are very connected with the program.
Katherine being the coordinator for Health Sciences and Whitney being a primary advisor, academic advisor. Those are folks that you'll meet this evening and along the way we'll be able to help you out in a variety of different ways. So if you have any questions as we go through we've got a bunch of people here who are interested in answering them.
Please feel free-- since the mics are off at this point-- please feel free to enter questions in the chat and we'll be looking out to answer those questions as we go. And we look forward to hearing from you as the session progresses but at the end we'll also have a few minutes for questions as well. So at this time I'm going to turn everything over to Kathryn and let her take it from here.
Hey there, everyone. Thanks, Steve. Like Steve said, my name is Katherine Wagner. I'm the coordinator for the Health Sciences division and I appreciate you joining us on this sunny day. We have a few demonstration and tour videos that we're going to be watching about some of the programs that we offer in the Health Sciences division.
So we'll be watching some videos about the nursing program, we'll be watching some videos about dental assisting, and then we'll watch some videos about our surgical technology program. And we also have Whitney Lee here and she's one of our academic advisors for the Health Sciences division. So after we watch the video demonstrations, she'll be taking an opportunity to answer some questions but then also speak about how you apply to the different health programs because there's a bit of a different process versus some of the other programs that we have at Washtenaw Community College.
Like I said, after she talks about the application process for our programs, she'll go ahead and have some time to answer questions you might have about applying or just applying to Washtenaw Community College in general. And like Steve said, if there's any technological issues that you guys have in seeing the videos or if there's a lag, hang tight because it might just be a temporary thing and the video might catch up on your end. But like Steve said, also, we'll send a link out with the video where you can watch it after our presentation today. And with that we'll start with a short introduction from our Dean of Health Sciences, Dr. Shari Lambert. We're going to share a video and then I'll roll on with the rest of the video demonstrations.
[MUSIC PLAYING] Welcome. Thank you for your interest in Washtenaw Community College. I'm Dr. Shari Lambert and I am the Dean of the Health Science division. At Washtenaw Community College we offer many opportunities in our health care programs-- Hey, Kathryn.
We can't see the video, I don't think. It's not allowing us to see it. Sorry, guys. Let me reshare that for you.
Yeah. It still just shows-- there it goes. It's switching over.
All right, let's try that again. There it is. [MUSIC PLAYING] Welcome.
Thank you for your interest in Washtenaw Community College. I'm Dr. Shari Lambert and I am the Dean of the Health Science division. At Washtenaw Community College we offer many opportunities in our health care programs that will make a positive difference in your life. We have a nursing program within our Allied Health division we offer dental assisting, physical therapy assistant, radiography, medical assistant, and surgical technology and sterile processing.
We also have a health science division that offers opportunities and certified nursing assistant, medical billing and coding, health care administration, and a cardiac telemetry program. The opportunities are boundless. We really are excited that you're interested and please, let us know if you have any questions. All right. Hello-- [MUSIC PLAYING] My name is Ben Morhan and I'll be doing an intro on our Health Sciences division. So what do we have here, in the lab, is our CNA skills-- nursing certified assistant program.
And typically, if you enroll in this course-- it's a four credit hour course, it's about four to five weeks, it's a short course and typically it will help you decide if a health career is what you want to do. And what you will learn in this course is your basic ADLs, so taking care of a sick individual if they're in a hospital bed. As you guys can see, you can turn them, you can care for them. And these are just your standard mannequins and typically you'll learn your resident rights, your emergency procedures, infection control, so your basic skills and then ultimately, that will help you decide if you want to move forward into either the nursing profession or choose any other health care program on our lovely campus here at Washtenaw Community College.
So as a high school student, if you decide on joining our nursing program or applying, you do have to understand that you do have to be strong with your soft and hard skills so make sure in high school you take all your biology courses and chemistry courses as well because it's highly competitive. We do take about 72 nursing students each semester and typically we take our students twice a year so in the fall and winter semester only. We do not have any nursing courses throughout the summer. This is our first concepts one course. Once you get in a nursing program and you are in nursing concept one you will be practicing your basic skills so inserting a Foley catheter and I do have a demo for an injection. So typically, if you're at a hospital setting and you're taking care of your patients and you are the nurse and you have to administer a medication, you will perform your hand hygiene, you will check your orders, you will check on the patient.
You would make sure that your patient is free of pain, right? That they understand why they're receiving this medication and then from there you would provide privacy and see if the patient has any questions. So after your hand hygiene, and educating the patient, and the patient gives you consent so that they are able to receive this medication you will apply your gloves, you will check your medication make sure it's right, look at the vial check for expiration make sure it's clear, and then we are very clean so infection control is huge when you're taking care of patients. So a lot of high school students think this is really cool, right? A big needle, but nurses do more than just administer medications. OK, so you would withdrawal the amount of medication, make sure there is no air bubbles, and then you would prepare the patient for injection.
Let it dry, make sure the patient is good, administer the medication, and there, done. Hello and welcome to one of our nursing labs. So typically, once you get into the nursing program, you will start upstairs your concept one course and TI205. Your second semester will consist of nursing 128 and typically, you do learn more advanced skills in 128. You will learn how to prioritize, how to administer IV push medications, how to manage an IV, and you will perfect your head to toe assessment skills.
And we do have, in one of our state of the art lab rooms here, we do have the Omnicell here and you will see this at either the university hospital or St. Joe Mercy Hospital so we try to keep up with the hospitals and what type of medication dispensing machines they have. That way, when our students are graduating the program and they transition into practice, they are not completely lost because they're like, I've never seen this machine. So they work with this machine, and that way, it's to their advantage.
So for instance-- I'm going to do a quick demo here. And we have six patients here, and I have to administer medications for one of our patients. So it does have a fingerprint-recognizing system. So it will recognize my fingerprint, and then I can go to my patients, as you can see. And I can click my patient and then just say remove meds, and I will remove the medications.
And it's a very sophisticated system here. So I will take my medication. I will check to make sure that it is the right medication and then close it. And then it's important to log out. And then, I will go and administer my medication to my patient.
As you progress through the nursing program and you enter into 138, you will be mostly in this room. And this is our high-fidelity nursing room. So the layout, the environment in here mimics what you guys will see at a hospital. We also have state-of-the-art monitors, IV pumps.
And then, we have SimMan 3G, who is a high-fidelity simulator. So basically, you can listen to his lung sounds, heart sounds, bowel sounds, do an assessment on him, insert an IV, run fluids just like you would in a hospital, insert a catheter, draw some blood, do some blood work on them as well, administer medications. Right now, if we look at the monitor-- in the nursing program, you will learn how to read all of those scribbles that you see on that monitor. So typically, he's not doing so good right now.
He's got a heart rate of 147. His oxygen saturation is at 85%. So typically, what we do in this situation is we will raise his head of the bed, and then we would apply some oxygen, and then call the physician.
All right, SimMan, we're going to put some oxygen on you. Take some nice, deep breaths. OK.
And then we will reassess them. Call the physician. If the physician doesn't come in time, we can also pull the code blue.
Rapid response team will arrive, and they will assist with the situation as well. Our Nursing 128 students will have a labor and delivery experience in our second high-fidelity room. And this simulator, we call her Victoria. And typically, she can do a lot of things. One of the things that she is really good at doing is delivering babies.
So she does have-- you guys saw SimMan earlier. So she does have lung sounds, heart sounds, belly sounds. You can hear all of that, and the nurses, the nursing students, once they come in here, they will perform that assessment as well. And she does have a little baby that she delivers, and it cries, and there's lung sounds and heart sounds as well. And typically, what we do here-- you guys are going to see behind the scenes, right? I'm going to open up her belly here. And typically, what we do is we will insert the baby inside.
And then the placenta, it looks real. It feels real, and students get that one-on-one experience as well. Very slimy. And then Victoria will say that the baby's coming, and we'll be ready for delivery. So you guys were able to see a little bit of behind the scene action.
And the nurses will get the IV ready. They have the toco monitor, right? So we can tell the baby's heart rate there. We can tell the contractions as well. We do have a warmer, and we also have emergency equipment as well in case the baby codes or swallows meconium fluid or whatnot or amniotic fluid, and we'll resuscitate the baby as well. But the nurses will get firsthand experience with labor and delivery. And like I said in the earlier videos, we will transfer Victoria upstairs to the OR room if the baby is in a breech position, and we will have to perform a C-section.
So the OB resident or the doctor will perform a c-section, and we will get that baby out and resuscitate the baby and hopefully stabilize mom as well. [MUSIC PLAYING] Welcome to the WCC Dental Clinic. My name is Tina Sprague, and I'm program director of the Dental Assisting program. My name is Rachel King, and I am one of the clinical instructors here at Washtenaw Community College. Hi, my name is Jodi Neuman, and I'm faculty for the Dental Assisting program. What we'd like to do today is give you a tour of our clinical and laboratory areas of the Dental Assisting program.
As you can see, this is our patient waiting room, and here is our business office. In the winter semester, our students run a dental clinic here in the facility, and our students will learn what it takes to be in the business office-- scheduling patients, checking patients in and out, taking payment from the patients. The next area I'd like to show you is our dental clinic itself.
One of the first rooms that we will come to is our radiography room. Students will learn to take both intra-oral and extra-oral images. As you can see here, we have a demonstration of positioning a patient for an extra-oral image. Have you ever had a panorex taken before? Yes. OK. So I'll just need all of your jewelry off.
I can hold that cup for you. Thank you. Mm-hmm. Do you want take your necklace off too, please? If you need a hand, let me know. And this-- there you go.
Perfect. Oh. You need a little hand? Yep. Sometimes these can be hard to get off.
This guy doesn't want to-- he doesn't want to move here. There we go. Thank you. Thank you. I'm going to put on a lead apron on you.
If you could just stand right there. Next, you want to make sure to put this over. Perfect. OK, I'm going to have the machine somewhat to your height, but let's step into this and see how close we are. Good. OK, hands up there.
Can you bite on the stick? There you go right-- come back on it, back on it. There you go. Go ahead and bring your feet forward till they feel mine. Thank you. You should feel like you're leaning a little bit. Let's see.
Do you mind if I touch your hair? No. Oh, perfect. OK, these are going to close around your head. They're not going to hurt, but they're just going to hold you in place. How does the line look down the middle of your face? Does it look centered? Yes. Great.
Just let me get a peek. Looks perfect. OK, so this is going to go all the way around your head, and please don't move until I come back in, and I'll make sure that you're all taken care of.
If you can swallow and put your tongue to the roof of your mouth. Thank you. I'll be right back.
Awesome. Thank you so much for standing still. You're doing such a great job. You can come straight back.
I'll take this off of you, and here's your jewelry to put back on, and I'll pull your image up right there. Thank you. You're welcome.
If you want to take a peek, there you go. Not only will the student need to understand the positioning of the patient but how to prepare the equipment, educating the patient on the procedure themselves, as well as expectations of them while capturing the image as you saw demonstrated. Students will also need to understand what can be seen in the image, normal versus abnormal, basic anatomy, and errors that can occur.
Our clinic has five treatment rooms. Students will be practicing a variety of procedures in these rooms. First with mannequins in the fall semester, then with patients in the winter semester. In this treatment room, you see an assistant obtaining a digital scan.
While we still teach patient students to take impressions, some of you remember the goop placed in your mouth if you've ever visited the orthodontist. Many offices now use this technology. Perfect.
Are you doing OK? Yes. I'm going to go back over it and fill in a little bit here. Or we'll go to the maxilla.
It'll-- are you comfortable? Mm-hmm. Close a little bit. Mm-hmm. Open a little bit. Mm-hmm. I'm going to have you bite together.
OK, bite. Perfect. That's it. This scan can now be sent to a lab to fabricate an appliance or can be sent to an in-office 3D printer or milling machine to make the appliance. This next area is the lab. In the fall semester, you will spend time learning about the different dental materials.
One such material would be an impression material that I mentioned earlier. If you were taking a conventional impression, you would have to pour that impression in stone or plaster and then trim the model according to what you plan to do with it. The model would then be used for a case presentation where you could discuss treatment plan options. The model could also be used to make an appliance. Here you see an assistant making a custom whitening tray.
The final area I would like to show you is a simulation lab. This area is used in the last semester of the three-semester program. Because the program is accredited through the Commission on Dental Accreditation, graduates are eligible for the Michigan RDA Exam to become a registered dental assistant. With this licensure, the RDA can perform more intraoral duties that you may be more familiar with the dentist performing. Here, the RDA is placing an amalgam or a silver filling. I mentioned that students are working in this area in their final semester.
During this time, they are also completing rotations in a general office and specialty practice. Some of these specialty practices are orthodontic offices, periodontal surgery offices, oral surgery offices, endodontic offices, or prosthodontic offices. Many of our students are hired through these office rotations either from the practice where they completed the rotation or through word of mouth. The employment opportunities could be in the form of working in the business office, as we discussed at the beginning of the tour.
It could be employment as a clinical assistant as you saw with the assistant scan in the mouth and here placing this restoration. Graduates could be hired to work in the lab, as you saw with the assistant making the whitening tray. In smaller offices, assistants may do it all.
The variety is what can be so appealing. Dental assistance and/or RDAs are employed in other settings as well. The examples I mentioned earlier are more of private dental practice nature. However, there are dental clinics in a hospital setting or a dental school, and there are community-based dental clinics.
Dental assistants may be employed to do research, sales, or in a dental insurance company. There are many opportunities available to our graduates, and they are in great demand. Thank you for joining us on this tour of the Dental Assisting program. Please feel free to contact any of the faculty regarding questions that you may have about the program or being a dental assistant.
I wish you well on your career exploration. [MUSIC PLAYING] I'm Kathyrn Hernandez. And I'm Keith Pellerito. We teach the surg tech and sterile processing program.
One of the things you will learn if you enroll into the surgical technology program is 150 to 200 instruments before we start on surgical procedure. Most surgical procedures come here in the lab. This is where you learn how to scrub properly. Not like on Grey's Anatomy or The Resident, anything like that, but you'll learn how to do a real surgical scrub and exactly what you will have to do to prepare for surgical procedures. In the OR, that is your room.
You are fully responsible for making sure everyone, and everything in that room stays completely sterile. You have to be able to speak up if you realize that there's a break in sterility, even if it's the surgeon or the resident. You are a real team in that OR. You'll be working with a circulator who is usually an RN. You will work with anesthesia and the surgeon. Nothing could come to that surgeon but by you.
So now we're going to show you how to prepare for a surgical procedure. So in the morning, you will begin by first coming in and putting your mask on. And this is when the time is to go and open up your room with all of your sterile supplies for the surgery. A lot of times, you'll go through it beforehand and grab extras that you're going to need, gloves and other things like that.
We will walk in. So here's your surgical room. And within the surgical room-- we'll not usually get patients on the table. But we actually got the pack, which in this pack is a sterile pack. It's going to be everything, a lot of supplies that you need for your drapes and for anything else that's going to be used for the surgery. So we check for any kind of holes, integrity to make sure it's good, which that is.
I also would grab some extras. These are a little hypos and blades and sutures that you close with. You got gloves here.
Oops. And then we begin to open, make sure we're good. And you pull the pack right out. To make sure, we just pop Let me see that. We've got one.
Put your gown up here on your Mayo stand. You're going to open sterility. Make sure we don't contaminate anything. Because once after this is blue, you can't touch it anymore.
Right. Let's see there. So now, it's going to be time to open up all of our extras. We're popping this to make sure everything stays in one area, and it stays sterile. And just we're trying to keep all together, because you do have sharps here, and you don't want to lose them, or cover them up with other things you're going to need for the surgery.
Get some blades. So you learn how to do this in the program [INAUDIBLE].. I have my instruments over here. That's good. Next, I'm going to check to make sure that the indicator of everything is good. And it is.
So those are the surgical instruments for the procedure. And now that's all there. That's there. You're going to come over here and open up the gown. Voila! Now, we're going to go out and perform a surgical scrub [INAUDIBLE].
Now that the room is prepped, it is time to perform a surgical scrub, which is going to be 5 minutes first thing in the morning. And this is what you'll see on TV. So you want to go-- quick. And it's just in-- you can bring the OR sponge.
He's cleaning underneath his nails to detect underlying [? rust. ?] If there's any little dirt particles, it goes right down the drain. And when he goes to do of his regular scrub, you'll see what side of the brush and sponge he uses. He's utilizing a Betadine sponge because it helps kill off as many microbes as possible before he goes into surgery. You're never going to be sterile. You just can't become sterile, but you are considered surgically clean.
And everything he does to his wonderful arm, once it's completely scrubbed, he has to do to the other. He has to make sure his elbows and hands are facing upward, so that nothing runs from the elbow down, because we don't want to do anything to cross contaminate. He got to rinse off. He keeps the forearm out in a way.
He has to keep that one arm up. You can never go back to the water, just up and outward. OK. All right. I come into the OR. Then we're going to grab a towel.
Then you can dry your hands off. You'll learn techniques on how to do this properly. OK. Perfect. Voila. I expose the left hand.
So the back of him is not going to be sterile, just for fingertips and 2 inches above your elbow, and only in the front from chest ways. OK. There are some very tight gloves here.
This one, Doctor? Yes. Now I am playing doctor. [CHUCKLING] Twist again. Yeah. And he could grab that and touch around my back, because I was not anywhere close to contaminating him.
And they're going to spin anyway. We're going to come and drape our patient that has been prepped. This is sterile. That one. OK.
We want to keep it up here. We don't want to drop the drape. We want to keep our hand protected, so we have to-- When they go up to Anesthesia, they'll usually hang it up here.
And now you see how he's going to create his sterile square. This is for you, the surg tech. So you're complete all in little domains that no one should be passing by. And there's a few little tricks that we have to do before the surgical procedure can start. See, he's tossing out cords for the circulator to plug in, and then we have to secure those cords. And you will learn how to do all of this.
Sterile. He's laying a sponge down on each side of the incision that we're going to make. So you also learn the different positions the patient will be in, the various procedures for each of those positions.
And you'll learn how to do the entire surgical flow. So now his sterile square is created. So anybody that needs to pass a bypass. So if I'm switching, I'm going to say blade. We have to do a time out.
The importance of the time out is to make sure that when we have the right patient, we're doing the right procedure, the right side. If it's on one side of the body or the other, make sure that there are-- if there's any allergies, so that everybody in the room knows what it is. And the right surgeon, sometimes residents, will come in almost seconds, if they're attending and try to start a procedure, they cannot, unless the attending is already in the room and has verified everything with them and then they stay with them. OK.
We begin the procedure from here. If we do local. Local, sure. We have 10% bupivacaine.
OK. So you-- another thing that you'll have to do as the surg tech is make sure you're keeping an eye on how much local you're giving. Because you have to let the circulator know the total [INAUDIBLE]. Let's see how he hands off. You learn how to pass instruments. You help them lay down and away from him and me, so that there's no risk of him getting stabbed or me being stabbed.
Because now, you're going to be working-- Incision? With your hands. [? Bubby. ?] [? Rainbow. ?] [INTERPOSING VOICES] So you give surgeon what they need, not always what they ask for as well and how to hand it properly. He's handing it to me in order of use.
Clamp-- and retractor? Sure. Hold that. Irrigation. Suction. OK, can I-- can I get a stitch for comparison? And how he handed it to me in order of use.
So this is just going to flick the wrist and dispose. So now, once we're done with the procedure, we have to do a close and count. This is to make sure there are no missing items at all.
There's a lot of people want to blame the hospital and the doctor right away, like, oh, they left this inside a patient. Whose fault is it really? It's really the surg tech and the circulator's fault if something gets left inside that patient, not the surgeon, not the hospital. Because it's-- we're the ones who counted together at the beginning.
They're the ones that have to count and close at the end. So you get to see what surgical technologists, do at least a little snippet of it. This program for surgical technology is a two year associate's degree program. You do set for certification through NBSTSA that is a nationally recognized boards exam. So it's not state by state.
Once you are certified, it's good nationally and is recognized internationally. If you decide later on you want to do something like a travel tech once you get a year or two experience under your belt, there's so many opportunities. Everybody is so short staffed. You will get a job. And the good thing about health care and surgical procedures is people are living longer, so they tend to get hurt or sick a little more. You will always, always have a job.
[MUSIC PLAYING] All right. So those are our few demonstration videos on some of the different programs we have in the Health Sciences division. Next up, we're going to have our academic advisor for the health area.
One of our advisors, Whitney Lee, she's going to talk about how you apply to the different health programs. Whitney, I'll go ahead and share my screen of that link that you sent me, OK? Sure. Good evening, everyone. I hope you're doing well.
My name is Whitney. If you have any follow up questions, if you think of anything after this presentation, feel free to send me an email or make an appointment. Happy to chat with you about that. So what Kathryn has up right now is our health and second tier admissions web page. Now you can get to this by clicking on at the top of the page there.
It says learn areas of study. We'll just walk them through this, Kathryn, so that they can see a couple of steps there. And then you'll click on Academic Programs when you scroll down a little bit, Academic Pathways. Sorry. And then you'll go into Health Sciences.
And you'll see a list of all of our programs here. So you can find the one that you're interested in. Let's click on-- let's click on Nursing Registered for now.
I'll take a look at that one. And it has lots of good information about the program. The first link that you'll see in there says WCC. In the second paragraph, uses a Competitive Admissions Process, so you can click on that one. It's kind of a long way to get to our health and second tier admissions page.
But this is where the applications to our programs live. So they are physical applications. Our competitive programs do require an application. So that's nursing, our LPN to RN program, the traditional nursing program, physical therapy assistant, radiography, surgical technology, and dental assisting do require applications. So if you click on one of those, Kathryn, let's click on-- let's go ahead and click on Nursing. I know that they have an active one right now.
You'll see that it's a fillable PDF file. So the important information is right there on the top box for you with the deadline. And now, these applications are accepted electronically. So towards the bottom of the application, it gives you all the information and the ways to submit the applications. You can submit it via email, which is preferred. You can mail it in.
You can physically bring it in. If you want to hand it to a person, we understand that. Email needs to come from the WCC email address to serve as your official signature. So that's what the applications look like. So this is a good page if you're planning to apply to one of our competitive programs to bookmark for yourself.
So that way, when the application is available, you can check back. So we don't always have applications there. Sometimes, depending on the program. We might just have a page there that tells you when to be looking out for the application. So if Kathryn, you want to click on radiography.
We'll show what does it look like. What do we usually put up there in the meantime. So this is just kind of a general page that says we're not accepting applications right now with the next deadline coming up to apply will be in October with a little bit more information about the program.
And so, and then when the application goes live, it will be posted here. That's a little bit about the application process, includes all of your prerequisites that you check off. A lot of our students doing our health care programs are coming from other schools.
They have transfer credit. It's always good to have all of that information here, because you'll need to add that onto your application as well. So make sure official transcripts are here if you're using those. Anything else you want me to touch on, Kathryn? I think that was a great little overview of how our programs work in applying. I would say that if anybody has questions about specific health programs or how to apply to health programs, and we also have Julie Hane here who can answer questions about how to apply to program or apply to Washtenaw Community College overall. So if anybody has any questions, they can feel free to ask them in chat or in person.
And I know we've had a few questions in chat too, so if-- whatever way you feel comfortable, I would say, if anybody has any questions, go for it. Thanks, Kathryn. Hi, everyone.
I'm Julie Hane. And I'm your Recruitment and Outreach Specialist for Washtenaw Community College. And I put my contact information in the chat so feel free to reach out to me anytime. I can answer questions about becoming a student, and if you have questions about anything else, I can at least help you get some answers and point you in the right directions. So as was mentioned earlier at WCC, we do offer certificates that are approximately 9 to 36 credit hours to complete, advance certificates, where you kind of build on your knowledge.
And they can be 30 or more credit hours to complete. Associate's degree, which are those two-year degrees. We do offer a post associate certificate. This is something you get after your associate degree. So one of the amazing things about Washtenaw Community College, there is so much support for our students. We do have the regular academic advisors who can help you come up with a plan for your time here at Washtenaw, help you pick out what classes you should be taking.
We also have success coaches to make sure you're going to be successful during your time here at WCC. They are folks that you can go to if you have any questions or need help with anything. We do also have learning support services. So for anyone that received a 504 plan or IEP in the past, you can continue those services here at Washtenaw. One of the things I really love is our Writing Center where you get free help with any paper you are writing.
It can be just an essay. It can be a research paper. And then also, we do offer free tutoring for all of our students. And there's many more things, but those are some of the ones that are I think are pretty amazing. So when you apply to be a student here at Washtenaw, you can go to our website and apply from a computer or laptop.
You can even apply on your cell phone. So when you get to the application, they're going to say, what kind of student are you? So if you're fresh from high school to college, you'd be considered a freshman. If you've already received previous college, you'd be considered a transfer student or returning to college. Dual enrollment will be for folks who are attending high school currently and will want to attend Washtenaw at the same time. And then we also have international students. So if you're excited about our programs, you want to come check us out.
Just go online, apply on our website, and keep your eye on your email. Because you will receive an email with your next steps within 24 hours. So it comes really quick, so you can kind of get moving. And this email will give you, your student ID number and the next steps. The next steps will be you're going to use that student ID number to create a Gateway account where you're going to use for everything as a student. If you don't have any previous college, you're going to have some checklist items.
One of the checklist items is going to be complete some type of placement test or get academic levels. We need to know that here at Washtenaw, so that we can tell you what classes to start taking. And then you'll do an orientation where you can learn everything you need to know about Washtenaw, including how to register. Some people may have additional enrollment requirements. And then for those who have completed 15 or more college credits with a 2.0 or higher, you will be automatically admitted.
And then once everyone gets admitted, then you can reach out and schedule some time with an advisor. So you can go over your game plan here at WCC, find out what classes to register for, and then once that's complete, then you're ready to register for your classes. And then connect with your success team.
Does anyone have any questions? You can unmute yourself and ask me or you can put it in the chat. And here's our information. I'm the second to last one, but I also put my information in the chat, so you guys have it as well. It looks like Whitney put her information in the chat for one of the advisors for the health programs.
Is there a process if I'm wanting to transfer my credits from Washtenaw, to a different college. I want to pursue something in the medical field. I just wanted to know if I can transfer credits if I did any medical classes at Washtenaw. We have the highest accreditation which means our credits will transfer to other schools even out of state.
Basically, it just depends on the class you take. We do have transfer agreements. So if you think-- I'm going to want to start at Washtenaw and transfer to another school, make sure to mention that to your advisor. When the time comes, they can let you know about transfer agreements you may get into or particular classes that will transfer to the university or college that you're looking for, so Yes.
You're welcome. Does anyone else have any questions? Well-- this is a part-- advising is not currently a part of the checklist which means you don't have to do advising. I highly, highly recommend meeting with an advisor, especially the first time before you register for classes, and so they can help you make a game plan of your time. It's not mandatory to meet with an advisor though.
Quick question, maybe you can address this. Is there any mandatory advising for specific health programs, Whitney? Not to be a part of-- not to apply to WCC-- but for the health programs, you have to meet with an advisor? Yeah. Yeah. I'm glad you mentioned that.
So a couple of our health care programs do require students to meet with an advisor before they submit an application, and it's a checklist item on the application itself. So that's our LPN to RN program, our physical therapy assistant program. And I believe those are it for right now. OK.
Used to be for nursing, but now we have general nursing information sessions that students can attend. So anybody who is interested in nursing, you can type in the nursing information session on WCC's web page too and be sure to attend one of our information sessions. We're also going to be hosting a video on that page to get lots of good information about nursing too. But yeah, mandatory advising right now, required only for two programs.
OK. But not for generic applying to WCC? Is that correct, Julie? It keeps changing. But as of now, I don't believe so. So I will jump in and say that when I will want to attend an orientation session that is on your checklist, but there is not necessarily qualifications for joining this orientation. This is just more of a general information session, but we could definitely connect if you would like to do that soon. Yeah.
And they did-- somebody did mention in the chat to about mandatory meeting for dental assisting. So that's true as well. So I was thinking more in terms of general health advisors. But dental assisting does require a meeting with the dental program directors, so they do dental information sessions, they've got a couple coming up here still for the rest of the year.
And then or you can meet with Jodie or Tina as well directly. But they do like to connect with students before they apply. Just real quickly on back to the question with Trinity, I did want to say that when it comes to general education classes for transfer, like if you took an economics class or an intro to composition, English Composition class, those can be pretty standard fare for different transfer institutions.
But when you start to get into medical or occupational training, that's definitely a little bit of a different dynamic in terms of transferability. Because a lot of times for medical programs, a particular school wants you to do their training-based education versus ours. So like a class in medical terminology may be pretty universal, depending, I know there's sometimes a class might be two credits versus three.
But then you start to deal with like an instrumentation class or specific medical classes or training-- excuse me, training-based classes that can definitely be different related to transferability. It would be definitely up to your new institution. So if you have an unofficial transcript, I'm sure you can talk to an advisor there. So we have a question, would you suggest that I should wait to do the medical training until I transfer to a different institution? I would think that-- I mean, I'll defer to Whitney. But I would definitely think that it's something if you know where you want to head to and what program you want to pursue, and you're in that process of trying to connect with the new institution, I definitely would have conversations with them.
Because ultimately what you're most concerned about is what's going to transfer from us to them, right? So I'll let Whitney jump in there. But I feel like you probably want to make that connection now about what you should take. No, you're right on, Steve.
So yeah, I mean, you run the risk if you're thinking like dental assisting classes or specific surg tech courses, the ones that are teaching you the specific skills and the training to go out and do that job may not necessarily be transferable. So I kind of-- it just it does depend on the program what you want to do. So check in with us, and we can help you navigate that and show you your options. Any last questions? We want to thank everyone, for coming tonight.
It's nice to have you also interested in Washtenaw, and we're really interested in helping you kind of negav-- negav-- [LAUGHS] Negav-- Navigate. [LAUGHTER] We want to help you become students, so get in touch with me. I'm better one on one. I promise you. Navigate.
Your way to your next big step in life. We're here to help with all that. All right. I think that's all on my end, Steve and Julie and Whitney.
So-- Thanks again for attending this evening. And hopefully, again, Julie is definitely willing to help if you have not started classes with us yet, or if you're working on your application, Julie's definitely can help you every step of the way. And I look forward to seeing you here upcoming semesters. So thank you so much.
Have a great evening.
2022-05-16 21:49
Show Video
Other news