WCC Showcase Series: Business & Computer Technologies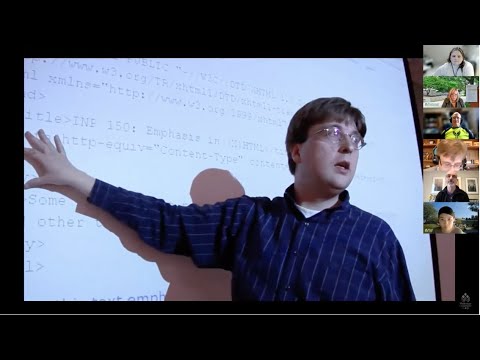 Show Video
Good evening, everybody. My name is Steve Bloomfield. And I serve here at Washtenaw Community College as the manager for recruitment and outreach. Just want to welcome you here to this first of a series of six showcase events through the month of April. We're very excited to start things off with our business and computer technologies division, and excited that you're all with us today. Wanted to let you know just briefly that we are recording the event.
So if there's things that come up later on, our movement forward is going to be to get closed captioning for the recording and then hopefully at some point here in the near future, we'll get it posted on our web page. So if you want to refer to something, it'll be there for you. But I think tonight, you're going to be happy because you're going to meet a lot of really, really good people, you're going to make some connections that'll help you through your enrollment process if you haven't signed up for classes yet or if you have questions. You're going to hear a lot of really great information. And I feel like by the end of this, if you're interested in moving forward academically at Washtenaw Community College, or if you're already here, you have that primary contact to take care of what questions and needs that you have. I did want to talk a little bit about the format for today.
So we have a number of experts here within business and computer technology that are going to be presenting. There's-- I'm going to introduce our dean of the division here in a few seconds. And we have-- Eva is going to be talking for a little bit.
And then we're going to have presentations. At the end, we will have time put aside for questions. But please feel free if you have a question that you'd like to ask, please feel free to put that in the chat. And all of us who are here will be looking out for any questions that come up. And we'll address them there.
But again, at the end, we'll have time for questions and answers. So at this point in time, what I'm going to do is I'm going to turn it over to Eva Samulski. Eva is our dean of this academic division. We work a lot together, love working with Eva, she's been a great supporter of our office and vice versa I like to think so. Without further ado, Eva, I'll let you take over. Thank you, Steve.
Welcome, everyone. And I'm happy that you could join us here at 5 o'clock on a Tuesday. The sun is starting to peek out but you're still going to spend a little bit of time with us on Zoom today. I do have to tell you this is the coolest division on campus.
So you did choose the right program to attend. In this division, as Steve said, we do do business. And we do computer technologies, which is all of our IT programs. But what's not in the title of the division is we also do all of our digital media arts programs.
So that's everything from graphic design, to video, to web, to photography. So as Steve indicated, you are going to hear from some experts within our division. We have faculty that are representative of each of the different departments. So again, you're going to hear from someone from IT, someone from business, and someone from digital media arts. So listen closely.
We have fabulous, fabulous programs. As Steve indicated, you can go ahead and put questions in the chat. We can try and answer them when the speakers are speaking. Or at the end, you will have that 15 minutes to be able to ask questions of our expert faculty at that time.
So to get things rolling, I am going to introduce Doug Waters. He is our department chair for business. And he is also one of our professional faculty. And he's going to talk to you about our business programs today. OK, can everyone see my screen? PowerPoint. We got it, Doug.
OK, perfect. So one thing I want to emphasize, a degree in business is a very, very versatile degree. And I'm not going to anger anyone tonight because we're not talking to other divisions. Other divisions aren't here. But if you're on the fence, like you don't know what you want to do, don't get an English degree. Don't get a university studies degree.
Get a business degree. Even if you're not going to be doing business 10 years from now, I think it looks better on paper. It doesn't hedge you in. For example, my undergraduate degree is in journalism. That really hedges-- if I didn't go on and do other things, that really hedges me into one specific field. But if you get business, it's like the world is your oyster.
And so in the business program, we do-- one of the very first courses you take is called, introduction to Business. And we do a lot of career exploration there. So that's really the place to do some research.
You research different career salaries, we pair you up with-- there's a report you do where you're interviewing a business professional. And this is a place to make mistakes. I'll give you an example. I had a student a couple years ago. And he came to my office and he said he was in crisis mode.
And I didn't know what to expect. But he said, all along, he thought he was going to become an accountant. And then, he was taking Intro to Business.
And he's doing a career exploration report. And he happens to interview an accountant. And he said, this accountant that he interviewed was just so into his job, so into numbers, and data analysis. And it just blew his mind. And he's like, that's not me. And he's like, I don't know what I want to do.
And I said, this isn't a crisis. This is great because you're not going to waste four years of your life gain an accounting degree if it's not your passion. And then we talked some more.
And he happened to be working at Ford, kind of a lower level job. And we said, well, why don't you consider supply chain? And I pointed him to our supply chain faculty lead. And I just think that was a more practical major for him because he's already a low level manager. So it just made a lot of sense there. But that's what we do in Introduction to Business.
We take a little bit of an inventory. And I'm someone, if I were to give advice to a younger me, I would say, relax. It's all going to work out. I've changed careers like three times. Hopefully, this is it.
But life is a journey. And they say the average person changes careers, who knows how many times? Seven I've heard. I don't know. But just because when I was a kid, I wanted to be an architect.
That obviously didn't happen because I don't really like math. And there's a lot of math in architecture I found out in college. But like I said, if you're undecided, start with business. And so why choose WCC? The cost.
You can keep a lot of your hard earned money that you are saving up for a rainy day to go to the movies. You can keep that in your pockets if you come here. We are the best deal out there in Michigan as far as I'm concerned.
Even better than some other community colleges in the area as far as like, there are some students we've heard that live in Jackson, but actually it makes better economic sense to go to WCC. We just have a little bit better tuition. Within business, we've got several different pathways. And something really neat we've been doing in the past few years is you can earn a certificate in these different concentration areas. And a certificate is not a degree.
It's just a quick credential you could put on your resume. It's like a talking point in a job interview. Kind of gives you an area of focus that a employer might be impressed with. And you just take a bundle of classes. So entrepreneurship, that's actually, I think, the quickest certificate.
It's take Entrepreneurship one, two, and three. And you could do that all in one semester if you take the accelerated classes. That's just one example.
But we got supply chain, retail, HR management, digital business marketing, sales, accounting. So you get these certificates, and you can kind of get more than one if you want. But they're a good way when you're starting out, you don't know what you want to do. Hey, earn a certificate. See if this one pathway is right for you. And if it's not, you're still going for the whole-- the general management or administration degree that transfers to the four year partners.
So you're not really wasting money while you're trying out new things. Because these classes that you take as part of certificates, they will count towards your degree as business electives. So we've got just a lot to offer. Is anyone-- feel free to interrupt me if you got questions. Is anyone students among us have an idea that they might want to try business? Feel free to blurt out. I'm currently studying-- I'm in the field of science.
But I was always interested in business because I realize if you want to create a startup, or if you want to join any company, having a business degree will give you an advantage. Well, currently, I'm still in science. But I was wondering, if you advise people who already graduated to pursue a degree in business or a certificate. Yeah, I think a certificate is the way to go for someone like you who already has a major and is pretty committed to it. But one-- you said you're already graduated or graduating soon? No, sorry.
I'm currently studying. But I was wondering for students who already graduated, for graduates. Oh, gotcha. Yeah, you can always come back, earn a certificate even if you have a degree. One thing that might be interesting is you said you might have a interest in entrepreneurship. So let's just say you have graduated with a degree in like, say, biology or chemistry, but you have this great idea for this new vaccine that's going to fight corona or COVID-20 or something like that.
And you want to test it out. Get your entrepreneurship certificates. And that might lead to, hey, I want to go deeper into this. I want to get maybe, get an MBA or something like that. But at the very least, it's going to give you the tools to learn how to start your own company.
You're going to learn about different business forms, you're going to learn about intellectual property, you're going to take a handful of courses that's just going to equip you, give you some practical knowledge. Thank you. Yeah, anyone else have any interest in business? Yes. I have many business ideas that I would like to start.
And I feel like this would be a great path for that. OK, yeah. The program leader for entrepreneurship, I'm just going to broadcast his name, is Anthony Terry. And I will put-- before this is over, I will put his email in the chat box. You'll want to set up a meeting with him.
Also, WCC is very unique. We have an Entrepreneurship Center. Not many community colleges have entrepreneurship centers.
And as a WCC student or graduate, you always have access to the Entrepreneurship Center. It's a great place. You can bounce off ideas. They'll make an appointment with you.
They'll even help you with some market research towards your business ideas. They could help you determine whether one is viable or not. And I've actually, I did something like that in my past. There is a group called SCORE. And it's a group of retired business leaders. But I had a side business in the distant past.
And I got some advising from a retired accountant. And he was crunching the numbers on this side business I had. And he gave me some great advice. And I picture the Entrepreneurship Center is a lot like SCORE in that they could sit down, do market research with you, crunch numbers.
But definitely, avail yourself of the entrepreneurship certificates. Take-- if you have some electives to play with, take Entrepreneurship one just to get your feet wet, and go from there. A community college is a great place to make mistakes.
The place you don't want to make mistakes is at a four year college. Let me skip ahead to that. Mention the savings here. So we determined if you spent-- if you got a business degree at WCC and you took all your classes here, and then you transferred to Eastern your last year, you're going to get an Eastern degree. So it's not going to say WCC on your four year degree, but you'll have gone here three years, and you'll for Eastern, you'll have saved like $20,000. What can you do with $20,000? I have a lot of ideas about what I would do with $20,000.
But maybe-- most people say, oh I could buy a car. That's for sure. Now that's a depreciating asset.
I don't know if I would these days get a car. But these other colleges, there's some huge savings with some of these, especially the private colleges if you're going to end up-- we have robust transfer programs with many colleges, Wayne State, Oakland University, Eastern, Walsh College, we have 3 in 1 transfer programs set up with our business program here at WCC. Let me skip ahead back to we got accelerated business programs. So you can complete classes in as soon as three weeks or four weeks. Six weeks it's kind of like you choose the format. And we offer a ton of business classes in the summer, the fall, the winter.
You could take it over a full semester. You could chop it in half, do it over six weeks. We got a lot of different options with the entrepreneurship certificate I referenced. You could go back to back to back, take Entrepreneurship one, two, and three all in one semester. You just-- you get done with one in four weeks, then you go to the next one, and then the next one. I think they're in five week increments with that one.
Any questions at all? Any other people? Don't be shy. Doug, just want to give you a gentle reminder that we're about the two minute mark for your 15 minutes. Yeah.
OK, well, let me give a plug to-- I just started a nonprofit management class. Is anyone-- I imagine you're all, most of you are a little bit younger and you want to change the world. And so nonprofit is a good class. It's not just about if you want to start a nonprofit. It's if you have any interest in working in a nonprofit. Again, it's an exploratory class.
So sign up. We're offering it online in the fall. And then we also have just rolled out a sports and entertainment management program.
So a few classes in that. So if you want to maybe work in marketing for the Detroit Red Wings one day, well, this is your path. So I will hand it over to someone else now.
Thanks, Doug. Next, we have two presenters from our computer science and IT department. We'll start with Jing Bai, who's going to be talking about our Java program. Hi, everyone.
My name is Jing Bai. I am the full-time faculty at our computer science and information technology department. So I will be introduce you to our programming side of the world. But before I get started, let me show you all the fun we've been having in our computer science classes.
OK. OK, everybody see my screen? OK, awesome. [VIDEO PLAYBACK] [MUSIC PLAYING] So we wanted the bot to have several functions, most of which professional, all of which have to do with a love of cats.
And that's what united us for the last 15 weeks here at the grand old WCC. This class is considered sort of like a capstone for those of us who are going into sort of the software development industry. We learned a lot about different strategies that were possible to implement when working on this project. And with all of the information that was available to us, it made it really easy to customize what we wanted for our own strategy.
The idea for our project really came from a need that we saw. The web app gallery is a list of apps that work entirely in your browser. The web app gallery is fully responsive. So any device size, it'll handle it however.
And also, we have light and dark mode, which automatically switch based on the preference of your computer, or your phone. To code is something easier than we realized because of the relaxed environment we had. There were certainly a lot of things that we all learned, different things that we learned about working in a team environment.
There were certainly some valuable experiences here that gave us a lot of insight into what the industry might look like when you're working on a team down the road. Any time that we got our heads together and actually coded, we knocked it out of the park. So a lot of our team programming was really, really effective strategy.
Any issues, we were able to resolve together. Learning software development methods and architectural designs was very interesting. We found that these concepts were immediately useful for this project. We feel like these concepts would be rather useful for projects of a larger scope. We had a lot of fun making it. And we learned a lot of stuff.
We told a lot of jokes, which honestly made us more productive and more collaborative, which I think really helped. [END PLAYBACK] OK, let me get my screen back here. So what I have just showed you is one of the showcase video from our team programming course, which is some sort of a capstone course we had at the college. And wow.
The machine takes forever to load. OK, so I prepared a little short presentation here. So that is just one of the class we offer in our department. So here is the list of all the programming courses we have at the college. We have Java courses.
We have C++ courses. And we have other programming courses as well. So if you're on the Java track, we start from the Intro Java where we introduce you to all the fundamental programming elements, and we also introduce you to the main features of object orientated programming. Then you move on to the 200 level courses, which we have advanced Java course, where we introduce you to all the advanced feature Java has to offer. Then we have the Android class where we use Kotlin to do Android development.
And we also have a Java server development kind of course using Spring framework with Hibernate. So that's our Java route. And you can see, we also offer C++ courses. I'm sorry, I'm just trying to see the chat here.
OK, so we also have the C++ courses here. We start from intro C++. Then we also introduce you to the object features of C++. And we also have a course that will show you the algorithm of doing data structures with C++. Some other programming courses we have are Unix, Linux classes, we have database class, where we use SQL Server, we have a PHP and MySQL course. And we also have a Intro Python course.
This course is a direct transfer to U of M School of Information. The last one is the capstone kind of course, Team Programming. And that's the one when you see the showcase video, the two minute video I just showed you, that is the final project the student actually made at the end of the semester in that course. So for this course, students actually choose their own team and choose their own project.
Then at the end, they will present it to the entire class of their final product. And in this course, we also introduce the whole lifecycle of software development. The purpose is really trying to prepare you for the real industry. We're trying to close the gap between the college studying and the actually the real workforce. So those are the courses we offer at the college. Jing, there's a question in the chat.
What if you don't know anything about computer programming? Would this be a good class to take to learn more? What would be a good class for a novice to take? Sure. Let's come back here. So for both of the intro classes, Intro Java and Intro C++, there's really no pre-req for those two classes and for the Intro Python. Basically all the hundred level course, you can just take it right away, even without any programming skills or experience. However, for some of the students, they might find this course, the step is too big.
And we also-- oh yeah. I should include this in my list. We also have another intro to programming, which is the CPS 120. That one is not a specific doing only Java or C++ or Python. But it's just trying to introduce you to the concept of doing programming. So a lot of students will start from that course, then move into taking the Intro Java or the Intro C++.
Depends on which track you want to take. But both of the class, if you want to give it a try, there's no pre-req for those two classes, even for people who has absolutely no programming background. All right. So-- oops. So next one, we have a very flexible course format.
We offer those courses in face-to-face format, meaning all the meetings will-- you will be coming to campus, you will meet with your classmates and your instructor every week. We have online courses. Those online courses are asynchronous, meaning all the materials will be provided on Blackboard. So you will have everything you need from our platform. Then we also offer those classes on Zoom. So you can have a virtual class where you still meet with your classmates and your instructor, but just not in person on Zoom instead.
We have a mixed mode class, which is kind of like the mix of face to face and online. So you spend half of the time studying on Blackboard on your own time. Then half of the class time will be spent face to face or on Zoom to meet with the instructor.
We offer daytime and evening classes. Some of the class, we even offer them at weekend. So we have 15 week classes, we have 12 week classes, and some of the classes we offer are accelerated. So we're really trying what we can to meet those student needs you can see here. For the Java and C++ program at the college, we offer certificates and associate in Science degrees.
So for the Java one, if you want to get advanced certificate degree-- not a degree. I'm sorry. If you want to get the advanced certificate, you need to complete 16 credit hours for the Java program. But if you choose the C++ route, that is only 12 credit hours. If you want to get the associate degree at WCC, that's a 60 credit hour requirement. So you will be taking those programming courses with some other electives in the general ed area.
So we have many articulation agreements with other colleges and universities in the area. You can see EMU is a great example. We have this 3 plus 1 program with Eastern where you can actually transfer up to 79 credit hours directly into Eastern and just finish up the last year at Eastern. And you will receive a bachelor's degree from Eastern. We also have transfer agreements with U of M Dearborn, with Wayne State, with Michigan Tech, and many more colleges and universities. So as you can see, we're having a lot of fun.
And we have great programs at the college, great faculties, great students. You will find a lot of friends. So and taking computer science, I mean, it's a great path.
I know Doug was talking about on average, people switch careers seven times. But guess what? For people who work in IT, they don't really switch career. Once you start working in IT, you kind of spend the rest of your life working in that area. It's just because there's so many opportunities. There's job security.
You will never find yourself in the situation of, oh my gosh. It's hard to find a job right now. You will never find yourself in that situation because the job market for programmers is always, always good.
So last thing. I just want to show everyone really quick, if you wanted to see the course list of what kind of class we offer at the college, this is the website you can-- you go to our main page, wccnet.edu. And if you click on this WCC Gateway, and you can see the second button over here says, View Class, this one will take you to the site that we have all our classes listed here. And if you are only searching, you can type in keyword for the specific class you are looking for. If you're looking for computer science classes, just put in CPS, hit Enter, and this will show you all the computer science classes we offer at the college. And you can also sort this or do the search based on the semester or even time of the day, day of the week.
So all kind of good stuff. So I just want to show you, this is where you can go to find the entire list of all the classes we offer at the college. All right. I think that's it.
Thank you, everybody. Thank you. Next, we have John Trame who we'll talk a little more about our networking programs here at WCC. So John. Thank you. And welcome, everybody.
And I will try to share my screen so that I can get to my slides. Hopefully, everybody can see my screen. And I am in the same department as Jing. So a lot of the stuff that she talked about with regards to the format of our programs, like we have certificates, we have advanced certificates, we have associate degrees, all that kind of stuff, the flexibility, everything from full 15 week semester courses, all the way down to squishing a whole certificate in a single semester as one of our advanced programs so that you can take our full CCNA certificate program in a single semester if you want to. We have Zoom meetings, we have live on campus.
We have it all. All right? So into our information technology, which is very similar to the programming. We have-- first of all, I better start this baby from the beginning and get that slide going.
Hopefully, it's-- oh I have a feeling you're looking at the wrong screen here. One of our certificates is the CCNA, Cisco Certified Network associate. We have certificates in Microsoft. And we have certificates for security that will prepare you for entry level certifications. I've only highlighted one of them right here, the CCNA.
And this is all the certificates I just mentioned are highly regarded in the industry as a great starting point. For example, this one, CCNA, is for networking, routing, and switching. We also have the Microsoft, which is great for dealing with Windows servers and clients.
And then security, we help you get ready for the Cisco Security CyberOps certification, as well as the Security Plus certification. They're all great certificates to start with to get you going in the industry to get your first job. Here's an example of the kind of money you can make in this field. With a CCNA, you can end pretty much with any of the certificates I mentioned, this is roughly the same ballpark of salaries. $79,000 a year as of May 2021, that's the average salary. And here's some great places where you could find a job and the type of money you could expect to make.
San Jose, et cetera. So I won't read all those to you. You can read that yourself. Now do I really need a college degree? No. A college degree is not absolutely necessary in this field.
You can enter the field with just one of the certifications. However, having at least an associate's degree can help. And at some employers, they require a minimum of a bachelor's degree. It just depends on the employer. Now does that different degree such as a bachelor's degree or a master's degree make a big difference? Not really.
According to a survey that was done by salary.com, here's the average entry level engineer, network engineer, engineer number one, with an associate's degree that made between 66,000 and 71,000 a year. With a bachelor's degree, it's only about $1,000 more.
How about the next level engineer? Notice the associate degree, 84,000 to 89,000. With a bachelor's degree, 84,000 to 90,000. Even with a master's degree, compared to a bachelor's degree, compared to an associate's degree at the highest level of network engineer, do you see a huge difference? No.
There's not that much of a difference. Interesting. John, I think there was a question from a David J. OK. David, did you have a question? Nope, I'm all set. Thank you.
All right. OK. Now some of the things that we go into in our program is we cover areas such as a computer support specialist. And what does a computer support specialist do? Well, you're going to test and evaluate existing network systems, perform regular maintenance, and ensure that the networks are operating correctly. And then you're going to troubleshoot. I only mention troubleshooting local and wide area networks.
I should have mentioned that you're going to be troubleshooting servers as well depending on which area you major in. And this is just giving you a little bit more information about what the computer support specialist does. But this one is a computer support specialist that's not focused quite so much on that local area network background, but more on the desktop and the server background. So I'm not going to read all this. But essentially, it goes into installing and supporting the software, the operating systems, making sure the operating system is working the way it should, making sure that the hardware is working the way it should, doing your troubleshooting to fix the problems that you find. We also have information security analyst is another possible career that you can go into.
And in that area, you're going to be dealing with all the wonderful cyber attacks that have been going on. We have been having more and more cyber attacks like crazy lately. And you might notice from the US Bureau of Labor and Statistics, they're estimating a 33% growth rate from 2020 to 2030. That is a huge growth rate. So there are jobs out there like crazy.
Everybody is begging for cybersecurity specialists right now. They just can't get enough. So do I want to go into cybersecurity? Maybe you do. It's a great field to go into.
And you're always, always going to be running into new stuff. You're never going to get bored. Because as soon as you solve one problem, the hacker is a step ahead of you trying to hack his way in again.
Now can I learn this stuff at WCC? Yes indeed you can. We have a computer networking systems degrees, certificates that focus on, as I said earlier, the network operating systems such as Microsoft, both the client and the server. We also have local and wide area networking, which is the Cisco curriculum, which deals with routers, and switches, and firewalls. And we also have a cybersecurity operations certificate and degree, which gets into all the security stuff about trying to protect your systems from the hackers. And we also include forensics where you can analyze a system after somebody has hacked into it.
You can also analyze people's hard drives to look for criminal activity. And then the next few slides just go into the basics of these are the different types of programs that we have. We have our computer systems and networking, which as I pointed out are local and wide area networks, and Microsoft operating system. And our cybersecurity, it deals with all the security issues that I mentioned.
And we do help you prepare for the Cisco CCNA Cyber Operations Associate Examination, and also the Security Plus. Now I want to show you a couple of the things that we tinker with in some of our classes. For example, in the Microsoft classes, you will be learning about creating virtual machines, Windows virtual machines.
And this is just a sample of a couple of different virtual machines. I have a Windows 10 machine here and another Windows 10 machine here. And just to prove that they can get access to each other, I'm going cross the network over to this other computer here to get access to a share on that machine.
One of the many, many things that we get into is this kind of stuff. Create the virtual machines. Update machines. Even migrate them from one real machine to another real machine, running servers, running clients, setting up user accounts, setting up DNS servers, DHCP servers, all kinds of servers that do all kinds of great stuff to run our networks.
That's our Windows curriculum. Now I got to get all these virtual machines out of the way and go to our packet tracer simulator that we use in our Cisco and Networking classes where we-- John. Yes. I'm sorry. This sounds really cool. I just want to make sure that we give time to the other two presenters that we have left because we have about 15 minutes left and we have two more people that need to go.
OK. This sounds really cool. So if anyone else has more questions, definitely reach out to John if you want to know more about this.
But I just want to be respectful of everyone's time. Thank you. Thank you very much.
Thank you, John. Next up, we have our digital media arts department. We have Jason Withrow who will speak first on web design and development.
Jason. Wonderful. Let me just share my PowerPoint here. OK. OK, so hopefully, everyone can see this. I did keep everything short here.
I wanted to make sure that I-- I realized having been late in a sequence before that oftentimes, I had very little time. So I did keep this brief. So as you know, life is different-- has definitely changed with all of the adjustments we've made over the past two years. But I'm happy to say that for the web folks, it wasn't that big of a change.
My students have always been able to work remotely from anywhere in the world. They've been able to be sitting on the beach somewhere with their laptop doing their thing. So it really wasn't a big shift for any of my students or my graduates. They were like, yeah, OK. So now other people are working from home.
I've been doing that forever. So if you like that aspect of current life, then the web program is a great program because you can be remote. As long as you have an internet connection, you can do what you need to do.
And in fact, some stuff you can do even without the internet connection. So it's a very flexible approach to work and life. You've been hearing a lot about the different types of degrees that are available. We have an Associate in Applied Science degree.
All that really means is that of all the different types of associate degrees, this one allows you to have a lot of web classes. It allows-- sort of shifts the balance towards occupational focused classes and away from general education classes. You still have 18 hours of those.
But the other varieties of associate degrees like the Associate of Arts, or the Associate of Science, they have more gen ed. And we don't. We sort of focus your studies on what you'll actually be doing. We also have a number of-- of transfer agreements with Eastern. These are all 3 plus 1's.
And all that really means is that you can do three years at WCC, you can do one year at Eastern. And so that's great. It gives you certainly the best financial setup because the tuition at WCC is certainly quite affordable. And we certainly take pride in our teaching, and in our material. So you get three years of really solid training from WCC. Then you finish up at Eastern.
And it's in areas like technology management, communications technology. We've had a number of students go through and get the bachelor degrees from Eastern. When you're looking at jobs that relate to the web, oftentimes, they just sort of want a bachelor's degree in something. They want you to have gone through the process of getting that bachelor's degree. And when you look at a job posting, if they list out five different majors, and they end it with, or related area, they're really just saying, have a bachelor degree.
Just have it in something. They want to be able to check that off so human resources can say, yes, we have certain percent of employees that have bachelors degrees. And that's how it's set up.
For some of the areas of study, some people even go on for master's degrees after the bachelors, which gives them even more job opportunities. We offer four certificate pathways. And really, these are just different areas of emphasis, if you will, of study. The first two are very technical.
Client-side web developers, things that are sort of inside the browser. HTML, CSS, JavaScript. The server-side are things that reside on the server. And Jing was talking earlier about what they offer over in computer science. We do have some of our students take some computer science courses, some CPS courses because that's just logical and natural. I mean, they're in that space.
And so are we. And so there's some nice collaboration and sort of cross-pollination between web and CPS, which is computer science. Interface designer and user experience designer are the more visual, more creative, more analytical, that get away from writing code all the time and thinking about, how do you design an interface? Or how do you evaluate whether something is easy to use or not? So you've probably heard the term, or maybe you've heard the term, user experience. Well, we've been teaching that for over 20 years at WCC. And sort of over time, the rest of the world kind of woke up and was like, yeah, we should probably teach that too. Or so you sort of see it out there in job postings, you see it if you've looked at other programs, they probably have something related to user experience.
Because it's based on the radical idea that if your customer, if your end user, finds what you have made easy to use and understandable, they'll probably stick around and keep using it. Crazy idea, right? Wow. People that are not confused are happier.
Yeah, they are. So we definitely have been teaching that for quite some time. If you decide to do the associate degree, you essentially do two of these certificates along the way. So sort of as you build toward the associate degree, you're taking these certificates.
We made these flexible. There are some very open sort of electives you can take. If you wanted to take a class that was in a different digital media arts area, such as 3D animation, or you want to take a class in video, you can actually slot that into these certificates because we sort of built them with flexibility in mind. There are core classes that are really focused, laser focused on the topic at hand. But you can also add something in that's maybe just sort of next to it, sort of a sibling concept, and have that also count toward the certificate. So we give people that ability to have choice and.
We think that that's actually a really good way to do it because some people are more technical in their thinking. Some people are less technical. And we want to allow for different approaches to the work and how people want to build their skills. So we've-- I've already mentioned, a lot of this stuff.
We sort of have these interwoven with other digital media arts areas. My colleague, Terry Abrams, is going to be talking about sort of photography plus some of the other high level, some of the other digital media arts things. So I'll let him speak to that. And it's just-- I mean, the web program really believes that we want to teach the foundation. But we want to give you some freedom to make the course of study that really fits best for who you are, what your background is.
The web is a very eclectic place. The web has always been interdisciplinary. It's always melded things from all different sorts of areas, from graphic design, to computer science, to human computer interaction. And the list goes on and on.
Technical writing. We've always merged and melded all of these things together in sort of a knowledge melting pot. And so we wanted our certificates and our associate degree to also reflect that flexibility, or to allow for that flexibility. There are many pathways to careers on the web and there are many careers out there on the web.
As Jing was saying, there's no lack of programming jobs. There's no lack of all sorts of jobs on the web, ranging from user experience, to interface designers, to visual designers, to front end developers, and so on, back end, full stack developers. We train people for all of those areas. Jason, we're going to have to move on. Sure. No problem.
You can make last comment if you'd like. Be happy to. So we're very focused on skill building, portfolio building, as you see here. And these are the two core faculty, myself, and my colleague Kelley Gottschang. So just feel free to reach out with any questions you have to either of us or both of us. And we'll get your questions answered.
And with that, I will-- yeah, hand the baton to Terry. Yeah, next up is Terry Abrams, faculty in the photography program here at WCC. Terry. All right.
Thank you very much. So I want to, first of all, explain to you what a photographer does. Because you know already what a photographer does.
A photographer takes pictures. But beyond that, a photographer is someone who notices things and shares those things with other people. A photographer is someone who is sensitive to the unusual. A photographer is someone who has passion for what they make photographs about. A photographer is someone who can take ideas and turn them into images.
A photographer is someone who is often interested in technology and utilizing technology to create interesting images. And a photographer is someone who has a flexible lifestyle. So for example, I teach full time at Washtenaw Community College. I'm an exhibiting artist, and I travel the world.
And that is my lifestyle, a little different than some of the others. So what I'd like to do is show you a short three minute video about what we do at WCC in the digital media arts department. And then I just have a few things to say to you after that. Oops. So let me share my screen here. Yeah.
[INAUDIBLE] Terry, we still don't see your screen. Photograph, a poster design-- You don't see my screen? No. This work takes knowledge and talent to stand out and-- He's using one of those Mac computers.
That's probably why, huh? Jason is laughing. All right. Here we go. There you go.
OK, thank you. [VIDEO PLAYBACK] [INAUDIBLE] a photograph, a poster design, or a video game. This work takes knowledge and talent to stand out and be successful. And there are real people behind these visuals that surround us every day, real people like you. Washtenaw Community College's School of Digital Media Arts teaches you technical skills you need to become a creative professional while helping you develop your artistic eye.
In the photography program, you get access to studio space, lights, computer labs, and even a darkroom if you shoot on film. WCC also has an entire array of cameras and lenses available for you to use. When it comes to moving images, the video department has its own green screen studio for special effects, along with high definition cameras and powerful computers for editing professional-looking productions. In WCC's graphic design program, you'll be trained on Adobe software, and also study the theory behind making functional graphics for print and the web. If you're into animation, you can study modeling, textures, and lighting. You'll then build and animate full 3D models using Maya, the same software that is used for video games and movies.
No matter what kind of media you're making, you can put it all on the web with our internet professional program that teaches you how to code and design professional looking web pages. In all of these programs, you will use the same tools that the pros use. And the courses are taught by award winning instructors who not only teach but are still active in the industry.
In certain courses, you may even travel across the world to expand your artistic perspective. Every year, the School of Digital Media Arts holds a portfolio exhibition where your work gets in front of accomplished artists and employers who will offer you a critique and maybe even a job. And if you're looking to continue your education, your WCC credits transfer directly to many four year programs at institutions like the College of creative studies in Detroit and the Savannah College of Art and Design. The skills you learn in your program will open up a variety of career options for you. Whether as part of a creative team or as a freelance artist, you can do everything from commercial work to the fine arts. Every industry that relies on visuals needs someone like you.
Start a career that bridges your creative spirit with real technical knowledge at Washtenaw Community College's School of Digital Media Arts, where your vision can take shape and become a reality. [END PLAYBACK] So I would like to share one more thing with you here. And these are some images of our facilities. Can you see the images OK? OK, so this is our photography studio. And one of the things that's important in our program is that our classes are hands on. So these are students working in the studio.
We have six studio bays where students can photograph. They work with the instructors there. And students work in teams using computer technology and the latest cameras to create photographs that illustrate ideas. We have outstanding labs with new equipment, we have cameras, computers, tripods, everything you need to be a photographer. You don't even need a camera to take classes in photography at WCC because we can provide cameras. All you need is a portable hard drive and some paper for printing your pictures out.
Our cameras are everything from film based, large format cameras, to the latest digital cameras. We still have darkroom classes and students learn the darkroom technology. We blend darkroom technology with the digital labs and purposely have one of our labs adjacent to the darkroom so that we can blend the technologies together. And you can see the labs are very clean and modern.
This is an example of one of our equipment cabinets where half the equipment is checked out the students already. And we have plentiful lenses and things for students to borrow. We exhibit student work on an ongoing basis right outside of our labs. And we believe that's important for students to see their work on display, and for others to comment on it. And in photography, people are doing what they love.
And that links back to lifestyle. We also have four new certificates coming in our program. And additional transfer opportunities for students, we'll be renewing one with Eastern Michigan University shortly. And it's just a great place to study photography, really one of the best in the country.
Thank you, Terry. Thank you so much for being so flexible with the little time that you had. My name is Cassandra. I am a recruiter here.
And I am specifically the recruiter for business and computer technology programs. So if you have any questions in terms of admissions and just how to enroll, and how to complete your application, you can reach out to me with the information that is in the chat. You have my email as well as my phone number. So that's just a little bit better about me. Again, if you have questions on how to apply, if you have not yet applied. And I'll open it up for questions.
So I just, I was curious on whether you guys have-- I know I went to Eastern and they have-- I forgot what it's called, but a room-- escape room where they figure out which degree, or where would you best place for what your interest would be, if that makes sense. Do you guys offer anything like that, that could help me see where I want to place my career, or et cetera? Yeah, so first off, I just want to plug the survey that's in the chat. If you could fill that out, that'd be awesome.
But to answer your question, we do have two sort of quizzes on our website. One is like a shorter one to sort of see what your interests are. And then it'll suggest certain pathways for you.
And then there's a longer one that you can take that is a little bit more detailed depending on how much time you have if that answers your question. Yes, it does. Thank you.
I'll also just jump in real quickly. That's a great question. As you consider taking classes and becoming a Washtenaw Community College student, folks like Cassandra, myself, my areas in recruitment, we're also able to help bridge some of that for you. What's great about our faculty is you see here tonight, is that they're here and they really are proud and have every right to be proud for the great, great work they do.
They're also really flexible and also very caring about those interactions. I mean, I have a lot of faculty that I work with where I can just drop an email real quick if somebody has specific questions about a program or they're not really totally sure about what field within a particular division might be best for them. So as you work with us, just know that we'll help you make connections as you have questions. And we've got a lot of great, great people here to help. Are there other questions? You don't have to write in a chat if you don't like.
You could just unmute and feel free to ask. There was a question regarding international students. I also work with international students. So if there are any international students here, feel free to reach out to me via email or phone call. And we can actually connect on how to apply to WCC. Seeing that there's no further questions, Eva, do you have anything you'd like to finish with? I'd just like to thank everybody for their time today.
Again, we have some amazing faculty and some amazing programs. So please do not hesitate to reach out to them. If you're in the neighborhood, we would love to see you on campus. You can actually tour some of the facilities yourself. I know Terry gave some really great images in the video, and just with his own photographs.
But it's nothing like being here on person-- in person. I know one thing John did not get to cover is we have a newly developed automotive cybersecurity lab, which is pretty high tech. It's got a lot of these actual automotive components.
So students will essentially be learning how to hack a car. So that's very cool. Again, our facilities here are top notch. We get a lot of kudos from industry professionals about the quality of the gear that we have, the cameras, the equipment, the computer labs, everything like that. So definitely, stop by campus and check us out if you've not already been here.
Other than that, I appreciate everybody attending this evening. Yeah, thank you so much to everybody for being here. I know that some of you are also going to be attending some of our other sessions.
I just want to let the next one that comes up is Thursday evening talking about online learning. I'm actually facilitating that presentation with a few of my staff members. So we're looking forward to that. And then we are going to feature the remaining academic divisions as the month goes on each Tuesday and Thursday. And when you received your information on the event, you saw there's a ability to actually register for multiple events.
And obviously, many of you have done that. So we're very much looking forward to seeing if you're coming on Thursday or future events. And I hope you all have a outstanding evening. And don't forget. This is the coolest division. So this is the one you want to be part of.
That's right. I couldn't say that. She had to say that. Have a great evening, folks. Good night, everyone.
Hey, thanks for your time, guys. Bye. Thank you. Thank you.
2022-05-12 23:21
Show Video
Other news