Three (Formerly) Blind Mice: Reprogramming Tissues to Be Young Again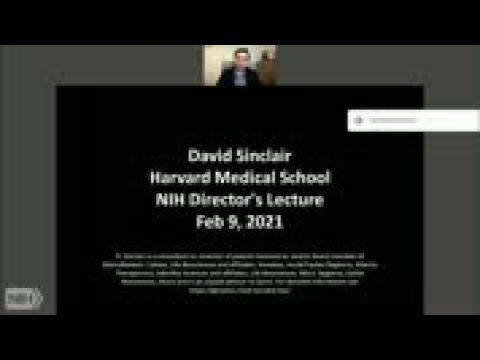 Show Video
I'M RICHARD HODES, DIRECTOR OF THE NATIONAL INSTITUTE ON AGING. IT IS MY PLEASURE TO WELCOME YOU TO THE THIS SPECIAL TUESDAY WALS LECTURE THREE FORMALLY BLIND MICE REPROGRAMMING TISSUE TO BE YOUNG AGAIN. I'M HONORED TO BRING TO YOU BIOLOGY AGING RESEARCH AT HARVARD. DR. SINCLAIR IS FOCUS ON UNDERSTANDING WHY WE AGE AND WITH THAT UNDERSTANDING TO MAKE US AGE BETTER. HIS TEAM RECENTLY FOUND THAT IT IS POSSIBLE TO EPIGENETICALLY REPROGRAM CELLS TO SAFELY REVERSE AGING IN VIVO AND REGAIN EYE SIGHT.
THIS WAS PUBLISHED PUBLISHED WORK BY NIA AND NATIONAL EYE SUIT, CAME OUT IN NATURE SHORT TIME AGO. DAVID HAD HIS EARLY TRAINING AND EDUCATION THROUGH Ph.D. AND SIDNEY AUSTRALIA, HIS POST-DOCTORAL RESEARCH WAS LABORATORY AT MIT WHERE THEY CO-DISCOVERED THE EARLY CHANGES THAT RELATE TO AGING IN YEAST AND CARRY THOSE THROUGH TO TRANSLATION THROUGH OTHER SPECIES,ING HARVARD MADE MEDICAL SCHOOL SINCE 1999.
T HE'S CO-FOUNDER OF SEVERAL BIOTECH COMPANIES SERVES ON BOARDS, CO-CHIEF EDITOR OF SCIENTIFIC AGING AND NUMBER OF PRESTIGIOUS AWARDS AMONG THEM THE AUSTRALIA MEDICAL RESEARCH MEDAL, THE IRVIN WRIGHT AWARD, NIH DIRECTOR'S PIONEER AWARD, TIME MAGAZINE RECOGNIZED HIM AS LIST OF TOP 50 PEOPLE IN HEALTHCARE AND 100 MOST INFLUENTIAL PEOPLE IN THE WORLD. AND HE IS ALSO AN OFFICER OF THE ORDER OF AUSTRALIA, WHICH MAYBE A FIRST FOR OUR WALS LECTURE SERIES. WITHOUT FURTHER TIME JOIN ME FOR THE WARM WELCOME FOR DAVID SINCLAIR. DAVID. >> THANK YOU, DR. HODES. THANKS, RICHARD FOR THE KIND INTRODUCTION AND INVITATION TO GIVE A SPEECH TODAY, IT IS REALLY GREAT TO BE HERE VIRTUALLY.
THANKS FOR ORGANIZING THIS TOO AND DR. GOTTESMAN, GOOD TO HAVE YOU HERE. SO TODAY I WANTED TO TALK ABOUT NEW WORK THAT'S COME OUT AND COMING OUT FROM MY LAB. REGARDING THE ROLE OF NOT SO MUCH GENETIC CHANGE BUT EPIGENETIC CHANGE. IN THE AGING PROCESS, IF YOU WANT TO CALL IT A PROCESS. WE'LL GET STARTED.
THERE ARE SOME QUESTIONS THAT I THINK ARE IMPORTANT. BEFORE I DO THAT, IT IS REMISS TO ME OF ME TO NOT THANK THE NIA IN PARTICULAR FOR SUPPORTING MY LAB FOR THE LAST 20 YEARS. I DON'T OFTEN GET A CHANCE TO DIRECTLY THANK FOLKS AT THE NIH, I'M COLLABORATOR WITH MANY PEOPLE DOWN THERE.
SO I WANTED TO REALLY EXPRESS A HEART FELT THANK YOU FOR ALL THE SUPPORT THAT MADE MY CAREER AND THIS WORK POSSIBLE. SO WHAT WE LIKE TO ASK IN MY LAB IS SOME BIG QUESTIONS, WHAT IS AGING, WHAT DO WE CHANGE OVER TIME, WE TAKE IT FOR GRANTED BUT WE STILL HAVE A GOOD IDEA WHAT IS DRIVING THIS PROCESS. WE KNOW A LOT OF HALL MARKS OF AGING, MANY WHICH YOU PROBABLY HEARD OF, MITOCHONDRIAL DYSFUNCTION STEM CELL LOSS, TELOMERE SHORTENING. THERE'S ALLIS OF EIGHT OR NINE DEPENDING WHO YOU ASK. ONE QUESTION WE HAVE IN MY LAB, HOW MANY THOSE THINGS ARE TIED TOGETHER AND IS THERE ANYTHING UPSTREAM, IS THERE A SOURCE OF WATER FOR THE STREAM AS IT WERE.
I'LL PRESENT SOME EVIDENCE TO GET THAT CONVERSATION GOING. CAN WE QUANTIFY AGING AND ACTUALLY OVER THE LAST TEN YEARS THE FIELD HAS BEEN VERY SUCCESSFUL INCREASINGLY SO AT QUANTIFYING THE AGING PROCESS. NOT JUST QUALITATIVE MEASUREMENTS. CAN WE SLOW DOWN AGING? THE REASONS FOR DOING THAT I THINK SHOULD BE SELF-EVIDENT. THAT AGING UNDERLIES MOST AGE RELATED DISEASE, IT'S A LARGE COMPONENT OF WHY WE SUCCUMB TO THESE VEY COMMON DISEASES FROM ALZHEIMER'S THROUGH TO HEART DISEASE AND DIABETES.
AND IF WE COULD UNDERSTAND WHAT'S AT THE BASE OF THAT WE MAY HAVE A WAY OF NOT JUST DELAYING THESE VERY EXPENSIVE AND DAMAGING DISEASES IN SOCIETY BUT PERHAPS REVERSING THOSE. ON THAT NOTE ONE OF THE THINGS WE HAVE BEEN WORKING ON IS ONCE WE THINK WE HAVE A HANDLE ON WHAT'S DRIVING AGING, CAN WE TRY TO REVERSE ASPECTS OF IT AND QUANTIFY THAT TO REALLY SHOW THAT WE ARE MAKING A DIFFERENCE. SO THIS IS A BIT OF A ROTE MAPUTO TELL YOU -- ROADMAP WHERE WE ARE GOING IN THIS SEMINAR AN WHERE WE ARE NOT GOING. IF YOU HAVE HEARD OF MY LAB YOU KNOW WE WORKED HERE FOR A WHILE.
LOOKING AT AT AT THE ROLE OF SIRTUINS, EPIGENETIC REGULATORS. THESE ARE PART OF THE STORY BUT NOT THE MAIN FOCUS TODAY. AND YOU PROBABLY HEARD OF THE DRUGS METAPHORMAN RAPAMYCIN, THIS HAS BEEN A LOT OF WORK IN THE AGING FIELD THE LAST 20 YEARS LEADING TO THE PARADIGM THAT THE ENVIRONMENT AND MOLECULES THAT STIMULATE OR I SHOULD SAY SIMULATE FASTING AND EXERCISE CAN PROVIDE HEALTH BENEFITS IF NOT INCREASE HEALTH SPAN AND LONGEVITY. YOU HAVE PROBABLY HEARD OF SENT LYTICS, MOLECULES BEING DEVELOPED IN ANIMALS AND TESTED IN HUMANS. NO POSITIVE RESULTS I'M AWARE OF YET BUT THESE ARE MOLECULES THAT CAN KILL OR MODULATE THE GENE EXPRESSION OF WHAT ARE KNOWN AS% ZOMBIE CELLS, SENESCENCE CELLS AND TISSUE THAT DRIVE INFLAMMATION IN CELLS TO ACCELERATE AGING.
THIS IS ADDRESSING WHAT I'M CALLING ON THIS SLIDE THE A-3 STAGE, THE END OF THE LIFE OF A CELL. WE DON'T KNOW IF YOU CAN REVERSE THIS EASILY IN VIVO BUT WE ARE TRYING THAT. BUT WHAT I WANT TO FOCUS ON TODAY IS AN AREA REALLY AT THE CORE OF MY CAREER, REALLY SINCE I WAS AT MIT. IN -- LAB THE ROLE OF GENE EXPRESSION WHAT WE ARE NOW CALLING THE EPIGENETIC BASIS OF AGING. AND WHAT I -- MY LAB AND OUR COLLEAGUES COLLABORATORS HAVE RECENTLY WORKED ON IS IS IT POSSIBLE TO TAKE A CELL THAT IS OLD, BASED ON THEIR VARIETY OF MEASURES, ONE OF THEM BEING A LOSS OF GENE EXPRESSION, OTHER LOSS OF FUNCTION, AND CAN WE GET THEM TO GO BACK NOT ALL THE WAY TO EMBRYONIC WHICH IS THE QUICKEST WAY TO GETTING CANCER IN VIVO BUT CAN WE PARTIALLY REPROGRAM A CELL TO RESTORE A HEALTHY YOUTHFUL GENE EXPRESSION PATTERN PERMANENTLY OR STABLY WITHOUT GOING TOO FAR.
THAT IS WHAT I WANT TO TALK ABOUT EARLY WORK IN THAT REGARD TODAY. SO THIS IS A EGG CELL, WHEN FERTILIZED AND YOU WAIT A BIT, SHAKE IT UP, COOK UP AND YOU END UP WITH ONE OR MORE OF THESE, IF YOU ARE LUCKY. AND THIS IS REALLY QUITE A REMARKABLE PROCESS. I THINK I DON'T NEED TO TELL YOU THAT BUT TRYING TO UNDERSTAND HOW THIS HAPPENS YOU HAVE TO UNDERSTAND EPIGENETICS HOW CELLS WITH VERY SIMILAR GENOMES ARE ABLE TO PRODUCE CELLS WITH VARIETY OF FUNCTIONS AND MAINTAIN CELL FUNCTIONS AND IDENTITIES FOR 120 OR SO YEARS IN SOME LUCKY INDIVIDUALS, HOW DOES THAT HAPPEN? WE HAVE INCREASINGLY BETTER TOOLS TOWNS HOW THIS HAPPENS.
IN THESE BABIES THERE'S 26 BILLION CELLS, EACH OF THEM HAS TO BE STABLY MAINTAINED, IF IT BECOMES DYSFUNCTIONAL YOU GET DISEASE OR AT LEAST A BUNCH OF CELLS AN TISSUES. ONE OF THE FIRST PEOPLE THAT GOT CREDIT FOR TRYING TO UNDERSTAND IN CONCEPT HOW THIS HAPPENS FROM A FERTILIZED CELL, OR STEM CELL TOSS TISSUE IS CONRAD WHO IN THE '50s THE WATTINGTON HYPOTHESIS WHICH IS THE IDEA THAT CELLS THAT HAVE NO IDENTITY WILL METAPHORICALLY ROLL DOWN A HILL AND END UP IN VALLEYS WHERE THEY STAY SO THEY DON'T SKIN CELL DOESN'T TURN INTO A LIVER CELL AND KIDNEY CELL DOESN'T TURN INTO AN EYE CELL. OF COURSE THERE'S MANY CELLS WITHIN THOSE TISSUES AS WELL THAT NEEDS TO BE MAINTAINED. BUT IN THE AGING FIELD WE RARELY THOUGHT ABOUT DEVELOPMENT AND VICE VERSA, THOUGH STAYING IN DEVELOPMENT AT LITTLE INTEREST IN AGING. THAT IS CHANGING. MANY PEOPLE IN THE AGING FIELD HAVE THOUGHT ABOUT THIS AT LEAST, THAT PERHAPS AGING MAY NOT BE A EVOLUTIONARY CONSERVED PROCESS TO CAUSE AGING.
WE DON'T BELIEVE AGING IS ADAPTIVE EVENT BUT IT MAYBE RELATED TO THE EPIGENOME. WHAT I MEAN BY THAT, INCREASING EVIDENCE ACROSS THE FIELD SOME FROM MY LAB, OVER THE LAST DECADE, CELLS THAT ARE TERMINALLY DIFFERENTIATED CAN ACTUALLY MOVE AROUND ON THIS WATTINGTON LANDSCAPE AND START TO BECOME MORE LIKE OTHER CELL TYPES OVER TIME. WE SEE THIS HAPPEN DURING AGING, WE DONE KNOW IF IT CAUSES AGING BUT IT CERTAINLY DOESN'T HELP GENE EXPRESSION PATTERNS.
IN MY LAB WE CALL THIS X DIFFERENTIATION, YOU CAN CALL IT WHAT YOU WANT, COULD BE EPIGENETIC DRIFT, EPIGENETIC NOISE BUT IT HAPPENS WHEN YOU LOOK. WE HAVE TOOLS NOW TO LOOK AT THIS AT AT THE SINGLE CELL LEVEL. SO THAT IS WELL ESTABLISHED.
THE QUESTION IS, COULD YOU EVER GET THE CELLS TO GO EITHER BACK UP THE HILL WHERE THEY CAME FROM, OR EVER GO BACK UP THE HILL? WE KNOW FROM YAMANAKA'S WORK YOU CAN GO BACK UP THE HILL BUT CAN YOU GO SIDEWAYS, THAT'S BEEN THE QUESTION. SO IF YOU ARE VERY YOUNG YOU PROBABLY HAVE ONLY HEARD OF WHAT HE IS ARE, THESE ARE COMPACT DISCS, WE USED TO STORE MOVIES AND PHOTOS ON THEM, THEY WERE SPRITING -- EXCITING AT THE TIME, I WANT TO USE THIS AS AN ANALOGY FOR A CELL. THERE'S TWO TYPES OF INFORMATION IN A CELL, THEY ARE STORED IN THE GENOME, THIS IS A DIGITAL CODE MUCH LIKE THE PITTS IN THIS CD, INSTEAD OF BEING BINARY IT'S BASE FOR ATCG BUT IN OUR BODIES AND IN A CD PLAYER, THERE'S ANALOG. YOU STILL HAVE TO CONVERT TO SOUND, THE READER IS STILL PHYSICALLY MOVING AROUND TO FIND THE SONG. SIMILAR TO THE EPIGENOME OF OUR CELLS MUCH OF THAT IS ANALOG.
ANYONE WHO IS DEALT WITH AN ANALOG DEVICE WHETHER RECORD OR TAPE KNOWS A THEY DON'T LAST THAT LONG, B THEY ARE BAD AT BEING COPIED. YOU CAN INTRODUCE NOISE OVER TIME SIMILAR TO XEROXING SOMETHING MANY TIMES. I THINK IT WILL BE USEFUL AT ANALOGY LATER. ANOTHER CONCEPT TO INTRODUCE IS THE CONCEPT OF INFORMATION TRANSMISSION AND STORAGE. THIS FELLOW HERE WAS A PROFESSOR CLAUDE SHANNON, HE WAS AT MIT DURING THE 1940s AND SPENT MUCH OF HIS CAREER TRYING TO FIGURE HOW TO TRANSMIT RADIO SIGNALS WITHOUT IT BEING LOST ALONG THE WAY AND WHICH CAN OF COURSE LOST LYES AS IT DID IN WORLD WAR II, HE CAME UP WITH A MATHEMATICAL THEORY OF COMMUNICATION THAT LED TO THE INTERNET WE USE TODAY. WHAT HE SAID IN THIS DIAGRAM, THIS IS PULLED STRAIGHT OUT OF HIS THE BLACK PART IS PULLED FROM HIS PAPER IN 1948, HE SAID THAT YOU CAN HAVE A TRANSMITTER AND RECEIVER AND THERE WILL ALWAYS BE NOISE WHETHER BACKGROUND RADIATION OR SOMETHING, BUT THE PROBLEM HOW DO YOU HAVE ERR PERFECT TRANSMISSION, HE PROPOSED OBSERVER, WE CALL IT THE BACK UP COPY O THE TCPIP PROTOCOL OF THE INTERNET BUT HE WAS THE FIRST TO SHOW MATH MATICALLY THAT YOU COULD USE A BACK UP COPY TO RECONSTITUTE THE ORIGINAL MESSAGE.
THIS IS WHY WE CAN NO LONGER USE THE EXCUSE OH I DIDN'T GET YOUR EMAIL. IT ALWAYS ARRIVES UNFORTUNATELY. WHAT I HAVE DONE IS ADDED A CONCEPT OF BIOLOGY AS I THINK ABOUT IT CURRENTLY.
INFORMATION GENETIC OR EPIGENETIC, IS IN A RELATIVELY PRISTINE STATE WHEN WE WE ARE VERY YOUNG AN OVER TIME YOU HAVE AGING AND WHAT MIGHT BE HAPPEN IS YOU ARE LOOSING INFORMATION WHETHER GENETIC OR EPIGENETIC. WE DON'T KNOW WHAT THAT IS YET FOR SURE, ESPECIALLY THE EPIGENETIC COMPONENT. IS THERE IN CELL A RESET SWITCH, DID CELLS EVER STORE A MORE YOUTHFUL VERSION OF THEIR GENE EXPRESSION PATTERN OR THEIR YOUNGER IDENTITY IF THEY DO WOULDN'T IT BE AMAZING TO TAP EPITHE THAT. AS I SHOW IN THIS EXAMPLE OF THE EYE, REBOOT THE SYSTEM AND GET CELLS TO FUNCTION LIKE THEY WERE YOUNG AGAIN. THIS IS WHERE WE ARE HEADED LATELY. FOR THOSE WHO DON'T THINK ABOUT EPIGENETICS ALL DAY VERY BRIEFLY, AN UPDATE GENE EXPRESSION IS CONTROLLED BY CLOSE CHROMATIN ROPE AND CHROMATIN, THERE ARE BIG LOOPS, SMALL LOOPS, CONTACTS WE CAN NOW READ THESE IN THREE DIMENSION USING TECHNOLOGIES.
THAT ARE RECENT. WE HAVE MODIFICATION OF HISSTONES THAT PACKAGE THE DNA METHYLATION EWE BIC NATION, ACETYLATION. ONE OF THE MAIN MODIFICATIONS I WANT YOU TO REMEMBER IS DNA METHYLATION. THIS TURNS OUT TO BE A VERY GOOD MARKER OF AGING CELLS BUT ALSO INCREASINGLY THOUGHT THE PLAY A ROLE POTENTIALLY IN THIS INFORMATION STORAGE I'M REFERRING TO. WE CAN MEASURE THIS. I'LL SHOW YOU EXAMPLES OF THAT.
WE CAN USE IT TO LOOK AT THE AGING PROCESS AS WELL AS ACTUAL ESTIMATED AGE OF A TISSUE. THIS IS COMPLEX BUT ALL YOU NEED TO KNOW IS THERE ARE ENZYMES THAT CONTROL DNA METHYLATION CHEMICALS ADDED AND SUBTRACTED TO DNA TO CONTROL IT. THIS IS BASICALLY THE DNA VERSION OF THE COMPAQ DISC PLAYER. THEY DECIDE OR THEY TELL THE PART WHICH SONGS TO PLAY WHEN AND WHICH CELLS SHOULD BECOME SKIN CELLS AND WHICH SHOULD STAY BRAIN CELLS. SOME OF THE GENES MAKE ENZYMES, THEY IN THIS CASE THEY WILL REMOVE THE METHYL TAGS.
ANOTHER ANOTHER ONE CALLED TDG. THIS CYCLE CONTROLS THE ON AND OFF PROCESS BUT MOSTLY STABLE AS I MENTION BECAUSE YOU DON'T WANT YOUR EYE SUDDENLY BEHAVING LIKE A LIVER TO PILL -- LIVER TO PUT AN EXAGGERATED EXAMPLE. A BREAK THROUGH IN THE FIELD CAME FROM STEVEN HOVITZ'S LAB AND GREG HAHN NON.
THEY GET CREDIT FOR SHOWING MATHEMATICALLY THAT HAS WHEN YOU MEASURE METHYLATION SITES ACROSS THE GENOME AND PLUG THOSE CHANGES THAT OCCUR DURING AGING WHETHER PASSAGE OF CELLS IN A DISH OR PASSAGE OF TIME IN A HUMAN, YOU GET A A PREDICTABLE STRAIGHT LINE. DURING DEVELOPMENT THERE ARE CHANGES IN THESE CHEMICAL PATTERN, METHYLATION PATTERN. WHICH STEVE LIKES TOE JOKE IN A MATHEMATICAL SENSE WE START AGING AFT FERTILIZATION BUT WHAT'S IMPORTANT AFTER THE TEEN YEARS YOU CAN DRAW A STRAIGHT LINE AND USE MACHINE LEARNING TO TRAIN THIS AND YOU COME UP WITH SITES WHEN THEY GO UP OR DOWN IN A CERTAIN WAY YOU CAN PREDICT THE WHAT WE CALL THE BIOLOGICAL AGE ESTIMATION OF CELL OR TISSUE. SO I CAN USE THIS TECHNOLOGY TO TAKE YOUR BLOOD SAMPLES, SPIN IT DOWN GET THE WHITE BLOOD SAMPLES OUT AND ESTIMATE YOU'RE LOGICAL AGE WHICH MIGHT BE A FEW YEARS DIFFERENT UP TO TEN YEARS DIFFERENT I BELIEVE THAN YOUR ACTUAL BIRTHDAY CANDLES. INCREASINGLY THE FIELD HAS SHOWN PEOPLE WITH HIGHER BIOLOGICAL AGE ARE MORE SUSCEPTIBLE TO DISEASES OF AGING.
SO THAT IT DOES SEEM TO BE VALIDITY TO THESE CHANGES BUT WHETHER OR NOT THESE CHANGES HAVE ANYTHING TO DO WITH CAUSING DISEASE BESIDES CANCER WHICH IS KNOWN MANY YEARS RELATED TO THIS BUT OTHER DISEASES DO WE KNOW IF IT DRIVES AGING OR IS JUST A CLOCK ON THE WALL? WE DON'T KNOW YET. SO BACK TO THIS ANALOGY, THESE CDs, IN THIS ANALOGY GET SCRATCHED SO A SCRATCHED CD WILL SKIP AND THE READER WILL NOT READ THE RIGHT SONGS. THAT'S A PROBLEM, SIMILAR WHAT HAPPENS IN THE MAMMALIAN CELL. AND IN BASICALLY ANY EUKARYOTIC CELL. THEY DON'T READ THE RIGHT GENES AT THE RIGHT TIME AND IT GETS WORSE OVER TIME UNTIL YOU EVENTUALLY SWITCH MACHINE OFF, YOU DON'T WANT TO HEAR IT ANY MORE.
I'M TALKING ABOUT CELLS, THE CELLS WE CAN SEE HAVE LOST THEIR YOUTHFUL GENE EXPRESSION PATTERNS. LOOK LIKE THEY ARE STARTING TO EXPRESS GENES THAT SHOULD HAVE NO PLACE IN THAT CELL TYPE WHICH I WILL I'LL SHOW YOU IN COMING SLIDES. IMAGINE TO POLISH THIS CD AND GET IT TO PLAY THE BEAUTIFUL MUSIC AGAIN, THAT IS WHAT WE ARE TRYING TO DO HERE IF POSSIBLE. SO MORE REPRESENTATION OF WHAT I'M TALKING ABOUT, THIS IS THE CHROMOSOMES IN A CELL, THIS COULD BE A YEAST CELL, MA MAMMALIAN CELL IN BLACK AND THESE ARE AREAS OF HETERO CHROMATIN WHICH SILENCE GENES. SOME OF THE ARE FOUND AT PERIPHERY SUCH AS THE SIRTUINS THAT I HAVE BEEN WORKING ON MOST OF MY CAREER THAT CONTROL SILENCING AND HETERO HETERO CHROMATIN.
THESE ARE GENES ON AND OFF IN LOOPS PROKED TO THE CELL MACHINERY. OVER TIME WHAT WE SEE IS CHANGES IN THOSE AND GENES THAT SHOULD BE LEFT ON BECOME SWITCHED OFF AND VICE VERSA. WE BELIEVE LEADING TO MARBLE LOSS OF IDENTITY.
THE QUESTION IS, WHY WOULD THIS HAPPEN? HOW DOES IT HAPPEN? SO WE CAN DO TWO TEST, ONE, WHAT WE HAVE DONE IS TEST CELLULAR PERTURBATIONS, WE TRIED DNA DAMAGE AND WE TRIED CELL INJURY, AND ASKED DO THESE -- DOES THAT MIMIC THE NATURAL CHANGES DURING AGING. WHAT IS THE SOURCE OF THE NOISE? ONE BIG CLUE CAME IN THE EARLY 1990s BRIAN KENNEDY DESERVE CREDIT, IN 1994 AS I WAS COMING TO THE U.S. FROM SIDNEY, AUSTRALIA, THEY PUT OUT OUT A PAPER IN CELL THAT SAID THE SIRF 4 GENE SILENT INFLAMMATION REGULATOR, INFORMATION IS IMPORTANT IN THAT ACRONYM, THEY ARE THAT MUTANT IN YEAST WAS ABLE TO EXTENT LIFE SPAN. WHAT WHICH SHOWED WITH BRIAN AND PUBLISHED SHORTLY THEREAFTER THE REASON YOU GET THIS THE PROTECTION FROM AND LONGER LIFE SPAN IS ASSOCIATED WITH AND BECAUSE THERE'S A RELOCALLIZATION OF THE SIR PROTEIN COMPLEX AWAY FROM SILENT LOCI.
SUCH AS THESE MATING TYPE LOCI AND TELOMERES. THESE ARE HETERO CROW MATTIC AND HAY MOVE TO A SITE OF GENOME INTACT WHICH IN YEAST, AND IN OUR CELLS BUT YEAST WE STUDIED IT, IT'S THE RIBOSOMAL DNA, IT IS REPETITIVE, 150 COPIES AND ON HEAD TO TAIL AND WE CAN SEE THE MOVE THERE AND MIMIC THIS AFFECT BY JUST BREAKING THE CHROMOSOME REALLY ANYWHERE WE WANTED TO AND WE SAW THE MOST OF THE SIRs COMPLEX MOVE TO THE BREAK, THAT INCLUDED THE PROTEIN CALLED SIR 2 WHICH GAVE RISE TO THE FAMILY OF SIRTUIN PROTEINS. SIRTUINS I'M NOT GOING TO TALK ABOUT MUCH MORE AGAIN, JUST TO TELL YOU THEY CONTROL HETERO CHROMATIN BECAUSE THEY TAKE NAD AS A CO-SUBSTRATE MOLECULE WHICH IS CHANGING DURING LEVELS DURING AGING AND IN RESPONSE TO WHAT ANIMALS EAT AND THEY DEACETYLATE DURING CHROMOSOMES. WE ALSO LOOK WHAT HAPPENS TO AGENING MAMMALIAN CELL, IS THERE SOMETHING LIKE THIS GOING ON DO SIRTUINS WHICH HAVE SPECIFIC PLACES, 400 SILENT GENES AN REPETITIVE DNA IN MAMMAL INCLUSIONING TRANS'S ANN AS WELL, DO THEY MOVE DURING AGING AND CAN WE PROMOTE MOVEMENT BY CREATING A DNA DOUBLE STRANDED BREAK.
IT IS KNOWN CHROMATIN REORGANIZES IN A DRAMATIC WAY IN RESPONSE TO DOUBLE STRANDED BREAK. BUT WHAT HAPPENS TO THE REST OF GENOME, DOES IT AFFECT HETERO CHROMATIN, DOES IT EFFECT THE EPIGENOME AND ARE THERE PERMANENT CHANGES AFTER REPAIR HAPPENED EVEN IF THERE'S NO MUTATION BEHIND. SO THIS IS THE CONCEPT IN A YOUNG CELL LOOPS AND BUNDLES THAT CONTROL GENE EXPRESSION. IF WE CREATE A BREAK IN THE CHROMOSOME OF MAMMAL WILL WE GET RELOCALLIZATION OF PROTEINS TO BREAK.
YEAST SAYS YES WE HAD TO TEST IT, OVER TIME IF YOU REPEAT THIS MANY HUNDREDS OF TIMES AND CONSIDER THAT IN 26 TRILLION CELLS IN OUR BODY, THIS HAPPENS AT LEAST ONCE PER DAY, BREAK AGE OVER TIME DO WE GET DISRUPTION SO WE CAN TEST IN CELLS AND IN MICE WHICH WE DID. THIS WAS A REVIEW THAT CAME OUT IN CELL BY -- IF YOU SAY CORRECTLY. WHAT HE WAS DESCRIBING WAS A STUDY WHERE WE CREATED BREAKS IN MAMMALIAN CULTURE, MAMMALIAN CELLS, AND MICE AND WE FOUND THAT THE ROSE LOCALIZATION REQUIRED THESE DNA DAMAGE CHECK POINT PROTEINS. THIS WASN'T JUST A RANDOM DRIFT. THIS REALLY WAS AN ACTIVE PROCESS THAT REQUIRED PHOSPHORYLATION CHEMICAL MODIFICATION OF THE ACTUAL HISTONE AT THE BREAK.
IT'S ONE OF THE FIRST STEPS, MOVEMENT OF SIR -- THE HOMOLOGUE OF SIR 2 YEAST GENE, THIS ENZYME GENE PRODUCT THE ENZYME MOVES TO THE BREAKS RECRUITS REPAIR PROTEINS, AND MOST GOES BACK WHERE IT CAME FROM, THIS IS RECAPITULATED DURING AGING THE PROCESS MOVING AWAY FROM THE SIR 1 REGULATED PROMOTERS. THIS ENZYME WAS USEFUL TO US, IT'S USED TO STUDY DNA BREAK REPAIR FOR MANY YEARS IN VITRO BUT WE STARTED IN VIVO. I USE IT IN OUR LAB BECAUSE IT DOESN'T CUT OFTEN, ONLY ABOUT 18 CONSENSUS SITES ACROSS THE GENOME, IT DOES COPY OUR DNA WHICH WE HAD TO BE CAREFUL WE WEREN'T TRASHING THE GENOME. BUT IT IS USEFUL BECAUSE IT STILL RATES A MILD DAMAGE RESPONSE SO MILD YOU CAN BARELY DETECT ACTIVATION OF THESE FACTORS.
BY WESTERN BLOT YOU WON'T SEE P53 ACTIVATED. WE CALL IT CHROMOSOME TICKLING TO DISTINGUISH IT FROM OTHER TYPES OF STUDY. SO NOW WE CAN ASK IN CELLS AND IN MICE DOES THE RESPONSE TO DNA DAMAGE IN PARTICULAR TO DOUBLE STRAND BREAKS WHICH ARE DELETERIOUS TO A CELL, DOES THAT I HAVE BEEN DEUCE TEMPORARY OR PERMANENT CHANGES IN CHROMATIN AND DO THEY POTENTIALLY DRIVE AGING LIKE THEY DO IN YEAST.
SO WE BUILT THESE MICE, ENGINEERED THESE MICE WHICH PHILLIP NOW AT THE NCI CREATED IN MY LAB TEN YEARS AGO. WHICH CALL ICE MICE INDUCIBLE CHANGES IN EPIGENETICS, NOTHING TO DO WITH BORDER PATROL AND WE HAVE MEF EMBRYONIC FIBROBLASTS AND ADULT FIBROBLASTS WE CAN TAKE FROM MICE. THIS IS WORK BY J YANG IN THE LAB, TALENTED POST-DOC. HE DEVELOP THIRD DEGREE IN VITRO SYSTEM FROM FIBROBLASTS WITH MICE WE CAN INDUCE THIS CUTTING AND LET IT HEAL AFTER 24 HOURS, THIS IS TAMOXIFEN INDUCIBLE AND IT IS TIGHT. AFTER THE CELLS ARE FINE YOU CANNOT TELL THE DIFFERENCE BETWEEN THESE CELLS AND THE ORIGINAL CELLS IF YOU LOOK AT THEM.
ACTUALLYISH MENTION THEY DON'T SLOW DOWN IN THE CELL CYCLE, IT IS VERY MILD. IF THESE GO ON FURTHER AND YOU LEAVE A FEW WEEKS THEY WILL HAVE MORE CELLULAR SENESCENCE SO WE THINK WE ARE INDUCING A VERY EARLY PRESENESCENCE STATE BUT THERE REPRODUCIBILITY THERE CHANGES IN MUTATION, CHANGES IN CELL CYCLE, THERE AROUND. LOSS OF EPIGENETIC INFORMATION AND IS THERE NOISE. I WON'T SHOW YOU DATA, IT'S ON BIOARCHIVES TO TECHOR CHECK IT OUT, WE SPENT FOUR YEARS LOOKING FOR MUTATIONS IN THESE CELLS AND THE MICE AND COULDN'T FIND INCREASE IN CHANGES IN MUTATIONS AND LOOK AT THE CUT SITES AND ACROSS THE WHOLE GENOME, SO WOE DON'T THINK CHANGES ARE DUE TO MUTATION.
WE ALSO DON'T SEE EPIGENETIC CHANGES SPECIFICALLY AT THE CUT SITES, AT REPAIRED SITES, AFTER RECOVERY. WE CAN USE A NUMBER OF METHS TO DO THAT, HIGH CHIP THAT LOOKS AT NUMBER OF PROTEINS AND MODIFICATIONS. AT THIS SITE SO THIS IS A TWO DIMENSIONAL VERSION OF THREE DIMENSIONAL ASSOCIATIONS. OF THE GENOME AND NOTHING CHANGES. IF THERE WERE CHANGES YOU CAN SEE CHANGES BETWEEN THIS LANE AND THIS LANE HERE, THIS LANE VERSUS THIS LANE, THE REASON IS CRE THIS IS RECOMBINASE THAT INDUCES THE CUTTING ENZYME. SO I WANT TO MENTION FIRST WHEN WE LOOK AT CHANGES IN GENE EXPRESSION IN THE CELLS THAT HAVE BEEN CUT, AND REPAIRED, WE SEE ABUNDANCE OF CHANGES IN GENES INVOLVED IN CELLULAR IDENTITY AND CELLULAR EMBRYONIC DEVELOPMENT,YOU CAN SEE IF YOU READ THESE WORDS THERE'S MORPHOGENESIS DEVELOPMENT THERE.
WHEN WE DO THE OVERLAP OF THESE CHANGES AT THE HISTONE LEVEL THERE'S A STRIKING OVERLAP BETWEEN GENE SETS THAT FALL INTO THIS CLASS CALLED THE HOCKS GENES. SO WHAT ARE THE HOCKS GENES? WE MIGHT REMEMBER FROM BIOLOGY, THAT THEY CONTROL WHERE YOUR HEAD AND YOUR TAIL IS. YOU DON'T WANT THESE DISRUPTED BUT HERE WE HAVE THESE DISRUPTED AFTER JUST 24 HOURS OF DNA REPAIR. WHEN WE LOOK ACROSS THE LOCUS, I'M SHOWING YOU THIS LOCUS, THE CONTROL IS IN BLUE LOOKING AT THE ACETYLATION LEVELS OF HISTONE 3 K 27 LYSINE 27 AND THERE ARE DEAF DEFINITELY CHANGES HERE, SHOWNING HERE LESS ACETYLATION IN THE BLUE AND MORE ACETYLATION. THIS IS ACROSS A LARGE PART OF THE GENOME THAT ENCOMPASSES 13 GENES.
THERE'S CHANGES IN GENE EXPRESSION AS WELL, THESE GET SWITCHED DOWN AND THESE GENES GET SWITCHED OFF. THIS IS A EPIGENETIC CHANGE BECAUSE IT SURVIVES MULTIPLE PASSAGES GOING ODE. -- FORWARD. THIS IS THE THREE DIMENSIONAL STRUCTURE, THESE RED LINES SHOW INTERACTIONS THERE ARE BIG CHANGES AFTER REPAIR OF THIS BREAK THERE ARE NEW ENHANCER ELEMENTS THAT ARE INTERACTING WITH THESE GENES HERE. THIS CLUSTER. SO I CAN SAY WITH SOME CERTAINTY THAT EVEN IF YOU REPAIR A BROKEN CHROMOSOME AND THERE'S NO MUTATION LEFT BEHIND THERE ARE EPIGENETIC SARS LEFT BEHIND.
POTENTIALLY THIS COULD DRIVE IN PART THE GENE EXPRESSION CHANGES DURING AGING. WHAT IF YOU DO THIS TO A MOUSE? IF WHAT HAPPENS IF YOU SCRATCH THE CD? THESE ICE MICE NOT 24 HOURS BUT THREE WEEKS INDUCTION USING TAMOXIFEN, WHEN THE MICE ARE FIVE MONTHS OLD AND THEN WE LET THEM -- WE TURN OFF THEN LET THEM TWO TO SEE WHAT HAPPENS. DURING THE TREATMENT THERE'S NO BIG DNA DAMAGE RESPONSE MICE ARE HEALTHY, THEY IN FACT DON'T RESPOND ANYTHING, LIKE GETTING AN X-RAY. PRESUME WHETHER I, TEN MONTHS LATER THIS IS THE CONTROL MICE LOOK LIKE AND WE HAVE ASSESSED MANY HUNDREDS SO IT IS A CLEAR PHENOTYPE.
THIS IS THE CONTROL. THESE ARE 15, 16 MONTHS OLD, THE ONE TREATED EARLIER, STARTED TO DEVELOP A PHENOTYPE THAT ENDED LIKE THIS. THIS IS WHAT THESE ICE MICE LOOK LIKE AND I WILL SHOW YOU DATA BUT WE HAVE TEN YEARS OF DATA ON THESE MICE. WHEN WE HAND OUT ORGANS TO OZ FISHNA DOES WHETHER SKIN OR EYE OR KIDNEY THEY ARE SURPRISED WHAT A GOOD SURPRISING -- HOW GOOD MIMIC THIS IS.
OF AGING ITSELF AT HISTOLOGICAL AND GENE EXPRESION LEVEL. I CAN TELL YOU THEY HAVE DEFECTS IN MEMORY, DEFECT IN ENDURANCE, KIDNEY DEFECTS HEART, THIS SKIN IS LOOKING OLD EVEN UP CLOSE. THEY DEVELOP VISION ISSUES. AND YOU CAN SEE THEY HAVE ALLO PECIA AND GRAY HAIR. THEY ARE MORE AGED LOOKING THAN A NORMAL BLACK SIX MOUSE HERE.
WE CAN DIAL UP THE AGING AMOUNT IF WE GIVE LESS TAMOXIFEN EARLY IN LIFE THEY DON'T AGE QUOTE UNQUOTE AGE LIKE THIS, THEY ARE LESS. SO IS THIS AGING? HARD TO TELL. BUT YOU CAN TRY.
THEY HAVE THE HALLMARKS OF AGING. WE HAVE LOOKED AT THEIR MITOCHONDRIAL LOSS, THIS IS A COMPENDIUM OF -- MORE FRAILTY, YOU CAN SEE HERE, THEY HAVE OSTEOPOROSIS. IT GOES ON METABOLISM LOOKS OLD. WE CAN TURN ON IN BRAIN, WE CAN LOOK DOWN HERE THEY HAVE DEFECTS IN OVER HERE THEY HAVE DEFECT IN MEMORY.
WHICH ARE SIMILAR TO OLD BLACK SIX MICE, SAME WITH THE -- SO I CAN GO ON FOR ANOTHER 20 YEARS SHOWING THEY RESEMBLE AGING AND YOU WOULDN'T BELIEVE ME BUT STEVE HORVATH CAME AND SAID YOU DON'T HAVE TO DO THIS QUALITATIVELY, YOU CAN HAVE A LOOK AT THE DNA METHYLATION CLOCK SO WE DID THAT AND THESE MICE BASED ON METHYLATION LOCK CLOCK ARE 50% OLDER ON AGE, THAT IS NICE, THE FIRST EVIDENCE WE CAN ACCELERATE EPIGENETIC CLOCK. THROUGH SOME MECHANISM, WE HAVE A LOT TO DO TO FIGURE HOW DNA BREAK LOSE TO THIS -- BUT THIS GAVE US COMFORT AND REVIEWERS COMFORT THIS IS RESEMBLING AGING IF NOT A MIMIC OF IT BUT THE QUESTION NOW IS CAN YOU REVERSE THAT. SO THIS IS WHERE REPROGRAMMING COMES IN. I LIKE TO SHOW THIS SLIDE MOSTLY TO THE LAY PUBLIC IT GIVES AN IDEA WHAT THE CELL HAS TO DO TO BE REPROGRAMMED, THOSE BEAUTIFUL LOOPS AND BUNDLES OF CHROMATIN HAVE TO SOMEHOW GET BACK INTO THEIR ORIGINAL O, THAT IS NOT SIMPLE, IT IS NOT CHEER IF THAT IS DOINGABLE. SO -- DOABLE.
LET ME SHOW YOU IT MIGHT BE DOABLE. ONE OF THE CLUES IT MIGHT BE POSSIBLE IS FOLLOWING THANKS TO JOHN GORDON'S WORK WITH CLONING TAD POLES SOMATIC NUCLEAR TRANSFER, WE KNOW SINCE 1970s YOU CAN TAKE NUCLEUS OF TAD POLE AND REGENERATE ANOTHER ONE YAMANAKA AND LAB SHOWED YOU CAN TAKE ADULT MAMMALIAN CELL AND USING FOUR GENES LISTED HERE FACTORS YOU CAN HAVE INDUCED PLURIPOTENT STEM CELLS SO TOGETHER THOSE TWO PROFESSORS WON THE NOBEL PRIZE IN 2016 DESERVEDLY. THAT DOESN'T SHOW YOU CAN IMPROVE THE HEALTH OF LIVING ANIMAL WITHOUT CAUSING IT TO EITHER BECOME A GIANT TUMOR OR HAVING TO GO THROUGH A SINGLE CELL STAGE. WE HAVE SOME CLUES WE DO KNOW SOME SPECIES CAN REGENERATE THEMSELVES DRAMATICALLY AND QUOTE UNQUOTE BE IMMORTAL. IT IS HARD TO PROVE IMMORTALITY BUT IT IS CLOSE. I CAN TAKE OFF THE LIMB OF SOME SPECIES SUCH AS AXEL MODELS EVEN LIZARDS REGROW PARTS.
YOUNG MICE REGROW FINGER TIPS SO THIS IS NOT IMPOSSIBLE. IN HUMANS YOU CAN TAKE OUT A CHUNK OF LIVER AND IT REGROWS SURPRISINGLY QUICKLY. AS LONG AS YOU ARE STILL YOUTHFUL.
SO WE THINK AT LEAST IN MY LAB, THIS IS A DRAWING FROM A REVIEW WE ARE PUTTING TOGETHER, THAT THESE PROCESSES MAY BE LINKED SOMEHOW. WE SPENT TIME FOCUSING ON NEURONS. WE FIND THEM VERY USEFUL MODEL FOR REJUVENATION FOR THE FOLLOWING REASON. A VERY YOUNG NERVE CELL WILL REGENERATE, WILL GROW IN THE DISH IF YOU BREAK THE SPINAL CORD OF VERY YOUNG ANIMAL, IT STARTS TO REGROW BACK.
BUT SOON AFTER BIRTH MAMMALS LOOSE THIS ABILITY. IF YOU TAKE NERVES FROM THE CENTRAL NERVOUS SYSTEM AND PLATE THEM THEY WON'T GROW BACK SIMILARLY IF YOU DAMAGE YOUR ON TIC NERVE IT WON'T GROW BACK. AND SPINAL INJURY IS A PERMANENT PROBLEM FOR THOSE UNLUCKY ENOUGH TO EXPERIENCE IT. BUT IMAGINE IF YOU CAN TAKE AN ADULT NERVE CELL IN SPINE OR OPTIC NERVE OR BRAIN AND SEN BACK FAR ENOUGH THAT IT HAD THIS PROPERTY BUT DIDN'T LOSE ITS IDENTITY.
THAT'S THE GOAL HERE. SODS WE TOOK A LEAF OF TWO LABS. FIRST WAS THE YAMANAKA LAB.
WE THOUGHT PERHAPS REPROGRAMMING CELLS WOULD BE POSSIBLE, WE DO NOT WANT TO GO SO FAR WE CREATE STEM CELLS IN THE BODY. FOR OBVIOUS REASONS IT IS KNOWN IF YOU INDUCE ALL FOUR GENES IN A MOUSE TRANSGENIC STRAIN YOU WILL KILL THE MOUSE AND IF IT SURVIVES IT WILL DEVELOP CANCER. SO THIS IS NOT A SAFE WAY TO GO.
AND IS NOT A THERAPY ANY TIME SOON BUT IT IS INTERESTING IT IS EVEN POSSIBLE TO DO THIS AT SOME POINT. SOME LEVEL. ANOTHER BREAK THROUGH CAME THIS TIME BY THE POST DOC ALEX CAMPO IN THE BELMONT LAB. CARLOS BEL MONTE SALK INSTITUTE.
IN 2016 YOU MAYBE FAMILIAR THEY HAD A MODEL THE LA ANYONEA PRODROID MODEL MANY OF YOU AT THE NIH KNOW, HUTCHINSON GILFORD SYNDROME PRO JEERIA. AND THIS MOUSE MODEL GETS VERY SICK VERY QUICKLY, IN MONTHS AND WHAT THE BELMONT LAB DID IS TURN THE FOUR GENES ON FOR TWO DAYS AND THEN LET THAT MOUSE RECOVER FOR ANOTHER FIVE DAYS BY SWITCHING THEM OFF AGAIN. THEY FOUND THAT THE MICE DIDN'T DIE. OR DEVELOP TUMORS AN THEY CAN ASK THE QUESTIONS ARE THOSE PREMATURELY PRODROID MICE BETTER OFF, THEY LIVED 30 TO 40% LONGER AN HAD IMPROVED HEALTH AS AS WELL WHICH WAS REMARKABLE BUT DIDN'T REALLY TELL YOU IF IT WAS SAFE, DIDN'T TELL YOU IF IT WAS RELEVANT TO NORMAL MOUSE.
AND IT DIDN'T REALLY TELL YOU AGE WAS GOING BACKWARDS. SOME OF OF MY COLLEAGUES NOT ME BUT THERE WAS SKEPTICISM THAT YOU WERE STRESSING THE MOUSE OUT SO MUCH THAT IT WAS STRESS RESPONSE, NOT REALLY REPROGRAMMING BUT WE THOUGHT IT HAD PRESENTATION AN WE WERE TRYING TO FIGURE COMBINATIONS OF THESE GENES THAT MIGHT BE SAFE AND SO A TALENTED STUDENT AT THE TIME WHO IS NOW POST DOC IN MY LAB MOVING TO JONATHAN WISEMAN'S LAB NEXT MONTH, THE FIRST AUTHOR OF THE PAPER THAT WE JUST PUT OUT, JUAN DESERVES CREDIT BECAUSE HE WAS ALMOST READY TO GIVE UP, HE HAD BEEN TRAYING TWO YEARS THE FIND A WAY TO PARTIALLY REPROGRAM A CELL TO BE YOUNGER BUT NOT STRIP SO MANY DNA METHYLS OFF THE CELL TO BE PLURIPOTENT. UNFORTUNATELY HE DIDN'T GIVE UP.
WHAT HE DEVELOPED AS HIS LAST DITCH EFFORT WAS A CONTROLLABLE SYSTEM IN A ADENOASSOCIATED VIRUS OR AAV WHERE HE COULD EXPRESS FOUR -- THREE OF THE YAMANAKA FACTORS AND HE LEFT OFF THE SCENIC GENE. THIS DOESN'T TAKE A GENIUS TO BE HONEST. IT IS A POTENT ONCO GENE AND WHY PEOPLE WERE EXPRESSING IN VIVO I'M NOT SURE. BUT IT WAS I THINK A FAIRLY STRAIGHT FORWARD IDEA TO TRY THESE THREE AND SEE WHAT WOULD HAPPEN. HE DID IT, THIS VECTOR IS AVAILABLE TO ANYBODY WHO WOULD LIKE IT.
AND WE HAVE A COUPLE OF VERSIONS THAT HAVE HIGHER OR LOWER EXPRESSION. YOU CAN TURN OFF THE SYSTEM WITH TETRA CYCLINE, DOXYCYLCINE OR TURN IT ON. IN CELLS OR IN MICE. WE FOUND TO OUR DELIGHT THAT IF WE OVEREXPRESS THESE THREE GENES IN A WHOLE MOUSE SO NOW USING AAV 9, WHICH INFECTS MANY DIFFERENT TISSUES, PARTICULARLY THE LIVER, SPLEEN AN PANCREAS THE OTHER TWO THAT WERE HIGH LEVELS, WE DIDN'T SEE ANY TOXICITY, WE HAVEN'T SEEN ANY CANCER, IN FACT WE LEFT THOSE MICE 15 MONTHS AND WE DIDN'T SEE ANY TOXICITY. WE DON'T SEE INDUCTION OF NANOG, EVIDENCE OF THEM LOSING THEIR IDENTITY. SO THAT IS GOOD.
CELLS THROUGHOUT THE BODY DON'T LOSE THEIR IDENTITY AND WE USE THE EYE AS OUR MODEL IN THESE EXPERIMENTS BECAUSE REMEMBER THE CENTRAL NERVOUS SYSTEM IS A GREAT PLACE TO TEST AGE REVERSAL, NOT ONLY THAT, AAVs ARE CURRENTLY USED IN GENE THERAPY IN HUMANS. TO TREAT GENETIC DISEASE. SO WE THOUGHT IT WOULD BE A WIN WIN IF IT WORKED. SO WE INITIALLY TEAM WITH A COUPLE OF LABS, WE STILL COLLABORATE WITH (INAUDIBLE) CHILDREN'S HOSPITAL BOSTON AND HIS LAB MEMBERS, STUDIES RETINAL REGENERATION. FROM A NERVE CRUSH INJURY. WE WORK WITH BRUCE WHO WORKS ON GLAUCOMA AND AGE RELATED VISION LOSS.
THIS IS A BIGGER SYRINGE THAN WE USE BUT WE INJECTED VIRUS INTRAVET RALLY AND IT MADE ITS WAY TO ON TIC NERVE CELLS RETINAL GANGLION CELLS OR RGCs AND ASKEDD IF WHICH TURN ON THESE THREE GENES, DO CELLS SURVIVE OR REGAIN A YOUTHFUL FUNCTION IN THE CASE OF GLAUCOMA OR AGING. I WON'T SPARE DETAILS PUBLISHED BUT WE DID EXPERIMENTS TO LOOK AT TIMING, DOSAGE, AMOUNT OF INFECTION, WE CAN INFECT HALF THE RETINAL GAIN GLIAL CELLS AND TURN ON THREE GENES. IT ONLY WORKED WHEN THREE GENES IF WE DID ONE OR TWO YOU DIDN'T GET AFFECT THAT I'M GOING TO SHOW YOU.
SO WE ARE LUCKY TO PICK THE RIGHT COMBINATION THOUGH I'M SURE THERE'S OTHERS FOUND FURTHER DOWN THE LINE. IDEALLY WE WOULD LIKE TO DO WHAT WE ARE DOING WITH CHEMICALS AND WE ARE SCREENING. BUT HERE IS THE EXPERIMENT FOR THE NERVE CRUSH. JUST A PINCH OF BACK OF THE EYE FOR THE MOUSE AND THEN YOU WAIT SO IT IS IMPORTANT THE OSK FOR SHORT FORCE OX 2 -- INDUCED POST CRUSH, THIS IS NOT PRE-INCUBATION. THAT IS IMPORTANT BECAUSE IF THERE IS NOT INJURY YOU CANNOT PREDICT WHEN THAT HAPPENS IN A HUMAN.
WE CAN ADD THIS DYE AND HAVE LOOK HOW FAR THE DYE SPREADS DOWN THE OPTIC NERVE. THIS IS NO TREATMENT. WE ARE LOOKING AT REVERSE, THE EYE ON THE LEFT, AND BRAIN IS ON THE RIGHT. OFF THE SCREEN. THERE IS A LOT OF NEURONAL LOSS, A LOT RGCs DIED OFF.
THIS SHOULD BE BRIGHT ORANGE IN A NORMAL MOUSE. THIS IS WHERE THE CRUSH WAS. THERE'S NO EVIDENCE OF ANY NEURONAL REGROWTH.
REMEMBER A VERY YOUNG MOUSE CAN DO THIS. SO MANY THE REPROGRAMMED ONES, OR TREATED WITH OSK, WE GOT A YOUNG RESPONSE. A LOT OF NERVES SURVIVE AND THE AXONS REGREW IN THE RIGHT DIRECTION THEY SOMEHOW KNOW WHERE TO GO. AND IF WE LEFT THIS NOT JUST FOR COUPLE OF WEEKS WE LEFT IT FOR 16 WEEKS, MANY OF THOSE NERVES THE LARGE AMOUNT, ACTUALLY REACHED THE BRAIN AND WHERE THE VISUAL SYSTEM MEETS, THE OPTIC NERVE. AS I MENTIONED THIS ONLY WORKS NOW WE ARE MEASURING DISTANCE, THIS ONLY WORKED WITH THE THREE GENE COMBINATION.
WE PUT THEM IN ASIS STRONG SO THEY ARE EXPRESSED THE ROUGHLY SAME LEVELS. WHAT ABOUT THE DNA METHYLATION CLOCK? ARE THESE GETTING YOUNGER OR JUST SOME OTHER PHENOMENON? WHAT WE FOUND, FIRST SURPRISINGLY THE INJURY, BASED ON THIS CLOCK, ACCELERATED THE AGE. WE DIDN'T EXPECT INJURY TO ACCELERATE AGE, WE ARE THINKING DNA DAMAGE. BUT NOW IT LOOKS VERY MUCH LIKE INJURY IS ALSO AGING OF THE EPIGENOME.
WHAT YOU CAN ALSO SEE IS TREATED CELLS WITH OSK ARE BROUGHT BACK TO A YOUNGER LEVEL, THE LONGER WE LEAVE THE YOUNGER THEY GET. IF WE LOOK GENOME WIDE MORE IMPORTANT THAN LOOKING AT A FEW HUNDRED CLOCK SITES, IT IS VERY CLEAR THAT THE INJURED ONES HERE WITH THE CONTROL VECTOR, CHANGE THEIR DNA METH LOAM, PATTERN OFFER DNA METHYLATION AND ONES TREATED LOOK MUCH MORE STATISTICALLY LIKE THE ONES THAT WERE NOT INJURED IN THE FIRST PLACE. WHEN WE DO STATISTICS ON HOW MUCH THE INJURED LOOKS LIKE AGING WHICH I WILL SHOW YOU LATER, THE P VALUE IS TEN TO MINUS 200 SO THERE IS A REALLY HIGH SURPRISING OVERLAP BETWEEN THESE CHANGES HERE DURING INJURY AND AGING ITSELF. AND UNEXPECTED CORRELATION. SO WHAT ABOUT GLAUCOMA? ANYONE WHO HAS HAD T WILL KNOW I'M TALKING ABOUT. IT'S A DEVASTATING DISEASE LARGELY DUE TO INTRAOCULAR PRESSURE AND IN THIS MOUSE MODEL YOU INCREASE PRESSURE IN THE EYE WITH BEADS YOU PUT IN THERE, AFTER FOUR WEEKS IS PRESSURE IS GONE BUT THERE IS A PERMANENT LOSS OF VISION IN THE MICE.
SIMILARLY 17 MILLION PEOPLE IN THE WORLD CURRENTLY SUFFER FROM THIS CONDITION AND THERE'S NO WAY TO REVERSE THE VISION LOSS NOW. WE CAN TURN ON THE CEMENT FOR FOUR OR TOTAL OF EIGHT WEEKS AND ASK WHAT HAPPENS TO VISION IN THESE MICE. WE MEASURE VISION IN THE LAB COUPLE OF WAYS, WE MEASURE ELECTRICAL ACTIVITY. WHAT I'M SHOWING YOU HERE IS THE OPTIMAL MOTOR RESPONSE, MICE MOVING THEIR HEAD IF THEY CAN SEE THOSE LINES MOVING LEFT TO RIGHT. WE CAN CYCLE THE WIDTH OF THOSE LINES.
TO JUMP TO THE CHASE YOU CAN SEE THAT THE LONGER WE LEAVE THE TREATMENT THE BETTER THE VISION BECOMES SO THIS IS THE LOSS OF VISION, AND THE RECOVERY. IF WE DON'T ADD -- WE DON'T DO ANYTHING THAT VISION NEVER COMES BACK. STRIKINGLY, THIS IS DAVID, BETTER THAN OUR NATURE PAPER WE ONLY DID THIS TIME POINT, THIS IS HOT OFF THE PRESS, WE WILL REPEAT IT OF COURSE WE NEED TO REPEAT BUT THIS IS THE DATA THAT WE NOW GET AT EIGHT WEEKS. WHICH IS AMAZING BUT PRETTY CLOSE TO THE ORIGINAL VISION OF THESE MICE. DOES IT REQUIRE DNA DEMETHYLATION? REMEMBER THOSE TETs AN TTD GENES FOR THE AFICIONADOS TTG IS IMPORTANT FOR ACTIVE DNA METHYLATION. ENZYMATICALLY PULLING THOSE CHEMICALS OFF, NOT JUST SPLITTING OF THE CELLS AND DILUTING THE METHYLATION.
SO WE TESTED BOTH. AND IT TURNS OUT THAT IF YOU DON'T HAVE TEAT 1 OR 2 EXPRESSED YOU DON'T GET AXON SURVIVAL AND IN THE CASE OF THE RESTORATION OF VISION, IN THE OLD MICE WHICH I WILL SHOW YOU IN A SECOND YOU DON'T GET THAT AS WELL. SO IT WAS -- I KIND OF JUMPEDDED TO THE PUNCH LINE BUT YOU CAN SEE QUANTIFICATION OF IMPROVED VISION IN REGULAR OLD MICE THAT REQUIRES DNA ACTIVE DNA DEMETHYLATION. SO THIS IS WHAT IT LOOKS LIKE, THIS IS AN UNTREATED CONTROL MOUSE THAT ONE YEAR OF AGE, BLACK SIX MICE HAVE GENETIC DEFECT THAT MAKE THEM LOSE THEIR VISION YOUNG. BUT THEY ARE REGULARLY USED FOR AGE ASSOCIATED VISION LOSS.
AND THIS MOUSE IS NOT MOVING ITS HEAD AS I HOPE YOU CAN SEE. ESSENTIALLY BLIND TO THESE LINES. BUT IN ONE THAT WE NOW EXPRESS THE OSK TRANSGENE FOR A MONTH, I'LL GIVE AN EXAMPLE. WE SEE THAT IT'S MOVING ITS HEAD, HOPEFULLY YOU CAN SEE THAT MOUSE IS SPINNING ITS HEAD TO THE RIGHT. OF COURSE WE CHECKED ELECTRICAL ACTIVITY IN THE MICE AND WE CAN SEE THAT THAT'S ALSO IMPROVED SO IT'S NOT JUST CAMERA LOOKING AT THE MICE, IT IS REALLY PHYSIOLOGICAL.
AGAIN IN THESE AGING MICE WELCOME SEE LOWERING OF DNA AGING SIGNATURES, AND THIS IS THE METHYLATION PATTERN AGAIN RESTORATION OF THE DNA METHYLATION PATTERN TO MORE YOUNGER DNA METHYLATION PATTERN. WHAT SURPRISED ME MORE IS EFFECT ON GENE EXPRESSION. IF WE ARE RIGHT ABOUT THIS WE SHOULD SEE AT LEAST PARTIAL RESET OF GENES THAT SHOULD BE ON VERSUS OFF. THIS IS A TWO DIMENSIONAL GRAPH THAT SHOWS GENES DOWN WITH AGING, AND THEN GENES THAT GO BACK UP WITH TREATMENT. GENES THAT GO UP WITH AGE AN GENES THAT GO UP WITH OSK. SO IF THE TREATMENT ACCELERATED AGING OR EXACERBATED AGING WE WOULD SEE THE GENES ON THIS AXIS.
AND IF IT REVERSED AGING, IT WOULD BE SOMETHING LIKE THIS. GOES DOWN CERTAIN AMOUNT AND THEN UP CORRESPONDING AMOUNT BY REPROGRAMMING. THIS IS WHAT WE GOT. THAT'S CLEARLY ALONG THE AXIS THAT WE PREDICTED FOR RESETTING OF AGE, THIS IS ONLY THE TOP 464 GENES THAT WE LOOKED AT. THE RED ONES ARE REALLY INTERESTING, ACTUALLY THESE ARE ALL THE ONES INVOLVED IN AT LEAST BELIEVE TO BE INVOLVED IN SENSORY PERCEPTION.
YOU CAN SEE THESE ARE THE GO GROUPS SHOWN HERE. SOME OF THESE ARE INVOLVED IN SMELL AND TASTE. YOUR GUESS AS GOOD AS MINE WHAT IS GOING ON DURING AGING AND REPROGRAMMING THAT HAS TO DO WITH SENSORY PROTEINS BUT IT IS EXCITED TO THINK THERE MIGHT BE INVOLVEMENT OF CHEMICALS IN THIS PROCESS. SO WE ARE LOOKING INTO THAT. SO I'M GOING TO SUMMARIZE
NOW WHAT I HAVE TOLD YOU HAVE QUESTIONS. WHAT I HAVE SHOWN YOU IS THAT AT LEAST EVIDENCE THAT WE CAN DRIVE METHYLATION CLOCK AGING CLOCK FORWARD AND RECAPITULATE WHAT IS AGING IN CELLS AND IN LIVING MAMMAL. WE HAVE LOOKED AT THE THREE DIMENSIONAL STRUCTURE OF CHROMATIN IN THESE CELLS AND WE DO SEE THOSE CHANGES IN PARTICULAR AT DEVELOPMENTAL GENES. HOW THIS HAPPENS WE ARE IN THE PROCESS OF TRYING TO DI SECOND THAT. -- DISSECT THAT. ED VERY DETAILED LEVEL.
WE DO BELIEVE THE SIRTUINS AT LEAST SIR 21 AND SIR 26 ARE INVOLVED IN THIS PROCESS. THERE'S OTHER PROTEINS AN MODIFICATIONS THAT ARE DEFINITELY INVOLVED AND WE HAVE A LOT OF WORK AHEAD OF US. IT'S NOT JUST MY LAB, THERE'S GOING TO BE A LOT OF WORK REQUIRED. SAME WITH REVERSING QUOTE UNQUOTE REVERSING AGING, I HAVE SHOWN YOU THAT INJURY AND AGING DOES CHANGE THE DNA METHYLATION PATTERN IN WAYS THAT ARE REPRODUCIBLE, OTHER LABS HAVE SHOWN THIS AS WELL. BUT WHAT IS NOVEL HERE IS THAT WE CAN RESET A LOT OF THESE CHANGES AND THAT REQUIRES THIS ACTIVE DNA METHYLATION PROCESS INVOLVING THE TEATS AND TDG. I DIDN'T SHOW YOU BUT BASED ON WHERE HE IS CHANGES OCCUR IN OUR SYSTEM, WE IMPLICATE THE PRC 2 COMPLEX WHICH IS VERY WELL KNOWN TO CONTROL EMBRYONIC DEVELOPMENT.
THEN I MAKE THE CASE THAT THESE CELLS ARE YOUNGER AND SIMILARLY BEHAVING AS THOUGH HEALTHIER, IN THE CASE OF VISION WE CAN SEE THE RESTORATION EYE SIGHT AFTER THE TREATMENT. SOME OF THE QUESTIONS WE WANT TO ASK IS HOW LONG DOES THIS AFFECT REALLY LAST, CAN YOU GO FOR MONTHS OR YEARS? WE DON'T KNOW HOW LONG WE CAN TWO. WE KNOW MONTHS BUT WE DON'T KNOW LONGER. AND HOW MANY TIMES CAN YOU RESET. HOW MANY TIMES DO YOU NEED TO RESET. THAT'S ALSO ON OUR LIST.
WE HAVE ALSO STARTED REPROGRAMMING OTHER PARTS OF THE EYE. WE HAVE SOME PRELIMINARY BUT REALLY UNAMBIGUOUS RESULTS REPROGRAMMING THE RETINAL PEGMENT EPITHELIAL LAYER, VERY IMPORTANT FOR -- PIGMENT, VERY IMPORTANT FOR MACULAR DEGENERATION AND WORKING ON HEARING AND HAVE EARLY EVIDENCE THAT WE MIGHT BE ABLE TO IMPROVE HEARING LOSS AS WELL WHICH WOULD BE GREAT. WE SCHOOL SEE HOW MANY OTHER ORGANS WE CAN TICK OFF.
GETTING BACK TO WATTINGTON TO FINISH UP, X DIFFERENTIATION SEEMS TO BE SOMEWHAT REVERSIBLE WITHOUT DRIVING CANCER AND PLURIPOTENCY. HOW IT ACTUAL THROUGH HAPPENS, WE ARE NOT SURE. WE BELIEVE THE YAMANAKA FACTORS CAN DO THIS BUT HOW THEY WORK AND WHERE IS THAT INFORMATION, TO RESET THE CELL PARTIALLY. DNA MODIFICATION, PROTEIN, WE DON'T KNOW WE ARE LOOKING FOR OBSERVER IN PROTEINS. IT COULD BE A DNA MODIFICATION WE NEVER PAID ATTENTION TO BUT KNOW EXISTS.
SO THAT IS ONE OF THE BIG QUESTIONS TO ANSWER. MY LAB IS AWESOME, PARTICULARLY COVID, THEY HAVE DONE A WONDERFUL JOB, I THINK SCIENTISTS ARE FANTASTIC WHEN IT COMES TO BEING DEDICATED TO THEIR CAREERS. I CAN'T THANK THEM ENOUGH. MANY OF O THESE PEOPLE HAVE DONE THE WORK HERE AND I TRIED TO CREDIT PEOPLE ALONG THE WAY. THIS IS JUAN CHANG, AUTHOR OF THE FIRST PAPER I WAS DESCRIBING.
HERE IS THE LAB MEMBERS THAT HAVE BEEN FANTASTIC, THERE ARE MEMBERS THAT LEFT SHOUT OUT TO MIKE WHO PASSED AWAY DUE TO COVID UNEXPECTEDLY, PHILLIP WHO STARTED MA NAIL MALLIAN PROJECT. SHOUT OUT TO PAUL GLENN, THE C GRANT THAT HELPS GET HERE. THESE GRANTS WERE HELPING US UNDERSTAND HOW TO GET FROM YEAST TO MANY COLLABORATORS. SO I'LL LEAVE IT HERE AND LEAVE IT FOR QUESTIONS. THANKS, RICHARD AND EVERYONE FOR HAVING ME.
>> THANK YOU, DAVID. GREAT TALK. LET ME ASK ONE QUESTION.
WHEN YOU WERE FIRST CONCEPTUALIZING THE STATE OF AGING WHICH YOU WERE INTERVENING YOU EMPHASIZE THIS WAS SOMEWHERE PROXIMAL TO POTENTIALLY IRREVERSIBLE O CELLULAR SENESCENCE. HAVE YOU HAD OCCASION TO SEE WHETHER THE REVERSAL YOU HAVE SEEN HAS AN EFFECT ON ON THE ACCUMULATION OF SENESCENCE CELLS IF NOT ACTUAL REVERSAL? >> YEAH. YES, I HAVE A STUDENT WORKING ON THIS.
AND HE'S GOT SOME IN VITRO EVIDENCE AT LEAST THAT IT DOES DELAY CELLULAR SENESCENCE. WE NEED TO NOW GO INTO THESE MICE THAT WE HAVE REPROGRAMMED AND REALLY LOOK AT THAT SO WE DON'T KNOW YET. I THINK THAT -- I THINK THE HYPOTHESIS IS VALID, IT WOULD MAKE SENSE. ANOTHER QUESTION WE WOULD LIKE TO ANSWER IS, IF YOU REPROGRAM A SENESCENCE CELL WHAT HAPPENS, IS IT BAD? OR DOES IT REDUCE THE SAS INFLAMMATION? OR COULD YOU RESTART SAFELY RESTART A SENESCENCE CELL INTO THE CELL CYCLE? THAT'S REALLY -- THAT WOULD BE SOMETHING UNEXPECTED BUT WE ARE GOING TO TRY THAT. >> READ A COUPLE OF QUESTIONS THAT HAVE COME IN.
IS THERE A ROLL FOR INFLAMMATION IN INJURY OR DNA DAMAGE INDUCED TISSUE AGING AND DOES INFLAMMATION COUNTER ACT RESTORATIVE AFFECTS OF OSK DELIVERY OR I GUESS DOES OSK DELIVERY AFFECT INFLAMMATION IN THAT DIRECTION? >> WE KNOW THE FIRST PART, WHEN WE AGE THOSE MICE THEY GET INFLAMMATION IN CELLS, THEY GET INFLAMMATORY MARKERS. WE SEE SLIGHT INDUCTION OF P 21, ET CETERA. SO IN THE MOUSE, YES. WE GOT IN THE BRAIN GFAP COMES ON, THE HALLMARK OF INFLAMMATION IN THE BRAIN. THAT IS DELAYABLE BY EXPRESSING SIR 1, IN PHILLIPS 2008 CELL PAPER I REFERENCED WE DON'T YET KNOW UNFORTUNATELY WHETHER REPROGRAMMING WILL REVERSE INFLAMMATION.
WE FOCUSED ON THE EYE, WE'LL CHECK THAT BASED ON GENE EXPRESSION WE THINK THAT THAT'S GOING TO BE TRUE BUT NEEDS MORE WORK. >> ANOTHER QUESTION SERIOUSLY YOUR DAMAGED DISC I THINK. WHERE IS THE USEFUL EPIGENETIC INFORMATION STORED, THE INFORMATION OF AGING WHERE IS BACK UP DEVICE? >> IT IS A MYSTERY. I HIGH BOTH SIZE IT IS PROBABLY A DNA MODIFICATION BECAUSE THAT'S VERY STABLE.
THIS MARK IF IT DOES GET PUT DOWN AT AGE 5 YEARS OLD TEN YEARS OLE, THAT NEEDS TO SURVIVE FOR MANY DECADES BUT IT WOULD BE AN RNA DNA HYBRID, COULD BE A PROTEIN. THAT BIND STRONGLY. UNFORTUNATE LIT WE DON'T KNOW SO ANYONE WHO WANTS TO TRY TO FIND IT IT'S UP FOR GRABS.
>> WELL, I THINK THE CLOCK SAYS FOUR O'CLOCK. I DON'T KNOW WHERE THE COUNT FINALLY STOPPED BUT I KNOW WE WERE OVER FOUR QUESTIONS WHILE THINGS GEAR AND FIND IT BEING MORE THAN THAT. ONE THING I WANT TO REPEAT FOR THOSE INTERESTED IN CME CREDITS, 31973 AND INFORMATION ASKING YOU SHALL RECEIVE WE DID HIT THE 500 MARK AND SO REALLY GOOD TURN OUT REFLECTING THE INTEREST AND I'M SURE GROUP WAS NOT DISAPPOINTED SO SMALL GROUP OF TRAINEES IS GOING TO HAVE THE PRIVILEGE OF SPEAKING WITH YOU IN A SO CALLED TEA FOLLOWING, THIS USED TO BE A WALK FROM THE MAJOR CONFERENCE ROOM NIH DOWN TO LIBRARY FOR COOKIES AND STUFF BUT THIS IS OUR VIRTUAL VERSION. SO THE CME CODE, 31973, DAVID, FANTASTIC TALK AND IF THERE ARE MANY OTHER QUESTIONS I'M SURE YOU ARE OPEN TO BEING CAULKED DIRECTLY, WHERE THE QUESTION FOLLOW AND WE'LL HAVE A CHANCE FOR NUMBER OF TRAINEES DIRECT THEM TO YOU IN PERSON ABOUT 15 MINUTES FROM NOW. THANK YOU SO MUCH.
GREAT TALK. >> THANK YOU, RICHARD. >> EXCELLENT.
2021-02-15 18:01
Show Video
Other news