Test Drive with the New S-Class: The Flagship of Mercedes-Benz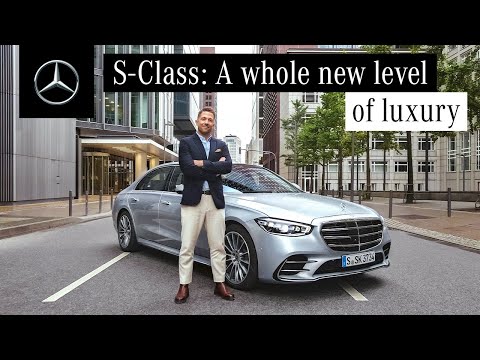 Show Video
This is the world's best car. Join me to find out what this exactly means. There's simply nothing more comfortable. Hi guys, my name is Florian Ambrosius and today, I'm at a really special place. This is the birthplace of Gottlieb Daimler, the prime father of the automobile and the Mercedes-Benz brand. Gottlieb was born back in 1834, right here in this little house near Stuttgart.
Together with Carl Benz, he invented nothing less than the automobile as we know it today. Now, Mercedes-Benz is the epitome of safe, comfortable and luxurious driving and cutting-edge technology. Hey, you want the latest proof for that? Come with me and I'll show you a real treasure. Well, here we are, I guess I have not promised too much. This is the brand new Mercedes-Benz S-Class, also known to many as the world's best car.
Join me to find out what this exactly means. The Mercedes-Benz S-Class has a long and rich tradition that stretches back to the early days of the Mercedes brand at the beginning of the 20th century. And every model has shaped the automotive developments of its time.
Since 1972, those cars are officially called Mercedes-Benz S-Class. The Mercedes-Benz S-Class is the absolute flagship of the Mercedes-Benz product range, and it's packed with tonnes of amazing innovations. On the way, we'll take a look at these details: the new MBUX, the driving technology, the overall luxury and wellbeing, the rear seat comfort, the exterior design, safety, assistance and security features, and we'll talk about Mercedes me, the various digital services and the new Mercedes me Apps. Stick with me or click in the timeline below to find the topic that interests you most. We have a lot of ground to cover.
Let's get going. First of all, even before you sit down behind the wheel, you are greeted by an atmosphere of pure luxury. It's like entering a different world and you know right away: This is a Mercedes-Benz S-Class. I especially love the cool way to log into the car. I either need my face, my voice or just my index finger.
The car instantly recognises my fingerprint and authenticates me for my individual settings. Hey future, here I come. But the real deal is this new, huge OLED display here, it really transforms your cockpit into a high-tech command centre. Compared to the previous model, this screen gives you 60 percent more display surface. You can control navigation, connectivity, entertainment and car functions here.
What sticks to the bottom of the display, though, are the climate controls, a very clever way to match the digital features with analogue haptics. All in all, Mercedes-Benz has managed to get rid of 27 hardkeys compared to the predecessor. Everything is about minimalism and ease of use. I like that.
Inside, there's an evolution of the famous operating system MBUX. It now allows you to control the vehicle functions even easier and more intuitively. All in all, you can control MBUX not only by this touchscreen, but by the Touch Control buttons and via voice control.
Hey Mercedes. How can I help? Any option is really intuitive, so it's a personal decision what to use when. On top, you can activate certain functions via gesture or gaze control. For the first time, the driver display is available in 3D.
Just one tap on the screen and this function gives you a spatial view. 3D glasses like these are now a thing of the past with this cutting-edge visual impression. Various styles allow to personalise the system along your personal preferences. Understated, Sport, Exclusive and Classic. That way, the display makes it easier to focus on the important things.
The software in the new Mercedes-Benz S-Class has made leaps forward. You'll notice while using the MBUX voice assistant, the most intuitive control option in the Mercedes-Benz S-Class. Now it's not only capable of even more dialogue, some functions even work without the famous wake-up words "Hey Mercedes". I'll show you. Show the navigation map, please. Where is the first-aid kit located? The first-aid kit can be found in the boot on the right-hand side, secured with a velcro strap.
How's the weather in Frankfurt? Currently, it is cloudy in Frankfurt with a temperature of 14 degrees. The augmented reality for navigation has already proven really helpful for finding your way around the city in complex traffic situations by layering arrows and signs directly in the camera feed. The Mercedes-Benz S-Class takes this a step further with the head-up display. When you navigate, the system will virtually display animated arrows in your line of sight, projecting it right on the road ahead. With the Mercedes me service online route calculation, this feature can even be enhanced.
Live traffic and other events are taken into consideration while calculating the route online in the cloud. Now, the best route is set, let's hit the road. There's simply nothing more comfortable than road tripping in a Mercedes-Benz S-Class Saloon. Aside from the immediate driving comfort you feel in the new Mercedes-Benz S-Class, there are groundbreaking innovations hidden inside the car.
Check this out. Now, we are driving in the long version of the new flagship, and while that comes with extra space for comfort, you would expect it to come with a disadvantage in terms of handling. Thanks to rear axle steering, however, it feels almost like a compact car, giving you a turning circle up to two metres smaller than before. I could do this forever. Just kidding. In real life, this opposite steering angle comes in handy when parking.
When we reach 60 kilometres per hour, the rear wheels steer into the same direction as the front wheels, increasing your driving stability and handling safety. The Mercedes-Benz S-Class is available with a new range of powerful and efficient petrol and diesel engines, including a plug-in hybrid option. Talking about bringing the engine power to the road, every Mercedes-Benz S-Class has the 9G-TRONIC transmission as standard. It produces the typical smooth and superior driving feeling that this car is known for.
Let me just enjoy this, because you don't get to do this every day, right? Okay, I didn't just shut my mouth for a while because I'm lazy, I wanted you to notice the quietness in the interior. It is almost silent inside. Maybe you're going to ask, what did they do to the car that others don't? Well, the secret is a bit more advanced than my hardware store DIY knowledge. But basically, they fill the raw chassis with special acoustic foams that kill most of the noise and vibrations. If you want to use that on your noisy neighbours, please don't quote me or the guys from Mercedes-Benz, okay? On the inside, the Mercedes-Benz S-Class is designed as your feel-good lounge.
For many, the car is the third place after home and work and therefore should give you the same levels of cosiness, quality and cutting-edge technology. When it comes to luxury and comfort, the newly designed interior appears to be a revolution. The dashboard is wide and clean. The digital screens look cool and work perfectly, and the materials are just so greatly crafted. Look at these trim elements.
You've got a mix of high-quality fabrics here and aluminium inlays here and there, very stylish. When I was anticipating driving the world's best car, I imagined some nice seats. But reality is even better. You might call them best seats in a car ever, and that really means something.
They just feel soft, yet stable right where you need them to be. On top, you have numerous adjustment options and plenty of comfort features, one of them is the ENERGIZING seat kinetics, which supports minimal changes in the seating posture by means of mini changes to the inclinations of the seat backrest and cushions. Because sitting in almost the same position for hundreds of kilometres and many hours is not good for your back and discs. In addition, the Mercedes-Benz S-Class also offers a bunch of climate functions and massage options to all seats.
This is definitely very refreshing during a long drive, keeping you more alert on what's happening on the road. The Active Ambient Lighting is a real technological leap, and what I love the most, the ambient light strip now comes with a spectacular multicolour function. It not only lets you control the lighting fitting to whatever your mood or condition is, the lights also support the driving assistance system visually.
For example, they can blink red to warn you when you open the door and – let's say – a car or a bicyclist is approaching from behind. Personally, I love driving, but in a car as luxurious as this, many owners don't always drive on their own. They get driven.
The boss sits in the rear. The Mercedes-Benz S-Class is designed with this in mind. That is why passengers in the rear enjoy the same infotainment and comfort features as the front seats and more.
As a matter of fact, riding in the Mercedes-Benz S-Class, the rear is like flying first-class. The space in here is ridiculous. I'm about 1.8 metres tall and I can stretch out like crazy. The Seat Comfort package includes seat heating and the massage function, even in the rear. To control the settings, conveniently use the screen in front of you.
Or just say this: Hey Mercedes. How can I help? Turn on the seat heating. I'm switching on the seat heating. Well, I guess you noticed the famous Mercedes-Benz voice control is now available in the rear as well. Let's try another one. Hey Mercedes.
How can I help? I'm a bit tired. You should take a break at the next suitable place. Until then, I will turn on the Vitality programme. Now, a range of programmes direct the climate control, Ambient Lighting, music and seat functions such as massage, heating or ventilation. Hey, you want more of this mindblowing luxury? With the MBUX tablet, you can remotely control the MBUX multimedia and comfort functions.
Looking for a perfect match? Then consider these two 11.6-inch displays that come with the High-End Rear Seat Entertainment package. They have similar functions as the tablet, but come with two amazing features that just make my day. One is full MBUX experience with direct access to vehicle functions.
The other: content like this film can be moved from display to display from each seat. In the S-Class, Mercedes-Benz offers a wide range of online music, now also including Spotify. With Amazon Music and TIDAL already in place, Mercedes-Benz offers its customers a wide range of streaming services up to their choice. With one click, I can also go directly to all my favourite personal playlists.
That really feels like being at home. Hey Mercedes, play Sinestesia by Lo Zo. I really love this song and I have to admit that I've never heard it in such a superb quality. The Burmester sound system now comes with 4D surround sound.
This technology lets you enjoy music with all senses. The mentioned fourth dimension comes courtesy of speaker-like exciters vibrating and pulsating in sync with the rhythms, giving you a sound massage. On top, more surround speakers are integrated into the seats.
And for the bottom end, you find bass speakers in the doors and an additional subwoofer in the boot. Should you be left with a little bit of work, the In-Car Office functions come in handy. Hey Mercedes. How can I help? Show my emails. What would you like to do? Open email one.
What can I do for you? Reply to this mail. Could you please tell me what text you would like to enter? Hey Julia, let's meet for dinner in Frankfurt tonight and talk about future projects. Looking forward to seeing you there, Florian. Send. I'm sending the message.
Create a new appointment. Okay, creating a meeting. What is the subject? Dinner with Julia. Okay, a meeting title: Dinner with Julia. When do you want to schedule it? Please say date and time.
Today at 8pm. Okay, a meeting for today at 8pm titled Dinner with Julia has been created. To get full access to the MBUX online music and In-Car Office functions, you just have to activate those services and that's not all.
During our trip, I will show you some more amazing Mercedes me features of the new Mercedes-Benz S-Class. We're at Solitude Castle here in Stuttgart. What a fitting backdrop for a car this classy. Let's check out the sleek exterior design of the new Mercedes-Benz S-Class.
The front is dominated by this mighty radiator grille. The flanks look clean and strong, what I personally think is key to the prestige of any Mercedes-Benz S-Class. But my most favourite detail is at the rear, the split taillights lend an elegance to this big car. It really makes it stand out from the rest. Adding to the cool exterior are the flush-fitting door handles that really blend into the surface.
With KEYLESS-GO, I could just leave the key in my pocket. Now, when I approach the car, the system detects the key. Now, all I have to do is touch here and the handles pop out.
Let's check some more details. This Mercedes-Benz S-Class here comes with the AMG Line consisting of the front apron with air intakes and fins and splitter in chrome, this AMG rear apron with the diffuser and those tailpipe trim elements. To round it off, this Mercedes-Benz S-Class stands on AMG designed twenty-inch wheels. It's a totally fitting package, don't you think? Another stunning innovation is DIGITAL LIGHT. Basically, it gives you all the ideal lighting for every situation we know from the MULTIBEAM LED. On top of that, it can indicate symbols or lanes giving you or others a better orientation in dark or unclear scenarios.
The LEDs here contain 1.3 million pixels on each side. That's 2.6 million pixels in total, working as precise as an HD projector. Incredible.
What a beauty, right? Now, let's get going. The road is calling again. The safety in the new Mercedes-Benz S-Class is really next level. It comes with revolutionary innovations that are partly derived from the ESF 2019, the brand's experimental safety vehicle. Active and passive safety systems have been integrated more closely, along with driving assistance systems that go another step towards a future of autonomous driving. The driving assistance system comes as standard.
What that basically means: modern sensors, greater range, more safety. On longer journeys, the Active Distance Assist DISTRONIC is really essential. It acts as a super smart cruise control because it can automatically maintain a desired distance to the car in front of me. One of the new features: you can now adjust the dynamics of the DISTRONIC in the MBUX.
Moreover, the system uses map-based data and road sign recognition to automatically adjust the car's speed to the correct speed limit if necessary. Fancy a world record? Here it is, the new Mercedes-Benz S-Class will be the first production car to optionally equip airbags designed to protect rear seat passengers on both sides in a frontal impact. The innovative tubular structure is unique, and as a result, it deploys more gently compared to a standard airbag.
With this footage, you can get a feeling of how the technology works. Another optional feature package the car comes with is URBAN GUARD. With this, Mercedes-Benz is the first car brand that offers this all-round monitoring of the parked car.
It includes, amongst others, break-in and anti-theft alarm systems. Should your car be touched by another road user when parked, you will receive a message on your MBUX once you enter the car. If you have the Mercedes me App connected to your car, you can get notified via push message, in case any of those incidents occur.
But the new Mercedes-Benz S-Class even goes further, you can connect it to your smart home as well. Hey Mercedes. How may I help you? Did I forget to turn off my lights at home? Let me check it out for you. Right now, all lights are on. Do you want me to turn them off? Yes, please. Thank you. This car is really connected to the life of its driver.
Which brings me to the final chapter. The Mercedes me Apps are the digital connection between you and your Mercedes-Benz, and they open up a world of additional features for you. The new generation of Mercedes me Apps is not only available for the new Mercedes-Benz S-Class, it is an important part for many Mercedes-Benz models. With these apps, your smartphone becomes the digital connection to your car. The new generation starts with three main apps: the Mercedes me App, the Mercedes me Store App and the Mercedes me Service App.
All three are replacing the previous Mercedes me App and can be downloaded for free at the usual app stores. Just sign up for your Mercedes me ID and get direct access to the Mercedes me services. Let me start with the Mercedes me App. With this app, you can check your car's status, for example, mileage, range, parking spaces or car location. Look here, it's fantastic.
I can see precisely where the car is parked. You can also remotely open or close some car features like the sliding sunroof, doors or windows directly in the app. In addition, the new Mercedes-Benz S-Class comes with preconditioning, so you can also preselect your favourite temperature or air conditioning in different parts of the car just via the app. Believe me, it's pure luxury, especially on cold mornings. And you can send your destination from your smartphone directly to your navigation system, just like this. Should you be looking for some upgrades, the Mercedes me Store App shows you the Mercedes me connect services and on-demand features available for your Mercedes-Benz.
You can buy new services, check their run times or extend them with your smartphone. Third, you have the Mercedes me Service App that can remind you of your next service date. Just save your preferred Mercedes-Benz partner in the app and book your appointment directly via smartphone. With the Mercedes me App, you can also access extended functions for URBAN GUARD. In the case of the theft of your car, just use the app to get in direct contact and support from a certified customer service centre. And that's not all.
As I know Mercedes-Benz, there will be a lot more to come next year. Thank you for coming along on a truly special day. The Mercedes-Benz S-Class has proven to me that it lives up to its reputation of being the best car in the world. And what an experience it is, riding in this car, whether you're the entrepreneur that likes to get some work done on the way or just relax after a hectic schedule or whether you enjoy taking the wheel yourself. Please let me know which aspect of this phenomenal ride you enjoyed seeing. Just leave a comment below and let me know which car you would like me to test next time.
Anyway, to get more information about Mercedes-Benz models, click here. And to get more content, click here. And don't forget to subscribe to this channel.
I hope you enjoyed our little trip across the southwest of Germany, a region that is known as the birthplace of the automobile. For me, it's time to say goodbye now. Thanks for watching and see you next time.
2021-03-08 15:48
Show Video
Other news