Special Report: Jeff Bezos and Blue Origin launch into space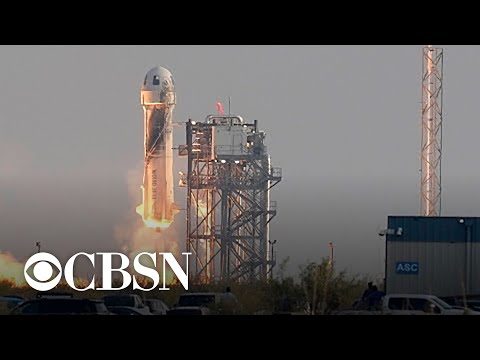 Show Video
MARX HUBBARD. >>> I HAVE TO INTERRUPT YOU. I'M SORRY. OUR CBS NEWS SPECIAL REPORT IS ABOUT TO START. THANK YOU SO MUCH.
THE LAUNCH IS TO START. ♪ . >>> THIS IS A CBS NEWS SPECIAL REPORT. GOOD MORNING TO YOU, I'M GAYLE KING IN CULVERSON COUNTY, TEXAS ALONG WITH NORAH O'DONNELL IN WASHINGTON D.C. IT IS GOOD TO SEE YOU. JUST MINUTES FROM NOW, JEFF BEZOS IS ABOUT TO BLAST OFF INTO SPACE SOME BLUE ORIGIN'S FIRST TRIP WITH PEOPLE ON BOARD.
JOINING HIM, HE IS NOT GOING TO BE ALONE. JOINING HIM ON THE NEW SPACECRAFT ARE HIS BROTHER, MARK, WALLY FUNK, SHE IS 82. SHE TRAINED WITH NASA IN THE 1960S -B BUT SHE NEVER GOT A CHANCE TO FLY. AND THEN 18-YEAR-OLD OLIVER DAMON WHO BE THE YOUNGEST TO FLY IN SPACE. THEY ARE NOW STRAPPED IN AND READY TO GO.
>> GOOD MORNING TO YOU, GAYLE. THEIR FLIGHT WILL LAST ABOUT 10 MINUTES, WE ARE AWAITING LIFT OFF SHORTLY. WE SHOULD ALSO NOTE THIS DATE. JULY 20th.
AND FOR THOSE SPACE ENTHUSIASTS, YOU WILL KNOW THAT THIS IS A DATE THAT IS HISTORIC. TODAY IS THE 52nd ANNIVERSARY OF THE APOLLO 11 MOON LANDING. THAT EVENT INSPIRED 5-YEAR-OLD JEFF BEZOS TO GO TO SPACE TODAY. HE IDOLIZED BUZZ ALDRIN AND NEIL ARMSTRONG AS A CHILD.
TODAY JEFF BEZOS BECOMES AN ASTRONAUT. NOW WHAT WE ARE SEEING HERE IS THE ANIMATION THAT AFTER NEARLY THREE MINUTES, THIS 6-PASSENGER CAPSULE AND BOOSTER WILL SEPARATE AND WILL SEND THE CAPSULE OVER THE CARMEN LANE, THE INTERNATIONALLY RECOGNIZED BOUNDARY OF SPE. AND AS THAT THAT HAPPENS THE BOOSTER DEPLOYS ITS BRAKES AND RETURNS TO EARTH.
IT BEGINS ITS SIX MINUTE JOURNEY BACK TO SOLID GROUND. ALL EXCITING TO WATCH. AND JOINING ME HERE IS CBS NEWS SPACE CONSULTANT BILL HOWARD. HE HAS BEEN COVERING SPACE LAUNCHES FOR 35 YEARS.
BILL, IS THIS RISKY? >> ABSOLUTELY. ANYTIME YOU PUT PEOPLE ON TOP OF A ROCKET, YOU ARE TAKING RISKS. THAT SAID, THEY HAVE GONE TO ENORMOUS LENGTHS TO MAKE THIS VEHICLE AS SAFE AS IT COULD POSSIBLY BE. THEY HAVE TESTED IT 15 TIMES IN FLIGHT AND EVEN WITH ONE PARACHUTE OUT TO MAKE SURE THEY COULD LAND SAFELY EVEN IN THAT CASE ALL THAT WENT WELL. A LOT OF CONFIDENCE THIS IS GOING TO WORK LIKE THEY EXPECT.
>>> GAYLE? >> BILL, LET'S TALK ABOUT THE CREW. WE HAVE HEARD A LOT ABOUT THIS CREW. BUT I WANT TO FOCUS ON 18-YEAR- OLD AL LIVER. HE IS GOING TO PACE BEFORE HE GOES TO COLLEGE. THINK ABOUT THAT FOR JUST A MINUTE. WHAT IS THE SIGNIFICANCE OF THAT? >> IF IT SHOWS ANYTHING, IT IS THAT THEY REALLY ARE TRYING TO OPEN SPACE TO ANYONE WHO COULD AFFORD THE PRICE OF THE TICKET.
IN THIS CASE, HIS FATHER BID IN THE AUCTION THEY HELD TO THAT WAS GOING TO GO TO CHARITY TO FIND A FLYER. THAT AUCTION WINNER HAD TO STAND DOWN, HE HAD A SCHEDULE CONFLICT AND BLUE ORIGIN MOVED OLIVER UP ON TO THIS FLIGHT. HE HAS BEEN DOING PILOT TRAINING. AT 18, AS SOMEONE SAID YESTERDAY, THEY WERE GETTING READY TO GO TO THE PROM WHEN THEY WERE 18 AND THIS GUY IS GETTING READY TO GO TO SPACE. THAT IS GOING TO BE PRETTY EXCITING.
>> BILL, I WAS JUST HOPING SOMEBODY WOULD ASK ME TO THE PROM. THEY HAVE HAD TWO HOLDS SO FAR THIS MORNING. THEY DON'T HAVE TO GIVE AN ANSWER.
BUT THEY ARE NOT TAKING ANYTHING FOR GRANTED HERE. CBS'S MARK STRAUSMAN HAS BEEN COVERING THIS FROM THE VERY BEGINNING AND JOINS US FROM THE LAUNCH SITE. WE JUST GOT A MESSAGE FROM THE SISTER, CHRISTINA, THEY ARE ALL ON BOARD. SHE SAYS THIS TO HER BROTHERS. HURRY UP AND GET YOURSELVES BACK DOWN HERE. >> NOTHING LIKE THE LOVE OF A SISTER.
>> Reporter: WHAT IS THE SIGNIFICANCE OF THIS FLIGHT? WE HAVE SEEN RICHARD BRANSON LAST WEEK, AND NOW TODAY BLUE ORIGIN. >> FIRST OF ALL, WHAT A MOMENT. JEFF BEZOS, HIS DREAM SINCE HE WAS FIVE. HE GETS TO BRING HIS BROTHER AS HIS WING MAN AND BEST FRIEND.
>> AND WALLY FUNK PROVES A DREAM DEFERRED IS NOT A DREAM DENIED. SHE GETS A CHANCE 60 YEARS AFTER SHE SHOULD HAVE GONE, NOW SHE GETS TO GO UP BECAUSE SHE GOT THE INVITATION FROM JEFF BEZOS. WE HAVE BEEN JOKING ABOUT THE PROM, WHAT DO YOU DO FOR A SECOND ACT WHEN YOU HAVE BEEN TO SPACE AT 18, RIGHT? BUT BEYOND LIKE THE PERSONAL EXPERIENCES OF THESE FOUR GUYS, THIS IS AN IMPORTANT MILESTONE FOR COMMERCIAL SPACE, FOR THIS INDUSTRY OF SPACE TOURISM.
LARGELY UNREGULATED. THE ONLY GROWN UP SUPERVISION IS COMING FROM THE COMPANIES THEMSELVES. THEY HAVE TO GET IT RIGHT AND BLUE ORIGIN THINKS THEY ARE READY. >> THEY SEEM READY. YOU HAVE COVERED THESE MANY TIMES. I HAVE TO SAY I HAVE NEVER BEEN TO A ROCKET LAUNCH, JUST WATCHED IT AT HOME.
I WAS EXCITEDWATCHING IN MY PAJAMAS, YOU ARE RIGHT. NOTHING LIKE IT. WE ARE THREE MILES AWAY FROM THE SITE. DOUG DUNBAR OF OUR DALLAS FORT WORTH STATION IS IN VAN HORN STATION. DOUG, GOOD TO SEE YOU.
I'M TOLD YOU KNOW 82-YEAR-OLD WALLY FUNK AND YOU MET WITH HER LAST WEEK. SHE HAS A TON OF FLIGHT EXPERIENCE AND WAS EVEN PART OF NASA'S MERCURY 13 PROGRAM. BUT SHE HASN'T YET MADE IT TO SPACE. TODAY SHE IS FINALLY GOING TO GET HER CHANCE. WE ARE ALL SO EXCITED FOR HER. WHAT WAS SHE SO EXCITED ABOUT? AS YOU KNOW, SHE IS 892.
SHE TOLD US YESTERDAY ON "CBS THIS MORNING," SHE FEELS LIKE SHE IS 24. AND JEFF BEZOS TOLD US SHE HAS MORE ENERGY THAN ANYBODY ON THAT CREW. I BELIEVE THAT. >> Reporter: LISTEN. BOTH THE BROTHERS ARE FINDING OUT THIS MORNING AFTER TWO AND A HALF DAYS WITH WALLY TOUCHING, THEY ARE READY TO RELAX.
SHE IS THE QUINTESSENTIAL GRANDMOTHER WHO CAN OUT LAST THE KIDS IN THE BACKYARD. WE SHARE A FRIENDSHIP, A MUTUAL LOVE OF AVIATION. I RESPECT THIS WOMAN SO MUCH FOR EVERYTHING SHE HAS LAID DOWN, NOT JUST FOR SPACE AND FLIGHT AND AVIATION AND HISTORY, BUT DOING SO MUCH OF THAT AS A WOMA ESPECIALLY BACK IN THE 1960S WHEN THEY WEREN'T ACCEPTED, AS WE KNOW THAT. GAYLE, I CAN TELL YOU THE GENERAL WENT FEELING FOR WALLY FUNK IS HOPE AND ADMIRATION. THIS WOMAN RUNS AT 3000 RPM WHEN SHE IS IN IDLE.
SO THERE IS A LOT TO DO, TO KEEP UP WITH HER. THIS WILL TELL YOU KIND OF EVERYTHING YOU NEED TO KNOW, TO BE HONEST. THAT IS, AFTER THE BEZOS VIDEO ON INSTAGRAM, WHEN HE KNOCKED AT HER DOOR, SHE DIDN'T EXPECT HIM. SHE DIDN'T KNOW WHO IT WAS, WHEN HE KNOCKED.
BUT WHEN ALL WAS SAID AND DONE, THEY ARE IN THE ROOM TOGETHER AND HE HAS HIS FILM CREW WITH HIM. AND HE SAYS WALLY, I WOULD LOVE TO TAKE YOU TO LUNCH, WHERE WOULD YOU LIKE TO GO? WHAT IS YOUR FAVORITE PLACE? AND WALLY SAID I WOULD LOVE TO GO TO PANCAKE HOUSE. THAT IS MY JAM. THEY CALL, APPARENTLY THEY ARE JUST ABOUT TO CLOSE. SO BEZOS SAYS TO WALLY, INSTEAD OF THAT, CAN I TAKE YOU TO SALT GRASS. IT IS A STEAKHOUSE.
AND SHE LEANS IN AND SAYS JEFF, YOU UNDERSTAND THAT SALT GRASS IS EXPENSIVE? AND YOU HAVE FIVE PEOPLE WITH YOU. AND THAT TELLS YOU EVERYTHING YOU NEED TO KNOW ABOUT WALLY FUNK. IF SHE CAN LAY THAT DOWN TO THE RICHEST GUY ON THE PLANET, YEAH. YES, OH, DOUG, I LOVE THIS WOMAN. THANK YOU, DOUG. ISN'T SHE REALLY OUR TYPE OF GIRL? I'LL GO FIRST.
YES, SHE IS. >> YES, SHE IS. AND A HISTORIC WOMAN. SO WE CAN ALL LOOK BACK ABOUT HOW WOMEN WERE DENIED THE OPPORTUNITY TO GO TO SPACE EVEN THOUGH THEY WERE MORE THAN QUALIFIED. WE SHOULD MARK WE ARE 3 MINUTES AND 18 SECONDS AWAY FROM LAUNCH OF THE BLUE ORIGIN NEW SHEPHERD.
CHARLIE, YOU ARE THE ONLY ONE HERE THAT HAS ACTUALLY BEEN TO SPACE. WE HAVE A REPLICA OF WHAT THIS WILL BE LIKE. EXPLAIN THE FEELING WHEN YOU MAKE IT INTO SPACE. >> IT IS AN OVERUSED WORD, AWESOME. I ALWAYS DESCRIBE IT TO KIDS AS TWO SENSES OF THE THE SENSE OF FEEL. JUST THE CONSTANT CHANGE IN THE WAY THE BODY IS IMPRESSED WITH YOU KNOW G, WHEN YOU LIFT OFF TO ZERO GRAVITY WHEN YOU ARE IN SPACE.
BUT THE MOST IMPRESSION THING IS VISION. SIGHT, SEEING THE PLANET FROM THAT PERSPECTIVE. THAT IS WHAT THE FOUR PEOPLE TODAY ARE GOING TO EXPERIENCE OTHERS HAVE NEVER HAD. SIGNIFICANCE, BY THE WAY, OF NEW SHEPHERD IS THE NAME. IT IS NAMED FOR ALAN SHEPHERD. IT IS A SUB ORBITAL FIRST FLIGHT.
NEW GLENN, THE NEXT, NAMED IN HONOR OF SENATOR JOHN GLENN. SO WE SHOULD UNDERSTAND THE PERSPECTIVE, THE HISTORICAL SIGNIFICANCE OF THE NAMES OF THE SPACECRAFT. >> NOT ONLY THAT, BUT THAT THIS IS JUST THE FIRST STEP FOR JEFF BEZOS. SOME HAVE DERIDED THIS AS A BILLIONAIRE'S SUPERSONIC JOY RIDE.
BUT THIS IS MORE THAN THAT FOR JEFF BEZOS. HIS LONG-TERM GOAL ISORE THAN JUST TOURISM, RIGHT, BILL? >> IT IS. HE WANTS TO GET HIS FOOT IN THE DOOR IN EVERY SECTOR OF THE SPACE ECONOMY FROM SUB ORBITAL SPACE TOURISM ALL THE WAY TO THE NEW GLENN ROCKET THAT WILL LAUNCH SATELLITES AND PEOPLE INTO SPACE. HE WILL BE COMPETING DIRECTLY HEAD TO HEAD WITH ELON MUSK AND SPACEX WHEN HE GOES THERE.
THIS ROCKET TODAY IS USING TECHNOLOGY THEY ARE PERFECTING SPECIFICALLY FOR THEIR LUNAR LANDER. THE ENGINES WILL BE SCALED UP FOR USE ON THE NEW GLENN, AS WELL AS A LUNAR LANDER DOWN THE ROAD. SO THIS IS JUST A PRECURSOR FOR MR. BEZOS, WHAT HE REALLY WANTS
TO DO. >>> LET'S LOOK AT THE LIVE PICTURES NOW. WE ARE JUST ABOUT ONE MINUTE FROM LAUNCH. GAYLE, I KNOW YOU HAVE QUESTIONS, TOO, FOR BILL.
>> I DO, BILL. I'M WONDERING WHAT YOU THINK, HOW MUCH PRESSURE THE BLUE ORIGIN TEAM MUST BE FEELING. THEY HAVE BEEN WORKING ON THIS FOR 10 YEARS. WE SAW SOMEBODY THAT SAID LISTEN WE BECAME MILLIONAIRES WORKING ON THIS PROJECT. HOW MUCH PRESSURE DO YOU THINK THEY ARE FEELING AT THIS MOMENT? THE TEAM? >> I THINK THE PRESSURE IS THERE. BUT THEY ARE SO FOCUSED ON WHAT THEY ARE DOING.
BECAUSE THERE ARE LIVES INVOLVED NOW, AS WELL AS THE FUTURE OF THEIR COMPANY. SO THEY ARE VERY, VERY FOCUSED. THE PRESSURE IS THERE, BUT I DON'T THINK IT IS BOTHERING THEM AT ALL. >> 30 SECONDS 'TIL LAUNCH. GAYLE, I'M TRYING TO SOUND LIKE THE FLIGHT COMMANDER THERE.
T MINUS 30 SECONDS. I MEAN, I GUESS I WANT TO ASK CHARLIE AND BILL, WHAT ARE WE GOING TO SEE HERE? >> YOU ARE GOING TO SEE IGNITION HERE IN ABOUT 20 SOME- ODD SECONDS. YOU'LL SEE IT IS A CLEAN BURNING ENGINE. AND THEY'LL LIFT OFF AS BILL SAID EARLIER, THEY WILL BE GOING THREE TIMES THE SPEED OF SOUND PRETTY QUICKLY. >>> 5, 4, 3, 2, 1.
START. TWO, ONE. ENGINES ROAR ] >> "NEW SHEPARD" LIFTOFF. >> 5,000 FEET. 5000 FEET. >> MAX CUE.
30,000 FEET. MACH I. 30,000 FEET >> I WANT O . >>> WE WANT TO BRING BACK IN BILL AND LET'S DESCRIBE WHAT WE ARE SEEING.
WE ARE ABOUT A MINUTE 30 SECONDS INTO FLIGHT. SOMETHING SIGNIFICANT WILL HAPPEN IN THE NEXT MINUTE. >> THAT'S RIGHT.
YOU CAN STILL SEE THE FLAME OF THE BE3 ENGINE POWERING THE SPACECRAFT UP, GETTING IT UP TO MORE THAN THREE TIMES THE SPEED OF SOUND. IN JUST A FEW MOMENTS THATTEN I DIDN'T KNOW IS GOING TO SHUT DOWN. IT WILL COAST BRIEFLY, AND THEN THE CAPSULE ITSELF WILL SEPARATE. WE'LL SEE HOW THAT GOES.
BUT SO FAR IT LOOKS, AS THEY SAY, NOMINAL, WHICH YOU AND I WOULD SAY, NORMAL. >> AND OF COURSE THE ENGINE OR THE BOOSTER, THE LOWER PART OF THE SPACECRAFT WILL SEPARATE, AS YOU MENTIONED. THAT WILL ESSENTIALLY FREE FALL BACK TO EARTH AND THE CAPSULE WILL GO OVER THE CARMEN LANE.
EXPLAIN THE SIGNIFICANCE. >> THAT IS THE INTERNATIONALLY RECOGNIZED BOUNDARY OF SPACE, IF YOU WILL. WHERE AERO DYNAMIC SURFACES LIKE FINS NO LONGER HAVE EFFECT. >> THE ROCKET HAS THAT.
IT TAKES THE CAPSULE LONGER. I THINK THE ENGINE, YEAH WE ARE GETTING READY RIGHT UPON SEPARATION, JUST MOMENTARILY. >> NEW SHEPHERD IS EXPECTED TO REACH AN ALTITUDE OF MORE THAN 340,000 FEET.
AND BE FULLY IN SPACE, OFFICIALLY MAKING ALL OF THEM ON BOARD ASTRONAUTS. DO YOU THINK WE'LL BE ABLE TO SEE THE SEPARATION? >> YEAH, WE ARE WATCHING. IT IS BLURRY, BUT YOU'LL BE ABLE TO SEE TWO OBJECTS HERE, MOMENTARILY. >> AND GAYLE, I HAVE TO ASK YOU, JUST TO BE ABLE TO SEE IT IN PERSON, WHAT WAS IT LIKE? >> OH MY GOSH, I DON'T EVEN KNOW WHY YOU GET SO EMOTIONAL WATCHING IT. I THINK BECAUSE YOU KNOW THERE ARE FOUR HUMAN BEINGS ON BOARD.
YOU KNOW HOW EXCITED THEY ARE. BUT TO WATCH IT GO UP, WE ALL JUST STARTED CHEERING AND CLAPPING. YOU ARE JUST LOOKING AT THE PLUME OF SMOKE.
I'M CURIOUS TO SEE THE SEPARATION, BECAUSE I'M TOLD, BILL, SHORTLY AFTER THAT, THE WEIGHTLESSNESS WILL TWIN PRETTY SOON. >> WEIGHTLESSNESS BEGINS RIGHT APP SEPARATION. WE ARE HEARING THE CREW RIGHT NOW, I HEARD BEZOS TALK ABOUT LOOKING OUT THE WINDOW AND WHAT A FANTASTIC VIEW IT WAS. >> CAN WE HEAR THEM? >> OH WOW. OH YEAH. WOO HOO.
>> HERE IT COMES. >> OKAY. WOO HOO. YOU JUST HAVE TO WAIT FOR IT.
WHO WANTS A SKITTAL? >> AND GAYLE, I'M LOOKING TOO, ONLINE. THERE ARE PEOPLE SAYING A WOMAN HAS DONE IT. YOU KNOW? AND AN 82-YEAR-OLD WOMAN.
>> I KNOW. I KNOW. >> YES. >> YOU JUST HEARD IT.
>> ONE MINUTE WARNING. ONE MINUTE WARNING. . >> I HEAR A LOT OF CHEERING AND WOO HOOS. I HEAR A LOT OF THAT. CAN YOU THINK OF A BETTER GROUP TO GO UP WITH THAN WALLY FUNK, AN 18-YEAR-OLD, JEFF BEZOS AND HIS BROTHER? WHO IS REALLY TODAY SEEING A DREAM COME TRUE? >> ABSOLUTELY. WHAT AN INCREDIBLE GROUP, EACH OF THEM MARKING A MILESTONE WITH THIS TRIP, PROVING ANYBODY COULD GO INTO SPACE, JUST ABOUT ANYBODY.
AND I WANT TO, SO BILL, ASK WHAT WE ARE SEEING RIGHT NOW? >> YOU ARE SEEING THE BOOSTER AND CAPSULE HAVE SEPARATED. THAT IS A VIEW FROM A CAMERA ON BOARD THE ROCKET AS IT STARTS DOWN. >> FANTASTIC UP HERE. >> THEY ARE ABOVE THE LINE, THEY HAVE MADE IT TO WHAT IS INTERNATIONALLY RECOGNIZED AS SPACE AND IT IS OBVIOUS THE CREW IS HAVING A FANTASTIC TIME. >> ARE THEY IN WEIGHTLESS GRAVITY? >> THEY ARE IN WEIGHTLESS RIGHT NOW.
THEY'LL GO ACROSS THE TOP AND DO THIS FLIGHT AND START BACK DOWN. IT WILL BE AWHILE BEFORE THEY START TO EXPERIENCE GRAVITY AGAIN. IF THEY HAD EXPERIMENTS ON BOARD, THEY WOULD BE HUSTLING RIGHT NOW TO GET THEM DONE.
>> SO THEY HAVE UNBUCKLED THEIR SEAT BELTS. >> I THINK THE ONE MINUTE CALL WE HEARD A FEW SECONDS AGO WAS A ONE MINUTE WARNIN THEY ARE ABOUT A MINUTE AWAY FROM BEING ALLOWED. >> SO THEY'LL LET THEM DO THAT MY GUESS IS TWO OR TWO AND A HALF MINUTES. >> WOO HOO. CAN CHARLIE HEAR ME? >> YES I CAN, GAYLE. >> HEY, CHARLIE.
IA, THERE ARE SIX SEATS. WE WERE ON BOARD YESTERDAY. I THOUGHT THE CAPSULE WAS PRETTY ROOMY. THERE ARE SIX SEATS, ONLY FOUR PEOPLE ON BOARD AS YOU KNOW RIGHT NOW. DO THEY HAVE TO CHOREOGRAPH WHEN THEY GET UP THERE? BECAUSE THESE ARE ALL FULL GROWN PEOPLE. BECAUSE ONCE YOU ARE WEIGHTLESS YOU ARE SORT OF FREE FLOATING.
>> BILL AND I WERE DISCUSSING. >> WHAT WAS THAT? >> THEY DO CHOREOGRAPH. AND THEY KNOW THAT THERE IS A HANDLE THAT GOES AROUND THE CIRCUMFERENCE, INSIDE CIRCUMFERENCE OF THE CREW MODULE SO THEY CAN GRASP THAT SO THEY ARE NOT OUT OF CONTROL, WHAT YOU ARE SEEING NOW IS THE LANDING WHICH IS ABSOLUTELY PHENOMENAL. THIS IS A POWERED LANDING WHERE THE VEHICLE GOES BACK NOT VERY FAR FROM WHERE IT LAUNCHED SEVEN MINUTES AGO. SEVEN AND A HALF MINUTES AGO. SO YOU KNOW, THIS IS THE END FOR THE.
>> CHARLIE, CAN YOU JUST EXPLAIN THAT BIG BOOM WE HEARD? SO PEOPLE KNOW THAT IS SUPPOSED TO HAPPEN. >> THAT IS. THAT IS THE VEHICLE GOING BACK THROUGH THE SOUND BARRIER. SO IT IS GOING FROM BEING SUPERSONIC TO SUB SONIC. AND YOU HEARD THE SONIC BOOM, YOU HEAR THE BOOM, BOOM, BECAUSE OF THE SHAPE OF THE WINGS, THEY GET A SINGLE SONIC BOOM.
>> BILL, NOW, WE ARE SEEING THIS CAPSULE IS RETURNING BACK TO EARTH? >> THAT'S RIGHT. THE ATMOSPHERE REALLY SHOWS THEM DOWN AS THEY COME DOWN TO THE DENSER REGION OF THE ATMOSPHERE. WE ARE GOING TO SEE THREE SMALL CHTHAT HIS WILL POP OUT TO STABILIZE IT AND SLOW IT DOWN, FOLLOWED BY THE THREE MAIN PARACHUTES.
IT COULD SAFELY LAND WITH JUST TWO. THEY WOULD SURVIVE A LANDING WITH JUST ONE. SO IT IS A VERY WELL TESTED SYSTEM. AND THERE GO THE CHUTE AS WE SPEAK. >> SO WHEN THEY ACTUALLY HIT EARTH, IT IS GOING TO BE A SMALL BUMP. BUT THE SEATS WE SAW GAYLE SITTING IN THERE IS PLENTY OF CUSHION.
>> LOOK THEY ARE COMING DOWN. RELATIVELY GENTLE. >>> NORAH, THE PARACHUTES HAVE COME OUT, THAT SLOWS THE CAPSULE TO ABOUT 16 MILES PER HOUR. IT SLOWS JUST TO ABOUT 1 MILES PER HOUR WHEN THEY ACTUALLY HIT THE GROUND. >> YOU CAN SEE IT, RIGHT? >> THAT IS SPECTACULAR. I'M BENDING DOWN LOOKING AT THE MONITOR AND MARK STRAUSMAN SAID GAYLE, TURN AROUND.
YOU CAN SEE IT IN PERSON. YOU GET SO CAUGHT UP. TURN AROUND. YOU CAN SEE IT FOR YOURSELF. SPECTACULAR. >> AND WE CAN SEE.
I KNOW THEY DIDN'T BRING A LOT OF TOURISTS THERE TO WATCH BUT YOU CAN SEE KIDS THERE JUMPING UP AND DOWN AND PEOPLE TO WATCH WHAT IS REALLY THIS HISTORIC FLORIDA STATE BY JEFF BEZOS AND THE WHOLE BLUE ORIGIN CREW. >> WE WERE TALKING TO PEOPLE IN THE TOWN YESTERDAY. I'M TELLING YOU, I COULDN'T FIND ONE PERSON THAT WASN'T EXCITED ABOUT THIS HAPPENING. NUMBER ONE, THEY LOVE ALL THE ATTENTION COMING TO VAN HORN. THE PEOPLE HERE ARE VERY NICE AND WELCOMING, AND THEY SAID WE JUST HOPE IT CONTINUES.
>> THIS IS THE FIRST OF MANY FLIGHTS. SOMETHING TELLS ME IT IS GOING TO CONTINUE HERE. IT IS ABOUT TO LAND. IT IS ABOUT TO LAND. >> SO IT SLOWS DOWN. MARK WHAT IS IT SLOWING DOWN TO? >> I SEE A DRONE OF COURSE, FILMING IT.
>> YOU ARE GOING TO SEE THE THRUSTERS FIRE AND THEN IT WILL SLOW TO 1 MILES PER HOUR AND IT WILL GENTLY LAND. >>> IT IS TOUCHING DOWN. >> WOO HOO.
>> AND WE ARE TOLD JUST AN INCREDIBLE MOMENT. >> OH MY GOSH, CHARLIE. SINCE YOU ARE AN ASTRONAUT AND BEEN IN SPACE, GAYLE, JUST BREATHE A SIGH OF RELIEF. >> I CAN RELAX NOW. >> ME TOO.
ME TOO. >> THIS IS INCREDIBLE, TO BE QUITE HONEST. YOU KNOW, 10 YEARS AGO, I THINK THERE WERE NOT MANY PEOPLE WHO THOUGHT WE WOULD SEE THIS. BILL AND I WERE COMMENTING EARLIER. THIS IS REALLY EXCITING AND I THINK IT IS A GREAT START.
>> WHAT DOES IT MEAN FOR THE FUTURE OF NOT ONLY SPACE TOURISM? BUT AMERICANS AND OUR RETURN TO SPACE? AND WHAT WE WILL USE SPACE FOR IN THE FUTURE? >> IT MEANS AS WE WERE LEARNING, WE CAN SEND QUOTE UNQUOTE NORMAL PEOPLE. SO INSTEAD OF HAVING TO RELY ON A TRAINED ASTRONAUT TO DO RESEARCH IN SPACE, WE CAN SEND A QUALIFIED PERSON WHO UNDERSTAND THE THINGS THEY WANT TO DO TO MAKE LIFE BETTER HERE ON EARTH. WHETHER IT IS RESEARCHING FOR VACCINES OR TRYING TO MAKE A MATERIAL THAT IS STRONGER THAN ANYTHING ELSE WE HAVE SEEN. IT IS REALLY IMPORTANT. >> LET'S LISTEN TO THEIR REACTION FROM INSIDE.
>> CHARLIE. >> GO AHEAD. CREW NUMBER SEVEN IS ON THEIR WAY. SHORTLY YOU WILL HEAR THE CAPSULE OFF GASSING.
. >> I HAVE A QUESTION . >> THEN I HAVE A QUESTION FOR CHARLIE. WHY SHOULD NORMAL PEOPLE WANT TO GO INTO SPACE? THERE IS SO MUCH ABOUT THE BILLIONAIRES WHO ARE DOING THIS, VAN ANY PROJECTS. COULD YOU REALLY EXPLAIN WHY THIS IS SO IMPORTANT? YOU TOUCHED ON IT BRIEFLY WITH NORAH. THIS IS SO MUCH BIGGER THAN WHAT I THINK PEOPLE REALIZE WHAT IS HAPPENING HERE. >> IT REALLY IS, GAYLE.
NORMAL PEOPLE SHOULD WANT TO GO IN SPACE FOR A PUB OF REASONS. SOME OF THEM HAVE TECHNICAL REASONS TO WANT TO GO. WE KNOW PEOPLE WHO CAN DO THE FIRSTHAND RESEARCH, AND DO THE TECHNOLOGICAL DEVELOPMENT, WHETHER IT BE WEATHER SATELLITES OR WHETHER IT IS MEDICAL INSTRUMENTATION OR WHAT.
BUT WE ALSO NEED TO HAVE PEOPLE LIKE YOU AND NORAH, WHO CAN COME BACK AND TELL YOU ARE GOOD AT COMMUNICATING. AND WE NEED PEOPLE WHO CAN WRITE BOOKS AND WRITE SONGS AND TALK ABOUT THERE INCREDIBLE VIEW OF EARTH FROM THAT VANTAGE POINT. THERE HAVE BEEN ABOUT 500 PEOPLE WHO HAVE HAD THE TON TO DO THAT. IT REALLY DOES MAKE A DIFFERENCE IN HOW WE VIEW OUR PLANET. >> I WILL NEVER DO THAT. BUT NORAH MATE.
SHE REALLY LIKES THIS KIND OF THING. I'M SAFE RIGHT HERE ON THE GROUND. >> THAT IS TR LET'S LISTEN IN TO JEFF BEZOS AND THE CREW. SO EXCITED. JEFF JUST SAID BEST DAY EVER. >> THAT WAS INCREDIBLE.
>> BEST DAY EVER. >> THE AUDIO IS BREAKING UP. WE'LL GET MORE FOOTAGE LATER IN THE DAY FROM INSIDE THE CAPSULE, AND FROM OTHERS, OF COURSE AND THAT WILL BE COMMUNICATED. HOPEFULLY WE'LL HAVE MORE OF IT ON THE EVENING NEWS AND MORE ON "CBS THIS MORNING."
I WANT TO BRING IN ALLEN, THE STAR HARBOR SPACE ACADEMY EXECUTIVE VICE PRESIDENT FOR COMMUNICATIONS AND A FORMER NASA EXECUTIVE AND ALSO THE AUTHOR OF SEE YOU IN ORBIT, OUR DREAM OF SPACE FLIGHT. YOUR REACTION SEEING THIS SUCCESSFUL SPACE TOURISM FLIGHT? >> THIS IS THE FULFILLMENT OF A DREAM FOR MILLIONS OF PEOPLE. IT BEGAN IN THE 1920S, WHEN PEOPLE WROTE TO ROBERT GODDARD VOLUNTEERING TO FLY ON HIS THEORETICAL ROCKET. I USED TO GET THOUSANDS OF LETTERS FROM PEOPLE IN THE MID 1980S WHEN WE DID THE TEACHER IN SPACE AND JOURNALIST IN SPACE. THEN STARTED TO OPEN UP WHO COULD GET TO GO. SPACE SHUTTLE OPEN THAT FIRST AND NOW THE PRIVATE SECTOR IS TAKING THE NEXT IMPORTANT STEP.
WE HAVE BEEN WAITING A LONG TIME AND I THINK NOW THAT IT IS HAPPENING, WE'LL FORGET ABOUT HOW LONG IT TOOK. >> THANK YOU SO MUCH. WE ARE SEEING NOW, THEY ARE ABOUT TO OPEN THE CAPSULE AND ALLOW THE PASSENGERS OUT. I MEAN, IT IS INCREDIBLE THAT IT IS VIRTUALLY INTACT AND ALMOST NO DAMAGE DONE TO THE CAPSULE AFTER THIS FLIGHT. I'M ALSO JUST THINKING TO GAYLE, AS WE WATCH THEM GET OUT, THERE MUST BE NOT ONLY A SENSE OF JOY OF BEING PART OF HIS HISTORIC MISSION BU RELIEF THAT IT ALL WENT SAFELY.
>> OH, MY GOSH. LISTEN, WE ALL FEEL RELIEF. NOBODY WANTED TO SEE ANYTHING UNPLEASANT HAPPEN HERE TODAY AND IT CERTAINLY HAS NOT.
DOUG DUNBAR OF OUR DALLAS FORT WORTH AFFILIATE, JUST A FEW MILES AWAY WITH SOMEONE WHO JUST WATCHED THE SUCCESSFUL FLORIDA STATE FOR THE FIRST TIME. LET'S TALK ABOUT YOUR GIRL WALLY FUNK FOR A SECOND, SHE DID IT, SHE DID IT SHE DID IT, WHAT ARE THEY SAYING, OVER THERE? >> MY HEART WAS IN MY THROAT THIS WHOLE TIME FOR WALLY AND EVERYBODY DALE. THE ONE THING I WILL POINT OUT TO YOU.
YOU HEARD THE SAME THING I DID. THAT IS WHEN THEY JETSONED FROM THE ROCKET THE FIRST VOICE YOU HEARD INSIDE THE CAPSULE WAS THAT OF WALLY AND I KNEW IN MY HEART THE MINUTE THEY ENTERED THE FUN ZONE FUNK WAS OUT OF THE STRAPS AND CALLING EVERYBODY OUT, BOTH BEZOS BROTHERS AND OLIVER AND SAYING LET'S DANCE AND HAVE FUN. >> I'LL BE CURIOUS TO SEE WHO GOT OUT OF THE SEAT FIRST.
SOMETHING TELLS MAY YOU COULD BE RIGHT. YOU HAVE SOMEBODY WITH YOU? A LITTLE PERSON WHO WATCH THIS, TOO? >> WELL, I HAVE TO TELL YOU. THERE WERE HOOTS AND HOLLERS.
THERE ARE HUNDREDS OF PEOPLE ALONG HIGHWAY 54. THIS IS THEODORE EVERYBODY HAVE I. OUT OF ALL THE HOOTS AND HOLLERS, YOURS WAS THE LOUDEST. FIRST HIGH FIVE. HOW MANY DEVICES DID YOU RECORD THIS WITH? >> I RECORDED IT WITH MY IPAD AND IPHONE.
>> Reporter: AND JUST TELL US IN A NUTSHELL, WHY SO EXCITED? WHY DOES THIS GET YOU SO THRILLED? >> IT IS BASICALLY AN OPPORTUNITY FOR OUR NEXT GENERATION. >> Reporter: DO YOU SEE YOURSELF MAYBE ONE DAY DOING WHAT YOU JUST SAW? >> YES, SIR. MAYBE, YES. >> Reporter: HOPE AND PRAY, HIGH FIVE. GAYLE A LOT OF EXCITEMENT OUT HERE AMONG THE YOUNGEST AND ONE CAN CAR, THIS IS THE GENERATION WE ARE TRYING TO INSPIRE. >> I KNOW, DOUG, THIS LITTLE PERSON WATCHED THE WAY THAT JEFF BEZOS WATCHED WHEN HE WAS A LITTLE CHILD.
YOU ARE LOOKING AT THE CAPSULE. IT HAS LANDED. YOU CAN SEE JEFF IN THE WINDOW.
THEY ARE ABOUT TO COME OUT. WE REALLY DON'T WANT TO BE TALKING WHEN THEY ARE COMING OUT, BECAUSE I WANT TO HEAR ANYTHING THEY HAVE TO SAY. >> I HEAR WALLY STILL GOING THANK YOU, THANK YOU. >> THANK YOU, DAD, THANK YOU. >> DID HE SAY THANK YOU, DAD.
>> NO THAT WAS A LITTLE KID TALKING. >> OH, I SAW JEFF JUST GIVE A THUMBS UP THERE IN THE WINDOW. THEY WENT UP, THEY CAME BACK. THEY ARE SAFE AND SOUND AND THEY LOOK VERY HAPPY. LOOK AT THAT SMILE ON JEFF'S FACE. >> WHAT DO YOU HAVE TO SAY MARK STRAUSMAN? YOU PREDICTED THIS.
YOU SAID THEY ARE READY AND THEY WERE CERTAINLY READY. BLUE ORIGIN IT LOOKS LIKE IT WENT PICTURE PERFECT, THE WAY THEY WERE CONFIDENT IT WOULD GO. THE WAY JEFF BEZOS DREAMED IT WOULD GO SINCE HE WAS 5 YEARS OLD WATCHING APOLLO 11. THIS IS A REALIZATION OF A DREAM.
I THINK ALL BUSINESS CONSIDERATIONS ASIDE, THIS IS A PERSONAL MOMENT FOR THIS GUY. LET'S FACE IT, LEADS A LARGE LIFE. AND FOR HIM TO SAY THIS IS THE BEST DAY EVER, IT IS THE BEST DAY EVER. >> CHARLIE, I DON'T KNOW IF YOU CAN STILL HEAR US.
BUT WHAT TAKES SO LONG TO OPEN THE DOOR? >> THERE IT GOES. >> YOU KNOW, THE FACT THAT THEY ARE USING CLEAN PROPELLANTS, THE FACT THAT THERE IS NO, COMING OUT OF THE SHUTTLE IT WAS AN HOUR TRYING TO MAKE SURE IT IS SAFE AROUND THE VEHICLE. I COULD SEE THE LITTLE KID, THAT HAS BEEN THE HIGHLIGHT FOR ME TODAY.
>> CONGRATULATIONS. CONGRATULATIONS. >> OH MY GOSH.
CONGRATULATIONS. YOU'VE GOT TO GET UP THERE. OH, MY GOSH, IT WAS SO GREAT. I'VE NEVER FELT ANYTHING LIKE THAT. IT WAS SO GREAT. >> THAT IS WHAT HAPPINESS AND JUBILATION LOOKS LIKE, GUYS.
THERE IS JEFF BEZOS, HIS BROTHER, MARK. THEY EACH HAVE FOUR CHILDREN. WALLY FUNK IS THERE, AND OLIVER BEING GREETED BY FAMILY AND FRIENDS. >> THEY, THAT, ARE JUST AS EXCITED TO SEE THEM BACK ON SOLID GROUND, SAFELY, AS THEIR FAMILY AND CLOSE FRIENDS ARE ALL THERE WITH THEM.
GAYLE, WE SHOULD NOTE THE FEATHER THAT IS THE SYMBOL OF BLUE ORIGIN IS THE SYMBOL OF THE PERFECTION OF FLIGHT. AND THAT IS WHAT TODAY WAS, FOR THIS COMPANY THAT HAS BEEN WORKING ON THIS FOR DECADES, IN ORDER TO ACHIEVE THIS HISTORIC MOMENT. A DAY FOR CELEBRATION. >> WHAT A GOOD FEELING. >> FOR THIS ENTIRE CREW.
>> AND I JUST WANT TO TALK TO BILL AND CHARLIE HERE. BECAUSE I'M STRUCK, TO RECOGNIZE THIS MOMENT AND WHAT THEY HAVE ACHIEVED AND WHAT IT COULD MEAN FOR FUTURE PEOPLE WHO WANT TO EXPERIENCE THE SAME MOMENT, IT WILL COST YOU $200,000 AT LEAST AT SOME POINT THEY ARE SAYING, THESE TYPES OF FLIGHTS, VERY, VERY EXPENSIVE TO DO THIS. BUT, IT IS ALSO A CONTINUUM. AND JEFF BEZOS TOLD ME THAT WE ARE ESSENTIALLY SLOWLY DESTROYING THE EARTH. AND HEAVY MACHINERY AND OTHER THINGS WILL NEED TO MOVE TO OTHER PLANETS IN ORDER TO SAVE EARTH FROM CLIMATE CHANGE. THAT IS THE FUTURE IN 50, 100 YEARS FROM NOW.
>> HE IS TALKING ABOUT PRODUCTION OFF THE PLANET. WE USE THE TERM ZERO MASS LAUNCHES. WHERE YOU USE A VERY SMALL SPACECRAFT TO TAKE THE FEED STOCK, POWDER OR RIBBONS. AND YOU USE 3-D PRINTING TO PRINT THE COMPONENTS FOR A ROCKET THAT IS GOING TO GO TO MARS.
YOU DON'T DO IT ON EARTH AND NEED A VEHICLE LIKE WE LAUNCHED TODAY, YOU DO IT ON ORBIT OR ON THE SURFACE OF THE MOON. THAT IS THE KIND OF STUFF JEFF IS PROGRESSING TO. WHEN YOU LOOK AT EVERYBODY STANDING AROUND THAT VEHICLE RIGHT NOW, WE WOULD NOT HAVE BEEN DOING THAT YOU KNOW IN THE SPACE SHUTTLE ERA, BECAUSE THERE WAS ALL KINDS OF NOXIOUS FUMES AND STUFF THAT CAME OUT OF OUR VEHICLES. HE IS INTO REUSABLE, ENERGY EFFICIENT ENVIRONMENTALLY SAFE.
SO THAT IS THE WAVE OF THE FUTURE. >> THERE IS THE CHAMPAGNE. BILL AND CHARLIE, IF YOU GUYS CAN HEAR ME, YOU KNOW THE BLUE ORIGINAL GENERAL MOTTO IS STEP BY STEP FEROCIOUSLY. I THINK THIS IS PRETTY FEROCIOUS, WHAT THEY ARE DOING RIGHT NOW.
DON'T YOU? >> IT IS FEROCIOUS. AND YOU HIT THE NAIL ON THE HEAD WHEN YOU SAID STEP BY STEP. THAT HAS BEEN JEFF'S PHILOSOPHY. I REMEMBER THE FIRST TIME I MET HIM MANY YEARS AGO, HE CAME INTO MY OFFICE TO EXPLAIN WHY BLUE ORIGIN WAS NOGOING TO GET INVOLVED IN THE BIDDING FOR NASA FUNDING FOR COMMERCIAL SPACE. HE SAID I WANT TO GO AT MY OWN PACE.
I DON'T WANT ARTIFICIAL PRESSURES ON ME AND MY TEAM. WE ARE GOING TO FLY WHEN WE ARE READY BECAUSE THE FIRST PEOPLE TO FLY WILL BE MY SON AND ME. IT MADE ME TEAR UP, TO BE QUITE HONEST. HE STEP BY STEP BY STEP.
NEXT THING IS NEW GLENN, SEVERAL YEARS DOWN THE ROAD. IT IS A BIG DAY FOR THE COUNTRY. EVERYBODY SAYS THAT IS A BIG DAY FOR BLUE ORIGIN. THAT IS TRUE.
IT IS A HUGE DAY FOR AMERICA. ONLY IN AMERICA COULD YOU SEE THIS. YOU KNOW? WE NEED TO UNDERSTAND THAT. WE NEED TO GET A GRIP. >> I CAN TELL GAYLE, CHARLIE IS A LITTLE EMOTIONAL SAYING THAT.
ONLY IN AMERICA. EXPLAIN WHAT YOU MEAN BY THAT. THE INNOVATION THAT WE CHAMPION. >> IT IS BECAUSE OF WHO WE ARE. BECAUSE WE BELIEVE IN AN IDEA.
THE PRESIDENT TALKS ABOUT THIS ALL THE TIME. YOU KNOW, THIS NATION IS FOUNDED ON AN IDEA. WE ARE NOT THERYET. IT IS A LONG TREK TO GET TO WHERE ALL MEN ARE CREATED EQUAL. TO SEE THAT YOUNG BLACK BOY THERE, EXCITED, THAT ANSWERED THE QUESTION FOR PEOPLE WHO SAY WHY THE HECK ARE WE DOING THIS? IF IT DIDN'T ANSWER IT FOR US, YOU DON'T UNDERSTAND. >> I LOVE THAT YOU SAID THAT.
THERE HAVE BEEN MANY CRITICS OUT THERE, THAT ARE SAYING OH, THIS IS A BILLIONAIRE'S JOY RIDE. BUT IT IS MUCH MORE THAN THAT, IT IS MUCH MORE THAN THAT, NOT ONLY FOR THIS COUNTRY, BUT FOR THE FUTURE OF SCIENCE AND SPACE AND INSPIRING YOUNG PEOPLE. >> INSPIRING KIDS.
>> OR I'M SORRY. GO AHEAD, GAYLE. >> I WANTED TO PICK UP ON WHAT NORAH SAID ABOUT THE BILLIONAIRE'S JOY RIDE. BECAUSE PEOPLE SAY THIS, NOT TO BE DEBBY DOWNER. THEY SAY THERE ARE SO MANY PROBLEMS HERE ON EARTH THEY SHOULD BE ADDRESSING. WE ARE SPENDING ALL OF THIS MONEY IN SPACE TO GO TO SPACE AND TO WHAT END? I THINK YOU ARTICULATED IT WELL, BUT I WISH YOU COULD PUT A BUTTON ON IT.
>> NOT TO MAKE LIGHT OF THIS. PEOPLE WILL CRITICIZE WHAT I'M ABOUT TO SAY. THE YOUNG MAN SITTING THERE, EXCITED AS HE WAS, THAT IS ONE LESS BLACK KID ON A CORNER SOMEWHERE GETTING READY TO USE A WEAPON.
IT IS REALLY, REALLY, REALLY IMPORTANT FOR US TO INSPIRE YOUNG PEOPLE. WE HAVE TO INFORM THEM. YOU KNOW, THERE WERE NO BLACK KIDS STANDING AROUND WHEN NEIL ARMSTRONG AND BUZZ ALDRIN WENT TO THE MOON. WE WEREN'T A PART OF THAT.
WE ARE TODAY. WOMEN WEREN'T A PART OF THAT. THEY ARE TODAY.
SO THIS IS A HUGE DAY FOR THE NATION. AND YOU KNOW, THE UNFORTUNATE THING IS THAT CONGRESS DIDN'T TAKE A TIMEOUT AND TURN ON THE TVS AND WATCH THIS. THEY NEED TO UNDERSTAND THAT THE THINGS THEY ARE DISCUSSING RIGHT NOW ARE CRITICALLY IMPORTANT. >> THAT IS NOT A NEW CRITICISM.
CERTAINLY WITH THE JFK, PEOPLE WONDERED WHY WE WERE SPENDING BILLIONS TO GO TO PACE. >> ONE COMMENT AND I THOUGHT CHARLIE WAS GOING TO SAY THIS. NOT ONE DIME HAS BEEN SPEND IN SPACE.
EVERY DOLLAR SPENT HAS BEEN SPENT RIGHT HERE IN THE UNITED STATES PAYING TALENTED AEROSPACE ENGINEERS AND THINGS LIKE THAT. I AGREE WITH EVERYTHING CHARLIE SAID ABOUT THIS, HOW SIGNIFICANT IT IS. I WOULD JUST ADD THE WORD POTENTIALLY TO IT. IT IS NOT CLEAR TO ME THAT THIS WILL WORK AS A BUSINESS MODEL LONG-TERM. HOW MANY PEOPLE ARE GOING TO BE WILLING TO PAY THAT MUCH MONEY BOARD, WHICH THEY ARE TALKING ABOUT DOING. GOVERNMENT RESEARCHERS, THINGS LIKE THAT, IT IS NOT CLEAR TO ME THIS MARKET CAN SUPPORT TWO COMPANIES, I CERTAINLY HOPE IT CAN.
BUT THAT IS AN UNKNOWN RIGHT NOW. AND WE NEED TO KEEP THAT IN MIND. >>> ALSO THE WORLD'S RICHEST MAN, WORTH $200 BILLION, MAY NOT NEED TO TURN A PROFIT FOR HIS COMPANY, WHICH IS A PRIVATELY HELD COMPANY AND HE IS ABLE TO WRITE OFF HIS PROFITS AND LOSSES, UNDERSTANDING THE U.S. TAX CODE SYSTEM HE CAN WRITE OFF HIS LOSSES. GAYLE, YOU WERE GOING TO SAY SOMETHING? >> I JUST WANT TO FOLLOW-UP ON WHAT CHARLIE SAID FOR JUST A SECOND. IT MEANS ONE LESS BLACK KID ON THE CORNER.
I DON'T WANT ANYBODY TO THINK OR BELIEVE THAT ALL BLACK KIDS ARE JUST HANGING OUT ON A CORNER. I THINK IT IS INSPIRATION FOR EVERYBODY. BUT I GET THE POINT YOU ARE MAKING. IT GIVES OTHER PEOPLE OTHER OPTIONS THEY COULD SEE. I REALLY WANTED TO CLEAN THAT UP, BECAUSE I'M GOING NO, CHARLIE, NO.
I KNOW WHAT YOU WERE TRYING TO SAY. BUT I DON'T WANT THAT LEFT HANGING ON THE AIR AS I'M SITTING HERE LISTENING TO YOU. >> NO, I UNDERSTAND FULLY.
>> I'M NOT CRITICIZING. JUST MAKING AN OBSERVATION. BUT I DO THINK IT IS EXCITING. I'M SITTING HERE AS A BLACK WOMAN. I'M NOT GOING TO TELL YOU I'M A ACE GEEK, BECAUSE I'M CERTAINLY NOT. BUT I WAS VERY EMOTIONAL.
I DON'T EVEN KNOW WHERE IT WAS COMING FROM. I SEE HOW BIG THIS IS DID HOW IMPORTANT THIS IS AND HOW DANGEROUS IT IS. AND THAT THEY PULLED IT OFF. I'M JUST SO RELIEVED FOR ALL OF US.
>> GAYLE YOU UNDERSTAND THE POWER OF THIS MOMENT WHEN YOU ARE HERE IN PERSON. WHICH IS WHY, WHEN YOU WERE WATCHING THE MONITOR, I WAS LIKE GAYLE, TURN AROUND. IT IS SO MUCH MORE SPECTACULAR HERE. >> THAT WAS KIND OF A MOMENT.
THAT IS THE WHOLE REASON WHY WE ARE HERE. >> I THINK YEAH, I TOTALLY AGREE WITH YOU. AND I THINK YOU KNOW, I REMEMBER, IN TALKING TO JEFF BEZOS, BECAUSE WE TALKED TO HIM PREVIOUSLY ON THE ANNIVERSARY OF THE APOLLO 11 LANDING, REMEMBER THAT AT THAT TIME, THERE WERE HUNDREDS OF MILLIONS OF PEOPLE THAT WATCH THAT. SO THIS MOMENT, TOO, I CAN SEE, EVEN ON TWITTER PEOPLE SAYING I JUST WATCHED THIS WITH MY SON, WITH MY DAUGHTER, WITH MY KIDS. THAT KIND OF MOMENT THAT WE HAVEN'T SEEN THAT MANY PEOPLE HAVE BEEN MISSING, PERHAPS IN THE PAST COUPLE OF YEARS.
THAT AMERICA CAN DO SOMETHING INCREDIBLY INSPIRATIONAL AND I WANT TO BRING BACK IN ALLEN, WHO IS WITH US, WHO HAS WRITTEN A BOOK ABOUT SPACE TOURISM AND FOLLOWED THIS. THE INSPIRATIONAL MOMENT THIS CREATES. >> EXACTLY. THIS HAS INSPIRED PEOPLE FOR GENERATIONS. WE SAW THAT THROUGHOUT THE SPACE SHUTTLE MISSIONS. 135 MISSIONS AND NOW WE ARE GOING TO SEE THE INSPIRATION THAT THIS CAUSES AGAIN.
PEOPLE WANT TO GO FOR THE ADVENTURE THE FAME, SEEK A HIGHER PURPOSE. ONE OF MY FAVORITE QUOTES WAS FROM A RUSSIAN COSMONAUT, WHO SAID THOSE WHO FLY IN SPACE FEEL DIFFERENTLY AND BECOME SICK WITH A GLOBAL PHILOSOPHY AND TERRIBLE CASE OF COSMIC VIEWS. LET'S HOPE THAT THESE FUTURE FLIGHTS CONTINUE IN THAT EVOLUTIONARY SPIRAL. WELL SAID, THANK YOU. AND BILL, WE ARE WATCHING A HIGHLIGHT REEL BLUE ORIGIN HAS ALREADY TURNED AROUND ABOUT THE BEST MOMENTS, ESSENTIALLY FROM THIS MOMENT. THIS IS THE LAUNCH, OF COURSE OF NEW SHEPHERD FOR THE FIRST EVER SUB ORBITAL FLIGHT WITH A CREW.
THE JOY FELT BY SARAH KNIGHT THERE. WHO IS IN CHARGE OF COMMUNICATIONS. AND THEN THE LANDING OF THE ROCKET PORTION, WHICH REALLY THAT, IN ITSELF, IS A REMARKABLE FEAT. AND THE CAPSULE, AGAIN, WITH THE THREE PARACHUTES ALL DEPLOYED CORRECTLY.
AS YOU HAVE NOTED, THEY TESTED IT, THEY COULD LAND WITH JUST ONE AND STILL BE SAFE. THERE WERE MANY REDONE DANCE SAYS. MANY ABILITIES TO LAND THIS SAFELY, EVEN IF SOMETHING WENT WRONG.
THEY HAD PLOTTED IT ALL OUT WITH 15 DIFFERENT FLIGHTS WITHOUT A CREW, IN ORDER TO MAKE SURE THIS WAS TOTALLY SAFE AND THERE THE CELEBRATION. WOW, THEY TURNED THIS VIDEO QUICKLY. >> AND JUST FOR THE RECORD, THEY HIT 66.5 MILES, SO THEY WERE THREE MILES ABOVE THE LINE AS WE TALKED ABOUT. SO VERY DEFINITELY A SPACE FLIGHT.
FOR THE RECORD. >> AND WAS THAT HIGHER THAN RICHARD BRANSON'S TEAM? >> ABSOLUTELY. THE VIRGIN GALACTIC TEAM IS USUALLY IN THE MID-50S.
>> IT IS A ROCKET. NOT A ROCKET PLANE. >> WELL BECAUSE THERE HAS BEEN, NOT TO GET TOO TECHNICAL, SOME BACK AND FORTH BETWEEN RICHARD BRANSON'S TEAM AND JEFF BEZOS'S TEAM ABOUT WHETHER RICHARD BRANSON'S TEAM ACHIEVE A SUB ORBITAL FLIGHT.
>> THEY ACHIEVED IT AS THE NASA SAYS AND THE U.S. AIR FORCE. I THINK IT IS A TRIVIAL ARGUMENT AND I DON'T THINK ANYBODY ON BOARD EITHER SPACECRAFT WOULD BE ABLE TO TELL THE DIFFERENCE. >> I MORE THAN SECOND THAT. FORGET ABOUT IT.
THERE IS NO ARGUMENT. >> I HEAR YOU. ALL RIGHT, GAYLE? >> I WANTED TO TALK A LITTLE BIT WITH CHARLIE AND BILL ABOUT THE TRAINING.
I WAS VERY FASCINATED ABOUT THIS. IT IS SO DIFFERENT. YOU SAID EARLIER, IT PROVES THAT JUST ABOUT ANYBODY CAN GO. BECAUSE REALLY ALL YOU ARE DOING IS RIDING. THEY SAID YOU HAVE TO BE IN REASONABLY GOOD HEALTH.
THE REQUIREMENTS WERE THIS, YOUR HEIGHT BETWEEN 5 FEET AND 6'4". YOUR WEIGHT BETWEEN 110 AND 223. BE ABLE TO DRESS YOURSELF IN A ONE-PIECE FLIGHT SUIT. FASTEN AND UNFASTEN YOUR HARNESS IN 15 SECONDS. HOLD IT BY NOT GOING TO THE BATHROOM IN 90 MINUTES. BE ABLE TO UNDERSTAND COMMANDS IN ENGLISH.
THIS IS WHERE I THOUGHT OF YOU AND I HAD TO DROP OUT OF THE RACE. WHERE IT SAYS BE ABLE TO CLIMB THE NEW SHEPHERD LAUNCH TOWER, IT IS THE EQUIVALENT OF SEVEN FLIGHTS OF STAIRS IN LESS THAN 90 SECONDS. >> YOU CAN DO THAT, GAYLE.
>> NO,. >> . NO,. >> >> GUYS AT THE TABLE, NORAH IS A RUNNER AND I AM NOT. I WAS HIKING IN MABU RANCH WHERE I WAS ACARBOSE. YOU COULD DO THAT. >> BUT I WANTED TO TALK TO YOU GUYS ABOUT THE TRAINING.
HOW DIFFERENT THE TRAINING IS, COMPARED TO WHAT YOU WERE SAYING ABOUT ANYBODY WHO IS REASONABLY HEALTHY COULD GO. SO THAT REALLY DOES OPEN THE DOOR TO A LOT OF PEOPLE THAT MIGHT NOT HAVE CONSIDERED IT. WHICH I THINK IS A GOOD THING.
>> THE ADVANTAGE THAT COMMERCIAL SPACE FLORIDA STATE GIVES US IS YOU DON'T, IN NASA, WE FIGURE OUT WHAT CAN GO WRONG, AND WHAT IS THE EXTREME WHAT HAVE CAN GO WRONG, AND WE TRAIN TO THAT. THAT IS NOT NECESSARY IN THIS CASE. YOU FIGURE OUT THE MINIMUM AMOUNT THAT SOMEONE NEEDS TO BE TRAINED TO FLY SAFELY. VIRGIN DETERMINED IT WAS ABOUT A WEEK AND THESE GUYS DETERMINED IT WAS A COUPLE OF DAYS.
AND IT SEEMS TO BE ADEQUATE. THAT IS WHAT IS GOING TO GET THE COST DOWN, TO BE QUITE HONEST, IS DOING WHAT IS ABSOLUTELY NECESSARY TO STAY SAFE, ABOUT YOU NOT GOING TO THE EXTREME OF WANTING TO BE ABLE TO DEAL WITH ALL POSSIBILITIES OR ALL THINGS THAT CAN GO WRONG. THAT IS NOT THE PLACE FOR A CREW LIKE THIS. YOU KNOW A CREW THAT HAS TO FLY A VEHICLE AND KEEP IT IN SPACE FOR A WEEK, THAT IS DIFFERENT. >>> WE SHOULD ALSO NOTE, GAYLE, TOO, A LITTLE BIT ABOUT WALLY FUNK. 82 YEARS OLD.
THREE YEARS BEFORE JEFF BEZOS WAS BORN, SHE WAS PART OF THE WOMEN IN SPACE PROGRAM, WITH 12 OTHER WOMEN WHO HAD TRAINED AS PART OF THE MERCURY 13. THEY WERE DENIED THAT OPPORTUNITY, AND SHE APPLIED TO NASA TWICE IN 1962 FOR THE GEMINI MISSIONS AND AGAIN IN 1966, WHEN SHE WAS TOLD SHE WOULD NOT BE GOING TO SPACE. SHE SAID ABOUT THE 60 YEARS TRYING TO GET INTO SPACE.
SHE SAID I WAS BROUGHT UP WHEN THINGS DON'T WORK OUT, YOU GO TO YOUR ALTERNATIVE. AND THUS SHE BECAME A SUCCESSFUL PILOT, TRAINING THOUSANDS AND THOUSANDS OF WITNESSED, LOOK AT HER HUGGING JEFF BEZOS, HER ENTHUSIASM AND ATTITUDE ARE ABSOLUTELY INFECTIOUS AND THAT HAS BROUGHT HER TO THIS HISTORIC MOMENT TODAY. THAT IS WHY SHE IS A PERSONAL HERO FOR MANY PEOPLE. >> EVERYBODY SAYS THAT SHE IS THE REAL DEAL. I DALLAS FORT WORTH AFFILIATE. SHE TELLS THE STORY, SHE SAID I DIDN'T KNOW WHO IT WAS AT THE DOOR.
AS THINGS BEGIN UNFOLDING, SHE REALIZES OH MY GOSH, HERE COME THE TRIP TO SPACE. JUST TO DOVETAIL WHAT IT WAS, YES I WAS IN THE MERCURY 13. YES I OUTSCORED ALL THE LADIES. BUT I ALSO OUTSCORED ALL OF THE MEN IN THE PROGRAM. SO WALLY FUNK WANTS TO MAKE SURE YOU KNOW THAT, AS WELL.
FOR THAT SIX DECADES SHE HAS BEEN WAITING NOW FOR THIS OPPORTUNITY TODAY. >> DOUG, DO YOU HAPPEN TO KNOW IF SHE CARRIED SOMETHING SPECIAL WITH HER UP TODAY WHEN SHE WENT TO SPACE? DID SHE HAVE A LITTLE MEMENTO? >> MY UNDERSTANDING, GAYLE, IF IT IS AMONG ALL FOUR OF THEM, THEY EACH HAD A LITTLE POUCH OR SOMETHING WHERE THEY COULD TAKE SOMETHING OF IMPORTANCE TO THEM. MAYBE A FAMILY MEMBER'S PICTURE THINGS LIKE THAT UP INTO SPACE TODAY. THE SHORT ANSWER IS YES I VISITED WITH HER A COUPLE OF TIMES LAST WEEK AND SHE IS WELL AWARE OF MY PASSION FOR THE CANCER FIGHT.
LOST MY MOM TO CANCER A FEW YEARS AGO, RAISED A LOT OF MONEY TO HELP THE EFFORT. BUT WHAT IS MOST IMPORTANT TO ME IS THIS KEYRING OF PHOTOGRAPHS, IT HAS ALL MY HONORED HEROES. SOME STILL WITH US AND SOME WHO HAVE DEPARTED. BUT WALLY WANTED TO HONOR EACH OF THEM IN THE WEIGHTLESSNESS OF SPACE TODAY AND REACH OUT TO THEM AND SEND THEIR LOVE UP THERE AND TO THE WARRIORS DOWN HERE WHO HAVE FOUGHT HARD AND WON THE BATTLE.
THERE ARE OTHER ITEMS SHE TOOK UP AND MY GUESS WOULD BE, I DON'T WANT TO ASSUME, BUT MY GUESS WOULD BE EACH OF THOSE ON BOARD HAD THINGS THAT WERE CLOSE TO THEM AND IN FAMILY AND IN HEARTS AND IN SPIRIT THEY TOOK TODAY ON THIS HISTORIC JOURNEY. >> NO DOUBT ABOUT THAT. THANK YOU SO MUCH, DOUG. >>> LISTEN, NORAH. THEY ARE JUST HANDING OUT THESE SPECIAL WATER BOTTLES. IT SAYS NATURAL SPRING WATER, YOU SEE THE LOGO.
BEST USED BY 6-7-23. I HAVE ALREADY TASTED IT. I WILL BE BRINGING THIS BACK. THIS IS WHAT I'M BRINGING FROM SPACE.
>> GAYLE, WILL YOU SAVE ME ONE, PLEASE, I WANT ONE. >> YES. >> THANK YOU. >> ALREADY DONE. >> OF COURSE IT HAS THAT FEATHER ON IT, WHICH I LOVE.
THE SYMBOL OF THE PERFECTION OF FLIT. CHARLIE BOLDEN, THE ONLY ONE HERE WHO HAS BEEN TO SPACE. YOU HAVE A MARINE FOR HOW MANY YEARS? >> 34. >> SUCH AN INCREDIBLE CAREER THAT SUSTAINED.
AND I KNOW YOU ARE EMOTIONAL TODAY WATCHING THIS. BECAUSE IT MEANS SO MANY GREAT THINGS. >> BIG DEAL. >> VERY BIG DEAL. >> BIG DEAL FOR THE COUNTRY.
>> WHAT IS YOUR HOPE? >> MY HOPE IS WE'LL CONTINUE THIS GRADUAL TREK. YOU KNOW, OUR PURSUIT FOR THE PERFECT UNION THAT IS MOST IMPORTANT TO ME RIGHT NOW. IT DOESN'T HAVE ANYTHING TO DO WITH SPACE FLIGHT AND ALL THAT KIND OF STUFF. BUT IT IS REALLY IMPORTANT. WE HAVE GOT TO LIVE UP TO THIS.
>> AND DOES IT MATTER THAT IT IS NOWPRIVATE COMPANIES THAT ARE DOING THIS AND NOT THE U.S. GOVERNMENT? >> IT DOES MATTER, TO BE QUITE HONEST. WHAT IT DOES, IS IT MEANS THE U.S. GOVERNMENT CAN DEVOTE MORE
ASSETS AND RESOURCES TO DOING THE THINGS ONLY THE GOVERNMENT CAN DO. SO EXPLORATION IS REALLY RISKY. THAT IS WHERE THE GOVERNMENT SHOULD LEAD. WE DON'T NEED TO BE PROVIDING THE TRAIN OR THE PLANE OR THE ROCKET SHIP TO GET PEOPLE AND THINGS TO SPACE, BECAUSE THE PRIVATE SECTOR HAS DEMONSTRATED VERY, VERY WELL THEY CAN GET THINGS, THEY CAN GET PEOPLE.
NASA, YOU GO OFF AND DO THE EXPLORATION LEAD AND WE'LL BRING UP THE REAR. ONCE AGAIN, WE DEMONSTRATED THAT TODAY AND PEOPLE HAVE BEEN SAYING THAT FOR QUITE SOME TIME. >> CHARLIE IF JEFF BEZOS CALLED YOU? >> I WILL GO. MY WIFE IS PROBABLY GOING WHAT? >> CHARLIE WANTS TO GO.
>> THAT IS SO FUNNY. I WAS JUST SAYING I WAS GOING TO ASK CHARLIE THAT EXACT SAME QUESTION. IF THEY SAME TO YOU AND SAID WE WANT YOUING TO, YOU WOULD GO. I WANT TO KNOW WHAT YOUR KIDS AND YOUR FAMILY WOULD SAY ABOUT THAT? >> AS I SAID, GAYLE, I'M IN TROUBLE WITH MY WIFE AND MY KIDS. BUT I'D GO.
>> WHY WOULD YOU GO? TELL ME. >> ONCE YOU HAVE BEEN TO SPACE, YOU WANT TO GO BACK. YOU DON'T WANT TO STAY THERE FOREVER.
THAT IS WHERE I DISAGREE WITH PEOPLE WHO TALK ABOUT COLONIZING AND ALL THAT STUFF. IT IS AN EXPERIENCE ONCE YOU DO IT YOU WANT TO DO IT REGULARLY, AND I WANT TO BE AN EXAMPLE TO PEOPLE. I PROMISED JOHN GLENN BEFORE HE PASSED THAT ONCE I GOT TO BE 77, SO I HAVE TWO MORE YEARS, THAT I WOULD TRY TO PROVIDE ONE MORE DATA POINT, SO IT WOULD BE JOHN GLENN, WALLY FUNK AND CHARLIE BOLDEN IN THE DATA POINTS. >> YOU KNOW WHAT? AS GAYLE AND I BOTH KNOW, ONCE YOU PUT THAT THOUGHT OUT INTO THE UNIVERSE, IT CAN COME TRUE.
THAT IS THE FIRST STEP IN GETTING WHAT YOU WANT. I KNOW YOU HAVE TO GO, BUT WHAT A PLEASURE TO HAVE YOU, FORMER ASTRONAUT, NASA ADMINISTRATOR, AND MAYBE NOW FUTURE RETURNEE TO SPACE, GAYLE, WE HERD IT HERE FIRST. >> YES, YES.
VERY NICE TO MEET YOU, CHARLIE. VERY NICE. >> THANK YOU. >> ALL RIGHT.
LET'S BRING IN MR. LADWIG WHO JOINS US AGAIN. . >> THIS MORNING, I THINK YOU HAVE SENIOR AND EVEN A LITTLE BIT OF TEARS BECAUSE OF WHAT THIS MOMENT OPINIONS FOR THOSE WHO MAY WANT TO ENGAGE IN SPACE TOURISM, BUT ALSO WHAT IT MAY MEAN ON THE COMMERCIAL SIDE. >> THERE WAS TALK EARLIER, THERE IS GOING TO BE A MASS MARKET FOR THIS. IT HAS BEEN PREDICTED THAT BY 2027, WE'D HAVE A $1.7 BILLION
SPACE TOURISM INDUSTRY. SO THAT IS A GREAT STEP IN THE RIGHT DIRECTION. IT REMAINS TO BE SEEN HOW MANY PEOPLE WILL BE ABLE TO SIGN UP. BUT VIRGIN ALREADY HAS 600.
AND I HAVE NO DOUBT THAT, AFTER TODAY, PEOPLE WILL BE BANGING ON THE DOORS OF BLUE ORIGIN TO GO. SO IT IS IMPORTANT THAT THE COMMERCIAL SECTOR IS TAKING THIS ON. IT WAS NEVER NASA'S GOAL OR BUSINESS TO FLY TOURISTS. SO I AM SO HAPPY TO SEE THAT THE DREAMS OF MILLIONS OF PEOPLE ARE FINALLY BEING REALIZED. >> SO, I DIDN'T REALIZE THAT.
HOW MANY PEOPLE HAVE SIGNED UP FOR VIRGIN GALACTIC? >> OVER 600. >> AT $200,000 A POP? >> $200,000 TO $250,000 BECAUSE THEY RAISED THE PRICE. THERE IS SOME RUMORS THEY MAY RAISE IT EVEN HIGHER TO PERHAPS $300,000. AND WE STILL DON'T KNOW WHAT THE PRICE WILL BE FOR BLUE ORIGIN. >> YEAH. I'M STILL THINKING ABOUT THE PERSON THAT PAID $28 MILLION TO GET ON THAT BLUE ORIGIN FLIGHT AND THEN SUDDENLY HAD A SCHEDULING CONFLICT.
LIKE WHO PAYS $28 MILLION AND THEN THAT HIS A SCHEDULING CONFLICT? >> HE HAD A DENTAL APPOINTMENT. >> THAT IS SO TRUE. I'M GLAD YOU DID SCHEDULING CONFLICT IN FINGER QUOTES. YOU KNOW WHY? IF YOU CAN AFFORD TO PAY $28 MILLION, YOU CAN AFFORD TO MAKE SURE YOU GET THE EXACT SCHEDULE THAT YOU WANT.
SO I'M ALWAYS VERY CURIOUS WHO HE OR SHE IS, THAT NAME, THAT PERSON WISHES TO REMAIN ANONYMOUS AT THIS TIME. BUT THE PRICES DO SOUND SO BEYOND THE MOON FOR MOST PEOPLE. $28MILLION. THAT WAS FOR CHARITY, WE SHOULD SAY. BUT THE $200,000 AND $250,000, WHAT DO YOU THINK IT WILL TAKE TO GET THE PRICES DOWN THAT IT IS MORE AFFORDABLE? AND WHAT IS THE DEFINITION OF AFFORDABLE FOR A SPACE RIDE? WHAT IS THAT DEFINITION? >> WE WERE TALKING ABOUT THE PRICE. YOU KNOWANIT IS $28 MILLION.
THAT WAS FOR CHARITY WE SHOULD SAY. BUT YOU AND NORAH WERE JUST TALKING ABOUT THE $200,000 TO $250,000 PRICE TAG. MOST PEOPLE CANNOT AFFORD THAT. WHEN DO YOU THINK IT WILL BE AFFORDABLE? AND WHY DOES IT COST SO MUCH? AND WHAT IS YOUR DEFINITION OF AFFORDABLE TO GO INTO SPACE? >> WELL THE LONG GOAL IS ALWAYS $50,000. I HAVE HEARD THAT FOR THE PAST 20, 30 YEARS.
IT IS GOING TO TAKE AWHILE TO GET THERE. RICHARD BRANSON WANTS TO GET TO DOWN TO $40,000. THAT WILL DEPEND ON HOW OFTEN THEY FLY, IF THE MARKET CAN HOLD, IF THEY CAN SUSTAIN THEIR OPERATIONS, AND IF THEY CAN DO IT SAFELY. SO I WOULD SAY WE ARE PROBABLY 10 YEARS AWAY FROM THAT KIND OF PRICE. I HOPE I'M PROVEN I DON'T THINK, AND THAT THERE IS SOME GROWING THAT WE DON'T KNOW ABOUT YET IN THE EFFICIENCY OF THIS.
BUT WE ARE NOW CLEARLY IN THE PIONEERING PHASE. AND IT IS GOING TO BE AWHILE BEFORE WE CAN GO TO THE MASS MARKET PHASE. >> ALL RIGHT.
WHY DOES IT COST SO MUCH? >> THERE IS MILLIONS OF DOLLARS THAT WERE INVOLVED IN THE DEVELOPMENT OF THESE ENGINES, OF THE SPACECRAFT, OF THE PEOPLE INVOLVED IN DOING IT. YOU KNOW, IT IS STILL CHEAPER ON A PER POUND BASIS THAN WE HAD WITH THE SPACE SHUTTLE. THERE WERE PREDICTIONS IN THE 70s THAT THE SHUTTLE WOULD FLY FOR $50 A POUND.
IT NEVER GOT ANYWHERE NEAR THAT. IT WAS MORE LIKE $10,000 A POUND. SO THERE IS A LOT OF ECONOMIC FACTORS THAT GO INTO THIS. AND THE ONLY THING THAT WILL BRING IT DOWN IS EFFICIENCY IN OPERATIONS, AND IN TURN AROUND ABILITY AND A LARGE NUMBER OF FLIGHTS TO SPREAD THE COST.
>> THANK YOU SO MUCH. WANT TO BRING IN BILL HARWOOD. YOU HAVE COVERED THESE SPACE FLIGHTS FOR 30 YEARS. BUTHIS IS DIFFERENT. HOW MONUMENTAL IS IT? >> IT IS A BIG STEP. BUT IT IS A FIRST STEP.
YOU HAVE TO SUSTAIN THIS, TO SEE IF IT IS GOING TO DEVELOP INTO THE BUSINESS AND WHAT CHARLIE WAS TALKING ABOUT EARLIER, THIS LONG-RANGE PLAN TO COMMERCIALIZE SPACE. I'M HOPEFUL THEY CAN DO THAT. THEY CLEARLY HAVE DEMONSTRATED THEY HAVE THE TECHNOLOGY TO DO IT. THESE ARE FANTASTIC HARDWARE. I WOULDN'T HAVE IMAGINED THIS 10 YEARS AGO. ONE THING WE HAVE TO POINT OUT IS, THEY HAVE GOT TO BE ABLE TO DO IT SAFELY.
YOU KNOW? IT IS A COMMERCIAL SPACECRAFT CARRYING PASSENGERS. MISHAP LIKE WE HAVE SEEN IN THE PAST WITH ROCKETS FROM TIME TO TIME. IT IS A HIGH ENERGY ENTERPRISE. IF THEY CAN DO IT SAFELY AND THEY CAN DEVELOP THE MARKETPLACE, IT IS A HUGE POTENTIAL MARKET, BUT IT'S A FIRST STEP.
>> BILL HARWOOD, THANK YOU. ON THIS. ANNIVERSARY OF THE APOLLO 11 MOON LANDING THAT JEFF BEZOS WATCHED AND IDOLIZED BUZZ ALDRIN. THE HISTORY JUST MADE IN TEXAS.
WE ALL WITNESSED IT TOGETHER AS BLUE ORIGIN'S FIRST ROCKET LAUNCH WITH THE FLAWLESS MISSION WHICH COULD BE THE START OF THE NEW ERA OF SPACE TRAVEL. THANKS TO GAYLE KING IN VAN HORN. SHE WILL INTERVIEW JEFF BEZOS LATER TODAY. I CAN'T WAIT TO HEA >>> WE ARE EXCITED FOR THAT INTERVIEW.
>> ME TOO. >> THANK YOU TOUR OUR CORRESPONDENTS, CONTRIBUTORS AND GUESTS. WE HAVE CBSN AND YOUR LOCAL NEWS NEXT.
THANK YO FOR WATCHING.
2021-07-24 12:51
Show Video
Other news