Snapdragon Summit 2022 Livestream: Day 1 Keynote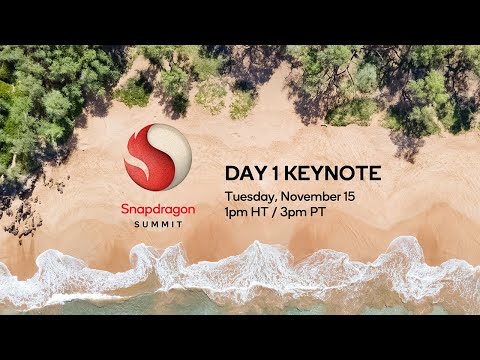 Show Video
you know [Music] [Music] [Music] [Music] ladies and Gentlemen please welcome Don McGuire [Music] well Aloha everybody Welcome to Snapdragon Summit 2022 hope that video got you revved up for a really good time it's really great to be back here on the beautiful island of Maui yay give it up for Maui and I also want to welcome everybody on the live stream watching virtually as well as we kick off Snapdragon Summit number seven amazing right who's been here for all seven either physically or virtually fantastic welcome back uh we continue to see how important mobile technology is to our daily lives it allows us to connect to communicate to entertain to capture and be productive traveling here to Maui I am almost 100 sure you probably use your smartphone to check into your flight or your hotel to request a ride possibly to call your loved ones to pay for coffee and maybe even to participate in a video conference Snapdragon has always set the pace of innovation for mobile technology powering extraordinary experiences and allowing us to do the extraordinary things each of us do every day and Snapdragon is at the heart of more products and devices than ever before XR headsets that will shape the future of the spatial internet and what we like to call the metaverse to connect the cars that are transforming the in-vehicle experience the automotive industry and transportation as a whole the opportunities with Snapdragon have never been more exciting and our Global Enthusiast Community understands the power of Snapdragon more than most now in its second year our Snapdragon insiders program continues to grow organically both in numbers and engagements and we're thrilled I'm walking over to them right now we are thrilled to have more than 30 insiders joining us here in Hawaii as well as at our sister event in China centers these passionate fans right here will be sharing their experiences throughout the event using the hashtag Snapdragon Summit across all of our social channels and as you can see behind me they've already been busy posting and sharing moments and incredible images from the time on Maui and last night's reception so be sure to follow them to see what to see what they're up to next week we'll be sharing exciting updates from across our portfolio of Snapdragon platforms and the experiences that these platforms deliver today you'll hear how Snapdragon is driving premium mobile experiences culminating with the announcement of our newest flagship mobile platform then tomorrow you'll learn how Snapdragon is powering new experiences beyond the smartphone hey we have amazing lineup of announcements and partners with us here at this event so let's get this party started it's my honor to welcome onto the stage Qualcomm president and CEO Cristiano Oman [Applause] [Music] [Applause] hello everyone thank you thank you so much welcome everyone to Tech summit we're very excited to Stone outline to be here back in Maui I cannot believe this is event number seven and uh your presence in support is what really would make this event so special I was there I heard about it but I couldn't see where are the Insiders foreign thank you all for coming thank you thank you for your passion and enthusiasm and support to snapdragon look we're very happy to be here and as it expects we're going to have big announcements to make when we think about the future of snapdragons this is the industry Premier event for mobile Innovation and that's not our term I think a lot of the press and analysts been telling us this is the Premier event for mobile Innovation and there is no question that innovation in this industry really happens on snapdragon so with that uh our smartphone today it's really incredible it's Mankind's largest development platform to date is our most Inseparable device he had fundamentally changed the society in our lives and we're doing more and more amazing things from the ability to stream 4K in AK videos from anywhere we go uh gaming mainstream gaming it's now coming to mobile devices we capture and share pictures and videos and how we're going to share you know our life how we stay connected with everyone it's really an incredible device and more and more our our smartphone it's at everything that we do uh whether it's how we get educated how we become productive and work how to entertain ourselves and to make this happen it requires incredible technology so incredible experiences cannot be possible with breakthrough in Technologies and this is what we do as a company and it's about having leadership in the latest and greatest Communications technology uh to build in our Giga gigabyte per second connect to society it's the ability to add AI to everything we do to have more and more computing power but never in compromising size turmoil and battery life and that's what defined us as a company the ability to create incredible technology across all of those different areas and make that a reality in a smartphone a lot of people ask me can you define Qualcomm you know what are the what are the key assets that Qualcomm have as a company and I'll Define those assets in tree it's about everything Wireless and everything Cloud connected a hundred percent of the time it is about high performance Computing for low power device and it's about own device intelligence we have a belief at Qualcomm that the scale of AI is going to happen at the edge and we're about you're going to see that today how AI has been more and more pervasive in our experiences but AI at the edge is different you needed the process in real time you have access to contacts and you make AI being part of the experience in real time and you have to do this in a very efficient way those are the three things that define Qualcomm the final one technology roadmap and I think with very unique uh situated because in order to make this a reality we can't just have a leadership on one technology or the other we have to keep pushing the boundaries of communications whether seller or Wi-Fi position location or satellite we need to keep pushing the boundaries of CPU processing Graphics processing Digital Signal processing image process processing AI processing and many more and as a result what we realize is that technology that besides borrowing our smartphone is starting to go everywhere where mobile experience goes and the company's changing with that we're really changing from the company that used to be the wireless communication company from the mobile industry into the connected processor company for the intelligent Edge and we see mobile technology and Snapdragon going to computers to the merger of physical and digital spaces to an ecosystem of where both devices as a rounder smartphone we experience sound in other technologies that we can wear all the way into where we go into our cars and we're sitting behind the wheel and that's the mission and that's the mission of Snapdragon to be able to deliver that experience everywhere mobile technology goes and that's how we we think about the Snapdragon the Snapdragon brand every everywhere you see mobile technology you will see is snapdragon from your answers your computer your virtual reality augmented reality device your wearables your game and device and in the car that's an essential part what the company is and how we continue to push the technology forward and only Qualcomm can bring snapdragon so as we go to the next step of the presentation I wanted to bring a different partner something that you're probably not used to see but it's one part it's a great partner that really speaks to the many creators out there and it can demonstrate how Qualcomm is changing as a company and our partnership is also expanding as we go to a lot of different devices so it's my great pleasure to bring on stage govind balakrishnan from Adobe to tell you more about uh what are we doing together govind please come to the stage [Applause] thank you so much for being here thank you Christiano it's my pleasure to be here thank you you know many of you don't know but we have a very long uh a partnership with Adobe I remember some of the first meeting I had with Adobe those was on the feature phone days those in the early days of 3G and a lot of our customers will use Adobe Flash to design their uis and uh and I think all of you remember a lot of flash technology in Mobile phones we came a long way absolutely and as we continue to see the pace of mobile technology in you know evolving our partnership had evolved and now I'm super excited about what we're going to talk about today which is how even that is evolving Beyond phones so the first thing I'm going to ask you go then if you can share with us what are we doing in Computing especially at Snapdragon started to evolve into next Generation PCS yeah more than happy to uh Cristiano and thank you once again for having me here uh it's funny that you started uh by mentioning flash because actually I started my career at Adobe working on flash and I do remember those you know interactions we had with Qualcomm during that Journey uh but uh this is obviously a different world we're talking about things that are forward-looking and very different uh to start with I would say that adobe's mission is to change the uh world through digital experiences uh we uh if you as you as you look around us you'll clearly see that design and content are fueling the global economy and for all practical purposes Adobe believes that creativity is for everyone on any device at any time if you think back previously um creativity and visual communication was primarily for the creative professionals but things have changed dramatically today everyone is a creator be it for social media creation as a student as a small and medium business owner as a solopreneur as a marketer everyone is trying to create or feels the need to create digital standout content to stand out in this digital world so for many years Adobe actually has been in the business of creating tools that Empower these creators to create that do the to do their best work regardless of their experience and skill level and uh Partnerships uh collaborations product collaborations with industry-leading companies such as Qualcomm truly truly excite us you asked about compute and on the compute side we already have Adobe Photoshop and Adobe Lightroom running on Windows on Snapdragon devices as we look ahead we're actually quite excited about the potential of the experiences that are enabled on snapdragon and are committed to delivering the best of Creative Cloud on this platform running natively on this platform starting with Adobe Fresco and Adobe Acrobat in 2023 this is uh this is truly incredible you know the ability to bring the power of the Adobe tools for creators running natively on Windows and on Snapchat again it's going to really enable us to create a whole new experience in PCS we're very excited about the partnership in the commitment of adobe to run the platforms natively on Snapdragon absolutely but I'm going to go beyond computing so the other thing that there's a lot of uh Technology Innovation it's how we think about the merger of physical and digital spaces you know there's a lot of discussions about the metaverse and I'm just going to tell you we're not negative on it we're actually positive we see that there's digital twins of everything and we see that the merger of the digital in physical spaces is a reality just look at how we think about the hybrid work environment today and we're really committed to the to xor devices virtual reality augmented reality and that's another area that our partnership is expending to so maybe if you could share with us what are we doing together when we think about XR devices powered by snap track yeah absolutely on on XR I think our companies share a belief that in order to accelerate the creation of content in the space it is important to enable creators to author uh augmented reality experiences especially through AR glasses and mixed reality headsets so to this end Adobe and Qualcomm Technologies are working together to bring adobe's 3d and immersive tooling to Snapdragon spaces XR developer platform we strongly believe that snack Dragon spaces is the industry-leading develop platform for developers to author incredible amazing immersive experiences XR experiences that can span and scale across a wide variety of XR devices to this end we are going to start by bringing adobe's 3D and immersive authoring experiences to the smartphones mobile PCS and XR devices and we plan to bring the universal scene description open source technology to Snapdragon power devices and in the future adobe's 3D animus of experiences will be viewable on augmented reality and mixed reality headsets so tons of opportunity here we're just getting started I think we're really excited to see what we can do together that's great look it's truly incredible I think as I said we're the beginning of something big uh that's that's going to be a reality and what I like about this partnership is now developers can do incredible things make use of this technology across multiple devices it's like we're going uh everywhere Beyond mobile and it's great to take you know what the Adobe ecosystem with us which leads me to the last question from your perspective why are you working with Qualcomm and what a Snapdragon means to Adobe sure Christina that's a great question um I think our product collaboration starts with our product collaboration and I believe that our product collaboration is based on a shared and deep passion for innovation to in every sense of the word be it around pushing the boundaries of software and hardware and seeing what we can do together by bringing these two worlds together to deliver amazing new digital experiences Snapdragon platforms are powerful Solutions with industry-leading features and performance and we strongly believe at Adobe strongly believe that Snapdragon is a great enabler for us to deliver premium experiences for our creative community so we are actually looking forward to partnering very closely with you and and your team to continue to empower everyone to change the world through digital experiences and expand on the potential of creativity and document productivity we think that the opportunity is amazing and we can't wait to continue to build on the partnership that we have to deliver on all of this in the upcoming months and years that's awesome thank you so much coven thank you very much for joining us in the tech Summit thank you for the Adobe team for a great partnership and I think we have an incredible opportunity ahead with technology and how we expand together the Snapdragon ecosystem thank you so much looking forward thank you very much thank you foreign [Applause] the reason you came here is to learn about the next Snapdragon uh eight series and this as I said before this is where Innovation happens in Mobile we have been really focused as a company in really pushing the boundaries of innovation for premium smartphone experience and that's the mission of Snapdragon 8 and the other devices the follow as a reminder uh Snapdragon 8 became synonymous with a premium mobile experience and it's been uh designed virtually every Android OEM Flagship devices and Snapdragon 8 gen 1 and a plus gen 1 has been an incredible success story power more than 200 Flagship devices when we think about each one of those products we have to ears in advance multiple years in advance imagine what are the experience that our users want and how do we make that a reality and and that's what we want to tell you today at this event what are we doing next when we think of snapdragon so it is my great honor to bring the stage Chris Patrick he's the SVP and GM of the handset business for Qualcomm and he's going to tell you everything you need to know about the next Snapdragon and what we're announcing today Chris please welcome to stage foreign [Music] as you just heard Qualcomm is the leader in Connected processing and connected intelligence in Mobile our teams develop platforms that uniquely fuse high-speed connectivity Advanced Computing and multimedia Technologies this is the essence of snapdragon industry-leading technology that provides users with unique shared experiences we create advanced smartphone camera features to capture and then share special moments we develop immersive Graphics paired with Advanced low latency connectivity to take multiplayer gaming to that next level we engineer intuitive AI Solutions so your device works as a personal assistant automating your daily tasks and improving your productivity consumers continue to demand more and more from their smartphone devices we at Qualcomm rise to that challenge we exceed the Expectations by investing and innovating in leading Technologies with platform advancements across the full system as well as the software that ties it all together today we are at a significant juncture in process of leadership and now is the time for Snapdragon to take the next step in Connected processing I am excited privileged honored to announce our most powerful premium tier platform yet [Music] foreign [Music] foreign [Music] [Music] foreign the Snapdragon 8 Gen 2 mobile platform it looks great from every angle big moment everybody let me tell you a little bit about the platform we designed the 8 Gen 2 with one key technology in mind artificial intelligence Qualcomm is the AI inferencing leader at the age today we already power billions of edge devices across the globe we've built on that expertise to make our new flagship platform an engine of innovation a true AI Marvel we've integrated AI across the entire platform to usher in a new era of AI accelerated experiences let me share with you just a few of the highlights and changes we've made throughout the system first let's start with the Qualcomm hexagon processor our Central High Performance inference Powerhouse which has received major upgrades this year we've made significant Hardware advances across multiple aspects of the design like doubling the size of our tensor accelerator and adding a host of new hardware accelerated features we'll share more details later on today together these enhancements deliver massive performance and power improvements for example users will see an increase in natural language processing capability of more than 4X along with up to 60 percent better power consumption now let's talk about the Next Generation Qualcomm sensing hub this is a portion of the design best known for its role in low power contextual awareness use cases the sensing Hub uses AI to process input from audio video Visual and sensor information to detect the environment around you and then adapt based on all the new emerging use cases we've added a second AI processor for a substantial increase in performance this will further enhance the always sensing capabilities in the area of audio and sensors but will create whole new use cases utilizing our latest always sensing camera this will revolutionize how cameras recognize context and what happens to the information We Gather it's protected and secure never leaves the Qualcomm sensing hub now let's dive into high performance camera and the AI integration there we've added a physical Bridge called the hexagon direct link between the hexagon and the Qualcomm Spectra ISP to create a direct Channel between them the result of this pairing is what we call the cognitive ISP the very first of its kind in the mobile industry you know we've used AI for Imaging before but now with the hexagon direct link it's much more integrated we can tap into the power of hexagon at multiple points in the processing to create whole new experiences the cognitive ISP now enables your smartphone camera to see and understand the world around you in many layers and adapt in real time we also continue to advance high resolution video playback by adding support for 8K HDR 60fps video our survey of AI across the whole platform continues with connectivity our truly Global x70 5G modem RF system features the world's first and only 5G AI processor in a mobile platform it harnesses the power of AI to enable breakthrough 5G performance the AI process is actually housed inside the modem itself to optimize in real time a variety of critical parameters these include Channel State feedback millimeter wave beam forming antenna tuning and other adaptive functions unlocking unparalleled connectivity speed and improvements the coverage latency reliability and battery life plus the Snapdragon 8 ushers in the Wi-Fi 7 error with the fast connect 7800 the world's first and only Wi-Fi 7 solution with high band simultaneous multi-link HBS multi-link unlocks Global Peak Wi-Fi 7 performance more than doubling Wi-Fi 6 speeds now up to 5.8 gigabits per second with sustained latency of less than two milliseconds the fast connect 7800 also brings Advanced dual Bluetooth technology doubling the range of your Bluetooth connections we've now covered a great deal of AI across the entire platform let's pivot to graphics our Qualcomm adreno GPU is at the heart of Snapdragon Elite Gaming this year it will boast a 25 increase in graphics rendering performance as well as a 45 increase in power efficiency plus this generation we've added Vulcan 1.3 support this will improve Balkan performance by up to 30 percent we also have some incredible immersive gaming features which we'll share with you later on today our adreno display subsystem has also received significant improvements this year to improve that if on-device viewing experience I'm thrilled to announce that the adreno display is the first and only platform to support all key HDR formats including HDR Vivid 10 HDR 10 10 plus and Dolby vision next up is our Qualcomm cryo CPU we've made major strides in CPU performance and Power by delivering generational improvements in the micro architecture of individual cores and then by combining those cores in a new Innovative way as you can see we've historically had a prime core three performance cores and four efficiency cores in the CPU but with this generation we've converted one of those efficiency cores into additional performance core this will deliver a significant Leap Forward in multi-threaded performance the first of its kind in the mobile industry these four performance cores actually made up of two distinct micro architectures this will best address all types of applications including providing high performance for legacy 32-bit applications in addition to these architecture and microarchitecture improvements we've raised Peak frequencies for example on the prime call we will enable a Max CPU frequency of 3.2 gigahertz overall our new cryo CPU will deliver improved performance and power efficiency across the board in aggregate users will see 35 faster performance and 40 percent better power efficiency on the 8 gen 2.
I've covered a lot of the next-gen architecture improvements within the 8th gen 2. these are the building blocks the tools of innovation operating within your future device Snapdragon is at the heart of your premium experiences but our distinguished partners are the ones that bring these experiences to life in their Flagship smartphones let's hear from some of them snapdragon dragon's ordinary experiences thousands of Flagship devices and the photography video gaming and audio features you love here's why our partners choose Snapdragon 8 gen 2. Next Level gaming under photography experiences Wi-Fi 7 support which further elevates our wireless ready for enhanced experiences greater 5G connectivity and increased coverage Communications using millimeter waves ultimate performance with impressive power efficiency powerful AI technology is together with our partners we connect people across the globe through shared experiences that bring us closer together [Applause] thank you to our incredible Partners you know we are Qualcomm cannot wait to see the Snapdragon 8 Gen 2 come to life in Innovative devices from each of these companies now to introduce you to some of the Next Generation Snapdragon experiences powered by our latest platform I'd like to welcome the product lead for Snapdragon Technologies Ziad askar thank you everybody thank you Chris I'm very excited to tell you all about the new technology Innovations in the Snapdragon 8 gen 2. premium experiences are at the core of what we do and enable we constantly think about the needs and expectations of the consumer then work to develop breakthrough hardware and software Innovations to bring these amazing experiences to life Cristiano spoke earlier about our one technology roadmap and our leadership in Technologies like AI camera Graphics security sound and connectivity each features best-in-class technology that we develop in-house from the ground up so we can bring you experiences that are more intelligent and feature-rich and allow us to drive the connected intelligent Edge to its full potential they are the foundation of the Snapdragon 8 experienced pillars and this solid foundation allows us to create industrial leading products for handsets and our growth businesses as well covering Automotive XR windows and Snapdragon and iot to deliver the most compelling experiences across all these product lines our Technologies are optimized and tuned to deliver incredible performance at the lowest power possible now as Chris mentioned we have seen huge improvements in graphics Ai and CPU performance compared to previous generations but the question is how do we compare to others Snapdragon 8 is built with sustained performance per watt at its core this means we are under games at the highest speeds and we hold that performance over a long period of time because gaming is a sustained use case now we'll see some of our competitors claim the highest marks during the first minute or so but the drop off significantly after that that performance is not usable it's not usable for gaming but this is what the latest Snapdragon agent whose performance can do and we are very excited that it truly leads the industry in graphics performance and with Snapdragon Elite Gaming we work with the mobile gaming industry to provide leading premium Graphics experiences in the palm of your hand and we'll talk about these in detail shortly now we also carefully measure performance across the entire system looking at every Vector such as Graphics CPU and memory now if you look at the benchmarks like in tutu Snapdragon 8 Gen 2 sets a new bar for overall system performance again especially for sustained performance and as you can see here too Snapback and 8 Gen 2 has clear leadership our performance leadership cuts across all experiences including Snapdragon sight and Snapdragon sound now these experiences are very close to the hearts of consumers but if you look according to dxo Mark Snapdragon enabled devices consistently top the charts across these areas as well and Snapdragon need to Snapdragon 8 Gen 2 will push that bar further by outperforming consumer expectations AI is another key area that traverses all things technology running multiple neural models at the fastest speed and lowest power will produce the best results like how quickly a question gets answered or images are classified as you can see with these benchmarks we are leading in AI performance and more importantly performance for any given amount of power and it is all due to a unique AI hardware tools and our leading AI stack as you saw across all experienced pillars of Snapdragon 8 Gen 2 we have clear leadership next we will dive into our technology pillars starting with AI first across all our product lines we're continuing to make our devices Smarter with our leading air Innovations completely transforming experiences on the device now today AI is applied broadly across the entire Snapdragon 8 Gen 2 platform to enhance on-device experiences such as capturing amazing photos and videos getting the most from your 5G connections like Chris mentioned or helping you game Leica Pro and doing all these things at the same time now one of the new areas that AI has enabled on our devices is natural language processing to understand and break down human language as quickly as possible we have made significant improvements and added Hardware acceleration to run Transformer networks faster and more efficiently this gives us a unique advantage to our new Snapdragon 8 Gen 2 for natural language processing use cases in other words Snapdragon 8 can Now understand what you say on a totally different level and our groundbreaking Innovations like micro tile inferencing allow us to do all this AI processing at even lower power to tell you more about how we bring new natural language processing use cases to Snapdragon we have a video message from the GM of xiaomi's mobile chip division David chin [Music] thank you yeah that is foreign foreign so inside foreign foreign thank you David great to see what xiaomi is doing with the Snapdragon 8. we can't wait for consumers to experience these amazing capabilities first hand now another approach we have been leading is to allow customers to shrink AI models to save power without losing precision and we're making that possible with our tools such as the Qualcomm AI Studio I'm very proud to announce that Snapdragon 8 Gen 2 is the first solution to commercially deploy integer for precision integer 4 can bring an additional 60 increase in performance per watt versus integer rate as well as 90 faster AI inferencing and to really put things in perspective from floating Point 32-bit to integer 4 we can reduce the power by a whopping 64 x and that is why we have been driving the push towards AI integer inferencing what makes this possible without losing accuracy is the AI Studio coupled with this huge Hardware leap is the Qualcomm AI stack which is the most complete offering to make these use cases work best at the connected intelligent Edge now translating your words into multiple languages pretty impressive but what about in a more social environment like gaming gaming is now a lot more immersive because of artificial intelligence with AI Gamers can battle enemies that have been trained by AI the planes behind me in this game called air Derby Battleground can act intelligently as if they were controlled by human players and they would continue to become smarter with time these sequences are trained by multiple neural models and thousands of neurons and inferenced in our hexagon processor the behavior of these planes adapts and even takes control to provide a more challenging environment so that you can become an even better gamer now Chris touched on our always sensing capabilities and the advancements of AI processing capability in the sensing hub with these enhancements you'll be able to see new experiences come to life especially without always sensing camera for AI that merely sips power the information the camera collects is always secure and never leaves the sensing hub now for some key use cases you will be able to point to QR codes and activate them while the device is in idle mode or when sharing content with a friend the always sensing camera will detect a second unwelcome face and disable notifications all these Innovations such as integer for enablement microtile inferencing hexagon direct link AI studio and AI stack are what make AI work best on snapdragon this is the power of AI at the edge and some examples of what we can accomplish with the Snapdragon 8 gen 2's AI now let's turn the stage over to Sarah McMurray to talk about what's new with Snapdragon sound [Applause] thanks it's okay thanks Snapdragon is all about delivering incredible sound experiences to help us keep our finger on the pulse of the latest consumer audio Trends we refreshed our state of sound report for 2022 surveying 6 000 smartphone users in the es Europe Asia and India to examine the factors that are driving audio device purchases and interest in various different use cases a central theme with this year's findings is that people continue to rely heavily on their headphones and audio devices post pandemic expanding five to six hours each day listening to music collaborating on video calls and playing their favorite mobile games this is really driving interest in premium audio features with nearly 60 percent of consumers seeking either high resolution or losses audio quality in their next device these findings reinforce the need for Technologies like Snapdragon signed and I'm really excited I'm proud to say that over the past 12 months there's been huge momentum for Snapdragon sound there are nice 60 OEM signed up to use the technology and over 70 devices are commercially available today with many more expected to launch by the end of the year and into 2023 all right let's take a look at some of them before that [Music] time [Music] [Applause] [Music] [Applause] take it foreign [Applause] activity and audio and our Bluetooth audio platforms are used by many of the world's leading audio Brands to help deliver amazing audio experiences with reliable connectivity exceptional battery life and all-day wear and comfort and one of those Brands is here today when it comes to audio quality Bose is an iconic brand and a company we've had the honor of working with for over a decade our low-power Bluetooth audio socs are used across Bose's entire product portfolio and our engineering teams continue to collaborate to help both deliver the amazing audio products that so many of us know and love to tell us more about how they will bring Snapdragon sign to their products in 2023 I'm really excited to share a video message from Nick Smith Senior vice president of strategy and business development for both foreign [Applause] hi everyone my name is Nick Smith and I'm the senior vice president of strategy and business development at Bose sorry I couldn't be there with you in person at this year's Summit to celebrate All Things snapdragon it's very exciting to hear about all of the Innovation Qualcomm Technologies and their partners are driving across the Consumer Electronics ecosystem and I'm really proud to say that Bose is a part of this sound is so critical to what we do at Bose in fact it's all we do ensuring quality audio no matter what you're listening to or where you're listening has always been at the core of what we're extremely passionate about we aren't just looking to provide an accessory we want to provide products that connect you more closely to your music we have a long history of collaboration with Qualcomm Technologies we use Qualcomm audio platforms across many of our devices including headphones speakers and sound bars and we're also collaborating on bringing Innovative Automotive solutions to the market in September we announced that we would be incorporating the Qualcomm S5 audio SOC into future wireless audio devices with the increasing number of different platforms and the need to deliver premium audio in more places than ever before we need stronger faster and more reliable connectivity we also need to achieve lower latency between the source and the playback device to support emerging use cases that combine with the high quality audio codecs customers demand as a result we'll be able to deliver better synchronization between video and high quality audio than what's ever been available today this will improve Wireless experiences for mobile gaming and VR applications I'm happy to share today that this SOC has been integrated into one of the latest products we've introduced The Quiet Comfort earbuds too these earbuds deliver an unprecedented Wireless listening experience in the spring of 2023 we'll be rolling out an update to the kayak Comfort earbuds 2 to enable support for Snapdragon sound we're really excited about this because it will allow QC earbuds 2 to support the latest aptax adaptive codec for audio streaming including lossless and low latency capabilities it will allow for a more seamless and robust connectivity with premium Android devices in addition Bose will be bringing Snapdragon sound to future products we believe this will allow our users to enjoy enhanced connectivity and additional Superior audio options and allow us to partner with other players in the Snapdragon sound ecosystem to bring better experiences to our shared users we look forward to sharing more with you in the coming months in the meantime enjoy Maui and we'll see you soon thanks Nick [Applause] with Snapdragon flying technology listeners can hear every detail of their music just as the artist intended get fully immersed in lag free mobile gaming with ultra low latency and feel better connected to family friends and colleagues through voice and video calls with true to life audio but it doesn't stop there we are bringing important upgrades to Snapdragon signed enabling premium and immersive end-to-end sign from your Snapdragon 8gen tapeard mobile to your wireless earbuds headphones and speakers first let's talk about spatial audio spatial audio also known as 3D audio makes it possible to perceive sound all around you providing listeners with a more immersive audio experience our state of science survey revealed that special audio is quickly becoming a must-have feature for audio devices with more than half of our respondents claiming that spatial audio is likely to influence their decision to buy their next pair of wireless earbuds and over 40 percent saying they'd be willing to spend more for this feature with Snapdragon 8 jnt we have added special audio with dynamic head tracking for complete sarine Zone immersion this solution is optimized between a smartphone and the earbud to ensure extremely low motion to sign latency for a much more natural and immersive spatial audio experience we've also made further improvements to Snapdragon sound with support for lossless music streaming over the new Bluetooth LE audio standard in addition to Bluetooth classic for incredibly accurate find reproduction and latency has been reduced to just 48 milliseconds for truly immersive lag free gaming with each new generation of Snapdragon signed we continue to push the boundaries of audio performance to new heights we have more Snapdragon signed announcements coming up in the next three days so stay tuned bye let's change direction and have shruthi tell you about what's new insecurity [Music] thank you Sarah your smartphone is your portable Vault it houses your most important data your credit cards your car keys messages and images of your fingerprints and face Snapdragon secure is our suite of security Technologies for isolation cryptography Key Management attestation and more it's designed to keep all of your data encrypted private and secure so it never leaves your device without permission each year we aim to add new security measures to continually modernize our defense in-depth strategy and we work with Partners to tap into these Technologies for elevated security and enhance new mobile experiences China mix is one of these partners high quality 3D replications of your face can now be created from just a few photos and it's easy to make and inexpensive in this video you can see a modern smartphone from a competitor is easily fooled by this 3D mask the smartphone was unlocked making all the data accessible China mix and Snapdragon are putting an end to this China makes Face Unlock powered by the Qualcomm trusted execution environment heightened security and delivers Next Generation liveness detection that tells the difference between real faces and fake ones Snapdragon 8 Gen 2 makes sure the camera data is protected and only sent to the Qualcomm trusted execution environment for analysis so this data is never accessible to the operating system and your information never leaves the device the Next Generation Face Unlock technology with Dynamics will be available on devices in 2023 Snapdragon 8 Gen 2 will make smartphones the most secure portable digital vault it will protect all your data your private data and deliver amazing new mobile experiences including camera experiences Snapdragon hn2 will transform smartphones into professional quality cameras and here to tell you more is our head of camera Technologies Judd Heap take it away Judd thank you thank you shruthi Snapdragon smartphones are the new Pro cameras they deliver phenomenal image quality these photos shot on Snapdragon many of these are just photos from Snapdragon super fans who want to share their favorite shots with us on social media these photos are amazing Snapdragon can turn casual moments with your dog or Knight with a clear Moon into breathtaking memories Snapdragon can convince anyone that you're a professional photographer Snapdragon delivers incredible quality and drives exciting new experiences and Snapdragon camera leads in every metric of camera performance this year Snapdragon 8 gen 1 enabled some amazing capabilities in smartphone cameras including 200 megapixels one inch image sensors with gigantic pixels and for the first time 8K HDR video capture loaded with over a billion shades of color and the list goes on and on and on and now Snapdragon 8 Gen 2 will deliver a breakthrough in the next generation of camera quality as Chris mentioned the cognitive ISP is a breakthrough in AI powered photography and videography neural networks unlock a massive Improvement in camera quality Snapdragon has always had a powerful AI engine to apply neural Nets to make photos more stunning but the neural Nets had to be applied after the photos had been tapped a video had been captured that took time and it took battery life and it delayed your ability to capture the next shot but thanks to the cognitive ISP in Snapdragon 8 Gen 2 we can apply the AI photo editing technique called semantic segmentation in real time it will turn great photos into spectacular photos it's neural Nets that we trained to identify many different objects such as people faces Skies grass and more then apply custom edits for each element in the scene it can soften skin sharpen grass and create gorgeous blue skies think of it as Photoshop layers but handled completely within the ISP it's running while you're capturing photos and videos or even before you can see objects in the viewfinder being enhanced as you're ready to take the shot a real-time segmentation filter is groundbreaking this means the camera is truly contextually aware of what it's seeing the following is a demo of the real-time semantic segmentation filter the network was trained for more than just faces it was trained to see details including lips eyes teeth skin hair and more it can also identify accessories including watches helmets bags and glasses as you can see it detected glasses and is removing the reflection and glare in the lenses once recognized the cognitive ISP makes real-time powerful and dramatic edits it will capture colors how you remember them and add drama and emotion to your photos Skies will be Bluer grass will be greener skin will be smoother your photo and videos will look amazing the cognitive ISP and the AI engine which deliver real-time layered pixel processing and the semantic segmentation filter will unlock Next Generation professional quality cameras for all of your photos videos and even real-time enhancing of images in the viewfinder the new Snapdragon cognitive ISP will do an amazing job at enhancing the data from the image sensor but we can make even more dramatic improvements if we get Snapdragon technology even closer to the pixels on the image sensor to help us achieve this we'll be working even closer with one of the largest sensor creators Samsung our first project together is the new Samsung ISO cell hp3 2022 was the dawn of the 200 megapixel camera our work together will make 200 megapixel cameras even more prevalent and even better this incredible 200 megapixel image sensor has even optimized for Snapdragon 8 Gen 2 mobile platform and designed to enable high resolution photo capture with real-time remosaic on the Snapdragon platform 200 megapixel photos are mind-blowing they're packed with detail these large images are beautiful on their own but also allow you to zoom into sections to see details as well as the smallest the spine of books it's incredible Snapdragon will be able to operate the hp3 in all capture modes this includes 200 megapixel or in 50 megapixel or 12.5
megapixel binning modes for extremely low light staggered HDR mode that delivers video with extreme dynamic range and 8K video for massive video with sharp pixels the Samsung ISO cell hp3 optimized for Snapdragon 8 Gen 2 will deliver professional quality photos and videos collaborating at the image sensor level will Turbo Charge Snapdragon camera quality so last year we announced a project with Sony we we opened a joint lab on our camp our Qualcomm campus to develop image sensor fine tune for snapdragon well it's a year later and we ended up with not one image sensor but two today we're announcing that the Snapdragon 8 Gen 2 will debut support for New Image sensors specifically tuned for the Snapdragon mobile platform both image sensors will greatly enhance video capture they will provide extreme computational HDR that's because both image sensors debut Sony's new qdol4 technology they combine four exposures for each frame of video delivering an extreme HDR effect for video capture videos from the sensors Dazzle thanks to qdol4 videos and photos will show detail in the darkest of Shadows and brightest of sunlight all in one image but with no noise the Sony IMX 800 and the one-inch Sony IMX 989 are the first quad digital overlap HDR image sensors fine-tuned for snapdragon with new Innovations such as the cognitive ISP semantic segmentation and collaborating with Samsung and Sony Snapdragon 8 Gen 2 will help you take your photography skills further Beyond Pro to tell us more about leveling up on gaming experiences in Snapdragon 8 gen 2. I'd like to welcome to the stage PJ jacobowitz and PJ you have to follow me this time [Applause] thanks Judd you know Judd's right for years your smartphone has been your favorite device for capturing photos and now the same transition is happening for gaming Mobile gaming is taking over the world and Snapdragon smartphones they're the best place to game that's because of Snapdragon Elite Gaming it's our premium collection of Gaming Technologies inside of snapdragon 8. they transform smartphones into powerful gaming rigs and Snapdragon 8 Gen 2 they're gonna make these games look even more amazing and they're gonna accelerate the transition of AAA desktop games onto smartphones now to help with that acceleration we're going to unveil a breakthrough Graphics technology for smartphone games now when I say unveil I don't mean a bullet point on a slide we're actually going to show you the graphics technology in gaming content created by our in-house game design team Snapdragon Studios it's going to wow you but we're going to show you something else too we've brought a ton of friends and they're going to show you games that are coming to Market in 2023 that have this new graphics technology let's take a look just a short time ago a new light rendering technique was introduced for desktop gaming it's called Ray tracing it aims to directly mimic the light behavior in the real world that brings lifelike lighting effects Shadows and illumination to your games Ray tracing has only been available on desktop gpus until today the adreno GPU in the Snapdragon 8 Gen 2 is the industry standard for real-time Hardware accelerated Ray tracing in games and mobile devices Snapdragon Studios team put together this amazing Graphics demo it's in the Unreal Engine 5 all with Ray tracing all of it is running on a Snapdragon 8 Gen 2 smartphone light generated by Ray tracing it looks incredible you can now get graphics with accurate Reflections on glossy surfaces and realistic rendering of casted Shadows the real-time Hardware accelerated Ray tracing pipeline in Snapdragon hn2 it has custom optimizations just for the adreno GPU so it delivers spectacular performance but also incredible battery life this is the first Ray tracing GPU at sub 5 Watts that's insanely power efficient and that looks amazing but it's just a small taste of what's to come the first mobile games for Snapdragon hn2 featuring Ray tracing are right around the corner in fact we worked with a leading smartphone manufacturer who took advantage of Ray tracing in a big way to tell you more let's welcome the stage principal manager of Graphics products at Oppo Egen Tien [Music] thank you PJ it's an honor to be here at snapdrug and Summit for the past year kokom and opal have been working closely around the clock on Ray tracing feature development driver testing Shader optimization and compiler to development thanks to these efforts we are finally able to bring a fully optimized hardware-based mobile Ray tracing experience to the Snapdragon agent to on launch day let's take a look at some stats first this is a fully animated scene with over 800k triangles running at 720P we can enable Ray tracing while maintaining a steady 60 FPS compare with previous generation we've increased the ray tracing render efficiency by a factor of five and reduce the CPU workload to one tenth opal has been the Pioneer in leading mobile Ray tracing ecosystem that Bridges the gap among chip manufacturers oems content providers and game engine companies opposed fish rate at CK is an Industries first open mobile Ray tracing solution it can be seamlessly integrated into rasterization pipelines using mainstream engines it can adapt to different scene Styles complexities and it also provides a balanced solution that meets the strict performance and energy efficient requirement on mobile devices the 5th Street SDK offers plenty of advanced Ray tracing features and effects such as hybrid Shadows PVR based materials and enhanced lightings let's see how they come to life in our mobile Ray tracing demo [Music] thank you [Music] [Music] as you can see with qualcomm's powerful new adreno GPU and opposed optimized Ray tracing SDK mobile Ray tracing it's just around the corner Oppo is working closely with game studios to bring Ray tracing features into the hands of our users please join us on this new Journey let's open the next chapter of mobile rendering together thank you everyone oh my God thank you that was amazing Ray tracing is going to take Mobile gaming to the next level our friends in the mobile industry are pumped for this gaming technology we've been working behind the scenes to help get the whole ecosystem in place and another one of those key Partners is international smartphone brand IQ and they were kind enough to give you a sneak peek of their next Generation plans here's a video message from the senior product manager of gaming experience at IQ Huang chin I'm cool yeah foreign [Music] [Music] thank you [Music] foreign foreign thank you thank you Wong Chin IQ is doing amazing work with Ray tracing and we're also collaborating with many more leading gaming Studios we're working exclusively with netease thunder fire Studios to bring Ray tracing to life in its Blockbuster hit title Justice mobile this new version with stunning Ray bass uh Ray tracing based Graphics will be available on Snapdragon smartphones in early 2023.
we're also engaged with many many more ecosystem Partners from oems to publishers to bring Ray tracing to premium smartphones and to AAA games but with Ray tracing and many more features Snapdragon hn2 will be the funnest place to play games now there's also so much more an hn2 that we've yet to uncover and we'll reveal more during our deep Dives later today but Snapdragon is not only at the heart of incredible devices and experiences but it's also at the center of some awesome collaborations and communities and to tell you more about that I'd like to bring back our chief marketing officer at Qualcomm Don McGuire [Applause] nice I'm back I'm back thank you so much PJ incredible energy as usual so our incredible engineering teams have done it again with Snapdragon 8 gen 2. it's an AI Powerhouse designed to fuel new experiences across photography connectivity sound gaming and more and as PJ described Mobile gaming on Snapdragon has never been more powerful or fun with ultra realistic Graphics Lightning Fast speeds and the ultimate and handheld gaming last year we saw an opportunity to grow the global Mobile gaming ecosystem and community and take gameplay to the next level at Snapdragon Summit 2021 we have ESL Facebook group co-ceo Craig Levine join us to announce Snapdragon Pro Series our Global Mobile Esports competition and the response has been Simply Amazing since the launch of season one in April of this year Snapdragon Pro Series has already become the one of the largest mobile Esports Platforms in the world to date more than 650 000 players of all skill levels have battled it out in Regional tournaments across the globe with hundreds of millions of mobile gaming fans following in on the action online and to tell you more about what's in store for Snapdragon pro series coming up on season two it's my pleasure to welcome the senior vice president of gaming ecosystems at ESL Facebook group Kevin rosenblatt and Snapdragon pro series host Lauren glitter explosion larocuente please welcome foreign good afternoon everyone my name is Lauren but I'm probably better known by my on-screen name glitter explosion and I'm Kevin rosenblatt through radar careers glitter and I have been involved in countless Esports programs but none quite like the Snapdragon Pro Series we're super excited to share the journey that we've been on and what is coming next with you today when the Snapdragon Pro Series was announced there were two lofty goals in mind to create the world's most accessible mobile Esports competition and to prove to the world that mobile devices are more powerful gaming machines to that end we've invited players to prove their skill and earn their share of two million dollars season one has seen competitors go to battle in eight of the hottest mobile titles in the world game titles like brawl Stars pubg mobile and League of Legends wild Rift it's been our aim to harness the power of mobile gaming to create unprecedented opportunities not available through more traditional gaming platforms we call this concept the era of everyone we've seen this play out by witnessing matches played on public transport in big Metro districts lunch breaks and even on the bus ride home from school all Snapdragon pro series seasons converge at live finals events in each region these create amazing opportunities to interact face to face with a diverse audience of gaming enthusiasts ladies and gentlemen this is the Snapdragon Pro Series it's time to roll this is your moment you are the North American self-dragon Pro Series champions series season one champions we held our season our North American season 1 finals at the biggest game Festival in North America Pax West we saw an audience of more than 60 000 attendees on the other side of the Atlantic are finals for Europe the Middle East and North Africa were held on the main stage of Europe's largest gaming trade show and Convention Gamescom which had 250 000 fans taking in the action looking forward competition for season two has already been Fierce players are vying to qualify for the most prestigious phase of the Snapdragon Pro Series this is where we will Crown a global Champion for the first time the debut of the Snapdragon mobile Masters for the mobile Masters event we're setting our sights on Japan where next spring we will the two best brawl Stars teams from each region to compete for an astounding prize pool of 200 000 and the title of Snapdragon mobile Masters world champion with brawl Stars being one of the most popular mobile games in Japan will be pulling out all of the stops to make this a premier Esports event as you can see season two is already shaping up to be incredible let's turn the stage back over to Don for one more exciting announcement [Applause] good job you know I snapped a selfie with them backstage and I sent it to our social team and our head of our social team came back and said are those your kids really come on okay um thank you Kevin and Lauren simply awesome as Kevin mentioned we have one more thing to share with you and we saved the best for last I am so thrilled to announce that Samsung is joining Snapdragon Pro Series as the presenting partner for 2023. and to tell us more and she really wanted to be here and she sends her regards here's a video message from my good friend Stephanie Choi EVP and head of marketing for the mobile experience business at Samsung Electronics take it away Stephanie foreign I hope everyone is enjoying day one of the Snapdragon Summit what an exciting event I could not be more proud to talk to you all today about the incredible collaboratio
2022-11-19 21:28
Show Video
Other news