Scientific Imaginations of Georgia O'Keeffe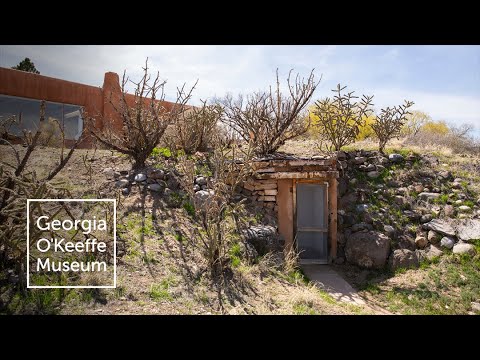 Show Video
- Time now. We're joined today by Sherri Wasserman, and before we begin our lecture, just a few quick notes. Good morning, again. Welcome to our Monthly Mornings with O'Keeffe program. I'm your host today, Grace Almanza. I'm a School and Tour Programs Manager with the Learning and Engagement Department here at the Georgia O'Keeffe Museum.
I would like to begin by recognizing the lands of the Pueblo people on which the sites of the Georgia O'Keeffe Museum stand. We recognize and honor their elders, past and present, and celebrate the vitality of their people today, and into future generations. I offer this with humility and gratitude, and acknowledgement of the need to confront the ongoing injustices of settler colonialism.
I would like to extend a thank you to our members and donors who are here today. Your support made this event possible. And if you're not yet a member and enjoy this program, please consider joining today, you can visit gokm.org/membership to learn more.
Throughout this talk, the chat has been disabled, but you're welcome to place your questions in the Q&A box, which can be found at the bottom or top of your screen, depending on your device. We'll try to answer as many as we can at the end of the conversation. And if we don't answer them, you can always send any pressing questions to learning@okeeffemuseum.org.
Please note that following today's talk, a recording will be made available on the O'Keeffe Museum's website in about a week's time. Captions in both English and Spanish will also be available. Now it is my pleasure to introduce our presenter this morning.
Sherri Wasserman is a designer, writer, researcher, and multidisciplinary collaborator who constructs experiences at intersections of physical, digital, and informational landscapes. In addition to her extensive work on projects spanning from individual artists partnerships to initiatives for major institutions, she holds degrees in Visual Arts and History from Oberlin College, Design and Programming for Emerging Technologies from NYU's Interactive Telecommunications Program, and Science and Technology Studies from ASU's Human and Social Dimensions of Science and Technology Ph.D. program. So with all that being said, it's my pleasure to hand it over to Sherri now.
- Thank you all for joining us today, I'm really honored and excited to be here. Grace just mentioned a little bit about my background, and I'll highlight that I come to these questions about and with the histories of Georgia O'Keeffe through immersion in both art and science and technology studies, a discipline which is itself multidisciplinary and combines anthropology, sociology, and political science perspectives. I'm also going to go ahead and share my screen. There we go.
Okay, so before I begin, I want to thank the extraordinary work and generosity particular of Dale Kronkright, the head of Conservation and Preservation at the Georgia O'Keeffe Museum. In an offhand conversation in 2019, Dale mentioned that O'Keeffe built a fallout shelter and then he continued to have detailed enthusiastic conversations about science and O'Keeffe's work long after, so conversations that I very much hope to continue. So if you're interested in science intersecting with O'Keeffe, please keep an eye out for any time you can intersect with Dale and his work.
I also want to thank Dr. Sarah Rovang whose 2019 report on the fallout shelter I'll cite throughout this talk; Miriam Langer and Matthew Henderson who generously hosted me on my many trips to New Mexico to pursue this work; Matthew Battles, the editor-in-chief of Arnoldia, the journal of the Harvard Arboretum, for whom I made some of the illustrations I'll show as slides; Dr. Jennifer Foley for the kind invitation to give this talk, and Grace for hosting today. So I also want to note that the work I'll talk about today is not complete, but it is substantial and I think it's exciting. So hopefully you'll find it interesting too. I'm framing today's talk by turning the event description into a question.
How does exploring Georgia O'Keeffe's relationships with science and scientists provide new insights into who she was, how she approached her work, and the ways in which she related to the world in which she lived? Before we investigate this question, I want to clarify a few definitions. First, the title of this event is "Scientific Imaginations of Georgia O'Keeffe." And this title means more than one thing. In addition to imagination's relationship to an artistic sense of the word, imaginations, as I employ the concept within this context, are based in definitions used within science and technology study.
These types of collective imaginations include entanglement of social, technological, scientific, and economic norms. They're the result of collective buy-in, beliefs of what is considered good for society, and they include power structures and civic engagements. Second, there are a few other terms I'll use throughout this talk. The first word is sociotechnical.
It's a concept that acknowledges that our societies form from our technologies and our technologies impact our societies. We're in an ongoing iterative relationship. The second additional term is survivability. This is a concept that comes from military information technologies and it refers to how social, ecological, and technological systems persevere in the face of danger. It's related to survival, but not simply survival.
It's about design, assessment, and maintenance assistance towards a particular kind of perseverance where some things must be saved and others knowingly sacrificed, while aiming for maximum persistence. And one aspect of this persistence, a term I'll also use, is resilience. Throughout this event, I'll describe research about both O'Keeffe's fallout shelter and her relationship with her conservator, Caroline Keck.
This is a schema for how I'll proceed through the talk as a whole. We'll begin with O'Keeffe, provide context for the shelter and conservation, provide wider worldly context of her time, and span out to how this might be relevant beyond only knowing about O'Keeffe through a different light. I'd like to say that the next 45 minutes will be linear, out from the center, but we'll realistically move back and forth and sideways a little bit as we proceed through related stories. So today, we're looking at a fallout shelter and art conservation as two ways into an examination about O'Keeffe's scientific imagination.
And we'll begin with the shelter and why. Georgia O'Keeffe built a nuclear fallout shelter at her home in Abiquiu, New Mexico. My research about potentially why and within what context she built the shelter provides new perspectives on O'Keeffe, including her relationships to science and her autodidacticism may have related to her sense of agency and allows us to discuss her place and participation as an individual within larger systems. O'Keeffe is an iconoclast both of and outside of her time.
This makes her a very useful figure through which to reflect upon complexities of the nuclear age and its demand for both conformity and individual actions even if the threat of mass destruction loomed. O'Keeffe's story is not an all-encompassing representation of intersections between popular culture, art, deserts, and the New Mexico and national nuclear imagination. However, a focus upon a combination of her construction of a fallout shelter, her configuration of her home and studio in ways that support notions of survivability and persistence, and her relationships with science and scientists all provide insights into aspects of an individual's place within mid-20th century survival context.
Within my research, I've yet to find evidence of archival citable materials that explicitly explain O'Keeffe's own justification for fallout shelter construction. However, pursuing leads for why O'Keeffe may have built the shelter, feels productively dark corners filled with information about potential future scholarship regarding O'Keeffe's life's work. Georgia O'Keeffe was both an extraordinary individual and an ordinary citizen enmeshed in the social, ecological, and technological systems of her time. O'Keeffe is widely considered to be one of the most important visual artists in the 20th century.
She co-led the modernist art movement in America while amassing international acclaim. She created a prolific body of work and was lauded as an artistic pioneer throughout her more than six decades long art career. She developed new modes of visual communication, painting methodologies, and roles a woman could inhabit within the art world. O'Keeffe's continued influence can be seen in the form of blockbuster exhibitions, stage and nature institutions, ongoing scholarship, an identifiable aesthetic influence on contemporary artists and popular culture. Born in 1887 and initially raised on a farm in Wisconsin, scholarship frequently concentrates on her paintings representations of landscapes, bones, and closeup imagery of botanicals. Much has been made of her attention to and deep knowledge of environmental science and natural history, alongside her relationship to physical locations, particularly those in New Mexico where she lived for nearly 40 years.
Her first trip to New Mexico was in 1929. Beginning in 1934, O'Keeffe spent summers in Northern New Mexico. In 1940, she acquired a house at Ghost Ranch.
In 1949, she permanently moved to the state from her home in New York City. In addition to the Ghost Ranch abode, she had renovated and extended the dwellings of her home and studio in Abiquiu, New Mexico, between 1945 and 1949. And that's this drawing over here on the right.
O'Keeffe's Abiquiu property sits on approximately four acres. Part of the compound dates back to the 18th century. At the time of her acquisition, the property's original buildings were in shambles. Though it was purchased in 1945, O'Keeffe claims that it took 10 years to buy the Abiquiu site. Her persistence in acquiring the property exemplifies her willingness to see a desire through over the course of a decade. And her choice to reconstruct and reinforce rather than tear down the property's old frames, revealed her deliberate intermingling of modern historic structural components.
The two together hints that O'Keeffe's world views may have possibly fundamentally included longer conceptions of time. She resided exclusively in New Mexico for four decades until her death in 1986. And for the majority of that time, she lived between Abiquiu and he Ghost Ranch home.
Beginning in 1936, O'Keeffe spent her summers at Ghost Ranch, an exclusive Northern New Mexico retreat for celebrities, intellectuals, and the wealthy. It was a veritable melting pot at the mid 20th century zeitgeist. Biographies about O'Keeffe and histories at Ghost Ranch both acknowledged the simultaneous 1940s era present O'Keeffe and Manhattan Project leaders, Dr. J. Robert Oppenheimer and Dr. Enrico Fermi. The scientists visited Ghost Ranch when on rest and relaxation leave from nearby secret Los Alamos site. Starting shortly after their arrival in New Mexico, O'Keeffe developed and maintained friendships with multiple Manhattan Project-related Los Alamos space scientists. So throughout her life, O'Keeffe was a singular individual situated at the nexus of artistic, intellectual, and cultural milieus.
Her artistic credibility and celebrity also provided her with access to information and resources rare for a woman of her time, while amplifying her status as an aspirational representation of what women, smart, accomplished women could achieve. Her physical location in the Southwestern deserts generally and New Mexico specifically was also an influence on O'Keeffe's worldview. O'Keeffe drew and painted hundreds of artworks of her surrounding landscapes. Many images were the result of her intrepid navigation out into often remote lands. Her life, work, and her viewpoints were inextricably tied to the physical and cultural geographies of her place, particularly that of Northern New Mexico within the last two thirds of the 20th century.
The U.S. Southwestern region can't be understood in contemporary comprehension outside of socially and environmentally constructed layers of settler colonialism. The idea that the area was itself calling for settlement can be tied to desert imaginations, which perceive desert regions as being empty of all but Native Americans. 20th century desert imaginaries include the frontier masculinity and modern violence of subverting nature to the will of man. Desert imaginations flourished in the mid 20th century, the period of O'Keeffe's settlement in New Mexico for two reasons.
First, a post-World War II United Nations' concentration on envisioned global reclamation of arid lands, so deserts are sites of capitalist opportunity with global imaginations. Second, as the U.S. reacts to the early 20th century Dust Bowl, dry lands in the U.S. were seen as something to be tamed and reclaimed. Narratives of reclamation fit well within long histories of frontierism, Manifest Destiny.
The U.S. Southwest was also perceived through wasteland imaginaries. In the social construction of wasteland sites, locations and the people who inhabit them are considered pollutable, expendable, and sacrificeable. However, Southwestern environments deemed landscapes of national sacrifice as the result of internal colonialism in the U.S., are not places without value.
These geographic locations are often research rich and frequently culturally sacred locations to Native American tribes. Wastelands' perceived values are also derived from the utility to U.S. military's use of these sites for weapons development, testing, and training. An additional value is also the result of experimentation undertaken by military scientists and industry, that simultaneously contaminates the environment, and contributes to national security. When O'Keeffe arrived in Northern New Mexico, she may not have known about the burgeoning uranium mining industry emerging on the nearby Navajo nation, but her decades-long entanglement with Los Alamos scientists could have likely informed her to location in the midst of wasteland-related social, ecological, and technological systems.
The most important part of all these definitions and descriptions is that understanding the precariousness of the landscape and the long colonial sacrificial histories of her locations essential for properly conceptualizing O'Keeffe's outlooks on contemporary science, sustainability, and survival. Northern New Mexico environments contains striated histories of deep geologic time, prehistoric extinctions, multiple waves of colonization, and both the militarization and petrochemical industrial domination of the land. National imaginations enforced the colonizations, first by the Spanish, then by Americans, utilizing New Mexico's landscapes for different nefarious national purposes. Within the 20th century, New Mexico became the only U.S. state to house the entire cradle-to-grave lifecycle of nuclear science. Cradle being Los Alamos, the birthplace of the atomic bomb; and grave being the Department of Energy's Waste Isolation Pilot Plant nuclear waste site located in Carlsbad, New Mexico.
New Mexico's land contains remnants that range from deep time, such as dinosaur skeletons were discovered on the Ghost Range property, to recent technological discoveries, like the fallout from the first nuclear weapon test, held at Alamogordo, New Mexico. The Los Alamos scientists themselves broadly participate in the co-construction and literal nature of the environment. Above Los Alamos and O'Keeffe's home region from before the bomb test through present day, scientific experimentation at Los Alamos has changed the land through the disposal of waste, dispersal of chemical particulates into the air, and radiation released as part of both catastrophic experimentation, and everyday nuclear scientific exploration. Geographer Jake Kosek describes the evolving ecologies in Northern New Mexico as environments of mutated future nature. O'Keeffe's construction is one of many stories of individuals navigating New Mexico's land.
Her fallout shelter sits within a long legacy of regional, individual, and collective act to ensure survival. The Los Alamos National Lab community's scientific and technological prowess loom large over Northern New Mexico continuously since 1943. It's brought national prestige, uncertainty, invariably understood and recognized danger to the local landscapes, and O'Keeffe's construction can be considered her personal shelter, within the New Mexico's 20th century nuclear science story. As far as I know, explicit evidence of O'Keeffe's construction intentions is yet to be discovered. However, this hasn't deterred anecdotal speculation about her motivations. On site visits, and informal conversations, and while attending public events, I encountered multiple hypotheses.
While participating in public advocacy site tour, a guide told me that O'Keeffe was advised by her friend Jay Robert Oppenheimer, to build the shelter. An O'Keeffe Foundation employee informed me that this was one guide's individual interpretation rather than an institutional perspective. The most persistent story I heard aligned closely with a thesis of O'Keeffe as an individual who was deeply committed to landscape interpretation. "We do not think she would survive long after the blast," multiple people hypothesized, "but she wanted to paint the landscape "after the destruction." The fallout shelter itself appears to be an anomaly when first viewed in relationship to the rest of the Abiquiu site, but it's the most emblematic artifact through which the investigator of O'Keeffe participation and reflective of mid-20th century survival systems.
Before getting too far ahead of ourselves, let's start exactly where we are. So in approximately 1962, O'Keeffe constructed a fallout shelter at her home and studio. Built into the cliff beneath her bedroom, the shelter's entrance looks out over the Chama River Valley. Within the 1970s, O'Keeffe and her assistants cleared out most of the materials housed within the structure. Discarded objects included food grown in her garden and preserved in jars, and, as of 2020, a small collection of items included a disconnected phone, four bed frames without mattresses, and a drawer full of first aid supplies remained.
Despite O'Keeffe's attention to the creation and maintenance of the shelter, O'Keeffe scholars have mostly ignored the fallout shelter and the authoritative book on her home and studio almost entirely overlooks the presence at the Abiquiu home. In Fall of 2019, the Georgia O'Keeffe Museum commissioned architectural historian Dr. Sarah Rovang to complete the first known research on the fallout shelter, its cultural context and service of the institution's larger conservation efforts at the Abiquiu site. The report is both unpublished as far as I last checked, and the first is specifically date the structure's construction.
Within her research, Rovang skillfully contextualizes at the fallout shelter within general notions of Cold War in security, civil defense in mid 20th century America more broadly, and Northern New Mexico in specific. Though she mentioned some of the themes that I touch on, Rovang's remet focused on the shelters architecture itself, including topics such as how it may have been constructed, who else resurrected similar structures at the time and the these structures played in regional and national narratives about defensive architecture. So the term fallout shelter is one of multiple terms used for variations on similar forms of fortification structures. Fallout shelters belong to structural types of defensive architecture. So buildings that can be described as instrumental, existing less in themselves and with a view to doing something, waiting, watching then acting or rather, reacting. Rovang explains why shelter is the best description when she notes that shelters like O'Keeffe's were meant not to provide any significant defense against the actual heat and explicit power of atomic bomb, but to protect the occupants from subsequent radiation exposure, following a strike that happened at some survivable distance away.
She states that it's therefore more accurate to refer to the structure as a fallout structure rather than as a bomb shelter or bunker. The fallout shelter aesthetic is anomalous within the context of O'Keeffe's larger property. Her home and studio building piece traditional and new Mexican architecture with clean, modernist arrangements. O'Keeffe dwellings are constructed of adobe and furnished with mid-century modern chairs, bookshelves, and tables. A combination of natural and well designed lighting fills the rooms. Most walls are painted in part or in full a pristine white.
An exception is the gray mud plaster featured in O'Keeffe's bedroom, the result of the use of a particular dark clay found within northeastern New Mexico. Throughout the home, one sees no clutter or cracks. The entire compound is utilitarian, pristine in elegance except for the fallout shelter. One could easily surmise that the fallout shelter is an aesthetic anomaly since its construction. Slightly haphazardly placed stones around the entrance door made of wood and metal, the structure appears to be comprised of concrete block, the interior is painted cream, ventilation pipes barely visible from O'Keeffe's studio and bedroom windows are painted brown close in tone to the surrounding dirt to blend in with the environment. Within the shelter cream painted cork wall hangings supply hooks for securing supplies.
The bed structures are made of metal and speckled linoleum floors line the structure. One may connect the fallout shelter's mundane materials to its utility. When in the context of this research, I find the shelter's anomalous design notable because of how effectively the fallout shelter may be understood as a material artifact embodiment, O'Keeffe's both exceptional and quotidian relationships with sociotechnical systems of her time.
Her own expertise gained her unusual direct channels to civil defense scientists and information. Her cultural standing and economic classes provided her with entry to spaces where she encountered relevant experts. These bonafide similarly allowed her to independently acquire prime real estate, approximate to scientific and technological developments. Her specific forms of participation in her own survival were a result of her privilege, her acts of gained by her credible notoriety, and her autodidactism within the context of sociotechnical system expectations. However, part of what's incredible about O'Keeffe's fallout shelter is that within larger contextual imagination, her construction of defensive architecture is not extraordinary. It fulfills the common citizen's expected role.
O'Keeffe did not change the survivability of the larger complex civil defense system within which she was a match. However, she nonetheless took actions at her individual scale to increase the resilience and survivability of her personal, social, ecological, and technological systems within the context of larger threats and culture. - [Grace] So, sorry, just really quickly, some of our attendees are a little hard of hearing and they're wondering if you'd be able to slow down just a little bit so they can understand what you're saying. - Sure. Oh, I'm so sorry. - [Grace] It's okay.
- I'll slow down. - [Grace] Thank you so much. - So as I mentioned earlier, during a public behind the scenes tour at the Abiquiu compound held in September '19, a guide claim that O'Keeffe built the fallout shelter after doing so was suggested by Jay Robert Oppenheimer. As I mentioned earlier, I've found no archival evidence to support the idea that O'Keeffe and Oppenheimer were friends. Multiple sources confirmed that they knew one another and that they had reason to cross paths over the years. But nothing reinforces that they were close enough to have a conversation that aligned with what the tour guide described.
However, within her library, O'Keeffe owned multiple publications written by Oppenheimer. One of the books was "The Open Mind," containing his essay "Prospects in The Arts and Scientists." Within that essay, Oppenheimer writes about what he perceived as the intertwined rules of artists and scientists within society. "Both the man of science and the man of art live always at the edge of mystery, surrounded by it, both always, as the measure of their creation, have had to do with the harmonization of what is new, with what is familiar with the balance between novelty and synthesis, with the struggle to make partial order in total chaos. They can, in their work and in their lives help themselves, help one another, and help all men." So O'Keeffe built the fallout shelter in the early 1960s, a decade rich with collaborations between artists and scientific institutions.
Examples include NASA's partnerships with artists James Turrell and Robert Irwin, and Bell Labs experiments in art and technology program. Arts and science collaborations when aligned with national notions of constructive, creative, global dominance were de rigueur. O'Keeffe operated outside of those structures and art histories not perceived her as an artist who collaborated with scientific or technological institutions. However, examination of her construction when viewed alongside investigation of her personal archives reveals decades long relationships and collaborations between O'Keeffe and individual scientists.
So today I'll mention two of these relationships, with nuclear physicists Louis Rosen and chemist and conservator Carolyn Keck. In tracing O'Keeffe's relationship to scientists, we first need to establish the historical moment in potential for collaboration. In the 1950s and '60s a good scientific training was seen to put a person in position to speak with authority and decisiveness in their own field and often in other fields too. So known respect for O'Keeffe's technical acumen may provide cultural context for why scientists were amenable to discussing scientific topics with her. The intellectual circles within which O'Keeffe engaged in her east coast life with Alfred Stieglitz were notoriously multidisciplinary, it's also notable that despite the nuclear effort being named the Manhattan Project to the headquarters's office in New York City, it was less likely that she would've dined with all the scientists if she'd remained a New York City resident.
O'Keeffe's disciplinary boundary crossing provides us with clues to how she might have comprehend notions of survivability. According to Los Alamos' scientist Louis Rosen , O'Keeffe from the time they met in the late 1940s was very anxious to talk about what was going on at Los Alamos. What would its impact beyond the United States, on the world as a whole? Is it really in the interest of humanity to build terrible weapons? She wanted to understand all of these things. Her interest, he states, encompassed questions related to scientific underpinnings of nuclear technology, both weaponry and energy.
But her scientific interests were broader. She was interested in the impact of science on life in general, noted Rosen in his 2003 contribution to the Georgia O'Keeffe History Project. Rosen claims that he and O'Keeffe talk more broadly about science, technological development, and naughty problems such as global hunger. They also discovered nuclear physics and developments that led to the atomic bomb. The Rosen's testimony to O'Keeffe's curiosity supports a vision of O'Keeffe as an autodidact interested in both complex and everyday concerns born of nuclear weapons emergence on local, national and global stages. Defensive architecture is one part of this response to nuclear risk response to acute threat alongside mundane and structural aspects of society.
Her construction of a fallout shelter in part embodies her notions of civic imagination and elicits examination of how national, sociotechnical, and sociopolitical imaginations impacted individual visions of collective survival. So novel structures that control emerged within the birth of the nuclear age, as did new articulations of individual citizens roles within American atomic futures. For individuals within the state, the concepts of risk and threats need to be controlled, and as it pertains to potential anxiety and responses, public figures need containment just as much as the potentially runaway physical hazards of atomic energy. However, technologies benefits are often seen as unbounded while risks are framed as more manageable. America's sociotechnical systems create durable imaginary of containment, both nuclear technologies and public fears. But O'Keeffe was never wanted to be contained by social moors, expectations, gender roles, or anything else within her life.
She embodied the unexpected and this often positioned her as a threat to institutional and authoritative powers. During the most secretive government operation of the 20th century, O'Keeffe lived within miles of its headquarters. Though she was an international celebrity by the time she moved to New Mexico, she was still perceived as an outlier to restrain. The FBI opened a file on O'Keeffe in 1953 in response to what was seen as her dangerously left-leaning tendencies. They reportedly closed the file in 1954 due to lack of evidence that she was a threat to US political stability.
O'Keeffe's self focus aligned perhaps presently well with U.S. governmental attitudes regarding public safety in the face of potential destruction by nuclear weapons. Beginning in the mid 20th century, there's been an ongoing disjunction between U.S. nuclear responsibility, accountability towards collective survival, particularly as it pertains to post World War II construction and use of defensive architecture.
National policy deprioritizes the building of shelters for the populace, while U.S. government spends billions to provide protective structures for the President, Congress, and select additional individuals. Should nuclear war occur, elite citizens will gain access to safe enclosures. If a nation does not construct policies that enact equality of survival, how many citizens survive? O'Keeffe is a wealthy, smart, autodidactic, well connected individual, had access to information that allowed her to comprehend the risk she faced, and she also held the resources to potentially ensure her own survival.
O'Keeffe's library includes examples of how her notoriety and one domain provided for her access to exclusive information within others. Of the books found within O'Keeffe Abiquiu library, one of them is titled "The Effects of Atomic Weapons" by the United States Department of Defense, Los Alamos Scientific Library from 1950. A publication notice written by civilian mobilization office director Paul J. Larson appears within the first page. The text indicates that this book was likely not meant for public consumption as it refers to technical providers. Considering that other O'Keeffe resources, such as our copies of "The Bulletin of Atomic Scientists" were widely available, we may theorize she may have acquired this exclusive text through her exclusive connection. This book, "The Effects of Atomic Weapons," has been described by scholars as a direct project of the U.S. Military Strategic Bombing Survey or the SBS.
The SBS is a fundamental piece of context for understanding defense of architecture within mid 20th century national civic defense imagination. Performed in the immediate days at the end of World War II, the strategic bombing survey leadership convened engineers, architects, social scientists, and military personnel to document and assess the damage caused by multiple forms of aerial combat upon Germany and Japan. The SBS teams evaluated the impacts of fire bombs in the first piece of nuclear weapons. These assessments were then leveraged for multiple purposes. In addition to select details made public to support efforts to both horrify and assure wider publics in the U.S.,
military domination detailed SBS reports justified tactical approaches to future military strategy strategy, support establishment of an independent air force, provided guidance for the development of more resilient U.S. architecture through the use of materials and structural tests at U.S. nuclear proving grounds. Their quantification destruction of enemy structures inform US development of more effective U.S. architecture meant to withstand U.S. weapons of mass destruction.
Mid 20th century guidance on the material and structural makeup of domestic defensive architecture deeply informed by this REFLEXIS security system. Even if the reach of these insights were limited, SBS teams studied the impacts of atomic bombs while the threat of hydrogen bonds dominated in the early 1960s. Deliberate minimization of national civil defenses construction in the wide range of shelter creators with their own equally wide range of expertise arose to fill in widespread needs. It also bounded whom might benefit from the inner system through which the knowledge about how to build this architecture, such as fallout shelters, was ignited by the creation of the SBS report. So O'Keeffe's construction of the fallout shelter occurred within an approximate timeframe of the Berlin crisis, Kennedy's July 1961 public address regarding potential nuclear war and the Kennedy administration's 1961 inauguration on the National Fallout Shelter Survey.
The National Fallout Shelter Survey was part of a larger effort being ignited within the Kennedy administration to increase the both defense and education, even if not necessarily architectural and civic infrastructure. In the history of Cold War civil defense, Tom Vanderbilt explains that in addition to naturalizing the presence of the bomb and gamma radiation the government and the architects themselves had to work to resolve the overwhelming paradox of civil defense that architecture created to resist the effect that an atomic bomb would be incompatible with everyday life, like it needed to become part of something that we were all used to, given evidence that O'Keeffe new considerable amounts about nuclear physics, kept herself informed regarding known and potential impacts nuclear weaponry, her construction of a fallout shelter very likely addressed both her long-term and her everyday concern. O'Keeffe resided within a particular time and national milieu. The approximate moment of her shelter construction was an age of an intense nuclear fear. Literary and media narratives from 1958 to 1965 in particular created the potential of not only nuclear destruction, but also nuclear weapons related accidents to a previously unprecedented degree. O'Keeffe also specifically lived within close proximity to Los Alamo.
Burbank suggests that the orientation of the fall shelter door towards the north may itself indicate that O'Keeffe may have been more concerned with an accident at Los Alamo located south of Abiquiu than a weapons attack. So potential threats must have been viscerally imagined by those of proximity to Los Alamos, though danger also extended beyond Northern New Mexico in all directions. In addition or cold war enemy perils, the U.S. above ground nuclear testing program set off 210 atmospheric and five underwater detonations between September, 1945 and August, 1963, turning much of the planet into an American nuclear test complex and producing nuclear victims on an equally large scale. O'Keeffe's actions were undeniably in dialogue with her sociotechnical surroundings, but simply positioning her as a tiny component within larger systems underplays the ways in which she exerted individual agency over her own potential future. It may have been influenced by all of her surroundings, but all records of her life reinforced her strong-minded individuality.
She questioned, observed, and learned about the intellectual and biological landscapes within which she lived and she made her own choices about how knowledge and systems influenced and manifested in her life and work. She was notoriously smart, independent autodidact, gained both official and lay expertise around a variety of disciplines. She's most known for her position as a respected, influential luminary of 20th century art. She might second be known for intensive knowledge about natural history.
Now, she began her life on a farm and her connection to the land she inhabited stands beyond her artistic documentation to lived forms of exchange. Her Abiquiu property is fed by a persistent community irrigation water source, which nourishes the land and connects O'Keeffe to the communal acequia culture of Northern New Mexico. And this enables her garden, which she used for both sustenance and beauty.
I believe that counts as sufficient evidence to argue that the fallout shelter is a representative artifact of her thinking about surviving in the face of uncertain futures. Two other locations at her Abiquiu site, her garden and library, as well as her efforts towards her artwork preservation, the last of which I'll talk about today, provide hints to our relationships with larger systems and navigational uncertainty. We may live with a national imagination, but particularly in the ways in which we choose to take care of ourselves and others, we're not powerless.
O'Keeffe's personal library reveals her own search for information as agency simplified by deep investigations into known impact of atomic weapons, sociocultural and environmental ramifications of both nuclear energy and nuclear weapons, and structures through which one might survive nuclear war. O'Keeffe owned commercially distributed pamphlets about pre-fabricated shelter structures, governmental civil defense propaganda about how one may survive an attack, and government publications on nuclear science marked is not meant for public distribution. Her personal library includes scientific magazines and technical manuals, alongside philosophical and historical narratives addressing how we as individuals in society might think differently about persistence in time. O'Keeffe's explorations likely fueled her scientific imaginations as well as her visions and actions towards survival. They also echoed descriptions of exchanges provided by her scientist friends.
She owned text gifted by friend Louis Mumford, inscribed warmly with messages from Mumford to O'Keeffe and her husband Alfred Stieglitz. And Mumford was a a father of sociotechnical thought, which hints that she may have been thinking about these types of systems early on. She maintained friendships with scientists conversing with them on both technical and sociocultural aspects of the work. Per Louis Rosen in his oral history told to Sarah Burt, "she asked about everything, technical and otherwise." You know, and particularly about the impacts of science on society, or as Burt asked, you know, was she asking about practical application of theory, Rosa responds that she asked "applications to research, practical applications.
That's what she was interested in." And that she didn't talk about this with everyone. As he says, "it didn't come out. No, it didn't come out very often, but maybe it was just with her scientific friends that she delved into that." O'Keeffe built a fallout shelter in minimal size. Whom would be protected besides herself and for dogs is unclear.
You know, was she just another wealthy person building their bunker for the end times? Ruben's argument for why O'Keeffe's structure should be categorized as a fallout shelter rather than bond shelter suggested she prepared for disaster but did not ensure a insular containment. The structure isn't indelible enough or sufficiently militarized enough for O'Keeffe to survive for prolonged periods. The nominal sturdiness could be a mistake in construction on her part. But given the highly technical information that I found in her library that seems unlikely.
We know that she also built her shelter in a time when national community safety was deprioritized and individual responsibility espouses the way in which to protect oneself and one's family in the name of US civil defense. O'Keeffe as an individual took care of her own needs in ways which aligned with the 1960 U.S. social contracts, but was also interested in wider social benefits of nuclear technologies that contempored the individual approach. It's unlikely that her pursuit of nuclear related scientific knowledge, the associated implications of the related emerging technologies, was a quest to gain agency in the face of ineptitude.
She would not have been seen as compensating or overcompensating for governmental and neglect. Instead, O'Keeffe appears to embody the timely entrepreneurial, scientifically driven American spirit. Everyday encounters with scientific rationality and technology in ordinary women's lives helped to produce various theories and practices for actively improving the conditions of their local communities and environments writes social scientist Deturro.
And O'Keeffe may have been anything but ordinary, but her interactions were inevitably gendered and her acquisitions of scientific knowledge intertwined with and impacted her everyday activities. Whether potential implications of nuclear physics or as all just next chemistry and perseverance, her persistence of scientific understanding allow O'Keeffe to ensure for herself comprehensions, options, and potential actions towards her own survival. She also applied these tactics to increase the material survivability of her paintings. And what de and other social scientists described in these kinds of everyday knowledge gaining encounters is a concept coined by Black feminist scholars called kitchen table knowledges.
Tchero was talking about the women who led activist campaigns at toxic events such as Three Mile Island and Love Canal, but this is a concept that continues to be used in the context about historic and current challenges. To describe tactics to become more resilient in the face of danger. Kitchen table knowledges provide context, more accurately piece together context in complicated changing times. Another set of things that's changed over time are relationships between art and science. I mentioned earlier that the 1960s were particularly charismatic time for art science collaboration.
But O'Keeffe's art practice always included science. Even if her training was framed as meticulous craftmanship rather than education and chemistry or optics. She created art. It was also art which she pursued with the discipline of scientists constructing rigorous experiments. 'However," writes Dale Cronkite, "this precision is not for the sake of engineering prowess.
O'Keeffe's great precision as a painter is meant to communicate the clarity of her intention." The artist wants us to consider the many questions posed by the characteristics of her paints, the form she creates with them, and the visual frame and focus that contains them. Her technical mastery was embedded within and in service to the creative intentions of her art.
She's widely considered an exquisite painter on a technical level, her use of materials been studied and emulated long past her time. She gained that competency through education and rigorous practice to a degree which is rarely taught today. Before gaining international respect as an exhibiting artist, O'Keeffe supported herself primarily through teaching and as both painter and instructor, she comprehended and communicated art as a combination of expression and chemistry. Her reputation within the art world was inextricably coupled with her relationship with photographer and galleries, Alfred Stieglitz.
In addition to her role as muse subject and artist to be championed, she also collaborated with Stieglitz in the printing of his photographs. Her master of art related chemistry extended beyond a single medium. And within our historical text, O'Keeffe sometimes referred to as the mother of American modernism.
It's within this context that her artistic legacy and science again merge. This moniker arises from both her association with Stieglitz and conceptual approaches employed within her art, modernism refers to a collection of early and mid 20th century styles that embody the shifting intellectual, sociocultural and technological landscapes of Western Europe and America. Often these styles include the use of modern manuals and technology to express the activity of the artist as creator, to depict the essence of the modern model, reality revealed by science. In addition to inquiry nuclear science and sociotechnical systems, O'Keeffe pursued scientific pertinent to the construction and conservation for painting. In an essay by preeminent O'Keeffe scholar, former O'Keeffe museum director Barbara Bueller Lines, the artist's interest in conservation is described as O'Keeffe being keenly interested in the condition of her work and begins and ends with the fact that she often had them cleaned or otherwise viewed by conservators.
However, after reading 40 years of letters between O'Keeffe and her conservator, Caroline Keck, I found that Bueller-Line's superficial description feels like it betrays the existence of a much deeper collaboration. The letters contain materials advice from Keck to O'Keeffe, requests for technique recommendations from O'Keeffe and even Keck sending O'Keeffe chemical supplies and instructions as to how to treat her own paintings, ensuring longevity. In parallel to other aspects about O'Keeffe's lifework and construction follow-up shelter, O'Keeffe is not just thinking about the mundane task of cleanliness, engaged with larger questions about science and time and about preservation durability.
In this way, I hypothesized that an examination of O'Keeffe's engagement with Keck regarding conservation is an extension of the worldview from which her construction of the fallout shelter emerged. Research on O'Keeffe's relations with Keck supplements my investigation of the fallout shelter for three reason. First, given their genders and the context within which they work, this may be a case of the employment of kitchen table knowledge tactics. Both were experts in their complimentary fields, but their modes of information exchange were professional and also partial, cumulative, and highly colloquial.
Second and most importantly, evidence about O'Keeffe's collaboration with Keck supports my argument that scientific pursuits weren't not variation. The relationship confirms that scientific collaborations were fundamental to O'Keeffe's work in (indistinct). It's possible that O'Keeffe's work is a manifestation of this intersection of artistic and scientific imagination. Third, the O'Keeffe Keck relationship again hints at how O'Keeffe may have thought about survivability and time.
So art historian Bernard Berenstein notoriously described the conservation restoration lab as a kitchen art. And this was meant to be derogatory to the profession, to indicate it's less valued behind the scenes dissection without influence on the art world. It's a slip to this notion, a lack of subjugation that this reference aligns with the idea that Keck and O'Keeffe's relationship was in part a form of kitchen table knowledge exchange, 'cause the kitchen is a complicated racialized gender space and kitchens reproduce patriarchal structures and can be spaces of power amongst subjugation where women communicate, create, and reinforce structures of care. I want to be careful not to overemploy the concept here, particularly as its concept found in Black feminist thought, and I'm referring to two middle and upper class white women. However, Keck and O'Keeffe rarely occupied the same physical location, they nonetheless carved out a space for themselves outside the gender norms of their time to provide support, knowledge, and everyday communication. The O'Keeffe Keck relationship was unusual for its time because both women were rare and extremely notable in their respective fields.
Their collaboration may have also been extraordinary because of the contemporary state of artist conservator relationships. In its history of art conservation and restoration, Marco Grassi describes the bifurcation of the roles of artists and conservator beginning in the late 1700s, coming to a distinct head in the mid 20th century. Before the late 1700s, the roles weren't necessarily separate and the subsequent distinction became about more who performed what tasks. Until the 1960s, it wasn't clear that conservation's scientific purpose was to preserve artistic intent. And grasping it, Keck's husband who was also a conservator and Caroline's close collaborator, was notorious for being an operator who prized material science over artistry and nuanced consideration.
Professionalization of conservation as scientific endeavor (indistinct) and deliberately ignorant to artistic intent should have placed O'Keeffe and Keck in opposition. Instead as proven through the knowledge exchange described in their correspondence, they position the artistic and scientific expertise in ways which place science in the service to art. The O'Keeffe and keck collaboration was reciprocal to the point of what Kronkright terms, the influence of the conservator in shaping O'Keeffe's aesthetic. Quote, "with your experiences, will you tell me, do you find that cobalt blue almost always cracks? It's such a beautiful color, but I have such bad luck with it," writes O'Keeffe to Caroline Keck in December, 1959. "Please do not use this color again," writes Keck to O'Keeffe, regarding a particular brown earlier that same year.
"Maybe another tube would be all right," she continues, "but substitute something else for it if you can." Changes within O'Keeffe's materials and color palette may sometimes be tracked back to her correspondence, her collaborations with Caroline Keck. Their collaboration span beyond aesthetic modifications to include tangible impact under O'Keeffe's paintings towards increasing material resilience.
O'Keeffe painted with highly controlled purpose and it was through her increasing scientific knowledge that she gained control over her art. By the mid 1930s, O'Keeffe had destroyed approximately 35 pictures and although she never explained why she destroyed them, O'Keeffe scholar Bueller-Line theorizes that one can presume either that the condition had deteriorated to the point that effective restoration was not possible or they didn't in some way meet O'Keeffe's evolving standards. And one of his own essays, Kronkright confirms this perspective on the destruction. In O'Keeffe's artistic imagination, integrated conceptions of time, is through examination of nearly four decades of correspondence with Keck. We discover ways in which O'Keeffe increased her scientific knowledge and collaborate with Keck in order to ensure the artistic intent of her paintings for the long term.
Modifications of practice and preservation towards long-term resilience appear both within O'Keeffe's life time and in the ways in which the Keck O'Keeffe collaborations, knowledge systems, span beyond the individuals with whom they began. Kronkright describes contemporary encounters with O'Keeffe paintings falling into one of three categories due to pragmatic material constraints, the public visibility and frequent transportation over work, and the passing a ton. So first, one very rarely might encounter an O'Keeffe painting to which no modifications have been made.
These pieces were likely meticulously maintained and rarely exhibited. Second one might be an O'Keeffe Keck collaboration, a painting impacted by the collaborative preservation of the artist's original intent. And third, some paintings have been been conserved by students of Keck, and their students, trained in the Keck O'Keeffe way. So as Whitaker Peter writes in the book, "Georgia O'Keeffe Color and Conservation" quote, "O'Keeffe's charge to Keck was to it that our pictures did not change," end quote.
Keck fulfilled her charge and in the collaboration, instituted ways in which the mission continues to be followed through subsequent generations, ensuring O'Keeffe's works' resilience for the uncertain and indefinite future. So why does all of this matter? I propose that investigating O'Keeffe's scientific imaginations matters for a few reasons. First, Georgia O'Keeffe was undeniably extraordinary and her actions in cases such as the builder for a nuclear fallout shelter were not only exemplary of what it meant to be a mid 20th century American citizen, they were downright unordinary, she used charismatic, unusual way to show stories about a complicated time. Second, I suspect that you may be here today because you're a fan of O'Keeffe's work. And I'll admit that though I've always been admired of her skill and aesthetic beauty, I wasn't.
Before I descended into this rabbit hole maze in which I haven't yet emerged, I thought she was maybe something a bit cynical, overexposed. But I was wrong, because I took a look at an archive that I thought was bathed in bright spotlights and found dark corners, and asking new questions matters, both to better appreciate how incredibly multifaceted a person she was, perhaps to better understand ourselves, both in relationship to her and the world. And lastly, I think these types of stories matter because we all see social, ecological, and scientific or technological uncertainty every day. And O'Keeffe was not alone in her pursuit for persistence in the face of unknown futures for herself or her art, and neither are we. Thank you.
- Thank you so much, Sherri. That was lovely. It was great to learn so much about your work and your work diving into O'Keeffe. So we're going to move on to just a Q&A portion of the lecture today. We have some questions in the chat already, but we have about 10 minutes if you'd like to put in any more questions that you may have if you haven't already. So we'll start off with a question by Cheryl who asks, where can I learn more about O'Keeffe meeting with Oppenheimer? - There are breadcrumbs throughout multiple books, but nothing that goes into it in detail.
I found the majority of those references within histories of Ghost Ranch more than I found them within biographies of O'Keeffe. And then in finding that she owned his books in her library where I was like, "okay, maybe there was some reception here." Also in the archives at the Georgia O'Keeffe Resource Center in Santa Fe, there's some correspondence between her and Los Alamos, but not necessarily her and Oppenheimer himself.
So it's easier to find larger kind of context of her with Los Alamos as the whole, even in the early days, and then specific mentions, like things that say, "oh, she and Oppenheimer were at Ghost Ranch at the same time over the same number of years." Those are mostly in Ghost Ranch biographies rather than O'Keeffe's biographies. And I think there's a reason for that. I'll just kind of say this more generally, which is that, you know, most O'Keeffe's biographies are written by art historians, and art historians don't necessarily ask about things like her relationship to Los Alamos, which makes total sense, right? That's not their concentration and that's not what they want to emphasize after. But putting her in the larger Northern New Mexico context in some of those kind of wider books that mention her but aren't specifically only about her, you get the evidence that they did cross paths, you know, even if they weren't close.
Ironically, one of the things I did find evidence of was stories of her becoming friendly with Oppenheimer's brother, Frank, who was based in San Francisco, was blacklisted from the Manhattan Project for his communist tendencies and went on to found the Exploratorium, the science museum out there, so I did find some anecdotal stories within oral histories and correspondence in the archives about her potentially developing a relationship with Frank, but not with, just intersections with J Roberts. They were in the same kind of general place. - Thank you. It's so interesting how much we can find when we just like keep digging, right? - Absolutely. - Speaking of the Manhattan Project, Sue asks, weren't these conversations with Manhattan Project scientists a breach of security? How were these scientists able to discuss their work with O'Keeffe? - That's a really good question.
I do not know whether or not they were a breach of security, because there is not evidence of exactly what they said, right? I would imagine, given what I know about Los Alamos and the Manhattan Project, it is possible that they weren't breaches of security. That conversations, like even though she met Louis Rosen soon after he came to Los Alamos, that the more detailed conversations they had may have happened a little bit later and she and Louis Rosen literally talked over dinner, right? These were not formal conversations, these were not interviews. You know, this was a different kind of kitchen table knowledge, right? Is that they'd have dinner and talk about nuclear energy. And so the closest specifics I've found is in Louis Rosen's oral histories and in correspondence with between her and Louis Rosen and and his wife, but I'm still looking and yeah, the security question is a good one. I would imagine given that most Manhattan Project scientists were followed, mig
2023-05-01 04:47
Show Video
Other news