Panasonic LUMIX G9II (And more) discussed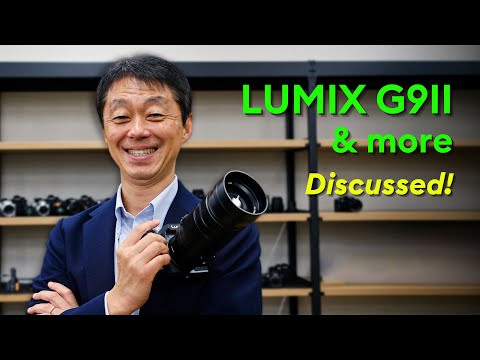 Show Video
I want to thank you very much for your continued support. I have only been in charge of the imaging business for the past 6 months. As for the "journey to the top", my journey has never been smooth. I joined Panasonic in 1991 and was in charge of technical development of communication equipment for about 20 years during which I experienced rapid expansion and rapid contraction of the business.
In 2013, I joined the mobile product development team as a project leader to create a camera that integrates mobile technology and communications and the product I developed at that time was the CM1 communication camera with a built-in 1-inch sensor. Since then, I have been in charge of technology, product planning, and growth strategy for imaging products I have been working together with him for about 10 years in the field of imaging and as a result of my various experiences in product planning and technical development, I have been appointed as the head of this BU. The CM1 was equipped with a high-performance image sensor, which was considered revolutionary for smartphones at the time and an image processing engine developed by Imaging, which was actually not just a smartphone device but a groundbreaking camera capable of capturing high-quality images and videos and sharing them instantly.
and at the time it created quite a stir, so much so that when it was exhibited at Photokina 2014 it won the Photokina Star Award, and in Japan it also won the very prestige Camera Press Club Award of the Camera Grand Prix. I believe that I was able to play a certain role in showing the future development of imaging equipment. In this project, communication technology and image/video technology engineers worked together to form a development team and the members worked hard to create a synergistic effect by fusing each other's strengths to create a product.
This experience is utilized in the technical development of the current imaging products. Rather than making the same product again using the experience from CM1 I would like to combine all kinds of technologies to make the product more attractive and meet the diversifying needs of our customers. The world of enjoying photos and videos in the cloud via smartphones is expanding and in this sense, we would like to create attractive products that make the most of our experience with CM1 The S5II/IIX full-frame mirrorless cameras introduced this spring have been very well received by video and still image creators who demand uncompromising expressive power and excellent ease of use.
Both the new-generation all-rounder S5II and the ultimate all-rounder S5IIX with improved video performance are equipped with attractive functions that stimulate the creativity of creators. It is especially highly rated among solo creators who handle everything from shooting to editing by themselves For example, the real-time LUT function allows us to create the final image on the spot so we have received a great deal of positive feedback from creative people, as expected, in the sense that they can create the image of their choice with their own feelings at that moment. The basic strategy of our imaging business is to meet a wide range of customer needs with two mounts, full-size and MFT, which have different characteristics.
The full-size format for users who require extreme expressive power MFT offers high speed and mobility to expand the range of usage scenarios for users while achieving high image quality. We will introduce the G9II as a still image flagship machine that fully demonstrates the features of MFTS. The G9II is a camera that demonstrates high mobility even when combined with a telephoto lens, making the most of the features of MFT.
Equipped with a newly developed sensor and a new-generation engine it has the highest LUMIX high-speed continuous shooting performance and the technology for recognizing people, animals, cars and motorcycles has been greatly improved. It is a camera that satisfies users who are looking for a unique shooting scene. Also, for the first time, Micro Four Thirds cameras support image phase detection AF.
I think the performance is very high when it comes to capturing moving objects with a telephoto lens. The basic concept of this camera is to never miss a decisive moment. The joy of capturing a moment that you will never encounter again is an extremely precious moment. I believe that the photographs that will remain in your memory are the ones that will be taken The most important thing for us is to make our customers happy, so we would like our cameras to be used by users to take many photos of those decisive moments that they will never be able to experience again.
At the same time as the introduction of the G9II, we will renew the 100-400mm super telephoto lens Since it supports a 2x tele conversion lens, super-telephoto shooting of 1600mm (35mm equivalent) is possible. Also, the 35-100mm lens will be born into the LEICA DG lens. Although it is a bright, high-performance F2.8 lens, it is extremely compact, so we believe that you will be able to enjoy a variety of shooting together with the 12-35mm F2.8, which was renewed in February this year. We hope that photographers and filmmakers will be able to take advantage of the high-speed continuous shooting performance and the portability of the lens, take it anywhere and enjoy the real pleasure of capturing decisive moments in various scenes.
In addition, although it was made as a flagship still camera, recently still photographers also started using video to capture some of their subjects. It also has high video performance such as 4K120P, 4:2:2 10bit C4K/4K60P, 4:2:0 10bit 5.7K30P etc. The camera has very high performance as a video camera. It is also designed to allow photographers and videographers to expand their expression. One of the points that I am most proud of is the refined high-speed continuous shooting performance as a still image flagship model.
Regarding continuous shooting, the camera supports AFC continuous shooting at 60 frames per second expands the number of continuous shots by expanding the buffer memory and allows up to 1.5 seconds of pre-continuous shooting. We are also particular about the feeling of holding the grip when a telephoto lens is attached. Furthermore, I am very proud of the image creation and expressiveness created by the cutting-edge image processing engine and new image sensor. The new sensor also allows for a very wide dynamic range, which is something we are very proud of. Also, like the S5II/S5IIX, it has a Real-Time LUT function, so you can capture the decisive moment with your favorite expression. The AF performance and camera shake correction have also evolved significantly, and I would like to boast that the ease of use has been greatly improved.
The first point is the challenge of improving image quality: The image processing engine uses the same state-of-the-art device as the S5 II but based on the performance that has been refined with full-size mirrorless cameras it has been optimized for MFT to further improve performance. In addition to that, the image sensor has been further evolved from GH6 to support all ISO sensitivities with a D-range boost and as an MFT model, it is also the first one in our company featuring PDAF. The second point is the challenge of improving operability: The AI design has been significantly revised and the recognition AF has also greatly evolved. The recognizable subjects have been newly expanded to include people and animals, as well as cars and motorcycles. In addition, by advancing technology so that even very small subjects can be recognized, the recognition rate of people has improved significantly, and the recognition accuracy of animals' eyes has improved. We also took on the challenge of significantly improving the performance of image stabilization: A high-precision gyro sensor has been newly introduced this time and LUMIX's highest level BIS with 8 steps has been realized.
In addition, Dual IS achieves 7.5 stops, making it possible to reliably suppress image stabilization even in the telephoto range. I believe that handheld shooting will be possible even with the maximum 1600mm with a teleconverter attached to the 100-400mm that will be introduced this time. Furthermore, by evolving Active IS, the video has also evolved significantly, making it possible to shoot videos without camera shake even without a gimbal when shooting while walking. Third point, as a challenge to deepen our collaboration with Leica: we have also taken on the challenge of creating Leica monochrome images achieving performance that meets Leica's stringent standards. As a video flagship, the GH6 demonstrates its capabilities in full-fledged professional video shooting sites that require built-in recording of high bitrate video by adopting CF-Express cards and high durability and unlimited recording.
As a flagship camera for still photography, the G9II is designed mainly for creating works that take advantage of its high speed and mobility to ensure that photographers never miss a decisive moment. I hope that it will be used as a camera that can contribute to enlarging the creator's works by its hybrid character towards video shooting. Therefore, the features are very different, and we would like you to choose between the two cameras depending on the shooting situation. As I mentioned earlier, the basic strategy of our imaging business is to meet the needs. of a wide range of customers with two mounts, full-frame and MFT.
A full-frame camera has the characteristics of a camera that allows you to enjoy the ultimate in photographic and video expression, including its optical performance. As for MFT, we want to make the most of the portability including the lens, to offer the freedom to enjoy shooting in any scene, and the joy of hand-held super-telephoto shooting that can only be done with MFT. In the case of shooting scenes where you need to carry a lens or use a super-telephoto lens, I believe that Micro Four Thirds has features that can only be achieved with Micro Four Thirds. We believe that customers who normally use a full-frame camera also want to enjoy shooting that they cannot experience with a full-frame camera, which is why they will use the MFT camera in combination. In the future, we would like to further pursue and provide products that take advantage of the characteristics of both full-size and MFT. In order to improve the UX of solo creators, it is very important to enhance the system that can be used in various scenes.
To that end, we are working with various manufacturers to improve usability: In collaboration with DJI, by improving compatibility between DJI gimbals and LUMIX cameras, in addition to LUMIX AF, DJI's LiDAR AF using infrared rays can now be used with simple equipment settings. Creators can enjoy the benefits of being able to select the optimum AF according to the shooting scene. In addition, cinema lenses can be used for AF in combination with DJI's Ronin Focus Motor. And by combining them, we can also provide customers with more professional usage, such as automatic tracking of subjects. Thank you for your anticipation of our high-end model. For the future, we will continue to actively invest in development in order to continue to provide attractive products that further stimulate the creativity of creators.
We will continue to consider the full-size high-end model while keeping an eye on demand trends.
2023-09-19 13:15
Show Video
Other news