NOW Tonight with Joshua Johnson - April 22 | NBC News NOW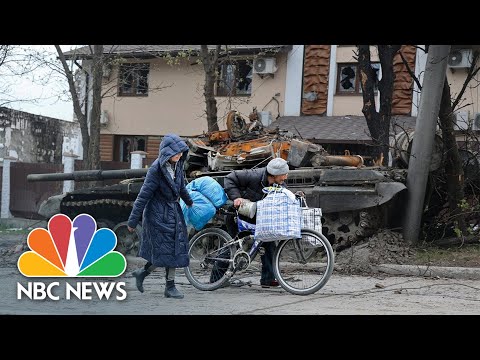 Show Video
>>> I AM JOSHUA JOHNSON AND IT IS GREAT TO BE WITH YOU ON THIS FRIDAY, APRIL 22nd AND WHAT WE HAVEN'T SEEN AND HEARING TODAY HAS GOT US TALKING TONIGHT. WE ARE SEEING NEW SATELLITE IMAGES IN A PART OF UKRAINE THAT RUSSIA IS FIGHTING TO CONTROL. THOSE PICTURES APPEAR TO BE A MASS GRAVE. >>> A UKRAINIAN JOURNALIST TELLS US WHERE SHE THINKS THE WAR IS HEADED. >>> AND NEW AUDIO FILES OF KEVIN McCARTHY, THEY CONTRADICT WHAT THE REPUBLICAN LEADER HAS SAID ABOUT FORMER PRESIDENT DONALD TRUMP AT JANUARY 6th. WHAT WILL THAT MEAN FOR HIS POLITICAL FUTURE? >>> IT IS EARTH DAY, WE WILL SHOW YOU A NEW TECHNOLOGY THAT CONVERTS CARBON EMISSION USING CONCRETE.
>>> WE ARE GETTING MORE STORIES OF POSSIBLE WAR CRIMES AGAINST CIVILIANS IN UKRAINE. NOT JUST STORIES BUT SATELLITE IMAGES. CHECK OUT THESE RECENT PICTURES.
THEY APPEAR TO SHOW MASS GRAVES, ABOUT 12 MILES FROM MARIUPOL . WE CANNOT VERIFY THEM FROM THE GROUND BUT UKRAINIAN OFFICIALS SAY THEY COULD HOLD AS MANY AS 9000 BODIES. THE MAYOR OF MARIUPOL COMPARED IT TO A HISTORIC RAVINE IN KYIV WHERE NAZIS KILLED JEWS.
THE DEATH TOLL IN MARIUPOL CAN RIVAL THE LOCATION . THE RUSSIAN MILITARY SAYS IT WANTS CONTROL OF UKRAINE, THE ENTIRE SOUTHERN COAST, MARIUPOL IS ONE OF ITS MAIN PORT CITIES . MANY ANALYSTS ARE SKEPTICAL OF THIS CLAIM BECAUSE IT CAME FROM A LITTLE-KNOWN RUSSIAN GENERAL AND BIG POLICY CHANGES LIKE THAT TYPICALLY COME FROM HIGHER UP THE CHAIN OF COMMAND. UKRAINIAN OFFICIALS SAY THAT RUSSIA HAS TAKEN CONTROL OF SOME SMALL VILLAGES IN RECENT DAYS BUT UKRAINIAN AND WESTERN OFFICIALS SAY THAT RUSSIA HAS YET TO MAKE SIGNIFICANT GAINS IN THIS NEW PHASE OF THE WAR. >>> AND RUSSIAN MEDIA SAYS PRESIDENT VLADIMIR PUTIN WILL MEET WITH THE UNITED NATIONS SECRETARY-GENERAL AT HIS OFFICE SAYS THAT HE WILL INDEED TRAVEL TO MOSCOW EARLY NEXT WEEK.
LET'S BEGIN IN UKRAINE. WHAT DO WE KNOW ABOUT THESE REPORTED MASS GRAVES IN MARIUPOL ? >> Reporter: THAT IS RIGHT, THE SUNLIGHT HAVE SHOWN MASS GRAVES ABOUT 12 MILES WEST OF MARIUPOL. THOSE GRAVES HAVE BEEN EXPANDING OVER THE PAST SEVERAL WEEKS, TO SHOW THE SCALE OF HOW MANY PEOPLE THEY ARE PUTTING IN.
THEY ARE ADJACENT TO AN EXISTING CEMETERY AND THE MAYOR OF MARIUPOL SAYS THE RUSSIANS HAVE BEEN DUMPING BODIES OVER THE LAST SEVERAL WEEKS. HE SAYS THAT AS MANY AS 9000 CIVILIANS HAVE BEEN PUT IN THE GRAVES. THE UKRAINIAN AUTHORITIES AND THE MAYOR OF MARIUPOL HAS BEEN SAYING THAT UP TO 20,000 PEOPLE MAY HAVE DIED IN MARIUPOL . THE SCALE OF ATROCITY WILL BE GREATER THAN ANYTHING WE HAVE SEEN IN UKRAINE.
IT WILL BE MUCH BIGGER THAN THE ATROCITIES WE SAW IN BUCHA. THE UKRAINIANS ARE MAKING COMPARISONS TO THE UKRAINIAN JEWS WHO WERE MURDERED BY THE NAZIS IN 1941. WHAT WILL COME OUT OF MARIUPOL WILL BE HORRIFYING BUT NOBODY HAS HAD ANY ACCESS TO MARIUPOL . THE RUSSIANS HAVE HEMMED IT OFF. IF IT DOES OPEN UP, IT WILL BE HORRIFYING. >> WHAT ABOUT THE RUSSIAN REPORT AND STRATEGY IN THE EAST AND SOUTH OF UKRAINE? DO WE KNOW WHETHER THE GAINS THEY HAVE BEEN MAKING IN THE AREA WOULD LEND CREDENCE TO THE POSSIBILITY OF THEM CREATING THAT KIND OF EAST TO SOUTH LAND BRIDGE? >> Reporter: THAT SEEMS TO BE THE OBJECTIVE. THEY HAVE MADE NO QUALMS ABOUT SAYING THEY WANT THE DONBAS AREA, AND OTHERS, THEY WANT TO CONNECTED TO CRIMEA TO CREATE A LAND BRIDGE BETWEEN DONBAS AND CRIMEA AND CONNECTED TO THE RUSSIAN MAINLAND.
THE DEFENSE MINISTRY IN RUSSIA LAID OUT ITS PLAN FOR THE SECOND PHASE OF THE WAR, THAT IS TAKING DONBAS AND CREATING THE LAND BRIDGE, DESTROYING ANY CONNECTIONS UKRAINE HAS TO THEIR OWN PORTS ON THE BLACK SEA, AND THEN TAKING CONTROL OF THE SOUTHERN PART OF UKRAINE, AND CREATING ANOTHER CORRIDOR TO MULLED OVER. IF THEY MANAGE TO GET THERE, THEY WILL HAVE A VULNERABLE PLACE WITHOUT A FUNCTIONING ARMY, IT HAS RUSSIAN SEPARATISTS, IT HAS BEEN CALLED A MINI-DONBAS. IT WILL NOT BE HARD FOR THEM TO TAKE IT IF THEY GET THERE. THEY HAVE TO BREAKTHROUGH ODESA FIRST WHICH IS HEAVILY FORTIFIED. BUT THE RUSSIANS HAVE NO FEAR OF DESTROYING AN ENTIRE CITY TO GAIN MOMENTUM AND REACH THEIR OBJECTIVE.
THAT WILL BE AN AREA WHERE THEY WILL TRY TO HURT THE UKRAINIANS IN THE COMING DAYS AND WEEKS. >> THE UK SAYS IT IS CONSIDERING SENDING TANKS TO POLAND. PRESIDENT VOLODOMYR ZELENSKYY THANKED THE UK IN HIS NIGHTLY ADDRESS. I CAN BE THE TRANSLATION. HE SAID, AND I'M QUOTING FOR OUR INTERPRETATION, "I AM GRATEFUL TO OUR BRITISH FRIENDS FOR THEIR IMPORTANT SYMBOLIC DECISION THAT WAS ANNOUNCED TODAY, THE RETURN OF THE EMBASSY TO KYIV, THE UNITED KINGDOM BECAME THE 21st COUNTRY THAT IS RETURNING THE DIPLOMATIC REPRESENTATIVES TO OUR CAPITOL AND SIGNALS THAT NOT ONLY WE ALONE BELIEVE IN THE VICTORY OF LIFE OVER DEATH." RETURNING THE EMBASSY TO KYIV WOULD BE A BIG STEP IN THIS WAR.
I KNOW THE SECRETARY OF STATE, THE U.S. SECRETARY OF STATE, ANTONY BLINKEN, DID NOT ANSWER QUESTIONS TO WHETHER THE U.S. WOULD MOVE THE AMERICAN EMBASSY TO KYIV . WHAT DOES THAT
REPRESENT IN TERMS OF THIS WAR, SYMBOLIC OR IS IT BIGGER? >> Reporter: IT IS BIGGER THAN SYMBOLISM AND SHOWS A SOLIDARITY WITH THE UKRAINIAN PEOPLE, SHOWS THEY ARE NOT AFRAID TO BE IN KYIV EVEN IF THE RUSSIAN FOCUS GOES BACK TO KYIV . THE BRITISH HAVE OPENED UP THEIR EMBASSY AND THE UKRAINIANS WERE GRATEFUL FOR THAT. THERE IS A DEBATE IN THE UNITED STATES AS TO WHETHER THEY SHOULD AND WHETHER IT IS SAFE. BUT THE UKRAINIANS WANT THAT. ANOTHER THING I HAVE TO MENTION IS THE UKRAINIANS ARE VERY GRATEFUL FOR ALL THE HELP THEY HAVE FROM THE UNITED STATES.
THEY WOULD LIKE A VISIT FROM A HIGH LEVEL U.S. SIGNATURE. WE HAVE SEEN BORIS JOHNSON, HIGH-LEVEL EUROPEANS COME HERE, THEY WOULD REALLY LIKE AN AMERICAN TO COME HERE AND SHOW SUPPORT FOR UKRAINE BECAUSE THAT WOULD SEND A VERY STRONG MESSAGE TO RUSSIA THAT NOT ONLY WOULD THE UNITED STATES BE WILLING TO REOPEN ITS EMBASSY IN KYIV BUT WAS SENT TO THE SECRETARY OF STATE OR THE DEFENSE SECRETARY TO UKRAINE AS A SHOW OF FORCE AND SOLIDARITY WITH THIS COUNTRY. >> THANK YOU, SAFE TRAVEL, ALI. >>> LAST WEEK, YOU MAY REMEMBER WE WERE PUTTING YOUR QUESTIONS TO HIM ABOUT WHAT HAS BEEN LIKE COVERING THE WAR. CONSIDER WHAT WOULD BE LIKE TO COVER IT AS A UKRAINIAN. THE WORK OF UKRAINIAN JOURNALISTS IS HARD ENOUGH DURING THIS INVASION, BUT THE CHALLENGES THEY FACE ARE BIGGER THAN THE PERSONAL SAFETY.
IT IS HARD TO SHARE THE TRUTH WHEN SO MANY PEOPLE ARE PUSHING LIVES. JOINING US IS VERONICA, EXECUTIVE EDITOR OF THE NEW VOICE OF UKRAINE, AND ENGLISH- LANGUAGE NEW SITE BASED IN KYIV WHO ALSO FREELANCES FOR NBC NEWS. WELCOME TO THE PROGRAM. GOOD TO HAVE YOU WITH US >> THANK YOU FOR HAVING ME. >> CAN YOU GIVE US THE GENERAL PICTURE OF HOW YOU AND YOUR STAFF ARE DOING UNDER ALL THESE CIRCUMSTANCES? HOW ARE YOU HOLDING UP? >> WE ARE DOING FINE.
WE ARE CONSTANTLY WORKING AND TRYING TO KEEP UP DESPITE NUMEROUS HACKING ATTACKS ON OUR WEBSITE. ALSO, WE HAVE NOT HAD ANY DAYS OFF IN TWO MONTHS. BUT, THE WHOLE COUNTRY IS LIVING LIKE THAT RIGHT NOW.
THIS IS HOW WE ARE DOING. >> TALK ABOUT THE HACKS ON YOUR WEBSITE, WHAT HAS BEEN GOING ON WITH THAT? >> WE RECENTLY GOT THE MESSAGE FROM ONE OF OUR READERS WHO SAID THAT, IN THIS SPECIAL FORM OF RUSSIAN CYBER ARMS, THEY ARE DISCUSSING OUR WEBSITE WOULD BE THE NEXT TARGET. THEY ARE CONSTANTLY TRYING TO HACK OUR WEBSITE BUT FOR NOW WE ARE SAFE BECAUSE OF OUR GOOD I.T. GUYS.
HOWEVER, THIS MAKES THE WORK EVEN HARDER. >> HOW HAS THAT BEEN AFFECTING NEWS SITES IN UKRAINE? I WOULD IMAGINE QUITE A BIT, TAKING WEBSITES DOWN FOR CHANGING CONTENT TO MAKE IT LOOK LIKE THE NEWS IS NOT WHAT IT IS. IS THAT SOMETHING THAT HAS BEEN HAPPENING A LOT LATELY? >> YES, IT HAS BEEN HAPPENING A LOT. JUST TODAY THERE WAS NEWS THAT ONE OF THE TOP TV CHANNELS IN UKRAINE WAS HACKED AND THE HACKERS PUT UP TO LIVE ON UKRAINIAN TV SAYING OUR PRESIDENT WAS MURDERED AND WE HAVE TO RELATE DOWN OUR WEAPONS AND SURRENDER. THIS IS HOW OUR LIFE HAS CHANGED.
>> THAT IS PRETTY WILD THAT THEY CAN HACK INTO THE TELEVISION STATION AND PUT LIES ON TELEVISION. HOW ARE PEOPLE RESPONDING? I OPE PEOPLE ARE USING COMMON SENSE AND QUESTIONING WHEN THEY SEE THINGS LIKE THAT. >> OF COURSE THE MESSAGES LIKE THAT ARE MOSTLY AIMED TO SCARE PEOPLE. I DO NOT THINK THAT ANYONE WOULD BELIEVE SUCH INFORMATION FROM THE UKRAINIAN TV CHANNEL, ESPECIALLY WHEN THEY SIGN OFF THE MESSAGE, "GLORY TO RUSSIA." IT WAS JUST DONE TO ANNOY PEOPLE, SCARE PEOPLE, AND INTIMIDATE PEOPLE. OUR PEOPLE, THEY KNOW WHERE TO FIND INFORMATION ABOUT OUR PRESIDENT.
HE IS CONSTANTLY MAKING VIDEOS, EVERY DAY, MAYBE EVEN SEVERAL TIMES A DAY. HE IS PROTECTED WELL. THIS MESSAGE WAS JUST A PRANK. >> IN LIGHT OF PRANKS LIKE THIS AND ALL THE HACKS THAT NEWS WEBSITES ARE FACING, WHAT DOES THAT MEAN FOR YOU TO BE A UKRAINIAN JOURNALIST IN THE MIDDLE OF THIS WAR? WHAT DOES THIS WORK MEAN TO YOU THESE DAYS? >> THIS MEANS A LOT. BECAUSE I THINK THAT INFORMATION MATTERS. THE FACT THAT WE ARE ABLE TO TELL THE WORLD ABOUT OUR COUNTRY IN ENGLISH SO THAT MANY PEOPLE CAN UNDERSTAND, AND THAT WE ARE ABLE TO FIGHT RUSSIAN PROPAGANDA IN A WAY THAT HAS LOTS OF MILLIONS OF DOLLARS.
RUSSIA, TODAY, THE GOVERNMENT FINANCED RUSSIAN TV CHANNEL WHICH HAS A BUDGET WE CAN ONLY DREAM ABOUT. THESE PEOPLE ARE MESSING WITH PEOPLE'S MINDS, NOT ONLY ABOUT UKRAINE BUT THEIR OWN COUNTRIES, AND ALL WE CAN DO IS FIGHT WITH THEM PRESENTING FACTS. SOMETIMES FACTS ARE BORING, WHILE PROPAGANDA IS VERY SOPHISTICATED, SOMETIMES IT IS STUPID BUT REALLY AGGRESSIVE. THIS MAKES IT ENTERTAINING. PEOPLE FALL FOR IT BECAUSE IT IS ENTERTAINING AND THEN WE TRY TO DEBUNK IT.
IT IS ACTION AND REACTION. I THINK MANY UKRAINIAN JOURNALISTS STARTED SPEAKING IN ENGLISH AND THAT HELPED TELL THE WORLD MORE ABOUT UKRAINE. I SEE DIFFERENT REACTIONS FROM THE WORLD THAN WHEN THEY ATTACKED CRIMEA. PEOPLE DID NOT KNOW. >> I HEAR YOU ON THAT.
THE WORLD CERTAINLY KNOWS NOW WHAT IS GOING ON IN UKRAINE. LET ME ASK YOU ABOUT SOMETHING YOU WROTE YESTERDAY ABOUT THE U.S. SENDING MORE MILITARY AID TO UKRAINE.
YOU MENTIONED THAT THE JAVELINS AND THE NEXT GENERATION ANTITANK WEAPONS, SIMILAR TO THE JAVELINS, HAVE HELPED A GREAT DEAL BUT YOU DID NOT UNDERSTAND BEFORE WHY THEY WERE NECESSARY AND THE GOVERNMENT HAD BEEN SAYING THERE WILL BE NO FULL-SCALE INVASION, THEN YOU WROTE ONLY THE U.S. KEPT SAYING THE TRUTH, ANTITANK SYSTEMS MADE US STRONG. WHAT IS YOUR SENSE IN TERMS OF THE AID UKRAINE IS GETTING OF HOW EFFECTIVE IT HAS BEEN AND PERHAPS HOW MUCH MORE IS NEEDED? IT IS A HOT DEBATE IN TERMS OF HOW INVOLVED THE U.S. SHOULD BE
BEYOND GIVING AID. THE PRESIDENT SAID THE U.S. IS NOT PUTTING TROOPS ON THE GROUND IN UKRAINE AT ALL. IN TERMS OF WHAT THE U.S. IS DOING, HOW MUCH IS IT HELPING? >> THE U.S. IS HELPING A LOT. AS WELL AS THE UNITED KINGDOM.
STILL, JAVELINS HELPED US A LOT BECAUSE RUSSIA HAS MANY TANKS. RUSSIA IS OUTNUMBERING US AT ALL FRONTS. HUMAN POWER, TANKS, MILITARY MACHINES, THIS HELPS US STAND AGAINST RUSSIA. NOW THAT THERE IS A NEXT STAGE OF THE WAR WE NEED HEAVY WEAPONS BECAUSE WE NEED TO NOT PROTECT OUR LANDS ANYMORE, BUT TAKE THEM BACK, FOR EXAMPLE, MARIUPOL , WHICH WAS MOSTLY SEIZED BY RUSSELL RUSSIA. PEOPLE ARE STILL SHELTERING UNDERGROUND IN A STEEL FACTORY.
INCLUDING CIVILIANS AND UKRAINIAN SOLDIERS. ONLY HEAVY WEAPONS CAN ALLOW US TO START LIBERATING OUR TERRITORY SEIZED BY RUSSIA IN THE PRESENT DAY. THIS IS, AS RUSSIA SAID, THE GOAL IS NOT ONLY TO OCCUPY DONBAS BUT TO CREATE A LONG CORRIDOR FROM RUSSIA, THROUGH UKRAINE, SOUTH.
THIS MEANS THAT MOLDOVA MAYBE THE NEXT TARGET. IF YOU DO NOT GIVE ENOUGH HEAVY WEAPONS TO UKRAINE, THEY WILL GO FARTHER INTO EUROPE. >> EXECUTIVE EDITOR OF THE NEW VOICE OF UKRAINE, I APPRECIATE YOU MAKING TIME FOR US. THANK YOU VERY MUCH.
>>> WE WILL HAVE MORE ON UKRAINE IN A MOMENT, INCLUDING A REPORT ON THE NEXT STAGE OF THE WAR. LATER, WHEN THE WEATHER AND WESTERN WILDFIRES, WE WILL HAVE THE LATEST FROM ARIZONA. WE ARE GLAD YOU AR PRETTY BAD. >>> HUMANITARIAN AID WORKERS ARE WORKING ON A ROUTE OUT OF EASTERN UKRAINE, GOING TO RECEIVE THOUSANDS OF REFUGEES FROM CITIES LIKE MARIUPOL . SOME SURVIVORS SPOKE TO OUR PARTNERS AT SKY NEWS. MARK STONE HAS THEIR STORY.
>> Reporter: UNDER SKIES THAT PRESENT A CONSTANT THREAT, THE RAY CARPARK WHERE THEY HAVE BEEN EXPECTED FOR DAYS, THREE BUSES FROM MARIUPOL . TO THE LAST CHECKPOINT INTO THE SAFETY OF SORTS. 79 OF THE MOST VULNERABLE. WE HAVE BEEN INSIDE THE BESIEGED CITY FOR EIGHT WEEKS.
AMONG THEM, THIS COUPLE. IN NO STATE TO TALK. WITNESSES TO ALL HOLD THAT BRINGS AN OLD MAN TO THIS.
FATHER AND SON ARE NEARBY. >> THE SITUATION IS VERY BAD. DESTROY IS EVERYWHERE. >> Reporter: AS PRESIDENT VLADIMIR PUTIN DECLARED THE CITY IN RUSSIAN CONTROL , A HINT OF WHAT THAT LOOKS LIKE, IMAGERY FROM JUST OUTSIDE MARIUPOL, MARCH 19th , MARCH 26th, AND APRIL 3rd. 200 GRAVES AT A SITE WHICH CONTINUES TO EXPAND. INSIDE THE TENT THEY ARE FED.
THEY HAVE LIVED IN BUNKERS FOR WEEKS AND HAVE WITH THEM ALL THAT IS LEFT. HOW MANY CIVILIANS ARE STILL IN MARIUPOL? >> 50,000 PEOPLE , MOSTLY CIVILIANS. >> Reporter: HE THOUGHT HE WAS READY TO TALK AFTER BEING FED. TELL ME HOW THE SITUATION IS IN MARIUPOL AT THE MOMENT ? >> I CANNOT. IT IS HORRIBLE >> Reporter: THE SIRENS ARE STILL GOING OFF.
>> Reporter: WHAT NOW FOR EVERYONE HERE, AND EVERYONE STILL THERE? MARK STONE, SKY NEWS. >>> COMING UP, AN UPDATE ON THE JANUARY 6 INVESTIGATION, INCLUDING DEVELOPMENTS WITH HOUSE MINORITY LEADER KEVIN McCARTHY AND MARJORIE THE NEWS S NOT ONLY A JOB, IT IS AN HONOR. >>> WHEN WILL WE LEARN WHAT THE JANUARY 6th COMMITTEE KNOWS ABOUT THE ATTACK AT THE U.S. CAPITOL? ACCORDING TO ONE COMMITTEE MEMBER, THIS SUMMER. JAMIE RASKIN SAID AS MUCH YESTERDAY. THE COMMITTEE WILL BEGIN PUBLIC HEARINGS IN JUNE.
ITS FINDINGS WOULD BLOW THE ROOF OFF THE HOUSE. MEANING THE UNITED STATES HOUSE. THAT MAY SHED MORE LIGHT ON A NEW YORK TIMES REPORT OUT TODAY WHICH INVOLVES COMMENTS FROM HOUSE MINORITY LEADER KEVIN McCARTHY REPORTEDLY MADE IN THE DAYS FOLLOWING THE INSURRECTION.
THESE VIOLETS ARE PART OF A NEW BOOK BY THE REPORTERS BEHIND THE SCOOP. IT HAS TO DO WITH RECORDINGS OF PHONE CALLS. IN THE TAPES, KEVIN McCARTHY TOLD LIZ CHENEY HE THOUGHT PRESIDENT TRUMP SHOULD CONSIDER RESIGNING FROM OFFICE.
IN A STATEMENT, THE CONGRESSMAN SAID, "THE NEW YORK TIMES REPORTED IS TOTALLY FALSE AND WRONG. IT COMES AS NO SURPRISE THAT THE CORPORATE MEDIA IS OBSESSED WITH DOING EVERYTHING IT CAN TO FURTHER A LIBERAL AGENDA." HERE IS ONE PART OF THE RECORDING AS HEARD LAST NIGHT ON MSNBC.
>> ARE YOU HEARING THAT HE MAY RESIGN? IS THERE ANY REASON TO THINK THAT MIGHT HAPPEN? >> I HAVE HAD A FEW DISCUSSIONS. MY GUT TELLS ME KNOW. I AM SERIOUSLY THINKING OF HAVING A CONVERSATION WITH HIM TONIGHT.
I AM GOING TO CALL HIM. THIS IS WHAT I THINK. IT WILL NOT PASS THE HOUSE. I THINK THERE IS A CHANCE IT WILL PASS THE SENATE.
I THINK THERE ARE A LOT OF DIFFERENT RAMIFICATIONS FOR THAT. THAT IS THE DISCUSSION I WILL HAVE WITH HIM, I THINK THIS WILL PASS, AND IT WOULD BE MY RECOMMENDATION TO REWRITE IT. THAT WOULD BE MY TAKE BUT I DON'T THINK YOU WOULD TAKE IT, BUT I DON'T KNOW THAT WE ARE AWAITING COMMENT FROM KEVIN McCARTHY AND MITCH McCONNELL. IN THE MEANTIME, LET'S GET INTO THE GENERAL SIX INVESTIGATION WITH A CONGRESSIONAL REPORTER FOR POLITICO. GOOD TO HAVE YOU WITH US.
>> THANK YOU FOR HAVING ME. >> JUST TO CLARIFY THAT CLIP FOR PEOPLE WHO ARE WATCHING, WHEN HE REFERS TO IT PASSING, WHAT IS HE REFERRING TO? A VOTE TO IMPEACH THE PRESIDENT, HE IS SAYING JUMP BEFORE YOU ARE PUSHED? >> THAT IS WHAT LEADER McCARTHY IS SAYING AS HOUSE DEMOCRATS WERE DRAWING UP ARTICLES OF IMPEACHMENT AGAINST DONALD TRUMP AFTER THE JANUARY 6 ATTACK ON THE CAPITOL. McCARTHY IS SAYING THE VOTES ARE NOT THERE AND FROM SHOULD JUST RESIGN. BEFORE POTENTIALLY BEING CONVICTED BY THE SENATE.
>> HOW DO THESE TAPES POTENTIALLY FIT INTO THE LARGER JANUARY 6 INVESTIGATION? >> THESE CONVERSATIONS ARE SOMETHING WE HAVE KNOWN ABOUT FOR SOME TIME BUT THE TAPES HAVE ADDITIONAL CONTEXT AND COLOR. THE JANUARY 6th COMMITTEE HAS ALLUDED TO THESE CONVERSATIONS IN THE PAST. IN THE LETTER INVITING KEVIN McCARTHY TO COME BEFORE THE COMMITTEE, THEY NOTE HOW HIS TONE ON DONALD TRUMP SUDDENLY CHANGED AFTER THIS, THERE HAD BEEN TALK AMONGST SENIOR HOUSE REPUBLICANS ABOUT REMOVING THE PRESIDENT FROM OFFICE AND THEY WANTED TO FIGURE OUT WHAT WAS GOING ON BETWEEN KEVIN McCARTHY AND DONALD TRUMP AND WEATHER IF DONALD TRUMP AND HIS ALLIES PULLED -- TOLD LEADER McCARTHY WHAT TO SAY, THEY WANT TO GET TO THE BOTTOM OF WHAT CHANGED. WHY WAS THERE AN ABOUT-FACE FROM SENIOR REPUBLICANS? >> LET'S PLAY ANOTHER CLIP OF THE AUDIO THAT WAS RELEASED THIS MORNING. HERE IS REPRESENTATIVE McCARTHY TALKING ABOUT THE FORMER PRESIDENT'S RESPONSIBILITIES ON JANUARY 6th.
>> LET ME BE VERY CLEAR TO ALL OF YOU. I HAVE BEEN VERY CLEAR TO THE PRESIDENT. HE BEARS RESPONSIBILITY FOR HIS WORDS AND ACTIONS.
I ASKED HIM PERSONALLY TODAY IF HE IS HOLDING HIMSELF RESPONSIBLE FOR WHAT HE DID, HE TOLD ME HE DOES HAVE SOME RESPONSIBILITY FOR WHAT HAPPENED. AND YOU NEED TO ACKNOWLEDGE THAT. >> HOW DOES THIS ALL PUT A NEW CONTEXT ON WHAT WE HAVE HEARD FROM LEADER McCARTHY? PARTICULARLY WITH WHAT HE SAID WHEN THE INSURRECTION HAPPENED? >> THIS LEVEL OF DETAIL IS RELATIVELY HARD TO FIND IN POLITICAL REPORTING. WE GET THESE CALLS READ OUT TO US ALL THE TIME BUT WHAT MAKES THIS ONE SPECIAL, ONLY A FEW SENIOR REPUBLICANS AND THEIR STAFF ON THIS CALL. IT WAS RECORDED.
IT REFUTES WHAT McCARTHY HAD SAID. HE SAID THAT THE NEW YORK TIMES REPORTED WAS FALSE. THIS RECORDING CLEARLY SHOWS THAT IS NOT THE CASE. THIS ALL BOILS DOWN TO A CREDIBILITY GAP ABOUT WHAT LEADER McCARTHY WAS SAYING DAYS AFTER THE ATTACK, AND WHAT HE TOLD HIS CAUCUS AFTERWARDS.
HE WENT FROM SAYING DONALD TRUMP BEAR SOME RESPONSIBILITY AND HE TOLD HIM THAT HE HAD RESPONSIBILITY TO REJECT THE COMMITTEES INVITATION. OTHERWISE, -- >> WHEN I SAW THE STORY THIS MORNING, IT FELT LIKE, POLITICIAN LIES TO PUBLIC, FILM AT 11:00. THAT IS NOT A SHOCK THAT YOU WOULD SAY ONE THING PUBLICLY AND ANOTHER THING PRIVATELY, THIS MAY NOT BE ANYTHING MORE THAN THAT EXCEPT KEVIN McCARTHY HAS OTHER POLITICAL ASPIRATIONS INCLUDING POTENTIALLY BEING THE HOUSE SPEAKER IF THE DEMOCRATS LOSE GROUND IN THE MIDTERM. >> YES, THIS KIND OF TALK HAS BEEN AN ISSUE AMONG HOUSE REPUBLICANS, PUBLICLY SAYING ONE THING AND PRIVATELY SAYING OTHERS ABOUT THE FORMER PRESIDENT.
KEVIN McCARTY WANTS TO BECOME SPEAKER. ASSUMING THE REPUBLICANS TAKE THE HOUSE THIS FALL. HE WILL NEED TO WIN ENOUGH SUPPORT FROM REPUBLICANS.
FOR THIS TO COME OUT NOW IN A WAY THAT COULD LOSE CREDIBILITY WITH TRUMP ALIGNED REPUBLICANS, THIS COULD BE A CHALLENGE FOR McCARTHY'S LEADERSHIP. >> LET ME ASK YOU ABOUT OTHER DETAILS ABOUT JANUARY 6, DONALD TRUMP JR. WILL MEET WITH THE COMMITTEE. THERE IS ALSO TALK THAT THE COMMITTEE WANTS TO CHANGE A LAW CALLED THE INSURRECTION ACT OF 1807. WHAT WOULD THAT INVOLVE, CHANGING A LAW 115 YEARS OLD? >> THE CHANGES TO THE LAW ARE PART AND PARCEL, THE QUIETER TRACK OF WHAT THE COMMITTEE IS, COMING UP WITH LEGISLATIVE RECOMMENDATIONS TO PREVENT THINGS LIKE JANUARY 6 FROM HAPPENING AGAIN, THE INSURRECTION ACT DECISION COMES IN THE CONTEXT OF CONCERNS DONALD TRUMP WOULD MOBILIZE FEDERAL TROOPS TO TRY AND INTERVENE WITH THE 2020 ELECTION AND REALLY GO AFTER THE DEBUNKED CLAIMS OF VOTER FRAUD.
THE COMMITTEE, AMONG OTHER LEGISLATIVE RECOMMENDATIONS, WILL TRY TO MAKE IT HARDER TO CHALLENGE ELECTION RESULTS. THE PROBLEM IS, IF REPUBLICANS WILL TAKE THE HOUSE, AND THE SENATE POTENTIALLY, THE PATHWAY FOR THIS LEGISLATION TO MAKE IT INTO LAW AND SIGNED BY THE PRESIDENT IS NARROW. >> AS SOON AS I SAID THAT, MIKE INNER EDITOR TOLD ME IT WAS 215 YEARS OLD. I APPRECIATE YOU PUTTING THIS IN CONTEXT.
>>> WE WILL GET TO SOME OF THE OTHER TOP STORIES IN A MOMENT, INCLUDING AN UPDATE ON FLORIDA STRIPPING DISNEY WORLD OF ITS SELF-GOVERNING STATUS. MORE ON THE WINDY WEATHER AND THE ARIZONA WILDFIRE. >>> AND A PREVIEW OF THE . >>> AN ACT OF POLITICAL RETRIBUTION AGAINST WALT DISNEY WORLD BECAME OFFICIAL AS THE FLORIDA GOVERNOR SIGNED A BILL THAT WILL REVOKE DISNEY'S UNIQUE SELF-GOVERNING STATUS. IT IS HOW WALT DISNEY NEGOTIATED THE RESORTS CONSTRUCTION 55 YEARS AGO, TREATING THE LAND KIND OF LIKE ITS OWN COUNTY.
THE GOVERNOR WAS CLEAR ABOUT WHAT CAUSED THIS CHANGE. THE DOES THE OPPOSITION TO A BILL THAT CRITICS SAY WILL HURT LGBTQ CHILDREN. >> WE HAD THE SITUATION WITH OUR PARENTS RIGHTS IN EDUCATION BILL, DISNEY GOT ON THE BANDWAGON FOR WHATEVER REASON AND DEMAGOGUE THE BILL, LIED ABOUT IT, CAME OUT AGAINST IT, WE SIGNED THE BILL AND INCREDIBLY THEY SAY, WE ARE GOING TO WORK TO REPEAL PARENTS RIGHTS IN FLORIDA. I AM THINKING TO MYSELF, YOU ARE A CORPORATION BASED IN BURBANK, CALIFORNIA, AND YOU WILL MARSHAL YOUR ECONOMIC MIGHT TO ATTACK THE PARENTS OF MY STATE? WE VIEW THAT AS A PROVOCATION AND WE WILL FIGHT BACK AGAINST THAT. >> THE LAW TARGETING DISNEY WILL NOT TAKE EFFECT FOR ABOUT ONE YEAR AND NOT CLEAR WHETHER THE COMPANY WILL SUE.
>>> THE GOVERNOR SIGNED A BILL BANNING CRITICAL RACE THEORY IN FLORIDA PUBLIC SCHOOLS. TO BE CLEAR, NBC NEWS HAS NO EVIDENCE THAT ANY PUBLIC SCHOOL ANYWHERE IN FLORIDA HAS EVER TAUGHT CRITICAL RACE THEORY. >>> ONE OF EUROPE'S MOST POWERFUL LEADERS IS UP FOR REELECTION THIS WEEKEND, THE FRENCH PRESIDENT, EMMANUEL MACRON, RUNNING AGAINST A FAR RIGHT CHALLENGER, MARINE LE PEN . THE OUTCOME COULD HAVE A BIG IMPACT ON THE WAR IN UKRAINE.
HERE IS OUR SENIOR INTERNATIONAL CORRESPONDENT. >> Reporter: THE FRENCH PRESIDENT, EMMANUEL MACRON, 24 HOURS AWAY FROM A CRITICAL ELECTION TEST. CAN HE HOLD OFF SURGING SUPPORT FOR THE FLAG-WAVING ARE RIGHT, MARINE LE PEN , WHO IS ZEROING IN ON PEOPLE'S ECONOMIC STRUGGLES? SHE IS A FAN OF PRESIDENT TRUMP AND PRESIDENT VLADIMIR PUTIN. AND SHE IS OPENLY HOSTILE TO NATO. HER SUPPORTERS -- HIS SUPPORTERS HAD ONE WORK FOR HER. BUT SHE IS BRANDED AND ESTABLISHMENT A LEASE THIS IN A HEATED TELEVISION DEBATE, STUDENTS LEFT DISILLUSIONED.
RAISE YOUR HAND IF YOU THOUGHT THAT EMMANUEL MACRON WON THE DEBATE ? MOST FRENCH AND HE DID WHEN THE DEBATE AND WILL WIN ON SUNDAY, BUT THE GAP IS CLOSING AND OUTSIDE PARIS WE FOUND OTHERS READY TO VOTE FOR ANYONE BUT EMMANUEL MACRON, AND RELUCTANT TO ADMIT IT. >> PARTS OF THE U.S. ARE DEALING WITH WILDFIRES THAT KEEP GETTING WORSE AS FIRES ARE BURNING ACROSS MORE THAN 30 MILES IN ARIZONA. FAN BY RELENTLESS WIND. THOUSANDS ARE EVACUATING THEIR HOME.
WE HAVE MORE ON THE EVACUATION AND RELIEF EFFORTS. >> Reporter: OVERMATCHED AND UNDERSTAFFED, TONIGHT, FIREFIGHTERS ACROSS THE WEST ARE ON THEIR HEELS, A SERIES OF DESTRUCTIVE AND FAST-MOVING INFERNOS DEVOURING HOMES. >> YOU COULD HEAR THE FIRE COMING IT WAS SO INTENSE. >> Reporter: THE MOST DANGEROUS FIRES TODAY ARE EQUIPPED BY THE WIND.
HERE IN ARIZONA, WHERE DOZENS OF STRUCTURES HAVE BEEN OBLITERATED, THEY ARE STRUGGLING TO GET AHEAD OF THE TUNNEL FIRE AND ARE MOPPING UP IN ITS APOCALYPTIC PATH. >> THE ENVIRONMENT IS NOT VERY FRIENDLY. IT WAS BLOWING 70 MILES PER HOUR. >>> POWERFUL AND PERHAPS CATASTROPHIC GUSTS ARE STILL IN THE FORECAST ACROSS ARIZONA, COLORADO, AND NEW MEXICO.
11 MILLION PEOPLE ARE UNDER RED FLAG WARNINGS. SOME FAMILIES DESPERATE TO SEE IF THEIR HOMES ARE STILL STANDING. >> WE COULD HAVE A HOME TO COME BACK TO OR NOT.
>> Reporter: MANY RETURNING TO RUBBLE. >> IT IS REALLY FRIGHTENING TO THINK THAT JUST LIKE THAT IT IS GONE. >> Reporter: AFTER A DEVASTATING START, THE FIRE SEASON THIS YEAR IS ALREADY APPROACHING 1 MILLION ACRES LOST, NEARLY DOUBLE THE LAND DURING THE SAME TIME LAST YEAR.
TONIGHT, ON THE EARTH DAY, A TROUBLING TREND, AN OMINOUS FORECAST ON THE HORIZON. IN THESE WINDY AND COLD CONDITIONS, THE FIRE IN FLAGSTAFF IS FINALLY MOVING AWAY FROM HOMES BUT CRUISE SAY THAT COULD CHANGE ON A DIME. BACK TO YOU. >> WILDFIRES ARE ON THE AGENDA OF PRESIDENT BIDEN WHO SIGNED AN EXECUTIVE ORDER TO HELP SAVE AMERICA'S FOREST. >> I THINK WE ARE AT ONE OF THOSE MOMENTS IN WORLD HISTORY AND IN AMERICAN HISTORY WHERE WE HAVE REACHED THE POINT THAT THE CRISIS ON THE ENVIRONMENT HAS BECOME SO OBVIOUS, WITH THE EXCEPTION OF THE FORMER PRESIDENT, THAT WE REALLY HAVE AN OPPORTUNITY TO DO THINGS WE COULD NOT HAVE DONE TWO, FIVE, 10 YEARS AGO.
>> THE EXECUTIVE ORDER FOCUSES ON FIGHTING DEFORESTATION AND BOOSTING WILDFIRE RESILIENCE. WE HAVE MORE ON THAT. >> Reporter: ONE OF THE REAL FRUSTRATIONS WHEN YOU SPEAK WITH WHITE HOUSE OFFICIALS ABOUT THE DIFFICULT POLITICAL ENVIRONMENT FACING DEMOCRATS IN THE MIDTERM ELECTION, THAT THEY THINK DEMOCRATS HAVE A STRONG CASE TO MAKE TO BOATERS AS WHITE HOUSE CHIEF OF STAFF PUT IT TO CHUCK TODD, WHETHER THE $1.9 TRILLION AMERICAN RESCUE PLAN FOR THE COVID RELIEF LAW, OR THE ONE FOR ANOTHER BELIEF LAW, THERE IS A LOT IN THERE THAT BOATERS SHOULD BE HAPPY WITH AND REWARD DEMOCRATS. INSTEAD, THE CONVERSATION HAS BEEN ABOUT WHAT THE DEMOCRATS HAVE FAILED TO DELIVER ON, CLIMATE, HEALTHCARE, BUILD BACK BETTER, THAT IS WHY THE PRESIDENT INTO SEATTLE, AT AN EARTH DAY EVENT TALKING ABOUT WHAT HAS BEEN IN THE INFRASTRUCTURE LAW THAT HAS HELPED ME DECLINE THE GOALS PRESIDENT BIDEN HAS DELIVERED ON, TALKING ABOUT LOWERING THE COST OF PRESCRIPTION DRUGS LATER AT A COMMUNITY COLLEGE. THE PRESIDENT WAS FRANK ABOUT WHY DEMOCRATS HAVE FALLEN SHORT SO FAR, HE TALKED ABOUT THE FACT THAT THERE IS, AS HE PUT IT, ONE DEMOCRAT BUT 50 REPUBLICANS WHO HAVE STOOD IN THE WAY OF THINGS LIKE EXPANDING THE CHILD TAX CREDIT.
THE PRESIDENT TRYING TO FOCUS LESS ON THE DIVISIONS WITHIN THE DEMOCRATIC PARTY AND TURN UP THE HEAT ON REPUBLICANS. HE ACTUALLY SEIZED ON THE NEW AUDIOTAPES FROM THE REPUBLICAN HOUSE LEADER, KEVIN McCARTHY, TALKING ABOUT PRESIDENT TRUMP SAYING THIS IS YOUR FATHER'S REPUBLICAN PARTY, THIS IS THE MAGA PARTY AND SAYING THE FORMER PRESIDENT HAS A CONTROL OVER THE REPUBLICAN PARTY. THINGS ARE MOVING CLOSER TO THE MIDTERMS, THE FOCUS IS FOCUSING AWAY FROM DEMOCRATIC DIVISION AND SPOTLIGHTING REPUBLICANS. THIS IS IMPORTANT, BECAUSE, AS THE PRESIDENT HAS PUT IT, DON'T JUDGE ME AGAINST ALMIGHTY BUT JUDGE ME AGAINST THE ALTERNATIVE. THE WHITE HOUSE TRY TO DRAW A CONTRAST WITH REPUBLICANS.
THE PRESIDENT ACKNOWLEDGING TO DEMOCRATIC DONORS, THEY ARE STYMIED BY THE FACT THAT THEY HAVE THE SITUATION IN YOUR RAIN WHICH IS DRIVING UP INFLATION, THE COST OF GAS, AND COVID WHICH IS WEIGHING ON THE MINDS OF VOTERS. THIS IS THE MOST EXTENSIVE TRAVEL WE HAVE SEEN FROM THE PRESIDENT IN ONE CALENDAR WEEK, HE IS TRYING TO MAKE A CASE WITH VOTERS WHILE LAYING THE GROUNDWORK FOR ADVANCING SOME LEGISLATION IN THE REMAINING BACK AND WORKS OF THE CONGRESSIONAL SESSION WITH CONGRESS BACK IN TOWN NEXT WEEK BEFORE THE AUGUST RECESS TO GET IT DONE. AS THE PRESIDENT SAID, ONE DEMOCRAT OR TWO STANDING IN THE WAY AND THAT IS WHY THE PRESIDENT IS TRYING TO BUILD THE OUTSIDE PRESSURE.
>>> SCIENTISTS AROUND THE WORLD ARE LOOKING FOR CLIMATE SOLUTIONS. ONE COMPANY WANTS TO HELP THE PLANET USING CONCRETE. OUR SPECIAL SERIES, THE
2022-04-25 08:03
Show Video
Other news