Intel Factory Grand Opening in Oregon (Event Replay)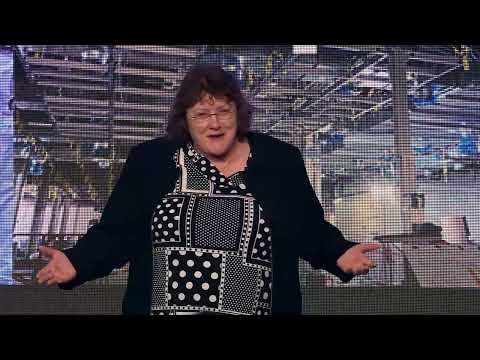 Show Video
(uplifting music) For the last 47 years, Intel has been investing and innovating in Oregon. Our presence in Oregon is our largest in the world. Intel's purpose is doing breakthrough innovations that improve the lives of every human on the planet. Intel's success depends on the health of our local communities.
For generations, we have invested in and innovated with our technology and in our community. We don't just work in Oregon. We live here too. We're raising families here, volunteering in classrooms, and serving in community leadership positions. We are proud to call more than 22,000 Oregonians part of our Intel family. Our employees make up some of the brightest minds in the world.
We also care deeply about Oregon's environment. We work continuously to minimize our footprint through sustainable water management, community-based water restoration projects, recycling and reuse of materials, and renewable energy development. These efforts are a fundamental part of our operations and a part of our promise to be a responsible member of the community. Over 25 years, Ronler Acres has been front and center in Intel's relentless pursuit of Moore's law. Here, we have a rich history of semiconductor innovations.
The engineers and technicians on this campus have continually faced and overcome the challenges posed by physics as the features of a chip have shrunk to the size of individual atoms. As we begin our next 25 years, we are as confident as ever in our ability to innovate. Moore's law only stops when innovation stops. What we have achieved for Intel and enabled in our community makes us proud and we look forward to continuing to invent the future. (uplifting music) (bright music) (audience applauds) Good morning, everyone, and welcome to this special event where we're gonna reflect on our history and celebrate the future of innovation. I'm Krista Vasquez and I'm with Intel's Global Communications Group, and it is a great pleasure to have you all here with us today.
Intel has operations all over the world, but right here in Oregon, this is our largest site. Intel broke ground nearly 50 years ago here in the state of Oregon, and 25 years ago here at Ronler Acres. Today, Intel Oregon has more than 22,000 employees working across four sites in the area. And as you'll hear today, our growth continues here at Ronler Acres, our leading edge technology development factory. Over the past 25 years, employees here at Ronler Acres have been advancing Moore's law, overcoming challenges, and creating mind blowing inventions.
Now to kick things off, I would like to introduce to you one of the most important women in semiconductors. She is based right here at Ronler Acres and oversees technology development. Please welcome Dr. Anne Kelleher. (audience applauds) (upbeat music) Good morning, everyone, and thank you for joining us on this snowy morning. Originally, when we set the schedule, we thought we'd get some sunshine, but it wasn't meant to be.
So welcome to our esteemed elected officials, to our neighbors, to special guests, to my boss, Pat Gelsinger, to many of our board members, and to employees who are with us in person or joining us online. Thank you for being with us to celebrate this moment. We're here to celebrate the opening of Mod3, which is an extension of our D1X Factory. And with bringing Mod3 online, we are adding to about 270,000 square foot of clean room to the existing clean rooms that we have here on site. So that represents to date, and I say to date, in excess of $3 billion of investment. So here on site- (audience applauds) And note I say to date.
Every year I come with a build to path, so we continue year on year, we continue our investments here in site, leading in terms of our world leading R&D investments. So within here, on site, we have about 10,000 employees working on research and development and manufacturing. That spans the skills of manufacturing technician to process engineer, to research scientists, as well as a myriad of other skills among our employees. So it takes a village to do this work.
And so this 10,000 employees are working in the buildings that are right next to us here. 25 years ago, or actually 26 this year. Last year, we celebrated our 25th anniversary for this site, but unfortunately due to COVID, we couldn't have a celebration on site.
So this is in part our celebration for last year, as well as our official opening of Mod3. So when the site opened 25 years ago, the clean room space was 35,000 square foot of clean room. That was our first fab. And in that fab, we were processing dimensions of approximately 350 nanometer. Today, we have about 1.6 million square foot
of clean room here on site and we're processing down at the few nanometers in the technology. If you look at it, the pure math, our clean room square footage has increased by about 50x and our dimensions have decreased by about 50s, so the pressure is on for the next 25 years. (audience laughs) This fab that we're opening today continues to enable us to deliver our promise of Moore's law, where we continue to bring the world's most leading edge technologies to enable the products that is in every part of the industry in the world, and to enable every person on earth to become better because of it. We focus here on process development technology.
We also do manufacturing. But as part of our focus on process development, we also focus on the environment. You heard me speaking in the video around the work we do in terms of reducing our use of energy, recycling of water, restoring of water, and overall recycling. But as well as that, we also do quite a lot of process development so that we can reduce our environmental footprint. That has been our journey over the last 25 years and that will continue to be our promise to both our neighbors and the environment globally, overall, to be our journey over the next 25 to 50 years. (audience applauds) I want to take a moment to stop and recognize some people.
I'm gonna start with our employees. This could not happen going from an idea and research to high volume manufacturing. Could not happen without the collaboration and the dedication of many engineers, many engineers within my research organization, within the technology development organizations, our partners in manufacturing, our partners in our supply chain. All of that comes together with our equipment suppliers, with the construction, with the trades. It takes a village to make this happen.
So I want to stop and say thank you to everyone who has been on this journey with us to make it happen. (audience applauds) I also want to stop and say that when an employee joins Intel, you go on a journey with Intel, but your family also comes with us. So I want to say thank you to the families, because the families are those who enable our employees to come with us, come be completely dedicated to us, and completely enable them to be very successful with us. So I wanted to say thank you to the families.
(audience applauds) And I also want to recognize our neighbors. No person is an island. We're not an island here.
We have neighbors. Over the past 25 years, you have worked with us. And more recently, as we were doing our construction on Mod3, you were very patient with us, so thank you.
(audience applauds) There is no way we could bring this many people into the clean room, which is why we're not all in the clean room to do its official opening. But as I said, there are many people involved in making Mod3 happen. Mod3 is in the photograph behind me. And I do want to recognize many of the people who are involved in that.
I want to say thank you to the city of Hillsboro. I want say thank you to PGE. I want to say thank you to Hoffman, JE Dunn, Skanska.
I can continue with a very long number of people who have supported us, who are non-Intel people, supported us. Then I want to say thank you then to Intel's construction team, Intel's corporate services, the TD factory infrastructure team, our supply chain teams. All of these came together to make this possible. I know when we did the first drop announcement in November of 2018 that we were doing this. We had a check.
We sorta had a plan. I know Wayne is looking at me. We sorta had a plan, but we said we were going for it. And it's done. It is now handed over where we will be running silicon in it this quarter. So now in terms of it's time to do the official opening, so I'm going to invite on stage members from corporate services, construction, the city of Hillsboro, PGE, Hoffman, JE Dunn, and Skanska.
I know I can't get everybody on stage, but I'm seeing this group as representative of the overall work that was done. Also, I know there is a lot of work done by our trades and there are many trades which support us, so I'm very appreciative of that work just as well. (upbeat music) Yeah. (laughs) (audience laughs) (audience applauds) What can I say? (laughs) They have assured me they're taking the scissors away from me after I cut the ribbon. (laughs) They're afraid I might get their budgets. (laughs)
(audience laughs) So now. (audience applauds) Congratulations. Thank you. Thank you all. Thank you all. (upbeat music) (laughs) And now I'd like to thank you very much, everyone. And now I shall hand you back to Krista.
And thank you, everyone. Thank you, Ann, and thank you all for joining her up on stage. Now we are honored to have guests here who are incredibly important, both for representing our state as well as our company back in Washington, DC: Congresswoman Suzanne Bonamici, Senators Ron Wyden and Jeff Merkley, as well as Oregon Governor Kate Brown. Thank you so much for being here with us today.
Let's begin with Congresswoman Bonamici, who has represented Hillsboro in the first congressional district since 2012. As a member serving on the Education and Labor Committee, as well as Science and Technology, she has put STEAM education on the map. She is a champion of Intel's R&D, STEAM, and workforce initiatives and Oregon's export economy. Please welcome Congresswoman Bonamici. (audience applauds) Thank you so much, Krista.
Thank you to, of course, Intel CEO Pat Gelsinger, Dr. Kelleher. Happy spring, everyone. (laughs) (audience laughs) Thanks for the invitation to be with you today. I wanna extend my sincere congratulations. What an honor it is to be with you on this important day.
We know that research, development, and innovation are happening right here in Oregon and have a ripple effect across the world. But Intel isn't just a global leader. Right here at home, the company has shown tremendous leadership locally, to inspire students and families with access to STEAM education. Intel engineers volunteer in local schools, host science fairs, really making a difference.
And Intel takes a long view, investing in the curiosity and creativity of students with the understanding that they too can someday make powerful microprocessors or chips and make new discoveries that will change the world as we know it. Now, I came to Congress a little more than 10 years ago in large part because of my passion for improving public education for all students. I serve, as you heard in that kind introduction, on the Committee on Science-Based Technology, I'm a senior member on the Education and Labor Committee, and the co-founder of the STEAM Caucus. And STEAM is about integrating art and design into science, technology, engineering, and math to educate students to be creative problem solvers.
And I've seen this in action when visiting schools, which is actually one of my favorite activities as a member of Congress. It gives you hope for the future. I've seen young people working collaboratively, building robots, developing apps that help people, like the recent one that a student made to help seniors access groceries during the pandemic. And from my visits with the business community, I know it's clear. We need a workforce of problem solvers, innovators, critical thinkers who can address the biggest challenges we face. And as Dr. Kelleher said in the film before,
invent the future. So in Congress, I've introduced the Building STEAM Act to expand resources and grant opportunities that will support STEAM education programs. And I'm grateful that it's included in the House version with the CHIPS Act bill and the House COMPETES Act, now known as the Bipartisan Innovation Act, the major legislation that's going to accelerate chip production in the US, strengthen the US supply chain, and more.
I look forward to and am honored to be serving on the conference committee when Congress reconvenes later this month. (audience applauds) So we're committed. And investing in well rounded, equitable access to high-quality education is an important part of enhancing our economic and technological competitiveness and leadership here in our state and in our nation.
So I thank Intel and all the partners here today for all you do to expand opportunities for young students across the region and for all you do. Thank you again. Enjoy the celebration today. (audience applauds) Thank you so much Congresswoman Bonamici. Our next speaker has been representing the people of Oregon since 1998, when he was elected to the Oregon House of Representatives, and now he represents the people of Oregon in Washington, DC. Senator Jeff Merkley serves on the Environment and Public Works, Foreign Relations and Appropriations committees.
On Appropriations, he oversees federal R&D funding, which allows Intel to partner with the National Science Foundation on Innovative Research. Please welcome Senator Merkley. (audience applauds) (upbeat music) Well, greetings everybody.
And I'm really impressed how many people made it through the snow, especially who came from the Gresham side of Portland and had to navigate a rather heavier layer than we had on out there. I was thinking about how nobody ever gets ahead by looking backward and how that theme of just pushing forward, pushing forward into realms thought impossible has become possible time and time again, through the work of the Intel engineers. In fact, just to be a little nostalgic, hard to imagine 54 years ago there in Menlo park and Palo Alto, a group of engineers, some dozen getting together and saying, "Let's build these integrated chips." Starting out with the fond title for the company of NM, shortly saying, "Oh, let's make it a little bit more like what we're doing, integrated electronics: Intel." And with that name that has become famous all over the world.
It was some years ago, I had the chance to meet with Andy Grove and he had a little office on a second story in downtown Palo Alto and everything he said was about looking to the future and tackling the next obstacle. Hard to imagine that now we're talking about chips being produced here that are measured in single digits of nanometers, billionths of a meter. Just unbelievable to go back half a century and envision that being possible.
There was an Admiral in the Navy, Admiral Grace Hopper, and she liked to welcome new presidential fellows by pulling out a bundle of wire. And she would say, "Well, now this length of wire is when we were able to do one computer operation in X amount of time." And the wires got shorter and shorter and shorter. And she passed around these wires, a group of five of us, new presidential fellows.
And she said, "Think about how long a wire will be a few years into the future." And I can't even imagine. I didn't do the math. I was sitting here thinking I should have done the math this morning, but it's probably almost unmeasurable now in terms of the speed with which electrons move through a piece of wire for a single operation. But it's another way of kind of physically thinking about what we have achieved, what you all have led the world in achieving.
So here we are now employing 21,000 workers in Washington County. Thank you very much. (audience applauds) And creating how many more jobs as those funds reverberate through the economy.
And not just working to be on the forefront of this amazing electronics world, but also in the sustainability world. So I wanna say a huge, huge thank you for Intel for putting together RISE 2030. And what is RISE 2030 about? Well, the sustainability goals of net water positive.
And I know that Intel is funding seven water projects to recover a huge amount of water to work towards that goal. By 2030, 100% renewable power. And I'll just pause for a moment to say I did the math recently on kind of an average, inefficient solar panel, single solar panel laying flat in Washington, DC. So I have a few on my roof and I wanted to understand what they're doing. One little solar panel produces the energy equivalent of a quart of gasoline a day. 20 on your roof, five gallons of gas a day.
Well, the idea that we can be completely moving to renewable energy is something that Intel is driving forward in their 2030, 100% renewable power, zero total waste landfill, absolute carbon emissions reductions. Thank you, Intel, for leading the corporate push for a very sustainable future. (audience applauds) And then let's talk the CHIPS Act.
There's always this little competition to create creative acronyms, and anybody who can remember what CHIPS Act stands for will probably forget it within a week. I had to look it up. Creative, Helpful Incentives to Produce Chips.
There we go. CHIPS. I think there should be an annual contest for the best bill acronyms. Well, so we passed this as part of the 2021 National Defense Authorization Act, but it has to be funded. And that's where the next bill comes in that we passed last week and are sending to conference. And Suzanne just mentioned, the House has now settled on, what is it? Innovation Act? This has gone through every possible name in the world.
I mean, this was USICA, and everyone's like, "What? What's USICA stand for again?" And we talked about Innovation. We talked about Made in America. We talked about America COMPETES. And I think when we passed the bill last week, it was still American COMPETES in the Senate, but that's one of the things the conference committee can work out, but not the most important thing. I mean, this bill, the combination of the CHIPS Act and America COMPETES, refundable tax credits, massive amounts of research, federal match for state and local incentives. We want America not to follow the rest of the world in the production of chips or hold a small percent of the production of chips.
We want the United States of America to be the world leader in producing the electronic chips here on planet Earth. (audience applauds) So as that conference committee convenes, a very important member of that conference committee is my good colleague, the senior Senator from Oregon, Senator Ron Wyden, who'll get an official introduction in just a second from someone else. Thank you all very much. It's a pleasure to work in partnership with you. (audience applauds) You are welcome to come up if you would like, but I do have a few kind words to say to introduce you. (laughs)
Serving alongside Senator Merkley is Senator Ron Wyden, who has been representing Oregon since 1981 in our nation's capital. He is serving his fifth term in the Senate and chairs the powerful Senate Finance Committee, which oversees key economic and trade policy. During his time on the committee, the Senator has been a strong supporter of policies that have created new markets, which has led Intel to becoming our Oregon's largest exporter. He also co-chairs the Oregon Semi-Conductor Competitiveness Task Force. Please welcome Senator Wyden. (audience applauds) (upbeat music) Thank you.
Well, first of all, let's talk about what we know for sure. Neither snow nor sleet nor rain can derail Intel from bringing us good news this morning. (audience applauds) And what this good news means is lots of sunny days ahead for good paying jobs and cutting edge innovation here in Oregon. So big congratulations. And I wanna say particularly to Pat Gelsinger and Ann Kelleher, you all are the Damian Lillard and Clyde Drexler of semiconductor fab production.
(audience applauds) Pat Gelsinger pledged to me that he would expand in Oregon, and today he is following through for our state. It is a red letter day with such good news, and we actually have a blue ribbon task force to keep working to generate good paying jobs. Our task force held its first meeting a couple of weeks ago, and it's clear that our co-chairs, Governor Brown and PGE CEO Maria Pope, and all the panelists, to parlay a phrase from the field, are laser focused on creating more red letter days like this for semiconductor jobs. The task force is working on three priorities.
One, computer chips are the beating heart of Oregon's 21st century economy. Second, Oregon has long proven to be a linchpin in American chip manufacturing, creating tens of thousands of good paying jobs in the Silicon Forest and throughout our state. And third, it has become clear that we're all gonna work together to update our playbook, to build on our state's strengths, to keep Oregon growing this crucial industry right here in Oregon. And I want you to know as chairman of the Senate Finance Committee, I'm gonna be working with Senator Merkley and we'll be on that task every single day.
(audience applauds) Now the Senate passed the US Innovation and Competition Act. That was what the China Bill was originally called. Senator Crapo and I, of Idaho, passed a crucial amendment by the nail biting vote of 91 to four. (audience laughs) And it was all about making sure that we had a trade policy that would help us create more good paying jobs. And we focused on investment of more than $50 billion for domestic research and development and production of semiconductors. As you can tell, Oregon is gonna be heavily involved in this conference committee.
And these conference committees are not for the faint hearted, folks. This is a hugely important issue. We finally, and Senator Merkley was with me on this all the way, it took us several weeks to take away normal trade relations from Russia.
So this is gonna be a challenging exercise. The House bill, the Senate bill are different. We're lucky to have Congresswoman Bonamici and I believe Congressman Blumenauer from the House. So we're gonna be well represented and we can get this done. And I'm gonna close with just one kind of comment, because it's kind of hard to follow all the sausage making back there in DC.
What we're focused on is building a full toolkit for America to lead on semiconductors. So that means research, which very often involves grants and it also means changes in tax policy. So I have introduced with Senator Crapo, we've got four Senate Democrats, four Senate Republicans, the FABS legislation to provide meaningful, long-term tax incentives to bolster domestic manufacturing.
And we are gonna work to get as much of this into the China Competitiveness bill as quickly as possible. Now, as I told Pat a couple times, we're gonna have several other vehicles in this session. You have a tax bill at the end of the year, you have a year end spending bill, but what we want you to know is you've got 100% of Oregon's United States Senators behind the proposition that we're gonna work every day for Oregon and our country to be poised at the front of the line for good paying 21st century jobs. Thanks everybody. (audience applauds) Kate Brown is Oregon's 38th governor and has had a long career serving the state of Oregon and advocating for working families. We are glad she's here with us again today.
Just last week, she was here and joined us at Ronler for the signing of the Future Ready Oregon bill, which is a comprehensive, $200 million investment that will give Oregonians the education, the training, and the resources they need to secure good paying careers in places like Intel and other key industries across the state. As Senator Wyden mentioned, she also chairs the newly formed Semiconductor Task Force with the Senator. Please welcome Governor Kate Brown. (audience applauds) (upbeat music) Thank you so much, Krista, for that very generous introduction and good morning, everyone. I'm glad you were able to make it through the snow and the sleet. I came from Salem.
We just had rain there. And it's fabulous to see not just the top half of your faces, but the lower half of your faces this morning. And I'm just delighted to be celebrating 25 years of Intel's Ronler Acres campus, which is absolutely a great Oregon success story.
And also I hope we are celebrating the future with this exciting milestone event. I couldn't be more excited that we are gathering right here at Intel's global hub for research and development. As Pat Gelsinger said, truly the crown jewel of Intel.
Thank you so much. (audience applauds) I wanna thank my fabulous partners, Senator Wyden, Senator Merkley, and Congresswoman Bonamici for being here. I've certainly appreciated our work together to support workforce development and the expansion of the technology and manufacturing sector right here in Oregon. Let's give them a round of applause. They got a lot of work to do. We've got a few of our state partners here.
I wanna say thank you to Senate Majority Rob Wagner. Where are you? I saw you earlier. Thank you. (claps) (audience applauds) Senate Minority Leader, Tim Knopp. (claps)
(audience applauds) And Senator Janeen Sollman. Thank her. There she is. Really appreciate your partnership on Future Ready Oregon this last session and I'm very excited about the opportunity to support Oregon's continued economic success. Mayor Steve Callaway of Hillsboro. (audience applauds) The work you have done to support the kind of public-private partnerships that have made Oregon and Intel's relationship so special has truly been incredible.
I am so incredibly grateful for your leadership. Thank you. (claps) (audience applauds) Intel first landed in Oregon in 1974 during the administration of the late, great governor Tom McCall. Since that time, Intel has truly become an integral part of the state, employing nearly 22,000 Oregonians. Intel continues to be a leader in cutting edge technology and continues to grow.
Just look at the incredible MOD3 expansion right behind us or right beside us. And to this day, Intel truly continues to be the heart and soul of Oregon's semiconductor industry and truly Oregon's economic engine. Thank you. (claps) (audience applauds) Having spurred the growth of Oregon's Silicon Forest and partnering with business, civic, and political leaders alike, including eight governors, to ensure Oregon is a place where businesses and working families can thrive together. And what better example of this kind of partnership than the newly convened semiconductor competitiveness taskforce. I'm so excited to do this work with this taskforce.
I'm so excited to see what the task force will do. And I certainly appreciate Intel Executive Vice President and General Manager of Technology Development in Intel Corporation, Dr. Ann Kelleher's participation in this last meeting. Thank you so much.
(audience applauds) I'm really proud and honored to be here today to celebrate this legendary company, the extraordinary number of jobs that have been created and the amazing investments Intel has made in Oregon. Over the years, I've worked closely with our partners at Intel, envisioning the future for both this great company and for Oregon. And I can't wait to see what we will achieve next. Thank you so much and congratulations.
(audience applauds) Thank you, Governor Brown. Now our next speaker was actually one of the first engineers to work here at Ronler Acres. And among one of his accomplishments, one of many of his great achievements actually, was being on the team of our 486, which was Intel's most important chips. Well that engineer is now Intel CEO, Pat Gelsinger.
Welcome, Pat. (audience applauds) (upbeat music) Thank you, Krista. Thank you, Governor Brown. Thank you, Senator Merkley.
Thank you, Senator Wyden. And thank you to Dr. Ann Kelleher. And she's not one of, she is the most influential and significant member of the technical team in semiconductors in the world. The most important woman in technology today, Dr. Ann Kelleher. (audience applauds) And thank you to the members of the new Semiconductor Competitive Task Force. We appreciate your work to make sure that this remains the competitive heartland for the crown jewel of Intel and many other companies to come.
And I'm certain that we're going to continue to execute on that pathway. And here we are in Oregon. The weather ain't changed since I moved.
(audience laughs) All right. You know, this is just perfect, right? we're gonna hunt Easter eggs in the snow. Yeah, this is good. We raised our family here. They were all born in California, but we moved up here for 25-plus years. We enjoyed Oregon and Mount Hood, Sisters, Bend.
I taught all of my kids to ski up on Mount Hood and over at Mount Bachelor. So many fond memories. And the campuses that we have here, our heart of our manufacturing and R&D, and the core of the Silicon Forest. And when we started building Oregon, the cost of a fab was $7 million. Hey, that's like pocket change.
Today, $10 billion per fab module. And with this Mod3, our aggregate capital investments in Oregon at a whopping $52 billion. (audience applauds) And our now 22,000 employees. We added 3,500 employees last year. Wow! They're like rabbits.
They're just popping up all over the place. And this is across the job spectrum. Some of the brightest PhDs on the planet to entry level workers that we trained to come into the fabs, across the whole spectrum.
And a third of our hires had non-traditional academic backgrounds, like me, coming through community colleges and tech schools and our community efforts, our employees, alumnis and technologists here are truly inextricably linked to the community and the success broadly. And just last week here at Ronler Acres, the Future Ready Oregon bill. So thank you governor. (audience applauds) And this bill funding education resources for the future workforce needs, and continue to bring industries like this one to the great state of Oregon. And we're proud to be recognized as the most critical manufacturer in the state and we just keep growing at this location. And the entire world benefits from the advancements that we do here in Hillsboro, as you heard, the crown jewel of Intel's R&D, anchored here in Oregon for the US to lead the world.
You can applaud on that. (audience applauds) The world. And we invested over $15 billion in R&D last year, with the largest portion of that right here in Oregon.
And we need to continue to invest in research. And you've heard several of our political leaders talk about the Bipartisan Innovation Act. Do I got it right? Yeah, I think so. Right. There we go. And the strong contingent of Oregonians is part of that, and the work on the Fabs Act.
But also one more thing you need to work on is the R&D deductibility. And for the first time, I think now we're are at 70 years, that would not be deductible. We would have the most regressive R&D policies of any advanced nation in the world.
So just one more on your list. We're gonna get it fixed. Thank you, sir. Thank you. (audience applauds) Yeah, this quarter, we have to recruit for the first time in decades R&D.
So I'm rather upset about this one. And with that, we do hope that Congress can get these done to continue to assure the competitiveness and guarantee that US continues its leadership position in innovation for the world. We need innovation. We need manufacturing.
It isn't just software down in Silicon Valley. It's manufacturing, building at scale. And Andy Grove said that manufacturing and innovation and semiconductors are inextricably linked. I believe that fundamentally to be the case. And as we continue our progression through CHIPS Act funding, through, via. Via, is that the right way to do it? I deeply appreciate the Oregon members to drive that aggressively and I'm praying for Memorial Day to be done.
So that is my goal for when we complete the conference process, okay? (audience laughs) And we do believe that the world simply needs more. Every aspect of human existence is becoming more digital. Everything digital relies on semiconductors.
We need more semiconductors. We want the US and Oregon to continue to lead that parade. Intel is doing its part. We've put our chips on the table as I like to say.
We're investing in the insatiable demand of semiconductors. We're investing in domestic manufacturing capacity. And Oregon has just been an incredible partner thereof. This Oregon facility, the crown jewels of Intel, has just continued to grow and expand. Part of the reason I was so excited to come back to Intel to be the CEO was the great legacy of the leaders of Intel. As I like to joke, I went through puberty at Intel at the feet of Grove, Moore, and Noyce, the trinity of the semiconductor industry.
Andy Grove, the famous leader, Bob Noyce, the famous inventor, Gordon Moore, the famous futurist. But in particular today, Gordon Moore, Intel would not be Intel without Gordon Moore. Intel has been devoted to the relentless pursuit of Moore's law, that simple observation, this doubling of transistors. And as you think about that, we have said that Intel, we will continue the relentless pursuit of Moore's law until the periodic table is exhausted.
We ain't finished. (audience laughs) (audience applauds) But Gordon contributed so much more than this prediction that has long set the pace for innovation in the industry. And he's been a friend, a mentor, a hero of mine. I had the honor of recently speaking to Gordon Moore and a few things he said stood out.
Intel was one of my children when I was working on it. This was his baby. And that passion, the emotion, intellectual energy of Gordon, and for the many, many contributions that Gordon had, has, and will have on the world. And second, innovation is the only real, sustainable source of longevity.
And Moore's law has longevity for now 50 years. And as we said, we ain't finished with it. So let's hear from Gordon right now. (audience applauds) (static crackles) (bright music) (audience applauds) And I'm delighted today to announce that we are renaming our campus here to be the Gordon Moore Park at Ronler Acres.
(audience applauds) This building behind me, now known as RA4, now is the Moore Center. These names are fitting for the campus because they're at the heart of the global semiconductor R&D. There's no better way for us to honor Gordon and the profound impact he's had on this company than by bestowing his name on this campus and on these buildings, and just to recognize his tremendous role and accomplishments in our industry. And when I told Gordon about our plans to do this, do you know what he had to say? He said, "Just spell my name right."
(audience laughs) Well, Gordon, I hope we did you proud. Thank you for being an innate, inextricable part of Intel. The world thanks you, Gordon.
Every employee at Intel thanks you. Your name will have longevity for decades to come. Thanks for everyone for sharing this special moment with us today.
It's a great day for Intel, it's a great day for our industry, and it's a great day for our founder, Gordon Moore. Krista, back to you. (audience applauds) Thank you, Pat. That was such a wonderful tribute to our founder. Thank you so much.
And on that lovely unveiling, I would like to thank all of you for joining us today. It is remarkable to think about Intel's history in Oregon, not just what our brilliant employees have accomplished over the last 50 years, but the great partnerships we have with our suppliers, our customers, our community members, as well as our government leaders. So thank you all so much for being here.
Thank you so much for joining us on the web. We'd like to leave you with some beautiful pictures of our campus. And for those of you joining us here in the room, please do check out our technology showcase, which is right behind the stage. Enjoy some refreshments, get a goodie bag.
And thank you so much again for being here today. (audience applauds) (upbeat music)
2022-04-14 07:35
Show Video
Other news