In Conversation with Ken Griffin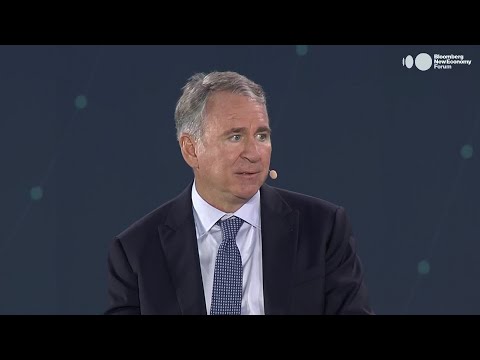 Show Video
>> PLEASE WELCOME TO THE STAGE, KEN GRIFFIN AND THE EDITORIAL DIRECTOR OF BLOOMBERG NEWS ECONOMY, ERIC. >> GREAT TO HAVE YOU HERE IN SINGAPORE. >> A PLEASURE. >> ONE OF THE REASONS I WAS EXCITED TO HAVE CAN GRIFFIN HERE IS BECAUSE HE IS REALLY GOOD AT FINDING THE SIGNAL IN THE NOISE. THERE IS NOT A LOT OF NOISE RIGHT NOW.
YOU ALSO OPERATE THE WORLD'S LARGEST MARKET MAKER. THAT GIVES YOU ACCESS TO UNIQUE SETS OF DATA. WHAT IS YOUR INTEL AND GOT TELLING ABOUT THE STATE OF THE WORLD BUT NOW? >> WHAT IS THE TRAJECTORY OF INFLATION? THE TWO ARE INTERTWINED. WE FELT THAT WE WOULD NOT HAVE A RECESSION THIS YEAR IN 2022. IN NORTH AMERICA, THAT IS BORNE OUT TO BE TRUE. WE ARE HIGHLY CONFIDENT WE WILL FINISH THIS YEAR ON A MODEST GROWTH NOTE.
THE ISSUE IS 2023 WHEN THIS WILL REALLY START TO GRIND ON THE ECONOMY. MY TEAM FOR CHOICE -- WE AVOID A RECESSION, I AM A LITTLE MORE SKEPTICAL ABOUT THAT. I THINK THAT FOR THE FED TO TRULY CONQUER INFLATION HERE, WE'RE GOING TO PUT UNEMPLOYMENT SOMEWHERE WITH THE MID FOR HANDLE AND I FIND IT HARD TO BELIEVE WE ARE NOT GOING TO HAVE A RECESSION AT THAT POINT IN TIME. SOMETIME IN THE MIDDLE TO BACK
HAVE OF 2023. A LITTLE BIT OF INTERNAL DEBATE AND WHAT MAKES IT ALSO SPECIAL IS THAT WE HAVE THESE DEBATES IN THE SLEEP. IT PUSHES ALL OF US TO THINK MORE CRITICALLY ABOUT OUR PERSPECTIVES, OUR VIEWS AND THE INVESTMENT DECISIONS THAT WE MAKE. ON INFLATION, WE THINK WE HAVE SEEN PEAK INFLATION. THIS IS THE BIG DRIVER INFLATION.
BECAUSE OF THE WAY IT IS CALCULATED AND ESTIMATED, WE WILL CONTINUE TO SEE THAT SHOW ON INFLATIONARY PRESSURE OVER THE NEXT FEW MONTHS BUT SPOT RENTAL RATES APPEAR TO HAVE PEAKED IN MANY METROPOLITAN AREAS. WE THINK ONE OF THE BIGGEST DRIVERS OF CONSUMER PRICES WHICH IS RENT HAS REACHED NEAR-TERM PEAK. ENERGY PRICES ARE LIKELY TO ROLL OVER IN 2023 AS COMPARED TO THE 12 MONTHS PRIOR. TWO OF YOUR REALLY BIG DRIVERS IN INFLATION, ENERGY, RENT, WE THINK WE HAVE SEEN A PEAK IN THAT. AND THEN ACROSS GOODS, WE THINK THIS IS GOING TO BE OVERLY GOOD HOLIDAY SEASON FOR CONSUMERS BECAUSE AMERICAN COMPANIES HAVE FILLED UP SUCH AND SUCH -- SUCH A SUBSTANTIAL INVENTORY OF GOODS THAT THEY WILL KNOW SOUTH GOING INTO THE HOLIDAYS. WE THINK WE WILL SEE PRE-GOOD
PRICING FOR CONSUMERS AS GOODS BECOME VERY ATTRACTIVELY PRICED. WHY IS THAT? IN THE PANDEMIC YOU COULD NOT ENJOY SERVICES, YOUR NOT GOING TO DINNER WITH FRIENDS, YOU BROUGHT A LOT OF GOODS. I CAN'T IMAGINE HOW MANY FLAT SCREEN TV'S WERE SOLD TO AMERICANS IN THE PANDEMIC THAT ARE NOT USED NEARLY AS MUCH TODAY AS THEY WERE A YEAR AGO.
THIS SHIFT IS GOING TO CREATE A DEPRECIATION IN THE PRICING OF GOODS WHICH WILL HELP BRING INFLATION DOWN. WE THINK INFLATIONARY PATH HAS PEAKED. WE THINK BY THE END OF 2023, OUR CENTRAL VIEW OF INFLATION WILL BE BACK TO THE LOW MID TWOS RANGE. THAT IS A DRAMATIC CHANGE FROM WHERE WE ARE TODAY. QUICK SOME FED OFFICIALS -- IT IS SO IMPORTANT TO TALK ABOUT THE FEDERAL RESERVE. IT SETS THE RISK-FREE RATE FOR THE REST OF THE WORLD AND IT HAS CREATED ON BELIEVABLE COMPLICATIONS WITH THE STRENGTH OF THE DOLLAR FOR EMERGING MARKETS. SOME FED OFFICIALS SAY THE TIME
HAS ALREADY COME TO BACK OFF. >> I COULD CITE CHARLES EVANS. I COULD CITE LAEL BRAINARD WHO DID NOT SAY IT IS TIME NOBODY WILL BE TIME SOON. ARE WE THERE YET? IT IS SORT OF LIKE SAYING YOU GO TO YOUR DOCTOR AND GIVE A BACTERIAL INFECTION AND HE GIVES YOU 10 PILLS TO TAKE AND YOU STOP TAKING IT AFTER PILL NUMBER SEVEN AND YOU RELAPSE A FEW DAYS LATER. IT IS NOT YET TIME FOR US TO CHANGE COURSE ON HER MONETARY POLICY.
WE WANT TO SEE THAT WE PUT THE INFLATION GENIE BACK IN THE BOTTLE. WE ENDURED A TON OF PAIN GETTING TO THIS POINT. THE HOUSING MARKET IS DEFINITELY UNDER DURESS, DURABLE GOOD SALES ARE UNDER DURESS. WE HAVE NOT GOTTEN THE JOB DONE. TO TAKE THE FOOT OFF THE BRAKE AND NOT FINISH THE JOB IS THE ABSOLUTE WORST MISTAKE THE FED COULD POSSIBLY MAKE. >> WHY? WHAT HAPPENS IF THEY BACK OFF TOO EARLY? IF YOU TAKE ONLY SEVEN PILLS INSTEAD OF 10, WHAT ARE THE CONSEQUENCES FOR THE U.S.
ECONOMY? >> THE BIGGEST CONCERN IS YOU UNANCHOR INFLATION EXPECTATIONS. THE AMERICAN PUBLIC BELIEVES THE FED SHOULD GET THE JOB DONE. IF WE DON'T FINISH THE COURSE OF ANTIBIOTICS, INFLATION STARTS TO FLARE BACKUP. THE FED WILL HAVE LOST CREDIBILITY. IF THE FED LOSES CREDIBILITY AND INFLATION EXPECTATIONS UNANCHOR, THE AMOUNT BY WHICH YOU WILL NEED TO RAISE RATES AND DETER GROWTH WILL BE A MUCH BIGGER BILL TO PAY. WE SHOULD NOT PUT OURSELVES IN POSITION TO PAY THE BILL. WE SHOULD GET THE JOB DONE NOW.
>> IN OUR CONVERSATIONS OVER THE COURSE OF 2021 AND 2022, YOU HAVE FLAGGED A NUMBER OF RISKS TO GROWTH AND PROSPERITY. AMONG THEM WERE THE SHORTAGE OF LABOR AND RISING WAGES, THE POSSIBILITY OF ESCALATING WAR IN UKRAINE BEYOND WHERE IT IS NOW. IF ANYTHING, THE SITUATION LOOKS MORE POSITIVE THAN IT DID WHEN WE LAST DISCUSSED. THE EUROPEAN ENERGY SITUATION,
THE ONGOING PANDEMIC, AND THE RISING TENSION LEVEL BETWEEN THE UNITED STATES AND CHINA. WHAT WOULD YOU FLAG AS THE BIGGEST RISKS RIGHT NOW? >> THERE IS TAIL RISKS AND RISKS THAT ARE DEFINITIVELY IN PLAY. A TAIL RISK WOULD BE WE HAVE SEEN THE VIRUS COVID-19 CONTINUALLY MUTATE INTO A STRAIN THAT IS MORE TRANSMISSIBLE AND LESS DEADLY. BUT NOTHING SAYS THOSE TWO GO HAND IN HAND. EXAMPLE OF A TAIL RISK WOULD BE A MUTATION IN COVID-19 THAT REPRESENTS THIS LEVEL OF TRANSMIT ABILITY BUT MORE LETHAL. THAT WOULD BE A HORRIBLE TAIL RISK. IN TERMS OF RISK THAT WE THINK
ABOUT A LOT IN OUR PORTFOLIO RIGHT NOW, OBVIOUSLY THE WAR IN UKRAINE IS FRONT AND CENTER BECAUSE IT IS DRIVING AN ENERGY CRISIS IN EUROPE THAT IS ALMOST INCOME PRINCIPAL. THIS WINTER -- ALMOST INCOMPREHENSIBLE. THIS WINTER WE ARE GOING TO SEE RATIONING OF ENERGY. IF THIS WAR DOESN'T RESOLVE BY NEXT SUMMER, BY THE SPRING, NEXT WINTER COULD BE MUCH MORE DIFFICULT FOR EUROPE TO GET THROUGH IN TERMS OF GAS SUPPLIES.
THE DURATION OF THE WAR IN UKRAINE IS AN EXISTENTIAL ISSUE FOR EUROPE, FOR GERMANY IN PARTICULAR, AND WILL THE GERMANS MAINTAIN THEIR WILLINGNESS TO SUPPORT UKRAINIANS AS THE COST TO THE ECONOMY CONTINUES TO GROW? IN PARTICULAR IF WINTER 2023-24 COULD INVOLVE A FULL ON ENERGY CRISIS, WHAT HAPPENS TO THE GERMAN PSYCHE SUPPORTING THEIR NEIGHBOR IN EUROPE? THAT'S A BIG ISSUE RIGHT NOW. STRUCTURALLY THE TRADE WAR WITH CHINA IS A HUGE LOSS FOR HUMANITY. THERE IS NO OTHER WORD FOR IT. BY BIFURCATING THE TECHNOLOGY STACK BETWEEN OUR NATIONS, WE ARE CREATING A WORLD WHERE THE CHINESE HAVE A HUGE INCENTIVE TO ENGAGE IN THEIR MANHATTAN PROJECT OF SEMI CONDUCTOR PRODUCTION. THE CHINESE GRADUATE ABOUT FOUR TIMES AS MANY STEM GRADUATES AS THE U.S. DOES A YEAR.
I THINK WE ARE NAÏVE TO BELIEVE WE WILL HAVE PERMANENT DOMINANCE, GIVEN THE STRENGTH OF THEIR ENGINEERING CAPABILITIES. IF YOU MARCH FORWARD 3, 5, 7 YEARS AS THE CHINESE TIGHTEN THE GAP BETWEEN THE U.S. AND THE WEST'S CAPABILITY, I THINK YOU HAVE A RISK OF A GLOBAL FRACTURING OF THE TECH STACK, WHERE YOU WILL SEE WINDOWS AND INTEL WILL BE THE DOMINANT SOLUTION FOR WESTERN FIRMS, BUT THE CHINESE WILL PROVIDE THE SOLUTION USED BY SOUTH AMERICA, AFRICA, POTENTIALLY INDIA. THAT WILL FRACTURE WESTERN DOMINATION IN TECHNOLOGY, WHICH HAS BEEN SUCH AN INCREDIBLE SOURCE OF HIGH PAYING IN AMERICA AND AMERICAN PROSPERITY. IN THE STATE OF CALIFORNIA, THE TAX SECTOR IS A HUGE PART OF THE REVENUE TAX BASE. ERIK: WOULD YOU AGREE THE BIDEN ADMINISTRATION IS IN A TOUGH POSITION? THERE IS INTELLIGENCE AND IN SPECULATION THAT CHINA IS USING ADVANCED AMERICAN SEMI CONDUCTOR TECHNOLOGY IN NEXT GENERATION INVENTION SYSTEMS. THERE IS ALSO BIPARTISAN
SUPPORT FOR A TOUGH STANCE ON ACCESS TO AMERICAN TECHNOLOGY BY THE CHINESE GOVERNMENT AND CHINESE COMPANIES. THESE THINGS, IF THE FORMER IS TRUE, AND WE KNOW THE LATTER IS THE CASE, SHOULDN'T IT WARRANT SOME CONCERN, IF NOT ACTION, BY WASHINGTON? >> THERE HAS BEEN ACTION. THE CHIPS BILL IS AN IMPORTANT PIECE OF LEGISLATION. THE UNITED STATES HAS NO
ABILITY TO PRODUCE THE SEMI CONDUCTORS IT NEEDS TO RUN ITS ECONOMY. WE ARE DEPENDENT ON CHINA FOR MODERN SEMI CONDUCTORS IN AMERICA. YOU CAN ARGUE BY DEPRIVING THE CHINESE OF ACCESS TO SEMI CONDUCTORS, WE UP THE RISK THAT THEY SEIZED TAIWAN. IT IS NOT CLEAR THAT WE GET THE OUTCOME WE WANT BY DEPRIVING THE CHINESE OF THIS TECHNOLOGY. THEY COULD RESORT TO OTHER METHODS TO SECURE THIS TECHNOLOGY. WE ARE PLAYING WITH FIRE. SEMI CONDUCTORS, IF WE LOSE ACCESS TO TAIWANESE SEMI CONDUCTORS, IT WOULD HIT U.S. GDP 5% TO 10%, AN IMMEDIATE
GREAT DEPRESSION. ERIK: THOSE ARE BIG NUMBERS. >> THE CHIPS ACT, REALLY IMPORTANT, ENCOURAGING STEM DEGREES IN AMERICA, REALLY IMPORTANT. WHAT WORRIES ME IS THE SENSE IN THE HALLS OF WASHINGTON THAT THE WEST HAS A GOD-GIVEN RIGHT TO BE SUPERIOR IN TECHNOLOGICAL PROGRESS WHEN THE FACTS ARGUE TO THE CONTRARY. WE NEED TO BE THOUGHTFUL ABOUT HOW OUR ECONOMY FUNCTIONS, WHAT CREATES JOBS, CREATES PROSPERITY FOR OUR COUNTRY. BY FORCING THE CHINESE TO
ACCELERATE R&D PROGRAMS, WE ARE BUYING VERY LITTLE IN THE WAY OF STRATEGIC ADVANTAGE AT A SUBSTANTIAL COST TO OUR ECONOMY. ERIK: LET'S TALK ABOUT WHAT'S GOING ON IN THE CORRIDORS OF POWER IN WASHINGTON. YOU HAVE BECOME ONE OF THE LARGEST INDIVIDUAL DONORS TO POLITICAL CANDIDATES IN THE UNITED STATES AND YOUR VOICE CARRIES INCREASING WEIGHT INSIDE THE REPUBLICAN PARTY. A WEEK AGO, AMERICA HELD A MIDTERM ELECTION AND THE OUTCOME WAS A SURPRISE.
THERE WAS NO RED WAVE AND MANY REPUBLICANS ENDORSED A FORMER PRESIDENT TRUMP WERE BEATEN BY DEMOCRATS. WHAT CONCLUSIONS HAVE YOU DRAWN FROM THOSE RESULTS? >> THE RED RIPPLE, THAT MOMENT IN AMERICAN HISTORY, WAS A GREAT MOMENT. AMERICAN VOTERS CAME OUT IN DROVES. THAT ENGAGEMENT IS PRICELESS.
THIS IS A TRIUMPH OF DEMOCRACY THAT WE WATCHED A FEW DAYS AGO. NOT ONLY DID VOTERS COME OUT IN SUBSTANTIAL QUANTITIES, THEY VOTED SPLIT TICKETS. THEY WOULD VOTE FOR DEMOCRATS WHERE THEY THOUGHT THE DEMOCRAT HAD THE BETTER PERSPECTIVE AND POLICIES, AND VOTE FOR REPUBLICANS WHEN THEY THOUGHT THE REPUBLICANS HAD DEVELOPED BETTER POLICIES AND BETTER PERSPECTIVES IN THE FUTURE. THAT LEVEL OF ENGAGEMENT, A HEALTHY MIDDLE COMING OUT TO VOTE, IS A TRIUMPH OF DEMOCRACY, SO I AM HAPPY ABOUT THE MIDTERMS. SEEING PEOPLE ON BOTH FRINGES NOT WIN AN ELECTION TELLS YOU CANDIDATE QUALITY MATTERS AND THAT'S IMPORTANT IN TERMS OF BOTH PARTIES HAVING TO ADVANCE BETTER CANDIDATES IN 2024.
WHAT WE WANT IS BETTER LEADERS IN WASHINGTON, LESS PARTISANSHIP, MORE COOPERATION, MORE THOUGHTFULNESS, AND THIS ELECTION WAS A STATEMENT BY VOTERS THAT WE HAVE HAD ENOUGH. I FEEL PRETTY GOOD ABOUT THE MIDTERMS. ERIK: YOU TOLD ME AND HAVE TOLD OTHERS THAT THERE WAS AND PRESUMABLY STILL IS TIME FOR AMERICA TO MOVE ON FROM TRUMP. THE NIGHT IN FLORIDA THE FORMER PRESIDENT IS EXPECTED TO ANNOUNCE HIS CAMPAIGN TO RETAKE THE WHITE HOUSE IN 2024. AS WE ALL KNOW, I THINK EVERYONE IN THIS ROOM KNOWS BECAUSE IT IS HARD TO TAKE YOUR EYES OFF THE U.S. POLITICAL PUZZLE, ONE OF HIS LIKELY CHALLENGERS FOR THAT NOMINATION IS FLORIDA GOVERNOR RON DESANTIS, WHO CRUISED TO A REELECTION VICTORY LAST WEEK. I SHOULD POINT OUT CAN HAS BEEN
A POLITICAL AND FINANCIAL SUPPORTER OF GOVERNOR DESANTIS. HOW DO YOU THINK THAT PLAYS OUT, TRUMP VERSUS DESANTIS? >> LET'S TAKE A HUGE STEP BACK TO THE START OF THE QUESTION. TRUMP VERY LIKELY TO ANNOUNCE HE IS GOING TO RUN FOR PRESIDENT. HAVING WORKED WITH HIM DIRECTLY
DURING THE ONSET OF THE PANDEMIC , HE CARES DEEPLY ABOUT AMERICA. THE TEAM AROUND HIM TO NAVIGATE THE PANDEMIC, OPERATION WARP SPEED IS AN AMERICAN SUCCESS STORY. WE LED THE WORLD BRINGING A VACCINE TO MARKET, WHICH SAVED MILLIONS OF LIVES AROUND THE WORLD. A LOT OF GOOD THINGS HAPPENED IN THAT ADMINISTRATION UNDER HIS LEADERSHIP. CONVERSELY, VERY DIVISIVE MOMENTS AND IT ENDED IN AN UGLY WAY THROUGH THE ELECTION AND JANUARY 6. FOR A LITANY OF REASONS, IT'S TIME THE COUNTRY MOVES FORWARD.
WE SHOULD THANK THE PRESIDENT FOR HIS LEADERSHIP OVER THE PANDEMIC, BUT THE PRESIDENT IS NOT JUST ABOUT POLICIES. IT IS ABOUT THE PRESTIGE OF THE OFFICE, BRINGING THE COUNTRY TOGETHER, UNIFYING THE AMERICAN PSYCHE. HE FELL SHORT. LET'S COMPARE AND CONTRAST THAT WITH RON DESANTIS, GOVERNOR OF FLORIDA. JUST WON A LANDSLIDE VICTORY, BY 20 POINTS IN A STATE THAT WAS VIEWED AS PURPLE FIVE YEARS AGO. WHY DID GOVERNOR DESANTIS AND REPUBLICANS UP AND DOWN THE STATE DO SO WELL? WHY DID FLORIDA BECOME SO RED, THE ONLY BLUE IS THE OCEAN? BECAUSE THE POLICIES OF HIS ADMINISTRATION ARE WINNING POLICIES FOR THE CITIZENS OF FLORIDA.
THE ABILITY TO KEEP THE ECONOMY OPEN DURING THE PANDEMIC WHILE PROTECTING THE LIVES OF THE ELDERLY WAS A HUGE WIN. KEEPING SCHOOLS OPEN HAS BEEN A HUGE WIN FOR CHILDREN. THE LOSS OF LEARNING MITIGATED BY THAT IS TREMENDOUS.
THE STATE HAS BEEN WELL-RUN FROM THE PERSPECTIVE OF FISCAL DISCIPLINE, A 21 MILLION DOLLARS SURPLUS LAST YEAR. A STATE THAT CUT TAXES, THAT HAS NO INCOME TAX. DESANTIS WON BY A LANDSLIDE BECAUSE ON THE MERITS OF HIS LEADERSHIP, FLORIDA HAS DELIVERED FOR ITS CITIZENS.
DESANTIS IS GOING TO RUN FOR THE WHITE HOUSE ON A RECORD OF UNBELIEVABLE ACCOMPLISHMENT AND A RECORD OF HAVING BROUGHT THE PEOPLE OF FLORIDA TOGETHER IN A WAY THAT THEY ARE PROUD OF THE STATE THEY LIVE IN. ERIK: THE QUESTION THE REPUBLICAN PARTY IS WRESTLING WITH HIS SHOULD IT UNITE BEHIND DESANTIS OR SHOULD IT LET THE TRUMP-DESANTIS RIVALRY PLAY OUT, POSSIBLY IN A BATTLE FOR THE SOUL OF THE PARTY THAT POTENTIALLY PUTS IT AT A DISADVANTAGE RELATIVE TO THE DEMOCRATS TWO YEARS FROM NOW? >> WE ALL HAVE A FANTASY THAT THESE DECISIONS ARE MADE BY PEOPLE IN BACK ROOMS. I HAVE NOT FOUND THAT ROOM AND I DON'T KNOW THOSE PEOPLE. IN THE UNITED STATES IN BOTH PARTIES, THE PEOPLE RUNNING FOR PRESIDENT ARE ON A MISSION ON THEIR OWN AND THEY ARE GOING TO DO WHAT THEY ARE GOING TO DO. ERIK: THE PROCESS HAS TO PLAY OUT. >> THE PROCESS HAS TO PLAY OUT. I HOPE PRESIDENT TRUMP SEES THE
WRITING ON THE WALL. HE LOST IN 2020. WE LOST GEORGIA BECAUSE OF HIS BEHAVIOR IN THE SENATE RACE IN 2020. THIS YEAR REPUBLICANS LOST THE SENATE BECAUSE THE TRUMP BACKED CANDIDATES WERE REJECTED BY AMERICAN VOTERS. THAT'S A THREE TIME LOSER. I WOULD LIKE TO THANK THE REPUBLICAN PARTY IS READY TO MOVE ON FROM SOMEBODY WHO HAS BEEN A THREE-TIME LOSER. ERIK:
THE PROCESS WILL PLAY OUT, BUT YOU CAN INFLUENCE THE PROCESS. YOU DEMONSTRATED MOST RECENTLY IN ILLINOIS THAT YOU ARE PREPARED TO SPEND TENS OF MILLIONS OF DOLLARS ON CANDIDATES IN WHOM YOU BELIEVE. YOU CLEARLY BELIEVE IN GOVERNOR DESANTIS. WOULD YOU SAY NOW HOW MUCH YOU ARE PREPARED TO SPEND TO PUT GOVERNOR DESANTIS IN THE WHITE HOUSE? >> IT'S NOT THAT EASY IN AMERICA EITHER TO DO THAT. YOU CAN'T BUY A POLITICAL SEAT. YOU CAN BUY A VOICE FOR POLITICIANS TO RUN WITH. THEY CAN EXPRESS THEIR IDEAS
AND ENGAGE WITH VOTERS, BUT YOU CAN'T BUY AN ELECTED SEAT. IN ILLINOIS I SUPPORTED A CANDIDATE WITH A $50 MILLION CONTRIBUTION BECAUSE AS THE MAYOR OF AURORA, HE WAS AN INCREDIBLE SUCCESS STORY. HE GREW UP IN THE PROJECTS AND WENT ON TO BE A LAWYER, PROSECUTOR, TO SERVE AS MAYOR. JB PRITZKER SPENT $35 MILLION TO BACK A TRUMP SUPPORTED CANDIDATE. I THINK ILLINOIS WAS SUCCESSFUL IN AMERICAN POLITICS WHERE THE DEMOCRAT SPENT $35 MILLION TO SUPPORT AN OLD REWRITE REPUBLICAN CANDIDATE WHO HELPED THAT PERSON THROUGH THE PRIMARY. IT IS PART OF THE REASON I HAVE NO REGRETS LEAVING THE STATE OF ILLINOIS. I DON'T MISS OUR GOVERNOR AND I
DON'T MISS THE POLITICS IN THE LAND OF FORMER OPPORTUNITY. DESANTIS HAS A LOT OF SUPPORT FROM A LOT OF PEOPLE BUT ULTIMATELY HE IS GOING TO WIN BASED ON WHAT HE HAS DELIVERED FOR FLORIDA AND THE VISION HE CAN SELL FOR AMERICA. IF HE CHOOSES TO RUN, NOT A FOREGONE CONCLUSION, I THINK HE WILL HAVE A COMPELLING VISION FOR OUR COUNTRY. HE APPRECIATES THE IMPORTANCE OF EDUCATION, THE ENVIRONMENT, PUBLIC SAFETY, STRONG NATIONAL DEFENSE. I THINK HIS MESSAGE WILL RESONATE WITH AMERICAN VOTERS.
ERIK: I DON'T HAVE MUCH TIME LEFT BUT I HAVE TO GO TO ONE OTHER PLACE AND I CAN'T BELIEVE IT HAS TAKEN THIS LONG. THIS FAR INTO THE PROGRAM, NOBODY HAS TALKED ABOUT CRYPTO. WE HAVE HAD A LONG-RUNNING CONVERSATION ABOUT CRYPTOCURRENCY.
YOU DESCRIBED IT AS A JIHADIST CALL AGAINST THE DOLLAR AND WERE PILLORIED BY THE CRYPTO FAITHFUL. WHEN CITADEL STARTED A CRYPTO TRADING BUSINESS, THEY CELEBRATED YOUR SUPPOSE IT CAPITULATION. WHAT I WANT TO KNOW FROM YOU IS WHAT DO YOU MAKE OF THESE SPECTACULAR COLLAPSE OF FTX? >> BIG PICTURE, THE CRYPTO MARKET CAP TODAY IS A FRACTION OF WHAT IT WAS WHEN WE FIRST STARTED TALKING ABOUT IT. IT WAS $3 TRILLION, NOW IT IS WELL UNDER $1 BILLION. A BIG PART OF THAT IS STABLE COINS.
YOU HAVE MOVED BACK INTO A WORLD OF BITCOIN AND THE THEORY AS THE TWO -- AND ETHEREUM AS THE DOMINANT CURRENCIES. FTX IS ONE OF THE ABSOLUTE TRAVESTIES IN THE HISTORY OF FINANCIAL MARKETS. PEOPLE ARE GOING TO LOSE BILLIONS OF DOLLARS. THAT UNDERMINES TRUST IN ALL FINANCIAL MARKETS. ERIK: WAS THE FUNDAMENTAL PROBLEM THAT IT WAS A BUSINESS BUILT ON CRYPTOCURRENCY TO BEGIN WITH? OR THAT IT WAS A BUSINESS NOT ADEQUATELY REGULATED, OR A BUSINESS THAT VENTURE CAPITAL AND OTHER REGULATORS PUT MONEY INTO FTX THAT DID NOT ADEQUATELY DO DUE DILIGENCE? WHAT WAS THE FUNDAMENTAL PROBLEM, OR WAS IT JUST FRAUD? >> THAT'S A REALLY BIG CHOICE OF WORDS TO USE AND I CAN'T GO THERE AT THIS POINT. WE DO KNOW THE BALANCE SHEET
SHOWS A GIANT BLACK HOLE. THERE IS NO DOUBT CUSTOMER ASSETS WERE USED TO MAKE INVESTMENT DECISIONS IN FAVOR OF FTX'S SHAREHOLDERS, WHICH DIDN'T WORK, AT THE EXPENSE OF CUSTOMERS. THAT'S NOT PERMITTED IN AMERICA. YOU CANNOT USE YOUR CUSTOMER ASSETS TO ENGAGE IN PROPRIETARY TRADING. THAT'S A HUGE NO-NO. ERIK:
IT'S A NO-NO IN MOST PARTS OF THE WORLD. >> IT'S A GOOD NO-NO. FTX, BILLIONS OF DOLLARS HAVE BEEN LOST. THE CONFIDENCE OF REGENERATION IN FINANCIAL
MARKETS HAS ALSO BEEN SHAKEN. THAT IS AWFUL BECAUSE THE 20 SOME TO 40-YEAR-OLDS WHO ARE SO ENGAGED IN CRYPTO, THEY HAVE TO SAVE FOR THEIR RETIREMENT AND IF THEY DON'T TRUST FINANCIAL MARKETS, THAT IS A HUGE PROBLEM. THEY NEED TO OWN STOCKS, OWN CORPORATE DEBT, THEY NEED TO TAKE PLACE -- TO PRODUCE DEBATE IN THE MARKETS. WITH FTX, THERE ARE A COUPLE THINGS WE SHOULD TALK ABOUT. THE TURF WAR FROM AMERICAN
REGULATORS HAS TO END. IT IS PREPOSTEROUS. THE AGENCIES ALL DANCE AROUND WHO OWNS WHAT. THE BOTTOM LINE IS AMERICAN INVESTORS HAVE REALLY GOTTEN HURT TO THE TUNE OF HUNDREDS OF BILLIONS OF DOLLARS OF MARKET CAP. THAT REALLY STRIKES AT THE ENTIRE ESSENCE OF WHAT IS INVESTOR PROTECTION ALL ABOUT? THE SECOND IS THAT FTX CROSSES INTO A ZONE THAT ALL OF US ARE WORRIED ABOUT. ON THE BALANCE SHEET OF FTX IS A LINE CALLED TRUMP LOSE. SAM WAS THE SECOND BIGGEST
DONOR TO DEMOCRATIC CANDIDATES. ERIK: I AM GOING TO LEAVE IT TO EVERYBODY ELSE TO DRAW THEIR OWN CONCLUSIONS ABOUT WHAT YOU ARE SAYING. >> THOSE ARE REALLY UGLY FACTS WHEN YOU SEE A FRAUD OF THIS MAGNITUDE. AND YOU FIND NO REGULATORS WERE THERE TO PREVENT IT. THAT IS A TOUGH STORY. ERIK: WE COULD TALK FOR QUITE A WHILE ABOUT FTX. SADLY WE DON'T HAVE TIME SO I HAVE TO FINISH WITH THIS. THE MIAMI HEAT, THE BASKETBALL
TEAM THAT PLAYS IN YOUR NEW HOME OF MIAMI, IS TERMINATING ITS RELATIONSHIP WITH FTX, NO SURPRISE. ALSO NO SURPRISE, IT'S LOOKING FOR A NEW CORPORATE PARTNER. IF YOU DROVE DOWN THE BOULEVARD LAST WEEK, YOU SAW THE THREE LETTERS FTX ON THAT ARENA. WILL WE SEE CITADEL TAKE THEIR
PLACE? >> IT TURNS OUT THAT IT APPEARS HAVING YOUR NAME ON A STADIUM IS REALLY BAD,. I THINK YOU ARE GOING TO SEE SEVERAL HUNDRED MILLION DOLLARS INVESTED IN OUR HEADQUARTERS IN MIAMI, WHICH WE THINK WILL BE AN ICON TO THE GREAT CITY OF MIAMI AND FLORIDA, THE HEADQUARTERS OF CITADEL. WE ARE SO PROUD TO BE PART OF THE COMMUNITY AND TO CALL MIAMI HOME.
2022-11-18 02:09
Show Video
Other news