Human Rights Are Not a Bug: Upgrading Governance for an Equitable Internet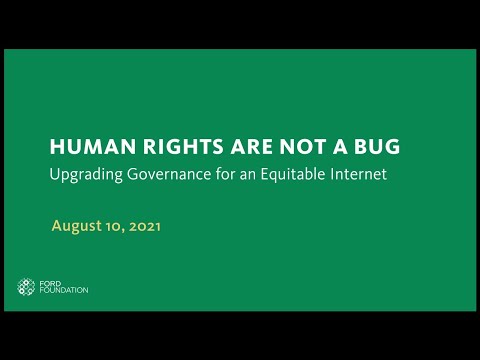 Show Video
>> HELLO, EVERYONE. AND THANK YOU FOR TAKING TIME OUT OF YOUR TUESDAY TO JOIN US. MY NAME IS MICHAEL BRENNAN AND I AM A SENIOR PROGRAM OFFICER WITH THE TECHNOLOGY AND SOCIETY TEAM AT FORD FOUNDATION. ONE ONE OF THE PARTS OF OUR GRANT MAKING THAT I
OVERSEE IS THE STRATEGY TO FOCUS ON DIGITAL INFRASTRUCTURE OF THE INTERNET. A KEY PIECE OF THIS INFRASTRUCTURE ARE THE STANDARDS AND PROTOCOLS THAT DICTATE HOW THE INTERNET WORKS AND THE GOVERNANCE BODIES AND SYSTEMS THAT CREATE THEM. TODAY, WE'RE GOING TO HEAR FROM A LEADING RESEARCHER ON WHY AND HOW THIS INFRASTRUCTURE IS A CRITICAL HUMAN RIGHTS ISSUE. AND THEN HAVE A CONVERSATION BETWEEN TWO THOUGHTFUL ACTIVISTS ABOUT HOW WE CAN BETTER UNDERSTAND AND ADDRESS THE IMPLICATIONS OF THAT. NIELS TEN OEVER IS A RESEARCHER
AND ACTIVIST IN HIS FIELD. HE SPENT YEARS IN ADVOCATING IN HUMAN RIGHTS IN THE PLACE WHERE TECHNICAL DECISION THAT'S GOVERN THE INTERNET ARE MADE. HE DEVELOPED ARTICLE 19 TEAM DIGITAL. AND HE'S BEEN AN IMPORTANT PARTNER IN GRANTEE. IN FACT, I CREDIT NIELS WITH A CENTRAL ROLE IN HELPING FORD FOUNDATION UNDERSTAND HOW INTERNET GOVERNANCE IS, IN FACT, A CRITICAL SOCIAL JUSTICE ISSUE AND ONE WHICH WE MUST FOCUS ON IF WE ARE TO ACHIEVE OUR MISSION OF FIGHTING THE DRIVERS OF INEQUALITY. I HOPE THAT THROUGH OUR TALK AND Q&A TODAY, YOU WILL COME TO SEE IT THIS WAY. AND,
PERHAPS, THINK IN A NEW WAY ABOUT HOW YOU, YOUR ORGANIZATION OR YOUR NETWORKS MIGHT ENGAGE IN THIS AREA OF WORK. NIELS HAS JUST PUBLISHED A REPORT ON THIS TOPIC CALLED "HUMAN RIGHTS ARE NOT A BIG: UPGRADING INTERNET GOVERNANCE." YOU CAN FIND A LINK TO THAT REPORT IN THE CHAT. WE HAVE INVITED J. BOB ALOTTA TO OFFER A RESPONSE TO NIELS'S WORK BEFORE THEY ENGAGE IN CONVERSATION WITH EACH OTHER. BOB HAS EXTENSIVE EXPERIENCE IN WHAT IT MEANS TO BUILD, LEAD AND SUPPORT MOVEMENTS OR SOCIAL JUSTICE. BOB ALSO DEEPLY UNDERSTANDS THE
CHALLENGES AND OPPORTUNITIES OF INTEGRATING A TECHNOLOGY AND INTERNET LENS IN THE MOVEMENT BUILDING. SHE NAVIGATED THIS INCREDIBLY EFFECTIVELY THROUGH HER TIME AS EXECUTIVE DIRECTOR FOR THE AUSTRALIAN LESBIAN FOUNDATION FOR JUSTICE, SHOWING A MOVEMENT FOR MORE JUST AND INTERNET TECHNOLOGY POLICY MUST BE INTERTWINED WITH LGBTQ PLUS MOVEMENTS, FEMINIST MOVEMENTS AND MOVEMENTS CENTERING THE LIBERATION OF PEOPLE OF COLOR GLOBALLY. JUST AS IT IS INTERTWINED WITH SO MANY OF THE MOVEMENTS WE HERE TODAY ARE A PART OF OR ALLIED WITH. NIELS AND BOB ARE BUILDING A BRIDGE. ON ONE SIDE IS THE COMPLEX BUT IMPORTANT WORLD OF INTERNET GOVERNANCE. ON THE OTHER SIDE IS THE EQUALLY COMPLEX AND IMPORTANT SPACE OF MOVEMENT BUILDING FOR A MORE JUSTICE SOCIETY. ALTHOUGH THEY HADN'T MET
BEFORE A FEW WEEKS AGO, NIELS AND BOB HAD BEEN BUILDING A BRIDGE TOWARDS EACH OTHER. IT IS MY HOPE THAT OUR CONVERSATION TODAY WILL ALLOW MORE OF US TO BEGIN CROSSING THAT BRIDGE AS WE WORK TOGETHER TOWARDS A MORE JUST INTERNET AND, THUS, A MORE JUST SOCIETY. WITH THAT, I'D LIKE TO WELCOME NIELS. >> THANK YOU SO MUCH, MICHAEL, FOR THOSE KIND WORKS AND THANK YOU EVERYONE FOB BEING HERE.
I AM NIELS TEN OEVER, AND I AM A POSTDOCTORAL RESEARCHER WITH THE IN-SIGHT.IT PROJECT AT THE UNIVERSITY OF AMSTERDAM, AND AN ASSOCIATED SCHOLAR AT THE AT THE EUROPEAN UNIVERSITY VIADRINA, AND ASSOCIATED SCHOLAR WITH THE CENTRO DE TECNOLOGIA E SOCIEDADE AT THE FUNDAÇÃO GETÚLIO VARGAS. HOWEVER, I GREW UP IN A SMALL TOWN IN THE NETHERLANDS - AND ON THE WEEKENDS WE WOULD VISIT MY GRANDFATHER WHO LIVED ON A FARM. TO GET THERE, YOU WOULD NEED TO DRIVE
TO THE MIDDLE OF NOWHERE, AND THEN CONTINUE FOR TWENTY MINUTES, TAKE A LEFT, AND THEN YOU WOULD REACH THE FARM. THERE WAS VERY LITTLE TO DO THERE FOR A KID, BUT THERE WAS ALWAYS ONE OBJECT THAT DREW ME TO IT. THAT WAS THIS OLD TUBE RADIO.
THE TUBES WOULD LIGHT UP GREEN IF I TURNED THE DIAL AND GOT RECEPTION. THROUGH THIS SHORTWAVE RADIO I WOULD HEAR RUSSIAN, ARABIC, CHINESE, OPERA, JAZZ, AND ALL OF A SUDDEN NOT FEEL SO ISOLATED, SO FAR AWAY FROM EVERYTHING. I REALIZED THE WORLD WAS FILLED WITH STORIES, VOICES, AND SOUNDS, BUT THAT ONE NEEDED TO BE ABLE TO TUNE IN TO THE RIGHT FREQUENCY TO RECEIVE THEM. IT WOULD TAKE ROUGHLY FIFTEEN MORE YEARS UNTIL I READ BERTHOLD BRECHT'S LECTURE ON RADIO WHERE HE SAID THAT FOR THE FULL POTENTIAL OF RADIO TO BE FULFILLED, THE LISTENER SHOULD BE ABLE TO TALK BACK. AND THIS IS WHAT THIS REPORT IS
ABOUT, THE ABILITY OF INTERNET USERS TO BE ABLE TO TALK BACK, AND TAKE PART IN THE SHAPING OF WHAT THE INTERNET LOOKS LIKE. AND THIS IS WHAT HAS SHAPED MY ACTIVISM AND WORK, THE ABILITY TO BUILD AN EQUITABLE WORLD, WHERE EVERYONE HAS AN EQUAL SAY IN HOW IT IS SHAPED. THE INTERNET IS OFTEN DESCRIBED AS A GLOBAL NETWORK OF NETWORKS. BUT IF THIS NETWORK IS TRULY GLOBAL, WHY IS IT NEARLY IMPOSSIBLE TO HAVE AN EMAIL ADDRESS, ONE OF THE OLDEST APPLICATIONS ON THE INTERNET, IN A NON-LATIN SCRIPT LIKE CHINESE, ARABIC OR HINDI? WHY IS IT NOT ACCESSIBLE? THIS IS NOT JUST TRUE FOR APPLICATIONS, BUT ALSO FOR THE PROTOCOLS AND THE WHOLE PROGRAMMING STACK THAT UNDERPIN THE APPLICATIONS THAT ARE BUILT ON TOP. WHEN RAMSEY NASSER, A LEBANESE-AMERICAN COMPUTER SCIENTIST, WROTE AN ARABIC PROGRAMMING LANGUAGE HE CALLED IT 'ENGINEERING PERFORMANCE ART' BECAUSE IT FUNCTIONED TO SHOW HOW EVERY LAYER OF THE TECHNOLOGICAL STACK REJECTED ARABIC AS AN ACCEPTABLE FORM OF INPUT.
THERE ARE MANY INHERENT BIASES, NORMS, AND VALUES INSCRIBED IN THE INTERNET INFRASTRUCTURE. VALUES, NORMS, AND BIASES THAT SHAPE EVERYTHING THAT GETS BUILT ON TOP OF THIS INFRASTRUCTURE. WHICH PRACTICALLY MEANS ALL THE SOCIETIES WE LIVE IN, THAT ALL BECOME INCREASINGLY DIGITIZED. AND GET INFLUENCED BY THE BIASES THAT ARE INSCRIBED IN THE INFRASTRUCTURE.
PROFESSOR KELLER EASTERLING TEACHES US THAT INFRASTRUCTURES SET THE INVISIBLE RULES FOR EVERYDAY LIFE AND THAT THE SHAPING OF THESE INFRASTRUCTURES THEMSELVES IS A FORM OF EXTRASTATECRAFT. PREVIOUS TRANSNATIONAL COMMUNICATION NETWORKS WERE LARGELY REGULATED BY STATES AND INTERGOVERNMENTAL BODIES, SUCH AS THE OLDEST STILL-FUNCTIONING INTERNATIONAL ORGANIZATION, THE INTERNATIONAL TELECOMMUNICATIONS UNION, ESTABLISHED IN 1865. THIS, HOWEVER, IS NOT THE CASE WITH THE INTERNET, WHICH IS GOVERNED THROUGH A MYRIAD OF MULTISTAKEHOLDER BODIES THAT ARE DOMINATED BY THE COMPANIES THAT RUN, OWN, AND PROVIDE THE INFRASTRUCTURE. BUT THIS WAS NOT ALWAYS THE CASE. WE SHOULD NOT FORGET THAT THE HISTORY OF THE INTERNET STARTED WITH NATION-STATES. IF I NEEDED TO PINPOINT THE HISTORY OF THE INTERNET, IT WOULD START IN
OCTOBER 1957 WITH THE LAUNCH OF THE SPUTNIK SATELLITE BY THE SOVIET UNION, AMID THE COLD WAR. THE FIRST HUMAN LAUNCHED ARTIFICIAL SATELLITE EMANATED WHAT TIME MAGAZINE WOULD CALL "THOSE CHILLING BEEPS" THAT COULD BE RECEIVED ALL ACROSS THE WORLD. BEEP BEEP BEEP. THAT EPITOMIZED THE UNEXPECTED SCIENTIFIC AND TECHNOLOGICAL SUPREMACY OF THE SOVIET UNION. THIS LED TO THE ESTABLISHMENT OF THE
UNITED STATES DEPARTMENT OF DEFENSE ADVANCED RESEARCH PROJECTS AGENCY, ALSO KNOWN AS ARPA, WHICH WOULD FUND WHAT LATER WOULD BECOME THE INTIRNT. UNTIL THE EARLY '90S, THE UNITED STATES GOVERNMENT WOULD OPERATE THE BACKBONE OF THE INTERNET - WHICH ACTUALLY PROHIBITED THE SENDING AND RECEIVING OF TRAFFIC WITH COMMERCIAL CONTENT, BECAUSE THE BACKBONE WAS PUBLICLY FUNDED THROUGH THE NATIONAL SCIENCE FOUNDATION. WHEN THE SOVIET UNION COLLAPSED, THE UNITED STATES RELINQUISHED DIRECT CONTROL OVER THE INTERNET AND STARTED A PROCESS OF PRIVATIZATION AND COMMERCIALIZATION, WHICH LED TO THE FORMAL ESTABLISHMENT OF THE INTERNET GOVERNANCE BODIES WE KNOW TODAY, SUCH AS THE INTERNET ENGINEERING TASK FORCE, WHICH SETS THE PROTOCOLS AND SAFETY STANDARDS FOR THE INTERNET. PREVIOUSLY AND INFORMALLY, THESE WERE WORKING GROUPS LED BY THE U.S. GOVERNMENT. NOW POWER AND CONTROL
TRANSITIONED FROM U.S. GOVERNMENTAL POWER TO PREDOMINANTLY U.S. CORPORATE POWER. THIS POWER IS EXERCISED IN OWNERSHIP AND CONTROL OVER THE INTERNET INFRASTRUCTURE - BUT EVEN THOUGH THERE IS AN INCREASING AMOUNT OF CONSOLIDATION, MEANING THAT LARGER PARTS OF THE INFRASTRUCTURE ARE IN THE HANDS OF A SMALLER NUMBER OF CORPORATIONS, THERE IS STILL A NEED FOR THESE CORPORATIONS TO COLLABORATE BECAUSE NONE OF THEM HAVE, OR SHOULD HAVE, AN ABSOLUTE MONOPOLY. THESE COLLABORATIONS TAKE SHAPE THROUGH GOVERNANCE BODIES. IN THESE GOVERNANCE BODIES, NON- BINDING RULES ARE NEGOTIATED THAT ALLOW FOR BROWSERS, OPERATING SYSTEMS, ROUTERS, NETWORKS, AND APPLICATIONS FROM DIFFERENT VENDORS AND PROVIDERS TO INTEROPERATE WITH EACH OTHER. THIS IS IN THE INTEREST OF ALL PARTICIPATING PARTIES BECAUSE THE MORE NETWORKS AND DEVICES ARE CONNECTED TO THE INTERNET, THE MORE VALUE THE WHOLE INTERNET HAS.
THIS IS CALLED NETWORK EXTERNALITY, OR NETWORK EFFECT. AND THIS IS EXACTLY WHAT HAS HELPED THE INTERNET TO GROW TO THE NETWORK IT IS NOW: EVERYONE WANTS TO CONNECT TO IT, AND WITH EVERY DEVICE OR SERVICE THAT GETS CONNECTED, THE INCENTIVE TO CONNECT TO THE INTERNET INCREASES. IN THIS SENSE, THE INTERNET IS A MIRACLE OF TRANSNATIONAL COLLABORATION. THE INTERNET INFRASTRUCTURE CONSISTS OF MORE THAN 70,000 INTERCONNECTED NETWORKS, MANY DIFFERENT DEVICES, ROUTERS, STANDARDS, INSTITUTIONS, AND THE PEOPLE THAT KEEP IT RUNNING. HOWEVER, THE GOVERNANCE MECHANISMS FOR THE INTERNET INFRASTRUCTURE ARE OPTIMIZED TO INCREASE INTERCONNECTION BETWEEN ALL THESE DEVICES AND NETWORKS. THIS MEANS THAT NORMS AND VALUES THAT MIGHT DECREASE INTERCONNECTION GET RESISTED OR SUBVERTED.
CONCRETELY, THIS MEANS THAT THE INFRASTRUCTURE ON WHICH WE BUILD OUR INFORMATION SOCIETIES IS DESIGNED AND SHAPED BASED ON THE INTERESTS OF MULTINATIONAL CORPORATIONS, NOT ON THE PUBLIC INTEREST. THE GOVERNANCE INSTITUTIONS IN WHICH THE INTERNET IS DESIGNED, STANDARDIZED, AND GOVERNED, ARE NOT STRUCTURALLY TAKING THE PUBLIC INTEREST INTO ACCOUNT IN THEIR PROCESSES. ACTUALLY, THEY RESIST ANY PROPOSAL TO INTEGRATE THIS IN THEIR PROCESSES. THIS NEEDS TO CHANGE. WITH THE INCREASING IMPORTANCE OF THE INTERNET, THE TECHNOLOGIES, ORGANIZATIONS, AND INSTITUTIONS THAT RUN THE INTERNET SHOULD BE SCRUTINIZED BASED ON THEIR SOCIETAL IMPACT, THEIR IMPACT ON HUMAN RIGHTS ON USERS AROUND THE WORLD. THIS IS NOT AN EASY THING TO ASK, ESPECIALLY SINCE THE DESIGN OF THE INTERNET IS DISTRIBUTED, AND DESIGNED, STANDARDIZED, AND OPERATED BY MANY ORGANIZATIONS. BUT THIS IS BY NO MEANS IMPOSSIBLE, AND EVERYONE SHOULD DO THEIR PART. HUMAN RIGHTS
IMPACT ASSESSMENTS SHOULD BE AN INHERENT PART OF THE INTERNET INFRASTRUCTURE PROVIDERS, AND IF COMPANIES ARE NOT WILLING TO DO SO THEMSELVES, GOVERNMENTS SHOULD STIMULATE THEM TO DO SO. WE ALREADY SEE AN INCREASE IN REGULATION AND LAWS BY GOVERNMENTS IN RUSSIA, CHINA, BRAZIL, GERMANY, FRANCE, THE NETHERLANDS, AS WELL IN THE UNITED STATES, EXACTLY BECAUSE COMPANIES ARE NOT TAKING THEIR RESPONSIBILITY TO EXPLICITLY ALIGN THEIR TECHNOLOGIES AND SERVICES WITH SOCIETAL VALUES. THOSE WHO DESIGN, STANDARDIZE, AND MAINTAIN THE INFRASTRUCTURES ON WHICH WE RUN OUR INFORMATION SOCIETIES, SHOULD ASSESS THEIR ACTIONS, PROCESSES, AND TECHNOLOGIES ON SOCIETAL IMPACT. GOVERNMENTS AND CIVIL SOCIETY SHOULD PARTICIPATE IN THESE PROCESSES HOLD THESE ACTORS TO ACCOUNT, THE INTERNET IS SIMPLY TOO IMPORTANT. FINALLY, THIS IS NOT AN ARGUMENT FOR INTERNET REGULATION AND AGAINST MULTISTAKEHOLDER INTERNET GOVERNANCE.
QUITE THE OPPOSITE. THIS IS AN ARGUMENT TO IMPROVE INTERNET GOVERNANCE, TO MAKE IT MORE THAN INDUSTRY SELF-REGULATION. IF WE WANT ITERATIVE OPEN GOVERNANCE PROCESSES TO SUCCEED, WE SHOULD MAKE THEM MORE DEMOCRATIC, WHICH MEANS ACCOUNTING FOR INHERENT POWER IMBALANCES, SUCH AS THEY EXIST NOW IN INTERNET GOVERNANCE. IN ORDER TO DO THIS, THE RIGHTS AND IMPACT ON CITIZENS AND SOCIETY SHOULD BE CENTRAL IN THE DESIGN, STANDARDIZATION, AND OPERATION. OF NETWORKING TECHNOLOGIES. THIS MEANS THAT USERS OF THE INTERNET SHOULD BE UNDERSTOOD AS CITIZENS, AND NOT JUST REDUCED TO AN IDENTITY OF CUSTOMERS OR ENTITIES OF DATA EXTRACTION.
BUT INDIVIDUALS AND COMMUNITIES THAT HAVE THE RIGHT TO KNOW AND INFLUENCE HOW THEIR INFORMATION IS BEING PROCESSED. THERE HAS BEEN A TIME WHEN THE INTERNET WAS MAINLY A PROJECT FOR THE MILITARY, A TIME IN WHICH IT WAS A PROJECT FOR ACADEMICS, THEN CAME A TIME THE INTERNET WAS A PROJECT FOR CORPORATIONS. NOW IS THE TIME WE MAKE THE INTERNET A PROJECT FOR CITIZENS AND COMMUNITIES. WHEN A KID ANYWHERE AROUND THE WORLD LOGS ON TO THE INTERNET, THEY SHOULD BE ABLE TO FEEL WHAT I FELT WHEN I SAT IN THE GLOW OF THE TUBE RADIO: A SENSE OF TRUE CONNECTION. THIS SHOULD BE A CONNECTION THAT SPEAKS THEIR LANGUAGE, IS WELCOMING TO THEIR IDENTITY, AND IS PROTECTING THEIR PRIVATE INFORMATION, AN INTERNET THAT THEY CAN SHAPE, AND A LIGHT IN WHICH THEY CAN GROW, EXPERIMENT, AND LIVE. THAT IS A HUMAN RIGHTS-RESPECTING INTERNET INFRASTRUCTURE. THE INTERNET INFRASTRUCTURE SHOULD ADDRESS THEM IN THEIR
LANGUAGE, BE CONFIGURABLE BY THAT EXACT KID TO THEIR INTEREST AND IDENTITY, TO ALLOW THEM TO FURTHER DEVELOP EQUITABLE TECHNOLOGY FOR AN EQUITABLE SOCIETY. >> THANK YOU SO MUCH, NIELS, FOR AN OVERVIEW OF YOUR WORK. I'D LIKE TO INVITE BOB FROM MOZILLA HERE NOW TO INTRODUCE HERSELF, OFFER SOME THOUGHTS AND CHAT BETWEEN YOU TWO. I'LL BE BACK IN A LITTLE BIT TO FACILITATE A Q&A. SO A LITTLE NOTE FOR EARN HERE TODAY, YOU CAN USE THE Q&A FUNCTION THROUGH ZOOM TO SUBMIT THOSE QUESTIONS AND WE'LL COME BACK TO THOSE IN ABOUT 20 OR 30 MINUTES. >> THANKS, MICHAEL, AND THANKS, NIELS. NIELS, I COULD LISTEN TO YOU FOR A REALLY LONG TIME.
MAYBE I'LL JUST INTRODUCE MYSELF A LITTLE BIT MORE ON THE BACK END OF MICHAEL'S INTRODUCTION AND I'LL START WITH THAT. I CONSIDER MYSELF TO BE A MOVEMENT STRATEGIST AND MY TIME AT MOZILLA IS REALLY LOOKING AT BRINGING OUR MOVEMENT BUILDING STRATEGY TO BEAR GLOBALLY. I REALLY APPRECIATED YOUR STORY ABOUT YOUR RADIO AS WELL AS YOUR PROPS. WHILE I DON'T HAVE ANY PERHAPS TO OFFER, IT DID MAKE ME THINK ABOUT HOW I CAME TO THIS WORK AND FROM AN EARLIER PLACE THAN MAYBE MY BIO WOULD SUGGEST. PRIOR TO TO JOINING
ASTRAYA, MY ENTIRE CAREER HAS BEEN IN FILM. AND MOST OF MY WORK CENTERS AROUND DIASPRA AND EX ILL AND THE TEMPERALTY OF NATION STATES. WHEN I FOUND MYSELF IN THE POSITION OF BECOMING A JOKE, GAY FOR PAY OR AN ACTIVIST FULL TIME, BUT WHAT IT MEANT FOR ME TO JOIN ASTRAYA, BUT PARTICULARLY WHAT IT MEANT TO JOIN A PHILANTHROPIC ORGANIZATION TO ME WAS ABOUT THE DEINVISIBLEZATION OF POWER AS IT'S RELATED TO CAPITAL. AND, NIELS, WHEN YOU
SPEAK ABOUT THE INVISIBILITY OF INFRASTRUCTURE, THAT MAKES ME, YOU KNOW, SORT OF SIT UP STRAIGHT BECAUSE, TO ME, THEN I UNDERSTAND ANY INVISIBILITY IS A POWER PROPOSITION, RIGHT? SO THE ROOT CAUSE OF INEQUITY, THE ROOT CAUSE OF HOW ANYTHING FUNCTIONS IN THE RATIONALIZED CAPITALISTS GLOBAL ENVIRONMENT THAT WE'RE OPERATING IN, LIKE TO ME, I UNDERSTAND THAT THERE'S AN INHERENT POWER DYNAMIC THAT'S AT PLAY ALWAYS. AND.I BEGAN VERY SPECIFICALLY, IF I WAS LOOKING AT THE -- FROM A HUMAN RIGHTS LENS WHERE HOW PEOPLE'S LIVED EXPERIENCE WERE, ACTUALLY TAKING SHAPE IN A DAY-TO-DAY, I ALSO UNDERSTAND THAT THERE'S A TENUOUS RELATIONSHIP BETWEEN THE LAW AND OUR LIVED EXPERIENCE. AND SO WHEN I -- EVENTUALLY, I CAME TO THINK ABOUT TECHNOLOGY AS TERRAIN AND THE INTERNET, IN THOSE BRACKETED TERMS AS A GEOLOGY THAT ALL THE PEOPLE WHO I CARE ABOUT AND ALL THE COMMUNITIES WHO I HAVE BEEN FIGHTING FOR ALSO EXIST AND LIVE. AND THAT DEEPLY UNDERSTANDING THAT THE INEQUITIES THAT WE FACE AND ALSO THE OPPORTUNITIES THAT WE HAVE ALSO EXIST IN THIS GEOGRAPHY. AND SO EVENTUALLY, THE DISTANCE THAT MIGHT SEEM BETWEEN ANALOG STRUGGLES FOR HUMAN RIGHTS AND TECHNOLOGICAL STRUGGLES FOR HUMAN RIGHTS, THAT WAS -- I UNDERSTAND THAT AS A FALSE DISTANCE.
AND SO THAT IS SORT OF HOW I THINK WE KIND OF FIND OURSELVES IN THIS ZOOM SQUARE TODAY AS HAVING CONVERSATIONS KIND OF COMING FROM OUR RESPECTIVE PERSPECTIVES. SO I ALSO LEARNED IN ALL OF OUR PRECONVERSATIONS THAT YOU AND I COULD -- EASILY AND I APPRECIATE THAT. SO I THOUGHT WHAT WOULD BE USEFUL FOR AN AUDIENCE IS TO START THE CONVERSATION WITH WHERE YOU WOULD LIKE THIS CONVERSATION TO END. SO WHAT DO YOU THINK THE OPPORTUNITY REALLY IS? WHERE DO YOU WANT US TO HAVE THIS CONVERSATION END? WHAT DO YOU WANT TO LEAVE US WITH? AND THEN LET'S SPEND THE REST OF THE CONVERSATION KIND OF FIGURING OUT HOW TO GET THERE AND WHAT HAS CAUSED THOSE OPPORTUNITIES. SO THAT'S KIND OF MY FIRST QUESTION TO
YOU, NIELS. AND WE DIDN'T PREPARE THESE IN ADVANCE BECAUSE WE BOTH DECIDED THAT WE WOULD BE BETTER IMPROMPTU. SO THIS IS A REAL REALITY SHOW FOR EVERYONE WHO IS LOGGED INTO THIS CONVERSATION. BUT -- AND FEEL FREE, IF I DON'T ASK YOU SOMETHING THAT I SHOULD, OR IF YOU THINK MY QUESTIONS ARE TERRIBLE, TO JUST REFRAIN THEM. I'M VERY HAPPY FOR THAT. >> THANKS SO MUCH,
BOB. THIS IS EXACTLY THE KIND OF QUESTION AND THE DIALOGUE I'M HOPING TO HAVE. AND I WAS TOUCHED BY TWO THINGS YOU SAID. ONE THING WAS HOW YOU GREW WITHIN MOVEMENTS AND SEE YOURSELF AS A MOVEMENT BUILDER. THAT IS WHERE I NEED TO START AND IT'S ALSO WHERE I WANT TO END. BECAUSE MY WORK IS NOT DONE BY ME. IT'S BEEN -- I'VE BEEN DOING THAT WITH A LOT OF PEOPLE,
WITH A LOT OF GREAT THINKERS, A LOT OF GREAT DOERS, AND A LOT OF GREAT PEOPLE WHO HAVE HELPED THINK AND ARE WORKING THIS OUT ALONG THE WAY. AND THOSE ARE PEOPLE AT AMERICAN CIVIL LIB TERTIES UNION AND TECHNOLOGY, THE PEOPLE AT ARTICLE 19 AND PEOPLE AROUND THE WORLD WHO HAVE BEEN WORKING ON THESE VERY HARD ISSUES. AND THE COOL THING IS WE DON'T HAVE THE ANSWER, BUT NO ONE HAS. THAT IS ALSO THE REALLY NICE THING ABOUT TECHNOLOGIES. I DO NOT BELIEVE THAT WE CAN INSCRIBE
VALUES AND TECHNOLOGIES PER SE, BECAUSE THEY CAN BE USED IN DIFFERENT WAYS AND DIFFERENT CONTACTS. BUT WE CAN MAKE IT EASY TO TO DO SOME THINGS WITH TECHNOLOGY THAN TO DO OTHER THINGS. AND I THINK THAT IS WHAT WE REALLY SHOULD TRY TO DO IN FACT, GET AS MANY AS POSSIBLE INCLUSIVE VOICES AND DIFFERENT PERSPECTIVES IN ACCOUNTABLE FORUM TO PRODUCE THE INFRASTRUCTURE FOR SOCIETY. CURRENTLY, THAT IS NOT THE CASE AND THAT IS NOT BECAUSE THE PEOPLE WHO ARE IN POWER ARE BAD. NO, OFTEN THEY WEREN'T EVEN LOOKING FOR THOSE POSITIONS. THEY WERE JUST ENGINEERS WORKING ON NETWORKS. BUT THEY HAVE GAINED
A LOT OF INFLUENCE AND SOMETIMES THEY SEEM TO HAVE BELIEVED THEY DESERVE IT. AND NO ONE DOES. AND THAT IS THE DANGER OF THE POWER WHEN IT'S CENTRALIZED. THAT IS WHERE WE SHOULD KEEP ASKING QUESTIONS, BUILD IN NEW MECHANISMS AND KEEP ASKING, CAN WE DO THIS DIFFERENTLY? IS THIS REALLY HELPING THE PEOPLE WHO NEED IT MOST OR IS THIS ACTUALLY AMASSING MORE POWER IN SMALLER PLACES OR TO THE PEOPLE WHO ACTUALLY DON'T NEED IT AT ALL. >> WHEN WE TALK ABOUT POWER AND WEALTH, THEY BECOME INEX TRICKBLE WHEN WE TALK ABOUT TECHNOLOGY COMPANIES, RIGHT? AND THEN WHEN YOU'RE TALKING ABOUT INFRASTRUCTURE, I CAN THINK OF THAT AS A REALLY, LIKE, THEORETICAL THERM OR, AS I DELVE INTO YOUR PAPER, UNDERSTAND IT AS A VERY SPECIFIC LAYERED LOCATION AND SET OF RULES AND AGREEMENTS. IN READING YOUR PAPER, I ALSO SEE THAT
YOU'RE SAYING THERE ARE SOME KEY OPPORTUNITIES AND WAYS THAT FOLKS CAN PLUG IN. AND LET ME STEP BACK, DO YOU THINK YOU CAN JUST -- THERE ARE SO MANY AFTERNOONS AND THERE ARE SO MANY DIFFERENT GOVERNING BODIES, ETCETERA, CAN YOU JUST KIND OF EXPLAIN THE DIFFERENCE BETWEEN THE RULES THAT NATIONS STATES MIGHT BE IMPOSING AND THEN WHAT INTERNET GOVERNING BODIES YOU'RE TALKING ABOUT. AND THEN IF I'M A -- FULL STOP AND THEN BECAUSE WHAT I WANT TO DO IS IF YOU'RE SAYING, OKAY, I'M A MEMBER OF CIVIL SOCIETY, I'M AN ACTIVIST WITH A PARTICULAR POINT OF VIEW AND THERE'S A WAY FOR ME TO GET ENGAGED, I DON'T NECESSARILY KNOW WITH WHOM OR HOW. AND I HAVE LIMITED TIME AND ATTENTION. SO THAT IS KIND OF WHERE I'M HEADED IS TO IMAGINE WHAT DOOR YOU THINK IS AN OPPORTUNITY TO WALK THROUGH. >> EXCELLENT. PLEASE ALLOW ME TO GO BACK AND
SHOW YOU ANOTHER PROPERTY. BECAUSE I THINK WHERE WE ARE NOW IS NOT A NEW TIME. IT'S NOT SOMETHING THAT HAS NEVER HAPPENED BEFORE. BECAUSE IN THE TIME OF THE TELEGRAPH, AND THIS IS A TELEGRAPH TICKER -- >> THIS IS AMAZING, BY THE WAY. I AM VERY
IMPRESSED BY YOUR ARSENAL OF PROPS. >> YEAH. THAT'S MY HOUSE NOW. SO THERE WERE -- THE WAY THAT THE TELEGRAPH WAS ORGANIZED AND REGULATED WAS VERY DIFFERENT IN THE U.S. AND IN EUROPE. IN THE U.S., IT WAS THE BELL COMPANY THAT HAD THE MONOPOLY AND THAT WOULD GROW INTO WESTERN UNION AND HAD THE MONOPOLY AND THERE WERE SEVERAL OTHER SMALLER COMPANIES. IN EUROPE, THE TELEGRAPH WAS REGULATED BY NATION STATES. AND THAT WENT ON TO ESTABLISH THE INTERNAL
TELECOMMUNICATIONS UNION, TELEGRAPH UNION WHICH BECAME THE INTERNATIONAL TELECOMMUNICATIONS UNION. BUT STANDARDIZATION WAS NEEDED BECAUSE THIS FIRST TRANSATLANTIC NETWORK WAS LAID WHEN THERE WAS A CABLE LAID AND THIS CABLE WORKED EXACTLY FOR THREE WEEKS BECAUSE THERE WERE NO PROPER STANDARDS ON INSULATION. SO THIS EXTREMELY EXPENSIVE PROJECT FAILED. AND LIKE THIS NEED FOR GOVERNANCE AND STANDARDIZATION IS OFTEN A HISTORY OF FAILURE. THAT WE NEED TO GET THROUGH TO
MAKE IT BETTER. SO WE ARE NOW ACTUALLY IN A BETTER POSITION BECAUSE WE DO NOT NECESSARILY NEED TO CHOOSE BETWEEN GOVERNMENTS THAT MAKE LAWS AND MAKE BINDING RULES OR A MARKET THAT IS COORDINATING AMONG ITSELF BECAUSE WE CURRENTLY SEE THAT THE INTERNET IS BEING REGULATED BY LOSS. THAT IS SOMETHING THAT CORPORATIONS AND INDIVIDUALS REALLY NEED TO HOLD THEMSELVES ON TO AND VOLUNTARY STANDARDS THAT ARE DEVELOPED THROUGH LARGELY THROUGH INTERNET GOVERNANCE. AND SO TOGETHER, THEY FORM THIS WEB OF GOVERNANCE, BUT MOST GOVERNANCE OF THE INTERNET STILL TAKES PLACE IN THESE MULTI STAKEHOLDER GOVERNANCE BODIES. AND THERE, WE HAVE A REAL OPPORTUNITY TO SHAPE WHAT THE NEXT GENERATION NETWORKS LOOK LIKE. BUT IT IS HARD FOR A SINGLE ACTOR OR EVEN A
LARGER GROUP OF CIVIL SOCIETY ACTORS TO REALLY INFLUENCE BECAUSE THESE AGREEMENTS ARE NONBINDING AND OTHER GROUPS ARE OVERRESOURCED. ARE ACTUALLY RESOURCED IN A GREAT DISBALANCE TO CIVIL SOCIETY SECTORS. AND EVEN GOVERNMENTS FACE THAT PROBLEM, THAT THEY DO NOT HAVE AS MANY RESOURCES TO PARTICIPATE. AND THIS MEANS THAT THE MAIN NORM SETTERS IN MULTI STAKEHOLDERS GOVERNANCE ARE PRIVATE CORPORATIONS. THIS IS SIMPLY A FUNCTION OF THE WAKE MULTI STAKEHOLDER GOVERNANCE WORK.
THIS IS NOT BECAUSE THE PRIVATE CORPORATIONS ARE BAD. ACTUALLY, IT IS GREAT THAT SO MANY PEOPLE CAN PARTICIPATE IN INTERNET GOVERNANCE AND IN MANY WAYS, IT IS EASIER TO PARTICIPATE IN INTERNET GOVERNANCE THAN TO PARTICIPATE IN RULE MAKING IN THE U.N. WHERE INDIVIDUALS DO NOT EVEN HAVE A SAY AND OFTEN CANNOT EVEN ENTER THE ROOM. IN INTERNET GOVERNANCE,
IT'S VERY TOEZ JOIN A CALL, TO JANE MAILING LIST, TO GET TO UNDERSTAND HOW THE INTERNET REALLY WORKS. BECAUSE THE INTERNET IS BUILT ON OPEN STANDARDS AND THAT'S HAVING THAT'S VERY STRONG. BUT THEN HOW DO WE BALANCE THE OPINIONS OF DIFFERENT PEOPLE THAT PARTICIPATE AND ENSURE THAT THERE IS AN ENABLING CULTURE FOR DIFFERENT PEOPLE WITH DIFFERENT SHOES TO PARTICIPATE BECAUSE ALSO EXCELLENT WORK OF CURRENT SHOWS THERE IS REALLY A CULTURE THAT IS NOT NECESSARILY WELCOMING FOR EVERYONE TO PARTICIPATE IN THAT PROCESS AND NOT EVERYONE'S VOICE IS EQUALLY VALUED. >> I REALLY APPRECIATE THAT. CAN YOU TELL ME KIND OF SPECIFICALLY ABOUT AN OPEN STANDARD THAT MATTERS IN THIS CASE? IF I'M LOOKING AT THIS WITH NEW EYES OR I DON'T HAVE THE BREADTH OF YOUR KNOWLEDGE ON THIS, THAT WOULD BE HELPFUL. >>
YEAH. SO THE CIVIL SOCIETY WAS VERY SUCCESSFUL IN STOPPING WAS THE PROPOSAL BY THE ORGANIZATION VERY SIGNED THAT WANTED TO GLEMT A STANDARD TO COMPLY WITH CHINESE DRAFT LAW. A LAW THAT WASN'T EVEN GONE INTO EFFECT YET, BUT WOULD CREATE A PROTOCOL TO ALLOW FOR A VERIFIED IDENTITY PROVIDER TO CHECK YOUR IDENTITY BEFORE YOU WOULD BE ABLE TO REGISTER A HOME PAGE, A DOMAIN. YOU SAW THAT A AMERICAN CORPORATION WAS MAKING IT EASIER TO HAMPER PEOPLE'S FREEDOM OF EXPRESSION AND RIGHT TO -- UNDER A PARTICULAR TOP LEVEL DOMAIN ON THE INTERNET BY GIVING DIRECT INSIGHT INTO A VERIFIED IDENTITY PROVIDER. SO CIVIL SOCIETY WAS ABLE TO INTERVENE. IT IS PROPORTIONATE. THERE IS NO CLEAR NOOR NEED FOR THIS. THIS SHOULD NOT HAPPEN.
SO CIVIL SOCIETY, THIS WAS IN THE INTERNET ENGINEERING TASK FORCE. THERE ARE OTHER THINGS THAT MAYBE ARE A BIT MORE COMPLEX. SUCH AS THE ERROR CODE 404 WHEN THEY MISTYPE A URL IN THEIR BROWSER. WELL, THERE IS ALSO AN HTTP REPORT CODE 451 WHICH IS BLOCKED FOR LEGAL REASONS. IN THAT CASE,
YOU KNOW WHEN A WEBSITE IS BLOCKED BECAUSE A COURT HAS ORDERED IT TO BE TAKEN DOWN. SO THERE WAS REALLY QUITE SOME WORK IN THE IETF TO GET THIS ERROR CODE IN THERE TO MAKE CENSORSHIP MORE VISIBLE AND TO ALSO ALLOW PEOPLE FOR REDRESS. SO IF THEY WOULD VISIT THE WEBSITE, THEY WOULD KNOW, OH, SOMEONE HAS TAKEN THIS. ON WHOSE AUTHORITY CAN I COMPLAIN AND BE INFORMED ABOUT IT SO YOU WOULD KNOW WHY AND HOW IT'S CENSORED FOR AND WHO YOU CAN ADDRESS TO. UNFORTUNATELY, WE NOW LARGELY SEE THE IMPLEMENTATION OF HTTP ERROR CODE 451 NOT IN THOSE CASES, BUT ACTUALLY IN CASES WHERE LARGELY AMERICAN MEDIA OUTLETS DO NOT WANT TO COMPLY WITH THE GENERAL DATA PROTECTION REGULATION IN EUROPE AND THEN BLOCK ALL EUROPEAN IP ADDRESSES AND SAY WE'RE NOT GOING TO COMPLY SO WE'RE NOT GOING TO SERVE YOU THIS INFORMATION. ONE CANNOT
DETERMINE BEFOREHAND HOW SOMETHING IS GOING TO WORK OUT. BUT MEANING THAT DOESN'T MEAN YOU SHOULD NOT CONSIDER IT. SO WE SHOULD NOT FALL INTO THE TRAP OF TECHNOLOGICAL DETERMINISM, BUT WE CAN DEFINITELY THINK AND TRY TO ENSURE THAT IT WILL NOT BE ABUSED AND IT WILL NOT HAMPER HUMAN RIGHTS. >> DO YOU IMAGINE THAT IN ORDER TO ADOPT A HUMAN RIGHTS FRAMEWORK OR HUMAN RIGHTS ASSESSMENT THAT THE WAY FOR THAT TO HAPPEN IS THROUGH A BROADER PARTICIPATION IN THE GOVERNANCE ARENA OR -- YEAH, HOW DO YOU IMAGINE THAT COMING TO FRUITION? AND I DON'T ASSUME IT'S ONE -- I MEAN, LET ME NAME MY OWN BIAS IS THAT I -- IN ORDER FOR ANY CHANGE TO HAPPEN, THERE HAS TO BE A GRASSROOTS TO GRASS TOPS APPROACH.
SO I DON'T THINK IT'S ONLY THROUGH ONE MECHANISM. BUT, YEAH, I'M CURIOUS, I MEAN, OBVIOUSLY, YOU GO TO GREAT LENGTHS TO ILLUSTRATE HOW MUCH OF THE INTERNET GOVERNANCE ORGANIZATIONS KIND OF WERE CREATED WITH THIS UTOPIAN IDEAL AND STILL EXIST KIND OF CLINGING TO THAT IDEAL, BUT PRESERVING A MONOLITH. AND I'M WONDERING IF YOU CAN IMPACT THAT A LITTLE BIT. >> SO I THINK IT IS VERY -- HUMAN RIGHTS IMPACT ASSESSMENTS ARE VERY USEFUL TOOL. BECAUSE IT ALSO
HELPS US TO OVERCOME INTERNET EXCEPTIONALISM. AND THE U.N. GUIDING PRINCIPLES STEM OUT, OF COURSE, THE DEVELOPMENT OF HUMAN RIGHTS AFTER THE SECOND WORLD WAR AND THE DEVELOPMENT OF DIFFERENT TREATIES. AND IN THE 70s, THERE WAS THIS CLEAR BUSINESS ACCOUNTABILITY MOVEMENT THAT STARTED GROWING THAT SAID IT'S NOT JUST STATES THAT SHOULD BE HELD TO ACCOUNT, BUT ALSO BUSINESSES. AND THIS DEVELOPED INTO THE U.N. GLOBAL COMPACT WHICH GAVE RISE TO THE TERM CORPORATE SOCIAL RESPONSIBILITY WHICH OFTEN MEANT HERE I CAN DO SOMETHING WRONG, BUT THERE I BUILD A SCHOOL SO WE'RE FINE. SO TO CREATE MORE STRIJ STRINGENT AND BETTER RULES FOR THAT.
JOHN DEVELOPED THE U.N. GUIDING PRINCIPLES FOR BUSINESS AND HUMAN RIGHTS AND THAT IS ACTUALLY BEING IMPLEMENTED IN THE GARMENT SECTOR TO EXTRACT THE SECTOR, THE FINANCIAL SECTOR, AND THE INTERNET, THE DIGITAL INFRASTRUCTURE IS COMPLETELY LAGGING BEHIND. SO WHEREAS THE DIGITAL INDUSTRY OFTEN PRIDES ITSELF ON BEING THE FIRST, INNOVATING IN TAXATION AND ACCOUNTABILITY. AND I THINK THIS IS ONE OF THE WAY TOES USE A GLOBAL FRAMEWORK TO HOLD THEM TO ACCOUNT FOR SOCIAL JUSTICE. AND WHAT IS SO SMART AND SO NICE ABOUT THESE HUMAN RIGHTS IMPACT ASSESSMENTS IS THAT THEY ALSO SAY A HUMAN RIGHTS IMPACT IS NEVER AN ENDPOINT. IT'S THERE TO KNOW AND TO SHOW THE IMPACT AND POTENTIAL IMPACT ON HUMAN RIGHTS AND SEEK HOW TO IMPROVE THEM.
AND A HUMAN RIGHTS IMPACT ASSESSMENT INHERENT PART OF IT IS ALWAYS A CONSULTATION OF THE POTENTIALLY IMPACTED STAKEHOLDERS. AND THAT MEANS THAT IT'S NOT JUST APPROPRIATION, CAN DO IT BY THEMSELVES, BUT THEY HAVE TO MEANINGFULLY ENGAGE. AND THE KEY WORD HERE BEING MEANINGFUL ENGAGE WITH POTENTIALLY IMPACTED COMMUNITIES. AND THIS SHOULD BE AN INHERENT PART OF THE DESIGN. AND I DO THINK THAT THAT WAY, WE CAN CREATE BERT SERVICES AND THAT IT HELPS THESE CORPORATIONS, BUT IT WILL BE A WORK TO INTEGRATE THAT INTO THE AWARENESS OF THESE DIFFERENT PROFESSIONALS WHO ALSO MAY HAVE A HARD TIME WORKING WITH GROUPS THAT HAVE DIFFERENT VOE CAPILLARIES AND DIFFERENT EXPERTISES AND DIFFERENT PERSPECTIVE WES BUB THEY WILL BE THE END USERS. SO
HAVING THEM OR AT LEAST IMPACTED BY IT, SO HAVING THEM INFLUENCE IN THE DESIGN PROCESS CAN ACTUALLY HELP AND ALSO HELP ENSURE THAT NOTHING BAD HAPPENED DOWN THE ROAD. >> YEAH. WHEN YOU WERE TALKING ABOUT THE BELL SYSTEM IN THE EARLY DAYS OF THE TELEGRAPH AND THE TELEPHONE IN THE U.S., I REALLY -- I WAS GRATEFUL THAT YOU SAID THAT BECAUSE I HAD SCRIBBLED THAT IN MY NOTES IN A DRAFT OF THE -- OF YOUR PAPER BECAUSE IF YOU LOOK WHEN -- AND THE DIFFERENCE OF OTHER COUNTRIES THAT DIDN'T HAVE -- WEREN'T LADEN WITH THAT PARTICULAR INFRASTRUCTURE, THERE WAS ABLE TO BE AN EVASION IN COUNTRIES THAT WEREN'T BEHOLDEN TO LANDLINE INFRASTRUCTURE THE WAY THE U.S. WAS AND IF YOU LOOK AT MOBILE ADOPTION, THE U.S. ACTUALLY WAS A DECADE BEHIND IN MANY WAYS. AND THE INNOVATION THAT YOU'RE TALKING ABOUT NOW,
IN TERMS OF HUMAN RIGHTS ADOPTION, I THINK THAT LAGGING BEHIND IS NOT DIVORCED FROM THE FACT THAT IT'S NORTH AMERICAN MULTI NATIONALS WHO OFTEN ARE THE DRIVERS BEHIND A LOT OF THE INFRASTRUCTURE ADOPTION HERE. IT'S JUST SIMPLY NOT UNRELATED. IT RELATES TO THEIR BOTTOM LINE. AND IF YOU LOOK AT EVEN THE WEALTH THAT'S ACCUMULATED JUST DURING THE PANDEMIC, THAT, YOU KNOW, THE -- OKAY, I'M LEGITIMATELY ABOUT TO MAKE AN ARGUMENT THAT'S BASED ON A MEME, BUT SINCE THE MEME LIVES ON THE INTERNET, I FEEL LIKE IT'S ENOUGH AT THE MOMENT THAT I CAN LEAD IT TO THAT. SO IT'S A MEME ABOUT BILLIONAIRES THAT I JUST SAW, BUT THE BOTTOM LINE IS THAT IN ORDER FOR THERE TO BE BILLIONAIRES, AND THAT THERE'S THE REQUIREMENT OF THE CONDITIONS THAT CREATE POVERTY, RIGHT? AND, IN FACT, WE KNOW THIS. BUT THAT SYMBIOTIC RELATIONSHIP NECESSITATES
A LACK OF REPRESENTATION, IT NECESSITATES HUMAN RIGHTS ABUSE, IT NECESSITATES ALL OF THOSE THINGS. AND TO ACTUALLY CREATE A STANDARD BY WHICH THERE'S A -- SOME ASSESSMENT AND THAT THE HUMAN RIGHTS ARE ACTUALLY FACTOR DOLLARS IN TO GOVERNANCE STRUCTURE, I MEAN, IF I'M FOLLOWING YOUR ARGUMENT AT SOME POINT THERE ALSO HAS TO BE A LESS OF A CONSOLIDATION OF POWER. AND THAT FEELS COMPELLING TO ME. LIKE THAT ACTUALLY -- I DEFINITELY HIGHLIGHTED LINES IN THE REPORT, REALLY, BECAUSE OF THAT. AND, YOU KNOW, I WANT TO SORT OF SAY SOME THINGS THAT ARE HAPPENING ON THE OTHER SIDE OF THE I'LL IN FOLKS IN HUMAN RIGHTS DEFENSE, RIGHT, SO THAT THERE EXISTS, WHETHER IT'S THE COMMISSION ON THE STATUS OF WOMEN, WHETHER IT'S THE INTRA AMERICAN COUNCIL OR EVEN MOST RECENTLY IN THE GENERATION OF QUALITY FORUM WHICH IS THE 2020/2021 VERSION OF THE BEIJING MEETING, THAT THE FREEDOM FOR WOMEN HUMAN RIGHTS DEFENDERS, FOR EXAMPLE, THEY INCLUDED CALL TOES CORPORATIONS WHO ONLY SOCIAL MEDIA PLATFORMS. SO DEMANDS ARE
BEING MADE BY FOLKS OF THE TECNO SPHERE, IF YOU WILL, BY THE DEFENDERS. TO YOUR POINT, IF THERE CAN BE MORE MEETING GROUNDS OF TAKING US TO THE TOUR EVEN OF THE -- YOU KNOW, IF FOLKS WHO ARE ALREADY DOING WORK AROUND HUMAN RIGHTS DEFENSE, AROUND DIFFERENT JUSTICE MODALITIES, WHETHER WE'RE FUNDERS OR CIVIL SOCIETY ACTORS, WHAT INTERNET GOVERNING BODIES SHOULD WE PUT ON THOSE TOURS JUST LIKE WE DO SHOW UP TO COMMENT AND MAKE DEMAND AT THE U.N., AT THE INTRA AMERICAN COUNCIL AND ALL OF THESE OTHER ARENAS. SO, ONE, WHERE SHOULD WE SHOW UP? AND WHERE CAN OUR VOICES BE HEARD IN A WAY THAT WOULD BE MEANINGFUL AND WE CAN START BUILDING A CULTURE OF EXPECTATION AROUND HUMAN RIGHTS ADOPTION AND CARE? >> THANKS SO MUCH FOR THAT. SO IT'S NOT FOR NOTHING THAT THE IMAGINARY OR THE METAPHOR OF THE INTERNET CHANGED FROM AN ELECTRONIC SUPER HIGHWAY TO A CLOUD. BECAUSE A LOT OF THESE CORPORATIONS, THERE ARE ACTUALLY A BIT TOO MANY RULES FOR ROADS. AND A CLOUD ACTUALLY NOT OWNED AND IT'S
JUST -- IT EVAPORATES, RIGHT? IT IS AN ARGUMENT MADE BY JULIE COHEN IN BETWEEN TRUTH AND POWER WHERE SHE SHOWS HOW THE LIE HAS BEEN ALMOST COMPLICIT IN CREATING THIS UNREGULATED ENVIRONMENT. AND WE SHOULD NOT THINK WE CAN FIX THE INTERNET IN ONE PLACE, JUST AS WE CAN NEVER FIX ANYTHING IN ONE PLACE. IT IS A COMPLEX INFRASTRUCTURE CONSISTING OF INSTITUTIONS, PEOPLE, EXPERTISE, CULTURES AND THEN SOME TECHNOLOGIES. SO WHERE I THINK THE UNDOING OF THE OPTIMIZATION OF THE INFRASTRUCTURE HAPPENS IS WITHIN CIVIL SOCIETY COMMUNITIES AND WITHIN OUR OWN COMMUNITIES WHERE WE IMAGINE THE INFRASTRUCTURES THAT WE NEED, WHERE WE THINK WHAT IS THE REAL IOT, THE INTERNET OF THINGS, OR WHAT IS THE REAL SMART CT, IS IT REALLY THE AK TV OR IS THAT A FUNCTIONALITY THAT I NEED TO BE CLOSER TO MY FAMILY AND FRIENDS WITH AND HOW DO I WANT AS INTERMEDIARIES FOR THAT AND WHO DO I THINK I FEEL I CAN HOLD TO ACCOUNT? AND HOW DO WE INSCRIBE THOSE VALUES? SO INSTEAD OF ONLY BEING REACTIVE, WE CAN ONLY MAKE THE MAX BECAUSE THIS IS OUR INFRASTRUCTURE AND WE HAVE CHOSEN TO BUILD OUR SOCIETIES ON IT AND, THEREFORE, IT BMS BECOMES PUBLIC INFRASTRUCTURE. AND THIS DOESN'T MEAN IT NEEDS TO BE COMPLETELY RUN BY GOVERNMENT, BUT IT MEANS WE NEED TO MAKE AGREEMENTS ON WHAT IS ALLOWED AND WHAT IS NOT. AND THERE WE STILL HAVE A LOT TO IMAGINE AND WE CAN IMAGINE THAT BECAUSE TECHNOLOGY IS CHANGING SO FAST. AND IT WAS SO
-- SO INTERESTING, THE ARGUMENT YOU MADE BECAUSE GSA -- SO MOBILE -- THE LARGEST INNOVATIONS IN MOBILE NETWORKS WERE MADE IN EUROPE. THROUGH THE INVENTION OF GSM AND CDMA STANDARD. AND THEN IS INTERNET HAS A VERY STRONG -- HAS A VERY STRONG BIRTH HISTORY IN THE UNITED STATES. BUT NOW 5G IS LARGELY BEING DEVELOPED IN ASIA. BUT STILL, THIS MEANS NEW NORMS ARE INSCRIBED AND CAN BE APPROPRIATED AND BE RECONFIGURED. AND THAT IS ALSO FOR US TO ASK QUESTIONS TO THAT INVISIBLE INFRASTRUCTURE. AND THAT
IS WHERE THE PROCESS OF ACCOUNTABILITY AND SHAPING THE INFRASTRUCTURE STARTS. AND THERE IS WHERE IT STARTS TO BECOME A REAL CONVERSATION. AND RIGHT NOW, I ALMOST FEEL THAT IN MANY CASES, THE INFRASTRUCTURE WITH THE INFRASTRUCTURE BILL AND WITH CONTENT DISTRIBUTION NETWORKS AND A LOT OF THESE SERVICES GOING DOWN, WE NOW SEE THAT WE HAVE BECOME DEPENDENT ON THE INFRASTRUCTURE AND A LOT OF THESE ACTORS THAT NO ONE ACTUALLY HEARD OF THAT HIDE BEHIND ACRONYMS THAT WE NEVER EVEN THOUGHT OF. AND THIS IS ALMOST WHAT INTERNET GOVERNANCE IS. IT'S ALMOST A SCRABBLEBOARD THAT HAS FALLEN OVER. AND IN ONE WAY, THAT SHOWS IN GROUP AND OUT GROUP, WHO IS IN THE KNOW, WHO HAS THE EXPERTISE, WHO KNOWS WHO. BUT IT'S ALMOST A TRADE
LANGUAGE TO ALLOW ENGINEERS, DIPLOMATES, CIVIL SOCIETY ACTORS AND PEOPLE ALL AROUND THE WORLD TO WORK TOGETHER ON SUCH A COMPLEX NETWORK THAT HAS NEVER BEEN BUILD ON SUCH A STAGE. SO THAT IS TOUGH. SO WE CAN ALSO DEMAND THAT TO BE DIFFERENT BECAUSE IT CAN ALWAYS BE THOUGHT DIFFERENCE AND THAT IS SOMETHING WE SHOULD NOT BE AFRAID OF, TO REALLY THINK THE INTERNET AND THINK THE GOVERNANCE OF COMMUNICATION NETWORKS DIFFERENTLY. AND OFTEN WE HEAR NOW, WELL, THIS IS THE BEST WAY IT'S DONE BECAUSE IT HAS NEVER BEEN DONE IN OTHER WAYS. AND THIS HAS ALSO BEEN ONE OF THE ARGUMENTS, WHY THE DISCUSSION IN THE SXWERNT ENGINEERING TASK FORCE WAS SO HEFTY ON A RELATIVELY SIMPLE ASK TO NOT USE THE LANGUAGE OF MONSTER SLAVES ANY MORE. AND THIS WAS A VERY HEFTY DISCUSSION, ALSO TALK ABOUT BLACK LISTS AND WHITE LISTS. AND THEY SAID THERE ARE NO -- THESE ARE TECHNICAL THINGS. WE NEVER MEANT ANYTHING BAD. YOU'RE CALLING
US RACIST AND YOU CANNOT DO THIS. AND IT'S LIKE, WE CAN JUST CHANGE IT AND IT WILL BE OVER WITH. AND THAT DISCUSS WAS NOT SOLVED UNTIL THE U.S. STANDARDS INSTITUTE MADE A FORMAL STATEMENT ON IT. AND THEN THEY SAID WE'RE HAPPY TO LISTEN. RIGHT? SO IT IS REALLY HARD TO CHANGE THESE NORMS AND TO ADDRESS THEM AND TO BRING IN PEOPLE WITH OTHER EXPERTISE THAT HELP US THINK THAT THROUGH. >> SO, I MEAN, IT'S A LITTLE CHICKEN AND EGGISH, LIKE DOES THE CULTURE DEMAND STANDARDS SHIFT, DO THE SHIFTS BEGET THE CULTURE THAT WE'RE LIVING IN. WE HAVE ONLY A FEW MINUTES LEFT BEFORE
WE GO TO Q&A. SO I JUST WANT TO -- I'M THINKING ABOUT YOUR RECOMMENDATIONS, WHETHER IT'S FOR CIVIL SOCIETY, WHETHER IT'S FOR GOVERNMENTS AND WHETHER IT'S FOR INTERNET GOVERNANCE ORGS. ARE THERE ANY KEY RECOMMENDATIONS YOU'D LIKE TO BRING SO WE'RE HOLDING THEM AS A GROUP? >> I THINK ALL ACTORS SHOULD ENGAGE IN THESE HUMAN RIGHTS IMPACT ASSESSMENTS BECAUSE THEY CREATE A PLATFORM TO NOT JUST HAVE THE CONVERSATION IN THESE BODIES, BUT ALSO WITH STAKEHOLDERS OUTSIDE OF THESE BODIES. AND THAT IS A CRUCIAL PLATFORM THAT I THINK WE SHOULD HOLD AND
THAT IS ALSO A STRONG PLATFORM ON WHICH FUTURE ACCOUNTABILITY MECHANISMS CAN BE BUILD. SO THAT IS TRUE FOR GOVERNMENTS, CIVIL SOCIETY, CORPORATIONS, AND WE SEE PROGRESS THERE. CLOUD FLARE HAS JUST ANNOUNCED THEIR HUMAN RIGHTS POLICY. ERICSSON HAS DONE THEIR FIRST HUMAN RIGHTS IMPACT ASSESSMENT OF 5G. SO THE INDUSTRY IS WAKING UP
TO IT. AND GOVERNMENTS HAVE NOW STARTED TO REGULATE BECAUSE EVERYONE KNOWS SOMETHING IS GOING TO CHANGE AND WE SHOULD BE THERE TO HELP THEM MAKE THE RIGHT CHOICE. >> AND YOU SEE THAT AS A TIPPING POINT? YOU SEE THAT AS A PLACE FOR US TO KIND OF SHIFT THE TIDE BY OUR PRESENCE? >> DEFINITELY A STRONG OPPORTUNITY, BUT HERE, AGAIN, WE ALSO BUILD ON THE PEOPLE THAT HAVE ALWAYS BEEN THERE. IN THAT SPACE, BUT NOW WE DEFINITELY SEE THERE IS MOMENTUM. SO THERE IS DEFINITELY A POLITICAL OPPORTUNITY THEORY DESCRIBED AS BEING A SERVER AND SEEING THE RIGHT WAVE AT THE RIGHT MOMENTS, BUT JUST COMING BACK FROM A SERVING VACATION MYSELF, YOU ALSO KNOW WHEN YOU NEED TO GET UP. AND I THINK THIS
IS THE TIME WE SHOULD REALLY GET UP AND RIGHT IT. >> RIGHT ON. RIGHT ON. OKAY. THERE'S BEEN A VERY LIVE CONVERSATION IN THE CHAT, SO I'M SURE MICHAEL WANTS TO USHER US THROUGH Q&A. >> YEAH. THANK YOU SO MUCH. I WAS SMILING THAT WHOLE CONVERSATION. IT IS SO
EXCITE TO GO HEAR YOU TALK TO EACH OTHER. THERE ARE A LOT OF QUESTIONS ALREADY IN THE Q&A. I'M GOING TO DO MY BEST TO PARSE THROUGH THEM. A REMINDER TO
EVERYONE HERE, WE HAVE LIKE 15, 20 MINUTES FOR Q&A, SOMETHING LIKE THAT. AND YOU CAN JUMP INTO THE KIND OF Q&A BUTTON ON ZOOM AND ASK YOUR QUESTIONS. YOU CAN ALSO VOTE UP QUESTIONS THAT YOU'RE PARTICULARLY INTERESTED IN AND THAT WILL HELP ME IN GETTING THROUGH THEM. SO I WANT TO START HERE BY TAKING A QUESTION FROM JED MILLER AND THEN OFFERING MY OWN EDITORIAL ADDITION TO IT. JED ASKS, WHAT ARE THE DIFFERENT LEVERS THAT CAN BRING HUMAN RIGHTS PERSPECTIVE INTO THE HEARTS AND PRACTICES OF INTERNET GOVERNANCE ORGANIZATIONS AND THE TECH COMPANIES THAT GOVERN THEM? THE KIND OF MODIFICATION I WANT TO GET TO THAT, I THINK, NIELS, YOU MIGHT BE ABLE TO SPEAK TO A BIT THE -- SOME OF HOW CIVIL SOCIETY WORK IS ALREADY STRUCTURED TO DO THOSE LEVERS. I DON'T KNOW IF YOU WANT TO MENTION THE PIT G WORK OR
WAYS OTHER ORGANIZATIONS HAVE GOTTEN IN PLACE TO FIND AND PULL THESE LEVERS. >> YEAH. THERE ARE EXCELLENT GROUPINGS OF CIVIL SOCIETY ORGANIZATIONS, FOR INSTANCE, IN THE INTERNET ENGINEERING TASK FORCE THAT IS CALLED THE PUBLIC INTEREST TECHNOLOGY GROUP WHERE A LOT OF GREAT ORGANIZATIONS, INDIVIDUALS, AND TECH ACTIVISTS PARTICIPATE AND OFFER UP THEIR KNOWLEDGE, HAVE REGULAR CALLS TO HELP YOU ON BOARD AND THEN ALSO DIVIDES THE WORK BECAUSE SO MUCH IS GOING ON AT THE SAME TIME. THERE IS ALSO VERY ACTIVE CIVIL SOCIETY IN THE INTERNET CORPORATION FOR ASSIGN NAMES AND NUMBERS AND -- BUT THERE IS MUCH LESS SO IN THE INSTITUTE FOR ELECTRIC AND ELECTRONICAL ENGINEERS. WHEN YOU LOOK AT THE STANDARDIZATION SIDE. SO THERE IS A LOT OF DIFFERENT THINGS TO DO, BUT WHERE THERE ARE OPPORTUNITIES, THERE ARE ALSO OTHER ORGANIZATIONS THAT CAN HELP YOU GET DONE THAT. AND HERE, AGAIN, I WOULD LIKE TO CALL OUT EXCELLENT WORK, ARTICLE 19, PROGRESSIVE COMMUNICATIONS, AMERICAN CIVIL LIBERTIES UNION AND THE CENTER FOR DEMOCRACY AND TECHNOLOGY. AND THESE ARE
ORGANIZATIONS THAT HAVE BEEN THERE AND THEY ARE TRYING TO BRING IN THESE VISIONS WITH SOME SUCCESSES TO CELEBRATE. >> THANKS, NIELS. BY THE WAY, THANK YOU FOR JUMPING IN THE Q&A AND BUMPING QUESTIONS UP AND DOWN. THE NEXT QUESTION, I HAVE A QUESTION FROM FLORENTINA, I HOPE I'M PRONOUNCING THAT CORRECTLY. I'M CURIOUS FOR BOTH OF YOUR PERSPECTIVES ON THIS. FLORENTINE ASKS HOW DO WE AVOID HUMAN RIGHTS STANDARDS FROM BEING REPLACED BY VAGUE ETHICAL STANDARDS THAT SOUND GREAT, BUT DO NOT HOLD ORGANIZATIONS OR INDIVIDUALS ACCOUNTABLE? I IMAGINE YOU BOTH HAVE PERSPECTIVES ON THIS IN GENERAL EVEN IF NOT IN THE SPECIFIC GOVERNANCE SPACE. >> THANK YOU SO MUCH. LIKE I AM -- LIKE I
ALMOST -- YEAH. I AM WITH YOU. SO THE WHOLE AI ETHICS DEBATE HAS BEEN MUCH MORE ABOUT LEGITIMATIZING A PRACTICE AND A FRAME RATHER THAN INCREASING ACCOUNTABILITY. AND I WOULD BE THE FIRST ONE TO SAY THAT HUMAN RIGHTS ARE NOT PERFECT. BUT IT'S DEFINITELY THE BEST GLOBAL NORM THAT WE HAVE AT THE MOMENT. IT IS ALLOWING FOR GLOBAL CONVERSATIONS.
194 COUNTRIES AROUND THE WORLD HAVE SIGNED UP TO IT. WE HAVE THESE -- WE HAVE THESE MODELS FOR ACCOUNTABILITY. LET'S BUILD ON THEM. AND EVEN, LIKE, WITH NEW CRISIS, HUMAN RIGHTS LEGISLATION IS ADAPTABLE. FOR INSTANCE, IN THE NETHERLANDS, HUMAN RIGHTS LEGISLATION WAS USED TO FORCE SHELL TO INCREASE ITS INVESTMENTS INTO GREEN ENERGY BECAUSE OF ENVIRONMENTAL IMPACT WOULD HAVE A NEGATIVE IMPACT ON THE HUMAN RIGHTS OF FUTURE AGAIN RAISES. SO HERE WE SEE THE EVOLUTION OF
THESE HUMAN RIGHTS FRAEMP FRAMEWORKS NOT ONLY FOUR ACCESSIBILITY, BUT FOR OUR HUMAN RIGHTS FRAMEWORK CRISIS. SO I THINK THAT'S VERY IMPORTANT. >> I ACTUALLY WANT TO UNPACK IT AND BEAR WITH ME, MICHAEL. YOU CAN LAUGH AT ME A LITTLE BIT. OF WHY THERE WOULD BE THIS SHIFT TOWARDS ETICS VERSUS HUMAN RIGHTS. AND I WOULD SAY THAT BECAUSE THAT ALLOWS US TO DIVORCE STANDARDS FROM THE BODY. AND SO, ACTUALLY, IF YOU LOOK AT THE PEOPLE WHO SUFFERED THE ABUSE AND DO NOT -- BEHIND A -- WHO SUFFER HUMAN RIGHTS ABUSE, IT'S THE SAME PEOPLE FROM WHOM DATA IS EXTRACTED. AND THAT ACTUALLY IF WE CAN KEEP
THINGS IN VAGUE STERMS AROUND ETHICS, WE CAN CONTINUE THE SAME BUSINESS MODEL THAT LEADS TO ABUSE IN THE FIRST PLACE. AND SO THE TENSION AND THE DESIRE TO HAVE THINGS BE IN THIS VAGUE ETHICS FRAME VERSUS A HUMAN RIGHTS FRAME IS THE TENSION BETWEEN HAVING TO ACKNOWLEDGE THE BODIES IN THE ROOM IN THE FIRST PLACE. AND SO THAT IS ACTUALLY -- IT DOESN'T ANSWER YOUR QUESTION EXCEPT IT SPEAK TO WHY THE CONDITION EXISTS FOR THE QUESTION IN THE FIRST PLACE. AND I THINK THAT THAT'S WHY THERE HAS TO BE THIS KIND OF A MARRIAGE BETWEEN OUR WORK. IT'S ACTUALLY WHY I -- I'M WORKING AT MOZILLA AT ALL. BUT I THINK THAT THAT IS A -- IT'S
A REALLY IMPORTANT QUESTION AND I THINK WE CAN'T LOSE -- BECOME UNTETHERS FROM THAT TRUTH IF WE ACTUALLY WANT TO SEE CHANGE HAPPEN. >> THANK YOU, BOB. AND IS I'M SO HAPPY BECAUSE THIS IS WHY I WAS SO HAPPY TO HAVE YOU BE PART OF THIS CONVERSATION. AND THANK YOU, TOO, NIELS. I THINK YOU TWO ARE OFFERING VERY COMPLIMENTARY AND INTERTWINED PERSPECTIVES. I THINK WE HAVE A LOT OF
ACADEMICS ON THE LINE, WHICH IS WHY THIS ONE GOT VOTED UP A BUNCH. SO I'M GOING TO ASK THE SECOND HALF OF THIS QUESTION FOR JAMES WHICH IS COULD/SHOULD WE BE DEVELOPING PARTNERSHIPS BETWEEN COMPUTER SCIENCE ACADEMICS AND CIVIL SOCIETY EXPERTS WHO ARE NOW WORKING FOR BIG TECH? HOW DO WE THINK ABOUT ACADEMIC, COMPUTER SCIENCE OR ENGINEERING DISCIPLINES AND ENGAGEMENT IN THIS SPACE? THAT'S AN EXCELLENT QUESTION AND I THINK THAT IS SOMETHING THAT THE GROUP TRIES TO DO. IN PART, THAT IS -- THAT IS WHO I AM. I AM AN ACADEMIC WHO TRY
TOES BE CONNECTED TO THESE. BUT WE ALSO ALL KNOW AS ACADEMICS, THAT PARTICIPATING IN STANDARDS AND GOVERNANCE ORGANIZATIONS ALREADY IS NOT REALLY REWARDED TOWARDS TENURE AND ON THE CAREER TRACT WHERE IT'S PRETTY MUCH PUBLISH OR PERISH. FOR INSTANCE, I WOULD NOT BE ABLE TO CITE THE REPORT I WROTE HERE FOR A TENURE TRACT. SO LET ALONE, NOT
CONTRIBUTE TO GO A -- CRITICALLY CONTRIBUTING TO GOVERNANCE BODIES, HOW COULD THAT? SO I THINK WE DEFINITELY SHOULD BECAUSE ACADEMICS STILL HAVE TIME TO THINK ABOUT THESE COMPLEX ISSUES AND HAVE AT LEAST PART OF THE INDEPENDENCE TO DO SO. THE QUESTION IS HOW TO CREATE THE RIGHT INCENTIVE STRUCTURES FOR THEM TO DO SO. AND THAT IS STILL A QUESTION THAT LOOMS LARGE. I THINK WE
STILL HAVE A LONG WAY TO COME TO ALSO BREAK OUT OF OUR OWN ACADEMIC DISCUSSIONS AND MAKE IT REALLY APPLICABLE AND REALLY CONNECT AND LISTEN TO THE NEEDS AND THE WANTS OF CIVIL SOCIETY AND END USERS. I HOPE THAT WASN'T TOO RAMBLING. >> WE HAVE AN INITIATIVE CALLED THE RESPONSIBLE COMPUTER SCIENCE CHALLENGE WHERE WE'RE FUNDING COMPUTER SCIENCE PROGRAMS, UNDERGRADUATE PROGRAMS IN THE U.S. AND NOW WE'RE EXPANDING THAT WORK GLOBELY TO ENGAGE IN INTERDISCIPLINARY WORK. AND I THINK -- AND WE'RE ENTERING PHASE TWO OF THAT WORK. BUT IT ALSO IS -- IT REALLY TIE TOES ME, LIKE THE MOTIVATION BEHIND IT IS SIMILAR TO THE INFRASTRUCTURE CONVERSATION IS THAT IT'S A RARE OPPORTUNITY TO GET TO ROOT CAUSE. AND I THINK THAT THAT -- I JUST
-- I REALLY APPRECIATE WHAT YOU WERE SAYING ABOUT ACADEMIC INSENTIVE STRUCTURES. BECAUSE I THINK THERE'S A PRESUMPTION OF AL TRUISM FOR THE FEW ACADEMICS WHO WANT TO BE INTERDISCIPLINARY. AND THAT'S JUST RUBBISH, THAT THERE'S A GREAT DESIRE FOR THAT AND STRUCTURALLY, IENTS NOT REWARDED AND I THINK THAT THAT PARTICULARLY THOSE OF US WHO KIND OF STRADDLE PHILANTHROPY AND ACTIVISM CIVIL SOCIETY AND TECH COMPANIES, I THINK THAT'S AN IMPORTANT THING FOR US TO TAKE UP IS TO TRY TO OFFSET THAT, THE DERTH OF INCENTIVE FOR THAT WORK. THERE'S A GREAT APPETITE FOR IT. >> THANK YOU BOTH. >> THERE ARE A FEW THINGS I FORGOT. SO I THINK THERE IS ALSO CROSS POLLINATION HAPPENING, ALSO. IF
YOU SEE EXCELLENT ORGANIZATIONS SUCH AS RANKING DIGITAL RIGHTS THAT HAVE REALLY ADAPTED A SCIENTIFIC METHODOLOGY TO RANKING, WHICH IS SO BEAUTIFUL TO SEE AND TURNING BA THAT BACK TO INVESTORS. AND I THINK THE PUBLIC INTEREST TECHNOLOGY GROUPS HELPS ACADEMIC TO PARTICIPATE IN MEETINGS AND ENABLES THEM TO DO SO. AND THERE ARE EXCELLENT ACADEMICS WORKING ON THIS, SO I WANT TO ACKNOWLEDGE TECHNOLOGY. >> AND I'LL JUST NOTE THAT MYSELF, A LOT OF THE POWER STRUCTURES AND THE KIND OF -- YOU KNOW, WE DO THINGS THIS WAY BECAUSE THAT'S THE WAY THINGS HAVE ALWAYS BEEN THAT WE'RE TALKING ABOUT IN OUR GOVERNANCE BODY HAS HAD A LONG HISTORY OF THAT IN ACADEMIA. AND TO YOUR POINT, NIELS, THIS WONDERFUL
REPORT THAT YOU WROTE WOULDN'T COUNT AGAINST TENURE I THINK IS A GREAT EXAMPLE OF THAT. I THINK ANYONE THAT IS ON THIS CALL THAT SUBMITTED A PAPER TO A CONFERENCE REALIZING THAT THE GATEKEEPERS ARE PROBABLY FOLKS THAT HAVE BEEN IN THE FIELD FOR DECADES AND THEY'RE DECIDING WHETHER YOUR NEIGHBORS ARE GOING TO GET THROUGH. SO IT'S BASED A LOT ON WHAT THEY THINK IS RIGHT FOR COMPUTER SCIENCE RATHER THAN WHAT IS CHANGING AT THE MOMENT. I WANT TO BRING UP
THIS QUESTION FROM AUGUSTINA DELCAMPO WHO ASKS ABOUT THE LANGUAGE YOU HAVE BEEN USING SPECIFICALLY, NIELS ABOUT CITIZENS AS OPPOSED TO USERS. HOW DO YOU THINK ABOUT THAT? WHAT BRINGS YOU TO THAT LANGUAGE OF CITIZEN? AND NOTING THAT AUGUSTINE SAYS THIS IS SOMETHING I STRUGGLE WITH AND THE PEOPLE UNDER THEIR JURISDICTION. SO TALK A BIT ABOUT THAT LANGUAGE. >> YEAH. THANKS SO MUCH. THAT IS A REALLY GOOD QUESTION. SO THERE IS, OF COURSE, A VERY BIG PROBLEM WITH THE LANGUAGE OF CITIZENSHIP AND A BIG PROBLEM WITHIN HUMAN RIGHTS. NAMELY, THE CASE
OF PEOPLE WHO ARE STAPLES. ANNA WROTE EXTENSIVELY ABOUT THIS AND THERE IS A WELL KNOWN CRITICISM AGAINST HUMAN RIGHTS, EVEN THOUGH UNDER INTERNATIONAL LAW, STATELESSNESS IS FORBIDDEN, IT STILL HAPPENS AND IT LEAVES PEOPLE WHO NEED PROTECTION THE MOST OUTSIDE OF PROTECTION AND THIS IS SOMETHING THAT NEEDS TO BE ADDRESSED. SO I INDEED WANTED TO CONTRAST USER WITH CITIZEN TO TAKE IT OUT, TO TAKE THE END USER AND THE USER OUT OF THE FRAME OF CONSUMERISM AND INTO THE FRAME OF A HUMAN BEING AND WITHIN CLEAR ACCOUNTABILITY STRUCTURES. HUMAN MIGHT BE BETTER, BUT THAT LEAVES HARD PLACE OWES WHERE TO GET THE JURISDICTION AND THE RIGHT AND RESPONSIBILITIES. SO IN HERE, I THINK WE NEED TO BE CAREFUL TO NOT FALL INTO THE TRAP OF SHOULD IT BE INDUSTRY CELL REGULATION OR SHOULD IT BE GOVERNMENTAL REGULATION? BECAUSE IN ALMOST ALL FIELDS, IT IS HYBRIDS AND IT IS ITERATIVE. SO THERE IS NO EITHER/OR, NOTHING IS FULLY COVERED OR FUNDAMENTALLY REGULATED AND WE NEED TO BE BRAVE ENOUGH TO THINK OF WAYS IN WHICH WE CAN COMBINE IT TO CREATE THE OUTCOME THAT WE WANT.
AND THAT THE OUTCOME THAT EVERYONE NEEDS AND DESERVES. AND, OF COURSE, THIS IS VERY COMPLEX ALSO IN CASE OF INTERNATIONAL NORM DEVELOPMENTS WHERE EUROPE IS OFTEN SEEN AS NORM ENTREPRENEUR, BUT SOMETIMES ALSO OTHER PARTS OF THE WORLD ARE SEEN AS NORM EXPERIMENTATION GROUNDS, WHICH ARE VERY PROBLEMATIC, RIGHT? SO THAT IS WHY WE NEED STRONG COMMUNITIES TO BE ABLE TO CALL THAT OUT, BUT ALSO CREATE IMAGINARIES FOR THE INFRASTRUCTURES THAT WE WANT, DESERVE, AND SHOULD BE ABLE TO DEMAND AND THAT WE SHOULD, THEN, THROUGH INTERNATIONAL SOLIDARITY, CALL OUT THESE COMPANIES ABOUT -- BECAUSE IF YOU LOOK AT THE TIPOLOGY OF THE INTERNET, YOU SEE THE INTERCONNECTION -- IF YOU LOOK AT THE TOPOGRAPHY, EVERYTHING IS GETTING MORE STRONGLY INTERCONNECTED. IF YOU LOOK AT THE TOPOLOGY OF THE DATA STREAMS, ALMOST ALL OF DATA TRAFFIC OUT OF AFRICA IS STILL GOING THROUGH FORMER COLONIZER COUNTRIES. AND THESE ARE STILL EXTRACTIVE RELATIONSHIP THAT'S SHOULD BE BROKEN, THAT SHOULD BE UNDER -- THAT AREN'T -- THAT SHOULD NOT BE THERE. AND THE SAME WITH THE LANGUAGE ISSUE THAT I
BROUGHT UP EARLIER, IS THAT THESE POWER STRUCTURES AND THE STRUCTURES OF EXCLUSION ARE REPRODUCED OVER THE YEARS AND NEW TECHNOLOGIES DO NOT CHANGE THAT, RATHER THEY OFTEN IM BEDS IT EVEN DEEPER AND IN NEW WAYS. AND THAT'S WHY A STRONG EQUALIZATION AND A CRITICAL REVIEW OF TECHNOLOGIES AND KEEPING POWER IN CHECK IS SO IMPORTANT. >> THANK YOU, NIELS. WE HAVE TIME I THINK FOR A COUPLE OF -- I'M GOING TO MAKE A NOTE OF A QUICK QUESTION AND I'LL BRING UP ONE MORE QUESTION THAT I THINK BOTH OF YOU WILL HAVE THOUGHTS ON. IF WE HAVE TIME TO DO ANOTHER, WE'LL DO IT OR MOVE ON FROM THERE. THE QUICK QUESTION THERE'S A NOTE THAT THERE'S A LOT OF INTEREST
IN THE READING LISTS OF ALL THE BOOKS YOU BROUGHT TODAY, NIELS. SO ONE THING WE'RE GOING TO ASK YOU TO DO IS TO WRITE A READING LIST AND I THINK WHETHER WE SENDS OUT OUR POST EVENT SUMMARY TO EVERYONE HERE, WE'LL MAKE SURE TO INCLUDE THAT READING LIST. BOB, IF YOU WOULD LIKE TO INCLUDE SOME READING MATERIALS IN THAT, I KNOW YOU WEREN'T READY FOR PROPS LIKE NIELS WAS, PLEASE FEEL FREE TO THROW IN SOME, AS WELL. THE QUESTION I WANT TO GO TO IS A VERSION OF THE ONE ASKED BY
ALIZA LENDINGER. SHE ASKED ARE TODAY'S INTERNET GOVERNANCE BODIES EVEN IN A SPACE IN WHICH WE CAN BRING THE HUMAN RIGHTS PERSPECTIVE? WHAT NEEDS TO CHANGE ON THEIR END TO MAKE THE TOPIC BEING ASKED AND DISCUSSED MORE INTIMATELY? I'M CURIOUS ABOUT THIS. BOB, ON YOUR PERSPECTIVE OF YOUR EXPERIENCES ABOUT WHAT IT MEANS TO BRING HUMAN RIGHTS AND JUSTICE FRAME TOES NEW SPACES AND TRY AND GET THOSE SPACES TO TAKE IT SERIOUSLY. SO I SUSPECT BOTH OF YOU, FEEL FREE TO COMMENT ON THAT HOWEVER YOU SEE FIT. >> BOB, DO YOU WANT TO START? >> NOT REALLY, BUT I MEAN, IT'S INTERESTING. I COME TO IT WITH SO MUCH
SUSPICION, HONESTLY, RIGHT? LIKE I DIDN'T -- YOU KNOW, I FEEL LIKE I WEIRDLY GOT MROPD INTO ROOMS WITH MULTI LATERAL ROOMS WITH ALL OF THESE GOVERNMENTS AND SUDDENLY WAS THIS, LIKE, ABOLITIONIST WHO HAD TO SUDDENLY MAKE THE CASE, RIGHT? AND I THINK THE QUESTION IS THE RIGHT ONE, IS THIS EVEN THE RIGHT ROOM. AND I THINK WHERE I'VE COME TO NOW IS KIND OF WHAT I WAS INTIMATING EARLIER THAT IT HAS TO BE AN ALL HANDS ON DECK PROPOSITION. SO SINCE THERE'S NOT ONLY ONE WAY FOR THIS TO HAPPEN, I THINK THERE'S A WAY THAT INSOFAR AS WHOEVER HAS ACCESS TO DEVELOPMENT AGENDAS, WE SHOULD BE PUTTING THIS FRAMEWORK, MARRYING INTERNET FREEDOM OR INTERNET GOVERNANCE AND HUMAN RIGHTS INSIDE OF TRADITIONALLY HUMAN RIGHTS FRAMEWORKS SO THAT BRING IN THE INTERNET AS A LOCATION AND A -- EITHER FOR WHERE THESE HUMAN RIGHTS NEED TO BE ACCOUNTED FOR AND/OR HARM NEEDS TO BE MITIGATED OR OPPORTUNITY NEEDS TO BE INSTIGATED AND THAT CAN HAPPEN FOR A LOT OF DIFFERENT MULTI LATERAL DEVELOPMENT AGENDAS. IT CAN HAPPEN AT THE GRASSROOTS LEVEL WHEN PEOPLE ARE CALLING FOR POLICY CHANGE OR EVEN ABOLITION ALTOGETHER. THERE ARE MANY, MANY NUANCED CONVERSATION THAT'S ARE HAPPENING INSIDE OF MULTIPLE GRASSROOTS MOVEMENT, WHETHER IT'S FOR BLACK LIBERATION IN THE UNITED STATES OR FEMINIST LIBERATION GLOBALLY OR DIASPORIC MIGRANT JUSTICE WORK OR CLIMATE JUSTICE WORK. LIKE IF WE CAN HAVE A CALL FOR THAT IN A SYMBIOTIC WAY.
AND THEN I ALSO THINK AT THE STATE LEVEL, I ACTUALLY LITERALLY MEAN THE STATE LEVEL IN TERMS OF THE UNITED STATES LOOKING AT COMMERCE AND THEN AT THE STATE LEVEL, AT THE NATIONAL AND FEDERAL LEVELS GLOBALLY, IF WE CAN LOOK AT WHERE PEOPLE ARE MOST AFFECTED, WHETHER IT'S INSIDE OF COMMERCE OR AGRICULTURE OR PRIVACY LAWS OR FREE SPEECH OR FAIR TRADE AGREEMENTS, IT'S WHERE THERE ARE THESE UNLIKELY LOCATIONS, ONE WOULD THINK FOR HUMAN RIGHTS ABUSE OR HUMAN RIGHTS CONSIDERATION, BUT OFTEN IT'S IN THOSE ARENAS. AND SO I THINK IF WE CAN INFILTRATE AS MANY PLACES AS POSSIBLE FROM OUR VARIOUS POINTS OF VIEW, THE LIKELIHOOD OF AN INTERNET GOVERNANCE ORGANIZATION ACTUALLY SHIFTING BECOMES MUCH MORE GREAT, RIGHT? WE HAVE THE OPPORTUNITY THERE FOR A HUMAN RIGHTS FRAMEWORK TO BE ADOPTED IF THE CULTURE SURROUNDING IT, IF THE CAPITAL TRANSFER SURROUNDING IT, IF THE -- IF THE GOVERNMENT DEMANDS OR THE CITIZEN DEMANDS ARE MAKING THAT ACTUALLY LIKELY AND ACTUALLY EITHER PROFITABLE OR STOPPING THE FLOW OF INFORMATION BECAUSE OF THE -- THERE'S A DISPARITY BETWEEN WHAT THE GOVERNANCE BODIES ARE CALLING FOR AND WHAT THE WORLD IS CALLING FOR. SO I THINK I SEE IT AS A -- AND I MEAN THAT AS LEAST IDEALISTIC AS THAT SOUNDS. BUT I DO THINK IT HAS TO BE A
MULTI PRIME APPROACH IN ORDER FOR IT TO TAKE SHAPE IN A WAY THAT'S MEANINGFUL OR EVERLASTING. >> THAT'S GREAT. I'LL JUST ADD A LITTLE FOOTNOTE TO THAT. AND THIS IS FROM A CHAPTER FROM JEANETTE HUFFMAN FOR THE RESEARCHING INTERNET GOVERNANCE BOOK. AND SHE SAYS THAT -- AND SHE IS REALLY A VETERAN OF MULTI STAKEHOLDER INTERNET GOVERNANCE. AND SHE -- IN THIS CHAPTER, SHE EVALUATED THE EXPERIENCE AND THE HISTORY OF MULTI STAKEHOLDER INTERNET GOVERNANCE. SHE SAYS THE ACTUAL ACHIEVEMENT OF THE MULTI STAKEHOLDER CONCEPT ARE LIKELY TO BE PRIMARILY OF A SENSE MAKING NATURE. ITS CREDIBILITY IS BASED ON POLITICAL ASPIRATIONS
RATHER THAN ON APPROVING SUPERIOR REGULATORY EFFICIENCY. FROM AN EMPIRICAL PERSPECTIVE, IT IS NO EXAGGERATION TO SAY THE STAKEHOLDERS TAKE PAIN TO ADOPT THE REALITY OF GOVERNANCE TO MEET THE CONTENT ASSUMPTIONS. SO, IN OTHER WORDS, WE EXPECTED A LOT FROM IT AND IT DID NOT DELIVER. BUT THAT IS ACTUALLY WHERE THE REAL WORK STARTS. SO
WHAT CAN WE -- OF COURSE IT WAS NOT GOING TO DELIVER ON THE BIG PROMISE OF GOVERNANCE, INNOVATION AND DEMOCRACY FOR ALL. BUT WHAT WE NOW NEED TO SEE, WHEN THE RUBBER HITS THE ROAD, HOW CAN WE REALLY MAKE IT WORK? IF WE CAN MAKE IT WORK. THERE IS MUCH EASIER ACCESS TO ARCHIVES, ACCESS TO PEOPLE AND PEOPLE WHO ARE THERE ARE REALLY NEW JERSEYBLE. THERE ARE A LOT OF VERY KNOWLEDGEABLE PEOPLE WHO KNOW HOW TO RUN NETWORKS, WHO KNOW HOW TECHNOLOGY CAN WORK. AND ALSO WHO CAN THINK, WHO CAN HELP US THINK OF A DIFFERENT. AND IN THESE
BODIES, WE ALSO THINK, WE ALSO -- WE ALSO CAN START THINKING OF TECHNOLOGY DIFFERENTLY. RIGHT? SO IT IS ALSO A RESOURCE. IT'S NOT SOMETHING THAT WE SIMPLY HAVE TO -- BECAUSE A LOT OF THE SMART PEOPLE WHO CAN HELP US CHANGE AND ALSO HAVE AN INTEREST IN CHANGE ARE THERE. SO WE HAVE SOMETHING TO GET FROM THEM, BUT WE ALSO HAVE SOME FRAMES TO BRING. AND THERE IS ALWAYS A DISCUSSION OF THE INSIDE AND OUTSIDE. IF YOU'RE INSIDE, YOU'RE LEGITIMATIZING. IS IT REFORM OR REVOLUTION? WELL, IT'S BOTH. AND WE'LL LEAVE IT TO THE HISTORIANS TO SAY WHO WAS SUCCESSFUL BECAUSE GAMBLING BEFOREHAND WILL NOT GET US ANYWHERE.
>> THANK YOU, NIELS. THANK YOU, BOB. WE'RE GOING TO LEAVE IT AT THAT. IT'S BEEN REALLY WONDERFUL HAVING YOU TWO IN CONVERSATION AND I LOOK FORWARD TO A TIME WHEN WE CAN ALL BE IN THE SAME PLACE AND HAVE DINNER TOGETHER AND MAYBE SOME OF YOU IN THE AUDIENCE CAN JOIN US, AS WELL, FOR THAT. I WANT TO SHARE A FEW CLOSING THANK YOUS BEFORE WE GO. SO, AGAIN, THANK YOU, EVERYONE, FOR JOINING. THIS HAS BEEN REALLY LOVELY JUST TO SEE HOW MANY PEOPLE WERE INTERESTED IN THIS TOPIC AND WERE HERE FOR THIS. I WANT TO THANK AN
AMAZING EVENTS TEAM WHO HELPED PUT THIS TOGETHER. THERE'S SO MUCH WORK THAT GOES ON BEHIND THE SCENES FOR EVENTS LIKE THIS. THERE ARE SIX FOLKS ON THIS CALL TODAY ALONE THAT YOU HAVE NOT SEEN. LUCA, ADNNA, BRIAN, ELIZABETH, OUR TRANSLATORS WHO ARE MAKING THINGS GO, DOING TIMING, HANDLING INVITES, PUTTING TOGETHER THE PRODUCTION AND IT REALLY MAKES US -- IT MAKES OUR JOB EASY IN TERMS OF FOLKS HERE TALKING TO YOU TO KIND OF JUST FOCUS ON WHAT WE WANT TO TALK ABOUT. SO THANK YOU ALL FOR THAT. AND I ALSO WANT TO THANK, OF COURSE, OUR COMS TEAM AND VICTOR WHO HELPED SEE THIS REPORT THROUGH.
AND I GUESS MY LAST ASK FOR YOU ALL IS WE WOULD LOVE YOUR HELP IN SPREADING THE WORD ABOUT THIS REPORT AND ABOUT THIS WORK. YOU HAVE THE LINK TO THE REPORT. WE'LL SEND IT OUT AGAIN IN OUR FOLLOW-UPS. WE WOULD LIKE THIS TO GET INTO THE HANDS OF MORE FOLKS SO IN OUR BROADER CONVERSATION AROUND CREATING MORE JUST INTERNET, WE CAN HAVE THIS STRONG PERSPECTIVE ON THE LAYERS OF INFRASTRUCTURE AND HOW WE CAN MAKE THEM MORE JUST AS WELL. SO THANK YOU SO MUCH AND WE'LL SEE YOU NEXT TIME WE HAVE AN EVENT LIKE THIS.
2021-08-23 06:11
Show Video
Other news