Health Equity Summit with Google Health 2022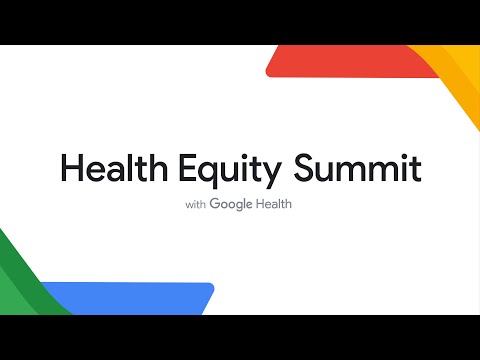 Show Video
» Ivor Horn: WOW. IT GOT QUIET HERE, REALLY QUICKLY. WELL, WELCOME, EVERYONE, AND THANK YOU SO MUCH FOR BEING HERE WITH US IN-PERSON TODAY. FOR THOSE OF YOU WHO DON'T KNOW ME, I'M DR. IVOR HORN, AND I AM THE CHIEF HEALTH EQUITY OFFICER HERE AT GOOGLE. [APPLAUSE] WE'RE GOING TO BEG IN TODAY WITH A LITTLE WELCOME FROM DR.
KAREN DESALVO, GOOGLE'S CHIEF HEALTH OFFICER. AND, EVERYONE, THANK YOU AND WARM WELCOME TO YOU HERE, AND TO THOSE OF YOU WHO ARE JOINING US ON THE LIVESTREAM. WE READY? » Karen DeSal vo: WE LL, WELCOME. I'M DR. KAREN DESALVO. I'M GOOGLE'S CHIEF HEALTH OFFICER, AND I'M THRILLED TO WELCOME YOU TO THE 2022 GOOGLE HEALTH EQUITY SUMMIT. EQUITY IS A CORE VALUE FOR OUR WORK AND HEALTH AT GOOGLE, AS WE WORK TO HELP EVERYONE EVERYWHERE LIVE A HEALTHIER LIFE. OUR APPROACH IS
TO MEET PEOPLE WHERE THEY ARE, THROUGH GOOGLE TOOLS AND TECHNOLOGY THEY ALREADY USE, LIKE SEARCH AND YOUTUBE, FITBIT, OR CLOUD. THAT IS HOW WE CAN BE MOST HELPFUL TO OUR KEY PARTNERS, CONSUMERS, CAREGIVERS, AND COMMUNITIES. WE WANT TO HELP PEOPLE BE HEALTHIER IN THEIR DAILY LIVES WITH INFORMATION AND INSIGHTS, WHETHER THEY'RE PATIENTS OR NOT. THESE ARE OUR CONSUMERS. SECOND, WE ALSO PARTNER WITH THEIR CAREGIVERS,
PROVIDING TOOLS AND TECHNOLOGY TO OFFER THE HIGHEST QUALITY, MOST EQUITABLE CARE. AND BY CAREGIVERS, WE MEAN ALL THE PROFESSIONALS AND INSTITUTIONS WHO HELP YOU ON YOUR HEALTH JOURNEY. AND LASTLY, WE KNOW THAT BEING HEALTHY IS IMPACTED BY WHERE WE LIVE, LEARN, WORK, AND PLAY. SO WE ALSO PARTNER TO SUPPORT HEALTHIER COMMUNITIES. UNDERLYING ALL OUR WORK IS THE RECOGNITION THAT TECHNOLOGY CAN EITHER EXACERBATE OR REDUCE HEALTH INEQUITIES. AND THAT IS WHY WHEN I JOINED GOOGLE, I
KNEW THAT FOCUSING ON HEALTH EQUITY WOULD BE CRITICAL TO ACHIEVING OUR VISION OF BILLIONS OF HEALTHIER PEOPLE. WE NEED TO HAVE EQUITY AND INCLUSION BY DESIGN. I WAS SO EXCITED THAT DR. IVOR HORN AGREED TO JOIN THE TEAM TO LEAD THAT WORK. WE'VE BEEN PROUD OF THE PROGRESS WE'RE MAKING AT GOOGLE, AND EVEN MORE PROUD THAT WE'RE DOING THIS IN PARTNERSHIP WITH THE BROADER ECOSYSTEM. WE FIRMLY BELIEVE THAT THE DURABLE CHANGES NEEDED IN THE HEALTH ECOSYSTEM TO DRIVE EQUITY REQUIRE MULTI-SECTORAL PARTNERSHIPS, AND THE WORK MUST BE DONE WITH THOSE IMPACTED, NOT TO THOSE IMPACTED. IN OUR WORK, BUILDING TRUST IS TOP OF MIND EVERY DAY, AND WE DON'T TAKE IT FOR GRANTED. WE
KNOW IT MUST BE EARNED, AND WE KNOW THAT ONCE IT'S EARNED, IT MUST BE TREASURED AND RESPECTED. I LEARNED THIS AS A PHYSICIAN, THAT EARNING TRUST IS JOB ONE. THE MORE MY PATIENTS TRUSTED ME, THE MORE THEY WOULD LET ME IN TO THE UNDERLYING ISSUES THEY WERE FACING IN THEIR HEALTH JOURNEY, WHICH ALLOWED ME TO BE A BETTER PARTNER TO THEM. MY PRACTICE IN NEW ORLEANS WAS AT OUR PUBLIC HOSPITAL, AND ALSO OUR COMMUNITY HEALTH CENTERS. IT WAS FROM MY PATIENTS THAT I LEARNED THE TRUE POWER OF THE NONMEDICAL OR SOCIAL DETERMINANTS OF HEALTH. FOR EXAMPLE, THEY KNEW WHAT TO EAT ON THEIR DIABETIC DIET, BUT DIDN'T HAVE ACCESS TO HEALTHY FOOD IN THEIR NEIGHBORHOOD, OR THEY UNDERSTOOD THE IMPORTANCE OF EXERCISE, BUT DIDN'T HAVE GREEN SPACE, SAFE NEIGHBORHOODS, OR EVEN SIDEWALKS TO ALLOW THEM TO GET THAT EXERCISE. AND
OFTEN, THEY WERE WORKING MULTIPLE JOBS THAT GOT IN THE WAY OF SELF-CARE. IT WAS EYE-OPENING FOR ME, OF COURSE, BUT ALSO HELPFUL AS I THOUGHT ABOUT HOW I COULD DO MORE. THE STORIES, INCLUDING THE IMPACT OF RED-LINING, STRUCTURAL RACISM, LEADING TO GENERATIONAL POVERTY DROVE ME TO FIND WAYS TO ADDRESS THE SYSTEMS IMPACTING THEIR HEALTH. AND THAT JOURNEY EVENTUALLY LED ME TO GOOGLE. HERE WE BELIEVE THAT TECHNOLOGY CAN SERVE TO ELIMINATE DISPARITIES AND DEMOCRATIZE ACCESS TO HEALTH AND TO HEALTHCARE. WE BUILD FOR EVERYONE. BUT IT HAS TO BE DONE WITH INTENTION AND WITH THE
INPUT OF THOSE IMPACTED AND WITH THE HELP OF OTHERS. THE THEME FOR TODAY'S SUMMIT IS BUILDING TRUST TO SCALE IMPACT IN A GROWING HEALTH EQUITY ECOSYSTEM. AS YOU ENGAGE WITH US TODAY, CONSIDER HOW YOU AND YOUR ORGANIZATION'S RESOURCES AND INFLUENCE CAN BE HARNESSED AS POSITIVE FORCES FOR EQUITY. USE YOUR VOICE TO SHAPE PUBLIC UNDERSTANDING ABOUT THE IMPORTANCE OF HEALTH EQUITY IN DISMANTLING RACISM AND ALL FORMS OF DISCRIMINATION. TURN THIS MOMENT OF CLARITY FOR THE HEALTH ECOSYSTEM INTO A MOVEMENT FOR DURABLE CHANGE. THANK YOU ALL AGAIN FOR TAKING TIME TO JOIN US. I'M GRATEFUL
TO THE PRESENTERS FOR SHARING THEIR PERSPECTIVES AND THEIR WISDOM. AND NOW, I'LL HAND IT OVER TO DR. IVOR HORN, WHO WILL TELL US MORE ABOUT THE DAY. » Ivor Horn: THANK YOU, KAREN. [APPLAUSE] BEFORE WE GET STARTED, I WANT TO TAKE A MOMENT TO THANK THE PEOPLE WHO MADE TODAY POSSIBLE. I WANT TO THANK EBONEKA COLEMAN. [APPLAUSE] AND MEGAN HOTAN, WHO LED THIS EFFORT. AND I WANT TO THANK THE SUMMIT
PLANNING COMMITTEE. AND I ESPECIALLY WANT TO THANK THE HEALTH EQUITY TEAM MORE BROADLY FOR ALL THE WORK THAT'S GONE INTO THIS TO MAKE THIS DAY HAPPEN. THE WORK OF TODAY, AND THE WORK OF THIS EVENT, IS THE COMBINATION OF OVER 70 GOOGLERS ACROSS THE COMPANY, WHO GAVE OF THEIR TIME AND TALENT THE LAST SEVERAL MONTHS, AND I REALLY APPRECIATE EVERYTHING THAT YOU'VE DONE TO MAKE THIS POSSIBLE. SO THANK YOU FOR THAT. [APPLAUSE] AS KAREN SAID, TODAY'S THEME IS BUILDING TRUST TO SCALE IMPACT IN A GROWING HEALTH EQUITY ECOSYSTEM. I'M EXCITED TO SHARE WITH YOU A LITTLE BIT ABOUT WHAT WE'RE DOING AT GOOGLE AND WHAT WE'VE BEEN DOING, BUT I'M REALLY, REALLY MORE EXCITED ABOUT THE IMPORTANT THING OF US BEING HERE TO LISTEN AND TO LEARN FROM THE LEADERS IN THE FIELD WHO ARE HERE IN THE ROOM WITH US AND WHO ARE WATCHING US VIRTUALLY, LEADERS IN PUBLIC HEALTH, IN HEALTHCARE, IN ACADEMIA, IN THE START-UP COMMUNITY. THIS WOULD NOT BE
POSSIBLE WITHOUT YOU. AND LET ME GIVE YOU A RUNDOWN OF THE DAY. I AM YOUR HOST. AND LET ME GIVE YOU THE AGENDA FOR TODAY. WE'RE GOING TO START WITH A CONVERSATION WITH
DR. KIRSTEN BIBBINS-DOMINGO, EDITOR-IN-CHIEF OF JAMA. I'M REALLY EXCITED TO HAVE THIS CONVERSATION WITH HER AND TO LEARN FROM HER. THEN YOU'RE GOING TO HEAR A FEW EXAMPLES ABOUT THE WORK THAT WE'VE BEEN DOING HERE AT GOOGLE. AND I WANT TO TALK ABOUT -- AND THEY'RE GOING TO SHARE ABOUT THE WORK THAT WE'RE DOING WITH OUR PARTNERS, THE KAISER FAMILY FOUNDATION AND HIGHMARK.
THEN WE'RE GOING TO HAVE A CONVERSATION WITH DR. VALERIE HARVEY, PRESIDENT OF THE SKIN OF COLOR SOCIETY. SHE'LL BE WITH US AND JOINING US AND TALKING ABOUT OUR WORK TOGETHE R. AND THEN WE'RE GOING TO HAVE A PANEL MODERATED BY DR. MAGGIE CHERY, THAT'S GOING TO EXPLORE THE ROLE OF START-UPS IN DRIVING INNOVATION THAT MEETS COMMUNITIES WHERE THEY ARE. AND FOR THOSE OF YOU ON THE LIVESTREAM, PLEASE, PLEASE, PLEASE STAY THROUGH LUNCH, BECAUSE AFTER LUNCH, WE'RE GOING TO HAVE A CONVERSATION WITH ALPHABET BOARD MEMBER AND VISIONARY LEADER, ROBIN WASHINGTON, AND SHE'S GOING TO TALK ABOUT THE ROLE OF TECHNOLOGY IN ADDRESSING HEALTH EQUITY. I'M SO EXCITED FOR THAT.
AND FINALLY, WE ARE GOING TO CLOSE OUT WITH WHY WE'RE HERE. WE'RE HERE TO BUILD TRUST. BUILDING A FOUNDATION OF TRUST. AND THAT WILL BE LED WITH A PANEL BY DR. HEATHER COLE-LEWIS, AND OUR
SPECIAL GUEST, A MEMBER OF THE HENRIETTA LACKS FAMILY. S O, THANK YOU ALL FOR BEING HERE. [APPLAUSE] I WANT TO TALK A LITTLE BIT ABOUT GOOGLE'S JOURNEY IN HEALTH EQUITY SO FAR. AND I SAY "SO FAR" BECAUSE WE'RE JUST BEGINNING. WHEN I JOINED GOOGLE
A LITTLE LESS THAN TWO YEARS AGO, EXPLAINING THE IMPORTANCE OF HEALTH EQUITY AND WHY WE NEEDED TO DO THIS WORK WASN'T AS MUCH OF A CHALLENGE, BECAUSE IT WAS CLEAR THAT THE PEOPLE WHO WERE NEGATIVELY IMPACTED BY THE PANDEMIC IN MENTAL, PHYSICAL, AND FINANCIAL WAYS WERE MARGINALIZED POPULATIONS ACROSS THE GLOBE. THERE WAS AN ARTICLE, OR A PODCAST, OR A NEWS SEGMENT AFFIRMING THIS WORK EVERY DAY. AND THOUGH THIS WAS THE REASON -- THIS WAS WHEN WE STARTED OUR JOURNEY, IT WAS NOT WHY WE STARTED OUR JOURNEY AT GOOGLE. WHAT'S REALLY IMPORTANT TO UNDERSTAND IS THAT HEALTH EQUITY AT GOOGLE IS INTENTIONAL. AS KAREN SAID, IT IS BY DESIGN.
AND WE KNOW THAT WE CAN'T ACHIEVE THIS ALONE. THIS REQUIRES PARTNERSHIPS AND COLLABORATIONS, AND WE KNOW HELPING BILLIONS OF PEOPLE, B, BILLIONS OF PEOPLE BE HEALTHIER UNLESS WE CENTER MARGINALIZED POPULATIONS. SO, OVER THE LAST TWO YEARS, WHAT HAVE WE BEEN DOING? WE'VE BEEN FOCUSED ON CREATING A SUSTAINABLE FOUNDATION TO BUILD HEALTH EQUITY INTO THE DNA OF OUR HEALTH WORK HERE AT GOOGLE. I BECAME A PHYSICIAN BECAUSE I DID NOT WANT PEOPLE TO EXPERIENCE -- HAVE THE NEGATIVE EXPERIENCES WITH HEALTHCARE AND HEALTH SYSTEMS THAT MY FAMILY DID WHEN I WAS GROWING UP. I COMMITTED
MY CAREER TO ADDRESSING HEALTH DISPARITIES, FIRST AS A PHYSICIAN AND A RESEARCHER, AS PART OF A START-UP, AS AN ADVISOR, AND A BOARD MEMBER TO COMPANIES, AND NOW HERE IN MY ROLE AT GOOGLE. BUT I AM NOT DOING THIS ALONE. I AM SO HONORED TO HAVE A TEAM OF PEOPLE, A MULTI-DISCIPLINARY TEAM WITH DECADES OF EXPERIENCE IN HEALTH EQUITY.
AND THEY INCLUDE EPIDEMIOLOGISTS, ETHNOGRAPHERS, PUBLIC HEALTH PRACTITIONERS, RESEARCHERS, CLINICIANS, AND PEOPLE WITH LIVED EXPERIENCE. AND THOSE PEOPLE WORK EVERY DAY WITH OUR GOOGLE TEAMS SIDE BY SIDE TO HELP BUILD HEALTH EQUITY INTO OUR SOLUTIONS. BUT THAT WOULDN'T BE POSSIBLE IF IT WEREN'T FOR GOOGLERS SUCH AS KAT CHOU AND KASUMI WIDNER, WHO GAVE OF THEIR TIME AND THEIR TALENT AND THEIR EXPERIENCE OF WHAT IT MEANS TO BUILD AT GOOGLE AND TO BUILD FOR SCALE. SO I WANT TO RESPECT AND THANK THEM FOR THEIR CONTRIBUTIONS AND THE SUPPORT THAT THEY CONTINUE TO GIVE EVERY DAY TO THIS WORK.
NOW, AS WE NAVIGATE INTO THIS NEW NORM WHERE HEALTH EQUITY IS NOT IN THE MEDIA AND IT'S NOT IN THE PUBLIC SPOTLIGHT, WE AT GOOGLE ARE READY. WE WILL CONTINUE OUR JOURNEY TO BUILD HEALTH EQUITY IN A SUSTAINABLE WAY THAT SCALES GLOBALLY. WE BELIEVE THAT H EALTH EQUITY IS THE RIGHT THING TO DO AND IT'S GOOD BUSINESS. AND WE BELIEVE THAT WE CAN DO WELL AND DO GOOD. SO, TODAY YOU'RE GOING TO HEAR SOME OF THOSE WAYS. AND WE ARE HONORED TO HAVE THIS OPPORTUNITY TO BRING
GOOGLE'S TOOLS AND EXPERTISE TO REACH AND SUPPORT THE GLOBAL HEALTH EQUITY COMMUNITY. BUT WE KNOW THAT WE CANNOT DO THIS ALONE. AT GOOGLE, WE RECOGNIZE THAT HEALTH EQUITY IS HEALTH. WE HAVE AN IMPORTANT ROLE TO PLAY IN THE HEALTH EQUITY ECOSYSTEM, BUT IT'S ALONGSIDE ALL OF YOU. TODAY AND AFTER THIS SUMMIT, WE ARE EXCITED TO LEARN FROM YOU AND TO PARTNER WITH YOU IN NEW AND DIFFERENT WAYS. THIS WORK STARTS AND ENDS WITH THE EXPERTISE AND LIVED EXPERIENCES OF COMMUNITIES. AND WE UNDERSTAND THAT.
SO, AS I WRAP UP MY COMMENTS FOR THIS MORNING, AS HOST, I WANT TO REAFFIRM WHY WE ARE HERE. WE ARE HERE TO BUILD A FOUNDATION OF TRUST THAT WE WILL STRIVE TO EARN AND CONTINUALLY STRENGTHEN. AND WE ARE HERE TODAY TO CONTRIBUTE, AND WE THANK YOU FOR JOINING US ON THIS JOURNEY.
[APPLAUSE] WITH THAT, I'D LIKE TO INVITE DR. KIRSTEN BIBBINS-DOMINGO TO JOIN ME ON THE STAGE FOR A FIRESIDE CHAT. [APPLAUSE] WE'RE GOING TO START OUT FORMAL, AND THEN WE'LL SORT OF MOVE TO THE INFORMAL. SO, LET ME TELL YOU A LITTLE BIT ABOUT THIS AMAZING PERSON THAT WE HAVE WITH US TODAY. DR. BIBBINS-DOMINGO IS THE 17TH EDITOR-IN-CHIEF OF JAMA AND THE JAMA NETWORK, AND SHE'S ALSO A PROFESSOR OF MEDICINE AND EPIDEMIOLOGY AND BIOSTATISTICS AT THE UNIVERSITY OF CALIFORNIA SAN FRANCISCO, WHERE SHE CONTINUES TO PRACTICE AT A PRIMARY CARE DOCTOR AND ATTENDING PHYSICIAN AT SAN FRANCISCO GENERAL HOSPITAL. PREVIOUSLY, SHE WAS VICE DEAN OF POPULATION HEALTH AND HEALTH EQUITY AT THE UCSF SCHOOL OF MEDICINE, CHAIR OF THE U.S. PREVENTATIVE SERVICES TASK
FORCE, AND CO-FOUNDER AND CO-DIRECTOR OF THE UCSF CENTER FOR VULNERABLE POPULATIONS. DR. BIBBINS-DOMINGO IS A RENOWNED PHYSICIAN-SCIENTIST, EPIDEMIOLOGIST, AND EDUCATOR, WITH INTERNATIONALLY RECOGNIZED CLINICAL AND RESEARCH EXPERTISE IN HEALTH EQUITY. I AM HONORED TO SIT WITH YOU TODAY. THANK YOU. » Kirsten Bibbins-Domingo:
THANK YOU SO MUCH FOR INVITE MEGA. YOU MAY NOT KNOW THIS, BUT I'M A TOTAL FAN GIRL. WHEN I FOUND OUT SHE WAS COMING HERE TO THE BAY AREA, SHE KNOWS, SHE WAS LIKE THE FIRST PERSON I, LIKE, LOOKED UP, IT'S LIKE OH, WE'RE HEARING YOU'RE HERE IN THE BAY AREA. » Ivor Horn: YES! SO, I WANT TO START BY TALKING A LITTLE BIT ABOUT YOUR RESEARCH AND THE EVIDENCE BASE FOR HEALTH EQUITY. WE'VE TALKED ABOUT HOW IMPORTANT IT IS FOR PEOPLE TO UNDERSTAND THAT THERE IS AN EVIDENCE BAS E OF LITERATURE, AND TELL ME A LITTLE BIT ABOUT THE JOURNEY AND WHERE YOU THINK WE ARE NOW AS IT RELATES TO HEALTH EQUITY RESEARCH. » Kirsten Bibbins-Domingo:
SURE. YOU KNOW, I'D BEEN ON THE FACULTY SINCE 2004 AT UCSF, AND I REMEMBER WHEN I STARTED OUT AS A RESEARCHER, HEALTH EQUITY, HEALTH DISPARITIES, WHEN YOU WERE RESEARCHING IN THAT, FEW PEOPLE WERE TALKING ABOUT THAT. WE WERE MORE DESCRIBING HOW TERRIBLE THINGS WERE. AND THEN IT'S NOW BECOME MORE PART OF THE COMMON PARLANCE THAT WE ALL UNDERSTAND, HEALTH EQUITY GOALS. WE UNDERSTAND THAT THERE ARE BIG DISPARITIES. I THINK THE KEY CHALLENGE FOR US, AND THOSE WHO HAVE SORT OF BEEN IN THE FIELD FOR A LONG TIME, IS TO RECOGNIZE THAT THE EVIDENCE IS OVERWHELMING, THAT THESE INEQUITIES EXIST IN THE HEALTH LANDSCAPE, THAT THERE ARE PROMISING AVENUES TO OVERCOME THESE. AND THAT THE ISSUES THAT WE FACE NOW IS
MOVING BEYOND THIS SORT OF DESCRIBING THE PROBLEM, YOU KNOW, NAVAL GAZING, ALL OF THOSE THINGS, TO SAYING WE HAVE SOLUTIONS, HOW DO WE IMPLEMENT THEM, HOW DO WE SCALE THEM, SO THAT WE ADDRESS ISSUES THAT, FRANKLY, IN MOST CASES ARE NOT GETTING BETTER, AND IN MANY CASES, ARE GETTING WORSE. » Ivor Horn: YEAH. HOW DO WE MOVE FROM TELLING THE STORY OVER AND OVER AND OVER AGAIN TO MOVE TO ACTION? » Kirsten Bibbins-Domingo: EXACTLY RIGHT. EXACTLY RIGHT. » Ivor Horn: YES. SO, CAN YOU TELL ME A LITTLE BIT ABOUT -- SO WE KNOW THAT THERE'S A LOT OF INFORMATION THERE, BUT THERE ARE ALSO SOME GAPS IN THE LITERATURE. CAN YOU TELL ME A LITTLE BIT ABOUT THAT? » Kirsten Bibbins-Domingo: YEAH. SO, I THINK ONE OF THE THINGS -- I THINK WE STARTED
OFF -- SO, IF WE JUST TAKE THE HEALTHCARE PERSPE CTIVE TO SAYING, WELL, WE KNOW THOSE HEALTH DISPARITIES EXIST, BUT THAT'S BECAUSE THE REST OF THE WORLD OUT THERE IS COMPLICATED FOR OUR PATIENTS, AND WE CAN'T DO ANYTHING ABOUT THAT. AND I THINK WE'VE MOVED, AS YOU TALKED ABOUT, AND KAREN WAS TALKING ABOUT IN THE OPENER, TO UNDERSTANDING THE SOCIAL FACTORS THAT INFLUENCE HEALTH. AND THAT THE SOCIAL STRUCTURES ARE INEQUITABLE, AND THEREFORE, WE HAVE TO ADDRESS THOSE. BUT MOVING BEYOND THEM ACTUALLY REQUIRES SORT OF TRANSFORMING OUR WAY OF THINKING ABOUT HEALTH, NOT JUST WHAT HAPPENS IN THE DOCTOR'S OFFICE, BUT HOW THE PATIENT, WHO LIVES AND WORKS MOST OF THEIR TIME OUTSIDE OF THE DOCTOR'S OFFICE, HOW ALL OF THAT INFORMATION COMES AND HELPS DOCTORS AND PATIENTS MAKE BETTER DECISIONS TOGETHER, HELPS PATIENTS TO THINK ABOUT HEALTH WHEN THEY'RE OUTSIDE OF THE DOCTOR'S OFFICE THINK ABOUT STRUCTURES RELATED TO COMMUNITIES AND COMMUNITY HEALTH, THE OPPORTUNITIES TO THINK IN MORE TRANSFORMATIVE WAYS ABOUT HEALTH, IF THEY'RE CENTERED ON EQUITY, I THINK ALLOW US TO THINK IN MORE TRANSFORMATIVE WAYS AND ALLOW US TO IDEALLY ACHIEVE OUR GOALS.
SO IN ALL OF THESE, WE -- I THINK WE'VE RECOGNIZED THE COMPLEXITY OF THE PROBLEM. THE INNOVATION COMES IN THINKING ABOUT HOW DO WE THINK IN DIFFERENT WAYS HOW TO CONNECT PARTS OF THE SECTORS THAT INFLUENCE HEALTH, HOW DO WE CONNECT COMMUNITIES IN DIFFERENT WAYS, WHAT ARE THE EVIDENCE FOR FACTORS THAT WORK, AND THEN HOW DO WE SCALE THOSE. AND I THINK THAT'S WHERE WE REALLY ARE. » Ivor Horn: YEAH. OFTENTIMES, WHEN I'M HAVING CONVERSATIONS WITH THE TEAM, IT DOES FEEL SO OVERWHELMING, AND HELPING PEOPLE BREAK IT DOWN TO THOSE DIGESTIBLE PIECES OF WHAT CAN WE DO, WHAT ACTION CAN WE LEAD TO. » Kirsten Bibbins-Domingo:
EXACTLY RIGHT, EXACTLY RIGHT. AND I THINK IT'S VERY INTERESTING -- SO, I THINK ABOUT YOU ALL HERE AT GOOGLE WHO ARE THINKING ABOUT INNOVATION AND TECHNOLOGY, AND, YOU KNOW, THE TECHNOLOGY PLATFORMS, THE DATA PLATFORMS, THOSE ARE THE THINGS THAT REALLY CAN BE AT THE FOREFRONT TO HELP CONNECT WHAT ULTIMATELY ARE MULTI-SECTOR SOLUTIONS TO THESE PROBLEMS. AND I THINK THAT'S WHERE THE REAL PROMISE IS, ESPECIALLY IN THINKING IN MORE TRANSFORMATIVE WAYS, WHICH IS WHAT I THINK ABOUT IN SORT OF AN INNOVATOR'S MINDSET. I THINK THE CHALLENGE IN THIS SPACE IS RECOGNIZING THAT WE GOT TO A POSITION OF INEQUITY BECAUSE OF THE STRUCTURAL FACTORS THAT ARE INEQUITABLE, RIG HT? THERE'S A REASON THAT STRUCTURAL INEQUITY, STRUCTURAL RACISM, THE STRUCTURAL PART IS THERE. AND THAT STRUCTURAL PART IS POWERFUL. SO IF THE SOLUTIONS DON'T CENTER ON EQUITY OR WORK AT EVERY POINT TO SORT OF REVERSE THOSE STRUCTURES, WE CAN'T QUITE GET THERE.
» Ivor Horn: YEAH. AND ONE OF THE THINGS YOU'RE TALKING ABOUT IS THIS INTERSECTION OF DATA, STRUCTURAL FACTORS, AND HISTORICAL INFORMATION. TALK TO US A LITTLE BIT ABOUT WHAT DO WE NEED TO DO TO ADDRESS THOSE DISPARITIES AND THOSE GAPS IN INFORMATION AND HOW THOSE BIASES AND THAT STRUCTURAL RACISM IS INGRAINED IN THE DATA THAT WE HAVE AND THAT WE'RE WORKING FROM. » Kirsten Bibbins-Domingo: YEAH. THANKS SO MUCH FOR SAYING THAT. WHEN YOU AND I PREPPED FOR THIS TALK, WE WERE THINKING ABOUT TWO REPORTS THAT I'VE CHAIRED RECENTLY, ON E THAT KAREN WAS INVOLVED WITH, THINKING ABOUT SOCIAL FACTORS THA T INFLUENCE HEALTH AND HOW WE BRING THAT INFORMATION INTO THE HEALTHCARE SETTING. THE DATA AND THE TECHNOLOGY
PLATFORMS ARE CRITICAL, THINKING ABOUT HOW A PERSON, WHEN THEY ARE INTERACTING WITH THEIR DOCTOR AND THEY DON'T HAVE HOUSING OR THEY HAVE FOOD INSECURITY, HOW THAT INFORMATION, WE CAN LINK THEM MORE EASILY TO THE SOLUTIONS TO THEIR PROBLEMS IN A HEALTHCARE SETTING. WELL, TURNS OUT THAT THOSE ARE GAPS THAT ARE QUITE AMENABLE TO DATA AND TECHNOLOGY SOLUTIONS. THEY HAVE THEIR OWN CHALLENGES BECAUSE OUR DATA SYSTEMS ARE GOVERNED BY DIFFERENT REGULATORY FACTORS. WE'RE NOT THAT GOOD AT DATA SHARING
ACROSS SECTORS. SOLUTIONS THAT ARE DESIGNED, THAT HELP ALL OF US LIVE OUR LIVES SO MUCH MORE FREELY ARE OFTENTIMES THOSE THINGS THAT ARE NOT AVAILABLE TO EVERYONE. AND THAT THERE ARE SENSITIVE TYPES OF INFORMATION, THAT ONCE THEY FOLLOW SOMEONE OVER TIME, CAN REALLY CREATE EVEN MORE PROBLEMS FOR COMMUNITIES THAT WE ACTUALLY ARE TRYING TO HELP AND TO SERVE. AND ALL OF THOSE THINGS HAVE TO BE CONSIDERED WHEN WE'RE DESIGNING SOLUTIONS. BUT THAT DOESN'T MEAN WE CAN'T -- WE SHOULDN'T START DOING THAT. SO WHEN I THINK IN THE OTHER REPORT THAT I WORKED ON, WH ICH WAS REALLY ABOUT HOW DO WE IMPROVE DIVERSITY IN OUR CLINICAL RESEARCH ECOSYSTEM, THE SHOCKING THING IN THAT REPORT FOR ME WAS TO SEE HOW OVER 30 YEARS, WE HAVE CONSISTENTLY SAID, WE NEED TO HAVE A SCIENCE BASE THAT REPRESENTS THE COMMUNITIES THAT WE WANT OUR INNOVATIONS TO SERVE. AND YET, WE DON'T HAVE
THE DATA TO TRACK IT, WE DON'T KNOW HOW WELL WE'RE DOING. AND SO WE CONSTANTLY FALL BACK ON SAYING, WELL, IT MUST BE THAT THOSE COMMUNITIES DON'T REALLY WANT TO PARTICIPATE IN WHAT WE HAVE TO OFF ER. RATHER THAN WHAT THE EVIDENCE CLEARLY SAYS IS, ALL COMMUNITIES HAVE AN INTEREST IN INNOVATION, HAVE AN INTEREST IN THE HEALTH OF THEIR COMMUNITIES. IT'S UP TO US TO DESIGN OUR SOLUTIONS TO BETTER MEET PEOPLE WHERE THEY ARE. AND THAT'S VERY
CLEAR ACROSS MOST OF THE TIMES WHEN YOU'RE STARTING TO LOOK AT THIS ISSUE. » Ivor Horn: ONE OF THE THINGS THAT WE TALK ABOUT OFTEN IS -- AND THIS IS A GREAT EXAMPLE IN CLINICAL TRIALS, IS THE IMPORTANCE OF BEING UPSTREAM IN OUR EFFORTS TO MAKE SURE THAT WE'RE THINK ABOUT EQUITY FROM THE BEGINNING. AND ONE OF THE THINGS THAT WE KNOW IS THAT WHEN WE HAVE CLINICAL TRIALS AND WE DON'T HAVE DIVERSE REPRESENTATION IN THOSE CLINICAL TRIALS, THAT IMPACTS THE RESULTS THAT WE GET AND THAT IMPACTS THE AVAILABILITY OF THE SOLUTIONS THAT WE'RE CREATING. HOW CAN WE BEGIN TO THINK ABOUT DOING THINGS DIFFERENTLY? » Kirsten Bibbins-Domingo: RIGHT. SO, LET ME JUST FOLLOW THAT TRAIN THROUGH. SO, WE OFTENTIMES SAY, WELL, THOSE PEOPLE, THOSE COMMUNITIES DON'T TRUST THE SCIENCE, AND THEREFORE DON'T PARTICIPATE. WHEREAS, IT'S ACTUALLY A
CIRCULAR LOOP, THAT BECAUSE WE CONTINUE TO DESIGN STUDIES WHERE PEOPLE DON'T SEE THEMSELVES REPRESENTED, THAT ACTUALLY FEEDS THE MISTRUST. AND THE PEOPLE WHO HAVE STUDIED HAVE FIND IS THAT THE BENEFITS OF ACTUALLY THINKING IN PARTNERSHIPS WITH COMMUNITIES ABOUT HOW TO DESIGN STUDIES, HOW TO INCLUDE INDIVIDUALS FROM DIFFERENT COMMUNITIES IN STUDIES, ACTUALLY CAN BE A MORE -- CAN OVERCOME THE INITIAL MISTRUST, CAN HELP IN TRIAL RECRUITMENT, CAN HELP US TO ENSURE THAT OUR EVIDENCE BASE IS DESIGNED FOR THE PEOPLE IT'S INTENDED TO. AND, IN FACT, OVER TIME, WE THINK CAN ACTUALLY BUILD TRUST IN SCIENCE AND MEDICINE AND THE EVIDENCE BASE. AND SO, OUR FAILURE TO DO THIS PUTS REALLY THE BURDEN ON -- INCORRECTLY ON THE PEOPLE WHO ARE NOT PARTICIPATING, RATHER THAN SAYING, IF I WANT YOU T O PARTICIPATE, I HAVE TO FIND A WAY FOR YOU TO PARTICIPATE. » Ivor Horn: YEAH. AND THAT'S SOMETHING THAT'S SO IMPORTANT. AND WE'LL TALK -- I MEAN, THAT'S GOING TO BE A THEME, I THINK, THAT CARRIES OUT THROUGH THE DAY, IS THE IMPORTANCE OF CENTERING ON COMMUNITY AND MEETING PEOPLE WHERE THEY ARE. AND I THINK OFTENTIMES IN
RESEARCH, WE'VE DONE THE OPPOSITE. WE'VE TRIED TO SAY, YOU FIT INTO -- YOU FIT INTO OUR STRUCTURE. ONE OF THE THINGS THAT I WANT TO TALK A LITTLE BIT ABOUT IS THE ROLE THAT TECHNOLOGY CURRENTLY PLAYS. WE KNOW THAT IT'S CENTRAL TO HEALTH AND HEALTHCARE AND HEALTHCARE DELIVERY NOW. WHAT ARE SOME WAYS WE NEED TO THINK ABOUT IN WAYS THAT TECHNOLOGY CAN PLAY A ROLE IN DOING THIS WORK? » Kirsten Bibbins-Domingo: SURE. SO, I'M SORT OF A DATA
NERD. I'M ALWAYS LIKE, WELL, WE DON'T HAVE ENOUGH DATA TO KNOW THAT THAT HAPPENS, AND PART OF THE DATA COLLECTION IS HARD, AND STRATEGIES FOR THINKING THROUGH HOW WE USE LOTS OF DATA THAT ARE COLLECTED ABOUT PEOPLE ALL THE TIME TO HELP US TO DESIGN BETTER STUDIES, TO DESIGN BETTER INTERVENTIONS, I THINK IS THERE. I DO WANT TO PUT THE EMPHASIS ON -- AND I'M REALLY PLEASED THAT YOU'VE FOCUSED ON THE EQUITY FIRST, BECAUSE I THINK WE ALSO SHOULD RECOGNIZE THAT FAILING TO UNDERSTAND HOW DATA TECHNOLOGY CAN BE MISUSED MAY NOT BE ACCESSIBLE TO OTHERS, TO EVERYONE THAT WE WANT TO PARTICIPATE, I THINK IS THE CHALLENGE. BUT I THINK THAT THE -- THE REASON WHY I'M OPTIMISTIC ABOUT TECHNOLOGY AS A PART OF THE SOLUTION IS THAT I THINK IT'S A NATURAL WAY TO SORT OF CONNECT IN MULTI-SECTOR CONNECTIONS. I THINK IT IS A NATURAL WAY
TO THINK ABOUT WHAT -- HOW INTERVENTIONS CAN BE EASIER IN THE WAY PEOPLE ACTUALLY LIVE, WORK, AND PLAY AS OPPOSED TO DESIGNING FOR SOMETHING THAT REALLY IS FOR A VERY PARTICULAR RAREFIED WAY-OF-THINKING ABOUT THIS. AND ULTIMATELY, TO THINK ABOUT HEALTH, WE HAVE TO DO THAT. I THINK IT ALLOWS US TO COLLECT DATA AND DEFINE OVER TIME HOW WELL WE'RE DOING IN CERTAIN AREAS. AND IT ALLOWS US TO SCALE. AND I THINK WHEN YOU LOOK AT
THE SOLUTIONS OF INTERVENTIONS THAT REALLY ADDRESS HEALTH EQUITY, OFTENTIMES, THEY WORK IN A VERY LOCAL WAY, AND WE HAVE VERY LITTLE ABILITY TO SCALE THEM. AND ONE OF THE THINGS THAT I LIKE IN PEOPLE WHO DO THINK ABOUT THIS, AND I KNOW MANY OF MY COLLEAGUES DO, IS NOT THINKING ABOUT TECHNOLOGY AS SOMETHING THAT WE ONLY -- FOR THE WELL-RESOURCED SETTINGS OR PEOPLE WHO HAVE A LOT OF MONEY. WHEN WE THINK ABOUT TECHNOLOGY AS A PART OF THE SOLUTION, IT ALLOWS US TO TAKE THOSE INTERVENTIONS THAT WORK IN A LOCAL AREA AND THINK ABOUT SCALING THEM BECAUSE THE TECHNOLOGY DOES ALLOW US TO SCALE.
» Ivor Horn: YEAH, ABSOLUTELY. I THINK ONE OF THE THINGS THAT YOU'RE TAPPING INTO IS SOMETHING AROUND COMMUNITY-BASED PARTICIPATORY RESEARCH AND HOW WE ENGAGE THE COMMUNITY, NOT JUST IN, LIKE, GETTING US INFORMATION IN RECRUITMENT, BUT HOW WE DESIGN IN A WAY THAT IS ACTUALLY ACTIONABLE. » Kirsten Bibbins-Domingo: EXACTLY. WHEN I THINK ABOUT --
YOU STARTED WIT H THE PANDEMIC AND HOW WE ALL KNEW ABOUT HEALTH EQUITY DURING THE PANDEMIC. I REALLY WAS HAPPY TO BE INVOLVED WITH MANY OF OUR EFFORTS AT UCSF WORKING IN THE COMMUNITIES. AND PEOPLE THINK ABOUT THIS AT OUR -- THAT OUR PARTNERSHIPS WERE ABOUT US GOING INTO THE COMMUNITY, WHEREAS THE REALITY IT WAS ABOUT THE COMMUNITY TELLING US HOW IF WE WANT TO ACHIEVE THIS GOAL OF GETTING SOME BETTER PANDEMIC CONTROL, WE HAD TO DO THINGS THIS WAY, BECAUSE THIS WAY WOULD WORK IN THIS COMMUNITY, AND WE HAD A LOT OF HEATED ARGUMENTS, WE HAD A LOT OF TEARS, A LOT OF SHOUTING AT SOME OF OUR MEETINGS, I'LL BE QUITE FRANK. BUT SOME OF THAT IS BECAUSE THERE IS A LEGACY, THERE IS A HISTORY OF MISTRUST WITH THE SAME INSTITUTIONS. THAT TO ME IS JUST PART OF THE WORK. BUT I DON'T THINK
THAT, FOR ANYONE WHO'S BEEN DOING THIS WORK, THAT TYPE OF REACTION SHOULDN'T BE THE REASON WE DON'T DO THE WORK. THAT SHOULD BE ALMOST THE EXPECTATION, BECAUSE THERE'S OFTENTIMES NOT JUST A DAY OF MISTRUST OR A REMOTE HISTORY OF MISTRUST, THERE'S AN ONGOING PATTERN OF THINGS THAT ARE HAPPENING THAT DON'T LEAD ONE TO HAVE CONFIDENCE IN INSTITUTIONS. RECOGNIZING THAT, BUT BEING WILLING TO STAY WITH IT AND BEING PRINCIPLED THAT THIS IS THE WORK THAT WE'RE DOING, WITH THE RIGHT PARTNERS, I THINK CAN LEAD TO ULTIMATELY MORE EQUITABLE, AND WHAT I LOVE ABOUT WHAT YOU SAID, NOT JUST EQUITABLE SOLUTIONS, BUT MORE EFFECTIVE SOLUTIONS, FRANKLY. » Ivor Horn: YOU KNOW, IT'S INTERESTING, WHENEVER DOING HEALTH EQUITY RESEARCH FOR SO LONG, OFTENTIMES PEOPLE TALK ABOUT HOW DO YOU DO THIS AND HOW DO YOU BUILD TRUST? I SAID, YOU GO AND YOU STAY. YOU GO, YOU'RE GOING TO MAKE A
MISTAKE, YOU'RE GOING TO SAY SOMETHING WRONG, YOU'RE PROBABLY GOING TO GET YELLED AT, AND THEN YOU COURSE CORRECT AND YOU STAY. AND YOU SHOW YOUR COMMITMENT. AND I THINK THAT IS REALLY THE IMPORTANT THING. THE LEGACY OF MISTRUST HAS BEEN OVER DECADES, AND THE FACT THAT WE THINK THAT WE'RE GOING TO CHANGE THAT OR TRANSFORM THAT BECAUSE WE USE THE TECHNOLOGY IS NOT A REALITY, AND IT'S GOING TO TAKE TIME. ONE OF THE THINGS THAT WE TALK ABOUT OFTENTIMES IS AUTHORITATIVE SOURCES. AND OFTENTIMES, THESE COMMUNITIES DON'T TRUST AUTHORITATIVE SOURCES. AND SO HOW ARE WE --
HOW ARE YOU THINKING ABOUT IT AND WHAT ARE WE DOING TO MAKE SURE THAT WE'RE HAVING VOICES THAT MEET PEOPLE WHERE THEY ARE, THAT ARE THE TRUSTED VOICES OF THE COMMUNITY? » Kirsten Bibbins-Domingo: OH, SUCH A GOOD QUESTION. I THINK ABOUT THAT OFTEN IN TAKING ON THIS NEW ROLE OF A MAJOR JOURNAL AND THINKING ABOUT, WE LIVE IN AN ENVIRONMENT WHERE WE'RE A LITTLE BIT IN INFORMATION OVERLOAD, WE'RE A LITTLE BIT IN, WHERE DO YOU TRUST AND WHO DO YOU TRUST. I THINK ABOUT IT FROM THE PERSPECTIVE OF SCIENTIFIC JOURNALS ARE OFTENTIMES THAT LAST GATEKEEPER THAT SAYS, THIS IS THE STAMP OF APPROVAL, THIS IS WHAT'S IMPORTANT. FOR ME AS A NEW
JOURNAL EDITOR, IT IS ABOUT SAYING, WELL, TO QUESTION OUR ASSUMPTIONS. DO WE HAVE THE RIGHT PEOPLE IN THE ROOM MAKING THOSE DECISIONS? HOW DO WE THINK ABOUT THE BROADER SCIENTIFIC COMMUNITY? HOW DO WE PLAY OUR ROLE IN MAKING SURE WE ARE WORTHY OF TRUST, THAT WE ARE MAKING DECISIONS ABOUT THE SCIENCE THAT'S IMPORTANT, THE COMMUNITIES THAT ARE REPRESENTED IN THE SCIENTIFIC STUDIES. I BELIEVE THAT THESE ECOSYSTEMS, IN THIS CASE SCIENCE, IS COMPLICATED. BUT THAT DOESN'T MEAN THAT WE DON'T DO OUR PART IN A COMPLEX ECOSYSTEM TO DO THAT WORK TO HELP MAKE US MORE TRUSTWORTHY. I THINK ALSO UNDERSTANDING -- THOUGH I'VE SORT OF CHALLENGED OUR TEAM TO THINK ABOUT HOW DO WE THINK ABOUT WHO ACTUALLY IS READING THE INFORMATION THAT WE HAVE OUT THERE. WHAT CAN
WE DO TO MAKE SURE THAT WE'RE MEETING NEEDS OF PEOPLE IN THE WAY THAT THEY WANT TO RECEIVE INFORMATION. WHO ARE WE MISSING IN HOW WE PUT OUR INFORMATION OUT THERE? AND I DO THINK IF WE WANT TO CHANGE SORT OF THE LANDSCAPE OF HOW HEALTH INFORMATION IS CONSUMED, WE HAVE TO UNDERSTAND WHO IS CONSUMING IT, HOW THEY'RE GETTING THEIR INFORMATION. THERE'S A LOT OF INFORMATION OUT THERE. THERE'S A LOT OF MISINFORMATION OUT THERE. THERE ARE A LOT OF PEOPLE WHO ARE DELIBERATELY PUTTING MISLEADING IDEAS OUT THERE. I REALLY HEARD RECENTLY ABOUT THE WORK AT YOUTUBE TO TRY TO ELEVATE TRUSTED SOURCES OF INFORMATION. I
HOPE THAT THAT ALSO HAS AN EQUITY LENS TO IT, BECAUSE I THINK THAT WILL CONTINUE TO BE IMPORTANT, BECAUSE SOLVING THIS COMPLEX PROBLEM OF INFORMATION OVERLOAD AND MISINFORMATION, BUT ALSO ENSURING THAT WE UNDERSTAND IT FROM THE PERSPECTIVE OF DIFFERENT COMMUNITIES, FROM THE PERSPECTIVE OF HISTORIC MISTRUST, FROM THE PERSPECTIVE OF CREATING HIERARCHIES OF TRUSTED SOURCES THAT MAY NOT OFTEN REFLECT THE SOURCES THAT ARE IMPORTANT TO A PARTICULAR COMMUNITY. SO AT EVERY STAGE, WE HAVE TO SOLVE THESE COMPLEX PROBLEMS, BUT WITH AN EQUITY LENS AND IN A LENS FOR KNOWING THAT THE STRUCTURES ARE STRONG TO KEEP US INEQUITABLE, THAT WE HAVE TO ALWAYS QUESTION THOSE IN A WAY TO RIGHT THAT. » Ivor Horn: YEAH. AND WE TALK ABOUT INFORMATION IS A DETERMINANT OF HEALTH. OUR ACCESS TO INFORMATION IS A DETERMINANT OF HEALTH, AND IT'S NOT JUST ABOUT THE MESSAGE, IT'S ALSO ABOUT THE MESSENGER. AND WE'RE GOING TO HEAR A LITTLE BIT MORE ABOUT WHAT THE TEAM AT YOUTUBE IS DOING TODAY TO REALLY BEGIN TO BRIDGE THAT GAP OF PROVIDING AUTHORITATIVE INFORMATION IN A WAY THAT PEOPLE ARE READY TO RECEIVE AND FROM TRUSTED SOURCES. SO, THANK YOU FOR CALLING THAT OUT.
ONE OF THE THINGS THAT WE OFTEN TALK ABOUT, I LOVE DATA, JUST LIKE YOU LOVE DATA. I LOVE LOOKING AT NUMBERS AND GETTING INFORMATION FROM NUMBERS. I ALSO LOVE TAKING THAT INFORMATION AND UNDERSTANDING IT IN CONTEXT AND THINKING ABOUT QUALITATIVE RESEARCH. WE'VE OFTENTIMES TALKED ABOUT QUALITATIVE INFORMATION AND QUALITATIVE DATA. WHEN WE'RE THINKING ABOUT HOW WE BUILD, OFTEN A LOT OF QUALITATIVE DATA GOES -- QUALITATIVE RESEARCH GOES INTO THAT. CAN YOU TELL ME A LITTLE BIT ABOUT THE WAYS THAT WE'VE BEEN THINKING ABOUT THE INTERSECTION OF QUALITATIVE AND QUANTITATIVE DATA IN HEALTH EQUITY RESEARCH, KIND OF TO ME ALL ALONG? » Kirsten Bibbins-Domingo: YES. SO I AM A QUANTITATIVE
RESEARCHER, SO I WANT TO SEE THE NUMBERS. BUT YOU KNOW VERY CLEARLY THAT THE NUMBERS DON'T TELL ALL OF THE STORY. AND ESPECIALLY WHEN YOU'RE TRYING TO THINK DIFFERENTLY ABOUT THE PROBLEM OR UNDERSTAND THE NATURE OF THE PROBLEM OR THE DESIGN OF THE SOLUTIONS, STARTING WITH TALKING WITH PEOPLE, STARTING WITH REALLY UNDERSTANDING HOW INDIVIDUALS OR HOW THE COMMUNITY UNDERSTANDS THEIR CONCEPTUALIZATION OF THE PROBLEM, IS EXACTLY WHERE WE NEED TO START. WE CALL IT THESE TERMS, COMMUNITY-BASED, PARTICIPATORY RESEARCH, COMMUNITY-INFORMED RESEARCH, ALL OF THOSE THINGS, QUALITATIVE RESEARCH. I THINK THIS FUNDAMENTALLY COMES DOWN TO PEOPLE -- THEY HAVE A CONCEPTION OF THEIR OWN HEALTH, THEY HAVE A C ONCE PTION OF THE PROBLEMS THAT ARE -- THAT LEAD TO A PARTICULAR PHENOMENON OF HEALTH DISPARITIES, AND IF WE UNDERSTAND HOW A PROBLEM EXISTS FROM THE PERSPECTIVES OF OTHER PEOPLE WHO ARE EXPERIENCING THE PROBLEM, IT WILL PUT US IN A SITUATION TO DESIGN BETTER SOLUTIONS. AND WE SEE THAT TIME AND TIME AGAIN ON HOW WE DESIGN IN HEALTHCARE SETTINGS, HOW WE DESIGN IN COMMUNITY-BASED SETTINGS, HOW WE THINK ABOUT H OW WE MAKE SURE OUR JOURNAL IS PUTTING OUT INFORMATION IN THE WAY PEOPLE WANT TO RECEIVE IT. THE WAY TO GET THAT INFORMATION
IS ULTIMATELY BY SITTING WITH PEOPLE AND TALKING WITH THEM AND ASKING THEM. THE DATA IS IMPORTANT, I THINK, OVER TIME FOR TRACKING, BUT ESPECIALLY WHEN YOU'RE TRYING TO THINK DIFFERENTLY, YOU HAVE TO START WITH TALKING TO PEOPLE OF DIFFERENT PERSPECTIVES. » Ivor Horn: YEAH. THAT'S SO GREAT. SO ONE OF THE THINGS THAT I
DIDN'T GET A CHANCE TO ASK YOU IS YOUR VISION FOR THE JOURNAL. » Kirsten Bibbins-Domingo: OH. [LAUGHING] » Ivor Horn: AS IT RELATES TO HEALTH EQUITY AND TECHNOLOGY. TELL ME A LITTLE BIT ABOUT SOME OF THE THINGS THAT YOU'RE THINKING ABOUT, AND THINGS TH AT YOU WOULD LIKE TO SEE. » Kirsten Bibbins-Domingo: SURE. SO,
I STARTED -- I'VE ONLY BEEN ON THE JOB FO R TWO MONTHS, SO, YOU KNOW... BUT WHEN I STARTED IN MY EDITORIAL WAS THAT, YOU KNOW, IN THIS ENVIRONMENT, THERE IS A REALLY IMPORTANT ROLE FOR TRUSTED SOURCES OF INFORMATION. WE WANT TO BE A JOURNAL AND A NETWORK OF JOURNAL, WE'RE 13 JOURNALS, WHERE AUTHORS TRUST US TO SEND US THE BEST WORK POSSIBLE SO THAT WE CAN ATTRACT THE THINGS THAT ARE ON THE CUTTING EDGE. WE WANT TO BE -- HAVE A PROCESS FOR VETTING THAT INFORMATION, FOR OUR EDITORIAL PROCESS TO PUT OUT INFORMATION TO THE COMMUNITY SO THAT CLINICIANS AND OTHERS WHO CONSUME THE INFORMATION SAY, THERE'S A LOT OF INFORMATION OUT THERE, BUT HERE'S SOMETHING, I TRUST WHERE THIS IS COMING FROM. AND THAT THE GENERAL PUBLIC THAT ARE OFTENTIMES THE READERS DO THAT, CAN TRUST US AS WELL. SO BEING A TRUSTWORTHY SOURCE OF INFORMATION IS CRITICAL TO WHAT JAMA AND THE JAMA NETWORK WANTS TO BE.
BUT FROM A HEALTH EQUITY LENS, THAT MEANS WE HAVE TO CONSTANTLY BE PUTTING HEALTH EQUITY FIRST AND MAKING SURE THAT WHAT WE ARE TALKING ABOUT, OUR INTERNAL PROCESSES, UNDERSTANDING OUR EXTERNAL LANDSCAPE ALSO SAYS, ARE WE ALWAYS OPEN TO ALL OF THE TYPES OF INFORMATION THAT'S OUT THERE? ARE WE OPEN TO ALL OF THE SCIENCE THAT'S RELEVANT FOR THE HEALTH OF THE U.S. POPULATION, FOR HEALTH GLOBALLY? WHAT DO WE HAVE TO DO IN OUR PROCESSES TO ENSURE ALWAYS THAT WE'RE OPEN TO ALL OF THE TYPES OF RESEARCH, AND THAT WE'RE COMMUNICATING IN A WAY THAT OUR CORE COMMUNITY OF CLINICAL RESEARCH, OF SCIENTIFIC RESEARCHERS, OF CLINICAL PRACTICE CAN SEE INFORMATION THAT'S IMPORTANT FOR THEIR CARE OF PATIENTS. AND IN THAT, WE WILL BE USING T ECHNOLOGY TO ACTUALLY HELP US IMPROVE OUR PROCESSES. WE WILL BE USING TECHNOLOGY TO THINK ABOUT OUR MULTI-MODES OF COMMUNICATION. THAT'S VERY IMPORTANT FOR
US. IT STARTS FOR US FIRST WITH THE SCIENCE. THE SCIENCE IS THE MOST IMPORTANT THING. WE KNOW THAT WITH THE EXPLOSION OF DATA, THERE ARE NEW AND INNOVATIVE WAYS TO ASK AND ANSWER QUESTIONS THAT ARE RELEVANT FOR CLINICAL PRACTICE, AND WE WANT TO BE A JOURNAL THAT IS OPEN TO NEW AND DIFFERENT WAYS PEOPLE ARE USING DATA TO HELP US -- TO HELP DESIGN INTERVENTIONS, OR EVALUATE INTERVENTIONS TO UNDERSTAND WHETHER THEY WORK FOR IMPROVING HEALTH. SO, I THINK YOU'LL SEE MORE ON THE SCIENCE FRONT. I THINK YOU'LL SEE MORE ON THE CONTEXT, THE CONTEXT WHERE HEALTH HAPPENS. AND ON HOW WE COMMUNICATE, SO THAT EVERYONE HAS ACCESS TO THE INFORMATION.
YOU'LL SEE MORE OF THAT TO COME. » Ivor Horn: GREAT. SCIENCE AND CONTEXT. » Kirsten Bibbins-Domingo: SCIENCE AND CONTEXT. » Ivor Horn: SCIENCE AND CONTEXT. ALL RIGHT. SO, IN OUR LAST FEW MINUTES, I WANT TO TALK ABOUT THE ROLE OF TECH HAS CHANGED.
I LIKE TO SAY, WITH TECHNOLOGY WE HAVE MORE TOOLS IN OUR TOOLBOX TO DO RESEARCH, AND ESPECIALLY DO HEALTH EQUITY RESEARCH. WE'VE SPENT A LOT OF TIME IN HEALTH SERVICES RESEARCH AND COMMUNITY-BASED RESEARCH WITH SURVEYS. BUT NOW WE HAVE THESE TOOLS THAT CAN ANSWER MORE QUESTIONS AND GIVE US REAL WORLD DATA AND REAL WORLD INFORMATION. AND THAT IS AN OPPORTUNITY -- » Kirsten Bibbins-Domingo: OH, YEAH. » Ivor Horn: AND IT IS ALSO A RISK. » Kirsten Bibbins-Domingo:
YES. » Ivor Horn: SO WHAT I WANT TO ASK IS, WHAT ARE ONE OR TWO THINGS THAT WE NEED TO KEEP IN MIND AS WE NAVIGATE THIS SHIFT? WE HAVE MORE TOOLS IN OUR TOOLBOX, AND SO MUCH OF AN OPPORTUNITY WITH TECHNOLOGY, AND WE DON'T -- THE RISK OF EXACERBATING DISPARITIES AS WELL AND BROADENING THE DIVIDE. WHAT DO YOU HAVE AS A RECOMMENDATION? » Kirsten Bibbins-Domingo: WELL, TWO THINGS. JUST A GENERAL ONE ON THE MORE TOOLS IN THE TOOLBOX. I THINK -- SO, I WELCOME MORE TOOLS IN THE TOOLBOX. I LOVE THAT. I THINK
WE ALWAYS HAVE TO QUESTION WHETHER THE TOOLS ARE TELLING US WHAT WE THINK THEY'RE TELLING US. SO, EXAMPLES ARE, WE KNOW MUCH MORE ABOUT WHERE PEOPLE ARE AT ALL POINTS AND PLACE IS A REALLY GREAT PROXY FOR LOTS OF THE THINGS THAT WE TALK ABOUT IN THE CONTEXT OF HEALTH. BUT PLACE IS NOT A PERFECT PROXY FOR IT. BUT IT DOESN'T MEAN THAT THAT'S NOT A USEFUL TOOL. SO
I THINK WHEN I -- I THINK ABOUT, I WOULD LOVE TO USE THE DATA THAT WE HAVE FOR WHERE PEOPLE ARE, HOW THEY INTERACT WITH THINGS TO HELP US UNDERSTAND BETTER, TO DESCRIBE PATTERNS OF DISEASE, TO DESCRIBE INTERVENTIONS TO IMPROVE HEALTH. BUT I THINK WE ALWAYS HAVE TO BE QUESTIONING, DOES THIS REALLY RELATE TO WHAT I THINK IT RELATES TO? IS IT -- DOES IT RESONATE FOR WHAT PEOPLE IN THE COMMUNITY THINK RELATES TO HEALTH? DOES IT RESONATE FOR OTHER TYPES OF MEASURES? SO I THINK WE HAVE TO BE INTERESTED IN NEW TECHNOLOGIES, BUT ALSO QUESTIONING ALWAYS WHETHER THEY REALLY REPRESENT WHAT THEY THINK THAT WE ARE. AND THEN I WOULD SAY IN GENERAL FOR INTERVENTIONS, I THINK THE EVIDENCE IS PRETTY CLEAR THAT WHEN YOU DON'T CENTER ON EQUITY AND BUILD IT IN FROM THE OUTSET, YOU NOT ONLY DO NOT ADDRESS AN EQUIT Y ISSUE, YOU VERY LIKELY MAKE INEQUITIES WORSE. AND I THINK HAVING THAT IN YOUR HEAD AT ALL POINTS, THAT IT IS GREAT THAT YOU SEE A PROBLEM RELATED TO AN INEQUITY AND YOU HAVE A SOLUTION TO IT, BUT IF YOU HAVEN'T PUT THE PROCESSES IN PLACE TO MAKE SURE THAT THOSE WHO ARE EXPERIENCING THAT INEQUITY CONTRIBUTE TO YOUR SOLUTION, TO THINK THROUGH THAT WE ALL LIVE IN PRIVILEGED POSITIONS, AND IF WE DON'T TURN THOSE ON THEIR HEAD, THOSE SOLUTIONS ARE VERY LIKELY TO FLIP BACK AND TO EXACERBATE THOSE INEQUITIES, AND TO QUESTION THOSE ASSUMPTIONS AT ALL TIMES. I THINK THERE'S A VERY REAL -- WE
KNOW, THE HISTORY IS REPLETE WITH GREAT INTERVENTIONS MAKING INEQUITIES WORSE, AND I THINK WE JUST HAVE TO ACKNOWLEDGE THAT , WE HAVE TO PERSIST WITH THE URGENCY TO TRY SOMETHING NEW, BUT RECOGNIZE THAT IF CENTERING ON EQUITY MEANS REALLY STRUGGLING AGAINST THE STRUCTURE THAT'S ALWAYS GOING TO FLIP US BACK TO MAKING THINGS INEQUITABLE. » Ivor Horn: YEAH. AND IT REALLY -- BEING INTENTIONAL ABOUT CENTERING POPULATIONS IS SO CRITICAL TO THE WORK THAT WE DO. AND IT IS NOT -- IT IS NOT EASY WORK. AND SORT OF -- AND I THINK THAT BEING ABLE TO BE ABLE TO DO THAT IS REALLY CRITICALLY IMPORTANT. THANK YOU SO MUCH FOR YOUR TIME TODAY. THANK YOU FOR JOINING US TODAY. AND IS THERE ANYTHING THAT I DIDN'T ASK YOU?
» Kirsten Bibbins-Domingo: NO. I REALLY -- I'M REALLY THRILLED YOU'RE HAVING THIS SUMMIT, AND I THINK WE NEED MORE PEOPLE HAVING THE CONVERSATION. I HOPE YOU'LL HAVE HARD CONVERSATIONS AND CHALLENGE EACH OTHER THROUGHOUT THE DAY, NOT JUST CELEBRATE ALL THE GREAT WORK THAT YOU'RE DOING. BUT I'M REALLY PLEASED THAT YOU ARE DOING THIS WORK AND HAVING GOOGLE STATE THIS COMMITMENT I THINK IS A REALLY TERRIFIC THING. » Ivor Horn: THANK YOU. I THINK THE TEAMS WILL REALLY AGREE
THAT I CHALLENGE THEM ALL THE TIME. [LAUGHTER] » Kirsten Bibbins-Domingo: WONDERFUL. » Ivor Horn: THANK YOU SO MUCH. [APPLAUSE] IT'S GREAT FOR ME TO GET A CHANCE TO SI T AND LISTEN AT THE SEAT OF WISDOM. I WANT TO CONTINUE
ON THIS THEME OF EVIDENCE GENERATION, AND ONE OF THE THINGS THAT I DON'T THINK PEOPLE REALIZE AS MUCH IS HOW MUCH GOOGLE CENTERS AND FOCUSES ON RESEARCH. NEW AND INNOVATIVE TOOLS HAVE THE POTENTIAL T O IMPROVE OR WORSEN AND EXACERBATE HEALTH DISPARITIES. AS WE TALKED ABOUT, AS KAREN MENTIONED. AND BECAUSE I'VE COMMITTED DECADES OF MY CAREER
TO DOING RESEARCH AND NOVEL RESEARCH AT THE INTERSECTION OF HEALTH EQUITY AND TECHNOLOGY, I ALSO UNDERSTAND HOW DIFFICULT IT IS TO GET FUNDING FOR THIS RESEARCH. AND THAT'S WHY WE ALSO THINK IT'S IMPORTANT THAT WE SUPPORT RESEARCHERS BEYOND GOOGLE TO DO THIS WORK. AND TO INVEST IN RESEARCH TO DISCOVER NEW METHODS OF INNOVATING, TO REDUCE -- TO IMPROVE HEALTH EQUITY AND REDUCE DISPARITIES. IN 2020, FITBIT HAD THEIR HEALTH EQUITY RESEARCH INITIATIVE. THEY AWARDED SIX AWARDS THAT PROVIDED FITBIT DEVICES AND SERVICES TO UNDERREPRESENTED RESEARCHERS WHO WERE EARLY IN THEIR CAREER, AND THEY WERE WORKING ON ADDRESSING HEALTH DISPARITIES IN COMMUNITIES. AND I'M GOING TO GIVE YOU A COUPLE OF EXAMPLES OF THAT WORK. FIRST IS DR. SHERILYN FRANCIS,
SHE'S A STUDENT AT GEORGIA TECH -- I'M LOOKING AROUND FOR HER -- AND HER MENTOR, DR. ANDREA GRIMES PARKER. [APPLAUSE] THEY ARE DO ING AMAZING WORK TO IMPROVE POSTPARTUM CARE FOR RURAL BLACK MOTHERS. THEY ARE PROVIDING A CULTURALLY INFORMED MOBILE HEALTH INTERVENTION, AND THEY ARE USING FITBIT SENSE SMARTWATCHES AND FITBIT ARIA AIR SCALES TO COMBINE INSIGHT ON PHYSICAL ACTIVITY, HEART RATE, SLEEP, WEIGHT, AND LOOKING AT HEALTH OUTCOMES. SHERILYN AND HER COLLEAGUES HOPE TO SHED LIGHT ON THE WAYS THAT THEY CAN REDUCE THE RISK OF SEVERE MATERNAL MORTALITY AMONGST BLAC K MOTHERS. THANK YOU FOR THAT WORK. [APPLAUSE]
AND SECOND, I WANT TO TALK ABOUT THE WORK OF PEDIATRICIAN AND PALLIATIVE CARE PHYSICIAN DR. LASE AJAYI, AND YOU HEARD A LITTLE BIT ABOUT HER IN OUR HEALTH CHECKUP AT GOOGLE, AND SHE 'S LEADING THE RESEARCH ON POWERMOM, THE FIRST MOBILE RESEARCH PLATFORM. AND DR. AJAYI AND HER TEAM AIM TO ANSWER QUESTIONS ON HOW STRUCTURAL RACISM AND DISCRIMINATION HAVE A NEGATIVE IMPACT ON MATERNAL AND FETAL HEALTH WITH A STUDY USING FITBIT LUXE TRACKERS AND ARIA AIR SCALES. SO, WE'RE EXCITED FOR THAT. [APPLAUSE] AND TODAY, WE ARE EXPANDING ON OUR SUPPORT OF THAT WORK WITH THE LAUNCH THE GOOGLE HEALTH EQUITY RESEARCH INITIATIVE. AND THE GOAL OF THAT IS TO ADVANCE NOVEL RESEARCH AT THE INTERSECTION OF HEALTH AND TECHNOLOGY. WITH THIS INITIATIVE, RESEARCHERS AT QUALIFIED ACADEMIC INSTITUTIONS AND NON-PROFIT RESEARCH INSTITUTIONS IN THE UNITED STATES CAN APPLY FOR THIS INITIATIVE TO FURTHER HEALTH EQUITY AND SOCIAL AND STRUCTURAL DETERMINANT S OF HEALTH RESEARCH, AND IT WILL INCLUDE FITBIT DEVICES AND SERVICES, CLOUD CREDITS, AND DIRECT FUNDING. WE'RE CONTINUING TO PARTNER
WITH FITABASE, AGAIN, TO GIVE RESEARCHERS ACCESS TO REMOTE DATA COLLECTION AND ANALYSIS TOOLS. SO, WE ENCOURAGE YOU TO VISIT OUR WEBSITE, HEALTH.ORG-HEALTH-EQUITY. AND THE WINDOW IS OPEN, I BELIEVE, NOW. WE RECOGNIZE THAT RESEARCH IS REALLY CENTRAL TO ADVANCING HEALTH EQUITY. AND WE ARE CONTINUING TO LEARN MORE AND MORE ABOUT THE STATE OF THE ART SCIENCE AND ADVANCES KNOWLEDGE AND ULTIMATELY IMPROVING HEALTH OUTCOMES. TO COMPLEMENT
THAT RESEARCH, WE ALSO KNOW THAT THE IMPLEMENTATION OF LESSONS LEARNED ON PRACTICES AND PRODUCTS ARE CRITICAL TO OUR STEPS IN THE FUTURE. SO WE ARE EXCITED TO BROADEN AND EXPAND OUR RESEARCH INITIATIVE TODAY. NOW, I'M GOING TO TAKE A STEP BACK AND TURN IT OVER TO MY COLLEAGUE, GARTH GRAHAM, WHO IS THE DIRECTOR AND GLOBAL HEAD OF HEALTHCARE AND PUBLIC HEALTH AT YOUTUBE, WHO WILL BE JOINING US VIRTUALLY TO SHARE AND BEGIN TO TELL US A LITTLE BIT ABOUT THE WORK THAT THEY'RE DOING AT YOUTUBE. » Garth Graham: HELLO, EVERYONE. MY NAME IS GARTH GRAHAM, AND I HEAD UP YOUTUBE HEALTH. MY CAREER HAS REALLY BEEN ROOTED IN THIS ISSUE OF
HEALTH EQUITY, FROM MY ROLE AS DIRECTOR FOR MINORITY HEALTH AT THE DEPARTMENT OF HEALTH AND HUMAN SERVICES, WHERE I SERVED AS THE U.S. DEPUTY ASSISTANT SECRETARY FOR MINORITY HEALTH, AND ALSO ROLES I'VE HAD IN ACADEMIA AND CLINICAL MEDICINE. THE DESIRE TO ADVANCE HEALTH EQUITY IS REALLY A CORE REASON WHY I WANTED TO COME TO YOUTUBE TO BUILD OUT OUR WORK IN HEALTH.
I BELIEVE THAT IN ORDER TO ADVANCE HEALTH EQUITY IN 2022, WE NEED TO CONSIDER WHERE AND HOW PEOPLE ACCESS INFORMATION ABOUT THEIR HEALTH, THE QUALITY OF THAT HEALTH INFORMATION, HOW EASY IT IS TO UNDERSTAND, HOW ENGAGING THAT INFORMATION IS. THIS IS REALLY PARTICULARLY THE CASE WHEN IT COMES TO COMMUNITIES WHO MAY FEEL UNDERSERVED BY TRADITIONAL HEALTHCARE APPROACHES TO COMMUNICATION AND EDUCATION. THE REALITY IS THE VAST MAJORITY OF HEALTHCARE DECISIONS ARE MADE OUTSIDE THE DOCTOR'S OFFICES, IN THE EVERYDAY LIVES OF OUR PATIENTS. AND AS HEALTHCARE PROVIDERS, WE ONLY HAVE LIMITED OPPORTUNITIES TO CONNECT WITH PEOPLE WITHIN THE EXAM ROOM, AND HOW CAN WE BETTER SHOW UP AT MANY MORE POINTS WITHIN A PATIENT'S DAY, BRINGING HEALTH INFORMATION INTO THEIR LIVES THROUGH THE SPACES THEY ALREADY VISIT. AND HOW CAN WE CONNECT
WITH THEM THROUGH THE MESSENGERS THAT THEY ALREADY KNOW AND TRUST? LISTEN, YOUTUBE IS ALREADY A PART OF A PATIENT'S JOURNEY, WHEN THEY TURN TO US FOR ANSWERS FOR THEIR HEALTH QUESTIONS, LOOK FOR A COMMUNITY WHO UNDERSTANDS WHAT THEY'RE EXPERIENCING, OR FIND HELPFUL VIDEOS THAT EXPLAIN COMPLICATED MEDICAL INFORMATION MORE EASILY. AND WE'VE INVESTED OVER THE PAST TWO YEARS TO BUILD PARTNERSHIPS WITH A WIDE RANGE OF AUTHORITATIVE, TRUSTED EXPERTS ACROSS THE HEALTHCARE INDUSTRY. WE HAVE A RESPONSIBILITY TO MAKE SURE THAT PEOPLE ARE FINDING INFORMATION FROM EVIDENCE-BASED AUTHORITATIVE SOURCES TO HELP TACKLE THE SERIOUS PROBLEM OF MEDICAL MISINFORMATION. HEALTH LEADERS ALSO HAVE A RESPONSIBILITY TO KEEP PACE WITH THE CHANGES IN WHERE AND HOW PEOPLE FIND INFORMATION. THAT'S WHY YOUTUBE HEALTH IS INVESTING IN HELPING THE INDUSTRY TO LEARN THESE SKILLS, SO YOU CAN CONNECT WITH PEOPLE IN WAYS THAT ARE NOT ONLY SCIENTIFICALLY ACCURATE, BUT ALSO CULTURALLY RELEVANT AND ENGAGING. I'M EXCITED TO ANNOUNCE A NEW PROGRAM THAT WE'RE ROLLING OUT WITH THE KAISER FAMILY FOUNDATION. IT'S CALLED "THE-IQ," WHICH STANDS FOR
"TACKLING HEALTH EQUITY THROUGH INFORMATION EQUALITY." WE BROUGHT TOGETHER THREE OUTSTANDING ORGANIZATIONS THAT SERVE UNDERREPRESENTED, OR UNDERRESOURCED COMMUNITIES, AND WE WORK WITH THEM TO BRING THEIR VOICES AND PERSPECTIVES TO OUR PLATFORM. OVER THE NEXT FEW MONTHS, YOUTUBE AND KFF WILL WORK VERY CLOSELY WITH EACH OF THESE ORGANIZATIONS. THE LOVELAND FOUNDATION, THE NATIONAL BUREAU OF HEALTH EQUITY COLLABORATIVE, AND THE HEALTH EQUITY LEADERSHIP AND EXCHANGE NETWORK AT THE SATCHER HEALTH LEADERSHIP INSTITUTE. WE'RE GOING TO PROVIDE SUPPORT AND
EXPERTISE TO THESE ORGANIZATIONS TO HELP THEM BUILD A PRESENCE ON OUR PLATFORM SO THEY CAN REACH COMMUNITIES AT SCALE. MY COLLEAGUE, IFELOLA OJURI, WHO LEADS THE-IQ PROGRAM, IS WITH YOU IN-PERSON TODAY, ALONGSIDE TINA HOFF, SENIOR VICE PRESIDENT FOR KAISER FAMILY FOUNDATION, AND EXECUTIVE DIRECTOR OF KFF'S SOCIAL IMPACT MEDIA PROGRAM. I'LL TURN THINGS OVER TO IFELOLA NOW TO KICK THINGS OFF TO WHAT I KNOW WILL BE A THOUGHTFUL, ENGAGING, AND INTERESTING DISCUSSION ABOUT THIS NEW PROGRAM, BUT ALSO ABOUT KFF'S UNIQUE EXPERIENCE AND EXPERTISE IN THIS AREA. THANK YOU.
[APPLAUSE] » Ifelola Ojuri: THANK YOU TO GARTH FOR THE INTRODUCTION, AND HI, EVERYONE. MY NAME IS IFELOLA. AS GARTH SAID, I'M MANAGING THE IQ PROGRAM FROM YOUTUBE. I'M VERY EXCITED TODAY TO BE JOINED BY TINA FEY TINA FEY FROM KFF. » Tina Hoff: IT'S SO NICE TO BE HERE WITH YOU LIVE AND IN-PERSON. » Ifelola Ojuri: I KNOW. AFTER TWO YEARS IN PERSON. TINA,
I KNOW WE'RE GOING TO GO INTO SOME OF THE DETAILS OF THE-IQ IN A MOMENT, BUT I WONDER IF WE CAN START WITH THE BASICS AND THIS IDEA OF INFORMATION AS A DETERMINANT OF HEALTH. SO, FROM YOUR PERSPECTIVE, WHY IS THE ISSUE OF EQUITABLE ACCESS TO QUALITY HEALTH INFORMATION ONE THAT THE HEALTH EQUITY NEEDS TO CONSIDER? » Tina Hoff: WELL, I THINK, YOU KNOW, THE CONVERSATIONS THAT HAVE PRECEDED US HAVE SORT OF REALLY GOT INTO THIS, AND IT'S JUST WHY INFORMATION REALLY I S A DETERMINANT OF HEALTH. IT'S A CRITICAL PART OF ADDRESSING DISPARITIES AND HEALTH EQUITY JUST ALONGSIDE SOCIOECONOMIC ISSUES, AROUND HEALTHCARE ACCESS AND COVERAGE ISSUES, AROUND STRUCTURAL RACISM. PEOPLE NEED TO HAVE ACCESS TO QUALITY, ACCESSIBLE INFORMATION FROM PEOPLE THAT THEY TRUST, ABOUT THE ISSUES THAT THEY CARE ABOUT. I THINK PARTICULARLY IN THIS AGE WHERE
WE'RE SEEING MISINFORMATION SO PREVALENT, TARGETED DISINFORMATION EFFORTS THAT ARE OUT THERE TO UNDERMINE CONFIDENCE AND SCIENCE AND INFORMATION, IT'S REALLY CRITICAL THAT WE AMPLIFY CREDIBLE VOICES AND PROVIDE IT IN WAYS THAT PEOPLE CAN RELATE TO AND CONNECT WITH. AND I THINK THAT'S REALLY AT THE HEART OF WHAT WE'VE TRIED TO DO IN OUR WORK TOGETHER SO FAR ON COVID, AND NOW LOOKING AHEAD INTO THE NEW PROJECT. » Ifelola Ojuri: YEAH. ALWAYS A BIG THING THAT WE TALK ABOUT. SO YOUR ROLE AT KFF INCLUDES DIRECTING THE ORGANIZATION'S SOCIAL IMPACT MEDIA PROGRAM, WHICH IS A VERY LONG TITLE TO READ. HOW DO YOU APPROACH REACHING PEOPLE THROUGH NEW MEDIA SPACES OR NEW COMMUNICATION METHODS SUCH AS VIDEO? » Tina Hoff: WELL, WE WERE TALKING A LITTLE BIT BEFORE. KFF IS ALSO A DATA-DRIVEN ORGANIZATION. WE'RE COMMITTED TO ADDRESSING
POLICY ISSUES, BUT WE'RE ALSO INTERESTED IN THE INTERSECTION OF POLICY AND COMMUNICATION, AND THAT'S REALLY BEEN AT THE HEART OF HOW WE'VE APPROACHED OUR WORK FROM THE BEGINNING. I'VE BEEN AT KFF FOR MANY YEARS, THROUGH VARIOUS ITERATIONS OF OUR WORK IN COMMUNICATIONS AND OUR EARLY PARTNERSHIP STARTED WITH MEDIA COMPANIES LIKE MTV AND B.E.T. I'M VERY MUCH DATING MYSELF BACK IN THE DAY WHEN YOU COULD REACH LARGE SHARES OF THE COMMUNITIES THAT WE WERE COMMUNICATING WITH THROUGH PARTNERSHIPS THERE. OVER THE YEARS, IT'S ADVANCED TO MEETING PEOPLE WHERE THEY ARE HAS BEEN A BIG THEME TODAY, AND THAT MEANS DIGITAL AND SOCIAL MEDIA. AND THE CAMPAIGNS THAT WE RUN
ARE TOO LARGE EFFORTS, GREATER THAN AIDS AND GREATER THAN COVID INITIATIVES. YOU HAVE TO REALLY MEET PEOPLE WHERE THEY ARE AND CONNECT WITH THEM IN THAT WAY, AND THAT'S REALLY DRIVEN WHAT WE'VE TRIED TO DO, AND I THINK WHAT WE'RE DOING NOW TODAY, TOO. » Ifelola Ojuri: IT WAS REALLY OPEN TO TESTING AND SEEING WHAT WORKS ON THE PLATFORMS AND REALLY UNDERSTANDING THAT IT'S OKAY TO CHANGE AND ITERATE. » Tina Hoff: YEAH. EVEN MORE THAN JUST BEING OKAY, IT'S IMPERATIVE, RIGHT? COMMUNICATION EVOLVES WHERE WE ARE, HOW WE COMMUNICATE, HOW WE ACCESS INFORMATION, GENERATIONS BRING NEW DEVELOPMENT. TECHNOLOGY C HANGES HOW
WE GET AND PROCESS INFORMATION. THE AMOUNT OF INFORMATION COMING AT US IS CHANGING, SO YOU MUST EVOLVE WITH IT. AND I THINK, YOU KNOW, NOT ONLY IS THAT CRITICAL TO BEING AN EFFECTIVE COMMUNICATOR, TO HELPING ADVANCE EQUITY, TO HELP GET PEOPLE THE HE ALTH INFORMATION THEY NEED, WHICH IS REALLY THE PASSION FOR ME BEHIND WHAT I DO, BUT, YOU KNOW, IT'S WHERE WE HAVE TO BE. WE'D BE IRRELEVANT WITHOUT IT. IT MAKES IT INTERESTING TOO AS A COMMUNICATOR TO CONSTANTLY TRYING TO KIND OF STAY AHEAD AND BE THERE WHERE PEOPLE ARE. » Ifelola Ojuri: FOR SURE. AND I WOULDN'T SAY YOU DATED
YOURSELF WITH MTV OR ANYTHING LIKE THAT. IT JUST MEANS THAT YOU'VE BEEN ON A LONG JOURNEY TO GET HERE. » Tina Hoff: AND I SHOULD SAY WE CONTINUE TO WORK WITH WHAT ARE NOW CALLED MORE TRADITIONAL MEDIA PARTNERS. THEY WERE CUTTING EDGE THEN. TRADITIONAL TODAY. BUT ALSO HAVE ADVANCED AND STILL FIND
OPPORTUNISTIC WAYS TO WORK WITH THEM AS WELL. » Ifelola Ojuri: EXACTLY. SO, ONE OF THE LESSONS THAT MANY PEOPLE LEARNED DURING THE PANDE MIC, NOW MORE THAN EVER, IS THAT THEY REALLY HAVE TO THINK HARD, AND THIS IS WHAT DR. BIBBINS-DOMINGO WAS TALKING ABOUT EARLIER, LIKE NOT ONLY WHERE IS THE INFORMATION COMING FROM, BUT WHO IS GIVING THAT INFORMATION. WE'VE TALKED AT LENGTH ABOUT TRUSTED MESSENGERS. BUT FROM YOU, I JUST WANTED TO HEAR MORE ABOUT THE CHALLENGE OF CONNECTING VIA TRUSTED MESSENGERS IN YOUR WORK AT KFF. » Tina Hoff: YEAH. I MEAN, IT'S SO CRITICAL. EARLY
ON IN THE COVID PANDEMIC, WE DID RESEARCH THAT WAS LOOKING AT INFORMATION NEEDS, PARTICULARLY IN UNDERSERVED COMMUNITIES AROUND THE VACCINES AND WHO PEOPLE WANTED TO HEAR THAT INFORMATION FOR. I DON'T KNOW THAT YOU NEEDED RESEARCH TO TELL US THAT YOU WANT TO HEAR FROM PEOPLE THAT UNDERSTAND YOUR LIVED EXPERIENCES, THAT UNDERSTAND THE ISSUES THAT YOU'RE FACING, WHO UNDERSTAND THE BROADER CONTEXT OF THESE ISSUES. AND THOSE ARE PHYSICIANS AND CLINICIANS FROM YOUR COMMUNITY IN THE CASE OF THE COVID WORK WE DID. THE CAMPAIGN THAT WE WORKED ON THAT YOUTUBE SUPPORTED, THE CONVERSATION, FEATURED 31 HEALTHCARE WORKERS OF COLOR COMING FROM A DIVERSE SET OF BACKGROUNDS, VERY INTENTIONALLY SO. THE CONVERSATIONS AND THE INFORMATION THEY PROVIDED WAS BOTH BASED ON THE FACT-BASED SCIENCE, BUT ALSO ABOUT THE ISSUES THAT WE KNEW PEOPLE WERE HAVING IN THEIR REAL LIVES, CONVERSATIONS THAT WERE BEING HAD WITH THEIR OWN FAMILY MEMBERS AND THEIR COMMUNITIES AND BRINGING THAT INTO IT, BECAUSE FOR PEOPLE TO HEAR AND ACCEPT AND DO THIS, YOU NEED TO BE ABLE TO TRUST WHO'S GIVING IT TO YOU AND YOU NEED TO HAVE CONFIDENCE THAT THAT IS QUALITY INFORMATION, AND I THINK THAT THAT'S WHY AMPLIFYING VOICES, PARTICULARLY VOICES OF COLOR AND EXPERTS IS SO CRITICAL, AND WHY WE WERE SO PROUD TO BE ABLE TO DO THAT WORK. I ALSO HAVE TO GIVE CREDIT TO
OUR PARTNER IN DEVELOPING THE CONVERSATION, DR. RHEA BOYD, A BAY AREA PUBLIC HEALTH ADVOCATE, WHO REALLY WORKED HAND IN HAND WITH US. THERE'S BEEN A LOT OF TALK ABOUT PARTNERSHIP TODAY, AND THAT'S -- AGAIN, JUST A FUNDAMENTAL TO APPROACHING THIS WORK, AND HER INSIGHTS AND EXPERIENCE AND CHALLENGING US IN THE SIDE BY SIDE SORT OF EXPERIENCE OF DEVELOPING THAT TOGETHER IS ALSO WHAT MAKES IT RELEVANT. » Ifelola Ojuri: IT DEFINITELY HAS BEEN LIKE A PARTNERSHIP IN SEEING THE DIFFERENT BUILDING BLOCKS THAT PEOPLE BRING INTO IT IS IMPORTANT TOO FOR SURE.
SO THIS IS GOING TO BE THE FINAL QUESTION THAT I HAVE FOR YOU TODAY, UNLESS THERE ARE, AS I WOULD PUT IT, THINGS THAT I HAVEN'T ASKED YOU THAT I SHOULD HAVE ASKED YOU. SO I WANTED TO TALK SPECIFICALLY ABOUT THE PROGRAM, THE-IQ AND YOUR ROLE THAT YOUR TE AM WILL BE PLAYING. THE PROGRAM IS FOCUSED ON BUILDING THE SKILLS OF THESE TH REE ORGANIZATIONS, THE LOVELAND FOUNDATION, THE NATIONAL BLACK EQUITY COLLABORATIVE, AND THE SATHCHER HEALTH INSTITUTE, SO THAT THEY CAN BRING MESSAGES TO A WIDER AUDIENCE. YOUTUBE IS PROVIDING SEED FUNDING AND EDUCATION REGARDING THE FUNDAMENTALS OF VIDEO STRATEGY, WHILE THE TEAM FROM KFF WILL BE HANDS-ON FROM EACH ORGANIZATION, HELPING THEM TO PRODUCE THEIR VIDEOS. THEY'RE ACTUALLY STARTING THIS WEEK AND WE'VE BEEN TALKING ABOUT SOME OF THE DETAILS, SO THAT'S BEEN VERY EXCITING SO. WHAT DO YOU SEE AS THE BENCHMARKS FOR SUCCE SS COMING OUT OF THIS PROGRAM? » Tina Hoff: YEAH, AND I JUST HAVE TO SAY WE'RE SO EXCITED TO BE DOING THIS TOGETHER. I'M
REALLY HONORED TO HAVE YOUTUBE INVITE US TO PARTNER ON IT AND BUILD ON ALL OF THE W ORK THAT WE'VE BEEN DOING AND TO WORK WITH THESE THREE ORGANIZATIONS, SOME OF WHOM WE'VE HAD THE CHANCE TO WORK VERY CLOSELY WITH IN OUR OTHER CAMPAIGN WORK, OTHERS THAT ARE NEWER TO US. YOU KNOW, I THINK WHAT'S REALLY THE KEY SUCCESSES HERE ARE TO TELL THE STORIES OF THESE ORGANIZATIONS AND SHOWCASE THE IMPORTANT WORK THAT THEY'RE DOING AND ELEVATE THE ISSUES THAT THEY'RE WORKING ON. WE'LL BE DOING THAT THROUGH THE LENS OF THREE DIFFERENT AREAS. WE HAVE LOVELAND, WHICH IS VERY FOCUSED ON MENTAL HEALTH. THE NATIONAL BIRTH -- AND THE SATCHER HEALTH LEADERSHIP INSTITUTE, WHICH LIKE KFF, DOES A LOT OF DEEP DIVES INTO MAKING SURE THAT THE DATA IS THERE TO ELEVATE THESE ISSUES AND LOOKING AT POLITICAL AND SOCIAL DETERMINANTS OF HEALTH. SO, WE'RE EXCITED TO
HELP SHARE THE WORK OF THESE ORGANIZATIONS WITH A BROADER AUDIENCE, AND HELP THEM COMMUNICATE IN NEW WAYS THAT REACH PEOPLE WHERE THEY ARE. AND ALSO, TO HOPEFULLY LEAVE WITH THEM SOME TOOLS SO THAT THE CONVERSATION CONTINUES BEYOND THE PIECES WE CREATE TOGETHER. THAT THEY WILL HAVE ASSETS AND STRATEGIES AND WE CAN SHARE SOME OF THE EXPERIENCES THAT WE'VE HAD AND LEARNED OVER THE YEARS, CREATING CAMPAIGNS INTO THEIR WORK, AND THEY CAN TAKE THAT FORWARD. I ALSO -- YOU KNOW, AGAIN, AS
WE'VE HEARD A LOT TODAY, IT'S ALWAYS A TWO-WAY STREET. THERE'S A LOT ABOUT LEARNING AND LISTENING, AND IT'S A CONSTANTLY EVOLVING PROCESS. I WAS SCRIBBLING A LOT OF NOTES DURING THE LAST CONVERSATION THINKING THESE ARE ALL SUCH GREAT THEMES. I WANT TO MAKE SURE COMING THROUGH IN
THE WORK THAT WE'RE DOING. AND LIKEWISE, OUR EXPERIENCE OF WORKING WITH THEM TO TELL THEIR STORIES WILL GIVE INFORMATION BACK TO US THAT FOLDS INTO THE WORK AND THE CAMPAIGNS WE DO. WE'RE CONTINUING TO ADDRESS COVID MESSAGING, OUR HIV WORK CONTINUES, WE'RE LOOKING AT OTHER AREAS THAT WE'RE EXPANDING INTO, AND REPRODUCTIVE HEALTH AND ABORTION ISSUES WHERE WE'RE SEEING MORE NEED FOR QUALITY INFORMATION. AND SO,
YOU KNOW, ALL OF THIS IS A CONTINUING, EVOLVING PROCESS THAT FEEDS INTO ITSELF AND HELPS US ADVANCE. SO I HOPE THOSE ARE SOME OF THE THINGS WE CAN ACHIEVE. AND THEN AT THE END OF THE DAY, THIS IS ALL ABOUT PEOPLE'S LIVES AND WELL-BEING. SO, WE HOPE THAT THE INFORMATION WE PUT OUT THERE ALSO ADVANCES EQUITY, ADVANCES WELL-BEING, HELPS PEOPLE LIVE BETTER, HEALTHIER, MORE FULL LIVES. » Ifelola Ojuri: FOR SURE. AND ONE OF THE KEY THINGS WE SAY AT YOUTUBE HEALTH IS
WE'RE TRYING TO MAKE PUBLIC HEAL TH TRULY PUBLIC. AND SO THIS REALLY JUST HELPS TO TAK E ANOTHER STEP IN THAT DIRECTION AND MAKE SURE THAT PEOPLE HAVE THE INFORMATION THAT THEY NEED TO BE ABLE TO LIVE THE HEALTHIEST LIVES POSSIBLE. » Tina Hoff: I LOVE THAT, YEAH. » Ifelola Ojuri: SO, THANK YOU SO MUCH FOR JOINING ME TODAY. IT WAS REALLY FUN JUST TO SHARE MORE PUBLICLY THE THINGS THAT WE TALK ABOUT. AND NOW WE'RE JUST GOING TO WELCOME UP MY COLLEAGUE HEMA, THE SENIOR DIRECTOR OF PRODUCT IN HEALTH AND SOCIAL IMPACT VERTICALS AT GOOGLE SEARCH FOR SOME EXCITING UPDATES.
» Tina Hoff: THANK YOU. [APPLAUSE] » Hema Budaraju: HOW ABOUT A STRETCH? STAND UP. YES, STRETCH TO THE SKY. WHATEVER YOU FEEL LIKE DOING, WHOEVER FEELS LIKE STANDING UP, OF COURSE. BECAUSE WE ARE GETTING READY FOR SEARCH, YEAH?
HI, EVERYONE. A WONDERFUL MONDAY. MY NAME IS HEMA, AND I LEAD OUR WORK ON HEALTH AND SOCIAL RESPONSIBILITY ON GOOGLE SEARCH. MANY OF YOU ASKED ME, HOW DO I SAY YOUR NAME? IT'S LIKE CALLING YOUR MOM, BUT SUPER CASUALLY. IT'S HEMA. AT GOOGLE, WE'VE ALWAYS BELI
2022-09-15 23:37
Show Video
Other news