Graduate Welcome Video 2021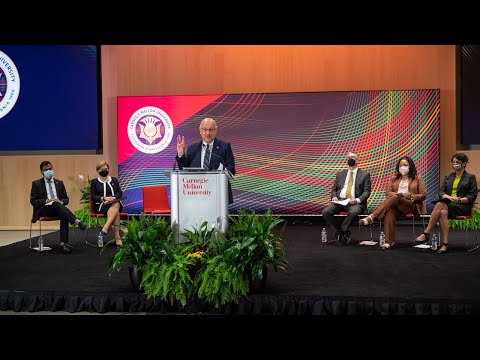 Show Video
>> Testing 1, 2, 3. Here I go. Give me that microphone. >> Hello there. How are you doing this beautiful Monday morning? Well, now that we have your attention, good morning, and hello.
My name is Divyansh Kaushik, and I'm the President of the Graduate Student Assembly. I am excited to be with you this morning. I will have a chance to talk more later in the program, but at this time, I will pass it on to our Vice Provost for Education, Dr. Amy Burkert. It's my pleasure to introduce her, Amy. >> Thank you, Divyansh.
I am pleased to join in the official welcome of our incoming class of graduate students. Thank you all for joining today. We are delighted you have decided to become a part of our academic community.
We look forward to getting to know you, and stand ready to help you advance towards your academic, personal, and professional goals. While you have been admitted into, and will mostly be focused within one of our hundreds of outstanding graduate degree programs today through this welcome event, we strive to illustrate to you that now you're a part of something much bigger. Today, you are officially joining a community of thousands of faculty and staff, greater than 15,000 students, and over 100,000 alumni spanning the globe. I am confident you will find Carnegie Mellon is an exceptional place to learn, to discover, create, and innovate. Whether in the classroom, laboratory, cluster or studio, we are all committed to working to advance the leading edge of our fields. The expectations here are great, but the rewards are even greater.
As graduate students, you are positioned to make a large impact. Many of you will create new knowledge or artistic innovations. Some of you will teach, others will lead campus organizations or develop new community initiatives. All of you will contribute to who we are, and what we aspire to become.
There are literally countless opportunities open to you, and I encourage, in fact challenge you to take advantage of them. You are beginning graduate study at quite a daunting time. A time when more than ever, the world needs those ready to use their passions, talents, and ideas to create a better future for all.
We look forward to everything you will do while you are here, and throughout your career. Colleagues and peers from across the campus have worked together to create a week of orientation activities to help you launch your Carnegie Mellon experience. Throughout the orientation, we'll share key contexts and resources to help you find answers, ask, learn, engage, and connect. One of the people I would encourage you to get to know is our president. He is a talented scholar, educator, researcher, entrepreneur, visionary leader, and a passionate student advocate.
It is my honor to now introduce the 10th president of Carnegie Mellon University, Dr. Farnam Jahanian. Farnam. >> Well, good morning everyone. First of all, Amy, thank you very much for your kind words and also for your leadership. I'm delighted to join my colleagues in extending a warm and enthusiastic welcome to the 3,800 graduate students joining the Carnegie Mellon Community. Today, you begin your journey as CMU graduate students, and your lifelong relationship with Carnegie Mellon.
Many of you may be coming to the United States for the first time. I was about 15 years old when I first came to this country, so I know how you might feel. Don't worry, it's all going to be just fine, and it's going to turn out just fine.
You're all here because you have the talent, ideas, and the abilities to make your mark on society during a truly unprecedented time. As I reflect upon the past 18 months of this pandemic, it's truly remarkable how much has happened. This period stands as one of those rare times in our lives when the ground suddenly started shaking beneath us, and our world suddenly became destabilized. Everything changed, almost overnight. The COVID-19 pandemic has reshaped, and in some ways disrupted our global society. Let's admit it. It's been disconcerting,
upsetting, and at times, overwhelming on a very personal level. So many have felt the toll of this historic event. The CMU community continues to offer compassion, and support to those whose lives have been affected by COVID-19. Whether you've personally experienced a loss or a struggled with the mental and emotional burden of isolation. I remain extremely proud of the way this community has come together to meet the challenges of this moment. I'm also inspired by the CMU innovators who continue to respond to the evolving needs of a world reeling from such seismic shift, but I remain very hopeful about the future.
We're about to begin a new academic year that promises to be one of hope and progress, as well as one of transition and continued resilience. With world renowned excellence in interdisciplinary problem solving, a reputation for innovation, and relentless creativity, I'm confident that CMU will continue to write our post-pandemic future. Let me tell you a little bit about your new home. CMU is an exceptionally multinational and multicultural community, and microcosm of today's interconnected world are nearly 1,400 faculty come from 51 nations, and more than 120,000 alumni live and work in 144 countries around the world.
You're a wonderful example of our diversity. About 65 percent of our incoming cohort are international students, representing 74 countries. More than 40 percent of you are women.
In a world that seems so divided, and in the midst of a debate surrounding global engagement, let me be clear, it doesn't matter if you're from New Jersey or New Delhi, CMU is proud to welcome you here to discover and develop your passions. The CMU community is bound by these shared values of inclusion and equity. We're driven by an unwavering commitment to excellence and creativity.
Perhaps what makes CMU truly distinct is the way we intertwined science, technology, and policy with social sciences, humanities, and the arts to create a rich interdisciplinary culture. With students and faculty working at the edges and intersections of disciplines, it's no surprise that CMU is a pioneer in responding to complex societal challenges. We also have one of the fastest growing entrepreneurial ecosystems in the nation. Every year, more CMU students arrive to our campus eager to launch new endeavors. With our Swartz Center for Entrepreneurship acting as a hub for entrepreneurial activities, the possibilities are endless. Before I wrap up, I wish to share a few pieces of advice as you launch your graduate experience.
First, don't be afraid of venturing outside your academic boundaries. Step outside of your comfort zone every once in a while. This can create a context for new discoveries, potential breakthroughs, and new forms of creative expressions. Second, focus on the present. Focus on your time at Carnegie Mellon.
A very wise person once said that one of life's ultimate luxuries is the power to choose how you spend your time. You may not realize it now, but in graduate school, you have that luxury. Make every experience a meaningful one, and take advantage of the rich intellectual and cultural community that surrounds you. Third, and perhaps most important, develop a healthy work-life balance. CMU is more than just academics. We're a community dedicated to lifting each other up.
Lean on your existing relationships, as well as the lifelong friendships that I'm certain you will make here at Carnegie Mellon. As you reflect on your successes and look forward to the road ahead, please know that we are so excited to have you here at Carnegie Mellon. Once again, on behalf of the entire university community , welcome to CMU.
At this time, it's my pleasure to turn it back over to Divyansh Kaushik who's going to say a few words. Divyansh. >> Thanks, Dr. Jahanian. Morning and once again, welcome everyone. As I mentioned earlier, my name is Divyansh Kaushik and I'm the President of the Graduate Student Assembly or the GSA for short. I welcome you to this new journey that you have all chosen to embark upon as graduate students at CMU.
I couldn't put it better than Farnam did. It's much more than academics as I'll talk about in a few minutes. The GSA is a branch of student government that advocates for issues important to graduate students both on and off campus. We also organize a lot of social events that are open to all graduate students but primarily, our job is to ensure that your graduate student experience here is the most enjoyable and memorable time you will have. When I was asked to speak today, I reflected on when I came here four years ago.
As an international student from India, I really look forward to the opportunity to experience life in a new country. I was excited for the world-class education I was going to receive and the new doors that would potentially open for me in my professional career. Pittsburgh is an amazing city, one that you should explore and engage with.
Professionally, my time at CMU has been very fulfilling with more opportunities than I could have imagined. But my graduate experience has been so much more than that. In this experience, there's a lot of room for growth and a lot of room to form relationships with your fellow graduate students. No one will understand this experience like those around you now. Personally, some of the best friends I have ever made have been in my first-year cohort and it's very bittersweet now to see everyone go off to the next thing in their life so I advise you to cherish this time.
I've also been very lucky in my research and with my advisors to have the space to work on issues that I am passionate about, things outside my field of study. I would challenge you all to try and find places where you can make positive change. I think this is important and it should be prioritized because I can attest that it is very rewarding but also as Farnam mentioned, remember to take care of yourself. There is value in taking time off and doing something you enjoy. For all of these things, getting involved, making friends, enjoying yourself, the GSA is a great resource.
We have worked hard over the summer to bring new and innovative ways for you to engage with each other. I hope to interact with you more in the future but for now, thank you very much for your attention. Enjoy the rest of your orientation and your time here at CMU. I'd now like to introduce Dr. Jim Garrett, CMU's provost and Chief Academic Officer. Dr. Garrett. >> [NOISE] Thank you, Divyansh.
Thank you for your leadership of GSA. We're very fortunate. Good morning everyone. I'd like to add my welcome to my colleagues here at Carnegie Mellon University. This is an exciting, albeit unusual time to be an incoming graduate student at CMU and I'm so glad that you're able to be here with us.
As you continue on your academic journey here today, you'll follow the footsteps of some of the brightest minds in the world and you'd join an exceptional, global and diverse community that is transforming the world. As graduate students, you play a unique role in creating and sharing new knowledge as artists, scientists, philosophers, engineers, entrepreneurs, business professionals, and status quo disruptors. In fact, we look to you to be campus leaders of long-overdue conversations about inclusive excellence and thriving amidst the global pandemic. As graduate students, you serve as models for our undergraduate students as they find their footing academically and personally.
Of course, we know you can't do it alone. As one of my favorite African proverb says, "If you want to go fast, go alone. If you want to go far, go together". To go far, to make changes that impact the world, you'll need support along the way and you will find that support throughout the university. From the university administration, from your colleagues in the colleges, schools, and departments, and from each other.
As the provost and chief academic officer, I've been working closely with your faculty, department heads, and deans to prepare for your educational experiences. Our goal is to foster your leadership potential, elevate your ideas and nurture your curiosity about the world as you develop both personally and professionally. We lean on the expertise of academic leaders throughout each of our seven schools and colleges who are committed to offering you the world-class education that brought you to Carnegie Mellon University. As a matter of fact, I would like to introduce to you some of your key supporters, our deans, at this time. Dean Bill Sanders, College of Engineering. Dean Mary Ellen Poole, College of Fine Arts.
Dean Richard Scheines, Dietrich College of Humanities and Social Sciences. Dean Ramayya Krishnan, Heinz College. Dean Rebecca Doerge, Mellon College of Science. Dean Martial Hebert, School of Computer Science. Dean Isabelle Bajeux, Tepper School of Business.
Dean Keith Webster, University Libraries. I can promise you that our deans are even more engaging in person. Another important campus leader I would like to introduce you to is the Vice Provost for Diversity, Equity and Inclusion and Carnegie Mellon's Chief Diversity Officer, Dr. Wanda Heading-Grant.
She also holds a faculty appointment as Distinguished Service Professor in the Heinz College of Information Systems in Public Policy. We discovered a mutual love for the going far together proverb and I'm so glad that she's here to help CMU go further. Throughout Dr. Heading-Grant's 30 year career in higher education, she's established programs, policies, and practices fundamental to the advancement of Inclusive Excellence in Diversity, Equity, and Inclusion.
She's built a reputation as a cultural architect who was able to build and sustain real and lasting change. I'm so pleased that she's been able to bring her expertise to CMU, Dr. Heading Grant. [NOISE] >> Thank you, Provost Garrett.
Good morning, everyone. I am delighted to be here with you today. As said, I am Dr. Wanda Heading-Grant,
Vice Provost for Diversity, Equity, and Inclusion, and Carnegie Mellon's Chief Diversity Officer. I use she/ her/hers pronouns. This is one of my first official speaking events with Carnegie Mellon, and I am more than pleased.
I am excited. I was excited to join Carnegie Mellon this past April because I felt and saw a real commitment to advancing the work of DE&I diversity, inclusion, and equity, and yes, social justice. Last summer, we saw a racial reckoning, a heightened interest and the importance of creating more equitable and inclusive environments; environments that are intentional, lasting, and with meaningful changes for the betterment of all of us. I believe that higher education is one of the platforms in which we must lead this effort from.
Educator and philosopher John Dewey words. "Education is not preparation for life; education is life itself." Only magnifies for me that knowledge attained through education helps open doors to all that is possible, including a world that lives and integrate in ethic of care, community, civility, accessibility, equity, and inclusion, whether we are physically on campus or elsewhere.
Grounded in an ethic of care, diversity, equity and inclusion, work is intrinsic to the educational mission of CMU and crucial to ensuring the personal, academic, and professional success of you, me, and all in our community, with full support of President Jahanian, Provost Garrett and CMU's entire leadership team, and of course, your engagement. Let's uplift, improve, and protect each other. Remember, a hashtag is not needed to take care of yourselves or others or to be a part of what makes this campus and world thrive.
This is a time to enlarge and expand your thinking to create equitable and innovative pathways for today and tomorrow. Carnegie Mellon is a better place because you are here. As you go through your graduate studies, your time at CMU will change you and challenge you to be the best at what you do and then some.
You will begin to re-imagine our global world, a global society that when using innovation and creativity, mixed with care and used for humankind first, that any and everything is possible. You will grow in ways you never anticipated. As you grow, you would change this institution too.
Growth can be difficult, so I invite you to receive the support you need from those around you: advisors, classmates, university leaders. Stop by the Center for Diversity and Inclusion, say hello to your college's DE&I leaders. We stand ready to help you thrive and succeed during your time here and beyond. Of course, I'm looking forward to meeting you as well.
Expect to see me around campus a lot, being me and doing me. I do this very faithfully and I plan to do it very faithfully with my colleagues in the spirit of creating authentic spaces and feelings up belongingness for all in our community. Please say hello to me. My heart is not just in my work, it beats for the opportunities to be the difference that is needed, especially in higher education.
So welcome. Don't forget to have fun, and especially take care of yourselves. Now it is my pleasure to introduce to you one of the most valuable advocates, Vice President for Student Affairs Dean of Students, Gina Casalegno. Please welcome my friend to the podium. Thank you.
>> Wanda, thank you for your inspiring words, your call to action, and your very kind introduction. I'm pleased to join our presenters this morning as we close our program. As much as we all wish we could be in person with the 3,800 new graduate students to Carnegie Mellon, I think you all understand why we needed to do this in this way. But as Wanda has said, we cannot wait to engage with each of you in the days, the weeks, the months ahead.
Students, you've heard it from my colleagues. You are embarking upon a world-class education that will push you to deeply explore your field of study. Your colleagues and you will find real-world relevance to your work, solve the problem of today's and tomorrow's societies, and contribute artistic innovation to the world. The world needs you now more than ever, and we are thrilled you are joining the Carnegie Mellon community.
As your Dean of Students, I have the privilege of leading a team of colleagues who are dedicated to helping you achieve your best Carnegie Mellon experience, the one that Divyansh talked about. Together, we build collaborative relationships throughout the university. From people like Provost Garrett and Vice Provost Burkert and Heading-Grant to the faculty and staff in your academic departments to best serve the day-to-day needs of you, our student body.
We are dedicated to the development of an engaged community across faculty, staff, alumni, and students where you are supported in all facets of your experience while you do work that matters. As Dr. Burkert opened, that engagement begins here today with orientation through programs and experiences designed to help you establish a strong foundation as you launch your CMU education.
Please engage in the in-person events and with the Canvas material that we have developed to support your launch and your success at CMU. Importantly, reach out and build relationships with your fellow students across this great university. Your cohort will make history at our institution. You will be the trailblazers, the founders, the creators, and the innovators who will make possible new ways of life, both here in graduate school and in our world.
Once again, we are thrilled you have joined this special community and now we will close our program with a final welcome from fellow CMU students who can't wait to meet you as the newest members of the Tartan family.
2021-08-22 20:18
Show Video
Other news