Global Marketing Leadership Program Fireside Chat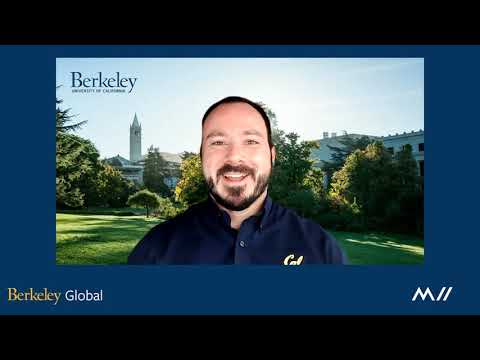 Show Video
Well, good evening, everyone, and in some cases, good morning. And welcome to our second Marketing Institute Ireland global marketing leadership program fireside chat, developed in conjunction, of course, with Berkeley Global at UC Berkeley. And only last week-- I was just informed-- Forbes announced Berkeley as the number one college in the US, ahead of some pretty impressive competition. I'm sure we all know, so congratulations to all the team and Berkeley on that achievement.
This program that has been developed is a world-first and talks to the four essential core competencies that empower marketing executives to lead digital transformation in their organizations. They are data driven business intelligence, customer-centric and technology-conscious marketing, strategy and leadership, and, of course, organization and change management. At our last fireside chat, we heard from Pat Reid, who spoke about agile leadership and gave a sense of the themes that would be discussed through the program. And today, we are going to get a flavor of the themes in the marketing pillar. But before we get into that, I am delighted to be joined today by Robert O'Driscoll, consul general of Ireland to the Western United States. Robert assumed his role as consul general of Ireland in 2017 in San Francisco.
And, Robert, I'm delighted to say today, will address the audience in a few moments and talk to the opportunities about this program that this program presents and connecting with the incredible network and companies, of course, that are operating and leading the way in the Bay Area. Prior to his appointment as consul general, he was deputy director in the trade division in the Foreign Ministry. In 2015, he was the first Irish diplomat chosen to participate in a public-private staff exchange program in which he was seconded to the Avalon Aircraft leasing firm in Dublin. He previously served as private secretary to Ireland's deputy prime minister, Tánaiste, of course, as we know, to the foreign minister from 2013 to 2015, as well.
He has also served in Dublin in the Foreign Ministry in the development/cooperation division on EU matters and in the political division. So, without further ado, I would like to hand you over to Robert. Good afternoon, Robert. Or good morning, should I say? Good morning, David. Greetings from the West Coast here in San Francisco.
I'm glad to join yourself, Frederick Wehrle and Nadege Thores from UC Berkeley, Global Berkeley, for this morning's event. I want to commend both yourself and Marketing Institute Ireland Berkeley Global for this exciting initiative. It is, as you say, one of a kind in Ireland and in the world, as you say.
So I think it's a very, very exciting initiative. I've been doing some research for this and talking to a lot in marketing here, a lot of Irish here in marketing. And they tell me that science-- marketing is as much about science as it is about art. And much of that science is powered by technology, which has genesis here in California and across the world-leading innovation ecosystem here on the West Coast. Many AdTech and MarkTech often choose Ireland as their point of entry to Europe, and we hope they continue to do so.
As a result, we have this large group of Irish, the front lines, determining the very future of marketing. And I'm excited this program will create more bi-directional connectivity between marketers in Ireland and California because this program brings together senior top leadership in the US, California in the Bay Area, and, of course, your own members in Ireland. And if it's sharing best practice on how to drive digital transformation to take advantage of the enormous opportunities these new technologies present to marketers. But I think it also reflects your own institute's commitment to education and lifelong learning. These are crucial elements in personal development, to ensuring that our professionals remain at the cutting edge of their industry. Amd today's event is a really good example.
I look back at a previous event in June, also, and I looking forward to hearing from Maria Gianotti later on to get her insights from her very illustrious career and experience in technology, financial services, and retail e-commerce. I think that a program that convenes thought leaders from California and Ireland makes a lot of sense. The West Coast of Ireland-- the West Coast of Europe and the West Coast of Ireland-- of America, we've had an awful lot of connectivity over the last 100-- 170 years. I always say that Ireland and California share what I call [NON-ENGLISH].
It's a circle of inspiration with flows of people in both directions and flows of ideas. It's very exciting, this part of that historical flow. Today, of course, we have a very modern, very dynamic economic and diasporic relationship. California is Ireland's largest trade investment partner in the US. More than 300 Irish companies that support the free enterprise Ireland are active across California.
And 160 of those, about of them have offices here. We're one of the largest investors and creators of jobs in California. Irish companies employ over 10,000 people across 200 locations across the state. That's a top 10 in terms of international investment into the state, into the Golden State.
On average, an Irish company opens an office here every three weeks on the West Coast, a trend which, remarkably, has been sustained throughout the pandemic. Obviously, the companies come here to do what you're doing. It's to connect in to this world-leading innovation ecosystem. The capital, the smart capital is here, the talent. And, of course, the market's fifth-largest economy in the world. And I think for those Irish people, Irish companies, and Irish professionals who have real global ambition, California is a natural place for them to wish to engage with and to be successful in.
Of course, it's a two-way relationship, and California-headquartered companies play a major role in our economy. Today, these companies employ around 50,000 people. That's from across the West Coast, predominantly California, establishing an operation, new investment, in Ireland, on-average, every two weeks.
I think of the Ireland-California relationship, and I think this course really sits in the middle of us. It really is-- a keystone of that relationship is around talent. Ireland is one of the most educated workforces in the world, with over 53% of 30 to 34-year-olds having a higher-level qualification. Our education system ranks in the top 10 globally. I think when we've seen Irish people come over here that that education that they have, the talent that they have, shines through. And they exceed-- they do so, so, so well here.
And we're very, very proud of all the work that they do. What was I going to say? The best marketers-- my experience-- are influence influencers and change makers. They drive their organizations forward. They inspire and guide their teams and take on complex challenges and make a meaningful contribution to the business community and society at large. Would you be proud of those members of our diaspora who engage in such change making here and their contribution towards the company's own global ambitions? Finally, I want to thank David and his team for engaging in the Bay Area, for making these connections, for adding to our historic Fallions project.
And Marketing Institute Ireland is renowned for the passionate way in which you educate and enable your over 2,500 members, and those members are the backbone of Ireland's development towards being a global hope for marketing expertise. Initiatives such as the global marketing leadership program are important in this regard. This venture harnesses the talents of Silicon Valley for your members and also the potential to engage our diaspora community here, which are really, really welcome. It's an important initiative, and one that the I and the concept here are happy to support today and into the future. And just say, we're going to open Ireland House San Francisco. It's due to take occupancy later on this year.
And of course, as the public health situation stabilizes a little bit, we hope to welcome you, David, and your members here in the Bay Area into our new home in San Francisco, hopefully next year, when normal travel resumes. So Until then, good luck with the program. I look forward to work with you again in the future.
Thank you very much. Thank you very much, Robert. I really appreciate those kind words. And I think said something that really hit me there-- was you talked about influencers and change makers. And I think you're absolutely right.
That's what this program talks to it talks to, actually taking that leadership and influencing role. And ultimately, what is digital transformation? Only to become a change maker. And so thank you so much for that. It chimes beautifully with what we're trying to achieve with the program. So thank you, Robert. And also joining us today-- I'm delighted to say is I click forward-- is a Frederick T. Wehrle who is the associate dean
of academic affairs at UC Berkeley Extension. And Frederick has been instrumental in the development of this program with ourselves over the last eight or nine months-- I think at this stage, Frederick. But Frederick is a researcher specializing in innate human behavior and an expert in academic innovation and design. And at Berkeley, he is developing fully integrated transdisciplinary study programs that allow students and lifelong learners to acquire the specific skill-set they need to succeed in their careers in the upcoming fourth Industrial Revolution. With his team, he brings together world-leading researchers from Berkeley and industry experts from Silicon Valley, who work and teach at the forefront of academic innovation. So I, as you can tell-- I've probably just told you that Frederick has been instrumental in developing the modules and, ultimately, the content for the program that obviously is going to be kick starting in January.
So Frederick, if you want to say a few words in relation to it. Well, thank you so much, David. And thank you so much also, Robert, for being here. This is an amazing opportunity. And particularly, also thank you for Maria to be here today to share her insights.
For us at Berkeley, it's really an absolute pleasure to work with Marketing Institute Ireland. It's rare that we really find across the globe experts that are so in-sync with what we're doing. And it was wonderful what Robert just said about the role of the marketer being the change maker. That is like literally the tagline of Berkeley, Berkeley Changemaker.
It's actually, no joke, trademarked. That's what we perceive our university is built for. It is an entire university made by change makers for change makers since its inception.
It is also now, as you mentioned-- thank you very much for pointing that out-- ranked by Forbes number one college in the US for that specific reason. And why is that important? It's not important in the sense of us boasting about it. It's actually just understanding what is behind it.
And Forbes even had an entire article published, why Berkeley made it to the number one. And the reason is access. It's the ability to provide people access to networks and experts, either in industry or in research, that are usually unaccessable for anyone, other than the very, very few very privileged people who make it maybe into an undergraduate or graduate PhD program or make it into-- even the San Francisco Bay Area, all of these things are not accessible, and particularly not necessarily accessible to people of all different types of backgrounds. So this is what we pride ourselves on, is the ability to serve as a hub and serve as a connector. And the idea that we are able to connect with other marketing experts in Ireland is particularly exciting for me, not only because I love Ireland-- I have been there a lot in the past-- but also with the Marketing Institute specifically because I'm also a marketer, so I'm with colleagues. And I'm absolutely enchanted to be able to work with you on this program.
I'm able to provide insights to anyone who is interested, from our perspective, from the Berkeley perspective, on how the program works. One thing that I can quickly say at the beginning is exactly what David said. This is not a program the way you might remember what college or university is like at all. This is a program that's tailored for high-level managers, executives, who are not looking to write essays and do assignments, but who are actually looking to add to their expertise, the nuggets, the knowledge, that might come out of particular companies, out of the networks, out of research, in the field of marketing, consumer-centric marketing and technology, data-driven business intelligence, and, particularly, using these competencies, learning how to use these competencies to drive digital transformation within a company. So with this, again, thank you so much for all the collaboration that we have been able to have with you, the content creation, the insights that we were able to build together, David and Jenny and your team.
It's really a great pleasure. And thank you, Maria, for being here today as a panelist. I'm very much looking forward to this fireside chat. And thank you, Frederik, for that. And as I said, Frederik is going to be around if anybody has any questions in relation to, I suppose, the learning experience or anything in particular that's specific to Berkeley.
By all means put the questions in the chat or the Q&A, and I'll put them to Frederik, maybe after Maria has spoken. But I think what you talk there about access and networks really speaks to why, obviously, Berkeley is the perfect partnership for ourselves. So thanks for being here, as well, Frederik. And last but certainly not least, we are delighted to be joined by Maria Gianotti, who is the head of revenue marketing at Unbabel. And just so you understand-- sorry, for Maria's perspective, she has extensive marketing experience in technology, financial services, retail, e-commerce, to name but a few of the sectors. Her speciality is driving high-performance inbound and outbound marketing programs that target enterprise and mid-sized companies across the retail, e-commerce, travel, hospitality, tech, and film sectors, and finance sectors.
She also served as a former president of the American Marketing Association in San Francisco, the largest association for marketers in the US. And today, Maria is really going to give us a kind of an overview of the marketing pillar of the program that will very much, I suppose, focused on AI automation and customer mining, UX, of course, Unique Experience design, emerging platforms, and data-driven personalized content to name just a few of the verticals. So without further ado, Maria, I'm going to hand over to you. And I'm going to stop sharing my screen, and I'm sure if anybody has any questions from Maria while she's presenting, or maybe at the end, if you just put them in the chat in the Q&A, and I'll put them to Maria, and with no doubt I'll probably jump in and out and ask an odd question or two as you're speaking, as well. So I'll hand over.
I think, Christina, you're going to share Maria's slides. Great, thank you, David. And thank you, Frederick and Robert.
It's so nice meeting you. I love what you said about marketing being all about art and science, which is so true. I'm super excited about this topic, as I love everything related to technology.
As head of revenue marketing at Unbabel, which was mentioned, we have an AI-powered translation platform for customer support and operations teams, where I run initiatives for all of our programs to drive demand and generate revenue. So if you can go to the next slide-- some of the things that I'll be discussing today is digital transformation, what's happening in that world, customer-centric marketing, artificial intelligence in marketing-- how are we using that nowadays? What are the emerging technologies that we should be aware of? And then a little bit about what this program entails for you. So if you can get to the next slide-- perfect. [INTERPOSING VOICES] So maybe, do you want to get started with-- Maybe even before we start with that, Maria, why has digital transformation becomes so important for marketeers? And maybe that kind of start a conversation [INAUDIBLE] from our perspective. Perfect.
Yeah, let's get started. So part of my focus with Unbabel includes identifying new technologies that can help us scale and make our work initiatives easier. So this is where digital transformation comes in.
First of all, digital transformation has been going on for years. But this is not a new concept. But what's interesting to discuss is how digital transformation has evolved, especially during the pandemic. So basically, we can say the evolution of digital transformation to a 2.0 stage. And this happened because, as marketers, we had to find a way to better connect with our customers digitally, considering we could no longer rely on in-person opportunities.
So the neat thing that happened-- here in San Francisco San Francisco Bay Area was the Silicon Valley companies were early adopters of pushing the limit of automation at a faster pace during this time. You think about chat bots and intent software, new account-based marketing approaches, and engaging virtual experiences, basically took a life of their own. This is exactly what happened. And I say this because I know this firsthand because this is exactly what happened with my company when we were relying heavily on in-person events. We had signed up for so many conferences in 2020 that did not happen because of COVID, but we had no online programs in place nor the technologies to drive unique virtual experiences or target specific accounts.
So in my experience, Bay Area marketers were really early adopters of advanced AI and new emerging technologies that became really critical during a time of uncertainty, where we had to do more with less as marketers. So if you go to the next slide, please. Thank you. So if we move to the next one, the second thing that I want to mention is how digital transformation during the pandemic gave us a more targeted approach.
So we had new consumer behaviors that we had to look at how to do something with from a digital perspective through various technologies. How could we be more targeted with our customers and prospects? And according to Gartner, most marketers expect customer experience to be their primary differentiator when marketing to customers. And to create better customer experiences, you need to understand your customer preference and behaviors, which leads the capability for marketers to drive personalized and even better hyper-personalized experiences. Another reason for the digital transformation is that access to technologies has allowed us to become more targeted in that approach, and we're spending more on technologies than ever before. And the beauty of spending more on technologies is that it also helps us provide measurable ROI. So in a way, you're not throwing money on difficult-to-measure events, billboard, ads, but rather on technologies that can show that effectiveness of your campaigns.
Hence, we're able to do more and spend our marketing dollars more wisely than ever before. Then if we look at our customer centricity-- so the evolution of digital transformation has provided us with the capability to drive better customer experiences by leveraging technologies that can give us intelligence about a customer's current preferences and purchasing habits, which, again, helps us to become more customer-centric marketers. And lastly-- this is really important-- to some of this year and a half, during the pandemic, we can surely say that digital transformation has changed the playing field for marketers. I would say that today's marketers have become very data driven and they're heavily focused on leveraging innovations including predictive analytics, market analytics software, AI and machine learning to drive better customer experiences.
I couldn't agree more, Maria, couldn't agree more. Yeah, right. And that influence-- back to Robert's point, that influence at board level, I think, is becoming, I suppose, stronger.
Yes, which very importantly leads to my last point here, that not only are CMOs more likely to get a seat at the table nowadays, but since the CMO's role in digital transformation is cohesively connected to a buyer's journey, there's even a higher stake for a CMO to lead the organization's entire digital transformation journey, which is very exciting opportunity for us. When marketing leaders become early adopters and innovators in technology, they start to develop a more decisive point of view within their business context and space, which is extremely valuable to drive go-to market strategies. And I think all marketers can agree with that, and this is the opportunity that senior marketing leaders have been waiting for, which is to have the ability to gain visibility and recognition within their organizations through the understanding and execution of digital transformation efforts. So I think this is a very exciting time, and this is why I love digital transformation or how it's advancing basically.
So AI-- so everybody talks about-- I sometimes think that people talk about artificial intelligence and don't necessarily see what role does it play from a marketing perspective. So you might show some shape on that, Maria, if you don't mind. Yeah, AI can be a little scary.
It's scary word, but what is really AI? Well, first off, the B2C world has been setting up the bar on personalization and expectation of our buyers. And it's up to us to really match that on the digital front. If you go to the next slide-- I found this quote I really liked.
It was by Deloitte saying that we live in an era where customers expect us to understand their wants and needs. So the easiest way we can gather better insights into our customers is really through AI, machine learning, and big data. So that's where AI comes in. If you go to the next slide, talking about the tech landscape-- B2B is practically playing catch up on personalization to be honest.
I'm a B2B, and I can be honest and say that [LAUGHS].. Because as I mentioned, B2C has been a driving presentation, at first at a faster scale than B2B. But with over 5,000 technologies in hand-- some say it's even about 8,000-- it's not a secret that we're spending more technologies than ever before. Most of these technologies are driven by AI.
And according to Gartner-- I found this to be interesting-- marketing budgets as a percentage of a company's revenue fell from 11% to 6.4 in 2020. But the allocation increased in the technology spend. That means marketers have basically cut back on other areas, but when it comes to technology, we keep spending. So super important.
AI is driving most of those technologies. AI has become a real game changer for marketing. Mm-hmm, yeah.
And I would say one of the reasons we're spending more on technology is that these help us better determine measurable ROI from our marketing campaigns, which is something I already mentioned. But with that said, AI plays a huge role in helping marketers do more with their time and resources. So instead of being seen only as a call center, we now have a seat at the table as we're driving a really measurable growth and revenue for our businesses. But the beauty of AI is that it doesn't remove humans altogether.
And this is where people get scared-- It's going to take away my job. Because you still need a human touch, but it does really help marketers streamline and optimize where we're needed in a quicker pace. So really I suppose the exciting thing, I suppose, when you think about the digital transformation, Maria, is that, I suppose, the challenge marketers have always had is almost proving the ROI on their under dollars. If I spend $1, I'm going to deliver x amount of revenue, and this was really, I suppose, digital. And the journey that the people are going on in the transformation that everybody is seeing, and I suppose what's at the driving end of what's happening in Silicon Valley is really how you're actually getting down to the nano-detail of how he can actually really deliver true revenue whatever Euro spent. Is that kind of-- Yeah, I totally agree with that.
If we go to the next slide-- so talking about some areas where marketing has proven to be a game changer, there are two areas that I want to mention today. So the first area is around content creation and generation. And you might know some of these platforms.
And this is just examples. I mean, there's so many platforms out there, but these are someone that I'm very familiar with. But advances in I have a lot of marketers to better personalize experience with what their readers want to read next based on previous interactions with the companies from page views and how they engage with your content.
This all plays a factor in how you can tailor their customer experience again. Another way that you can personalize is creating a message that seems like it's shared in real time by a sales or customer service person to a specific account or a contact within that account, let's say your target list, account list. That's also an experience that marketers are seeing a lot of success with. That's something that really took off during the pandemic. And if you go to the next slide-- the next area I want to call out is around chat bots.
As we all know, it's been around for years. It's helped us answer questions in a timely fashion, without having customers waste their time on, let's say, calling or submitting a demo request, which is really tedious. But nowadays, the difference is that we're seeing capabilities of crazy advanced human interaction that's hyper personalized. Bots that know your locations or previous data and then can drive somewhat meaningful conversations to make you take a specific action is really how chat bots have progressed this last year.
[INTERPOSING VOICES] I was just going to say it's really interesting because when you think about chat bots, everybody goes, oh, yeah, no, we have chat bots. But it's only when I was talking to you last week that I kind of got the sense, I said, my god, if I worked in utilities, or in insurance, or banking, retail, the opportunity to kind of connect with companies and see what they're doing in the immersion phase of this program would give you a real step forward in relation to the competition because you could end up connecting with a company that is doing some amazing stuff in the jackpot space that you could actually bring back to your organization and could really see what they're doing. And that, to me, is what excites me for the participants in this program is that they really do get a chance to get, not just an insight and a look into the unpublished things that are happening in Silicon Valley, but they actually get an opportunity to connect with these people, have conversations with these people, and potentially collaborate. Yeah, that's what we want to get out of this. I think that's the beauty of this program.
Yes, chat bots have definitely taken a life of their own. And we also keep seeing a lot of acquisitions to make these even better-- have more intelligence insights, so this keeps progressing. With chat bots you can have specific conversation flows with your target accounts, again, in contacts. This is applicable to both B2C, B2B.
Today's chat bots can definitely help you drive strategic objectives of growth, such as high-quality conversions with less human resources that can ultimately increase revenue. That's really what we care about us marketers. And then moving on to the next topic-- So. So what are the types of emergent technologies-- whatever platforms that are helping marketers be more targeted and personalized in their approach? So there's obviously so many out there, Maria. But what are the ones that, I suppose, give us a flavor of what's out there? Yes, there are so many.
So I will pick I'll pick the ones that I thought were-- not more interesting, but that were kind of leading the way of these type of technology-- or leading the way in technology, of emerging technologies. There are so many cool ones. So I would say an emerging technology that most B2B marketers gravitated towards during the pandemic was buyer intent. And if we can go to the next slide so you can kind of see what that looks like from just snap view. The reason being was because our buyers were spending more time online.
Marketing budgets were getting cut, as I mentioned, so we had to find a more affordable, still digitally-friendly way to find our buyers. With buyer intent platforms, we're able to capture known, unknown, and intent signals to determine which buyers are in market and our sales team should focus on as well as which prospective buyers we should spend ad dollars towards. This is something actually I use from my company that is super important for us because we are in the B2B space, and we have a target account list, and we have a small sales team that needs to be very focused.
And these intent signals told us when buyers were exploring solutions taking from their search and behavioral data. So that was-- habits, right? So that's what's super important for us. And, basically, intent data consists of first, second, and third party elements and identifies when companies are actively researching specific product categories. So it's super useful.
The next one I wanted to mention-- if you can move the slides, Christina. So the next one, this is buyer intent. This is kind of how it looks-- what everything you can get with buyer intent, by the way. But, of course, during this program, we'll talk a little bit more about that and in depth. But maybe we can go to the next topic.
The other one I wanted to mention, it's an important emerging technology for B2C marketers. It's customer analytics platforms, applicable really to both-- both, actually, B2C, B2B. But it can help you define what features and customer actions lead to outcomes and where to double down. So it's mostly it's about B2C, but it could be beneficial for a B2B marketer, as well.
These help marketers get more information about customer behavior and product data that can help them improve messaging, buyer journeys, and learn about the paths customers take to your desired outcome, and most importantly, which behaviors lead to conversions or drop offs. So that's really important intelligence you can get from those. And if we go to the next slide talking about predictive marketing, both applicable to B2B and B2C-- can tell you who your next customer should be based on data from current customers.
Predictive analytics helps marketers in understanding consumer behaviors and trends, predicting future shifts, so they can pace accordingly, and that's something we also use at my work. Basically, it uses data model statistics and machine learning to predict future events, which is also super important. As a marketer, if you can think ahead of what's going to happen, you can spend your marketing dollars better, as well. So we use this as well. And the last thing I wanted to mention is ad platforms.
It's account-based marketing advertising specifically, which allows marketers to target individuals within a specific company with personalized messages at scale. This is mostly for B2B. You can basically automate dynamic campaigns based on a context job title and accounts they stage of their sales cycle, where they are, in which stage, their industries, and other information in your sales force CRM, or any CRM, for that matter. You said it's primarily B2B, is there a B2B solution where it cannot be applied to B2C, as well? Or is it just primarily being used by B2B? This one targets companies and individuals within companies, so if you do a B2C, not really.
It's very applicable to B2B. I mean, there might be honestly. I might not know about it just because I'm not in that world, but I'm sure there is something similar, at least. But, yeah, this one is specific to B2B. And this is honestly not a new concept.
ABM advertising has been around for years. But during the pandemic, several ABM platform vendors went through acquisitions to extend their offerings and allow for the next generation of ABM that provide richer account insights, leveraging both AI and predictive intelligence. So, David, to your point, there might be some B2C acquisition-- companies that they acquired that provides solutions for both worlds.
So that might be a thing. And this is a snippet, of course. There are so many other technologies that we will talk more about in the program. But you can go to the next slide. I think we can talk a little bit about the program specifically. I think the one thing, Maria, is that I suppose people want to get a kind of a sense of what are going to be the take outs that are-- obviously, we're only giving a broad stroke kind of view of some of the technologies, and emerging technologies, and how AI is impacting everything else.
But I suppose it's ultimately, what can participants of this program expect? Yes, great question. Well, as the lead instructor-- I'll be the lead instructor for the marketing stream-- and a marketing technology practitioner, I want to give you the insights-- or the program attendees insights into the latest technologies that Silicon Valley marketers like myself are investing in to drive the most effective hyper-personalized customer experiences. At the end of the day, it's all about the customer experience. I also want to inspire you to take action to lead the digital transformation efforts across your entire organization, not only within the marketing realm. So if you know about the technologies-- and not as a hands-on-- I don't want you to know the specific, executional things. Your team can do that.
It's more about the bigger picture and what's out there, so you can drive those efforts for your team and make those suggestions for your company. That's a really important point you're making, Maria, because this obviously is targeted at a senior audience, and I think that's really important. [INAUDIBLE] to the line-level detail of how all this works, but really giving you the view how this impacts and how this can support. And I think that's a really, really important point to make. Correct, and we wouldn't have enough time to even go through all the platforms. There's no way, but [LAUGHS] as a high-level overview of everything that exists-- the insights you can get, I think it's important that you know about, that people know about, or marketers know about.
Also, the other thing-- I teach you all by doing, learn by doing, basically, be an early adopter, and learn how you can bring AI lab emerging technologies into your own organization and become the leader for tomorrow as your organization keeps going and advancing. So, again, I want you to be aware of what's out there and how you can bring that into your organization. I want I want to walk you through the top technologies that can help you get ahead in automation, personalization, and customer centricity, whether you're in B2B or B2C. And like I said, again, it doesn't mean the executional part of these platforms because your team can do that. But I want you to know the strategic components of these platforms and how these can help you generate revenue, which is really what I do and what my focus always is.
How can we generate revenue? What platforms can we use for them? And the last thing that's really exciting-- organize a company visit, so you can get a close look into leading emerging technology provider in the San Francisco Bay Area. So that's something I also will organize and put together and make it exciting for you to get insights into how these companies work. Brilliant.
And I think and I think that's the beauty of it. maria, in relation to this program, you have the six months of the modules that obviously-- leadership, which Pat very kindly brought us through at the last fireside chat, and obviously the marketing, leadership, and people should I say that Pat brought us through. And also, now from a marketing perspective, but the beauty of this is is the immersion program or the immersion module at the end of the six months, the three days in Silicon Valley. And maybe, Frederick, we will bring you in at this point to talk about what the opportunities that presents. Because back to the point about Berkeley being now the number one university in the States, so we definitely made the right decision partnering up with you, Frederick.
But I suppose that how you talk about access and networks and to Maria's point here around company visits-- that's going to be a core component of the immersion session, is it not? I mean, the perspective is if you are at a high level, and you are looking for learning that really adds to your expertise, what you're looking for is ability to learn certain-- or understand certain concepts, but more so, actually how do you apply them? How do they integrate in what you are doing? What do they mean for your business and the reality that you're in? So the program actually being designed, building like the foundational blocks of looking at the data, and business intelligence, going into tools and marketing, and then how do I apply them managerially really tries to cover this. But more so, each single piece really gets understood in all the different facets. So here's a concept. Here's a method.
Have a company visit. Have the opportunity to see how it gets applied. Have the opportunity to talk with the experts about your reality and your company and your environment, and how that might relate, and how obstacles that might be there might be overcome or not. Some things cannot be applied, but at least you know that they exist and why you're not applying them or not using them. And then on top of it, really the opportunity to actually connect with companies that can make it happen. The ideal thing for us is when somebody comes out of a program like this and then literally says, OK, here's a plan now that I have of what I want to implement, and how do I do this? Well, as marketers, most of the time we write an email or pick up the phone and get somebody to help us out with this.
And if you are meeting with a company that uses certain startups to, for example, yeah, do voice recognition, automatic replies, voice replies, and so on, and you want that for your company, well, now you have a direct link and direct access to Silicon Valley companies and startups providing the latest tech, for example. And you have a colleague in a larger company that you have had the chance to meet or that you can get connected to through one of the speakers or the people that we visit in companies that can say, OK, this is how we did it in our company, and how we integrated this level of technology, and how it worked. Brilliant.
And, Maria, I'm sure you could talk for hours about some of them the incredible emerging technologies that are coming out, but I think one of the things that really strikes me is just the opportunity. If I'm in a business in the B2B space in Ireland, and I'm not going to take a lead, or in the B2C space-- should I say, as I refer to each of these-- I just think there's so many opportunities that this program does present in relation to stealing a march on your competition. And what better way to do that than to-- if you want to influence and become a change maker, as Robert so eloquently put it at the start, what better way to do it than to bring real innovation and thinking and different approach to digital and engagement and digital transformation.
than do something like that? Look, I'm sure there's questions. I know I've asked a few of Maria throughout our chat. Maria, I'm taking it that was your last slide. Sorry, before-- Yes, it is. I do want to say-- because I think this program, it's great in the sense that, where else are you going to know about these technologies? There's no-- OK, you can learn about these technologies talking to a vendor, but then you'll know about that specific technology, and you won't really know the realm of the technologies that you could use for different things. So, honestly, that's what I think is very interesting about this, where there is no other thing like this.
There's no other program that talks about technologies. I, as a practitioner, have not been able to find anywhere where I can get those insights, unless it's with a specific company, and then you only get one viewpoint of the story. So that's I think that's the beauty of this. And I think what Frederick also said, the networking, the networking with other peers, see what they're doing, not only me preaching to the choir here, but also learning from your peers is, I think, super valuable.
So I think those would be, for me-- this is why I would want to attend something like this if I had the opportunity. [INAUDIBLE] Christina, you might stop sharing, actually, the screen, just so everybody can see us a little bit better if that's OK. Sorry, I completely agree, Maria, that the whole way through the process of developing this program, the piece that excited me was obviously the peer-to-peer engagement, the online learning, the sessions, I suppose a thirst for knowledge and taking it all in, but to ultimately then be able to actually bring it to life having conversations with people who are actually doing this, and have a challenge in your organization. You talk about digital transformation and the challenges that you may present in your organization, and you have an opportunity to actually potentially come back with this program-- come back from this program with a solution, and, jeez, that's fantastic-- and the connections that can happen. I'm not sure if anybody has any questions or anything that they want to put to the panel, but-- we have something coming through here.
Is there still places available in the program? There is, and the closing date, just so you know, is the 20th of September. I'm right in saying that, the 20th of September. So I think if anybody's interested, please reach out to either myself or Jenny Bishop, who's the head of learning solutions in the Marketing Institute. I think you can get her at jenny@mii.ie, or indeed myself at david@mii.ie. I have a question in here, as well, how do I apply? So, again, if you reach out to Jenny, she will bring you through that.
But it's really a case of-- I think what's really important about this program is we want to get a picture at the right level, and certainly the people who are going to be participating in this are all at that stage where they're being challenged and charged with bringing around change in the organization, around bringing agility to the organization, and understanding how better to use business data to drive business intelligence, and really to think of the technology-conscious marketing angle to everything that they're doing. So we very much want that peer-to-peer engagement to become a key part of the program as we go through it. And another question here-- a question to Maria in relation to-- what emerging technology is the one that excites you most at the moment? [GASPS] Oh my gosh, that's a great question. For me honestly, buyer intent. I think that is.
And also the customer analytics, predictive analytics. I think that's super valuable, just because you can better spend your marketing dollars knowing which accounts, which companies are looking for your solutions. Super valuable.
So then you're not targeting in the blind basically. That, for me, is-- I am in the B2B space, but if I also were in the B2C space, customer analytics, just knowing more about your customers to drive those customer experiences, better customer experiences in a more targeted approach, I think it's my top two. OK, very good.
And, Frederick, talk to me about-- I suppose the big fear with all these programs is people turn around and say, oh my god, how much work is going to be involved in this? And it is going to take me weekends and everything else? And that's not how it is. So do you want to give a flavor, Frederick, of, I suppose, the learning approach, the commitment, and, ultimately, the output. The central part of this is effectively everybody comes with their problem. Everybody comes with their challenges that they currently have in the company. And that's the thread that basically goes through the entire program. So everything that you learn in a lecture, you have the opportunity to discuss with the right speaker directly afterwards, in terms of how does it apply to my case.
And you have the opportunity to discuss with the other people within in the group. So the learning is literally from the hearing and understanding and interacting in the lecture to actually an application case for yourself. Then you have the opportunity to have reading, so articles, for example, if there's things published to prepare for the next speaker or for next company visit. Just when you're in it, all the things you hear makes sense and are contextualized right away. There is no like, write an essay on this and this, and try to-- I don't know-- analyze these things or do quizzes.
And there's no moment where you show up and it's, pop quiz! [LAUGHTER] or multiple choice. Oh gosh, yeah. It's really not the case. It's really important to understand that you don't get out of this with a grade, or you don't get out of this with kind of an academic-- oh, I did a course or something.
You get out of this with a certification that you have been able to incorporate and are now able to apply and use, not just theoretically, but practically with, on top of it, the network behind it, what you solutions that you are actually needing in your job if that makes sense. So it's a very radical-- it's a radically advanced way of learning. It's not what executive education does either. Executive education oftentimes is really more on future-facing theoretical applications and so on. I don't want to speak too much about this, but it's also not this. This is really the perspective of, I want to be empowered to drive digital transformation and need that within my company.
My company is looking to me for this, for solutions. And here's an opportunity for me to understand the concepts, discuss them with experts, make connections, make connections at home through the people that are participating, and then make the contacts to potential corporations and experts that will actually allow me to apply it. [INAUDIBLE] by the number one the number one university in the United States of America, as well. So who wouldn't want to do that? I'm not sure if there's any more questions.
But I hope you found this session interesting. And, as I said, if there's any questions or anything that anybody has that they would like to know a little bit more, by all means, reach out to either myself or Jenny. We'd be more than happy to talk to you.
And equally, if you want to know a little bit more on the Berkeley side of things, Frederick I know has said that he's more than happy to arrange a call or a quick chat with anybody. And look, what can I say? I think we're coming up to 10 to 5:00. Can I just say a particular thank you to Robert O'Driscoll for attending the session today and also for his support. And we really appreciate it, Robert, so thank you, again, for that.
And equally, I would very much like to thank Maria for her time today. And I think she's given kind of an overview, as much as one can in 15 or 20 minutes, of the market And not give it all away, right? Exactly. Feel free-- for the attendees, listeners of this fireside chat, feel free to connect with me on LinkedIn if you have any more specific questions about any of the things I mentioned.
I would be happy to answer anything. Perfect. Well, thank you Maria. And thanks, again, for your time today. And, of course, Frederick, thank you for your time, as always, and your team, Nadege and Christina, for your support And I look-- as I said, the closing days of the 20th of September.
If anybody hasn't seen the fireside chat or heard the fireside chat with Pat Reid, I would strongly suggest you seek it out. If you don't, reach out to Jenny, she'll send your link. But Pat, who is an incredible lady, gave a sense of what happens from a leadership perspective, the agility. And Pat it is working with the New Zealand and Australian governments on agile leadership. She also worked at Walmart on the agile leadership and their 2 million employees.
So I think that speaks volumes in relation to the expertise that Pat has so. That's well-worth watching, as well. So if anybody hasn't seen that, reach out.
And I think I've-- I was going to say I have one more question, but I don't. It's just thanking everyone for joining. Well, listen, I'm going to say our goodbyes, but thank you very much, everybody. And, as I said, reach out if you're interested in participating in the program.
Thank you, all, again. Bye-bye.
2021-09-30 04:58
Show Video
Other news