FDA Rare Disease Day 2023: "Intersections with Rare Diseases – A patient focused event"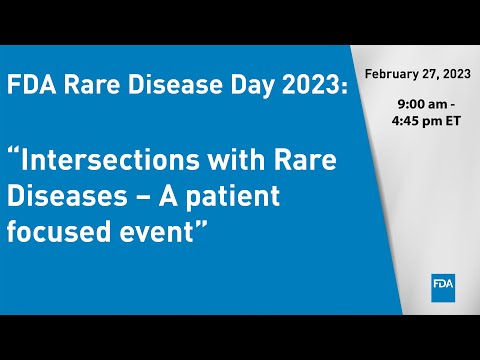 Show Video
» GOOD MORNING, EVERYONE. THANK YOU FOR JOINING US TODAY FOR FDA'S RARE DISEASE DAY 2023. MY NAME IS SANDY RETZKY. I AM THE DIRECTOR OF THE OFFICE OF ORPHAN PRODUCTS DEVELOPMENT. I'M DELIGHTED TO SAY THAT WE HAVE A RECORD NUMBER OF PARTICIPANTS IN TODAY'S MEETING, MORE THAN 5,700 PEOPLE, INCLUDING PATIENTS, PATIENT ADVOCATES, FAMILY CAREGIVERS, INDUSTRY, ACADEMIA, AND OTHERS. SO, THANK YOU ALL FOR BEING
WITH US. TODAY, WE ARE VERY FORTUNATE TO HAVE DR. ROBERT CALIFF, OUR FDA COMMISSIONER, JOIN US TO HELP KICK OFF TODAY'S CONFERENCE. THANK YOU FOR COMING TODAY, DR. CALIFF. » SANDY, THANKS. IT'S GREAT TO BE WITH YOU TODAY.
I'M DELIGHTED SO MANY PEOPLE AS YOU SAID, 5,700, FROM SUCH A WIDE RANGE OF FOCUSES ARE JOINING US TODAY. IT'S ONE MORE INDICATION OF WHAT AN IMPORTANT TIME IT IS FOR RARE DISEASES, WITH UNPRECEDENTED OPPORTUNITIES AND CHALLENGES. THIS YEAR, OF COURSE, IS THE 40TH ANNIVERSARY OF THE ORPHAN DRUG ACT, A LAW THAT CHANGED THE FACE OF RARE DISEASE RESEARCH AND PRODUCT DEVELOPMENT BY PROVIDING INCENTIVES FOR THE DEVELOPMENT OF MEDICAL PRODUCTS FOR PATIENTS WITH RARE DISEASES AND PROVIDES FOR GOVERNMENT GRANTS TO HELP DEVELOP MEDICAL PRODUCTS FOR RARE DISEASES.
SINCE ITS ENACTMENT, THE PROGRESS HAS BEEN TREMENDOUS. APPROVAL OF MORE THAN 550 UNIQUE DRUGS AND BIOLOGICS FOR MORE THAN 1,100 RARE DISEASE INDICATIONS. IN 2022, WE SAW THAT MORE THAN HALF, 54% OF THE FDA'S CENTER FOR DRUG EVALUATION AND RESEARCH'S NOVEL DRUG APPROVALS WERE FOR PATIENTS WITH RARE DISEASES. BUT THERE IS MUCH WORK TO BE DONE IN THIS AREA, INCLUDING BY THE FDA, WITH THOUSANDS OF RARE DISEASES THAT STILL LACK APPROVED TREATMENTS. SO MUCH OF THE FDA'S WORK OVERLAPS WITH THE WORK IN THE RARE DISEASE SPACE.
AS A PUBLIC HEALTH AGENCY FOCUSED ON USING THE MOST ADVANCED AND BEST AVAILABLE SCIENCE AND EVIDENCE, AND THE TECHNOLOGICAL RESOURCES AND COMPUTATIONAL TOOLS TO EFFECTIVELY ANALYZE IT AND IMPROVE THE LIVES OF PATIENTS AND CONSUMERS, THE FDA HELPS ADVANCE INNOVATION TO SUPPORT THE DEVELOPMENT OF MEDICAL PRODUCTS, INCLUDING NEW TREATMENTS FOR CONDITIONS THAT PREVIOUSLY HAD NONE. THIS IS ALSO AN AREA OF PARTICULAR INTEREST TO ME, INVOLVING MANY OF THE PRIORITIES I'VE BEEN FOCUSED ON THROUGHOUT MY CAREER. THIS INCLUDES THE DEVELOPMENT AND APPLICATION OF RIGOROUS DATA AND EVIDENCE, INCREASING THE EFFECTIVENESS OF CLINICAL TRIALS, THE USE OF GROUNDBREAKING SCIENCE AND TECHNOLOGY TO DEVELOP NEW THERAPIES TO A FOCUS ON THE ESSENTIAL ROLE THAT PATIENTS PLAY IN THE DEVELOPMENT OF TREATMENTS, TO NAME JUST A FEW AREAS. » THAT'S A GREAT SEGUE TO FOCUS ON THE THEME OF TODAY'S MEETING, WHICH IS "INTERSECTIONS WITH RARE DISEASES—A PATIENT FOCUSED EVENT." CAN YOU TALK A LITTLE MORE
ABOUT THE IMPORTANCE OF PATIENT ENGAGEMENT? » CERTAINLY. NO ONE KNOWS BETTER OF WHAT IT'S LIKE TO LIVE WITH A DISEASE THAN A PATIENT WHO HAS IT OR THEIR FAMILIES AND CAREGIVERS. THEY HAVE THE GREATEST UNDERSTANDING OF THE DISEASE AND ARE THE BEST ADVOCATES FOR WAYS TO TREAT IT. SIMILARLY, PATIENT ACCESS TO USEFUL, UNDERSTANDABLE INFORMATION ABOUT MEDICAL PRODUCTS HELPS ENSURE THAT THEY HAVE THE TOOLS TO INFORM THEIR HEALTH CARE DECISION-MAKING.
SINCE MY FIRST TERM, I REALLY LEARNED THAT ONE OF THE MOST IMPORTANT ASPECTS OF THE FDA'S WORK IS TO ENSURE THAT WE INCORPORATE THE PERSPECTIVES AND EXPERIENCES OF PATIENTS IN THE REGULATORY PROCESS. I HAD THE PRIVILEGE IN MY ACADEMIC CAREER OF DOING A LOT OF WORK WITH PECORI IN ITS FOUNDING AND DEVELOPED NETWORKS THAT WERE FOCUSED ON PATIENT ENGAGEMENT AND PATIENT INVOLVEMENT IN EVERY ASPECT OF THE RESEARCH ENTERPRISE. SO I FEEL LIKE WE NEED TO PROVIDE A PLATFORM FOR PATIENTS' VOICES TO BE HEARD SO WE BETTER UNDERSTAND WHAT OUR PRIORITIES SHOULD BE. AND CAN ALSO STRENGTHEN THE QUALITY, QUANTITY, AND METHODS OF ACQUIRING THE EVIDENCE NECESSARY TO MAKE THE BEST-INFORMED REGULATORY DECISIONS. AFTER ALL, IT IS THE PEOPLE WHO HAVE THE DISEASE OR AT RISK OR CARING FOR THOSE WITH THE DISEASE WHO ARE COLLECTING THE DATA AND OFFERING UP THE DATA THAT WE ALL NEED TO IMPROVE OUR DIAGNOSTICS AND THERAPEUTICS.
ONE AREA THAT PATIENT INPUT IS ESPECIALLY IMPORTANT IN THE DEVELOPMENT OF CLINICAL STUDIES AND OTHER FORMS OF EVIDENCE GENERATION. THIS HELPS ENSURE THAT THE EVIDENCE REFLECTS WHAT MATTERS MOST TO PATIENTS AND THEIR CAREGIVERS. » IT'S GOOD TO HEAR YOU SAY THAT. AS YOU KNOW, ONE OF OUR PANELS IS FOCUSED ON THE FDA'S PATIENT ENGAGEMENT WORK. THAT SESSION INCLUDES PATIENTS AND ADVOCATES WHO HAVE GOTTEN INVOLVED HERE WITH US AT FDA AND THEY'LL TALK ABOUT THEIR EXPERIENCES AND WAYS TO GET INVOLVED.
EARLIER, YOU MENTIONED THE SIGNIFICANCE OF SCIENTIFIC AND TECHNOLOGICAL ADVANCES IN THE DEVELOPMENT OF NEW TREATMENTS FOR RARE DISEASES. DID YOU HAVE ANYTHING SPECIFIC IN MIND? » WELL, THERE'S SO MANY AREAS THAT WE COULD TALK ABOUT. AS YOU KNOW, I SPENT MY INTERIM TIME BETWEEN FDA STINTS AND SAW WHAT DIGITAL TECHNOLOGY CAN DO IN TERMS OF COLLECTING DATA ON DISEASE. BUT SOMETHING THAT'S IMPORTANT IN AN INTERESTING WAY THAT I THINK IS THE HOTTEST AREA FOR RARE DISEASES, BUT ALSO, AS WE'RE SEEING AT THE FDA IN THE AREAS OF GROWING FOOD THAT'S RESILIENT TO CLIMATE CHANGE AND KEEPING OUR SUPPLY OF FOOD VIBRANT, AND THAT'S THE AREA OF GENETIC MODIFICATION, GENE EDITING AND GENE THERAPY. UNDERSTANDING A GENOME WITH
BILLIONS OF BASE PAIRS IN EVERY INDIVIDUAL IS SOMETHING THAT COULDN'T HAVE ADVANCED WITHOUT THE MAJOR CHANGES IN COMPUTING THAT WE HAVE. NOW THIS IS THE TIME TO REALLY GET GOING AS THIS TECHNOLOGY IS ADVANCING EXPONENTIALLY. THE TOOLS ARE MUCH MORE EFFICIENT, CAN DO MUCH MORE COMPLEX THINGS, AND OUR ABILITY NOW TO REPLACE DYSFUNCTIONAL GENES GENES, I THINK, IS GOING TO LEAD TO A NUMBER OF NOVEL THERAPEUTIC APPROACHES. AS I'VE ALREADY SAID, WE'RE SEEING THIS ACROSS THE SPECTRUM OF WHAT WE REGULATE, WHETHER IT'S HUMAN DISEASE, ANIMALS OR PLANTS. BUT THE COMBINATION OF ALL THESE THINGS IS GOING TO MEAN THAT THE TECHNOLOGY WILL KEEP IMPROVING. AND ALSO MAKE THE POINT THAT WHILE GENE EDITING IS BECOMING EASIER TO DO, UNDERSTANDING WHAT IT MEANS AND MAKING SURE WE GET IT RIGHT, IT'S STILL VERY COMPLEX.
WE NEED TO BE VERY CAREFUL HOW WE DO THIS, HOW WE ALSO ADVANCE AS QUICKLY AS WE CAN FOR PEOPLE THAT HAVE DISEASES WITH NO EFFECTIVE TREATMENT. IS » YOU ALSO MENTIONED YOUR FOCUS ON STRENGTHENING CLINICAL TRIALS. AS WE PLANNED THIS EVENT, WE REVIEWED FEEDBACK FROM LAST YEAR'S MEETING AND FOUND THAT PARTICIPANTS, PARTICULARLY THOSE FROM THE PATIENT FROM THE PATIENT COMMUNITY, WANTED MORE INFORMATION ON CLINICAL TRIALS, ESPECIALLY WHEN IT COMES TO STUDYING INVESTIGATIONAL PRODUCTS FOR RARE DISEASES IN CHILDREN.
THIS INCLUDED QUESTIONS ABOUT THE ETHICAL STANDARDS IN CLINICAL TRIALS, ESPECIALLY INVOLVING SOME OF THE NEWER TYPES OF TREATMENT, INCLUDING GENE THERAPY. WE'LL HAVE DISCUSSION ON THIS TOPIC ON THE NEXT PANEL, BUT DO YOU HAVE ANY THOUGHTS ON THIS TO GET US STARTED? » I CERTAINLY APPRECIATE THE QUESTION. I'M 71 YEARS OLD NOW. I SPENT MOST OF MY CAREER -- STARTED OUT AS A CARDIOLOGIST SEEING SO MANY PEOPLE DYING FROM HEART DISEASE WITH VERY FEW EFFECTIVE TREATMENTS EARLY IN MY CAREER. WE MADE TREMENDOUS PROGRESS
THERE, BUT IT WAS ONLY BECAUSE WE HAD THE DISCIPLINE TO DO THE CLINICAL TRIALS. BUT IT ALWAYS SEEMED WE COULD DO SO MUCH BETTER. NOW WHEN YOU GET TO RARE DISEASE, WE HAVE A WHOLE OTHER SET OF ISSUES WE NEED TO DEAL WITH, AND WE NEED TO SOLVE THIS TOGETHER BECAUSE, AS YOU POINTED OUT IN YOUR QUESTION, NO ONE WANTS THE INFORMATION MORE THAN THE PEOPLE AND THE FAMILIES WHO ARE AFFECTED BY RARE DISEASES, BUT IT'S ALSO THE CASE THAT, WHEN THERE'S NO EFFECTIVE TREATMENT, THE DECISION TO ENTER A CLINICAL TRIAL CAN INVOLVE A LOT OF COMPLEX THINKING, A LOT OF HOPES, A LOT OF EXPECTATIONS. BUT THE FACT IS WE DON'T KNOW IF THE NEW TREATMENT IS GOING TO WORK UNTIL WE'VE DONE THE HUMAN CLINICAL TRIALS TO FIND OUT. ONE THING THAT I'M DOING AT FDA IS WE'RE BRINGING IN A GROUP OF ETHICISTS TO HELP US FRAME THESE ISSUES BECAUSE I THINK IN GENERAL THINGS ARE MOVING IN THE RIGHT DIRECTION AND PATIENT GROUPS ARE BECOMING MORE AND MORE EFFECTIVE AND NOT ONLY DEMANDING TO HAVE EVIDENCE, BUT ALSO PARTICIPATING IN THE EVIDENCE.
BUT WE NEED TO REALLY GO DEEPER IN UNDERSTANDING WHAT THE DEAL IS THAT WE HAVE WHEN PEOPLE VOLUNTEER THEIR DATA WITH THE WAYS WE CAN MEASURE THINGS BETTER AND BETTER NOW OVER TIME. A BIG PART OF THIS, OF COURSE, IS GOING TO BE THE ELECTRONIC HEALTH RECORD, WHERE WE COULD MAKE THE COST MUCH LOWER AND THE EFFICIENCY MUCH GREATER. WE HAVE THIS BIG LOOMING ISSUE FOR AREAS LIKE GENE EDITING WHERE IT LOOKS LIKE THE TECHNOLOGY IS GOING TO BE DRAMATICALLY BENEFICIAL, BUT WE DON'T REALLY KNOW ABOUT LONG TERM EFFECTS OF EDITING GENES IN THE HUMAN CONDITION BECAUSE WE HAVEN'T DONE IT. SO WE'RE GOING TO NEED LONG TERM FOLLOW-UP. GETTING THAT LONG TERM FOLLOW-UP THE OLD FASHIONED WAY IS GOING TO BE NEXT TO IMPOSSIBLE, I THINK, BECAUSE WHEN YOU COMBINE ALL THE RARE DISEASES AND THE MANY POSSIBLE EFFECTIVE TREATMENTS, THE SUM WILL BE A LARGE NUMBER OF PEOPLE WHO NEED LONG TERM FOLLOW-UP DONE ETHICALLY AND RESPONSIBLY BUT ALSO COLLECTING HIGH QUALITY EVIDENCE. I THINK THIS IS NOT JUST A PROBLEM FOR RESEARCHERS. IT'S NOT JUST A PROBLEM FOR THE
FDA. IT'S SOMETHING THAT PATIENTS NEED TO BE EXTREMELY INVOLVED IN MAKING IT HAPPEN ON THEIR OWN TO HAVE. SO I'LL NOTE THAT THERE'S A RECENT DRAFT GUIDANCE ON ETHICAL CONSIDERATIONS INVOLVING CHILDREN. IT'S AN AREA THAT EARLY IN MY CAREER I HAD THE PRIVILEGE OF DOING SOME WORK IN WHEN ESSENTIALLY THERE WERE ALMOST NO CLINICAL TRIALS BEING DONE IN CHILDREN, AND NOW WE'RE IN AN ERA WHERE WE EXPECT CLINICAL TRIALS TO BE DONE, BUT AGAIN WE'VE GOT TO DO THEM CAREFULLY AND IN THE RIGHT WAY.
SO THE BOTTOM LINE FOR ME , IT STRUCK ME IN 2016 DURING MY FIRST STINT AS COMMISSIONER THAT DISEASES THAT DID NOT HAVE EFFECTIVE ADVOCATES THAT WERE SUFFERING COMPARED TO DISEASES THAT DID. I THINK ONE OF MY GOALS AT FDA IS TO CREATE THE KIND OF PLATFORMS THAT I KNOW MANY PEOPLE ARE WORKING ON AT ALL THE MEETINGS GOING ON THIS WEEK THAT REALLY MAKE IT EASIER TO DO THE RIGHT THING AND GET THE EVIDENCE THAT WE NEED IN THE MOST EFFECTIVE AND ETHICAL WAY POSSIBLE. » THANK YOU DR. CALIFF. THIS HAS BEEN A GREAT WAY TO START TODAY'S RARE DISEASE ACTIVITIES. ANY FINAL THOUGHTS BEFORE WE END THIS SESSION? I WOULD JUST SAY THAT WHILE WE HAVE MANY PROMISING OPPORTUNITIES, WHETHER IN THE DESIGNING OF NEW TRIALS OR APPLYING NEW TECHNOLOGIES, LIKE THE AMAZING DIGITAL TECHNOLOGIES WE NOW HAVE, THE INCREASING FOCUS ON PATIENTS AND THE APPLICATION OF BETTER HEALTH DATA THROUGH ELECTRONIC HEALTH RECORDS, WE STILL H AVE A LOT OF WORK TO DO.
IT'S IMPORTANT THAT WE CONTINUE TO WORK TO EXPAND THE FOCUS AND UNDERSTANDING OF RARE DISEASES AND THE IMPORTANCE OF THE PATIENTS WHO HAVE THEM ACROSS THE ENTIRE SPECTRUM OF THE PUBLIC AND THE MEDICAL AND SCIENTIFIC COMMUNITY. ONE ANNOUNCEMENT THAT IS EXCITING IS A NEW FUNDING OPPORTUNITY FOR THE FDA'S RARE NEURODEGENERATIVE DISEASE GRANTS PROGRAM TO SUPPORT NATURAL HISTORY STUDIES AND BIOMARKER STUDIES THAT FILL UNMET NEEDS FOR PATIENTS WITH RARE NEURODEGENERATIVE DISEASES. THE GOAL OF THESE STUDIES IS TO ADDRESS CRITICAL KNOWLEDGE GAPS, REMOVE MAJOR BARRIERS TO PROGRESS IN THE FIELD AND HELP FACILITATE PRODUCT DEVELOPMENT FOR RARE NEURODEGENERATIVE DISEASES. WHILE THIS IS ONE PROGRAM, I WOULD JUST POINT OUT THAT FOR ANY DISEASE UNDERSTANDING THE NATURAL HISTORY AND THE BIOMARKERS IS ESSENTIAL FOR GOOD PRODUCT DEVELOPMENT AND MAKES A BIG DIFFERENCE IN HOW QUICKLY NEW TECHNOLOGIES CAN MOVE TO TREAT THE DISEASES. THE WORK WE NEED TO DO EXTENDS ALL THE WAY INTO MEDICAL SCHOOL, OTHER HEALTH PROFESSIONS, TO MAKE SURE THIS IS PART OF THEIR CURRICULUM, AND AS I SAID BEFORE, WE NEED TO FOCUS ON GETTING CONTINUAL AND LONG TERM FOLLOW-UP PROBABLY USING ELECTRONIC HEALTH RECORDS AND DIGITAL TECHNOLOGIES THERE. SO THE OPPORTUNITY IS THERE, AND THE CHALLENGE IS IN THE DETAILS AND THE APPLICATION OF THESE STRATEGIES. SO THANKS AGAIN.
I HOPE THIS TURNS OUT TO BE A GREAT WEEK. » THANKS DR. CALIFF. I WILL NOW TURN THE MEETING OVER TO DR. LEWIS FERMAGLICH AND ONE OF OUR ORISE FELLOWS, SHIRA STRONGIN. THEY'LL PROVIDE A BRIEF OVERVIEW OF TODAY'S MEETING BEFORE WE GET STARTED WITH THE PANEL PRESENTATIONS.
THANK YOU, DRS. RETZKY AND CALIFF. I AM HONORED TO ONCE AGAIN ACT AS ONE OF YOUR MASTERS OF CEREMONIES FOR THIS SPECIAL DAY - FDA RARE DISEASE DAY 2023. MY NAME IS LEWIS FERMAGLICH, AND I'M A MEDICAL OFFICER IN THE OFFICE OF ORPHAN PRODUCTS DEVELOPMENT. AS YOU MAY KNOW, THIS IS THE 40TH ANNIVERSARY OF THE ORPHAN DRUG ACT, THE LANDMARK LAW DESIGNED BY AND FOR RARE DISEASE PATIENTS AND THEIR ADVOCATES. THIS TRANSFORMATIVE PIECE OF LEGISLATION HAS RESULTED IN HUNDREDS OF DRUGS DESIGNED SPECIFICALLY FOR PATIENTS WITH RARE DISEASES. FOR THIS SPECIAL OCCASION, I'M JOINED IN THE STUDIO BY SHIRA STRONGIN FROM THE OFFICE OF MEDICAL POLICY.
» I'M SO EXCITED TO BE HERE WITH YOU TODAY, LEWIS! IN ADDITION TO BEING AN ORISE FELLOW HERE AT FDA, I'M ALSO A GRADUATE STUDENT AT GEORGETOWN WORKING TOWARDS A MASTER'S IN CLINICAL AND TRANSLATIONAL RESEARCH. I GOT INTO THIS LINE OF WORK AND STUDY BECAUSE I'M A RARE DISEASE PATIENT, WHICH MAKES IT EVEN MORE SPECIAL TO BE HERE CELEBRATING RARE DISEASE DAY WITH YOU ALL. WHAT WAS IT, 5,700 PEOPLE? THE THEME FOR THIS YEAR'S FDA'S RARE DISEASE DAY IS "INTERSECTIONS WITH RARE DISEASES - A PATIENT FOCUSED EVENT." ONCE AGAIN, WE PARTICIPATED IN THE NATIONAL ORGANIZATION FOR RARE DISORDERS' CAMPAIGN, "LIGHT UP FOR RARE."
EVERY DAY THIS WEEK, FROM DUSK TO DAWN, WE ARE ILLUMINATING BUILDING 1 AT FDA'S WHITE OAK CAMPUS WITH THE COLORS OF RARE DISEASE DAY TO RAISE AWARENESS ABOUT RARE DISEASES AND THEIR IMPACT ON THE LIVES OF PATIENTS AND OUR FAMILIES. » EXCITED TO HAVE YOU HERE HOSTING WITH ME. TODAY WE WILL BE HEARING ABOUT FOUR DIFFERENT TOPICS IN WHICH FDA'S WORK "INTERSECTS" WITH RARE DISEASES: FIRST UP, WE'LL HEAR ABOUT CLINICAL TRIAL CHALLENGES WITH SMALL PATIENT POPULATIONS FOCUSING ON CHILDREN AND IMPROVING DIVERSITY; THEN WE'LL HEAR ABOUT FDA INITIATIVES TO ADVANCE PRODUCT DEVELOPMENT FOR RARE DISEASES; WE'LL THEN HEAR ABOUT OPPORTUNITIES FOR PATIENT ENGAGEMENT WITH FDA AND FINALLY THE ROLE FOR MEDICAL STUDENTS IN SHAPING RARE DISEASE CARE. » AT OUR LUNCH BREAK, WE ARE
PRESENTING VIDEOS FROM FDA'S PROJECT CALLED STORIES FROM THE RARE DISEASE COMMUNITY, YOU MIGHT EVEN RECOGNIZE A FAMILIAR FACE JUST WITH DIFFERENT COLORED HAIR. THE CONFERENCE CONCLUDES WITH OUR OPEN PUBLIC COMMENT PERIOD AND CLOSING REMARKS. » A FEW COMMENTS ABOUT MEETING ETIQUETTE. WE ENCOURAGE ALL INDIVIDUALS TO
CONTRIBUTE TO THE DIALOGUE AND WE APPRECIATE THE OPPORTUNITY TO HEAR YOUR PERSPECTIVES. THE VIEWS EXPRESSED ARE PERSONAL OPINIONS. YOU CAN ASK A QUESTION BY EMAILING: OOPDORPHANEVENTS@FDA.HHS.GOV AND WE'LL TRY TO RESPOND TO AS MANY OF THEM AS TIME PERMITS.
FOR TRANSPARENCY PURPOSES, WHEN YOU'RE SHARING A COMMENT, WE ASK THAT YOU PLEASE DISCLOSE IF YOU'RE AFFILIATED WITH AN ORGANIZATION OR IF YOU HAVE ANY SIGNIFICANT FINANCIAL INTEREST IN RARE DISEASE MEDICAL PRODUCT DEVELOPMENT. » AS YOU CAN SEE ON THIS SLIDE, A PUBLIC DOCKET WILL BE OPEN UNTIL APRIL 7TH TO SUBMIT YOUR COMMENTS. WE HIGHLY ENCOURAGE YOU TO DO SO. A WEBCAST RECORDING AND A TRANSCRIPTION OF THE MEETING WILL BE AVAILABLE ON THE FDA MEETING WEBSITE FOLLOWING THE WEBCAST AND WILL BE AVAILABLE FOR ONE YEAR AFTER THE EVENT.
EVALUATION FORMS WILL BE EMAILED TO YOU FOLLOWING THE MEETING. I CANNOT EMPHASIZE ENOUGH JUST HOW VALUED YOUR FEEDBACK IS! IT HEAVILY INFLUENCED THE THEME AND TOPICS FOR THIS YEAR. » AFTER THE MEETING ENDS TODAY, THERE WILL BE ADDITIONAL OPPORTUNITIES TO INTERACT WITH FDA. THE OFFICE OF ORPHAN PRODUCTS DEVELOPMENT AND THE OFFICE OF PATIENT AFFAIRS ARE HERE AND WANT TO STAY IN CONTACT WITH YOU, WHETHER IT'S HELPING YOU STAY CONNECTED WITH OTHER ACTIVITIES AT FDA, OR ADDRESSING ANY FUTURE QUESTIONS YOU MIGHT HAVE. THIS SLIDE CONTAINS OUR CONTACT INFORMATION. FOR MEDIA INQUIRIES, PLEASE CONTACT OUR PRESS OFFICER, APRIL GRANT.
ALSO, IF YOU CHOOSE TO TWEET ABOUT TODAY'S MEETING, PLEASE USE #FDARAREDISEASEDAY. » LET'S START TODAY'S PROGRAM. OUR FIRST SESSION WILL BE ABOUT UNDERSTANDING CHALLENGES OF CLINICAL TRIALS WITH SMALL PATIENT POPULATIONS, SPECIFICALLY ADDRESSING IMPORTANT CONSIDERATIONS FOR PEDIATRICS AND IMPROVING DIVERSITY. LET'S START WITH SESSION ONE. » GOOD DAY. I'M VERY HAPPY TO BE HERE TODAY. MY NAME IS DR. KERRY
JO LEE. I'M THE ASSOCIATE DIRECTOR FOR RARE DISEASES AS WELL AS THE PROGRAM MANAGER FOR THE CEDR ACCELERATING RARE DISEASE CURES PROGRAM. I AM VERY HAPPY TO BE HERE TO TALK TO YOU ABOUT THIS FIRST SESSION, WHICH IS UNDERSTANDING THE CHALLENGES OF CLINICAL TRIALS WITH SMALL PATIENT POPULATION. OUR FOCUS TODAY, HOWEVER, IS SPECKLY ON IMPORTANT CONSIDERATIONS FOR PEDIATRICS AND FOR IMPROVING DIVERSITY. IN OUR SESSION TODAY, THESE TOPICS WERE CHOSEN AS FOCAL POINTS FOR S EVERAL REASONS.
FIRST OF ALL, IT DOES INCLUDE IMPORTANT AND AT TIMES VULNERABLE POPULATIONS IN DRUG DEVELOPMENT. WE ALSO HAD THE OPPORTUNITY TO SHARE THE FDA'S RECENT THINKING ON THESE TOPICS GIVEN THAT IN 2022 FDA PUBLISHED TWO DRAFT GUIDE'SES ON THESE TOPICS. FIRST BEING ETHICAL CONSIDERATIONS FOR INVESTIGATION OF MEDICAL PRODUCTS INVOLVING DHIRN AND THE SECOND BEING THE DRAFT GUIDANCE FOR DIVERSITY PLANS TO IMPROVE ENROLLMENT OF PARTICIPANTS FROM UNDERREPRESENTED RACIAL POPULATIONS IN CLINICAL TRIALS. WE HAPPEN TO BE LUCKY ENOUGH TO HAVE EXPERTS AND REPRESENTATIVES FROM OUR DRUG PRODUCT CENTERS TO DISCUSS THESE IMPORTANT TOPICS IN THE CONTEXT OF RARE DISEASE DRUG DEVELOPMENT.
WITHOUT FURTHER ADO, I'D LIKE TO INTRODUCE THE PRIMARY SPEAKER AND PANELIST FOR THE FIRST PART OF TODAY'S SESSION, WHICH WILL FOCUS ON PEDIATRIC ETHICS. DR. DONNA SNYDER I S A TEAM LEADER FOR THE ETHICS AND SBEFR NATIONAL TEAM AND SENIOR PEDIATRIC EMPHASIS IN THE OFFICE OF PEDIATRIC THERAPEUTICS AND THE OFFICE OF COMMISSIONER AT THE U.S. FOOD AND DRUG ADMINISTRATION. SHE'S A STANDING MEMBER OF THE FDA PEDIATRIC REVIEW COMMITTEE AND THE FDA INSTITUTIONAL REVIEW BOARD. SHE OVERSEES THE THERAPEUTIC
CONSULTATION SERVICE. DR. SNYDER RECEIVED HER M.D. FROM THE UNIVERSITY OF VIRGINIA AND COMPLETED HER INTERNSHIP AND RESIDENCY AT THE UNIVERSITY OF MARYLAND HOSPITAL. HER CHIEF RESIDENCY AT SINAI HOSPITAL IN BALTIMORE AND A PEDIATRIC ACADEMIC DEVELOPMENT FELLOWSHIP AT JOHNS HOPKINS HOSPITAL AS WELL AS A MASTERS IN BIOETHICS AT THE UNIVERSITY OF PENNSYLVANIA. SHE WILL ALSO BE JOINED IN THE
PANEL DISCUSSION PORTION ON PEDIATRIC ETHICS BY DR. ROCHELLE CAMPBELL FOR THE OFFICE OF NEUROSCIENCE AT THE FDA CENTER FOR DRUG EVALUATION AND RESEARCH. DR. CAMPBELL HAS A Ph.D. IN PHARMACEUTICAL HEALTH RESEARCH AT THE UNIVERSITY OF MARYLAND SCHOOL OF PHARMACY AND HAS SIGNIFICANT EXPERIENCE AS A REVIEWER IN CLINICAL OUTCOME ASSESSMENTED AND SERVES AS SCIENTIFIC COORDINATOR IN THE OFFICE OF NEW DRUGS. DR. CAMPBELL'S NEW FOCUS IS ON PATIENT FOCUSED DRUG DEVELOPMENT AND PATIENT DATA IN THE REGULATORY SETTING.
THEY WILL ALSO BE JOINED BY DR. MARTHA DONOGHUE, A PEDIATRIC ONCOLOGIST AND DEPUTY DIRECTOR OF ONCOLOGY IN THE DIVISION OF ON COLOGICAL DISEASES AT THE FDA AND ALSO SERVES AS ASSOCIATE DIRECTOR OF PEDIATRIC AND RARE CANCER DRUG DEVELOPMENT IN THE ONCOLOGY CENTER OF EXCELLENCE. DR. DONOGHUE RECEIVED HER MEDICAL DEGREE FROM EMERY, COMPLETED AT GEORGETOWN MEDICAL CENTER IN A FELLOWSHIP IN HEMATOLOGY AND ONCOLOGY AT THE NATIONAL MEDICAL CENTER. FINALLY IN THE FINAL PERSON TO JOIN THE PANEL FOR THE PEDIATRIC ETHICS PORTION WILL BE DR. ELIZABETH HART, THE BRANCH CHIEF OF GENERAL MEDICINE ONE IN THE OFFICE OF THERAPIES IN THE OFFICE OF BIOLOGICS AT THE FOOD AND DRUG ADMINISTRATION. SHE COMPLETED AT UNIVERSI TY OF PENNSYLVANIA.
A RESIDENCY IN RAINBOW BABIES CHILDREN'S HOSPITAL AND PEDIATRIC ENDOCRINOLOGY AT BOSTON CHILDREN'S HOSPITAL. WITH ALL OF THAT BEING SAID, WITH A WONDERFUL PANEL, DR. SNYDER, WOULD YOU LIKE TO START US OFF WITH SOME FUNDAMENTALS IN PEDIATRIC ETHICS. » HAPPY TO BE HERE TODAY ON THIS PANEL. LET ME LOOK AT THE SLIDES. WE CAN GO TO THE NEXT SLIDE PLEASE.
THIS IS JUST MY DISCLOSURE. I DON'T HAVE ANYTHING TO DISCLOSE. MY OPINIONS ARE NOT NECESSARILY THOSE OF THE FDA. NEXT SLIDE PLEASE. THESE ARE THE TOPICS THAT I'LL
COVER TODAY. THE BASIC ETHICAL FRAMEWORK IN PEDIATRICS, THE ADDITIONAL SAFEGUARDS FOR CHILDREN, WHICH IS ESSENTIALLY PART D. MINIMUM RISK. THE GUIDANCE. I KNOW IT WAS ALREADY MENTIONED THAT BY THE FDA IN SEPTEMBER OF 2022. AS PART OF THE GUIDANCE WE ALSO
ISSUED A SNAPSHOT WHICH YOU CAN FIND ON THE FDA WEBSITE. A SNAPSHOT ON THE GUIDANCE AND POTENTIAL AND EASIER WAY TO REVIEW THE CONTENTS FOR PEOPLE TO HAVE WHEN THINKING ABOUT STUDIES AND THEY NEED SOMETHING. MAYBE QUICK AND EASY TO LOOK AT THE GUIDANCE. I HAVE A PODCAST WHICH OFFERS SOME OF THE CONCEPT THAT'S ARE IN THE GUIDANCE AND MAY BE HELPFUL TO USE AS AN EDUCATIONAL TOOL OR TO LEARN MORE ABOUT PEDIATRIC ETHICS OVERALL. NEXT SLIDE PLEASE. THIS IS THE BASIC ETHICAL FRAMEWORK IN PEDIATRICS, AND IT WAS DESIGNED BY THE BEHAVIORAL RESEARCH IN THE 1970 s. THIS COMMISSION WAS SET UP IN ORDER TO DISCUSS A VARIETY OF BIOMEDICAL ISSUES RELATED TO PEDIATRIC AND ADULT ETHICS, AND THEY CAME OUT WITH A NUMBER OF REPORTS, THE MOST FAMOUS ONE BEING THE BELMONT REPORT. THE ONE THAT'S MOST IMPORTANT
TO CHILDREN IS THEIR REPORT ON RESEARCH INVOLVING CHILDREN. THESE BASIC CONCEPTS ARE THE FOLLOWING. CHILDREN SHOULD ONLY BE ENROLLED IF SCIENTIFIC OR PUBLIC HEALTH OBJECTIVES CANNOT BE MET THROUGH ENROLLING SUBJECTS WHO CAN CONSENT PERSONALLY. THIS IS THE PRINCIPLE OF SCIENTIFIC NECESSITY AND ONE OF THE CONCEPTS RELATED TO THE PRINCIPLE OF SCIENTIFIC NECESSITY IS THAT DATA SHOULD BE EXTRAPOLATED TO CHILDREN, WHEN POSSIBLE, TO MINIMIZE THE NEED TO COLLECT DATA IN CHILDREN. YOU'LL SEE AT THE BOTTOM OF THE SLIDE I REFERENCED E11A PEDIATRIC EXTRAPOLATION GUIDANCE RELEASED IN AUGUST OF 2022. ABSENT A PROSPECT OF DIRECT
CLINICAL BENEFIT, THE RISKS TO WHICH CHILDREN ARE EXPOSED MUST BE LOW. THIS IS BASICALLY WHAT YOU'LL SEE WHEN I TALK ABOUT THE SUBPART B REGS AND HOW THEY ADDRESS THIS. NUMBER 3 IS CHILDREN SHOULD NOT BE PLACED AT A DISADVANTAGE BY BEING ENROLLED IN A CLINICAL TRIAL EITHER THROUGH EXPOSURE TO EXCESSIVE RISKS OR BY FAILING TO GET NECESSARY HEALTHCARE.
NUMBER 4 IS VULNERABLE POPULATIONS UNABLE TO CONSENT, INCLUDING CHILDREN, SHOULD HAVE A SUITABLE PROXY TO CONSENT FOR THEM. NEXT SLIDE, PLEASE. IN THIS SLIDE DEPICTS WHAT'S I N SUBPART D REGULATIONS, THE ADDITIONAL SAFEGUARDS FOR CHILDREN'S CLINICAL INVESTIGATION AND SHOWS US WHAT AN IRB CAN APPROVE WHEN THEY LOOK AT A RESEARCH STUDY. RESEARCH INVOLVING CHILDREN EITHER MUST BE RESTRICTED TO MINIMAL RISK OR A MINOR RISK IF ABSENT A POTENTIAL DIRECT BENEFIT TO THE ENROLLED CHILD. OR IF THERE IS A PROSPECT OF DIRECT BENEFIT TO THE CHILD, THE RISK MUST BE JUSTIFIED WHERE THE BALANCE OF THE RISK BENEFIT MUST BE AT LEAST FAVORABLE AS ANY AVAILABLE ALTERNATIVES. THIS IS 21 CFR 50.52.
FINALLY, PERMISSION BY PARENTS OR GUARDIANS AND ASSENT BY CHILDREN IF THEY'RE CAPABLE OF ASSENTING. 21 CFR 50.55. NEXT SLIDE, PLEASE. THIS IS MINIMAL RISK. MINIMAL RISK MEANS THE PROBABILITY AND MAGNITUDE OF HARM AND DISCOMFORT ANTICIPATED IN THE RESEARCH ARE NOT GREATER THAN THEMSELVES AS LONG AS THE PERFORMANCE OF ROUTINE PHYSICAL OR PSYCHOLOGICAL EXAMINATION OF THEIR TESTS. THIS IS ANOTHER CONCEPT DISCUSSED BY THE NATIONAL COMMISSION AND THE RISK TO A HEALTHY CHILD. IT IS CONSIDERED TO BE MINIMAL RISK THAT MAY INCLU DE A SINGLE BLOOD DRAW, PHYSICAL EXAM, CHEST X RAY AND SURVEYS. AN INVESTIGATIONAL DRUG UTILIZE
NORTHBOUND A CLINICAL INVESTIGATION THAT INCLUDES CHILDREN IS GENERALLY NOT CONSIDERED MINIMAL RISK. NEXT SLIDE, PLEASE. THE MINIMAL RISK IS A LOT OF WORDS TO SAY, BUT ESSENTIALLY THE NATIONAL COMMI SSION WHEN THINKING ABOUT THIS, PARTICULARLY THERAPEUTIC STUDIES, THERE IS A LOT OF DISCUSSION ABOUT WHETHER OR NOT MINIMAL RISK AND THE PROSPECT OF DRUG BENEFIT WITH THE PARADIGM FOR THE MOST APPROPRIATE PATIENT POPULATION. AS THEY THOUGHT ABOUT THIS , THIS CONCEPT DEVELOPED BECAUSE THEY THOUGHT THERE MIGHT BE SITUATIONS WHERE IT MIGHT NEED TO BE SLIGHTLY ABOVE MINIMAL IN ORDER TO COLLECT DATA IN CHILDREN BUT THAT THERE MIGHT NOT BE A DIRECT BENEFIT. BUT THERE ARE SOME OTHER
PARAMETERS THAT THEY ARE TRYING IN THIS PARTICULAR LEVEL OF RISK. IN ORDER FOR SOMETHING TO BE A MINOR INCREASE OF A MINIMAL RISK, IT NEEDS TO BE A CONDITION WHERE PROCEDURES OR INTERVENTIONS CAN'T BE DONE IN WHAT WE CONSIDER TO BE HEALTHY CHILDREN WHO DIDN'T HAVE THAT DISORDER. AND THE DATA THAT'S COLLECTED, IT NEEDS TO LEAD TO GENERALIZABLE KNOWLEDGE ABOUT THE DISORDER OR CONDITION THAT IS OF VITAL IMPORTANCE FOR THE UNDERSTANDING OF THE SUBJECT'S CONDITION. PROCEDURES ARE INTERVENTION
THAT'S MAY BE CONSIDERED TO BE MINOR INCREASE OVER MINIMAL RISK MAY INCLUDE URINE COLLECTION VIA A CATHETER, A SINGLE LUMBAR PUNCTURE, AND A SINGLE DOSE OF AN INVESTIGATIONAL DRUG WITH A DEQUATE SAFETY INFORMATION. THAT LEADS TO THE COLLECTION OF PHARMACOKINETICS DATA WHERE WE DO STUDIES TO GIVE THEM A SINGLE DOSE OF A DRUG TO COLLECT INFORMATION ON THAT DRUG. THOSE STUDIES ARE DONE IN THE POPULATION THAT HAVE THE DISEASE, BUT THERE MAY NOT BE ANY BENEFIT TO RECEIVING THAT SINGLE DOSE. HOWEVER, THERE NEEDS TO BE
ADEQUATE SAFETY INFORMATION TO SUPPORT THAT STUDY FOR CHILDREN. NEXT SLIDE, PLEASE. THIS SLIDE TALKS ABOUT THE DIRECT BENEFIT CRITERIA IN 21 CFR 50.52.
IT TALKS ABOUT THE BENEFIT TO THE INDIVIDUAL CHILD. YOU NEED TO THINK ABOUT IT ON THE LEVEL OF THE CHILD HAS A LEVEL OF BENEFIT TO SOCIETY OR TO OTHERS. AND THE INVESTIGATIONAL DRUG OR MEDICAL DEVICE IN THE CLINICAL INVESTIGATION. IT'S ALSO NOT RELATED TO ANCILLARY INTERVENTION OR PROCEDURES. SO JUST BECAUSE A CHILD NEEDS ADDITIONAL PHYSICAL EXAM INS A STUDY, THAT DOESN'T JUSTIFY THE RISK TO THE EXPOSURE TO A PARTICULAR DRUG. YOU NEED TO MAKE THAT RISK RISK-BENEFIT DETERMINATION BASED ON THE RISK OF THE DRUG AND THE BENEFIT OF THE DRUG.
ALSO THE DOSE AND THE CHARACTERISTICS OF THE DEVICE ARE APPROPRIATE AND STUDY DURATION ARE ADEQUATE TO SUPPORT A BENEFIT. WE TALK A LITTLE BIT MORE ABOUT THAT ON THIS NEXT SLIDE. AGAIN, THE RISKS OF THE INTERVENTION OR PROCEDURES MUST BE JUSTIFIED BY THE ANTICIPATED BENEFIT TO THE CHILD AND THE RELATION OF THE ANTICIPATED BENEFIT TO THE RISK MUST BE AT LEAST AS FAVORABLE AS ANY AVAILABLE ALTERNATIVES. THIS IS ABOUT WHAT OTHER ALTERNATIVES ARE AVAILABLE FOR THE CHILD AND WHETHER OR NOT EXPOSING THE CHILD TO THE RISK OF THIS PARTICULAR PRODUCT IS BASED ON WHAT ELSE IS OUT THERE TO TREAT THAT CHILD'S CONDITION. THIS IS A COMMON BASIS FOR IRB APPROVAL OF TRIALS OF INVESTIGATIONAL MEDICAL PRODUCTS IN CHILDREN.
NEXT SLIDE, PLEASE. SO DATA TO SUPPORT PROOF OF CONCEPT IS OFTEN ADULT DATA, BUT IT MAY NOT BE NEEDED TO INITIATE THERAPY IN PEDIATRIC PATIENTS. DATA MAY BE NEEDED THAT PRIMARILY IMPACT CHILDREN. A MINIMAL ASSESSMENT DOSE MUST BE TESTED AGAINST BENEFIT. A LOWER DOSE MIGHT BE SAFER, BUT IF IT DOESN'T HAVE SOME POTENTIAL FOR BENEFIT, WE GENERALLY DON'T WANT TO EXPOSE A CHILD TO THAT DOSE.
FINALLY, THE CLINICAL INVESTIGATION MUST BE OF A SUFFICIENT DURATION TO PROVIDE A PROSPECT OF DIRECT BENEFIT. THAT'S IN THE CONTEXT OF THE CLINICAL STUDY AND IS SIMILAR TO JUDGMENTS MADE IN CLINICAL PRACTICE. WHEN YOU LOOK AT THAT PROTOCOL, THE PROTOCOL NEEDS TO RUN LONG ENOUGH TO SEE SOME SORT OF MEASURABLE SUCCESS FROM THE EXPOSURE TO DRUGS FOR THE CHILD IN THAT TRIAL AND IT MUST BE LONG ENOUGH TO IMPACT A RELEVANT CLINICAL OUTCOME OR AN ACCEPTED SURROGATE ENDPOINT FOR THE CHANGE THAT YOU LOOK FOR. NEXT SLIDE, PLEASE. SO COMPONENT ANALYSIS IS WHAT WE USE TO LOOK AT RISK BENEFIT STUDY. WE TALK MAINLY ABOUT THE
EXPOSURE TO A DRUG IN THIS STUDY AND WHETHER OR NOT THERE'S A PROSPECT OF RISK BENEFIT. IT INCLUDES MANY INTERVENTIONS OF PROCEDURES. AS I MENTIONED, A LUMBAR PUNCTURE IS ONE PROCEDURE. THE URINE CATHETERIZATION, ALL THOSE NEED TO BE ASSESSED IN TERMS OF IS THERE A PROSPECT OF DIRECT BENEFIT TO THE CHILD OR NOT? AND ANY INTERVENTION OR PROCEDURE CONDUCTED SOLELY FOR RESEARCH SHOULD BE EVALUATED SEPARATELY TO DETERMINE THROUGH THIS PROCESS LOOKING AT RISKS AND BENEFITS TO SEE WHETHER OR NOT IT OFFERS THAT PROSPECT TO RISK BENEFIT AND WHETHER IT MEETS THE PRIMARY INCREASE OF MINIMAL RISK OR MINOR INCREASE OVER MINIMAL RISK. THESE ARE A COUPLE OF BENEFITS OF LOOKING AT COMPONENT ANALYSIS. THIS IS
NOT THE SOLE LIST OF THINGS TO CONSIDER WHEN LOOKING AT COMPONENT ANALYSIS. THE BIG ONE IS PLACEBO. FOR CHILDREN EXPOSED IN THE ACTIVE STUDY OF PLACEBO CONTROL TRIAL, THOSE KIDS BENEFIT. FOR THOSE INDIVIDUALS IN THE PLACEBO ARM, THOSE CHILDREN DO NOT BENEFIT.
IN THAT PARTICULAR ARM, THE RISKS THAT THE CHILD IS EXPOSED TO NEED TO MEET THAT MINOR INCREASE OVER MINIMAL RISK THRESHOLD. ANOTHER THING TO THINK ABOUT IS NONTHERAPEUTIC PROCEDURAL SEDATION. ANY TIME SEDATION IS DONE IN A STUDY, THERE'S A QUESTION OF WHETHER THAT PARTICULAR PROCEDURE MIGHT NEED SOME SORT OF SEDATION. NOT ALL PROCEDURES DO, BUT
MANY TIMES FOR YOUNG CHILDREN WE NEED TO GIVE THEM SEDATION SO WE CAN GET ACCURATE IMAGING ON THAT CHILD AS WELL AS KEEP THEM CALM DURING THE PROCEDURE. SO WHEN WE LOOK AT THIS RISK, AGAIN THAT RISK NEEDS TO MEET THAT MINOR INCREASE OVER MINIMAL RISK THRESHOLD. BECAUSE THIS IS SUCH A BIG CONCERN OR SOMETHING WE THINK ABOUT QUITE FREQUENTLY, THE FDA DID INITIATE A PEDIATRIC ETHICS COMMITTEE MEANING THE PEDIATRICS SUBCOMMITTEE IS IN THE PEDIATRIC ADVISORY COMMITTEE, AND THEY MET IN 2015 TO DISCUSS THE CONSIDERATION OF NONTHERAPEUTIC PROCEDURAL SEDATION IN STUDIES. THEY CAME UP WITH A SPECIFIC LIST OF THINGS THAT MET THE MINOR INCREASE OVER MINIMAL THRESHOLD OR MIGHT EXCEED IT, BUT THEY CAME UP WITH A SERIES OF MITIGATIONS THAT MIGHT LOWER THE RICK OF CHILDREN EXPOSED TO THIS NONTHERAPEUTIC PROCEDURAL SEDATION IN STUDIES. IF YOU GO TOWARDS THE GUIDANCE, IT DOES INCLUDE THOSE RECOMMENDATIONS SO YOU CAN EASILY ACCESS THOSE, AND WE ENCOURAGE INVESTIGATORS TO LOOK AT THOSE AND SPONSORS TO PLACE THOSE RECOMMENDATIONS IN THEIR PROTOCOLS. NEXT SLIDE, PLEASE.
SO WE TALKED ABOUT THE CRITERIA UNDER WHICH AN IRB CAN IMPROVE A PROTOCOL, BUT IF AN IRB REVIEWS THE PROTOCOL AND FINDS THAT IT DOESN'T MEET THOSE REQUIREMENTS, THERE'S MINIMAL RISK, MINOR INCREASE OVER MINIMAL RISK, OR PROSPECT OF DIRECT , AND PRESENTS A REASONABLE OPPORTUNITY TO UNDERSTAND, PREVENT, OR ALLEVIATE A SERIOUS PROBLEM AFFECTING THE HEALTH OR WELFARE OF THE CHILDREN, THE IRB CAN REFER THE PROTOCOL TO FDA TO INITIATE A PUBLIC REVIEW OF THE PROTOCOL BY A FEDERAL PANEL OF EXPERTS. THAT WOULD BE THE PEDIATRIC SUBCOMMITTEE AND THE PEDIATRIC ADVISORY COMMITTEE MEETING TOGETHER. THAT PANEL WOULD MEET. WOULD ALSO OFFER OPPORTUNITY FOR THE PUBLIC TO COMMENT BOTH OPENING UP THE DOCKET AND OFFERING THAT PEOPLE COULD ATTEND THE MEETING TO PROVIDE THEIR OPINIONS ON THE PROTOCOL. THOSE RECOMMENDATIONS ARE SENT TO THE FDA COMMISSIONER WHO THEN REVIEWS THE INFORMATION AND DETERMINES WHETHER OR NOT THE INVESTIGATION EITHER MIGHT MEET THOSE CRITERIA THE IRB DIDN'T INITIALLY THINK THEY COULD IMPROVE THE PROTOCOL UNDER OR MEET UNDER THIS CRITERIA UNDER 21 CFR 50.54.
OR THE COMMISSION COULD POTENTIALLY DECIDE THAT HE OR SHE DIDN'T THINK THE STUDY S HOULD PROCEED AT ALL. NEXT SLIDE, PLEASE. I THINK IT'S IMPORTANT TO NOTE THAT, ALTHOUGH WE INITIALLY PROVIDE THE PARENT OR GUARDIAN WITH A FORM AT THE BEGINNING OF THE STUDY AND THAT FORM MUST MEET CERTAIN REQUIREMENTS UNDER OUR REGS WHICH ARE LISTED AT THE THIRD BULLET ON THIS SLIDE, IT'S REALLY IMPORTANT THAT PARENTS AND GUARDIANS BE INVOLVED IN ONGOING CONSENT AND ONGOING UNDERSTANDING OF THE TRIAL AS THE TRIAL PROGRESSES. SO WE FIRST START WITH THE FORM, GO THROUGH WHAT THE STUDY REQUIREMENTS ARE, BUT AS THE STUDY GOES ON, ASK WHETHER OR NOT THE PARENT HAS QUESTIONS IF THERE'S ANY NEW INFORMATION THAT SURFACES DURING THE COURSE OF THE STUDY, THE PARENT MUST BE INFORMED OF THAT INFORMATION AND THAT SHOULD BE DISCUSSED SO WE CAN DETERMINE WHETHER OR NOT THEY'RE WILLING TO CONTINUE IN THE TRIAL. AT ONE POINT ON THIS SLIDE, IT IS IMPORTANT THAT, WHEN THE CHILD REACHES ADULTHOOD, THAT THAT CHILD BE CONSENTED AS AN ADULT AND HAVE THE OPPORTUNITY TO DECIDE WHETHER OR NOT THEY WANT TO CONTINUE IN THAT TRIAL. NEXT SLIDE, PLEASE.
THIS SLIDE TALKS ABOUT CHILD ASSENT AND ONE IMPORTANT CONCEPT OF CHILD ASSENT IS THAT THE CHILD NEEDS TO PROVIDE AFFIRMATIVE AGREEMENT TO PARTICIPATE IN THE CLINICAL TRIAL. FAILURE TO OBJECT WE CONSTRUE THIS AS ASSENT. IT'S NOT IMPORTANT THAT THE CHILD UNDERSTAND EVERY ASPECT OF THE PROTOCOL OR THE STUDY BECAUSE WE UNDERSTAND THAT DEPENDING OP THE DEVELOPMENTAL ABILITIES OF THE CHILD, IT MIGHT DIFFER. BUT TO THE
EXTENT THAT THE CHILD IS ABLE TO PROVIDE ASSENT, WE WANT THAT ASSENT. THEY MAY BE ABLE TO OFFER STUDY AVAILABLE OUTSIDE THE RESEARCH THAT IS LIFE SAVING. NEXT SL IDE, PLEASE. THIS IS A SUMMARY OF MY TALK. THERE ARE ADDITIONAL SAFEGUARDS IN PLACE THAT LIMIT THE RISK TO WHICH CHILDREN CAN BE EXPOSED WITHOUT A PROSPECT OF DIRECT BENEFIT. CHILDREN SHOULD NOT BE ENROLLED IN A CLINICAL TRIAL UNLESS NECESSARY TO ANSWER AN IMPORTANT SCIENTIFIC OR PUBLIC HEALTH QUESTION ABOUT THE HEALTH AND WELFARE OF CHILDREN. THE SUFFICIENT PROSPECT OF
DIRECT BENEFIT IS ESTABLISHE D TO JUSTIFY RISK USING NONCLINICAL MODELS. STUDIES MAY BE INITIATED IN CHILDREN FOR DISEASE THAT'S OCCUR PRIMARILY OR ONLY IN CHILDREN TO WHICH THERE ARE LIMITED OR IN OTHER TREATMENT OPTIONS. AND ONGOING INFORMED CONSENT DISCUSSIONS FROM PATIENTS AND CAREGIVERS ON RISK OF STUDY PARTICIPATION ARE PARAMOUNT. NEXT SLIDE, PLEASE. THIS SLIDE INCLUDES SOME RESOURCES THAT MIGHT BE HELPFUL WHEN CONSIDERING ENROLLING KIDS IN STUDIES, INCLUDING THE LINK TO THE GUIDANCE I ALREADY MENTIONED AS WELL AS OTHER HELPFUL GUIDANCES IN PEDIATRIC DRUG DEVELOPMENT. NEXT SLIDE, PLEASE.
THANK YOU VERY MUCH FOR YOUR ATTENTION. I LOOK FORWARD TO HEARING THE PANEL DISCUSSION. » THANK YOU SO MUCH, DONNA. IT'S DR. LEE AGAIN. I AM HAPPY TO OPEN THE PORTION OF THE PANEL DISCUSSION. THANK YOU, DR. CAMPBELL, HART, AND DONOGHUE FOR JOINING US FROM YOUR RESPECTIVE DRUG PRODUCT CENTERS. I'D LIKE T O START OFF WITH A
QUESTION TO DR. CAMPBELL. SO WE JUST HEARD DR. SNYDER DISCUSS THE ETHICAL FRAMEWORK FOR CLINICAL INVESTIGATIONS IN PEDIATRIC DRUG DEVELOPMENT. HOW DOES THE OFFICE OF NEUROSCIENCE IN CDER INCORPORATE THIS FRAMEWORK INTO YOUR DEVELOPMENT PROGRAMS? » THANK YOU, DR. SNYDER, FOR THAT GREAT PRESENTATION.
GOOD MORNING TO EVERYONE WHO'S JOINED ONLINE VIRTUALLY FOR THIS IMPORTANT CONVERSATION THAT REALLY FOCUSES ON A LOT OF WHAT I FEEL IS OUR EVERYDAY WORK WHEN WE ARE REVIEWING TRIAL DESIGN, APPROPRIATE ENDPOINT SELECTION, AND DURATION OF TRIAL. OBVIOUSLY MOST OF OUR RARE DISEASE POPULATIONS, WE'VE SEEN A LOT IN THE PEDIATRIC SPACE, AND SO WE ARE CONSTANTLY THINKING ABOUT WHAT IS THE BENEFIT? IS THERE A PERCEIVED BENEFIT? WHAT IS THE RISK OF DEVELOPING THIS PROTOCOL, DEVELOPING THIS TRIAL DESIGN, THE LENGTH OF TRIAL? DOES THIS MAKE SENSE? IT IS CONSTANTLY IN THE FOREFRONT OF OUR MIND WHEN REVIEWING PROTOCOLS THAT COME IN FROM VARIOUS SPONSORS. IN THE OFFICE OF NEUROSCIENCE, WE'RE SEEING A LOT OF RARE DISEASES WHERE OFTEN THERE IS PROGRESSION EITHER VERY SLOW OR VERY FAST RAPIDLY PROGRESSING NEURODEGENERATIVE DISEASES IN OUR PEDIATRIC PATIENTS AND OUR ADULT POPULATION AS WELL. ON THE PEDIATRIC SIDE, WE UNDERSTAND THAT THE OPPORTUNITY TO INTERVENE MAY BE IN A LIMITED WINDOW DEPENDING ON WHEN THAT DIAGNOSIS HAPPENS AND WHAT WE UNDERSTAND ABOUT THE CURRENT CONDITION. SO WE ARE CONSTANTLY THINKING ABOUT WHAT IS THE BROADEST POPULATION THAT WE CAN STUDY IN A TIME FRAME THAT WILL GIVE US THE BEST ANSWERS TO INTERPRET THAT DATA? AND THAT WILL LOOK DIFFERENT AMONG EVERY DRUG DEVELOPMENT PROGRAM.
A LOT OF THAT INFORMATION CAN BE BASED UPON GOOD, HIGH QUALITY, REGULATORY COLLECTED NATURAL HISTORY DATA, CAN HELP INFORM US IN THAT TRIAL DESIGN. ONE EXAMPLE THAT WE LIKE TO TALK ABOUT IS WHAT HAPPENED IN SMA. STATISTICALLY WHEN WE THINK ABOUT CLINICAL TRIALS IN THE BROADEST SENSE, WE ARE STARTING WITH OUR ADULT POPULATIONS, CORRECT? IF WE WER E IN A MORE COMMON DISEASE, WE WOULD START WITH ADULT POPULATIONS WHERE YOU START WITH HEALTHY ADULTS AND THEN PROGRESS TO THE ACTUAL DISEASE DISEASED PATIENTS AND START THERE AND LEARN FROM THEM BECAUSE WE RECOGNIZE THAT DOING DRUG TRIALS IN PEDIATRICS OFFERS A LOT MORE RISK, AND WE NEED TO HAVE A BETTER UNDERSTANDING OF HOW OUR TREATMENTS WILL WORK IN PEDIATRICS. WE OFTEN NEED TO LEVERAGE WHAT CAN WE LEARN FROM ADULTS? THAT IS NOT NECESSARILY TRUE IN RARE DISEASES, PARTICULARLY WHEN THEY START IN PEDIATRICS AND IDENTIFIED WHEN THE CHILD IS YOUNG. IN THE CASE OF SMA, WHICH IS PROGRESSIVELY DISEASE FOR SMA TYPE 1. WE TRY TO PROVIDE ADVICE ON ACTUALLY LOOKING ATHE MOST SEVERE POPULATION FIRST, WHICH IS A LITTLE BIT OF A REVERSE APPROACH, IF YOU THINK ABOUT IT, BUT IT DID ALLOW US TO STUDY THE MOST SEVERE AND THEN EXTRAPOLATE THAT INFORMATION GOING FORWARD THROUGH RIGOROUS STUDIES, NONCLINICAL STUDIES, AS WELL AS ADDITIONAL STUDIES THE SPONSOR WA S PUTTING ON IN THE OLDER AGE RANGES OF SMA. AND FROM THAT
WE WERE ACTUALLY ABLE, DUE TO A POSITIVE INTERIM ANALYSIS, WHERE WE WERE SEEING A TREATMENT BENEFIT, ABLE TO END THE STUDY EARLY AND THE PLACEBO ARM WAS ABLE TO GO AND RECEIVE TREATMENT. SO THERE'S A LOT OF CONSIDERATION WHEN WE'RE IDENTIFYING THE APPROPRIATE POPULATION IN OUR PEDIATRIC TRIALS TO MAKE SURE WE'RE GOING TO BE ABLE TO GET THE MOST INTERPRETABLE INFORMATION THAT WILL COME FROM THESE TRIALS TO THIS DESIGN. THAT'S WHY WE ENCOURAGE THEM TO TALK TO US EARLY IN PRESENTING THE DATA YOU HAVE -- NATURAL HISTORY, OBSERVATIONAL, ANY HUMAN STUDIES YOU MAY HAVE -- THAT CAN REALLY HELP US LEARN AND PROVIDE YOU THE BEST ADVICE ON HOW TO START A CLINICAL TRIAL IN THE PEDIATRIC R ARE DISEASE POPULATION. » THANK YOU, DR. CAMPBELL. I WANT TO UNDERSCORE THE IMPORTANT POINTS THAT A LOT DOES DEPEND ON THE NATURAL HISTORY DATA AND UTILIZING THAT TO INFORM TRIAL DESIGN. BECAUSE AT THE END OF THE DAY WHAT YOU NEED TO DO IS COLLECT INTERPRETABLE DATA ON THE POPULATION THAT'S BEING STUDIED. THANK YOU FOR THAT.
DR. HART, I'M GOING TO TURN IT OVER TO YOU AT THIS POINT AND ASK YOU A QUESTION. I KNOW DR. CALIFF MENTIONED HIS EXCITEMENT ABOUT CHALLENGING GENE THERAPIES FOR PATIENTS.
ARE THERE ANY UNIQUE CONSIDERATIONS FOR DEVELOPING CELL AND GENE THERAPIES FOR CHILDREN? » ETHICS APPLY FOR DEVELOPMENT OF CELL AND GENE THERAPIES. EVERYTHING MICHELLE SPOKE ABOUT APPLIES. EVERYTHING DONNA SPOKE ABOUT APPLIES. IT OFFERS A POTENTIAL FOR RARE
DISEASES. IT'S A REALLY EXCITING TIME. HOWEVER, GENE THERAPIES ARE OFTEN ASSOCIATED WITH SERIOUS AND LIFE THREATENING IMMEDIATE AND L ONG TERM REGS FROM THE PRODUCT AND THE MISSION THAT'S REQUIRED. FROM A PRODUCT PERSPECTIVE, IT'S TYPICALLY UNREASONABLE TO EXPOSE OTHERWISE HEALTHY PEOPLE TO THE RISK FROM GENE THERAPY. THIS HAS AN IMPACT ON
CLINICAL DEVEL OPMENT. LET ME TELL YOU ABOUT A SPECIFIC CLINICAL DEVELOPMENT PROGRAM. A VIRAL GENE THERAPY WAS RECENTLY APPROVED THIS YEAR. IT SLOWS NEUROLOGIC DYSFUNCTION IN BOYS WITH EARLY ACTIVE CEREBRAL ADRENAL DYSTROPHY. THAT'S A LONG
NAME. FOR THE REST OF THE TALK, I WILL CALL IT CALD. CALD IS A RARE SEVERE NEURODEGENERATIVE METABOLIC DISEASE. BOYS ARE BORN HEALTHY, AND THEN THEY TYPICALLY BECOME SYMPTOMATIC DURING EARLY CHILDHOOD. THEY DEVELOP CLUMSINESS, INATTENTION, AND THEN UNFORTUNATELY THE NEUROLOGIC SYMPTOMS PROGRESS, AND BOYS BECOME INCONTINENT.
THEY'RE UNABLE TO FEED, REQUIRING TUBE FEEDING. THEY HAVE A LOSS OF AMBULATION, THEY LOSE THE ABILITY TO COMMUNICATE, DEVELOP CLINICAL BLINDNESS, AND EVENTUALLY LOSE ALL VOLUNTARY MOVEMENTS. WITHOUT TREATMENT, DEATH USUALLY OCCURS IN ADOLESCENCE. AS A FUNCTIONAL COPY OF THIS MISSING DNA IS CAPABLE OF PRODUCING A FUNCTIONAL PROTEIN, AND IT'S BELIEVED THAT ONCE THIS IS INTRODUCED, IT WILL BE ABLE TO SLOW OR POSSIBLY PREVENT THE FURTHER DEMILE -- DEMYELINATION. THERE IS NOT AN ADULT POPULATION WITH THE FORM OF THIS DISEASE. NOW WE ARE LEFT WITH A GENE THERAPY THAT CANNOT BE TESTED IN HEALTHY ADULTS. THERE ARE NO ADULT POPULATION
WITH THE DISEASE. IT CLEARLY HAS MORE THAN A MINOR INCREASE OVER MINIMAL RISK. SO WE NEED TO GET PROSPECT OF DIRECT BENEFIT FROM SOME OTHER SOURCE.
THERE WAS A MECHANISTIC RATIONALE. THERE WAS ALSO IN-VITRO PHARMACOLOGIC STUDIES AND IN VIVO MOUSE MODEL STUDIES THAT WERE ABLE TO DEMONSTRATE PROSPECT OF DIRECT BENEFIT. THIS ALLOWED THE INITIATION OF THE CLINICAL STUDIES IN CHILDREN.
I'D LIKE TO TALK ABOUT ANOTHER KEY ETHICAL ASPECT OF PEDIATRIC DEVELOPMENT, AND THAT IS INFORMED CONSENT. THIS IS QUINTESSENTIAL TO ENSURING POTENTIAL RISKS TO SUBJECTS HAVE AUTONOMY. A VERY IMPORTANT ETHICAL PRINCIPLE. SO WHEN DEVELOPMENT AGAIN NATURAL LY NATURALLY COMES WITH THE PRODUCT, SO THERE'S GREATER UNCERTAINTY. THERE'S A THEORETICAL RISK OF MALIGNANCY WITH THIS PRODUCT. DURING THIS DRUG DEVELOPMENT
PROGRAM, THERE WERE ACTUALLY THREE CASES OF MYELOID SYNDROME, A PHENOCO LOGIC MALIGNANCY. THIS CHANGED FROM A THEORETICAL RISK TO AN ACTUAL RISK. IT LED TO A NEED TO MAKE SOME CHANGES IN THE PROTOCOL AND PROCEDURES TO FACILITATE INCREASED SCREENING FOR MALIGNANCY, TO ALLOW FOR THE INCLUSION OF SUBJECTS WHO MAY HAVE BEEN LOST TO FOLLOW-UP, REVISIONS TO THE INFORMED CONSENT AND ASSENT FOR PATIENTS WHO WOULD BE RECEIVING ELICELL UNDER INVESTIGATIONAL STUDY.
ULTIMATELY THE CLINICAL STUDIES SHOWED THAT THE TREATED SUBJECTS IMPROVED. THE 24 MONTHS FUNCTIONAL DISABILITY SURVIVAL COMPARED TO HISTORICAL CONTROLS WAS DRAMATIC. THIS SUPPORTED ACCELERATED APPROVAL FOR THIS INTERMEDIATE CLINICAL ENDPOINT. IT WAS DETERMINED TO BE A FAVORABLE BENEFIT RISK. SO CLEARLY, AS YOU CAN SEE, PEDIATRIC ETHICAL CONSIDERATIONS WERE PRESENT THROUGHOUT DEVELOPMENT. » THANK YOU, DR. HART. THOSE ARE
SOME, I THINK, REALLY ILLUSTRATIVE EXAMPLES OF THE CHALLENGES AND THE COMPLEXITIES OF CELL AND GENE THERAPY, PARTICULARLY THE RISK, WHICH CAN BE GREAT, IN MATERIALS -- TERMS OF THESE THERAPIES AS WELL AS, I WANTED TO POINT OUT THE IMPORTANCE OF STRONG PRECLINICAL WORK AND TRANSLATIONAL SCIENCE AND HOW THAT AFFECTS THE DECISIONS, THE REGULATORY DECISIONS THAT YOU MAKE AND REALLY THE BODY OF EVIDENCE THAT CAN INFORM YOUR DECISION-MAKING. SO THANK YOU FOR THAT. FINALLY, DR. DONOGHUE, I WOULD LOVE TO ASK YOU TO DESCRIBE A LITTLE BIT ABOUT HOW THE APPLICATION OF THE ETHICAL FRAMEWORK, PEDIATRIC ETHICAL FRAMEWORK FOR ENROLLING PEDIATRIC PATIENTS IN CLINICAL TRIALS IN ONCOLOGY HAS EVOLVED OVER TIME. » THANK YOU SO MUCH. THANK YOU FOR HAVING ME.
IT'S A DELIGHT TO BE HERE. I GUESS I'LL SAY THAT, AS DR. CALIFF AND DR. SNYDER AND OTHERS HAVE ALLUDED TO, OVER THE PAST FEW DECADES, THERE REALLY HAS BEEN A SHIFT IN OUR SOCIETAL, BOTH REGULATORY PERSPECTIVE REGARDING ENROLLING PEDIATRIC PATIENTS IN CLINICAL TRIALS. HISTORICALLY FOR A VARIETY OF REASONS, PEDIATRIC CANCER DRUG DEVELOPMENT HAS TENDED TO LAG BEHIND ADULT CANCER DRUG DEVELOPMENT BY SEVERAL YEARS, IF IT EVEN OCCURRED AT ALL. IN PART THIS IS RELATED TO
CONCERNS DUE TO TOXICITY OF CHEMOTHERAPIES. AS WE ALL KNOW, CHEMOTHERAPIES CAN BE QUITE TOXIC, CAUSING LIFE THREATENING ADD RSE REACTIONS, AND IT CAN CAUSE HARM IN PEDIATRIC PATIENTS. MORE RECENTLY OVER THE PAST ABOUT A DECADE, THIS TENDENCY TO THINK ABOUT PROTECTING PEDIATRIC PATIENTS FROM CLINICAL TRIALS HAS SHIFTED TO THINKING THAT WE CAN BEST PROTECT PEDIATRIC PATIENTS WITH CANCER THROUGH MORE TIMELY AND THOUGHTFUL CONDUCT OF PEDIATRIC CLINICAL TRIALS. IN ESSENCE, TO GIVE THEM A CHANCE TO BENEFIT THROUGH PARTICIPATION IN CLINICAL TRIALS AS SOON AS IT CAN SCIENTIFICALLY JUSTIFIED AND FEASIBLE USING SAFE AND EFFECTIVE TREATMENTS APPROVED FOR PEDIATRIC PATIENTS WITH CANCER. THE SHIFT IN THINKING IS DUE TO MANY FACTORS, PROBABLY FIRST AND FOREMOST, IN THE VOICES OF MANY PATIENTS AND THEIR FAMILIES THAT HAVE EXPRESSED THEIR DESIRE AND URGENT NEED FOR FASTER DRUG DEVELOPMENT FOR PEDIATRIC PATIENTS WITH CANCER. AND THIS IS COMBINED
WITH THE ONSET OF PERSONALIZED MEDICINE AND OUR INCREASED KNOWLEDGE ABOUT THE BIOLOGICAL UNDERPINNINGS OF CANCER AND OUR UNDERSTANDING OF THE MOLECULAR DRIVERS FOR CANCER HAS INCREASED ALONG WITH THE DISCOVERY OF DRUGS TO EXPLOIT THOSE VULNERABILITIES, AND WE'RE BETTER ABLE TO IDENTIFY THE PEDIATRIC PATIENTS THAT HAVE THE HIGHEST CHANCE OF BENEFITTING FROM NEW DRUG TREATMENTS, AND THIS INCLUDES MANY PEDIATRIC PATIENTS WITH CANCER. EVEN THOUGH PEDIATRIC CANCERS CAN BE VERY, VERY DIFFERENT MOST OF THE TIME FROM THOSE IN CURRENT ADULTS, IN SOME CASES, PEDIATRIC PATIENTS CAN SHARE COMMON MUTATIONS AS THOSE WITH ADULT CANCERS. WHEN THOSE OCCUR, YOU FEEL IT'S IMPORTANT THAT THE TARGETED THERAPIES FOR THOSE PATIENTS BE STUDIED IN PEDIATRIC PATIENTS AS SOON AS POSSIBLE. THIS IS HAPPENING. ONE EXAMPLE IS OUR FIRST APPROVAL OF TRESAMED IN 2019. THIS IS A DRUG THAT
TARGETS AND TRACKS LESIONS THAT ARE PRESENT IN CANCERS, WHICH IS A VERY, VERY UNCOMMON TYPE OF MUTATION IN ADULT CANCERS BUT CAN BE A COMMON MUTATION IN SOME VERY, VERY RARE PEDIATRIC CANCERS. VERY EARLY IN THE DEVELOPMENT PROGRAM, PEDIATRIC PATIENTS WERE ENROLLED BECAUSE OF THIS KNOWLEDGE THAT THIS DRUG EFFECTIVELY TARGETED THESE TYPE OF GENE FUSIONS AND CAN BE DEVELOPED MORE QUICKLY. AFTER THE DRUG IS APPROVED, A BIG EFFICACY DATABASE CAME FROM PEDIATRIC PATIENTS, MANY OF WHOM WERE INFANTS, THAT HAD A VERY RARE FARM OF FIBROSARCOMA. THIS PROVIDED THE FOUNDATION FOR FUTURE DRUG DEVELOPMENT AS OUR KNOWLEDGE INCREASE S OVER TIME AND HIGHLIGHTS THE KNOWLEDGE OF REALLY THINKING ABOUT THIS, AS YOU SAID, ABOUT THE IMPORTANCE OF THINKING ABOUT THE SCIENCE OF PRECLINICAL KNOWLEDGE, THE LEVEL OF EVIDENCE THAT THE MECHANISM OF THE DRUG MAY HAVE AN IMPACT IN PEDIATRIC CANCERS, AND PUTTING ALL THAT TOGETHER TO ENSURE THAT WE'RE STUDYING THE RIGHT DRUGS AT THE RIGHT TIME.
THAT'S IT FOR NOW. » THANK YOU, DR. DONOGHUE. I DID WANT TO UNDERSCORE THAT. I THINK THAT'S EXACTLY THE POINT. THE MORE THAT WE KNOW ABOUT THE
SCIENCE OF THE PATHOPHYSIOLOGY, THE MECHANISM OF ACTION OF THE DRUG, HOW THE DISEASE WORKS, THAT REALLY ENABLES US TO CREATE PROGRAMS THAT WE ARE CONFIDENT REALLY TARGET THOSE WHO REALLY NEED THE DRUG DEVELOPMENT TO OCCUR AND ENABLES US TO MAKE OUR DECISIONS. THANKS TO ALL OF THE PANEL. I'D LIKE TO GIVE ONE LAST QUESTION TO DR. SNYDER. GIVE HER A LAST WORD GIVEN YOUR WORK AND EXPERTISE IN PEDIATRIC ETHICS IN DRUG DEVELOPMENT.
I WONDER IF YOU WANT TO, JUST FROM THE TALKS TODAY, UNDERSCORE ANY CONCEPTS FROM TODAY'S DISCUSSION ON PEDIATRIC ETHICS WITH APPROXIMATELY 50% OF RARE DISEASES AFFECTING CHILDREN AND THE FACT THAT THE USUAL PARADIGM PEOPLE THINK OF IS TO START IN ADULTS AND THEN EXTRAPOLATE THAT EXPERIENCE THAT IS SIMILAR TO CHILDREN. » I THINK THIS DISCUSSION TODAY HAS BEEN WONDERFUL AND REALLY HIGHLIGHTS A NUMBER OF CONCERNS THAT WE MIGHT HAVE WHEN WE'RE THINKING ABOUT STUDIES IN RARE DISEASE. I THINK THE FIRST POINT THAT EVERYONE'S MADE IS THAT CHILDREN ARE A VULNERABLE POPULATION, AND WE DO HAVE ETHICAL STA NDARDS THAT WE NEED TO FOLLOW FOR KIDS IN ORDER TO ENSURE THAT WE'RE RADICALLY PROTECTED IN STUDIES. YET THERE IS THE SCIENTIFIC NECESSITY TO DEVELOP THESE PRODUCTS IN KIDS EARLY ON BECAUSE THEY HAVE LIMITED OR IN MANY CASES NO THERAPIES AVAILABLE. WE WANT TO THINK ABOUT WAYS THAT WE CAN DO THAT IN AN INNOVATIVE WAY. EACH PRODUCT IS DIFFERENT. EACH DRUG DEVELOPMENT PROGRAM
IS DIFFERENT. THERE'S A METHODOLOGICAL STEP-BY-STEP PROCESS WE CAN LOOK AT TO EVALUATE EACH DRUG AND PRODUCT SEPARATELY TO THINK ABOUT WHAT THE BES T POSSIBLE WOULD BE, AND THE SCIENCE, THE NONCLINICAL DATA IS REALLY IMPORTANT IN THIS AREA. AND FINALLY, TO THINK ABOUT AND WE NEED TO THINK OF THAT AS AN ONGOING PROCESS NOT SOMETHING WE DO DID HE BEGINNING OF RESEARCH BUT THROUGHOUT THE PROCESS SO PARENTS AND CHILDREN ARE CONFIDENT THEY ARE CONTRIBUTING TO SCIENCE AS WELL AS HOPEFULLY WORKING TOWARDS A TREATMENT FOR THEIR DISEASE. THANK YOU. » THANK YOU SO MUCH DR. SNYDER AND I'D LIKE TO THANK EVERYONE WHO WAS HERE FOR THE FIRST PORTION OF OUR SESSION 1 AND WE'LL SEE YOU ALL AGAIN IN THE FINAL Q&A OF THIS SESSION. BUT FOR NOW I WOULD LIKE TO
TAKE THE OPPORTUNITY TO OPEN -- TRANSITION TO THE SECOND PART OF OUR SESSION WHICH FOCUSES REALLY ON DIVERSITY AND INCLUSION. SO FOR THIS PANEL, I WOULD LIKE TO INTRODUCE DR. LOLA FASHOYI-AJE, MEDICAL ONCOLOGIST AND DEPUTY DIRECTOR OF THE DIVISION OF ONCOLOGY THREE IN THE OFFICE OF ONCOLOGICAL DISEASES AT THE CENTER FOR DRUG EVALUATION AND RESEARCH AT THE FDA. SHE IN IN THIS ROLE PROVIDES
POM GUIDANCE AND OVERSIGHT TO MULTI TIS MRIN AIR TEAMS UNDER DEVELOPMENT -- DR. FASHOYI-AJE IS ALSO THE ASSOCIATE DIRECTOR AT THE FDA ONCOLOGY CENTER OF EXCELLENCE AT THE FDA WHERE SHE LEADS SCIENCE AND POLICY INITIATIVES TO ADDRESS CLINICAL AND REGULATORY SCIENCE AND POLICY IN ONCOLOGY SPACE. DR. FASHOYI-AJE COMPLETED HER MEDICAL TRAINING AT THE UNIVERSITY OF ROW CHESTER AND INTERNAL MEDICAL O NCOLOGY AT JOHNS HOPKINS. ALSO JOINING US FOR THIS PORTION OF THE SESSION WILL BE DR. FRASER BOCELL , HE IS
A CLINICAL OUTCOME ASSESSMENT REVIEWER WITH THE PATIENT SCIENCE AND ENGAGEMENT TEAM AT THE CENTER CENTER FOR DEVICES AND RADIOLOGICAL HEALTH AT THE USFDA AT CDRH HE PROVIDES EXPERTISE IN TRAINING AS WELL AS DEVELOP POLICY ON EVALUATION OF USE OF CLINICAL OUTCOME ASSESSMENTS IN REGULAR DECISION MAKING AND PRIOR TO JOINING THE FDA HE PUBLISHED ON THE QUANTITATIVE AND KWAUL FACE DEVELOPMENT AND EVALUATION OF PATIENT REPORTED OUTCOME MEASURES AS WELL AS STATISTICAL EXPERTISE TO OTHER PROJECTS. AND AS WELL WE WILL ALSO HAVE DR. CAMPBELL JOINING US ON THIS SESSION AGAIN. SO TO KICK US
OFF I WOULD LIKE TO TURN THE MICROPHONE OVER TO DR. FASHOYI-AJE TO OPEN THE SECOND PART OF TODAY'S SESSION WHICH WILL FOCUS ON DIVERSITY IN CLINICAL TRIALS. » GOOD MORNING. AND THANK YOU, DR. LEE FOR INVITING ME TO PARTICIPATE IN THIS MEETING. IT'S A PLEASURE TO BE HERE. MY DISCLAIMER IS THAT AS AN ONCOLOGIST WORKING ON CANCER DRUGS IN THE ONCOLOGY CENTER OF EXCELLENCE MY POINT OF VIEW IS VERY MUCH INFORMED BY THE ONCOLOGY EXPERIENCE, BUT I THINK SOME OF THE ISSUES I'LL BE DISCUSSING ARE CROSS CUTTING AND BROADLY APPLICABLE ACROSS NON-CANCER RARE DISEASES AS WELL. SO FOR SOME BACKGROUND FOR THOSE NOT FAMILIAR WITH FDA'S PERSPECTIVE ON DIVERSITY, THE AGENCY HAS LONG ENCOURAGED DIVERSITY IN CLINICAL TRIALS OF FDA REGULATED MEDICAL PRODUCTS, WE CONSIDER THIS TO BE A SCIENTIFIC AND ETHICAL IMPERATIVE THAT THE DATA THAT INFORMATION THE USE IS GENERATED IN A POPULATION THAT REFLECTS THE DIVERSITY OF THE POPULATIONS FOR WHICH THOSE PRODUCTS ARE INTENDED TO BE USED.
DIVERSITY CAN BE BROADLY DEFINED TO INCLUDE DEMOGRAPHIC AS WELL AS CLINICAL CHARACTERISTICS AND IT'S A COMPONENT OF THE CLINICAL DEVELOPMENT PROGRAM FOR THE REASONS I STATED AND AS SUCH, WE REALLY THINK DIVERSITY SHOULD BE FULLY EMBEDDED IN THE CLINICAL AND OPERATIONAL STRATEGY FOR DEVELOPING AN ANY GIVEN PRODUCT INCLUDING THOSE INTEND FOR THE TREATMENT OF RARE DISEASES. THE MEASURES TAKEN TO IMPROVE CLINICAL TRIAL DIVERSITY AND GENERALLY THE SAME ACROSS THERAPEUTIC AREA, ACROSS MEDICAL PRODUCT TYPES AND ACROSS THE VARIOUS POPULATIONS THAT MAY BE UNDERREPRESENTED IN CLINICAL STUDIES. BUT THERE ARE SOME DIFFERENCES IN THE APPLICATION OF THESE MEASURES IN ANY GIVEN CLINICAL AND REGULATORY CONTEXT. FDA'S MOST RECENT DRAFT GUIDANCE ON DIVERSITY PLANS ENCOURAGES SPONSORS TO SUBMIT DIVERSITY PLAN THAT DESCRIBES THE OVERALL STRATEGY TO ENROLL A REPRESENTATIVE POPULATION IN THE CLINICAL STUDIES OF DRUGS BIOLOGICAL PRODUCTS AND DEVICES THAT ARE SUBMITTED TO THE FDA. THE GUIDANCE RECOMMENDS CONSIDERATION AND IMPLEMENTATION OF MEASURES AND TACTICS TO IMPROVE DIVERSITY EARLY IN THE CLINICAL DEVELOPMENT PROCESS AND RECOMMENDS SETTING OF ENROLLMENT GOALS FOR THE STUDIED POPULATION BASED ON BENCHMARKS FROM AVAILABLE DATA ON DISEASE PREVALENCE OTHER OTHER INFORMATION AS APPLICABLE.
AS YOU MAY BE AWARE THE RECENT FOOD AND DRUG OMNIBUS REFORM ACT SLIEND INTO LAW THIS PAST DECEMBER IGNED INTO LAW THIS PAST DECEMBER GRANTS FDA THE AUTHORITY TO REQUIRE THE SUBMISSION OF DIVERSITY ACTION PLANS AND THIS REALLY MARK THE FIRST TIME A DIRECTING DIVERSITY WITH A PROSPECTIVE PLAN HAS BEEN A REQUIREMENT IN MEDICAL PRODUCT DEVELOPMENT. FDA CONSIDERS IT IMPORTANT THE DEVELOPMENT OF DRUGS FOR THE TREATMENT OF RARE DISEASES ALSO GENERATE DATA IN STUDIED POPULATIONS THAT REFLECT THE DIVERSITY OF THE THE POPULATIONS FOR WHICH THOSE PRODUCTS WILL BE MARKETED IF APPROVED BUT THERE ARE ISSUES WHICH CAN BE FACTORED INTO THE APPROACH TAKEN. ON DEVELOPING MEDICAL PRODUCTS FOR RARE DISEASES, WE'RE DEALING WITH SMALL POPULATIONS. WHICH MEANS THAT THERE ARE FEW PATIENTS AVAILABLE TO ENROLL TO CLINICAL TRIALS. GIVEN THE SMALL NUMBER OF PATIENTS ENROLLED THEY MAY BE QUESTIONS RAISED REGARDING THE VALUE OF INVESTING TIME, EFFORT AND RESOURCES TO ADDRESS DIVERSITY AND QUESTIONS WITH THE INTERPRETABILITY OF THE ANALYSIS OF DATA IN SMALL SUBGROUPS OF THE STUDIED POPULATION WHEN NUMBERS ARE VERY SMALL. BUT
REALLY IN MY VIEW, THE SMALL NUMBER OF PATIENTS SHOULD BE ALL THE MORE REASON TO DEVELOP A STRATEGY THAT ENABLES US TO IDENTIFY ALL PATIENTS ELIGIBLE TO SAFELY PARTICIPATE IN A TRIAL. AL. EST ANALYTICAL ISSUES IN LIMITATIONS OF INTERPRETABILITIABILITY THAT STEM FROM HAVING SMALL NUMBERS OF PATIENTS CANNOT BE OVERCOME BUT CONSISTENT EFFORTS TO BROADEN PARTICIPATION IMPROVES THE DATABASE TO CHARACTERISTICIZE THE SAFETY AND EFFECTIVENESS OF THE HE MEDICAL PRODUCTS AND ALLOWS US TO LEARN FROM THE POOLED ANALYSIS ACROSS TRIALS OR EVEN ACROSS PRODUCTS OVER TIME TO HAVE A BETTER UNDERSTANDING OF HOW THE DRUGS MAY PERFORM IN THE GENERAL POPULATION. IN THE RARE DISEASE SPACE WHERE THEY MAY BE LIMITED OPPORTUNITIES TO COLLECT DATA, WE REALLY WANT TO OPTIMIZE THE OPPORTUNITIES THAT ARE AVAILABLE TO COLLECT THE DATA THAT WILL INFORM HOW WE USE THESE DATA IN A LARGER BROADER POPULATION. ANOTHER CONSIDERATION IS THAT INDIVIDUALS WHO ARE MEMBERS OF POPULATIONS THAT ARE HISTORICALLY UNDER REPRESENTED IN CLINICAL RESEARCH RACIAL AND ETHNIC MINORITIES OLDER PATIENTS, PEDIATRIC AGE GROUPS ARE ALSO DIAGNOSED WITH RARE DISEASES. PROVIDING ACCESS TO CLINICAL TRIALS TO THESE POPULATION IS A DESIRABLE GOAL BECAUSE IN IN MANY CASES CLINICAL TRIALS PROVIDE THE ONLY HOPE REALLY TO POTENTIALLY MITIGATE THE EFFECTS OF THEIR DISEASE FOR THEMSELVES AND OTHERS WHO ARE SIMILARLY AFFECTED AND THESE PATIENTS WANT TO CONTRIBUTE TO HELP FIND MEDICATIONS AND THAT HELPS TO TREAT THEIR CONDITION.
.THESE OPPORTUNITIES SHOULD BE OFFERED TO ALL PATIENTS. THEREFORE. THE GOAL IS TO BE AS INCLUSIVE AS POSSIBLE WITH SAFETY AS A PARAMOUNT CONSIDERATION. THERE ARE OTHER CHALLENGES AS WELL BUT FDA HAS GENERALLY EXERCISED THE APPROPRIATE REG ULATORY FLEXIBILITY TO FACILITATE DEVELOPMENT AND APPROVAL OF MEDICINES FOR RARE DISEASES. SO THE CHALLENGES ARE THERE AND WE RECOGNIZE THEM AND CAN WORK THROUGH THEM ON A CASE BY DAYS BASIS AS WE'VE THEORETICAL DONE FOR RARE DISEASE DRUG DEVELOPMENT.
THERE ARE ALSO OPPORTUNITIES TO EMBRACE COLLABORATION, INNOVATION, EFFICIENCY, TO FOSTER DIVERSITY, EQUITY AND INCLUSION IN RARE DISEASE DRUG DEVELOPMENT AND I WILL COMPLETE MY REMARKS HERE BY JUST BRIEFLY PROVIDING MY PERSPECTIVE ON THIS. COLLABORATION AMONG COMMUNITY MEMBERS, COMMUNITY BASED ORGANIZATIONS, HEALTHCARE PROVIDERS, PATIENTS AND REGULATORS AND OTHERS IS REALLY CRITICAL TO HELP DEFINE BENCHMARKS IN ACHIEVING DIVERSITY AND AVOID DUPLICATIVE EFFORTS AND FOSTER SHARED LEARNING ABOUT EFFECTIVE SOLUTIONS. THE CLINICAL STRATEGY AND OPERATIONAL STRATEGY SHOULD REALLY PRIORITIZE DIVERSITY VERY EARLY ON, THERE ARE OPPORTUNITIES TO USE SOME OF THE SAME TOOLS AND MEASURES THAT ARE COMMONLY USED IN RARE DISEASE DEVELOPMENT TO FURTHER OPTIMIZE THE POPULATIONS ENROLLED FROM A DIVERSITY STANDPOINT.
AS AN EXAMPLE, USING DATA THAT'S OBTAIN AT THE POINT OF CARE TO DETERMINE WHO HAS A DISEASE, BUT TO GO BEYOND THAT WITH A PATIENT REPRESENTATIVENESS IN AVAILABLE DATASETS THAT INFORM OUR UNDERSTANDING OF WHO HAS A DISEASE IS AN IMPORTANT CONSIDERATION. BUT I THINK PARTICULARLY IN THE CASE OF THE RARE DISEASE CASE IT'S IMPORTANT WE CONSIDER WHO IS INVITED TO CONTRIBUTE TO THEIR DATA TO THESE WHAT IS OFTEN VERY SMALL DATABASES THAT SUPPORT REGULATORY DECISION MAKING. REGISTRIES WHICH PLAY A VIOLATE ROLE IN RARE DISEASE DEVELOPMENT WITH YOU MUST ASK OURSELVES HOW TO SET THEM UP TO OPTIMIZE OPPORTUNITIES FOR PATIENTS WITH RARE DISEASE OF ALL BACKGROUNDS TO BE INCLUDED IN THOSE DATABASES. I THINK WE SHOULD ALSO RETHINK ELIGIBILITY FOR ENTRY INTO CLINICAL TRIALS. AND REALLY LIMIT THE NUMBER OF
EXCLUSION CRITERIA TO THOSE GERMANE TO THE INVESTIGATION: AND REASSESS OUR ASSUMPTIONS ALONG THE WAY REGARDING WHAT ARE IMPORTANT EXCLUSIONS CRITERIA. AND WHEN POSSIBLE WE SHOULD ALSO EMBRACE THE USE OF DIGITAL HEALTH TE CHNOLOGIES, ARTIFICIAL INTELLIGENCE, FOR EXAMPLE, TO IDENTIFY PATIENTS BASED ON CERTAIN CLINICAL AND DEMOGRAPHIC CHARACTERISTICS AS A MEASURE THAT CAN WIDEN THE POOL OF PATIENTS AVAILABLE TO EVALUATE THERAPIES FOR RARE DISEASES. THESE TOOLS HELP FACILITATE DATA ACQUISITION WHICH CAN ADDRESS MANY OF THE CHALLENGES THAT ARE FACED AND ASSOCIATED WITH THE TRADITIONAL OR CENTRALIZED TRIALS. AND CAN
PROVIDE ACCESS TO PARTICIPANTS WHO MAY HAVE PHYSICAL, COGNITIVE LIMITATIONS, MAY HAVE TIME CONSTRAINTS, FINANCIAL CONSTRAINTS AND GEOGRAPHICALLY DISPERSED AS THE CASE FOR HISTORICALLY UNDERREPRESENTED GROUPS. AND I WILL CONCLUDE HERE BY SAYING THAT IT'S REALLY IMPORTANT TO THINK ABOUT WAYS TO SIMPLIFY, SIMPLIFY THE COMPLEXITY OF TRIALS, SO THEY CAN BE CARRIED OUT IN DIVERSE CLINICAL SETTINGS, CLOSER TO WHERE PATIENTS ARE AND RECEIVE CARE, WHILE ALSO MINIMIZING THE BURDEN TO PATIENTS. FOR EXAMPLE,
2023-03-01 18:10
Show Video
Other news