Expedition 68 NASA's SpaceX Crew-5 Talks With Media Following Mission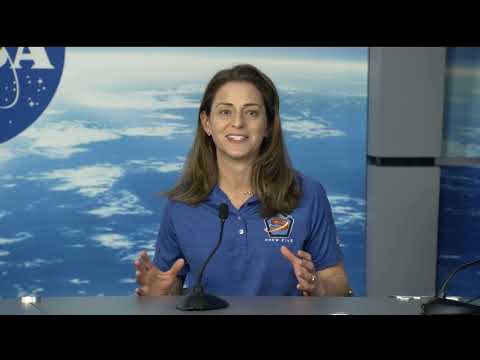 Show Video
>> GOOD AFTERNOON, EVERYBODY. WELCOME TO THE NASA JOHNSON SPACE CENTER. I'M DAN HUE ET AND I'M JOINED TODAY BY CREW 5. RECENTLY RETURNED BACK TO PLANET EARTH. WE HAVE CASSA AND WAKATA AND KIKINA WE'LL BE HAPPY TO ANSWER YOUR QUESTIONS ON SOCIAL MEDIA AND WHO YOU'RE ASKING THE QUESTIONS TO. IF YOU'RE ON SOCIAL MEDIA, HEAD OVER TO TWITTER AND HASHTAG ASK NASA, SO WE'RE GOING TO JUMP INTO QUESTIONS.
OFF AND RUNNING. WE'RE GOING TO START OFF ON OUR PHONE BRIDGE, LET'S GO TO MARVIN MARSHAL WITH THE NIGHTTIME NEWS. MARVIN. NOTHING YET, I'M GOING TO -- SOUNDS LIKE WE JUST LOST OUR PHONE LINE, SO I'M GOING TO START OFF WHILE WE GET THAT RECONNECTED. THIS ONE FOR, I'LL START WITH KOICHE, YOU STARTED OFF WITH MULTIPLE SPACECRAFT >> EACH AND EVERY EACH ONE, IT'S A SMOOTH RIDE UP AND DOWN, AND ONE OF THE THINGS THAT I SAW ON THE SPACECRAFT, THE DRAGON, I WAS ABLE TO SEE THE PLASMA REENTRY.
AND SO WE HAD A FIREWORK AND FLOW OF THE AIR FOR A LONG TIME. SO I WAS ABLE TO ENJOY THAT LIGHT SHOW AND THE REENTRY. >> AND THEN FOR THE FIRST TIME FLYERS, WHAT'S THE ONE THING THAT STANDS OUT IN YOUR MIND. YOU WERE UP THERE 157 DAYS, MAYBE ONE DAY, IF ANYONE ASKS YOU WHAT DID YOU DO UP THERE, WHAT DO YOU REMEMBER? WHAT'S THE FIRST THING THAT POPS IN YOUR MIND? JOSH, WE'LL START WITH YOU. >> BOY, THAT'S A TOUGH ONE TO NARROW IT DOWN TO ONE, AND THE TOP TWO THAT COME TO MIND, ONE WAS LATE IN THE MISSION, AND I THOUGHT I WAS UP EARLIER THAN EVERYONE ELSE AND I WENT TO THE RESTROOM AND TURNS OUT I WAS NOT, AND I HEARD HER DOWN THERE, SHE CALLED ME DOWN, AND WE SAW THE MOST INCREDIBLE AR ROAR A IT WAS ABSOLUTELY BREATHTAKING. WE WENT IN THERE, AND IT WAS A LITTLE SELFISH, BUT WE JUST ABSORBED IT.
AND WE DIDN'T HAVE THE SKILL SET YET. WE HAD TO CONSULT TO GET PHOTOGRAPHY DONE IN THAT SETTING BUT WE JUST HUNG OUT IN THERE, AND IT WAS JUST SO POWERFUL. WE DID GET GREAT SHOTS THE NEXT DAY, BUT I THINK THAT FIRST DAY WAS JUST BREATHTAKING. AND THEN IN TERMS OF PROFESSIONAL SATISFACTION, FOR ME, IT WAS OUR SECOND SPACEWALK.
ME AND FRANK, WE WALKED OUT THE DOOR AND WHEN WE CAME BACK IN, IT WAS AN OVERWHELMING FEELING THAT EVERYBODY DID THEIR JOB. AND CALLICCI, IT THE TEAMS ON THE GROUND JUST ABSOLUTELY FLAWLESS EXECUTION, AND WE WERE ABLE TO DO IT BECAUSE EVERYBODY DID THEIR JOB INCREDIBLY WELL. I WAS NOT EXPECTING THAT KIND OF REACTION. BUT THE NICE THING IS TEARS DON'T RUN DOWN YOUR CHEEKS IN SPACE, AND WE JUST CALLED IT ALLERGIES WHEN I WAS IN THE AIRLOCK AND WE GOT THE WORK DONE. ON THE LOOSE, AND PUT IT ALL IN PERSPECTIVE.
SO THOSE ARE THE TWO BIG ONES THAT POP OUT FOR ME. >> NICOLE. >> THOSE ARE THE TWO BIG ONES, I TOTALLY AGREE. IT'S TOUGH TO CHOOSE. ONE THING THAT'S INTERESTING TO ME, TOWARD THE END OF THE MISSION, I WENT BACK AND READ MY JOURNAL FROM THE BEGINNING OF THE WEEK, AND IT WAS SO COOL TO REMIND MYSELF OF THAT PERSPECTIVE THAT I HAD THE FIRST COUPLE OF DAYS IN SPACE.
THE FIRST TIME FLOATING AROUND IN ZERO Gs, IT'S SOMETHING THAT YOU DON'T TAKE FOR GRANTED BUT YOU GET USED TO LOOKING OUT THE WINDOW AND SEEING OUR BEAUTIFUL PLANET AND SEEING YOUR FRIENDS WHEN YOU'RE EATING. SO IT'S GOOD TO GO BACK AND REFLECT ON THAT FEELING, WHAT IT WAS LIKE IN THE VERY BEGINNING AND WHEN THE CREW 6 ARRIVED IT WAS COOL TO SEE IT THROUGH THEIR EYES FOR THE FIRST TIME. WHEN YOU'RE OUT THERE AND FLOATING AROUND AND UNSTEADY AND TO SEE HOW QUICKLY CREW SIX WAS ADAPTING AND THEY'RE PICKING UP ON THE MAINSTREAM FACEMASKS AND ALL OF THE DAILY TASKS DURING THE HAND OVER AND YOU CAN SEE IT IN YOUR CREWMATES AND YOURSELF HOW YOU CHANGE AND ADAPT. IT WAS NICE TO TAKE A MOMENT AND APPRECIATE THAT AND HAVE THAT PERSPECTIVE. >> ALL RIGHT NOW, ANNA, FAVORITE MEMORY. >> THE SUN SET, [ FOREIGN DIALOGUE ] >> WELL, I WILL START WITH THE FIRST THING THAT REALLY IMPRESSED ME AND SURPRISED ME WHEN I GOT UP, THAT IT'S REALLY REAL.
IT EXISTS, HERE IT IS. AND THE SECOND THING IS WHEN WE GOT TO THE RUSSIAN SEGMENT AND I SAW EVERYTHING AND I REALIZED THAT IT MATCHES PERFECTLY, ALL OF OUR MACHUPS AND SIMILARITIES, AND IT WAS COMFORTING AND REASSURING BECAUSE IT WAS LIKE SOMETHING THAT I HAD HEARD ALREADY. SOMETHING THAT WAS FAMILIAR. [ FOREIGN DIALOGUE ] >> AND THE NEXT THING, IT WAS VERY SMOOTH AND THE PREVIOUS CREW TOLD US HOW TO DO EVERYTHING, AND SHOWED US EVERYTHING, AND WE JUST HAD TO DIVE INTO IT AND BEGIN DOING IT.
AND WE DID IT, AND DID IT WELL AND IT WAS A REALLY SMOOTH TRANSITION. FROM MORNING TO EVENING, EVERY MINUTE OF THE DAY WAS PLANNED OUT FOR YOU, AND THERE WAS A LOT TO DO. >> ALL RIGHT, THANK YOU, CREW FIVE AND WE'RE GOING TO SEE IF WE HAVE MASTERED THE WHOLE PHONE TECHNOLOGY AND GIVE IT ONE MORE SHOT. LET'S START WITH MARVIN MARSHAL OF THE NIGHTTIME NEWS. MARVIN. >> YOU GOT ME? >> GOT YOU LOUD AND CLEAR.
>> I'M MARK MARSHAL FROM TWITCH TV, AND MY QUESTION IS FOR ALL OF YOU GUYS. CAN EACH OF YOU SHARE A HILARIOUS MOMENT? >> HILARIOUS MOMENT, EVERY MOMENT IS A HILARIOUS MOMENT BUT FOR ME, I FOUND OUT THAT THOSE GUYS ARE REALLY TEST PILOTS AND ENGINEERS AND THEY'RE REALLY GOOD AT THE COOKING IN ZERO GRAVITY. WHEN WE'RE HAVING SOME HOLIDAYS, AND JOSHUA IS REALLY GOOD AT CUTTING THE CHEESE FOR PIZZA, AND ADOBO WITH ALL OF THE DRIED MEAT AND ALL OF THAT. AND ANYA IS A REALLY GREAT COOK AND I WAS REALLY GOOD AT EATING ALL OF THAT. BUT I WAS IMPRESS WITH THEIR TECHNIQUE IN ZERO G COOKING AND THIS WAS A HILARIOUS MOMENT THAT I EXPERIENCED >> THE MOMENT I REMEMBER, WE LAUGHED REALLY HARD WHEN WE WERE UP THERE.
ONE OF THE ONES THAT STICKS IN MY MIND. THEY HAVE THOUSANDS OF THESE CARABINERS THAT ARE USED TO STAGE THE CARGO AND THEY'RE SUPER USEFUL AND WE ENDED UP USING THEM ON THE STATION FOR OUR OWN PURPOSES. AND THERE WAS A DAY WHEN FRANK WAS WORKING IN NODE ONE, AND HE HAD A FRUSTRATING TASK THAT HE WAS WORKING ON, AND THE GROUND HAD A CAMERA LOOKING OVER HIS SHOULDER, WHICH HE LOVES, TO HAVE MORE COOKS IN THE KITCHEN AND WHAT HAPPENED, ONE OF THE CARABINERS WILL GOTTEN AWAY AND HE WAS DOING SOMETHING ELSE, AND IT'S NOT A BIG DEAL, THEY CAN GET UP TO THAT, AND THE FACT THAT HE HAD LOST IT. AND I COOK IT UPON MYSELF 10 MINUTES LATER JUST TO SIT IN THE LAB AND I PUT IT IN HIS CORRECTION, 3 SECONDS A MINUTE, AND IT MOVED JUST ENOUGH THAT IT GRAZED THE BACK OF HIS HEAD AND HE DIDN'T FEEL IT, AND I'M LAUGHING SO HARD BECAUSE THEY HAD NO IDEA WHERE IT CAME FROM, AND I GRABBED IT AND I SHOWED THE GROUND THAT I SOLVED THEIR PROBLEM AND FRANK WAS 0 FOR 2 AND HE COULDN'T EXPLAIN IT. >> THAT WAS A RECURRING THEME, AND WE DID LAUGH A LOT.
I REMEMBER ONE TIME, WE WERE GETTING OUR SUITS READY TO GO OUT THE DOOR AND I HAD SIGHTED THE SUIT AND PUT MY BOOTS IN, AND I HAVE SMALL FEET, SO I HAVE THESE INSERTS THAT GO INSIDE THERE, BUT I WAS NOT ABLE TO PUSH IT IN VERY GOOD WITH MY HAND, AND I THOUGHT I NEED TO GET THIS INSERT IN. BECAUSE YOU WANT IT TO FIT PROPERLY AND I SAID THIS IS MY PLAN, I'M GOING TO PUT THE LOWER TORSO ON AND PUSH MY FEET IN. AND JOSH SAID YOU NEED HELP? OKAY.
SO I'M IN AIRLOCK AND I GET THE LOWER TORSO ON AND GET MY FEET IN AND IT'S SITUATED AND EVERYTHING IS PERFECT AND THEN UH-OH. IT'S REALLY HARD TO GET OUT OF THAT LOWER TORSO AND YOU DON'T HAVE ANYTHING TO PUSH AGAINST. AND USUALLY, WE'RE NOT GETTING OUR SUITS OFF BY OURSELVES BUT I'M STUCK IN ANY PANTS AND JOSH HAS ALREADY FLOATED AWAY AND I PUSH OUT AND YELLING, I'M STUCK IN MY PANTS AND I DON'T KNOW IF I CAN QUICKLY -- PRIMARY LANGUAGE IS JAPANESE, BUT I'M STUCK IN MY PANTS AND I NEED YOUR HELP. SO HELP ME GET OUT OF MY PANTS. [ FOREIGN DIALOGUE ] >> I HAD A FUNNY SITUATION.
WHEN I WENT TO SPACE, I BROUGHT SOME OF MY -- LITTLE DOLL, I BROUGHT THREE OF THEM AND THE FIRST I TOOK IMMEDIATELY TO THE SPACESHIP AND THE OTHER I LEFT IN THE VEHICLE. [ FOREIGN DIALOGUE ] >> AND SO I WENT BACK TO TO GET THE OTHER TWO, AND I WANTED TO HAVE THEM AND THEY WERE NOT THERE. AND I LOOKED EVERYWHERE, I LOOKED IN ALL OF MY THINGS AND AROUND THE QUARTER, AND I LOOKED AND LOOKED AND LOOKED AND I CAME BACK SEVERAL TIMES THROUGHOUT THE SURE ACE OF THE MISSION AND I COULDN'T FIND THEM ANYWHERE, AND MENTALLY I SAID FAREWELL TO THEM. [ FOREIGN DIALOGUE ] >> IT WAS TIME TO GO HOME, AND WE GOT BACK INTO THE VEHICLE, AND WE UNDOCKED AND GOT READY TO SLEEP AND PULLED OUT OUR SLEEPING BAGS, AND THERE THEY WERE. THERE THEY WERE, MY TWO LITTLE DOLLS, THEY WERE SLEEPING THE WHOLE INCREMENT, I FOUND THEM AND BROUGHT THEM BACK HOME WITH ME. >> GLAD YOU TRACKED THEM DOWN.
NEXT UP ON THE PHONE, WE HAVE BILL HARWOOD WITH CBS NEWS, BILL. >> HEY, THANKS, I'M JUST CURIOUS FOR EVERY CREW DRAGON LANDING, CAN TWO OF YOU DESCRIBE THE SENSATIONS AFTER FIVE MONTHS OF WEIGHTLESSNESS OR SIX MONTHS, WHEN YOU HIT THE WATER, EVEN IN A GENTLE SWELL, IS THAT DISOR GENTING FOR YOU? WHAT'S IT LIKE GETTING BACK ON THE BOAT? AND NUMBER TWO, CAN YOU TALK ABOUT WHAT'S A SURPRISE ABOUT YOUR READAPTATION TO GRAVITY. ASTRONAUTS HAVE BEEN DOING THIS FOR WHITE AWHILE, BUT HAS IT BEEN BETTER TO GET YOUR LEGS BACK? HOW'S THAT ALL GOING? THANKS.
>> WE'RE AT 4 DAYS RIGHT NOW. DO WE SHARE THE SECRET WITH THEM? GRAVITY IS NOT COOL. AFTER BEING IN 0G, YOU COME BACK TO GRAVITY AND YOU THINK THIS IS NOT GREAT.
IT TAKES YOU AWHILE TO ADAPT. WE HAVE TRAINERS THAT HELP US DEAL WITH THE STRENGTH AND THE BALANCE, BUT AFTER FOUR DAYS INTO IT, WE'RE STILL A LITTLE BIT WOBBLY, BUT YOUR FIRST QUESTION COMING DOWNHILL, THE LANDING WASN'T THAT SIGNIFICANT. BUT FEELING G FOR THE FIRST TIME, SO WHEN WE START REENTRY, WE HAVE A G METER AND WE CAN SEE THE G RISE, AND WE ALL COMMENTED. HERE WE ARE, HALF A G, IT'S STARTING TO RISE AND HOLY SMOKES, IT FELT LIKE SOMEBODY WAS SITTING ON YOUR CHEST AND PUSHING YOU DOWN, AND THAT WAS ONLY HALF A G AND BY THE TIME YOU ARE AT 4 OR 5 JEEZ, YOU'RE PUSHED INTO THE BAGHDAD OF THE SEAT AND IT'S POWERFUL, SO STRONG. AND EVEN THOUGH YOU KNOW THAT'S GOING TO BE THE PROFILE, IT'S AMAZING.
BUT THOSE ARE DYNAMIC EVENTS AND YOU'RE SWAYING AROUND, SO BY THE TIME YOU GET THE FLASH DOWN, YOU HAVE LIGHT WINDS, AND YOU HAVE THE DUTCH ROLL GOING ON, AND YOU CAN DEFINITELY FEEL THAT, AND IT DEFINITELY MADE ME FEEL A LITTLE BIT WOBBLY. >> NICOLE IS RIGHT, THE Gs ARE A LITTLE SURPRISING EVEN IF YOU'RE READY FOR THEM. BUT I TOOK IT ON MYSELF TO LET EVERYBODY KNOW WHAT THE Gs WERE AND WHERE WE WERE HEADED AND I REMEMBER CALLING OUT 4 AND A HALF Gs OR SO, AND FOR ME, IT WAS STRANGE, MY EARS STARTED DOING THEIR THING, AND IT WAS ALMOST HOCKEY SEASON. SO I NOTICED THAT I HAD LOCKED INTO THE FRAME OF THE DISPLAY AND MY EYES DID THIS LIKE A GLITCH IN THE MATRIX, WHERE I WOULD TUMBLE MAYBE 5 DEGREES AND COME BACK UP AND IT KEPT DOING THIS EVERY 2-3 SECONDS.
AND THAT LASTED UNTIL WE WERE BACK DOWN TO 2 AND A HALF OR SO. SO THANK GOODNESS IT WASN'T PERMANENT. BUT I AGREE THAT IT WAS -- IT FELT TO ME, IT FELT VERY SIMILAR TO WHAT YOU WOULD EXPERIENCE WHEN ORION WAS TRYING TO SIMULATE WE ENTRY. THE SOUNDS OF THE VEHICLE, SOMEBODY IS PLAYING AN AUDIO LOOP, AND IT DOES, IT SOUNDS JUST LIKE DOING A RIDE AT A BIG AMUSEMENT PARK, AND AT LEAST THAT'S WHAT IT FELT LIKE TO ME. >> NEXT UP, WE GO TO ELIZABETH HOWELL AT SPACE.COM. >> HELLO, AND WELCOME HOME.
THIS IS FOR NICOLE, YOU MIGHT BE REFLECTING ON YOUR JOURNEY, THE FIRST NATIVE AMERICAN WOMAN IN SPACE, AND WHILE YOU WERE UP THERE, YOU TRIED TO TALK TO VARIOUS GROUPS TO INSPIRE THE NEXT GENERATION, THANKS. >> ABSOLUTELY, MY JOURNEY IS ONE THAT KIND OF EVOLVED AS I GREW, SO I DIDN'T HAVE IT ALL FIGURED OUT WHEN I WAS YOUNG AND I DIDN'T KNOW, REALLY WHAT IT MEANT TO BE AN ASTRONAUT AND WHO BECAME AN ASTRONAUT OR HOW THAT EVEN WAS POSSIBLE. SO IT WASN'T UNTIL LATER ON IN LIFE THAT I REALLY STARTED CONSIDERING THAT CAREER PATH AND LOOKING AT THE DIFFERENT OPPORTUNITIES. SO I THINK IT'S REALLY IMPORTANT FOR ALL OF US ASTRONAUTS TO SHARE OUR JOURNEY. WE ALL HAVE UNIQUE JOURNEYS ON HOW WE BECAME AN ASTRONAUT AND WE ALL HAVE UNIQUE DREAMS AND ASPIRATIONS BUT THE ONE THING THAT WE ALL HAVE IN COMMON, WE ARE PASSIONATE ABOUT THE WORK THAT WE DO ONBOARD THE INTERNATIONAL SPACE STATION. SO THAT COMMUNICATION WITH OUR JOURNEY AND EXCITEMENT AND LOVE FOR WHAT WE DO, I THINK IT'S VERY IMPORTANT TO HELP INSPIRE THE NEXT GENERATION.
IF A YOUNG CHILD CAN LOOK UP AND SEE US FLOAT BEING AND WHETHER YOU COME FROM JAPAN OR THE NORTH OR CALIFORNIA, WHATEVER YOUR BACKGROUND IS, YOUR RACE, YOUR RELIGION, ANYTHING, YOU CAN SHARE IN THAT JOY AND MAYBE USE SOMETHING IN THAT ASTRONAUT THAT'S SHARING THEIR STORY AS SOMETHING THAT YOU CONNECT WITH, AND MAYBE THAT'S THE ONE THING THAT WILL HELP MOTIVE A CHILD TO REACH FOR THOSE DREAMS. MAYBE THAT'S THE ONE THING THAT WILL GIVE THAT ADDITIONAL DISCIPLINE THAT THEY NEED TO NOT ONLY ACCOMPLISH THAT DREAM BUT GO OUT AND BE SUCCESSFUL IN ACCOMPLISHING THAT DREAM. SO THAT'S SOMETHING THAT WE ALL SHARE IN COMMON. >> THANK YOU, NICOLE. A COUPLE OF QUESTIONS FROM SOCIAL MEDIA REAL QUICK. THE FIRST I'M GOING TO GIVE TO KOICHI.
AND WE HEARD THAT FOOD TASTES DIFFERENT IN SPACE, AND HOW DOES IT SAFETY DIFFERENT WHEN YOU COME BACK TO EARTH? >> THAT'S A GOOD QUESTION. I THINK THAT FOOD PHONE NUMBER TASTE DIFFERENT IN ZERO SPACE AND GRAVITY, AND THIS OF COURSE I LONGED FOR, FRESH FOOD WHEN I CAME BACK. THE FOOD AT THE SPACE STATION IS REALLY GOOD. BUT WE DON'T REALLY HAVE FRESH FOOD LIKE STALL ADDS, AND I WAS LONGING FOR MY LIFE TO MAKE FRESH FOOD WHEN WE GOT BACK TO HOUSTON AND THAT WAS REALLY GOOD. SO FOR THE FIRST TIME IN FIVE MONTHS, I HAD SUSHI AND I WISH IN THE NEAR FUTURE, WE HAVE SOMETHING LIKE THAT IN ZERO GRAVITY IN THE SPACE STATION. >> ALL RIGHT, THIS NEXT ONE, I'M GOING TO GIVE TO ANNA, SINCE RETURNING TO EARTH, HAVE YOU DROPPED ANYTHING ON THE GROUND UNCONSCIOUSLY THINKING THAT IT SHOULD HAVE FLOATED? [ LAUGHTER ] [ FOREIGN DIALOGUE ] >> YEAH, I HAD SOMETHING SIMILAR HAPPEN.
I CAME UP TO THE TABLE TO GRAB A DRINK FROM THE TABLE AND IMAGINE MY SURPRISE WHEN BY GRABBING ONE, I ENDED UP GRABBING A WHOLE PATCH OF GRAPES AND THEN MY FANNED FELL ON THE TABLE AND THEN I HAD TO WORK MY HAND UP AND WORK THE ONE GRAPE OFF THE REST AND ONLY THEN WAS I ABLE TO GO FREE. >> THIS NEXT ONE, THIS IS FROM ROGER, HE SAID THAT HE WAS WAVING TO YOU FROM THE BEACH AND WONDERED IF YOU COULD SEE HIM. >> I WAS WAVING TO YOU AND OUR WINDOWS WERE SMALLER SO YOU MAY NOT HAVE SEEN ME. KOICHI IS RIGHT. AND THE VIEW WAS INCREDIBLE ON THE REENTRY.
THE GLASS, AND DOING ITS THING, AND I ACTUALLY THOUGHT THESE COLORS, I WOULDN'T EXPECTING IT. WE SAW PINK, GREEN, IT WAS REALLY SOMETHING, AND SO ROGER, I'M NOT SURE THAT I DID SEE YOU. I'M SORRY. >> AND I'M GOING TO SEND THIS ONE TO NICOLE. WHAT WAS THE MOST CHALLENGING ASPECT OF LIVING AND WORKING IN SPACE FOR FIVE MONTHS. >> VELCRO, FOR ME, DEFINITELY.
IT'S YOUR BEST FRIEND AND WORST FRIEND ALL IN THE SAME DAY. AND SOMETIMES YOU JUST NEED GOOD VELCRO THAT WORKS, WHEN YOU STICK SOMETHING THERE AND IT STAYS, EVEN IF IT GETS BUMPED A LITTLE BIT. ALL VELCRO IS NOT CREATED EQUAL. SO SOMETIMES IT'S STRONG WHEN YOU NEED IT TO.
OTHER TIMES, WHEN IT'S OLDER AND DOING THE JOB, AND THEN THERE'S THE VELCRO, AND ANYA WILL APPRECIATE THIS WITH ME. IT GRABS YOUR HAIR EVERY TIME THAT YOU FLOAT BY. AND IN THE AIRLOCK, IT GETS YOU AND IT WILL LITERALLY STOP YOUR MOVEMENT AND YOU PULL BACK AND YOU GO -- SO I KNOW JOSH AND KOICHI, YOU DIDN'T HAVE THE HAIR IN THE VELCRO SITUATION, BUT YOU NOTICED THE LOOK ON MY FACE THAT I JUST GOT VELCROD AND WE ALL APPRECIATED THAT. >> THE STATION IS A BIG PLACE, AND IT HELPED ME AND KOICHI KEEP TRACK OF WHERE NICOLE WAS AND WE COULD FOLLOW HER PATH AND SHE WOULD BE WHIMPERING A LITTLE BIT.
AND WE KNEW WHERE YOU WERE. >> A COUPLE MORE FROM OUR PHONE LINE. LET'S GO TO MARSHA SMITH. MARSH A >> THANK YOU FOR TAKING MY QUESTION.
I'M CURIOUS FOR THE THREE OF YOU WHO HAVE BEEN OUT ON SPACEWALKS, YOU'VE HAD THESE TWO INCIDENTS NOW, WHERE THE PROGRESS, YOU MIGHT HAVE BEEN HIT BY MICROMETEORITE OR SPACE DEBRIS OR SOMETHING, WHEN YOU GO BACK OUT ON THE SPACEWALK AND YOU LOOK BACK ON THE SPACE STATION, ARE YOU SURPRISED TO SEE HOW MANY THINGS THERE ARE IN IT? DO YOU LOOK AT IT AND SAY OH, GOSH, LOOK AT ALL OF THAT. AND ARE YOU ALARMED? HOW WORSE IS IT THAT THERE'S SO MUCH DEBRIS UP THERE? >> PERSONALLY, I WAS FEELING LIKE IT WORKED OUT PRETTY WELL. WE DO SEE SOME EVIDENCE OUT THERE, AND WE'RE TRAINED EXTENSIVELY TO NOT LET THE EVIDENCE -- SOMETIMES THESE HAND RAILS CAN HAVE BURRS ON THEM AND THAT'S A PROBLEM IF WE WERE TO CUT OUR SUITS. BUT DEFINITELY, IT DOES HAPPEN AND I DIDN'T SEE ANYTHING ACTIVELY HAPPEN WHEN I WAS OUT THERE. WE HAVE SUCH AN AMAZING SYSTEM AND THE PEOPLE RUNNING THE SYSTEM, IF SOMETHING LIKE THAT SHOULD HAPPEN, MORE THAN NOT, WE WOULD BE ABLE TO GET OURSELVES BACK TO THE AIRLOCK AND MAINTAIN PRESSURE UNLESS IT'S SOMETHING CATASTROPHIC, BUT THAT'S NOT HAPPENING VERY OFTEN.
SO WE'RE TRAINED ON HOW TO DEAL WITH THAT. WE'VE GOT EMERGENCY PROCEDURES, JUST LIKE FLYING IN AN AIRCRAFT. SO IN LINE WITH EVERYTHING ELSE THAT WE DO, WE PLAN FOR ALL OF THE WORST SITUATIONS AND WHEN THOSE DON'T HAPPEN IT WORKS OUT REALLY WELL AND WE FALL BACK ON OUR TRAINING AND IT'S SECOND NATURE. I THINK THAT WE'RE WORRIED ABOUT SOMETHING MORE OUT THERE THAT FAIRLY WELL PREPPED. >> NEXT UP, WE HAVE TONY. GO AHEAD.
>> CAN YOU HEAR ME >> YES, WE CAN HEAR YOU >> THANK YOU FOR TAKING MY QUESTION. MY QUESTION, ON THIS MISSION, JAPANESE ASTRONAUT, I WANT TO ASK YOU, DO YOU WANT TO FLY TO THE SPACE WITH THE MISSION? THANK YOU. >> THAT'S A GOOD QUESTION.
AND SPACE IS MY PASSION, AND IF I CAN FLY, FLYING ON THE CREW 7. AND I WOULD LIKE TO SUPPORT THE TRAINING AND FLIGHT. AND ALSO, WE HAVE SELECTED NEW CANDIDATES. SO I WOULD LIKE TO HELP SUPPORT THEIR TRAINING AND THE MISSION, AND THEN USE MY EXPERIENCE OF TRAINING AND ALSO SPACE FLIGHT. SO AFTER THAT, IS THERE ANY CHANCE? OF COURSE I WOULD LIKE TO BE INVOLVED IN ANY OF THE ACTIVITIES WITH SPACE FLIGHT.
THANK YOU. >> ALL RIGHT, NEXT UP. NICKI WITH NHK. >> THANK YOU FOR TAKING MY QUESTION AND MY QUESTION, WHAT DID YOU TALK ABOUT? AND ALSO, I WOULD LIKE TO ASK ABOUT YOUR FUTURE, WHAT DO YOU WANT TO DO AFTER YOU RETURN TO JAPAN? CAN YOU TELL US ABOUT YOUR PROFESSIONAL AND PRIVATE LIFE, THANK YOU >> WHAT DO I WANT TO DO AFTER I RETURN TO JAPAN.
THAT'S SOMETHING THAT I WANT TO THINK ABOUT. EAT GOOD SUSHI AND RAMAN FOODS, AND I HAVE A GOOD MEMORY OF GOOD RAMAN THERE, AND I WOULD LIKE TO DO THAT. BUT I WOULD LIKE TO THINK ABOUT, BUT DEFINITELY, I WOULD LIKE TO BE INVOLVED IN HUMAN SPACE EXPLORATION WITH MY EXPERIENCE, AND AFTER TOUCHDOWN, I REALLY FELT THAT WHAT HAPPENED IN THE LAST FIVE MONTHS WAS REALLY IN A DREAM. AND IT'S WONDERFUL TO HAVE ACCOMPLISHED SO MANY GREAT THINGS ABOUT A GREAT CREW ONBOARD THE SPACE STATION, AND WE HAVE CREWMATES ONBOARD THE SPACE STATION.
WE HAVE ACTUALLY A LOT OF ENCOUNTERED A LOT OF TECHNICAL CHALLENGES THAT WE COPED WITH WERE THE SUPPORT OF THE GROUND PEOPLE AND THAT'S WHAT HUMAN SPACE EXPLORATION IS ALL ABOUT. WITH GREAT TEAMWORK, WE'LL BE ABLE TO OVERCOME THE DIFFICULTY THAT WE FACED AND WE ACHIEVED SO MANY THINGS IN THE SPACE STATION. SO I HOPE THAT THE INTERNATIONAL COLLABORATION, AND COMMERCIAL PARTNERS COLLABORATION WILL CONTINUE TO EXPAND OUR PRESENCE IN THE LOWER ORBIT AND THE MOON AND MARS BEYOND. SO I WOULD LIKE TO BE INVOLVED IN THIS SPACE EXPLORATION NO MATTER WHERE I WORK AND THAT'S MY DREAM. THANK YOU. >> WE'RE GOING TO DO A COUPLE OF FOLLOWUPS NOW, AND LET'S GO TO MARVIN MARSHAL WITH NEWS.
>> THANK YOU FOR TAKING ANOTHER QUESTION. AND THIS IS MARVIN AGAIN. AND I'M CURIOUS, THIS IS FOR NICOLE OR JOSH, WHOEVER WANTS TO CHIME IN HERE.
HOW WAS SLEEPING ABOARD DRAGON AND WHERE DID YOU ALL SLEEP? DID YOU SLEEP ABOVE THE DISPLAY? WHERE WERE YOUR SLEEPING POSITIONS AND JUST TO APOLOGIZE, MY LAST GOT CUT OFF. AND I WANT TO EXTEND MY APPRECIATION FOR NASA TODAY. AND WELCOME BACK. >> THANK YOU SO MUCH.
SLEEPING IN DRAGON WAS PRETTY COMFORTABLE. I THINK WE HAD $29 HOURS IN DRAGON BEFORE WE GOT TO THE SPACE STATION AND WE ALL SLEPT IN OUR SEATS. I SLEPT BUT I WOULD WAKE UP AT EVERY JET FIRING OR TURN ON THE DISPLAY JUST TO BE AWARE OF WHAT WAS GOING ON, AND IT WAS ALSO A NEW ENVIRONMENT. SO IT WAS A VERY LIGHT SLEEP, I WOULD SAY, AND THEN TOWARD THE END OF THE MISSION, ONCE CREW SIX CAME ONBOARD, WE TURN OVER OUR QUARTERS TO THE NEW CREW, SO WE LIVE AND SLEEP IN A DIFFERENT LOCATION, AND I HAD THE PRIVILEGE OF SLEEPING IN DRAGON DURING THAT TIME AND THAT WAS REALLY SPECIAL AND A UNIQUE OPPORTUNITY FOR ME. SO IT WAS ABOUT A WEEK AND I SLEPT IN DRAGON WITH ONE BUNGEE TO KEEP ME FROM FLOATING AROUND.
YOU DON'T NEED THE SUPPORT OF THE SEAT OR ANYTHING, YOU JUST FLOAT IN SPACE, BUT ONE THING THAT WAS A TREAT, YOU COULD WAKE UP IN THE MORNING AND TAKE THE WINDOW SHADE OFF AND DRINK YOUR COFFEE AND LOOK OUT THE WINDOW AND MARVEL AT OUR BEAUTIFUL PLANET AND WATCH THE SUNRISE AND THE SUN SET. THAT WAS VERY UNIQUE, AND COMING BACK HOME, I SLEPT AGAIN WHERE I HAD SLEPT FOR THE PAST WEEK AND EVERYBODY ELSE SLEPT IN THEIR SEATS AGAIN. WE ALL SLEPT FOR A COUPLE OF HOURS AND DOUBLE CHECK AND GO BACK TO SLEEP. I SAY ITS COMFORTABLE BUT YOUR MIND IS NOT TOTALLY AT REST BECAUSE YOU'RE ABOUT TO RETURN TO THE PLANET AND THERE'S A LOT GOING ON RIGHT THERE. >> YOU DON'T REMEMBER -- THAT'S INCREDIBLE.
I'M JEALOUS. >> ALL RIGHT, NEXT UP, LET'S GO TO SOPHIE SANCHEZ WITH CHICAGO. >> HI, AND THANK YOU FOR TAKING MY QUESTION. I WANTED TO TALK TO YOU GUYS ABOUT VEGGIES, YOUR EXPERIENCES GROWING THE PLANTS IN SPACE, AND I KNOW THAT FOR THE PAST VEGGIE EXPERIMENTS, IT WAS MORE TO LOOK AT THE TECH DEMONSTRATION, HOW WE COULD GROW AND HOW THE HABITATS FOR THE PLANTS WORK, BUT THIS I'M, LOOKING AT THE ASSESSMENT AND REACTION AND HOW YOU INTERACTED AND FELT ABOUT THE PLANTS. CAN YOU SHARE MORE ABOUT YOUR OWN GROWING PLANTS IN SPACE? THANK YOU.
>> AND I HAD THE PRIVILEGE TO WORK ON THAT VEGGIE EXPERIMENT. AND INSIDE, THERE'S MACHINES AND COMPUTERS, AND IT'S REALLY RARE TO SEE LIVING CREATURES OTHER THAN HUMAN BEINGS, SO IT'S REALLY SOOTHING TO BE ABLE TO TOUCH. SO WE GREW TOMATOES ON THE VEGGIE 5 MISSION, AND PRETTY MUCH EVERY DAY, WE ADDED WATER AND THE CONDITION OF THE PLANTS, AND IT WAS VERY SOOTHING FOR ME TO BE ABLE TO DO THAT. AND UNFORTUNATELY, I DIDN'T HAVE THE CHANCE TO EAT IT. BUT THE CREW MEMBERS NEXT WILL BE ABLE TO HARVEST IT. SO I THINK THAT GROWING THE PLANTS AND HARVESTING IS IMPORTANT FOR LONG-TERM MISSIONS TO MARS IN THE NEAR FUTURE.
SO WE HAVE BEEN DOING EXCELLENT EXPERIMENTS, HOW TO GROW IN HYDROPONIC AND AIR UPONNIC MATTER FOR PLANTS IN FUTURE MISSIONS. SO I WAS VERY FORTUNATE TO HAVE BEEN ABLE TO PARTICIPATE IN THE EXPERIMENT. >> THANK YOU, KOICHI AND LET'S GO TO ELIZABETH HOWELL OF SPACE.COM. >> THANK YOU, AGAIN.
AND THIS IS FOR NICOLE AND ANNA, CAN YOU TALK ABOUT THE SIGNIFICANCE OF WOMEN'S HISTORY MONTH AND THE CONTRIBUTIONS AND DIVERSITY OF SPACE FLIGHTS? THANK YOU. >> OF COURSE. SO I THINK IT'S IMPORTANT THAT WE CELEBRATE EACH TYPE OF UNIQUE EVENT.
AS I SPOKE TO YOU BEFORE, IT'S REALLY AN EVENT THAT YOU CAN SHARE AND HELP INSPIRE THE YOUNGER GENERATION. I THINK THAT THE DIVERSITY THAT WE HAVE? THE U.S. ASTRONAUT CORE AND IN OUR INTERNATIONAL ASTRONAUT AND COSMONAUT CORE, IT'S A REFLECTIVE WHAT WE HAVE ON PLANET EARTH AND IMPORTANT TO RECOGNIZE, AND IT'S IMPORTANT IN THE PAST. THE FACT THAT A WOMAN WAS FLYING THROUGH SPACE AND DOING A SPACEWALK, FORTUNATELY, WE'RE FINALLY PROGRESSING TO AN ERA WHERE THAT'S COMMON NATURE AND YOU'RE GOING TO SEE WITH THE ARTEMIS MISSION WHEN WE GO TO THE MOON, YOU'RE GOING TO SEE WOMEN AND PEOPLE OF COLOR, AND YOU'RE GOING TO SEE ALL DIFFERENT TYPES 6 PEOPLE BE A PART OF THAT ARTEMIS MISSION AND THAT'S REFLECTING WHO WE ARE AS A HUMAN SPECIES, AND THAT INCLUDES ALL OF OUR INTERNATIONAL PARTNERS AS WELL. SO I SEE THIS AS A GREAT THING TO CELEBRATE. OF COURSE WE'RE NOT TOTALLY THERE YET.
RIGHT? THERE ARE STILL AREAS IN THE WORLD AND IN THE UNITED STATES WHERE WE HAVE BARRIERS AND WE'RE WORKING TO OVERCOME THOSE, BUT IT'S GREAT TO ALSO CELEBRATE THE PROGRESS THAT WE HAVE MADE WHERE IT IS THE CAPABLE AND THE CERTIFIED THAT ARE SELECTED FOR A MISSION TO EXECUTE THAT MISSION. >> [ FOREIGN DIALOGUE ] >> I WHOLLY SUBSCRIBE TO EVERYTHING THAT NICOLE SAYS, AND I WOULD ADD THAT HERE ON EARTH, WE HAVE TWO GENDERS, SO IT MAKES SENSE THAT REPRESENTATIVES FROM BOTH OF THEM ARE UP IN SPACE AND EXPLORING SPACE TOGETHER. [ FOREIGN DIALOGUE ] >> AND THERE IS THE CONCEPT OF THE YING AND THE YANG, AND IT'S WELL-KNOWN THAT DIFFERENT TEAMS, GROUPS, PARTNERSHIPS ARE AT THEIR BEST WHEN THERE'S A REPRESENTATION OF THE YING AND THE YANG, THE FEMALE AND THE MALE. WE'RE MORE EFFECTIVE AND SUCCESSFUL AND MORE PRODUCTIVE. [ FOREIGN DIALOGUE ] >> AND TALKING ABOUT DEVELOPING HUMANITY AND OTHER PLANETS, AND EXTRA LONG SPACIOUS OF TRAVEL TO THOSE OTHER PLANETS, IT MAKES ALL THE MORE SENSE TO PREPARE BOTH MEN AND WOMEN, MALES AND FEMALES TO GO TO THOSE PLANETS, TO BE READY TO BE STRONG, TO BE HIGH LEVELS OF ENDURANCE SO THEY ARE FUNCTIONING WELL WHEN THEY REACH THOSE PLANETS, AND THAT'S WHY IT MAKES SENSE TO HAVE BOTH REPRESENTATIVES DO SOMEPLACE EXPLORATION.
>> ALL RIGHT, THANK YOU NICOLE AND ANYA, AND WE HAVE ONE MORE ON THE PHONE, MARSH A >> THANK YOU SO MUCH FOR TAKING A SECOND QUESTION. MINE IS FOR NICOLE. YOU GAVE THAT VERY ENTERTAINING STORY ABOUT YOUR SPACESUIT INCIDENT. EARLIER TODAY, AXIOM ROLLED OUT THEIR PROTOTYPE OF THEIR LUNAR SPACESUIT AND COLLINS IS DEVELOPING A NEW ONE FOR LEO. ARE YOU AND THE OTHER ASTRONAUTS BEING BROUGHT INTO THE DISCUSSIONS ON HOW TO DESIGN THESE TO MAKE THEM EASIER TO USE? AND WHAT'S ONE PIECE OF ADVICE WOULD YOU GIVE THEM? >> IN GENERAL, YES, NASA IS BEING CONSULTED QUITE A BIT ON THE DEVELOPMENT OF THE NEW SPACESUITS, AND THEY'RE LOOKING AT A WIDER RANGE OF BODY TYPES TO FIT INTO THESE SPACESUITS. BECAUSE WE'RE ALL UNIQUE WITH DIFFERENT HEIGHTS AND WIDTHS, AND IT'S IMPORTANT THAT WE MAKE A SPACESUIT THAT'S ADAPTABLE AND ABLE TO FUNCTION AND GET THE JOB DONE MORE EFFECTIVELY IN A SPACESUIT THAT FITS YOU PERSONALLY AND IS ADAPTABLE IN A VARIETY OF TYPES OF PEOPLE.
SINCE WE HAVE BEEN ONBOARD THE INTERNATIONAL SPACE STATION AND JUST RETURNING, I'VE NOT PERSONALLY BEEN INVOLVED AND THIS MORNING, I DIDN'T GET TO SEE THE ROLLOUT OF THE NEW SUIT BUT I KNOW WE'RE ALL EXCITE FOR THAT NEW SUIT. THE EMU IS A GREAT SUIT BUT IT'S ANTIQUATED TECHNOLOGY, SO WHAT I THINK WE'LL SEE WITH THE NEXT GENERATION SPACESUITS, NOT ONLY THE ABILITY TO ADAPT TO DIFFERENT BODY TYPES BUT COMPUTERS AND IMAGING TO GIVE YOU MORE INFORMATION TO UNDERSTAND AND EASIER TO USE THAT SPACESUIT FOR REALLY EVERYBODY. SO THIS NEXT LEAP IN A GENERATION WILL MAKE OUR APE ABILITIES MUCH MORE EFFECTIVE. >> AND ONE MORE ON THE PHONE BRIDGE.
MANUEL. >> YES, THANK YOU. HOW ARE YOU? A QUESTION FOR ANY ONE OF THE CREW. I'M CURIOUS TO KNOW, HOW DO YOU EAT AFTER SPLASH DOWN? YOU HAVE TO ADAPT. BUT THEN YOU HAVE THE CAPSULE MOVING ALONG WITH THE WEIGHT AND YOU HAVE TO BE AN HOUR WAITING OUT OF THE WATER.
DOES IT MAKE IT MORE DIFFICULT TO ADAPT? HOW DO YOU FEEL OUTSIDE OF DRAGON? >> THANK YOU. WELL, THAT LAST HOUR WAS THE 30th HOUR WE HAD ESSENTIALLY BEEN AWAKE, SO WE WERE PRETTY BEAT AND THAT WAS A NICE LITTLE RELAXING MOMENT WHERE WE DIDN'T HAVE TO DO ANYTHING. SO I WOULD SAY THAT I WAS EXPECTING IT TO BE A LITTLE BIT MORE BENIGN, BUT I THINK THAT THEY ENDED UP BEING A LITTLE BIT BIGGER THAN EXPECTED. PERSONALLY, I FELT FINE AND I DIDN'T FEEL SICK, BUT I WAS THE FIRST ONE TO GET MOVED OUT OF THE DRAGON. APPARENTLY BECAUSE I'M THE BIGGEST ONE ON THE CREW. SINCE WE HAVE A SMALL CREW, I'M THE BIGGEST GUY.
SO WE HAVE SOME INCREDIBLE PEOPLE TAKING CARE OF US, AND MOST OF THEM ARE FORMER PJs FOR THE U.S. AIR FORCE. THAT WAS PROBABLY ONE OF THE MORE EXCITING PARTS. MOVING QUICKLY AND THAT, I MOVED AND THEY GOT ME WHERE I NEEDED TO BE BECAUSE I'M BIG AND STRONG AND THEY GOT ME RIGHT WHERE I NEEDED TO BE, AND I GOT OUT AND STILL FEELING GOOD. SO THE PROBLEM I HAD, MY BODY REALLY REALLY WANTED TO LEAN FORWARD AND IT TOOK A COUPLE OF OTHER BIG GUYS TO MAKE SURE THAT I DIDN'T DO THAT TOO MUCH. BUT THAT HOUR, I ACTUALLY ENJOYED THAT. IT WAS A NICE CALM RESPITE BEFORE WE GOT BACK TO REAL CIVILIZATION.
>> THAT'S GOING TO DO IT FOR OUR PHONE BRIDGE AND A COUPLE MORE ON SOM BEFORE I LET YOU FREE. THIS FIRST IS FROM DANE FROM KOICHI AND WHERE DID YOU GET YOUR SOUP WHEN -- YOUR SUSHI? >> YOU HAVE TO ASK MY WIFE, IT'S LOCAL. >> DANE MAY OR MAY NOT WORK FOR NASA, AND I'LL CLOSE ON THIS, I'LL ASK EACH OF YOU, BESIDES SPLASHING DOWN AND GETTING ON THE BOAT, WHAT'S THE FIRST THING YOU DID ONCE YOU KIND OF GOT BACK AND YOU HAD THE FREEDOM TO DO WHATEVER YOU WANT? WHAT'S THE FIRST THING YOU DID? >> THE FIRST THING? >> BACK ON EARTH. SO BASICALLY, ONCE YOU GOT BACK TO HOUSTON, YOU HAD FREEDOM TO DO WHATEVER YOU WANTED TO DO, AND WHAT WAS THE FIRST THING YOU DID? >> I THINK I TOOK A SHOWER AND ENJOYED THE WATER DROPLETS REALLY DROPPING BECAUSE I HAVE NOT SEEN THAT VIEW FOR 5 MONTHS, AND IT'S KIND OF STRANGE, BUT DROPS, I ENJOYED THAT. >> I ATE MY BODY WEIGHT IN CHEETOS.
I DIDN'T SHARE WITH MY KIDS AND I SAID WE WOULD DO THAT SOME OTHER TIME. BUT THEN THE FIRST AFTERNOON WE HAD OFF, WE HAD A BREAK AND I WAS PLAYING CATCH WITH THE BOYS AND THAT WAS SUPER FUN. THE WEATHER BROKE A LITTLE BIT. >> WE JOKED BEFORE WE LEFT. DID YOU MAKE IT ALL THE WAY TO THE KIDS? WHAT WAS YOUR THOUGHTS? >> I NEVER GOT GOOD AT THROWING THINGS IN SPACE.
>> ALL RIGHT, FOR ME, IT WAS THAT FIRST HUG WITH MY HUSBAND AND MY SON. I THOUGHT ABOUT IT, AND IT WAS GREAT TO SEE THEM. BUT THE SECOND I GOT THAT HUG, I HELD ON FOR PROBABLY WAY TOO LONG, AND IT WAS THE GREATEST FEELING IN THE WORLD, JUST TO BE CONNECTED WITH THEM IN THAT WAY.
OF COURSE WE HAVE PRETTY GOOD CONNECTION WITH PHONECALLS AND FACETIME TYPE AUDIO VIDEO CALLS, BUT THAT FIRST WAS SPECIAL. [ FOREIGN DIALOGUE ] >> WELL, IF YOU ASK ME, I IMAGINE THAT WHEN I GOT TO THE PLACE OF REHABILITATION, I WOULD ALSO ENJOY A SHOWER AND JUST TO CENTER ALL OF THAT WATER ON ITS OWN DRAIN AWAY FROM MY HAIR. BUT ACTUALLY IT TURNED OUT THAT EVEN MORE THAN THAT, I ENJOYED JUST LAYING ON MY SIDE AND NOT DOING ANYTHING. >> ALL RIGHT, THAT'S GOING TO DO IT FOR US, AND I WANT TO THANK EVERYBODY FOR CALLING IN AND SENDING YOUR QUESTIONS ON SOCIAL MEDIA TO CREW FIVE.
WELCOME HOME AND IT'S GREAT TO SEE YOUR SMILING FACES ON PLANET EARTH. IT HAS BEEN A PLEASURE TO WORK WITH YOU FOR THE LAST FIVE MONTHS WHILE THEY HAVE BEEN IN SPACE. THEY HAVE A LOT OF WORK TO DO ON EARTH. AND JOSH, THE SUNGLASSES SO THE LIGHTS ARE NOT TOO BRIGHT BUT A LOT STILL AHEAD FOR THEM.
BUT 150 DAYS IN SPACE, AND THEY CAME HOME ON SATURDAY AND I APPRECIATE YOU SPENDING AN AFTERNOON WITH US. THAT'S GOING TO DO IT FOR US, AND CONTINUE TO PHALLUS ON NASA.GOV. A LOT MORE COMING SOON AND THAT WILL DO IT SO WE'LL SAY GOODBYE.
2023-03-27 00:00
Show Video
Other news