Bloomberg Technology 09/06/2023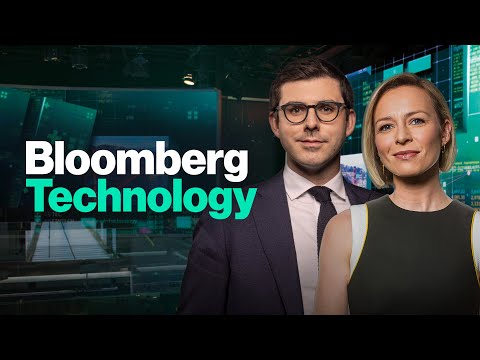 Show Video
>> STAY TUNED TO HEAR MORE IN THE NEXT HOUR. >> FROM THE HEART OVER INNOVATION, MONEY, AND COLLIDE, THIS IS BLOOMBERG TECHNOLOGY WITH CAROLINE HYDE AND ED LUDLOW. CAROLINE: I IN THE WORLD HAD COURTED -- THE WORLD HEADQUARTERS IN NEW YORK. ED: I AM IN D.C.. CAROLINE: AFTER FOUR YEAR ANTITRUST INVESTIGATIONS INTO THE COMPANY, WE GET ALL OF THE DETAILS. ED: MICROSOFT'S HIGHLY ANTICIPATED STARFIELD HITS THE MARKETPLACE TO RAVE REVIEWS.
WE DISCUSSED WITH THE HEAD OF BETHESDA AND MARKETS OFF GAMING. CAROLINE: HUAWEI'S MADE IN CHINA CHIP AND THE TECHNOLOGY SECTOR, LET US DIG INTO THESE MARKETS AS WE LOOK AT A MICRO PICTURE, OVERALL WE ARE SEEING SERVICES, THE DATA, THE MACRO PICTURE OF HEALTH WHERE IT IS LACKLUSTER OVER IN EUROPE AND CHINA AND WHAT DOES THAT MEAN? WE SEE RATES RISE AND WE SEE THE DOLLAR RISE UP 2%. AS WE START TO SEE A QUESTION OF WHETHER THE FED HAS TO GO FURTHER IN TERMS OF INTEREST RATE HIKES TO COOL DOWN THE INFLATIONARY PRESSURE IN THE U.S., THAT MEANS FURTHER SELLOFF IN THE NASDAQ. THE TWO YEAR YIELD AS WE HAVE SEEN CHRISTIAN DOING UP, WE ARE ABOVE THE 5% LEVELS. NOTABLE IN THE MINDS OF MANY AT
THIS MOMENT. WE ARE LOOKING AT WHAT IS HAPPENING, OR DOES THAT MEAN FOR THE RISK ASSET OUTLET? JAPAN AND CHINA ARE UP AND FIGHT BACK AFTER OBSERVING THEIR CURRENCIES. WHAT DOES IT MEAN FOR CRYPTO? CONTINUED PRESSURE FROM THE U.S.
DOLLAR VIS-A-VIS BITCOIN, 25,000 HUNDRED, MORE RISK AVERSION? IS A STRONG DOLLAR? WE ARE OFF BY .5%. MACRO DRAGGING DOWN THE NASDAQ. ED: THESE ARE THE BIGGEST POINTS MOVERS TO THE NASDAQ 100, THE HOT PRINT IS IMPACTING EQUITIES AT THE SINK ON A LEVEL BUT THIS NEWS OVERNIGHT, THE WALL STREET JOURNAL REPORTING THAT CHINA'S CENTRAL GOVERNMENT IS TELLING SPECIFIC AGENCIES, SOME AGENCIES TO GET THEIR PEOPLE TO MOVE AWAY FROM USING FOREIGN HANDSETS TO DOMESTIC HANDSETS WITH PARTICULAR FOCUS ON APPLE'S IPHONE. WE DISCUSSED THAT WITH WHAT IS HAPPENING WITH HUAWEI, TESLA AND NVIDIA ALSO DRAGS ON THE NASDAQ. TWO OTHER BIG DAYS WE ARE WATCHING IT, THE FIRST IS MICROSOFT, WE WILL SPEAK TO MICROSOFT'S GAMING CHIEF AND THE HEAD OF BETHESDA STUDIO. MANY HAVE REACHED OUT WITH YOUR
THOUGHTS OF STARFIELD OUT OF THE GATEKEEPERS LIST OUT OF THE EU. THEN AMAZON, DOWN 1%. ACCORDING TO OUR SOURCES, THE FTC WILL FINALLY INFLATE THIS MONTH WITH THAT SUIT. CAROLINE: AS SOON AS SEPTEMBER, THAT IS WHAT IS BEING REPORTED BY OUR OWN PEOPLE ON THE GROUND AND WE KNOW THAT THE COMPANY HAS BEEN TRYING TO WIN THE EAR OF REGULATORS THAT IT HAS FAILED TO OFFER WHAT HAS BEEN SUBSTANTIAL REASON AS TO WHY ITS MARKETPLACE IN PARTICULAR HAS NOT BEEN DEEMED OVERALL SOME SORT OF COMPETITIVE THREAT AT THE MOMENT. WE ARE DIGGING INTO ALL OF THESE LACK OF CONCESSIONS THUS FAR IT SEEMS. WHAT IS IT THAT AMAZON REALLY HAS FAILED TO SHOW TO THE FTC? >> THE FTC HAS BEEN LOOKING AT AMAZON FOR FOUR YEARS AND IT HAS A LOT OF CONCERNS ABOUT THE WAY THAT IT HAS ORGANIZED HIS MARKETPLACE. -- ITS MARKETPLACE. IN ORDER TO GET THE PRIME BADGE, WHEN YOU GO INTO THE WEBSITE AND CLICK ON THE BY BOX, THAT IS RIGHT THERE. IN ORDER TO GET THAT YOU HAVE
TO USE AMAZON'S LOGISTICS SERVICE AND THE FTC IS CONCERNED THAT UNFAIRLY TIES ACCESS TO THE MARKETPLACE TO USING THESE OTHER SERVICES AT AMAZON. AMAZON HAS TRIED TO ASSUAGE CONCERNS BY OPENING UP THIS NEW PROGRAM CALLED PRIME SELLERS SO THAT YOU CAN DO YOUR OWN LOGISTICS BY USING UPS OR FEDEX. THAT DOES NOT SEEM TO HAVE RESULTED IN CONCERNS BY THE FTC. ED: WE KNOW THAT IN MID-AUGUST,
REPRESENTATIVES FROM AMAZON MET WITH THE THREE COMMISSIONERS OF THE FTC AND WE TALKED ABOUT IT WITH YOU ON THIS PROGRAM. WHAT WE DID NOT LEARN IS ARE THERE ANY CONCESSIONS OR ANYTHING THAT AMAZON TRIED TO DO TO AVERT THIS FROM HAPPENING? OR IS IT ALWAYS GOING TO HAPPEN? >> WHAT WE HAVE HEARD ABOUT THE MEETING THAT TOOK PLACE IN MID-AUGUST. THEY LAID OUT WHAT THEY THINK ARE THEIR DEFENSES DO THESE THINGS, THERE WERE NO SETTLEMENT TALKS.
THERE WAS A HEARING ABOUT A SETTLEMENT WHICH AMAZON HAD A SETTLEMENT TO RESOLVE THE EUROPE AND U.K.. THE FTC WAS NOT INTERESTED. THAT SORT OF THE LAST STEP BEFORE A SUIT IS FILED AND HEARING THE IT WILL PROBABLY COME SOMETIME LATER THIS MONTH. CAROLINE: GIVE US THE CONTEXT, REMIND US IF YOU HAVE FORGOTTEN, MANY WHO EXPECTED THIS WAS LIKELY TO COME, THE BIG, BEEFY ONE, VIS-A-VIS AMAZON, THEY HAVE TAKEN STEPS TO SUE ALREADY IN MAY AND JUNE? >> THIS WILL BE THE FOURTH LOSS OF THE FTC HAS FILED AGAINST AMAZON THIS YEAR AND THEY FILED TWO EARLIER OVER THE PRIVACY RELATED AMAZON DEVICES SUCH AS THE RING DOORBELL AND THE ECHO SPEAKER. AMAZON AGREED TO PAY $30 MILLION IN FINES RELATED TO THAT AND THEY FILED THE SECOND SUIT THAT REMAINS PENDING AND AMAZON CONTESTED THAT ONE OVER CONSUMER PROTECTION ALLEGATIONS RELATED TO PRIME, THE FTC SAYS AMAZON HAS DELIBERATELY MADE IT TOO DIFFICULT FOR CONSUMERS TO CANCEL THEIR PRIME SUBSCRIPTIONS.
AMAZON IS CONTESTING THAT AND THAT LAWSUIT IS ONGOING. THIS IS THE BIG ONE, LINA KHAN WAS WELL KNOWN BEFORE SHE CAME FTC CHAIR FOR THIS PAPER THAT SHE WROTE ABOUT AMAZON. SOMEONE WAS JOKING THE OTHER DAY THAT THIS LAWSUIT IS GOING TO BE INSCRIBED ON HER TOMBSTONE WHEN SHE DIES.
THE FTC HAS BEEN LOOKING FORWARD TO THIS AND IT WILL BE ONE OF THE BIGGEST MOVES THAT THEY MAKE DURING THE ADMINISTRATION. ED: THAT IS THE ANTITRUST BEAT OUT OF D.C.. STICKING WITH THESE GEOPOLITICAL TENSIONS, THE U.S. IS WORKING TO ESTABLISH A FULL DETAIL OF HUAWEI'S ADVANCES IN CHIP TECHNOLOGY. CHINESE NATIONALISM AND IGNITED SPECULATION ABOUT THE EFFECTIVENESS OF WASHINGTON'S CURBS ON THE TECHNOLOGY SECTOR. WE BRING IN ANNE-MARIE, D.C. IS CALLING FOR WHAT THEY SEE AS A WARRANTED INVESTIGATION INTO HUAWEI AND THE SEVEN NANOMETER PROCESSOR? >> WE HEARD FROM JAKE SULLIVAN, HE DIDN'T WANT TO MAKE A PREDICTION AND WHAT WE SAW OUT OF HUAWEI'S INTEREST IN, OR ON PURPOSE WHEN THE INDIVIDUAL IN CHARGE OF THE COMMERCE DEPARTMENT WHICH IS ENACTING THOSE EXPORT CONTROLS AND WOULD BE THE ONES LEADING THAT INVESTIGATION, WHEN HHE HIS LEAVING CHINA, THEY NEED MORE INFORMATION.
TODAY WE HEARD FROM MICHAEL MCCAUL, THE REPUBLICAN CHAIRMAN OF THE HOUSE FOREIGN RELATIONS COMMITTEE AND HE WAS ASKED ABOUT THIS. HE WAS ASKED IF CHINA'S TOP CHIPMAKER WARRANTED AN INVESTIGATION, HE THINKS IT DOES AND IT LOOKS LIKE THEY DID IN TERMS OF VIOLATING SANCTIONS. THIS IS NOT JUST GOING TO BE POLITICAL PRESSURE ON THE WHITE HOUSE FROM CONGRESS OR REPUBLICANS, IT LOOKS LIKE THEY WANT TO SEE HOW HUAWEI WAS ABLE TO COME UP WITH THIS PHONE GIVEN THE FACT THAT SMIC IS ON THE ENTITIES LIST AND HUAWEI IS ON THE ENTITIES LIST AND YOU HAVE U.S. TECHNOLOGY PRESENT WITHIN SMIC COMPONENTS. IF THEY WANT TO GIVE IT TO HUAWEI THEY WOULD NEED TO GET RELEASE, AND CALL WASHINGTON AND GET THAT REVIEWED BEFORE THEY SHOULD BE ALLOWED TO DO SO ACCORDING TO THE CURRENT RULE OF LAW -- TO DO SO CURRENT RULE OF LAW. >> SCHOOLYARD, HIGH FENCE. DO YOU THINK THAT GETS CALLED
INTO QUESTION BECAUSE JAKE SULLIVAN SEEMS TO BE STICKING TO THAT PARTICULAR CAUSE? >> WHEN JAKE SULLIVAN WANTED TO SAY IS THAT THEY STILL MAINTAIN THAT THERE IS A LOT OF BUSINESS BETWEEN WASHINGTON BEIJING ON THE COMMERCIAL SIDE BUT THESE EXPORT CONTROLS, THESE SANCTIONS, INVESTIGATIONS IF THEY HAVE ONE AS HAVING TO DO WITH NATIONAL SECURITY CONCERNS. THAT WAS THE MESSAGE FROM GINA RAIMONDO WHEN SHE WAS IN CHINA AND THAT IS THE MESSAGE FROM THE PODIUM AND THE WEST WING. >> THANK YOU FOR BRINGING US THE INSIDE TRACK FROM WASHINGTON. ED: LET US TALK ABOUT WHAT IS HAPPENING IN CHINA. CAROLINE: THEY HAVE BANNED STAFF FROM USING APPLE IPHONES AND OTHER FOREIGN BRANDED DEVICES AT WORK. THAT IS THE WALL STREET JOURNAL. APPLE IS CHINA'S BIGGEST
INTERNATIONAL MARKET, WE WILL SEE HOW THAT CONTINUES TO UNFOLD. MICROSOFT GAMING CEO, BETHESDA GAME STUDIOS EXECUTIVE, BOTH JOINING US FOR THE LAUNCH OF STARFIELD. HAVE YOU WATCHED THE TRAILER? THIS IS OVER TECHNOLOGY. -- BLOOMBERG TECHNOLOGY.
ED: TIME FOR SOME TALKING TECH, RIGHT TO REPAIR SUPPORTERS ARE INCREASINGLY BULLISH NATION WHATEVER APPLE AND EFFECTIVELY GOT BEHIND A CALIFORNIA BILL THAT PLAYED A KEY HURDLE LAST WEEK, FINAL APPROVAL OF THE PROPOSAL MAKES THE GOLDEN STATE THE LATEST TO PASS A LAW REQUIRING THE ELECTRONICS COMPANIES LOOSING CONTROL OVER THE PARTS AND TECHNICAL KNOW-HOW NECESSARY TO FIX THEIR PRODUCTS. MICROSOFT AND APPLE FACE INVESTIGATIONS FROM EU REGULATORS AS PART OF THE LANDMARK DIGITAL MARKETS CLAMPDOWN. THOSE COMPANIES ARE AMONG THE 22 SERVICES THAT ARE UNDER THE EU MARKET AND GIVES THEM SIX MONTHS TO FALL IN LINE OR CHALLENGE THEM IN EU COURT.
TELECOM IS TAKING NEARLY 10% STAKE IN SPAIN'S TELEFONICA AS THE MADRID-BASED CARRIER PLANS OUT A NEW STRATEGY FOR FUTURE GROWTH. THIS IS BOUND TO DRAW SCRUTINY FROM THE SPANISH GOVERNMENT WHO VIEWS TELEFONICA OF STRATEGIC IMPORTANCE. OPERATING INFRASTRUCTURE THAT IS CRITICAL TO THE NATION'S DEFENSE AND SECURITY. CAROLINE: SO MANY OTHER STORIES TO BE
DIGGING INTO TODAY, ONE OF THEM IS OF COURSE AFTER THE REVERSE STOCK SPLIT, WE WERE BACK AT $3.43, WE ARE DOWN BY 3%, WE UNDERSTAND A CEO IS PUTTING OUT A LETTER TALKING ABOUT RENEGOTIATING NEARLY ALL OF THEIR RELEASES WITH LANDLORDS AND TO EXIT UNFIT AND UNDER PERFORMATIVE LOCATIONS. DAVID IS AT A RACE AGAINST TIME. ULTIMATELY, A LOT OF BUSINESSES HAVE NOT BEEN RETURNING TO THE OFFICE AND WE GET THE FEEL THAT IT IS BACK TO SCHOOL, BUT ULTIMATELY, THEY ARE RUNNING LOW ON THE MONEY AND THEY NEED TO BE RENEGOTIATING NOW. WHETHER OR NOT THOSE BUSINESSES CAN BE A GROWING CONCERN. ED:
THAT HAPPENED LAST MONTH AND THE REALITY IS PEOPLE IN THE TECH INDUSTRY WHO STILL USE WEWORK. SMALL SHARED SPACES AND A PART OF WHAT TONY SAID IS IT WE ARE GOING TO CLOSE LOCATIONS LIKE THEY HAVE DONE IN THE PAST IS PART OF THIS PROCESS, THEY WILL HAVE TO GO AND TELL EVERYONE THAT IS WORKING IN THEM. CAROLINE: OFFER ALTERNATIVE ARRANGEMENTS, INCONVENIENT IT IS IF YOU ARE INDEED SOMEONE WHO ENJOYS GOING TO THE OFFICE IN THESE KEY LOCATIONS. WE KEEP A CLOSE EYE ON A $3.43 STOCK THAT IS UNDER PRESSURE.
THIS IS BLOOMBERG TECHNOLOGY. ♪ ED: LET US GO GLOBAL AND LOOK TO INDIA'S ECONOMIC TRANSFORMATION. APPLE AND SAMSUNG LOOKING TO DIVERSIFY AWAY FROM CHINA. IS INDIA PREPARED TO TAKE CHINA'S PATH AND EMERGE AS THE NEXT GLOBAL FACTORY TO BECOME THE NEXT ECONOMIC POWERHOUSE? HERE IS BLOOMBERG'S REPORTER. >> INDIA IS THE WORLD'S'S SECOND LARGEST FOREIGN MARKET, OVER 200 MILLION SOLD LAST YEAR. MOST OF THEM WERE IMPORTED, NOW THE COUNTRY IS A NET EXPORTER WITH SAMSUNG AND APPLE LEADING THE CHARGE.
THE PRIME MINISTER WANTS TO REPEAT THIS SUCCESS ACROSS ELECTRONIC GOODS, ELECTRIC VEHICLES, GREEN ENERGY, CHEMICALS, TEXTILES, THE GOAL IS TO REVERSE THE DECLINING SHARE OF MANUFACTURING INTO TARGETING $1 TRILLION IN EXPORTS AND MOST IMPORTANTLY, CREATING JOBS FOR THE LARGEST WORKING AGE POPULATION IN THE WORLD. STANDING IN THE WAY OF THIS MANUFACTURING VISION ARE SOME CHALLENGES LIKE LAND ACQUISITION PROBLEMS, HIGH LOGISTICS COSTS AND SOME NUANCE IS WELCOME AUTOMATION, LACK OF SKILLED LABOR. TAKE PHONES, FOR AND SINCE. THERE ARE HIGH TARIFFS ON PHONES AND LOCAL BENEFITS TO BOOST MANUFACTURE.
BUT DIGITALIZATION IS A LONG WAY OFF. ACCORDING TO ONE REPORT INDIAN FACTORIES AT 18% IN VALUE TO THE ELECTRONIC DEVICES THEY ASSEMBLE FOR EXPORT COMPARED WITH 38% IN CHINA AND 24% IN VIETNAM. MANUFACTURING IN VIETNAM IS CHEAPER BY AT LEAST A 10TH. THE MADE IN AND YET WELL AND IF IT INFRASTRUCTURE AND LOGISTICS. AND THE REAL WORK OF A POTENTIALLY LARGE DOMESTIC MARKET. NOW, THERE IS THE CHINA PLUS ONE WAVE AS LARGE GLOBAL CORPORATIONS SEEK TO MITIGATE YOUR POLITICAL RISKS AND A SLOWING CHINESE ECONOMY BY DIVERSIFYING THEIR SUPPLY CHAINS.
SINCE THE LIBERALIZATION OF ITS ECONOMIES IN THE 1990'S, INDIA IS KNOWN AS THE BACK OFFICE TO THE WORLD. ABOUT TO BECOME A DEVELOPED ECONOMY, THE GOVERNMENT NEEDS IT TO BECOME THE FACTORY TO THE WORLD. ED: THAT STARFIELD, THE AMBITIOUS NEW SPACE ROLE-PLAYING VIDEO GAME AND SO FAR, IT LOOKS LIKE A PRETTY DECENT THAT.
THE HIGHLY ANTICIPATED TITLE ARISE AFTER SEVEN YEARS IN DEVELOPMENT. THE FIRST TIME BETHESDA HAS ENTERED A NEW UNIVERSE IN 25 YEARS. STARFIELD IS AVAILABLE TO XBOX GAME PASS. WE ARE DELIGHTED TO BRING THE GIANTS BEHIND AGAIN, MARKS OF GAMING AND TAUGHT HOWEVER, THE EXECUTIVE DIRECTOR OF BETHESDA GAMES STUDIOS AND THE EXECUTIVE REDUCER ON THE TITLE. I ASKED HER AUDIENCE, WHAT WOULD YOU ASK TODD? BIG QUESTION FROM MANY, WHY DID YOU NOT OPTIMIZE THIS GAME FOR PC? >> WE DID.
IT IS A NEXGEN PC GAME -- NEXT GEN PC GAME. YOU MAY NEED TO UPGRADE YOUR PC BUT HAS A LOT OF GREAT STUFF AND THE FANS ARE RESPONDING. ED: WE HAVE BEEN REVIEWING THE GAMEPLAY AND WE HAVE BEEN REVIEWING THE DISCUSSION ONLINE, GOOD TO SEE YOU, FAIL, XBOX GAME PASS, IT IS AVAILABLE TO ANYONE WHO IS SUBSCRIBED. HOW CAN YOU GUARANTEE FROM THE SALES PERSPECTIVE THAT YOU HIT THE HEIGHTS ESQUIRE ROOM HAS -- THE HEIGHTS THAT SKYRIM HAS? HOW DO YOU ENSURE THAT PEOPLE PLAY IT? >> WE CAN SEE PEOPLE PLAYING WHICH IS GREAT ON THE PLATFORM. YOU MIGHT KNOW THAT THE GAME HAS BEEN IN PREVIEW FOR THE PAST WEEK AND IT IS ALREADY ALMOST PLAYED NEXT GEN EXCLUSIVE GAME ON XBOX. WE ARE SEEING HUGE SUCCESS, IT
IS OUR BIGGEST WHICH LISTED GAME ON A STEAM ACROSS XBOX AND BETHESDA GAMES STUDIOS. TENS OF MILLIONS OF GAME PASS SUBSCRIBERS IN THE STANDARD EDITION RETAIL CUSTOMERS PLAY TODAY. INCREDIBLE DAY, NEW FRANCHISE LAUNCHING, A LOT OF FUN. CAROLINE:
I AM SURE YOU WANT TO DWELL ON THE HERE AND THERE NOW, BUT YOU HAVE BEEN ASKED, YOU MENTIONED EXCLUSIVE? DOES THAT MEAN ELDER SCROLLS WILL BE? HOW YOU MARK THIS IS THE RIGHT TRACK? >> WE LOOK AT IT ON A CASE-BY-CASE BASIS WITH THE GAMES THAT WE BUILT. WE WANT TO MAKE SURE OUR GAMES ARE AVAILABLE IN SO MANY DIFFERENT PLACES ON XBOX CONSOLES, ON PC, ALSO BE A CLOUD, THESE GAMES CAN COME TO ALMOST ANY WEB ENABLED DEVICE. WE ARE LOOKING AT MILLIONS OF PLAYERS WHO WILL HAVE ACCESS TO STARFIELD AND OTHER XBOX GAMES STUDIO GAMES. IT IS ABOUT GIVING PLAYERS TWICE ABOUT BUILDING THEIR LIBRARY OF GAMES. CAROLINE: WHAT ABOUT TIMING? OTHER NAMES, OTHER GAMES? BALDUR'S GAIT HAS DONE WELL.
>> LOOK AT VIDEO GAMES NOW, IT IS SO COMPETITIVE, I THINK THIS YEAR, 2023 COULD BE THE GREATEST YEAR EVER IN VIDEO GAMES. DO HAVE STARFIELD BE OUT THERE AND A RESPONSE WE HAVE GOTTEN HAS JUST BEEN INCREDIBLE FOR EVERYBODY HERE AT THE STUDIO. IT IS ABOUT LAUNCH AND TODAY BUT OUR GAMES, THEY ARE PLAYED FOR YEARS. 12 YEARS AFTER SKY ROOM, ONE OF OUR MOST PLAYED GAMES, WE LIKE TO BUILD THESE WORLD PEOPLE CAN GET LOST IN. THE FAN FEEDBACK AND WHAT IT MEANS TO EVERYBODY, IT REALLY IS INCREDIBLE FOR ALL OF US HERE. ED:
I WANT TO GO BACK TO ANOTHER AUDIENCE QUESTION, IT IS VERY SPECIFIC. THERE ARE SO MANY WHO ARE ASKED IT. WHAT ARE THERE NO VEHICLES ON PLANETS? SPACE IS ONE THING, BUT WHAT ABOUT TERRA FIRMA? >> IT IS SOMETHING WE CONSIDER, WE WILL DO OUTER SPACE AND PLANETS. WANT TO DO VEHICLES IT DOES CHANGE THE GAMEPLAY. BY FOCUSING ONCE YOU LAND IN YOUR SHIP BY YOUR ON FOOT, REALLY -- IT LETS US REALLY EXPERIENCE HOW WE KNOW HOW FAST THEY ARE THINKING THINGS. YOU DO HAVE A VEHICLE WHICH IS THE SPACESHIP, YOU CAN GO AROUND SPACE THAN ON THE SURFACE, YOU HAVE A JETPACK WHICH YOU CAN UPGRADE WHICH IS SUPER FUN.
OBVIOUSLY, PLANETS HAVE DIFFERENT LEVELS OF GRAVITY WHICH MAKES THAT UNIQUE FOR MANY PLANETS. ED: THIS IS SO CLOSELY TIED TO XBOX. I FIND INTERESTING, HAD TO ASK ABOUT THE LATEST OFFER FROM MICROSOFT AND ACTIVISION TO THE U.K. CMA. DO YOU THINK THAT STRUCTURE WILL BE ACCEPTED WITH THE U.K. CMA? >> WE ARE WORKING COOPERATIVELY WITH THE REGULATORS WE HAVE HAD THROUGH THIS WHOLE PROCESS. . IT HAS BEEN A LONG PROCESS. WE REMAIN CONFIDENT IN THE WORK WE ARE DOING WITH THE CMA AND THE EUROPEAN COMMISSION AND WITH THE FTC AND THE U.S.
WE WILL CLOSE THIS ACQUISITION. CAROLINE: ANOTHER QUESTION. WHAT HAS BEEN YOUR FAVORITE OPERATION? WHAT HAS BEEN YOUR FAVORITE BUILD OR A MEANS OF TRAVELING THROUGH SPACE? >> FAVORITE MEANS OF TRAVELING THROUGH SPACE? WHEN I'M DOING MY SHIP I LIKE TO FOCUS ON SHIELDS AND DEFENSE BECAUSE YOU NEVER KNOW WHAT IS GOING TO HAPPEN WHEN YOU JUMP INTO A NEW SYSTEM IN THE GAME AS FAR AS CHARACTER BUILDS, ONE OF THE THINGS WE LOVE TO DO WHICH IS THERE AIS SO MUCH YOU CAN DO IN THE GAME, FIVE OR SIX GAMES AT ONCE, JUST A COMFORTABLE AND DO WHAT YOU WANT TO DO. IF YOU WANT TO SCAN PLANETS AND EXPLORE, GREAT.
IF YOU WANT TO JOIN THE PIRATES, GREAT. IT IS WHATEVER YOU WANT TO DO. WHATEVER YOU ARE COMFORTABLE WITH. WEI DU THIS -- WE CREATE THIS WORLD, BUT IT IS ABOUT THE PLAYERS. CAROLINE: THIS GAME TOOK SEVEN YEARS TO MAKE. DOES GENITIVE SAY ALLOW YOU TO
EXPEDITE THE CREATION PROCESS -- DOES GENERATIVE AI ALLOW YOU TO EXPEDITE THE CREATION PROCESS? >> THE AREAS WE CAN GO FASTER, BUT THESE ARE COMPLEX PROJECTS, THEY ARE BIG, TECHNOLOGICAL INNOVATIONS, SO MUCH DESIGN, THIS GAME HAS OVER 3 MILLION WORDS IN IT YET WE LIKE TO MAKE REALLY BIG GAMES, THOSE WILL TAKE SOME TIME AND AS YOU MENTIONED BEFORE, THE COMPETITION IN OUR INDUSTRY IS QUITE HIGH, THE BAR IS HIGH, AND WE WANT TO GET THERE FOR ALL OF OUR FANS, EVERY TIME. CAROLINE: IT IS GREAT TO HAVE SOME TIME WITH YOU. WE THANK YOU BOTH. OF COURSE, THE EXECUTIVE PRODUCER OF STARFIELD, FROM NEW YORK, THIS IS BLOOMBERG TECHNOLOGY. ♪ GALE IN THE NEXT HOUR. >> WELCOME BACK TO BLOOMBERG TECHNOLOGY. >> A QUICK CHECK IN ON THE MARKETS, LOOKING AT THE NASDAQ 100, WE HAVE STARTED TO ACCELERATE, DOWN 1.2 PERCENT,
YOU TALK AT THE TOP OF THE SHOW ABOUT THE HOT PRINT ISN DATA, THAT SEEMS TO HAVE WEIGHED ON SENTIMENT. THERE ARE SOME MEGACAP NAMES, UNLIKE THE NEWS FLOW, THAT NAME I WANTED TO BRING YOU WHICH IS BAIDU, CHINA'S SEARCH GIANT. THIS IS BAIDU OVER THE LAST SEVEN DAYS AND DOWN IN THE LAST TWO SESSIONS. THE THEORY IS THAT THERE COULD
BE SOME ROOM TO RUN ON THIS STOCK BECAUSE NOT ONLY DID IT IN REGULATORY APPROVALS FROM CHINA TO DEPLOY ITS GENERATIVE AI TOLD HER THE PUBLIC, ONE MILLION DOWNLOADS. WHAT OUR COLLEAGUES ARE LOOKING AT THE TECHNICAL INDICATORS AND THE OPTIONS MARKET AND SAY THERE IS A LOT OF HYPE AROUND AI BUT THIS IS ONE NAME WE MAY WANT TO WATCH FOR. WE WANT TO SQUEEZE THAT IN WHEN WE HAVE A MINUTE. CAROLINE: WE ARE DELVING INTO THE WATER AI WITH THE CAPITAL.
NATHAN IS JOINING US AND HE HAS BEEN FOCUSED ON BAIDU. LET US GO FROM BAIDU TO BINANCE, THE WORLD OF CRYPTO. EASTERN EUROPE, RUSSIA, THEY HAVE LEFT AND IT IS ADDING THE GRIP OF CONTINUED REVOLVING DOORS AT THE MOMENT. A SENIOR MANAGER IS DEPARTING. THIS COMES AS REGULATORS IN THE U.S. AND ELSEWHERE ARE CRACKING DOWN ON THE COMPANY. 'S JOINS US FOR MORE.
IS THIS IN ANY WAY INDUCING CHAOS TO RUSSIA OR IS THIS A BROADER THEME? >> A LOT OF SENIOR EXECUTIVES HERE, THE WALL STREET JOURNAL HAD REPORTED THAT HELEN HYDE WHICH RAN THE GLOBAL FIAT BUSINESS IS AMONG THOSE WHO DEPARTED AND WE ALSO HAVE THE PERSON WHO WAS A GLOBAL HEAD OF PRODUCT WHO HAD LEFT VERY RECENTLY AS WELL. AND THE PERSON WHO RAN THE BINANCE BUSINESS IN THE ASIA-PACIFIC REGION. ACROSS REGIONS YOU ARE SEEING DIFFERENT MEMBERS OF THE BINANCE CEDAR LEADERSHIP TEAMS START TO EXIT -- SENIOR LEADERSHIP TEAMS START TO EXIT. CRYPTO IS A BUSINESS WHERE
PEOPLE COME OUT OF THE LOBBY ARE ONLY AS GOOD AS YOUR BUSINESS HERE. IT IS THE PEOPLE WHO ARE EXPANDING IN THOSE AREAS AND FINANCE HAS ALWAYS BEEN THE CENTRAL -- BINANCE HAS BEEN THE PIVOTAL, INTERNATIONAL PLAYER WHEN IT COMES TO BEING A LARGE EXCHANGE ACROSS THE WORLD. IS IT JUST EASTERN EUROPE? THE FACT WE HAVE SEEN EXECUTIVES TIED TO GLOBAL PRODUCT, ASIA, AS WELL AS EASTERN EUROPE, DEFINITELY INDICATES THAT YOU ARE SEEING ISSUES IN DIFFERENT AREAS. CAROLINE: PUTTING A BIT OF A SILVER LINING TO IT ALL, THEY ARE GOING ON TO NEW VENTURES! THE TALENT IS COMING FROM OUTSIDE OF BINANCE! >> HAVING THIS CONVERSATION IS MAKING PEOPLE HEAR THAT BECAUSE YOU ARE SAYING THIS IN OTHER COMPANIES THAT WE ARE SEEING PLACES LIKE OLD MEANT TO SAME EXACT THING.
AS FAR AS TALENT LEAVING AND GOING OTHER PLACES, HAVING A RELATIONSHIP TO THE EXTENT YOU COULD PROVE THAT THE RELATIONSHIP IS FLYING OUT, THAT IS THE BENEFIT OF HAVING YOUR FIRST JOB OR SUCH A HIGH-LEVEL POSITION AT SAVAGE A KEY EXCHANGE AS YOU BUILD A NEW CRYPTO PRODUCT -- A POSITION AT SUCH A KEY EXCHANGE AS YOU BUILD A NEW CRYPTO PRODUCT. ED: FINANCE LIKE MANY OTHERS IS AS -- BINANCE IS JUST AS EMBATTLED AS ANY OTHER WITH THE FCC? >> THAT IS A BIG PROBLEM HERE WHEN IT COMES TO THE LAWSUITS THEY ARE FACING AS WELL AS THE REGULATORY SCRUTINY PARTICULARLY HERE IN THE U.S. AND IS NOT JUST THE SEC THAT IT IS FACING, WE ARE NOT TOO MANY MONTHS AWAY FROM WHEN THEY ARE OWED STABLECOIN PRODUCT, THEY FACED SCRUTINY HERE VIA THE ISSUER THAT I WORKED WITH -- THAT THEY WORKED WITH.
CRITICAL PIECES OF THE PUZZLE WHEN YOU THINK ABOUT THE CRYPTO INDUSTRY RELIES ON. AND WHAT THEY TRADED AT THE END OF THE DATE. IT IS COMING FROM ALL SIDES. AGAIN, THESE ARE NOW YEARS LONG ISSUES THAT BINANCE HAS BEEN FACING OUT OF THESE EXECUTIVES LEAVING IS NOT JUST FOR REGULATION ANYMORE IT IS ABOUT BUSINESS. ED: AWAY FROM BINANCE, IT IS THE TIME OF THE WEEK WHERE I ASK YOU WHAT IS THE LATEST ON THE BITCOIN SPOT ETF SAGA? >> [LAUGHTER] WE ARE WEEKS AWAY FROM THE NEXT SET OF ANSWERS FROM THE SEC AND WHETHER THEY ARE GOING TO APPROVE OR DENY MORE ETF'S AND GIVEN THAT WE ARE DAYS AWAY FROM WHEN THEY HAVE PUNTED YET AGAIN ON MAJOR PROVIDERS, A DAY AGO WE WERE SPEAKING TO THE EXECUTIVE AT VALKYRIE WHICH HAS A PENDING APPLICATION WHO SAID THAT THERE IS A 50% CHANCE THAT AFTER OCTOBER THEY FINALLY GET AN ANSWER EITHER WAY.
THERE IS A GRAND HOPE THAT THERE WILL BE AN APPROVAL BUT IT IS PRETTY FASCINATING TO SEE THE GRAYSCALE BITCOIN TRUST FOR EXAMPLE HOW IT IS TRADING, IT IS STILL AT A 20% DISCOUNT TO ITS NET ASSET VALUE. CAP HAD CLOSED AFTER THE INITIAL DECISION LAST WEEK FROM THE DISTRICT JUDGE REGARDING THE LAWSUIT AGAINST THE SEC. AS FAR AS GRAYSCALE GOES, THEY'RE ASKING FOR ANSWERS I AS WELL. THE WAITING PERIOD, THE LONGER IT GOES ON, THE MORE FRUSTRATING IT IS FOR EVERYBODY SITTING ON THE SIDELINES WAITING FOR AN ANSWER IN OCTOBER. ED: IT IS AN IMPORTANT QUESTION BECAUSE THE MARKET IS TRYING TO PLAY IT. IF THERE IS ANYONE WHO
UNDERSTANDS THE MOVING TIMELINE, IT IS SONALI. IS AN THE AI HEIGHT BRINGS A DOLLARS TO SAN FRANCISCO, ONE INDUSTRY IS THINKING ABOUT WHAT MIGHT HAVE BEEN, CRYPTO. THAT IS THE VIEW OF CHRIS LARSON, I SAT DOWN WITH HIM IN SAN FRANCISCO, A CITY THAT LARSON IS TRYING TO HELP FIX.
HE OUTLINES HOW HE FEELS U.S. REGULATORS HAVE CAUSED SAN FRANCISCO THE TITLE AS THE BLOCKCHAIN CAPITAL OF THE WORLD. HAVE A LISTEN. >> THAT IS UNFORTUNATE, I THINK UNFORTUNATELY, THIS ADMINISTRATION MADE A REALLY BAD CALL.
>> AT THE CITY LEVEL OR THE FEDERAL LEVEL? >> THEY KILLED SAN FRANCISCO FROM BEING WHAT IT WAS THE BLOCKCHAIN CAPITAL OF THE WORLD. WE OWNED IT. WE DO NOT ANYMORE BECAUSE THE BIDEN ADMINISTRATION FOR WHATEVER REASON DECIDED THEY WANTED TO PUSH THIS INDUSTRY OFFSHORE. IT IS LONDON, SINGAPORE, DUBAI THAT REALLY IS THE GLOBAL CAPITALS OF BLOCKCHAIN. MAY BE OUR VACANCY RATE WILL BE HALF OF WHAT IT IS, IT IS 30%. AND MAY HAVE BEEN 15% IF WE
WERE STILL THE GLOBAL BLOCKCHAIN CAPITAL OF THE WORLD. THAT WAS A MISSED OPPORTUNITY AND IT HURT THE CITY. ED: THE LATEST REPORT, LABS, ACTION AT THE FEDERAL LEVEL IS THAT YOU HAVE OBJECTED TO THE SEC'S REQUEST TO APPEAL THE ORDINAL COURT RULING WHICH WAS A POSITIVE FOR THE SENSE FOUND THAT CRYPTOCURRENCY WAS NOT A SECURITY. WHEN IT WAS SOLD TO THE PUBLIC. COULD YOU EXPLAIN WHAT THE LATEST IS WITH THAT LEGAL DISPUTE? >> THE SEC LOSS AND EVERYTHING THAT WAS IMPORTANT TO THEM ARE IMPORTANT IN REGULATION OF THE INDUSTRY.
THE CASE CONTINUES, THERE IS APPEAL PROCESSES, EVERYBODY HAS THE RIGHT TO DO. WE THINK THIS IS GROUNDBREAKING, THIS IS THE LAW OF THE LAND. IT IS ACTUALLY QUITE GOOD NEWS I THINK FOR AGAIN, ANY OF THE U.S. CRYPTO AND BLOCKCHAIN POLICY. THIS IS THE BEGINNING, FROM THE COURTS, THE REGULATORS TO GET THAT CLARITY. ED: THIS IS HAPPENING IN PARALLEL, THINK ABOUT THE APPLICATIONS PENDING FOR BITCOIN SPOT ETF. GENSLER AND THE SEC HAVE
DECISIONS TO MAKE AND FIGHTS THAT THEY ARE NOT WILLING TO PICK. HOW HAS THAT REFLECTED ON GARY GENSLER TO YOUR MIND AS THE LEADER OF THAT? >> YOU BRING UP A GREAT POINT, YOU SAW IN THE LATEST CHALLENGE ON THE ETF. THE BITCOIN ETF. NOT ONLY THAT, BUT THE JUDGE REALLY ADMONISHED THE SEC. CALLED THEM OUT IN A WAY YOU DO NOT USUALLY SEE VERY OFTEN. I THINK IT IS MORE PROOF THAT GARY GENSLER'S DECISION IN ENGAGING THIS REGULATION BY ENFORCEMENT RATHER THAN GETTING CLEAR LAWS, HE KNOWS THEY ARE NOT CLEAR. HE JUST LIKES THAT LACK OF
CLARITY SO THAT HE CAN GO AFTER ANYBODY AND MAKE UP THE RULES AS HE GOES ALONG. THAT IS NOT THE AMERICAN WAY. THEY SHOULD BE A CONGRESS, WE SHOULD HAVE CLEAR RULES FROM THE LEGISLATURES. NOT THROUGH THE UNELECTED POWER-HUNGRY, AND MISPLACED DECISION-MAKERS FACING GARY GENSLER.
ED: YOU HEARD IT, STRONG WORDS AGAINST THE CHAIR OF THE LEAD U.S. REGULATOR THAT HE IS MAKING AN APPEAL THAT IS WE WANT THE FEDERAL GOVERNMENT TO WRITE LAWS, NOT GO TO COURT AGAIN THE SAME AGENCY. CAROLINE: WE ARE GETTING MORE AND MORE CLAMOR THAT THIS IS BIPARTISAN IN SOME WAY. DWELL ON THE SAN FRANCISCO ELEMENT HERE, BECAUSE THIS IS WHAT CAUGHT MY ATTENTION, HOW HE FEELS THAT THE SUCKING SOUND OF CRYPTO AND BLOCKCHAIN HAS HURT THE CITY AND THE DISTRICT MORE? ED: THE ECONOMIC DATA POINT HE CITED WAS COMMERCIAL REAL STATE OR OFFICE VACANCIES -- REAL ESTATE OR OFFICE VACANCIES WHICH HE SAID WOULD BE 15% HAD THIS BECOME SUCH A AN UNHAPPY PLACE FOR BLOCKCHAIN COMPANIES IN PARTICULAR, HE IS SAYING TO NEW FOUNDERS DO NOT COME HERE, THE CITY HE IS TRYING TO FIX, YOU HAVE BETTER LUCK GOING TO SINGAPORE OR DUBAI BECAUSE OF THE HYPERACTIVE REGULATION THAT SUPPORTS THE FOUNDING AND BUILDING OF COMPANIES IN THAT SPACE. CAROLINE:
THAT MUST BE SOMETHING THAT REFLECTS ON THE U.S. MORE BROADLY. IS IT BECAUSE IT IS AN ADDED WOUND INTO SAN FRANCISCO AT A TIME WHEN THEY ARE STILL TRYING TO BRING WORKERS BACK TO THE CITY? SO TRYING TO ENSURE THAT THEIR REAL STATE IS FULL NOT JUST IN CRYPTO BUT IN SOFTWARE, ANYTHING BUT AI? CAROLINE: THE FEDERAL GOVERNMENT --ED: HIS ANSWER IS QUICK AND SIMPLE, THERE IS NO CAMPING IN SAN FRANCISCO TRYING TO BRING THEM BACK IN. THAT IS WHY WE HAVE A VACUUM.
CAROLINE: INTERESTING TAKE ON A PARTICULAR NICHE IN THE CITY BUT LET US GO EVEN MORE BROAD, WE ARE INTERESTED TO TALK ABOUT WHAT IS HAPPENING IN EUROPE AND CULTIVATING THE STARTUPS THERE AS WELL. BIG NEW VENTURE FIRM BACKED BY SPOTIFY, WE ARE JOINED BY NATHAN, THE GENERAL PARTNER, THAT IS NEXT. BEFORE WE GO, LET US GO TO PUBLIC MARKETS. WE ARE ON SESSION LOWS. THE NASDAQ OFF BY 1.4%. THIS IS A QUESTION OF MACRO
DATA, IS THE U.S. ECONOMY TOO STRONG? THE RIGHT GO AND STAY ABOVE THE 5% LEVEL OF THE TWO YEAR. THIS IS BLOOMBERG TECHNOLOGY. ED: IT IS OUR TIME FOR RHONDA. CAROLINE: VC ROUND UP, A COMPANY RAISED MONEY FOR INVESTMENT IN THE REGION.
MEANWHILE THE BLANK CHECK COMPANY STARTED BY THE INDYCAR DRIVER MICHAEL AND FREDDIE IS MERGING WITH AI START UP SABATO AI. PLUS JARED KUSHNER'S AFFINITY PARTNERS IS ACQUIRING $50 MILLION MINORITY STAKE IN AN ISRAELI CAR COMPANY. THIS MARKS THE FIRST INVESTMENT IN ISRAEL FOR THE PRIVATE EQUITY FIRM WHICH IS BACKED BY SAUDI ARABIA'S SOVEREIGN WEALTH FUND. ED: THOSE ARE THE VC HEADLINES, LET
US STICK WITH THE WORLD OF VENTURE CAPITAL, AIR STREET CAPITAL, FOCUS ON EARLY-STAGE AI START UPS HAS RAISED A SECOND FUND WORTH $121 MILLION WITH BACKING FROM SPOTIFY'S CEO DANIEL ERIC. LET US BRING IN THE GENERAL PARTNER TO AIR STREET CAPITAL FOR TODAY'S VC SPOTLIGHT. HOW QUICKLY DID YOU RAISE AND CLOSE THAT FUND? >> THAT IS A PRIVILEGE TO BE HERE. IT IS A GREAT TIME TO BE INVESTING IN THIS PHASE, THIS IS A MOMENT IN TIME, I TEND TO THINK THAT RAISING FUNDS IS BASICALLY A JOB OVER YOUR ENTIRE CAREER OUT OF THIS IS A SNAPSHOT OF THE JOURNEY BUT THERE IS A LOT OF INTEREST. WE ARE FORTUNATE TO END UP WHERE WE DID. CAROLINE: YOU ARE WELL KNOWN ACROSS
EUROPE, BACKING FROM THE PUBLIC MARKETS BUT I'M INTERESTED IN BASICALLY THE AREAS OF OPPORTUNITY. MANY WOULD SAY THAT AI IS DOMINATED BY SAN FRANCISCO RIGHT NOW BUT I THINK A MISTRIAL IN EUROPE WHICH HAD A PHENOMENAL FIRST RACE. WHAT DEVELOPMENTS IN ARTIFICIAL INTELLIGENCE ARE YOU SEEING IN THE REGION? >> THE OPPORTUNITIES FOR AI IS GLOBAL, WHAT IS FASCINATING ABOUT YOUR VISIT IT HAS TO STRONG ACADEMIC AND RESEARCH BASE -- ABOUT EUROPE IS IT HAS A STRONG ACADEMIC AND RESEARCH BASE. THEY UNDERPIN THE TECHNOLOGY
THAT WORKS TODAY AND THEY HAVE THEIR EARLY CAREERS TO BE EUROPE AND ARE INVESTING IN EUROPE AND NORTH AMERICA. TO BE INTERESTED IN PHARMACEUTICALS AND DRUG DISCOVERY WHERE I THINK AI IS ONE OF THE AMAZING NATIVE LANGUAGES THAT EXPLAINS BIOLOGY AND WHAT IS INTERESTED IN SOFTWARE AND AUTOMATION, ALSO MERGING -- EMERGING SECTORS. ED: BUILDING LARGE LINGO MODELS, CAN THAT COMPETE WITH THOSE BEING BUILT HERE? BY AI, BY GOOGLE? >> I THINK THE FOUNDATION MODEL SPACE IS PARTICULARLY TRICKY. IT IS VERY CAPITAL INTENSIVE AND IT WILL BE A COUPLE OF WINNERS THAT WILL FORM THIS BETTER GROUP OF WEB SERVICES. I AM PARTICULARLY NOT EXTREMELY DRAWN TO THESE COMPANIES BECAUSE I AM NOT SURE THAT THEY MAKE FOR GREAT VENTURE INVESTMENTS.
IT IS AN INTERESTING DOMAIN TO WATCH AND NEVER SAY NEVER. IT IS NOT THE FOCUS FOR ME. ED: CAROLINE: WE CAME TO YOU ON A SORT OF VENTURE BACKED BY SAUDI ARABIA AND AND BAS INVESTING IN ISRAELI STARTUPS. FOR THE ALLOCATION OF CHECKS, ARE YOU SAYING CHINESE MONEY ARE YOU SEEING MIDDLE EASTERN MONEY COMING INTO THE STARTUPS ACROSS EUROPE? ARE YOU INVESTING ALONGSIDE THEM? >> I DO NOT SEE THAT MUCH. FOR SURE, IN THE NEWS WE HAVE SEEN. AI GENERALLY BECOMES PART OF THE GEOPOLITICAL DISCOURSE.
ONE OF THE VECTORS THROUGH WHICH COMPANIES ARE COMPETITIVE GOING FORWARD. AND MAKES SINCE THE GOVERNMENT SHOULD BE INVOLVED. THE GOVERNMENT HAS BEEN MAKING SOME INTERESTING MOVES THERE AS WELL. I DO NOT SEE THEM.
WE TEND TO WORK WITH EUROPEAN AND NORTH AMERICAN PARTNERS PRETTY MUCH EXCLUSIVELY. IT HAS NOT REALLY CROSSED MY ROADMAP AS MUCH. CAROLINE: WHAT IS INTERESTING IS WHERE YOU ARE COMING FRTO US FROM. U.K. SECTOR, WE TALKED ABOUT LONDON AND ITS ABILITY TO CONTINUE TO BE A DOMINANT FORCE IN AI. ED: THEY TALK ABOUT IT BEING A LONDON-BASED BRIDGE TO EUROPE. YOU'LL RUN YOUR FIRM OUT OF LONDON, WHAT IS IT LIKE IN THIS POST BREXIT WORLD? IS IT A GOOD PLACE TO BE A VC? >> SPECIES HAVE GONE GLOBAL -- VC'S HAS GONE GLOBAL AND THEY HAVE BEEN RETICENT TO WRITE CHECKS OVER ZOOM.
FOR ME, I HAVE INVESTED TWO CHECKS OVER ZOOM AND HOLD THE COMPANY BEFORE I MET THE FOUNDERS IN PERSON. THIS CAN HAPPEN AND I AM HAPPY WITH THAT. I TEND TO USE LONDON AS THE BASE AND I'M HAPPY TO TRAVEL WHEREVER I NEED TO IN EUROPE AND NORTH AMERICA.
AS YOU SAY, EUROPE IS ABUNDANT WITH TALENT AND THE POWER BALANCE TO BE WITH GOOGLE AND THE AI LAB FOR THE COMPANY AND BEING BASED IN LONDON IS A BIG WIN AND WITH OPENAI JOINING THE FREIGHT, I THINK IT IS A GREAT TIME TO BE IN THE SPACE. ED: WE TALKED ALL OF THE DATA THIS YEAR ABOUT THE FLOW VC DOLLARS TO SAN FRANCISCO IN THE CONTEXT OF AI AND ML, I WANTED TO SEE IF YOU COULD EXPLAIN ANY BRIGHT SPOTS YOU SEE EVEN IF IT IS AT A CITY LEVEL WHERE THERE IS A LOT OF TALENT AND DOLLARS FLOWING TO SPECIFIC AREAS IN EUROPE? >> I THINK IT IS A DISTRIBUTED GAME AND AS VESSEY IS LOCAL, YOU HAVE TO BE PRESENT IN DIFFERENT ECOSYSTEMS WHICH IS WHY WE TRY TO MAKE KEY CONTRIBUTIONS IN THE STATE-OF-THE-ART REPORTS THROUGH RUNNING BEST PRACTICES AND LIFT THE ALL SPOT SHOWING BEST PRACTICES. WE ARE BEST FROM US BEEN OUT AND GUARDS AND INTO STOCKHOLM. I THINK IF YOU OWN THE MEGAPHONE ONLINE WHERE I THINK BASICALLY THE FORM FOR DEBATE IS TWITTER OR EX.COM IS A PLACE TO START TO MEET PEOPLE.
WHEN I'M IN NEW YORK PEOPLE PEOPLE THINK I LIVE THERE AND I AM IN LONDON PEOPLE THAT I LIVE THERE. AND WHERE THE OPPORTUNITIES ARE. CAROLINE: YOU HAVE PHD FROM CAMBRIDGE, WHERE IS THE OPPORTUNITY IN THE BIOTECH MEETS AI SPACE? >> A RADICAL TRANSFORMATION FOR HOW DRUGS HAVE DEVELOPED, DESIGNED, MARKETED, PATIENTS ARE SELECTED FOR TRIALS, AND HOW WE MONITOR SUCCESSIVE TILES AS PATIENTS ARE GOING THROUGH THEM AND I THINK EVERYONE OF THOSE STEPS IN THE PROCESS WOULD BE RETHOUGHT USING BETTER DATA CAPTURE AND MACHINE LEARNING AND REMOVE A LOT OF THE BIASES AND ISSUES YOU SEE BECAUSE A LOT OF THIS PROCESS IS STILL ARTISANAL. MANY OF THE DRUG DISCOVERY COMPANIES THAT ARE PUBLICLY TRADED TODAY AND SUFFERING ARE BASED ON SIGNS OUT OF A LAB THAT IS NOT PARTICULARLY PRODUCIBLE BECAUSE IT IS ALL DONE BY HUMAN PEOPLE PUTTING THINGS IN A LAB. WHEN YOU MOVE TO THIS INDUSTRIALIZATION OF BIOLOGY WHERE YOU USE AUTOMATION AND MACHINE LEARNING, YOU CREATE COMPANIES THAT ARE MORE RESILIENT BECAUSE THEY HAVE MORE SHOTS ON GOAL THAN A SINGLE DRUG. WE SEE THIS WITH TWO COMPANIES THAT WE ARE PRIVILEGE TO BE A PART OF, TO BE PART OF THE MACHINE LEARNERS WERE COMING INTO NEUROLOGY AND BUILDING VALUE.
IT IS FAR MORE EXCITING THAN OPTIMIZING ON THE INTERNET. CAROLINE: HERE TO OPTIMISM TO FINISH THE CONVERSATION. THANK YOU. MEANWHILE, IT WAS MUDDY, RAINSOAKED, BURNING MAN, A COVETED PRODUCT. ED: BURNING MAN INSTILLED THE TALK ON THE INTERNET AFTER THE ANNUAL FESTIVAL TURNED INTO A MULTI-DAY MUD FEST. WE HAVE FIRST-HAND EXPERIENCE AND WHY
IT IS A PRECIOUS COMMODITY, OR WAS IT LIKE? >> AS A REPORTER TO BE IN THE MIDDLE OF WHAT WE LATER FOUND OUT WAS THE NEWS EVENT. IT SOUNDED DRAMATIC, IF YOU WERE READING ABOUT ALL THE NEWS AND THERE ARE SOME PEOPLE WHO FOUND IT A LITTLE SCARY BUT IT WAS NOT AS BAD AS IT SOUNDS. IT BROUGHT PEOPLE TOGETHER, TALK ABOUT A REASON FOR EVERYONE TO BAND TOGETHER AND FIND WAYS TO HAVE A LAUGH EVEN THOUGH WE WERE ALL A LITTLE WET AND COLD AND VERY MUDDY. CAROLINE: WET, COLD, AND MUDDY! SOUNDS LIKE LAST JANUARY TO ME. FROM NEW YORK AND SAN
2023-09-09 03:52
Show Video
Other news