Bloomberg Technology 08/07/2023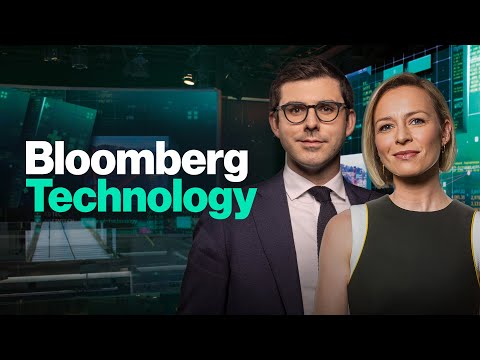 Show Video
>> FROM THE HARDWARE OF WHERE INNOVATION, MONEY AND POWER COLLIDE IN SILICON VALLEY AND BEYOND, THIS IS BLOOMBERG TECHNOLOGY. ♪ ED: I'M IN SAN FRANCISCO AND CAROLINE HYDE IS OFF TODAY. COMING UP, TESLAS SHOCK CHANGE OF CFOS. UP TO 13 YEARS AT THE EV MAKER AND ELON MUSK'S HEALTH IS IN FOCUS IS TALK OF A ZUCKERBERG CAGE FIGHT HEATS UP. PLUGGING A 48 BILLION DOLLAR BLACKHOLE, ARTIFICIAL INTELLIGENCE COULD FUEL A REBOUND AT SOFTBANK IS THE JAPANESE CONGLOMERATES VISION FUND SEEKS TO SNAP FIVE QUARTERS OF LOSSES. WE GO LIVE TO LISBON AS A KEY LEADER RESPONSE TO PORTUGAL'S PROBE INTO A EUROPEAN TELECOM GIANT. FIRST, LET'S GET A QUICK CHECK
ON THE MARKETS, THE NASDAQ 100 IS BASICALLY FLAT, UP 0.4%. THE TESLA NEWS SEES THE TESLA DECLINES ACCELERATING AND DRAGGING DOWN. THE YIELD ON U.S. 10 YEAR TREASURY IS BELOW 4.2%. THAT HAS BEEN THE STORY, THE SELLOFF IN BONDS AND THE PUSH HIGHER IN YIELDS AND ITS IMPACT TO THE EQUITY MARKET.
APPLE IS DOWN FOR A FIFTH CONSECUTIVE DAY. WE HAD EARNINGS LAST THURSDAY AND NOW WE ARE WORRIED ABOUT THE LABOR MARKET AND LATER WE WILL BRING YOU DETAILS OF THIS. VALENTINE'S DOWN AND THAT'S A STOCK THAT'S GETTING MORE THAN 130% SINCE ITS LAST EARNINGS WERE WORD. THE STREAK EXPECTS ONE CENT OF EARNINGS-PER-SHARE.
THE NAME WE ARE WATCHING SO CLOSELY, THE SURPRISE STORY THIS MONDAY -- KIRKON STEPPED DOWN AS THE TESLA CEO. HE'S BEEN AT THE COMPANY 13 YEARS AND BECAME THE CFO IN EARLY 2019 AND IS A BIG FACTOR BEHIND THE PROPHET AT TESLA, SOME OF THE KEY CATEGORIES. THE CHIEF ACCOUNTING OFFICER WILL TRANSITION TO THE CFO ROLE AND KIRKON WILL STAY TO THE END OF THE YEAR TO OVERSEE THAT TRANSITION. WE DISCUSS THIS, YOUR REACTION TO THE STEP DOWN? >> I'M VERY DISAPPOINTED BECAUSE ZACH WAS AN EXCEPTIONAL CEO FOR -- IN HIS ABILITY TO PROVIDE VERY SPECIFIC NUMBERS. HE GAVE A GOOD SENSE OF WHAT WAS HAPPENING IN THE SENSE OF CONTROL AND UNDERSTANDING OF HOW THE BIG TESLA MACHINE WORKS AT TESLA WAS IMPRESSIVE AND I'M GOING TO MISS HIM.
I WAS NOT EXPECTING HIM TO LEAVE. HE'S VERY YOUNG. 30 YEARS AT TESLA AND FOUR YEARS ELSEWHERE AND A LOT OF THINGS HE CAN DO WITH HIS LIFE AND QUITE A GREAT AMOUNT OF MONEY IN HIS BANK ACCOUNT BECAUSE OF TESLA AND GOING THROUGH SUCH A STRONG PERFORMANCE MEANS HE GOT PAID VERY WELL FOR HIS TIME. TESLA IS A COMPANY THAT ATTRACTS TALENT, THE BEST IN THE WORLD. IT'S A COMPANY THAT HAS THE MOST DIFFICULTY TO RETAIN THEM BECAUSE IT''S A COME -- IT'S A COUNTRY THAT'S MAKING CAREERS AND MAKING PEACH -- PEOPLE RICH RAPIDLY. ED: THE NEXT CFO HAS BEEN THE CHIEF ACCOUNTING OFFICER, DO YOU KNOW ANYTHING ABOUT HIM? >> I DON'T HAVE THE CHANCE TO MEET HIM PERSONALLY.
TESLA IS VERY PROTECTIVE WITH THEIR EXECUTIVES. HE'S BASICALLY COMING FROM THE RANKS OF TESLA. I'M VERY CONFIDENT HE WILL DO A GREAT JOB AND I HOPE I WILL FORGET SOON MY REGRETS OF SEEING ZACH LEAVING. ED: YOU AND I HAVE TALKED ABOUT THE TERM KEY MAN RISK. THE THING WE TALK ABOUT IN THE CONTEXT OF ZACH WAS THAT HE WAS A HANDFUL OF STATED EXECUTIVE OFFICERS. YOU HAVE DREWBGLINO AND THEY HAVE EXECUTIVE COMING FROM CHINA BUT DOES THE KEY MEN RISK CONVERSATION GET AMPLIFIED? ZACH IS BEEN SUCH A STABLE FORCE IS NOW GONE.
>> IT'S A VERY GOOD QUESTION. YOU CANNOT IGNORE THIS KEY MAN RISK. THAT MAKES COMPLETE SENSE. THERE IS RISK REFLECTED IN A MOVE LIKE THAT. HE IS A KEY MAN IN AN ORGANIZATION LIKE THAT BUT IF YOU LOOK AT HOW ELON MUSK LIKES TO MANAGE THE MULTIPLE BUSINESSES HE HAS, HE LIKES TO BE DIRECTLY SPEAKING TO TECHNICAL PEOPLE LIKE DREW TYPICALLY THEN HE LIKES TO HAVE A CFO OR CHIEF OFFICER WHO'S IN CHARGE OF RUNNING THE SHOW. THAT'S THE MODEL OF SPACEX IN THE MODEL OF TESLA WITH NO REAL COO BUT ZACH AND POTENTIALLY BRAINS OF THE BUSINESS FROM THE FINANCIAL AND COMMERCIAL PERSPECTIVE. THAT MODEL ONCE AGAIN IS EXTREMELY RESILIENT AS LONG AS YOU HAVE THE CAPABILITY OF HARNESSING PATTERNS AND BRINGING THEM UP THE PYRAMID.
LOOK AT THE STORY OF TESLA IN CHINA, IT'S SIMILAR TO THAT TRAJECTORY. THESE PEOPLE CAME IN HIGHLY SELECTED BY TESLA AND WITH ALL THE TALENT TESLA HAS, THEY ARE PROMOTING VERY FAST AND VERY YOUNG TALENTS. AS LONG AS THE MISSION IS THERE, LOOKING AT THE STOCK IN THE LONG TERM, I FEEL LIKE THE KEY MEN RISK IS WHAT IT IS. I FEEL RELATIVELY CONFIDENT THAT WE SHOULDN'T BE EXCESSIVELY WORRIED. ED: I AGREE, GRATEFUL FOR YOUR TIME. NO REACTION TO WHAT WAS A SURPRISE PIECE OF NEWS THIS MORNING. LET'S STICK WITH ELON MUSK. OVER THE WEEKEND, HE POSTED ON X THAT HE WOULD HAVE AN MRI ON HIS NECK AND UPPER BACK AND YOU WILL FIND OUT WHETHER HE WILL NEED SURGERY. THIS IS AHEAD OF A PROPOSED
CAGE FIGHT WITH THE META CO-FOUNDER MARK ZUCKERBERG. JACKIE JOINS US NOW AND WE BEEN THROUGH ALL OF THE TIMELINES AND ALL OF THE IDEAS. WHAT DO WE KNOW IS THE LATEST ABOUT THIS PROPOSED CAGE FIGHT? >> WE KNOW THAT THE CAGE FIGHT IS STILL UP IN THE AIR.
OUR AUDIENCE SHOULDN'T PUT THEIR BETS ON JUST YET. WE KNOW THAT ELON MUSK PUT THE KIBOSH ON WHAT SEEMED TO BE IN ADVANCEMENT IN A PROPOSED MATCH BETWEEN THE TWO TECH BILLIONAIRES BECAUSE OF HIS INJURY TO HIS UPPER NECK AND UPPER BACK. IT'S SEEMS TO BE ESCALATING EARLIER IN THE DAY BECAUSE WHEN ELON MUSK FIRST POSTED THAT SUNDAY, THEY THOUGHT IT WOULD BE LIVE-STREAMED AND THE PROCEEDS WOULD GO TO CHARITY. MARK ZUCKERBERG ACTUALLY RESPONDS TO THAT AND SAID I SUGGESTED THAT WE HAVE THIS ON AUGUST 26 BUT I HAVEN'T HEARD BACK. A PHYSICAL MATCH MAY NOT BE PLAYING OUT BUT THEY ARE THROWING PUNCHES AT EACH OTHER ON THEIR RESPECTIVE PLATFORMS ALREADY. ED: THE PLATFORMS ARE AT THE HEART OF THIS.
YOU MENTIONED ZUCKERBERG'S RESPONSE WITH DREADS BEING MORE RELIABLE. OUTSIDE OF THE TEXT, WHAT DO WE KNOW ABOUT THE TRAINING GOING ON? IS THIS REAL? ARE THEY REALLY GEARING UP FOR THIS FIGHT? >> THEY BOTH BEEN POSTING PICTURES OF THEM TRAINING. WE SAW THE POST THAT MARK ZUCKERBERG HAD OF HIM WITH THIS HEAVY BEST THAT HE WAS BRAGGING ABOUT HOW FAST HE COULD DO A PARTICULAR TRAINING SESSION. THEY ARE REALLY PUTTING THEMSELVES OUT THERE. AT LEAST FOR MARK ZUCKERBERG,
IT'S A LITTLE UNCHARACTERISTIC OF HIM BUT FOR ELON MUSK NOT SO MUCH. AT THE END OF THE DAY, THIS IS NOT ABOUT A CAGE MATCH. WHAT A LOT OF TECH WATCHERS REALIZED IS THAT THE COMPETITION BETWEEN THE TWO REALLY HAS INTENSIFIED BECAUSE OF THIS TIT-FOR-TAT ABOUT THE SOCIAL PLATFORMS THEMSELVES.
I THINK THIS IS A CULMINATION AND A MORE ENTERTAINING ONE THAT WE NORMALLY SEE PLAY OUT BUT CERTAINLY ONE THAT IS A LITTLE UP IN THE AIR. ED: THANK YOU VERY MUCH. WE SPENT THE LAST COUPLE OF WEEKS TALKING ABOUT THE REBRANDING OF TWITTER TO X BUT WHAT DOES THE CO-DESIGNER OF THE ORIGINAL TWITTER LOGO HAVE TO SAY ABOUT THE CHANGE? >> I THINK WHAT THE LETTER FORM ITSELF, IT'S A TOUGH SOLVE THEM TO COME UP WITH BECAUSE IT'S ANGULAR AND SHARP AND IT HAS AN AGGRESSIVE CONSTRUCTION. I THINK THE CHALLENGE THEY WILL HAVE IS HOW TO DEFINE WHAT X MEANS AND HOW TO MAKE IT FEEL WELCOMING AND APPROACHABLE IN ITS OWN WAY. IT'S AN INCREDIBLE OPPORTUNITY TO HAVE A SINGLE LETTER DOMAIN. THERE ARE ONLY A FEW OF THEM IN THE WORLD AND THEY GET THE CHANCE TO SAY THE FINAL LETTER IN THE ALPHABET, THE SAME WAY PEOPLE THINK ABOUT THE BIRD TODAY. 10 YEARS AGO, THERE WASN'T THIS EMOTIONAL ATTACHMENT TO THE BIRD WE SEE AS IT STARTS TO PULL AWAY AND CHANGE TO X. ED:
COMING UP, TAKE A LOOK AT ZOOM SHARES, WE'VE BEEN TALKING AND ASKING IF THIS IS THE END OF THE REMOTE WORKER? THE DARLING OF THE REMOTE WORKER SAYS COME BACK TO THE OFFICE. THOUGH SHARES ARE DOWN 1% AND THAT'S NEXT. THIS IS BLOOMBERG. ♪ ED: ANOTHER PIECE OF NEWS -- PAYPAL IS LAUNCHING A STABLECOIN. THE LATEST CRYPTO PAYMENT AND WHAT'S INTERESTING IS IS THE FIRST BY LARGE FINANCIAL COMPANY AND ITS SIGNIFICANT. JOINING US NOW ISSONALI BASAK.
PAYPAL IS THE OG NAME IN PAYMENTS AND YOU FOLLOW THE MODERN ERA DISCUSSION AROUND CRYPTO THIS IS A SIGNIFICANT PIECE OF NEWS. SONALI: WE TALK ABOUT THE PAYPAL MAFIA ALL THE TIME. IT'S NOT SURPRISING TO SEE PAYPAL BE THE FIRST TO COME OUT AND MAKE A STABLECOIN ANNOUNCEMENT. THEY ARE ALSO WORKING WITH PAXOS WHICH IS A LONGER STABLECOIN ISSUER AND IS REGULATED HEAVILY IN THE UNITED STATES. THEY ARE TRYING TO GET
SOMETHING OFF THE GROUND IN A WAY THAT'S ALREADY REGULATED AND WELL KNOWN BY THE REGULATORS AND IT MAKES SENSE ESPECIALLY BECAUSE IF YOU THINK ABOUT THE WAY STABLECOINS ARE USED AS AN ON-RAMP/OFFRAMP AND ON THE PEOPLE THE HOUSE FINANCIAL SERVICES COMMITTEE TRYING TO PROCEED WITH A NEW BILL FOR STABLECOIN LEGISLATION. A LOT OF MOVEMENT ON THAT FRONT BUT UNCLEAR WHAT THE ENDGAME IS. PAYPAL HAS 430 MILLION USERS THAT ARE RIGHT FOR THE TAKING WHEN YOU THINK ABOUT THE MOVEMENT TO DIGITAL PAYMENTS. ED:
THE BASICS OF STABLECOIN IS A CRYPTO TOKEN THAT'S PEGGED TO A REAL ASSET LIKE THE U.S. DOLLAR. IS THAT THE CASE WITH THE PAYPAL STABLECOIN? SONALI: IT'S FULLY BACKED BY U.S. DOLLAR DEPOSITS, TREASURIES AND CASH EQUIVALENTS. IT WILL BE INTERESTING TO SEE HOW THAT WORKS OVERTIME AND WHO THEY WORK WITH. IT'S LIKE WHAT CIRCLE HAS DONE. THEY HAVE USED BLACK ROCK TO MANAGE THAT KIND OF TREASURY OF CASH AND EQUIVALENTS AS WE'VE SEEN OVER TIME, THAT'S BEEN AN INTERESTING THING TO LOOK UNDER THE HOOD.
INITIALLY, THEY HAD MONEY IN SILICON VALLEY BANK AND THAT BANK FAILED AND THEY HAD TO MOVE SOME MONEY. THE LINKAGES HERE TO THE U.S. FINANCIAL SYSTEM WILL BE INTERESTING. THE PARTNERS THAT THEY HAVE. I THINK OF CIRCLE BECAUSE OF THE WAY COINBASE FOR EXAMPLE USES CIRCLE AND USDC TO MANAGE THEIR KIND OF CASH HOLDINGS AS ALMOST A PROXY, GIVEN THAT IT'S BACKED SO MUCH BY VERY STABLE LIQUID U.S. DOLLARS IN TREASURIES.
THE EXPANSION OF HOW PAYPAL WORKS WITH THE EXISTING CRYPTO ECOSYSTEM IN THAT WAY, HOW MUCH CAN YOU USE THE PAYPAL STABLECOIN GIVEN THAT IT'S BACKED BY TREASURIES AND CASH? WHEN MORE COMPANIES LIKE COINBASE FEEL COMFORT IN DOING THAT, WILL THEY WORK WITH PAYPAL IN THE FUTURE? ED: BRING UP THAT SHARK AGAIN. LOOK AT THE MARKET FOR STABLECOIN. IT IS CLEARLY DOMINATED BY ONE NAME, BREAK DOWN THE MARKET FOR US. TETHER IS A BIG PART OF THE STABLECOIN MARKET AND I THINK YOU HAVE TO LOOK AT THIS BECAUSE 21% IS USDC AND HOW MUCH ARE PEOPLE USING STABLECOIN INSIDE AND OUTSIDE THE UNITED STATES AND PAYPAL IS STILL A U.S. DOMICILED COMPANY SO THERE IS A
RATIONALE FOR THEM TO WORK WITH PAXOS. PACK SOSA'S BEEN A TRUCK SHOULD ISSUE IN THE UNITED STATES WITH A LOT OF U.S. ADOPTION IN PARTICULAR. ED: ALL THINGS CRYPTO OUT OF NEW YORK, THE PUSH TO GET TECH WORK IS BACK IN THE OFFICE. THIS TIME, THE BACK OFFICE ANNOUNCEMENT COMES FROM THE DARLING OF THE WORK FROM HOME EUROPE ZOOM TO DISCUSS, THIS IS WHEN I DID NOT SEE COMING. >> ZOOM SAID PRETTY MUCH WHAT EVERYBODY ELSE HAS SAID IS WE WILL WORK BETTER IN THE OFFICE, COME BACK IN TWO DAYS A WEEK AND SEE YOUR COLLEAGUES.
WHAT'S FUNNY ABOUT THAT IS THIS ZOOM FACILITATED WORK FROM HOME AND WITHOUT THEM WE WOULD PROBABLY BE USING SKYPE. WHAT'S INTERESTING HERE IS THAT ZOOM WON'T SAY THIS ALIGNS CLOSELY WITH THEIR CURRENT STRATEGY. THEY RECOGNIZE THAT A LOT OF COMPANIES ARE GOING BACK AT LEAST PART TIME AND THEY WORK ON DEVELOPING SOFTWARE FOR IN OFFICE COLLABORATION. THEY FIGURE TO MAKE THESE TOOLS, IT MAKES MORE SENSE FOR THEIR WORKERS TO BE IN THE OFFICE AT LEAST PART OF THE TIME. ED: THE REALITY OF THIS STORY IS IN THE POST-PANDEMIC WORLD, ZOOM HAS STRUGGLED TO KEEP ITS PACE OF GROWTH.
TELL ME ABOUT THE REASONS WHY. >> MOST TECH COMPANIES ENDED UP PEEKING AROUND LATE 2021 AND ZOOM TAKE THE FULL YEAR EARLIER. THERE WAS JUST THIS ELATION WHEN EVERYBODY SAID WE ARE WORKING AT HOME FOREVER. WE HAVE COMPANIES ALL OVER THE PLACE THAT SAID THEY WERE NEVER GOING BACK TO THE OFFICE. IT BECAME CLEAR THAT SOME OF THESE OLD WAYS OF WORKING WILL CREEP BACK AND THAT'S WHAT'S HAPPENING. THEY HAVE A FANTASTIC SINGLE
PRODUCT AND MOST PEOPLE WILL SAY IS BETTER THAN THE COMPETITION BUT IT'S HARD TO MAKE A SUCCESSFUL PLATFORM COMPANY ON ONE PRODUCT ESPECIALLY WHEN MOST PEOPLE WHO WANT THAT PRODUCT HAVE ALREADY PURCHASED IT. ED: LET'S BE CLEAR ABOUT THE CEO POSITION ON THIS. HE STILL BELIEVES IN HYBRID WORK. >> THAT'S WHAT'S INTERESTING, A LOT OF COMPANIES THAT ARE INCREASINGLY PUSHING WORKERS BACK TO THE OFFICE WILL SAY WE ARE STAYING HYBRID BUT THE QUESTION IS WHETHER THAT NUMBERS CONTINUES TO CREEP UP. IT STARTED TO AN NEXT YEAR IT WAS MORE, ARE WE IN A THREE DAYS A WEEK WHITE COLLAR WORKWEEK FOREVER? IF YOU LOOK AT FINANCE, SOME PLACES ARE FIVE DAYS PER WEEK AREA EVEN SALES POSITIONS AMONG TECH COMPANIES ARE GETTING FOUR DAYS A WEEK NOW. THE QUESTION IS WHETHER IT STABILIZES HYBRID OR WILL CONTINUE CREEPING BACK TO THE OLD WAYS. ED:
BRODY FORD LIVE FROM OUR OFFICE IN NEW YORK. ANY OTHER TECH COMPANIES YOU COVER THAT ARE TAKING A SIMILAR APPROACH? >> A LOT OF TECH COMPANIES HAVE SAID IF YOU LIVE NEAR AN OFFICE, YOU HAVE TO GO. A LOT OF HIRING WAS FORBIDDEN IN THE VENT PANDEMIC. AMAZON IS SAYING THAT IF YOU
DON'T LIVE NEAR AN OFFICE, YOU HAVE TO MOVE, YOU HAVE TO COME BACK AND TO ME THAT WAS UNPRECEDENTED WITHIN THE TECH COMPANIES. IF YOU LOOK AT FINANCE OR OTHERS, IT'S BEEN HARDER FOR A WHILE NOW. ED: ALWAYS GOOD TO CATCH UP, THANK YOU. COMING UP, A FRENCH IS REALLY BILLIONAIRE PUBLICLY ADDRESSING CRIMINAL CORRUPTION ALLEGATIONS AGAINST HIS TELECOMMUNICATIONS COMPANY FOR THE FIRST TIME.
WE WILL BRING YOU DETAILS NEXT AND WE ARE KEEPING A CLOSE EYE ON SHARES OF PALANTIR, REPORTING NUMBERS AFTER THE BELL AND THE STORIES AROUND ARTIFICIAL INTELLIGENCE, IT'S A STOCK THAT'S JUMPED MORE THAN 130% SINCE THE LAST EARNINGS REPORT THERE IS SKEPTICISM IN THE MARKET THEY WILL HAVE TO START SHOWING TANGIBLE EVIDENCE THAT THE HYPE AROUND AI IS TRANSLOADING TO SALES. THE STREET SEEING JUST ONE SINGLE CENT OF EARNINGS PER SHARE AFTER THE BELL. WE WILL TRACK IT, THIS IS BLOOMBERG. ♪ ED: PATRICK FROM ALTIS SAID HE WAS BETRAYED BY A GROUP OF INDIVIDUALS. THIS WAS IN RESPONSE TO A CRIMINAL CAN -- CORRUPTION CHARGING PORTUGAL CENTERED ON KEY FIGURES IN HIS TELECOMMUTING VISIONS EMPIRE. LET'S GO BACK TO THE BEGINNING, HOW DID SOME SALTIS OFFICIALS, -- COME UP AGAINST A PORTUGUESE PROBE AGAINST THE COMPANY? >> PORTUGUESE POLICE SEARCHED ABOUT 90 HOMES AND OFFICES IN PORTUGAL AND THE THE COFOUNDER OFALTIS WAS ONE OF THE PEOPLE QUESTION.
PRESENT IT IS BELIEVED THEY RIGGED PROCUREMENT CONTRACT IN A WAY THAT HARMED THE GROUP'S OWN COMPANIES FOR THEIR OWN BENEFIT. SUCH PRACTICES COULD BE TAKING PLACE IN OTHER COUNTRIES WHERE THE GROUP OPERATES. THE IRONY OF THIS IS THAT ALTIS HAS EARNED A NAME FOR CUTTING COSTS. A UNION LEADER TELL ME THAT WHEN THEY BOUGHT VIRTUAL TELECOM, HE SAID HE HAD TO CUT ABOUT 5000 JOBS WHICH IS ABOUT HALF OF THE WORKFORCE. NOW HE IS SUSPECTED ALONG WITH A GROUP OF OTHER PEOPLE OF ALLEGEDLY SETTING UP BUSINESSES THAT SUPPLY CONTRACTS HIS POCKETS. ED: ALTIS IN EUROPE AS A TELECOM GIANT.
WHAT HAPPENS IF THIS ESCALATES BEYOND PORTUGAL TO OTHER EUROPEAN COUNTRIES OR EVEN THE U.S.? >> THAT'S THE KEY QUESTION. ALTIS HAS ALLEGED TO BE A VICTIM OF FOUL PLAY AND FOR NOW, THE DAMAGE IS LIMITED TO PORTUGAL BUT THE FACT THAT ONE OF ITS COFOUNDERS IS UNDER HOUSE ARREST HAS RAISED OTHER QUESTIONS AN INVESTIGATION COULD SPREAD TO OTHER COUNTRIES WHERE IT OPERATES LIKE FRANCE AND THE U.S.. ONE ALARM BELL HAS BEEN THE RELEASE OF THEIR CHIEF PROCUREMENT OFFICER IN THE U.S. HE AND HIS WIFE MADE HEADLINES IN 2002 FOR BUYING A $70 MILLION APARTMENT IN MANHATTAN. IF AUTHORITIES IN THE U.S. GET INVOLVED, ALTIS COULD FACE FINES FOR THE BIGGEST CONCERN IS THERE HUGE DEBT PILE. THE COMPANY'S DEBT HAS
BALLOONED TO MORE THAN $60 MILLION AFTER YEARS OF ACQUISITIONS. AT THE SAME TIME, THEY ARE GETTING MORE FRAGILE. ED: THANK YOU FOR YOUR ON THE GROUND REPORTING. WE WILL CONTINUE TO TRACK THE STORY.
COMING UP, A REBOUND FOR SOFTBANK AND WHITE ANALYSTS EXPECT THE JAPANESE COMPANIES VISION FUND UNIT TO REPORT A MODEST PROFIT AFTER FIVE QUARTERS OF LOSSES. THAT IS A BIG NAME WE ARE WATCHING OUT OF JAPAN WE WILL HAVE THAT NEXT ON BLOOMBERG TECHNOLOGY. FROM SAN FRANCISCO, THIS IS BLOOMBERG. ED: WELCOME BACK TO BLOOMBERG TECHNOLOGY. A QUICK CHECK ON THE MARKETS -- NOT MUCH ACTION AT THE INDEX LEVEL AT THE NASDAQ 100 UP 0.4% WE STARTED THE WEEK WITH LOSSES
AND TREASURIES WITH YIELDS PUSHING HIGHER AND THE 10 YEAR BELOW 4.2% BUT THAT HAS BEEN THE BROADER NARRATIVE. EARNINGS ARE A BIG FACTOR AND APPLE IS DOWN FOR A FIFTH STRAIGHT DAY. YOU ALSO SEE NAMES LIKE PALANTIR DOWN 5% WITH EARNINGS COMING AFTERMARKET BUT WHAT I'M WATCHING IS SOFT PANIC -- SOFTBANK IN JAPAN. IT'S DOWN 0.9% BUT PAIRED ITS LOSSES.
WE GET THERE EARNINGS LATE NIGHT WEST COAST TIME IN EARLY HOURS OF TUESDAY MORNING FOCUSED ON VISION FUND EXPECTED TO RETURN TO PROFITABILITY AFTER FIVE QUARTERS OF LOSSES IN THAT VISION FUND. WHAT WILL DRIVE THE REBOUND? THIS IS AN ARTIFICIAL INTELLIGENCE STORY. >> IT DEFINITELY IS AND IT'S NO SURPRISE THAT AI IS FUELING THE MODEST REBOUND. THIS IS A BIG DEAL CONSIDERING THE VISION FUND WHICH IS THE VENTURE CAPITAL ARM HAS SEEN LOSSES IN THE PAST FIVE QUARTERS OR SO TO THE TUNE OF $48 BILLION. IF IT SEES MODEST GAINS THIS QUARTER, IT WILL BE GOOD AND IT'S DRIVEN BY THE AI RALLY. IT HAS FUELED ALL INDEXES
ACROSS THE BOARD. THE NASDAQ 100 IS AT ITS BIGGEST RECORD. IT'S KIND OF A BIG FIRM. IT'S $1.1 BILLION IN HOLDINGS. AMONG THE COMPANIES INVEST IN OUR DOORDASH AND GRAB HOLDINGS WHICH SOUGHT DOUBLE-DIGIT GAINS THIS YEAR. THEY ARE REALLY BANKING ON THE AI RALLY AND THIS IS ONE OF THE CLASSIC EXAMPLES THAT LIFTS THE VALUATION OF A FUN TIRE. ED: THE OTHER STORY WE ARE TRACKING IS WHAT HAPPENS TO THE SOFTBANK CHIP UNIT? WE KNOW AN IPO IS LIKELY IN SEPTEMBER AND WE HAVE A GOOD GAUGE OF THE VALUATION. HOW BIG A FACTOR IS THAT?
>> ARM IS LOOKING TO RAISE ABOUT $10 BILLION. IF THIS HAPPENS, THE DEBUT WILL BE THE BIGGEST FOLLOWING ALIBABA AND META. THIS HAS BEEN A BIG STORY THIS YEAR, CHIPS. SOFTBANK IS BANKING ON THIS AND IF IT HAPPENS, IT WILL BE A BIG DEAL. VISION FUND LAUNCHED IN 2017
AND HAS INVESTMENTS INCLUDING APPLE INC. ALL,. IF ARM GOES PUBLIC WHICH IS A LOSS TO THE U.K. BECAUSE THEY INITIALLY SAID THEY WOULD LIST THEIR BUT IT WOULD BE A WIN FOR SOFTBANK. WE DON'T KNOW HOW MUCH THEY WILL SELL ITS STAKE WHEN IT COMES TO THE IPO BUT WE MUST BE GUESSING IT MUST BE SUBSTANTIAL. ED: ISABEL LEE, THANK YOU VERY MUCH. UP NEXT, THE INVESTMENT MANAGEMENT PLATFORM FOR BUSINESSES AND IS ARE INTEGRATING ARTIFICIAL INTELLIGENCE INTO ITS SERVICES, UNVEILING ONE CLICK AP TO HELP INPUT DATA IN SECONDS THAT WOULD NORMALLY TAKE FINANCE TEAM HOURS.
JOINING US IS THE ROW CEO. WHAT YOU ARE DOING IS AT THE HEART OF THE DEBATE OF WHERE AI DISRUPTS. DOES IT AID JOBS WERE DISPLACED JOBS? START BY EXPLAINING WHAT YOU'RE AI POWERED TOOL DOES.
>> THANK YOU, IT'S GREAT TO BE HERE. RHO IS AN ALL-IN-ONE FINANCE PLATFORM WHICH MEANS WE COMBINE PRODUCTS LIKE BANKING, EXPENSE MANAGEMENT, CORPORATE CARDS. WE ARE INFUSING AI INTO ALL OF OUR PRODUCTS STARTING WITH AP. IT LEADS TO A BETTER USER EXPERIENCE AND TAKES PEOPLE OUT OF THE TEDIUM OF DATA ENTRY. WE DON'T BELIEVE THIS IS A JOB
REPLACER. WE BELIEVES IT FREES UP THE FINANCE TEAM TO BE STRATEGIC AND ADD VALUE TO THE ORGANIZATIONS THEY WORK OR. ED: HOW MUCH OF YOUR DECISION TO DO THIS WAS DRIVEN BY PEOPLE SAYING WE NEED SOME HELP AND WE NEED AI TO DO SOMETHING THAT'S USEFUL FOR US? >> A LOT, THAT CONVERSATION WASN'T ABOUT AI BUT IT WAS ABOUT THE FINANCE TEAM SPENDING UP TO 30% OF THEIR TIME ENTERING DATA AND PROCESSING PAYMENTS AND EMMANUEL WAIT STILL TODAY. WE UNDERSTOOD THESE PROBLEMS AND WE UNDERSTOOD THE TECHNOLOGY SHIFT HAPPENING WITH AI AND IT SEEMED LIKE A VERY LOGICAL SOLUTION TO APPLY TO SOLVING TO THIS VERY PERVASIVE AND MEANINGFUL PROBLEM. ED:
YOUR PRODUCTS AND SERVICES ARE TARGETED AT THAT CFO AND FINANCE LEAD. HOW DO YOU ASSESS THEIR UNDERSTANDING OF ARTIFICIAL INTELLIGENCE? ARE PEOPLE TRYING TO LEARN MORE ABOUT AI AND WHY IT'S FOR THEM? >> CFOS AROUND THE WORLD ARE TRYING TO UPSCALE ALL THE TIME. WHAT IS IMPORTANT HERE IS THAT THEY DON'T NECESSARILY NEED TO TRULY LEARN ABOUT AI TO REAP THE BENEFITS. IT WILL IMMERSE ITSELF IN ALL THE PRODUCTS THEY PROBABLY USE.
WE ARE EMBEDDING IT IN SO MANY PRODUCTS TO MAKE EVERYTHING MUCH BETTER FOR THE END USER. THERE ARE LEADING EDGE CFOS AND FINANCE TEAMS THAT ARE DEFINITELY LEARNING AS MUCH AS THEY CAN ABOUT THIS NEW TECHNOLOGY. ED: ARE YOU ABLE TO QUANTIFY THE FINANCIAL BENEFITS OF AUTOMATING THESE FUNCTIONS? HOW MUCH TIME OR MONEY DOESN'T SAVE A COMPANY ON AVERAGE. >> WE WERE ABLE TO REDUCE THE TYPICAL PAYMENT SYSTEM PROCESS WHICH INCLUDES INTERPRETING, CHECKING AND VALIDATING AND SCHEDULING A PAYABLE AND MANAGING THAT WITH ANY PAYMENT METHOD TO AROUND TWO CLICKS INSTEAD OF 20 CLICKS.
WE WILL GET IT TO ONE BUT THIS IS IMPORTANT FOR THOSE ORGANIZATIONS. IT DOESN'T SOUND LIKE A LOT BUT YOU MULTIPLY THAT BY 100 OR 1000 PROCESSES PER MONTH OR PER WEEK AND IT REALLY ADDS UP. ED: I BELIEVE YOU RAISED A SERIES B GOING BACK TO DECEMBER, 2021. DO YOU HAVE ANYMORE FINANCING OR CAPITAL NEEDS? >> WE DID THAT AT THE END OF LAST YEAR -- OF 2021 AND WE CONTINUE TO PUT OUT AIR FEELERS ON THAT. ED: RHO CEO THANK YOU FOR YOUR TIME. COMING UP, IT IS ERROR VC
SPOTLIGHT AND THE FOUNDER OF CONVICTION, AND AI FIRM VERY FOCUSED ON ARTIFICIAL INTELLIGENCE, SOFTWARE THREE POINT ZERO WILL JOIN US NEXT. THIS IS BLOOMBERG. BEFORE WE GO, LET'S LOOK AT SHARES OF BLOCK, TRADING HIGHER BY ABOUT HALF A PERCENTAGE POINT. THIS IS BLOOMBERG. ♪ ED: 7000 MILES EAST TO ISRAEL, WE'VE BEEN SPEAKING EXCLUSIVELY WITH THE PRIME MINISTER AND JIM NETANYAHU ABOUT THE NATIONS STATUS AS A TECH OF ANY SAYS HIS GOVERNMENT IS WORKING HARD TO BENEFIT FROM THE AI BOOM.
>> THERE IS NOISE IN THE SHORT-TERM MARKETS AND CLARITY IN THE LONG-TERM MARKETS. AMAZON JUST INVESTED $7 BILLION IN CLOUD SERVICES HERE. THEY ARE -- THEY DO THAT BECAUSE THEY KNOW WHAT I'M GOING TO DO. THEY WANT TO MAKE ISRAEL ONE OF THE THREE TOP AI POWERS IN THE WORLD. ED: THAT WAS THE ISRAELI PRIME MINISTER SPEAKING WITH US THIS PAST SUNDAY.
JOINING US THIS MONDAY IS SARAH WEIL FOUNDER OF CONVICTION FOCUSED ON AI AND SOFTWARE 3.0. SHE IS A FORMER PARTNER AT GREATBATCH. WELCOME BACK TO BLOOMBERG TECHNOLOGY. >> THANKS FOR HAVING ME. ED: LET'S START ON A DATA POINT.
IN THE FIRST QUARTER OF THE YEAR AT LEAST, ALMOST HALF OF VENTURE BACKING FOR AI STARTUPS WENT TO STARTUPS IN THE CITY OF SAN FRANCISCO. DO YOU RECOGNIZE THAT AS BEING A GENUINE TREND, THE CONCENTRATION OF AI TALENT IN THE CITY? >> YEAH, I THINK IT'S A REFLECTION OF HOW EARLY WE ARE IN THIS MARKET. THERE IS GREAT ENGINEERING AND ENTREPRENEURIAL TALENT ALL AROUND THE WORLD.
I'VE BEEN ON THE BOARDS OF STARTUPS WITH ISRAELI FOUNDERS, EUROPEAN FOUNDERS, ALL AROUND THE UNITED STATES, BUT AT THIS PARTICULAR MOMENT, THIS GENERATION OF AI IS VERY EARLY AND A LOT OF THE TALENT THAT WAS WORKING ON THE FRONTIER OF THIS TECHNOLOGY WAS FOCUSED IN A FEW LARGE RESEARCH LABS. THOSE LABS WERE STAFFED IN SAN FRANCISCO AND LONDON MAINLY. I THINK THE AI BOOM HAS BENEFITED FROM THAT RESEARCH TALENT AND IS PARTLY ALSO HAS TO DO WITH THE RENAISSANCE OF SAN FRANCISCO. ED: I ASK YOU THAT BECAUSE WE HAVE SPENT TIME IN YOUR OFFICES AND YOU LAUNCHED CONVICTION AND YOU OPENED A PHYSICAL OFFICE SPACE. SINCE LAST WE SPOKE, YOU
LAUNCHED CONVICTION IN BED, ESSENTIALLY AN ACCELERATOR FOR AI STARTUPS. TELL ME ABOUT THAT. >> WE THINK THIS IS A UNIQUE MOMENT IN TIME. WE WERE JUST TALKING ABOUT THIS BEING AN EARLY STAGE OF THE AI MARKET. WE WANT TO BRING PEOPLE TOGETHER AT THIS FRONTIER OF TECHNOLOGY. WE THINK THEY ARE SOLVING A LOT OF NEW PROBLEMS. SOME OF THOSE
PROBLEMS ARE VERY COMMON. AN EXAMPLE MIGHT BE HARDWARE AND INFRASTRUCTURE IS HARD AGAIN FOR STARTUPS. THANKS TO THE CLOUD PLAYERS, THEY HAVEN'T BEEN HARD WORK MOST STARTUPS.
IF YOU ARE A COMPANY THAT NEEDS TO TRAIN OR SERVE YOUR OWN MODELS, THAT'S CHALLENGING. PEOPLE TALK ABOUT THE AI GPU CRUNCH. ONE THING WE WERE TRYING TO DO IS FOCUS ON THE SET OF CHALLENGES THAT AI GAVE COMPANIES AND BRING PEOPLE TOGETHER WHO WANT TO WORK AT THE VANGUARD AND MAKE IT POSSIBLE FOR COMPANIES TO EXPERIMENT. WE ARE GIVING PEOPLE ENOUGH CAPITAL TO GET GOING, 150,000 DOLLARS ON FRIENDLY TERMS AND PARTNERING WITH MICROSOFT, OPENAI AND OTHERS TO START TO MAKE IT POSSIBLE FOR PEOPLE TO EXPERIMENT FROM THE HARDWARE SIDE. IT'S IN PART BECAUSE WE THINK THIS IS A SPECIAL MOMENT IN TIME AND WE WANT TO BRING TOGETHER THE VANGUARD COMMUNITY AND WE THINK WE CAN BRING OUR NETWORK TOGETHER AND PEOPLE WILL SOLVE PROBLEMS TOGETHER. TODAY'S THE LAST DAY OF THAT LOCATION. ED: WHAT IS IT YOU ARE LOOKING FOR?
IF YOU ARE GOING TO GET A NEW WAVE OF APPLICANTS RIGHT NOW, HOW DID THEY SET THEMSELVES APART? WHAT ARE YOU SEEKING TO UNEARTH? >> I THINK THE FUNDAMENTAL THING WE ARE LOOKING FOR WITH ANY ENTREPRENEUR BESIDES THE ENTREPRENEURIAL TRAITS OF GRIT, THE ENTHUSIASM AND DEEP UNDERSTANDING OF A PARTICULAR PROBLEM SPACE, IS ACTUALLY EXPERIMENTATION. OPENNESS TO NEW IDEAS AND NEW EXPERIENCES AND I THINK A MORE EXPANSIVE VIEW OF THE MARKETS THAT CAN BE DISRUPTED WITH AI AND THEN A DEEP UNDERSTANDING OF HOW THE RESEARCH AND TECHNOLOGY APPLIES. ONE OF THE MOST EXCITING THINGS IS THE FACT THAT WE DON'T LOOK AT THE MARKETS THAT ARE AVAILABLE TO AI IS JUST TRADITIONAL SOFTWARE COMPANIES. SOME OF THE MOST INTERESTING COMPANIES IN AI TODAY ARE IN OUR PORTFOLIO. IF YOU LOOK AT HARVEY IN THE
LEGAL SPACE OR MID JOURNEY IN THE IMAGE GENERATION SPACE, THOSE WERE NOT TOPICS FOR SOFTWARE INNOVATION AS VERTICALS PRIOR. WE ARE EXCITED ABOUT PEOPLE WHO ARE EXPERTS IN THEIR DOMAIN AND ALSO ARE THINKING CREATIVELY ABOUT THESE APPLICATIONS VERSUS EXPECTING THESE NEXT-GENERATION COMPANIES WILL BE A DIRECT REPLACEMENT FOR INCUMBENTS. ED: CONVICTION IS FOCUSES -- IS FOCUSED ON THE EARLY STAGE. ON YOUR PODCAST, YOU HAVE NAMES FROM THE WORLD OF AI WORKING AT SOME OF THE BIGGEST AND MOST MATURE TECHNOLOGY COMPANIES TO DISCUSS SOME OF THE BROAD THEMES. WHAT ARE THE ADVANTAGES OF FOCUSING ON YOUNG, EARLY STARTUPS RATHER THAN THE MORE MATURE TECH NAMES THAT ARE STILL PUMPING MONEY INTO AI DEVELOPMENT? >> I'M SURE THERE IS AN UPDATED INCREASED NUMBER FOUR Q2 BUT I THINK YOUR VIEWERS WOULD KNOW THAT IN Q1, 1/5 OF THE S&P 500 MENTIONED AI IN THEIR EARNINGS CALLS. SINCE THE STARTING GUN OF LAST NOVEMBER, TECHNOLOGISTS AND COMPANIES OF ANY SCALE RECOGNIZE THE OPPORTUNITY AND THE RISK AND SOME ARE BENEFITING FROM IT.
WE SEE EVEN THE MORE ADVANCED PORTFOLIOS IN PUBLIC COMPANIES. THERE ARE FOUNDERS AND CEOS WHO ARE TAKING ADVANTAGE OF THE OPPORTUNITY AND MOTIVATING THEIR TEAMS TO WORK WITH MORE SPEED AND VELOCITY THAN THEY EVER HAVE. INCUMBENTS HAVE ALWAYS HAD THE ADVANTAGES OF DISTRIBUTION, LIKE RELATIONSHIP WITH CUSTOMERS.
AND THEN LARGE RESOURCES. THEY HAVE ACCESS TO INFRASTRUCTURE. I THINK THESE TIMES OF MASSIVE DISRUPTION ARE MORE ADVANTAGED TO STARTUPS. I THINK THERE IS A LOT OF DISCUSSION TO INVESTORS ABOUT ACCESS TO AN IDEA AND FIND TRAINING. WOULD YOU WANT FOR MODEL TRAINING IS THE SPECIFIC AND INCUMBENTS DON'T OFTEN HAVE THAT.
IT'S A RACE, LIKE MANY OTHER TECHNOLOGY SHIFTS, WHERE STARTUPS ARE TRYING TO BUILD THE BEST PRODUCT AND BUILD DISTRIBUTION AND INCUMBENTS HAVE THE DISTRIBUTION ADVANTAGE AND ARE TRYING TO FIGURE OUT HOW QUICKLY THEY CAN ADAPT TO THIS NEW CHANGE. ED: LAST OCTOBER, YOU CAME OUT AND CONFIRMED YOUR FIRST $100 MILLION FUND. YOU GOT GOING QUITE QUICKLY AND WE TALKED ABOUT THE PHYSICAL SPACE YOU HAVE. SHARE WITH OUR AUDIENCE WHAT IT'S BEEN LIKE BUILDING YOUR OWN FIRM FROM SCRATCH? YOU BEEN ABLE TO MAKE PROGRESS QUICKLY AND WILL HAVE THE CHALLENGES BEEN? >> I AM REMINDED WHAT IT IS LIKE TO BE FOUNDER, IT'S A LOT OF WORK. I AM REALLY EXCITED. THE TIMING OF OUR FUND LAUNCH, WE LOST IT PUBLICLY LAST OCTOBER AND CHATGPT WAS RELEASED TO THE PUBLIC AND I THINK NOVEMBER.
I CANNOT SAY I WAS NOT SURPRISED BY HOW STRONG THE CONSUMER AND ENTERPRISE REACTION WAS TO THAT. THIS IS THE RACE TO INCORPORATE AI INTO YOUR PRODUCTS AS AN INCUMBENT COMPANY. I AM POSITIVELY SURPRISED BY HOW MANY ENTREPRENEURS AND HOW MUCH GREAT OPPORTUNITY WE ARE SEEING. I THINK WE HAVE A REPUTATION FOR DOMAIN EXPERTISE AND NETWORK HERE AND WE WANT TO GO WORK WITH SOME OTHER OF THE BEST COMPANIES AND PROUD OF THE ENTREPRENEURS ALREADY IN THE PORTFOLIO. I WOULD SEE THE AMOUNT OF OPPORTUNITIES IS A CHALLENGE. WE ARE HIRING INVESTORS AND I THINK IT WILL ONLY GROW FROM HERE.
PERHAPS THE CHALLENGES LOOK A LITTLE MORE LIKE ANY SCALING COMPANY THAT DOESN'T HAVE ENOUGH PEOPLE BECAUSE THE MARKET IS NOT ARRIVED QUICKLY. ED: IT'S SO GREAT TO HAVE YOU BACK ON THE PROGRAM. THANK YOU VERY MUCH. COMING UP ON BLOOMBERG TECHNOLOGY, WE ARE ON THE CUSP OF THE APPLE 15 PHONE. THE INDUSTRY IS FACING A SMARTPHONE SLOWDOWN IN THE UNITED STATES. WE WILL GET THE DETAILS OF THE LATEST AND TAKE A LOOK AT SHARES OF AMD MOVING TO THE UPSIDE. THEY REPORTED EARNINGS AUGUST 1
AND THEN HAD A DIP IN MORGAN STANLEY SAID THE POST EARNINGS DROP IS A BUYING OPPORTUNITY AND THEN YOU SEE MOMENTUM IN THAT NAME. THEY ARE BUILDING A REPUTATION AS AN AI PLAYER, NOT JUST NVIDIA BEING THE ONLY GAME TOWN. THIS IS BLOOMBERG TECHNOLOGY. ED: AS THE IPHONE 15 DEBUT APPROACHES, APPLE ADMITS IT'S FACING A SMARTS THAT IS A SMARTPHONE SLOWDOWN IN THE U.S. THE NEXT IPHONE WILL BE THE BIGGEST UPDATE IN THREE YEARS. YOU WROTE OVER THE WEEKEND ABOUT NEW DETAILS ABOUT THE TIMING OF IPHONE 15. WE EXPECT AN EVENT, WHEN DOES
IT TAKE PLACE? >> I EXPECT APPLE TO ANNOUNCE THE IPHONE 15 THE WEEK AFTER LABOR DAY. EITHER ON TUESDAY COME SIMMER 12 OR WEDNESDAY, SEPTEMBER 13. THE PHONES WILL THEN GO ON PREORDER THAT FRIDAY AND THE WEEK AFTER ON SEPTEMBER 22, I EXPECT THE NEW MODELS TO GO ON SALE. THIS IS NOT NECESSARILY
GROUNDBREAKING. THIS FOLLOWS THE CADENCE OF TYPICAL APPLE RELEASES. NOTABLY, THIS EVENT IS HAPPENING ABOUT A WEEK LATER THAN LAST YEAR BUT IT'S STILL WITHIN THEIR NORMAL TIMEFRAME OF EARLY SEPTEMBER/MID SEPTEMBER. ED: BEFORE WE GET TO THE COMMENTS ABOUT A SLOW DOWN, WHAT WILL THE IPHONE 15 BRING US? HOW IS IT DIFFERENT FROM PRIOR GENERATIONS? >> I THINK THIS IPHONE 15 LAUNCH WILL BE THE MOST SIGNIFICANT UPGRADE TO THE IPHONE SINCE THE IPHONE 12 LAUNCHED IN 2020. THEY'VE BEEN TYPICALLY DOING
BIGGER UPGRADES THE LAST FEW YEARS AND THAT WILL CONTINUE BUT THE BASELINE IPHONE 15 WILL BE A NICE UPDATE AS WELL. THE 15 WILL GET THE SAME 48 MEGAPIXEL CAMERA THAT THEY GOT LAST YEAR SO BIG UPGRADE ON THE LOWER AND PHONES AND THEN THEY WILL MOVE FROM THE NOTCH TO THE DYNAMIC ISLAND ON THE 1515 PLUS AS WELL. THAT WILL BE A NICE IMPROVEMENT THAT PEOPLE GOT LAST YEAR. MOVING ONTO THE PRO DEVICES, THERE WILL BE AN ENTIRELY NEW DESIGN AND THEY WILL KEEP THAT FROSTED GLASS BACK BUT AROUND THE SIDES OF THE PHONE, THE BAND THAT GOES AROUND THE PHONE IS THAT SHINING FINGERPRINT STAINLESS STEEL BAND. THAT MATERIAL IS MADE OF
BRUSHED TITANIUM AND IT LOOKS NICER. IT ALSO CAN MAKE THE PHONE LIGHTER. THERE WILL BE A MUCH THINNER BORDER AROUND THE SCREEN. ED: CHECKING ON THE SLOWDOWN IN THE U.S.
DOES THE IPHONE 15 CHANGE THE TRAJECTORY? COMING UP IN THE NEXT HOUR,
2023-08-08 14:36
Show Video
Other news