Bloomberg Crypto Full Show (06/21/2022)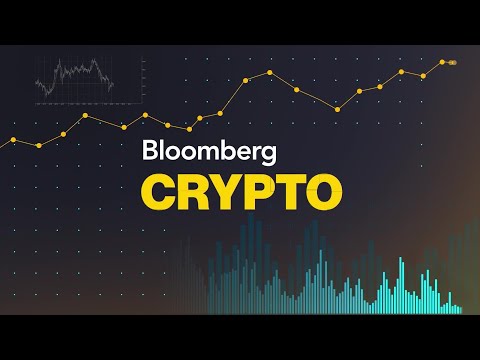 Show Video
MATT: WE ARE LIVE FROM BLOOMBERG WORLD HEADQUARTERS IN MIDTOWN MANHATTAN. KAILEY: WELCOME TO BLOOMBERG CRYPTO. MATT: COMING UP, BOUNCING BACK FROM THE BOTTOM? WE WILL DISCUSS THE PRICE MOVES WITH THE FOUNDER OF THE DELTA BLOCKADE FUND. KAILEY: ONE OF THE LARGEST CRYPTO CONFERENCES OF THE YEAR AND WE WILL HAVE MORE. MATT: SHORTING BITCOIN, A NEW ETF LAUNCHES TODAY THAT BETS AGAINST THE CRYPTOCURRENCY AFTER IT HAS ALREADY LOST 70% OF ITS VALUE. KAILEY: ALL OF THAT IS AHEAD BUT LET'S
GET A SNAPSHOT OF THE MARKET. IT'S BEEN A WILD RIDE WITH BITCOIN STAYING BELOW $18,000. IT HAS BOUNCED BACK, RIGHT NOW NORTH OF 21,000 DOLLARS, UP 4.7 PER CENT. SOME OF THEM ARE OUTPERFORMING. ELON MUSK SPEAKING AT THE QATAR ECONOMIC FORUM SAYS HE SUPPORTED IT BECAUSE HE WAS ENCOURAGED TO DO SO BY CERTAIN PEOPLE WERE NOT PARTICULARLY WEALTHY.
DOES COIN OFTEN -- DOGECOIN OFTEN MOVES ON WHATEVER ELON MUSK SAYS. >> WE ARE SEEING TRACES OF ALL-TIME LOWS. >> I WOULD HOPE THIS YEAR WAS $30,000-$50,000 COIN. >> WE ARE STILL FAR AWAY FROM ZERO.
>> YOU ARE SEEING A LIQUIDATION RISK. >> IS SO MUCH LEVERAGE. THERE IS A LOT OF GREED. >> THE OVERALL VALUATIONS ARE DOWN SIGNIFICANTLY WHICH IS GREAT FOR THE BUSINESS WE ARE IN. >> IS THE BEST TIME TO DO M&A.
>> I'VE NEVER SAID PEOPLE SHOULD NOT GET IT. >> THE LOW WAS IN NOVEMBER OF 2021. MATT: SINCE THERE IS LITTLE ON THE FUNDAMENTALS, LET'S LOOK AT THE TECHNICAL ANALYSIS ON CRYPTO. WE ARE JOINED BY ABIGAIL DOOLITTLE. ABIGAIL: LET'S TAKE A LOOK AT IT CHART THAT SUPPORTS THE IDEA OF CAPITULATION.
IT WOULD BE MASSIVE BUYING OR SELLING -- OR ACTUALLY SELLING. YOU CAN SEE A COUPLE OF BOTTOMS IN 2018 AND 2020 FOLLOWED BY THE RSSI BOTTOMING AND IT APPEARS WE'RE LOOKING AT SOMETHING SIMILAR HERE. THIS IS THE IDEA THAT EITHER IT COULD GO ABOVE $2000. CHARTS WILL ALWAYS BE MORE COMPELLING, THIS IS THE MONTHLY CHART AND IN RELATION TO THE 50 MONTH MOVING AVERAGE, BITCOIN HAS STRONG SUPPORT WITH WIRES STEPPING UP. BELOW THAT LEVEL BRIEFLY OVER THE WEEKEND. THEY ARE TRYING TO FIND SUPPORT.
THERE IS A MORE INTERNAL TECHNICAL SUGGESTING WE COULD SEE BITCOIN GO BACK ABOVE $30,000. YES, MAYBE CAPITULATION IS AT HAND. . KAILEY: THANK YOU SO MUCH. LET'S GET WORK WITH THE BLOCKCHAIN FOUNDER. DO WE SEE A BOTTOM? >> THANK YOU FOR HAVING ME. I DON'T THINK SO. I THINK WE ARE GOING TO SEE A BOTTOM SO I WILL STICK TO THE PRICES I HAVE. I STILL THINK WE HAVEN'T SEEN
THE BOTTOM. NOT ONLY BECAUSE THE WAY THE MARKET IS GOING DOWN AND BUYING, I BOUGHT SOME AND THIS IS NOT INITIALLY VICE, -- ADVICE -- THIS IS NOT BITCOIN ADVICE BUT YOU WILL SEE BIG SALES AND SOMETHING BEING PICKED UP BECAUSE PEOPLE BUY IT. THEN YOU START SEEING THE SAME THING GO DOWN. MATT: IN TERMS OF ANOTHER CAPITALIST FOR THE WAY DOWN, HIS STATE EITHER A REAL PROBLEM? THE IDEA THAT THE MERGE WILL HAPPEN AND EVERYTHING WILL NOT USE AS MUCH POWER IN VERIFYING THE BLOCKCHAIN'S? >> FOR US ON THE TECHNOLOGY SIDE, THE GROWING PROOF IS A HUGE STEP. IT MAKES IT MORE SECURE AND IS
USING LESS ENERGY AND IT'S MORE SCALABLE. MATT: DOESN'T THAT MAKE THE NETWORK MORE SECURE IF YOU HAVE INDIVIDUAL ORGANIZATIONS HOLDING 30% OF IT? OR VLADIMIR PUTIN COULD COME IN WITH DOINGS OF DOLLARS AND TAKE IT OVER >> THERE IS A LIMITATION OF HOW MANY VALIDATOR NOTES YOU RUN. YOU ARE REALLY DOING MINING THAT NO ONE HAS CONTROL ON.
YOU ARE PART OF THE NETWORK. THERE IS LOTS OF VALIDATION HAPPENING, HOW MANY VALIDATOR'S YOU ARE DOING. KAILEY: ALL OF THE OTHER ISSUES THIS BROADER CRYPTO ECOSYSTEM HAS HAD TO GRAPPLE WITH, FIRST THE COLLAPSE OF WITHDRAWALS AGAINST A MACRO ECONOMIC BACKDROP THAT IS TURNING AGAINST RISK AND TIGHTENING FINANCIAL CONDITIONS AND LESS ABUNDANTLY BUT IT HE. WHERE YOU PLACE THE BLADE OF -- GREATEST BLAME FOR THE DRAMATIC COLLAPSE WE HAVE SEEN IN RECENT DAYS? >> I THINK IT IS GOING BACK TO EXPANDING THE LEVERAGE. TOO MUCH GREED AND GOING WITHOUT RELEASE AND UNDERSTANDING BORROWING AND LENDING AND THE COLLATERALIZATION. AND NOBODY IS REALLY GOING INTO
THE DYNAMICS OF THE TECHNOLOGY. THE WHOLE PLACE WAS JUST BOOMING. THEN EVERYTHING WENT DOWN LIKE A HOUSE OF CARDS. THEN WE STARTED SEEING FUNDS. YOU WILL SAY THEY -- YOU WILL SEE THEY HAVE MAJOR LIQUIDATION TROUBLES.
BIG INSTITUTIONAL MONEY STARTED COMING IN. THE BIG INSTITUTIONAL MONEY WILL GO AT THE DISCOUNTED TOKENS AND THEN THESE DEFI CREATED THIS BIG MESS. KAILEY: MESSY INDEED. WE HAVE A BLOOMBERG TERMINAL
USER WRITING IN. IF MINING REQUIRES TECHNICAL SKILL AND MONEY, HOW WILL THAT HELP DECENTRALIZATION? >> THE BASE LEVEL, HE OR SHE IS RIGHT. THE DIFFERENCE IS MINING MAKES AN INSTITUTIONAL MINING RATE STEP MOST OF THE EARLY MINING WERE PEOPLE LIKE US PUTTING BLOCKCHAIN IN OUR HOME IN MINING IT BUT IT'S NOT TRUE ANYMORE.
IT'S LIKE A WHOLE AFFAIR SO YOU HAVE HUGE PUBLIC COMPANIES MINING IT AND THAT ADDS TO DECENTRALIZATION. UD NEED TO EAT -- YOU DO NEED TO TAKE DISH TO EAT BUT YOU ARE NOT DOING IT AS A SERVICE TO OTHER PEOPLE. YOU BELIEVE IN IT AND BECAUSE YOU HAVE A DEPOSIT, YOU WANT TO BE TRUE TO WHAT YOU ARE VALIDATING. MATT: THERE WAS A CREDIT LINE FOR FORAGER, ALMOST 500 MILLION DOLLARS.
HE'S GETTING A CREDIT LINE TO BLOCK FI. IS HE THE WHITE KNIGHT OF THE CRYPTO ENTER? HE IS HELPING SEVERAL ENTITIES WERE TAKING THEM OVER. >> THIS IS THE BEST TIME FOR M&A. THEY ARE NOT U.S. ADJUSTED SO THEY HAVE MUCH MORE EFFECT ON HOW THEY CAN EXPAND. THIS GIVES THEM A LOT OF FREEDOM FROM YIELD REGULATIONS AND THE SECTORS THEY ARE GOING INTO. THEY HAVE THE MAXIMUM TO LIQUIDATE. THEY CAN PROVIDE THOSE THINGS
TO BLOCKFI AND VOYAGER AND HAVE A VERY PROVINCIAL PARTNERSHIP AND EQUITY DEALS OUT THERE. WE WILL SEE THEM PLAY A MUCH BIGGER ROLE IN THIS. IT'S A GOOD PLAN TO HAVE A LOT OF LIQUIDITY WHEN THE MARKET IS DOWN. I FEEL THIS IS ONE OF THEM.
MATT: GREAT HAVING YOU ON THE SHOW AND THANK YOU SO MUCH FOR JOINING US. COMING UP, WE WILL DISCUSS THE GROWING INTEREST AROUND NFT'S WITH AMY WU? IS IT STILL GROWING? KAILEY: PLUS, WE WILL TALK ABOUT BETTING ON THE DRAW DOWN WITH DETAILS OF THE NEW SHORT ETF THAT LAUNCHES TODAY. MATT: AND NEWS ON CRYPTO ON YOUR BLOOMBERG TERMINAL. THIS IS BLOOMBERG. KAILEY: THIS IS BLOOMBERG CREEK NO. LET'S TAKE A LOOK AT WHAT'S GOING ON IN THE NFT WORLD.
AS BROADER CRYPTO PRICES DROPPED, NFT PRICES HAVE AS WELL BUT THEY ARE BOUNCING BACK. SANAL YOUI HAVE ABOUT A 5% JUMP IN: THE NFT INDEX. OVER 30 DAYS OF VOLUME, IT'S DROPPED BY ALMOST 200%. ANOTHER COMPANY HAS SEEN AN 80% DROP IN VOLUME. THE TWO MARKETPLACES ALONE STILL SHOW MORE THAN $1 BILLION WORTH OF VOLUME. LET'S TALK ABOUT THE BOARD YACHT CLUB COLLECTION.
THE FACT THAT PIECES ARE HAD SOLD FOR MORE THAN MILLIONS OF DOLLARS AND CAPTURED THE FAVOR OF CELEBRITIES AROUND THE WORLD AND THE MORE RECENT SALES IN THE RANGE OF HUNDREDS OF THOUSANDS OF DOLLARS. THERE ARE SOARING VALUATIONS IN SOME AREAS. A MARKETPLACE SAW A ROUGHLY 10% INCREASE IN VALUATIONS SINCE MARCH. MATT: THANKS VERY MUCH. WE WILL CONTINUE THAT CONVERSATION RIGHT NOW WITH AMY WU, THE HEAD OF VENTURES M&A AND JOINS US NOW IN THE STUDIO. ONE OF THE CRYPTO CONFERENCES IS GOING ON NOW. HOW IS IT GOING? HAS THE INTEREST WANED WITH THE PRICES OF CRYPTO? >> I'VE BEEN ASKED THAT A LOT. IS IT ALL GLOOM AND DOOM?
I THINK THIS IS THE BIGGEST CRYPTO CONFERENCE OF THE YEAR. IT'S INTERESTING BECAUSE I THINK PEOPLE ARE A LOT MORE OPTIMISTIC THAN I EXPECTED AND YOU SEE ASSERTED DICHOTOMY BETWEEN TRADERS OF CRYPTO AND TECHNOLOGY BUILDERS IN CRYPTO. WHEN I MEET WITH NFT FOUNDERS AND TECH FINDERS -- FINDERS OF THE CONFERENCE, THEY ARE AWARE OF THE VOLATILITY AND EVERYONE FEELS THEIR ROLE IS LIGHTER BUT THEY ARE SHUTTING THAT ALL OUT AND BEING FOCUSED ON HOLDING AND HAVE CONSISTENTLY SAID THAT TO ME. KAILEY: IS THERE A CHANCE THERE IS TOO MUCH FROTH IN THIS? >> DEFINITELY, THE NFT MARKET IS EVEN YOUNGER THAN THE CRYPTO MARKET. HOW GIRLY THOSE MARKETS ARE A
REFLECTED IN HOW VOLATILE THESE MICRO-CYCLES OF NFT MOVES ARE. SO FAR, THE MAJORITY OF NFT HOLDERS ARE LOOKING AT IT WITH AN INCREASING NUMBER OF COLLECTORS BUT THERE IS STILL A LOT SPECULATION. AT THIS CONFERENCE, I'M HERE BECAUSE A LOT OF THEM ARE CREATING REAL UTILITY WHETHER IT'S IN COMMERCE OR ENTERTAINMENT IN COLLABORATION WITH REAL LIFE BRANDS. I THINK THE NEXT STEP OF THE NFT MARKERS TO PROVIDE THIS TO USERS AND THEN YOU WILL SEE THE INDUSTRY MATURE -- MATURE NOW.
MATT: WE SEE BRANDS MORE THAN ART OR WE SEE MONETIZATION. NO ONE CAN OWN LEBRON'S DING. DO YOU NEED REAL ARTISTS RATHER THAN A FACTORY MAKING PROFITABLE PRODUCTS? >> YESTERDAY I MET WITH THE FOUNDER OF ANOTHER COMPANY. A LOT OF THESE NFT FOUNDERS WERE ARTISTS BEFORE AND ARE NOW BUT THEY ARE CREATING ART IN A DIFFERENT MEDIA BUT THEY NEED TO PARTNER WITH A CEO WHO WILL ACTUALLY DELIVER BUSINESS AROUND WHAT IS ESSENTIALLY VALUABLE IP/ I THINK THE WILL BE IN EVOLUTION IN THE SPACE. KAILEY:
WHAT KIND OF OPPORTUNITIES ARE YOU LOOKING FOR RIGHT NOW? >> WE ARE CONTINUING TO DEPLOY CAPITAL. WE ARE IN A FORTUNATE POSITION TO HAVE A LOT OF CAPITAL AND YOU'VE SEEN SOME OF THE INVESTMENTS WE'VE DONE. WE ARE VERY ACTIVE IN THIS MARKET. THERE ARE GREAT TEAMS BUILDING A LONG-TERM BASIS AND WE WANT TO CONTINUE BACKING THEM IN THE VALUATIONS HAVE ADJUSTED -- MATT: IT'S A DISCOUNT, THIS IS A GOOD TIME TO SHOP. HIS FTX SHOPPING? >> WE ARE ALWAYS LOOKING FOR OPPORTUNITIES. KAILEY: WHAT SPECIFICALLY WOULD YOU BE LOOKING FOR? >> IT'S ABOUT BACKING GREAT FOUNDERS AND WE ARE SPENDING OUR TIME ON THE INFRASTRUCTURE PORTION.
WE ARE LOOKING AT A ROADMAP AND THAT'S EVERYTHING FROM GEOGRAPHIC FOCUS THAT WE ANNOUNCED TODAY. IT'S AROUND OUR INSURANCE IN STOCK BUT NOT A ONE-STEP SHOP. YOU ARE USING OUR AVOCATION MOST DIFFERENT PROCESSES. IT'S A WAY TO EXPAND THEIR BUSINESS. SOMETIMES WE FIND GREAT TEAMS AND ALIGNED AROUND THE STRUCTURE, WE GET STRATEGIC PARTNERS.
FGAMEFI HAS GONE THROUGH AN EVOLUTION. IT'S THE FIRST PLAY TO EARN GAME AND UNFORTUNATELY, THEY WENT THROUGH A LOT OF CHALLENGES AND THAT'S WHERE THE GROWING PIECE OF THE INDUSTRY IS COMING IN. WE HAVE MET WITH MOST EVERY MAJOR GAMING COMPANY ACROSS THE GLOBE AS THEY ARE EXPLORING WEB THREE AND MANY COMPANIES SEE THEIR VALUE AS THE LAUNCHING OF A GAME. IT MAKES SENSE FOR THEM TO LOOK TOWARD WEB THREE.
WE WOULD LOVE TO PARTNER WITH . WE REMAIN BULLISH THAT GAMING IS ONE OF THE POTENTIAL WAYS TO BRING AN AUDIENCE INTO CRYPTO. NFT BRANDS ARE ALSO PART OF THE CONSUMER INTERNET WE WILL CUT INTO ALL OF THOSE. AS A THANKS SO MUCH FOR COMING IN AND WE APPRECIATE YOU HERE IN THE STUDIO. COMING UP, BETTING BIG ON A DRAW DOWN, NEW SHORT BITCOIN ETF LAUNCHES TODAY AND WE WILL HAVE THE DETAILS NEXT. THIS IS BLOOMBERG.
MATT: THIS IS BLOOMBERG CRYPTO. BLOCKFI IS ONE WE'VE BEEN TALKING A GETTING A 250 MILLION DOLLARS CREDIT LINE FROM SPX WHICH WILL PROVIDE THE CRYPTO LENDER WITH ACCESS TO CAPITAL TO BOLSTER ITS BALANCE SHEET AMID ITS INCREASED LIQUIDITY CONCERNS AND IT'S NOT THE FIRST TIME THEY'VE GOTTEN EXTENDED LINES OF CREDIT. KAILEY: BIT FORMS SOLD $362 MILLION WORTH OF COIN. IT'S ONE OF THE SELF-PROCLAIMED HOARDING MINORS. MATT: CRYPTO BEARS ARE GETTING A NEW TOOL TO BET ON DECLINES. THE SHORT BITCOIN STRATEGY LAUNCHES TODAY BECOMING THE FIRST INVERSE EXCHANGE TRADED FUND IN THE U.S.
LINKS TO THE LARGEST CRYPTOCURRENCY. IT'S DOWN 70% ALREADY FROM ITS PEAK WHICH BEGS THE QUESTION IF THEY ARE COMING IN AT THE BOTTOM. KATIE GREIFELD JOINS US NOW. SHE ALSO WROTE THIS STORY. WE WERE TALKING ABOUT OVER THE WEEKEND AND CONGRATS ON THE STORY.
IT SEEMS EXACTLY THE WRONG TIME TO COME OUT WITH THIS. KATIE: IF YOU THINK THERE IS MORE PAIN TO COME, IT COULD BE EXACTLY THE RIGHT TIME TO STEP PROSHARES WAS THE ISSUE WORKER BROUGHT THE BITCOIN STRATEGY TO U.S. FUTURES IN BITCOIN TO THE U.S.. THAT WAS THE TOP. YOU COULD SAY IT WAS THE SUPER BOWL WITH A LAUNCHED TWO WEEKS BEFORE AND NOW THEY ARE WATCHING THE INVERSE PRODUCT SO WHO KNOWS IF IT WILL MARK A BOTTOM BUT IF YOU THINK THERE'S MORE BITCOIN PAIN TO COME, THIS IS THE ETF FOR YOU. KAILEY: WHY NOT BEEN ON BITCOIN DIRECTLY? >> PROSHARES IS THINKING THERE ARE PROBABLY MANY PEOPLE WHO DON'T WANT TO OPEN A AND GO THROUGH THE COST OF SHORTING BITCOIN. THIS HAS 95 BASIS POINTS WHICH IS HIGH IN THE ETF WORLD YOU THINK ABOUT WHAT IT WOULD COST TO SHORT BETO, THE FINANCING IS PROBABLY 13.9%.
IF YOU ARE LOOKING AT YOUR OPTIONS, IT'S PROBABLY CHEAPER AND EASIER THAN SOME OF THE OTHER ONES. MATT: I BROUGHT -- I BOUGHT MY FIRST BITCOIN FOR $600. WHAT ABOUT OTHER IT COIN ETF? IT WAS 10 YEARS AGO THEY SUGGESTED THIS. KATIE: WE COULD SEE MORE INVERSE IT COIN ETF'S. YOU HAVE ACTIVE FILINGS FROM DIRECTIONS, ASX AND OTHER ISSUERS. MATT: THANK YOU SO MUCH FOR JOINING US. YOU CAN CATCH THE TWO OF US
TOGETHER ON ETF IQ TOMORROW AT 1 P.M. NEW YORK TIME. IT'S ALSO ON MONDAY BUT A LOT OF TIME TUESDAY -- THURSDAY. KAILEY:
2022-06-26 04:13
Show Video
Other news