Bloomberg Crypto Full Show (05/17/2022)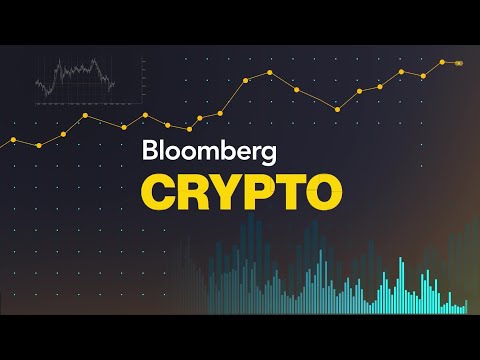 Show Video
♪ MATT: WE ARE LIVE FROM BLOOMBERG'S WORLD HEADQUARTERS IN NEW YORK CITY AND STREAMING ON TWITTER. I MATT MILLER. KAILEY: I'M KAILEY LEINZ. WELCOME TO BLOOMBERG CRYPTO, THE PEOPLE, TRANSACTIONS, AND CRYPTO SHAPING THE WORLD. MATT: MARKETS MAY BE STABILIZING BUT RISKS ARE BROWNED. -- RISKS ABOUND. KAILEY: WE WILL DISCUSS THE FUTURE OF THE SI CLASS WITH THE CEO OF CIRCLE, WHICH WAS THE SECOND LARGEST TABLE COIN, UST COIN. MATT:
ONE OF THE BIGGEST CHAMPIONS OF CRYPTO HAS GONE SILENT. WE HAVE NOT HEARD ANYTHING FROM NOVA GRAD SINCE THE CATASTROPHIC MELTDOWN. WE WILL TAKE STOCK OF THE 250,000 -- $250 MILLION LOSS -- $250 BILLION LOSS. KAILEY: THINGS ARE STABILIZING AND YOU CAN SEE THE ACTION ON CRYP <GO>. MOST OF THE DIGITAL ASSETS ARE HIGHER, INCLUDING BITCOIN, AROUND THE $30,000 LEVEL. STILL HIGHER THAN THOSE WE SAW LAST WEEK.
WE ALSO HAVE AN OUTPERFORMANCE TO LIKES OF LITECOIN AND THE NARROW UP ABOUT 7.4 -- 7% AND 4% RESPECTFULLY. LAGGARDS ONLY UP ABOUT 1%. WE TRADE AROUND $2056 AND THAT TOKEN IN PARTICULAR CATCHES OUR ATTENTION TODAY. MATT: WE WILL BE TALKING ABOUT THE MOVE TO PROVE A STAKE, IF IT HAPPENS. EITHER HAS COME DOWN ALREADY
FROM RELATIVE HIGHS IN 2021. WE WERE ALMOST $5,000 AND NOW WE ARE LOOKING AS YOU POINTED OUT $2000 22 B SAYS IT COULD FALL FURTHER. THERE FORECAST IS 420. I'M NOT SURE IF THEY PULLED THAT ARBITRARILY OUT OF THE AIR BECAUSE IT IS A WEED JOKE BUT IT LOOKS LIKE WE ARE SET FOR A LOT MORE WEALTH DESTRUCTION. WE HAVE HAD CHAOS, NOW WE HAVE CAUTION, INVESTORS ARE PICKING UP THE PIECES FROM LAST WEEK'S COLLAPSE.
>> WINTER IS HERE IN THE TIDE IS COMPLETELY OUT. >> RISING VOLATILITIES. >> WE'VE SEEN THIS MOVIE HAPPENED BEFORE. >> I DO NOT THINK IT IS A LEHMAN MOMENT. OBVIOUSLY NOT THE PRETTIEST OF EPISODES. >> RIGHT NOW, IF YOU'RE IN INVESTOR, YOU HAVE 100 FIRES TO PUT OUT.
>> IT DOESN'T SEEM LIKE ANY ASSET CLASS CAN BE SAVED FROM THE RECENT DRAWDOWNS, CRYPTO INCLUDED. >> YOU SEE A RESET TIME, I THING WE ARE CLOSE TO THE BOTTOM IF WE'RE NOT THERE ALREADY AND WE WILL SEE THE REBOUND. >> I THINK THE OPPORTUNITY REMAINS BRIGHT FOR CRYPTO AS A WHOLE. >> I THINK WE GET -- ONCE WE GET PAST THIS MACRO NEWS BALTIMORE CAKE, CRYPTO FUNDAMENTALS WILL REINSERT THEMSELVES AND WE WILL BE TRADING TO NEW ALL-TIME HIGHS.
MATT: SO THESE WILD SWINGS, AS THE MARKET FACES A MAKE OR BREAK MOMENT FOR WHAT MAY BE THE MOST IMPORTANT TECHNOLOGY AND CRYPTO, SONALI BASAK HAVING THE DETAILS. >> THERE IS A LOT TO STAKE AND BILLIONS BEING WAGERED ON A LONG-AWAITED UPGRADE OF ETHERIUM. WHY IS THAT? IT HAS BECOME THE MOST POPULAR BASIS FOR GROWING ARRAY OF ASSETS AND APPLICATIONS INCLUDING LENDING PRODUCTS, AND FTS, AND ITS NATIVE TOKEN ETHER. DEVELOPERS HER WORK ON REFINING THE SOFTWARE ARE ROLLING OUT PERIODIC UP RAYS BUT NONE HAVE BEEN AS MAJOR AS THE ONE EXPECTED THIS YEAR. THE UPGRADE KNOWN AS THE MARRIAGE TO ENABLE THE BLOCKCHAIN TO MOVE FROM PROOF OF WORK TO PROOF OF STAKE. IT'S WILL REDUCE THE NEED FOR MINING AND FOCUS ON SO-CALLED STAKING WHERE USERS LOCK UP THEIR ETHEREUM TO SECURE THE NETWORK.
MINORS USE MILLIONS OF POWERFUL SERVICE, A SYSTEM CRITICIZED FOR HIS HEAVY USE OF ELECTRICITY BUT STICKERS ORDERS TRANSACTION BY PUTTING UP THEIR OWN ETHER ON A NEW SYSTEM WHICH HAS BEEN SINCE DECEMBER 2020. THE GOAL IS TO MAKE THE BLOCKCHAIN MORE SECURE ABOUT THE TAX, MORE SUSTAINABLE AND SCALABLE BY INCREASING THE NUMBER OF TRANSACTIONS PER SECOND. THERE IS A QUESTION OF WHETHER THIS WILL ALSO REDUCE GAS FEES WHICH ARE HIGHLY CONTROVERSIAL TRANSACTION FEES THAT CONCURRENTLY BE INHIBITING IN SOME CASES. A LOT COULD GO WRONG BEFORE THE MERGER IS COMPLETE. SOME MINORS DO NOT BELIEVE THE
MERGE IS COMING BECAUSE IT HAS BEEN DELAYED IN THE PAST. IN APRIL, ONE OF THE LEADING ETHEREUM DEVELOPERS SAID THE UPGRADE IS MOSTLY GOING TO BE AFTER JUNE, LATER THAN MANY OBSERVERS HAVE ANTICIPATED BUT THAT OF COURSE IS JUST AROUND THE CORNER. SO A LOT OF NEWS TO COME. KAILEY: JUST NEXT MONTH SO WE ARE ALL FOR NOW STILL WAITING. THANK YOU. JOINING US NOT TO ASSESS THE MERGER FUTURE IS JOSEPH LUBIN FOUNDER OF THE GLOBAL BLOCKCHAIN COMPANY CONSENSUS. A THREE-PRONGED QUESTION FOR YOU, IS THE MERGE REALLY COMING, WHEN, AND WHAT IS TAKING SO LONG? JOSEPH: THE MERGE IS REALLY COMING, IT IT HAS BEEN WORKED ON FOR YEARS, THAT IS TRUE, BUT IT IS A VERY COMPLEX SYSTEM AND THE PIECES ARE NEARLY FULLY IN PLACE. ETHEREUM TWO HAS BEEN RUNNING FOR QUITE A WHILE AS YOU INDICATED AND IT HAS 350,000 VALIDATOR'S.
ETHEREUM ONE IS MERGING WITH ETHEREUM TWO TO IMPROVE PROOF OF STAKE IN THE FIRST MAJOR TEST IS SCHEDULED TO MERGE IN EARLY JUNE. CURRENT PLAN IS JUNE 8. THERE WILL BE A COUPLE OTHER MAJOR TEST NETS THAT WILL MERGE A FEW WEEKS AFTER THAT AND IT ALL GOES ACCORDING TO PLAN, WE COULD SEE THE Q3 MERGE. MATT: HOW DO YOU FEEL ABOUT THIS? JUST YESTERDAY THE NEW YORK CITY MAYOR ERIC ADAMS SAID TO USE BLOCKCHAIN FROM EVERYTHING FROM BASICALLY DEEDS TO BIRTH CERTIFICATES, OTHER RECORDS, THIS IS THE WAY OF THE FUTURE AND WE ARE EXCITED ABOUT IT. THIS IS SOMETHING WE HAVE BEEN TALKING ABOUT IN CRYPTO FOR A DECADE NOW AND IT MAKES SENSE WHEN YOU HAVE THE IMMUTABILITY OF A PROOF OF WORK BLOCKCHAIN. I DO NOT WANT TO PUT THE DEED TO MY HOUSE FOR MY DAUGHTERS BIRTH CERTIFICATE ON A PROOF OF STAKE BLOCKCHAIN. IT DOES NOT HAVE THE SECURITY.
MATT: THAT IS NOT CORRECT. THE STAKE IS LIKELY TO BE FAR MORE SECURE AND LESS ATTACK A BOWL. AS I INDICATED, THERE ARE 350,000 VALIDATOR'S CURRENTLY VALIDATING A THEORY HIM --ETHEREUM TWO. THERE ARE SPECTATORS AGAINST
THE PROOF OF WORK SYSTEMS EVENTUALLY HIRING POWER FOR SHORT PERIODS OF TIME IN EXECUTING AN ATTACK AND IF YOU BUILD AND NOT THAT BIG A DEAL. IF YOU FAIL, FIRST OF ALL PUTTING IT TOGETHER IN A SYSTEM AS IT NORMALLY SLOWLY EXPENSIVE. MATT: BUT VERY POSSIBLE BECAUSE ALL YOU NEED IS 51%? JOSEPH: 51% OF HUNDREDS OF BILLIONS OF DOLLARS IS NOT EASY TO GET TO, AND ONCE YOU START TO ACCUMULATE IT, THAT WOULD DRIVE THE PRICE OF ETHER UP TO ESSENTIALLY UNOBTAINABLE. MATT: BUT ONLY IF YOU BUY IT AND NOT IF YOU STEAL IT. JOSEPH:
IT WOULD BE VERY HARD TO STEAL THAT MUCH ETHER I BELIEVE SO I HAVE TO DISAGREE WITH YOU. I THINK IT IS PRETTY CLEAR FOR PEOPLE. MATT: WHAT ABOUT DECENTRALIZATION BECAUSE IT SEEMS LIKE THERE IS A RELATIVELY SMALL NUMBER OF FIRMS STAKING A WHOLE BUNCH OF DIFFERENT COINS? IS A GOING TO BE AS DECENTRALIZED AS A PROOF OF WORK BLOCKCHAIN? JOSEPH: THE OPENNESS, DIVERSITY, AND DRIVE TOWARDS MAXIMAL DECENTRALIZATION OF THE PROTOCOL IS UNDERWAY. 350,000 VALIDATOR'S IS A PRE-BIG NUMBER, MUCH BIGGER THAN ANY OTHER SYSTEM, AND THE BARRIER TO ENTRY FOR INDIVIDUALS OR SMALL ORGANIZATIONS TO VALIDATE THE ETHEREUM NETWORK IS LOW NOW COMPARED TO PROOF OF WORK SYSTEMS. IT IS A CASE THAT SOME EXCHANGES HAVE SIZABLE, VALIDATOR POOLS AND FILTER TECHNOLOGY BUT IT IS WAY MORE ACCESSIBLE AND IT WILL LEAD TO MAXIMUM DECENTRALIZATION. KAILEY: CELESTE TALK ABOUT POTENTIALLY PROBLEMS THAT MOVE INTO A PROOF OF STAKE WATTLE COULD SOLVE.
WE SAW THE INCIDENT WHERE THERE WAS A VIRTUAL LAN CELL PUT UP AND THERE WAS SO MUCH DEMAND THAT IT HAD RIPPLE EFFECT ACROSS THE ETHEREUM BLOCKCHAIN AND SENT FEES SOARING. WILL A PROOF OF STAKE SYSTEM AVOID THAT HAPPENING IN THE FUTURE? KAILEY: PROOF OF STAKE SYSTEM WILL LEAD TO FAR GREATER SCALABILITY. WHAT WE ARE SEEING IS THE MODULARIZATION OF WHAT HAS BEEN A MONOLITHIC TECHNOLOGY WHERE ALL OF THE FUNCTIONALITY IS IN THE ETHEREUM PROTOCOL. WE TEASED APART THE EXECUTION ASPECTS FROM THE SECURITY ASPECTS AND SECURITY ASPECTS ARE STILL INTACT AND VERY STRONG BECAUSE THEY COME FROM MAXIMUM DECELERATION -- DECENTRALIZATION OF THE PARTICLE.
IT ENABLES TENS OF HUNDREDS OF THOUSANDS OF TRANSACTIONS PER SECOND AND THAT IS HEAVILY UNDERWAY ON THE ETHEREUM ECOSYSTEM AND WILL DRIVE MUCH LOWER TRANSACTION FEES. THE THIRD MAJOR ELEMENT TO MODULARITY IS ENABLED BY PROOF OF STAKE AND THAT IS PROVIDING TO THESE LAYER TWO EXECUTION ENVIRONMENTS, WHAT IS CALLED GUARANTEE DATA AVAILABILITY TO ENABLE THEM TO SCALE IN MORE WAYS UNTIL WE GET TO HUNDREDS OF THOUSANDS AND EVENTUALLY MILLIONS OF TRANSACTIONS PER SECOND AS THE SYSTEM EVOLVES. KAILEY: SO SCALING UP. LET'S ALSO TALK ABOUT THE DECENTRALIZED AUTONOMOUS ORGANIZATION. DO YOU CONSENSUS ARE LAUNCHING THE FIRST DOW YOU ARE LAUNCHING. WHAT IS THE GOAL OF THAT? JOSEPH: SO OUR WALLET SCALED RAPIDLY FROM ONE MILLION USERS TO 30 MILLION MONTHLY ACTIVE IN A YEAR, AND WE HAD TO FIGURE OUT HOW TO SUPPORT OUR CUSTOMERS AS WELL AS POSSIBLE. WE WORKED WITH AN ORGANIZATION
TO ADD AI AUTOMATION, BUT WE STILL NEED A LOT MORE CAPABILITY, AND SUPPORT IS AN ECOSYSTEM ISSUE. WE HAVE LOTS OF DIFFERENT APPLICATIONS IN OUR ECOSYSTEM AND THEY'RE LIKE LEGO BLOCKS, INTERDEPENDENT. WE NEED TO MAKE SURE NOTHING FALLS THROUGH THE CRACKS FOR USERS. WE ARE LIVING IN THE AGE OF SILOS AND BEING INTO THE AGE OF COMMUNITY. THE BEST WAY FOR A COMMUNITY TO BE SUPPORTED IS TO LEARN TO SUPPORT ITSELF. VILLAGE DOW IS A PLATFORM ENABLING MEMBERS OF A COMMUNITY TO INCENTIVIZE TO BECOME EXPERTS IN THE PRODUCTS THAT THE DIFFERENT COMPANIES IN OUR ECOSYSTEM AND WE ARE INCENTIVIZING THOSE SAME MEMBERS TO ASSIST OTHER USERS IN THE ECOSYSTEM AND BECOME THIN SATED FOR THEIR EXPERTISE AND EFFORT IN HELPING PEOPLE.
MATT: WHAT IS YOUR TAKE ON WHAT WE SAW LAST WEEK WITH TERRA AND MORE BROADLY ON THE QUEST TO CREATE DECENTRALIZED STABLE COIN . IT HAS BEEN COMPARED TO THE QUEST TO CREATE A PERPETUAL MOTION MACHINE. IS IT POSSIBLE? IS IT NECESSARY? JOSEPH: ABSOLUTELY POSSIBLE. IT IS UNFORTUNATE THERE ARE
PROJECTS IN OUR ECOSYSTEM THAT USE DECENTRALIZATION AS A MARKETING TERM RATHER THAN FOCUSING ON ACHIEVING RIGOROUS DECENTRALIZATION PROGRESSING AS FAR AS POSSIBLE AND THE MECHANISMS IN THE TERRA ECOSYSTEM WERE A LITTLE FLIMSY. THERE ARE OTHER PARTIALLY ALGORITHMIC STABLE COINS THAT USE OVER COLLATERALIZATION. THERE IS A STABLE COIN CALLED THE HONG KONG DOLLAR THAT HAS BEEN OPERATING WELL FOR A LONG TIME, MORE OF A PAPER STABLE COIN, AND I THINK SOUND MECHANISMS ARE ALREADY AVAILABLE AND CONTINUE TO BE STRENGTHENED. MATT: GREAT TO GET YOUR TAKE ON ALL OF THESE THINGS, APPRECIATE YOUR INSIGHT THERE. THERE ARE FEW PEOPLE WITH THE EXPERIENCE AND KNOWLEDGE THAT YOU BRING TO THIS UNIVERSE SO THANKS SO MUCH. JOSEPH LUBIN OF CONSENSUS. COMING UP, WE DISCUSSED WHETHER
STABLE COINS ARE TRULY STABLE, OF COURSE THERE ARE MANY KINDS, BUT WE WILL TALK TO THE COFOUNDER AND CEO OF CIRCLE. KAILEY: THAT IS JEREMY ALLAIRE. PLUS NO REGRETS GOES EYELET. WHILE THE BILLIONAIRE HAS GONE MUTE FOLLOWING THE EXPLOSION OF TERRA LAST WEEK. MATT: TO ACCESS ALL THE INFORMATION ON THE BLOOMBERG TERMINAL, TYPE CRYP <GO>. >> STABLE COINS OR SOMETHING ALL THE REGULATORS ARE LOOKING AT. MOST STABLE COIN USED RIGHT NOW
IS FOR SPECULATIVE TRADING TO GO IN AND OUT OF CRYPTOCURRENCIES. AND PEOPLE WONDER, IS IT GOING TO BE ONE-DAY USED FOR CONSUMER PAYMENTS AND MANY ARE THINKING IT IS NOT READY YET. >> I WOULD CHARACTERIZE IT AT THIS SCALE AS A REAL THREAT TO FINANCIAL STABILITY BUT THEY ARE GROWING RAPIDLY AND THEY PRESENT THE SAME KINDS OF RISKS THAT WE HAVE KNOWN FOR CENTURIES IN CONNECTION WITH BANK RUNS. MATT: JANET YELLEN AND THE DIRECTOR OF THE CONSUMER FINANCIAL PROTECTION BUREAU COMMENTING ON STABLE COIN FOLLOWING LAST WEEK'S TERRA UST COLLAPSE. JOINING US NOW IS THE FOUNDER
OF THE COMPANY CIRCLE AND ALSO CHAIRMAN. THEY RUN THE STABLE COIN, GREAT TO HAVE YOU ON THE PROGRAM. I THINK THERE IS SO MUCH TO TALK ABOUT AROUND STABLE COINS AND NOT ALL OF THEM ARE THE SAME.
TALK TO US ABOUT USD AND THE BACKING YOU HAVE. JEREMY: SO USDC WAS LAUNCHED NEARLY FOUR YEARS AGO AND WE TOOK A PATH WHICH WAS TO WORK WITH REGULATORS FROM DAY ONE. WE WANTED TO HAVE A DOLLAR DIGITAL CURRENCY THAT WAS FULLY RESERVED THAT WAS SUBJECT TO BANKING LEVEL REGULATION AND SUPERVISION AND WE LAUNCHED IT UNDER THE SAME SUPERVISORY BOTTLE AND REGULATORY MODEL THAT PRODUCTS I PAY PAUL -- PAYPAL AND OTHER THINGS OPERATED UNDER WHICH REQUIRES US BY LAW TO HOLD 100% IN DOLLAR ASSETS SO YOUR DOLLAR BOUNCE IS ALWAYS TRANSACTED LIZA DOLLAR.
THAT IS HOW WE APPROACHED THINGS FROM THE START AND I THINK IT IS ONE OF THE REASONS WHY USDC HAS BECOME SO POPULAR AND TRUSTED AND THE TRANSPARENCY WE BUILT AROUND IT HAS BEEN KEY AS WELL, MAKING SURE A TOP ACCOUNTING FIRM IS NOT JUST AUDITING US AS A COMPANY AS WE ARE IN THE PROCESS OF BECOMING A PUBLICLY TRADED COMPANY BUT ALSO LOOKING SPECIFICALLY AT THOSE RESERVES AND ATTESTING TO THE MONTHLY. WE HAVE RIGHT TO OPERATE THINGS DIFFERENTLY AND I THINK TAKING THAT KIND OF REGULATORY FIRST APPROACH HAS BUILT A SUSTAINABLE ADVANTAGE FOR USDC. MATT: YOU HAVE BEEN GOOD AT WORKING WITH REGULATORS. I THINK YOU ARE THE FIRST PAYMENTS COMPANY TO GET A BIT LICENSED IN NEW YORK, THE FIRST TO BE APPROVED IN GREAT BRITAIN AND YOU MENTIONED THE AUDIT THERE.
THIS IS A CONCERN A LOT OF PEOPLE HAVE HAD WITH YOUR LARGER RIVAL, TETHER, AS WELL. HOW SHOULD THESE AUDITS CONDUCTED? DO THEY NEED TO BE CONDUCTED FOR STABLE COIN TO FUNCTION PROPERLY? JEREMY: I THINK THAT A LARGE DOLLAR STABLE COIN ISSUER, IF IT WILL BE USED AS A FINANCIAL MARKET INFRASTRUCTURE, IF IT WILL BE USED AS AN EVERYDAY PAYMENT IN. -- PAYMENT INSTRUMENT HAS TO BE HELD TO HIGH STANDARDS. IT HAS TO BE HELD TO BANK EXAMINATION LEVEL STANDARDS.
YOU NEED TO HAVE MAJOR PUBLIC AUDITING FIRMS, YOU NEED TO ENSURE THE INSTITUTIONS SITTING AS THE CUSTODIANS BEHIND THAT ARE OF THE HIGHEST QUALITY IN THE WORLD, SO THESE ARE TO US REALLY CRITICAL. THAT IS WHY WE PARTNER WITH GREAT FIRMS LIKE BANK OF NEW YORK MELLON AND BLACKROCK AND OTHERS. IT IS ALSO ONE OF THE REASONS WHY WE HAVE CHOSEN TO FILE TO BECOME A PUBLICLY TRADED COMPANY. WE WANT TO BE HELD TO THE STANDARDS OF THE SEC FROM A PUBLIC ACCOUNTING PERSPECTIVE, THE AMOUNT OF SCRUTINY INVOLVED IN THAT AND ALL OF THOSE ARE ABOUT BUILDING CONFIDENCE IN THIS NEW INFRASTRUCTURE WHICH WE EXPECT PEOPLE AND BUSINESSES ALL AROUND THE WORLD TO BE ABLE TO BUILD ON TOP OF. KAILEY: SO CLEARLY WE ARE TALKING ABOUT AS A BACK TO STABLE COINS HERE. HAVE ALGORITHMIC STABLE COINS
NOW BEEN ENTIRELY DISPROVED AS A CONCEPT? JEREMY: I MEAN THE CONCEPT REMAINS AND THERE ARE MANY LIVE PROJECTS IN THE ECOSYSTEM THAT ARE ATTEMPTING THIS. IT IS THE KIND OF HOLY TRINITY OF STABLE COIN AS MATT WAS SAYING EARLIER WITH JOE LUBIN, IT IS SORT OF THIS KIND OF QUEST TO FIND TO DO SOMETHING -- FIND A WAY TO DO SOMETHING LIKE THIS. IT IS A DIFFICULT PROBLEM AND NO ONE HAS SOLVED THAT. OVER COLLATERALIZED STABLE COINS CENTRALIZED HAVE HELD THE TEST OF TIME. THAT IS MORE LIKE A MARGIN BORROWING SYSTEM AS OPPOSED TO A STABLE COIN ITSELF.
OUR VIEW, AND WE WERE LOOKING CLOSELY AT THE TERRA ECOSYSTEM AND LUNA ANCHOR USD ETC.. OUR VIEW WAS THAT THIS IS A HOUSE OF CARDS, VERY HIGH-RISK, AND I THINK THERE WERE MULTIPLE SCENARIOS WHERE WE CAN SEE IT BEING TRIGGERED INTO A DEATH SPIRAL AND THAT IS EXACTLY WHAT HAPPENED. WE THOUGHT IT MIGHT BE 30 OR 45 DAYS OUT AND IT HAPPENED MORE QUICKLY BECAUSE OF I THINK SHOCK TO THE CRYPTO MARKETS PUT BOTH THE BROADER RISK OFF IN THE MARKETS AS A TRIGGER MECHANISM WHICH THE UNFOLDING HAS BEEN WIDELY REPORTED ON. IT IS SOMETHING THAT WE HAVE WARNED ABOUT AND CONSIDERED BUT WE HAVE SEEN OBVIOUSLY SINCE EQUALITY AND THAT IS I THINK IMPORTANT FOR USERS OF THESE DIGITAL CURRENCIES AS THEY THINK ABOUT HOW TO APPLY THIS. KAILEY: LET'S THINK ABOUT HOW
REGULATION SHOULD APPLY. YOU HAVE WORKED CLOSELY WITH REGULATORS ALREADY. WE HAVE HEARD REGULATORS VOICING CONCERN AROUND THE COLLAPSE OF TERRA UST. WHAT IS THE APPROPRIATE REGULATORY RESPONSE? WHERE DO YOU DRAW THE LINE ON REGULATION THAT IS HELPLINE HURTFUL? JEREMY: IT'S A GREAT QUESTION. I THINK THE TREASURY DEPARTMENT AS YOU KNOW ISSUED THIS PRESIDENTIAL WORKING GROUP REPORT ON STABLE COINS LAST FALL. UNDERSECRETARY LIANG
SPECIFICALLY IN HER COMMENTS SAID IT IS AN URGENT ISSUE FOR CONGRESS TO ADDRESS THIS BECAUSE THESE ARE GROWING SO FAST, THEY HAVE THE POTENTIAL TO INTRODUCE MEANINGFUL RISK TO THE REAL ECONOMY, AND HERE WE ARE, WE ARE SIX MONTHS OR EIGHT MONTHS LATER AND IT IS STILL AN URGENT ISSUE IN THE URGENCY HAS BECOME EVEN MORE URGENT. THE ULTIMATE QUESTION IS WHAT IS THE RIGHT THING TO DO HERE. WHAT I WOULD SAY IS PRIOR TO THIS FIASCO, THERE WAS, I THINK THERE HAS BEEN REALLY GOOD WORK GOING ON IN CONGRESS. I THINK THE TREASURY DEPARTMENT HAS BEEN WORKING IN GOOD FAITH WITH POLICYMAKERS AS WELL TO DEFINE STABLE COIN STATUTES IN THE UNITED STATES. AND WE ARE SEEING GOOD PROGRESS
TOWARD THAT FROM A DEMOCRAT -- FROM DEMOCRATS AND REPUBLICANS. MATT: THANK YOU FOR JOINING US. JEREMY ALLAIRE FROM CIRCLE. COMING UP, NO BRADLEYS LOW. WHILE BILLIONAIRE CRYPTO INVESTORS HAS NOT SPOKEN OUT AGAINST -- SPOKEN OUT SINCE THE IMPLOSION OF TERRA LAST WEEK. THIS IS BLOOMBERG. KAILEY: THIS IS BLOOMBERG CRYPTO AND I'M KAILEY LEINZ WITH MATT MILLER. MIKE NOVA GRATZ HAS GONE SILENT FOLLOWING THE IMPLOSION OF LUNA AND TARA LAST WEEK. THE BILLIONAIRE ACKNOWLEDGED
ALGORITHMIC STABLE COINS WERE SET FOR A REALLY BIG TEST AFTER TERRA UST LOCKED ITS BACK TO THE DOLLAR BUT HAS NOT SENT A TWEET SINCE. ON FRIDAY, HIS CRYPTO FIRM WAS BRACING FOR THREE OR MILLION DOLLAR HIT THIS QUARTER BUT HIS TREASURY DOES NOT UTILIZE ALGORITHMIC STABLE COINS. OF COURSE MIKE NOVA GRANT ALSO HAS A GIANT LUNA TATTOO ON HIS BICEP AND I WANT TO KNOW IF IT IS GETTING REMOVED. MATT: IN 1990 WHEN I GOT A REGRETTABLE TATTOO FROM A GUY NAMED FLOWER IN THE BACK OF A BUS AT A GRATEFUL DEAD SHOW AND I WANT TO GET A COVER IT UP AS WELL. IT MAY BE ME AND MY CAN GO DOWNTOWN AND GET NEW TATTOOS. KAILEY:
AND WE WILL TAKE IT LIVE ON THE SHOW. MATT: WE WILL DO IT LIVE. KAILEY: LET'S DO IT AGAIN NEXT WEEK, TUESDAY, 1:00 P.M..
2022-05-19 11:52
Show Video
Other news