Biden's 2023 State of the Union address - 2/7 (FULL LIVE STREAM)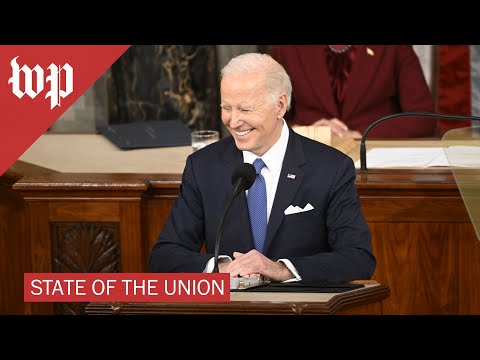 Show Video
THE REPUBLICAN CONGRESS . >> LET'S TALK ABOUT ISSUES THAT ARE TOP PRIORITIES FOR DEMOCRATS , FROM THE HOUSE CHAMBER RIGHT NOW I AM THINKING ABOUT THE ISSUE OF ABORTION. YOU HAVE MENTIONED THAT THERE WILL BE GUESTS HERE, TONIGHT, FROM MEMBERS OF THE HOUSE AND SENATE WHOSE LIVES HAVE BEEN AFFECTED, ALREADY, BY THE DISMANTLING OF ROE V WADE. WHAT ABOUT GUNS? WHAT
ARE WE LISTENING FOR IN TERMS OF TRYING TO GIVE DEMOCRATS SOMETHING TO PIN THEIR HOPES ON AND FIRE THEM UP? >> WE DO KNOW IN THE WEEKS BEFORE THIS SPEECH, PRESIDENT BIDEN HAS BEEN TALKING ABOUT HOW THE SENATE DID REINTRODUCE AN ASSAULT WEAPONS BAN, SOMETHING THAT HE HAS CALLED FOR . IT WAS NOT ADDED IN THAT LAST REFORM BILL ON GUNS THAT WAS PASSED LAST YEAR. AND, IT IS SOMETHING THAT A LOT OF GUN CONTROL ADVOCATES ARE SAYING NEEDS TO BE A PART OF ANY LEGISLATION GOING FORWARD? SEVERAL MASS SHOOTINGS IN THE LAST 14 DAYS AND SO PRESIDENT BIDEN WILL LIKELY TOUCH ON THAT AND CALL FOR THAT ASSAULT WEAPONS BAN. THE POLITICAL REALITY IS, IN A HOUSE LED BY GOP LEADERSHIP, THAT IS LIKELY A NONSTARTER. I SPOKE TO REPRESENTATIVE GONZALEZ, TONY GONZALEZ, WHO REPRESENTS UVALDE, TEXAS. I ASKED HIM, HOW ARE THE CONSTITUENTS THAT ARE DOING? SEVERAL MONTHS AFTER THE SHOOTING THERE, HE SAID IT IS STILL TOUGH, BUT HE SAID, AN ASSAULT WEAPONS BAN IS NOT LIKELY TO GET ANY VOTES. >> RHONDA, ANOTHER ISSUE IS IMMIGRATION. LET'S TALK ABOUT THE CRISIS AT THE BORDER,
AND IMMIGRATION. >> THE BORDER ISSUE IS ONE THAT REPUBLICANS, SINCE THE MIDTERM ELECTION CYCLE, THEY HAVE BEEN TALKING ABOUT, SAYING THEY WILL FIX IT IF THEY HAVE POWER. THERE HAVE BEEN PROPOSALS FLOATED AROUND, SPECIFICALLY ON THE HOUSE SIDE AND AGAIN, I SPOKE WITH REPRESENTATIVE GONZALEZ WHO REPRESENTS THE BIGGEST PART OF THE SOUTHERN BORDER AND HE SAYS OFTEN, WHAT PEOPLE MISS ABOUT THAT WHEN THEY DESIGN LEGISLATION IS THAT THEY PAIR IT TO IMMIGRATION, IMMIGRATION POLICY AND BORDER POLICY SHOULD NOT BE SEPARATE IS WHAT HE SAID. WE KNOW THAT
BIDEN WILL LIKELY TOUCH ON THE BORDER. HE KNOWS THAT IS AN AREA THAT ROBOTIC AND THINK IS A VULNERABILITY WITH HIM. HE ALSO SPOKE ABOUT HOW VICE PRESIDENT HARRIS HAD THAT AS AN ISSUE. A LOT OF HER PUBLICANS HAVE SAID THAT SHE HAS DONE NOTHING WITH IT. IT IS LIKELY THAT BIDEN WILL TALK ABOUT THE DIRECTION THERE. I DO KNOW,
ONE OF HIS GUESTS, TONIGHT, IS A DUCK A RECIPIENT BUT THAT IS AGAIN SOMETHING THAT HE IS GOING TO HIGHLIGHT TONIGHT. >> JAMES, HEALTH ISSUES OR SOMETHING THAT WE WILL HEAR A LOT ABOUT. WE WILL HEAR ABOUT THE MOONSHOT, THE GOAL OF TRYING TO AND CANCER, CURE CANCER, SOMETHING THAT PRESIDENT BIDEN HAS TALKED ABOUT BEFORE THIS. WE ARE JUST HEARING THE VICE PRESIDENT .
>> THE SENATOR FROM ILLINOIS, MR. DURBIN. THE SENATOR FROM WASHINGTON, MISS MARY. THE SENATOR FROM MICHIGAN, -- THE STABBING AT SENATOR FROM MINNESOTA, MS. KLOBUCHAR. THE SENATOR FROM WISCONSIN, MS. BALDWIN. THE SENATOR FROM KENTUCKY, MR. McCONNELL.
-- >> WE ARE HEARING THE VICE PRESIDENT INTRODUCED THE ESCORT COMMITTEE. THE PRESIDENT IS EXPECTED TO COME INTO THE CHAMBER INDUSTRY WHILE. WE WILL WATCH THEM CONTINUE TO GATHER. JAMES, TALKING ABOUT HOUSE HEALTH ISSUES, THIS IS AN AREA THAT PELICANS ARE TRYING TO HIT THE BIDEN ADMINISTERED RATION ON GREATER TALKING ABOUT THE BORDER CRISIS AND FENTANYL, AND LINK THEM TOGETHER. THEY ARE SEPARATE ISSUES AND FENTANYL IS SOMETHING WE WILL YOUR PRESIDENT BIDEN TALK ABOUT TONIGHT? >> ABSOLUTELY WE WILL. IT IS A VERY TOP OF MIND
ISSUE FOR VOTERS, THERE ARE BIPARTISAN SOLUTIONS. THIS IS AFFECTING A LOT OF CHILDREN, OVER THE LAST COUPLE OF DAYS, I WENT AND READ ALL 50 STATE OF THE STATE ADDRESSES THAT EVERY GOVERNOR IN AMERICA GAVE IN THE LEAD UP TO THIS AND I WAS STRUCK BY HOW ALMOST EVERY SINGLE ONE, AND THE CRITICAL REPUBLICAN, BIG STATE, SMALL STATE, TALKED ABOUT FENTANYL , AND TALKED ABOUT TEENAGE MENTAL HEALTH, BEHAVIORAL HEALTH, ALL OF THIS POST PANDEMIC CHALLENGE THAT WE FACE. HAVING TO STOP OF MIND . A LOT OF GOVERNORS MENTIONED FRIENDS WHO HAVE LOST LOVED ONES, I DO THINK THIS IS GOING TO BE SOMETHING THAT BIDEN TALKS ABOUT BECAUSE IT IS AN AREA WHERE YOU COULD ACHIEVE SOME COMMON GROUND. >> ONE OF THE GUEST TONIGHT, RHONDA, A MAN WHOSE 20-YEAR-OLD DAUGHTER DIED FROM A FENTANYL OVERDOSE . WHERE IS THERE FOR THE PRESIDENT TO GO ON THIS, RHONDA, IN A WAY THAT CAN MAKE PROGRESS ON THIS ISSUE? >> THAT IS AN AREA THAT HE WILL HAVE TO EXTEND SOME DESIRE TO BE WORKING WITH REPUBLICANS IN A BIPARTISAN WAY. I KNOW FENTANYL IS SOMETHING THAT I HAVE HEARD
A LOT ABOUT ON THE HILL AS AN ISSUE , THE HOUSE JUDICIARY, HOUSE OVERSIGHT WANT TO HAVE HEARINGS ABOUT, BECAUSE, THEY DEEM IT TO BE A PROBLEM AND THEY ARE POINTING THE FINGER AT BIDEN. IT IS IMPORTANT WHEN HE DOES BRING UP THAT ISSUE, THAT HE SPEAKS WITH AUTHORITY , AND SPEAKS WITH SOME SPECIFICS ABOUT WHAT HE PLANS TO DO ON THAT ISSUE , BECAUSE, THAT IS SOMETHING THAT REPUBLICANS REALLY DO WANT TO DIVE INTO IN THE COMING WEEKS AND MONTHS WHEN THEY HAVE HEARINGS ON THE BORDER CRISIS. THEY ARE CERTAINLY CONNECTING THE BORDER CRISIS TO FENTANYL AND OPIOID OVERDOSES AND THAT IS AN EFFECTIVE ARGUMENT FOR MANY AMERICANS. IN PLACES LIKE OHIO OR WEST VIRGINIA WHERE DEATHS FROM FENTANYL ARE VERY HIGH, IF YOU HAVE LAWMAKERS TALKING ABOUT THE NEED BEFORE THAT , VOTERS CAN GET BEHIND THAT. I THINK BOTH WILL HAVE TO WORK ON THE ISSUE AND BARB BIPARTISAN WAY.
>> THE CABINET COMES IN, WE ALL KNOW THE CABINET MEMBER HANGS BACK, WE DON'T KNOW WHO THAT IS UNTIL IT OPENS, BIDEN HAS HAD AN EFFORT TO RETAIN CABINET MEMBERS, WE HEARD , LABOR SECRETARY MARTY WALLACE PLANS TO MOVE ON, MARTY WALLS TAKING HIS SEAT RIGHT BEHIND BONO, NOT A BAD SEAT TO HAVE. I JUST WANT TO MENTION SOME OTHER GUESTS WHO ARE HERE TONIGHT. IT IS IMPORTANT FOR US TO NOTE, OF COURSE, THAT THERE IS A HOLOCAUST SURVIVOR, THERE. THERE ARE PEOPLE, THERE, AND TO ESTABLISH HEALTH CLINICS IN THE COMMUNITIES. THESE
ARE PEOPLE, BOTH THE SECOND GENTLEMAN AND FIRST LADY HAVE MET ALONG THEIR WORK IN THE PAST COUPLE OF YEARS. BUT, TALK TO US ABOUT THE PRESIDENT'S CABINET, AND WHO HIS TEAM IS GOING FORWARD? >> THE CHIEF OF STAFF, RON KLAIN HAD A GOODBYE EVENT LAST WEEK BUT THIS IS BASICALLY HIS LAST NIGHT ON THE JOB. JEFF SAINZ IS TAKING OVER. THE TOP ECONOMIC ADVISER IS MOVING ON . MARTY WALLS, YOU MENTIONED, THE LABOR SECRETARY, FORMER MAYOR OF BOSTON WILL BECOME THE HEAD OF THE NHL , THE NATIONAL HOCKEY LEAGUE PLAYERS ASSOCIATION. THE UNION FOR THE PLAYERS . PART OF THE REASON THE DEMOCRATS CAN AFFORD TO HAVE PEOPLE LEAVE IS THAT THEY HAVE GOT 51 SEATS IN THE SENATE, SO THEY WILL BE ABLE TO CONFIRM PRESIDENT BIDEN'S NOMINEES TO REPLACE THEM. I THINK AT THIS STAGE IN A PRESIDENCY USUALLY THE MESSAGE COMES THROUGH, IF YOU'RE GOING TO LEAVE, LEAVE NOW. IF YOU'RE GOING TO
STAY, COMMIT TO THE FULL FOUR YEARS. >> THIS IS KATHLEEN, THE ASSISTANT HOUSE SERGEANT AT ARMS ANNOUNCING WHO IS ARRIVING AND WE WILL SEE, AS SHE SAID A MOMENT AGO, MEMBERS OF THE SUPREME COURT. >> THIS HAS BEEN ONE OF THOSE BIG QUESTIONS, WHICH SUPREME COURT JUSTICES SHOW UP. IT USED TO BE THAT ALL NINE WOULD ROUTINELY BE THERE. A LOT OF THEM HAVE STOPPED COMING BUT IT LOOKS
LIKE THERE IS JOHN ROBERTS, ELENA KAGAN, BRETT CAVANAGH, AMY CONEY BARRETT, KETANJI BROWN JACKSON, THIS IS HER FIRST STATE OF THE UNION AS THE NEWLY CONFIRMED JUSTICE. LOOKS LIKE ANTHONY KENNEDY. >> WE ARE ALSO SEEING TO RETIRED JUSTICES, ANTHONY KENNEDY AND STEPHEN BREYER WHO ARE NOT ON THE SUPREME COURT. RETIRED JUSTICES ARE THERE. >> WE DID SEE NO SIGN OF ALITO OR THOMAS, ALSO SONJA SODA MAYOR. IN 2010, PRESIDENT OBAMA WAS DECRYING THE CITIZENS UNITED DECISION, AND ALITO COULD BE SEEN MOUTHING, NOT TRUE. HE HAS MOSTLY AVOIDED THESE SINCE THEN. >> I HAVE LEARNED FROM ROBERT BARNES THAT THIS IS THE FIRST TIME SINCE 1997 THAT A FORMER JUSTICE CAME TO THE SPEECH. HE ALSO NOTES,
THOUGH, THAT BOTH OF THESE TWO JUSTICES WERE REPLACED FORMER CLERKS, AND THIS IS A NEW MOMENT FOR KETANJI BROWN JACKSON, OF COURSE, TO BE PRESENT AT THIS MOST RECENT CONFIRMATION TO THE SUPREME COURT. I GUESS THEY GET TO KEEP THEIR ROBES. >> SENIOR JUDGES, I THINK THEY CALL THEM. WE JUST SAW THE TWO RETIRED JUSTICES
SPEAKING WITH MARK MILLIE, THE CHAIRMAN OF THE JOINT CHIEFS OF STAFF, WHO BECAME QUITE A HOUSEHOLD NAME HERE IN THE FINAL YEAR OF THE TRUMP ADMINISTRATION AND JANUARY 6. AND THERE IS JOE BIDEN, THE FIRST LADY. >> THE FIRST LADY ENTERING HER BOX AND GREETING THE SECOND GENTLEMAN AS SHE ARRIVES. RHONDA, WE NOTE EVERYTHING ABOUT THIS SPEECH, FROM THE LENGTH OF TIME TO THE NUMBER OF APPLIANCES . TELL US SOMETHING THAT YOU
WILL BE WATCHING FOR AND LISTENING FOR, TONIGHT? >> I THINK IT WILL BE IMPORTANT TO WATCH THIS TIME AROUND, I WAS SPEAKING WITH A REPUBLICAN LAWMAKER WHO SAID FOR BIDEN'S SAKE HE MAY WANT TO KEEP THIS SHORT, JUST BECAUSE THERE ARE SO MANY CRITICISMS OF HIS ADMINISTRATION, BUT HE KEEPS IT SHORT, IT MIGHT BE WORTH HIS WHILE. I WILL BE LOOKING AT LENGTH AND TONE. I THINK THIS IS A UNIQUE TIME. IN HISTORY, THIS CONGRESS IS UNIQUE, THERE IS A LOT OF HISTORY, RIGHT NOW. HE IS COMING IN FRONT
OF A DIVIDED CONGRESS, THEY CONGRESS IN THE HOUSE THAT WANTS TO INVESTIGATE HIM, SHORTLY. SO, THIS IS A UNIQUE OPPORTUNITY FOR HIM, WHERE YES, HE NEEDS TO PROVIDE A REPORT TO CONGRESS ABOUT HIS AGENDA, BUT HE IS ALSO TELLING THE AMERICAN PEOPLE, THAT HE IS WORTH ANOTHER FOUR YEARS. SO, THERE IS A LOT GOING INTO THIS SPEECH, BUT I THINK I WILL BE LOOKING AT HOW HE ADDRESSES THE TONE, HOW HE BRINGS IT ALL TOGETHER, AND IF HE IS SUCCESSFUL AT THE END OF THE NIGHT. >> COUNTERARGUMENT TO KEEP IT SHORT AND SWEET, THERE IS A LOT THAT THE BIDEN ADMINISTRATOR WANTS TO TOUT AND TAKE A VICTORY LAP ON. MANY OF THE THINGS THEY THINK THE AMERICAN PUBLIC DOES NOT EVEN REALIZE YET WILL BE ROLLING OUT, WHETHER IT IS THROUGH THE INSTRUCTOR BILL OR OTHER ELEMENTS LIKE CAPITATION SECRETARY PETE BUTTIGIEG RIGHT THERE HAS BEEN OUT FRONT TRYING TO TOUT ALL THE THINGS HAPPENING IN THE STATES AROUND THE COUNTRY, THAT THE BIDEN ADMINISTRATION IS ABLE TO HELP WITH. EVEN REPUBLICAN GOVERNORS ARE SAYING LOOK AT THE THINGS WE ARE DOING, WITH THE MONEY COMING FROM THE FEDERAL GOVERNMENT. >> LOOKING AT EVERY CABINET
SECRETARY COMING IN, BEHIND PETE BUTTIGIEG, YOU HAVE McDONOUGH, CARDONA, MAYORKAS , THEY ALL WANT THINGS MENTIONED IN THE SPEECH, INITIATIVES THEY ARE WORKING ON, THINGS THAT THEY ARE PROUD OF. WE SAW GINA RAIMONDO. FORMER GOVERNOR OF RHODE ISLAND, SHE IS THE LIAISON FOR BUSINESS IN THE ATOMIZATION.
SHE GOT THE CHIPS ACT THROUGH AND IS RESPONSIBLE FOR ADMITTING IT. INTO THE BIDEN IMMIGRATIONS VIEW, THEY ALL WANT TO GET THEIR PRIORITIES IN THE SPEECH , THAT IS WHY THESE NEVER END UP EATING TERRIBLY SHORT. >> YOU SEE HIM IN THE BACK, HEARING BEHIND EVERYONE, BUT THE POLITICAL IS THAT THEY ARE ORGANIZED WHENEVER THE DEPARTMENT IS CREATED. WHEN THE DEPARTMENT OF SECURITY WAS CREATED AFTER SEPTEMBER 11th, HE IS AT THE BACK OF THE LINE. THERE IS TALK ABOUT HOUSE REPUBLICANS TRYING TO IMPEACH MAYORKAS , AND THERE IS PETE BUTTIGIEG , AND KYRSTEN SINEMA, WHO JUST BECAME AN INDEPENDENT, AS WELL. MAYORKAS IS A POLARIZING FIGURE AMONG HOUSE REPUBLICANS.
>> WATCHING FOR THE REACTIONS IN THE ROOM. THERE ARE SOME WHO KEEP A POKER FACE, MEMBERS OF THE SUPREME COURT, MEMBERS OF THE JOINT CHIEFS. LET'S TALK ABOUT WHO YOU WILL BE WATCHING I SIGNED AN EXECUTIVE ORDER FOR ALL FEDERAL OFFICERS BANNING CHOKE HOLDS , RESTRICTING NO KNOCK WARRANTS, AND OTHER KEY ELEMENTS OF THE ACT. LET'S COMMIT OURSELVES TO MAKE THE WORDS OF TYRE'S MOM TRUE. SOMETHING GOOD MUST COME FROM THIS. SOMETHING GOOD. AND ALL OF US -- ALL OF US -- IT'S DIFFICULT BUT IT'S SIMPLE. ALL OF US IN THIS
CHAMBER NEED TO RISE TO THIS MOMENT. WE CAN'T TURN AWAY. LET'S DO WHAT WE KNOW IN OUR HEARTS THAT WE NEED TO DO. COME TOGETHER TO FACE POLICE REFORM. DO SOMETHING. DO SOMETHING. THAT WAS THE PLEA OF
PARENTS WHO MET THEIR LOST THEIR CHILDREN IN UVALDE. I MET THEM. DO SOMETHING ABOUT GUN VIOLENCE. THANK GOD. THANK GOD WE DID. PASSING THE MOST SWEEPING GUN SAFETY LAW IN THREE DECADES. THAT
INCLUDES THINGS LIKE THAT THE MAJORITY OF RESPONSIBLE GUN OWNERS ALREADY SUPPORT. ENHANCED BACKGROUND CHECKS, RED FLAG LAWS, KEEPING GUNS OUT OF THE HANDS OF PEOPLE WHO ARE DANGEROUS TO THEMSELVES AND OTHERS. WE KNOW OUR WORK IS NOT DONE. JOINING US TONIGHT IS BRANDON TSAY, A 26-YEAR-OLD HERO. BRANDON PUT HIS COLLEGE DREAMS ON HOLD TO BE AT HIS MOM'S SIDE WHEN SHE WAS DYING FROM CANCER. AND BRANDON -- BRANDON NOW WORKS AT A DANCE STUDIO STARTED BY HIS GRANDPARENTS. AND TWO WEEKS AGO, DURING THE LUNAR NEW
YEAR CELEBRATION, HE HEARD THE STUDIO DOOR CLOSE. HE SAW A MAN STANDING THERE POINTING A SEMI AUTOMATIC PISTOL AT HIM. HE THOUGHT HE WAS GOING TO DIE. BUT HE THOUGHT ABOUT THE PEOPLE INSIDE AND IN THAT INSTANT, HE FOUND THE COURAGE TO ACT AND WRESTLED THE SEMIAUTOMATIC DISTAL AWAY FROM THE GUNMEN WHO HAD ALREADY KILLED 11 OTHER PEOPLE IN A DANCE STUDIO. HE SAVED LIVES. IT'S TIME WE DO THE SAME. BAN ASSAULT WEAPONS NOW. BAN
THEM NOW. ONCE AND FOR ALL. WE TRIED TO DO THAT IN 1994. IN 10 YEARS, MASS SHOOTINGS WENT DOWN AND AFTER IT EXPIRED IN REPUBLICAN LEGISLATION, MASS SHOOTINGS TRIPLED. LET'S FINISH THE JOB AND BAN THESE ASSAULT WEAPONS AND COME TOGETHER ON IMMIGRATION.
MAKE IT A BIPARTISAN ISSUE ONCE AGAIN. WE KNOW WE NOW HAVE A RECORD NUMBER OF PERSONNEL WORKING TO SECURE THE BORDER. ARRESTING 8000 HUMAN SMUGGLERS. SEIZING OVER 23,000 POUNDS OF FENTANYL IN THE LAST SEVERAL MONTHS. WE'VE LAUNCHED A NEW BORDER PLAN, NEXT MONTH. LAWFUL MIGRATION FROM CUBA, HAITI, NICARAGUA AND -- HAS COME DOWN 97% AS A CONSEQUENCE OF THAT. BUT
AMERICAN BORDER PROBLEMS WILL BE FIXED IF WE DON'T PASS MY COMPREHENSIVE IMMIGRATION REFORM, AT LEAST PASS MY PLAN TO PROVIDE EQUIPMENT AND OFFICERS TO SECURE THE BORDER. AND A PATHWAY TO CITIZENSHIP OR DREAMERS. THOSE ON TEMPORARY STATUS. FARMWORKERS. ESSENTIAL WORKERS. HERE IN THE
PEOPLE'S HOUSE, IT'S OUR DUTY TO PROTECT PEOPLE'S RIGHTS AND FREEDOMS. CONGRESS MUST RESTORE THE RIGHT THAT WAS TAKEN AWAY IN ROE V. WADE AND PROTECT ROE V. WADE. THE VICE PRESIDENT AND I ARE DOING EVERYTHING TO CONNECT ACCESS TO REPRODUCTION, HEALTHCARE, AND SAFEGUARD PATIENT SAFETY. ALTHOUGH MORE THAN A DOZEN STATES ARE ENFORCING EXTREME ABORTION BANS. IF CONGRESS PASSES A NATIONAL BAN, I WILL VETO IT . LET'S ALSO PASS THE BIPARTISAN EQUALITY ACT TO ENSURE LGBTQ AMERICANS, ESPECIALLY TRANSGENDER YOUNG PEOPLE, CAN LIVE WITH SAFETY AND DIGNITY.
OUR STRENGTH IS NOT JUST AN EXAMPLE OF POWER, BUT THE POWER OF OUR EXAMPLE. LET'S REMEMBER, THE WORLD IS WATCHING. I SPOKE IN THIS CHAMBER ONE YEAR AGO DAYS AFTER VLADIMIR PUTIN UNLEASHED HIS BRUTAL ATTACK AGAINST UKRAINE. EUROPE SUFFERED IN WORLD WAR TWO. PUTIN'S TEST HAS BEEN A TEST
FOR THE AGES. A TEST FOR AMERICA. A TEST FOR THE WORLD. WOULD WE STAND FOR THE MOST BASIC OF PRINCIPLES? WOULD WE STAND FOR SOVEREIGNTY? WOULD WE STAND FOR THE RIGHT OF PEOPLE TO LIVE FREE OF TYRANNY? WOULD WE STAND FOR THE DEFENSE OF DEMOCRACY? SUCH DEFENSE MATTERS TO US BECAUSE IT KEEPS PEACE . ONE YEAR LATER, WE KNOW THE ANSWER. YES, WE WOULD AID. WE DID. WE DID. AND TOGETHER , WE DID WHAT AMERICA ALWAYS DOES AT OUR BEST. WE LEAD. WE UNITED NATO. WE BUILT A GLOBAL COALITION. WE STOOD AGAINST PUTIN'S AGGRESSION. WE STOOD WITH UKRAINIAN
PEOPLE TO UNITE JOINT BY UKRAINIANS AND AMBASSADORS OF THE UNITED STATES. THE COURAGE OF OUR PEOPLE . OUR AMBASSADOR IS HERE. WE ARE IN UNITE -- UNITED OVER YOUR COUNTRY. WOULD YOU STAND SO WE CAN TAKE A LOOK AT YOU? THANK YOU.
WE ARE GOING TO STAND WITH YOU, AS LONG AS IT TAKES. OUR NATION IS WORKING FOR MORE FREEDOM, MORE DIGNITY AND MORE PEACE EVERYWHERE. BEFORE I CAME TO OFFICE, THIS STORY WAS ABOUT HOW THE PEOPLE'S REPUBLIC OF CHINA WAS INCREASING ITS POWER AND AMERICA WAS FAILING THE WORLD. NOT ANYMORE. WE MADE CLEAR AND I MADE CLEAR -- MY PERSONAL CONVERSATIONS WHICH HAVE BEEN MANY WITH PRESIDENT XI. I WILL MAKE NO APOLOGIES THAT WE ARE INVESTING TO MAKE AMERICA STRONGER. INVESTING IN AMERICAN INNOVATION TO DEFINE THE FUTURE THAT CHINA INTENDS TO BE DOMINATING. INVESTING IN OUR ALLIANCES AND WORKING
WITH OUR ALLIES TO PROTECT ADVANCED TECHNOLOGIES SO THEY WILL NOT BE USED AGAINST US. MODERNIZING OUR MILITARY TO SAFEGUARD STABILITY AND DETER AGGRESSION. TODAY , WE ARE IN THE STRONGEST POSITION IN DECADES TO COMPETE WITH CHINA OR ANYONE ELSE IN THE WORLD. ANYWHERE ELSE IN THE WORLD. AND I'M COMMITTED I'M COMMITTED TO WORK WITH CHINA WHERE WE CAN ADVANCE AMERICAN INTERESTS AND BENEFIT THE WORLD. BUT MAKE
NO MISTAKE ABOUT IT, AS WE MADE CLEAR THIS WEEK, IF CHINA THREATENS OUR SOVEREIGNTY WE WILL ACT TO PROTECT OUR COUNTRY, AND WE DID. LOOK . LET'S BE CLEAR , IN THE COMPETITION TO UNITE ALL OF US WE FACE SERIOUS CHALLENGES ACROSS THE WORLD THE PAST TWO YEARS, DEMOCRACY HAS BECOME STRONGER, NOT WORK WEAKER. AUTOCRACY HAS BECOME STRONGER. NAME ME A LEADER WHO WOULD CHANGE PLACES WITH XI JINPING? NAME ME ONE. AMERICA IS RALLYING THE WORLD TO MEET THOSE CHALLENGES FROM CLIMATE TO GLOBAL HEALTH TO FOOD INSECURITY TO TERRORISM TO TERRITORIAL AGGRESSION. ALLIES ARE
STEPPING UP AND SPENDING MORE AND DOING MORE. LOOK. THE BRIDGES ARE FORMING BETWEEN PARTNERS IN THE PACIFIC AND THOSE IN THE ATLANTIC AND THOSE WHO BET AGAINST AMERICA ARE LEARNING HOW WRONG THEY ARE. IT'S NEVER BEEN A GOOD BET TO BET AGAINST AMERICA. NEVER. WHEN I CAME TO OFFICE , MOST ASSUME THAT BIPARTISANSHIP WAS IMPOSSIBLE. BUT I NEVER BELIEVED IT. THAT'S WHY A YEAR AGO I OFFERED UNITY TO THE NATION. WE PASSED LAW TO MAKE DOCTORS EASIER TO MAKE OPIOIDS -- WE LAUNCHED THE DRIVE FOR BREAKTHROUGH IN THE FIGHTS AGAINST CANCER AND DIABETES AND SO MUCH MORE. WE PASSED THE HEATH
ROBINSON PACKED ACT NAMED FOR THE LATE VETERAN WHOSE STORY ABOUT EXPOSURE TO TOXIC BURN PITS I SHARED HERE LAST YEAR. I UNDERSTAND SOMETHING ABOUT THOSE BURN PITS. THERE IS SO MUCH MORE TO DO. WE CAN DO IT TOGETHER. JOINING US TONIGHT IS A FATHER NAMED DOUG FROM NEWTON NEW HAMPSHIRE. HE WROTE JILL, MY WIFE, A LETTER ABOUT
HIS COURAGEOUS DAUGHTER COURTNEY. A CONTAGIOUS LAUGH. HER SISTER'S BEST FRIEND. HE SHARED THIS STORY ALL TOO FAMILIAR WITH MILLIONS OF AMERICANS. COURTNEY DISCOVERED PILLS IN HIGH SCHOOL AND SPIRALED INTO ADDICTION AND EVENTUALLY DIED FROM A FENTANYL OVERDOSE. SHE WAS JUST 20 YEARS OLD. DESCRIBING THE LAST EIGHT YEARS WITHOUT HER, DOUG SAID THERE IS NO WORSE PAIN . YET THEIR FAMILIES
TURNED PAIN TO PURPOSE. WORKING IN THE STIGMA. AND CHANGED LAWS. HE TOLD ME HE WANTS TO START A JOURNEY TO AMERICAN RECOVERY. DOUG, WE ARE WITH YOU. FENTANYL IS KILLING MORE THAN 70,000 AMERICANS PER YEAR.
YOU GOT IT. SO, LET'S LAUNCH A MAJOR -- TO STOP FENTANYL PRODUCTION AND TRAFFICKING WITH MORE INSPECTIONS AND STOP PILLS AT THE BORDER. WORKING WITH CAREERS LIKE FEDEX TO INSPECT MORE PACKAGES FOR DRUGS. CRACKDOWN ON FENTANYL
TRAFFICKING. LET'S DO MORE FOR MENTAL HEALTH FOR OUR CHILDREN. WHEN MILLIONS OF YOUNG CHILDREN ARE STRIKING STRUGGLING WITH LIEN IN TRAUMA, WE MUST FINALLY HOLD SOCIAL MEDIA COMPANIES ACCOUNTABLE FOR EXPERIMENTING AND PUTTING -- OVER PROFIT. IT'S TIME WE STOP
BIG TECH FROM COLLECTING PERSONAL DATA ON OUR KIDS AND TEENAGERS. TARGETED ADVERTISING TO CHILDREN. IMPOSE STRICTER LIMITS ON THE DATA COMPANIES COLLECT ON ALL OF US. AND JOB TRAINING. JOB PLACEMENT FOR VETERANS AND THEIR SPOUSES AS THEY RETURN TO CIVILIAN LIFE. HELPING VETERANS TO AFFORD THE RENT BECAUSE NO ONE SHOULD BE HOMELESS IN AMERICA, ESPECIALLY SOMEONE WHO SERVED THE COUNTRY. DENNIS Mc DONE IS HERE AND WE HAD OUR FIRST REAL DISCUSSION WHEN I ASKED HIM TO TAKE THE JOB. I'M GLAD HE DID. WE WERE LOSING
UP TO 25 A DAY TO SUICIDE. NOW WE ARE LOSING 17 PER DAY TO THE SILENT SCOURGE OF SUICIDE. 17 VETERANS PER DAY ARE COMMITTING SUICIDE. MORE THAN ALL OF THE PEOPLE WE KILLED IN THE WARS. FOLKS, THE VA
IS DOING EVERYTHING IT CAN, INCLUDING EXPANDING MENTAL HEALTH SCRUTINY, IMPROVING PROGRAMS TO RECRUIT VETERANS AND HELP OTHER VETERANS UNDERSTAND WHAT THEY ARE GOING THROUGH. GET THEM THE HELP THEY NEED. WE'VE GOT TO DO MORE. FOURTH, LAST YEAR, JILL AND I REIGNITED THE CANCER MOONSHOT THAT I STARTED WITH PRESIDENT OBAMA. OUR GOAL IS TO CUT THE CANCER DIFFERENCE AT LEAST BY 50% IN THE NEXT 25 YEARS. TURN MORE CANCERS AND FROM DEATH SENTENCES TO TREATABLE DISEASES. PROVIDE MORE HOPE
FOR PATIENTS AND FAMILIES. SO MANY OF US IN THIS AUDIENCE. JOINING US R MORRIS AND CANDACE, THEY MET AND FELL IN LOVE IN A CHAPEL. KINDRED SPIRITS. HE WROTE US A LETTER ABOUT HIS LITTLE
DAUGHTER, AVA. I SAW HER BEFORE I CAME OVER. SHE WAS A YEAR OLD WHEN SHE WAS DIAGNOSED WITH A RARE KIDNEY DISEASE. CANCER. AFTER COUNTLESS BLOOD TRANSFUSIONS, EIGHT ROUNDS OF CHEMO , ONE KIDNEY REMOVAL THEY GAVE HER A 5% SURVIVAL RATE. HE WROTE DOWN IN HIS DARKEST MOMENTS, IF SHE GOES, I CAN'T STAY. HE READ JILL'S BOOK DESCRIBING OUR FAMILIES CANCER JOURNEY AND HOW WE TRIED TO INSTILL MOMENTS OF JOY WHERE WE COULD. FOR THEM, THAT GLIMMER OF JOY WAS THE HALF SMILE OF THEIR BABY GIRL. THEY NEVER GAVE UP HOPE.
AVA NEVER GAVE UP HOPE . SHE TURNS FOUR NEXT MONTH. THEY JUST FOUND OUT AVA IS BEATING THE ODDS AND IS ON HER WAY TO BEATING CANCER. SHE IS WATCHING FROM THE WHITE HOUSE TONIGHT. FOR THE LIVES WE CAN SAVE FOR THE LIVES WE CAN SAVE AND THE LIVES WE LOST, LET THIS BE A TRUE AMERICAN MOMENT THAT RALLIES THE COUNTRY IN THE WORLD TOGETHER AND PROVES THAT WE CAN STILL DO BIG THINGS. 20 YEARS AGO UNDER THE LEADERSHIP OF PRESIDENT BUSH AND COUNTLESS ADVOCACY CHAMPIONS, HE UNDERTOOK A BIPARTISAN EFFORT TO TRANSFORM THE GLOBAL FIGHT AGAINST HIV AND A.I.D.S. IT'S BEEN A HUGE SUCCESS.
I BELIEVE WE CAN DO THE SAME THING WITH CANCER. LET'S END CANCER AS WE KNOW IT. HERE ARE SOME CANCERS ONCE AND FOR ALL. FOLKS , THERE IS ONE REASON WHY WE'VE BEEN ABLE TO DO ALL OF THESE THINGS. OUR DEMOCRACY ITSELF. IT'S THE MOST FUNDAMENTAL THING OF ALL. WITH DEMOCRACY, EVERYTHING IS POSSIBLE. WITHOUT IT, NOTHING IS. THE
LAST FEW YEARS, DEMOCRACY HAS BEEN THREATENED AND ATTACKED. PUT AT RISK. PUT TO THE TEST IN THIS VERY ROOM ON JANUARY 6th. AND THEN JUST A FEW MONTHS AGO, AN UNHINGED BIG LIE ASSAILANT UNLEASHED POLITICAL VIOLENCE TO THE HOME OF THE THEN SPEAKER OF REPRESENTATIVES. USING THE VERY SAME LINE INSURRECTIONIST'S USED AS THEY STOCKED THESE HALLS ON JANUARY 6. HERE IN THE CHAMBER IS
A MAN WHO BEARS THE SCARS OF THAT BRUTAL ATTACK, BUT IS AS TOUGH AND AS RESILIENT AS THEY GET. MY FRIEND, PAUL PELOSI. STAND UP. SUCH A HEINOUS ACT SHOULD HAVE NEVER HAPPENED.
THERE IS NO PLACE FOR POLITICAL VIOLENCE IN AMERICA. WE HAVE TO PROTECT THE RIGHT TO VOTE AND NOT SUPPRESS THAT FUNDAMENTAL RIGHT. HONOR THE WILL OF ELECTIONS, NOT SUBVERT THE WILL OF PEOPLE. RESTORE TRUST IN OUR INSTITUTIONS AND DEMOCRACY. WE MUST GIVE HATE AND EXTREMISM IN ANY FORM, NO SAFE HARBOR.
DEMOCRACY MUST NOT BE A PARTISAN ISSUE. IT IS AN AMERICAN ISSUE. EVERY GENERATION AMERICA HAS FACED A MOMENT WHERE THEY HAVE BEEN CALLED TO PROTECT OUR DEMOCRACY, DEFEND AND STAND UP FOR IT. THIS IS OUR MOMENT. MY FELLOW AMERICANS, WE MEET
TONIGHT AT AN INFLECTION POINT. ONE OF THOSE MOMENTS THAT ONLY A FEW GENERATIONS EVER FACE. THE DIRECTION WE NOW TAKE IS GOING TO DECIDE THE COURSE OF THIS NATION FOR DECADES TO COME. WE ARE NOT
BYSTANDERS OF HISTORY. WE ARE NOT POWERLESS BEFORE THE FORCES THAT CONFRONT US. IT'S WITHIN OUR POWER. WE, THE PEOPLE. WE ARE FACING THE TEST OF OUR TIME. WE HAVE TO BE THE NATION WE'VE ALWAYS BEEN AT OUR BEST. OPTIMISTIC AND HOPEFUL. FORWARD-LOOKING. A NATION THAT EMBRACES LIGHT OVER DARK. HOPE OVER FEAR.
STABILITY OVER CHAOS. WE HAVE TO SEE EACH OTHER, NOT AS ENEMIES, BUT AS FELLOW AMERICANS. WE ARE GOOD PEOPLE. THE ONLY NATION IN THE WORLD BUILT ON AN IDEA. THE ONLY ONE.
OTHER NATIONS ARE DEFINED BY GEOGRAPHY AND ETHNICITY BUT WE ARE THE ONLY NATION BASED ON AN IDEA. THAT ALL OF US , EVERY ONE OF US, IS CREATED EQUAL IN THE IMAGE OF GOD. A NATION THAT STANDS AS A BEACON TO THE WORLD. A NATION IN A NEW AGE OF POSSIBILITIES. SO, I HAVE COME TO FULFILL MY
CONSTITUTIONAL OBLIGATION. TO REPORT THE STATE OF THE UNION. AND HERE IS MY REPORT. BECAUSE THE SOUL OF THIS NATION IS STRONG, BECAUSE THE BACKBONE OF THIS NATION IS STRONG. BECAUSE THE PEOPLE OF THIS NATION ARE STRONG. THE STATE OF THE UNION IS STRONG! I'M NOT NEW TO THIS PLACE. I STAND HERE TONIGHT HAVING SERVED ABOUT AS LONG AS ANYONE OF YOU HAVE EVER SERVED HERE. BUT I'VE NEVER BEEN MORE OPTIMISTIC ABOUT
OUR FUTURE. ABOUT THE FUTURE AMERICA. JUST REMEMBER WHO WE ARE. WE ARE THE UNITED STATES OF AMERICA AND THERE IS NOTHING BEYOND OUR CAPACITY IF WE DO IT TOGETHER. GOD BLESS YOU ALL
AND MAY GOD PROTECT OUR TROOPS. THANK YOU. >> PRESIDENT JOE BIDEN CALLING ON CONGRESS TO, IN HIS WORDS, FINISH THE JOB. CALLING FOR ACTION ON DEMOCRATIC PRIORITIES FROM POLICE REFORM TO AN ASSAULT WEAPONS BAN. THE PRESIDENT DELIVERED A CALL FOR BIPARTISAN UNITY BUT ALSO SLAMMED ANY REPUBLICANS WHO WANT TO ALTER SOCIAL SECURITY AND MEDICARE WHICH GOT A WILD RESPONSE FROM SOME REPUBLICANS INCLUDING A HANDFUL WHO YELLED OUT AND CALLED THE PRESIDENT A LIAR. IT WASN'T THE ONLY INTERRUPTION FROM REPUBLICAN HOUSE MEMBERS.
THIS IS A SPECIAL REPORT FROM THE NEWSROOM OF THE WASHINGTON POST. I'M LIBBY CASEY. AS WE WALK IMAGES OF THE PRESIDENT TALKING WITH HIM AQUATIC SENATORS, LET'S GO TO COLE WHO IS RIGHT OUTSIDE THE HOUSE CHAMBER. RHONDA, THE SPEECH LASTED OVER AN HOUR AND WAS MET WITH BOTH CHEERS AND TEARS. WHAT WERE THE HIGHLIGHTS? >> A LITTLE OVER AN HOUR. WHAT WE JUST HEARD WAS SORT OF A PREAMBLE TO ABIDE IN RE-ELECTION CAMPAIGN ANNOUNCEMENT. HE CERTAINLY HIT THE NOTES OF WEAVING
AND ALL OF THE ACHIEVEMENTS HE FEELS HE HE AND THE DEMOCRATIC PARTY ON THE HILL HAVE BEEN ABLE TO ACCOMPLISH. WHETHER THAT WAS THE CHIPS ACT WITH THE SEMICONDUCTOR FACTORIES, INFRASTRUCTURE, INSULIN PRICES -- HE WOVE ALL OF THOSE ACHIEVEMENTS INTO THAT SPEECH. HE ALSO CALLED UPON CONGRESS TO DO SOMETHING ABOUT POLICE REFORM. WE EXPECTED THAT AND WE KNEW THAT THERE WOULD BE ATTENDEES WHO WERE ASSOCIATED WITH VICTIMS OF POLICE VIOLENCE. HE TOLD CONGRESS TO FINISH THE JOB . HE ALSO
BROUGHT UP AN ASSAULT WEAPONS BAN. OF COURSE, THAT WAS EXPECTED. THOSE ARE ISSUES RIGHT NOW THAT IT DOES NOT LOOK LIKE THE HILL CAN EASILY PASS. SO, HE PUT OUT THERE AND SAID HE WANTS THEM TO TAKE CARE OF IT. WE WILL SEE IF NEGOTIATIONS HAPPEN OR NOT ON THOSE ISSUES, BUT HE CERTAINLY TOOK HIS TIME, AND I REMEMBER SAYING IN THE PRESHOW TO THE SPEECH THAT I WOULD LOOK AT THE LENGTH OF TIME HE TOOK TODAY AND HE TOOK A VERY LONG TIME TO LAY OUT HIS CASE, AND OF COURSE WE ARE EXPECTING SOON FOR HIM TO ANNOUNCE THAT HE WANTS TO SEEK RE-ELECTION. >> LET'S TALK ABOUT THE
RECEPTION IN THE CHAMBER. >> IT WAS A RAUCOUS, ENERGETIC CHAMBER. WE ARE USED TO THE COVID ERA WHERE PEOPLE WEREN'T THERE. WE ARE AT 100% CAPACITY. THERE WERE LOTS OF APPLAUSE LINES
INCLUDING A LOT OF APPLAUSE LINES THAT KEVIN McCARTHY AND REPUBLICANS STOOD FOR AND THE PRESIDENT REALLY DID WALK THAT TIGHT ROPE WE ARE TALKING ABOUT EARLIER TONIGHT, SAYING AT THE BEGINNING HE WOULD BE A PRESIDENT FOR ALL AMERICANS, THAT HE'S GOING TO GIVE MONEY TO DISTRICTS, EVEN IF THEIR MEMBER VOTED AGAINST THE BILL. BUT THEN, CLEARLY, HE IS VERY HAPPY TO USE HOUSE REPUBLICANS, NOW IN THE MAJORITY, AS A FOIL. NOT JUST FOR 2024, BUT EVEN 2023. HIS WILLINGNESS TO MIX
IT UP WITH THE HECKLERS AND THE CHEERS SHOWS A DESIRE TO DO WHAT BILL CLINTON DID IN 1995 AND WHAT BARACK OBAMA DID IN 2011. BOTH OF THOSE PRESIDENTS WERE ABLE TO WIN ELECTIONS BY RUNNING AGAINST HOUSE REPUBLICANS. >> LET'S TALK ABOUT THE SUBSTANCE AND THIS QUESTION OVER THE DEBT CEILING. McCARTHY SAID HE WANTS TO NEGOTIATE THE WHITE HOUSE AND SAID THIS IS NOT SOMETHING WE NEGOTIATE OVER AND JUST PAYING PAST BILLS. WHAT GOT EVERYONE RILED UP INITIALLY WAS THE PRESIDENT SAYING THERE ARE SOME REPUBLICANS WHO WANT TO GO AFTER MEDICARE AND SOCIAL SECURITY AS A MEANS TO DEAL WITH THIS. THEY WOULD RATHER
GO DO THAT THEN TAX THE WEALTHY. AND THAT'S TRUE. THERE ARE SOME REPUBLICANS SAYING THERE IS RESTRUCTURING THAT CAN BE DONE. MIKE PENCE SET IT A FEW DAYS AGO. THAT THIS IS A WAY WE CAN RESTRUCTURE SOCIAL SECURITY. NOT FOR AS PENTZ PUT IT, PEOPLE WITH GRAY HAIR LIKE ME BUT FOR YOUNGER GENERATIONS. IT'S
ALMOST LIKE A THROWBACK TO 20 YEARS AGO. >> THE REPUBLICAN PARTY IS CHANGING AND THAT'S PART OF THE TENSION. THIS IS NOT PAUL RYAN'S REPUBLICAN PARTY. PAUL RYAN WAS ON THE TICKET IN 2012. THEY WERE TALKING ABOUT THE NEED FOR INTERNAL REFORM, AND NOW YOU HAVE DONALD TRUMP OUT THERE ON TRUTH SOCIAL ALL THE TIME SAYING DON'T TOUCH SOCIAL SECURITY OR MEDICARE. SO
THERE IS A TENSION INSIDE THE GOP WHERE THERE ARE PEOPLE LIKE RON JOHNSON AND RICK SCOTT, WHO ARE TALKING ABOUT TAKING ON THIS THIRD RAIL OF AMERICAN POLITICS. BUT FOR THE MOST PART, THE REPUBLICAN PARTY IS TRYING TO MOVE BEYOND THE POLITICS OF ENTITLEMENT REFORM AND SCARCITY AND AUSTERITY. >> YET, THERE IS THE QUESTION OF WHERE REPUBLICANS WOULD MAKE THOSE CUTS. WHERE THEY WOULD LIKE TO SEE SPENDING HALTED FOR THE FUTURE , RHONDA? >> EXACTLY. THAT'S SOMETHING I KNOW I SPENT THE WHOLE WEEK OF THE SPEAKER VOTE. THOSE FIVE DAYS AND 15 ROUNDS OF
VOTES , AND WE AS REPORTERS WERE TRYING TO FIGURE OUT, WHAT DID THE HARD-LINE REPUBLICANS WANT FROM THE SPEAKER TO AGREE TO? WE KEPT HEARING THAT HE WANTED HIM TO AGREE TO CUTS IN SPENDING BUT NEVER UNDERSTOOD WHAT THOSE CUTS WERE. I REMEMBER BEING IN THE HALLWAYS ASKING ABOUT THAT AND WE WEREN'T HEARING ANYTHING FROM REPUBLICAN HARDLINERS ON THAT ISSUE. IT'S STILL A BIT OF A MYSTERY. WE DON'T KNOW
EXACTLY WHAT THEY WANT TO USE THE DEBT CEILING ISSUE ABOUT, BUT IT REMAINS TO BE SEEN HOW CONGRESS AS A WHOLE HANDLES THE DEBT LIMIT ISSUE . WE DO KNOW THAT AROUND THE SUMMER TIME, WE COULD GO INTO DEFAULT. JANET YELLEN WHO WAS IN THE CROWD TODAY HAS SAID THAT THIS IS A DIRE SITUATION AND NEEDS TO BE HANDLED IMMEDIATELY. SO FOR THE NEXT COUPLE WEEKS, YOU ARE GOING TO SEE CONGRESS FIGURE THEIR WAY FORWARD WITH THAT, AND IF YOU LOOK AT THE CONGRESSIONAL CALENDAR AND YOU FACTOR IN THE RECESSES, THEY DON'T HAVE MUCH TIME TO FIGURE THIS OUT.
AS WE SAW IN THE SPEECH TODAY, IT WAS A POINT OF CONTENTION WHEN HE BROUGHT UP THE DEBT CEILING. HE SAID HE WAS NOT GOING TO BE THREATENED ON THAT ISSUE AND CONGRESS NEEDS TO DO ITS DUTY OF MAKING SURE IT THEIR BILLS ARE PAID. BUT THE REALITY IS, THIS IS REALLY GOING TO BE A TENSION POINT FOR THE NEXT FEW WEEKS HERE. >> PRESIDENT BIDEN SPEAKING WITH TWO RETIRED JUSTICES OF THE SUPREME COURT. MR. PRESIDENT OVER COFFEE. WE HAVE A LOT TO TALK ABOUT. IF YOU ARE WONDERING WHY THEY ARE THERE, THEY ARE RETIRED JUSTICES. WE DID SEE FIVE OTHERS TONIGHT INCLUDING
THE CHIEF JUSTICE. AL GREEN, THE CONGRESSMAN TALKING TO THE PRESIDENT AND HAVING HIS MOMENT WITH HIM. AS REPUBLICANS HAVE TALKED ABOUT WHAT TO CUT, THE TALKED ABOUT THE QUOTE UNQUOTE WOKE AGENDA AND SPENDING WHERE THERE CAN BE CAPS. WHAT IS THE BUZZ PHRASE I'M LOOKING FOR? WASTE FRAUD AND ABUSE . THANK YOU. THAT'S SOMETHING THAT EVERY POLITICIAN AGREES CAN BE CUT AS WELL AS EVERY AMERICAN. THE QUESTION IS, WHERE ARE THE DETAILS?
YOU ARE SEEING ON YOUR SCREEN THAT AFTER THIS WE WILL HAVE THE REPUBLICAN RESPONSE. ARKANSAS IS RAND NEW GOVERNOR, SARAH HUCKABEE SANDERS WILL DELIVER THAT RESPONSE IN JUST A LITTLE WHILE. JAMES, SHE HAS BEEN IN OFFICE FOR LESS THAN A MONTH. SHE IS ONE OF THE FRESHEST AND NEWEST REPUBLICANS. I WANT
TO TALK TO YOU IN A MOMENT ABOUT WHY THE CHOICE OF HER, BUT FIRST LET'S TALK ABOUT THE MAN SHE USED TO WORK FOR, DONALD TRUMP, AND HOW PRESIDENT BIDEN WENT AFTER HIS PREDECESSOR IN THIS SPEECH. >> THAT'S A GOOD OBSERVATION. IT IS RARE FOR A PRESIDENT TO CALL OUT HIS PREDECESSOR, EVEN OF ANOTHER PARTY. HE DIDN'T NAME DONALD TRUMP BUT HE DID SAY UNDER THE PREVIOUS ADMINISTRATION, NO PRESIDENT HAS ADDED MORE TO THE NATIONAL DEBT UNDER DONALD TRUMP, WITHOUT NAMING HIM, THE WENT UP ALL FOUR YEARS. HE SAID 25% OF THE NATIONAL DEBT WAS ADDED BY TRUMP AND WHEN THE REPUBLICANS WERE CHEERING HIM, OSTENSIBLY BECAUSE A LOT OF THAT WAS COVID RELIEF MONEY THAT WAS SUPPORTED BY BOTH PARTIES, HE SAID CHECK IT OUT. THIS IS A REMINDER THAT TRUMP MAY NOT BE REPUBLICAN NOMINEE BUT HE IS AN ACTIVE CANDIDATE. HE WAS PUTTING
OUT STATEMENTS ON HIS SOCIAL MEDIA PLATFORM DURING HIS SPEECH AND JOE BIDEN , JUST AS HE IS HAPPY TO HAVE HOUSE REPUBLICANS AS A FOIL, HE'S EVEN HAPPIER TO HAVE DONALD TRUMP AS A FOIL. EVEN THOUGH THE POLL THAT CAME OUT THIS WEEKEND SHOWS TRUMP NARROWLY AHEAD OF BIDEN IN AHEAD TO HEAD MATCHUP. WHITE HOUSE OFFICIALS AND JOE BIDEN HIMSELF BELIEVE THERE IS NO ONE THEY ARE BETTER POSITIONED TO RUN AGAINST IN 2024 THEN DONALD TRUMP. >> RON, LET'S GO BACK TO YOU ON CAPITOL HILL. TALK TO
US ABOUT THE GUEST TONIGHT. THE GUEST OF FIRST LADY JILL BIDEN. THE SECOND GENTLEMAN, DOUG, AND OTHER MEMBERS OF THE CONGRESS WERE BRINGING TO THE CHAMBER TONIGHT. >> WE HEARD PRESIDENT BIDEN
NOTE THAT HE HAD INVITED THE UKRAINIAN AMBASSADOR BACK FOR THE SECOND YEAR TO HIGHLIGHT THAT WAR IS STILL GOING ON WITH RUSSIA AND THAT AMERICA IS STILL DEDICATED TO HELPING UKRAINE IN THAT EFFORT. WE ALSO SAW THE PARENTS OF TYRE NICHOLS. HE IS THE TENNESSEE MAN WHO WAS KILLED BY POLICE OFFICERS. THAT VIDEO WAS RELEASED AND MANY AMERICANS AGREE HOW VICIOUS AND VIOLENT IT WAS. THAT WAS TO
ALLOW BIDEN TO DISCUSS THE NEED FOR POLICE REFORM. THERE WAS ALSO PARENTS WHO ARE FAMILIAR WITH THE BATTLE OF CANCER IN THEIR FAMILY. THAT'S SOMETHING THAT BIDEN, WITH THE CANCER MOONSHOT HAS BROUGHT UP. IT IS A CONTINUED EFFORT BY HIS ADMINISTRATION. WE'VE TALKED ABOUT PROBABLY THE MOST WELL-KNOWN HOUSEHOLD NAME . HE HAS WORKED ON HUMANITARIAN AID AND WORKED WITH THE A.I.D.S. CRISIS AND
HE WAS INVITED FOR THAT. THERE WAS ALSO A HOLOCAUST SURVIVOR TO HIGHLIGHT DOUG AND WORK WITH COMBATING SEMITISM. THERE WAS REALLY AN ARRAY. WE KNOW SOME MEMBERS OF CONGRESS WANT TO HIGHLIGHT HOW THE DECISION IMPACTED THEIR STATE. I KNOW THERE WAS A SENATOR WHO BROUGHT A WOMAN WHO HAD TO CROSS STATE LINES TO GET AN ABORTION AFTER DOBBS WAS DECIDED OVER THE SUMMER.
WHEN GUESTS ARE INVITED IT REALLY IS TO HIGHLIGHT ISSUES THAT THE PARTIES CARE ABOUT. >> CONGRESSWOMAN DEBBIE SCHOLZ BROUGHT A GUEST WHO HAD THAT SAME EXPERIENCE BECAUSE OF THE STRIKING DOWN OF ROE V. WADE. ALSO GUESTS OF THE PRESIDENT AND FIRST LADY. THERE WAS A COUPLE WHO CAME
FROM TEXAS WHO LOST THEIR PREGNANCY AND THEN, THE MOTHER, FUTURE MOTHER, WAS PUT AT MEDICAL RISK, BECAUSE SHE COULD NOT GET A DOCTOR TO PERFORM THE PROCEDURE. SO, THERE WERE PEOPLE PRESENT IN THE CHAMBER TONIGHT WHO THE PRESIDENT DIDN'T GIVE A CALL OUT TO WHO STILL HAD POWERFUL STORIES THAT THE WHITE HOUSE WANTS TO HIGHLIGHT. >> PART OF THIS IS THAT THEY HAD PEOPLE FROM ALL OVER THE COUNTRY, AND OSTENSIBLY, THERE WILL BE LOCAL COVERAGE IN TEXAS AND IN THE TEXAS NEWSPAPERS AND ON TEXAS TELEVISION STATIONS ABOUT THIS COUPLE AND THEIR POWERFUL STORY. THIS TRADITION DATES BACK TO RONALD REAGAN IN THE EARLY 1980s. THERE WAS A PLANE CRASH RIGHT BEFORE THE STATE
OF THE UNION AND REAGAN CALLED OUT SOMEONE WHO JUMPED INTO THE POTOMAC TO SAVE A BUNCH OF PASSENGERS WHO HAD BEEN DOWN. NOW THERE'S SO MANY PEOPLE THAT EVERYONE FEELS THEY WANT TO BRING IN AND, MY HUNCH IS THAT IN THE DRAFTS, THEY WROTE OUT SECTIONS FOR EACH OF THESE PEOPLE WHO WERE IN THE GUEST BOX. PRESIDENT BIDEN MENTIONED PEPFAR BUT DIDN'T MENTION -- BY NAME. A LOT OF PEOPLE CAN MAKE THAT
CONNECTION . >> LENNY SCOTT NEXT WAS THE MAN WHO JUMPED INTO THE RIVER TO SAVE SOMEONE AFTER THAT AIRPLANE CRASH AND PRESIDENT REAGAN PRAISED HIM PUBLICLY AND THAT TRADITION STANDS TODAY. WHERE DOES THE PRESIDENT GO FROM HERE? >> LITERALLY HE IS GOING TO MADISON, WISCONSIN AND JACKSONVILLE, FLORIDA. THE DESIRE TO MAKE THE SPEECH LONGER. THE PRESIDENT WILL TALK ABOUT SOCIAL SECURITY
AND MEDICARE IN FLORIDA AND JOBS AND INFRASTRUCTURE IN WISCONSIN. I THINK WE GOT A TASTE OF WHAT WE ARE GOING TO SEE MORE OF FROM BIDEN. HE, TO ME, SOUNDED A LITTLE LIKE TRUMAN IN HIS BRAND OF POPULISM TONIGHT, TALKING ABOUT HOW THEY ARE TRUING TRYING TO SCREW US AND THE BIG COMPANIES, WHETHER PHARMACEUTICALS OR HOTELS CHARGING RESORT FEES, EVEN THOUGH THEY ARE NOT RESORTS, WHICH WAS A FUNNY LINE. AND THAT EMPHASIS ON
IS ON THE JUNK FEE PREVENTION ACT WHICH REPUBLICANS DIDN'T STAND FOR. I DON'T EXPECT IT WILL PASS, BUT IT'S ONE OF THOSE THINGS THAT I'M SURE POLLS AND TESTS REALLY WELL AND ALLOWS JOE BIDEN TO SHOW HE IS FIGHTING INFLATION BECAUSE THOSE ARE THE FEES THAT COST CONSCIOUS PEOPLE FEEL, BUT IT ALSO SHOWS THAT HE IS FIGHTING FOR THEM AND HE IS ON THEIR SIDE. IT'S REMINISCENT OF BILL CLINTON IN HIS 1995 STATE OF THE UNION ADDRESS AFTER THE SHELLACKING OF THE 1994 MIDTERMS, EMBRACING WHAT SEEMED LIKE SMALL BALL THINGS LIKE TELEVISIONS OR SCHOOL UNIFORMS. BUT IT SHOWED OR SAID SOMETHING ABOUT BILL CLINTON'S VALUES AND THE JUNK FEE RIFF SEEMS LIKE SOMETHING WE ARE GOING TO HEAR A LOT MORE OF FROM BIDEN. IT ALSO REFLECTS THE KIND OF PRESIDENT HE'S GOING TO BE IN YEAR THREE OF HIS TERM. >> LET'S TALK ABOUT WHERE REPUBLICANS GO FROM HERE.
WHAT IS THEIR AGENDA IN THE COMING DAYS, HOURS, AND WEEKS? >> A LOT OF THEM ARE NEAR ME AND BEHIND ME IN A PACKED HALL, GIVING THEIR REACTION TO THIS SPEECH. WE WILL TRY TO TALK TO SOME OF THEM IN OUR POST SHOW, BUT I BELIEVE A LOT OF THEM WILL TALK ABOUT THE BORDER AND THE COMMENTS HE MADE ABOUT THAT. THAT IS ONE AREA THEY REALLY WANT TO HIGHLIGHT AND SAY THE BIDEN ADMINISTRATION HAS FAILED HIM. AND, OF COURSE, WE ARE AWAITING THE ARKANSAS GOVERNOR, SARAH HUCKABEE SANDERS, TO DELIVER THE REPUBLICAN RESPONSE SHORTLY. I KNOW KEVIN McCARTHY, THE SPEAKER OF THE HOUSE HAD SAID LAST WEEK THAT SHE WAS CHOSEN TO SHOW A FRESH YOUNG FACE WITH THE REPUBLICAN PARTY. SHE IS CURRENTLY
THE YOUNGEST GOVERNOR IN AMERICA. SHE IS 40 YEARS OLD, AND THEY WANT TO HIGHLIGHT THAT. I'VE BEEN GETTING SOME CUTS FROM HER EXPECTED REMARKS LATELY AND SHE'S GOING TO BE PRETTY PARTISAN. THAT'S WHAT THE REPUBLICAN RESPONSE AFTER A STATE OF THE UNION USUALLY IS. SHE'S GOING TO FOCUS ON THE STATE OF THE ECONOMY AND BLAME, QUOTE, THE LEFT, FOR TAKING A THE MONEY AWAY FROM AMERICANS. SHE'S GOING TO TALK ABOUT CULTURE WAR EFFORTS AND SOMETHING SHE HAS MADE A CENTERPIECE OF HER GOVERNORSHIP LAST MONTH.
IF FOLKS REMEMBER, SHE WAS THE PRESS SECRETARY TO PRESIDENT TRUMP. THERE WERE OFTEN COMBATIVE PRESS BRIEFINGS WITH THE PRESS AND WE'VE BEEN WONDERING IF THAT'S THE TONE SHE'S GOING TO STRIKE TONIGHT. IT LOOKS LIKE, FROM SOME OF THE EXCERPTS, YES, THAT MIGHT BE THE TONE. >> YOU'RE SAYING REPUBLICANS ARE NOT HANGING AROUND THE CHAMBER WAITING FOR A PHOTO OPPORTUNITY WITH THE PRESIDENT? >> YES. THERE MAY BE SOME REPUBLICANS IN THE CHAMBER . AS WELL AS DEMOCRATS. EVERYBODY WANTS TO GIVE
THEIR RESPONSE TO WHAT BIDEN SAID. WE'VE ALL BEEN CAMPED OUT ALL DAY WAITING FOR THIS MOMENT , BUT I AM NOTING THAT BIDEN HAS TAKEN A REALLY LONG TIME TO EXIT. IN THE LAST STATE OF THE UNIONS I'VE COVERED, I DON'T REMEMBER PRESIDENTS STAYING THIS LONG. OF COURSE, HE HAS BEEN A PART OF CONGRESS LONGER THAN MANY OF THOSE WHO ARE CURRENTLY IN OFFICE. OF COURSE HE SPENT TIME AS A SENATOR , OVER 30 YEARS.
ONE OF THE LONGEST SERVING SENATORS IN U.S. HISTORY. THIS IS KIND OF A LITTLE BIT OF A FIELD TRIP AND OLD MEMORIES FOR HIM. >> DEMOCRATS WAITING TO GET A PHOTOGRAPH WITH THE PRESIDENT AS HE MAKES HIS WAY SLOWLY OUT OF THE CHAMBER JUST MINUTES AFTER THE PRESIDENT DOES FINALLY LEAVE THE HOUSE CHAMBER, WE WILL HEAR FROM GOVERNOR SARAH HUCKABEE SANDERS. THE YOUNGEST GOVERNOR IN AMERICA. RIGHT NOW, THE FIRST WOMAN
GOVERNOR OF ARKANSAS. SHE WAS SWORN IN ON JANUARY 10th. SHE HAS BEEN IN OFFICE FOR ALL OF FOUR WEEKS. AN INTERESTING CHOICE BY REPUBLICANS TO PICK HER. THEY WANT TO SHOW A WOMAN AND SOMEONE RELATIVELY YOUNG, BUT , IN AMERICANS MINDS, SHE IS LINKED TO DONALD TRUMP AND SHE DOESN'T HAVE A TRACK RECORD YET AS AN ACTUAL OFFICEHOLDER IN HER STATE.
>> RIGHT. THERE HAS ALREADY BEEN SOME VP CHATTER ABOUT SARAH SANDERS. I THINK SHE IS PERCEIVED AS SORT OF NEUTRAL AND ACCEPTABLE EVEN THOUGH SHE IS THE ASSOCIATED SPOKESWOMAN FOR TRUMP. I THINK THE DeSANTIS CAMP IS VERY COMFORTABLE WITH HER DELIVERING THE RESPONSE. IT'S
NOT SOMEONE WHO MIGHT RUN FOR PRESIDENT SO SHE CAN SORT OF SPEAK WRIT LARGE FOR THE PARTY. TO RHONDA'S POINT ABOUT HOW LONG BIDEN IS TAKING IN THE CHAMBER, IT'S REALLY TRUE. IT'S A REFLECTION OF SOMETHING INTERESTING WHICH IS THAT IN THAT WASHINGTON POST POLL, A LOT OF DEMOCRATS SAY THEY DON'T WANT BIDEN TO BE THEIR NOMINEE. THEY WOULD RATHER HAVE SOMEONE FRESH AND NEW. HIS APPROVAL RATING NATIONALLY IS 42%. AND SOME OF THESE PEOPLE THAT HE IS TALKING TO -- MARCY CASTOR, WHO HE WAS SPEAKING TO A FEW MINUTES AGO IS IN A DISTRICT THAT TRUMP CARRIED BY DOUBLE DIGITS AFTER REDISTRICTING. IT SAYS SOMETHING THAT THESE
HOUSE DEMOCRATS STILL WANT TO BE PHOTOGRAPHED AND SEEN WITH JOE BIDEN. I THINK IT SPEAKS TO HIS STRENGTH AND RESILIENCY AT THE ELITE LEVEL OF THE DEMOCRATIC ALREADY. WE SAW THIS A LITTLE BIT DURING THE DEMOCRATIC MEETING IN PHILADELPHIA WHERE THE CROWD WAS REALLY CHANTING FOUR MORE YEARS THAT PERHAPS THE LEADERS OF THE PARTY ARE MORE SUPPORTIVE OF BIDEN BEING THEIR STANDARD BEARER THAN THE RANK AND FILE OF THE DEMOCRATIC PARTY.
>> RHONDA, HOW DOES THE PRESIDENT GET THIS MESSAGE TO PENETRATE THROUGHOUT AMERICA AND CHANGE SOME OF THOSE WHOLE NUMBERS THAT JAMES WAS TALKING ABOUT? >> THAT SOMETHING THAT THE WHITE HOUSE AND CONGRESSIONAL DEMOCRATS ARE CONCERNED ABOUT. HOW DOES HE RELAY THE MESSAGE OF SOMETHING LIKE INFRASTRUCTURE WHICH TAKES TIME FOR PEOPLE TO REALLY SEE THE BENEFITS OF. EVERYONE CAN AGREE THAT AMERICAN ROADS AND BRIDGES NEED TO BE FIXED, BUT UNTIL YOU SEE THAT WORK HAPPENING, YOU JUST MAY NOT AGREE THAT HE IS DOING ALL THAT HE CAN. SO SOME OF THE PROPOSALS THAT DID GO THROUGH CONGRESS IN THE LAST TERM ARE THINGS THAT TAKE A LOT OF TIME TO BE FELT BY THE AMERICAN PUBLIC. SO WHAT HE IS PROBABLY GOING TO DO
, ESPECIALLY IF HE'S GOING TO GO CAMPAIGN FROM HERE, IS TO GO TO SMALL TOWNS AND GO TO THE MIDWEST, LIKE HE IS PLANNING TO DO THIS WEEK, AND REALLY SELL ACTUAL RESULTS THAT HE HAS DONE. BECAUSE THERE IS THAT DISCONNECT. THERE IS THAT PERCEPTION OF SOME OF THESE THINGS THAT THEY DID GET THROUGH AND DIDN'T EXACTLY -- WEREN'T FELT BY THE AMERICAN PUBLIC. IT IS TIME FOR THE BIDEN ADMINISTRATION TO PROVE THAT THESE THINGS DID WORK. >> RHONDA IS IN THE BUSY STATUARY HALL. YOU CAN SEE ALL THOSE MEMBERS OF CONGRESS MILLING ABOUT HER. STAY TUNED
BECAUSE IN ADDITION TO THAT WE WILL HEAR THE REPUBLICAN REBUTTAL MOMENTARILY BY GOVERNOR SARAH HUCKABEE SANDERS OF ARKANSAS. JAMES, AS YOU'VE TALKED TO DEMOCRATIC SOURCES AND MEMBERS OF CONGRESS HEALTH HOW FIERY DID THEY WANT JOE BIDEN TO BE TONIGHT AND WILL THEY BE SATISFIED WITH THE LINE HE TRIED TO CRISSCROSS OVER AND HOPSCOTCH AROUND? BIPARTISANSHIP? YET HE THREW SOME PUNCHES. >> I THINK THEY WILL BE HAPPY. SOMEONE TEXTED ME TO SAY,
HE IS OLD BUT HE STILL HAS GAS IN THE TANK, WHICH I THINK IS A PROMINENT VIEW OVER THERE. >> SO VALUE SEEN IN THE FIGHTING SPIRIT? >> HE STILL GOT THE ENERGY. THEY DON'T REALLY LIKE THAT AT THE END OF THAT SPEECH, HE STARTED YELLING AND OFTEN THAT'S A WAY FOR PEOPLE TO SHOW THAT THEY ARE PASSIONATE ABOUT SOMETHING. THAT THEY ARE EXCITED AND ENERGETIC. THAT'S NOT NECESSARILY WHAT THEY WANT TO SEE, BUT THEY DO WANT TO SEE THAT FIERY FIGHTING SPIRIT. THEY SAID TRUMAN ASKED. THAT'S WHAT BIDEN IS GOING FOR.
>> DESCRIBE FOR US THE ATMOSPHERE OF WHAT IT'S LIKE ON CAPITOL HILL TONIGHT? >> I JUST HEARD SOMEONE BEHIND ME MENTIONED THAT THIS FEELS LIKE SOME SORT OF POST-PANDEMIC EVENT BECAUSE PEOPLE DON'T QUITE REMEMBER HOW WE USED TO COVER STATE OF THE UNION. THERE WERE SO MANY PEOPLE HERE IN STATUARY HALL WHERE FOR YEARS MEDIA BROADCASTED FROM ON THIS NIGHT. FOR THE LAST FEW YEARS WE'VE BEEN IN ANOTHER OFFICE BUILDING AND COVERING THIS FROM A DISTANCE. THIS YEAR, WE ARE BACK AND IT'S ALSO THE SITE OF THE SPEAKER OF THE HOUSES. HE
IS USUALLY GATHERING US AND THAT IS A LITTLE DIFFERENT. HE EXPLAINS THAT HE LIKES THIS ROOM A LOT. THERE ARE STARS THAT SHOW WHERE PRESIDENT LINCOLN WAS IN CONGRESS, WHERE HE SAT. THERE ARE SO MANY PEOPLE HERE, AND I DON'T QUITE REMEMBER IT BEING LIKE THIS IN THE LAST FEW YEARS. THAT WAS LIKELY DO TO COVID. I
REMEMBER THE CHAMBER. PEOPLE HAD MASKS ON. WE DIDN'T REALLY SEE THAT THIS YEAR. ALSO, MEMBERS WERE TOLD TO INVITE GUESTS, BUT MAKE THEM VIRTUAL GUESTS. WE WOULD GET EMAILS THE DAY OF THE STATE OF THE UNION WHERE MEMBERS WOULD TELL US THEY ARE VIRTUAL GUESTS, BACK HOME. A LITTLE BIT OF A RETURN TO NORMS HERE AND EVERYONE SEEMS LIKE THEY WANT TO STICK AROUND.
I'VE BEEN TO STATE OF THE UNIONS IN THE PAST FEW YEARS WHERE EVERYONE WANTED TO PACK UP AND GO HOME, BUT IT SEEMS LIKE A BLUR STICKING AROUND. >> YOU ARE AT THE PARTY TONIGHT. YOU CAN SEE ON YOUR SCREEN, IN ADDITION TO RHONDA, YOU SEE THE GOVERNOR'S MANSION IN ARKANSAS IS IN LITTLE ROCK AND THAT IS WHERE GOVERNOR SARAH HUCKABEE SANDERS WILL BE SPEAKING IN JUST A MOMENT. WE EXPECT HER ADDRESS TO LAST AROUND 10 MINUTES. THAT IS THE AMOUNT
OF TIME THE REBUTTALS LAST. AS YOU HEARD FROM RHONDA WE EXPECTED TO HAVE A POLITICAL PUNCH. WE ARE EXPECTING IT TO BE A PARTISAN SPEECH. >> IT WILL BE PARTISAN AND VERY ANTI-BIDEN. AND IT WILL TALK A LOT
ABOUT IMMIGRATION. I THINK THAT WAS AN AREA WHERE YOU SAW SOME OF THE STRONGEST REPUBLICAN REACTION SHOTS. TED CRUZ KIND OF GRIMACING WHEN HE SAID HELP ME SECURE THE BORDER. I CAN'T DO IT WITHOUT YOU. THAT'S BEEN THE BIGGEST THING
THAT THEY ARE HAMMERING BIDEN ON FOR HIS THEY SAY FAILURE TO DO. I HAVE NO DOUBT THAT GOVERNOR SANDERS WILL SIMILARLY DRIVE THAT MESSAGE. SHE WILL ALSO TALK ABOUT THE ECONOMIC ISSUES. INFLATION AND THE PRICE OF EGGS AND THAT KIND OF THING. WE HAVEN'T REALLY TALKED ABOUT FOREIGN POLICY BECAUSE BIDEN REALLY DID LEAVE THAT TO THE END. A LITTLE BIT ON CHINA AND A LITTLE BIT ON UKRAINE. IT REALLY WAS A SPEECH FOCUSED
ON DOMESTIC POLICY. ULTIMATELY, THE PRESIDENT KNOWS THAT'S HOW HE WILL BE JUDGED. >> I'M SARAH HUCKABEE SANDERS. BEING A MOM TO THREE YOUNG CHILDREN TAUGHT ME NOT TO BELIEVE EVERY STORY I HEAR. SO FORGIVE ME FOR NOT
BELIEVING MUCH OF ANYTHING I HEARD TONIGHT FROM PRESIDENT BIDEN. FROM OUT-OF-CONTROL INFLATION AND VIOLENT CRIME TO THE DANGEROUS BORDER CRISIS . BIDEN AND THE DEMOCRATS HAVE FAILED YOU. THEY KNOW IT AND YOU KNOW IT
. IT'S TIME FOR A CHANGE. TONIGHT, LET US REAFFIRM OUR COMMITMENT TO A TIMELESS IDEA THAT THE AMERICAN GOVERNMENT EXISTS NOT TO RULE THE PEOPLE BUT TO SERVE THE PEOPLE. DEMOCRATS WANT TO RULE US WITH MORE GOVERNMENT CONTROL BUT THAT'S NOT WHO WE ARE. AMERICA IS THE
GREATEST COUNTRY THE WORLD HAS EVER KNOWN. BECAUSE WE ARE THE FREEST COUNTRY THE WORLD HAS EVER KNOWN. WITH A PEOPLE WHO ARE STRONG AND RESILIENT. FIVE MONTHS AGO, I WAS DIAGNOSED WITH THYROID CANCER. IT WAS A HARD TIME
FOR OUR FAMILY. PARTICULARLY OUR KIDS , SCARLETT, HUCK, AND GEORGE. BUT WE KEPT OUR FAITH AND PERSEVERED. THANKS TO EXCEPTIONAL DOCTORS HERE IN ARKANSAS, A SUCCESSFUL SURGERY, AND THE GRACE OF GOD I AM CANCER FREE. THROUGH IT ALL, I COULDN'T HELP BUT THINK ABOUT MY MOM . SHE WAS 20 YEARS OLD AND IN HER FIRST YEAR OF MARRIAGE WHEN SHE WAS DIAGNOSED WITH SPINAL CANCER. THE DOCTORS TOLD US SHE MIGHT NOT LIVE AND IF SHE DID LIVE, THEY SAID SHE WOULD NEVER WALK AGAIN AND IF SHE DID WALK, SHE WOULD DEFINITELY NEVER HAVE CHILDREN. THE DAUGHTER SHE WAS TOLD SHE WOULD NEVER
HAVE WAS JUST SWORN IN AS THE NEW GOVERNOR OF ARKANSAS AND IS SPEAKING TO YOU TONIGHT. ADVERSITY AND FEAR OF THE UNKNOWN CAN PARALYZE US, BUT FAITH PROPELS US TO CHARGE BOLDLY AHEAD. WE CAN'T STAND STILL IN THE FACE OF GREAT CHALLENGES. YOU AND I WERE PUT ON THE EARTH FOR SUCH A TIME AS THIS. TO CHARGE BOLDLY
AHEAD. I WILL BE THE FIRST TO ADMIT, PRESIDENT BIDEN AND I DON'T HAVE A LOT IN COMMON. I'M FOR FREEDOM, HE IS FOR GOVERNMENT CONTROL. AT 40, I'M THE YOUNGEST GOVERNOR IN THE COUNTRY. AND AT 80, HE IS THE OLDEST PRESIDENT IN AMERICAN HISTORY. I'M THE FIRST WOMAN TO LEAD MY STATE AND HE IS THE FIRST MAN TO SURRENDER HIS PRESIDENCY TO A WOKE MOB THAT CAN'T EVEN TELL YOU WHAT A WOMAN IS. IN THE RADICAL LEFT
AMERICA, WASHINGTON TAXES YOU AND YOU GET CRASHED WITH HIGH GAS PRICES, EMPTY GROCERY SHELVES, AND OUR CHILDREN ARE TAUGHT TO HATE ONE ANOTHER ON ACCOUNT OF THEIR RACE, BUT NOT TO LOVE ONE ANOTHER OR OUR GREAT COUNTRY. WHETHER JOE BIDEN BELIEVES THIS MADNESS OR IS SIMPLY TOO WEAK TO RESIST IT, HIS ADMINISTRATION HAS BEEN COMPLETELY HIJACKED BY THE RADICAL LEFT. THE DIVIDING LINE IN AMERICA IS NO LONGER BETWEEN RIGHT OR LEFT. THE CHOICE IS BETWEEN NORMAL OR CRAZY. IT'S TIME FOR A NEW GENERATION OF REPUBLICAN LEADERSHIP. UPON TAKING OFFICE A FEW WEEKS AGO, I SIGNED EXECUTIVE ORDERS TO BAN CRT, RACISM, AND INDOCTRINATION IN OUR SCHOOLS. ELIMINATE THE
USE OF DEROGATORY TERM LATINX IN OUR GOVERNMENT, REPEALED COVID ORDERS AND SAID NEVER AGAIN TO AUTHORITARIAN MANDATES IN SHUTDOWNS. AMERICANS WANT COMMON SENSE FROM THEIR LEADERS. BUT IN WASHINGTON, THE BIDEN ADMINISTRATION IS DOUBLING DOWN ON CRAZY. PRESIDENT BIDEN INHERITED THE FASTEST ECONOMIC RECOVERY ON RECORD. THE MOST SECURE BORDER
IN HISTORY, CHEAP ABUNDANT HOMEGROWN ENERGY. FAST RISING WAGES. A REBUILT MILITARY, AND A WORLD THAT WAS STABLE AND AT PEACE. BUT OVER THE LAST TWO YEARS, DEMOCRATS DESTROYED IT ALL. DESPITE DEMOCRATS TRILLIONS IN RECKLESS SPENDING AND MOUNTAINS OF DEBT, WE NOW HAVE THE WORST BORDER CRISIS IN AMERICAN HISTORY. AS A MOM,
MY HEART BREAKS FOR EVERY PARENT WHO HAS LOST A SON OR DAUGHTER TO ADDICTION. HUNDREDS OF THOUSANDS OF AMERICANS EVERY YEAR ARE NOW KILLED FROM DRUG OVERDOSES. LARGELY FROM FENTANYL POURING ACROSS OUR SOUTHERN BORDER. YET, THE BIDEN ADMINISTRATION REFUSES TO SECURE THE BORDER AND SAVE AMERICAN LIVES. AND AFTER YEARS OF TAXES ON LAW ENFORCEMENT AND CALLS TO DEFUND THE POLICE, VIOLENT CRIMINALS RUN FREE WHILE LAW-ABIDING FAMILIES LIVE IN FEAR. BEYOND OUR BORDER FROM AFGHANISTAN TO UKRAINE, FROM NORTH KOREA TO IRAN, PRESIDENT BIDEN'S WEAKNESS PUTS OUR NATION AND THE WORLD AT RISK. AND THE PRESIDENT'S REFUSAL TO STAND
UP TO CHINA, OUR MOST FORMIDABLE ADVERSARY, IS DANGEROUS AND UNACCEPTABLE. PRESIDENT BIDEN IS UNWILLING TO DEFEND OUR BORDER , DEFEND OUR SKIES, AND DEFEND OUR PEOPLE. HE IS SIMPLY UNFIT TO SERVE AS COMMANDER-IN-CHIEF. AND WHILE
YOU REAP THE CONSEQUENCES OF THEIR FAILURES, THE BIDEN ADMINISTRATION SEEMS MORE INTERESTED IN WOKE FANTASIES IN THE HARD REALITY AMERICANS FACE EVERY YEAR. MOST AMERICANS SIMPLY WANT TO LIVE THEIR LIVES IN FREEDOM AND PEACE, BUT WE ARE UNDER ATTACK IN A LEFT-WING CULTURAL WAR WE DIDN'T START AND NEVER WANTED TO FIND. EVERY DAY WE ARE TOLD WE MUST PARTAKE IN THEIR RITUALS, SALUTE THEIR FLAGS AND WORSHIP THEIR FALSE IDOLS, ALL WHILE BIG GOVERNMENT COLLUDE'S WITH BIG TECH TO STRIP AWAY THE MOST AMERICA
2023-02-09 15:49
Show Video
Other news