[Official Event] Samsung Networks: Redefined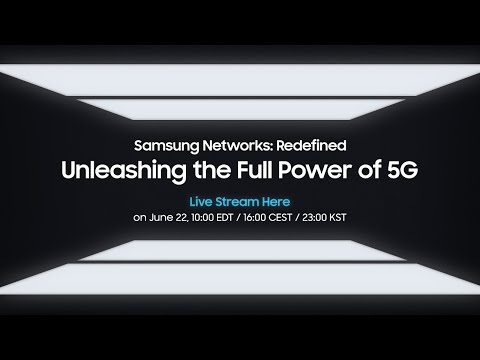 Show Video
Hello, everyone. Welcome to Samsung Networks: Re-defined. We have a great event ahead of us and it's my pleasure to share our new products, technologies, and preparations for the future. More than ever, we are realizing just how important it is to stay connected, even when we are apart. For 40 years at Samsung, we have dedicated ourselves to innovate such connections. We started our 5G research in 2009 even before 4G was fully deployed, and successfully led the world's first commercialization of 5G.
Since then, 5G has been spreading rapidly. As of today, 162 operators in 68 countries worldwide are providing 5G commercial services. And almost 300 million people are connected through 5G. Riding on this rapid 5G growth, Samsung Networks' business is also expanding like never before. We are leading the 5G evolution as a close partner with major operators around the globe.
Today, we've already signed more 5G contracts than we did for 4G. And, we've shipped over 4 million 5G-ready radios to leading operators across the world. What's behind this growth? We believe it's our focus on technology – especially, our competitive edge in chips and software. Our 5G modem is an excellent example.
We've been building our own modem chips for over twenty years. Continuing that tradition we've been supplying 5G products with our own in-house SoCs, since 2019. The number of first generation 5G SoCs shipped has now passed the 200,000 mark.
And our next-generation product with the all-new 5G modem is coming out next year. And what about software? Samsung Networks is also heavily focused on virtualization. We're the only major vendor to have commercialized a wide-scale, virtualized RAN with a Tier-1 operator in the U.S., meeting their standards of operation, performance, functionality, and reliability.
Besides our vRAN, our virtualized Core is already widely deployed, and carries over 15% of the entire global mobile traffic — truly an incredible number. We're also working with industries to deliver new values through private networks. Today, 5G is that catalyst.
Samsung is leading this revolution, working closely with diverse partners to provide connectivity to factories, cities, and schools around the world. Our ultimate mission is to unleash the full power of 5G— empowering a society where everything and everyone stays, well, "connected." Now, let's take a closer look at how we plan to achieve this, and hope to redefine networks. "Virtualization." You've probably heard this word thrown around with 5G, but what is it? Simply put, virtualization is the replacement of dedicated hardware with software.
As more and more network elements become virtualized, operators can start using generic servers and software to deploy, enhance, and operate their networks easily. While many industry players simply talk about virtualized networks, we deliver. In India, we operate the world's largest single virtualized Core network with the capacity to support hundreds of millions of users.
Our fully virtualized 5G RAN serves a vast number of customers in the U.S., and, supports advanced, new technologies such as DSS and Massive MIMO Radios. Stay tuned as we prepare to bring virtualized networks to more operators across the globe. Now, can you tell us a little bit more about our virtualized solutions, Junehee? Of course, Woojune! Samsung offers a fully virtualized RAN and Core that adopts a container-based, cloud-native architecture. And, as an added bonus, our management solution takes meticulous care of this virtualized network.
Samsung's vRAN has got you covered from low-band to mid-band, and from FDD to TDD. It supports single band, dual band, and even Massive MIMO Radios. We are the first company in the industry to offer interoperability between vRAN and Massive MIMO Radios— an impressive technological feat. Samsung's vRAN also supports indoor solutions and we're continuously developing plans to increase capacity. We're also preparing to support legacy technologies through a common server. And, as a key contributor to the O-RAN Alliance, Samsung is taking the initiative towards open innovation to increase flexibility in operators' network configurations.
You can rest assured that we'll continue to strengthen our vRAN leadership with our competitive edge. Samsung successfully commercialized our first virtualized Core back in 2015. Our 4G vCore has a separated control and user plane, which helped the smooth migration to 5G.
This led to the world's first commercial 5G Non-standalone vCore from Samsung in 2019. And now, we're preparing to launch our 5G Standalone Core. Its data-processing capacities reached 305 gigabits per second per server last year, the industry's fastest at the time. And we plan to break more records this year. We're confident that our 5G SA Core is ready to fully meet the massive data traffic of the 5G era.
Now, let's shift gears and explore how we manage this virtualized system. Enter Samsung Cloud Orchestration, otherwise known as SCO. It coordinates an entirely automated process of network deployment, operation, monitoring and optimization for a virtualized network.
Through SCO, functions can be added flexibly as containers on a microservice-level. And operators can upgrade their networks or migrate to next-gen technologies more easily with near-zero down-time. Our Network Slice Manager, is a great example of what SCO can do. It's an integral part of the SCO platform and provides a 3GPP-compliant, microservice-based solution.
It supports simple lifecycle management and diverse dashboards to help manage complicated slice resources. We're currently working to commercialize our Network Slice Manager and we can't wait to share it with you. At the end of the day, we understand that operators continuously strive to improve the service quality for their users. And that's why Samsung Analytics uses AI technology for intelligent readings of both the network and user experience. With AI, our analytics solution predicts and prevents faults before they actually occur. It also analyzes the network status and performance as experienced by the user to help deliver the best connections possible.
And that's not all. We strategically created new partnerships with various companies, including servers, cloud platforms, solution providers, and IT companies to offer our customers a variety of options to best suit their needs. Samsung Networks is devoting thousands of hours and resources to R&D and our partnership ecosystem. And, we're so excited to take our customers' networks to the next level! Virtualization is only part of our story of innovation. Even as the move to software becomes a distinct feature of next-generation networks, radios on top of towers still require specialized hardware, that depend on semiconductor chips.
This is more important as we move to a 5G world where complex technologies such as Massive MIMO have to be put into smaller and greener boxes. By leveraging Samsung's traditional strength in chip design and manufacturing, we continue to build 5G radios that can support wider bandwidths, and new frequencies and features. Now, let's see what makes all of this possible. Wonil? Sure, Woojune.
Let's first explore our mmWave solutions. Samsung has been leading the industry, especially through our research, standardization, and commercial rollouts with highly competitive products such as our Compact Macro. This is a revolutionary solution that puts us far ahead of the competition. It brings the Baseband, Radio, and Antenna all together into a single compact box, making it the industry's first integrated Radio for the mmWave spectrum.
With its compact size and ease of installation, the product can be used as a capacity booster for dense, urban areas that often lack space or highly congested places such as stadiums, factories, or transportation hubs. And it's faster than ever. This year, we reached speeds of 5.23 gigabits per second by combining LTE and 5G traffic.
And we have more to look forward to. We're now getting ready for the next, third generation Compact Macro, which incorporates our next generation in-house modem SoC, DFE ASIC and mmWave RFIC. It will be the world's first dual-band mmWave solution that supports an ultra-wide, 2,400 MHz bandwidth and EIRP of more than 69 dBm. As more mid-band spectrums are allocated to 5G globally, the importance of high performance but cost-effective Massive MIMO products becomes quite clear.
Our Massive MIMO Radios support globally defined mid-band 5G spectrums, such as the C-band and the CBRS in the U.S., and 3.5 GHz in Asia, Europe, and others. And these products will be powered by Samsung's in-house beamforming SoC and digital/analog front-end ICs. Together with innovations in filter design and heat dissipation, Samsung will provide industry leading, high-capacity, high-performance next generation Massive MIMO Radios. In particular, they will support a wide 400 MHz bandwidth and a high transmit power of 320 watts.
And the weight and volume will be reduced by more than 30%, while power consumption will be lowered by more than 20%. We're also launching a variety of solutions including One Antenna Radio and Active Antenna Radio that reduce footprint at cell sites. Now, let's talk about the Baseband! Samsung's competitive Baseband Unit is powered by our in-house 5G modem SoC. And, we apply the latest processing technologies to these chips faster than anyone else. Our second-generation 5G modem SoC will soon be available to further improve the performance of our next-generation Baseband Unit and widen the gap between us and the rest.
This upcoming product will have twice the capacity and reduce the power consumption per cell by about half. To provide unlimited connectivity experiences, Samsung Link provides 5G coverage with a full line-up of indoor solutions. It covers all 5G spectrums and capacity needs from small spaces to large venues.
No two needs are the same and each unique customer sets a different challenge for us. And that's why we're always looking to diversify our product portfolio and improve performance. Armed with new products and technologies, we want to be the partner that our customers can depend on for a powerful and reliable network. Today, always staying connected is important not only for consumers but also enterprises and governments. Unlike previous technologies for private networks, 5G provides extremely high-speed connections, reliability, and security. Combined with the mobility and wide coverage that 5G provides, enterprises and governments can fly surveillance drones, automate manufacturing, collect and analyze big data and enable autonomous driving.
And we're not talking about the future. We're talking about the here and now. Today, we'll take you to Suwon, Korea where we have our own Smart Factory and show you how private networks create endless possibilities. Sean? Sure, Woojune. Our smart factory is where our 5G network equipment is manufactured with everyday innovations.
At this factory, tasks such as big-data collection, automated product assembly, and failure prediction all improve productivity and work efficiency. Such activities require reliable connectivity in real time for a myriad of devices— and it's made possible through Samsung's private 5G network solutions. We're also providing our solutions for government public safety networks. They consist of both network equipment and our Mission Critical Push-to-All, or MCPTX applications as well as devices.
This application delivers voice, text, image, and video in-real time and users can communicate easily with each other simultaneously. Our solution is 3GPP compliant and also supports interoperability with previous LMR technology, so governments don't need to replace legacy solutions. Isn't that great? In Korea, the government and operators built the world's first, nationwide public safety, or PS-LTE network for immediate response to disasters. Samsung led such efforts by providing a true end-to-end offering, from network equipment to applications and devices.
With our solutions, governments and agencies can deploy a very reliable safety net for emergencies. Samsung is ready to provide industry-grade, end-to-end private network solutions, delivering everything from RAN, Core, management and automation systems, and turnkey services to devices and applications. We understand that every business is unique, and our catalogue of offerings can be used to pick solutions that match these very needs. In addition, our virtualized solutions enable efficient, simple and fast network deployment and operations.
Starting from the Baseband, we can provide a 100% software-based virtualized solution. Our Compact Core is also a fully virtualized, all-in-one-box solution that packs the entire network functions into a single server. It can be easily deployed thanks to remote installation, configuration, and upgrade capabilities. Another way we provide our Compact Core is over a public cloud.
With Samsung Networks, industries across all verticals can gain better efficiency and greater reliability for better, faster, and more secure day-to-day operations. We've just covered what 5G has to offer. As you can see, it's an incredible new world. But remember what we said earlier? Samsung started 5G before 4G was even deployed. Well, here we go again.
Today, we're already preparing for 6G. And here's Sunghyun to tell you more about it. Samsung Research is where we believe our future begins. It's where we secure state-of-the-art innovations and maximize the synergy of technological convergence. We are constantly seeking and exploring new areas of AI, robotics, visual technology, and security to prepare for the future.
A very important area of our research is next-gen communications. We led in 5G advanced research back in 2009 and now, we're at it again with 6G. 6G is going to open up a whole new world of opportunities. Combined with diverse emerging technologies, it will completely shift the paradigm of immersive experiences and services. XR, a new term that combines VR, AR, and mixed reality, will push the boundaries of entertainment, medicine, science, education, and manufacturing industries.
And with the unprecedented advances in high-resolution rendering, wearable displays, and wireless networking, high-fidelity holograms will be available at your fingertips whenever you need them. Digital replicas, which leverage advanced sensor, AI, and communications technologies will take us to a virtual world where we can surpass physical limitations like never before. We're so excited to make 6G a reality. In fact, we have already demonstrated terahertz communications, — a testament to our 6G progress.
We'll carry out our vision to bring the next hyper-connected experience to every corner of our lives in the following decade. Now that we've gotten a glimpse of what's to come, let's send it back to Paul. Thank you, Sunghyun, for walking us through 6G's possibilities.
There's a proverb: "Where there is no vision, the people perish." We believe that our vision for the future, combined with our relentless urge to push forward, has brought us to where we are now. And that will help us redefine networks in the future. As we dive headfirst into the wireless revolution, we promise to offer you the most advanced and reliable solutions. I've never been more confident about the future of our networks business, than I am today.
So, stay tuned as we pave the way for a new world of experiences.
2021-06-24 05:26
Show Video
Other news