'Bloomberg Technology' Full Show (11/18/2022)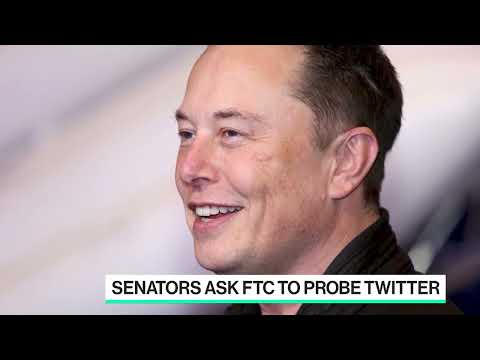 Show Video
♪ CAROLINE: I AM CAROLINE HYDE. ED: IM ED LUDLOW. THIS IS BLOOMBERG TECHNOLOGY. CAROLINE: WE ARE AWAITING SENTENCING AND THE ELIZABETH HOLMES CASE.
PUNISHMENT FOR HER ROLE IN THE COLLAPSE OF THERANOS. ONE OF THE BIGGEST SCANDALS IN SILICON VALLEY HISTORY. ED: TWITTER'S WORKFORCE SHRINKS. MORE EMPLOYEES RESIGNING THAN
ANTICIPATED. CAROLINE: WILL FTX EVER RECOUP THEIR LOSSES. WE HAVE THE CEO OF DO NOT PAY, A COMPANY BACKED BY FTX. BUT FIRST, MARKETS.
IF YOU ARE LOOKING AT THE NASDAQ, WE ARE COMPLETELY FLAT ON THE DAY. OVERALL IT WAS SLIGHTLY BETTER MOOD MUSIC FOR THE EQUITY MARKETS. WE ARE EXPECTING A FLOOD OF VOLATILITY THAT DID NOT COME.
PUSHING HIGHER BY .5% ON THE S&P 500. THE VOLATILITY WAS IN THE BONDS MARKETS. THIS IS MORE ABOUT A FOCUS ON THE FED AND HAWKISH TONES COMING FROM THE FEDERAL RESERVE. FLIP IT ON AGAIN. OVER THE COURSE OF THE WEEK, WITH ALL THE TECH LAYOFFS AND WORRYING EARNINGS SIGNS. THE NASDAQ WAS ONLY OFF BY 1.5%. IN LARGE PART, WE THANKED CHINESE NAMES. ED: AN INTERESTING WEEK. THE FRIDAY BEFORE THANKSGIVING
HAS GOT TO PLAY A ROLE. EARNINGS ARE STILL A BIG STORY OUT THERE. CISCO, WE SPOKE TO THE CFO THURSDAY, CONTINUING TO PUSH HIGHER. ANALYSTS RAISING PRICE TARGETS AS IT REMAINS RESILIENT DESPITE ACKNOWLEDGING SLOWDOWN IN CUSTOMER BASE APPLIED MATERIALS PROVING RESILIENT. AS THE DEMAND FOR OPS. APPLIED MATERIALS HAS A BROADER OFFERING ON SHIPS. GRINDR GOING PUBLIC VIA SPANKED.
WE ARE GOING TO GET INTO THAT. IT IS AMAZING TO SEE THAT NUMBER. AS WELL AS A BROADER DISCUSSION AROUND GRINDERS POT -- TESLA DOWN 1.6%. TO MAKE ONE POINT, TESLA IS NOW
DOWN MORE THAN 20% SINCE ELON MUSK CLOSED HIS DEAL TO BUY TWITTER ON OCTOBER 28. THERE IS CONCERN IN THE MARKET. WHETHER IT IS ELON MUSK BEING DISTRACTED, OR SOMETHING MORE. IT IS AN INTERESTING THREE WEEK CHART. CAROLINE:
LET'S TALK ABOUT WHERE ELON HAS BEEN DISTRACTED. THERE HAVE BEEN SO MANY UPDATES. AN EMAIL HE SENT APPARENTLY TO ALL EMPLOYEES JUST BEFORE 9:00 LOCAL TIME, URGING EMPLOYEES AND ENGINEERS TO FLY TO SAN FRANCISCO TO BE THERE IN PERSON FOR A MEETING AT THEIR HEADQUARTERS THAT VERY AFTERNOON. LET'S BREAK THIS ALL DOWN. BRAD STONE, BLOOMBERG GLOBAL TECHNOLOGY COVERAGE.
AN EXTRAORDINARY STORY. WHAT DO YOU MAKE OF THAT EMAIL ALONE? >> I WOULD SAY I WAS SURPRISED, BUT NOTHING THESE PAST FEW WEEKS HAVE SURPRISED ME. THE THING THAT JUMPS OUT IS THE REMARKABLE INCONSISTENCY. WASN'T IT JUST YESTERDAY THAT
HE CLOSED DOWN TWITTER HEADQUARTERS UNTIL THE MONDAY AFTER THANKSGIVING? AND LET GO ANOTHER ROUND OF EMPLOYEES VIA HIS ULTIMATUM TO WORKERS. IT SHOULD NOT BE SURPRISING. HE SEEMS TO BE OPERATING BY THE SEAT OF HIS PANTS. CLOSING TWITTER OFFICERS -- OFFICES, THEN ASKING EMPLOYEES TO COME SAVE THE CODEBASE, QUITE A TURNABOUT. CAROLINE: WE ARE WORRIED, USERS ABOUT THE STABILITY OF THE PLATFORM. IT HAS THE ATTENTION OF REGULATORS AND LAWMAKERS IN THE U.S. >> I WOULD SAY IN THE EU, FIRST AND FOREMOST. TWITTER IS ON A
COLLISION COURSE WITH EUROPEAN REGULATORS. THERE IS THIS THING CALLED THE DIGITAL SERVICES ACT WHICH IS GOING INTO EFFECT AT THE BEGINNING OF 2023. THEY HAVE BEEN TALKING ABOUT IT FOR YEARS. VERY LARGE TECH PLATFORMS HAVE TO REPORT THEIR NUMBERS AND IF THEY QUALIFY AS LARGE, THEY ARE GOING TO BASICALLY HAVE TO MAKE ASSURANCES AROUND CONTENT MODERATION AND ALGORITHMIC TRANSPARENCY. THIS IS AT A POINT WHERE NONE OF THE WORKERS RESPONSIBLE FOR THOSE AREAS ARE LEFT.
THEY HAVE ALL LEFT THE COMPANY. YOU HEAR EUROPEAN REGULATORS SAY THEY MAKE -- THEY MIGHT MAKE TWITTER A TEST CASE. ED: HELLO. YOU WROTE A COLUMN THE OTHER DAY THAT ELON MUSK IS TRYING TO PULL OFF A STEVE JOBS SIZED TURNAROUND AT TWITTER.
BASED ON ALL THE REPORTING WE HAVE DONE, HOW IS THAT TURNAROUND GOING? >> I DREW THE COMPARISON TO JOBS RETURNING TO APPLE IN THE MID-1990'S. THERE ARE CERTAIN SIMILARITIES. JOBS STREAMLINED THE COMPANY BACK THEN TO A DEGREE. YOU REMEMBER APPLE EMPLOYEES WALKING INTO AN ELEVATOR AND NOT BEING ABLE TO DESCRIBE TO THEIR BOSS WHAT THEY DID AND GETTING FIRED. ELON HAS BEEN MUCH MORE DESTRUCTIVE THAN JOBS WAS. JOBS WAS RETURNING TO A COMPANY
HE KNEW WELL. HE WAS A COFOUNDER OF APPLE. ELON WAS A POWER USER THAT DOESN'T UNDERSTAND THE CULTURE, INFRASTRUCTURE AND PRODUCT QUITE AS WELL. I HAVE ALWAYS SAID TWITTER IS THE COMPANY THAT CANNOT KILL ITSELF, IT IS JUST TOO ADDICTIVE. SO, I AM NOT ONE OF THOSE WHO THINKS TWITTER IS GOING AWAY. THE LAST THREE WEEKS, HE HAS TAKEN IT IN THE WRONG DIRECTION.
ED: CAROLINE AND I TOOK PART IN A COUPLE OF TWITTER SPACES. ONE THAT WE HOSTED, THEN KURT WAGNER'S SOCIAL POWER HOUR. IF ANY -- IF ANYTHING, YOU SEE PEOPLE ON THE PLATFORM BUT EVERYONE STILL HAS A BLUE TAKE. MUCH OF THE NEW CYCLE IS ABOUT CONTENT MODERATION, AND AUTHENTICITY AND BOTS. WHAT IS YOUR READ ON THAT SIDE OF THE PLATFORM? >> IT IS INTERESTING BECAUSE WE HAVE THIS LETTER FROM CORY BOOKER URGING THE FTC TO TAKE A LOOK AT TWITTER.
IT'S CONDUCT WITH ROLLING OUT THE TWITTER BLUE VERIFY, WHICH THEN ELON RESCINDED AND HAS TALKED ABOUT SUSPENDING FOR A COUPLE MORE WEEKS. AND HOW MUCH CHAOS THAT UNLEASHED WHERE YOU HAD IN PERSON TATERS OF PRESIDENT BIDEN -- IMPERSONATORS OF PRESIDENT BIDEN, OTHER WORLD LEADERS AND ELI LILLY. PROMINENT FIGURES BEING SPOOFED ON THE PLATFORM. SOME OF THIS WAS PREDICTABLE. PROBABLY AND -- EMINENTLY SO. BUT ELON HAS GOTTEN AS FAR AS HE HAS GOTTEN BY NOT LISTENING TO PEOPLE. FOR A LOT OF HIS CAREER, IT HAS
WORKED OUT WELL. I THINK THERE IS GOING TO BE A LOT OF BLOWBACK FROM REGULATORS AS HE TRIES TO STREAM THIS OUT. CAROLINE: WE UNDERSTAND MAY BE SPANISH AND GERMAN GOVERNMENTS, MAYBE THEY SHOULD KEEP THEIR TWITTER HANDLES AT ALL. WHAT ABOUT THE GLOBAL NATURE OF THE OWNERS OF THIS BUSINESS? THERE ARE QUESTIONS ABOUT SOME SORT OF INVESTIGATION AS TO WHETHER QATAR AND SAUDI ARABIA AND MONEY SHOULD BE OWNING THIS BUSINESS.
>> THERE WAS ANOTHER LETTER BY SENATOR MARK WARNER OF VIRGINIA HE IS THE CHAIR OF THE SENATE INTELLIGENCE COMMITTEE. RAISING CONCERNS ABOUT THOSE INVESTORS, BUT ALSO THE RELIANCE OF ELON MUSK'S OTHER BUSINESSES ON OTHER COUNTRIES. CHINA, FOR EXAMPLE AND THIS -- IT RAISES CONCERNS PARTICULARLY WHEN THOSE COUNTRIES ARE ALSO REGULATING TWITTER. THEY HAVE INTERESTS IN STYMIEING FREE SPEECH. ELON HAS PUT HIMSELF IN A DIFFICULT SITUATION AND I DO EXPECT OTHER COUNTRIES TO LOOK AT THAT AND INTERPRET IT DIFFERENTLY. ED: WHAT ARE WE TRYING TO FIND OUT NEXT? WHAT BIG QUESTION HANGS OVER TWITTER? >> RIGHT NOW, IT IS A CULTURE ISSUE.
IT IS WHO IS LEFT, WHO IS GOING TO REBUILD THIS THING AND KEEP IT OPERATING? IS TWITTER GOING TO BE THERE WHEN WE CHECK IT IN THE MORNING? THE SECOND QUESTION, AS THESE BIG DEBT PAYMENTS COME DUE AT THE BEGINNING OF 2023, WHAT DOES THE BUSINESS LOOK LIKE? YOU HAVE HAD SO MANY ADVERTISERS LEAVE THE PLATFORM. TWITTER BLUE, IF IT SHOWS RESULTS, THEY ARE NOT GOING TO BE IMMEDIATE. CAN YOU REBUILD THIS AS A BUSINESS? CAN HE TURN IT AROUND AND GROW IT AGAIN? THOSE OF THE QUESTIONS WE WILL LOOK AT NEXT YEAR. CAROLINE: WE WANT TO PIVOT A LITTLE BIT. THE JUDGE IN THE ELIZABETH HOLMES TRIAL AT THE MOMENT IS GIVING A LENGTHY EXPLANATION AHEAD OF SENTENCING. WE HAD HEADLINES SAYING THERE
IS NO QUESTION ELIZABETH HOLMES IS BRIGHT. THE JUDGE POINTING TO MANY MISREPRESENTATIONS. EVERYONE IS WAITING FOR WHAT THE LENGTH OF TIME COULD BE. WHAT IS TOP OF MIND FOR YOU? >> THAT IS MAYBE A PERSONAL QUESTION.
I AM CURIOUS WHAT THE VERDICT IS. I WOULD BE INTERESTED IN SEEING MAYBE A LITTLE BIT OF EQUITY REFLECTED IN THE DECISION. WHAT I MEAN BY THAT IS ELIZABETH HOLMES SEEMED UNIQUE BACK WHEN THIS STORY WAS BREAKING A COUPLE OF YEARS AGO. SINCE THEN WE HAVE HAD ADAM NEUMANN, SAMUEL BANKMAN-FRIED, THE SIZE AND SCALE OF FRAUD IS ALMOST JUST AS JAW-DROPPING. I KNOW THERE ARE DIFFERENT SITUATIONS AND THE HEALTH OF PATIENTS WAS AT PLAY IN THERANOS. ADAM NEUMANN STARTING A NEW BUSINESS AND SPF IS A FREE MAN IN THE BAHAMAS. I AM CURIOUS TO SEE HOW THE
LEGAL PROCESS PLAYS OUT WITH THIS VERY PROMINENT FEMALE FOUNDER, VIS-A-VIS EXPLICIT EXAMPLES OF FRAUD. ED: THIS IS PROBABLY A DIFFICULT QUESTION, BUT WHAT IS THE HEALTH OF THE FOUNDER BROADLY RIGHT NOW IN SILICON VALLEY? YOU HAVE WRITTEN JEFF BEZOS HAS TAKEN A STEP BACK. ELIZABETH HOLMES IS A DIFFERENT EXAMPLE. JACK DORSEY IS NOWHERE TO BE SEEN.
THERE DO NOT SEEM TO BE AS MANY SUPERSTAR FOUNDERS OUT THERE IN THE WORLD YOU AND I OPERATE IN. >> I WOULD SAY THE MYSTIQUE OF THE FOUNDER HAS CRACKED FOR SURE. BUT, I THINK IT IS SO STRONG AND FOUNDATIONAL TO THE SILICON VALLEY MYTH THAT WE WOULD BE MAKING A MISTAKE IF WE SAID THE NEXT ICONOCLASTIC GENIUS FOUNDER WHO COMES ALONG ISN'T GOING TO HAVE AS MUCH SUCCESS WITH SANDHILL ROAD AND VENTER CAPITAL. WE HAVE ALL OF THESE EXAMPLES, BUT YOU PLAY THEM AGAINST EXAMPLES OF EVERYTHING BEZOS CREATED IN THE MYSTIQUE IS THERE. IT MIGHT BE CRACKED BUT I DO NOT THINK THE FOUNDER -VISIONARY-GENIUS ARCHETYPE IS GOING ANYWHERE. I THINK IT IS FOUNDATIONAL.
CAROLINE: DO YOU THINK WITH POTENTIALLY A STRONG SIGNAL BEING SENT TO FUTURE FOUNDERS BY THIS SENTENCING AND WHAT IS OCCURRING WITH SPF, THE FOCUS OF MANY OF THE MORE EXPERIENCED MONEY MANAGERS THAT SHOULD HAVE BEEN -- BREAKING NEWS, ELIZABETH HOLMES HAS BEEN SENTENCED TO 135 MONTHS. NOWHERE NEAR THE TOP END. BACK TO YOU QUICKLY, YOU ARE WHAT ON -- 135 MONTHS IS POTENTIALLY ON THE LOWER END, BUT WORSE THAN WHAT SHE HERSELF HAD FEARED AS MANY HAD ASKED FOR HER TO BE SERVING IT AT HOME. ED: SLIGHTLY MORE THAN 11 YEARS. ELIZABETH HOLMES SENTENCED TO 135 MONTHS IN PRISON FOR FRAUD. JUST OVER 11 YEARS. THE GUIDED RANGE GIVEN BY THE
JUDGE BASED ON THE CHARGES SHE WAS FOUND GUILTY OF BASED ON THE GUIDANCE FROM PROSECUTORS WAS 11-14 YEARS. THIS IS AT THE LOWER END OF THE STATED RANGE. PROSECUTORS HAD ASKED FOR 15 YEARS. THE DEFENSE TEAM HAD ASKED FOR 18 MONTHS, OR HOME IMPRISONMENT.
BEING CONFINED TO HOME. INSTEAD OF BEING IN PRISON. THIS IS OFFICIAL. ELIZABETH HOLMES SENTENCED TO 135 MONTHS FOR FRAUD RELATING TO THERANOS, WHICH IS JUST A LITTLE MORE THAN 11 YEARS. CAROLINE: BRAD, BACK TO YOU. WHAT SORT OF SIGNAL DOES THAT SEND? IT SOUNDS HORRENDOUS TO ME.
>> 11 YEARS FOR A NOW DISGRACED FORMER WITH ONE KID AND ANOTHER ON AWAY. IT IS A TRAGEDY. HOPEFULLY IT DOES SEND A SIGNAL TO OTHER CEOS AND VENTURE CAPITAL, BUT WE ARE COMING UP THIS MAJOR SCANDAL IN THE CRYPTO WORLD. THE LESSONS ARE THERE FOR THE INVESTORS WHO BACKED SBF AND FTX AND THEY WERE IGNORED. I WOULD LOVE TO SAY SILICON VALLEY HAS LEARNED ITS LESSON BUT THE HISTORY OF FINANCIAL SCANDAL IN THIS COUNTRY IS THAT THERE ARE ALWAYS NEW MISTAKES TO BE MADE DESPITE THE HEFTY SENTENCE LEVELED. ED: BRAD STONE, THANK YOU. WE WILL BE BACK WITH MORE DETAILS FROM THE ELIZABETH HOLMES SENTENCING. WE WILL ALSO SPEAK WITH THE RIDER CEO GEORGE HARRISON. THIS IS BLOOMBERG.
CAROLINE: THIS SENTENCING HAS BEEN READ FOR ELIZABETH HOLMES. SENTENCED TO 135 MONTHS FOR FRAUD. THAT EQUATES TO A LITTLE MORE THAN 11 YEARS IN PRISON. WE UNDERSTAND THE JUDGE WON'T
IMPOSE A FINE, POSTPONED RESTITUTION ORDER AND IS GETTING THREE YEARS SUPERVISED RELEASED AFTER PRISON. ALL OF THIS WITH THE EXPECTATION THAT IT IS LIKELY TO BE APPEALED. FOR NOW, SENTENCED TO MORE THAN 11 YEARS PRISON FOR FRAUD. NOTING THIS IS ON THE LOWER END
OF THE MAXIMUM AMOUNT. WE UNDERSTAND ELIZABETH IS HUGGING HER PARENTS IN COURT. MORE TO THAT IN A MOMENT, BUT MORE BREAKING NEWS. FRIDAY WAS A VERY BIG DAY FOR GRINDR. THE DATING APP SAW ITS SHARES SURGE. ED: I HAVE SEEN A FEW SPAC LISTINGS, BUT THIS IS IMPRESSIVE. UP MORE THAN 210% ON THE FIRST DAY OF TRADING FROM THURSDAY'S CLOSE OF THE PRE-SPAC TRADING.
TWO CHARTS TO LOOK AT TO GIVE CONTEXT YEAR. LOOK AT THE D SPAC INDEX, A BASKET OF 25 COMPANIES THAT HAVE GONE BEFORE GRINDER. LOOK AT THE TWO YEAR PERFORMANCE. TWO YEARS AGO, THERE WAS EUPHORIA AROUND COMPANIES GOING PUBLIC VIA SPAC. LOOK AT HOW THOSE COMPANIES HAVE FARED. NOT WELL. THE NUMBER OF SPECIAL PURCHASE ACQUISITION COMPANIES THAT ARE ACTUALLY IPO, THE VEHICLES THEMSELVES THAT SEEK TO GO PUBLIC THEN MERGE WITH A COMPANY, TAKING IT PUBLIC BY THE PROCESS HAS COMPLETELY DRIED UP. WHY IS GRINDER DIFFERENT?
CAROLINE: WE WILL ASK GEORGE ARISON. EXTRAORDINARY DAY OF CELEBRATION FOR YOU WHERE WE SAW THE -- LISTING AND PERFORMANCES. A REAL CELEBRATION FOR WHAT HAS BEEN A MOMENTOUS YEAR FOR LGBTQ PEOPLE. I AM INTERESTED IN YOUR PERSPECTIVE ON HOW THIS MAKES YOU DIFFERENT FROM A PRIVATE COMPANY.
>> PUBLIC COMPANIES HAVE TO HAVE GOOD CONTROLS. WHICH WE ARE EXCITED TO HAVE. WE GET TO REPORT NUMBERS REGULARLY ENDED WILL BE AWESOME TO TELL THE STORY OF HOW WHAT WE DO FOR THE COMMUNITY WE SERVE. GRINDR IS NOT JUST A BUSINESS, IT IS A MISSION. THIRDLY, GRINDR IS GOING TO HAVE A BOARD OF NINE PEOPLE GOVERNING THE COMPANY. SIX OF WHICH ARE LGBTQ+
COMMUNITY MEMBERS. THAT HAS NEVER HAPPENED IN THE HISTORY OF PUBLIC COMPANIES. THAT MAKES ME SO PROUD THAT IS THE COMPANY WE ARE GOING TO BE. ED: THE OVERWHELMING NUMBER OF INVESTORS VOTED IN FAVOR OF THE REVERSE MERGER. NOT SURE HOW SURPRISING THAT IS. WHAT IS IT YOU THINK WAS SO CONVINCING? IS IT ACTUALLY GRINDR AND THE OPPORTUNITY FOR THE BUSINESS, THE ADDRESSABLE MARKET, OR ARE YOU JUST ANOTHER SPAC? >> GRINDER IS A UNIQUE COMFORT -- UNIQUE COMPANY BUT -- WE ARE ALSO PROFITABLE. OUR NUMBERS ARE EXTREMELY
STRONG AND VERY POSITIVE. WE EXPECT THAT TO CONTINUE IN YEARS TO COME BECAUSE OUR OPPORTUNITY FOR GROWTH IS SO STRONG AHEAD OF US. THAT MAKES US UNIQUE. YOU SHOWED THE SPAC INDEX, YOU COULD PUT UP A SIMILAR INDEX FOR -- COMPANIES. I THINK IN GENERAL, THE TECH WORLD HAS HAD A LOT OF COMPANIES NOT DO WELL BECAUSE THEY ARE LOSING MONEY. RIDER IS VERY DIFFERENT BECAUSE
IT IS MAKING MONEY. WE ARE VERY EARLY IN OUR JOURNEY. WE ONLY STARTED TO CHARGE FOR SERVICES IN THE LAST THREE TO FOUR YEARS.
THERE IS STILL A LOT OF MODERNIZATION WE CAN ACHIEVE BY HAVING PEOPLE PAY FOR A SERVICE THEY REALLY WANT. BUILDING PRODUCTS FOR THEM, THEN MONETIZING THOSE. THAT PUTS US IN A POSITION TO GROW REVENUE NICELY WHILE DOING IT IN A POSITIVE AND ECONOMIC WAY. IT IS A PRETTY AMAZING THING TO SAY WE HAVE NEARLY 200 MILLION IN REVENUE AS A GUIDANCE POINT FOR THIS YEAR AND WE ARE DOING THAT WITH 200 PEOPLE WORKING AT GRINDER. THAT IS A PRETTY AWESOME STORY. CAROLINE: TALK TO US. YOU SPEAK ELOQUENTLY ABOUT YOUR STAKEHOLDERS WHO COME TO WORK FOR YOU WENT TO THE PEOPLE YOU SERVE THROUGH THE APP.
NOW YOU HAVE SHAREHOLDERS. THE VOLATILITY IS THERE BECAUSE THERE IS A SMALL FLOAT. I AM INTERESTED TO WHETHER YOU WANT TO BUILD THAT. DO YOU WANT TO HAVE MORE LIQUIDITY SO WE DON'T GET THESE HUGE SUDDEN SURGES? >> WE WANT TO HAVE A FLOW THAT IS MUCH BIGGER AND SPEND TIME WITH INVESTORS. WE HAVE DONE SOME OF THAT ALREADY AND HAVE BEEN OUT THERE TALKING WITH LARGE INVESTORS THAT INVEST WITH COMPANIES LIKE US. I AM FORTUNATE TO HAVE DONE
THIS ONCE BEFORE. THAT IS SOMETHING I ENJOY. WE HAVE A STRONG CFO. WE WILL BE TELLING OUR STORY AND HOPEFULLY INVESTORS WILL WANT TO HOLD STOCK FOR A LONG TIME AND WILL BECOME SHAREHOLDERS. ED: REALLY INTERESTING ABOUT THE CONCEPT OF THE APP AND HOW YOU MAKE MONEY IN OTHER WAYS. IF YOU LOOK AT BUMBLE AND HOW THEY MOVED AWAY FROM JUST SIMPLY DATING, WHAT OPPORTUNITIES ARE FOR YOU TO BRANCH OUT? >> THE MAJORITY OF WHAT WE DO DAY-TO-DAY IS AROUND DATING AND RELATIONSHIPS. PEOPLE COME TO GRINDR TO HAVE
EITHER CASUAL, LONG-TERM OR FRIENDSHIPS. WE ALSO KNOW PEOPLE USE GRINDR AND A LOT OF OTHER WAYS. TRAVEL IS A LOGICAL EXAMPLE. I COULD BE ON GRINDR TRAVELING FROM SAN FRANCISCO TO NEW YORK. TALKING TO PEOPLE ABOUT WHERE I
SHOULD STAY ON WHAT I SHOULD DO, WHAT RESTAURANTS I SHOULD GO TO, WHAT ACTIVITIES HAPPENING. WE DO NOT MONETIZE THAT. WE KNOW PEOPLE USE IT THAT WAY. IT IS VERY ORGANIC, BUT WE DO NOT MONETIZE THAT SET OF FEATURES. IMAGINE A WORLD WHERE INSIDE GRINDR, WE GIVE YOU A MAP OF THE PLACE YOU ARE GOING AND SAY, HERE ARE FIVE HOTELS OUR USERS REALLY LIKE.
AND THEN THAT CAN BE MONETIZED. THAT IS JUST ONE OF MANY PRODUCT EXTENSIONS WE ARE ENVISIONING. THESE ARE ALL MORE LONG-TERM BECAUSE THERE IS STILL SO MUCH LONG HANGING FRUIT. WE SEE A TON OF OPPORTUNITY TO GROW AND BE A BRAND FOR THE ENTIRE COMMUNITY. WE HAVE THIS 85% BRAND RECOGNITION AROUND OUR COMMUNITY MEMBERS, WHICH IS INCREDIBLE AND PRICELESS. WE NEED TO TAKE ADVANTAGE OF THAT AND REALLY SERVE THEM IN MANY OTHER AREAS BESIDES JUST THE CORE DATING FEATURES. ED:
THANK YOU. COMING UP, MORE ON ELIZABETH HOLMES. THIS IS BLOOMBERG. ED: ELIZABETH HOLMES SENTENCED TO MORE THAN 11 YEARS IN PRISON FOR FRAUD. SHE WILL NOT FACE A FINE BUT HAVE THREE YEARS SUPERVISION AFTER THAT PERIOD. THIS IS BLOOMBERG.
CAROLINE: WELCOME BACK. ED LUDLOW IN SAN FRANCISCO. WE HAVE GOT TO TALK ABOUT TWITTER. IT HAS CLOSED ITS OFFICES UNTIL MONDAY AFTER ELON GAVE HIS STAFF AN ULTIMATUM TO EITHER COMMIT TO WORKING LONG HOURS OR LEAVE. SOURCES SAY MANY MORE WORKERS DECIDED TO LEAVE. POTENTIALLY PUTTING OPERATIONS
AT RISK. A MEMO SEEN BY BLOOMBERG ALSO URGES STAFF TO RESTRAIN FROM SHARING CONFIDENTIAL INFORMATION. MANDEEP SINGH IS WITH US. FOLLOWING EVERY NOOK AND CRANNY. ULTIMATELY, HOW WORRIED ARE YOU
ABOUT THE PRODUCT? HOW WORRIED ARE YOU ABOUT THE PLATFORM AND ITS ABILITY TO CONTINUE BEING RICH WHEN THERE IS REALLY NO ONE WORKING THERE? >> YOU MAKE A GOOD POINT. TO KEEP A SERVICE LIKE TWITTER UP, THERE IS A LOT THAT GOES ON BEHIND THE SCENES. TWITTER IS NOT EVEN DEPLOYED ON A PUBLIC CLOUD THAT AMAZON OR MICROSOFT. TWITTER IS STILL A LOT OF SERVICES DEPLOYED ON ITS OWN PRIVATE DATA CENTERS. YOU NEED THOSE TYPES OF RESOURCES. WITH THESE LAYOFFS, HE HAS ALREADY FIRED 17% TO 75% OF HIS STAFF.
MAYBE HE HAS A GOOD SENSE OF CRITICAL STAFF, BUT WE DO NOT AND HE IS TOO FOCUSED ON COST. I THINK A COMBINATION OF WHAT HE WANTS TO DO IN TERMS OF BLUE CHECKS, AND THEN JUST GET THE COST UNDER CONTROL, IT IS PROVING TOO SCARY AND RISKY. ED: I LOVE THAT. THE DATA-DRIVEN MANDEEP SINGH SAYING MOSQUE IS TOO FOCUSED ON COST. LOVE IT. WHO OR WHAT IS TWITTER'S COMPETITOR? >> THAT IS THE SAVING GRACE THEY HAVE.
THERE ISN'T A TWITTER LIKE SERVICE OUT THERE. GOOGLE PROBABLY WISHED THEY HAD SOMETHING SIMILAR. OR EVEN META-. SOME MAY ARGUE THE CREATORS GO
TO INSTAGRAM. IT IS JUST NOT THE SAME. TWITTER IS THE SERVICE FOR LIVE EVENTS. WE HAVE THE WORLD CUP COMING UP AND PEOPLE WILL STILL ENGAGE WITH TWITTER. THE REAL RISK IS THAT SERVICE
MAY GO DOWN BECAUSE THERE IS NO ONE DOING BASIC MAINTENANCE IN TERMS OF TAKING CARE OF UNDERLYING INFRASTRUCTURE. I JUST FEEL LIKE THAT IN THIS CASE, ANYTHING COULD HAPPEN. WE HAVE SEEN TO WHAT A LACK OF GOVERNANCE CAN DO TO A COMPANY LIKE FTX. THERE IS NO GOVERNANCE. THERE IS NO ONE LOOKING AT COMPLIANCE. CAROLINE: THIS IS NOW A PRIVATE COMPANY, THERE IS A LOT OF KEY PEOPLE WHO HAVE PUT A LOT OF MONEY TO WORK ALONGSIDE ELON MUSK AND A LOT OF BANKS HOLDING THAT. HOW CONCERNED DO YOU THINK
THESE PEOPLE ARE RIGHT NOW? WHAT ARE THE FUNDAMENTALS LOOKING LIKE? >> WHAT MUSK HAS TOLD US WAS THAT TWITTER WAS LOSING 4 MILLION FOLLOWERS A DAY. BASICALLY $1.5 BILLION IN REVENUE. IF YOU THINK ABOUT WHAT HE IS TRYING TO OFFSET, THE LAYOFFS, IT IS REALLY TO MAKE TWITTER BREAKEVEN IN TERMS OF FUNDAMENTALS. THAT SHOULD PLEASE DEBT HOLDERS BUT AT THE SAME TIME ALSO SHOWS THAT TWITTER IS LOSING REVENUE.
IN MY MIND, THE FACT THAT THEY ARE FOCUSING THAT MUCH ON COST IS A SIGN THAT THEY ARE ALREADY LOSING REVENUE. I WOULDN'T BE SURPRISED IF THERE REVENUE IS DOWN 20% SINCE MUSK TOOK OVER. ED: MANDEEP SINGH, THANK YOU VERY MUCH. FOR MORE ON WHAT IS NEXT, LET'S BRING IN LIZ PERLE, FORMER HEAD OF THE TEEN COMMUNITY AT INSTAGRAM AND CONSULTS WITH BIG TECH COMPANIES. I WANT TO ASK YOU A SIMILAR
THING TO WHAT I ASKED MANDY IT IS TWITTER SIT WITHIN THE ECOSYSTEM OF SOCIAL MEDIA PLATFORMS? WHAT IS IT THAT TWITTER DOES? WHO DOES IT APPEAL TO? >> I AM SOMEONE WHO SPECIALIZES IN HOW YOUNG PEOPLE USE TECHNOLOGY. SPECIFICALLY HOW THEIR BEHAVIOR TODAY INFLUENCES AND SHAPES WHAT TECHNOLOGY IS GOING TO LOOK LIKE. WHEN I HEAR ELON SHARING HIS VISION IN PIECES AND PART OF THAT IS FOCUSING ON MONETIZATION AND PUTTING A PAY WALL AROUND TWITTER. IT MAKES MY BRAIN THINK IT IS THE KISS OF DEATH FOR SPIRIT BUT IT IS NOT A TEAM PLATFORM. ADULTS WILL ALWAYS GET ON THE PLATFORMS THAT TEENS CONGREGATE TO. TEENS WILL RARELY, IF EVER, GO TO THE PLATFORMS ADULTS ARE ON. THEY HAVE A PROBLEM AS IT IS,
EVEN IF IT IS CULTURALLY RELEVANT AS A PLATFORM IN THE WAY THERE ARE NO COMPETITORS. TEENS ARE GETTING INFORMATION FROM TWITTER IN WAYS THEY MAY NOT EVEN REALIZE. CULTURAL RELEVANCE IS IMPORTANT. THE USER BASE IS IN TROUBLE. ED: WHAT I HAVE LEARNED IN RECENT WEEKS WITH THIS STORY MUSK IS TALKING ABOUT, IS THE ROLE OF THE CONTENT CREATOR. CAROLINE KNOWS ALL ABOUT THIS. THAT PLATFORM IS ABOUT THE PEOPLE WHO USE IT.
IS TWITTER ABOUT THE CREATORS? IS IT ABOUT THE PEOPLE WHO USE THE PLATFORM? >> OR DISPENSING INFORMATION IN REAL-TIME ABOUT NEWS? IS THAT THE ALTERNATIVE? ED: YES. >> IT IS AND CAN BE A CONTENT CREATION PLATFORM. SOMETHING I AM SEEING HAPPEN, BUT I'M HONESTLY EXCITED ABOUT, IS ALL OF THESE BIG COMPANIES THAT ARE FRAMED AS COMPETITORS TO EACH OTHER. TWITTER AND FACEBOOK, SNAP CHECK -- SNAPCHAT. WE ARE FINDING LEE -- FINALLY SEEING THIS MELTING OF THEM, LOOKING AT THE MALL LIKE THEY ARE ALL FOR EVERYBODY DOING EVERYTHING. ALL OF THE TIME.
FINALLY WE ARE REALIZING, AND WE ARE SEEING THIS MOVE TO APPS LIKE DISCORD, NOT EVERY PLATFORM CAN BE FOR EVERYBODY AT EVERY TIME. WE ARE SEEING THESE BIG BETS NOT PLAYING OUT IN IT WOULD BE NICE TO SEE A FUTURE WHERE THE PLATFORMS THAT SURVIVE ARE THE ONES THAT ACTUALLY DEFINE THEIR AUDIENCE AND FOCUS ON THEM CLEARLY. TWITTER HAS A LEG UP IN THAT SENSE BECAUSE IT IS ONE OF THE PLATFORMS WHERE IT IS EXTREMELY CLEAR WHO USES TWITTER. WE ARE TALKING ABOUT YOUNG PEOPLE, ACTIVISTS. VERY SPECIFIC COMMUNITIES THAT ACTUALLY MAKE TWITTER CULTURALLY RELEVANT. CAROLINE: IF YOU WERE ADVISING NOW ELON MUSK ON HOW TO MAKE IT MORE FOR CONTENT CREATORS, HOW TO LEAN IN TO MAKING UNIQUE STORYTELLING -- I AM LOOKING AT MY OWN TWITTER FEED AND THE AMOUNT OF PEOPLE GIVING ME THEIR INSTAGRAM LINKS AND THEY ARE WORRIED ABOUT HAVING THESE CONVERSATIONS IN CASE THE PLATFORM DOES NOT SURVIVE. IF IT DOES AND WE MANAGED TO
SEE IT INNOVATE, DO YOU WANT TO SEE A RETURN TO PERISCOPE? WHAT DO YOU WANT TO DO AS A PERSON WHO ADVISES COMPANIES ON PROVIDING CONTENT? >> EVERY -- THE FUTURE IS MULTI FORMAT. WE SOMETIMES TREAT SOCIAL MEDIA LIKE IT IS STILL 2013 WHERE EACH PLATFORM HAS ONE THING THEY ARE GOOD AT. AND THAT YOU ARE SUPPOSED TO DO A SEPARATE THING ON EACH PLATFORM BUT THE REALITY IS EVERYONE IS DOING EVERYTHING. ESPECIALLY IF THEY ARE A CONTENT CREATOR. THAT IS A LOT ANNOYED TO THINK TWITTER IS BEHIND IN TERMS OF THE TYPES OF FORMATS YOU CAN USE. IF YOU WANT TO EXPRESS YOURSELF, YOU ARE PART OF ONE OF THEIR COMMUNITIES.
BUT THERE VIDEO SUCKS. IT IS INSANE. BEING MULTI FORMAT IN A REAL WAY AND CATCHING UP TO EVERYONE IN THAT SENSE AND FOCUSING IN ON THE ACTUAL COMMUNITIES THAT UTILIZE THEIR PRODUCT THAT ARE ALREADY FOUNDATIONAL COMMUNITIES WOULD BE MY SUGGESTION. CAROLINE: UNDERSCORE INTO FOLLOW-UP IN TERMS OF YOUR MODERATION FOCUS. OF COURSE WE ARE HEARING FROM EUROPE THAT THEY ARE WORRIED ABOUT MODERATION. THEY'VE GOT A DIFFERENT TYPE OF CONSIDERATION IN TERMS OF ACTUAL REAL RULES AND REAL POLICY AND REAL FINES IF YOU DO NOT LIVE UP TO THE CONTENT MODERATION THEY WANT TO SEE.
HOW MUCH IS THAT SOMETHING YOU WANT TO BE THINKING ABOUT WHEN ADVISING THESE COMPANIES? HOW MUCH RETICENCE IS THERE FOR COMPANIES ALIGNING THEMSELVES WITH SOCIAL MEDIA PLATFORMS THAT DO NOT SEEM TO CARE ABOUT IT ENOUGH? >> FIRST OF ALL, TWITTER'S FORMER HEAD SAFETY WROTE ABOUT CONTENT MODERATION. IT IS A MUST READ TODAY. IT TALKS A LOT ABOUT HOW OUTSIDE FORCES REALLY DO INFLUENCE AND ENFORCE MODERATION ON ANY PLATFORM. DIFFERENT COUNTRIES HAVE DIFFERENT CHILD SAFETY LAWS, FOR EXAMPLE. IT IS SOMETHING YOU HAVE TO KEEP IN MIND. WHEN I SEE NEWS LIKE THE
HUNDREDS OR THOUSANDS OF CONTRACTORS MOVING OFF BIG SOCIAL MEDIA COMPANIES, I WILL ALWAYS ASSUME IT IS CONTENT MODERATION. RIGHT NOW, EVERY COMPANY OUTSOURCES THAT. I THINK THESE ARE VITALLY IMPORTANT JOBS AND I CAN'T HELP BUT WONDER HOW MUCH SAFER AND CLEANER FOR ADVERTISERS THESE PLATFORMS WOULD BE IF THEY WERE ABLE TO KEEP THESE TEAMS IN-HOUSE AS THEY SCALE. AND ALSO BE ABLE TO TREAT THEM REGIONALLY AND GLOBALLY. THAT IS SOMETHING I THINK ABOUT A LOT. IT IS TOO BAD THAT RIGHT NOW THEY ARE TREATED A LITTLE BIT LIKE THEY ARE EXPENDABLE. ED: A LOT MORE TO LEARN.
FORMER HEAD OF THE TEEN COMMUNITY ON INSTAGRAM, THANK YOU. CAN FTX INVESTORS GET THEIR MONEY BACK? WE CHAT WITH THE CEO OF DO NOT PAY WHO IS TRYING TO DO THAT. THIS IS BLOOMBERG. ♪ ED: NEEL KASHKARI SLAMMING THE CONCEPT OF CRYPTOCURRENCIES. HE SAYS THE WHOLE IDEA IS "NONSENSE."
AFTER THE IMPLOSION OF FTX REVEALED SHORTCOMINGS. MANY OFFICIALS -- HIS COMMENT REPRESENTS ONE OF THE MOST FORCEFUL DENUNCIATIONS BY A FED POLICYMAKER. FOR MORE ON CRYPTO FALLOUT, LET'S BRING IN DONOTPAY'S JOSHUA BROWDER. INVEST -- AS WELL AS AUTOMATE LEGAL ISSUES. FTX IS ONE OF YOUR BACKERS, RIGHT? LET'S PUT THAT ON THE TABLE. YOU ARE WORKING ON IN GETTING INVESTOR'S MONEY BACK. WALK US THROUGH IT.
>> THEY INVESTED IN US ABOUT A YEAR AGO. FROM A PRACTICAL STANDPOINT, IT WAS A VERY SMALL INVESTMENT. CULTURALLY, IT GOES AGAINST EVERYTHING WE BELIEVE IN.
WE ARE WORKING HARD TO HELP PEOPLE GET MONEY BACK FROM FTX. THE MOST IMPORTANT THING TO KNOW IS THAT THERE IS A REGULATION. IF YOU HAVE DEPOSITED MONEY IN FTX THROUGH ACH DIRECT DEPOSIT, YOU CAN GET IT BACK IF YOU HAVE DEPOSITED WITHIN THE LAST 60 DAYS. THERE IS NO DISCRETION THE BANKS OR ANYONE HAS. YOU CAN TELL YOUR BANK THEY THAT -- THAT YOU WANT TO REVERSE THE DEPOSIT, THEN THEY WILL APPEAR AND THEN FTX IS ON THE HOOK. WE HAVE BEEN AUTOMATING THE
SORTS OF REFUNDS. ONE OTHER TYPE YOU CAN DO IS IF YOU LOADED UP YOUR BALANCE WITH A CREDIT OR DEBIT CARD, YOU CAN DISPUTE THE PAYMENT. IT IS THE LEAST WE CAN DO GIVEN HE WAS A SMALL INVESTOR IN OUR COMPANY. CAROLINE: TALK TO US ABOUT THAT EXPERIENCE. ABOUT GETTING FUNDING. DID ANYTHING MAKE YOU THINK IT WAS ON THIS? >> MANY THINGS. THERE WAS A BAIT AND SWITCH.
I HAD A FRIEND INTRODUCE US WHO SAID FTX VENTURES WOULD LOVE TO INVEST IN YOUR ROUND. IT TURNED OUT THAT WHEN THE DOCUMENTS WERE BEING CIRCULATED, THEY CHANGED THE NAME OF THE ENTITY TO ALAMEDA RESEARCH AND I DIDN'T EVEN KNOW WHAT THAT WAS. I THOUGHT IT WAS VERY SHADY THAT IT WASN'T REALLY FTX INVESTING WHEN IT WAS PRESENTED TO US THAT THEY WOULD. ON TOP OF THAT, I TOLD THEM I THINK CRYPTO IS A SCAM. OUR COMPANY HELPS PEOPLE FIGHT
OTHER COMPANIES LIKE CELSIUS. AND THEY SAID NO PROBLEM, WE WOULD STILL LOVE TO INVEST. ED: JOSH. YOU TOLD FTX THAT CRYPTO IS A SCAM, BUT STILL TOOK MONEY FROM THEM? >> YEAH. I THOUGHT THEY COULD GIVE US EXPERTISE ON GOING AFTER OTHER CRYPTO EXCHANGE'S. THE LAST TIME WE SPOKE WE WERE GOING AFTER CELSIUS AND THEY WERE HELPFUL. NO ONE COULD IMAGINE THAT EIGHT
MONTHS LATER THEY WOULD BE DOING ALL OF THIS STUFF. I THOUGHT FTX WAS ONE OF THE GOOD ONES AND I WAS WRONG. CAROLINE: THAT IS EXTRAORDINARY. TO THAT END, ARE YOU GETTING INVOLVED IN SOME SORT OF CLASS ACTION? ARE YOU LOOKING AT LEGAL ACTION YOURSELF? IS THIS MORE A FOCUS ON HOW YOUR BUSINESS CAN HELP OTHERS? >> WE ARE TRYING TO HELP OTHERS. THERE ARE AMAZING LAWYERS WORKING ON THE CONSUMER SIDE. THERE'S A FUND CALLED ENTWISTLE THAT WAS BIG IN THE MADOFF GLOBAL CLASS-ACTION.
WE ARE SENDING PEOPLE THEIR WAY. WE ARE WORKING IN SMALL CLAIMS COURT. ONE AREA THAT HAS NOT BEEN EXPLORED ENOUGH WAS GOING AFTER YOUTUBERS.
THERE ARE A LOT OF PEOPLE IN FTX ORBIT WHO ARE PUSHING CONSUMERS TO SIGN UP, SAYING THIS THING IS TOTALLY SAFE. REGULATORS AND COURTS NEED TO LOOK INTO THE PERSONAL-FINANCE YOUTUBERS WHO ORDINARY PEOPLE TRUSTED WITH THEIR LIFE SAVINGS. ED: I WANT TO ASK YOU ABOUT YOUR USERS AND CUSTOMERS. I APPRECIATE THERE MAY BE AN ELEMENT OF CONFIDENTIALITY AND PRIVACY. CAN YOU GIVE US ANY SENSE OF
HOW MUCH MONEY PEOPLE ARE TRYING TO CLAIM BACK? WHAT ARE THE LOSSES THAT PEOPLE IN THE REAL WORLD HAVE SUFFERED? >> ON A GRAND SCALE, IT IS PUBLICLY REPORTED TO BE OVER $10 BILLION. ON OUR END, WE HAVE MILLIONS BEING PROCESSED AND REFUNDED THROUGH THE BANKS. IF YOU HAVE LOST MONEY IN FTX, IF YOU HAVE DIRECT DEPOSITED IN THE LAST 60 DAYS, YOU SHOULD PHONE YOUR BANK AND SAY UNDER SECTION E OF THE REGULATIONS, I WANT A REFUND.
YOUR BANK CAN'T SAY NO. THEY DO NOT WANT TO TELL YOU ABOUT THIS, BUT YOU SHOULD GO THAT ROUTE IF IT IS AN OPTION. CAROLINE: WHAT DID YOU LEARN FROM FTX ABOUT THEIR ABILITY TO CLAWBACK MONEY TOOK CLAWBACK FROM CELSIUS? MANY OF WHICH WERE ACTING AS A WHITE KNIGHT. IS IT EASY AND TRANSPARENT TO DO SUCH? >> IT IS NOT. THIS SYSTEM IS BUILT ON SO MUCH TRUST THAT CONSUMERS AND REGULATORS COULD NEVER HAVE IMAGINED. IF THAT ALL OF THE MONEY WOULD NEVER BE THERE.
THESE CASES, WHEN A COMPANY DECLARES BANKRUPTCY, EVERYTHING GETS FROZEN. BUT THERE ARE OTHER THINGS YOU CAN DO SUCH AS THESE WORKAROUNDS WITH REVERSING FUNDS, CONTACTING CREDIT CARD COMPANIES, TAKING THIRD PARTIES TO SMALL CLAIMS COURT WHO ARE NOT BEING PROPERLY HELD RESPONSIBLE. ED: IF YOU RAISE MONEY AGAIN FROM AN OUTSIDE INVESTOR, WHAT LESSONS HAVE YOU LEARNED? >> OUR NAME AND OUR BRAND IS EXTREMELY IMPORTANT AND WE SHOULD BE VERY CAREFUL TO MAKE SURE THAT ANYONE, EVEN IF THEY ARE PUTTING IN A SMALL TRACK AND THEY HAVE NO INFLUENCE, WE SHOULD MAKE SURE THAT EVERYTHING IS SQUEAKY CLEAN.
I THOUGHT THAT WAS THE CASE FOR FTX. THERE WERE INVESTORS IN ALL OF SILICON VALLEY. BUT IN REALITY, ALL OF THESE COMPANIES HAD SHAKY FOUNDATIONS. CAROLINE: WHEN LOOKING AT THE OTHER BACKERS YOU HAD, THE -- YOU HAVE TAKEN MONEY FROM STANDOUT SILICON VALLEY PLAYERS. WE REALLY THANK YOU FOR YOUR CLARITY AND FOR BEING TRUE TO YOURSELF. WE APPRECIATE IT. STAY WELL.
COMING UP, MORE CULTURE CLASH AT THE WORLD CUP IN QATAR. [INDISCERNIBLE] THIS IS BLOOMBERG. ♪ >> IN PUBLIC PLACES, BOTH WOMEN AND MEN ARE OBLIGED TO COVER EVERYTHING FROM THEIR SHOULDERS TO THEIR KNEES. IT IS PARTICULARLY STRICT WITH WOMEN BUT ENFORCEMENT IS NOT UNIFORM. HOWEVER, PEOPLE ARE KICKED OUT
OF PLACES IF THEY DO NOT COMPLY. >> THERE ARE TWO MAIN PLACES WHERE THIS RULE DOES NOT APPLY. ONE, THE PEARL. A LARGE DEVELOPMENT ON ARTIFICIAL ISLANDS THAT STRETCH INTO THE PERSIAN GULF. IT IS HOME TO LOTS OF WHITE-COLLAR RESIDENTS FROM OTHER COUNTRIES.
AND ALSO LUXURY HOTELS. IN BOTH PLACES, YOU WILL SEE MANY AND TANK TOPS. BIKINIS AT THE POOL. >> IT IS NOT CLEAR HOW STRICTLY THESE RULES WILL BE ENFORCED WHEN MORE THAN ONE MILLION FANS TO SEND BEFORE THE WORLD CUP. BUT THIS IS THE WAY PEOPLE DRESS IN QATAR. ♪ CAROLINE: MEANWHILE, DID YOU SEE THAT? THIS IS ALL OVER SOCIAL MEDIA, THEY ARE SET BANNED THE SALE OF ALCOHOL WITHIN THE STADIUMS. A
DRAMATIC REVERSAL FROM AN EARLIER DECISION THAT ANHEUSER-BUSCH WOULD BE SELLING BUDWEISER THERE. BLOOMBERG IS LEARNING IT MIGHT END UP MOVING CONCESSION STANDS FURTHER FROM THE STADIUMS. THOSE WHO HAVE SHELLED OUT THOUSANDS ARE APPARENTLY UNAFFECTED? ED: THE WORLD CUP BEING HELD IN QATAR HAS BEEN CONTROVERSIAL.
ACROSS INSTAGRAM AND TWITTER, YOU'VE GOT TO LEAN IN ON THE POSITIVE. SOCCER BRINGS THE WORLD TOGETHER. BEER IS A KEY PART OF FOOTBALL CULTURE IN EUROPE. HOW AMAZING IS IT THAT THE WHOLE WORLD IS TALKING ABOUT FOOT WALL? CAROLINE: GOOD FOR YOU. WHAT DOES ECUADOR VERSES -- AND WHEN ARE WE UP? WHO ARE YOU SUPPORTING? >> I AM A PROUD WELSHMAN. DANDELION. I CAN'T RATE. I HOPE, HONESTLY, THAT THEY BE
ENGLAND THE DAY AFTER THANKSGIVING. CAROLINE: THERE IS THE SONG. WHO IS THAT? NICKI MINAJ? ED: THE OFFICIAL ANTHEM? YEAH. CAROLINE: IT'S QUITE -- SHE IS GOING TO HAVE TO BE AT SOME LUXURY HOTELS. ED: NOT AS GOOD AS SHAKIRA.
CAROLINE: FOOTBALL WE HOPE IS COMING HOME TO WHOEVER AND SUPPORT US NEXT WEEK. WE'VE GOT CRACKERS. THIS IS BLOOMBERG.
2022-11-19 16:54
Show Video
Other news