'Bloomberg Technology' Full Show (05/05/2023)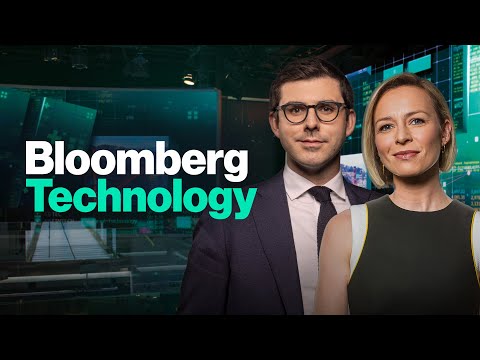 Show Video
CAROLINE: I'M CAROLINE HYDE. ED: I'M ED LUDLOW. CAROLINE: COMING UP WE HAVE. WE DIGEST APPLE. WE ALSO GOT DOORDASH, ANALYSIS. ED: FOLLOWING ANOTHER STRONG PAYROLLS REPORT REIT'S DISCUSS THE STATE OF THE JOB MARKET -- WE DISCUSSED THE STATE OF THE JOBS MARKET. CAROLINE: WE BREAK DOWN RESULTS FROM WARNER BROS. AS A REPORT SURPRISE PROFIT IN STREAMING.
HOW WILL THE WRITERS STRIKE IMPACT RESULTS GOING FORWARD? ALL OF THAT AS WE ANALYZE THE BROADER CONTEXT OF THE MARKET TODAY. WHEN YOU LOOK AT TECH STOCKS EVEN WITH A STRONG JOBS REPORT AND WHAT IT MEANS IN THE FEDERAL RESERVE STILL PROBABLY TRYING TO TAME INFLATION WHERE LOOKING AT 1.8% RISE ON THE NASDAQ. WHERE SEEING A BOUNCE BACK IN SENTIMENT. KBW UP.
THIS IS ALL ABOUT A BOUNCE BACK IN REGIONAL BANKS. MAYBE PEOPLE FIND THE DIP TODAY. THE VIX PULLING DOWN ALMOST THREE POINTS. WE DECIDED WERE GOING TO GO
LONG INTO THE WEEKEND. IT LOOKS AS IF RISK SENTIMENT IS RALLYING IN CRYPTO. A LITTLE BIT OF A PUSH BACK. IN THE MICRO, IS THERE RISK ON SENTIMENT THEY? IS IT EARNINGS? ED: THERE'S A LOT OF DRIPPING BOND EARNINGS.
LIPS TOUCHING A RECORD LOW ON THAT STOCK. THE OUTLOOK FOR REVENUE IS NOT DRIVING WITH INVESTORS. PARAMOUNT 24 HOURS AGO HAD A LOSS. WARNER BROS. THE DISCOVERY OUT WITH A SURPRISE PROFIT OF STREAMING UNIT EVEN THOUGH LEGACY BUSINESS DOING ADVERTISERS FLY. THEN AGAIN YOU TALK ABOUT THE BANKS, PACK LESS OF THE MOST ON RECORD, 84%. I AM NOT SEEING MUCH RATIONALE ON THE BLOOMBERG OR IN THE REPORTING.
IT MAY BE BUYING THE DIP SITUATION. WILL DIG INTO THAT LATER IN THE PROGRAM. THERE IS ONE CLEAR NAME MOVING TO THE UPSIDE AND THAT IS APPLE. LOOK AT THE GAME ON APPLE SHARES. STRENGTH IS THE IPHONE AND SERVICES. GROWTH IN BOTH UNITS ALTHOUGH LOW GROWTH, 1.5% FOR THE IPHONE.
5.5% FOR THE SERVICES. BEFORE .8% GAIN THE BIGGEST -- THE 4.8% OF THE BIGGEST GAIN SINCE NOVEMBER. WE HAVE BEEN TALKING ABOUT FINTECH.
CAROLINE: LET'S GET MORE ON ALL OF THIS. SCOTT KESSLER. LET'S GO BACK TO BASICS WITH THAT IT THE BROADER PICTURE. WERE TALKING ABOUT NUANCES OF AI BUT REALLY IT IS ABOUT IPHONE WITH DEMAND INTERNATIONALLY. SCOTT:
IF YOU THINK ABOUT THE QUARTER THEY REPORTED, MORE THAN HALF OF REVENUE CAME FROM MY PHONE. IPHONE OUTPERFORMANCE BUT AS YOU ALLUDED TO IT SEEMS THAT MAJOR OTHER PRODUCT AREAS, WE DIG ABOUT HARDWARE, MAC AND IPAD AND WEARABLES, THOSE ALSO I DECLINES -- THOSE ALL SAW DECLINES. IPHONE WAS THE STANDOUT IN TOTAL REVENUE BUT ALSO IN THE BEAT. THAT HELPED CARRY APPLE OVER
THE FINISH LINE. ED: I THINK THERE IS A REAL INTEREST HERE ON INDIA AND EMERGING MARKETS. HOW MUCH CONFIDENCE DOES THAT GIVE YOU THAT APPLE HAS POCKETS FOR MAJOR GROWTH GOING FORWARD? SCOTT: I THINK GROWTH HAS TO BE ON THE MIND OF APPLE INVESTORS TODAY. PEOPLE ARE HAPPY THE STOCK IS UP FOR YOU THE COMPANY REPORTED RESULTS THAT WERE LARGELY BETTER THAN EXPECTATIONS. BUT MORE INTERMEDIATE-TERM PEOPLE HAVE TO WONDER ABOUT WHETHER OR NOT THIS IS A DOUBLE-DIGIT GROWER IN REVENUES. IN THE FORESEEABLE FUTURE OR AT ANY POINT IN THE FUTURE. EMERGING MARKETS BOND TO BE A
BIG PART OF THAT BUT WHEN YOU THINK ABOUT INDIA AND THAT IS SOMETHING THEY HAVE BEEN TALKING ABOUT. I THINK THEY TALK MORE ABOUT INDIA THAN THEY DID AI BECAUSE THAT SEEMS TO BE MORE OF A NEAR-TERM OPPORTUNITY FOR THE COMPANY. THAT BEING SAID, I THINK PEOPLE UNDERSTAND GETTING THAT PREMIUM PRICING IS GOING TO BE DIFFICULT IN INDIA. THE STRATEGY AND THE SPECIFICS ARE VERY KEY THERE. WE WILL SEE HOW THEY GO ABOUT APPROACHING OUR MARKET. THERE IS NO ISSUE WHEN IT COMES
TO THINGS LIKE THE NUMBER OF POTENTIAL CUSTOMERS AND THE POSSIBLE VOLUMES GOING FORWARD BUT HOW THAT PLAYS INTO WHAT APPLE IS ABLE TO DO GIVEN THE PRICE IS A BIG QUESTION GOING FORWARD. ED: HOW MUCH OF THE RALLYING SHARES IS DRIVEN BY THE COMMENTS ON AI? SCOTT: I HAVE TO BE HONEST. I DO NOT KNOW IF PEOPLE ARE MAKING A LOT OF THOSE. I DID A SEARCH OF THE TRANSCRIPT FOR AI THERE WERE A HANDFUL OF REFERENCES. I THINK THERE ARE MORE
REFERENCES TO MUMBAI THAN AI AND I THINK THAT GOES TO WHAT I WAS SAYING BEFORE. I THINK TALKING ABOUT THE FACT THAT IT IS SOMETHING THEY ARE THINKING ABOUT, IT IS SOMETHING THEY ARE LOOKING AT. THEY DO NOT SPEAK TO THEIR PRODUCT ROADMAPS. THAT IS THEIR WAY OF SAYING WE HAVE NOT QUITE FIGURE IT OUT TO THE POINT WHERE WE WANT TO TALK ABOUT THIS. BUT WE SPEAK EXPERT DAY IN AND DAY OUT AND THEY TELL US THIS IS AN AREA WHERE APPLE IS BEHIND. IF YOU THINK ABOUT THE HEADLINES WE HAVE SEEN, MICROSOFT AND FROM ALPHABET AND OTHERS LIKE META, THOSE COMPANIES ARE ALL WILL HEAD OF APPLE WHEN IT COMES TO AI. ED:
WE WERE RATING FOR THE NUMBERS IN SERVICES TO BEAT. SERVICE CAN BELOW EXPECTATION BUT LED GROWTH. CAROLINE: THAT WAS THE TALKING POINT THROUGHOUT THE QUARTER, THE FACT THAT THEY ARE LAUNCHING THE SAVINGS CARD, OFFERING A HIGH YIELD ON SAVINGS. HOW MUCH IS FINTECH OR THE
ADDICTION TO THE SERVICES SIDE AND KEEP US WITHIN APPLE'S ECOSYSTEM A SELLING POINT FOR YOU AT THE MOMENT? SCOTT: I THINK IT IS PRETTY IMPORTANT. I THINK A LOT OF PEOPLE ARE WONDERING ABOUT OUR -- R AND D AND GROWTH. THEY SHOULD BE THINKING ABOUT THOSE THINGS. APPLE HAS BEEN TALKING MORE ABOUT PAYMENT SERVICES AND FINANCIAL SERVICES AND WE HAVE HEARD THAT NOT ONLY DOES THAT HAVE A MASSIVE TOTAL ADDRESSABLE MARKET THAT APPLE CAN PURSUE BUT APPLE HAS PRODUCTS AND SERVICES THAT CAN TAKE SHARE THEIR THEY HAVE BEEN ACTIVE NOT JUST OVER THE LAST COUPLE OF YEARS BUT THE LAST COUPLE OF QUARTERS IN TERMS OF SEIZING UPON THE OPPORTUNITY. ED: SCOTT KESSLER, THIRD BRIDGE ON ALL THINGS APPLE. WE TURNED TO DOORDASH BEATING ESTIMATES DRIVEN BY STRONG DEMAND FOR DELIVERIES. JOINING US NOW CFRA SENIOR
ANALYST ANGELO ZINO. HELLO. THIS IS AN INTERESTING COMPANY. WHAT DOES THIS TELL YOU ABOUT THE CONSUMER RIGHT NOW AND WHERE THEY ARE SPENDING MONEY? I FIND DOORDASH A GOOD BAROMETER OF WHAT IS GOING ON ON THE GROUND. ANGELO: WE LOOK AT THE NUMBERS FROM ALL THIS WEEK I SAY FOR THE MOST PART IT IS BEEN RESILIENT IN NATURE. LOOK AT DOORDASH NUMBERS AND THEY WERE THE TOP LINE VERY WELL .
WE LOOK AT WHERE THE ORDERS OF, UP 29%, A THOUGHT OF THAT BEING DRIVEN BY THEIR ENDEAVORS INTO EUROPE WITH THE ACQUISITION BUT NONETHELESS WHEN YOU LOOK AT THE RESULTS HERE, IT IS FROM THE LIKES OF UBER. I SAY THE CONSUMER RIGHT NOW LOOKS RESILIENT. ON THE FOOD DELIVERY SIDE OF THINGS, THAT WAS AN AREA WHERE INVESTORS OUT THERE THOUGHT POTENTIALLY REVENUE WOULD START WEANING OFF WHERE SEE POST-PANDEMIC WORLD AND THAT HAS NOT HAPPENED YET. CAROLINE: WHAT IS ALSO WORKING FOR THEM IS NOT JUST DELIVERY OF YOUR HOT FOOD, BUT PLENTY OF OTHER THINGS TO BE DELIVERED. HOW MUCH DOES THAT HAVE TO BE A PART OF THE BUSINESS MODEL? IT IS THE ONE AREA THAT LYFT DOES NOT HAVE. ANGELO: IT IS A GREAT CONTRIBUTOR FOR COOPER AND DOORDASH.
-- UBER AND DOORDASH. WE THINK DOORDASH IS GOING FASTER IN THAT ADJACENT MARKET. IT IS A HUGE PART OF THEIR GROWTH INITIATIVE OVER THE NEXT COUPLE OF YEARS AND ADDING STICKINESS TO THAT PLATFORM BECAUSE CONSUMERS ARE LEVERAGING THEIR OTHER BUSINESSES WHETHER ON THE FOOD DELIVERY SIDE OF THINGS, OR IN RIDESHARING. THEY ARE LOOKING TO FURTHER TAKE ADVANTAGE OF SERVICES AND OTHER ADJACENT MARKETS. CAROLINE:
THIS IS WHERE YOU COMPARE AND CONTRAST THE COMPANIES THAT DO WELL, THAT BROADEN THEIR OVERALL OFFERING A LOOK AT LYFT WHICH IS TUMBLING TODAY. ED: WE ARE DOWN 21% AND WE TOUCH ANOTHER RECORD LOW. IS THIS JUST A LYFT PROBLEM? ANGELO: I THINK IT IS.
WHEN YOU LOOK AT WHAT INVESTORS ARE REWARDING THIS WEEK OR SO THEY ARE NOT REWARDING, THEY ARE REWARDING NAMES THAT ARE PUSHING THE BOTTOM LINE. WE HAVE SEEN IT NOT ONLY FROM OVER -- UBER WHICH IS HOLDING STEADY IN DOUBLE-DIGIT TOPLINE ORDERS GROWTH. DOORDASH ALSO DOING IT LAST THREE QUARTERS, GUARDING THE TOP LINE NICELY. -- GROWING THE TOP LINE NICELY.
HE SAW SHOPIFY -- YOU SAW SHOPIFY AND WE LOOK AT LIVED HERE, WORKFORCE REDUCTION ON TOP OF A REDUCTION LATE LAST YEAR. THOSE COST CUTS TO KEEP AFLOAT VERSUS THE BIGGER COMPETITORS IN BLOOMBERG. IT IS NOT GOING BACK TO SHAREHOLDERS. THEY ARE NOT BENEFITING AND THAT IS A BIG PROBLEM IN THE MARKET. WE DO NOT THINK THAT CHANGES IN THE NEAR FUTURE BECAUSE OF THE ENVIRONMENT WE ARE DEALING WITH, ESPECIALLY OF MACRO CONDITIONS ARE TO DETERIORATE AND AND LYFT BECOMES IN TROUBLE RELATIVES WHO OVER. -- RELATIVE TO UBER. CAROLINE:
WE THANK YOU. YOU ARE TALKING ABOUT THE VOLATILITY WE SEE IN LYFT AND THE RECORD LOW. LOOK AT THE RECORD MOVE WERE GETTING ON THE DAY IN CERTAIN BANK STOCKS. PACK WEST RALLYING HARD. WE ARE UP MORE THAN 80%. PEOPLE SAYING YOU HAVE TO BUY THE DIP ULTIMATELY IT IS TOO HARD SOLD OFF BUT PUT IT IN CONTEXT WE ARE BACK TO THE HIGH SINCE WEDNESDAY.
WE ARE WELL OFF THE AVERAGE PRICE. ED: THERE ARE BIG NAMES IN THE MARKET A BILL ACKMAN WHO SAYS THERE IS CONCERN IN BANKING SECTOR. THE POINT BLOOMBERG WOULD MAKE IS THIS SELLOFF IN THESE STOCKS IS NOT EASY TO RECONCILE WITH LIQUIDITY AVAILABLE TO THE BANKS. LOOK AT THE DEPOSIT BASE, THIS IS NOT SILICON VALLEY BANK. THE PROPORTION OF INSURED DEPOSITS ARE MUCH HIGHER. OUR AUDIENCE THAT IS LISTENING, THE TECH FOUNDERS, THEY BANKED WITH THESE NAMES THEY ARE TRYING TO WORK OUT WHAT IS WRONG. CAROLINE:
A LOT OF THAT FEAR AND CONCERN GET SPREAD THROUGH SOCIAL MEDIA AND IT IS ON TECHNOLOGY AND FAR EASIER TO BECOME A REALITY AS YOU ARE ABLE TO WHIP OUT YOUR DEPOSITS FASTER BUT ULTIMATELY THE FOUNDATION OF THESE BANKS ARE NOT NEARLY AS CONCERNING. THERE IS NOT SO MUCH OF AN ISOLATED FOCUS ON ONE TYPE OF BORROWER OR ONE TYPE OF INTEGRATED SYSTEM THAT LINDA BACK TO THE OVERALL TECH CEO BUT WE ARE STILL QUESTIONING THE FINANCIAL SYSTEM RIGHT NOW. ED: WHEN JAMIE DIMON STEPPED IN HE WAS CONFIDENT IT WILL SETTLE THINGS DOWN. COMING UP WE CONTINUE THE EARNINGS CONVERSATION. WE TO YELP SPEAKING WITH STEPHEN:. -- SPEAKING WITH DAVID SCHWARZBACH. THIS IS BLOOMBERG. CAROLINE: PRESIDENT BIDEN MAKING COMMENTS OF A PARTICULARLY STRONG SET OF JOBS NUMBERS TODAY.
WITH 253 THOUSAND JOBS BEING ADDED THAT WAS ABOVE, IT'S ALL PASS MOST ECONOMIST EXPECTATIONS, ALL BUT THREE OF THE 77 SURVEYED. BUT NOTABLY WE ARE SEEING STRONG HOURLY EARNINGS COMING IN. THAT IS INFLATION PRESSURE FOR THE FEDERAL RESERVE TO TACKLE. ONCE AGAIN A REALLY LOW UNEMPLOYMENT RATE. WE LOOK AT OVERALL YOU STILL SEE 4.7%. OVERALL WE DID SEE UNEMPLOYMENT
COMING IN ONCE AGAIN RELATIVELY LOW. THIS IS A STRONGER GEMS MARKET AS WE SEE THE FEDERAL RESERVE -- JOBS MARKET AS WE SEE THE FEDERAL RESERVE. WE UNDERSTAND PRESIDENT -- SECRETARY YELLEN IS WITH HIM TO.
ED: LOOKING AT SHARES AT YELP WE ARE HIGHER AFTER THE ONLINE REVIEW COMPANY POSTED THE FIRST QUARTER REVENUE THAT CAME IN AHEAD OF ANALYST EXPECTATIONS. JOINING THE ONSET YELP CEO DAVID SCHWARZBACH. YOU TALK ABOUT HIGH INTENT USERS. WHAT IS THAT MEAN? DAVID: WHEN SOMEONE COMES TO YELP THEY TELL US WHAT THEY ARE LOOKING FOR. IT CAN BE LANDSCAPING, IT COULD BE A LOCKSMITH.
THAT ENABLES US TO MATCH THE CONSUMER WITH THE RIGHT SERVICE PRO AND IT IS IMPORTANT TO RECOGNIZE HALF OF ARE VISITORS FROM OURSELVES WITH OVER $100,000. ED: WE LOOK AT YOUR EARNINGS AND OUTLOOK WHAT IS INTEL IS NOW, ENGAGEMENT FOR THE CONSUMER -- BUT IS IT TELL US NOW FOR ENGAGEMENT FOR THE CONSUMER? ARE THEY LOOKING FOR THE BIBLE DEALS ACROSS ALL KINDS OF THINGS OR IS THIS JUST A REBELLIOUS -- WE MUST -- ROBUST PLATFORM LIKE YOURS? DAVID: CONSUMERS ARE SPENDING ABOUT THE SAME AMOUNT BUT LESS FREQUENTLY. THEY ARE FOCUS ON ENSURING THEY MAKE A GOOD DECISION AND WHAT YELP PROVIDES THEM WITH IS RELIABLE INFORMATION TO MAKE THAT PURCHASE DECISION. CAROLINE: ARE ADVERTISERS WILLING TO INVEST? ARE THEY FEELING COMPETENT AT THE MOMENT? DAVID: WE SERVE BOTH LARGE ENTERPRISE CUSTOMERS AND A SMALL AND MEDIUM BUSINESSES. WHAT WE SEE ON THE SERVICES SIDE, AS THINGS ARE SLOW DOWN, SERVICE PROS WANT TO STAY BUSY.
THE INCREASE THEIR AD TO SPEND AND WHAT WE HAVE SEEN ALL YELP THEY ARE SPENT HAS GONE UP SO THEY CAN STAY BUSY AND WE BELIEVE THAT WITH OUR HIGH AUDIENCE WERE ABLE TO MATCH THEM WITH A GREAT LEAD TO LEASE THE BUSINESS FOR THEM. CAROLINE: GOT TO ASK IT. ARTIFICIAL INTELLIGENCE. WHAT ARE YOU DOING TO INCORPORATE IT INTO THE BUSINESS? DO YOU HAVE THE RIGHT TALENT? DAVID: THEY'RE USING ARTIFICIAL INTELLIGENCE FOR SOME TIME.
EVERYBODY IS TALKING ABOUT CHAT GPT AND THESE NEW LARGE LANGUAGE MODELS. BUT FAR SEARCH EXPERIENCE FOR MATCHING CONSUMERS WITH PROS WE HAVE BEEN APPLYING AI FOR SOME TIME IS. WE HAVE A STRUCTURE -- AND FOR STRUCTURE AND ABILITY TO CONSUMERS WHEN THEY VISIT THE SITE. WE ARE LOOKING FORWARD TO EMPLOYING IT.
ED: SHARES OF HALF PERCENT. I COVERED QS ARE FOR A LONG TIME, RESTAURANT INDUSTRY. THERE IS A TIDBIT THAT FASCINATES ME THAT WHEN YOU GO TO YELP YOU CAN LOOK FOR INDEPENDENT RESTAURANTS. IS THERE DATA TELLING YOU THAT
NOW PEOPLE ARE LOOKING AT CHAINS AS OF THE VALUE PROPOSITION? IT SEEMS LIKE THERE IS EVIDENCE THAT CONSUMERS ARE LOOKING FOR VALUE. DAVID: THERE HAS BEEN A LOT OF TALK ABOUT CONSUMERS CHOOSING TO GO TO QUICK SERVICE RESTAURANTS. ON YELP WHEN PEOPLE COME THEY LOOK TO FIND THE NOT AND WHO RESTAURANT OR SOMETHING THAT IS DIFFERENT IF THEY'RE GOING OUT ON A FRIDAY NIGHT. PEOPLE ARE FAMILIAR WITH LARGE QUICK SERVE RESTAURANTS AND SO THAT IS NOT THE FIRST THING THEY ARE SEARCHING FOR ON YELP.
WE ARE SEEING CONTINUED INTEREST IN SIT DOWN DINING AND PEOPLE WANT TO MAKE SURE THAT EXPERIENCE IS GREAT. THEY COME FOR OUR RELIABLE REVIEWS. CAROLINE: WHAT IS YOUR KEY COMPETITOR AT THE MOMENT? DARE I SAY IT, IT IS PRETTY OLD SCHOOL FOR MANY PEOPLE.
HOW ARE YOU FEELING -- HOW DO YOU FEEL YOUNGER GENERATION ARE INTERACTING WITH IT? ARE YOU REMAINING AS PRESENT AS EVERYONE TURNS TO DIFFERENT WAYS TO SEARCH? INSTAGRAM FOR EXAMPLE. DAVID: ONE OF THE THINGS WE HAVE IS AN EVEN DISTRIBUTION OF CONSUMERS ACROSS EACH OF THE THREE LARGE AGE GROUPS. FOLKS WHO ARE YOUNGER ARE USING US BECAUSE THEY WANT TO SPEND THE MONEY WELL. VIDEO REVIEWS ON SOME OF THE
OTHER PLATFORMS ARE REVIEWS THAT GAIN A LOT OF ATTENTION BUT COMPLETENESS IS IMPORTANT. WHEN YOU GO OUT YOU WANT TO ASSURE YOU HAVE A SENSE FOR ALL OF THE THINGS YOU COULD DO AND YELP IS THAT COMPLETE. WE DELIVERED 13% GROWTH IN FIRST QUARTER. WE THINK THAT WAS TERRIFIC PERFORMANCE. MORE THAN 60% OF OUR REVENUE COMES FROM SERVICES. WHILE WE ARE KNOWN FOR RESTAURANT SIDE, WE HAVE BEEN TAKING CARE ON THE SERVICES SIDE. ED: THANK YOU. CAROLINE:
WE UNDERSTAND INVESTIGATING THE CONDUCT OF EXECUTIVES AT FIRST REPUBLIC BANK. BEFORE THE GOVERNMENT SEIZURE THERE WAS DISCUSSION ABOUT THE SALE OF CERTAIN ASSETS AND HOLDINGS. ALL THIS IS AHEAD OF WHAT IS BEEN BROUGHT UP LOOKING AT THE TEAM AND PROBABLY TRADED ON INSIDE INFORMATION. WERE GOING TO COVER THAT STORY. ALSO INTO THE MACRO SITUATION BECAUSE KNOWING THE ADMINISTRATION, THE BANKING SECTOR WITH DEMONSTRATION GLOATING AT THE JOBS NUMBER. PRESIDENT BIDEN DISCUSSING THE
253,000 NUMBER ADDED TO JOBS BUT THEY'RE INFLATIONARY PRESSURES WITHIN THAT. KEEP A CLOSE EYE ON WHAT PRESIDENT BIDEN HAS BEEN SAYING TODAY. WE HAVE A LIFE DISCUSSION THERE BUT HERE -- HE IS HOLDING A CABINET MEETING OF -- THAT INFLATION IS TRENDING IN THE RIGHT DIRECTION. FROM NEW YORK, THIS IS BLOOMBERG.
CAROLINE: IT IS TIME FOR TALKING TAKE AND WE START WITH SOFTWARE AG SHARES FALLING AFTER THE GERMAN COMPANY REFUSED TO ENTER TALKS WITH A RIVAL BETTER FOR THE COMPANY. SET IT IS A PARTY AND INCREASE $2.6 BILLION TAKEOVER THE EXISTING BACKER. PETER THEIL IS RELUCTANT TO MOVE HIS OPERATIONS WITH SILICON VALLEY TO FLORIDA. WHY? HOUSING PRICES SOARED COMPARED TO YEARS AGO.
IT WILL BE TOO COSTLY TO MAKE THE MOVE. ATTORNEY GENERAL LETITIA JAMES PROPOSING A STATE LAW TO TIGHTEN RULES OVER CRYPTOCURRENCY IN HER LATEST SWING IN INDUSTRY SHE CLAIMS THE SUFFERING FROM RAMPANT FRAUD AND DYSFUNCTION. IT IS INTERESTING THAT WE ARE SEEING THIS FOCUS ON CRYPTO COMING FROM LETITIA JAMES. SHE SPOKE ABOUT IN THE BEGINNING OF THE YEAR.
SHE IS BIG ABOUT THE INEQUALITY LENS. ANGELINA ECONOMY WHEN YOU LOOK AT THE NEW YORK -- IT IS AN INTERESTING DICHOTOMY WE LOOK AT THE NEW YORK. ED: WHAT WE ARE HEARING FROM THOSE PEOPLE IN CRYPTO CYCLE THEY'RE LOOKING AT AI BUT WHAT THEY ARE HAVE IN COMMON. >> I THINK THE BIGGEST MISTAKE MADE IN CRYPTO IS ABSOLUTE LACK OF CLEAR-CUT REGULATIONS. PEOPLE KNOW THE RULES ARE THAT SHOULD BE PLAYED BY.
I THINK THERE WERE A LOT OF COMPANIES THAT ASSUMING BLOCKCHAIN TECHNOLOGY COULD BE USED FOR LOTS OF DIFFERENT THINGS THAT SHOULD NOT HAVE BEEN USED FOR. CAROLINE: CAROLINE: WELCOME BACK. I'M CURRENTLY HIDE IN NEW YORK. ED: I MET ALTHOUGH IN SAN FRANCISCO. THERE'S A LOT GOING ON IN THE MARKETS.
WE HAVE A LOT OF CATALYST PUSHING US TO THE UPSIDE. NASDAQ 100 AND A BIG PART OF THAT IS JOBS DATA COMING UP STRONG. I PERFORMANCE IN SEMICONDUCTOR SPACE. -- OUR PERFORMANCE IN SEMICONDUCTOR SPACE. SEE U.S. 10 YEAR YIELD CLIMBING SEVEN
POINTS. WE ARE AWAY FROM THE 3.6% WE WERE AT A YEAR AGO. BITCOIN CREEP LITTLE HIGHER. THE TOKEN TOWARDS 30,000 U.S.
DOLLARS. INTERESTING DEVELOPMENTS OVERNIGHT WHEN IT COMES TO AI. TALK ABOUT MEGA CAPS MAKE YOUR MOVE. APPLE'S BIGGEST JUMP SINCE NOVEMBER. MOVING ON ARNIE'S NOT SO MUCH ABOUT THE AI NARRATIVE.
ALPHABET FLAT. A SITE UNDER WHEN IT COMES TO IS MEG TECH -- MEGA TECH PEERS. PERHAPS THEM FALLING BEHIND. CAROLINE: MEANWHILE LET'S TALK ABOUT THE JOBS DATA. SHOWING REAL STRENGTH.
253,000 JOBS ADDED IN THE MARKET. WHERE IS THE DEMAND COMING FROM? IS ON THE MINDS OF RECENT COLLEGE GRADUATES. FOR MORE INSIGHT ON WHAT THEY ARE TALKING ABOUT LET'S BRING IN HANDSHAKE CEO GARRETT LORD.
HANDSHAKE JUST ABOUT THE LATEST REPORT ON WHAT THEY SEE IN JOB-SEARCH TRENDS. YOUNG PEOPLE FRESH OUT OF SCHOOL ARE WILLING AND ABLE TO SEE THE WORKPLACE IS GOING TO BE DISRUPTED. HOW ARE WE SEEING PEOPLE CHANGE THEIR SEARCH? ARE THEY ALL AWARE THAT GENITIVE AI IS GOING TO CHANGE THE GAME AND ARE THEY TRYING TO PREP FOR THAT? GARRETT YOU HAVE TO IMAGINE WHAT IT WAS LIKE BEING A COLLEGE STUDENT FOR THE LAST FOUR YEARS. THERE WAS A PANDEMIC, GOT SENT HOME. YOU DON'T BECOME IS GOING TO CRASH BUT THE ECONOMY STARTED BOOMING. FAST FORWARD TO TODAY STUDENTS
SEE HEADLINES OF COMPANIES LAYING OFF EMPLOYEES. STUDENTS ARE RESILIENT BUT NO MORE SO THAN EVER WORK IN INDUSTRIES THAT VICE ABILITY. STUDENTS ARE LOOKING AT A COMPANIES THAT 80% WANT A COMPANY THAT IS HIGHLIGHTING HOW STABLE OPPORTUNITIES ARE. THEY ARE EXPANDING THEIR HORIZONS TO NEW INDUSTRIES. 40% MORE LIKELY TO APPLY TO INDUSTRIES THEY HAVE NOT CONSIDER BEFORE.
THE DREAM JOB IS SHIFTING IN REAL TIME. CAROLINE: DEFENSE SEEMS TO BE AN AREA THEY'RE GOING INTO. NIKE, TOYOTA THEY ARE RESILIENT BRANDS. ARE THEY THERE FOR NOT LOOKING FOR JOBS AT BIG TECH COMPANIES GIVEN THE HEADLINES? GARRETT: BIG TECH SEARCHES ARE DONE 15% YEAR ON YEAR. BIG TECH IS STILL HIRING IN COLLEGE TODAY BUT THE DREAM JOB IS SHIFTING. COMING BACK TO THE DREAM JOB MIGHT BE WORKING IN EV'S AT GENERAL MOTORS OR IN ROBOTICS IN JOHNSON & JOHNSON.
YOU TALK ABOUT RAYTHEON THERE'S A STUDENT I TALKED TO EARLIER WHO WOULD PLAY SMALL OR SCHOOL IN FLORIDA AND HE BUILT HIS PROFILE AND HANDSHAKE GOT A MESSAGE FROM RAYTHEON AND FAST-FORWARD A WEEK LATER HE'S GOT AN INTERNSHIP OFFER AND IS GOING TO WORK THERE. COMPANIES VIEW THIS MOMENT AGO ON THE OFFICE OF. BIG TECH IS PULLING BACK IN OVERALL DEMAND FOR STUDENTS BUT COMPANIES VIEW THIS AS AN OFFENSIVE OPPORTUNITY TO WIN TOP TALENT. THIS WEEK PUBLICLY JP MORGAN AND FIDELITY TALKED ABOUT INCREASING THE NUMBER OF EARLY HIRES THEY ARE MAKING SO THEY VIEW THIS AS AN OPPORTUNITY TO PICK UP TOP TALENT. CAROLINE:
I HAVE TO THINK AT THE MOMENT WHAT WAS INTERESTING IN THE STATUS WAS ALSO CAPITAL ONE BEING A HIGHLY SOUGHT AFTER. I WONDER IF THE CURRENT SITUATION AROUND BANKS IS GOING TO CHANGE THAT IN DEMAND. GARRETT: I FIND IT INTERESTING BECAUSE THE HEADLINES ARE ABOUT CHAOS AND VOLATILITY. TECHNOLOGY, BANKING SECTOR. WHAT -- THE SPEED IN WHICH THOSE YOUNG PEOPLE ARE FINDING JOBS IN THOSE SECTORS READ -- IS IT A CASE OF OPPORTUNITY IS THERE AND THEY TAKE IT? GARRETT: THE STUDENTS ARE STILL INTERESTED IN BANKING STILL. JP MORGAN INCREASE PUBLICLY THE NUMBER OF OPPORTUNITIES THEY ARE POSTING ON THE NETWORK. THEY ARE HIRING MORE SOFTWARE ENGINEERS THAN EVER BEFORE.
STUDENTS ARE INTERESTED IN WORKING IN FINANCE. THE NEW CYCLE ARE DOMINATING STUDENTS MY SHARE BUT THERE ARE STILL TONS OF STUDENTS WHO WANT TO WORK IN FINANCE. ED: I'M LOOKING AT SOME OF THE COMPANIES BEING SOUGHT OUT.
YOU TALK ABOUT RAYTHEON, NIKE, TOYOTA, BOEING, CHEVRON. TELL ME WHAT ALL OF THOSE HAVE IN COMMON. WHAT MAKES THEM INTERESTING TO A YOUNGER PERSON SEEKING A MODERN-DAY JOB? GARRETT: STUDENTS WANT TO UNDERSTAND WHAT A DAY IN OUR LIFE LOOKS LIKE IN A COMPANY. WHAT ARE OTHER STUDENTS LIKE THEM DOING THAT HAVE BEEN THERE? WHAT SKILLS ARE THEY LEARNING? WHAT EXIT OPPORTUNITIES ARE AVAILABLE INSIDE OF THE COMPANY? THERE EXIT IN UNDERSTANDING THE MISSION OF THE COMPANY AND THE IMPACT COMPANIES MAKE ON THE WORLD. THEY CARE MORE ABOUT THAT THAN
-- THEY CARE MORE ABOUT MISSION. I THINK COMPANIES THAT BRING A PERSONAL APPROACH TO SHARING WITH THE CULTURE LOOKS LIKE AND THE IMPACT THEY ARE MAKING ON THE WORLD IS REALLY IMPORTANT FACETS OF THE COMPANY. CAROLINE: YOUR MISSION IS TO DEMOCRATIZE ACCESS OPPORTUNITIES. LOOK AT THE JOBS THEY DO,
RECORD UNEMPLOYMENT, LOW LEVEL OF UNEMPLOYMENT FOR BLACK PEOPLE IN PARTICULAR, BUT STILL A BIG DISPARITY BETWEEN WHITE UNEMPLOYMENT AND BLACK UNEMPLOYMENT. I'M INTERESTED IN WHETHER YOU ARE SEEING THE MISSION BEING AROUND EQUALITY, THE MACHINE BE AROUND BRINGING IN ALL TYPES OF PEOPLE FROM WHATEVER EDUCATION, PARTICULARLY MINORITIES IN THIS ECONOMIC ENVIRONMENT OR THIS CLOSE TO THE BACKSEAT. GARRETT: COMPANIES ARE SO FOCUSED ON TRYING TO BUILD REPRESENTATION AND BUILD A FUTURE LEADERSHIP OTHER COMPANY. MANY COMPANIES AND ORDER TO HIRE 50% WERE MEANT THEY WANT TO HAVE 50% APPLICANTS TO HIRE 50% WOMAN.
IT IS IMPORTANT TO HAVE THEM APPLYING. COMPANIES ARE TRYING TO BE PROACTIVE AND SHAPE THEIR EARLY TALENT PROGRAMS TO BE ABLE TO HAVE ENOUGH WOMAN AND UNDERREPRESENTED STUDENTS SO THEY CAN CULTIVATE AND BUILD THOSE LEADERS INTERNALLY. THAT IS HOW COMPANIES USE HANDSHAKE. IT IS FOCUS ON THE GREAT, RESILIENT TALENT AND DIVERSE TALENT.
THAT CONNECTS TO MY STORY. I GREW UP IN BLUE-COLLAR FAMILY. I WAS A COMMUNITY COLLEGE FOR TWO YEARS. THE MISSION OF OUR COMPANY AND WHY EVERYONE GOES TO WORK IS EXPANDING ACCESS TO STUDENTS ACROSS THE COUNTRY.
SO MUCH ABOUT THIS IS WHO YOU KNOW, WHAT YOUR PARENTS DO, OR WHAT SCHOOL YOU GO TO. TALENT IS EVERYWHERE AN OPPORTUNITY IS NOT. HANDSHAKE IS HELPING COMPANIES CONNECT WITH TALENT EVERYWHERE AND MOST OF THE REPRESENTATION OF THEIR CLASSES AND BUILT FUTURE WORKFORCE OF TOMORROW. ED: HANDSHAKE CEO AND COFOUNDER ERIC LORD. -- GARRETT LORD. THANK YOU SO MUCH FOR YOUR TIME. I WANT TO TALK ABOUT AI WITH
THE WHITE HOUSE SAYING THEY WILL SUPPORT NEW REGULATION TO MITIGATE POTENTIAL HARMS FROM AI AFTER VICE PRESIDENT KAMALA HARRIS MET WITH THE CEO OF ALPHABET AND MICROSOFT, YESTERDAY. LET'S BREAK THAT DOWN ANOTHER DEVELOPMENTS -- AND OTHER DEVELOPMENTS. I SAW ATTRIBUTED. -- I SAW IT SWEET YOU DID AND THERE ARE SOME MISSING FROM THE MEETING. >> MISSING BUT POP IN WAS THE PRESIDENT. ED:
I WAS GOING TO GO WITH ZUCKERBERG. >> I SAW A TWEET FROM THE PRESIDENT WHO SAID HE STOP IN ON THE MEETING. I THOUGHT THAT WAS SURPRISING THAT HE WAS NOT PART OF THE MEETING BECAUSE THE WHITE HOUSE IS SAYING HOW IMPORTANT THIS IS. COMPANIES ARE SAYING HOW IMPORTANT IT IS TO TALK ABOUT COMING UP WITH LEGISLATION AND FOR THE GOVERNMENT TO LEARN MORE ABOUT HOW THIS TECHNOLOGY.ARE WORKING ED: WHY IS THAT SIGNIFICANT? I THINK THE POINT YOU RAISE THIS META HAS A LOT OF PEOPLE WORKING IN AI. RACHEL: META HAS LONG BEEN IN AI. RESEARCHING AI AND USING HIS
PRODUCTS FOR THE MAJORITY OF THE COMPANY'S EXISTENCE. A LOT OF IT HAS BEEN PUSHED OUT INTO THE COMMUNITY AND USED TO DEVELOP OTHER THINGS. THAT IS A BIG SURPRISE. JUST ONE DATA POINT, A RECENT DEVELOPMENT FROM META, A LARGE SANDWICH MODEL, THAT IS BEING LOOKED AT VERY SERIOUSLY BY A LOT OF PEOPLE IN OPEN SOURCE COMMUNITY AS A WAY TO CATCH UP WITH COMPANIES LIKE OPEN AI AND GOOGLE. CAROLINE:
I HAVE BEEN READING SO MANY INTERESTING THREATS TODAY ABOUT THIS WEEK -- THREADS TODAY ABOUT THIS WEEK THAT EVERYONE IS BEHIND THE CURVE IN BUILDING THESE LARGE LANGUAGE MODELS. WITHIN THAT TWITTER STORMS I'M SEEING, THE LARGE LANGUAGE MODEL AT META. DELETE AND IT IS BASICALLY DONE -- GOT LEAKED AND DONE META A HUGE SERVICE. RACHEL: THE MOTTO CAME OUT IN A WAY AND THAT PROBABLY WAS NOT INTENTIONAL. IT HAS BEEN USED TO BOLSTER THE WAYS THAT PEOPLE ARE DEVELOPING LARGE SANDWICH MODELS THE OPEN SOURCE COMMUNITY WHICH IS A DIFFERENT ANIMAL THAN A BIG COMPANY LIKE GOOGLE WHO DOES THAT STUFF PRIVATELY OR OPEN AI WHO DOES IT PRIVATELY.
YOU HAVE WAY MORE EYES ON THESE SOFTWARE PRODUCTS SO YOU CAN HAVE PEOPLE COME UP WITH NEW WAYS TO DO NEW THINGS OR NEW WAYS TO FIX THINGS THAT ARE NOT WORKING SO WELL. IT IS REALLY INTERESTING. ED: LET'S GO BACK TO WHAT YOU REPORTED, A LEAKED MEMO ABOUT GOOGLE FALLING BEHIND. WHAT HAVE YOU REPORTED? WHAT HAPPENED? RACHEL: THIS MEMO, OR LETTER, IT IS UNOFFICIAL COMPANY DOCUMENT BUT -- IT IS NOT A OFFICIAL COMPANY DOCUMENT BUT IT WAS SEEN INTERNALLY AT GOOGLE AND SOMEBODY THEN POSTED ON A PUBLIC DISCOURSE CHANNEL AND THEN FROM THERE IT WAS PICKED UP BY A LOT OF DIFFERENT PEOPLE AND PUBLISH MORE WIDELY. WHEN YOU HAVE SOMETHING LIKE THAT HAPPENING, YET SOMEBODY INTERNALLY SAYING -- I THINK THE WORDING WAS LOOK UP RESOURCES EATING OUR LUNCH. THAT IS A PRETTY BIG DEAL. YOU DO NOT SEE THAT STRONG WRITING THAT OFTEN AT LEAST PERCOLATING OUT MORE WIDELY. PERHAPS IT SHOWS A LOT OF
PEOPLE ARE FEELING THAT WAY AT LARGE COMPANIES. CAROLINE: DECENTRALIZATION SEEMS TO BE THE TALKING POINT EVERYWHERE. THANK YOU SO MUCH BRINGING US WHAT IS FASCINATING ON WHAT IS HAPPENING OVER AT THE WHITE HOUSE, ALL THINGS AI. LET'S TALK ABOUT HOW PEOPLE ARE REMAINING BULLISH ABOUT ARTIFICIAL INTELLIGENCE. IT IS NOT JUST ABOUT JOBS OR PRODUCTIVITY. >> ARTIFICIAL INTELLIGENCE IS ALSO GOING TO HAVE A HUGE IMPACT ON CLIMATE WHERE WE'RE GOING TO NEED A LOT OF NEW TECHNOLOGIES TO FIGHT CLIMATE. YOU CAN LOOK AT SOME OF THE
CLIMATE PLAYS AS WELL. THE LARGEST TECHNOLOGY COMPANIES ARE INVESTING HEAVILY IN AI AND THAT IS WHERE THE OPPORTUNITY IS IF YOU ARE A BELIEVER IN IT. ED: SHOWS HOW PERVASIVE AI IS IN THE CONVERSATIONS WE ARE HAVING. COMING UP A WELCOME SIGN OF STREAMING FROM WARNER BROS.
DISCOVERY. HOW DOES THE COMPANY FAIR ON OTHER KEY METRICS? MORE ON THAT NEXT. THIS IS BLOOMBERG. ♪
CAROLINE: LET'S DO MORE EARNINGS. IT HAS BEEN A MIXED BAG AT ONE AS PART OF DISCOVERY WAS REPORTED AS SAW JOSÉ SURPRISING PROFIT FOR A STREAMING BUSINESS -- REPORTED IT SAW SURPRISING PROFIT FOR A STREAMING BUSINESS. THE OVERALL REVENUE MISSED ESTIMATES AS NOTED ADJUSTED DOT IN THE WAKE OF DISAPPOINTING RESULTS OF PARAMOUNT AND DIVIDING STRIKE ON HOLLYWOOD. LET'S START ON WARNER'S
BROTHERS. IT SEEMS THEY WANT TO LEAN AND -- IN TWO MAX. >> THE BIG CRITICISM OF ALL OF THESE STREAMING ENTERPRISES HAVE BEEN THEY LOSE MONEY OTHER THAN NETFLIX. THE CEO OF WARNER BROS. DISCOVERY REALLY DOING EVERYTHING HE CAN TO TURN MAX INTO A PROFITABLE SERVICE.
THEY'RE CUTTING BECAUSE IN A LOT OF WAYS. THEY HAVE LAID OFF PEOPLE AND THAT SEEMS LIKE POSITIVE NEWS. THE PROBLEM IS LINEAR CABLE NETWORK START DECLINING REALLY QUICKLY. INVESTORS ARE STILL UNCERTAIN ON WHETHER THE GROWTH OF THE PROFITS ON STREAMING ARE EVER REALLY GOING TO REPLACE WHAT WAS A LUCRATIVE BUSINESS MODEL. ED: IN 24 HOUR SPAN YOU HAD PARAMOUNT POST THAT LOSS BEEN WARNER BROS. POST BE PROFIT. WHAT CAN WE DISCERN ABOUT THE COMPETITIVE NATURE OF THE TWO WHEN IT COMES TO STREAMING? >> IT MAY DEPEND ON WHERE THEY ARE IN THEIR INVESTMENT CYCLE.
PARAMOUNT SAID THIS YEAR IS GOING TO BE IS A YEAR OF PEAK INVESTMENT. IT WAS NOT LONG AGO WHERE PARAMOUNT WAS STILL BRAGGING ABOUT HOW MUCH IT WAS SPENDING BECAUSE HE THOUGHT THAT WAS WHAT WALL STREET WANTED TO HEAR. HAD INVESTOR DAY IN EARLY 2022. A CHANGE ON A DIME AROUND THAT TIME A YEAR AGO.
I THINK WARNER BROS. DISCOVERY HAS MOVED TO COST-CUTTING MODE MORE SWIFTLY. THE MERGER ALWAYS RESULTING IN COST-CUTTING. ED: THE STORY OF THE WEEK THE WGA AND HOLLYWOOD STRIKE.
THAT'S WHAT WE HAVE BEEN TALKING ABOUT. CAROLINE: THE INTERSECTION OF A NEW TYPE OF ENVIRONMENT THEY HAD TO WORK IN. THERE IS A FOCUS ON STREAMING AND IN RECOMPENSE AND ARTIFICIAL INTELLIGENCE A COMPETITIVE THREAT AS WELL. LUCAS:
GIVEN THE CONVERSATION WERE JUST HAVING ABOUT PROFITABILITY AND WILL HAVE US OF THE COMPANIES, THE STRIKE COULD BENEFIT A LOT OF THESE COMPANY'S BOTTOM LINE. IT IS ONE OF THE REASONS WHY SOME OF THE WRITERS AND INDUSTRY EXPERTS CONCERNING THE STRIKE IS GOING TO GO ON FOR A LONG TIME. THESE COMPANIES LOOKING TO CUT COSTS WILL BENEFIT FROM NOT SPENDING A BUNCH OF MONEY ON NEW PROJECTS. REPORTED THIS WEEK SOMEBODY STUDIOS ARE SEIZING TO PAY SOME OF THE WRITERS THAT THEY HAVE PRODUCER DEALS WITH. IT FEELS LIKE THE SIZE ARE FAR APART ON PAY AND THEY ARE NOT EVEN CLOSE ON A SUBJECT LIKE AI WHERE THE WATERS WON'T REJECTIONS AND STUDIOS -- WHERE THE WRITERS WANTS PROJECTIONS. ED:
THE LAST STRIKE WAS 2000 AND SEVEN. HOW LONG DOES THIS ONE GO LONG? HOWARD TALKS PROGRESSING? -- CHARLIE TALKS PROGRESSING? LUCAS: THE LAST MOLESTED 100 DAYS. I'M NOT SUPPOSED MAKE PREDICTIONS BUT NOBODY -- THE LAST ONE LASTED 100 DAYS AND I'M NOT SUPPOSED MAKE PREDICTIONS BUT IT FILLS THE STUDIOS HAVE SHIFTED. IT FEELS LIKE IT'S GOING TO
STRETCH INTO THE FALL BUT THINGS COULD CHANGE OVER THE SUMMER. CAROLINE: YOU REPORT ON THIS FROM HOLLYWOOD, FROM L.A. BUT OUR PRODUCER SAYING HOW SHE SAW PEOPLE IN PICKET LINES IN NEW YORK AS SHE CAME INTO WORK TODAY. HOW THE NATIONAL IN NATURE DOES THIS BECOME? LUCAS: THERE ARE MAJOR PRODUCTION HUBS AND CERTAINLY IN NEW YORK, LOTS OF THE LATE-NIGHT SHOWS WHICH HAVE ALREADY GONE OFF OF THE AIR ARE MADE IN NEW YORK AND HAVE PEOPLE WHO WORK IN ATLANTA OR NEW ORLEANS OR CHICAGO. I DO NOT KNOW YOU HAVE PROTEST
IN ALL OF THOSE PLACES BECAUSE THE WRITERS ARE MORE CONCENTRATED IN L.A. AND NEW YORK. EVEN IF THE WRITERS GUILD AWARDS ONLY AFFECTS WRITERS IN THE UNITED STATES YOU'RE GOING TO SEE PEOPLE EVERYWHERE ELSE. THERE WERE STORIES THIS WEEK ABOUT WRITERS IN U.K.
BEING URGED NOT TO CROSS THE PICKET LINE. CAROLINE: A FAIR FEW STRIKES GOING ON IN THE U.K.. GREAT TO HAVE SOME TIME WITH YOU. COMING UP TOMORROW IS CORONATION DAY. WE WALK YOU THROUGH THE FINAL PREPARATIONS, TOTAL COST OF THE EVENTS AS KING CHARLES PREPARES TO FORMALLY ACCEPT THE CROWN.
FROM NEW YORK, SAN FRANCISCO, LITTLE BIT OF LONDON, THIS IS BLOOMBERG. ♪ CAROLINE: IT IS TIME FOR GOING VIRAL AND MUCH OF THE UNITED KINGDOM AND THE WORLD IS BUZZING FOR SATURDAY'S CORONATION CEREMONY. THE EVENT CELEBRATES THE STARTS OF KING CHARLES THIRD REIGN OVER THE BRITISH STATE. LIZZY BURDEN HAS MORE. >> FIRST CORONATION IN 70 YEARS WILL BRING IN KING CHARLES III AT WESTMINSTER ABBY. HE IS THE OLDEST MONARCH ARE TO BE CROWNED. 2200 GUESTS WILL ATTEND.
A QUARTER OF THE NUMBER WHO WAS AT QUEEN ELIZABETH THE SECOND 19 53 CORONATION AND IS EXPECTED TO TAKE HALF OF THE TIME. AMID A COST OF THE CRISIS THE KING HAS ASKED FOR THE SERVICE TO BE GOOD VALUE. IT IS DOUBLE BECAUSE OF HIS MOTHER'S IN TODAY'S TERMS. CHARLES AWARE SAYING IT WAS
CROWN DECORATED WITH MORE THAN 400 GEMSTONES. THE QUEEN CONSORT WILL CARRY 2200 DIAMONDS IN HERS WORTH UP TO AN ESTIMATED 5 BILLION POUNDS. WHAT IS THE ECONOMIC IMPACT? BLOOMBERG ECONOMICS RECKONS THE HOLIDAYS GOING TO COST THE ECONOMY ABOUT 2 BILLION POUNDS BUT ESTIMATES HAVE SUGGESTED TOURISM, HOSPITALITY, AND SOUVENIRS WILL BRING IN MORE THAN ONE BILLION POUNDS.
SOMEWHAT MEAGER COMPARED TO THE QUEEN'S JUBILEE LAST YEAR. FOR BRITAIN'S PUBS AND RESTAURANTS AND INCLUDES 250 MILLION POUND BOOST THE SALES SO THE HANGOVERS MAY BE AS MEMORABLE AS THE CORONATION ITSELF. CAROLINE: WE THANK LIZZY BURDEN FOR THAT REPORTING.
I WAS IN AT INSTAGRAM. THE ROYAL FAMILY HAS 12.9 MILLION INSTAGRAM FOLLOWERS. GENERALLY CHARLES AND CAMILLA. THE PRINCE AND PRINCESS OF WELL HAS 14.6 MILLION. COMPARE THAT TO KIM KARDASHIAN EIGHT PALES IN SIGNIFICANCE. ED:
TWO BRITS LIVING IN UNITED STATES WE HAVE SEEN FIRSTHAND THE FOLLOWING THE ROYAL FAMILY HAS LOTS OF ADJUVANT BY NETFLIX AND THE CROWN, FICTIONAL SERIES. CAROLINE: IT IS NOT A HISTORY LESSON. ED: WE DID THIS PIECE ON THE MOST GOOGLED TERMS AHEAD OF THE CORONATION TO LEARN ABOUT IT.
IT IS HIGH ENGAGEMENT AHEAD OF THIS WEEKEND. CAROLINE: MAILING THE TIMES GOING TO BE PAINFUL FOR YOU. 6:30 A.M. NEW YORK TIME. DO NOT GET UP AT 330 IN THE MORNING. ED: TBD. IT IS A BIG MOMENT IN HISTORY BUT I WILL BE TIRED. CAROLINE: WE WILL SEE. THAT DOES IT FOR THIS EDITION
OF BLOOMBERG TECHNOLOGY. ED:
2023-05-09 12:08
Show Video
Other news