'Bloomberg Technology' Full Show (03/31/2023)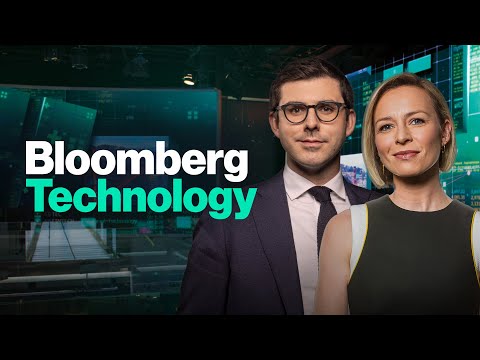 Show Video
ANNOUNCER: FROM THE HEART OF OUR INNOVATION, MONEY, AND POWER COLLIDE IN SILICON VALLEY AND BEYOND, THIS IS LUBER TECHNOLOGY WITH CAROLINE HYDE AND ED LUDLOW. ED: I'M ED LUDLOW IN SAN FRANCISCO, CAROLINE HYDE OFF THIS WEEKEND THIS IS "BLOOMBERG TECHNOLOGY." BRING YOU THE LATEST HEADLINES ON THE TRUMP INDICTMENT, A BREAKDOWN OF THE SOCIAL MEDIA IMPLICATIONS. WE SPEAK ALSO TO THE TECHNOLOGY GROUP ON GENERATIVE AI AS THE INDUSTRY HEAVYWEIGHTS CALL FOR A PAUSE IN DEVELOPING THE DISRUPTIVE TECHNOLOGY. HUAWEI HOSTING ITS FIRST PROFIT
DROP IN A DECADE. AS U.S. SANCTIONS FORCE THE CHINA TECH TRIED TO INVEST IN R&D, WE DISCUSS WITH THE HUAWEI CHIEF SECURITY OFFICER. WHEN IT COMES TO THE TECHNOLOGY SECTOR IN THE LAST DAY, WHAT HAS BEEN CONSTRUCTED, LOOK AT THE NASDAQ 100 UP BY 100 PERCENTAGE POINT, ENDING THIS COURT OR HIGHER, BEST SINCE THE QUARTER OF 2020. SIMILAR PERFORMER IN THE SEMICONDUCTORS. YOU LOOK AT THE STOCKS IN THE SEMICONDUCTOR INDEX, HIGHER.
BUT AGAIN THE BEST QUARTER FOR THAT INDEX GOING BACK TO JUNE 2020. YIELDS 3.5% ON THE 10-YEAR, RISK ON GENERALLY SPEAKING IN BITCOIN IS CERTAINLY A PART OF THAT STORY. THE MAIN HEADLINES ARE AROUND PRESIDENT TRUMP AND HIS INDICTMENT AND HOW THAT IS PLAYING OUT IN THE TECH SECTOR AND EQUITY MARKETS.
THESE ARE SPECIAL ACQUISITION COMPANIES OR SPAC'S. DIGITAL WORLD UP 6.5%, THE SPEC DUE TO TAKE TRUTH SOCIAL PUBLIC. THE IDEA THE MARKET IS TALKING ABOUT IS THE INDICTMENT OF FORMER PRESIDENT TRUMP IS A SPOTLIGHT ON MORE CONSERVATIVE SOCIAL MEDIA PLATFORMS AS MORE CONSERVATIVE MEDIA PLATFORMS INCLUDING A VIDEO PLATFORM ARE SEEING MONEY FLOW INTO THEM IN THE EQUITY MARKETS THIS FRIDAY. LET'S GET SPECIFICS OF WHAT IS HAPPENING FROM LAURA DAVIDSON OUT IN WASHINGTON, D.C.. -- WASHINGTON, D.C. WHERE DO WE STAND WITH THE
INDICTMENT? >> HE COULD BE ARRAIGNED AS SOON AS TUESDAY OF NEXT WEEK, THIS IS SOMETHING PEOPLE HAVE BEEN WAITING FOR SINCE TRUMP SAID HE COULD BE ARRESTED ON TRUTH SOCIAL. THIS ANNOUNCEMENT TOOK EVERYONE BY SURPRISE. INCLUDING TRUMP'S OLD LAWYERS WHO WERE NOT EXPECTING THIS TO COME AND NOT EXPECTING AN ARRAIGNMENT NEXT WEEK. THIS IS GOING TO LOOK SIMILAR TO ANY OTHER TYPE OF ARRAIGNMENT THAT WOULD HAPPEN. TRUMP WILL HAVE TO GET FINGERPRINTS, MOKSHA TAKEN, SIT IN THE BASEMENT OF THE COURTHOUSE IN MANHATTAN. ED: HAVE WE HEARD FROM THE FORMER
PRESIDENT ON ANY OF THESE PLATFORMS? LAURA: YES. HE HAS BEEN TRUTH SOCIAL -- BEEN ON TRUTH SOCIAL REALLY GOING FULL FORCE AS HE HAS BEEN KNOWN FOR HIS BOMBASTIC LANGUAGE. IN SOME CASES, THE JUDGE SUGGESTED HE IS ALMOST SEEMINGLY TRYING TO START ARISING PROTEST IN THE STREETS AND INCREASED SECURITY IN MANHATTAN. THIS COULD POTENTIALLY BE A PROBLEM FOR TRUMP IT WOULD NOT BE UNPRECEDENTED FOR JUDGES TO SAY HE CANNOT GO TO SOCIAL MEDIA PLATFORMS TO TRY TO INCITE VIOLENCE OR ANYTHING ELSE. ED: LAURA DAVIDSON OUT OF D.C., THANK YOU. LET'S STICK WITH THE INFLUENCE OF TRUMP AND SOCIAL MEDIA ACCOUNTS.
WE HAVE THE ASSISTANT PROFESSOR COMMUNICATIONS FROM SYRACUSE UNIVERSITY. WE TALKED ABOUT INVESTORS BUYING INTO STOCKS RELATED TO MORE CONSERVATIVE SOCIAL MEDIA BY FORMS. WHAT IS YOUR INTERPRETATION OF THAT REACTION? >> IF WE CAN LOOK TO HISTORY, TRUMP WOULD NOT BE THE FIRST EX-PRESIDENT TO FACE A TRIAL. WE HAD ROOSEVELT HERE IN
SYRACUSE AND BACK IN THE DAY EARLY 1900S AND IN AN INTENSE MEDIA SPECTACLE. SO I DON'T KNOW, PEOPLE ARE FOCUSING ON THE FRINGE PLATFORMS, I THINK THEY'RE SAYING PEOPLE ARE NOT GOING TO BE TALKING ABOUT THIS AND FOLLOWING ON SOCIAL MEDIA, THERE WILL BE LEGITIMATE INTEREST. SO THIS COULD BRING A SPECTACLE LIKE YOU WOULD SEE WITH OJ SIMPSON THINGS LIKE THAT. I THINK TRUMP KNOWS HOW TO MANIPULATE THE MEDIA TOO AND ALL EYES WILL BE ON THAT TRIAL IF IT REACHES THAT POINT. ED:
TO POINT OUT WHAT IS A FIRST FORMER PRESIDENT TO BE INDICTED, BUT I HEAR YOUR POINT ON THE EU SIDE, TWITTER ONCE TO BE THE PLACE WHERE THE NEW CYCLE PLAYS OUT. DO YOU THINK THAT IS WHERE -- >> USED TO BE THE PLACE MORE WHERE THE NEW CYCLE PLAYED OUT BUT I STILL THINK THAT THE PLATFORM IS FUNDAMENTALLY CHANGED SINCE THE BOSS TOOK IT OVER. YOU DON'T HAVE THE SAME USER BASE YOU USED TO SEE, A LOT OF ACADEMICS AND JOURNALISTS, SURE SOME PEOPLE ARE OUT THERE STILL WOULD NOT LIKE THEY USED TO. PEOPLE MAY FOLLOW MORE DETAILS ALMOST LIKE A REALITY TV SHOW BUT I DO NOT THINK THE SAME TYPES OF INFLUENTIAL MEDIA FOLKS ARE ON TWITTER LIKE THEY USED TO BE. ED: HOW STRONG A LANDSCAPE DO CONSERVATIVE VOICES HAVE? HOW STRONG ARE THOSE CONSERVATIVE SPECIFIC PLATFORMS? JENNIFER: I THINK WE NEED TO LOOK AT IT MORE COLLECTIVELY AS THOSE ARE IN POWER. I KNOW THERE IS A LOT OF ATTENTION ON WHAT IS TRUMP TRYING TO CAUSE A RIOT BUT HE IS ALSO AN EX-PRESIDENT.
I THINK WE NEED TO FOCUS A LOT MORE ON THE SITTING PRESIDENT, ON CONGRESS, AND AGAIN THAT CROSSES POLITICAL PARTIES. IN LOOKING AT THE INFLUENCE THEY ARE EXERTING NOW, IT IS THEIR VOICE BEING AMPLIFIED MORE ON THIS PLATFORM OR NOT. LOOK AT TIKTOK IN THE ABILITY TO INFLUENCE A POTENTIALLY SHUTTER THE APP IN THE UNITED STATES.
THE BAD NEWS IS MONUMENTAL AND WE ARE NOT TALKING ABOUT THAT ENOUGH. SO THAT IS INFLUENCE. IT CUTS ACROSS CONSERVATIVE, RIGHT, LEFT, IT IS A COLLABORATIVE EFFORT AS I SEE IT BETWEEN THE WHITE HOUSE AND CONGRESS. I WOULD BE FOCUSED MORE ON THAT IN INVESTMENTS. ED: HAVE THE RISKS TO SOCIAL MEDIA AND USE OF SOCIAL MEDIA CHANGED SINCE TRUMP LEFT OFFICE? PROF. GRYGIEL: YEAH. NOTHING HAS REALLY CHANGED WHEN IT COMES TO HOW PRESIDENTS ARE USING SOCIAL, IF ANYTHING THERE MAY BE HAVING MORE INFLUENCE AND THE ABILITY TO SHUTTER APPS BUT KEEP IN MIND CENSORSHIP WILL LOOK DIFFERENT HERE IN THE UNITED STATES. ALSO THE INCREASING USE OF
GOVERNMENT AND SOCIAL MEDIA, I THINK WE NEED TO REALLY ADDRESS THAT AS A COUNTRY AND NOT JUST IN THE UNITED STATES BUT AROUND THE WORLD AREA FOR ME, AS A PUBLIC WE EARLY WANT THESE PLATFORMS THAT ARE MEATY ENVIRONMENTS TO FUNCTION AND BE SAFE REGARDLESS OF POWER AND I DON'T THINK THAT RISK HAS GONE AWAY UNDER BIDEN OR POTENTIALLY FUTURE PRESIDENTS REGARDLESS OF THEIR PARTY. SO MAYBE SOME PEOPLE ARE COMFORTABLE WITH DEMOCRATS AND SOME OF THE POLICY AROUND SOCIAL MEDIA BUT THEY MAY NOT ALWAYS BE IN POWER SO YOU REALLY WANT YOUR SOCIAL MEDIA PLATFORMS, YOUR THE ENVIRONMENT TO BE A HEALTHY ONE, THAT IT IS GOOD FOR THE PUBLIC, GOOD FOR DISCOURSE, GOOD FOR DEMOCRACY, AND I STILL SEE THAT HERE TODAY. ED: PROFESSOR JENNIFER GRYGIEL OF SYRACUSE, THINK YOU FOR YOUR TIME. STICKING WITH SOCIAL MEDIA, TIKTOK IS NOT THE ONLY SOCIAL MEDIA COMPANY UNDER BYTEDANCE THAT HAS GONE VIRAL. U.S. TABLEAUX OF LEMON EIGHT ARE SURGING, A CONTENT SHARING PLATFORM SIMILAR TO TIKTOK FOCUSING ON LONGFORM LIFESTYLE VIDEOS. THINK OF IT AS A MIX OF INSTAGRAM AND PINTEREST.
INFORMATION ABOUT THE APP IS MURKY. REGULATORY FILINGS AND VARIOUS REPORTS SUGGEST IT IS OWNED BY BYTEDANCE AND THE TIES WITH THE CHINESE COMPANY MAY EXPOSURE TO SCRUTINY FACED BY TIKTOK IN THE UNITED STATES. COMING UP, HOW REGENERATIVE AI COULD USHER IN BOLD NEW FUTURE FOR BUSINESS MERGING PHYSICAL AND DIGITAL WORLDS. THAT IS ACCENTURE'S NEW TECHNOLOGY VISION GROUP.
THERE TECHNOLOGY AND INNOVATION CHIEF JOINS US NEXT. RIGHT NOW, THE FINAL DAY OF THE MONTH AND FINAL DAY OF THE QUARTER, THE STORY IS TECHNOLOGY HAVING THE CONSTRUCTIVE THREE MONTHS IN 2023 SO FAR. THE NASDAQ 100 BEST ABSENCE THE SECOND QUARTER JUNE 2020 OUTPERFORMANCE IN SEMICONDUCTORS, A LOT OF MOMENTUM TIED THE NARRATIVE AROUND RATES. THIS IS BLOOMBERG. ♪ >> I THINK THERE ARE DIFFERENT WAYS OF VIEWING WHAT WE ARE ASKING FOR. I THINK THE CEOS ARE GOING TO READ THIS AND SAY WE COMPLETELY MESSED UP MIA WRIGHT AND WE WILL DEFINITELY STOP RIGHT NOW. I DON'T THINK THAT WILL HAPPEN.
I HOPE AT LATEST -- AT LEAST CAUSES A SERIOUS CONVERSATION ON WHAT WOULD THE NECESSARY TO DEVELOP SYSTEMS WE CAN HAVE CONFIDENCE IN. CAN WE HAVE WAYS OF TESTING THE SYSTEMS WE HAVE SO WE CAN SHOW THAT THEY DO NOT PRESENT RISK OR HELP PEOPLE COMMIT SUICIDE. SO WE CHANGE THE WAY WE DESIGN THE SYSTEM SO WE CAN DO THAT. I THINK THE LATTER IS MORE LIKELY. I WOULD ALSO SAY THAT LEGISLATORS, THE EUROPEAN UNION FOR EXAMPLE, ARE CLOSE TO PASSING THE AI ACT WOULD REQUIRE THESE -- WHICH WOULD REQUIRE THESE KINDS OF STEPS SO YOU COULD NOT PUT SYSTEMS ON THE MARKET UNLESS YOU COULD SATISFY THE REGULATORS THAT THEY WOULD BE SAFE. ED: THAT WAS STUART RUSSELL, BERKELEY COMPUTER SCIENCE PROFESSOR AND AI EXPERT AND WAS ONE OF THE SIGNATORIES OF THE PETITION CALLING FOR A HALT TO AI DEVELOPMENT AND THAT IS WHERE I WANT TO GO, MORE ABOUT REGENERATIVE AI AND THE KIND OF OPPORTUNITIES IT OPENS UP IN THE WORLD OF TECHNOLOGY.
PAUL DOHERTY, THE ACCENTURE GROUP EXPERT, AUTHOR OF TWO BOOKS ON MACHINE LEARNING AND TWO BOOKS, HUMAN MACHINE AND RADICALLY HUMAN. WELCOME TO THE PROGRAM. YOU HEARD THERE WHAT THE PROFESSOR HAD TO SAY, THE FINDINGS OF YOUR REPORT ABOUT THE OUTLOOK FOR AI CONTRAST WITH WHAT THE INDUSTRY IS CALLING FOR NOW. PAUL: I KNOW STUART WELLS AND THE COMMENTS, DOING WORK TOGETHER AND I HAVE A DEEP RESPECT FOR STUART AND HIS VIEWS. LOOK, I THINK THE OPEN LETTER ON AI WAS I THINK CALLED IMPORTANT ATTENTION TO A REAL ISSUE, GETTING SERIOUS DIALOGUE AROUND THE IMPLICATIONS OF AI AND RESPONSIBLE AI. I WOULD SAY IF AN ORGANIZATION OR COMPANY IS IMPLEMENTING AI, YOU DON'T HAVE RESPONSIBLE AI A POLICY -- POLICY AND APPROACH, IT IS CIVIL YEARS POSSIBLE. SO THERE IS CALL TO ATTENTION AROUND THE IMPACT TECHNOLOGIES HAVE AND ENSURING ACCURACY, OWNING PROPERTY IN ALL THESE ISSUES ARE REALLY IMPORTANT. BUT I THINK IT PAUSES NOT WHAT
WE NEED. WE NEED MORE TRANSPARENCY AND DIALOGUE AND COMPANIES TO TAKE STEPS WE HAVE BEEN WORKING ON FOR FOUR TO FIVE YEARS WHICH IS HAVING TRAINING POLICIES, COMPLIANCE PROGRAMS, AND LENGTHEN OUR COMPANY AND OTHERS WE WORK WITH TO MAKE SURE COMPANIES ARE DOING THE RIGHT STUFF. ED: YOU ARE PLUGGED INTO HUNDREDS IF NOT THOUSANDS OF TECH COMPANIES GLOBALLY. IT IS A SIX-MONTH PAUSE FEASIBLE? CAN ANYONE MAKE THAT HAPPEN? PAUL: THERE'S TREMENDOUS INNOVATION AND PROGRESS HAPPENING AND I THINK THERE IS APPROACHES, MANY APPROACHES AND PLAY TO LOOK AT HOW TO USE TECHNOLOGY IN THE APPROPRIATE WAY. I THINK THE RIGHT THING TO DO IS KEEP THE EXPERIMENTATION, THE INNOVATION GOING BUT INCREASE THE DIALOGUE AROUND GUIDELINES WE NEED TO HAVE IN PLACE ON TOPICS MENTIONED EARLIER.
THAT'S THE APPROACH AND WE'RE WORKING WITH MANY ORGANIZATIONS AROUND THE WORLD INCLUDING SOME OF THE ONES YOU MENTION ON PUTTING RIGHT GUARD RAILS IN PLACE. THINK THE INNOVATION EXPERIMENT TAKE AND HELPS CONTRIBUTE TO THAT DIALOGUE. >> AND THE CONCLUSION OF YOUR REPORT AND SURVEY IS THAT AI WILL SPARK A LARGE WAVE OF INNOVATION, NEXT GENERATION TECHNOLOGIES. HOW DOES THAT MANIFEST ITSELF?
PAUL: AI REALLY UNLEASHES NEXT LEVEL OF CAPABILITY FOR ORGANIZATIONS, THAT IS THE WAY TO THINK ABOUT IT. WE HAD A LAUNCH OF OUR ANNUAL VISION REPORT YESTERDAY, AND ON THE LAUNCH WE HEARD EVERYTHING FROM 125 YEAR OLD COMPANY TO A 25-YEAR-OLD AI STARTUP FOUNDER ABOUT THE IMPLICATION IT HAS ON BUSINESS AND 90% OF EXECUTIVES IN THE RESEARCH WE'VE DONE TALK ABOUT THE FACT IT WILL INVEST IN REGENERATIVE AI AND PARTICULARLY WILL HAVE A BIG IMPACT ON YOUR ORGANIZATION AND THE IMPACT IT WILL HAVE IS ALLOWING ORGANIZATIONS TO DO NEW THINGS THEY COULD NOT BEFORE. IT IS NEW LEVELS OF CREATIVE CAPABILITY POWERED BY FOUNDATION MODELS YOU HEAR ABOUT. IT IS NEW WASTE FOR WORK TO BE DONE, NEW WAYS TO EMPOWER PEOPLE AND IT GIVES WORKERS SUPERPOWERS TO DO NEW THINGS OR EXPENDED THINGS WITH COPILOT-TYPE CAPABILITY POWERED BY GENERATIVE AI. I THINK IT'S A GREAT OPPORTUNITY FOR INDIVIDUALS TO USE TECHNOLOGY IN A DIFFERENT WAY AND BUSINESSES TO LOOK AT HOW THEY BAKE THESE UP. ED: LET'S GET SOMEONE ELSE'S VIEW ON WHERE WE ARE IN THE AI CYCLE.
THIS IS WHAT THE STABILITY AI CEO HAD TO SAY THE LAST ONE HE FOR HOURS. THIS IS BIGGER THAN 5G OR SELF DRIVING CARS. WE HAVE HAD OTHERS ON THE SHOW THAT SAY WHAT IS HAPPENING IN ARTIFICIAL INTELLIGENCE IS A KIN FROM THE SHIFT TO MOBILE FOR EXAMPLE.
YOU ARE A TECHNOLOGIST, DO YOU AGREE WITH ANY OF THOSE STATEMENTS? ED: WHAT I'VE SAID -- PAUL: WHAT I'VE SAID IS WHAT WE'RE SEEING NOW IS THE FOUNDATION OF LANG WHICH MODELS IS ONE OF THE THREE BIGGEST INNOVATIONS I'VE SEEN IN MY MULTI-DECADE CAREER WORKING IN TECHNOLOGY. THE FIRST WAS WHEN ONE OF THE FIRST BROWSERS AND SAW THE POTENTIAL AND POWER OF THE INTERNET. THE SECOND WAS WHEN I SAW THE FIRST IPHONE, AND REALIZE THE POWER OF BRINGING THAT ACCESS TO TECHNOLOGY TO BILLIONS AROUND THE WORLD AND WHEN I DOVE IN WITH FOUNDATION MODELS AND LARGE LANGUAGE MODELS AND SO THE CREATE A POWER IT HAD AND POWER TO ALLOW HUMANS, WORKERS, PEOPLE TO INTERACT WITH TECHNOLOGY IN A WHOLE NEW LEVEL. I THINK IT'S THE TYPE OF BREAKTHROUGH. ED: PAUL, ACCENTURE, YOUR OWN COMPANY IS LANG UP 19,000 STAFF ACROSS TECHNOLOGY. . WHAT IS YOUR ASSESSMENT OF THE REASON WHY LAYOFFS ARE HAPPENING? PAUL: WE ANNOUNCED RECORD GROWTH IN OUR BUSINESS, RECORD SALES IN THE RESULTS WE ANNOUNCED, 35 -- AT ONE POINT THERE WERE 35 DEALS OF OVER $100 MILLION AROUND TECHNOLOGY, DRIVEN BY A LOT OF WHAT IS HAPPENING WITH THE COMPANIES NEEDING TO REINVENT FASTER BY APPLYING TECHNOLOGY.
SO WE SEE CONTINUED ROBUST STRONG DEMAND FOR TECHNOLOGY. WHAT WE ANNOUNCED WAS REALLY SOMETHING WE DO EVERY YEAR IN TERMS OF LOOKING AT HOW OUR POSITION WITH TALENT WITH THE GROWTH GOING FORWARD AND BILLY DIFFERENCE IS WE TOOK A PROACTIVE STEP TO GET FIT FOR WHAT WE SEE COMING AND THIS IS THE REALM OF WHAT WE DO EVERY YEAR AND WE THINK THE MARKET GOING FORWARD, ESPECIALLY WITH NEW ADVANCES IN TECHNOLOGY, COMPANIES NEEDING THIS TECHNOLOGY TO OPERATE MORE RESILIENTLY IN THE WORLD THEY OPERATE IN WILL CONTINUE TO DRIVE THAT DEMAND. ED: PAUL DAUGHERTY, ACCENTURE'S TECHNOLOGY GROUP CHIEF EXECUTIVE. THANK YOU. UBER GOING MORE AND MORE GREEN. HOW IT IS INTENSIFYING ITS EFFORTS TO ELECTRIFY THE VEHICLES ON ITS NETWORK. NASDAQ 100 WE HAVE SAID IT, BEST QUARTER GOING BACK TO THE SECOND QUARTER OF 2020. ACTUALLY THE SECOND BEST QUARTER OF THE DECADE FOR THIS TECH I CAN -- TECH-HEAVY INDEX.
AN INTERESTING STORY ON BLOOMBERG ON HOW INSIDERS ARE SOME OF THE SELLERS OF TECHNOLOGY SHARES CERTAINLY WORTH CHECKING OUT. THIS IS BLOOMBERG. ♪ ED: TIME FOR TALKING TECH. ALIBABA AND JD HAVE BECOME PREPARATIONS FOR A TRIO OF THE YEAR'S BIGGEST CHINESE DEBUTS. ALIBABA'S LOGISTIC FIRM KICKED UP DISCUSSIONS WITH BANKS FOR WHAT MAY BECOME THE FIRST OF SEVERAL IPO'S BY THE E-COMMERCE GIANT. THURSDAY, TWO SUBMIT CITY ARIES
FILED FOR THE FIRST TIME IN HONG KONG. THOSE THREE LISTINGS COULD RAISE $5 BILLION BETWEEN THEM ACCORDING TO SOURCES AND BLOOMBERG RECORDING -- REPORTING TESLA IS LOOKING TO BUILD A FACTORY PLANT IN THE U.S. WHICH WOULD LIKELY BE A CONTROVERSIAL LIKE IT -- CONTROVERSIAL ARRANGEMENT WITH CHINA. WHITE HOUSE OFFICIALS HAVE BEEN MEETING OVER THE PAST FEW DAYS.
SOURCES TOLD MYSELF AND OTHERS THAT THIS HAS BEEN GOING ON FOR A COUPLE OTHERS NOW. SPEAKING OF EV'S, UBER ALSO HAS NEWS, IT IS EARTH -- NEWS AS EARTH MONTH APPROACHES. A NEW GLOBAL INITIATIVE, GET THE DRIVERS IN TO THE STATIONS TO CHARGE THEIR VEHICLES.
JOINING US ON THE PROGRAM NOW, ADAM GROMMETS, UBER'S HEAD OF SUSTAINABILITY POLICY. EVERYONE WANTS TO DRIVE ELECTRIC AND RIDE ELECTRIC, IS THIS FOR THE DRIVERS OR ULTIMATELY IS THIS FOR THE RIDERS? >> GOOD MORNING. FIRST UBER WANTS TO LEAD THE RIDESHARE INDUSTRY TO AN ALL ELECTRIC ZERO MISSION FUTURE. HOW ARE WE GOING TO DO THAT? WE MADE A PLEDGE TO REACH 100% OF RIDES IN EV'S AND MICRO MOBILITY BY 2030 IN THE U.S., CANADA, EUROPE, AND EVERYWHERE
WE OPERATE GLOBALLY. BY 2040. WE WORK WITH DRIVERS, HELP THEM MAKE THE SWITCH, CONSUMERS, MAKE IT EASY, GET A RIDE. AND TRANSPARENCY BECAUSE WE NEED ACCOUNTABILITY AND WE KNOW WE DON'T JUST EARN IT. THIS PLAY IS ABOUT HELPING DRIVERS, MEETING DRIVERS WHERE THEY ARE AT.
THEY SAY TOP TWO CONCERNS ARE THE EV COST AND EV CHARGING. THAT IS WHY THIS DEAL IS SO IMPORTANT, WE ARE MAKING DEALS LIKE THIS WITH ENERGY COMPANIES AROUND THE WORLD, THIS WOULD HELP US MAKE IT SO WE CAN REACH MORE DRIVERS WHERE THEY ARE AND MANY DRIVERS ARE AT THE PUMP. ED: SO WE ASKED A LOT OF THOSE DRIVERS WHAT IS HOLDING YOU BACK FROM ELECTRIFYING? COST OF EV'S 50% OF RESPONDENTS, LACK OF CHARGING, 43 PERCENT. IN SAN FRANCISCO IT IS PRETTY EASY TO GET AN ELECTRIFIED RIDE AND IN THE CITIES IT IS NOT. SO DRIVERS NEED A LITTLE MORE FINANCIAL HELP THAN IS GIVEN BY THE INFO SECTOR? ADAM: THAT'S WHAT WE HEAR. FOR US IT IS WISE FOR US TO MET -- LEVERAGE OUR MARKET PLACE AND SCALE DEFY NEW TOOLS FOR DRIVERS, SUPPLY FOR DRIVERS THROUGH PARTNERSHIPS, AND NEW INNOVATIONS TO MAKE IT EASIER TO FIND THE CHARGING.
JUST THIS WEEK WE EXPANDED COMFORT ELECTRIC, COMFORT ELECTRIC IS A PUSH THE BUTTON AND GET AN EV AND NOT JUST EV, YOU CAN GET A PREMIUM EV, A FORWARD EV. THESE ARE CARS PEOPLE WANT TO. AND WANT TO BE IN. ED: WHAT PERCENTAGE OF THE TOTAL RIDESHARE FLEET IN THE U.S. OR GLOBALLY IS CURRENTLY ELECTRIC? ADAM: LAST YEAR WE QUADRUPLE THE NUMBER OF ACTIVE DRIVERS USING EV'S BETWEEN U.S., CANADA, AND EUROPE AT 40,000. IT IS VERY EXCITING. IN THE U.S. WE SEE DRIVERS SWITCH TO EV'S
FIVE TO EIGHT TIMES FASTER THAN THE GENERAL POPULATION IF YOU COMPARED TO SAY EV REGISTRATIONS. WHAT WE ARE SEEING IS DRIVERS HAVE UBER IN SOME MARKETS LIKE CALIFORNIA AND SOME MARKETS LIKE LONDON ARE GOING FASTER. 10%, 15% OF MILES SERVED. ED: SO TO THROW THIS FORWARD, I DON'T THINK MONEY CHANGED HANDS BETWEEN UBER AND BP ON THIS TRANSACTION. MONEY, WHAT IS YOUR DOLLAR COMMITMENT TO DRIVING THIS MISSION? ADAM: HOOVER MADE A COMMITMENT TO MAKE 800 MILLION DOLLARS IN TOTAL RESOURCES AVAILABLE FOR DRIVERS TO MAKE THE SWITCH. TALKED ABOUT IT IN THE BEGINNING, DRIVERS FACE A FINANCIAL HURDLE TO GET INTO EV'S SO WE MADE THE COMMITMENT TO MAKE IT AVAILABLE TO DRIVERS BY 20 TO FIVE MAKE HUNDREDS OF THOUSANDS MAKE THE SWITCH.
THIS AGREEMENT WOULD CREATE A GLOBAL FRAMEWORK OR WE CAN CREATE LOCAL OFFERINGS THAT MEET DRIVERS WHERE THEY ARE AT AND TAYLOR TO THE LOCAL MARKET CONDITIONS. ED: ADAM GROMIS, UBER HEAD OF SUSTAINABILITY POLICY, THANK YOU. COMING UP, ANTI-PEARLY TALKS ABOUT THE COMPANY EARNINGS, THE BUSINESS OUTLOOKS, DESPITE THE SMARTPHONE CHIP SANCTIONS AND MORE. THESE ARE SOME OF THE BIG NAMES THAT HAVE DRIVEN THE S&P 500 SO FAR THIS YEAR AND A LOT OF EMPHASIS ON THE MEGA CAPS BUT NVIDIA, 90% GAIN YEAR-TO-DATE AND A LOT OF THAT AROUND THE HYPE WITH ARTIFICIAL INTELLIGENCE AND A LOT OF ANALYSTS SAY NVIDIA'S THE MAIN ♪ ED: WELCOME BACK TO "BLOOMBERG TECHNOLOGY," I AM ED LOWELL -- ED LUDLOW. HUAWEI HOSTED ITS FIRST PROFIT DECRYING -- DECLINE IN MORE THAN A DECADE. U.S.
ANCIENTS OF ALL MUCH OBLITERATED THE ARM AND HAD THE -- HERE TO TALK ABOUT THE OUTLOOK FOR HUAWEI IS SHE SECURE THE OFFICER ANDY PARTY -- ANDY PURDY . THIS IS THE DIRECT RESULT OF U.S. SANCTIONS ON YOUR FINANCIALS. ANDY: THAT'S RIGHT. IT'S GREAT TO BE BACK ON YOUR SHOW AND IN THE NEW TIMESLOT. THIS IS A MAJOR IMPACT OVER THE LAST COUPLE YEARS, PARTICULARLY DECIMATING OUR CONSUMER BUSINESS , CAUSING A DROP OF $30 BILLION IN A YEAR BUT WE HAVE WORKED TO THIS, OUR BUSINESS HAS STABILIZED AND OPERATIONS ARE STEADY. WE ARE LEVERAGING OUR PARTNERSHIPS, 5G TO BUSINESS, AND THERE IS RESEARCH AND DEVELOPMENT IN HISTORIC NUMBERS AND WE SEE A FORWARD AND WE ARE DETERMINED TO MOVE FORWARD WITH TREMENDOUS EMPHASIS ON INNOVATION AND PARTNERSHIP. ED:
WHAT IS YOUR HOPE FOR THE NET RESULT OF SPENDING ON R&D TO GET OUT OF THE IMPACTS OF SANCTIONS? ANDY: WHAT WE ARE SEEING IS WORKING CLOSELY WITH PARTNERS, FINDING NEW TECHNOLOGICAL CAPABILITIES THAT CAN BE ENABLED BY 5G AND OTHER TECHNOLOGIES SO WHEN YOU LOOK AT PORTES AND HEALTH CARE AND MANUFACTURING, IT IS CLEAR THESE ARE THE INVESTMENTS IN R&D WILL HELP STRENGTHEN OPERATIONS AND CREATE GREATER FUNDING, GREATER EFFICIENCY, AND DRIVE INCREASES IN GROSS THOMISTIC PRODUCT IN THOSE COUNTRIES THAT DO IT AND BUSINESSES THAT DO IT. WE ARE ALSO DOING RESEARCH ON SOME OF THE MAJOR PROBLEMS, THE AMOUNT OF ERROR-FREE DATA THAT CAN PASS THROUGH AND WE HAVE TO GET READY FOR FIVE POINT 5G AND THE AMOUNT OF UPLOADING AND DOWNLINK CAPABILITIES NECESSARY. IT WILL BE A GIGANTIC PROBLEM AND THE HARD TRUTH OF SCIENCE MAY LIMIT THE BENEFITS OF IT UNLESS WE CAN OVERCOME SOME HURDLES. ED: WHAT IS HAPPENING IN MAINLAND
CHINA IS HUAWEI'S PUSH INTO 5G FOR COMPANIES THAT ARE IN CHINA. HOW IS THAT GOING AND CAN YOU REPLICATE WHAT YOU'RE DOING IN THAT FIELD OUTSIDE OF CHINA AND IN OTHER JURISDICTIONS? ANDY: I JUST GOT BACK FROM THE MOBILE WORLD CONGRESS, ONE OF THE LARGEST CONGRESS IS IN THE WORLD IN BARCELONA AND HAD AN OPPORTUNITY TO TALK TO A LOT OF CUSTOMERS AND PARTNERS, A NUMBER OF GOVERNMENTS AROUND THE WORLD, TALKING ABOUT SHARING LESSONS LEARNED ABOUT WHAT ARE THE USE CASES FOR THESE TECHNOLOGIES, WHERE CAN ENTERPRISE BENEFIT THE MOST FROM THESE NEW TECHNOLOGIES , TO REDUCE THE CARBON FOOTPRINT AND BRING NEW CAPABILITIES FOR MONETIZATION TO CARRIERS AND CUSTOMERS AND IT IS AN EXCITING STORY AND FRANKLY AS AN AMERICAN I AM HEARKENED THE INVESTMENTS WE SEE IN THE UNITED STATES ARE GOING TO BE LOOK TO INCREASE THE AMOUNT OF REAL 5G BETWEEN NOW AND 2025 SO AT&T'S AND VERIZON'S AND T-MOBILE''S OF THE WORLD ARE INVESTING HEAVILY. HOPEFULLY AMERICA WILL LEARN LESSONS AND DRIVE IMPORTANT PROGRESS IN THESE AREAS. IT'S NOT JUST ABOUT MAKING
MONEY, THOUGH IT IS IMPORTANT, IT IS ABOUT SUPPORTING SMALL AND MEDIUM ENTERPRISES AND BRINGING A GREATER QUALITY OF LIFE TO CITIZENS. ED: THERE IS CHANGES AFOOT WITHIN HUAWEI. THE ROTATING CHAIR POSITION IS TAKEN STARTING NEXT WEEK. HOW DOES THAT IMPACT MANAGEMENT STRUCTURE, HOW HUAWEI IS RUN, WHAT IS THE NEW CHAIRS TAKE? ANDY: IT'S AN INTERESTING SITUATION AND HIGHLIGHT IT AGAIN BUT I'VE BEEN WITH HUAWEI 2.5 YEARS AND THIS CONCEPT OF HAVING A ROTATING CHAIRMAN COMING IN EVERY SIX MONTHS, THE STRUCTURE OF THE COMPANY, THE ORGANIZATION OF THE COMPANY IS NOT DEPENDING ON THE ROTATING CHAIRMAN. WE HAVE STRUCTURES AND PROCESSES AND COMPLIANCE
SYSTEMS, ALL THOSE THINGS ARE IN PLACE. THE PARTICULAR TONE, PARTICULAR PRIORITIES OF THE ROTATING CHAIR CAN HAVE AN INFLUENCE BUT THE COMPANIES ORGANIZED IN A WAY THIS CREATES CONTINUITY. ED: THERE'S A LOT OF FOCUS ARE NOW ON HUAWEI'S ACTIVITIES WITHIN THE CHIP SPACE SEMICONDUCTORS, ESPECIALLY ON SOFTWARE AND DESIGN SIDE. HOW IS THAT GOING? IS IT A MATERIAL PATH TO CERTAIN -- CIRCUMVENTING WITH THE U.S. IS TRYING TO DO IN TERMS OF
TRIALS? ANDY: WE ARE IN A POSITION OF NEW NORMAL AND NOT LOOKING BACK ON THOSE THINGS WE CANNOT DO. WE KNOW CERTAIN ASPECTS ARE LOOKING FORWARD. I AM HEARTENED BY THE FACT THE U.S. IS INVESTIGATING ANY CHIP MANUFACTURING. WHEN I LOOK AT THE EFFORTS AROUND THE WORLD, I'M A LITTLE CONCERNED ABOUT THE POTENTIAL IMPACT ON AMERICAN JOBS AND AMERICAN SEMICONDUCTOR INDUSTRY OR THEY ARE NOT ALLOWED TO SELL AND CONTINUE NOT ALLOWED TO SELL. SENSITIVE CHIPS TO HUAWEI AND OTHER COMPANIES.
I'M CONCERNED ABOUT THE FUTURE OF THE UNITED STATES AND OTHERS. ED: WE SAW CHINA RESPOND, RETALIATE OVERNIGHT LAUNCHING A CYBERSECURITY REVIEW OF MICRON, A SPECIFIC CASE BUT WHAT IS YOUR INTERPRETATION OF CHINA'S ACTION THERE? ANDY: FROM MY PERSPECTIVE WITH A SOMEWHAT OF A CYBERSECURITY AND PRIVACY BACKGROUND, GIVEN THE NATURE OF THE CYBERSECURITY THREATS OF THE LAST COUPLE YEARS, IT HAS BEEN DEMONSTRATED THAT IN THE SOLAR WINDS AND SERVER ATTACKS THE TRUST AND SUPPLIERS ARE VIOLATED. REGARDING CYBERSECURITY AND PRIVACY, IT'S NOT ABOUT WHAT COMPANY IT IS OR COUNTRY IT IS, WE HAVE TO HAVE MEASURES IN PLACE THAT ARE OBJECTIVE. THERE NEEDS TO BE TRANSPARENCY
AND ACCOUNTABILITY. COMPANIES AND GOVERNMENTS AND INDIVIDUALS TO DO THE RIGHT THING FOR A CYBERSECURITY PERSPECTIVE AND PROTECT THEIR DATA PRIVACY. BECAUSE WERE NOT DOING NEARLY ENOUGH ON THE DATA PRIVACY IN THE UNITED STATES. ED:
HUAWEI'S CHIEF SECURED OFFICER, ANDY PURDY, THANK YOU. JAPAN SAYING ABLE EXPAND RESTRICT SINS ON A SOURCE OF 23 TYPE OF CHIPMAKING TECHNOLOGY. TOOK HIS MOVE FOLLOWS MONTHS OF LONGING BY THE U.S. TO GET JAPAN TO COME ON BOARD IN TIGHTENING SHIPMENTS OF SEMICONDUCTORS TO CHINA.
JAPAN HAD AGREED IN PRINCIPLE TO JOIN THE U.S. BUT IS CHARTING A MIDDLE ROAD BETWEEN THE TWO SUPERPOWERS. WE WILL TALK ABOUT THE STATE OF FUNDRAISING IN SELEKA VALLEY FOLLOWING SVB'S COLLAPSE OF THE CEO PORTAGE AND RECAP LAST A LOOK QUARTER, LAST DAY OF MARCH, THIS IS WHERE WE STAND HERE TODAY TO, A VERY DIFFERENT PICTURE IN THE BANKING SECTOR. THIS IS THE IMPACT OF SVB'S COLLAPSE AMONG REGIONAL BANKS AND OTHER FINANCIALS YEAR TO DATE. THE COMPLETE OPPOSITE OF WHAT WE SEE FRANKLY IN THE TECHNOLOGY SECTOR. THIS IS BLOOMBERG. ♪ ♪ >> THE DIGITALIZATION AND DECARBONIZATION IS EATING UP AN EVER LARGER SHARE OF GDP IF YOU WANT TO INVEST IN GROWTH THAT IS WHERE YOU WANT TO BE.
>> THE DOLLAR VALUE GOING INTO CLIMATE-RELATED VENTURE PLATEAUING BETWEEN 2021 AND 2022. DRIVEN ENTIRELY BY THE DECREASE IN THE GROWTH ROUNDS. >> IN THE YEAR OF ISOLATED IN THE U.K.
WHERE MAYBE IT WAS IMPORTANT, BUT I THINK IT IS INTERESTING TO SEE THERE'S BEEN AN EXPLOSION IN VENTURE DEBT PARTICULARLY LAST YEAR. >> I EXPECT TO SEE A CHANGE IN UNDERWRITING OF POLICIES AROUND WHAT PROFILE OF COMPANIES CAN GET DEBT AND ON WHAT TERMS RELATIVE TO WHAT WE WERE SEEING IN THE PAST. >> FOR US, WE ARE LOOKING AT HOW WE CAN SUPPORT OUR STARTUPS SO THEY DO NOT AFTER CONTINUOUSLY GET INTO THAT SELEKA VALLEY TREADMILL OF RAISING MORE AND MORE CORPORATE EQUITY. >> I THINK FOUNDERS HAVE WOKEN UP TO THE REALITY THAT TAKING ON MORE MONEY AT HIGHER TERMS DOES NOT NECESSARILY PLAY TO THEIR BENEFIT IN THE LONG RUN. ED: JUST SOME OF THE VENTURE CAPITAL GUESTS THROUGHOUT THE WEEK ON THE PROGRAM. IT'S GET A WRAP FOR THINGS VC AND DEALS AND BRING IN OUR NEXT GUEST. IT SEEMS A LIFETIME AGO
BUT IT WAS THIS WEEK FOR CITIZENS STEPPED IN AND TOOK SVB. THIS IS WHAT SOME OF THE VENTURE COMMUNITY WANTED. >> YES, SO THEY FOUND A HOME FOR SILICON VALLEY BANK IN NORTH CAROLINA, PRETTY FAR FROM SILICON VALLEY BUT AT LEAST SILICON VALLEY BANK WILL LIVE ON . I'VE TALKED TO SOME VCS WHO ARE CAUTIOUSLY OPTIMISTIC ABOUT THIS. THEY DO NOT KNOW WHAT THE STRATEGY WILL BE FOR SILICON
VALLEY BANK UNDER FIRST CITIZENS. THEY ARE HOPING IT WILL BE MORE OF THE SAME. THEY LIKED SELEKA VALLEY BANK BEFORE, THE BANK HAD GOOD VENTURE DEBT TERMS AND ARE HOPING THAT WILL CONTINUE. ED: THE OTHER BIG STORY IS ALIBABA SPINNING OFF UNITS AND ABU DHABI IPO'S, ARE THEY BACK? KATIE: I DON'T KNOW IF THEY ARE BACK BUT IT IS GOOD TO SEE ACTIVITY. LAST YEAR WAS QUITE ON THE IPO FRONT WHAT ALIBABA IS SPLITTING INTO SIX DIFFERENT BUSINESSES SO THEY CAN FOCUS ON THEIR CORE BUSINESS AND BRING VALUE TO SHAREHOLDERS IN SHEPHERD -- IN SEPARATE UNITS. THE DELIVERY UNIT COULD GO
PUBLIC BEFORE THE END OF THE YEAR IN HONG KONG. I DON'T KNOW THAT WE ARE ABOUT TO SEE A FLURRY OF IPOS IN THE NEAR TERM IN THE U.S. BUT CERTAINLY WE ARE SEEING SOME SPINOFFS. THE BIG TECH IPO OF LAST YEAR WAS MOBILEYE. ED: KATIE WILL STAY WITH US. NOW PORTAGE CAPITAL SOLUTIONS CEO, RESOURCES HELPING PUBLIC AND PRIVATE LATE STAGE FINTECH AND PRIVATE LATE STAGE FINTECH IN THE FINANCIAL SERVICES BUSINESS. IT HAS BEEN AHEAD -- HELL OF A WEEK. GIVE ME A BROAD STROKES
REACTION TO THE SAVING AT SVB IN PARTS. >> LET ME START BY SAYING THE MARKET WAS REALLY TIGHT EVEN BEFORE THIS EVENT. THERE WAS REALLY TWO FACTORS IN PLAY AND ONE WAS THE BROADER MARKETS WHERE WE SEE CHALLENGES GIVEN THE SETBACK IN PUBLIC MARKETS AND PRIVATES CATCHING UP TO THE VALUATION COMPRESSIONS WE ARE HAVING, AND THEREFORE PRIVATE COMPANIES WERE AVOIDING COMING TO MARKET.
THAT WAS COMPOUNDED BY THE FACT GPS THEMSELVES WERE STARTING TO GET CONCERNED ABOUT RAISING CAPITAL IN THEIR NEXT FUNDS AND OR SLOWING DOWN THERE PACING'S. THE MARKET WAS BECOMING VERY TIGHT AND RELATIVELY QUIET. MANY OF THESE COMPANIES WERE USING THEIR VENTURE DEBT FACILITIES TO EXTEND THEIR RUNWAYS SO THEY COULD AVOID POTENTIALLY COMING INTO A MARKET WHERE SCARCITY WAS HIGH AND THIS IS OBVIOUSLY EXACERBATED THOSE FACTORS AND WE'VE GOT A SITUATION WHERE A LOT OF COMPANIES ARE GOING TO BE IN A TIGHTER WINDOW, WE CALL IT THE FUNDRAISING GAUNTLET OF FALL BECAUSE THEY HAVE POTENTIALLY LESS FLEXIBILITY. ED: IT IS GOOD YOU ARE WITH US BECAUSE YOU CAN RUN THAT AND I CANNOT. I'M NOT A VENTURE CAPITALIST. WE ARE TALKING A LOT ABOUT LAST
DAILY QUARTER AND THE NASDAQ 100 IS GOING ON SEMICONDUCTOR -- IS GOING NUTS, NON-SEMICONDUCTOR INDEX GOING NUTS, AND WHEN YOU TRY TO BENCHMARK YOUR PRIVATE PORTFOLIO COMPANIES, WHY ARE THOSE TWO COMPETING IDEAS NOW? ADAM: ONE, THE PUBLIC MARKETS AND MULTIPLES FELL A LOT FASTER AND HARDER THAN THE PRIVATE MARKETS. THE PRIVATE MARKETS ARE REALLY JUST CATCHING UP. I THINK AT THE LATER STAGE WE ARE STARTING TO SEE A FLATTENING BETWEEN THE PRIVATE PREMIUM AS YOU GO FURTHER DOWN THE MATURITY CURVE INTO EARLIER STAGE, THE PUBLIC AND PRIVATE MARKETS ALWAYS HAVE A LITTLE DIFFERENT EQUILIBRIUM, BUT I WOULD SAY THE LATER STAGE WE ARE STARTING TO SEE A LITTLE BIT MORE BALANCE BETWEEN THE TWO. KATIE: I WANT TO ASK ABOUT STRUCTURED EQUITY. I KNOW YOUR FIRM HAS
EXPERIENCE. ARE YOU FINDING NOW A LOT OF THESE UNICORNS OR SOME OF THE LARGELY HIGHLY VALUED COMPANIES WOULD RATHER SAVE FACE AND TAKE NEW MONEY AT DIFFICULT TERMS RATHER THAN DOING A DOWN ROUND? ADAM: IT'S NOT JUST A QUESTION FOR THE MANAGEMENT TEAM, IT IS FOR ALL STAKEHOLDERS AND THE MANAGEMENT TEAM IS ONE COMPONENT. THERE INVESTOR BASE IS ANOTHER. OBVIOUSLY IT IS A DEBATE THE STAKEHOLDERS HAVE TO HAVE.
I THINK A STRUCTURED SOLUTION LIKE WE HAVE ON THE OFFER DOES OFFER FLEXIBILITY ON VALUATION VERSUS POTENTIALLY A PREFERRED SECURITY WITH SOME SENIORITY AND GOVERNANCE AND EVERYONE HAS TO WEIGH WHAT ARE THE DIFFERENT LEVERS THAT CONSTRUCT THE BEST OUTCOME FOR BOTH THE COMPANY ITSELF AND THE INVESTOR, AND I THINK A STRUCTURED EQUITY SOLUTION HAS MORE FLEXIBILITY. IF ALL YOU DO AS AN INVESTOR IS OFFER A PREFERRED SECURITY OR, SECURITY, YOU WILL BE MUCH MORE SENSITIVE TO THE VALUATION. KATIE: ARE YOU BUSY RIGHT NOW? ARE YOU FINDING A LOT OF COMPANIES ARE ABOUT TO RAISE THE MONEY? ADAM: IT IS UNBELIEVABLY BUSY. THE LAST FOUR MONTHS WE HAVE
ENTERED INTO OVER 200 NDA'S AT THIS POINT. OUR SELECTION, WE DISCLOSED OUR FIRST DEAL SO ONE DEAL VERSUS 200 COMPANIES WE HAVE DUG INTO IS A SMALL CONVERSION RATE. WE EXPECT THAT KIND OF RATIO TO CONTINUE. IT IS A REALLY INTERESTING OPPORTUNITY AND GREAT TIME TO DEPLOY CAPITAL. I THINK SOME PEOPLE MIGHT THINK
IT IS ADVERSARIAL BETWEEN STAKEHOLDERS AND US AS CAPITALISTS AND SEEKING A SOLUTION BUT IT IS QUITE DIFFERENT. I THINK EVERYONE UNDERSTANDS THE MARKET. I THINK IF THE COMPANY PERFORMS, WE ARE ALL ALIGNED IN THE DOWNSIDE PROTECTIONS WE SEE WON'T BE NECESSARY SO IT IS WIN-WIN FOR EVERYONE. IT IS A VERY POSITIVE AND QUITE FRANKLY AN ENERGIZING MARKET BECAUSE WE ARE HAVING SO MANY INTERESTING CONVERSATIONS. ED: RIGHT. IT SOUNDS YOU AT LEAST ARE NOT STARING INTO THIS KIND OF POST-SVB ABYSS THE POINT CAPITAL WHERE? ARTIFICIAL INTELLIGENCE, FINTECH, WHERE ARE THE OPPORTUNITIES? ADAM: WE ARE FOCUSED ON AND ALWAYS HAVE BEEN FOR THE LAST SEVEN YEARS SO EVERYTHING WE DO IS FINTECH.
MOSTLY BANKING INSURANCE AND WEALTH MANAGEMENT. THERE'S OPPORTUNITIES IN ALL OF THOSE VERTICALS I WOULD SAY IN INSURANCE AND BRINGING DOWN THE MOST HAS BALANCE SHEET INTENSITY, WE SEE GREAT OPPORTUNITIES. PLAYS THAT ARE MORE BALANCE-SHEET INTENSIVE OR CONSUMER FACING, THERE ARE A LOT OF PEOPLE CONCERNED ABOUT THE RESILIENCE -- RESILIENCY OF THE CONSUMER AND ACCESS TO CAPITAL. WE HAVE A LOT OF EXPERIENCE IN BOTH AND WE CAN PRICE THAT RISK AND AS YOU SAY IF YOU HAVE GOTTEN CAPITAL AND CAN UNDERWRITE THE RISK, IT'S AN AMAZING TIME TO BE IN THE MARKET. ED: ADAM FELESKY AND ERICA WILLIAMS -- AND KATIE ROOF, THINK YOU VERY TIME NETFLIX RESTRUCTURING ITS FILM GROUP TO MAKE FEWER MOVIES BUT CENTRALIZED DECISION-MAKING COMBINING UNITS THAT PRODUCE SMALL AND MIDSIZE PICTURES THAT CHANGE THE RESULT IN A HANDFUL OF LAYOFFS AND THE DEPARTURE OF ITS TWO MOST EXPERIENCED EXECUTIVES. THE STREAMING SERVICE IS
RELEASING MORE ORIGINAL MOVIES THAN ANY OTHER COMPANY IN HOLLYWOOD RECENTLY, PRODUCING UPWARDS OF 50 PROJECTS A YEAR. COMING UP, MORE ON APPLE'S HI LOU WOULD AND ASH HOLLYWOOD AMBITIONS AND THE RESURGENCE OF THE GRANDDADDY OF ROLE-PLAYING GAMES. THIS IS BLOOMBERG. ED: WE ARE DIVING INTO THE WORLD OF HOLLYWOOD AND WHY YOUR FAVORITE VIDEOGAMES ARE TURNING INTO MOTION PICTURES. TAKE TETRIS, THE ADDICTIVE
PUZZLE GAME FROM THE 1980'S IS PART OF APPLES SOIREE IN TENSILE TOWN TAKING VIEWERS BEHIND-THE-SCENES IN THE BATTLE OVER DISTRIBUTION RIGHTS TO THE GAME, PART BUSINESS AND PART COLD WAR SPY THRILLER. THE NEARLY TWO HOUR FILM IS ALMOST CERTAINLY THE BEST EVER MADE ABOUT INTERNATIONAL COOPERATING NEGOTIATIONS. SMARTPHONE MAKER RAMPING UP TO MAKE OVER ONE BILLION PER YEAR IN FILMS FOR THEATERS AND STREAMING, KEEPING MOST FOCUS ON MOVIES THAT APPEAL TO ADULT AUDIENCES. SPEAKING OF GAMES, DUNGEONS & DRAGONS NEW OWNER HASBRO HAS BIG AMBITIONS FOR THE SENSE THAT -- FOR THE ROLE-PLAYING GAME. FELIX GILLETTE HAS THE SCOOP ON THE GAME THAT US STAKING A COMEBACK. >> ON THE EVE OF ITS 50TH BIRTHDAY, DUNGEONS & DRAGONS HAS NEVER BEEN MORE POPULAR.
THE GRANDDADDY OF FANTASY ROLE PLAYING GAMES IS CURRENTLY ENJOYING A CULTURAL RENAISSANCE. THANKS IN PART TO ITS PROMINENT DEPICTION IN STRANGER THINGS, D&D INVENTED A NEW GENERATION OF DYE SLINGING FANS, D&D BEING PODCASTS, TWITCH SHOWS, AND D&D INFLUENCERS ON YOUTUBE AND TIKTOK. WHILE A FEW GAMES ENJOYED THE MULTIGENERATIONAL INFLUENCES OF D&D, THE CORRESPONDING BUSINESS OFTEN STRUGGLES TO LIVE UP TO ITS POTENTIAL, LEAVING IN ITS WAKE NOT GREAT FORTUNES BUT INSTEAD A LONG LEGACY OF INFIGHTING, LITIGATION, AND SQUANDERED OPPORTUNITIES. >> TONIGHT WE BEGIN WITH A STORY ABOUT MAKE-BELIEVE ADVENTURE IN REAL-LIFE VIOLENCE. IN WHAT SOME CRITIC SPIRIT IS A
CONNECTION BETWEEN THE TWO IN A GAME CALLED DUNGEONS & DRAGONS. >> THROUGHOUT THE 1980'S, EVANGELICAL CHRISTIAN GROUPS ACCUSED D&D WITH ITS SPELLS OF MAGIC OR BESTIE ARIES AND HORNED DEITIES AS BEING A PLAYTHING OF THE DEVIL. MAKING IT DIFFICULT FOR THE GAMES OWNERS TO TURN IT INTO A FAMILY-FRIENDLY MAINSTREAM BRAND. HASBRO, THE GIANT TOY COMPANY THAT OWNS D&D IS HOPING THE BUSINESS SIDE OF THE GAME CAN FINALLY CATCH UP WITH ITS CULTURAL PROWESS. OVER THE NEXT YEAR, HASBRO WILL UNLEASH MAJOR D&D BRAND EXTENSIONS, AIMING TO RAKE IN MORE MONEY FOR D&D'S SWELLING FAN BASE.
THE SERVICE, PLUS IS DEVELOPING A LIVE-ACTION D&D SERIES. IN AUGUST, BALDER SKATE THREE, THE LEGACY QUEER -- THE LATEST SEQUEL IS SCHEDULED TO GO ON SALE. AT SOMETIME NEXT YEAR, HASBRO IS EXPECTED TO RELEASE ONE D&D, THE NECK TO HER A CLASSIC GAME AND THIS TIME WITH A WHOLE NEW SUITE OF DIGITAL ENHANCEMENTS. MOST IMPORTANT, MARCH 31, HASBRO'S STUDIO AND PARAMOUNT HAS BEEN RELEASING DUNGEONS & DRAGONS HONOR AMONG THIEVES. A BIG-BUDGET CGI HOLLYWOOD SPECTACLE. FOR THE D&D MOVIE TO SUCCEED, IT NOT ONLY HAS TO PRODUCE BIG NUMBERS IN THE SPRING BUT ALSO SPOHN THE KIND OF LONG LIVING ENTERTAINMENT FRANCHISE THAT HASBRO ENJOYED WITH TRANSFORMERS. SINCE 2007, THE SIX TRANSFORMER
FILMS BASED ON THE WARRIOR CAR TOYS GENERATED CLOSE TO $5 BILLION IN THEATER TICKET SALES. HASBRO HOPES THIS TIME AROUND THE END FANS WILL EMBRACE THE MOVIE AND EVERYTHING ELSE COMING DOWN THE PIPELINE. IF THEY DO, AFTER 50 YEARS, D&D MAY FINALLY LIVE UP TO ITS BUSINESS POTENTIAL. ED: THANKS TO FELIX GILLETTE FOR THAT REPORT.
FOR YOU DUNGEON MASTERS AND HALFLINGS, IT IS A FRIDAY NIGHT AND YOU GOT A HEAD TO THE MOVIE THEATER. THAT DOES IT FOR THIS EDITION OF "BLOOMBERG TECHNOLOGY." CATCH US IN AN HOUR, I WILL BE DOING A TWITTER SPACES ON ALL THINGS AI. IT HAS BEEN AN ASTONISHING WEEK FOR THE WORLD OF ARTIFICIAL INTELLIGENCE AND OUR OWN RACIAL MATS WILL BE UP WITH ME RECAPPING THE SHOW SO CHECK OUT THE PODCAST WHEREVER YOU GET YOUR PODCASTS ON SPOTIFY, I HEART, AND OF COURSE ALL THE BLOOMBERG PLATFORMS. IT'S THE LAST DAY OF MARCH AND DAY OF THE QUARTER, TECHNOLOGY ABSOLUTELY JUMPING THE FIRST THREE MONTHS OF THIS YEAR, SO MUCH MORE TO GO. THIS IS BLOOMBERG.
2023-04-01 23:33
Show Video
Other news