'Bloomberg Technology' Full Show (03/09/2023)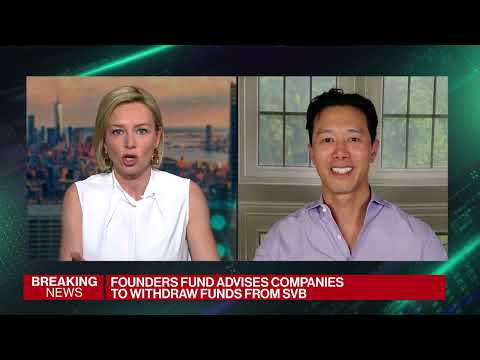 Show Video
TECH FOCUS TO NASDAQ OFF BY 2%. KBW BANK INDEX, THE BANKING INDEX HAVING ITS WORST DAY SINCE JUNE OF 2020 OFF BY SEVEN POINT 7%. IT IS ALL REGARDING SV BE AND IT'S OVER GATE. A LOOK AT THE 10 YEAR TREASURY. RISK OFF SENTIMENT MEANS MONEY POURS BACK INTO U.S. TREASURIES AND YIELDS DROPPED BY EIGHT BASIS POINTS.
THE WORLD OF CRYPTO. IMPLICATIONS OF SILVER GATE UNWINDING AND WHAT SV BE -- SVB TALKS ABOUT IN RISK SENTIMENT AROUND TECHNOLOGY. TALK ABOUT THE IMPLICATIONS ABOUT WHAT NOW FEELS LIKE TRADITIONAL FINANCE MEETS DECENTRALIZED FINANCE. ED: CERTAINLY SENTIMENT WAS DEPRESSED ALL DAY LONG. BITCOIN IS AN EXAMPLE.
BECAUSE OF SILVER GATE. THERE IS ALSO STUFF OUT THERE ABOUT WHAT THE NEW YORK ATTORNEY GENERAL IS LOOKING AT. HERE ARE THE CONCERNS. SVB DOWN 60%. SO BRIGADE CAPITAL DOWN 42%. THEY CONCERN IS THAT THE IMPACT OF HIGHER RATES HIT THE FROTHY'S CORNERS OF THE MARKET. WERE THOSE?
CRYPTO AND TECHNOLOGIES. THE STORY WITH SVB IN PARTICULAR IS THEIR CLIENTS ARE TECHNOLOGY COMPANIES, STARTUPS FACING CASH BURN. THEY DON'T NEED CASH IN THE BANK. THEY NEEDED AT HAND. THEY ARE MAKING WITHDRAWALS,
DEPOSIT OUTFLOWS. SILICA AND VOLLEY BANKS HAVE TO REACT TO PLUG THE GAP. LET'S LOOK AT THE TERMINAL CHART AND THE DRAMA. THE BIGGEST DROP ON RECORD FOR THIS STOCK, THE LOWEST LEVELS SINCE SEPTEMBER 2016.
LET'S GET MORE DETAILS WITH BLOOMBERG'S SONALI BASAK JOINING US IN NEW YORK. THERE ARE A LOT OF STORIES TO COVER. HOW CORE IS IN THE SILICON VALLEY CLIENT BASE, TECH, TO THE STORY? SONALI: IT'S A BIG PART OF THE STORY BUT YOU CAN ALSO TALK ABOUT BALANCE SHEET MANAGEMENT BEING AN ISSUE.
LOOK AT THE WALL STREET VIEW ON WHAT HAS HAPPENED HERE. PART OF THE ISSUES WERE EXACERBATED NOT JUST BECAUSE OF THE CLIENT BASE, BUT BECAUSE THEY HAD TO SELL SECURITIES AT A LOSS. THIS IS SOMETHING WE ARE NOT SEEING UNIQUE TO SILICON VALLEY BANK. SOME CONTEXT HERE. THE POINT YOU'RE MAKING. THIS, NOT SO LONG AGO, A YEAR
AGO, THIS BANK WAS THE ENVY OF THE INDUSTRY, OF MANY MANY BANKS. FROM GOLDMAN SACHS TO JP MORGAN, THEY LOVE WHAT SILICON VALLEY BANK WAS DOING. THE POINT THAT YOU HAVE TO WONDER NOW IF SILICON VALLEY BANK WILL BECOME AN ACQUISITION TARGET OR IS THERE TOO MUCH WEAKNESS HERE TO MAKE IT SO? WHAT HAPPENS NEXT? THAT IS THE MAIN QUESTION LOOMING IN THE MARKETS. CAROLINE: SOME THREADS WE WILL WE, AND I DON'T WANT TO IMPLY THAT THE STOCK DROP IMMEDIATELY MEANS WE WILL SEE WHAT HAPPENED WITH SILVER GATE, BUT ULTIMATELY TWO COMPANIES, TWO BANKS ARE FACING HEADWINDS OF HIGHER INTEREST RATES AND BOTH GOT VERY FOCUS ON CERTAIN PART OF THE MARKET. ZANOTTI: THAT IS WHAT IS --SONALI: THAT IS WHAT IS IN COMMON HERE AND OTHER BANKS HAVE SIMILAR WORRIES. SIGNATURE BANK THE DEPOSIT BASE WAS NOT SO LOADED FOR CRYPTO, ABOUT 16% OF ITS DEPOSITS WERE TIED TO THE CRYPTO INDUSTRY MORE BROADLY.
BUT, SIGNATURE, 90% THROUGH SEPTEMBER, REALLY TIED OF ITS DEPOSITS TO THE CRYPTO INDUSTRY. THE POINT YOU ARE MAKING, THE ISSUES IN CRYPTO ARE NOT THE SAME AS ALL OF THE ISSUES IN TECHNOLOGY, BUT WHAT YOU ARE SEEING HERE IS EXPOSURE TO THE INDUSTRY MORE BROADLY BECOMING A WORRY FOR FIRMS LIKE THIS. ONE OTHER THING. CONCURRENTLY THEY ANNOUNCED
CAPITAL RISK. THIS IS A MARKET IN WHICH THE REASONS IN WHICH YOU ARE RAISING CAPITAL ARE VERY, VERY, VERY, SENSITIVE. THAT IS ANOTHER THING. IT IS THE CONCEPT OF DILUTION AND WHY YOU ARE RAISING MONEY. IT'S A BIG WARNING SIGN FOR ANYBODY RAISING MONEY AHEAD. CAROLINE: YOU SAW THAT REALLY SHOW NOW THROUGH THE KBW BANK INDEX PERFORMANCE TODAY. THANK YOU, SONALI BASAK, FOR ALL THINGS WEAVING TOGETHER WHAT IS HAPPENING WITH THE LIKES OF SBB --SONALI: AND ALSO SILVER GATE. I WANT TO GIVE SILVER GATE AND
CRYPTO MORE WITHDRAWN WILL. JOHN, WE TURN TO YOUR EXPERTISE BECAUSE YOU HAVE ANNOUNCEMENTS. YOU ARE STILL BUILDING IN A SPACE. ULTIMATELY YOU ARE CURRENTLY A MAN TRYING TO DIGITIZE THE ENTIRE, ULTIMATELY, TRYING TO DIGITIZE THE WORLD'S ASSETS FOR TRADITIONAL FINANCE FOR ASSET MANAGERS. HOW HARD IS THAT WHEN WE SEE
SILVER GATE HAVING TO UNWIND? JOHN: IT WILL BE HARDER WHEN ALL INTERMEDIARIES, SEEMINGLY ALL INTERMEDIARIES AND ON RAMPS FOR INSTITUTIONS AND INDIVIDUALS IN THE CRYPTO ECOSYSTEM ARE ONE BY ONE GETTING REMOVED. EITHER THE REGULATION -- THROUGH REGULATION, BAD ACTORS, RISK MANAGEMENT, OR BAD FUNDAMENTALS, LIKE IN THE SILVER GATE CASE. IT'S NOT EASY. IT MAKES IT HARDER. BUT YOU CONTINUE TO BUILD AND GET PARTNERSHIPS.
ED: YOU ARE OPERATING IN AN ECOSYSTEM AND INDUSTRY THAT STILL WANTS TO BUILD ACCESS TO CAPITAL AND BANKING SERVICES. QUICKLY GIVE US INSIGHT INTO CONVERSATIONS YOU ARE HAVING WITH INDUSTRY PEERS ABOUT SILVER GATE, ABOUT WHAT THE INDUSTRY IS GOING THROUGH NOW? JOHN: WHEN THINGS GET BETTER, THE ISSUE IS, IF THERE ARE NO ON RAMPS, NO INTERMEDIARIES TO HELP NEW INSTITUTIONS COMMENDED THE SPACE, THIS WILL DELAY THE GROWTH OF THE SPACE. THE OTHER PROBLEM IS, EVEN HEALTHY BALANCE IN THIS SPACE NEED LITTLE THINGS, BANKING SERVICES LIKE -- CRYPTO IS A FINTECH BUSINESS. LEGITIMATE BUSINESSES NEED BANKING SERVICES TO PAY PEOPLE, TO DO THINGS EVERY OTHER COMPANY DOES. IF YOU REMOVE THE BANKS THAT HELP THESE COMPANIES TO DO THAT, YOU ARE REMOVING COMPANIES DESIRE TO BE ONSHORE. FORTUNATELY -- UNFORTUNATELY,
U.S. COMPANIES WILL MOVE OFFSHORE FOR BANKING SERVICES AND OTHER THINGS THEY JUST NEED TO OPERATE. ED: CAROLINE, BACK TO THE POINT YOU IN OUR MAKING AT THE TOP OF THE SHOW. IF YOU PUT SILVER GATE SIDE-BY-SIDE WITH SVB WHAT THEY HAVE IN COMMON IS A DISCUSSION ON THE IMPACT OF HIGHER RATES ON FROTH. WHERE IS FROTH? IN CRYPTO, AND IN TECHNOLOGY MORE BROADLY.
WE ARE SEEING A DELAYED REACTION. JOHN: I HAVE SEEN THIS A COUPLE TIMES IN MY CAREER. THE FIRST PART OF MY CAREER I WAS IN FINANCIAL MARKETS. EVERY TIME THE FED RAISES RATES, THINGS BREAK. THE FIRST THINGS THAT BREAK ARE USUALLY BAD ACTORS AND FRAUDS. THEN, AT THE TAIL END, THE RISK MANAGEMENT, THE FUNDAMENTAL GROUP OF COMPANIES BREAKS. IF THERE IS A SILVER LINING
HERE IT IS NOW WE ARE AT LAYER TWO AND WHEN THINGS STABILIZE HOPEFULLY WE GO BACK TO A STABLE ENVIRONMENT. CAROLINE: ARE REGULATORS TURNING TO YOU FOR ADVICE? JOHN: THEY SHOULD. I WAS IN D.C. TALKING TO SENATORS AND OTHER AGENCIES. OUR GENERAL COUNSEL IS CONSTANTLY DOWN THERE TALKING. I THINK WE NEED TO OPEN UP A HEALTHY DIALOGUE.
IT CANNOT BE JUST ONE WAY. IF THAT HAPPENS I THINK YOU WILL BRING A LOT OF CAPITAL MARKETS AND INNOVATION BACK. OTHERWISE, LIKE I HAVE BEEN SAYING, THESE WILL CONTINUE TO MOVE OFFSHORE. CERTAINTY IN RULES AND REGULATIONS IS HAPPENING IN EUROPE. IT'S EVEN HAPPENING IN ASIA.
>> AT THE SAME TIME AS YOU WORRY ABOUT SILVER GATE IMPLICATIONS, USING ABOUT WHAT IS HAPPENING WITH SILICON VALLEY BANK, IT'S EXPOSURE TO TECHNOLOGY, TO STARTUPS. INTERESTINGLY, THE FOUNDERS FUND, WHICH IS A KEY VC PLAYER ADVISING ITS OWN COMPANIES TO WITHDRAW FUNDS FROM SILICON VALLEY BANK. THE CEO OF SILICON VALLEY BANK HAS BEEN OUT THERE TRYING TO REASSURE CLIENTS AS TO WHAT THE STOCK DROP MEANS, WHAT THE CONSERVATION OF ITS CAPITAL AT THE MOMENT IS TRYING TO SIGNIFY. ULTIMATELY, WE WILL SEE SOME
CONCERNS BUILT DEVISING THEIR OWN PORTFOLIO COMPANIES TO WITHDRAW FUNDS FROM SILICON VALLEY BANK. AS A FOUNDER DO YOU HAVE MONEY IN TRADITIONAL FINANCE? DO YOU HAVE MONEY WITH SILICON VALLEY BANK? JOHN: SILICON VALLEY BANK IS ONE OF THE BANKS WE USE. AS WELL AS SOME OF THE OTHER ONES MENTIONED.
THE RIGHT THING, THE PRUDENT THING, WE HAVE LEARNED IS COUNTERPARTY RISK ONCE THESE THINGS START, THIS IS A CLASSIC BANK RUN AND WIN A BANK RUN STARTS, YOU DON'T WANT TO BE THE LAST EITHER WONDERING WHAT HAPPENED. THE WAY THE BANKS WORK AS THEY RELY ON TRUST. WHEN THEY LOSE TRUST, BAD THINGS REALLY WILL HAPPEN. ED:
JOHN, WE HAVE SO MUCH TO DISCUSS ABOUT WHAT IS HAPPENING WITH AVALANCHE. BUT, WE HAVE TO STICK WITH THIS STORY BECAUSE IT IS HAPPENING BEFORE OUR EYES. WHAT DO YOU DO IN THIS SITUATION? DO YOU FOLLOW THE ADVICE OF NAMES IN THE VALLEY LIKE FOUNDERS FUND AND PULL THE MONEY? DO YOU STICK WITH IT? I HAVE TO POINT OUT THERE WERE A NUMBER OF NAMES BLOOMBERG CITED IN ITS REPORTING THAT FED WHAT WE ARE SEEING IN SILICON VALLEY BANK IS NOT THE SAME AS SILVER GATE AND LONG-TERM THEY HAVE A SOLID FUTURE. WHAT WOULD YOU DO IN THIS CIRCUMSTANCE? JOHN: HOPEFULLY, YOU HAVE TO DIVERSIFY OUT. MAYBE, NOT PULL EVERYTHING, BUT PULL SOME. CAROLINE: YOU, JOHN? JOHN:
WE EXPERIENCED THAT IN THE FINANCIAL CRISIS WHERE YOU HAD TO DIVERSIFY PRIME BROKERS. WE ALREADY DIVERSIFIED WE ARE LESS EXPOSED THAN WE WERE A FEW WEEKS OR MONTHS AGO. CAROLINE: I THINK ULTIMATELY YOU WILL CONTINUE TO DIG, TO ASK QUESTIONS. HAS IT BEEN EASY TO GAIN INFORMATION FROM SILICON VALLEY BANK AT THE MOMENT? ARE YOU RELYING ON ANALYST REPORTS THAT WE GET AND DO SOME REPORTING COMING FROM OUR OWN JOURNALISTS? JOHN: YOU ARE RELYING ON YOUR OWN INTERACTIONS. THE OPERATOR ALWAYS HAS A BETTER VIEW. THE CADENCE OF RESPONSES, HOW THINGS ARE WORKING, THE SIZE OF THE TRANSACTIONS. ALL OF THOSE LITTLE SUBTLE
HINTS ARE WHAT WE ARE RELYING ON AS AN OPERATOR. BY THE TIME YOU READ IT IN THE NEWS OR SOMETHING, UNFORTUNATELY, IT'S PROBABLY A LITTLE LATE. CAROLINE: I WANT TO ASK A LITTLE BIT. OF COURSE, YOU ARE THERE TRYING TO ENSURE THAT YOUR THINKING IS SECURE, THAT WHERE YOUR MONEY IS PUT, THAT YOUR BUSINESS IS ON SOLID FOOTING AND I AM SURE YOU HAVE DONE THAT. YOU SAID YOU ALREADY DIVERSIFIED. YOU ARE DIVERSIFYING YOUR BUSINESS. JOHN, WE BROUGHT YOU ON THE
SHOW BECAUSE YOU HAVE ON THIS NEW DEAL BRINGING WEB THREE TO GAMING IN PARTICULAR. HOW HARD IS IT TO SIGN NEW DOCUMENTS, TO GET ON BOARD THE LIKES OF TSM AND BLITZ OUT WHEN PEOPLE ARE QUESTIONING THE OVER ALL WEB THREE TRAJECTORY. JOHN: GREAT QUESTION. THAT IS THE FUN PART. IT IS HAPPENING MORE OFTEN WITH U.S. COMPANIES.
THE CADENCE IN FOREIGN COMPANIES IS ACTUALLY HAPPENING. IN THE TSM CASE IT IS ONE OF THE LARGEST GAMING AND RISES, THE EQUIVALENT OF AN E-SPORTS TEAM, LIKE A YANKEES FOR E-SPORTS THAT WILL PROVIDE GAMERS WITH SOME REQUESTS GAMERS WANTS, TO GET MORE LIQUIDITY FOR IN GAME ITEMS THROUGH AVALANCHE BAD -- AND AVALANCHE BASED WALLACE. RIGHT NOW GAMERS HAVE TO CLOSE SYSTEMS WHERE THEY BUY IN GAME ASSETS AT ONE PLACE BUT CANNOT SELL AND MOVE TO ANOTHER VERY QUICKLY, OR, THEY HAVE TO PAY LARGE FEES TO CONVERT BACK TO U.S. DOLLARS. SO THEY WILL CREATE A WALLET ON AVALANCHE WERE ALL OF THE DIFFERENT GAMES WILL HAVE INTER OPERABILITY HAD TO MAKE THEIR LIVES BETTER. ED:
WE WILL CONTINUE THE CONVERSATION WITH BLITZ TSM GOING FORWARD. THERE IS SOMETHING HAPPENING IN GLOBAL SILICON VALLEY AND WE APPRECIATE YOUR INSIGHT AVALANCHE PRESIDENT JOHN WILL. COMING UP, DISCORD GETS ON THE OPEN AI AND WAGON. IS THAT A SURPRISE? EXPANDING ITS OWN AI OFFERINGS. WE TALK ALL ABOUT THAT
DEVELOPMENT NEXT. THIS IS BLOOMBERG. WE HAVE ERICA AND ARTIFICIAL VIRTUAL ASSISTANT PREDICTIVE TECHNOLOGY WE HAVE BEEN RUNNING FOR OUR PRO OR FIVE YEARS. WE ARE USED TO IT. CHAT GPT IS A NEW ONE THAT COULD CHANGE THE GAME. CAROLINE: THE BANK OF AMERICA CEO THEIR BRIAN MOYNIHAN. LET'S STICK WITH CEOS THAT LOVE
ALL THINGS AI. MESSAGING PLATFORM DISCORD ANNOUNCED ITS EXPANSION OF ITS OWN AI OFFERINGS INCLUDING, GUESS WHAT? OPEN AI TECHNOLOGY. THEY ARE INCORPORATING IT INTO FUNCTIONS LIKE IT'S CHATBOTS AND MODERATION SYSTEMS. LET'S BRING IN BLOOMBERG'S SICILIA DINIZ POSCO WHO HAS THE STORY AT AN EVENT. TELL US WHERE THEY THINK THIS
WILL BE ADDITIVE. SICILIA: DISCORD IS A CHAT AT 150 MILLION PEOPLE USE EVERY MONTH TO DISCUSS EVERYTHING FROM VIDEOGAMES TO ANIMATE TO CLASSICAL MUSIC AND NOW DISCORD IS INTEGRATING OPEN AI CHAT GPT TECHNOLOGY TO CREATE HUMANLIKE CONVERSATIONS USING AI IN ONE OF ITS BOTS NAMED CLYDE. CLYDE HAS EXISTED FOR A LONG TIME. IT IS DISCORD'S MASCOT.
NOW, CLYDE WILL BE ABLE TO TELL USERS THINGS LIKE THE WEATHER OR THE TIME IN ANOTHER COUNTRY. OR EVEN, SUGGEST A PLAYLIST FOR A DISCORD SERVER USING AI CHAT TECHNOLOGY. ED: THANK YOU FOR YOUR REPORTING. CAROLINE, MORE BREAKING NEWS HEADLINES ARE CROSSING THE BLOOMBERG TERMINAL. SOURCES ARE TELLING US THAT Y , NADER --COMBINATOR IS ADVISING COMPANIES IN ITS PERFORMING A TWO MINUTE EXPOSURE TO SILICON VALLEY BANK FOLLOWING FOUNDERS FUND IN THE LAST WHEN HE MINUTES. THOSE AFTER OUR DEADLINES ON
SILICON VALLEY BANK OR SVB FINANCIAL GROUP ARE ACCELERATING DOWN 6% OR SO. WE WILL CONTINUE TO TRACK THE NAMES THAT ARE ADDING TO THIS STORY BLOW-BY-BLOW. BACK TO GENERATIVE AI. DION NICHOLAS IS THE CEO AND CORE FOUNDER OF FORETHOUGHT A AI COMPANY FOR CUSTOMER SUPPORT AUTOMATION THAT RECENTLY LAUNCHED INTEGRATION OF OPEN AI TECHNOLOGY WITH THEIR OWN SUPPORT GPT PLATFORM. WHY OPEN AI? WHY NOT YOUR OWN TECH? DEON: FORETHOUGHT HAS BEEN AROUND FOR FIVE YEARS NOW HELPING BUSINESSES SUPPORT CUSTOMERS BETTER. WE ARE LAUNCHING THE WORLD
FIRST GENERATIVE AI PLATFORM FOR CUSTOMER SUPPORT AUTOMATION. THE ANSWER TO WHY NOW? IN NOVEMBER CHAT GPT CHANGED THE NAME OF THE GAME FOR CUSTOMER EXPERIENCE AND CONSUMER EXPECTATIONS. WE HAVE BEEN BUILDING FOR FOUR OR FIVE YEARS, VERY FOCUSED ON CORRECTNESS. VERY FOCUSED ON BUILDING A GENERATION OF AI THAT CAN HELP CUSTOMERS SOLVE PROBLEMS. WHAT WE ARE SEEING NOW IS THAT HAS BECOME MAINSTREAM FOR CONSUMERS AND THE EXPERIENCE, THE EXPECTATION HAS RISEN WITH CHAT GPT. SO WE HAVE LAUNCHED SUPPORT GPT FOR CUSTOMERS SUPPORT. ED:
SO THIS IS NOT A MARKETING EXERCISE OR PR STUNT? DEON: ABSOLUTELY NOT. TRUE TO OUR NATURE IS ABOUT SOLVING PROBLEMS FOR CUSTOMERS. WE HAVE CUSTOMERS BETAING THE PLATFORM. FOLKS LIKE OF WORK, THE WORLD'S LARGEST TALENT MARKETPLACE ARE ALREADY LEVERAGING IT IN PRODUCTION. ED: WE ASKED OUR AUDIENCE ABOUT
WHAT WE THINK OF -- WHAT THEY THINK ABOUT ENDLESS ANNOUNCEMENTS OF PARTNERSHIPS BETWEEN TECH COMPANIES AND OPEN AI. YOU KNOW THE RESULTS, CAROLINE. RESPONDENTS THINK THIS IS A PR STUNT, BROADLY, IN THE INDUSTRY. CAROLINE: MEANWHILE, YOU SAY THIS IS ABOUT SERVICING YOUR CLIENTS. HELP ME UNDERSTAND. YOU ARE ALREADY A LEADING GENERATIVE AI COMPANY.
YOU ARE ALREADY BUILDING YOUR OWN LARGE LANGUAGE MODEL. WHAT DOES OPEN AI HAVE THAT YOU COULD ULTIMATELY NOT BILLED IN HOUSE? DEON: MOST CUSTOMERS, WHEN THEY INTERACT WITH CUSTOMER SUPPORT, THEY DO NOT NECESSARILY WANT TO CHITCHAT. THEY WANT THEIR PROBLEMS SOLVED FIRST AND FOREMOST AND THAT WAS THE PREMISE WE LAUNCHED OR THOUGHT ON YEARS AGO. TO USE AI TO HELP PEOPLE SOLVE PROBLEMS. ONE THING PEOPLE HAVE SEEN WITH CHAT GPT, THE
HUNDREDS OF MILLIONS OF PEOPLE THAT HAVE USED IT FROM WRITERS TO BAKERS TO FRIENDS, FAMILY, EVERYTHING. THEY HAVE NOW SEEN WHAT IT IS LIKE TO INTERACT WITH A CHATBOTS THAT IS EMPATHETIC AND HUMANLIKE AND REALLY RAISES THE GAME IN THE NAME -- AND AT THE NAME FOR CUSTOMER EXPERIENCE. THAT WAS ONE OF THE THINGS WE SAW AND OUR CUSTOMERS SAW. I STARTED GETTING TEXTS FROM HEADS OF CUSTOMER SUPPORT SAYING OUR CUSTOMERS WANT IS KIND OF EXPERIENCE AND WE ARE BETTING ON FORETHOUGHT. THAT WAS THE SPARK THAT HELPED US REALIZE, HEY, THERE IS SOMETHING NEW HERE. IT IS NOT JUST A PLUG THE CITY STUNT.
IT IS NOT -- IT IS NOT JUST A PUBLICITY STUNT. WE HAVE FORETHOUGHT HAVE BEEN ALL IN ON AI SINCE DAY ONE. WE ARE STAYING. WE HAVE ALWAYS BEEN ON THE FOREFRONT. EXPECTATIONS FROM CUSTOMERS
HAVE RISEN AND WE ARE RISING LAUNCHING SUPPORT GPT TO MEET THOSE EXPECTATIONS AND BRING THE NEXT LEVEL OF CUSTOMER SUPPORT. CAROLINE: WITH YOUR COMPETITION? OTHER KEY COMPANIES ARE VERY CLOSE TO SUPPORTING SALESPEOPLE, SUPPORTING OTHER AREAS OF CLIENT FACING INDIVIDUALS. THEY ARE ALSO USING OPEN AI. DEON: THE BIG COMPETITOR FOR US, FRANKLY, IS THE LEGACY CHATBOTS.
THERE HAVE BEEN HUNDREDS IF NOT THOUSANDS LEGACY CHATBOTS THAT CROPPED UP OVER THE LAST DECADE OR SO OF INNOVATION. ONE THING YOU NOTICE ABOUT CHATBOTS IS, ONE, WE HAVE ALL EXPERIENCED THEM AND ALL FOUND THEM SUPER CLUNKY. THEY ARE MANUAL, DECISION TREE BASED, AND MORE ARTIFICIAL THAN INTELLIGENT. WE HAVE SET OUT TO REALLY
TRANSFORM THE WAY CUSTOMER SERVICE IS DONE. IT IS REALLY A HOST OF CHATBOTS COMPANIES WE ARE TRYING TO OUT INNOVATE AND WE HAVE BEEN OUT INNOVATING THE PAST FEW YEARS. ED: WE HAVE TO GO TO MORE BREAKING NEWS AROUND SILICON VALLEY BANK. FOR OUR AUDIENCE, CAN I ASK,
ARE YOU A CUSTOMER OR CLIENT OF SILICON VALLEY BANK? DEON: SILICON VALLEY BANK IS ONE OF THE BANKS WE USE THAT FORETHOUGHT. WE WORK WITH A FEW BANKS. IT IS INTERESTING HEARING THE NEWS GO OUT LIVE THESE DAYS. REALLY INTERESTING. ED: WE DON'T WANT TO PUT YOU ON THE
SPOT BUT I THINK YOU APPRECIATE WHY WE HAVE TO ASK THESE QUESTIONS, THAT THIS IS HAPPENING BEFORE OUR EYES. CAROLINE: I HAVE TO ASK YOU MORE ON THE SPOT, WILL YOU BE THINKING ABOUT YOUR RELATIONSHIP WITH SVB SEEING THE SHARES EXTENDING THE POST-MARKET DECLINE, DOWN BY MORE THAN 10% OF THE MOMENT? A LOT OF VENTURE CAPITALISTS, AND I KNOW YOU ARE BACKED BY BC, ARE ASKING PORTFOLIO COMPANIES TO CUT TIES? DEON: IT'S A REALLY DYNAMIC SITUATION. WE ARE DEFINITELY EVOLVING AND ADAPTING AS WE GO. WHAT I CAN SAY IS, AGAIN, WE WORK WITH MULTIPLE BANKS HERE AT FORETHOUGHT. OUR GOAL AT THE END OF THE DAY IS TO BEST SERVE OUR CUSTOMERS. THAT IS WHY WE ARE LAUNCHING
SUPPORT GPT. THERE IS A LOT HAPPENING IN THE SPACE. YES, WE ARE EXCITED AND WATCHING WHAT IS GOING ON. CAROLINE: WE WILL LET YOU GO GIVE ATTENTION TO BOTH THOSE THINGS. DION NICHOLAS, CEO AND COFOUNDER OF FORETHOUGHT. LET'S BRING YOU TO WHERE THE MARKET IS CURRENTLY TELLING THE CONCERN IS THAT. IT IS IN SILICON VALLEY BANK'S PARENT COMPANY CURRENTLY OFF BY MORE THAN 10% AFTER HOURS AS YOU BREAK THE NEWS THERE THAT WE ARE SEEING FURTHER MOVES COMING FROM Y COMBINATOR ADVISING COMPANIES TO LIMIT SVB EXPOSURE AND FOUNDERS ADVISING ITS COMPANIES TO WITHDRAW FROM SVB.
THEY CURRENTLY BANK ABOUT 40% OF ALL U.S. VC BACKED COMPANIES. THIS IS BLOOMBERG. CAROLINE: HE DOES BUSINESS WITH NEARLY 50% OF ALL VENTURE BENT COMPANIES IN THE U.S.. SILICON VALLEY BANK THE PARENT COMPANY FALLEN FURTHER AFTER HOURS AFTER IT WARNED THE MARKET EARLIER TODAY IT IS HAVING TO SHORE UP ITS OWN CAPITAL, SELLING OFF ASSETS, DOING A SHOW SO AND ULTIMATELY NOW SEEING, DESPITE THIS TALK OF CONFIDENCE, THE ULTIMATE DEPOSITOR IS MOVING AWAY FROM THEM. VC IS ADVISING PORTFOLIO COMPANIES TO CUT TIES.
ED: THIS IS REALLY ACCELERATING AFTER HOURS, DOWN 17% NOW. WE HAVE NOT GOTTEN TO REPORTING THAT ACCORDING TO A SOURCE GREGG BECKER, THE CEO OF THE BANK HELD COURT WITH VC EARLIER TODAY BASICALLY SAYING KEEP CALM. CAROLINE: THUS FAR, NOT CALL. FOUNDERS FUND AND Y COMBINATOR CAROLINE: WANT TO KNOW HOW TOUGH IT IS FOR STARTUPS? LOOK NO FURTHER THEN SILICON VALLEY BANK, A LENDER TO VENTURE BACKED STARTUPS. IT JUST ANNOUNCED THE TROUBLE IT IS IN WITH SHARES PLUMMETING.
THE PARENT COMPANY OF IT, THE MOST SINCE 1998. WHY IS IT STRUGGLING? BECAUSE THE COMPANIES THAT IT BANKS, STARTUP, ARE STRUGGLING TO GET NEW FUNDING. THEY ARE EARNING THROUGH CASH AND WITHDRAWING DEPOSITS. SO, SVB IS HAVING TO SELL MORE SHARES, SOME OF ITS ASSET PORTFOLIO AND ULTIMATELY TRYING TO SHORE UP ITS OWN CAPITAL POSITION JUST ONE DAY AFTER THE CRYPTO FOCUSED LENDERS OVER GATE ANNOUNCED IT WAS WINDING DOWN AND LIQUIDATING AFTER ITS OWN CUSTOMERS HAD TO WITHDRAW DEPOSITS BECAUSE CRYPTO PRICES TUMBLED. WHAT IS TO BLAME HERE? INTEREST RATES.
THEY ARE RISING AS THE FEDERAL RESERVE RAISES INTEREST RATES TO TACKLE INFLATION. SUDDENLY, BORING OLD SAFE U.S. GOVERNMENT BONDS ARE PRETTY APPETIZING. THEY ACTUALLY GIVE YOU SOME YIELD.
WHY TAKE A RISKIER BET ON A CRYPTO COMPANY OR A STARTUP THAT MAY OR MAY NOT PAY OFF? THIS, ULTIMATELY, IS THE END OF FREE MONEY. IT MEANS VALUATIONS ARE SINKING, AND IT'S HURTING CERTAIN LENDERS AND COMPANIES THAT BET EVERYTHING ON TAYCAN CRYPTO SECTORS. -- TECH AND CRYPTO SECTORS. SHARES CONTINUE TO DROP AFTER HOURS FOR SILKEN VALLEY BANK. BLOOMBERG SMACKS REUS -- MAX REUS HAS BEEN ACROSS THE STORY.
IT VENTURE CAPITALIST WERE GETTING CALLS FROM THE CEO OF SILICON VALLEY BANK TO COME STAY CALM. NOW THEY ARE NOT STAYING CALM, TELLING PORTFOLIO COMPANIES TO CUT TIES. MAX: THAT IS A GREAT WAY OF PUTTING IT. THE THING TO KEEP IN MIND IS WHAT THE INTEREST RATE ENVIRONMENT HAS BEEN DOING TO THE BANK THAT DECIDED TO REALLY PUSH INTO PARTICULAR SECTORS. SILICON VALLEY BANK AND SILVER GATE HAVE A LOT OF DIFFERENCES, OBVIOUSLY. SILICON VALLEY BANK HAS BEEN BUILDING THIS SPECIFIC FRANCHISE FOR DECADES WHILE SILVER GETS PUSHED INTO CRYPTO WAS RELATIVELY MORE RECENT. BUT THE SIMILARITY IS, THEY
TOOK A BET ON A VERY VERY SPECIFIC SECTOR OF THE U.S. ECONOMY. AND ASKED -- AS INTEREST RATES CONTINUE TO CLIMB, THE AREAS THEY HAVE FOCUSED ON, THEIR BACKYARDS, AS IT WERE, SORT OF DRIED UP. THEY HAVE BEEN FORCED TO RECKON WITH THAT. THAT LED SILVER GATE TO MAKE THE DECISION TO WIND DOWN.
WE ARE STILL SEEING HOW THIS IS PLAYING OUT FOR SILICON VALLEY BANK. BUT OBVIOUSLY CLIENTS AND INVESTORS ARE WORRIED. ED: TO RECAP THE REPORTING, $21 BILLION OFF THEIR SECURITIES PORTFOLIO THEY ARE SELLING AT A LOSS. ACCORDING TO A SOURCE GREG BECKER MET WITH VENTURE CAPITALISTS AND CLIENTS TO REASSURE THEM. I WANT TO SHOW WHAT GREG BECKER
HAD TO SAY ABOUT THE ACTIONS SILICON VALLEY BANK HAS TAKEN. "WE TOOK PLACE ACTIONS BECAUSE WE EXPECT HIGHER INTEREST RATES, PRESSURED PUBLIC AND PRIVATE MARKETS, AND ELEVATED CASH BURNS FROM OUR CLIENTS AS THEY INVEST IN THEIR BUSINESS." YOU REPORTED THAT IN THE MARKET MANY DO NOT BELIEVE THE SITUATION WITH SILICON VALLEY BANK IS THE SAME AS WITH SILVER GATE. IT'S MIND TO US. MAX: CORRECT. IT GOES BACK TO THE IDEA OF THE FRANCHISES BEING DIFFERENT IN TERMS OF VALUE. FOLKS EXPECT SILICON VALLEY BANK TO HAVE MORE KIND OF STRENGTH IN ITS FRANCHISE BECAUSE THEY HAVE BEEN DOING THIS LONGER, RIGHT? THEY HAVE MORE CAPABILITIES AS A BANK. WHILE, SILVER GATE WAS NOT REALLY INTERESTED IN BEING A BANK BY ANY TRADITIONAL SENSE. SILVER GAETZ VALUE WAS IT IT
WAS -- SILVER GATE'S VALUE WAS THAT IT WAS WILLING TO TOUCH CRYPTO AND THAT GAVE THEM AWAY TO EXCHANGE FUNDS WITH EACH OTHER AS PART OF A TRADING ACTIVITY, SOMETHING NOT INCLUDED IN THE NORMAL COURSE OF BANKING. WHEREAS, SILICON VALLEY BANK, WHERE IT TOOK A VERY -- WHILE IT TOOK A VERY NARROW APPROACH, IT DOES USE BOTH SIDES OF ITS BALANCE SHEET, NOT JUST ONE SIDE OR THE OTHER. THAT IS WHY FOLKS ARE IN YOUR -- ARE ROOTING FOR THEM AND EXPECTING THEM TO PULL THROUGH WITH MORE CONFIDENCE THAN SILVER GATE. CAROLINE: LET'S TALK NEXT STEPS.
WHAT DO YOU LOOK FOR TO ENSURE SILICON VALLEY BANK CAN WEATHER THE CURRENT STORM? MAX: THE FUNDAMENTAL QUESTION GOING FORWARD WILL BE HOW MANY MORE OF THESE CLIENTS WITH -- HOLD THEIR DEPOSITS AND HOW MANY MORE WITHDRAWALS WE SEE AND HOW THAT AFFECTS BANK CAPITALIZATION. WHAT ENDED UP KILLING SILVER BANK WAS THE FACT THAT EVEN THOUGH IT COULD HONOR THE WITHDRAWALS IT WAS SEEING IT WAS NO LONGER CAPITALIZED AS WELL AS IT HAD BEEN DUE TO THAT. THERE WERE VARIOUS CAPITAL RATIOS YOU NEEDED TO SATISFY AS A FINANCIAL INSTITUTION.
THAT WAS ONE OF THE KEY ISSUES AFFECTING SILVER GATE GOING INTO IT. INVESTORS, PEOPLE THAT WATCH THE MARKET SEE KEY DIFFERENCES BETWEEN SILVER GATE AND SILICON VALLEY BANK. BUT THAT IS WHAT PEOPLE WILL BE LOOKING FOR. HOW WILL THE FRANCHISE FAIR AS IT CONTINUES? ED: BLOOMBERG'S MAX REUS, TERRIFIC REPORTING, THE START OF THE STORY WE ARE TRACKING IN THE DAYS TO COME. LET'S GET TO CRYPTO MORE BROADLY.
TODAY THE FED ANNOUNCED PLANS TO FORM A CRYPTO OVERSIGHT TEAM AS FED VICE CHAIR FOR SUPERVISION MICHAEL BARB -- MICHAEL BAR DISCUSSED THE IMPACT OF STABLECOINS ON THE FINANCIAL SYSTEM. >> CONSIDER THE CONSEQUENCES IF A STABLECOIN NOT SUBJECT TO APPROPRIATE SUPERVISION AND REGULATION WERE TO BE ADOPTED AS A WIDESPREAD MEANS OF PAYMENT. WHICH SOME STABLECOIN DEVELOPER STATE AS A GOAL.
STABLECOINS HAVE THE POTENTIAL TO SCALE QUICKLY BECAUSE OF NETWORK EFFECTS. UNREGULATED UNSUPERVISED DEPOSIT LIKE ASSET COULD CREATE TREMENDOUS DISRUPTIONS. NOT JUST FOR FINANCIAL INSTITUTIONS, BUT, FOR PEOPLE THAT MIGHT RELY ON THE COIN IF IT WERE TO GET WIDE ADOPTION. ED: LET'S TALK ABOUT THE NETWORK EFFECTS OF STABLECOINS WITH MORGAN, THE COFOUNDER OF FACEBOOK'S DM STABLECOIN PROGRAM AND APART -- A PARTNER AT AN FX WITH. YOU HEARD WHAT THE FED VICE CHAIR HAD TO SAY.
ARE YOU CONVINCED BY THAT? MORGAN: THANK YOU FOR HAVING ME. YES, AT NFX, WE ARE BELIEVERS IN NETWORK EFFECTS AND BELIEVERS IN STABLECOINS. HEARING MICHAEL BAR ACKNOWLEDGE STABLECOINS IN THAT WAY I AM TRYING TO STAY NET OPTIMISTIC, BUT I'M ADMITTEDLY A BIT NERVOUS THAT OVERSIGHT COULD GO TOO FAR. I DO NOT NECESSARILY SEE NETWORK EFFECTS AND THESE ASSETS TAKING OFF QUICKLY AS A BAD THING. IT FEELS LIKE HE IS COMING AT THAT WITH A NEGATIVE TONE. CAROLINE:
THAT WAS THE ULTIMATE DEMISE OF DM WHEN IT HAD TO SELL ITSELF TO THE LIKES OF SILVER GATE BANK. IN AND OF ITSELF, SOME OF THE ASSETS, IT WENT INTO UNWIND BECAUSE THEY DID NOT FEEL THE REGULATORY ENVIRONMENT WAS READY FOR THAT. WHAT DO YOU HOPE TO HEAR FROM REGULATORS THAT THEY AUTOMATICALLY -- ULTIMATELY RELIES THE IMPORTANCE OF STABLECOINS. YOU WROTE AN ESSAY ON THIS. MORGAN:
I AM HOPING TO HEAR THAT THE U.S. GOVERNMENT RECOGNIZES STABLECOINS ARE A HUGE ASSET. SO, DOLLARIZATION IS SOMETHING THE U.S. GOVERNMENT HAS BEEN TRYING TO PUSH FOR OVER 200 YEARS, NOT NECESSARILY IN SCALABLE WAYS. THE U.S.
GOVERNMENT TO THIS DAY BACKS UP PHYSICAL TRUCKS OF CASH TO VILLAGES AROUND THE WORLD. IF YOU BELIEVE THE FUTURE OF MONEY IS MORE DIGITAL THAN PHYSICAL, STABLECOINS ARE A REAL TOOL TO FURTHER PUSH THE DOLLARIZATION, WHICH AS AN AMERICAN IS AWESOME. NOT ALL STABLECOINS ARE CREATED EQUALLY. I HAVE SAID THERE ARE 50 SHADES OF STABLECOINS. THERE ARE WHAT WE COINED AS
SAFE STABLECOINS. WHICH WE DEFINED AS ASSETS WITH DIGITAL REPRESENTATIONS OF ACTUAL DOLLARS. LET'S SAY A SAFE DIGITAL U.S. DOLLAR HAS A PHYSICAL U.S. DOLLAR IN A BANK ACCOUNT SOMEWHERE. THE U.S.
GOVERNMENT SHOULD SEE THAT AS A GREAT TOOL. SO, I AM HOPING THE U.S. GOVERNMENT REALIZES STABLECOINS ARE REALLY NOT AN ISSUE OR A MATTER OF CRYPTO FIRST. IT IS AN ISSUE AND MATTER OF DOLLARIZATION AND U.S.
HEGEMONY FIRST. CRYPTO IS JUST KIND OF THE INFRASTRUCTURE. CAROLINE: BUT WHEN YOU HEAR MICHAEL BAR SAYING THEY SCALE QUICKLY DUE TO NETWORK EFFECTS AND WARNING THAT IF THEY GO UNCHECKED THERE IS ULTIMATELY A TREMENDOUS RISK, IS THE RISK REALLY, ULTIMATELY, FOR HIM, THAT WHEN HE GETS BIGGER THAN NONDIGITAL CRYPTOCURRENCIES? MORGAN: I REALLY JUST WANT TO SHAKE HIM. IF YOU ARE LISTENING, I WOULD LOVE TO SHAKE YOU. CAROLINE: WE WILL MESSAGE HIM. MORGAN: WHERE I WILL ADMIT RISK IS THAT THERE ARE 50 SHADES OF STABLECOIN, AS I MENTIONED.
THEY ARE NOT ALL "SAFE" IN THAT PEOPLE ARE USING THE THREE LETTERS UST AND TAP -- USD AND ATTACKING IT ON THE VARIOUS ASSETS THAT COULD BE MISLEADING TO CONSUMERS AND THE ONUS IS ON THE CONSUMER TO DO THEIR HOMEWORK ON THE ROAD TO FIGURE OUT OF THIS VERSION OF DIGITAL USD IS SAFE, ETC.. BUT IF THEY ARE REGULATED, FOR WHICH THERE ARE SOME ISSUERS, SOME ACTUAL PHYSICAL DOLLARS, AT LEAST ONE IN A BANK ACCOUNT FOR AN ACTUAL VERSION. THAT COULD BE A GOOD THING. THE U.S.
GOVERNMENT HAS BEEN TRYING TO PUSH DOLLAR HEGEMONY FOR 200 YEARS, IN NOT QUICK AND SCALABLE WAYS. THIS COULD BE A GREAT TOOL FOR THAT. ED: MORGAN, DM, THE ASSOCIATION'S ASSETS SOLD TO SILVER GATE. YOU ARE THE COFOUNDER OF DM. WHAT IS YOUR REACTION TO WHAT
YOU ARE SEEING HAPPEN WITH THE SILVER GATE? MORGAN: IT IS ALL KIND OF RELIEF. I WAS NOT AT DM FOR -- I LEFT RIGHT AROUND WHEN THAT WAS BEING NEGOTIATED. I WAS NOT THERE FOR THAT. BUT, EVEN THOUGH DM DENIED TAKEOFF IN THE WAVES WE HAD HOPED AND DREAMED I WAS EXCITED TO SEE THE ASSETS LIVE ON WITH THE HOPE THAT ANOTHER ENTITY, NOT FACEBOOK, WOULD POTENTIALLY HELP BRING THESE IDEAS TO LIFE. IT IS A BUMMER TO SEE THAT NOT BE THE CASE WITH SILVER GATE. ED: YES. MORGAN: BUT THEY WERE A GREAT PARTNER AT THE TIME AND WE WERE HAPPY TO FIND A HOME. BUT IT DOES ALL KIND OF SURREAL.
ED: WE HAVE TO ASK, THE OTHER BIG PIECE OF BREAKING NEWS IS SVB, SILICON VALLEY BANK. ARE YOU A DEPOSIT CLIENT OF THAT BANK? WE HAVE A CHART ON THE SCREEN. THE BIGGEST DROP ON RECORD THIS THURSDAY. MORGAN: I HAVE A FRIEND VISITING THAT GOT TO THE OFFICE TODAY LIKE, YOU DID NOT TELL ME THE SKY WOULD BE FALLING. I THOUGHT HE WAS REFERENCING IT
RAINING IN SAN FRANCISCO. BUT, HE WAS REFERENCING SILICON VALLEY BANK. DEFINITELY STILL IN SHOCK AND THERE. NFX IS A CLIENT OF SVB, HONESTLY. THEY HAVE BEEN A GREAT PARTNER TO US AND EVERYONE ELSE IN SILICON VALLEY AND THE BROADER TECH WORLD. THEY HAVE REALLY BEEN A PILLAR OF THE INDUSTRY IN A REALLY POSITIVE WAY. IT IS DEEPLY UPSETTING TO SEE.
WE DON'T KNOW MUCH. WE ARE WATCHING IT LIKE EVERYONE ELSE IS WATCHING IT. AS INFORMATION UNFOLDS, ADVISING BOTH THE PORTFOLIO AND OURSELVES ACCORDINGLY. CAROLINE: WILL YOU HAVE TO ULTIMATELY ADVISE YOUR PORTFOLIO CLIENTS, EVEN IF THEY ARE A GREAT PARTNER, TO SEVER THE LINKS, TO PULL THE DEPOSITS? MORGAN: THAT IS THE MULTIBILLION-DOLLAR QUESTION OF THE DAY.
IF WE FEEL IT IS UNSAFE AND PUTS OUR COMPANIES AT RISK, WE WILL DO SO. CAROLINE: WHAT WILL BE THE TILL FOR THAT? WHAT WOULD BE THE SIGNAL THAT YOU THEN THINK IT IS UNSAFE? MORGAN: THE BIGGEST QUESTION WE ARE ASKING IS, WILL THIS IMPACT OUR PORTFOLIO COMPANIES FROM OPERATING BUSINESSES DAY TODAY? I DO NOT THINK WE ARE WORRIED ABOUT EVERYTHING VANISHING, YOU KNOW, OVERNIGHT. BUT WE ARE WORRIED ABOUT OUR COMPANIES BEING ABLE TO ACCESS THE WORKING COMPANIES THEY NEED TO RUN THEIR BUSINESSES TODAY, TOMORROW, THE NEXT FEW MONTHS. IT IS UNCLEAR WHAT THE OBJECTIVE SIGN AS WE ARE LOOKING FOR, BUT THAT IS KIND OF THE QUESTION WE ARE LOOKING TO ANSWER. CAROLINE: MORGAN, THANK YOU SO MUCH FOR
COMING ON AND TALKING ALL THINGS CRYPTO, ALL THINGS TRADITIONAL FINANCE. WE APPRECIATE IT, NFX PARTNER MORGAN BELLER. COMING UP, WALMART IS NARROWING THE GAP WITH AMAZON FOR WEALTHIER ONLINE SHOPPERS. WE WILL DIG INTO THAT NEXT.
CAROLINE: WALMART PLUS LAUNCHED IN 2020 AND IS BEGINNING TO CREEP INTO THE CRUCIAL DEMOGRAPHIC DOMINATED BY AMAZON PRIME, WEALTHY SHOPPERS. THEY SHARE OF WALMART PLUS SHOPPERS WITH AN INCOME OF ABOVE $150,000 ROSE 13% LAST YEAR ALONE. IT'S A LONG WAY TO CATCH UP TO AMAZON PRIME'S 77% CONTROL OF THE DEMOGRAPHIC. SPENCER SOPER COVERS ALL THINGS E-COMMERCE. ULTIMATELY, THERE IS A FLYWHEEL
EFFECT GOING ON HERE. SPENCER: YES. ALL NOIR -- WALMART PLUS LAUNCHED IN 2020 IT IS STARTING TO PICK UP STEAM. JUST LIKE AMAZON EARLY ON WHEN IT LAUNCHED IN 2005 WHEN IT LAUNCHED PRIME THE PROSPECT WAS TO LAUNCH GOOD SELECTION FROM A GOOD PRICE IS TO BRING IN NEW CUSTOMERS AND FEED ON ITSELF. WE ARE STARTING TO SEE SOME OF THAT WITH WALMART. THE INTERESTING THING IS MORE
OUT FOOLISH SHOPPERS THAT THEY ARE GETTING MORE PEOPLE IN THE 100 50,000 PLUS PER YEAR ANNUAL INCOME AREA THAT YOU WOULD NORMALLY ASSOCIATE WITH AMAZON. WE ARE STARTING TO SEE WALMART GET MORE OF THAT. ED: SPENCER SOPER, TERRIFIC REPORTING, THANK YOU.
COMING UP, AND EXCLUSIVE LOOK IN SOUTH KOREA'S SPACE PROGRAM THAT HAS ITS EYES ON CHALLENGING THE LIKES OF NASA, AND ALSO SPACEX. WE TALK ABOUT THAT NEXT. THIS IS BLOOMBERG. ED: SOUTH KOREA IS PUSHING TO BE A MAJOR PLAYER IN RACE AT LARSON BY 25 -- 2045 WITH TREATIES LIMITING TECH CAPABILITIES. SOUTH KOREAN ROCKET SCIENTISTS TURNED TO THE INTERNET TO FIND AN ENGINE THEY CAN MIMIC.
CHIEF NORTH ASIAN CORRESPONDENT STEPHEN ENGLE GOT EXCLUSIVE ACCESS TO SOUTH KOREA'S ROCKET LAUNCH PROGRAM. LISTEN. >> SOUTH KOREA HAS LOFTY GOALS FOR ITS FLEDGLING SPACE PROGRAM THAT NEEDED ONE GIANT LEAP OF FAITH IN A SEARCH ENGINE TO GET OFF THE GROUND. TREATIES BETWEEN ESTABLISHED SPACE POWERS LIKE THE U.S., RUSSIA, AND FRANCE, PROHIBIT
CERTAIN TEXT TRANSFERS TO ASPIRING SPACE CLUB NATIONS LIKE SOUTH KOREA, LEAVING ITS SMALL TEAM OF PIONEERING ROCKET SCIENTISTS TO SCOUR THE WEB FOR IDEAS. >> WE LOOKED UP ON THE INTERNET TO COMPARE AND FIND A SUITABLE LAUNCH VEHICLE. WHAT CALLED HOUR I WAS A SPACEX FALCON MERLIN ENGINE. WE DEVELOPED IT LOOKING AT THE PICTURE AND USING IT AS A POINT OF REFERENCE TO DESIGN. STEPHEN: THIS IS AN ACTUAL MERRY THREE STAGE LAUNCH VEHICLE, NOT A REPLICA. BLOOMBERG NEWS GOT AN EXCLUSIVE AND UNPRECEDENTED TOUR OF THE ENTIRE SPACE CENTER WHERE THE FIRST TWO LOCKETS -- ROCKETS WERE LAUNCHED INCLUDING THE FIRST SUCCESSFUL TEST MISSION LAST YEAR. WHAT DID YOU FEEL WHEN IT
LAUNCHED FOR THE FIRST TIME? >> MY HEART WAS BEATING FAST. I WAS PRAYING, PLEASE. STEPHEN: THE FIRST -- NEXT LAUNCHED BY PERHAPS AS EARLY AS THIS MAY WOULD A ACTUAL COMMERCIAL SATELLITES POWERED INTO ORBIT WITH SPACEX INSPIRED BUT LOCALLY MADE ENGINES THAT ARE NEARLY 300 TONS OF THRUST. >> WE ARE TRYING TO BUILD A SPACEX LIKE COMPANY. STEPHEN: IT IS A MODEL THAT MARRIES ELON MUSK'S COST EFFICIENCY WITH SOUTH KOREAN PROWESS IN ADVANCE TO TRIP.
IT COSTS ABOUT $80 MILLION PER LAUNCH COMPARED TO $67 MILLION FOR THE LARGER PAYLOAD FALCON 9, LARGELY WHY LATER THIS YEAR SOUTH KOREA'S GOVERNMENT WILL TRANSFER COMMERCIAL ROCKET LAUNCHING TO A PRIVATE COMPANY, A ROCKET ENGINE MAKER. >> WE ARE SEEING IF WE CAN MAKE THE ROCKET PROFITABLE, BUT IT'S A HARD TASK. ELON MUSK HAS MADE A VERY TIGHT MARKET FOR OTHER COMPANIES. >>>> THIS IS SOUTH KOREA'S MAIN LAUNCH CENTER AND LAUNCHPAD FOR THE LAST TWO LOCKETS ANDN THE NEXT ONE THAT WILL BE LAUNCHED SOMETIME LATER IN 2023. HERE THEY WILL EXPAND IT
BECAUSE THEY HAVE LARGER AMBITIONS FOR DESTINATIONS FURTHER AFIELD INCLUDING THE MOON AND BEYOND. LIFT OFF OF ARTEMIS ONE. >> NAMELY, PARTICIPATION IN THE NASA LED ARTEMIS PROGRAM TO RETURN MAN AND PAYLOADS TO THE MOON. NATIONAL SECURITY TOO WILL BE A KEY DRIVER AT A TIME WHEN NORTH KOREA IS IMPROVING ITS MARKET CAPABILITIES AND A SANCTIONS RUSSIA MEANS ONE LESS ROCKET LAUNCH PROVIDER TO SOUTH DOES PROVIDER AVAILABLE TO SOUTH KOREA. >> IT IS IMPORTANT TO FIND A CHEAP LAUNCH VEHICLES FROM A BUSINESS PERSPECTIVE. BUT I THINK IT IS VERY IMPORTANT FOR THE COMPANY TO HAVE THE ABILITY TO PUT SATELLITES OR THINGS LIKE THIS INTO SPACE WHEN WE WANT TO.
>> TO GET INTO THE ONCE FAIRLY EXCLUSIVE BUT NOW INCREASINGLY CROWDED GLOBAL SPACE CLUB, SOUTH KOREA MAY EMULATE ANOTHER AMERICAN ACCOMPLISHMENT. THE KENNEDY SPACE CENTER. TO TRANSFORM THESE SLEEPY ISLANDS IN THE NATION SOUTH TO AN AEROSPACE INDUSTRY EPICENTER. CAROLINE: FROM SOUTH KOREA IN SPACE TO HERE AND NOW ON THE GROUND WHEN IT COMES TO FINANCIALS. SILICON VALLEY BANK STILL TUMBLING AFTER HOURS AFTER THERE WAS CONCERN ABOUT COMPANY STARTING TO PULL DEPOSITS FURTHER FROM THIS PARTICULAR LENDER. HANNAH MILLER IS WITH US. A KEY COMPONENT OF LENDING TO VC BACK TO U.S. COMPANIES DOWN NOW MORE THAN 20%.
WHAT ARE YOU HEARING FROM SOME VENTURE CAPITAL COMPANIES? >> WE KNOW THERE IS A LOT OF CONCERN AMONG VENTURE CAPITALISTS. WE KNOW OF FIRMS ARE PULLING FUNDS FROM SILVER GATE AND ADVISING FOR FOLIO COMPANIES TO DO THE SAME. FROM SVB. THERE WAS A CALL THIS MORNING WHERE THIS IS FOX CEO ADVISED CLIENTS INCLUDING VENTURE CAPITALISTS TO REMAIN CALM.
HE SAID IT MULTIPLE TIMES. STILL, THERE IS A LOT OF CONCERN HERE. THIS IS A DEVELOPING STORY WE ARE KEEPING CLOSE TABS ON. ED: GIVE US A SENSE OF SIZE AND SCOPE. BASICALLY, MOST OF SILICON VALLEY USES THIS AS THEIR BRAND OF CHOICE. HANNAH: YES.
THIS IS A KEY COMPONENT IN SILICON VALLEY. VENTURE CAPITALISTS GRAVITATE TOWARDS US AND WE HAVE BIG NAMES CONNECTED TO SILICON VALLEY BANK. CAROLINE: WE ARE HEARING GREG BECKER, THE CEO, SAYING, STAY CALM. BUT WHEN YOU HAVE FOUNDERS FUND COFOUNDED BY PETER THIEL SAYING THERE IS NO DOWNSIDE TO REMOVING DEPOSITS AND Y COMBINATOR PERHAPS ADVISING COMPANIES TO DO THE SAME IT FEELS LIKE THERE WILL BE A CRESCENDO EFFECT. HANNAH: THAT IS WHAT WE ARE KEEPING CAPS ON. PEOPLE ARE NERVOUS.
YES, THEY ARE BEING TOLD TO STAY CALM. THAT SEEMS TO BE SPARKING EVEN MORE ANXIETY AMONG INVESTORS. WE HAVE PORTFOLIO COMPANIES ON EDGE. WE HAVE VC'S ON EDGE. THIS IS A VERY INTENSE STORY. ED: WHAT DO WE NOT KNOW?
WHAT IS THERE STILL TO FIND OUT? HADDOCK: WE ARE CERTAIN MORE PEOPLE ARE PULLING FUNDS FROM SVB. WE DO NOT KNOW WHAT WILL HAPPEN IN TERMS OF GETTING THE RIGHT SIDE UP. CAROLINE: WE PUT OUT OUR FEELERS AND WE ARE IN CONSTANT CONVERSATION WITH SILICON VALLEY BANK AND WE WILL BRING YOU ANY UP-TO-DATE INFORMATION FROM THAT PARTICULAR LENDER. HANNAH MILLER, THANK YOU SO MUCH. THAT DOES IT FOR A VERY BREAKING NEWS HEAVY ADDITION OF BLOOMBERG TECHNOLOGY. ED: TOMORROW TWITTER SPACE IS 12:00 P.M. 9:00 A.M. PACIFIC.
2023-03-11 17:35
Show Video
Other news