'Bloomberg Technology' Full Show (02/06/2023)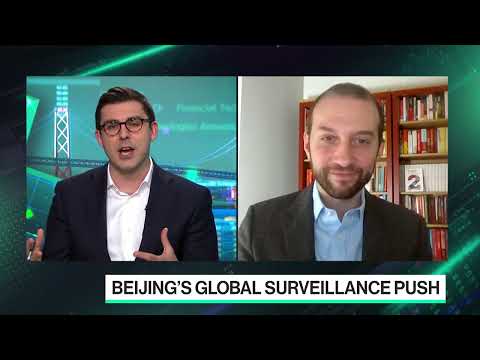 Show Video
ED: I AM ED LUDLOW IN SAN FRANCISCO. THIS IS BLOOMBERG TECHNOLOGY. GOOGLE'S RESPONSE TO CHATGPT. WHAT WE KNOW ABOUT THE CONVERSATIONAL AI SEARCH ENGINE NAMED BARD. THE LATEST TECHTARGET, DELL, ANNOUNCING LAYOFFS, LAYING OFF SIX 650 NATIONWIDE. WE DIVE INTO THE BEIJING GLOBAL SURVEILLANCE PUSH. LET'S GET A QUICK CHECK ON
MARKETS. ACROSS EQUITY MARKETS WE ARE SEEING GAINS, GIVEN BACK SO FAR THIS YEAR, THE NASDAQ 100 DOWN .8%. THE OTHER PART YIELDS PUSHING HIGHER, UP 11 BASIS POINTS ON THE 10 YEAR TREASURY. THIS IS A WAIT-AND-SEE MOMENT FOR THE MARKET THAT IS HIT. TECH. TO ROME POWELL WILL SPEAK TO
DAVID RUBENSTEIN -- JEROME POWELL SPEAK TO DAVID RUBENSTEIN ON TUESDAY. WE'LL SEE IF HE WALKS BACK ANY COMMENTARY. BITCOIN, TRADING 24/7, HOVERING AROUND 20 -- 23,000 U.S. DOLLARS. EARNINGS SEASON IN TECH CONTINUES. PINTEREST, REALLY MISSING EXPECTATIONS. FOURTH-QUARTER QUARTER SALES SOFTER THAN EXPECTED.
DOWN 10% IN AFTER HOURS, OFFSET BY BUYBACK PROGRAMS AND USERS COMING IN ABOVE EXPECTATIONS. ACTIVISION BLIZZARD UP .7%, STRONG AND TO 2022. ALL ABOUT CALL OF DUTY PERFORMANCE. THIS IS A COMPANY SUBJECT TO A $60 BILLION ACQUISITION BY MICROSOFT. WE TAKE YOU TO TAKE-TWO INTERACTIVE, EXPECTATIONS WERE MISSED IN THE FINAL THREE MONTHS OF 2022. ANOTHER STOCK THAT WAS IN FOCUS WAS ALPHABET, PARENT OF GOOGLE SHARES. PARING SOME OF THEIR GAIN
DESPITE AFTER HEADLINES THAT THE COMPANY IS RELEASING ITS RIVAL TO CHATGPT, CALLED BARD. JULIA, WHAT DO WE KNOW ABOUT BARD? JULIA: BARD, WE'VE HEARD PAT -- CHAT ABOUT CHATGPT. BARD IS GOOGLE'S ANSWER TO THAT PRODUCT. IT'S A CONVERSATIONAL AI SERVICE THAT USERS WILL ALSO BE ABLE TO TURN TO FOR SIMPLE QUERIES, SUCH AS PLANNING A BIRTHDAY PARTY. ED: I WAS ON THE PHONE LAST WEEK
WITH THE CFO OF ALPHABET. I ASKED HER ABOUT AI. SHE WAS DEFENSIVE, SAYING WE HAVE BEEN WORKING ON AI FOR YEARS AND YEARS. MY QUESTION, WHY ARE WE ONLY HEARING ABOUT A ROLLOUT OF IT INTO THE REAL WORLD NOW, WHY HAS IT BEEN SO SLOW TO REACT? JULIA: A FASCINATING QUESTION, GOOGLE HAS BEEN A LEADER IN THE FIELD, IT CREATED MANY OF THE TOOLS THAT UNDERPINNED THE COMPANY. THE COMPANY IS HELD ITSELF TO A HIGHER BAR IN TERMS OF ROLLING OUT THE PRODUCTS. THEY SOMETIMES DELIVER
INFORMATION THAT IS INCORRECT. GOOGLE HAS BEEN VERY FEARFUL OF WHAT MIGHT HAPPEN IF THAT HAPPENED UNDER THE GOOGLE BRAND. THEY ARE TAKING THEIR TIME. ED: I GUESS IT IS AN ISSUE OF
COMPETITIVE THREAT. YOU LOOK AT WHAT MICROSOFT IS DOING WITH CHATGPT AND THE UNDERLYING TECH. THERE'S TALK ABOUT HOW IT WILL IMPROVE THE SEARCH ENGINE. HOW MUCH OF A THREAT DOES GOOGLE SEE THE OTHER PLAYER TO ITS CORE BUSINESS? JULIA: GOOGLE STILL LIVES AND DIES BY ADVERTISING. SO, IF USERS BEGIN TO TURN TO CHATGPT AND OTHER SERVICES FOR SOME OF THEIR EVERYDAY QUERIES INSTEAD OF A GOOGLE SEARCH, THAT COULD OVER TIME START TO GET INTO GOOGLE GOALS -- GOOGLE'S ADVERTISING BUSINESS. ED: TERRIFIC REPORTING. AS WE MENTIONED, DELL HAS BECOME THE LATEST TECH COMPANY TO ANNOUNCE PRETTY SIGNIFICANT JOB CUTS IT WILL ELIMINATE A LITTLE MORE THAN 6600 JOBS, 5% OF ITS GLOBAL WORKFORCE.
BRITTANY -- GIVE US THE DETAILS OF THESE CUTS. >> ABSOLUTELY. ANYBODY WHO WAS WATCH THE SHOW OR ANY OTHER SHOW IN THE WORLD THE LAST COUPLE OF MONTHS KNOWS EVERY LARGE TECH COMPANY HAS MADE CUTS. DELL IS THE MOST RECENT ONE, CUTTING 6500 PEOPLE, ABOUT 5% OF THE GLOBAL WORKFORCE. THE BIG STORY HERE IN ADDITION
TO INVESTORS CALLING FOR GREATER PROFIT IS THAT PC DEMAND HAS REALLY FALLEN. ED: I WAS LOOKING AT THE IDC DATA FROM THE LAST FEW MONTHS OF 2022, THERE IS A SHOP IN PC SHIPMENTS. THE THIRD PARTY DATA WAS PRETTY UGLY FOR DELL SPECIFICALLY. BRODY: THE FIRST PARTY DATA IS PRETTY UGLY TOO. THEY HAVE BEEN REPORTING THAT PC SHIPMENTS HAVE GONE DOWN. IN THE PANDEMIC EVERYONE NEEDED A LAPTOP.
THERE WAS A SEMI CONDUCTOR SHORTAGE. COMPANIES REALLY BOTH UP THEIR PRODUCTION OF COMPUTERS. NOW THEY ARE SITTING ON ALL THIS INVENTORY THEY CANNOT SELL. DEMAND IS SINKING. IN THE LETTER, THE CO-CEO OF DELL HAD SOME PRETTY HARSH WORDS ABOUT THE ERODING MARKET CONDITIONS, UNCERTAINTY.
SO, THIS IS MORE THAN JUST A MACRO STORY. THIS IS ALSO ABOUT COMPUTER DEMAND GOING DOWN. ED: YOU MENTIONED DELL IS ONE NAME, AMONG MANY, WHO ELSE HAS DONE LAYOFFS? WHERE HAVE WE STARTED THIS YEAR IN TERMS OF THE INDUSTRY CUTTING BACK IN WHAT WAS BLOAT FROM THE PANDEMIC ERA? BRODY: WE HAD AMAZON AND SALESFORCE KICK OFF THE YEAR. WE'RE OBSERVING A TREND. LAST WEEK A LOT OF LARGER EMPLOYERS, ARE NOT AS MUCH HOUSEHOLD NAMES, WE SEE THAT MAKING CUTS TOO. EVERY LARGE COMPANY TAKING THIS MOMENT TO CUT PEOPLE OFF.
WORKDAY SAID WE DON'T NEED TO DO THIS. WE'RE GOING TO TAKE THIS MOMENT TO REALIGN OUR PRIORITIES. I'M. WATCHING I THINK A LOT OF COMPANIES, MAYBE HAVE NOT ANNOUNCED, THEY WILL, EVEN IF THE SCALE IS NOT WHAT WE ARE SEEING FROM GOOGLE, META, COMPANIES LIKE THAT. ED:,
BRODY FORD THINK YOU SO MUCH FOR YOUR REPORTING. CHIPMAKER MICRON IS SELLING $1.25 BILLION IN HIGH-GRADE U.S. BONDS. THEY WILL BE SOLD IN TWO PARTS SPLIT ACROSS BONDS AND NEW BONDS THAT MATURE. THE LONGER PORTION OF THE DEAL, EXPECTED TO YIELD AROUND 225 BASIS POINTS ABOVE TREASURIES ACCORDING TO THAT SOURCE. THE SALES WERE INCREASED BY 50 MILLION AND RELAUNCHED ON MONDAY WHICH IS A STRONG INDICATOR OF DEMAND.
COMING UP, THE ESCALATING INTELLIGENCE BATTLE BETWEEN THE U.S. AND CHINA. WE GO FROM GEOSTATIONARY SATELLITES -- SATELLITES TO US BY CRAFT LIKE BALLOON. THIS IS BLOOMBERG. ♪ >> IT IS CLEAR CHINA DOES NOT WANT TO ACT WITH RESTRAINT AND THE BIDEN ADMINISTRATION DOES NOT HAVE MUCH INCENTIVE TO TRY TO SEEK CHINA'S ASSURANCES THAT THEY WILL.
THERE IS NO TRUST ON THE TWO SIDES. IT COULD BE USED AS A TEACHABLE MOMENT. I THINK THE BIDEN ADMINISTRATION REALLY JUST WANTS TO PREVENT THE RELATIONSHIP FROM DETERIORATING INTO OUTRIGHT, CONFRONTATION OR CONFLICT. ED: THAT WAS NATIONAL UNIVERSITY OF SINGAPORE RESEARCH FELLOW DREW THOMPSON GIVING HIS THOUGHTS ON THE ALLEGED OR KNOWN CHINESE SURVEILLANCE BOONE -- BALLOON THAT HAS BEEN FLYING OVER THE MAINLAND U.S.. THIS, AMID TENSIONS RISING
BETWEEN THE U.S. AND CHINA. LET'S BRING IN BLOOMBERG'S REPORTER ON THE LATEST. THE BALLOON IS NO LONGER WITH US. THE DECISION WAS MADE AND TAKEN OVER THE WEEKEND TO TAKE IT DOWN. WHY, WHEN AND HOW DID IT HAPPEN? >> U.S. OFFICIALS HAVE BEEN TRACKING
THIS BALLOON FOR THE GREATER PART OF A WEEK. BIDEN HAS SAID PUBLICLY HE WANTED TO SHOOT IT DOWN, AS SOON AS HE HEARD ABOUT IT. HIS OFFICIALS HIS TOP GENERAL SAID, THE PAYLOAD HANGING FROM THE BALLOON IS BIGGER THAN TWO BUSES. IT IS THOUSANDS OF POUNDS.
IF YOU SHOOT THAT DOWN OVERLAND YOU WILL HAVE THIS MASSIVE DEBRIS FIELD, THAT STRETCHES FOR MILES. NASA HAD DONE AN ANALYSIS BASED ON THE SIZE OF THE OBJECT, HOW BIG THE DEBRIS FIELD WILL BE ON THE GROUND. EVEN AS THE DIPLOMATIC TUSSLE WAS GOING ON, BECAUSE THIS BALLOON WAS KIND OF SPOTTED ON THE EVE OF THE SECRETARY OF STATE'S VISIT TO CHINA, THEY DECIDED TO WAIT UNTIL IT WAS SIX MILES OFF THE COAST OF SOUTH CAROLINA BEFORE THEY SHUT IT DOWN WITH AN F-22. ED: WE UPDATE OUR AUDIENCE.
SECRETARY BLINKEN PUT THE TRIP ON PAUSE AFTER DELIBERATIONS ABOUT THE BALLOON. THE QUESTION IS WHAT ARE WE GOING TO LEARN FROM THE PAYLOAD? THE U.S. HAS SENT DIVERS TO RECOVER WHATEVER THE BALLOON WAS CARRYING. WHAT ARE THEY EXPECTING TO LEARN? IAIN: THEY ARE -- I THINK THEY ARE HOPING TO GET AN UP CLOSE LOOK AT THE SENSORS. THE INTELLIGENCE GATHERING EQUIPMENT ON THE BALLOON. THERE'S BEEN A LOT OF DEBATE OUT THERE ABOUT WHY ARE THEY USING A BALLOON WHEN THEY HAVE LOW ORBIT SATELLITES THAT ARE CAPABLE OF TAKING HIGH DEFINITION IMAGERY.
THERE IS A GENERAL SENSE THAT THE BALLOONS ARE ABLE TO LINGER OVERSENSITIVE MILITARY SITES, POTENTIALLY TAKE HIGHER DEFINITION SHOTS OR VIDEO FROM DIFFERENT ANGLES AS THEY FLOAT AND ROME OV -- ROAM OVER THESE THINGS. SO, THERE'S A LOT OF STUFF. THEY HAVE BEEN TRACKING THE BALLOON FOR DAYS. THEY'VE BEEN LOOKING TO SEE HOW IT COMMUNICATES BACK WITH WHEREVER -- THE DETAILS ARE THIN. THEY HAVE ALREADY GLEANED A
BUNCH OF INTELLIGENCE JUST FROM WATCHING IT OVER THE LAST FEW DAYS. THEY'RE GOING TO GET THEIR HANDS ON EQUIPMENT, USED TO SPY ON THEM BY THEIR MAIN GEOPOLITICAL COMPETITORS. THIS IS -- WE WILL SEE HOW MUCH THEY GET. AT THE MOMENT, IT IS LOOKING -- PEOPLE ARE HOPEFUL. ED:
YOU HAVE A PIECE WITH JEN JACOBS ON BLOOMBERG, WHICH LOOKS AT WHAT CHINA CHINESE OFFICIALS KNEW ABOUT THIS BALLOON. MY QUESTION IS, WHAT HAS THE RESPONSE FROM CHINA BEEN, OFFICIALLY TO THE BALLOON'S ORIGIN AND HOW IT ENDED UP OVER U.S. AIRSPACE? IAIN: YEAH. THIS IS ONE OF THE MOST INTERESTING PARTS OF THE STORY.
IT'S JUST COMING OUT NOW, HOW CONFUSED, AND CHAOTIC IT WAS ON THE CHINESE SIDE. THE CHINESE WANTED THIS VISIT FROM SECRETARY ANTONY BLINKEN. THEY WANTED IMAGES OF XI SHAKING HANDS WITH HIM. EVERYONE LOOKING STATESMANLIKE. THE U.S./CHINA RELATIONSHIP ON AN EVEN KEEL. ALL OF A SUDDEN THIS BALLOON POPPED UP.
THERE IS THIS INTERAGENCY COMMUNICATION ERROR ON THE CHINESE SIDE. IT LOOKS LIKE CHINESE DIPLOMATS IN THE U.S. WERE SURPRISED, WHEN THE COMMUNICATION FIRST STARTED. THE CHINESE SIDE EXPRESSED
REGRET. WHICH IS RARE, I THINK. ESPECIALLY WHEN IT COMES TO U.S./CHINA KERFUFFLE'S. AS SOON AS THE U.S. SHOT IT DOWN, BOTH THE BIDEN ADMINISTRATION AND XI JINPING IN CHINA HAVE THEIR OWN DOMESTIC CONSTITUENCIES, THEY NEED TO LOOK LIKE THEY ARE TAKING A FIRM STAND. AS SOON AS THE U.S. TO SHUT IT DOWN, THE CHINESE CHANGED THE TUNA BIT SAYING THAT THEY RESERVE THE RIGHT TO RESPOND AND IT WAS A TOTAL OVERREACTION ON THE U.S. -- A TUNE A BIT, SAYING THAT THEY RESERVED THE RIGHT TO RESPOND AND IT WAS A TOTAL OVERREACTION ON THE U.S. THEN THIS BALLOON FLOATED INTO
THE MIDDLE OF EVERYTHING AND KIND OF MESSED EVERYTHING UP. IT'S GONE AGAINST THE NARRATIVE THAT BOTH SIDES HAVE BEEN TALKING ABOUT FOR AGES. IT'S EMBARRASSING. ED: IT HAS INFLATED THE NEW CYCLE, THAT IS FOR SURE.
IAIN MARLOW GREAT REPORTING. I WANT TO STICK WITH THIS. WHAT IT MEANS FOR THE U.S./CHINA RELATIONSHIP WITH THE CEO, ISAAC STONE FISH. YOU SPENT YOUR WHOLE LIFE LOOKING AT CHINA, THE RELATIONSHIP AND THE U.S.,
DOING BUSINESS IN CHINA IF YOU ARE U.S. TECHNOLOGY EXECUTIVE WAKING UP ON MONDAY MORNING, HOW DO YOU FEEL ABOUT THE CHINA OPPORTUNITY, GIVEN THE WEEKEND'S EVENT? >> YOU WANT TO GO RIGHT BACK TO BED. THIS MUST BE VERY FRUSTRATING FOR FOLKS WHO HAVE FOR MONTHS, YEARS WAITED FOR POSITIVE ECONOMIC NUMBERS COMING OUT OF CHINA, WAITED FOR THE OPPORTUNITY TO DEPLOY LARGE SWATHS OF CAPITAL AND SEE THE NEWS, SEE THE TENSIONS AND UNDERSTAND THAT BOTH FROM A BEIJING AND A D.C. REGULATORY PERSPECTIVE THIS IS A BAD TIME TO PLAY. ED: THE CONTEXT OF THE WEEK AS WE DISCUSSED, IS SECRETARY BLINKEN AND WHAT WOULD HAVE BEEN AN OPPORTUNITY FOR, I DON'T WANT TO SAY TO TAUNT, BUT AN IN PERSON MEETING.
THAT WAS PUT ON HOLD. WHAT IS MORE SIGNIFICANT, THE IDEA THAT THE BALLOON WAS SHUT DOWN OR THE MEETING IS NOT TAKING PLACE? ISAAC: I WOULD GUESS THAT THE U.S. SIDE DID NOT WANT TO HAVE THE MEETING BECAUSE THEY WERE NOT GETTING WHAT THEY WANTED FROM THE CHINESE SIDE WHICH IS ONE OF THE REASONS THIS CAME OUT. THE MOST SIGNIFICANT PIECE OF THIS ENTIRE STORY IS THE SPOTLIGHT IT SHINES ON CHINESE ESPIONAGE IN THE UNITED STATES AS WELL AS GLOBALLY. AND HOW -- OK WE ARE FOCUSING ON THIS GIANT BALLOON, BUT IT IS RAISING QUESTIONS ABOUT CHINESE BRANDS, LIKE TIKTOK, LENOVO, MOTOROLA HANDSETS AND THEIR POTENTIAL FOR ESPIONAGE GATHERING. ED: LET'S TALK ABOUT TIKTOK.
ON MONDAY, PRESIDENT BIDEN WAS ASKED BY THE PRESS POLL, ABOUT TIKTOK AND WHETHER THE U.S. WILL BAN TIKTOK OUTRIGHT. PRESIDENT BIDEN SAID HE WAS NOT SURE YET. THEY HAD NOT MADE A DECISION. HE ADDED, HE DOES NOT HAVE
TIKTOK ON HIS OWN PERSONAL OR FEDERALLY ISSUED CELL PHONE. WHERE DO WE SIT IN THIS PROCESS? DO YOU THINK THAT PRESIDENT BIDEN IS BASICALLY NOT GIVING HIS CARS AWAY IN HOW THE U.S. GOVERNMENT WILL HANDLE TIKTOK IN THE COUNTRY? ISAAC: THERE IS A LEGAL AND POLITICAL PROCESS. POLITICALLY, BOTH SIDES HAVE A SHORT WINDOW TO BAN TIKTOK BEFORE THEY EMULATE -- TENS OF MILLIONS OF AMERICAN VOTERS. WE'RE NOT AT 2024 ELECTIONS RIGHT NOW, BUT WE ARE CLOSE.
BOTH SIDES ARE TRYING TO BALANCE THEIR WORRIES ABOUT THE NATIONAL SECURITY IMPLICATIONS OF TIKTOK AND THE WORRIES BETWEEN, LOSING A LOT OF PEOPLE WHO COULD VOTE REPUBLICAN OR DEMOCRAT. ED: YOU MENTIONED A MOMENT AGO, LENOVO, ONE OF THE BIGGEST MAKERS OF PERSONAL COMPUTERS IN THE WORLD, YOU HAVE CONCERNS ABOUT LENOVO. YET IT IS A COMMONPLACE PRODUCT THROUGHOUT NORTH AMERICA AND GLOBALLY. WHY IS THAT? ISAAC:
LENOVO HAS CLEAR TIES TO THE CHINESE COMMUNIST PARTY. IT'S BELIEVED 20% OWNED BY THE CHINESE COMMUNIST PARTY. YET THROUGH CAREFUL BRANDING, FOCUSES ON HUAWEI AND TIKTOK, LENOVO HAS ESCAPED ALONENESS -- NOTICE.
FROM A BUSINESS PERSPECTIVE YOU HAVE TO HAND IT TO THEM, FROM A NATIONAL -- SECURITY PERSPECTIVE ONE WONDERS WHERE THEY ARE NOT GETTING SCRUTINY. AND WHY ORGANIZATIONS RUNNING SENSITIVE INFORMATION ARE NOT A LOT MORE CAREFUL ABOUT THE LAPTOPS THE USE. ED: I POINT OUT LENOVO IS LISTED IN HONG KONG. AND SHARES ARE PUBLICLY AVAILABLE TO INVESTORS THROUGH THE PUBLIC MARKETS. WE THANK YOU.
STRATEGY RISKS AND FOUNDER, ISAAC STONE FISH. WHY APPLE IS SELLING ITS LATEST IPHONES AT DISCOUNTS. AT MORE THAN $100 IN CHINA. AS WE HAD TO BREAK, I WANT TO TAKE A LOOK AT PINTEREST AND SOME OF THE AFTER HOURS REACTIONS, DOWN 5%, PARING THE DECLINE AFTER FOURTH-QUARTER SALES MISSED EXPECTATIONS. YOU CAN SEE CONTAGION TO SNAP, WHO SHARES A LOW OF 1% IN AFTER HOURS.
WE CONTINUE TO TRACK THOSE. THIS IS BLOOMBERG. ♪ ED: DEALS AND DISCOUNTS OVER IN CHINA. MORE THAN $100 PRICE CUTS ON APPLES LATEST IPHONES. LET'S ASK BLOOMBERG INTELLIGENCE.
YOU COVER THE STOCK SO CLOSELY. THE POINT MADE IN THE REPORTING IS THEY ARE OFFERING A DISCOUNT SO SOON AFTER LAUNCHING THE LATEST GENERATION OF HANDSETS. WHAT IS YOUR READ? >> I THINK THEY DO OFFER THIS IN CHINA EVERY ONCE IN A WHILE, THEY REALLY WANT TO GET JUMPSTARTED ON THE CHINESE MARKET WHICH HAS BEEN PLAGUED BY A NUMBER OF THINGS.
COVID RESTRICTIONS, CHINA'S IMPORTANT PART FOR APPLES 1% OF REVENUE COMES FROM CHINA. THEY ARE TRYING TO JUMPSTART DEMAND IN THE AREA. LAST WEEK ON EARNINGS, THEY SAID THEY WERE LOOKING AT TRAFFIC BACK IN DECEMBER. MAYBE IT IS TRYING TO KEEP THE MOMENTUM UP. ED: I WANT TO JUMP ON THAT. TIM COOK SAID TWO THINGS, ONE
THEY WOULD HAVE SEEN GROWTH IN THE FIRST QUARTER FOR HANDSETS HAD IT NOT BEEN FOR SUPPLY CHAIN CONSTRAINTS. TWO, AS HE POINT OUT, THEY DID SEE IMPROVEMENT IN DEMAND, ONCE CHINA REOPENING GOT UNDERWAY, DO YOU TAKE TIM COOK AT FACE VALUE? ANURAG: I THINK SO. LAST YEAR THE SMARTPHONE SHIPMENTS WERE REALLY BAD IN CHINA BUT APPLE DID NOT DO AS BAD AS THE REST OF THE VENDORS. APPLE IS A HIGH-PRICED PRODUCT IT IS LESS SUSCEPTIBLE TO BIG CONSUMER SHIFTS. NOW, AS FAR AS CHINA'S CONCERNED, WHENEVER THE REOPENING HAPPENS IN A BROADER WAY, THE CHINESE CONSUMER WILL GO OUT AND BUY APPLE PRODUCTS AT THAT TIME. WE THINK IF IT IS NOT IN THE FIRST HALF, THE SECOND HALF WILL BE STRONG FOR APPLE. ED: YOUR COMPANY OUTLOOK ON THE
BLOOMBERG TERMINAL TALKS ABOUT THE BROADER APPLE ECOSYSTEM AS BEING A GOOD PLATFORM FOR GROWTH. WHAT IS YOUR OUTLOOK FOR 23 AND BEYOND? WHAT DRIVES IT? ANURAG: AS FAR AS THE PRODUCT GROWTH IS CONCERNED, WE ARE COMING TO A POINT WHERE APPLE WILL NOT GROW. IT HAS GROWN 12% REVENUE IN THE LAST FIVE YEARS. WE THINK THE VIEW IN THE NEXT THREE YEARS, THINK ABOUT A 6% TO 8% GROWTH RATE, COUPLED WITH MARGINAL EXPANSION AND BUYBACKS, THAT IS THE ADVANTAGE FOR THE NEXT THREE YEARS.
I'M NOT SURE HOW MANY INVESTORS OUT THERE ARE READY TO ADMIT THAT IS GOING TO BE THE CASE FOR APPLE. ED: IN OUR LAST SEGMENT, WE WERE TALKING ABOUT THE U.S./CHINA RELATIONSHIP AND GEOPOLITICS. YOU NOTE GEOPOLITICAL ISSUES,
AS A HEADWIND POTENTIALLY TO APPLE GOING FORWARD. WHAT IS YOUR CONCERN THERE? ANURAG: THE BIGGEST CONCERN IS THAT MOST OF THEIR PRODUCTS ARE ASSEMBLED IN CHINA. WE HAVE SEEN SOME DIVERSIFICATION OVER THE LAST COUPLE OF YEARS.
IT'S GOING TO TAKE A DECADE FOR US TO SEE ANY MEANINGFUL DIVERSIFICATION. LUCKILY FOR APPLE THEY HAVE DONE WELL TO SCOURGE THIS ISSUE BACK FROM THE -- THE CHINA AND THE BIG ISSUES OF SEMICONDUCTORS. THEY ARE NOT IMMUNE TO THIS. ED: REALLY QUICK. ARE YOU EXCITED ABOUT APPLES VR
HEADSET? ANURAG: FROM OUR SIDE, I WANT TO SEE AN APPLICATION THAT CAN BE USED ON THE PHONE. THE HEADSET IS GOING TO BE VERY GOOD IN TERMS OF A PUBLICITY AND HOW IT CAN SHOWCASE THE THINGS APPLE CAN DO. FINANCIALLY IT WILL NOT HAVE A BIG IMPACT BECAUSE THESE THINGS DO NOT, DEPENDENT ON HOW -- ON HOW DEPENDENT APPLE IS ON THE IPHONE. THE ECOSYSTEM IS LARGEST IN AUGMENTED REALITY. ED: ANURAG RANA, ALWAYS GOOD TO
CATCH UP. COMING UP. GOOGLE READIES ITS CHATGPT COMPETITOR. HOW FAST IS TOO FAST? WE WILL DISCUSS THIS WITH AI EXPERT, DAVID LESLIE. THIS IS BLOOMBERG. ♪
ED: WELCOME BACK TO BLOOMBERG TECHNOLOGY. HAPPENED WITH CHECK GPT, WE HAVE TO TAKE PAUSE ABOUT THE HASTING THIS, THE SPEED BEFORE SAFETY THAT HAS DRIVEN THE RELEASE OF CHAT GPT INTO THE WORLD. WE KNOW THAT RESEARCHERS HAVE EASILY GOTTEN AROUND FILTERS TO PRODUCE SECURITY THREATS, SUCH AS NEW STRANDS OF MALWARE. THEY HAVE BEEN ABLE TO CREATE FRAUDULENT PHISHING CAMPAIGNS. WE HAVE ALSO SEEN THE POTENTIAL FOR CHAT GPT AND OTHER LARGE LANGUAGE MODELS TO CREATE DISINFORMATION AND PROPAGANDA. THAT CAN FLOOD THE PUBLIC SQUARE WITH LIES AND I CAN SEE THERE ARE SAME THINGS GOING ON, BUT THERE ARE REASONS TO BE CONCERNED.
ED: WE ARE SEEING ON THE SCREEN JUST HOW RAPID THE ROLLOUT IS. IT IS ASTONISHING TRACKING THE HEADLINES ABOUT HOW QUICKLY PRODUCTS AND NEW NAMES ARE BORN. IS THAT PACE DANGEROUS OR IS THAT JUST THE REALITY OF INNOVATION? >> I WOULD HESITATE TO SAY IT IS THE REALITY OF INNOVATION.
I WOULD SAY WE REALLY DO NEED TO AVOID WHAT HAS BEEN GOING ON, WHAT DOES -- WHICH IS SHOCK AND ALL OF BRING IT THINGS TO THE MARKET WITH INCREASING SPEED. THIS ATTITUDE IS BECOMING PERHAPS MORE ABOUT CONCERN AS THE SCALE OF THE POTENTIAL CONSEQUENCES BECOME WIDER AND DEEPER FOR INTO SOCIETY. AND I THINK WE REALLY NEED TO PRESS THE PAUSE BUTTON A BIT WHEN IT COMES TO THE ACCELERATION OF THE TECHNOLOGY. ED: I GUESS THE DEBATE MOVES TO WHO SHOULD POLICE THIS. WHEN YOU REFLECT ON THE ALAN
TURING'S WORK IN THIS AREA, WHAT IS INTERESTING IS HOW MANY PAPERS HAVE BEEN PUBLISHED, GUIDELINES AT THE INDUSTRY THEMSELVES HAVE PUT FORWARD. SHOULD THEY BE THE ONES TO DO THAT? >> WE NEED TO THIRD-PARTY OVERSIGHT WHEN IT COMES TO THESE SYSTEMS, ESPECIALLY THESE HIGHLY IMPACTFUL SYSTEMS THAT WILL AFFECT LARGE POPULATIONS. THAT IS NOT TO SAY THE PRACTICES OF THE INNOVATORS IN DEPLOYING THESE SYSTEMS SHOULD NOT INVOLVE STRONG PRACTICES OF IMPACT ASSESSMENT AND TRANSPARENCY. THESE THINGS SIMPLY MUST BE SUBJECT TO THE OVERSIGHT OF THIRD-PARTY BODIES.
REGULATORS AND PERHAPS CERTIFICATIONS TEAMS. ED: WHAT IS THE SINGLE BIGGEST ETHICAL CONSIDERATION AROUND THE USE OF AI TODAY? >> IF WE ARE THINKING ABOUT THESE LARGE LANGUAGE MODELS, WE HAVE TO RECOGNIZE THAT WHAT THESE SYSTEMS ARE DOING IS MERELY DRAWING ON BILLIONS OF PARAMETERS THAT COME FROM HUMAN BEHAVIOR THAT CAN HAVE DISCRIMINATION EMBEDDED IN IT, THAT CAN BE RACIST AND SEXIST AND CAN IN FACT BE REPLICATED AND AMPLIFIED IN SYSTEMS. SO WE REALLY NEED TO BE AWARE THAT IF WE DO NOT APPROACH THESE SYSTEMS WITH SUFFICIENT BIAS MITIGATION, WE WILL REPLICATE DEEPER PATTERNS OF INJUSTICE. ED:
OUR THANKS TO DAVID LAZILY -- LESLIE. I WANT TO BRING YOU BREAKING NEWS. CREDIT SUISSE IS DELAYING BONUS CONVERSATIONS FOR SOME BANKERS.
THEY ARE DELAYING MUCH-ANTICIPATED COMPENSATION DAY FOR SOME OF ITS BANKERS. THAT IS WHILE IT RESTRUCTURES SOME OF ITS WALL STREET OPERATIONS. MORE ON THAT STORY AS WE GET IT. COMING UP, MICROSTRATEGY WAYS DEEPENING ITS COIN BET. OUR EXCLUSIVE INTERVIEW WITH MICHAEL SEILER. THAT IS ALL THE NEXT ON
BLOOMBERG. ED: BINANCE IS VERILY SUSPENDED DEPOSITS AND WITHDRAWALS USING U.S. BANK ACCOUNTS. IT WILL START ON WEDNESDAY ACCORDING TO SPOKESPERSON. NO REASON WAS GIVEN FOR THE SUSPENSION. THE SPOKESPERSON SAYS THEY WILL WORK TO RESTART THE SERVICE FOR U.S. DOLLARS SOON. STICKING WITH CRYPTO, MICROSTRATEGY CHAIRMAN AND COFOUNDER MICHAEL SAYLOR SAYS BITCOIN WILL OUTPERFORM OTHER ASSET CLASSES.
EARLIER, WE SPOKE WITH HIM ABOUT HIS BUSINESS. >> OUR STRATEGY IS TO ACQUIRE AND HOLD THAT COIN THROUGH CASH FLOWS. IT IS ABOUT A $4 BILLION INVESTMENT ON OUR PART. MY ROLE IS TO OVERSEAS OUR
CAPITAL MARKET ACTIVITY, ARE BITCOIN STRATEGY. MY NUMBER TWO RUNS THE SOFTWARE BUSINESS. >> LET'S TALK ABOUT ACCUMULATED MORE BITCOIN. FOR LOOK AT THE END OF 2022, MICROSTRATEGY HAD ABOUT $44 MILLION IN CASH. WHEN IT COMES TO GETTING YOUR HANDS ON MORE BITCOIN, IS THAT TOWARDS DEBT ISSUANCE? >> WE HAVE ISSUED JUNK BONDS. WE HAVE DONE CONVERTIBLE BONDS. TWO OF THEM. WE HAVE ISSUED EQUITY.
WE HAVE A $500 MILLION AT THE MARKET SHELF REGISTRATION THAT IS OPEN. WE SOLD ABOUT 44 MILLION DOLLARS WORTH OF EQUITY. WE HAVE ALSO BORROWED AGAINST THE BITCOIN WE HAVE. MORE THAN 100,000 BITCOIN WE CAN BORROW AGAINST. >> OBVIOUSLY, A LOT OF ATTENTION ON YOUR COMPANY BECAUSE OF THE FOUR-WAY INTO CRYPTOCURRENCY. A LOT OF PEOPLE ARE WONDERING WHY BUY MICROSTRATEGY IN PLACE OF JUST BUYING BITCOIN? WHAT IS THE ADVANTAGE OF GOING THROUGH YOU? >> SOME INVESTORS ARE NOT ABLE TO OWN BITCOIN AS PROPERTY AND THEY DO NOT HAVE RELATIONSHIPS WITH BROKERS.
THEY COULD BUY MICROSTRATEGY IN A PHONE CALL THROUGH THEIR PRIME BROKER AND OUR STOCK'S MARGINABLE. SOME PEOPLE ARE USING US AS A GATEWAY BECAUSE IT IS THE SIMPLE WAY FOR THEM TO GET EXPOSURE. OTHERS ARE INTO THE CAPITAL STRUCTURE. WE HAVE ABOUT $2.4 BILLION IN DEBT AT A BLENDED INTEREST RATE
OF JUST A COUPLE OF PERCENTS. SOME PEOPLE JUST WANT TO TRADE THE VOLATILITY. SO IF YOU WANT TO GO LONG BITCOIN, WE ARE A CHOICE. IF YOU WANT TO GO SHORT
BITCOIN, WE ARE CHOICE. I HAVE GONE THROUGH THE STEPS OF A BITCOIN EXCHANGE. IT COULD GET YOU UP TO THREE MONTHS TO ACTUALLY TRADE THE ASSET. WE REALLY MEET A NEED FOR INSTITUTIONAL INVESTORS WHO WANT TO TRADE SECURITIES WITHIN EXPOSURE TO THE CRYPTO MARKET. >> WOULD IT BE MORE APPROPRIATE TO SPIN OFF THIS CRYPTO SIDE OF THE BUSINESS FROM THE SOFTWARE SIDE? >> WE ARE THE ONLY OPERATING COMPANY THAT IS ACTUALLY THAT A BITCOIN STRATEGY. THE FACT THAT WE HAVE A GROWING CONCERN THAT GENERATE CASH FLOWS THAT IS NOT CORRELATED TO THE CRYPTO SPACE IS A BENEFIT. WE ARE ABLE TO USE OUR STABLE
ENTERPRISE SOFTWARE BUSINESS AS A BASIS TO BURROW BILLIONS OF DOLLARS THAT WE ARE THEN ABLE TO INVEST IN BITCOIN. COMBINING SOFTWARE COMPANY WITH STABLE CASH FLOWS WITH THE BITCOIN STRATEGY IS FAIRLY UNIQUE. THE SOFTWARE BUSINESS HAS BENEFITED BECAUSE OUR EMPLOYEES HAVE STOCK OPTIONS. THEY BENEFITED INITIALLY.
OUR TURNOVER HAS NEVER BEEN LOWER, SO MORALE IS REALLY GOOD. AWARENESS OF THE SOFTWARE BUSINESS HAS NEVER BEEN HIGHER. AS A BITCOIN ACQUISITION VEHICLE, WE HAVE A LOT OF FLEXIBILITY YOU WOULD NOT HAVE AS AN ETF.
WE ARE AN OPERATING BUSINESS, WE CAN TAKE ON LEVERAGE, WE CAN ISSUED JUNK BONDS, ETC.. SO WE WOULD NOT WANT TO SEPARATE THE TWO STRATEGIES. >> I WANT TO GET TO THE SOFTWARE BUSINESS ITSELF, BUT I WANT TO TALK ABOUT THE BITCOIN HOLDINGS A LITTLE BIT MORE. YOU ACTUALLY SOLD BITCOIN FOR THE FIRST TIME AT THE END OF DECEMBER, VERY SMALL AMOUNT.
FIRST OF ALL, WHY DID YOU SELL IN DECEMBER? DO YOU HAVE ANY MORE SALES PLANS? >> WITH BITCOIN, BECAUSE IT IS PROPERTY, YOU COULD SELL IT AND THEN YOU CAN BUY IT BACK THE NEXT DAY AND YOUR NOT SUBJECT TO LOST TRADING RULES. IT IS A FAVORABLE TAX TREATMENT AS OF NOW. WE HAVE SOME TAXABLE GAINS AND WE ARE ABLE TO GENERATE A $34 MILLION TAX LOSS. THAT WILL BE A TAX BENEFIT TO THE COMPANY TO THE EXTENT THAT WE CAN APPLY IT. IF YOU HAVE BILLIONS OF DOLLARS OF AN ASSET ON YOUR BALANCE SHEET, YOU ARE THINKING ONE OF THE TAX BENEFIT IF YOUR ABLE TO HARVEST THOSE TALKS LOSSES -- TAX LOSSES, THEORETICALLY WE HAVE A BILLION DOLLARS OR MORE OF TAX LOSSES WE MAKE HARVEST IN THE FUTURE. ED: THAT WAS MICROSTRATEGY CHAIRMAN MICHAEL SAYLOR. COMING UP, WE PULLED OUR
TWITTER FOLLOWERS ABOUT HOW THEY WATCH THE 2023 GRAMMY AWARDS. WE WILL SHARE OUR RESULTS. THIS IS BLOOMBERG. ♪ ED: TIME FOR GOING VIRAL. THE GRAMMYS HAVE BEEN TRENDING ON SOCIAL MEDIA, PREVENT THEY AWARE SHOW IS STILL RELEVANT, BUT THAT IS NOT NECESSARILY THE CASE DURING THE YVONNE. WE POLLED OUR VIEWERS ON HOW THEY WATCHED AND MORE THAN 92% SAID THEY DID NOT WATCH. HERE WITH THE ACTUAL DATA IS LUCAS. WE WERE EXPECTING A REBOUND.
DID WE GET ONE? >> WE GOT A SLIGHT REBOUND. THE PRELIMINARY FIGURES ARE ABOUT 12 MILLION PEOPLE WATCH THE GRAMMYS, THAT IS UP FROM NINE OR 10 MILLION FROM LAST YEAR AND UP FROM A LOW A FEW YEARS AGO OF ABOUT 9 MILLION, BUT WELL BELOW WHERE THEY WERE BEFORE. PRIOR TO THE PANDEMIC, THERE WERE 18 MILLION PEOPLE WATCHING. THE ONIONS IS HALF WHAT IT WAS MANY YEARS AGO. -- THE AUDIENCE IS HALF WHAT IT WAS MANY YEARS AGO. ED: I GUESS THE CONVERSATION GOES TO HOW OUR NETWORKS AND PLATFORMS ADAPTING ON HOW PEOPLE ARE CONSUMING EVENTS LIKE THE GRAMMYS ECHO --? >> THESE SHOWS TEND TO BE AVAILABLE ON LIVE TV AND STREAMING. IF YOU ARE SOMEBODY WHO DOES
NOT PAY FOR CABLE OR SATELLITE, YOU CAN GET IT THAT WAY. THE OTHER THING IS OBVIOUSLY CLIPS AND MOMENTS FROM THESE EVENTS SPREAD ACROSS SOCIAL MEDIA SO THAT TWITTER, YOUTUBE AND THE LIKE, OUR NATIONAL CARMEN IN THE PRESS ROOM ASKED PRODUCER JACK AND TO NOT ABOUT LIVE NATION AND IT WAS ALL ACROSS SOCIAL MEDIA THIS AFTERNOON. ED: ALSO WRITING ABOUT BEYONCE BREAK IN RECORD FOR GRAMMYS WINS, BUT SHE DID NOT WIN THE TOP AWARD. >> THIS HAS BEEN A TREND WITH THE GRAMMYS, PARTICULARLY WITH BLACK ARTISTS. SHE WON BOTH IN RMB AND ELECTRONIC/DANCE. BUT SHE DID NOT WIN THE SONG OF THE YEAR OR ALBUM OF THE YEAR.
SHE HAS ONLY WON ONE OF THOSE BIG THREE AWARDS. ED: BUSY SUNDAY NIGHT FOR YOU. THANK YOU. THAT DOES IT FOR THIS EDITION OF BLOOMBERG TECHNOLOGY. TUESDAY, WE HAVE MICROSOFT'S EXECUTIVE JOINING US. THIS IS BLOOMBERG. ♪
2023-02-07 16:21
Show Video
Other news