'Bloomberg Surveillance Simulcast' (04/21/23)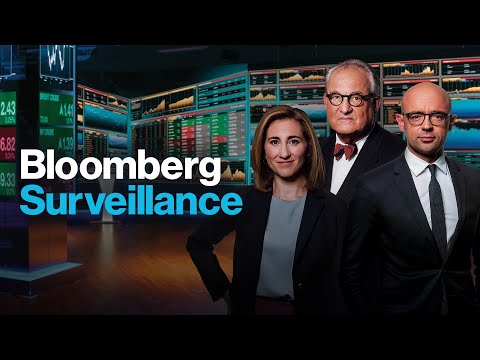 Show Video
>> THIS IS A FRUSTRATING MARKET FOR BOTH BULLS AND BEARS. >> WE HAVE NOT SEEN U.S. GROWTH DETERIORATE THAT MUCH YET. >> THERE IS LINGERING CONCERNS OVER CREDIT TIGHTENING. >> THIS IS BLOOMBERG SURVEILLANCE WITH AND LISA AMBRAMOWICZ. JONATHAN: LIVE FROM NEW YORK CITY, GOOD MORNING. THIS IS "BLOOMBERG
SURVEILLANCE." TAKEI IS GOING TO TAKE A LONG WEEKEND. EQUITY FUTURES UNCHANGED. LATER THIS MORNING WE NEED TO DISCUSS THIS STORY, PRESIDENT BIDEN COULD BE LOOKING TO ANNOUNCING HIS REELECTION CAMPAIGN AS EARLY AS NEXT WEEK. WE CATCH UP WITH ANN-MARIE LATER.
SONS OF FED SPEAK,. LISA: THE BEARS ARE CONSISTENT EVEN WITH HATE AND NOT NECESSARILY BEING RIGHT FOR A WILD. THERE ARE STILL BEARISH AND THE DATA CONFIRMS IT.
THEY'RE GOING TO CATCH UP BECAUSE IT IS ONLY A MATTER OF TIME. JONATHAN: EASING OF FINANCING CONDITIONS, PREMATURE. WE'VE HEARD SO MUCH LIKE THIS FROM J.P.
MORGAN, MIKE WILSON AT MORGAN STANLEY. THEY HAVE NOT CHANGED OUR VIEW OVER THE LAST MONTH. LISA: THE EARNINGS CONFIRM WHAT THEY ARE SAYING.
THE FUNDAMENTAL STORY IS VERY MUCH IN LINE WITH THE BEARISH VIEW. EARNINGS COMMIT BELOW EXPECTATIONS. WE SAW A TAKE UP IN USAGE OF EMERGENCY LOAN PROGRAMS CATERING TO SOME OF THESE BANKS. ON ONE HAND, NOTHING MASSIVE. ON THE OTHER HAND, ALL IS NOT A CLEAR.
WE ARE NOT COMPLETELY OUT OF THE WOODS WHEN IT IS CLEAR THE ECONOMY IS FALLING ALL BEAT ALONGSIDE INFLATION. JONATHAN: OVERALL MORE SIGNS OF STABILITY DID NOT. PROFITABILITY PROBLEMS ARE GOING TO PERSIST WE IMAGINE, FOR THE SMALLER BANKS BANKS LEADING TO POTENTIALLY TIGHTER CONDITIONS. I DO NOT THINK THE FED HAS THE ANSWERS THEY WANT OR NEED TO BE ON MAY AND THAT IS THE PROBLEM. THEY CANNOT GIVE YOU ANYTHING BEYOND NEXT MONTH. LISA: YESTERDAY WE HEARD A SLEW OF
FED SPEAK. I DO THINK THERE WAS A COHESIVE MESSAGE FOR THE FIRST TIME WHICH WAS ONE AND ON. THEY'RE GOING TO HIKE ONE MORE TIME AND THEY ARE GOING TO PAUSE. IT SEEMS THE CONSENSUS IN FEDERAL RESERVE.
THE ISSUE FOR MARKETS IS HOW LONG ARE THEY GOING TO PAUSE FOR. KEEP IT THERE LONGER OR CUT IN THE FACE OF DETERIORATING INFORMATION. YESTERDAY AT LEADING ECONOMIC INDICATORS THAT CAME OUT STRONGLY IN RECESSIONARY TERRITORY. DEEPLY NEGATIVE.
HOW MUCH DOES EDIFY A FEELING WE ARE HAVING A CATASTROPHIC COLLAPSE? JONATHAN: WHEN I TALK ABOUT THE UNKNOWN BEYOND MAY I AM NOT TALKING RATE HIKES, I AM TALKING THEIR UNDERSTANDING OF TIGHTENING FINANCIAL CONDITIONS. PATRICK HARKER TALKED ABOUT THAT OVER THE FEDERAL RESERVE. I EXPECT TO SEE TIGHTER CONDITIONS THAT MAY SLOW ECONOMIC ACTIVITY AND HIRING. WE UNDERSTAND THE DIRECTION BUT THE FULL EXTENT IS UNCLEAR. I DO NOT THINK WE KNOW WITH THE
REST OF THE YEAR IT LOOKS LIKE ON THAT FRONT. LISA: THEY'RE IN THE UNKNOWN TERRITORY SO IS ANYBODY ELSE. JONATHAN: I COULD BE SOFTER BY .1%.
-- EQUITY MARKET SOFTER BY .1%. 10 YEAR 35261. EURO-DOLLAR DOWN .2%. PRETTY TIGHT TRADING RANGES FOR THE SINGLE CURRENCY AGAINST THE DOLLAR. LISA: IT HAS BEEN THE STASIS AS PEOPLE CAME OUT, A TRADING RANGE EVERYWHERE AND IT HAS BEEN FRUSTRATING FOR A LOT OF PEOPLE THAT SEEMS TO REALIZE THE ANGST UNDERPINNING IT. THEY BEAT EXPECTATIONS ACROSS THE BOARD ALL THE PROVISIONS FOR CREDIT LOSSES CAME IN SLIGHTLY ABOVE EXPECTATION. IF YOU TAKE A LOOK AT THE NET INTEREST MARGIN, BECAME SLIGHTLY ABOVE. IT IS A QUESTION OF PROFITABILITY AND IT GOES TO
THE ISSUE OF WHERE ARE THE STRONGEST GOING TO GET MORE STRENGTH. ARE THEY GOING TO CONSOLIDATE TODAY? WE WILL GET PERHAPS MORE INFORMATION. 9:45 A.M. WE GOT DATA OUT OF EUROPE EARLIER THIS MORNING. THE GET THE LATEST OF MANUFACTURING AND SERVICE PMI IN U.S.. CONSENSUS PMI IN EUROPE WAS SERVICES DOING BETTER-THAN-EXPECTED, MANUFACTURING DOING WORSE THAN EXPECTED.
HOW LONG CAN THIS BIFURCATION HAPPENED BEFORE ONE CARRIES THE OTHER? IT IS A REAL TENSION AS WE SEE DIFFERENT MOVING PIECES OF THIS ECONOMY. 4:35 P.M., IS IT THE LAST GAS? LISA COOK SPEAKING AT GEORGETOWN UNIVERSITY, THE LAST GASP BEFORE ALL GOES QUIET. JONATHAN: WHAT ELSE TO SAY? LISA: THERE SEEMS TO BE CONSENSUS THERE IS ENOUGH INFORMATION TO RAISE 25 BASIS POINTS BUT AFTER THAT, PROBABLY NOT SO MUCH.
JONATHAN: MAYBE THE HIKE IN MAY IS THE LAST HIKE OF THE HIKING CYCLE. JOINING US NOW IS LUKE KAWA. GOOD MORNING TO YOU. I WANT TO PICK UP ON THE LINE FROM BANK OF AMERICA, SALE AT THE LAST RATE HIKE. HOW DO YOU AND THE TEAM FEEL
ABOUT THAT? LUKE: EQUITIES AT THE HEADLINE LEVEL HAVE NOT BEEN THAT EXCITING. THAT IS NOT WHERE YOU'RE GOING TO SEE THE BIG MOVE TO THE UPSIDE. MORE CONFIDENCE UNDER THE HOOD TRADE, BUT HAS BEEN STARK FOR US FOR THE PAST MONTH, WHAT IS CRAZY IS HOW MUCH TO VOLATILITY ENVIRONMENT HAS NORMALIZED ACROSS ASSETS. WHETHER THAT IS SPRAYED OR FX. ALL OF THAT IS BELOW BEFORE WE HAD AN EPISODE OF BANKING STRESS.
THE RELATIVE VALUE POSITIONS THAT GOT HIT HARD DURING THAT SHORT PERIOD OF TIME WHERE WE WERE PRICING IN TAIL RISK WITH U.S. REGIONALS THOSE HAVE NOT RETRACE MUCH AT ALL. THAT IS WHERE THE OPPORTUNITY IS MORE SO THAN FOCUSING ON WHETHER TO SELL THE LAST TRADE. IT IS NOT A FOREGONE CONCLUSION AS YOU GUYS HAVE NOTED. JONATHAN: WOULD YOU EXPECT THE UNDERPERFORMANCE TO CLOSE OR FOR IT TO GO HIGHER ? LUKE: THE TRADE HERE IS THE OXYGEN IS COMING BACK INTO THE ROOM FROM THE MACRO PERSPECTIVE. WHENEVER YOU ARE TALKING ABOUT U.S. FINANCIAL SYSTEM RISK, PERHAPS THE ONLY NARRATIVE THAT IS GOING TO MATTER. RIPPLING MORE TIME AND DISTANCE
AND DATA -- THEY ARE PUTTING MORE TIME AND DATA BETWEEN THAT EPISODE. LIKE LARGE-CAP FINANCIALS OUTPERFORMING TECH CLOSING MORE THAN VIX SPIKING UP TO LOVE IS CONSISTENT WITH A REAL GROWTH SCARE. LISA: YOU MENTIONED TECH. NEXT WE COULD GET A EARNINGS. HOW CONCERNED ARE YOU WHEN YOU HAVE BEEN SIGNS THAT THE CHIP MANUFACTURERS ARE STILL FACING REAL HEADWINDS? LUKE: WITHTECH IT IS THE COMBINATION OF THE EARNINGS GROWTH, FOR THE GROUP IN AGGREGATE, IT'S GOING TO POST IS NOT THAT MUCH STRONGER THAN THE REST OF THE INDEX TO JUSTIFY THE PRICE HIGHER MULTIPLE TO THE INDEX. IT IS MORE OF A VALUE PLAY, A LOT MORE SUSCEPTIBLE TO MISTAKES IF WE TALK ABOUT HIGH VALUATIONS AT THE NEXT LEVEL. WE ALL KNOW WHAT IS DRIVING THAT. THIS A SITUATION WHERE AS YOU SAY, THAT NEWS CAN HAVE MORE OF AN IMPACT BASED ON THE INITIAL CONDITIONS OF EVALUATIONS. LISA: I'M CURIOUS YOUR VIEW ON CHINA
AND POTENTIAL INFLUENCE IN EARNINGS BECAUSE YOU COME ON THE PROGRAM BEFORE AND SAID YOU WERE BULLISH ON CHINESE EQUITIES AND CHINESE BONDS. THE ASSETS THAT HAVE BEEN LEFT FOR DEAD TOO QUICKLY. DO YOU FEEL THE SAME ABOUT CHINESE ASSETS AND CHINESE ASPECTS OF SOME OF THESE TECH FIRMS IN LIGHT OF DISCUSSION AND PROPOSAL FROM THE BIDEN ADMINISTRATION? LUKE: I DO THINK YOU DO HAVE TO TAKE THOSE NOTE OF THOSE AND THE RISK. THAT IS ONE REASON WHY IN SOME CASES GET TO BE MORE CHOOSY IF YOUR PLANE CHINESE EQUITIES THAT ALLOWS YOU TO MITIGATE THOSE RISK.
BUT TO TALK ABOUT THE MICRO-OXYGEN COMING BACK, YES. IT IS THE CHINA DEPOSIT STORY AS WE GET MORE EVIDENCE, EVEN IN THINGS WAS ABLE LINK GREEN SHE WAS A LINK GREEN SHOES IN REAL ESTATE OVER THE PAST MONTH WE THINK THE MARKET CAN FOCUS ON THAT IN AN ENVIRONMENT WHERE THE MARKET IS NOT WORRIED ABOUT PRICING DETAILS. DO GEOPOLITICS PLAY A BIG POTENTIAL ROLE IN HOW INVESTORS ARE GOING TO TREAT CHINA AND KEEP IT IN VALUATION PENALTY BOX? VERY MUCH, PERHAPS. THERE IS A LOT OF MOVING PARTS IN U.S. CHINA RELATIONSHIP RIGHT NOW. TO BOIL IT DOWN TO A HEADLINE WE MIGHT SEE ON A WEEKLY BASIS, A LOT OF THOSE PROPHECIES PANELISTS HAVE NOT NECESSARILY COME TO FRUITION.
I DO THINK THERE IS FLUID EAT THERE -- LOADED T THERE. JONATHAN: LAST TIME WE CAUGHT UP EURO-DOLLAR WE ASKED A FRIEND OF YOURS ON THE TEAM AT UBS FOR A CALL EURO-DOLLAR, THEY SAID WE SHOULD GO LONG FROM 106 21 TO 76 ON FRIDAY. TRY TO CALL. -- QUITE A CALL. WHERE ARE YOU NOW ON FOREIGN
EXCHANGE? LUKE: IS GOING TO PUT ME OUT OF A JOB. ON THE BROAD DOLLAR VIEW, ARE TAKE CARE -- OUR TAKE CARE SIMILAR WHEN THE FED TALKS ABOUT TIPTOEING THROUGH A DARK ROOM, NOW THAT THE FED IS TIPTOEING THROUGH A DARK ROOM WHERE A NOTE THERE IS BROKEN GLASS ON THE FLOOR, THEY'RE GOING TO BE MORE CAUTIOUS EVEN IF THEY GO BEYOND MAY, THAT FROM ADDITION ADDITIONAL SINCE CUT OFF THE RIGHT TELL THE U.S. DOLLAR SMILE SO THE ONLY WAY TO GET U.S. HIGHER A SURPRISE PRICE IN RECESSION AND WE DO NOT THINK IS IMMINENT FACTOR. WE LIKE THE SHORT THESIS HERE. JONATHAN: WE APPRECIATE YOU. LUKE KAWA OF UBS. I PROMISE WE WOULD NOT TALK ABOUT MANCHESTER UNITED BUT I WOULD TALK ABOUT THIS ARTICLE AND DRAWING MY ATTENTION TO IT.
BANK OF ENGLAND POLICYMAKER, SAVANNA WHO TOM CAUGHT UP WITH ON FRIDAY AT IMF SPRING MEETINGS, SAID THIS ABOUT HER HAWKISH COLLEAGUES, COMPARED THEM TO QUOTE A FALL IN THE SHOWER WHO SCOLDS HIMSELF BY BEING TOO IMPATIENT TO WAIT FOR THE WATER TO WARM UP SAYING INTEREST RATES ARE TOO HIGH FOR THE ECONOMY TO BEAR. WHAT YOU MAKE OF THAT? LISA: THIS IS THE FAIR A LOT OF PEOPLE HAVE. PEOPLE, FED OFFICIALS OR ECB OFFICIALS ARE CREATING TO PREVIOUS CRISIS AND PREVIOUS MISTAKES AND NOT ENGAGING WITH THE RISK ARE IN REAL TIME. JONATHAN: FROM MAUREEN FROM DOING TOO LITTLE TO WORRY ABOUT DOING TOO MUCH. PRIYA MISRA IN THE NEXT HOUR. ON THE BOND MARKET RIGHT NOW, YIELDS UNCHANGED.
EQUITY MARKET GOING NOWHERE ON THE S&P 500. THIS IS BLOOMBERG. >> KEEPING YOU UP-TO-DATE WITH NEWS AROUND THE WORLD WITH THE FIRST WORRIED. RISHI SUNAK DEPUTY DOMINIC RAAB HAS CLEARED AFTER INVESTIGATION INTO BULLION COMPLAINTS. THE PROBE CRITICIZE HIS BEHAVIOR TOWARDS SERVANTS. IT IS A MAJOR BLOW TO RISHI SUNAK WHO IS TRYING TO PRESENT HIS GOVERNMENT WILL CONTRAST TO THE BORIS JOHNSON ERA. FEDERAL RESERVE OFFICIALS ARE BACKING ANOTHER INTEREST RATE INCREASE.
AT THE SAME TIME THEY ARE MONITORING THE ECONOMIC FALLOUT FROM STRESSES ON THE BANKING SYSTEM. CLEVELAND FED PRESIDENT SAYS SHE FAVORS GETTING RATES ABOUT 5% BECAUSE INFLATION IS STILL TOO HIGH. A LANCE OF FED PRESIDENT SAYS HE BACKS A ONE AND DONE RATE HIKE APPROACH. PRESIDENT BYNUM IT WILL
CRACKDOWN ON U.S. INVESTMENTS IN KEY PARTS OF CHINA'S ECONOMY. HE WAS SIGNED EXECUTIVE ORDER IN THE COMING WEEKS THAT WILL LIMIT INVESTING IN CHINESE SEMICONDUCTORS, ARTIFICIAL INTELLIGENCE, AND QUANTUM COMPUTING. THE PRESIDENT IS HOPING TO GET THE BACKING OF G7 PARTNERS. ELON MUSK'S DOING AN ABOUT-FACE
AFTER SAYING HE WOULD CONTINUE TO DROP THE PRICE OF HIS ELECTRIC VEHICLES. TESLA INCREASING THE CAUSE OF MODEL S AND MODEL X VEHICLES IN U.S.. PRICES WILL BE PUMPED OUT BY 2500 DOLLARS RAISING THE COST OF THE SEDAN AND SUV BY 2% TO 3%. MARKDOWNS TOOK A TOLL ON PROFITABILITY AND TESLA SHARES. GLOBAL NEWS POWERED BY MORE THAN 2700 JOURNALISTS AND ANALYSTS IN MORE THAN 120 COUNTRIES. I AM LISA MATEO. THIS IS BLOOMBERG. ♪ >> AT THE END OF THE DAY, THE CRISIS IS TOO STRONG A WORD AND WORDS LIKE THAT GETS USED A LOT. THEN SHE HAS REPORTED GOOD
EARNINGS ACROSS THE BOARD -- THE INDUSTRY HAS REPORTED GOOD EARNINGS ACROSS THE BOARD. THE BANKING SYSTEM IS WHAT THEY DO TO MAKE CREDIT TIGHTER AND HELP SLOW DOWN THE ECONOMY. JONATHAN: THAT IS THE BANK OF AMERICA CEO SPEAKING YESTERDAY DURING THE LEADERS FORM. YOUR EQUITY MARKET THIS MORNING, LOOKS LIKE THIS. UNCHANGED ON THE S&P 500. YIELDS UNCHANGED AS WELL. 10 YEAR 35280. TESLA GOT HAMMERED POST EARNINGS YESTERDAY DOWN BY CLOSE TO 10% IS ON THE BACK OF MARGINS COMING IN FOLLOWING PRICE CUTS. YESTERDAY, MORE PRICE CUTS.
THIS MORNING PRICE INCREASES ON THE HIGH END OF MODEL S AND MODEL X IN THE U.S. LISA: DON'T YOU FEEL LIKE THERE'S A DARTBOARD AND HE IS LIKE LET'S TRY THIS ONE? JONATHAN: HE WAS BUSY WITH SPACEX YESTERDAY BUT TO RETURN TO TESLA AND GET THE FOCUS THERE. SAYS IF YOU START A EV PRICE WAR. I THINK THIS IS WHERE IT IS HEADING. LISA: SAYS SHE SURPRISE NO ONE. THIS IS WHAT EXPECTED AND YOU COULD ARGUE IT WAS STARTED BY CHINESE MANUFACTURERS ELECTRIC VEHICLES WHICH ARE DOMINATING THE INDUSTRY AND COULD BE SAID TO BE TULSA'S MAIN COMPETITION.
JONATHAN: HIGHLY DESIRABLE FOR THE CONSUMER. SOME OF THESE VEHICLES, EV SO EXPENSIVE. THE GOVERNMENT IS TRYING TO MAKE THEM AFFORDABLE BUT THIS IS WHAT CONSUMERS WANT TO SEE AND WE CAUGHT UP WITH, JULIAN EMANUEL? WE SAID IS THIS IDIOSYNCRATIC. LISA:
WILL BE REALLY IMPORTANT IF THEY SIGNAL A SIMILAR KIND OF PUSHBACK FROM THE CONSUMER IN PRICING. JONATHAN: TAZA BANK EARNINGS OVER THE LAST COUPLE OF DAYS. WE GO FROM BANK TO TAKE NEXT WEEK. LET'S TALK ABOUT THE MINX RIGHT NOW. WE CAN DO THAT WITH MAYRA VALLADARES. WONDERFUL TO CATCH UP WITH YOU. I WANT YOUR THOUGHTS ON REGIONALS OF SMALL BANKS AND MAY BE SHIFTED TO THE BIGGER LENDERS IN A MOMENT.
THE NET INTEREST MARGIN, THE PROFITABILITY STORY. DO YOU THINK IT IS TOO EARLY TO SEE THE PAIN, HOW THIS IS GOING TO EVOLVE THE NEXT COMING QUARTERS? MAYRA: YES. WE HAVE TO REMEMBER THEY BANKING TURMOIL STARTED THE SECOND AND THIRD WEEK OF MARCH AND BY THAT POINT THE VAST MAJORITY OF REGIONAL BANK STRATEGY, THE TRANSACTIONS WERE WELL UNDERWAY AND THEY HAVE BENEFITED FROM HIGH INTEREST RATES. THEY HAVE BEEN CHARGING MORE ON A VARIETY OF LOANS AND CREDIT FACILITIES BUT THEY HAVE NOT BEEN PAYING MORE AS MUCH OVER ON THE DEPOSIT SIDE.
THE NET INTEREST MARGIN BENEFITED THEM. I DO SEE TROUBLE SPOTS IN THE HORIZON. LISA: LIKE WHAT? LUKE: YOU SEE JUST ABOUT EVERY SINGLE REGIONAL BANK INCREASING THEIR PROVISIONS FOR CREDIT LOSSES AND SOME OF THEM HAD RELEASED THEM A COUPLE OF QUARTERS AGO. THAT IS A SIGN THAT ALL OF THESE BANKS ARE PREPARING AT WORSE FOR THE BEGINNING OF A RECESSION OR ADVENTISTS -- AT BEST FOR SOFTENING OF THE ECONOMY. YOU HAD A LOT OF BANKS HAVE A
DECREASE IN DEPOSITS. FOUR REGIONAL BANKS, IT IS INCREDIBLY IMPORTANT. ANYWHERE FROM 75 TO 85% OF THEIR FUNDING COMES FROM DEPOSITS. THEY'RE NOT DIVERSIFIED. IT IS IMPORTANT TO WATCH NOT JUST THE LEVEL OF THE DEPOSIT IS BUT THE DIVERSITY OF THE DEPOSITS. THAT CAN BE HARD FOR SOME OF
THE SMALL REGIONAL BANKS BECAUSE BY DEFINITION THEY ARE CONCENTRATED IN THE COMMUNITY AND REGIONS THEY SERVE. LISA: THERE'S A LOT TO UNPACK. I'M WANT TO STICK ON. THEY'RE CONTINUING TO LAND MORE AGGRESSIVELY AND PROVISIONING FOR MORE POTENTIAL LOSSES OR THEY ARE PATROLLING SOME OF THEIR LENDING PROWESS ON THE HILLS OF DEPOSIT OUTFLOWS AS WELL AS CONCERN ABOUT LOAN LOSSES THAT KEEP TICKING UP.
WHICH IS IT? MAYRA: THE ANSWER MAY NOT BE SO SATISFACTORY TO INVESTORS. IT IS A BIT OF BOTH. THERE ARE A LOT OF SIGNALS IN THE ECONOMY, THE MARKET THAT WE DO NEED TO PAY ATTENTION TO. WE HAVE TECH COMPANIES, CONSULTING COMPANIES, RETAIL MEDIA ANNOUNCING LEAL'S. HOW ARE THESE PEOPLE GOING TO PAY THEIR MORTGAGES AND OTHER CREDIT FACILITIES? WE HAVE AMERICAN COMPANIES AT THEIR MOST INDEBTED LEVEL IN HISTORY. MANY OF THOSE LOANS ARE LEVERAGED WHICH MEANS SIX TIMES DEBT OVER YEAR DOT.
THE PAGE BOOK ALREADY STATED SOME OF THE BANKS HAD BEEN TIGHTENING THEIR CREDIT CONDITIONS. A LOT OF THESE BANKS ARE EXHIBITING GOOD RISK MANAGEMENT BUT THEY INCREASE THEIR PROVISIONS. I AM NOT SEEING BIG RISES IN LENDING. YOU HAVE TROUBLE AREAS OVER IN THE AUTO LOAN SECTOR. YOU ARE ALREADY SEEING HIGH HOUSING PRICES IN THE LAST.
THERE'S A LOT TO REMIND BANKS THEY NEED TO REMEMBER THE RELIGION OF GOOD RISK MANAGEMENT. LISA: YESTERDAY WE GOT DATA FROM THE FED ON THE LATEST EMERGENCY BORROWINGS FROM THAT DISCOUNT WINDOW AND A NEW PROGRAM. I ALMOST LAUGHED AT THE WAY IT WAS INTERPRETED. THE OPTIMIST SAID IT SHOW STABILITY.
THE PESSIMIST SAID IT SHOWS PEOPLE ARE DRAWING DOWN. HOW WOULD YOU READ WE SAW THE FIRST INCREASE IN USAGE OF THESE OPERATIONS IN FIVE WEEKS? MAYRA: THAT IS A GRADE A POINT. THE BANKS SHOULD NO LONGER BE BORROWING IF THERE IS STABLE AND LIQUID AS THEY SAY THEY ARE. IT IS ONE OF THE REASONS WHY LEGISLATORS AND REGULATORS SHOULD BE DEMANDING BANKS BE MORE TRANSPARENT. BY THE TIME YOU AND I GET SOME
OF THEIR LIQUIDITY METRICS,'S OR DEPOSITS IT IS ALREADY TOO LATE. THE INFORMATION IS OLD. ANY OF THESE FACILITIES FROM THE FED IS NOT THE WAY BANKS IN A CAPITALIST SYSTEM SHOULD BE RUNNING FOR YOU THEY SHOULD BE DEPENDING ON THEIR CASH FLOW AND IT IS WHY MOST OF THEM NEED TO BE BETTER MANAGED AND THEY ARE. JONATHAN: JUST TO FINISH ON THIS WORD CRISIS. WOULD YOU CALL IT A CRISIS? THIS TIME LAST WEEK MOHAMED EL-ERIAN SAID IT IS NOT A CRISIS.
WHAT IS IN A WORD, WET -- WHY IS THE WORD SO IMPORTANT? MAYRA: IT IS IMPORTANT BECAUSE UNFORTUNATELY IT STARTS TO BE OVERUSE. THIS IS BANK TURMOIL CAUSED BY SERIOUS LACK OF GOOD RISK MANAGEMENT. THERE IS NO EXCUSE FOR THAT. SILICON VALLEY BANK, SIGNATURE, ALL OF THOSE BANKS NEEDED TO HAVE BEEN BACK ON THE BASICS A LONG TIME AGO, MANAGING THEIR INTEREST RATE RISK, MANAGING THEIR LIQUIDITY. WE HAVE TO BE CAREFUL NOT TO OVERUSE WORRIES. THIS IS BANKING TURMOIL. IT IS NOT A CRISIS CREATED A CRISIS IT WAS WHEN WE ARE TALKING ABOUT MASSIVE INTERCONNECTION WITH THE BANKS AND THE REAL ECONOMY AS WELL AS OF COURSE AS CORPORATIONS 2007-2000 NINE WAS A CRISIS.
THIS IS NOT A CRISIS. I AM HOPING IT IS NOT A GO THAT WAY. JONATHAN: APPRECIATE YOUR PERSPECTIVE. THIS FROM MOHAMMED YESTERDAY, WE TALKED ABOUT THAT BRIEFLY. HE ALSO SAID IT IS NOT A CREDIT CRUNCH, HE SAID IT IS A CREDIT CONTRACTION. IT IS A DIFFERENCE. CREDIT CRUNCH IS ECONOMY WIDE. CREDIT CONTRACTION HAS SHOULD BE TRUE EFFECTS AND WE SHOULD FOCUS ON THOSE. LISA: THIS IS WHY PEOPLE ARE HAVING A
DIFFICULT TIME UNDERSTANDING THE TRAJECTORY OF THE ECONOMY AND HOW SIGNIFICANT CREDIT CONTRACTION WILL BE BECAUSE WE ARE USE TO 2008 AS THE REFERENCE POINT, IT IS NOT 2008. IT IS SOMETHING DIFFERENT. IT IS A SLOW-MOVING BURN YET BANKING TURMOIL, BANK TREMOR THEM AT WHAT POINT WE CALL IT OFF. JONATHAN: I DO NOT LIKE IT WHEN HE BECOMES DISMISSIVE AND GOES THE OTHER WAY. YOU CAN SAY IT IS NOT A CRISIS BUT ON THE OTHER HAND, WE HAVE TO MAKE SURE YOU DID NOT SAY IT IS SOMETHING YOU SHOULD IGNORE. LISA: YOU CANNOT SAY BECAUSE IT IS 2008 WE DO NOT CARE. JUST BECAUSE WE'RE NOT SAYING
ALL BANKS IN A FLAMING DISTRESS -- PALA DISTRESS DOES NOT MEAN. JONATHAN: FROM NEW YORK CITY THIS MORNING, GOOD MORNING TO YOU ALL FROM A BEAUTIFUL NEW YORK. THIS IS BLOOMBERG. JONATHAN: TWO DAYS WITHOUT ANY GAINS ON THE S&P 500. WILL IT BECOME THEORY?
EQUITY FUTURES NEGATIVE OF .1%. ON THE NASDAQ DOWN .2%. TWO YEAR FOR 11. IT SPENT THE WHOLE WEEK ABOVE 4%. CLAIMS COMING IN A BIT HIGHER THAN ANTICIPATED. THAT TREND, IS IT A TREND? YIELDS LOWER BY THREE BASIS POINTS ON THE TWO YEAR TO 411. YOUR 10 YEAR 3.5261. EURO-DOLLAR TIGHT TRADING RANGE.
1.0964. THE FED LARGELY COMMITTED TO MORE RATE HIKES -- UNCOMMITTED TO MORE RATE HIKES. LISA COOK ON TOP FOLLOWING A SLEW OF OFFICIALS MAKING THE CASE FOR WALMART TO BREED PHILADELPHIA FED PRESIDENT SAYING, RATES ARE CLOSE TO WHERE WE NEED TO BE, WE NEED TO BE CAUTIOUS HERE TO NOT JUST RESPOND TO THE CURRENT LEVEL OF INFLATION BUT WHERE WE THINK IT IS GOING.
THIS IS INTERESTING BECAUSE MOHAMED EL-ERIAN TALKED ABOUT THIS YESTERDAY. HE SAID THIS FED IS TOO SENSITIVE, TO DATE OF AND ISSA TAKE A LONGER TERM VIEW OF WHERE THEY THINK -- AND IT NEED TO TAKE A LONGER TERM VIEW OF WHERE THEY THINK IT IS HEADING. LISA: DO YOU THINK THEY AGREE ON THE LONGER-TERM VIEW? JONATHAN: NO. LISA: FUNDAMENTALLY WE DO NOT KNOW WHERE THE DESTINATION IS AND IT IS COMING AT A TIME WHERE PAUL'S TALK, WHAT IS THE THRESHOLD TO CUT BECAUSE RIGHT NOW WE'RE STILL PRICING IN CUTS IN THE MARKET THIS YEAR. DOES THE FED LET THE MARKET DECIDE FOR THEM WHICH IS HOW THEY HAVE BEEN OPERATING FOR TIME NOW. JONATHAN:
LET'S TALK ABOUT THE RANGE FOR FED FUNDS NEXT YEAR. 3.4% TO 5.6%. THEY HAVE NO IDEA. LISA: IF IT WE TALK TO YOU, MISS, THEY DO NOT HAVE AN IDEA EITHER.
PEOPLE SAY IT IS A DIFFICULT TIME AND UNDERPINNING WHAT WILL BE THE DATA WE GET AT 9:45 A.M. WHICH IS A COMPLETE BIFURCATION BETWEEN MANUFACTURING AND SERVICES. HOW DO YOU PUT THOSE TWO THINGS TOGETHER WHEN IT IS PSYCHOLOGICAL? PEOPLE WANT TO EXPLORE. PEOPLE ARE WILLING TO SPEND WHAT THEY HAVE AN EXPERIENCE BUT THEY HAVE BOUGHT THE STUFF THEY NEED TO. JONATHAN:
HIS FLYING AN EXPERIENCE? LISA: IT IS AN EXPERIENCE. IT IS A WHOLE TRIP MENTALITY. JONATHAN: CEO SAID THIS WEEK, BOOM IER AND BOOM IER. LISA:
AND THAT IS FOR A BUDGET AIRLINE. WE ALL TALKWE ALL TALK ABOUT WE THE CAP FLIGHT PRICES AND HOW MUCH THEY HAVE GONE. JONATHAN: ALAN RUSKIN JOINS US NOW. GREAT TO CATCH UP WITH YOU. WE ARE DISCUSSING THIS LAST HIKE. PEOPLE I KNOW DO A LOT OF WORK
ABOUT THE LAST INTEREST RATE HIKE AND WHAT HAPPENS AFTER THAT. IT IS ALWAYS EASY TO IDENTIFY THE LAST HIKE WITH HINDSIGHT. WE THINK IT IS EASIER THIS TIME AROUND TO WENT THE LAST HIKE OF THE CYCLE IS GOING TO BE? ALAN: I DO NOT THINK IT IS EASIER. I AGREE WITH THE DISCUSSION YOU HAD EARLIER THAT THE FED AND THE MARKET ARE FACING UNCERTAINTY. WE DO NOT HAVE A HUGE AMOUNT OF EXPERIENCE IN CREDIT CHARGES.
WE HAVE TO GO THERE TO 2008, A UNIQUE EXPERIENCE SO OTHERWISE MORE FAMILIAR EARLY 1990'S. THERE IS A SENSE THAT CREDIT CONDITIONS ARE TIGHTENING SHARPLY FROM THE QUANTITATIVE STANDPOINT BUT WHEN YOU LOOK AT FINANCIAL CONDITIONS FROM A PRICE STANDPOINT THEY ARE EASING. IT IS THIS DICHOTOMY THE FED WRESTLING WITH IT OR NOT ENOUGH HISTORY TO UNDERSTAND THE QUANTITATIVE. I CAN SEE WHY YOU MIGHT BE -- CA PAUL'S AND THE REIGNITION OF A RATE HIKE IN THIS CYCLE. I THINK IN THAT SENSE THE ISSUE IS MORE PROBLEMATIC THAN USUAL. LISA: WHAT ARE YOU LOOKING AT WHEN YOU TALK ABOUT THAT GIVEN PEOPLE SAY INFLATION READINGS ARE COMING DOWN QUICKLY THAN EXPECTED? WHAT DO YOU PUSH BACK AGAINST THE IDEA THAT PERHAPS THE FED IS UNDERESTIMATING THE IMPULSES? ALAN: YOU'RE LOOKING AT THE DIFFERENTIATION BETWEEN WHAT'S GOING ON IN THE GOOD SIDE WHERE YOU ARE SEEING EXCESS SUPPLY KICKING IN WHERE SUPPLY LOOKING AT BEING UNABLE TO MEET DEMAND.
AND SUPPLIED DELIVERIES IMPROVING QUITE DRAMATICALLY. THE GOOD STORY IS REAL. SERVICES SIDE IS MUCH MORE PROBLEMATIC AND AGAIN THERE SEEM TO BE UNDERLYING DEMAND. YOU GOT LIKE IN EUROPE TODAY, YOU SAUL IN THE U.S.
AS WELL WHERE SERVICE SECTOR IS OUTPERFORMING MANUFACTURING AND ALL LIKELIHOOD SERVICES INFLATION AND WAGE RELATED INFLATION RELATES TO THE SERVICE SECTOR, IT IS GOING TO REMAIN PRETTY STUBBORN. I DO NOT THINK THE FED IS GOING TO BE IN A POSITION TO CUT RATES EASILY. THE TALK FROM THE CENTRAL BANK IS THAT THERE'S GOING TO BE MORE OF A PLATEAU PERIOD THEY CANNOT CUT RATES QUICKLY OR SHIPPED FROM RATE HIKE TO RATE CUTS QUICKLY. LISA: MANY PEOPLE READING THIS NEGATIVE AS THE DOLLAR AND IS PROBABLY WHY WE SEE THE STRENGTH IN THE EURO. HOW DOES THAT PLAY OUT FOR THE REMAININ -- REMAINDER OF THE YEAR AT THE FED FIDGETS WITH ONE MORE HIKE IN MAY INTO SIGNALS THAT IS IT? ALAN: WHEN YOU LOOK AT THE WAY MARKETS HAVE TRADED ONCE YOU GET CONFIDENT THAT THE FED RATE HIKING CYCLE IS DONE, THERE IS RAILS STANDOUTS -- REAL STANDOUTS. YOU GET THE DOLLAR GENERALLY WEAKENING. I DO NOT THINK IT'S GOING TO BE
AN EXCEPTION THIS YEAR PERFECTLY IN THE CONTEXT OF THE ECB HIKING RATES WHEN THE FED MIGHT BE CUTTING RATES. MAYBE TOWARDS THE END OF THIS YEAR. THAT IS THE CENTRAL VIEW THAT IS OUT THERE. SIMPLY BECAUSE IT IS PARTIALLY PRICED, THE EURO STILL GOT PLENTY OF RUN AND IT IS ALSO HAPPENING AGAINST THE BACKGROUND WHERE EUROPEAN POSITION IS IMPROVING AND RELATED TO THE INTEREST RATE CHANGES, THE CAPITAL FLOWS ARE IMPROVING AS WELL. JONATHAN: WHEN YOU SAY MORE ROOM TO RUN, WHAT YOU MEAN BY THAT? ALAN: WE HAVE BEEN QUITE CONSERVATIVE IN FORECASTING 115 AT YEAR END. THAT IS THE FORECAST. IN TERMS OF HOW HIGH CAN GO.
TYPICAL RANGES FOR THE EURO OR AT LEAST 10% -- ARE AT LEAST 10% IN YEAR WERE THERE IS REASONABLE VOLATILITY. THE BROADER POINT IS NOT WHERE WE END THIS YEAR. I THINK IT IS A TREND YOU CONTINUE INTO 2024 YOU START TO GET INTO A MUCH MORE SERIOUS FEBRUARY CUTTING CYCLE AND YOU'RE TALKING ABOUT 120. JONATHAN: YOU TOUCHED ON THE PROJECTION THAT UNDER PRETENSE THE PROJECTION -- UNDERPINS THE PROJECTION. I THINK WE HAVE A DECENT IDEA OF TERMINAL RATES RELATIVE TO WE THINK THE TERMINAL RATE MIGHT BE AT THE ECB. IS THAT THE WAY YOU THINK -- SEE THINGS? ALAN: NOT REALLY.
I THINK WE COULD SEE A TERMINAL RATE THAT THE MARKET PRICING -- THE MARKET IS PRICING ROUGHLY 3.75. SOME ARE CLOSE TO 4% I THINK IS REASONABLE. THE MARKETS UNDERESTIMATE THE EXTENT TO WHICH LABOR MARKET IN EUROPE IS TIGHTER THAN ALMOST ANYWHERE ELSE IN THE REST OF THE WORLD.
I THINK THERE IS PRESSURE FROM LABOR MARKET WALMART -- UNTOWARD THAT WILL KEEP THE ECB ON A TIGHTENING CASE THROUGH 2023. JONATHAN: THANK YOU FOR THAT. A WAY OF SAYING ECB MIGHT GO HIGHER THAN YOU THINK THEY'RE GOING TO GO. LISA: AMERICA'S WANT TO VISIT EUROPE, THEY SHOULD PROBABLY DO IT NOW THAN A YEAR FROM NOW WITH THE DOLLAR IS GOING TO BE WEAKER. THAT IS WHAT I HEARD. MAYBE I AM HEARING QUITE DIFFERENT.
IF THIS CHEAP OPTION TO GO TO EUROPE IS LOOKING LESS CHEAP, PUTTING OUT FICTIONS OF AIRPLANE COST AND HOTEL BILLS. I FELT LIKE I AM IN TOM KEENE SEAT AND TELL THE KIDS SPIRIT IN TERMS OF THE LINENS I AM VIEWING IT IN. JONATHAN: IT IS HIGHLY DEPENDENT ON THE REST OF THE WORLD. IF YOU GET THE FEDERAL RESERVE CUTTING INTEREST RATES AND THE REST OF THE WORLD IS STILL DOING OK, THE IDEA YOU GET A WEAKER DOLLAR OFF THE BACK OF THAT MAKE SENSE. IF THE WORLD IS NOT DOING OK, THE FEDERAL RESERVE CUTTING INTEREST RATES AND YOU HAVE PROBLEMS IN EUROPE AND CHINA FADE BUT YOU WONDER IF YOU GO TO THE OTHER SIDE AND THE DOLLAR STAR SYMBOL FORM. I THINK THAT IS A DIFFERENT
ARGUMENT. DO NOT THINK THAT IS THE CONSENSUS VIEW BASED ON THE NUMBERS FROM EUROPE AND NUMBERS FROM CHINA EARLIER THIS WEEK. LISA: BOTH HAD THE SAME MESSAGE WHICH IS EUROPE IS AN ATTRACTIVE PLACE TO GO RIGHT NOW VERSUS THE DOLLAR.
YOU GRAZE A GREAT QUESTION WHAT DOES IT MEAN ON A BROADER SCALE. THE OTHER THINK HE SAID THE DIVERGENCE WITH MANUFACTURING AND SERVICES, HE THINKS IT COULD RESOLVE TO MEAN INFLATION STAYS HIGHER FOR LONGER. PEOPLE ARE LOOKING AT THE MANUFACTURING SECTOR AS A LEADING INDICATOR FOR EVERYTHING ELSE WHERE EVERYTHING ELSE IS GOING TO GO AND EVENTUALLY WILL CAUSE THIS DOWNTURN. HE SANG IT IS THE OPPOSITE. YOU SEE THIS PUSH PULL START THAT COULD LEAD US WITH A STICKER TYPE OF INFLATION I DO NOT HEAR PEOPLE TALKING ABOUT. JONATHAN:
RELATIVELY SPEAKING PEOPLE MORE NERVOUS THAN U.S. ECONOMY THEN EUROPE. THE SOCGEN PUT OUT RESEARCH AND SAID THE RISE IN INITIAL JOBLESS CLAIMS, WE WITNESS YIELDS LOWER, BONDS UP. INVESTORS ON EDGE WAITING FOR
THE NEXT SHOE TO DROP. RISKS REMAIN SKEWED TO THE DOWNSIDE ON INTEREST RATES. I KEEP GOING BACK TO THE RANGE. PRE-SVB HIGHS NORTH OF 5%. POST SVB LOWS IN AND AROUND 350 AND TWO YEARS SOMEWHERE AND BETWEEN RIGHT NOW. THE BIAS IF YOU ASKED PEOPLE IN FIXED INCOME SEEMS TO BE TO LOWER YIELDS AGAIN. LISA: THE BIAS IS WHAT WE ARE SEEING WITH RESPECT TO CREDIT TIGHTENING, WHICH WE CANNOT GAUGE IS SIGNIFICANT.
THAT IS THE IMPLICATION THAT IT WILL END UP BRINGING DOWN INFLATION SUBSTANTIALLY. I'M CURIOUS IF ALAN RUSKIN WILL AGREE WITH THAT BECAUSE HIS VIEW IS PERHAPS INFLATION IS STICKIER FOR LONGER AND IT SEEMS LIKE A NARRATIVE HAS BEEN CAST ASIDE FOR THE MOMENT. JONATHAN: INFLATION AND TESLA UP NEXT. PRICE CUTS YESTERDAY, PRICE HIKES THIS MORNING. YEAR-TO-DATE DOING BETTER THAN GOOD.
>> KEEPING UP-TO-DATE WITH NEWS FROM AROUND THE WORLD. IN THE U.K. COMPLAINTS BY GOVERNMENT WORKERS HAVE BROUGHT DOWN PRIME MINISTER RISHI SUNAK'S CLOSE ALLY. DOMINIC RAAB IF RESIGNED AFTER AN INDEPENDENT INVESTIGATION CRITICIZE HIS TREATMENT OF CIVIL SERVANTS. THEY PROBED INTO ACCUSATIONS OF BULLYING LASTED MONTHS AND IT THREATENED TO UNDERMINE RISHI SUNAK'S PLACE TO RESTORE PROFESSIONALISM TO THE GOVERNMENT. U.S. ONCE THE CUT ITS DEPENDENCE ON TAIWAN'S MICROCHIPS BECAUSE OF CONCERNS THAT CHINA MIGHT INVADE THE ISLAND. COLONIES AND FACIALS ARE
QUIETLY URGING THEIR AMERICAN COUNTERPARTS TO TONE DOWN THE RHETORIC'S. THERE WEREN'T U.S. COMMENTS ARMING THEIR INJURIES. PRESIDENT BIDEN MAY FORMALLY ANNOUNCE HIS CAMPAIGN NEXT WEEK. PLANS FOR THE POSSIBILITY OF MAKING A VIDEO ANNOUNCEMENT TO COINCIDE WITH THE ANNIVERSARY OF HIS PREVIOUS CAMPAIGN LAUNCH.
HE HAS BEEN SIGNALING HE INTENDS TO SEEK A SECOND TERM NEXT YEAR MAKE IT IS SOMEWHAT OF AN OPEN SECRET. AS THE CANADA POLICE ARE INVESTIGATING AN AIRPORT HIGHS THAT MAY HAVE RESULTED IN THIEVES GETTING AWAY WITH MILLIONS OF DOLLARS WORTH OF GOLD AND OTHER VALUABLES. POLICE SAY IT -- A CONTAINER WITH GOLD AND OTHER ITEMS WERE TAKEN FROM AN AIRPORT HOLDING AREA. GLENCORE UNSAID FOR ANOTHER BUMP YOUR YEAR OF TRADING COMMODITIES. ENERGY PARTNERS CONTINUES TO BE
STRONG WHILE IT IS TRADING BUSINESS IS BOOMING. ALSO TRYING TO EXPAND IS MINING OPERATIONS. THIS IN THE MIDDLE OF A FIGHT TO BY CANADIAN MINING RIVAL TECK RESOURCES. GLOBAL NEWS POWERED BY MORE THAN 2700 JOURNALISTS AND ANALYSTS IN MORE THAN 120 COUNTRIES. I AM LISA MATEO. THIS IS BLOOMBERG. ♪
>> ANTICIPATE MONETARY POLICY WILL LEAD FURTHER INTO RESTRICTED TERRITORY THIS YEAR. THE FED FUNDS RATE MOVING ABOUT 5% AND REAL FED FUNDS RATES SAME POSITIVE TERRITORY FOR SOME TIME. THE FED HAS BEEN FOCUSING ON LOWERING INFLATION WHICH IS ESSENTIAL IF WE WANT TO SUPPORT A GROWING ECONOMY AND RISING INCOMES. JONATHAN:
LISA MENTIONED THIS, THE FED SPEAK YESTERDAY SOUNDING VERY SIMILAR. CLEVELAND FED PRESIDENT, FEDERAL RESERVE GOVERNOR THEY'RE WEIGHING IN ON ALL OF THIS AND SOUNDING THE SAME THAT WERE GOING TO GO ONE AND WE MIGHT BE DONE. LISA: THAT IS CLEAR IN THE TRAJECTORY THEY ARE AFTER. LET'S SAY FINISH WHERE THEY
END, MAY 3 WHEN THEY HIKE RATES BY 25 BASIS POINTS AS EXPECTED. HOW QUICKLY DO THEY CUT? WAS THE THRESHOLD FOR THEM TO MAKE A MOVE LOWER? JONATHAN: MOHAMMED'S RANGE OF OUTCOMES, YOU PAUSE OR YOU PAUSE AND THE YOU HAVE TO CUT ARE YOU PAUSE AND THE YOU HAVE TO HIKE. ALAN RUSKIN A BIT OF DOUBT AROUND THAT STORY. LISA: HE'S ALONE.
I DO NOT HEAR A LOT OF PEOPLE TALKING ABOUT THAT. IT IS COMPELLING BECAUSE OF WHAT WE ARE SEEING IN THE STOP START ECONOMY. IS THERE NO FEAR OF THE FED IS A POSSIBILITY OR HOW THEY DISCOUNTED THE FEAR WITH THE SOFTER INFLATION DATA? JONATHAN: I MENTION PEOPLE WHO COME ON THE PROGRAM SEEM TO BE MORE NERVOUS ABOUT THE ECONOMY THAN THEY ARE THE EUROPEAN ECONOMY. FOR A NUMBER OF YEARS SAID IF YOU THINK IN TERMS OF POTENTIAL POLICY MISTAKES THE RISK ASKEW TO EUROPE RATHER THAN THE UNITED STATES. THAT'S AN INTERESTING WAY OF LOOKING AT IT. LISA: THIS HAS BEEN NARRATIVE ROULETTE. IT IS EXHAUSTING.
I THINK THE TRADING RANGE IS INTERESTING AND KNOLOGY'S CASE LACK OF DIRECTION BECAUSE PEOPLE ARE NOT SURE WHAT TO MAKE OF THE NEXT NARRATIVE AT PLAY. JONATHAN: LET'S TALK ABOUT TESLA. YESTERDAY PRICE CUTS AGAIN. THIS MORNING PRICE HIKES, SPECIFIC ONES. THEY HAVE INCREASED PRICES OF MODEL S AND MODEL EGGS AND THOSE VEHICLES IN THE U.S. AFTER STEEP MARKDOWNS WE HAVE SEEN, YESTERDAY THE STOCK HAMMERED.
THIS MORNING THE STOCK LOOKS LIKE THIS POSITIVE .5%. DAN IVES JOINS US NOW. CAN YOU FRAME THE STRATEGY HERE? YESTERDAY CUTS, THIS MORNING HIKES. WHAT IS HAPPENING? DAN: THEY'RE TRYING TO FIND THE BALANCE BECAUSE RIGHT NOW IT IS ABOUT THE DRIVING DEMAND, ALSO AGGRESSIVE BECAUSE A CONFRONTATION WE ARE SEEING GLOBALLY.
I THINK WE CONTINUE TO SEE THIS. SOME CUTS, SOME HIKES OVER THE NEXT FEW MONTHS YOU WILL START TO SEE IT LEVEL OF. IT SPEAKS TO WHAT INVESTORS HAVE BECAUSE OF MARGINS AND IT IS WHY THE STOCKS. LISA: THIS FLIP-FLOP INC.
OF CUTTING OR RAISING PRICES, WOULD RANDOM APPROACH IN HOW HE IS SIGNALING TO PRICING? DAN: A LOT OF IT IS INVENTORY DRIVEN. AS WELL AS WHAT THEY ARE SEEING IN DEMAND. FOR MONTH-TO-MONTH THEY CAN TELL THEY CUT TOO MUCH OR MAYBE THEY NEED TO CUDMORE. THEY'RE TRYING TO FIND THAT BALANCE. WE LOOK AT S AND EXIT IS
DIFFERENT WITH MODEL LINE THREE, YOU START TO SEE A LEVELING OFF FROM A SUPPLY AND DEMAND. MODEL THREE IS REALLY THE FOCUS IN THE STREET IN HOW MANY MORE PRICE CUTS, FOR THE MARGINS LOOK LIKE BECAUSE RIGHT NOW THEY'RE GOING TO GO -- THEY'RE GOING GAME OF THEIR OWN STYLE IN WHICH THEY ARE DOING FROM A PRICING PERSPECTIVE. IT IS GREAT FOR DEMAND. WHAT MARGINS CONTINUES TO BE -- BUT MARGINS CONTINUES TO BE THE ELEPHANT IN THE ROOM. LISA: TESLA IS NOT JUST AN IDIOSYNCRATIC STORY. BECAUSE IT DOES SIGNAL THIS NEED TO CUT PRICES AND DISINFLATIONARY FOR HIS. HOW MUCH DO YOU EXPECT TO SEE
THAT AS A THEME LEADING THROUGH TECH EARNINGS WE GET NEXT WEEK? DAN: I DO THINK IT IS SEPARATE FROM WHAT WE ARE GOING TO SEE NEXT WEEK. IF I GO BACK A FEW WEEKS WHEN APPLE, IPHONE DEMAND CONTINUES TO BE RESILIENT IN THE STORM. CLOUD WE LOOK AT MICROSOFT, AMAZON, AND OTHERS. WE ARE STARTING TO SEE SOME STABILIZATION RELATIVE TO WHAT WE SAW IN DECEMBER, JANUARY. IN TECH STOCKS AND GOING INTO
EARNINGS IS A GREENLIGHT TO CONTINUE INTO THE TAG. THIS EARNINGS SEASON IS SOMETHING MORE INVESTORS ARE GOING TO START TO DIVE BACK INTO TECH RATHER THAN FEARING IT IN FUNDAMENTALS ARE STARTING TO STABILIZE. JONATHAN: DIVE BACK IN? TALK ABOUT YOUR TO DATE. WHAT DO YOU THINK PEOPLE HAVE BEEN DOING ALREADY? THEY HAVE RIPPED. DAN: NO DOUBT FROM AN INSTITUTIONAL PERSPECTIVE STILL MANY HATE THE RALLY. MANY ON THE SIDELINES ULTIMATELY BIDDING AGAINST TECH.
HE LOOK AT WHAT IS HAPPENING IN NUMBERS THAT ARE STARTING TO STABILIZE. THEY RIPPED THE BAND-AID OFF ON THE GUIDANCE. BIG TECH, APPLE, GOOGLE, AMAZON THESE ARE STOCKS THAT 15% FOR THE REST OF THE YEAR LED BY APPLE. JONATHAN: YOU MENTIONED THE CLOUD THE STORY. THERE IS MASSIVE PULL FORWARD IN DEMAND FOR A RANGE OF THINGS ACROSS THE SPECTRUM TO THE PANDEMIC.
I WONDER HOW MUCH THE CALL STORY HAS BECOME A CYCLICAL ISSUE FOR SOME THESE COMPANIES. WHAT IS YOUR VIEW ON THAT? DAN: WE WILL SEE WITH MICROSOFT. THE BIG ISSUE IS A LOT OF COMPANIES, BUDGETS WERE NOT SAID BUT THEY ARE HALFWAY THROUGH MASSIVE CLOUD EMPLOYMENTS. YOU'RE STARTING TO SEE MORE AND MORE.
ONLY 45% OF WORKLOAD IN THE CLOUD. I BELIEVE THAT GOES TO 70% IN NEXT TWO YEARS AND NAMES LIKE MICROSOFT CONTINUE TO SEE SHARED GAINS VERSUS THE LIKES OF AMAZON. GOOGLE IS ANOTHER ONE YOU COULD SEE SUCCESS. THESE ARE SECTORS. WE ARE BULLISH GOING INTO
EARNINGS. LISA: WHAT ABOUT DISAPPOINTMENTS. RATES BEGIN WITH LUKE OVER AND HE SAID IF THERE IS EARNINGS THIS APPOINTMENT WILL BE EARNINGS BECAUSE PEOPLE ARE WAITING FOR THE CASH PAYMENTS TO CONTINUE TO BE CASH PAYMENTS. DO YOU AGREE? DAN: NO DOUBT THE. YOU HAVE COOK AND DELL AND OTHERS AND YOU'RE GOING TO SEE IN -- IT IS ALMOST A FORK IN THE ROAD WHERE YOU SEE WEEKENDS PLAY OUT. THERE ARE STILL SOME BROTH AND THIS IS ULTIMATELY GOING TO BE A DIVINE EKE EARNINGS SEEN -- A DIVIDING EARNINGS SEASON. I REALLY ENJOYED THIS YEAR IN THE WAY TECH A SPANK OUT.
ESPECIALLY AS WE GO INTO EARNINGS SEASON. JONATHAN: THERE WAS A GLIMMER OF BEARISHNESS THEY ARE. CAN YOU BUILD ON THAT? DAN: WHAT I'M SAYING IS THIS IS NOT A RAINBOW AND CHAMPAGNE BACKGROUND. YOU''RE GOING TO SEE FALL BY THE WAYSIDE. COMPETITION CONTINUES TO
INCREASE YOU HAVE TO PICK OF THE RIGHT STOCK. WERE GOING TO SEE PLAY OUT IN -- DURING EARNINGS SEASONS. WHEN IT HAS A CYBER SECURITY CLOUD, I CONTINUE TO VIEWED AS A GREENLIGHT GOING INTO EARNINGS. JONATHAN: OK. WE WILL TOUCH BASE WHEN WE GET THESE EARNINGS. AMAZON, MICROSOFT, GOOGLE ALL NEXT WEEK AND I THINK AFTER THAT APPLE, EARLY MAY. LISA: THE BIFURCATION BETWEEN SOCIAL
MEDIA STOCKS AND THE OTHERS, I WONDER HOW MUCH CHINA GETS MENTIONED IN THESE WHETHER YOU HEAR MUTSA COME OUT AND SAYING WE'RE DOING OK BUT WHEN TIKTOK COMES UNDER WE'RE GOING TO CRUSH IT. HOW MUCH IS THAT GOING TO BE THE UNDERPINNING OF SOME OF THE DISCUSSION? JONATHAN: THE STOCK IS UP CLOSE TO 80%, UP 77% YOU TODAY, META. THE YEAR OF INEFFICIENCY. LISA: HOW MUCH IS IT THE YEAR OF COMPETITIVE ADVANTAGE BECAUSE OF GEOPOLITICAL ISSUES? SAW HUGE POP IN META AND A SNAP. WE DID SEE RESULTS FROM TAIWAN SEMI MANUFACTURER AND IT WAS DISAPPOINTING.
WHERE IS IN CHIPMAKERS THAT HAVE NOT SEEN THE DARK CLOUD ROLLAWAY? JONATHAN: YOU MENTIONED CHINA. THE PRESIDENT IS GOING TO ANNOUNCE SOMETHING ABOUT CURBING INVESTMENTS IN CHINA. ANNEMARIE IS GOING TO JOIN US TO DISCUSS THAT, ALSO EXCLUSIVE REPORTING, THE PRESIDENT MAY ANNOUNCE HIS REELECTION RUN, OFFICIALLY. DIDN'T THEY SAY AFTER THE HOLIDAYS? LISA: WE HAVE BEEN WAITING FOR THIS. WHY NOW? IS IT BECAUSE THE FORMER PRESIDENT TRUMP IS RAMPING UP HIS ADVERTISING CAMPAIGN? JONATHAN: MAYBE HE WAS RIGHT. WE THOUGHT CHRISTMAS, HE MEANT EASTER AND NO ONE KNEW.
IT IS COMING, APPARENTLY. MAYBE. WE ALSO CATCH UP WITH PRIYA MISRA. FROM NEW YORK, THIS IS BLOOMBERG. >> THIS IS A FRUSTRATING MARKET FOR BOTH BULLS AND BEARS.
>> WE ARE STILL DEALING WITH THE ECHOES OF THE CRISIS WHICH ARE GOING TO SLOW THE ECONOMY AND MAKE RECESSION MORE LIKELY. >> WE HAVE NOT SEEN U.S. GROWTH DETERIORATE THAT MUCH YET.
>> THIS LINGERING CONCERNS OVER CREDIT TIGHTENING. >> WE HAVE TO KEEP IN MIND IN TIGHTENING FINANCIAL CONDITIONS IS WHY THE FED HAS BEEN TRYING TO DO. >> THIS IS "BLOOMBERG SURVEILLANCE." JONATHAN: LIVE FROM NEW YORK THIS MORNING, GOOD MORNING.
THIS IS "BLOOMBERG SURVEILLANCE." EQUITY FUTURES DOWN .2% ON S&P 500. OVER THE LAST COUPLE OF DAYS WE HAVE GONE WITHOUT GAINS ON THE S&P 500. WHAT WE MAKE IT DATE THREE?
FEDERAL RESERVE FOR MONDAY AWAY FROM A QUITE PERIOD UNTIL THE NEXT FED MEETING ON MAY THREE. THE DECISION EXPECTED TO BE INTEREST RATE HIKE. AFTER THAT THE GUIDANCE IS CLEAR, PRESIDENT BOSTIC THAT THE RESTRICTIVE ACTION AT WAY THROUGH. PRESIDENT HARKER LET MONETARY POLICY DO ITS WORK. WE ARE GOING TO HEAR MUCH OF THIS OVER THE NEXT. LISA: WE'RE GOING TO SEE WHAT HAPPENS. PEOPLE TAKE THAT AS WE'RE GOING TO CUT RATES AND IT IS OVER.
HOW DO THEY PUSH BACK AGAINST THAT, SIGNALING THEY ARE MORE PATIENT? THEY STILL VIEW THE RISK OF INFLATION AS SIGNIFICANT DESPITE SIGNS OF DISINFLATION. JONATHAN: BANK EARNINGS EARLY THIS WEEK. SMALLER NAMES, TECH COMING UP NEXT WEEK AND MAY YOU COULD APPLE. MAY 4, APPLE. MICROSOFT, APRIL 25. GOOGLE, ERBIL 25.
AMAZON, APRIL 27. LISA: I DO WONDER IF WE SEE PRESSURES THAT WE SAW. YES HE REPORTS IN CHIPMAKERS SHOWING -- MESIROW SPORTS IN CHIPMAKERS SHOWING SLOWER DEMAND.
HOW MUCH ARE THEY GOING TO BE WINNERS AND LOSERS? DAN I'M SAYING IS GOING TO BE A PIVOTAL EARNINGS SEASON TO DETERMINING WHO IS GOING TO GOING TO GET STRONGER AND WHO IS NOT. THAT'S WHAT WE HEARD FROM LUKE KAWA AS WELL, WELL, JONATHAN: TESLA HAS BEEN CUTTING PRICES OF VEHICLES THE LAST FEW MONTHS. MOST OF THIS YEAR. I THINK IT WAS CLOSE TO FOUR. CUT PRICES, INCREASE VOLUME, TANK MARKET SHARE, SACRIFICE PROFITABILITY. THE STOCK GOT HAMMERED ON THE
BACK OF SOME OF THIS. THIS MORNING WE GET PRICE HIKES ON TWO MODELS, MODEL S AND MODEL X IN THE U.S.. THE STOCK IS UP .5%. WHO IS THE WINNERS AND LOSERS?
THE TAKEAWAY WAS THAT THEIR PRICE CUTS ARE EVERYONE'S ELSE'S PROBLEMS. YESTERDAY DID I BECOME TESLA'S PROBLEM TO SEE? -- DID IT BECOME TESLA'S PROBLEM TOO? LISA: IT HAS AT A VALUATION STORY MORE THAN DOMINANCE AND ELECTRIC VEHICLES -- IT HINTS AT A VALUATION STORY MORE THAN DOMINANCE AND ELECTRIC VEHICLE. YOU HEARD FROM FORT IS GOING TO BECOME THEIR PROBLEM TO AND THEIR MARGINS ARE SMALLER THAN TESLA'S MARGINS BUT HERE WE ARE IN SCENARIO FOR WE ARE QUESTIONING VALUATIONS. IT IS NOT ABOUT SURVIVAL AND IT HAS TO DO WITH TESLA AND REGIONAL BANKS AND MORE BROADLY WITH MARKETS. JONATHAN: TESLA INVESTOR GROUP, COALITION OF 17 SHAREHOLDERS WHO HOLD MORE THAN $1.5 BILLION OF TEXTS -- TESLA STOCK. THAT IS NOT A GREAT DEAL OF STOCK THEY HOLD BUT A SIGNIFICANT ENOUGH WE SHOULD HAVE A CONVERSATION ABOUT IT.
A GROUP OF INVESTORS -- TESLA INVESTORS HAVE ACCUSED THE COMPANY OF MISMANAGEMENT AND SEEKING A MEETING WITH ITS BOARD DISCUSSED THE PERFORMANCE OF CEO, ELON MUSK. CONCERNED THAT HE IS THE BECAUSE HE'S OVERCOMMITTED ACROSS TOO MANY COMPANIES. LISA: HE'S ALWAYS BEEN A KEEP MAN AT RISK. WE HEAR THIS EVERY EARNINGS SEASON. WHETHER HE IS SMOKING UP ON A
CALL OR -- POT ON A CALL. HIS ROCKSTAR STATUS HAS BEEN A POINT OF ANGST FOR THE COMPANY AND A DRIVING FORCE. HOW MUCH IS HE REAL TIME TRYING TO PRICE UP THE MARKET IN A WAY THAT IS MORE TRANSPARENT THAN OTHER VEHICLE MAKERS AND OTHER MANUFACTURERS? JONATHAN: ACCORDING TO AN OPEN LETTER THEY SENT IT A CHARWOMAN AND ONE DIRECTOR, THEY WANT THE BOARD TO COME UP WITH A PLAN AND SEEK TO REMOVE DIRECTORS TOO CLOSELY TIED TO THE CEO. I DO NOT THINK THE ISSUES ARE NEW. THEY HAVE BEEN AROUND FOR A
LONG TIME. LISA: IT IS ALWAYS BEEN AN ISSUE. IT IS ALL WHAT ARE YOU DOING. WE WANT MORE STRATEGY -- CLARITY ON YOUR STRATEGY. JONATHAN: THE STOCK IS POSITIVE .7%. TO LOWER IT BY A SINGLE BASIS POINT. NO DRAMA HERE.
LISA: BY BEGETTING REGIONAL BANK EARNINGS THROUGHOUT THE MORNING AND THROUGHOUT THE WEEK. WE GET FED DATA ON COMMERCIAL BANKING AT 4:15 P.M.. IT IS THE DRUMBEAT TO MAY 8 WANT TO GET THE SENIOR LOAN OFFICER SURVEY TO GET A SENSE OF DEPOSITS AND LOANS CREATED. 9:45 A.M. IN U.S.
SERVICES PMI AND COMPOSITE READING. WE GOT EARLIER THE EUROPEAN READ, COMPOSITE LOOK GOOD. COMPLETELY STORY YOU'RE LOOKING AT SERVICES WHICH BEAT OR MANUFACTURING WHICH MISSED. DOES THIS MEAN INFLATION IS GOING DOWN FASTER THAN EXPECTED OR IS GOING TO BE STICKIER? CHOOSE YOUR NARRATIVE AND YOU CAN PLUG IN THE NUMBERS TO BACK IT UP. FED GOVERNOR LISA COOK SPEAKING AT GEORGETOWN UNIVERSITY.
I MORE CURIOUS LESS ABOUT HOW MUCH THEY'RE GOING TO HIKE RATES AND MUCH MORE ABOUT WHAT THE THRESHOLD IS FOR THEM TO START CUTTING. HOW HIGH IS THAT A BAR YET? HOW MUCH ARE THEY LOOKING FOR ECONOMIC WEAKNESS? CORE INFLATION HAVING TO STAY THERE FOR A TIME. JONATHAN: HOW FAR ARE THEY GOING TO HIKE TO HOW FAR DO THEY CUT? THE PROCESS SEEMS TO BE CONTINUING. DO YOU EXPECT IT TO ACCELERATE IN THE COMING MONTHS? >> WE DO. THE FED STILL HIKING. QT ONGOING. LONG AND REAL RATES HIGH AND NOW YOU HAVE THE BANK TIGHTENING LENDING STANDARDS. IT IS NOT AN IDIOSYNCRATIC
MISMANAGEMENT OF A FEW BANKS. THIS GOING TO HAVE LONG-LASTING ISSUES. DEPOSITS CONTINUING TO FLY OUTS OF BANKS INTO MONEY MARKET FUNDS.
THE BANKS ARE GOING TO HAVE TO CUT LANDING STANDARDS -- LENDING STANDARDS. EVEN IF YOU IGNORE CR E, AS LENDING SLOWS DOWN'S, OUR VIEW IS IT ACCELERATES. THINGS ARE SLOWING, I DO NOT THINK I CAN POINT TO ANY DATA AND SAY HERE'S THE RECESSION. THE SPEED OF THE DECLINE, PARTICULARLY IN HIGH FRICASSEE DATA IS WHAT WE'RE LOOKING AT AND END OUR VIEW IS GOING TO CELEBRATE AND TO THE SECOND HALF. -- ACCELERATE INTO THE SECOND HALF. THE DATA IS FLOWING. IT IS NOT OBVIOUS RIGHT NOW BUT WE DO THINK IT ALL THE SIGNS POINT TO ACCELERATING INTO THE END OF THE YEAR. LISA:
I WOULD LOVE YOUR TAKE WITH RESPECT TO THE DIVERGENCE WE SEE WITH RESPECT TO MANUFACTURING AND SERVICES. THIS ASSIGNED IF THE FED PAUSES THEY MAY HAVE TO -- IT'S A SIGN AT THE FED PAUSES THEY MAY HAVE TO HIKE AGAIN. DO YOU AGREE THAT THERE IS ACTUALLY A RISK SIGNALED BY THE OPERATIONS -- THE OPERATIONS AND INFLATION IS STICKIER THAN IT PEOPLE EXPECT? PRIYA: BELIEVE THERE ARE STRUCTURAL FACTORS. I WOULD SAY IN MANUFACTURING IS A CYCLICAL INDUSTRY. IT TYPICALLY SLOWS DOWN BEFORE SERVICES. SERVICES HAVE BEEN STRONG BECAUSE CONSUMERS HAVE A SAFER BUFFER AND MONETARY POLICY WORKS WITH A LAG.
MANUFACTURING AS A HARBINGER FOR THE FACT THAT SERVICES IS GOING TO SLOW DOWN. AS THE SAVINGS BUFFER COMES DOWN AND I CANNOT MAX OUT MY CREDIT CARD AND CANNOT GET A CREDIT CARD, IT IS WHEN CONSUMER SPENDING STARTS TO SLOW DOWN. OUR VIEW IS THAT THAT IS GOING TO BE TORN BETWEEN INFLATION NORTH A 2%, WITH THE UNEMPLOYMENT RATE STARTING TO RISE. WE DO NOT KNOW THEIR PAIN THRESHOLD. I THINK THE MARKET IS GOING TO GRAPPLE WITH THAT FOR THE REST OF THE YEAR.
SERVICES GOING TO SLOW DOWN. HIKING AGAIN, THAT -- WE SHOULD TALK ABOUT THAT IN 2025. THEY WILL HAVE TO CUT RATES. THEY'RE GOING TO HAVE TO TAKE RATES INTO A ACCOMMODATIVE TERRITORY.
RASUL -- AT THE ECONOMY IS IN A RECESSION AT THE END OF THIS YEAR, WE WILL TALK ABOUT HOW LOW THEY ARE GOING RATHER THAN STOPPING AROUND 3%. LISA: LOTS PEOPLE DO NOT THINK THE FED IS GOING TO GO BACK TO THE LOW RATES WE SAW PRE-PANDEMIC. ARE YOU SAYING ZERO OR HALF PERCENT IS ON THE TABLE FOR A FED FUNDS RATE? PRIYA: I LOOK AT REAL RATES. REAL RATES SHOULD BE CLOSER TO ZERO OR NEGATIVE. IF INFLATION IS 3% NEXT YEARM OR 4% NEXT YEAR, HOW LOW CAN THE FED GO IN TERMINAL RATES? I DO THINK THE AN IMPLEMENT RATE IS RISING, WE SEE IT PEAKING AT 5.5% NEXT YEAR
SIMILAR ARE OF THE SAVING AND LOAN CRISIS. IF YOU GET THAT MUCH WEAKENING IN LABOR MARKET, THE FED HAS TO TAKE REAL RATES NARRATIVE. I DO NOT KNOW ABOUT ZERO BUT CAN THEY GET TO 2% ON FED FUNDS? AT LEAST GET RATES THAT LOAD. MARKET IS NOT A PRICING THAT. WE SHOULD KEEP AN EYE ON INFLATION BUT THOSE REAL RATES. REAL RATES ARE WELL IN
RESTRICTIVE TERRITORY. THAT'S WHAT WE WILL BE WATCHING. RIGHT NOW THEY'RE IN A BIND. I DID NOT EAT THEY CAN SIGNAL ANY NEAR-TERM CUTS. OUR VIEW IS THEY START LATER IN
RATE CUTS. THERE GOING TO BE PULLED IN INTEGRATE CUTS. -- INTO RATE CUTS. JONATHAN: ALSO TO GET YOUR PERSPECTIVE. LOOKING FOR A 5.5% UNEMPLOYMENT NEXT YEAR.
THE FEDERAL RESERVE IS AT 4.6% IN 2020 FOUR. 4.6% ON UNEMPLOYMENT IN 2025. LATER THIS WEEK, THE BANK STRUGGLES -- HE SAID THE BANK STRUGGLES BECAUSE IT IMPLIES AND IMPLIES THEY ARE DOING SOMETHING WRONG CAN ALSO WENT AS FAR AS SAYING IT COULD BE SELF-FULFILLING AND COULD LEAD TO SOMETHING BAD. LISA: HE SAID THEY DID NOT HAVE THE LUXURY OF SAYING WHAT THEY THINK IS GOING TO HAPPEN OBJECTIVELY BECAUSE THEY ARE ACTIVE AND THEY ARE HAVING TO CONTROL THE MESSAGE A BIT IN TO SIGNAL A DEGREE OF CONFIDENCE OR DEGREE OF STEADINESS THEY WANT TO THE MARKET TO FOLLOW, WHICH AGAIN GOES TO THE POINT YOU MADE, SOROS SELF FULFILLING PROPHECY. THE FEDERAL RESERVE IS TRYING TO SIGNAL SOMETHING BUT ALSO CONTAIN IS CREDIBILITY. JONATHAN:
THEY CAN SHAKE THE EVENTS THEY ANTICIPATE TO SOME DEGREE. NEIL DUTTER IS GOING TO JOIN US LATER ON THIS MORNING. LOOK OUT FOR THAT CONVERSATION. TENNILLE'S POINT, THEY'RE STILL AT BETWEEN. THE FED ASSAYS WHERE THEY ARE THEY'RE GOING TO CUT MORE THAN YOU THINK. WE CATCH UP WITH ANNAMARIE IN WASHINGTON DC.
THE LATEST DOWN IN WASHINGTON. PRESIDENT BIDEN LOOKING TO FORMALLY LAUNCHING HIS REELECTION CAMPAIGN AS EARLY AS NEXT WEEK. THAT CONVERSATION UP NEXT. >> KEEPING YOU UP-TO-DATE WITH NEWS AROUND THE WORLD. IN THE U.K. PRIME MINISTER RISHI SUNAK DEPUTY DOMINIC RAAB HAS QUIT AFTER AN INVESTIGATION INTO BULLYING COMPLAINTS. THE PROBE CRITICIZE HIS
BEHAVIOR TOWARD CIVIL SERVANTS. IT IS A MAJOR BLOW TO RISHI SUNAK. HE IS TRYING TO PRESENT HIS GOVERNMENT AS A CONTRAST TO THE BORIS JOHNSON ERA. FEDERAL RESERVE OFFICIALS ARE BACKING ANOTHER INTEREST RATE INCREASE. AT THE SAME TIME, THEY ARE MONITORING THE ECONOMIC FALLOUT FROM STRESSES ON THE BANKING SYSTEM. CLEVELAND FED PRESIDENT SAYS
SHE FAVORS GETTING RATES ABOUT 5% BECAUSE INFLATION IS STILL TOO HIGH. AT FED PRESIDENT SAYS HE BACKS A ONE AND DONE RATE HIKE APPROACH. PRESIDENT BIDEN WILL CRACKDOWN ON U.S.
INVESTMENT IN KEY PORTS OF CHINA'S ECONOMY. BLOOMBERG HAS LEARNED HE WAS SIGNED EXECUTIVE ORDER IN THE COMING WEEKS THAT WILL LIMIT INVESTING FROM CHINESE SEMICONDUCTORS, ARTIFICIAL INTELLIGENCE, AND QUANTUM COMPUTING. THE PRESIDENT IS HOPING TO GET THE BACKING OF G-7 PARTNERS. ELON MUSK IS DOING AND ABOUT A PHASE. AFTER SAYING HE WILL CONTINUE TO DROP THE PRICES OF ITS ELECTRIC VEHICLES, TESLA IS INCREASING BECAUSE OF HIS MODEL S AND X VEHICLES.
PRICES WILL BE BUMPED UP BY 2500 DOLLARS RAISING THE COST OF SEDAN SUV BY 2% TO 3%. MARKDOWNS THIS YEAR TOOK A TOLL ON TESLA SHARES. GLOBAL NEWS POWERED BY MORE THAN 2700 JOURNALISTS AND ANALYSTS IN MORE THAN 120 COUNTRIES. HOW LISA MATEO. THIS IS BLOOMBERG. ♪ >> NATIONAL SECURITY IS PARAMOUNT IMPORTANCE IN OUR RELATIONSHIP WITH CHINA. EVEN THOUGH THESE POLICIES MAY
HAVE ECONOMIC IMPACTS, THEY ARE DRIVEN BY STRAIGHTFORWARD NATIONAL SECURITY CONSIDERATIONS . IT WILL NOT COMPROMISE ON THESE CONCERNS -- WE NOT COMPROMISE ON THESE CONCERNS EVEN WHEN THEY FORCE TRADE-OFFS WITH OUR ECONOMIC INTERESTS. JONATHAN: JANET YELLEN ON THE RELATIONSHIP OF THE UNITED STATES AND CHINA. NATIONAL SECURITY CONCERNS TRUMPING ECONOMIC INTERESTS. THE LATEST TODAY PRESIDENT BIDEN AIMING TO SIGN EXECUTIVE ORDER IN THE COMING WEEKS THAT WILL LIMIT INVESTMENT IN KEY PARTS OF CHINA'S ECONOMY BY AMERICAN BUSINESSES. WILL PICK UP ON THAT STORY IN A MOMENT. WHERE DOWN .2% ON S&P 500.
SOFTER THIS MORNING. A COUPLE DAYS WITHOUT GAINS ON THE S&P 500. IN THE BOND MARKET, VIOLENCE NOT DOING MUCH. JOINING US NOW AS HE, -- IN WASHINGTON ANNAMARIE.
THE REPORT THAT MAY BE NEXT WEEK AS THE WEEK WHERE THE PRESIDENT ANNOUNCES OFFICIALLY HE IS RUNNING. ANNMARIE: THE PRESIDENT HAS SAID IN IRELAND SOON HE WOULD BE MAKING THE ANNOUNCEMENT AND WE HAVE SEEN EVERYONE IN HIS INNER CIRCLE AND MOST IMPORTANTLY, THE FIRST LADY COME OUT AND SAY OF COURSE HE IS RUNNING BUT HE'S MAKING THIS ANNOUNCEMENT POTENTIALLY NEXT WEEK, NOTHING IS SET IN STONE IS GAY VIDEO THAT WILL BE RELEASED. POTENTIALLY THIS IS EVEN A SOFT LAUNCH BECAUSE IT IS -- DOES NOT SEEM LIKE IT IS GOING TO AMASS A HUGE CAMPAIGN EVENT IF IT IS JUST A VIDEO WITH THE PRESIDENT SAYING ONCE AGAIN HE IS RUNNING, HE WILL ALSO START TAKING MEETINGS WITH THE DONORS. IT DOES LOOK LIKE THEY ARE TRYING TO SET THE SCENE. THERE HAVE BEEN DEBATE ABOUT
WHETHER OR NOT HE SHOULD ANNOUNCE FOR 2020 FOUR OFFICIALLY AS SOON AS OR PUT IT OFF BECAUSE HE IS THE PRESIDENT OF UNITED STATES AND ONCE HE ANNOUNCED, HE BECOMES PRESIDENT JOE BIDEN AND POTENTIAL NOMINEE FOR 2024. LISA: WHY DOES IT MATTER IN TERMS OF EXACTLY WHEN HE DECIDES TO RUN AND WHAT THAT CAN SIGNAL? JONATHAN: -- ANNMARIE: THEY WANT TO SET UP THE DONOR MEETINGS AND MAKE SURE THEY CAN GET CAMPAIGN STAFFING IN PLACE. MAKE SURE THEY'RE GOING TO HAVE CAMPAIGN MANAGEMENT. IT DOES SEEM LIKE HE'S PROBABLY UNDER PRESSURE WITHIN THE DEMOCRATIC PARTY BECAUSE THOSE WHISPERS ARE STILL CIRCULATING ABOUT WHETHER OR NOT IT SHOULD BE THE INDIVIDUAL TO LEAD THEM INTO THE FUTURE. 80 YEARS OLD RIGHT NOW HE'S THE OTIS U.S. PRESIDENT AND IF HE TAKES THE U.S. MECHANIC PARTY INTO 2024 HE
WILL BE 86 YEARS OLD AT THE END OF THAT TERM. HIS AGE HAS BEEN A BIG CONCERN AND THEY'RE PROBABLY UNDER SOME PRESSURE TO MAKE THAT DECISION AND START LOOKING AT IT AS THE REPUBLICAN RATES FOR WHO IS GOING TO BE THEIR CANDIDATE IS HEATING. LISA: AS HE TALKS ABOUT THIS, HE ONTO BIPARTISAN AGREE TO TALKING POINT OF HOW TO DEAL WITH CHINA RIGHT NOW AND WE HEARD THE BIDEN ADMINISTRATION IS PLAYING -- PLANNING TO UNLEASH PROVISIONS OF RESTRICTIONS ON U.S. INVESTMENT IN CHINA.
WE HAVE A SENSE OF WHAT THOSE MIGHT LOOK LIKE AND WHETHER IT IS BEEN EXPECTED BY PEOPLE IN THE MARKET? ANNMARIE: DO NOT KNOW EXACTLY WHAT IS GOING TO LOOK LIKE BUT WILL PROBABLY START TARGETING THOSE INVESTMENTS INTO COMPANIES OR TECHNOLOGIES THAT CAN ADVANCE CHINESE MILITARY. THE SAME WAY YOU ARE SEEING ADVANCED TECHNOLOGIES U.S. CURVE IN EXPORT CONTROL. ONE THING ADMINISTRATION HAS
TRIED TO DO IS MAKE SURE THEY CAN GAIN THE SUPPORT OF ALLIES AS THEY TRY TO CONFRONT A CHINA ON THIS ECONOMIC BASIS WHICH IS WHY YOU SEE POTENTIALLY THIS GOING TO BE A HUGE STORY AT THE G7. BIDEN WANTS TO MAKE SURE OTHER COUNTRIES ARE LOOKING AT SIMILAR WAYS TO CURB INVESTMENT INTO CHINA SO THEY ARE NOT GOING AT IT ALONE APPRECIATE WE STILL ARE WAITING FOR DETAILS ON THIS BUT IT COMES AT A TIME WHEN TENSIONS CONTINUE TO RATCHET UP BEIJING AND WASHINGTON AND SO MUCH OF THIS HAS TO DO WITH WHAT IS GOING ON IN TAIWAN. JONATHAN: LET'S TALK ABOUT PARIS AND WASHINGTON. WHAT IS THE PRESIDENT SAY TO THE FRENCH LEADER ABOUT THIS PLEDGE? -- THIS PUSH? NEIL: THEY HAD A PHONE CALL AND THE READOUT CAME THEY TALKED ABOUT CHINA AND MAINTAINING A SAFE AND INDEPENDENT TAIWAN STRAIT. FOR ME READING THE TEA LEAVES,
THIS PHONE CALL POTENTIALLY WAS MAY A TALKING TO TO THE FRENCH PRESIDENT TO MAKE SURE THEY ARE ON THE SAME PAGE. WHAT YOU HAVE SEEN, FRENCH OFFICIALS TRY TO WALK BACK AND TONE DOWN SOME OF THE RHETORIC WE HEARD FROM THEIR. IT IS GOING TO BE SLIGHTLY AWKWARD BECAUSE HE SAID THESE THINGS. HE TALKED ABOUT EUROPE NOT BECOMING A VASSAL BETWEEN U.S. AND CHINA. HE TALKED ABOUT STRATEGIC AUTONOMY.
TALKED ABOUT NOT WANTING TO DECOUPLE FROM CHINA. THE ISSUE HE HAS AS HE DOES NOT HAVE THE BACKING OF EUROPEAN ALLIES ON THIS. AP LEADERS AND OFFICIALS UNCOUNTABLE WITH THE COMMENTS MACRON HAS MADE. JONATHAN: WASN'T THERE DEPOMED EXPECT UNDER PRESIDENT BIDEN -- DIPLOMATIC SPAT UNDER PRESIDENT BIDEN? ANNMARIE: IT IS SOMETHING OUR STRAIN IS MAY BE SAW AND UNDERSCORES THE REASON WHY THEY DITCHED FRANCE FOR THE PARTNERS THEY TOOK ON IN THE END, WHICH IS UNITED KINGDOM AND UNITED STATES. WE RECENTLY SAW PER MINISTER -- ALONGSIDE THE PRESIDENT IN CALIFORNIA TALKING ABOUT THE SUBMARINES. THERE HAVE BEEN A FEW SPATS BETWEEN PARIS AND WASHINGTON THROUGHOUT THIS ADMINISTRATION.
THIS IS A LITTLE BIT OF HOW EMMANUEL MACRON LIKES TO HAVE IS THE. WE SAW HIM GO SPEAK TO PLATE WHEN PEOPLE WERE CONCERNED HE WOULD NOT BE ABLE TO MAKE A BREAKTHROUGH. HE TRIED DO THE SAME THING WITH XI JINPING. TO GET CHINA ON BOARD TO WORK OUT A PEACE AGREEMENT, PUTTING PRESSURE ON MOSCOW BUT FOR XI JINPING IT WAS A HUGE COUP. EMMANUEL MACRON TRIP WAS A HUGE COUP AND UNDERLINE WHO WAS HE THERE WITH HIM IN A DIFFICULT POSITION. JONATHAN: THEN YOU THINK COME OUT FROM HER SIDE WHATSOEVER? ANNMARIE: EVERYTHING WAS OVERSHADOWED BY EMMANUEL MACRON.
IT IS WHAT THE CHINESE GOVERNMENT WANTED TO PUSH FORWARD AND IT WAS NOT JUST THE TRIP, BUT THE INTERVIEW HE GAVE TO FRENCH JOURNALISTS AND POLITICO ON HIS WAY BACK THAT CREATED EVEN MORE TENSION AND DRAMA. JONATHAN: THANK YOU. WONDERFUL TO GET CLARITY FROM YOU. 5 P.M. EASTERN TIME SPEAKING TO KATE HUTCHISON, FORMER U.S. AMBASSADOR TO NATO. SOME OF THESE LEADERS, THEY LOVE PLAYING THE STATESMAN AND. THEY ARE DESPERATE FOR IT.
THOSE KIND OF PERSONALITIES THAT WANT TO BE SEEN ON THE INTERNATIONAL STAGE SAYING BIG THINGS. LISA: DEALMAKER AND BRINGING TOGETHER THE POWERS WHILE THEIR WORLD BURNS. IT IS THE THEORY AND THE PLACE THAT EMMANUEL MACRON GOD. IT IS INTERESTING WE DID NOT GET ANYTHING FROM THE LINE THAT WAS MEMORABLE. IT IS REALLY TELLING AT A TIME WHEN EVEN GERMANY, THEY ACKNOWLEDGE POTENTIAL RISK FOR CHINA, THAT ECONOMY CANNOT DECOUPLE RIGHT NOW FROM CHINA. IF YOU LOOK AT ALL YOU
MANUFACTURERS, THEY ARE RELIANT ON PURCHASES FROM CHINA. THIS CONSISTENT ACROSS THE BOARD. HOW MUCH OF THAT UNDERPINNING THE STRENGTH WE ARE SEEING IN EUROPE? HOW MUCH IS EMMANUEL MACRON SAYING THE APART OUT LOUD? JONATHAN: CAN LVMH DECOUPLE FROM CHINA, I DO NOT THINK SO. LISA: HOW MUCH IS EMMANUEL MACRON REPRESENTING WHAT A LOT OF COMPANIES FEEL, NOT ONLY IN EUROPE BUT ALSO IN U.S.? JONATHAN: REMEMBER THE LEAD UP TO THE WAR, ITALIAN BUSINESS LOBBY, THEY WERE STILL HOLDING MEETINGS AND BUSINESS IN EUROPE WANTED TO KEEP THOSE TIES AND I IMAGINE THEY WILL WANT TO KEEP THE TIES WITH CHINA REGARDLESS OF WHAT HAPPENS.
LISA: WHAT THE MEAT IS BEHIND JANET YELLEN SAYING NATIONAL SECURITY BECAUSE BEFORE ECONOMIC INTEREST. JONATHAN: DAN SUZUKI JOINS US NEXT. YOUR EQUITY MARKET -.2%. THIS IS BLOOMBERG. JONATHAN: EQUITIES NEGATIVE ON THE S&P 500, DOWN .0 2%. ALL THE NASDAQ, DOWN 0.4%. IN THE BOND MARKET, WE LOOK AT THIS ARE THE TWO-YEAR YIELD. NORTH OF 4% ALL OF THIS WEEK. DOWN A COUPLE BASIS POINTS.
DOWN A LOT MORE JUST YESTERDAY OFF THE BACK OF SOFTER THAN ANTICIPATED DATA. JOBLESS CLAIMS A LITTLE HIGHER. THE FED NOT LOOKING TO DESCENT. ENCOURAGING ONE MORE HIKE AND THEN SAYING WE ARE'S FOR THE REST OF THE YEAR.
WE HEARD FROM AT LEAST SIX OF THEM. NO MORE FED SPEAK UNTIL THE DECISION ON MAY 3. AND ALL TO BE ECB ON MAY 4. THE IS BACKING AWAY FROM 1.10 TO 1.09 THIS MORNING. TOTALLY UNCHANGED. SNOOZING TO CLOSE OUT THE WEEK.
LISA A: IT IS INTERESTING BECAUSE THERE IS A LOT UNDER THE SURFACE BUT IT SPEAKS TO A LACK OF CONVICTION EVERYONE HAS. IF YOU WANT TO LOOK FOR CONVICTION, IT IS IN THE RECESSION AND MANUFACTURING THAT CONTINUES. TESLA SHARES ARE UP A WHOLE HALF A PERCENT -- UP BY 0.5% AFTER ELON MUSK WAS SAYING HE
IS GOING TO CUT PRICES. THE SHARES ARE REBOUNDING A TOUCH BUT YESTERDAY, THEY WERE PUMMELED ON THE IDEA OF GETTING THEIR PRICES CUT. RAISING QUESTIONS OF WHETHER WE END UP IN A DISINFLATIONARY SPIRAL THAT IS MORE BROADLY APPLICABLE TO A WIDER RANGE OF COMPANIES. YOU ARE SEEING THIS. OVERSTOCK.COM, FURNITURE PROVIDERS PUT OUT A NOTE, DOWNGRADING BOTH OF THEM. I WONDER IF THIS IS A SPECIFIC SET OF HOME FURNISHING AND IF THIS CONTINUES TO BE THE SHAPE OF RECOVERY FOR PEOPLE LOOKING FOR A MEDIUM AND LOW INCOME FURNISHINGS RATHER THAN THE HIGHEST INCOME WHICH CONTINUES TO PRODUCE SOME RETURNS. OVERSTOCK IS DOWN ALMOST 3%.
BIG LOTS DOWN MORE THAN 6%. REMEMBER WHEN OVERSTOCK HAD A HUGE POT ON JUST -- POP ON JUST MENTIONING BITCOIN ASSETS? TALK ABOUT A COMPLETE ABOUT-FACE JUST MENTIONING SOME NAMES WHERE YOU ARE SEEING FROTH TAKING DOWN SOME MARKETS AND MARKET NARRATIVES WHEN SHARES ARE DOWN AROUND 30%. JONATHAN: YOU JUST HAVE TO PUT AI IN YOUR NAME. 2017 OR SOMETHING LIKE THAT, WHEN EVERYONE STARTED PUTTING CRYPTO IN THEIR NAMES. LONG ISLAND ICED TEA? SOMETHING LIKE THAT. LISA A: IT WAS A RIDICULOUS STORY. NOW THE QUESTION IS, THAT IS
DEAD AND NOT GOING TO DO ANYTHING OR PROP UP SHARE PRICE. DO YOU THINK AI WILL WORK? IF YOU SAY CHATOVERSTOCK.COM? JONATHAN: YES. WILLIAMS-SONOMA IS NEGATIVE.
THE REAL TEST IF YOU GO AROUND THE CORNER AND DESIGN IS BUSINESSES BECAUSE THINGS COST A FORTUNE. LISA A: YES, BUT IT IS REALLY NICE. JONATHAN: JUST TO LOOK AT A $5,000 CHAIR. IF YOU EVER BOUGHT IT, YOU WOULD NEVER ACTUALLY SIT IN IT BECAUSE YOU ARE TO'S EAR TO BREAK IT. LISA A: WE TALK ABOUT HERMES BAG AND LVMH AND WILLIAMS-SONOMA DOING BETTER. IN SOME OF THESE OTHERS. IS THAT A SIGN OF WHAT WE ARE SEEING ON THE MARGINS ARE PEOPLE WHO HAVE TO PAY TO THE TWO DISCRETIONARY? JONATHAN: ARE YOU THE KIND OF PERSON WHO BUYS A SOFA AND PUT PLASTIC ON IT? LISA A: I AM NOT.
I AM NOT FROM 1946 IN LONG ISLAND. JONATHAN: IS THAT SOMETHING THEY DID IN 1946 IN LONG ISLAND? [LAUGHTER] DAN SUZUKI JOINING US. GREAT TO CATCH UP WITH THE. YOU KNOW YOU START WAS FINANCIALS AND YOU SHIFT TO TECHNICS WE. WHAT IS THE TAKE AWAY SO FAR FOR YOU AND YOUR TEAM? DAN: IT IS STILL VERY EARLY IN EARNINGS SEASON BUT THE TAKE AWAY IS CLEAR THAT GROWTH CONTINUES TO SLOW AND THAT CONTINUES TO PRESSURE PROFITS AND PUT US FURTHER INTO THE EARNINGS RECESSION WE HAVE ALREADY BEEN IN. NOTHING IS COLLAPSING. THERE IS A LOT OF FEARS THAT
CARRY OVER FROM THE BANKING CRISIS AND THINGS WERE GOING TO FALL APART. THAT IS NOT THE CASE BUT THINGS CONTINUE TO GET WORSE. THIS BENEFIT THAT HELPS COMPANIES OVER THE LAST COUPLE YEARS HAS REALLY STARTED TO BITE. JONATHAN: WE ARE STARTING TO SEE THEM CUT
COSTS. META GOING THROUGH A YEAR OF EFFICIENCY, MAKING CUTS. THE STOCK IS UP 7%. CAN THEY CUT COSTS QUICK ENOUGH? DAN: I DO NOT THINK SO. I THINK THAT IS EVIDENT IN THE DATA. YOU LOOK AT THESE COMPANIES. WHEN HAVE YOU SEEN COMPANIES CUT THEIR WORKFORCE TO KEEP UP WITH TOPLINE GROWTH, SUCH THAT THERE MARGINS ARE EXPANDING? THAT IS THE HOPE HERE BUT THAT IS RARELY THE CASE
2023-04-23 23:27
Show Video
Other news