'Bloomberg Surveillance Simulcast' (04/20/23)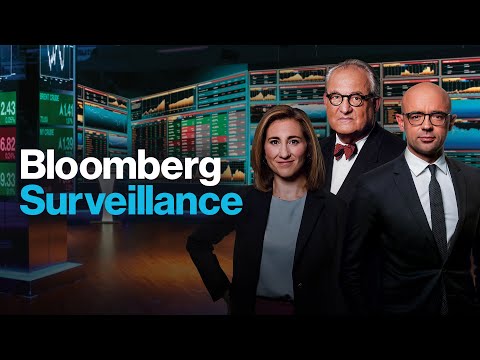 Show Video
>> PEOPLE ARE STARTING TO HAVE A LITTLE BIT OF FEAR OF MISSING OUT. >> THIS IS A STORY OF WHO CAN MAINTAIN PROFIT MARGINS IN A DECLINING, NOMINAL INFLATION ENVIRONMENT. >> THE ENTIRE BANKING SYSTEM IS GOING TO SEE THEIR DEPOSITS SHRINK.
>> EVERYONE HAD TO SPACE WE WILL HAVE THIS TIGHTENING OF LENDING CAN -- LENDING AND CREDIT CONDITIONS. >> THE LONGER YOU KEEP HIGHER RATES, >> THIS IS BLOOMBERG SURVEILLANCE. JONATHAN: LIVE FROM NEW YORK CITY FOR OUR AUDIENCE WORLDWIDE, GOOD MORNING, THIS IS BLOOMBERG SURVEILLANCE ON TV AND RADIO. EQUITY FUTURES ARE -0.7%. THREE BANKS ARE REPORTING THIS -- LATER TODAY. I HAVE CAPTURED SIX DIFFERENT FED SPEAKERS AND BRAMO WILL BREAK DOWN WHEN THEY SPEAK BUT SIT -- SIX DIFFERENT FED SPEAKERS TODAY BEFORE THE NEXT MEETING ON MAY 2 AND THREE FOR THE FEDERAL RESERVE.
FROM SECRETARY YELLEN OF THE TREASURY ON CHINA -- SHE STATED THE SECURITY ISSUES MAY TRUMP ECONOMIC CONCERNS. THIS WAS THE THEME FROM THE IMF LAST WEEK. LISA: IT'S THE QUIET PART OUT LOUD WHICH IS THAT THE NUMBER ONE THING IS NATIONAL SECURITY AND THAT COULD MEAN POTENTIALLY SOME IMPLICATIONS FOR BUSINESSES THAT HAVE A BIG CHINA PRESENCE AND HAVE BEEN EXPANDING THAT MAY NOT BE ABLE TO IN THE SAME WAY. HOW DO WE PRICE THIS AND WHEN
THIS IS BLOOMING BUT NO ONE UNDERSTANDS THE CONSEQUENCES? JONATHAN: THIS IS A MORE SOPHISTICATED WAY OF DESCRIBING WHAT THE PREVIOUS ADMINISTRATION WAS DOING? LISA: TO SOME DEGREE BUT NO ADMINISTRATION IS WILLING TO GO THROUGH THE PAIN REQUIRED TO CUT OFF TIES WITH CHINA. THAT HAS BEEN THE READTHROUGH AGAIN AND AGAIN. IS THIS TIME DIFFERENT AT A TIME WHEN THE NATIONAL SECURITY INTERESTS SEEMS IT HAS CHANGED IN TERMS OF THE NATURE OF THE PRESSURE? JONATHAN: WE WILL HEAR FROM SECRETARY YELLEN LATER THIS MORNING. WE WILL CATCH UP WITH LIBBY CANTRELL FROM PIMCO ON THE SUBJECT. WE PULLED BACK ON THE S&P 500 AROUND 0.7%.
CRUDE OIL IS BACKING AWAY FROM 18, 77 .71. EURO-DOLLAR IS $1.09. LISA: WE ARE GETTING A BUNCH OF REGIONAL BANKS TO TODAY INCLUDING TRUEST FINANCIAL. KEYCORP, FIFTH THIRD, HUNTINGTON BANCSHARES AND EAST WEST BANCORP. MOST OF THOSE ARE IN THIS HOUR SO A TREMENDOUS SLOPE. WHAT WE HAVE SEEN IS SHARES HAVE BEEN PUMMELED TODAY FOR ALL THE REGIONALS.
FIFTH THIRD IS DOWN MORE THAN 10-20% IN SOME CASES. THE BIGGER RESULT IS WE HAVE NOT GOTTEN ANY BIG SURPRISES. THE KBW REGIONAL BANK IN DRAKES -- INDEX IS NOT RECOVERED. WE ARE NOT OUT OF THE WOODS. WE DON'T KNOW. THERE WAS A SHIFT BUT WE HAVEN'T SEEN IT REFLECTED AND WE ARE WATCHING IT CLOSELY. 10:15 A.M., TREASURY SECRETARY JANET YELLEN IS GIVING A SPEECH AT JOHNS HOPKINS.
JAMES GORMAN AT MORGAN STANLEY YESTERDAY TALKED ABOUT THE GEOPOLITICAL RISKS HANGING OVER THEIR BUSINESS AND HOW IT'S THE UNKNOWN THEY ARE WATCHING CLOSELY BECAUSE THIS COULD HAVE A KIND OF SEACHANGE FEEL. WHEN DO WE START TO SEE IT AFFECT THE EARNINGS AS SOME OF THESE COMPANIES WITH BIG CHINA PRESENCES HAVE TO MOVE AWAY? HERE ARE THE FED SPEAKERS, CHRISTOPHER WALLER, LORETTA MESTER, MICHELLE BOWMAN, RAPHAEL BOSTIC AND PATRICK HARKER ARE JAMMING IT IN BEFORE THEY HAVE TO BE QUIET. DO THEY WANT THE FINAL WORD BEFORE WE EXIT THIS -- INTO A QUIET TIME WHERE THEY ARE BANNED FROM IT? WHAT WILL THEY SAY? JONATHAN: DID YOU RUN OUT OF SPACE ON THE GRAPHIC? I WANT TO TALK TO MICHAEL MCKEE TO BREAK IT DOWN. LISA: THE FACT THAT JOHN WILLIAMS YESTERDAY HAD THE SAME KIND OF TONE AS AUSTIN GOOLSBY OF CHICAGO WAS INTERESTING. THEY DON'T KNOW WHAT KIND OF CREDIT TYPING THERE WILL BE BUT THEY ARE SEEING SIGNS THAT'S THE CASE IN THE FED BEIGE BOOK YESTERDAY HIGHLIGHTED THAT THAT THERE'S BEEN A SHIFT DOWNWARD AND A REAL TIGHTENING IN LENDING CONDITIONS.
THEY WANT TO ASSESS THIS BUT WILL IT KEEP THEM FROM HIKING 25 BASIS POINTS, NOT REALLY. JONATHAN: WE DON'T KNOW EITHER. THERE IS A DIFFERENCE BETWEEN SURVIVING AND THRIVING. WE ARE TALKING ABOUT THE REGIONAL NAMES GIVING US AN INDICATION THEY CAN SURVIVE AND WE'VE SEEN MANY INDICATIONS THEY CAN'T THRIVE. LISA: YOU'VE SEEN THEM LOSING DEPOSITS THAT DON'T BEAR -- PAIR -- BEAR INTERESTS. ZIONS BANK YESTERDAY HAD SHARES THAT WERE LOWER IN PREMARKET EARNINGS TODAY AND THEY LOST 60% OF DEPOSITS YEAR-OVER-YEAR.
THEY ARE TIGHTENING SOME OF THEIR LENDING WITH RESPECT TO COMMERCIAL REAL ESTATE, EXACTLY WHAT YOU WOULD EXPECT IN RESPONSE TO THE CREDIT SITUATION. JONATHAN: JOINING US NOW IS GOLDMAN SACHS. WONDERFUL TO SEE YOU AS ALWAYS. I WANT TO ASK ABOUT THE SINGLE NAMES. FROM YOUR PERSPECTIVE, WHAT ARE YOU LOOKING FOR AT THE SURFACE LEVEL FROM THE REGIONAL RANKING STORY THAT'S DEVELOPING IN AMERICA -- FROM THE REGIONAL BANKING STORY THAT'S DEVELOPING IN AMERICA.
>> YOU ONLY SEEN THE FIRST STRESSES COME THROUGH. OBVIOUSLY COME YOU SEEN SOME OF THE REGIONAL BANKS FAIL IN THAT WAS THE BIG NEWS. NOW YOU GOT THE TIGHTENING OF CREDIT. WE HAVEN'T REALLY SEEN U.S. GROSS DETERIORATE THAT MUCH YET.
THE FIRST QUARTER IS LIKELY TO BE REASONABLE GROWTH IN U.S. GROWTH WE EXPECT FOR THE NEXT FEW QUARTERS TO BE SLOW. WE ARE NOT FORECASTING A RECESSION BUT WE BELIEVE U.S. GROWTH WILL NOT BE STRONG FOR THE NEXT FEW QUARTERS AND THAT WILL HIT THE U.S. REGIONAL BANKS AS WELL.
WE ARE NOT COMPLETELY OUT OF ALL THE PROBLEMS YET. LISA: HAS THIS ALL BEEN PRICED IN WITH RESPECT TO PEOPLE FLOODING INTO EUROPEAN EQUITIES AND THE EURO AND THE FEELING THAT ANYWHERE OTHER THAN THE U.S. IS PROBABLY BETTER? HAVE WE PLAYED OUT THAT TRADE BEFORE IT HAPPENED? >> TO BE FAIR, U.S. EQUITY MARKET STARTED THIS YEAR AT A HIGH VALUATION. U.S.
EQUITY MARKET STARTED HIGH IN EUROPE WAS ON A BIG DISCOUNT AND THAT'S STILL THE CASE. EUROPEAN EQUITIES HAVE NOW PERFORMED SO FAR THIS YEAR BUT A LOT OF THAT WAS AT THE BEGINNING OF THE YEAR WHEN WE HAD GAS PRICES COME DOWN A LOT WHICH WAS AN AMAZING HELP TO EUROPE. NOW YOU'RE STARTING TO SEE YOUR OUTPERFORM FOR DIFFERENT REASONS. THEY LOOK A LITTLE BIT MORE
RESILIENT. MAYBE A LITTLE BIT MORE TO GO FOR EUROPE BUT I AGREE, THE HEIGHTS OF PERFORMANCE IN THE U.S. AND AMERICAN EQUITY MARKETS HAVE BEEN GOOD THIS YEAR PARTICULAR GIVEN THE STORY ON ECONOMIC GROWTH SLOWING DOWN AND REVISIONS BEING QUITE WEAK. LISA: ONE STORY BEHIND THE STRENGTH PEOPLE ARE SEEING HERE IS THE REOPENING OF CHINA. HOW DO YOU FACTOR IN THE WORDS OF JANET YELLEN IN THE UNITED STATES OF THE BIFURCATED NATURE OF THE EUROPEAN RESPONSE AND THE U.S. RESPONSE TO SOME OF THESE NATIONAL SECURITY STRESSES COMING FROM CHINA WHICH IS A BIG TAILWIND FOR EUROPEAN GROWTH? >> CHINA HAS BEEN IN NORMA'S FACTOR BUT TO BE FAIR TO COMPANIES THAT ARE GLOBAL, THEY ARE EXPOSED TO THE U.S.
AND EUROPE AND GENERALLY GLOBAL TRAVEL AND THAT'S BEEN AN INCREDIBLE SUPPORT. WITH RESPECT TO THE CHINA STORY, A LOT OF COMPANIES EXPOSED TO CHINA ARE OBVIOUSLY CONCERNED. YOU'VE GOT THE RECOVERY TRADE IN CHINA. YOU SEEN THE REOPENING COME THROUGH AND SOME OF THE DATA HAS IMPROVED. THERE ARE CONCERNS ABOUT CHINA LIKE LEVERAGING, AGING POPULATION GROWTH AND THERE ARE GEOPOLITICAL CONCERNS. ALL OF THOSE CONCERNS AT UP AND IF YOU ARE VERY DEPENDENT ON CHINA GROWTH, YOU ARE LIKELY TO BE ON A DISCOUNT. JONATHAN:
LET'S TALK ABOUT DISCOUNTED AREAS ELSEWHERE. ONE FEATURE HAS BEEN THE FINANCIALS. THE BANKS GOT INTO DIFFICULTY OVER THE LAST COUPLE OF MONTHS SO IS THAT OF TRADE YOUR TEAM STILL LIKES? >> THERE IS DIFFICULTY IN THE LAST MONTH AND THE U.S. REGIONAL BANKS, IF THE ECONOMY SLOWS, THAT WILL STILL BE A TRICKY ENVIRONMENT. WE LIKE THE BANKS IN EUROPE BECAUSE WE ARE EXPECTING RATE HIKES IN EUROPE. WE'VE ADDED ADDITIONAL RATE HIKES WITH THE IDEA THAT THE -- THAT THEY HAVE MORE WORK TO DO. ECONOMIC GROWTH IN EUROPE, WE
ARE NOT EXPECTING A RECESSION. WE THINK EUROPE MAY AVOID A RECESSION. EUROPEAN BANKS ARE EXTREMELY CHEAP. FOR ALL THOSE REASONS, WE STILL LIKE THE BANKS IN EUROPE. JONATHAN: DO YOU MEAN EUROZONE AND NOT U.K.? WHAT IS THE DIVIDING LINE THERE? >> THERE IS A LITTLE BIT OF DIFFERENCE THERE BUT IN A WAY, IT'S NOT HUGE. THEY TRADE ON VERY SIMILAR
MULTIPLES AND THE U.K. BANKS GENERALLY HAVE HIGHER YIELDS THAN THE EUROPEAN BANKS OF THE STORY FOR U.K. BANKS IS SOMEWHAT SIMILAR. I'D ANOTHER THING FOR U.K. AND EUROPEAN BANKS, TO THE EXTENT THIS IS A SECTOR WHICH IS SLIGHTLY MORE DOMESTIC THAN OTHER SECTORS, YOU ARE SEEING STERLING RISE AND YOU ARE SEEING THE EURO RISE AND NOT EVERY BANK IS DOMESTIC. THE SECTORS IN EUROPE ARE
HUGELY INTERNATIONAL. IF YOU'VE GOT DOMESTIC SECTORS, THEY TEND TO DO BETTER WITH STRONGER CURRENCIES. JONATHAN: IF THE TRADE IS DELIVERED IN A BIG WAY, THANK YOU FOR BEING WITH US. WE WILL TURN TO THE U.S. FINANCIALS THIS HOUR IN THE 6:00 A.M. OUR IN NEW YORK. A WHOLE BUNCH OF BANKS WILL BE REPORTING AND WE WILL BE BUSY THIS MORNING. LISA: WE ARE GETTING AN INITIAL SMALL
BANK EARNINGS LIKE BANK OF CALIFORNIA. THEY'VE MISSED ESTIMATES ON TOTAL DEPOSITS. THIS MATTERS BECAUSE IT'S ONE OF THE PROBLEM REGIONS AND THIS CONFIRMS THE QUESTION OF HOW MUCH DEPOSITS ARE MOVING OUT OF THE SMALLER BANKS. IT'S STILL SIGNIFICANT EVEN IF IT'S NOT CATASTROPHIC.
WE MIGHT NOT BE TALKING ABOUT EXISTENTIAL ANGST BUT WHAT ABOUT THEIR PROFITS? JONATHAN: SURVIVING NOT THRIVING WILL BE A THEME THIS MORNING. FIRST REPUBLIC REPORTING MONDAY AND THIS WILL CONTINUE INTO NEXT WEEK. LET'S GO THROUGH THE FED SPEAK AGAIN. LISA: IT SOUNDS LIKE A SONG. JONATHAN: SIX FED SPEAKERS.
TK WOULD LOVE THAT. WE MISSED TOM THIS MORNING. I HOPE HE WILL BE BACK WITH US TOMORROW. IN THE NEXT OUT -- OUR, THE STRATEGIST AT EVERCORE JOINING US IN ABOUT 50 MINUTES FROM NOW. FROM NEW YORK CITY, THIS IS BLOOMBERG. >> KEEPING YOU UP-TO-DATE WITH NUSRA AROUND THE WORLD. LISA: DEMOCRATS ARE REJECTING HOUSE SPEAKER KEVIN MCCARTHY'S PROPOSAL TO RAISE THE DEBT LIMIT FOR ABOUT A YEAR AND CUT GOVERNMENT SPENDING. THE PLAN WOULD INCREASE THE
DEBT CEILING BY $1.5 TRILLION. IT WOULD ALSO CUT DISCRETIONARY SPENDING BY $30 BILLION. IF THE DEBT LIMIT IS NOT RAISE, THE U.S. WITH DEFAULT ON PAYMENT OBLIGATIONS AS SOON AS JUNE. THE U.S. SUPREME COURT HAS EXTENDED
ACCESS TO A WIDELY USED ABORTION PILL ON TILL FRIDAY. JUSTICES ARE CONSIDERING WHETHER TO ALLOW RESTRICTIONS ON THE DRUG TO TAKE EFFECT. A LOWER COURT IN TEXAS HAS RULED IN FAVOR OF ABORTION OPPONENTS TO ROLL BACK FDA APPROVAL. SECRET RECORDINGS BY A FOX NEWS PRODUCER HELPED PUSH THE NETWORK. THE RECORDINGS MADE BY ABBY GROSS BIRD AND HER TESTIMONY WOULD BE USED AGAINST FOX CHAIRMAN RUPERT MURDOCH AND OTHER WITNESSES. A OXBOW'S PHONE CALLS THE COUNT
OF THE RECORDINGS WIDELY INACCURATE. CHINESE BANKS KEPT THEIR BENCH MIKE DEZ BENCHMARK LENDING RATES IN TECH TODAY AND HELD BACK FROM EASING MONETARY POLICY THIS MONTH AS THE ECONOMY REBOUNDS. CHINA'S FIVE-YEAR RATE ON MORTGAGES REMAINED STEADY AT 4.3%. TESLA WILL CONTINUE TO CUT PRAISE IT TO SPARK DEMAND FOR ITS ELECTRIC VEHICLES. ELON MUSK SAYS HE HAS GOOD
REASON FOR DOING SO. HE SAID TESLA CAN WITHSTAND PRICE CUTS AGAINST RIVALS. INVESTORS ARE NOT SO SURE AND THE SHARES ARE LOWER IN THE PREMARKET. GLOBAL NEWS POWERED BY MORE THAN 2700 JOURNALISTS AND >> I HAVE BEEN TO PROBABLY 50 OF THESE MEETINGS OVER THE YEARS AND I CAN'T RECALL SUCH A DIVISION BETWEEN WHAT THE IMF MIGHT TALK ABOUT AND YOU GO OUT OF THIS BUILDING AND MEET IN PRIVATE GROUPS WITH PRIVATE INVESTORS AND PRIVATE SECTOR PEOPLE AND THEY TALK ABOUT RUSSIA AND CHINA -- U.S.-CHINA AND THE WAR IN EUROPE. THEY DON'T TALK ABOUT THE
ELEPHANT IN THE ROOM, ECONOMIC POLICY OF THE LAST 50 YEARS IS OUT THE DOOR. JONATHAN: HE WAS FANTASTIC AT THE IMF MEETINGS LAST WEEK. THE TAKE AWAY FOR MANY OF US IS WE HAD THESE CONVERSATIONS ON AIR AND AROUND THE BUILDING OF THE IMF. ULTIMATELY, NATIONAL SECURITY CONCERNS TRUMP ECONOMIC POLICY. YOU ARE GETTING SOME OF THAT FROM SECRETARY YELLEN THIS MORNING. YOU WILL HEAR FROM HER A LITTLE BIT LATER TODAY.
THAT WILL BE 10:15 A.M. EASTERN TIME. IT'S A STRAIGHTFORWARD WAY OF SAYING WHAT WE KNOW ALREADY. LISA: THEY SAY THESE NATIONAL SECURITY ISSUES ARE NOT FOR US TO GAIN ADVANTAGE BUT THE BIG QUESTION IS, HOW MUCH IS THIS PRICED INTO THE MARKET AND WHAT IS THE POTENTIAL IMPLICATION FOR BUSINESSES EXPANDING IN CHINA RAPIDLY INCLUDING THE FINANCIAL SECTOR AND BIG TECH AT A TIME WHEN THIS FISSURE WILL WIDEN. JONATHAN: IN THE PREVIOUS ADMINISTRATION, WE GOT A BUNCH OF RHETORIC. A LOT OF RHETORIC HERE BUT WHAT ABOUT THE POLICY, WHAT KIND OF SHIFT ARE YOU EXPECTING OFF OF THIS LANGUAGE? LISA: WE HEARD THE PROPOSALS ON TIKTOK TO POTENTIALLY ELIMINATE SOME OF THE EXPORTS OF CHIP TECHNOLOGY WHICH PERHAPS WAS NOT AS SIGNIFICANT AS SOME PEOPLE THOUGHT BASED ON EARNINGS FROM COMPANIES BUT THERE HAVE BEEN SOME TANGIBLE ACTIONS THAT HAVE PUSHED THE LIKES OF APPLE TO QUIETLY SHIFT AWAY PRODUCTION FROM CHINA. WE DON'T KNOW THE SCOPE OF THIS
BECAUSE NO COMPANY WILL SAY THEY ARE DOING IT UNTIL IT'S DONE. JONATHAN: THEY ARE MAKING THE MOVES FROM BEHIND THE SCENES. LIBBY JOINS US NOW. THANKS FOR BEING WITH US. WHAT KIND OF ACTIONS DO YOU EXPECT FROM THIS ADMINISTRATION OFF OF THE BACK OF COMMENTS LIKE THESE? >> I THINK YOUR EARLIER COMMENTS WERE SPOT ON, THE RHETORIC OF THE PREVIOUS ADMINISTRATION WAS QUITE STRONG AND WE SO THAT SOMEONE FOLLOWED UP BY POLICY BUT THIS ADMINISTRATION, THE RHETORIC HAS BEEN MAYBE SOFTER. THEY REALLY EMPHASIZED STRATEGIC COMPETITION BUT ALSO COOPERATION .
I WOULD ARGUE THAT THE POLICIES HAVE BEEN WORSE FOR THE BIDEN ADMINISTRATION AND MORE PUNITIVE IN MANY WAYS. WE SAW THE EXPORT CONTROLS ON SEMICONDUCTORS AND WE THINK THAT'S THE BEGINNING OF A BROADER PROCESS BUT IMPORTANTLY, THEY SHOULD BEFORE COMING IN THE NEXT FEW WEEKS AND MONTHS BUT BY MIDSUMMER, THERE IS THIS EXECUTIVE ORDER ON CAPITAL OUTFLOWS THAT WILL REAP WIRE AT LEAST DISCLOSURE IF NOT PROHIBITION OF SOME CAPITAL OUTFLOWS FROM THE UNITED STATES TO CHINA IN SPECIFIC SECTORS BUT IT COULD HAVE A SPILLOVER EFFECT IN OTHER MARKETS AND THIS CHILL IN GENERAL IN TERMS OF INVESTMENT FROM THE U.S. TO CHINA. LISA: HOW MANY INVESTORS YOU SPEAK WITH APPRECIATE WHAT THE IMPLICATIONS OF THIS ARE FROM UP PRICING AND DEMAND PERSPECTIVE, FROM RESHAPING THE WAY MARKETS TRAITS? >> A LOT OF OUR CLIENTS REALIZE THE POLITICAL RISK OF INVESTING IN CHINA. MAYBE THE ECONOMIC BENEFIT OF INVESTING IN CHINA IS ALSO NOT AS MUCH CLEAR CUT AS IT WAS SEVERAL YEARS AGO.
WE ARE SORT OF SEEING A RETICENCE ESPECIALLY IN OUR U.S. CLIENTS OF MORE OF IT TILL TOWARD A BIAS. THEY APPRECIATE DIVERSIFICATION AND THEY UNDERSTAND THAT CHINA WILL BE A SOURCE OF GLOBAL GROWTH OVER A SECULAR TIMEFRAME BUT REALIZING THAT SOME OF THESE INVESTMENTS MAY BE FRAUGHT AND TIED UP IN THE POLITICAL RHETORIC BUT ALSO SOME OF THESE POLICIES COMING OUT OF WASHINGTON. LISA: IT'S ONE THING TO AVOID BUYING CHINESE BONDS AND STOCKS BUT IT'S ANOTHER TO QUESTION THE VALUES OF APPLE OR SOME OF THE OTHER TECHNOLOGY GIANTS AT A TIME WHEN SO MUCH OF THEIR BUSINESS RELIES ON CHINA. IS FRANKLY AUTO MANUFACTURERS,
FAST FOOD COMPANIES, SO MANY STANDBYS THAT ARE TIED TO CHINA GROWTH. HOW MUCH HAS THAT APPRECIATED? >> IT'S NOT TO SAY THAT THE DOMESTIC MARKET IN CHINA WILL NOT CONTINUE TO GROW IN SOME OF THOSE COMPANIES ARE CONCERNED ABOUT THE DOMESTIC MARKET BUT BEING A U.S. INVESTOR WHICH IS WHO WE TALKED TO, THEY SORT OF SEE THAT THIS IS MORE FRAUGHT IN TERMS OF ACTUALLY INVESTING U.S. DOLLARS INTO CHINESE COMPANIES. IT'S NOT TO SAY THIS WILL STOP ALTOGETHER BUT WITH THIS ADMINISTRATION, IT'S A CLEAR SIGNAL THAT THEY WILL AT LEAST REQUIRE SOME DISCLOSURE AND SOME OVERSIGHT INTO HOW U.S. DOLLARS ARE BEING ALLOCATED IN CHINA AND WILLED -- AND WILL THEY GO TO SECTORS THAT WILL INCREASE THE MILITARY AND COMPETITIVE MIGHT OF CHINA.
JONATHAN: LET'S TALK ABOUT THE REST OF THE WORLD LOOKING TO THE UNITED STATES. LATER THIS SUMMER WILL BE THE DEBT CEILING. WE'VE HAD TAX DAY AND MANY PEOPLE ARE TRYING TO USE THAT TO UNDERSTAND WHERE THAT FALLS. DO YOU HAVE AN UNDERSTANDING OF WHEN THAT DAY HAPPENS? >> THERE WAS PROMISING DATA THE CAME OUT YESTERDAY IN TERMS OF POTENTIALLY GETTING PAST THIS JUNE 15 TAX FILING DAY. THAT'S BEEN THE OPEN QUESTION. IS THERE ENOUGH CAPACITY FOR
THE TREASURY TO GET BEYOND THIS JUNE 15 DATE, MEANING THEY HAVE MORE EXTRAORDINARY MEASURES TO DEPLOY IN THE NEXT DATE WILL BE END OF JULY OR AUGUST. THERE WAS QUESTION AROUND THAT AND CONCERNED THAT THEY MAY NOT GET PAST THE JUNE 15 DATE. YESTERDAY IN TERMS OF TREASURY DATA IS WE MAY BE ABLE TO GET PAST THAT JUNE 15 DATE. THERE ARE SOME FOLKS IN CONGRESS THAT WOULDN'T MIND THE DATE BEING MORE RIGHT AROUND THE CORNER BECAUSE THEN THAT FOE -- FORCES FOLKS TO COME TO THE TABLE AND SEEK A RESOLUTION. JONATHAN: SPEAKER MCCARTHY SAYS HE HAS A PLAN BUT IS THERE A PLAN OUT THERE THAT IS REALISTIC? >> WELL, HE HAS A PLAN. NOW THERE IS A BILL ACTUALLY SO IT WAS A PLANNED MONDAY WHEN HE WAS IN NEW YORK AND NOW IT'S IN LEGISLATIVE TEXT.
THE REAL OPEN QUESTION IS, CAN HE GET 218 MEMBERS IN THE HOUSE OF REPRESENTATIVES WHICH MEANS HE CAN ONLY LOSE 4 TO GET THROUGH THE HOUSE. THE MARKET SHOULD REALIZE THAT WHATEVER IS PASSED, THE BUILD WILL NOT BE SIGNED INTO LAW. THIS IS DEAD ON ARRIVAL IN THE SENATE BUT IT'S IMPORTANT FOR SPEAKER MCCARTHY BECAUSE IT WOULD INCREASE HIS LEVERAGE WITH THE WHITE HOUSE. ALL HE DOES HIS HAVE LEGISLATIVE TEXT HE DOESN'T NECESSARILY HAVE A BILL THAT'S BEEN ABLE TO PASS THE HOUSE AND THAT'S THE OPEN QUESTION.
IF HE IS ABLE TO PASS THIS, THIS WILL NOT GET SIGNED INTO LAW BUT THEN IT STARTS THESE FORMAL NEGOTIATIONS AND INCREASES HIS POSITIONING AND NEGOTIATING POWER WITH THE PRESIDENT. JONATHAN: YOU ARE ONE OF THE BEST AND IT WAS GREAT TO CATCH UP WITH YOU. IT'S A FRUSTRATING TOPIC FOR SO MANY PEOPLE ON WALL STREET STILL. PEOPLE DON'T WANT TO TALK ABOUT IT YET. LISA: THE IMPLICATIONS COULD BE SIGNIFICANT IF THE U.S.
DOES DEFAULT. THEY USUALLY COME THROUGH WITH A LAST-MINUTE RESOLUTION. PEOPLE WISH THIS WAS SOONER AND NOT HANGING OUT THERE. THIS TIME FEELS MORE FRAUGHT BECAUSE IT WAS MADE AN ACTUAL ELECTION ISSUES DO NOT RAISE THE BUDGET ON THE SIDE OF CERTAIN REPUBLICAN SO THAT MAKES IT MORE DIFFICULT TO PASS.
JONATHAN: IT'S INCREDIBLY FRUSTRATING FOR MANY PEOPLE IN THIS IS SPENDING THEY'VE AGREED TO SPEND AND THERE IS A BATTLE BECAUSE THERE WAS ANOTHER TOPIC WHICH IS DEBT SUSTAINABILITY AND THEY PUT THE TWO ISSUES TOGETHER. LISA: YOU RAISED A GOOD POINT, WHAT DOES THIS DO INTERNATIONALLY AS PEOPLE LOOK TO THE U.S.? WHY DO WE HAVE TO DEAL WITH THIS? JONATHAN: THE U.S. HAS THE LUXURY OF NOT HAVING AN EMERGING MARKET DEBT MARKET SO WE TREAT MARKETS DIFFERENTLY. YOU CAN EGG DIFFERENTLY AS A
POLITICIAN. JONATHAN: LIVE FROM NEW YORK CITY, GOOD MORNING, A TOUGH MORNING SO FAR FOR THE EQUITY MARKET DOWN SO FAR. THE NASDAQ 100 DOWN A LITTLE MORE THAN 1%. TESLA IS NOT DOING SO WELL THIS MORNING OFF THE BACK OF EARNINGS YESTERDAY. MARGINS ARE TAKING A HIT. INVENTORIES ARE CLIMBING A
LITTLE HIGHER AND THEY HAVE PRICE CUTS. THE PUSH SEEMS TO BE TO GO FOR VOLUME OVER PROFITABILITY. LISA: THIS MEANS THEIR PROFIT MARGINS WILL PROBABLY CONTRACT EVEN MORE. WE WILL GET A SERIES OF EARNINGS THIS MORNING FROM BANKS LIKE SMALLER REGIONAL BANKS AND GET A SENSE OF HOW MUCH THEIR MARGINS ARE CONTRACTING. PEOPLE HAVE BEEN WAITING FOR
THIS AND EVERY LEVEL WITH TESLA FRONT AND CENTER. JONATHAN: FIFTH THIRD OUT RIGHT NOW -- $164 MILLION IN THE ESTIMATE WAS $118 MILLION SO THEY ARE LIGHTER THAN EXPECTED IN DEPOSITS. THE NET INTEREST MARGIN COMES IN THAT 3.29% IN THE ESTIMATE WAS 3.32. LISA: I'M ALSO LOOKING AT KEYCORP.
THEY INCREASED THEIR ESTIMATES. TOTAL DEPOSITS CAME IN ABOVE EXPECTATIONS. I THINK THAT IS THE CORRECT WAY OF PHRASING IT, IN LINE. WHAT YOU SEE NO GOES TO THE THEME OF MAY BE SURVIVE, NOT THRIVE, THE QUESTION OF MARGIN CAN RUSSIAN AND THE ASHEN OF HOW MUCH THEY HAVE TO PAY TO KEEP DEPOSITS AND HOW MUCH THEY HAVE TO PULL BACK ON THEIR LOANS AT A TIME WHEN THEY REALLY ARE COMPRESSED. JONATHAN: IT'S GOOD NEWS BECAUSE THERE IS NO TERRIBLE NEWS. THERE IS NO SHOCKER WHERE YOU WONDER IF THEY CAN GET THROUGH THIS. LISA:
I DON'T KNOW IF I CAN EVEN CALL IT GOOD NEWS. YOU CAN SEE A REAL MOTLEY PERFORMANCE OF THE SHARES AFTER THESE RESULTS. I GO BACK TO ZIONS AND THAT WAS ONE OF THE PROBLEM CHILDREN AND THOSE SHARES LOST A TON OF VALUE, ALMOST 30% YEAR TO DATE. THEY MISSED ON DEPOSIT SO I DON'T KNOW. IT REMAINS TO BE SEEN HOW MUCH. PEOPLE NEED TO REASSESS THE HOLLIS TAKE ASPECT OF THESE EARNINGS. JONATHAN:
TOTAL AVERAGE DEPOSITS , AVERAGE DEPOSITS WERE FLAT COMPARED TO THE FOURTH QUARTER AT FIFTH THIRD. AVERAGE TOTAL DEPOSITS FLAT COMPARED TO THE FOURTH QUARTER WHICH IS NOT TERRIBLE NEWS FOR SOME OF THESE GUYS. BEAR IN MIND THE POST SVB WORLD STARTED MARCH 15. WE WILL COME BACK TO THESE EARNINGS IN A MOMENT BUT LET'S TOUCH BASE WITH THE BOND MARKET. YIELDS HAVE BEEN BACKING OVER FOR THE LAST COUPLE OF WEEKS AND YIELDS ARE COMING IN BY FIVE BASIS POINTS ON THE TWO YEAR. YIELDS ARE DOWN ABOUT FOUR
BASIS ON THE 10 YEAR AT 300-5527. A NEW INTRADAY HIGH FOR EURO -DOLLAR. WE'VE GONE THROUGH A SLEW OF FED SPEAK TODAY SO LET'S DO IT AGAIN. JOHN WILLIAMS OF THE NEW YORK FED WILL SPEAK ON THE BANKING STRESSED SAYING THIS -- WELLS FARGO JOINS US NOW. HAVE WE GOT THE ALL CLEAR TO HIKE AGAIN IN EARLY MAY? >> I THINK THE FED IS COMFORTABLE TO HIKE AGAIN. IT'S MORE IN TERMS OF THE GUIDANCE.
WE THOUGHT POWELL WAS CONCERNED IN TERMS OF HIS RHETORIC AFTER THE LAST MEETING AND NOW THAT THINGS HAVE COOLED DOWN A LITTLE BIT ON THE BANKING FRONT, WE THINK THE FED CAN CONTINUE TO HIKE BUT -- BUT I THINK THERE IS LINGERING CONCERN OVER CREDIT TIGHTENING. THERE IS SOFTNESS THAT WE'VE SEEN AND I THINK THE FED WILL BE MORE FORWARD-LOOKING IN TERMS OF THEIR OUTLOOK ON INFLATION. I THINK THEY WILL BE CAUTIOUS BUT NOT NECESSARILY SIGNALING AN END TO THIS TIGHTENING CYCLE. THEY WILL STILL DANGLE THAT FRONT OF THE MARKET BUT IT SEEMS THE FED IS PRETTY MUCH DONE FROM OUR PERSPECTIVE. LISA: WHAT IS THE MESSAGE WE HAVE GOT FROM THE REGIONAL BANKS? WE'VE HEARD FROM A NUMBER OF FED MEMBERS CONCERNED ABOUT CREDIT TIGHTENING. HAS THAT BEEN CONFIRMED FROM WHAT WE'VE SEEN SO FAR FROM THE REGIONALS? >> IT'S TOUGH TO SAY.
WE HAD THE BEIGE BOOK YESTERDAY AS WELL. SOME OF THE COMMENTS FROM SOME OF THE REGIONS ABOUT DECLINES OR OUT LIGHT WEAKNESS IN LENDING ACTIVITY BUT WE SAW THIS PRIOR TO THE BANKING CRISIS IN CREDIT CONDITIONS WERE GETTING TIGHTER SO IT'S NOT NECESSARILY DOES NOT NECESSARILY TERRIBLY SURPRISING. IF THE FED LOOKS AT THE HOLISTIC PICTURE HERE, YOU ADD IN THE AMOUNT OF TIGHTENING THAT'S BEEN DONE AND SOME OF THE WEAKNESS WHETHER IT'S CONSTRUCTION OR MANUFACTURING JOBS, IT SEEMS AS THOUGH THE FED IS RIGHT TO BE GETTING CLOSE TO A PAUSE. LISA: ONE OF THE BIG DEBATES IS CUTS AGAINST PAUSING.
WE ARE STILL PRICING IN ALMOST 0.6% OF RATE CUTS BY THE END OF THIS YEAR. IS THAT AN ACCURATE READ ON A SITUATION THAT SPELLS WEAKNESS BUT NOT THE DISINFLATIONARY PUSH THE FED WANTS? >> IT I THINK IT LOOKED A LITTLE BIT MORE OFFSIDES TWO OR THREE WEEKS AGO WHEN WE WERE LOOKING AT THE FORWARD RATE DOWN AROUND 3% AT THE BEGINNING OF NEXT YEAR. IT'S HARD TO JUSTIFY THAT WITHOUT EARLY WE ARE IN THE LABOR MARKET AND THE BROADER CYCLE. I THINK IT WILL TAKE MORE SIGNIFICANT DETERIORATION TO VINDICATE THAT KIND OF CUT PRICING. NOW THAT WE'VE SEEN SOME OF THE CUTS PRICED IN, WE STILL EXPECT A CUT BEFORE THE END OF THIS YEAR WHICH IS BELOW CONSENSUS. THE MARKET IS CLOSE TO FAIR
WITH WHERE THEY ARE PRICING THIS. JONATHAN: WE WENT THROUGH FIFTH THIRD ABOUT FIVE MINUTES AGO. LET'S TALK ABOUT COMERICA RIGHT NOW. THE PROVISION FOR CREDIT LOSSES WAS $30 MILLION. THE NET INTEREST MARGIN WAS 3.57% IN THE ESTIMATE IS 3.75. NET INTEREST INCOME CAME AND LESS. LISA:
HOW MUCH IS THE NET INTEREST MARGIN AND EXPRESSION OF HOW MUCH THEY HAVE TO PAY FOR DEPOSITS VERSUS WHAT THEY ARE EARNING ON THE LOANS? IS THAT THE SIGN THAT THEIR PROFIT MARGINS ARE BEING SQUEEZED IN A MEANINGFUL WAY? JONATHAN: THE DIFFERENCE BETWEEN SURVIVING AND NOT THRIVING IN THE BANKS HAVE DONE TERRIBLY OVER THE LAST WE'RE -- OVER THE LAST YEAR. IT'S BEEN ABOUT STRESS ON THE FINANCIAL SYSTEM IN THE LAST MONTH OR SO. OVER THE LAST WEEK, WE FOUND THE SHIFT THROUGH TRADITIONAL INDICATORS. OVER THE LAST 12 MONTHS, THIS SEEMS TO BE A BIAS WITH INFLATION DATA, YOU GAZE FROM THAT HOW FAST CENTRAL BANKS NEED TO GO AND YOU SAY THIS CURRENCY WILL BE STRONG AND THAT ONE WILL BE WEAKER.
IT IS HIGH INFLATION STILL GOOD FOR GTECH CURRENCIES? >> IT'S BECOMING MORE TRICKY. INITIALLY, STERLING STRENGTHENED ON THE BACK OF THE REPORT YESTERDAY BUT HAS SINCE COME OFF AND WE ARE LITTLE FLAT OVER THE PAST DAY SO THE BANK OF ENGLAND WILL NOT RESPOND IF THEY SAY WE'RE LOOKING AT FORWARD-LOOKING DATA. MAYBE PRIVATE DATA WAGES WILL BE ROLLING OVER.
THEY WILL LOOK FOR SOME OF THE HIGH SPOT INFLATION AND IT'S HARD TO SEE HOW HIGH AND STRONGER THAN EXPECTED INFLATION COULD BE GOOD FOR G10 CURRENCIES. THAT TRADITIONAL RELATIONSHIP MAY BECOME MORE UNRELIABLE GOING FORWARD. JONATHAN: WHAT IS THE BIG FX CALL FOR YOU AND THE TEAM? >> THE YEN LOOKS MOST ATTRACTIVE FOR ME. YOU LOOK AT WHERE CENTRAL BANKS ARE NOW AND WHERE THEY WERE A MONTH OR TWO AGO AND WE ARE TALKING ABOUT 6% TERMINAL RATE AND THE ECB MAY HAVE GOTTEN ABOVE 4% ON THE TERMINAL RAPE OF THE CENTRAL BANKS ARE MORE CAUTIOUS. WE ARE LOOKING AT DOLLAR-YEN
AROUND WHERE IT WAS PRIOR TO THE CRISIS. PEOPLE ARE CONCERNED ABOUT THE ECONOMIC CYCLE TURNING IN CENTRAL BANKS BECOMING MORE ACCOMMODATIVE OF INFLATION. THE YEN LOOKS LIKE IT HAS THE MOST AGAIN HERE OVER THE NEXT FEW MONTHS. JONATHAN: WE'VE BEEN CONCERNED ABOUT THE ECONOMIC CYCLE TURNING FOR THE LAST FEW MONTHS. THE EQUITY MARKET THIS MORNING IS DOWN ABOUT ZERO POINT 7% ON THE S&P 500 WITH TESLA HAVING A STRUGGLE AFTER EARNINGS YESTERDAY AFTER THE CLOSE AND THE FOCUS THIS MORNING IS ON THE REGIONAL BANKS STORY. THE SMALLER BANKS ARE REPORTING
THIS MORNING. LISA: WE ARE GETTING DIFFERENT REPORTS IN LINE WITH EXPECTATIONS BUT THE PROFIT MARGIN WE TALKED ABOUT, THE NET INTEREST MARGIN COMING IN LATER THAN EXPECTED AT FIFTH THIRD AND COMERICA. HOW MUCH DOES THAT SPEAK TO THE STORY THAT WE WILL SEE PRESSURE ON THE LOANS THEY ARE WILLING TO EXTEND? WE WILL GET A REPORT ON INDUSTRIALS AND UTILITIES INTO NEXT WEEK. WE GOT AT&T ANY QUESTIONS WHAT IS SAFE, WHAT IS A CONSERVATIVE STOCK TO INVEST IN? THIS STOCK IS DOWN SIGNIFICANTLY IN PREMARKET TRADING. HOW MUCH ON THE MARGINS DO YOU START TO GET MISSES WHEN EXPECTATIONS HAVE BEEN LOWERED THAT THESE MI HAVE SIGNIFICANCESS FOR MARKET EXPECTATIONS? ES JONATHAN: IS TECH STILL DEFENSIVE? THE FOCUS WILL SHIFT TO TECH OVER THE NEXT MONTH. WE ARE GOING TO CATCH UP WITH RJ GALLO AND THAT IS COMING UP IN THE NEXT HOUR.
THE FED RESIDENTS WILL BE SPEAKING TODAY. IT'S KIND OF RIDICULOUS. LISA: I FEEL RECENTLY THE FED SPEAK HAS TAKEN ON LESS IMPORTANT BECAUSE THEY SAY WE DON'T KNOW. JONATHAN: THEY GENUINELY DON'T. LISA: WE ARE ALL WATCHING THE SAME DATA AND PEOPLE ARE COMING TO DIFFERENT CONCLUSIONS. MY TAKE AWAY FROM THE REGIONAL BANKS AND FORGIVE ME IF I OVERSTEPPED BUT IT'S CLEAR, THEY ARE LOSING DEPOSITS AND THEY ARE BEING MORE CAUTIOUS WITH LENDING. THAT IS THE TAKE AWAY AND
THAT'S WHAT PEOPLE WERE EXPECTING. JONATHAN: THAT'S LARGELY THE CONSENSUS VIEW AT THE MOMENT WITH BANKS STILL STABILIZING AND THAT GIVES YOU SOME CONFIDENCE RELATIVE TO THE DOOM AND GLOOM A MONTH AGO BUT THE FED IS LOOKING AT THE SITUATION AND SUGGESTING THEY EXPECT SOME TIGHTENING OF FINANCIAL CONDITIONS AND CREDIT STANDARDS. THEY HAVE TO CALIBRATE POLICY AND WE STILL DON'T KNOW TO WHAT EXTENT THE SHOCK OF THE LAST MONTH WILL DO SOME OF THE WORK FOR THEM. LISA: AND WE WILL NOT GET IT FROM THE 20 FIVE FED SPEAKERS TODAY. JONATHAN: WE WILL GET IT FROM THE DATA OF THE NEXT FEW MONTHS. THREE QUARTERS OF 1% LOWER ON THE S&P 500, THIS IS BLOOMBERG.
LISA: KEEPING YOU UP-TO-DATE WITH NEWS FROM AROUND THE WORLD WITH THE FIRST WORD. HOUSE SPEAKER KEVIN MCCARTHY'S PLAN TO INCREASE THE DEBT CEILING BY $1.5 TRILLION HAS BEEN REJECTED BY DEMOCRATS. IT WOULD HAVE BEEN ENOUGH TO STAVE OFF THE U.S. PAYMENTS DEFAULT UNTIL MARCH OF 2024 AND THE PROPOSAL WOULD RAISE THE U.S. DEBT LIMIT FOR ABOUT A YEAR AND CUT SPENDING BY $130 BILLION. IT ALSO ENDS TAX BREAKS FOR GREEN POWER.
THE NEW RULES FOR CRYPTOCURRENCY WILL COME INTO EFFECT OVER THE NEXT TWO YEARS IN EUROPE. THEY ARE WELCOMED BY CRYPTO EXECUTIVES WHO LIKE THE EU APPROACH BETTER THAN THE U.S. TACTIC OF ENFORCEMENT ACTIONS AND CRITICS SAY THE RULES ARE OUTDATED BEFORE THEY TAKE PLACE. SPACE X HOPES TO LAUNCH ITS NEXT GENERATION STARSHIP ROCKET TODAY. THE PROBLEM WITH PRESSURIZATION RESULTED IN LAST WEEK'S PLANNED LAUNCH BEING SCRUBBED. THE TEST FLIGHT IS SEEN AS A KEY TO SPENDING HUMANS TO THE MOON AND MARS. THE FIGHT BETWEEN HSBC AND ITS
BIGGEST SHAREHOLDER IS HEATING UP BEFORE THE ANNUAL MEETING NEXT MONTH. THEY WANT THE BANK TO SIGN OFF ON THE IDES LUCRATIVE BUSINESS. HSBC SAID THEY MISUNDERSTAND THE BANK AND WOULD DESTROY SHARE VALUE AND MEAN LOWER DIVIDENDS. ANOTHER SIGN THE SLUMP IN THE COMPUTER CHIPS IS NOT GOING AWAY , TAIWAN SEMICONDUCTOR FORECASTS WERE SENTENCED -- THEN EXPECT TO REVENUE AND THEY WARNED THE DEMAND FOR THE INDUSTRY WOULD REMAIN SOFT FOR NOW. GLOBAL NEWS POWERED BY MORE THAN 2700 JOURNALISTS AND ANALYSTS IN OVER 120 COUNTRIES, >> I WOULD IMAGINE THE BANKS WILL STILL BE WEEK. YOU'VE ONLY SEEN THE FIRST HIT, THE FIRST STRESSES COME THROUGH OVER THE LAST QUARTER SO WE ARE NOT FORECASTING A RECESSION BUT WE BELIEVE U.S. GROWTH WILL NOT BE FAR OFF FROM
ZERO FOR THE NEXT SEQUENTIAL QUARTERS AND THAT WILL HIT THE U.S. REGIONAL BANKS. JONATHAN: SHARON BELL OF GOLDMAN SACHS LOOKING FOR WEAKNESS. IT IS THE LATEST ON COMERICA. THEY SEE THE SECOND INTEREST NET QUARTER INCOME DOWN TO 13 VERSUS THE FIRST QUARTER. THIS IS THEIR OUTLOOK, THEY SEE SECOND-QUARTER NET INTEREST INCOME AND ARRANGE DOWN 11% TO 13% VERSUS THE FIRST QUARTER. THEY SEE 2023 INTEREST UP 6-7% VERSUS 2022.
STILL LOOKING FOR A POSITIVE GROWTH FOR THIS YEAR BUT YEAR TO DATE, THAT STOCK IS HAD SOME TROUBLE. THEY ARE DOWN ABOUT 29 PERCENT. LISA: DOES THIS FACTOR IN RATE EXPECTATIONS? NORMALLY PEOPLE DON'T PAY ATTENTION TO THE REGIONAL BANKS. WILL THEY SEE THE FACT THAT AVERAGE DEPOSITS CAME DOWN FOUR-6% VERSUS THE FOURTH QUARTER? HOW MUCH WILL THEY HAVE TO PAY FOR THOSE DEPOSITS? THAT'S UNKNOWN. JONATHAN: WE WILL COME BACK TO THE BANKS IN A MOMENT BUT LET'S TALK TO A BIG NAME IN THE BROADER EQUITY MARKET, TESLA. IT'S A BIT SOFTER AND HAS HAD A GREAT YEAR TO DATE WITH THE STOCK DOING WELL BUT IT'S DOWN TODAY BY ALMOST 7%. THE MARGINS TOOK A HIT OFF THE
PRICE CUTS AND IT LOOKS LIKE WE MIGHT SEE MORE OF THE SAME FROM THEM. WE WILL TALK ABOUT THEM LATER TODAY DAY BUT WITH NO ROSE-COLORED GLASSES, MARGINS ARE NOW A DELICATE ISSUE KEEPING TESLA INVESTORS UP AT NIGHT. THAT'S FROM ONE OF THE MOST BULLISH ANALYSTS OUT THERE. LISA: THEIR MARGINS WERE INCREDIBLE AND IT'S BEEN CLEAR THAT ELON MUSK IS NOT WILLING TO DEMAND THAT KIND OF PREMIUM IN ORDER TO GET THAT PROFIT MARGIN. SUDDENLY, WHAT ARE THEY SEEKING? IF THEY CONTINUE TO CUT PRICING, HOW MUCH TO PEOPLE WHO BOUGHT CARS AT THE ORIGINAL PRICE FEEL CHEATED BECAUSE THEY COULD HAVE BOUGHT IT AT A LOWER PRICE AND ITS LOST VALUE? JONATHAN: YOU JUST WAIT A MONTH. LISA: EXCEPT IT'S ONLY TESLA. JONATHAN: THE STOCK IS DOWN BY ALMOST 7% AND THE BROADER EQUITY MARKETS ARE DOWN 0.7% AND EQUITY
FUTURES ARE LITTLE SOFTER THIS MORNING. NOT SHOWING MUCH SIGN OF RECOVERING. THE BROADER STORY IN THE BOND MARKET IS YIELDS ARE LOWER BY FIVE BASIS POINTS. THE DOLLAR IS NOT SHOWING
STRENGTHEN THE EURO IS SHOWING A LITTLE BIT. LET'S GET BACK TO THE REGIONAL BANKING STORY WITH TONS OF BANKS REPORTING TODAY. TALK TO ME TODAY ABOUT WHAT YOU ARE LOOKING FOR AND WHAT YOU WILL BE FOCUSED ON? >> WE WILL BE FOCUSED ON COMMENTARY GOING FORWARD ON DEPOSITS AND THE PACE OF DEPOSIT ATTRITION.
YOU SEEN SOME BANKS GENERALLY LOSE DEPOSITS IN THE FIRST QUARTER GIVEN THE FACT THAT THERE'S BEEN ONGOING UNCERTAINTY AND THE FACT THAT INTEREST RATES ARE HIGHER. THERE ARE LOTS OF ALTERNATIVES FOR THE DEPOSITS TO EXIT THE BANKS. WE ARE ALSO LOOKING AT THE PACE OF DEPOSIT COSTS. THAT BUILDS CONTRACTION AT THE NET INTEREST MARGINS AND OVERALL PROFITABILITY. LISA:
HOW DO YOU CHARACTERIZE WHAT WE'VE GOTTEN SO FAR WHICH IS NOT BEEN CATASTROPHIC BUT NOT GREAT? >> THINGS ARE JUST MUDDLING THROUGH. THE CONTAGION RISK THAT HAPPEN FOLLOWING THE SVB AND SIGNATURE FAILURES HAS NOT AFFECTED THE OVERALL REGIONAL BANKING INDUSTRY. LIQUIDITY AND FUNDING ALL LOOK FAIRLY STABLE FROM A BALANCE SHEETS STANDPOINT. THIS JUST AN EARNINGS ISSUE GOING FORWARD. HOW MUCH ARE REVENUES GOING TO CONTRACT AND HOW MUCH ARE NET MARGINS GOING TO FALL GIVEN THE FACT THAT THE PAUSES AND FUNDING CUTS ARE RIGHT? LISA: IF YOU HAD A CONVERSATION WITH JOHN WILLIAMS OF THE FED OR AUSTIN GOOLSBY, WHAT WOULD YOU TELL THEM IN TERMS OF HOW QUICKLY CREDIT IS CONTRACTING FROM ONE OF THE MAIN EXPENDITURES OF CREDIT TO MAIN STREET IN THE UNITED STATES? >> THAT'S THE ISSUE BECAUSE IF DEPOSITS ARE GOING TO THE MONEY CENTRIC BANKS, THEY ARE NOT FUNDING THE LOANS IN THE LOCAL COMMUNITY.
THE REGIONAL BANKS DEAL WITH THAT ON A DAY-TO-DAY BASIS SO THAT WILL BE THE PRIMARY ISSUE. WE'VE SEEN SOME BANKS TALK ABOUT THE FACT THAT DEMAND HAS SO OFTEN AND CAPEX SPENDING DECLINED. WE'VE SEEN BANKS ALSO TALK ABOUT THE SUPPLY OF LENDING HAS FALLEN A BIT BECAUSE THEY ARE WORRIED ABOUT WHAT THE FUTURE HOLDS AND POSSIBLE RECESSION AROUND THE CORNER. JONATHAN: THERE SEEMS TO BE NO TURNING
BACK NOW. THE PROFITABILITY OF THE REGIONAL BANKS, THE SMALLER BANKS COULD BE HINDERED PERMANENTLY, DO YOU SEE IT THAT WAY? ARE WE ON A ONE-WAY ROAD TOWARD LOWER MARGINS? >> YOU CAN EXPECT MARGINS TO COME DOWN IN THE CYCLE WHERE THE BENEFITS OF INTEREST RATES RISING HAS ALREADY HAPPENED AND BENEFITED THE BANKS LAST YEAR. THIS YEAR, YOU WILL SEE A BIT OF DISH A BIT OF A GIVEBACK IN THOSE MARGINS GIVEN THE FACT THAT DEPOSIT RATES ARE RISING. FROM A PROFITABILITY STANDPOINT, THERE ARE HEADWINDS BECAUSE YOU WILL SEE HIGHER EXPENSES FROM THE BANKS HAVING TO REPLENISH THE DEPOSIT INSURANCE FUND SO THAT WILL BE A MARGINAL COST FOR THEM AND THERE WILL BE MORE REGULATION. THAT WILL HURT PROFITABILITY AND RETURNS. THEY ARE GOING TO HAVE TO MANAGE THEIR BALANCE SHEET MAYBE A LITTLE DIFFERENTLY THAN THEY DID BEFORE WITH HIGHER CAPITAL LEVELS AND HIGHER DEBT LEVELS.
THAT MEANS THAT PROFITABILITY PROBABLY COMES DOWN. JONATHAN: TO WHAT DEGREE DOES THAT APPLY TO THE MAJOR BANKS? >> THE MAJOR BANKS ALREADY HAD TO DEAL WITH THESE CAPITAL ISSUES. THEY ARE THE GOLD STANDARD IN TERMS OF CAPITAL REQUIREMENTS. THEY ARE ALREADY THERE IN THE REGIONAL BANKS WILL HAVE TO CATCH UP A LITTLE BIT.
IT WILL BE A MORE ONEROUS REGULATORY REGIME GOING FORWARD. LISA: YOU HAVE A METHODICAL WAY OF GOING THROUGH IT WHICH GOES AGAINST SOME OF THE CATASTROPHIC TONES WE HEAR WITH SOME PEOPLE SAME REGIONAL BANKS WILL NEVER SURVIVE IN THIS IS A NEW S&L CRISIS. DO YOU -- HOW DO YOU PUSH BACK? >> I WOULD SATE THE ISSUES SURROUNDING THE REGIONAL BANKS IS IDIOSYNCRATIC RELATED TO A COUPLE OF BAD ACTORS LIKE SVB AND SIGNATURE. THEY DIDN'T APPRECIATE THE RISK THEY PUT ONTO THE BALANCE SHEET. THE OTHER REGIONAL BANKS WE
COVER DON'T MANAGE THE BALANCE SHEET LIKE THAT AND ARE MORE CONSERVATIVE. THAT SHOULD HELP THEM BRIDGE THE GAP BETWEEN THE UNCERTAINTY AND A MORE NORMALIZED PATTERN OF OPERATION. THAT'S WHAT WE EXPECT AND THAT'S WHAT OUR VIEW WAS GOING INTO THE CRISIS WITH SVB FAILING IN THE FIRST QUARTER RESULTS CONFIRMED THAT LENDING TREE IS SAFE AND ON FIRM FOOTING SO IT'S MORE OF AN EARNINGS ISSUE. JONATHAN: BRUTAL YEAR TO DATE LOOKING AT THESE NAMES ON THE SCREEN. THANK YOU FOR BEING WITH US TODAY. YOU WILL HEAR MORE FROM THE BANKS LATER.
THEY ARE LOOKING FOR 25 BASIS POINTS THE FED IN MAY, GO AGAIN IN JUNE AND JULY. THEY HAVE NOT BACKED AWAY FROM THAT. LISA: I RESPECT THAT ESPECIALLY GIVEN THE FLUCTUATIONS. IT'S IMPORTANT TO DELINEATE BETWEEN THE BANKING CRISIS IN THE DOMINO EFFECT OF ONE FAILED BANK AND SOMETHING THAT IS A SLOWER GRIND OF TIGHTER CREDIT? AT A CERTAIN POINT, THE NET CHARGE OF RATES FOR PEOPLE WHO HAVE SOUR CREDIT START TO HURT THE BOTTOM LINE. WE HAVEN'T SEEN THE CAPITULATION. WE HAVEN'T SEEN THE EQUITY MARKET BEARS BACK AWAY.
THEY HAVEN'T CHANGE THEIR VIEW MUCH LIKE CITIBANK. HAVE THE EARNINGS CONFIRMED WHAT THEY'RE LOOKING FOR BUT THE PRICES HAVE NOT? JONATHAN: WE WILL GET THE LATEST FROM JULIAN EMMANUELLE OVER AT EVERCORE COMING UP. EQUITY FUTURES ARE DOWN ABOUT 0.7%.
>> PEOPLE ARE STARTING TO HAVE A FEAR OF MISSING OUT. >> THIS IS A STORY OF WHO CAN MAINTAIN PROFIT MARGINS IN A DECLINING, NOMINAL INFLATION ENVIRONMENT. >> THE ENTIRE BANKING SYSTEM WILL SEE THEIR DEPOSITS STREET -- SHRINK. >> WHAT GOT US INTO THIS ISSUE TO BEGIN WITH WAS HIGHER RATES.
THE LONGER YOU KEEP THEM THERE, THEY WILL EXPOSE OTHER FRAGILITY'S. ANNOUNCER: THIS IS BLOOMBERG SURVEILLANCE WITH TOM KEAN, JONATHAN FARROW AND LISA ABRAMOWITZ. JONATHAN COGAN MORNING. THIS IS BLOOMBERG SURVEILLANCE
ALONGSIDE LISA ABRAMOWITZ. I AM JONATHAN FARROW -- FERRO. S&P 500 -0.6%. LOTS OF BANK EARNINGS THIS MORNING. WE WILL GO THROUGH THE TIMES, DATA AND EVERYTHING YOU NEED TO KNOW. SO FAR, THE FINANCIAL IS A
THEME. DEPOSITS, THINGS MAY BE STABILIZING. WE HAVE SEEN THAT CONSISTENTLY OVER THE LAST SEVERAL DAYS. WHEN IT GOES TO PROFITABILITY, IT SEEMS TO BE A DISAPPOINTMENT. LISA A: THE NET INTEREST MARSH -- MARGIN IS A MISS, MISS, MISS. THEY ARE SAYING THEIR NET INTEREST MARGIN WAS 3.17%. THE ESTIMATE WAS 3.27%.
NOT CATASTROPHIC BUT YOU ARE SEEING THEM HAVE TO PAY OF FOUR DEPOSITS AND IT IS NOT BEING OFFSET BY HOW MUCH THEY CAN CHARGE. JONATHAN: IS THERE A BROADER MACROECONOMIC SIGNAL ABOUT WHERE THIS IS GOING IN THE FUTURE? UNDERSTAND TO SOME EXTENT WITH SOME DEGREE OF CLARITY THE STOCK OF THE LAST MONTH. WE UNDERSTAND THE PROCESS A LOT OF PEOPLE THINK I STARTED? LISA A: WE DO NOT UNDERSTAND THE DEPTH OR HOW MUCH THAT WILL ACCELERATE RECESSION. WE DO NOT KNOW HOW MUCH IT WILL BRING INFLATION LOWER. FED OFFICIALS AND ECONOMIST HE
NOT UNDERSTAND IT. IT WILL HAVE A MATERIAL IMPACT. THERE ARE SO MANY UNKNOWNS IN THE MEANTIME ABOUT THE THINGS IN WHAT IS GOING ON AT A MACRO ECONOMIC STANDPOINT. JONATHAN: LATER TODAY, IS EVERYTHING GOING TO BE SOLVED? LISA A: I THINK YOU SHOULD BE A STORY -- TO A STORY ABOUT THIS. I DO NOT THINK THEY WILL BE ABLE TO TELL US ANYTHING BECAUSE THEY DO NOT KNOW MORE THAN WE DO.
I THINK THE TAKE AWAY SO FAR FROM SOME SMALLER BANKS IS YES, THERE HAS BEEN A LOTS OF BAD NEWS PRICED IN BUT PERHAPS IT WAS RIGHTLY SO AND PERHAPS WE FACE MORE PAIN AHEAD. PEOPLE ARE GOING TO BE TALKING ABOUT CONSOLIDATION AND THE PEOPLE WHO ARE GOING TO BE LEFT UNBAKED OR UNCREDITED WHO WILL NOT BE ABLE TO ACCESS CREDIT IN THE SAME WAY AT A TIME WHEN THERE IS A HIGHER PREMIUM ON GETTING YOUR MONEY BACK. JONATHAN: KEYCORP DOWN A LITTLE OVER 2%. COMERICA DOWN OVER TWO POINT 7%. FIFTH THIRD.
-- FIFTH THIRD IS STRUGGLING. TESLA HAVING A DIFFICULT MORNING. WE WILL MENTION THAT REPEATEDLY THIS MORNING.
YIELDS COME IN AROUND FOUR BASIS POINTS, DEFENSIVE ACROSS THE BOARD. THE 10 YEAR YIELD IS 3.55. LISA A: WE ARE EXPECTING THE ROLE OF EARNINGS TO CONTINUE THROUGHOUT THE DAY. HUNTINGTON BANK SHARES TO CONTINUE THIS MORNING.
HOW MUCH ARE WE GOING TO SEE THIS THEME PROCESS AFTER ALREADY SO MUCH PAIN HAS BEEN PRICED IN? IF YOU TAKE A LOOK INTO THE PERFORMANCE, DRAMATIC UNDERPERFORMANCE. KEYCORP DOWN ALMOST ONE THIRD ON THE YEAR. TRYST DOWN ALMOST 20%. NOW, BUILDING ON THOSE LOSSES AS THERE IS A CLEAR CONCERN ABOUT THE PROFITABILITY IN THE FACE OF HIGHER DEPOSIT RATES.
2:15 AM, JANET YELLEN IS GIVING A SPEECH ON U.S. ECONOMIC RELATIONS. YOU POINTED EARLIER THIS MORNING TO QUOTES FROM HER AHEAD OF THE SPEECH TALKING ABOUT HOW NATIONAL SECURITY IS NUMBER ONE AND THIS SUPERSEDES ECONOMIC INTERESTS. A CHANGE IN TONE OR AN UNDERSCORE NEW BLOOD EVERYONE HAS BEEN TALKING ABOUT BEHIND-THE-SCENES. JONATHAN: IT IS THE LATTER, THE UNDERSCORING OF WHAT WE KNOW. HE SAID TO ANNE-MARIE YESTERDAY WHEN WE WERE DISCUSSING THIS SPEECH WHICH HAPPENS LATER THIS MORNING AT 10:15 EASTERN TIME, WHEN THE ECONOMIST START TO SOUND THE GAY POLITICIAN, USED ON THIS QUOTE, THE ECONOMISTS ARE GOING TO SOUND LIKE A POLITICIAN -- START TO SOUND LIKE A POLITICIAN. LISA A:
THE IMF WHO ARE SUPPOSED TO BE THE ECONOMISTS ARE NOT ADDRESSING THE POLITICAL OVERHANG. YOU CANNOT IGNORE THE GEOPOLITICS WHEN YOU TRY TO GAME OUT THE ECONOMIC IMPLICATIONS. THAT IS A DIFFERENT WIRE TO WALK. THIS IS WHAT WE ARE GOING TO HEAR FROM JANET YELLEN WHO WILL BE ACCUSED OF POLITICS.
JONATHAN: CAN WE IGNORE THIS? THE FED SPEAK? LISA A: I WANT YOU TO DO THAT AGAIN. COME ON. JONATHAN: WALLER, BULLARD, MASTER. [LAUGHTER] HE IS SHAKING HIS HEAD FROM ALL OF THIS.
WHAT DO YOU MAKE OF THIS BEFORE THE CHOIR PERIOD? >> YOUR ABILITY TO DO TONGUE TWISTERS IS PHENOMENAL. JONATHAN: I WAS AN MC, A DJ BACK IN THE DAY. [LAUGHTER] I WAS NOT. >> LOOKING AT THIS AND THE SET OF GIVING THE EARNINGS -- AND THE SET UP THE EARNINGS, LET US RECALL THE LAST TIME SECRETARY YELLEN SPOKE ALONGSIDE THE FED WHICH WAS JAY POWELL. WE HAD AN ENORMOUS AMOUNT OF VOLATILITY. THE FACT THAT WE ARE IN ALL LIKELIHOOD GOING TO GET TWO CONFLICTING MESSAGES, A BUNCH OF SAID SPEAK HITTING TOWARDS ONE AND DONE WHICH IS OUR VIEW, AS OPPOSED TO THE ECONOMY IS NOW TAKING A SECOND SPOT TO POLITICAL RELATIONS COMING FROM THE TREASURY SECRETARY. THERE IS A LOT OF CONFUSION.
SOMETHING TO ONE AND DONE AND THEN PAUSE. SOME SEE THE PAUSE AS BULLISH BUT OTHERS DO NOT. I MAY INCLUDE YOU IN THAT. 23'S'S IS LIKELY TO SEE A RECESSION VOLATILITY SPIKE BEFORE THE INEVITABLE MARK AGAIN.
CARRIE PUT NUMBERS ON THAT? >> IF YOU LOOK AT IT, THE HISTORY OF PAUSES TENDS TO BE ON A 12 MONTH BASIS QUITE POSITIVE. WE EXPECT THAT. BUT THE PROBLEM IS YOU STILL HAVE TO GET THROUGH THE RECESSION. WE HAVE ALL BEEN WAITING FOR THE RECESSION FOR A YEAR NOW. THERE WERE TWO BACK-TO-BACK NEGATIVE GDP QUARTERS TO START 2022 SO THE WATCH IS ON. ULTIMATELY, PART OF THE CALCULUS AS WE HAVE HAD SO MUCH MORE TIGHTENING SINCE THAT TIME, IT DOES NOT TAKE AWAY THE CONCEPT OF RECESSION. THE WASH POT IS GOING TO BOIL. WHEN WE LOOK AT THE LAST MONTH, WHAT IS CLEAR IS THE REASON THE MARKET TRADED POSITIVELY INTO THE TROUGH OF THE BANKING TURMOIL BACK IN MARCH IS BECAUSE IT BEGAN DISCOUNTING THE PAUSE PREMATURELY. IT IS IN THE PRICE NOW SO IT IS
NOT NECESSARILY A BULLISH OUTCOME. IT HAS BEEN OUR EXPECTATION AS YOU KNOW AND THIS IS A FRUSTRATING ARCADE FOR BOTH BULLS AND BEARS. IT HAS BEEN OUR EXPECTATION THAT AT SOME POINT AHEAD OF US, ONE OF THE INTER-INDICES WILL TEST THE OCTOBER LOWS. LISA A: IF YOU WERE JOHN WILLIAMS, YOU WOULD PROBABLY BE GLUED TO YOUR TERMINAL LOOKING AT THE SMALL BANK EARNINGS AND PARSING THROUGH THEIR BALANCES TO UNDERSTAND THE CREDIT CREATION. WHAT WOULD YOUR CONCLUSION BE IN TERMS OF THIS -- IS THIS JUST AN A SYNCRETIC ISSUE OR IS THIS SOMETHING MORE? >> THE WHOLE CONCEPT OF 80 SYNCRETIC ACROSS EVERY -- IDIOSYNCRATIC ACROSS EVERY COMPANY REPORTING IS A MISNOMER. THIS IS A PROCESS. PART OF THE FACT WE CREATED SO MUCH LIQUIDITY THROUGH FISCAL AND MONETARY POLICY TO FIGHT THE PANDEMIC MEANS THE OTHER SIDE OF THIS UNWIND IS A PROCESS AS OPPOSED TO A SHOT.
THIS IS ALL PART OF THE PROCESS. WHEN YOU LOOK AT THE LONGER TERM, IT IS BETTER IT WILL TAKE A WILD THAN A NEAR-DEATH EXPERIENCE LIKE LAST MONTH. IT DOES NOT MEAN THAT THE STRESS IS GOING TO GO AWAY. IT WILL JUST ROLL OUT OVER A LONGER PERIOD. LISA A: THIS IS THE REGIONAL BANKS ARE
ON IT AND VEGETABLE -- UNIVESTABLE OR DOES THIS MEAN A SURVIVOR OF THE FITTEST? >> THE QUESTION IS -- OF THE ISSUE WE HAVE IS THAT YOU HAVE SUCH SELLOFF ON THAT MONTH IN THE REGIONAL BANKS AND THE FACT OF THE MATTER IS WHEN YOU SORT OF ANTICIPATE THE NEWS AND I DON'T THINK ANYONE IS SURPRISED BY THE EARNING SUPPORT WE HAVE SEEN THE SHARES DON'T RESPOND EVEN AFTER THIS MASSIVE SELLOFF, THAT IS NOT A GREAT MESSAGE. JON: IS TESLA IDIOSYNCRATIC? >> NO. JON: WHY NOT? >> THE MARKET HAS BEEN TRADING SIDEWAYS. ED HEITMAN HAS BEEN OPTIMISTIC. YOU WILL GET A TWO HANDLE ON
INFLATION -- WE WILL GET A TWO HANDLE ON INFLATION? THE WHAT YOU GET TO THAT IS THROUGH A ECONOMIC DOWNTURN. JON: WHEN DO WE GET THAT TO HANDLE --TWO HANDLE? >> AT THE END OF THIS YEAR. JON: IS THAT HEADLINE CORE? >> YOU CAN PARSE AND PARTS. --PARSE. >> THERE HAVE BEEN PLENTY OF DISAPPOINTMENTS. WHY HAS THE MARKET NOT COME TO THE BEARISH VIEWS OF THE LIFE OF MIKE WILSON? >> IF YOU LOOK AT LAST YEAR, WE WERE UPSET WITH INFLATION -- WE WERE SO UPSET WITH INFLATION, THE FACT THAT IT HAS COME DOWN AND THE FACT WE HAVE DONE A LOT OF TYPING BUT THE LIQUIDITY PROVISION IS SO EXTREME, M2 IS CONTRACTING BUT THE GROWTH TREND LINE IS WELL BELOW WHERE WE ARE SO THERE IS GOOD -- RESIDUAL LIQUIDITY IN THE SYSTEM AND POSITIONING HAS BEEN BEARISH FOR THE MOST PART. JON:
YOU ARE AT 4150 YEAR AND -- END. YOU SEE A LOT OF VOLATILITY BETWEEN HERE AND NOW, RIGHT? >> IF EVERYONE -- ANYONE THINGS ABOUT CONVEXITY IN THEIR PORTFOLIOS, IT IS TIME TO THINK ABOUT CONVEXITY. JON: WHERE ARE WE GOING? LISA: ON VACATION. YOU WOULD -- WILL GO TO A GAME. JON: I AM TRYING TO SECURE TICKETS. I WILL GET THE TICKETS FIRST AND AFTER THE TERM, CAN YOU PAY FOR THE FLIGHTS? SOMETHING LIKE THAT. SONALI: YOU ARE TURNING --LISA:
YOU'RE TURNING INTO TOM. JON: DEFINITELY. HE IS TRYING TO PLAN A ROAD TRIP. LIZZIE ON --LIZ YOUNG. WE ARE TRYING TO BOUNCE FROM SESSION LOWS.
>> KEEP YOU UP-TO-DATE FROM NEWS FROM AROUND THE WORLD WITH THE FIRST WORLD, -- WORD, I'M LISA MATTEO. YELLEN SPEAKS AND WASHINGTON. SHE SAYS THE BIDEN ADMINISTRATION WILL NOT COMPROMISE WITH BEIJING ON SECURITY CONCERNS. DEMOCRATS REJECT -- THE PLAN WOULD INCREASE A DEBT CEILING FROM -- BY $1.5 TRILLION. IT WILL CUT DISCRETIONARY SPENDING BY $130 BILLION.
IF THE DEBT ISN'T RAISED, THE U.S. WOULD DEFAULT. THE U.S. SUPREME COURT HAS EXTENDED ACCESS TO A WIDELY USED ABORTION PILL UNTIL AT LEAST FRIDAY. THE JUSTICES ARE ALL -- FAVOR OF THE ABORTION -- BLOOMBERG HAS LEARNED THAT A FIRE FOX NEWS PRODUCER HELP PUSH A NETWORK TO A SETTLEMENT BY DEFINITION -- DEFAMATION LAWSUIT. A BOX --FOX SPOKESWOMAN BECAUSE THE RECORDINGS -- BECAUSE THE RECORDINGS INACCURATE. ELON MUSK SAYS HE HAS GOOD REASONS. HE SAYS TESLA CAN WITHSTAND
PRICE CUTS. INVESTORS ARE NOT SURE. SHARES ARE LOWER THAN PREMARKET TRADING. GLOBAL NEWS, 24 HOURS A DAY, ON AIR AND ON BLOOMBERG QUICKTAKE, POWERED BY MORE THAN 2700 JOURNALISTS AND ANALYSTS IN MORE THAN 120 COUNTRIES. I AM LISA MATTEO AND THIS IS BLOOMBERG. ♪ >> MAGA REPUBLICAN CONGRESSMAN TURNING TO DEFAULT ON THE NATIONAL DEBT. THEY SAY THEY ARE GOING TO THE
POT UNLESS I AGREE WITH THE THINGS THEY HAVE. >> WE ARE INTRODUCING THE LIMITS, SAVE, GROW, BACK TO 2023 STOP PRESIDENT BIDEN HAS A CHOICE -- 2023. PRESIDENT BIDEN HAS A CHOICE. COME TO THE TABLE AND STOP
PLAYING POLITICAL GAMES OR COVER HIS EARS, REFUSED TO NEGOTIATE AND RISK BUBBLING HIS WAY INTO THE FIRST DEFAULT IN OUR NATION'S HISTORY. JON: TALKS BETWEEN PRESIDENT BIDEN AND SPEAKER MCCARTHY HAVE GONE PRETTY WELL. LISA: I WOULD SAY -- I WOULD HAVE SAID THE SAME THING.
LITERALLY JUST CHILDREN. WE DON'T KNOW. THIS BACK-AND-FORTH AND THIS POLITICAL. -- POLITICAL THEATER, THERE IS A BIG CONSEQUENCE AT STAKE. JON: MAJOR CONSEQUENCES. WALL STREET IS REFUSING TO
DISCUSS BASED ON THE CONVERSATION I HAVE HAD AND WHAT CAN THEY DISCUSSED? --DISCUSS? LISA: THEY PROBABLY WON'T GET THERE BUT WE DON'T KNOW AND IT IS EXHAUSTING. TO INTRODUCE THIS UNKNOWN IS AN IRRITANT. ROMAINE: --JON: THE FED'-- IS AN ERROR TO THE EQUITY MARKET DOWN 6/10 OF 1%. THE FX MARKET, EURO-DOLLAR DOWN -- A 10TH OF 1%. OFF THE BACK OF PRICE CUTS WHICH YOU CAN EXPECT MORE OF FROM TESLA. THEY HAVE GONE FOR VOLATILE -- VOLUME. LATER TODAY, THE CONVERSATION
FOR ELON MUSK WILL SHIP FROM TESLA TO SPACEX -- WILL SHIFT FROM TESLA TO SPACEX. LISA: I WOULD LOVE TO HAVE A LONG CONVERSATION ABOUT TRAVELING TO MARS. I WANT TO EMPHASIZE WHAT JULIAN EMANUEL WAS TALKING ABOUT. IT IS NOT AN IDIOSYNCRATIC STORY.
THIS IS THE SEEDS OF TRYING TO GENERATE VOLUME AND POTENTIALLY SACRIFICING MARGINS AS A RESULT AND THIS IS REALLY GOING TO BE A THEME, THAT WE WILL SEE, THAT WILL PARTICIPATE -- PRECIPITATE A DOWNTURN. JON: I CAN TALK TO JULIAN ALL DAY. I WILL TALK TO ANOTHER GUEST. ECO-CLOSE -- HE COHOSTS AND ASK BETTER QUESTIONS THAN US. AMORY JOINS US NOW. GREAT -- ANNMARIE HORDERN JOINS US NOW.
I WANT TO GO STRAIGHT TO THE QUOTE THAT YOU HAVE READ 10 DIFFERENT TIMES. NATIONAL SECURITIES HAVE PARAMOUNT IMPORTANCE WHAT OUR RELATIONSHIP WITH CHINA. SHE WENT ON TO SAY WE WILL NOT COMPROMISE ON THESE CONCERNS PEOPLE WHEN THEY FORCE TRADE-OFFS WITH OUR ECONOMIC INTERESTS. THAT IS JUST ONE PARAGRAPH OF
ONE: -- ONE QUOTE. WHAT ELSE ARE YOU EXPECTING? >> IS KEY BECAUSE I THINK THAT IS WHAT HAS BEEN GOING ON. YOU HAVE THE TREASURY SECRETARY WITH THE EXPENSIVE SPEECH WITH CHINA. MAPPING OUT HOW THE U.S. CONTINUES TO SEE THE ECONOMIC QUALITY -- POLICY BETWEEN U.S. AND BEIJING RESTING.
REMEMBER WHEN THE BIDEN ADMINISTRATION WAS STRUGGLING TO DEAL WITH INFLATION? IT WAS AT THAT POINT WHEN SOME OF THE ECONOMIC FORCES WITHIN THE BIDEN ADMINISTRATION TALKING ABOUT, MAYBE WE LEFT SOME OF THESE TRUMP -- WE LEFT SOME OF THESE TRUMP ERROR TARIFFS. --ERA TARIFFS. SHE SAYS WE WILL BE LEANING INTO THE -- WE HAVE SEEN THIS TIME AGAIN WITH THIS ADMINISTRATION, WHETHER OR NOT IT IS LIFTING OR NOT LIFTING THOSE TARIFFS, IT IS THE EXPORT CONTROLS.
IT IS MAKING SURE CHINA DOES NOT HAVE ACCESS TO ADVANCED TECHNOLOGY AND GETTING OTHER COUNTRIES TO LINE UP WITH THEM LIKE NETHERLANDS AND JAPAN. I THINK SHE WILL OUTLINE THAT TODAY AND SHE WILL HAVE TO POINT TO SOME AREAS OF ENGAGEMENT, NOTABLY CLIMATE CHANGE. LISA: IS THERE ANY SIGNIFICANCE AS TO WHY NOW? SHE HAS BEEN AT THIS POSITION FOR SOME TIME. IS THERE A SIGNIFICANCE TO A
POINT WHERE WE ARE TALKING ABOUT POTENTIAL ECONOMIC WEAKNESS BUT RATIONING -- RATCHETING UP CONCERNS WITH SPY BALLOON'S IN TAIWAN? >> BIDEN AND SHE SAT TOGETHER. THEIR TEAMS WERE TASKED TO WORK TOGETHER. THE SPY BALLOON DERAILED THE PLAN BECAUSE ANTONY BLINKEN WAS SET TO GO AND THAT TRIP WAS POSTPONED. SECRETARY ELLEN -- SECT YELLOW -- SECRETARY YELLEN IS SET TO GO. SHE WILL TALK ABOUT THE FACT THAT SHE IS GOING TO BE OR THE BIDEN ADMINISTRATION WILL BE UPFRONT WITH CHINA WITH ISSUES THEY HAVE. SHE IS LAYING THEM OUT.
THIS WOULD BE HURT LAYING THEM OUT IN THIS SPEECH AND PREPARING TO GO ON A TRIP, MAKING SURE SHE IS SAYING GOING TO BEIJING, WE ARE NOT LOOKING WEEK --WEAK TO CHINA. WE WANT TO FIND AREAS OF ENGAGEMENT WHERE WE WILL BE FIRM IN ISSUES. LISA: WE HAVE A SENSE HOW MUCH U.S. AND THIS ADMINISTRATION IS WILLING TO SACRIFICE ECONOMICALLY TO PUT FORTH THESE NATIONAL SECURITY ISSUES? >> WE DON'T HAVE A SENSE NOW BUT WHAT WE HAVE SEEN BASED OFF THEIR PAST PROVISIONS AND POLICIES, THEY ARE LOOKING INTO THE AREAS WHERE CHINA'S MILITARY CAN HAVE A BUILD UP SO WHEN YOU LOOK AT ADVANCED TECHNOLOGIES, IT IS THESE TECHNOLOGIES CHINA'S MILITARY WANTS TO GET THEIR HANDS ON. ONE OF THE CONCERNS WITH THE BIDEN ADMINISTRATION, AND WE HAVE HEARD FROM THE PENTAGON, IS CHINA'S ASSERTIVENESS IT COMES TO TAIWAN. THERE WAS A RECENT FLASHPOINT.
I WAS THERE WHEN SHE MET WITH SPEAKER MCCARTHY IN THIS UNPRECEDENTED VISIT, THE FIRST TIME WE HAD A TAIWANESE PRESIDENT MEETING A HIGH LEVEL OFFICIAL ON U.S. SOIL. THIS IS THE CONCERN THEY -- THE ADMINISTRATION HAS. JON: THIS IS THE RELATIONSHIP BETWEEN THE UNITED STATES, CHINA AND THE REST OF THE WORLD. LET'S TALK ABOUT THE RELATIONSHIP BETWEEN THE PRESIDENT OF THE UNITED STATES AND DISREGARD THE HOUSE KEVIN MCCARTHY -- AND THE SPEAKER OF THE HOUSE KEVIN MCCARTHY.
FIGURE -- SPEAKER MCCARTHY SAYS THE PRESIDENT HAS A CHOICE, COME TO THE TABLE OR REFUSE TO NEGOTIATE AND HAVE THE FIRST DEFAULT IN THE NATION'S HISTORY. WHO DOES SPEAKER MCCARTHY NEED TO NEGOTIATE WITH, THE PRESIDENT OR HIS OWN PARTY? >> FIRST, HIS OWN FAR -- PARTY. HE HAS TO GET TO 18 VOTES AND IT HAS BEEN OUTLINED HOW DIFFICULT IT IS FOR HIM. HE CAN ONLY USE FOUR REPUBLICAN VOTES BECAUSE NOT A SINGLE DEMOCRAT WILL VOTE FOR THIS AND YOU SAW HOW DIFFICULT IT WAS FOR HIM TO BECOME SPEAKER. HOW DIFFICULT WILL IT -- WILL IT BE FOR HIS PARTY TO CALL LAST -- TO COALESCE AROUND THIS IDEA? THAT IS HIS FIRST POINT OF BUSINESS, GETTING HIS DUCKS IN A ROW. ONCE HE HAS THAT, HE IS GOING TO THE PRESIDENT FOR LEVERAGE.
THE PRESIDENT KEEP SAYING YOU HAVE TO SHOW ME A BUDGET. I OUTLINE MY PRIORITIES. THE REPUBLICAN PARTY NEEDS OUTLINE. HE WILL NOT HAVE A BUDGET BUT
HE WILL HAVE A BILL AND WHAT THE MCCARTHY BUT HE WANTS IS TO SHOW THE WHITE HOUSE THE BILL AND SAY YOU HAVE TO NEGOTIATE WITH US BECAUSE WE HAVE THE VOTES. THE BILL ISN'T GOING ANYWHERE BUT IT IS LEVERAGING. JON: WATCH FOR ANNMARIE HORDERN LATER. THEY WILL COVER "BALANCE OF POWER". HAVE WE NARROWED THE WINDOW FOR THE --NEXT DATE? LISA: I BUT HE COULD GET FUDGED -- KIND OF BUT IT COULD GET FUDGED. JON: THE MARKET MOMENT.
CLOSE. NO ONE WANTS TO TALK ABOUT IT. JON: WELCOME TO THE PROGRAM. GOOD MORNING TO YOU. THE EQUITY MARKET IS AND STRUGGLING HERE. DOWN 6/10 OF 1% ON THE S&P 500 AND THE NASDAQ DOWN 9/10 OF 1%. YOU CAN TALK ABOUT THE BANKS AND TESLA -- WE CAN TALK ABOUT THE BANKS AND TESLA IN JUST A MOMENT. THE 10-YEAR YIELD DOWN THREE BASIS POINTS.
THE CURVE IS A TINY BEAT -- BIT STEEPER. IN THE FX MARKET, EURO-DOLLAR IS POSITIVE, A 10TH OF 1%. DOING TOO MUCH THERE. -- NOT DOING TOO MUCH THERE. WE GOT THROUGH THE FED SPEAK AND HE WILL HEAR FROM SIX FED OFFICIALS TODAY ALONG. I WILL NOT DO IT AGAIN. GOING INTO THE QUIET PERIOD THIS WEEKEND BEFORE THE RESERVE MEETING DECIDES. THAT MAKE THEIR DECISION, MOST PEOPLE ASSUME A 25 BASIS POINT HIKE -- THAT FED MEETING, MOST PEOPLE ASSUME A 25 BASIS POINT HIKE.
LISA: WHAT MATTERS MORE TO YOU, WHETHER THEY HIKE RATES AFTER THAT OR WHETHER THEY HOLD RATES THROUGH THE YEAR AT THOSE LEVELS? JON: WHAT MATTERS TO ME IS WHETHER THE GUIDANCE CHANGES. HAVE I PLEDGED THAT --FUDGED THAT? LISA: THE FED IS FALLING WHAT WE ARE FOLLOWING IN THE MARKETS WHICH IS REGIONAL BANKS AND THEY ARE NOT DOING GREAT. IT HAS BEEN A TREMENDOUS DECLINE IN SHARE PRICES AND THEY ARE GOING LOWER AND AS JULIO -- JULIAN EMANUEL WAS SAYING, IT TELLS YOU SO MUCH. THERE IS PAIN PRICE IN AND YOU ARE SEEING WHAT IS GOING ON UNDER THE HOOD, TELLS YOU SOMETHING.
TAKING A LOOK AT ZIONS BANK. FIRST REPUBLIC DOWN 2.5% AND TRUEST --TRUIST DOWN ALMOST 1%. THE STORY IS NEXT INTEREST INCOME.
YOU ARE SEEING IT STRUGGLE. CONSIDERING HOW MUCH THEY HAVE TO PAY FOR DEPOSITS AT A TIME WHEN THAT MATTERS. TO ME, I FEEL LIKE THIS STORY HAS CHANGED. JON: I AGREE. THE PROFITABILITY STORY IS ONE TO FOCUS ON. YOU WANT TO KNOW IF THINGS HAVE STABILIZED. YOU LOOK AT THE STRESS OF THE NEXT MONTH, YOU WANT STABILITY FIRST AND THEN YOU WORK THROUGH THE NEXT PHASE.
THE FIRST PHASE IS SHOCK. THE NEXT PHASE IS A BETTER UNDERSTANDING OF WHERE COFFINS ARE GOING AND WHAT IT MEANS FOR LENDING STANDARDS -- WHERE PROFITS ARE GOING AS -- AND WHAT IT MEANS FOR LENDING STANDARDS? LISA: WE SHOULD TAKE A LOOK AT TESLA SHARES THAT HAVE LORD BY 7%. -- HAVE LOWERED BY 7%. THEY WILL KEEP CUTTING PRICES. THE PROPHET MARGIN LIKELY TO -- PROFIT MARGIN LIKELY TO DETERIORATE FURTHER. RAISING CONCERNS ABOUT DEMAND. JON: THAT STOCK IS DOWNJON: 7%.
THEY ARE NOT MINUTES BUT ACCOUNTS. LESS DETAIL. THEY SAY THINGS LIKE THIS. A LARGE MAJORITY AGREED TO RAISE RATES BY 50 BASIS POINTS AT THE LAST MEETING. DO YOU REMEMBER WE ASKED ALL OUR GUESTS WHO WOULD MAKE MORE THIS YEAR, THE ECB AND THE FED AND EVERYONE SAID THE ECB. IT SEEMS IT IS GOING THAT WAY. LISA: HE INFLATION PART -- PROP -- THE INFLATION PROBLEM IS STICKIER. WHEN IT COMES TO THE U.S.
JON: MAY 4, YOU WILL HEAR FROM THE PRESIDENTIAL BANK AND LAGARDE. I KNOW YOU HAVE TO DO IN AND HAVE LISTENED TO THE PROGRAM AND YOU HEARD THE WORD, THE WORD PEOPLE USE WITH THEY SEE SOMETHING THEY DON'T LIKE, IT DOESN'T FIT INTO THE BROADER IDEA THEY GOT, THEY SAY IT IS IDIOSYNCRATIC. IS THIS IDIOSYNCRATIC? RJ: THERE WERE HAS BEEN REPEATED QUITE A BIT. -- THE WORD HAS BEEN REPEATEDLY -- REPEATED QUITE A BIT. YOU START TO LOOK FOR THEME. WITH RESPECT TO THE BANKS, A
LOT OF BANK EARNINGS COMING OUT AND THERE ARE THEMES HERE. IT IS UNDENIABLE THAT LARGE LARGEST -- LOSSES ON FIXED INCOME CREATED A POISONOUS MIXTURE AT SVB. WE ARE SEEING BE AFFECTED IN THE BANK EARNING AND DEPOSIT LOSS AND THE NEED TO RAISE DEPOSIT LOSS. THE THEME IS OUT THERE AND I BELIEVE THAT WILL BE A HEADWIND IN THE ECONOMY. THE CRISIS NEVER FULLY IMMERSED BECAUSE OF QUICK ACTION ON OFFICIAL WASHINGTON AND MOVES BY BANKS THAT DIDN'T TAKE THE SAME MEASURES AS THE OTHERS BUT WE ARE DEALING WITH THE ECHOES OF THE CRISIS SO WE WILL SLOW THE ECONOMY AND HIT THE BANKING SECTOR AND MAKE THE RECESSION MORE LIKELY. LISA:
WHAT DOES THIS THEME THAT IS EMERGING MEAN IN TERMS OF HOW YOU ARE POSITIONING YOUR PORTFOLIO AND YOURSELF FOR THE REST OF THE YEAR? RJ: IT HAS BEEN A HECK OF A YEAR. VOLATILITY IN A ALL CAPS, DESCRIBES 2022 AND A BONDS. -- 2022 AND 2023 IN BONDS. IN 2023, MOST INDICES ARE AT 2.5%. THAT IS PART OF THE THEME, THE COST OF LAST YEAR IN TERMS OF BIG LOSSES OPENS UP THE DOOR FOR BOND RETURNS TO IMPROVE.
WE STARTED THE YEAR FOR NEUTRAL AND AT TIMES LONG-DURATION. WE ARE A NEUTRAL NOW. WE WERE AS SURPRISED AS ANYONE BY THE BANKING STRESS AND THE ISSUES OF DISTRESS ON THE PART OF A FEW. WE THINK THE THESIS OF BEING
LONG AND LOOKING FOR BONDS TO BE A POSITIVE CONSIDERED -- CONTRIBUTING -- CONTRIBUTOR TO YOUR INVESTMENT OR FOLIO IS ONLY POSITIVE FOR THE BANKING SECTOR. LESS CREDIT CREATION, SO -- SLOWER ECONOMIC GROWTH, RENEWED DISINFLATION, THOSE ARE BOND FRIENDLY FACTORS AND WE ARE POSITIONING NEUTRAL AND LOOKING FOR OPPORTUNITIES. WE ARE UNDERWEIGHT HIGH-YIELD, INVESTMENT-GRADE CORPORATE AS WELL. OVERWEIGHT MERGES AND HOLDING
TREASURIES BECAUSE WE THINK A RECESSION IS LIKELY? LISA: WE HEARD FROM INVESTORS THAT ARE WAITING FOR REGIONAL BANKS TO INVEST. THE RESULTS CAME IN. HOW MUCH DO YOU SEE THIS AS A POTENTIAL OPPORTUNITY VERSUS AN ONGOING SIGNAL OF DISTRESS THAT EDIFIES YOUR FEELING? RJ: FOCUSING ON THE BANKS, THE EQUITY INVESTOR'S VIEW AND THAT FIXED INVESTOR'S VIEW MIGHT CONVERGE -- THE --DIVERGE. YOU WILL NOTICE THAT THE EQUITIES DIDN'T BOUNCE BACK BECAUSE OF PROFITABILITY RAMIFICATIONS OF WHAT HAS GONE ON WHERE ONLY HIGHLIGHTED AND HAS AMPLIFIED BY WHAT IS GOING ON SO IT DOES NOT SURPRISE ME THE STOCKS HAVE NOT BOUNCED BACK TOO MUCH. FROM A FIXED INCOME INVESTOR' S STANDPOINT, IT REINFORCES THE BROADE
2023-04-23 11:50
Show Video
Other news