'Bloomberg Surveillance: Early Edition' Full (06/06/23)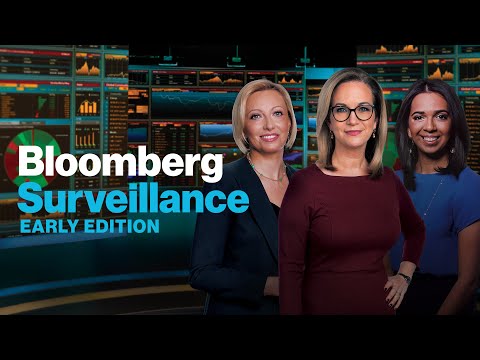 Show Video
>> THIS IS "BLOOMBERG SURVEILLANCE: EARLY EDITION" WITH FRANCINE LACQUA. FRANCINE: GOOD MORNING, EVERYONE. OPEN TO "BLOOMBERG SURVEILLANCE: EARLY EDITION". I'M FRANCINE LACQUA IN LONDON. THE RBA SURPRISES WITH A 25 BASIS POINT HIKE AND SAYS MORE TIGHTENING MAY BE NEEDED. THE AUSSIE DOLLAR JUMPS. EUROPEAN STOCKS ARE UNCHANGED. CHRISTINE LAGARDE CEMENTS EXPECTATIONS OF ANOTHER RATE HIKE NEXT WEEK, THE ECB PRESIDENT SAYS PRICE PRESSURES REMAIN STRONG AND BORROWING PRESSURES WILL HAVE TO INCREASE.
UKRAINE SAYS RUSSIAN FORCES HAVE BLOWN UP A GIANT DAM IN THE SOUTH OF THE COUNTRY, UNLEASHING FLOODWATER. LET'S ALSO CHECK ON THE MARKETS. ECB SAYING CONSUMER EXPECTATIONS HAVE DECREASED SIGNIFICANTLY. TO PUT IT IN CONTEXT, WE HEARD FROM CLOUSE NOTE IN LUXEMBOURG EARLIER ON, SAYING WHAT THEY HAVE DONE WITH INTEREST RATES IS STARTING TO FEED INTO THE REAL ECONOMY. ECB SAYING CONSUMER EXPECTATIONS DECREASING SIGNIFICANTLY DOES NOT MEAN THEY WILL CHANGE THEIR PROJECTIONS FOR INTEREST-RATE INCREASES.
THE MARKET EXPECTING A JUNE, AND THEN A JULY HIKE, WHAT HAPPENS IN SEPTEMBER IS THE BIG STORY. THE OTHER BIG STORY IS CHINA PUTTING MORE STIMULUS IN THE MARKETS TO SPUR CONSUMER SPENDING, BUT ALSO CREDIT SUPPLY WILL PLAY OUT IN ASIAN MARKETS TOMORROW. FOR THE MOMENT, EUROPEAN STOCKS PRETTY MUCH UNCHANGED. YOUR THE AND STARTS GAINING 0.1%. -- EUROPEAN STOCKS GAINING 0.1%. THE UNDERSTANDING OF SAUDI ARABIA'S UNILATERAL CUT MEANS FOR CRUDE OIL TRYING TO WORK HIS WAY THROUGH, $75.67.
EUROPEAN MAP, THERE IS NOT A LOT OF DIFFERENCE BETWEEN THE CAC 40 AND THE DAX, BUT THERE IS A LITTLE BIT OF A DIFFERENCE DEPENDING ON THE COMPOSITION OF SOME OF THESE MARKETS. THE DAX GAINING ZERO POINT 1%, WHEREAS A LOT OF THE OTHER ONES ARE UNCHANGED. CHINESE AUTHORITIES HAVE ASKED THE COUNTRY'S BIGGEST BANKS TO LOWER DEPOSIT RATES THE SECOND TIME IN LESS THAN A YEAR. IT MARKS AN EFFORT TO BOOST THE WORLD'S SECOND-LARGEST ECONOMY. FOR MORE, LET''S BRING IN VALERIE TYTEL. THIS IS A HUGE DEAL BECAUSE WE
HAVE BEEN ASKING OURSELVES FOR THE LAST MONTH AND A HALF WHAT POLICYMAKERS CAN DO TO PROP UP THE ECONOMY. VALERIE: THAT'S RIGHT, THIS MIGHT BE THE FIRST HINT THAT THERE MIGHT BE MORE OFFICIAL RATE CUTS TO COME. WE HAD BLOOMBERG SOURCES REPORTING THAT STATE-OWNED LENDERS WERE ADVISED LAST WEEK TO CUT RATES ON A VARIETY OF DEPOSIT PRODUCTS, RANGING FROM DURATION OF 3-5-YEAR DEPOSIT RATES. IT IS THE SECOND TIME IN LESS THAN A YEAR CHINA HAS DONE THIS. THE LAST TIME WAS BACK IN SEPTEMBER. THESE OFFICIAL BANKS, THEY MAY ADJUST RATES LOWER AS SOON AS THIS WEEK. I THINK THE MARKET MIGHT ASSUME
THAT THIS COULD OVERSHADOW PERHAPS HINT THAT AN OFFICIAL RATE CUT COULD COME IN THE LOAN PRIME RATE THE NEXT TIME CHINA ANNOUNCES THOSE, WHICH IS JUNE 19 AM A LESS THAN TWO WEEKS' TIME. THE HONG KONG INDEX POPPED HIGHER ON THIS THESE. DOLLAR-CNH, THE YUAN, MOVED LOWER ON THIS NEWS.
THE CHINESE FRIEND AND BE HAS CONTINUED TO WEAKEN -- RENMINBI HAS CONTINUED TO WEAKEN ON EXPECTATIONS OF YIELDS RISING. THE 10-YEAR MOVE SLIGHTLY LOWER. WE HAVE A LOT MORE DATA COMING OUT OF CHINA THIS WEEK. ON WEDNESDAY OVERNIGHT, SO TOMORROW EARLY IN THE MORNING, WE GET TRADE DATA. THAT IS EXPORT AND IMPORT DATA. THE MARKET WILL BE WATCHING IF THIS EXPORT GROWTH ENGINE MODEL THAT CHINA HAS RELIED ON IS STILL THERE. THEN ON FRIDAY, WE GET CPI AND
EPI. PERHAPS THE LOWERED GROWTH IMPULSE IN CHINA WILL PLAY THROUGH TO SOFTENING INFLATION FIGURES. AND THEN FROM JUNE 19 TO 15TH, WE GET THEM MAY CREDIT DATA, THAT IS NEW YUAN LOANS, ANY PRIVATE CREDIT THAT HAS BEEN EXTENDED IN THE CHINESE ECONOMY THAT WILL GIVE US A GOOD GLIMPSE ON HOW WELL THE ECONOMY IS HOLDING UP NOW THAT WE KNOW THIS REOPENING GROWTH FIRST THAT MANY WERE EXPECTING HAS STARTED TO DWINDLE. FRANCINE: BEIJING HAS ROLLED OUT A RAFT OF MEASURES AFTER A SERIES OF CRACKDOWNS IN MULTIPLE INDUSTRIES, BUT ALSO LENGTHY LOCKDOWNS DUE TO COVID. JOINING US NOW IS NICK
SCULLION, PARTNER AT FORESIGHT GROUP. THANK YOU FOR JOINING US. TO DO OR NOT TO DO, THIS IS THE PROBLEM OF POLICYMAKERS IN CHINA, AT THE MARGINS THEY ARE TRYING TO SUPPORT THE ECONOMY WHAT DOES IT MEAN FOR THE REST OF THE WORLD? NICK: GOOD MORNING, GOOD TO BE BACK. BIG NEWS OUT OF CHINA THIS MORNING ASKING BANKS TO CUT. THAT HAS VICTIM LOCATIONS ON A GLOBAL -- BIG IMPLICATIONS ON A GLOBAL SCALE.
IF WE SEE STIMULUS IN CHINA, WE ARE LIKELY TO SEE COMMODITY PRICES RESEARCHING, INFLATION COULD BE STICKIER ON A GLOBAL BASIS WHICH COULD CAUSE POLICY MAKERS HEADACHES, NOT LEAST IN THE U.S. AND EUROPE, AND AS WE HAVE SEEN IN AUSTRALIA ALREADY RAISING RATES OVERNIGHT, WHICH IS A SURPRISE. FRANCINE: CHINA IS TRYING TO STIMULATE CONSUMER SPENDING AND BOOST CREDIT SUPPLY. DO WE BELIEVE THE DATA THAT CAME OUT OF CHINA THAT WAS WORRYING, OR COULD BE WORSE THAN EXPECTED? NICK: THAT'S ALWAYS THE CHALLENGE, ISN'T IT? FRANCINE: PARTICULARLY WITH OPEC CUTTING SUPPLY.
THERE IS ALL THESE ALARM BELLS, I DON'T KNOW HOW YOU INTERPRET THEM. NICK: YOU HAVE TO BE CIRCUMSPECT LOOKING AT THE DATA. WHEN WE CONSTRUCT OUR PORTFOLIOS, WE'RE THINKING ABOUT WHAT REALLY MATTERS FOR GLOBAL GROWTH? FOR US, IS CORE INFLATION ON A GLOBAL BASIS COMING DOWN AT THE RATE WE ARE BEING TOLD IT IS? WE HAVE SEEN CHRISTINE LAGARDE SAYING THIS MORNING THAT THERE AREN'T MAJOR INDICATORS THAT CORE INFLATION IS GETTING BACK TO WHERE THEY NEED IT TO BE. BUT WE ARE CAREFUL LOOKING AT
INFLATION AND WHAT THAT MEANS FOR THE NEXT COUPLE OF QUARTERS OF POLICY DECISIONS ON A CENTRAL BANK BASIS. FRANCINE: AGAIN, IF YOU LOOK AT THE MARKETS, THEY ARE UNSURE WHETHER INFLATION WILL COME DOWN FAR ENOUGH FOR CENTRAL BANKS TO EASE OFF, OR WHETHER IT IS STOPPED AT THAT 5-6% RANGE WHICH IS TRICKY TO GET BACK TO 2%. NICK: U.S. INTEREST RATE INFLATION SWAPS NEXT YEAR ARE DOWN AT 2% ALREADY, THAT IS SURPRISING GIVEN WHERE WE ARE AND HAVE BEEN. THERE COULD BE A EXPECTATION EFFECT THAT YOU HAVE ANALYSTS LOOKING AT LONG-TERM ECONOMIC FORECASTS AND NOT LOOKING AT THE WORLD AROUND US. HOWEVER THERE IS A GOOD CASE TO SAY THAT CORE INFLATION FOLLOWS HEADLINE INFLATION WITH A LAG, AND THAT HAS BEEN SOMEWHAT UNDERAPPRECIATED BY THE MARKET. WE THINK THE OUTLOOK FOR A SOFT LANDING HAS INCREASED LAST COUPLE OF MONTHS.
THAT POTENTIALLY IS BEING UNDERAPPRECIATED BY THE MARKET. WE THINK IF THERE IS A SOFT LANDING, THAT IS BROADLY GOOD NEWS FOR EQUITIES, IT MEANS INTEREST RATE POLICY CAN BECOME MUCH MORE STABLE AND CIRCUMSPECT. WE WON'T SEE REVIT RATE RISES OR FALLS, IF THE DISCOUNT RATE IS NULL OR PUSHING VALUATIONS, IT BECOMES ALL AROUND THE QUALITY OF EARNINGS. FRANCINE: WHAT DOES THAT SOFT LANDING
LOOK LIKE? A SLOWDOWN IN GROWTH BUT WITHOUT A CREDIT CRUNCH... WE ARE SEEING ON BOTH SIDES OF THE ATLANTIC SOME OF THE LENDING FIGURES BEING SIGNIFICANTLY CURTAILED. NICK: SLOWDOWN IN GROWTH IS RIGHT, BUT WE REALLY DID YOU SEE NO MAJOR CRACK IN THE LABOR MARKET. WE HAD INTERESTING DATA ON FRIDAY WHERE WE HAD STRONG NONFARM PAYROLLS BUT SAW A RISE IN UNEMPLOYMENT FIGURES. THOSE TWO COMING TOGETHER IT WAS INTERESTING HOW THE MARKET RESPONDED. HOWEVER THE DATA SHOWS THAT IF
THE U.S. SEES A NORTH 0.3% INCREASE IN THE UNEMPLOYMENT RATE, THERE WILL BE RECESSION. THAT IS WHAT WE HAVE SEEN IN THE PAST. WE ARE JUST UNDER
THAT. WHAT IS FRIGHTENING IS IF IT IS NORTH OF 0.5%, AN INCREASE OF 2% WOULD BE DRAMATIC AND WOULD LEAD TO SEVERE ECONOMIC RECESSION. FRANCINE: WHEN YOU LOOK AT EARNINGS, I
DON'T KNOW WHETHER IT IS STOCKPICKING, OR TRYING TO FIND VALUE, IS EXPOSURE TO CHINA OR HOW DO YOU MAKE A DIFFERENCE BETWEEN A STOCK THAT IS TIME TO SELL OR BUY? NICK: THE COUNTERPARTIES, THE DURATION OF CASH FLOWS, WE ARE LOOKING AT CRITICAL ASSETS, INFRASTRUCTURE, RENEWABLE ENERGY, CRITICAL SERVICES TO SOCIETY TEND TO DO WELL DURING RECESSIONS ANYWAY. BUT COUNTERPARTIES IS IMPORTANT, EXPOSURE TO CHINA IS PROBLEMATIC, WE ARE LOOKING TO AVOID POLITICAL UNCERTAINTY. COMPANIES WITH HIGH QUALITY EARNINGS FROM LONG-DURATION CASH FLOWS WITH GOVERNMENT COUNTERPARTIES. WITH INFLATION PROTECTION AND VETTED THAT MAKE MEDIUM-TERM AN INTERESTING PERSPECTIVE FOR US. FRANCINE: PRESIDENT CHRISTINE LAGARDE REMAINS HAWKISH IN THE LEAD UP TO THE ECB'S POLICY DECISION LATER THIS MONTH. WE DISCUSS THE EURO-AREA
ECONOMY NEXT. THIS IS BLOOMBERG. ♪ >> WE EXPECTED INFLATION TO HOLD FOR LONGER. WE ARE NOW AT 6%. POTENTIALLY WE CAN HAVE SURPRISES ON THE DECLINE OF INFLATION. THE ECB HAS RAISED VERY FAST AND A LOT, AND THERE IS ALWAYS A LAG BETWEEN WHEN YOU TIGHTEN, AND WHEN IT TAKES GRIP ON THE ECONOMY. WE HAVEN'T GIVEN IT TIME TO TAKE GRIP ON THE ECONOMY, SO WE MAY SEE A SLOWDOWN ON INFLATION VERY FAST, AS WE HAVE RAISED VERY FAST. SO POTENTIALLY WE'RE
IN A BETTER SITUATION THAN PEOPLE EXPECTED. WE GOT A BOOST FROM INTEREST RATES. EVERYBODY TALKS ABOUT THE BOOST, NOBODY TALKS ABOUT THE NEGATIVE, BUT ANYWAY THAT IS HOW IT IS. AND WE HAVE A CONVERGENCE OF THE DEPOSIT COST TO THAT LEVEL. FROM THE SECOND QUARTER OF THIS YEAR, WE ARE GOING TO HAVE A REVERSE WHERE RATES ARE GOING TO HOLD, BUT THE SO-CALLED PAST THERE IS GOING TO INCREASE.
THAT WILL CREATE A HEADWIND FOR ALL BANKS. I THINK THE MARKET IS VERY FOCUSED ON THAT, BUT IN A WAY, IT IS IMPORTANT BUT THEY ARE MISSING THE WHOLE PICTURE. THE WHOLE PICTURE IS ONE, EUROPE IS GOING FROM -50 BASIS POINTS TO LENDING RATES OF, I'LL LET YOU GUESS, 2.5, 2.75 -- THAT IS MASSIVE. WHEN RATES STABILIZE AND IT COMES BACK DOWN, FEES RISE. PEOPLE STOP INVESTING IN
ACCOUNTS IN THE BANK AND START BUYING BACK ASSET MANAGEMENT PRODUCTS, INCREASE THEIR PAYMENTS BECAUSE TRANSACTIONS START AGAIN FASTER. THESE THINGS OFFSET THE COMPRESSION FROM RATES. AND THEN FOR PEOPLE WHO HAVE BEEN VERY FOCUSED, IT IS A TRIGGER TO BE VERY FOCUSED ON EFFICIENCY. AND WE'RE DETERMINED TO GET OUR COST TO DECLINE IN SPITE OF THE INFLATIONARY ENVIRONMENT. SO FOR US, IT MEANS ABSORBING 500 LAND OF ADVERSE COST EFFECT, AND AT THE MOMENT WE ARE. IF YOU PUT IT ALL TOGETHER, MAYBE BETWEEN 2023 AND 2024, YOU ARE NOT GOING TO SEE GROWTH, OR YOU WILL SEE MORE LIMITED GROWTH. BUT AS THIS STABILIZES, FROM
THE SECOND PART OF 2024 YOU WILL SEE A LOT MORE GROWTH FROM THE BANKS. FRANCINE: THE UNICREDIT CHIEF EXECUTIVE OFFICER SPEAKING AT THE BLOOMBERG ITALY CAPITAL MARKETS FOR THEM. AS THE FULL EFFECT OF THE ECB'S TIGHTENING CAMPAIGN WORKS THROUGH THE ECONOMY, PRESIDENT LAGARDE SAYS INFLATION REMAINS POWERFUL. SHE ADDED THAT HIGHER RATES WILL BE NEEDED TO TACKLE THEM. HER COMMENTS CEMENT EXPECTATIONS FOR ANOTHER HIKE AT NEXT WEEK'S MEETING. LET'S BRING IN BLOOMBERG'S
WESTERN EUROPE ECONOMY EDITOR. THANK YOU FOR JOINING US AGAIN. WE ALSO HEARD FROM KLAUUS KNOTT EXPLAINING THAT THEY HIKED RATES. >> THIS TAKES A WHILE. THE UNICREDIT CEO MENTIONED
THAT IT TAKES A WHILE FOR HIKING RATES TO ACTUALLY FEED THROUGH. LENDING IS SLOWING. THE QUESTION IS WITH INFLATION ITSELF, UP UNTIL NOW, ALL THE SLOWDOWN WE HAVE SEEN IN INFLATION -- BACK IN OCTOBER, IT WAS OVER 10% -- NOW IT DROPPED TO 6.1%. THAT NOW MEANS THAT ALL THAT HAS BEEN BECAUSE OF ENERGY PRICES. THE BASE EFFECT OF ENERGY A YEAR AGO, ENERGY WAS SOARING, NOW A YEAR LATER IT SLOWS DOWN. BUT THE ACTUAL WITH THE ECB IS DOING HAS NOT ACTUALLY SHOWN UP IN INFLATION RATES. THAT CAN TAKE UP TO 18 MONTHS.
WE STILL HAVE A BIT OF TIME, WHICH IS WHY POLICYMAKERS SAY WE WILL HIKE NEXT WEEK AND IN JULY, BUT AFTER THAT WE PROBABLY CAN HOLD AND WAIT FOR A WHILE. WHEREAS MORE HAWKISH MEMBERS HAVE SAID, PROBABLY WE NEED TO THINK ABOUT SEPTEMBER AS WELL. FRANCINE: TALK US THROUGH THE TREND FOR INFLATION. IT HAS COME DOWN RAPIDLY. CORE INFLATION COULD GET STUCK
AT THE 5.5 PERCENT LEVEL. >> CORE INFLATION IS THE ONE POLICYMAKERS HAVE SHIFTED THEIR ATTENTION TO. OF COURSE, THEIR MANDATE IS HEADLINE INFLATION, WHICH IS THREE TIMES THE RATE THEY WANT, THEY WANT TO PERCENT NOT 6.1%. BUT CORE INFLATION HAS STAYED MUCH HIGHER, AND ECONOMISTS ARE PREDICTING THAT IN THE THIRD QUARTER, JULY THROUGH SEPTEMBER, CORE INFLATION WILL BE STRONGER THAN HEADLINE INFLATION. YOU MENTIONED THE DUTCH CENTRAL BANKER, HE SAID TODAY WE ARE SEEING SECOND ROUND EFFECTS. YOU ARE SEEING HIGH ENERGY PRICES MOVING INTO SERVICES. THAT MEANS THAT STRONG
INFLATION IS STAYING ENTRENCHED. EVEN IF THE ECB HOLDS IN JULY, THEY MIGHT HAVE TO STAY AT THAT LEVEL FOR QUITE A WHILE. FRANCINE: GREAT EXPLANATIONS. OUR BLOOMBERG WESTERN EUROPE ECONOMY EDITOR. LET'S GET THE FIRST WORD NEWS. >> AUSTRALIA'S CENTRAL BANK HAS UNEXPECTEDLY RAISED ITS KEY INTEREST RATE AND SAYS MORE HIKES MAY BE NEEDED. THE RBA INCREASED ITS CASH RATE BY A QUARTER PERCENTAGE POINT TO 4.1%, THE HIGHEST LEVEL SINCE 2012, AS AUSTRALIA'S
INFLATION REMAINS WELL ABOVE TARGET AND LABOR COSTS JUMPED. ECONOMISTS WERE EXPECTING RATES TO STAY ON HOLD. THE SEC HAS ACCUSED QA BINANCE OF ENGAGING IN CALCULATED EVASION OF THE LAW. THE U.S.
REGULATOR ALLEGES THE CRYPTO EXCHANGE MISSILE INVESTORS ABOUT ITS TRADING CONTROLS. BINANCE SAYS IT ENGAGED IN GOOD FAITH NEGOTIATIONS AND WILL DEFEND THE PLATFORM VIGOROUSLY. THE LIST OF DIGITAL TOKENS DEEMED AS UNREGISTERED SECURITIES BY THE SEC NOW SPANS OVER $115 BILLION OF ASSETS. AN INDUSTRY LOBBY GROUP IS WARNING THAT THE U.K. RISKS FALLING BEHIND IN KEY TECHNOLOGIES, INCLUDING AI AND SEMICONDUCTORS.
TECH U.K. WHICH HAS ALMOST 1000 MEMBERS, INCLUDING APPLE AND AMAZON, SAYS THE GOVERNMENT NEEDS TO OVERHAUL ITS POLICIES. THE REPORT CALLS THE U.K. A BROKEN ECONOMY FOR GROWING STARTUPS AND DESCRIBES ITS , REGULATION AS EXPENSIVE AND ALSO AWKWARD. GLOBAL NEWS POWERED BY MORE THAN 2700 JOURNALISTS AND ANALYSTS IN MORE THAN 120 COUNTRIES. FRANCINE: FLOODING FEARS AS UKRAINE ACCUSES RUSSIA OF BLOWING UP A GIANT DAM IN THE COUNTRY'S SOUTH. WE WILL BRING YOU THE LATEST ON
THAT STORY. THIS IS BLOOMBERG. ♪ FRANCINE: ECONOMICS, FINANCE, POLITICS. THIS IS "BLOOMBERG SURVEILLANCE: EARLY EDITION." I'M FRANCINE LACQUA HERE IN LONDON. UKRAINE HAS ACCUSED RUSSIAN FORCES OF BLOWING UP A GIANT DAM IN THE COUNTRY'S SOUTH. THE EXPLOSION HAS UNLEASHED
FLOODWATER THAT THREATENS RESIDENTS ALONG THE DNIPRO RIVER. WHAT DO WE ACTUALLY KNOW SO FAR? >> THERE HAS BEEN CATASTROPHIC DAMAGE TO THIS HIGH DRO -- H YDRAULIC POWER PLANT. YOU CAN SEE FOOTAGE OF FLOODWATERS CASCADING OUT OF THE AREA AND SIGNIFICANT DAMAGE TO WHATEVER WAS HOLDING THOSE WATERS BACK. UKRAINE SAYS RUSSIA HAS BLOWN
UP THE DAM. THERE WAS ALSO EVIDENCE THAT RUSSIA WAS MINING THE DAM SOME MONTHS AGO. THOSE WATERS ARE MOVING SOUTH, TOWARDS KEY CITIES INCLUDING KHERSON WHICH RUSSIA OCCUPIED FOR A PERIOD WHEN IT INVADED LAST YEAR. THIS IS THE ECONOMIC HEARTLAND
OF UKRAINE, THE SOUTH AND THE EAST OF THE COUNTRY ARE IMPORTANT AREAS FOR AGRICULTURE AND INDUSTRY. AND IMPORTANT FOR THE ENVIRONMENT OF UKRAINE. THERE IS WORRY THIS COULD DO MAJOR DAMAGE TO ALL OF THOSE THINGS. PERHAPS MOVING TOWARDS CRIMEA ITSELF. IT IS VERY EARLY DAYS. UKRAINIANS ARE WARNING THERE COULD BE CATASTROPHIC DAMAGE TO THE AREA FROM THIS FLOODING. THERE COULD ALSO BE SOME RISK TO THE SEPARATION -- ZAPORIZHIYA POWER PLANT.
IF THOSE BACKUPS ARE ENOUGH, THERE COULD BE QUESTIONS ABOUT THE SAFETY OF THAT NUCLEAR PLANT GOING FORWARD. FRANCINE: AND WE KNOW IT IS A DEVELOPING STORY. IT IS DIFFICULT TO KNOW WHAT HAPPENS NEXT, BUT STRATEGICALLY YOU HAVE LAID OUT WHY IT IS IMPORTANT TO UKRAINE. IS THERE INSIGHT INTO WHAT THE NEXT STEP COULD BE? >> WE KNOW THAT UKRAINE HAS EITHER BEEN GEARING UP OR HAS ALREADY BEGUN SOME SORT OF COUNTEROFFENSIVE IN THE EAST AND THE SOUTH TO RECLAIM LAND FROM RUSSIA. WE SAW FIERCE FIGHTING IN THE DONETSK AREA IN THE PAST COUPLE OF DAYS. THIS COMES AT A TIME WHEN WE
ARE INSPECTING A PICKUP IN ACTIVITY ON THE GROUND. AND RUSSIA IS CONCERNED THAT UKRAINE IS MESSING IS OFFENSIVE. IF RUSSIA BLEW UP THIS DAM, IT IS PROBABLY DESIGNED TO PUSH THOSE UKRAINIAN FORCES BACK TO MAKE IT DIFFICULT FOR THEM TO MAKE ADVANCES ON THE GROUND. RUSSIA MAY JUST BE WANTING TO SUSTAIN HIS EXISTING POSITIONS, RATHER THAN TRYING TO HOLD UKRAINE OFF. THE LONGER RUSSIAN TROOPS CAN SIT THERE, THE MORE COMPLICATED IT BECOMES FOR UKRAINE. IF THEY CAN SEE THROUGH THESE
EVENTS BY DOING DAMAGE IN THE AREA VIA THIS DAM, THEY WILL BE SUCCESSFUL IN THE LONGER-TERM, SO IT MIGHT ENABLE RUSSIA TO HOLD OFF YOU RAIN -- UKRAINE FOR A BIT LONGER AS A RESULT. FRANCINE: THE VERY LATEST ON UKRAINE. COMING UP, WE GO BACK TO THE MARKETS AFTER THE RBA'S SURPRISE HIKE. WE HAVE AN IMPORTANT CONVERSATION ON CRYPTO. THE OTHER PIECE OF NEWS IS CHINA ASKING SOME OF THE BIG BANKS TO CUT DEPOSIT RATES TO BOOST THE ECONOMY. THIS IS BLOOMBERG.
FRANCINE: A 25 BASIS POINT HIKE AND MORE TIGHTENING MAY BE NEEDING. EUROPEAN STOCKS ARE LOWER. EXPECTATIONS OF OTHER RATE HIKE NEXT WEEK. PRICE PRESSURES REMAIN STRONG AND BORROWED COSTS DRIVEN UKRAINE SAYS RUSSIAN FORCES HAVE BLOWN UP A GIANT DAM IN THE SOUTH OF THE COUNTRY. UNLEASHING THE THREATENS RESIDENCE AND COMPLICATES THE BATTLEFIELD. GOOD MORNING IT, WELCOME TO BLOOMBERG SURVEILLANCE. LET'S GET MORE ON THE MARKETS AS THE RBA HAS ANOTHER HIKE, RAISING ITS CASH RATE TO 4.1%. WHAT LISTENING FOR OTHER
CENTRAL BANKS GOING FORWARD? JOIN US IS THE FOUNDER. THANK YOU SO MUCH. EVERYTHING CHANGES WHEN INTEREST RATES GO UP FOR FINANCIAL SERVICES. HOW DO YOU SEE THIS EVER EVOLVING INTEREST-RATE HIKES, TECHNOLOGY, CHANGE IN OPERATIONS IMPACTING THEIR WE BANK AND MANAGE OUR ASSETS? >> I THINK THE TREND WE REALLY SEE IS ABOUT PERSONALIZATION OF THE SERVICES. IT'S ALL ABOUT HOW I ACHIEVE MY GOALS AND HOW I CAN BE TAILORED SPECIFICALLY FOR ME.
I THINK THAT IS DIRECTLY RELEVANT IN A WORLD WHERE INFLATION IS HIGHER AND PEOPLE HAVE MORE CHALLENGING GOALS. IT'S ALL ABOUT PERSONALIZATION. FRANCINE: YOU FOUNDED THIS COMPANY. AND IT'S AMAZING THE GROWTH TRAJECTORY YOU SEE. YOU ARE PARTNERING WITH SOME BANKS. WHAT SURPRISED YOU THE MOST IN
THIS JOURNEY? >> IT'S A COMPLEX INDUSTRY, WHICH IS WHY IT'S TAKEN LONGER FOR THE IMPACT AND TECHNOLOGY TO REALLY TRANSLATE INTO A BENEFIT TO THE CONSUMER. THE APPROACH WE'VE TAKEN IS TO PARTNER WITH WEALTH MANAGERS. MOVING ON TO MODERN TECHNOLOGY PLATFORM. THAT LETS THEM FOCUS ON THEIR CUSTOMERS, DIGITIZING AND HAVING TRANSPARENT SERVICES. FRANCINE: THIS IS REALLY AN AMAZING STORY. IT IS COMMODITIZING THE BANK
OFFICE SO INDIVIDUAL BANKS CAN GIVE THEIR SERVICE TO CLIENTS. >> AS A CONSUMER IN THE SPACE, I FEAR ABOUT HOW MY MONEY IS INVESTED. I CARE ABOUT THE TRUST I HAVE WITH MY ADVISOR. EVERYTHING ELSE NEEDS TO FADE INTO THE BACKGROUND.
THAT'S WHERE AUTOMATION CAN REALLY ENABLE THE THINGS THAT MATTER TO BE THE FOCUS. THAT'S WHAT IT'S ABOUT. FRANCINE: DO YOU GET DISRUPTED BY AI? WE ARE TRYING TO FIGURE OUT WHAT AI MEANS FOR MARKETS. >> I DON'T THINK WE GET DISRUPTED BY AI. IT'S ENORMOUS BENEFIT FOR THE NEXT LEVEL. THE MORE AND MORE WE CAN TAKE COMPLEX PROCESSES AND SCALE THEM, AI IS A KEY ENABLER OF THAT. TECHNOLOGY WE DEPLOY TAKES IT TO THE NEXT LEVEL. FRANCINE:
YOU COME FROM A PRIVILEGED POSITION OF WEALTH MANAGERS. ARE WE EXPECTING CONSOLIDATION? IF YOU DON'T HAVE A GOOD VALUE PROPOSITION IN YOUR OPENING ACCOUNTS FOR THEM, WILL THEY HAVE TO MERGE? >> I THINK WE SUPPORT A MODEL THAT ISN'T NECESSARILY CONSOLIDATED. IF WE TAKE THE PAIN AWAY OF NOT JUST OPENING ACCOUNTS, BUT FUNDING THOSE ACCOUNTS AND PROVIDING THE REPORTING AND MANAGING THE REGULATION, THAT OPERATES AT LOW SCALE. WE HAVE CUSTOMERS THAT ARE VERY
LARGE-SCALE. IT ENABLES THE INDEPENDENT MODEL, WHICH IS BEEN THE TREND FOR LONG TIME. IT SUPPORTS BOTH ENDS OF THE SCALE SPECTRUM AND DOESN'T -- YOU DON'T NECESSARILY NEED TO CONSOLIDATE AS A PROVIDER OF FINANCIAL ADVICE IN ORDER TO BE EFFICIENT. FRANCINE: I KNOW YOU'VE PARTNERED WITH VIRGIN MONEY TO DELIVER AN APP.
DO YOU SEE GROWTH IN TERMS OF BUSINESS MODEL AND WHAT YOU WORKING ON? >> WE ARE EXCITED ABOUT WHERE WE CAN CONNECT PEOPLE DIRECTLY IN A MORE ACCESSIBLE WAY WITH THEIR FINANCIAL GOALS AND THEIR WEALTH. IN OUR CASE, ENABLING THEM THROUGH PARTNERSHIPS. VIRGIN IS A TRUSTED BRAND. THAT IS VERY MUCH WHAT DRIVES OUR MODEL. IT'S A MUCH BETTER MODEL FOR DELIVERING SERVICES TO CONSUMERS. WEALTH MANAGEMENT IS COMPLEX. A LOT OF PEOPLE ARE GOING TO SOLVE THIS PROBLEM FOR A COMBINATION OF APPS AND TRUSTED ADVISORS. COMPLEXITY IS HIGH.
THAT'S A PROBLEM WHICH IS SOLVED BY A TRUSTED RELATIONSHIP. FRANCINE: THAT CHANGES WITH INTEREST RATES RISING. >> INTEREST RATES RISE, INFLATION HAS RISEN AS WELL. REAL INVESTMENT RETURNS ARE NOT THAT DIFFERENT TO WHAT THEY'VE ALWAYS BEEN. PEOPLE ARE STILL GOING TO
INVEST IN GROWTH ASSETS. IT'S JUST AS IMPORTANT AS EVER FOR US TO PROVIDE SERVICES WHICH ENABLE PEOPLE TO SAVE AND TAKE RISK. I DON'T SEE THAT FUNDAMENTALLY CHANGING OVER THE SHORT TERM. FRANCINE: YOU ARE A FOUNDER AND A FAST-GROWING COMPANY THAT'S DOING VERY WELL. WHAT IS YOUR PLAN FOR THE COMPANY LONGER-TERM? >> WE BUILT A VERY SUCCESSFUL BUSINESS IN THE U.K. WE HAVE EXPANDED INTERNATIONALLY.
THIS IS THE LARGEST SCALE WEALTH MANAGEMENT MARKET BY MULTIPLE. WE ARE EXECUTING THAT GROWTH. WE'VE MADE A LOT OF PROGRESS. IT IS GETTING THERE, WHICH IS A MULTIYEAR STORY FOR US. IT IS VERY MUCH OUR TOP PRIORITY RATHER THAN THINKING ABOUT THE POTENTIAL LIQUIDITY. WE ARE AT THE EARLY STAGES OF WHAT WE CAN GROW. FRANCINE:
IS THE U.S. HARDER THAN THE U.K.? >> IF THE SAME SET OF CHALLENGES. THIS TECHNOLOGY HAS AN IMPACT ON THE CUSTOMER EXPERIENCE. THE OPPORTUNITY IN THE U.S. IS THE SAME AS WHAT HAS HELPED
US TO PROSPER AND BE SUCCESSFUL HERE IN EUROPE. WE ARE VERY EXCITED ABOUT THAT. WHEN YOU CAN APPLY IT SUCCESSFULLY TO MANY OTHERS, THE SAME BENEFITS ARE VERY EXCITING. FRANCINE: WHAT IS YOUR BIGGEST CHALLENGE
YOU HAVE TO GET RIGHT? IS IT HOW YOU PROCESS DATA OR SOME OF THE DATA CENTERS? >> IF YOU HAVE A SUCCESSFUL BUSINESS MODEL PROPOSITION, IT COMES DOWN TO EXECUTION. IN OUR CASE, MANAGING ACROSS 26 COUNTRIES. THAT'S WHERE THE CHALLENGE LIES. THAT'S WHERE WE FOCUS.
FRANCINE: IT'S WONDERFUL TO HAVE YOU ON IT. SO GETTING BREAKING NEWS AS WE USUALLY DO AROUND 9:30 A.M. THIS IS PMI RISING. ANYTHING ABOVE THIS MEANS ITS EXPANSION TERRITORY. IT IS BETTER THAN EXPECTED. THEY HAD FORECAST A 15.8 FIGURE. IT UP, WE WILL SPEAK TO THE CHIEF EXECUTIVE OFFICER OF A SOFTWARE COMPANY THAT LAUNCHED IN THE U.K.. BRITAIN IS A BROKEN ECONOMY FOR
GROWING STARTUPS. THAT IS COMING UP NEXT. THIS IS BLOOMBERG. FRANCINE: THIS IS BLOOMBERG SURVEILLANCE EARLY EDITION. A GROUP OF ALMOST 1000 TECH COMPANIES HAS WARNED THE U.K. RISKS FALLING BEHIND IN KEY TECHNOLOGIES LIKE AI AND SEMICONDUCTORS.
THAT'S IF THE GOVERNMENT DOES NOT OVERHAUL ITS POLICIES. A LOBBY GROUP IS CALLED BRITAIN A BROKEN ECONOMY FOR GROWING STARTUPS. THERE ARE COMPANIES CHOOSING THE U.K., LIKE A STARTED.
WE ARE JOINED BY THE CHIEF EXECUTIVE OFFICER AND COFOUNDER. THANK YOU FOR JOINING US. THIS IS EXCITING. YOU RAISED A LOT OF MONEY QUICKLY.
THIS IS TO KICKSTART SOMETHING IN THE U.K. THAT WOULD BE A TEMPLATE FOR THE WAY HR MANAGES THINGS ELSEWHERE. >> IT'S AN ALL-IN-ONE SYSTEM FOR PAYROLL AND HR AND A FEW OTHER THINGS AS WELL. WE ARE LAUNCHING IN THE U.K. FRANCINE: IF IT SUCCESSFUL IN THE U.K., IS IT A TEMPLATE OF WHAT IS HAPPENING IN OTHER EUROPEAN COUNTRIES? >> WE THINK OF THE U.K. AS THE BEST BARGAIN FOR TECH IN
EUROPE. THIS COULD BE THE FIRST STEP FOR US. FRANCINE: SEE A NUMBER A BIG WALL STREET FIRMS DO THE SAME WITH BANKCARDS. HOW LONG DO YOU HAVE THE EXPERIMENT TO SEE IF IT WORKS WHEN YOU ROLL IT OUT? >> IT DEPENDS ON HOW WELL IT GOES. IT COULD BE QUITE QUICK. WE ARE ESTABLISHING A PRESENCE IN A BUNCH OF DIFFERENT PLACES. FRANCINE: TALK TO ME ABOUT THE PROBLEM WITH LEGACY PAYROLL PROVIDERS. YOU OWN THIS MARKET IN THE U.S.
WHY IT WAS THERE AN ENTRY POINT? >> ONE OF THE THINGS YOU SEE IN THE U.K. MARKETS, A LOT OF DIFFERENT SYSTEMS NEED TO BE ROT TOGETHER TO RUN PAYROLL. YOU'VE GOT TO SEND THE FILES TO YOUR BANK. THERE IS A LOT OF MANUAL PROCESS GOING BACK AND FORTH. WHAT WE DO IS SAY IT MAKES SENSE TO HAVE THIS SEPARATE.
IT LOOKS GOOD. YOU CLICK A BUTTON AND THE MONEY IS ON ITS WAY TO YOUR EMPLOYEES. IT'S A 2000 PERSON COMPANY. I PERSONALLY RUN PAYROLL. IT MAKES IT REALLY EASY FOR OUR CUSTOMERS TO DO THE SAME. FRANCINE: HOW MUCH ARE YOU EXPECTING TO GROW? >> AS A BUSINESS, WE ARE DOUBLING YEAR AFTER YEAR.
GOT A CORE GROUP OF 15-20 PEOPLE WHO ARE WORKING IN OUR OFFICE HERE TO KICK THINGS OFF. WE EXPECT TO TRIPLE THAT TEAM THIS YEAR. FRANCINE: SOME OF THE FIGURES ARE QUITE INCREDIBLE. YOU RAISED $500 MILLION IN LESS THAN 12 HOURS. YOU HAVE A VALUATION OF $11 BILLION. TALK US THROUGH THE LINKAGE.
>> IN THE UNITED STATES, COMPANIES ACTUALLY SEND PAYROLL FUNDS TO THEIR COMPANIES A FEW DAYS AHEAD OF WHEN THE EMPLOYEES GET PAID. WE USE SVB AS THE RAILS FOR A LOT OF OUR BANKING. WHEN THE BANK COLLAPSED, I WOKE UP ON FRIDAY MORNING AND DISCOVERED THAT THE FUNDS WE WERE PAYING OUT TO OUR CLIENTS WERE STILL STUCK AT THE BANK IN RECEIVERSHIP. WE MADE A DIFFICULT DECISION IN ORDER TO GET PEOPLE PAID. WE WIRED $130 MILLION TO JPMORGAN CHASE AND DOUBLE PAID THE PAYROLL TO MAKE SURE PEOPLE GOT. WE HAD A QUICK FUNDRAISING
AROUND TO MAKE SURE WE HAD ENOUGH CAPITAL TO BE ABLE TO DO THAT. FRANCINE: IT'S A BIG ANGLE -- CAMPBELL. >> WE DECIDED TO DO THAT ON FRIDAY. IT WASN'T CLEAR WHAT WAS GOING TO HAPPEN.
THE FDIC'S STEPPED IN AND ALL THE FUNDS ARE RELEASED ON MONDAY MORNING. FRANCINE: THAT WEEKEND IS TATTOOED IN MY BRAIN. >> IT WAS A STRESSFUL TIME. FRANCINE: THE STRATEGY IS YOU ARE TRYING TO DO GOOD? YOU COULD'VE LOST. >> WE THOUGHT THERE WERE HUNDREDS OF
THOUSANDS OF AMERICANS THAT WERE EXPECTING TO BE PAID. WE FELT STRONGLY THAT OUR CLIENTS HAD SENT US THIS MONEY AND WE WERE GET TO MAKE SURE IT GOT DELIVERED TO THEIR EMPLOYEES. FRANCINE: THINK IT CHANGES THE PROSPECT FOR U.K. BUSINESSES? ESPECIALLY THE SMALL ENTERPRISES THAT ARE THE BACKBONE OF THE ECONOMY? >> A LOT OF U.K. BUSINESSES SPINE FIVE -- SPEND FIVE OR SIX DAYS A MONTH DEALING WITH PAYROLL.
WE CAN CUT THAT DOWN. I SPEND A FEW MINUTES OR A FEW HOURS A MONTH RUNNING PAYROLL FOR OUR COMPANY. I THINK WE CAN REALLY REDUCE THE TIME AND THE ADMINISTRATIVE BURDEN ON BUSINESSES. FRANCINE: THIS MEANS THEY CAN DO MORE STRATEGY AND MORE OF THE IMPORTANT STUFF THAT MAKES THEIR COMPANY GROW. WHAT'S NEXT? IS THERE A COUNTRY OR REGION
YOU WANT TO EXPAND IN? >> FOR US, WE ARE LOOKING AT THE EU MARKET. RIGHT NOW, WE ARE FOCUSED ON THE U.K. FRANCINE: THIS IS A ONE-STOP SHOP. DO YOU HAVE TO HAVE A CONVERSATION WITH THE GOVERNMENT? THIS IS A PRIVATE COMPANY. YOU DON'T HAVE TO GET THE GO-AHEAD? >> IT DEPENDS COUNTRY BY COUNTRY. IN THE U.K., WE MAKE SURE WE CAN FILE AND PAY TAXES ON
BEHALF OF OUR CUSTOMERS AND HELP WITH THAT PROCESS. THERE ARE DIFFERENT PROCESSES TO FOLLOW AND MAKE SURE YOU ARE SET UP TO WORK WITH THE GOVERNMENTS OF THOSE COUNTRIES. FRANCINE: YOU NEED DATA CENTERS FOR THIS? >> WE SET UP INFRASTRUCTURE SO THAT CLIENTS CAN CHOOSE WHERE THEY WANT THEIR DATA HOSTED. THAT IS REALLY CRITICAL WHEN
YOU ARE OPERATING, FOR BUSINESSES TO HAVE THAT CHOICE. FRANCINE: IMAGINE THAT CHANGES IF YOU ARE AN EUROPEAN BUSINESS. >> IN THE EU, THEY WANT TO MAKE SURE THAT THE DATA IS POSTED THERE. FRANCINE: THANK YOU SO MUCH FOR MAKING THE TIME AND COME ON. WE WILL GET YOU BACK ON AND SEE HOW IT'S GOING. THE CHIEF EXECUTIVE OFFICER AND
COFOUNDER. THE PRIME MINISTER OF ITALY FACES A FEW CHALLENGES AHEAD. AMONG THEM, REVIVING THE ITALIAN ECONOMY. THIS IS BLOOMBERG. FRANCINE: ECONOMICS, FINANCE, POLITICS.
THIS IS BLOOMBERG SURVEILLANCE. LET'S GET STRAIGHT TO THE BLOOMBERG BUSINESS FLASH. >> APPLE HAS UNVEILED ITS FIRST NEW MAJOR ACCENTS 2015. THE MIXED REALITY HEADSET COMES WITH A PRICE TAG OF $3500. BLOOMBERG UNDERSTANDS INDIAN EDUCATION STARTUP HAS SELECTED NOT TO MAKE FURTHER PAYMENTS ON A LOAN AFTER A DISPUTE WITH LENDERS. THE MOVE ESCALATES A CONFLICT
THAT COULD JEOPARDIZE THE FUTURE OF INDIA'S HIGHEST FLYING STARTUPS. THEY'VE BEEN TRYING TO STRIKE A DEAL WITH CREDITORS TO RESTRUCTURE THE LOAN WHILE SEEKING TO LIST ITS TUTORING UNIT NEXT YEAR. CHINA'S PROPERTY UNIT HAS DELIVERED A DELAYED EARNINGS REPORT THAT MAY BRING ITS SHARES CLOSER TO A RESUMPTION OF TRADING. THE GROUP REPORTED A PROFIT OF JUST UNDER $200 MILLION FOR 2022. THE STOCK OF THE MOST INDEBTED DEVELOPER HAS BEEN SUSPENDED FOR MORE THAN A YEAR. GLOBAL NEWS 24 HOURS A DAY, ON AIR AND ON BLOOMBERG QUICKTAKE, POWERED BY 2700 JOURNALISTS AND ANALYSTS IN MORE THAN 120 COUNTRIES. THIS IS BLOOMBERG.
FRANCINE: THANK YOU. THE CREATION OF NATIONAL CHAMPIONS IN AREAS FROM ENERGY TO FASHION AND LUXURY. FOR MORE ON THAT, THE BIG TAKE SCOOP.
LET'S BRING IN OUR WESTERN EUROPE REPORTER. THANK YOU ONCE AGAIN FOR DONUTS. CONGRATULATIONS HOW IS SHE IMPLEMENT IN HER NEW VISION? >> THANK YOU FOR HAVING ME. SHE IS ESSENTIALLY PUTTING ALL
OF HER PEOPLE IN AREA STRATEGIC POST. SHE HAS THE LOCK TO BE IN POWER AT A TIME WHEN A LOT OF THESE POSTS ARE COMING. SHE CAN NOMINATE PEOPLE IN VERY BIG COMPANIES. THERE IS A HUGE DEFENSE COMPANY, THEY ARE VERY STRATEGIC COMPANIES AND IMPORTANT ALL OVER THE WORLD. SHE IS PUTTING PEOPLE SHE BELIEVES WILL CONTINUE HER VISION, EVEN IF THE GOVERNMENT HAPPENS TO FALL. THAT HAPPENS OFTEN. IT IS A STRATEGIC VISION THAT
WILL GO ON AFTER SHE IS GONE. FRANCINE: WHAT DO INVESTORS THINK OF THIS? IF PEOPLE WERE CONCERNED ABOUT HER FAR RIGHT POPULISM, HAVE THEY DONE A REVERSAL ON THIS? >> SHE IS PLAYING A VERY FINE GAME. SO FAR, IT IS WORKING. INTERNALLY, SHE IS STILL THAT ANTI-IMMIGRANT, ANTI-LGBTQ PERSON. EXTERNALLY AND FROM THE ECONOMIC POINT OF VIEW, SHE IS VERY WISE AND SHE IS MODERATE. MARKETS ARE TAKING IT VERY WELL. SHE IS NOT DOING ANYTHING ON CAUTIOUS ON THE ECONOMY.
DEFICIT IS A HUGE PROBLEM FOR ITALY. WE CAN SEE THAT WITH THE SPREAD. IT IS NOT REALLY MOVING THAT MUCH. IT IS MUCH LOWER THAN IT WAS A
YEAR AGO. FRANCINE: WHAT ABOUT HER VISION ON CHINA. IT WHAT DOES THAT MEAN FOR ITALIAN BUSINESS? >> THIS IS A REAL PROBLEM. SHE HAS THIS NATIONALIST VIEW. PART OF HER PROGRAM IS SHE DOESN'T WANT TO ALIENATE THE U.S. SHE WANTS TO BE A GOOD ALLY.
SHE WANTS TO SHOW SHE PLAYS THE GAME. ITALY HAS OVER 2000 COMPANIES INVOLVED IN CHINA. THEY ARE HEAVILY INVOLVED. THEY ARE VERY WORRIED BECAUSE IT'S HAPPENING FAST. THEY WERE VERY INVOLVED. THEY MAY NOT HAVE TIME IF ITALY
PULLS OUT. FRANCINE: THANK YOU SO MUCH AS ALWAYS FOR JOINING US. THAT IS OUR WESTERN EUROPEAN ECONOMY REPORTER IN ROME. WE ARE GETTING BREAKING NEWS.
GERMAN AND INDIAN COMPANIES HAVE BEEN NEARING A DEAL TO BUILD SUBMARINES IN INDIA. WE WILL GET YOU MORE NEWS ON THAT. THIS WAS CROSSING THE TERMINAL AND JUST A FEW MINUTES. WE WILL HAVE A FULL MARKET GROUND. THIS IS BLOOMBERG.
-- ROUND UP. THIS IS BLOOMBERG. ♪ >> THIS IS BLOOMBERG SURVEILLANCE WITH ANNA EDWARDS. >> IT'S 10:00 IN LONDON AND 5:00 IN LONDON. A 25 BASIS POINT HIKE, MORE TIGHTENING MAY BE NEEDED. THE AUSSIE DOLLAR JUMPS. APPLE REVEALS ITS MIXED REALITY. WITH THE SEC SUES FOR BREAKING
SECURITIES RULES. IT CRYPTO EXCHANGE CALLS IT DISAPPOINTING AND MISGUIDED. WELCOME TO BLOOMBERG SURVEILLANCE. IT'S A BIT OF SOFTNESS IN
MARKETS. KRITI: IT ALL COMES DOWN TO THAT QUESTION OF ARE WE GETTING CLOSER AND CLOSER TO THAT RECESSION A LOT OF PEOPLE HAVE BEEN PROTECTING IS JUST AROUND THE CORNER. NOW, AS WE GET DATA LIKE THE SERVICES, THIS IS THE SLOWDOWN IN THE BIGGEST PART OF THE U.S. ECONOMY.
IT'S COMING FASTER THAN WE EXPECTED. IT WEIGHED ON SENTIMENT TODAY AS YOU SEE FUTURES DOWN. THIS IS NOT A MASSIVE MOVE TO THE DOWNSIDE. GIVEN THE CONTEXT, FUTURES HAVE REMAINED UNCHANGED AT THIS TIME. THIS IS A LITTLE BIT MORE CONVICTION IN THE IDEA IT IS A DOWN DAY. YOU SEE THAT WHEN IT COMES TO THE BOND MARKET. THE FEDERAL RESERVE NEED TO BE
REPRICED. THE TWO YEAR YIELD IS DOWN TO BASIS POINTS. WHAT'S INTERESTING IS WE ARE ABOUT A WEEK AWAY FROM THE NEXT FED MEETING.
WE ARE TALKING ABOUT WHETHER OR NOT THE FED NEEDS TO HIT PAUSE. THAT'S WHAT THE MARKET IS PRICING. YOU'RE STARTING TO SEE A SLOWDOWN, WINDOWS THE MARKET INTERPRET THAT AS A NEED TO CUT? THAT'S GOING TO BE THE CONVERSATION WE HAVE IN COMING DAYS. THIS BRINGS BACK DOWN WHAT 24 HOURS AGO WE WERE TALKING ABOUT THIS MASSIVE VOLUNTARY CUT FROM OPEC. HERE WE ARE, TESTING THAT
LEVEL. WHAT DOES THAT SAY IN TERMS OF THE RECESSIONARY CALLS? YOU SAW A LITTLE BIT OF A MIXED PICTURE. YOU SAW SOME REAL OUTPERFORMANCE IN JAPAN. THE CHINESE INDEX IS UNCHANGED, UNDERPERFORMING THE BROADER GAINS YOU SAW IN THE REGION. THE REAL HIGHLIGHT IS COMING FROM THE RBA, THE AUSTRALIAN CENTRAL BANK. YOU ARE SEEING STRENGTH IN THE AUSSIE DOLLAR. WHAT DOES THAT SAY IN TERMS OF
TACKLING INFLATION, ONE WEEK AWAY FROM THE FEDERAL RESERVE MEETING. YOU ARE SEEING SOME STRENGTH IN THE AUSSIE DOLLAR. KRITI: THAT'S REALLY INTERESTING. ANNA: THERE CERTAINLY HAVE BEEN -- THIS WAS A CENTRAL BANK THAT HAD BEEN ON HOLD. IT STARTS TO HIKE AGAIN. DOES THAT GIVE US PAUSE FOR THOUGHT? IS THE PICTURE FOR EUROPEAN STOCKS ON THE BACK FOOT. DOWN BY LESS THAN THAT IN MOST OF THESE MARKETS.
MODEST WEAKNESSES COMING THROUGH ON THE LONDON MARKET. HEALTH CARE PROVIDING ONE AREA OF GREEN. MOST OF THE SECTORS ARE NEGATIVE TERRITORY. ONE AREA OF BRIGHTNESS HAS BEEN THE ENERGY STORY, BRENT CRUDE IS DOWN BY 2.5 PERCENT. THAT IS WEIGHING ON ENERGY STOCKS. WE ARE LOOKING FOR THIS TO BE
REPLICATED. WE NOW SEE WEAKNESS IN THE OIL PRICE, DOWN BY 2.4%. THAT IS HAVING AN IMPACT ON THOSE STOCKS. NATURAL GAS IS IN FOCUS WHEN IT
COMES TO YOUR. WE DON'T SEE MUCH MOVEMENT IN THE MARKET. YESTERDAY, WE SAW A REALLY BIG JUMP. WE GOT USE TO THE INITIAL INVASION OF UKRAINE.
THE WAR IS ON GOING THERE. NOW WE SAW A JUMP IN GAS PRICES YESTERDAY IN THE U.K. AND THE EUROPEAN BENCHMARK. HOW TIGHT THAT MARKET GETS. WE HAVE SOME DATA OUT. THE POUND IS INTERESTING.
INTERESTING CONSTRUCTION DATA IS COMING OUT. THEY'RE DOWN TO LEVELS OF HOMEBUILDING WE HAVEN'T SEEN SINCE 2009. WE HAVE CHRISTINE LAGARDE AT THE ECB REASSERTING THOSE MARKETS. LOOK AT INFLATION EXPECTATIONS. THEY HAVE SOFTENED. WE HAVE A LOT TO DISCUSS WITH OUR GUEST. KRITI: THAT DECISION FROM US TRILLION HAS A PAUSE FOR THOUGHT ON IMPACT -- INVESTORS AROUND THE WORLD.
THEY RAISED THEIR KEY INTEREST RATE. JOIN US TO BREAK IT ALL DOWN IS JUSTINA LEE. WHAT IS THE THINKING IN AUSTRALIA, A COUNTRY THAT HAS BEEN HAVING A HARD TIME ADOPTING THE TITER POLICY REGIME AND TACKLING INFLATION. >> THE AUSTRALIAN CENTRAL BANK IS FINDING ITS SELF IN THE SHOES A LOT OF MALICE -- MONETARY POLICY MAKERS ARE IN. IT STILL SEEMS VERY FAR FROM THE TARGET OF 2-3%. IT IS STILL HIGH. PUTTING TOGETHER ALL OF THESE
THINGS, I THINK THEY SURPRISED MARKETS WITH A GREAT HIKE AND SIGNALED FURTHER TIGHTENING. ECONOMISTS ARE SPLIT RIGHT NOW. PEOPLE ARE EXPECTING TO SEE A BIT OF A SLOWDOWN IN AUSTRALIAN GROWTH. THAT SHOULD CURB PRICE INCREASES AS WELL. ANNA: THE WAGES STORY LOOKED PRETTY STANDARD. CHINA IS ASKING THEM TO CUT THE DEPOSIT RATES. SUPPORT FOR THE PROPERTY SECTOR IN CHINA WE MENTIONED LAST WEEK.
KRITI: THAT'S A COMPLETE LEAVE DIFFERENT PATH. CHINA HAS EXPERIENCED HIS DISAPPOINTMENT AND WHAT THAT POST-COVID REOPENING HAS PROVEN TO BE. WE'VE SEEN WORSENING DATA ACROSS RETAIL SALES AND INDUSTRIAL PROFITS.
THIS ENCOURAGES BANKS TO CUT THROUGH DEPOSIT RATES, WHICH HOPEFULLY MEAN THEY WILL LOWER THEIR LENDING RATE AND GET MONEY GROWTH GOING AGAIN. WHAT WE HAVE SEEN IS WEAKNESS. THAT IS TOTALLY TO BE EXPECTED EVEN THAT CHINA IS GOING IN THE OPPOSITE DIRECTION FROM THE FED. ANNA: THANK YOU VERY MUCH. THANK YOU FOR JOINING US. WITH REFLECTIONS ON SOME OF
THOSE BIG MACRO THEMES. LET'S GET TO THE CORPORATE AGENDA. APPLE UNVEILED ITS HEADSET AT THE WORLDWIDE DEVELOPERS CONFERENCE WITH A HEFTY PRICE TAG OF $3500. TIM COOK SPOKE ABOUT THE NEW PRODUCT YESTERDAY. >> IN THE SAME WAY THAT MAC INTRODUCED US TO PERSONAL COMPUTING AND THE IPHONE INTRODUCED US TO MOBILE COMMUTING, APPLEVISION PRO WILL INTRODUCE US TO SPATIAL COMPUTING. THIS IS THE BEGINNING OF A JOURNEY THAT WILL BRING A NEW DIMENSION TO POWERFUL PERSONAL TECHNOLOGY.
ANNA: THE FUTURE IS SPATIAL. WE HAVE REFLECTIONS ON THIS THEY TO STOP FRAME FROM APPLE. WE SAW THAT STOCKS STUMBLE A LITTLE BIT. IS THAT BECAUSE THE MARKET WORRIES OF INDIVIDUALS WILL PAY OR IT ISN'T AIMED AT A MASS-MARKET? >> THERE WERE TWO DIFFS TO THE SHARE PRICE. THE FIRST ONE CAME WHEN APPLE SHOWED THE FIRST USE CASE.
IT WAS BUSINESSES. INVESTORS TOOK THAT TO THIS IS A TARGET FOR THE ENTERPRISE. YOU CAN SUSPECT SOMEWHERE IT LATER DOWN THE LINE THERE WILL BE A NON-PRO VERSION THAT IS CHEAPER.
THE PRICE POINT, $3500, IT'S BEEN REPORTED IT WAS GOING TO BE IN THE $3000 RANGE. IT WAS A LITTLE MORE EXPENSIVE THAT. IT IS NOT -- IT IS NOT A MASS-MARKET PRODUCT. IT IS QUITE A LOT FOR A NEW CATEGORY.
IT WILL BE LESS THAN THE IPHONE. KRITI: THEY TALKED ABOUT SOME OF THEIR OTHER PRODUCTS LIKE NEW VERSION OF THE MACBOOK. THAT SIGNALS WITH THE RIPPLE EFFECTS ARE FOR THE CHIP SECTOR. THAT BRINGS ME TO ANOTHER STORY. LOWERING THEIR CAP ACTS AS A RESULT OF THE CHIP DEMAND.
>> THEY HAVE ALREADY GIVEN A RANGE OF HOW MUCH THEY EXPECT TO BUILD CAPACITY. IT WILL BE $32 BILLION. THEY ARE NOT EXPECTING MASSIVE RESURGENCE IN DEMAND. THERE HAD BEEN SOME HOPE THAT THE DEMAND FOR AI CHIPS, CHIPS THAT HELP WITH AI MIGHT DRIVE SOME DEMAND. IT DOES MAKE THE CHIPS FOR VIDEO. THEY'RE NOT GOING TO BE BENEFITING FROM THAT JUST YET.
THEY MAY IN THE YEARS AHEAD. ANNA: LAWSUIT HAS BEEN STRIKING FEAR INTO MANY IN THE CRYPTO SPACE. ACCUSATIONS OF MISHANDLING FUNDS AND MISLEADING REGULATORS.
>> IT SENT A CHILL THROUGH THE CRYPTO SECTOR. ONE PERSON SAID IT WAS A CONTINUATION OF THE CRYPTO NUCLEAR WINTER. THE KEY THING IS WHETHER THESE ARE SECURITIES. THE SEC IS SAYING THEY'VE IDENTIFIED 12 THINGS THAT ARE TRADED ON THE EXCHANGE. IT'S A BREACH OF SECURITY LAW.
THAT'S A BIG PROBLEM THAT LEADS TO MORE REGULATION. ANNA: THANKS VERY MUCH. A NUMBER OF TECH THEMES. THE CRYPTO NEWS FLOW, IF YOU'RE INTERESTED IN THAT STORY, THAT IS TODAY AT 1:00 YOUR TIME. IT COVERS THE PEOPLE AND TECHNOLOGY SHAPING THE WORLD OF DECENTRALIZED FINANCE. THE FIRST ITALIAN FEMALE PRIME MINISTER LOOKING TO DRIVE CHANGE IN THE ECONOMY. THOSE ARE BIG TAKE STORY.
WE WILL GET FULL ANALYSIS SCREEN. THE NARROW BREATH IN STOCKS LOOKS UNTENABLE. ONE THAT IS STILL AHEAD. WE WILL SPEAK TO THE SENIOR ECONOMIST AT HSBC. THERE IS A LOT TO DISCUSS. THIS IS BLOOMBERG.
KRITI: THAT'S IS BLOOMBERG SURVEILLANCE EARLY EDITION. THE ITALIAN PRIME MINISTER IS THE CREATION OF NATIONAL CHAMPIONS FROM ENERGY TO FASHION A LUXURY AND THE LAUNCH OF A SOVEREIGN WEALTH FUND TO FINANCE OF ALL. LET'S BRING IN THE CO-AUTHOR OF THE STORY. AND I THINK OF ITALY, I THINK OF ITALY, I DON'T THINK ABOUT BIG CORPORATE HUB. THAT'S WHAT THE PRIME MINISTER
SEEMS TO BE SHOOTING FOR HERE. HOW IS THAT UNFOLDING GIVEN THE TIES TO RUSSIA? >> YOU HAVE A VERY GOOD POINT. SHE IS A NATIONALS. SHE IS SHOOTING FOR NATIONAL CHAMPIONS.
IT'S NOT WHAT YOU THINK ABOUT. ITALY IS A G-7 COUNTRY. THE BIGGEST EXPORT IS MANUFACTURING. SHE IS SHOOTING FOR NATIONAL CHAMPIONS. SHE THINKS ITALY HAS THE WRONG IMAGE. MORE CAN BE DONE. ENI IS A STATE RUN A COMPANY THAT SHE HAS PUT HER PEOPLE IN. IT IS ONE OF THE BIGGEST COMPANIES.
A BIG ENERGY COMPANY HAS HUGE ASSETS IN LATIN AMERICA. IT IS PARTLY STATE RUN AND SHE IS PUTTING HER PEOPLE AND. SHE IS DOING THAT FOR A NUMBER OF COMPANIES. IT COMES UP EVERY THREE YEARS. SHE WAS ELECTED WHEN THE NOMINATIONS CAME UP. IF THIS GOVERNMENT SHOULD FALL, HER PEOPLE WILL REMAIN. HER VISION CAN GO ON FOR
SEVERAL YEARS. THAT IS REALLY HER GOAL. ANNA: GOOD MORNING. WHAT DO INVESTORS THINK OF THIS? THERE HAD BEEN CONCERN THAT SHE CAME FROM A FAR RIGHT AND POPULIST POLICY. HAS SHE SHAPED UP TO BE WHAT
INVESTORS WERE EXPECTING? >> SHE HAS. SHE IS PLAYING THIS VERY FUN GAME RATED SHE IS STILL THE POPULACE. SHE IS STILL ANTI-IMMIGRANT AND NOT FOR LGBTQ RIGHTS. AS FAR AS THE ECONOMY IS CONCERNED, SHE IS VERY MODERATE. YOU HAVE THE SPREAD BETWEEN ITALIAN AND GERMAN BONDS.
IT IS MUCH LOWER THAN IT WAS LAST YEAR. THAT IS ASSIGNED THAT INVESTORS ARE SEEING THAT SHE IS BEING CAREFUL ON THE DEFICIT. SHE IS NOT SPENDING WILDLY. SHE IS PUSHING THIS NATIONALIST VISION. SHE IS BEING CAREFUL NOT TO ALIENATE HER ALLIES WHICH IS KEY. KRITI: ONE OF THE KEY ALLIES IS CHINA. TALK TO US ABOUT ITALY'S INVOLVEMENT IN THEIR INITIATIVE.
WHERE MIGHT THAT GO IN THE FUTURE? >> HERE IS THE THING. IT'S AN IMPORTANT ALLY. ITALY ACTUALLY SIGNED THIS. SHE WANTS TO BE A TEAM PLAYER WITH HER OTHER PEERS IN EUROPE. SHE WANTS TO BE FRIENDLY WITH THE U.S.. SHE WANTS TO KEEP THAT GOING. SHE HAS TO MOVE AWAY FROM CHINA. HER MINISTERS HAVE MORE THAN
HINTED. SHE IS MOVING AWAY FROM THIS DEAL. IT'S NOT GREAT NEWS FOR COMPANIES. SHE IS GETTING A LOT OF PRESSURE FROM ITALIAN COMPANIES. THERE ARE 2000 ITALIAN COMPANIES IN CHINA RIGHT NOW.
THEY ARE GOING TO BE IN REAL TROUBLE IF CHINA DECIDES TO RETALIATE BECAUSE ITALY IS PULLING OUT. ANNA: THANK YOU FOR BRINGING US THE BIG TAKE STORY. YOU CAN FOLLOW THIS ON BLOOMBERG.COM. THIS IS BLOOMBERG. ♪ KRITI: THIS IS BLOOMBERG SURVEILLANCE EARLY EDITION. KEEPING UP-TO-DATE WITH AROUND
THE WORLD. THIS THE FIRST WORD. MORGAN STANLEY WILL MOVE TO A NEW OFFICE IN SINGAPORE AS IT LOOKS TO EXPAND ITS PRESENCE IN ASIA. THE COMPANY IS AN ADVANCED TALK TO TAKE OVER FIVE FLOORS OF TOWERS UNDER CONSTRUCTION. A BOOM IN PRIVATE BANKING AND OTHER SERVICES HAS ALTERED DEMAND FOR OFFICES IN THE SINGAPORE BUSINESS DISTRICT. JAMIE DIMON WILL BE ON CAPITOL HILL. THE CEO WILL MEET PRIVATELY WITH A GROUP OF MODERATE HOUSE DEMOCRATS A TALK ABOUT BANKING AND THE U.S. ECONOMY.
THE LUNCH TAKES PLACE AS HE HAS BEEN URGED TO ENTER THE PRESIDENTIAL RACE DESPITE HIS PROTEST THAT HE DOES NOT PLAN TO RUN. THE VITAMINS TO RATION SAYS MILITARY INTERCEPTION MANEUVERS BY CHINESE SHIPS AND PLANES SUGGEST A GROWING AGGRESSIVENESS FROM BEIJING. THE COUNCIL SPOKESMAN SAID THESE ACTION RISK AN INCIDENT THAT COULD RISK INJURY. A CHINESE WARSHIP CROSSED IN FRONT OF A NAVY VESSEL IN THE TAIWAN STRAIT AT A DISTANCE OF LESS THAN 150 METERS. >> IT WON'T BE LONG BEFORE SOMEBODY GETS HURT.
THAT'S THE CONCERN WITH THESE UNSAFE INTERCEPTS. THEY CAN LEAD TO MISCALCULATIONS. WHEN YOU HAVE PIECES OF METAL THAT SIZE, IT WOULDN'T TAKE MUCH. KRITI: RUSSIAN FORCES HAVE BLOWN UP A GIANT DAM IN UKRAINE.
IT UNLEASHED A TORRENT OF WATER, PUTTING 10 VILLAGES AT RISK OF FLOODING. RESIDENTS ARE BEING TOLD TO EVACUATE. PRESIDENT ZELENSKYY SUMMONED A MEETING OF THE DEFENSE COUNSEL TO DISCUSS THE ATTACK. DEVASTATING IMAGES COMING OUT OF UKRAINE. INTERESTING TIMING AS WE HEAR REPORTS OF A COUNTEROFFENSIVE.
ANNA: THE IMAGERY MAKES YOU CONCERN FOR THE PEOPLE WHO ARE INVOLVED FIRST AND FOREMOST. HERE WE SEE SOME OF THOSE IMAGES ON SCREEN. THIS IS A HUMANITARIAN STORY, VERY MUCH PART OF THE NARRATIVE THAT CROP PRICES JUMPED ON THIS. EVEN THOUGH THERE DOESN'T SEEM TO BE MUCH THREAT TO CROPS WRECKED LATE IN THE PATH OF THIS WATER. THAT WAS THE RISK FROM A MARKET PERSPECTIVE.
TO YOUR WIDER POINT, THIS SEEMS TO BE COMING AT A TIME WHEN EVERYONE WAS BRACED FOR A SPRING OR SUMMER OFFENSIVE. THE UKRAINIANS HAVE TOLD US THEY WON'T MAKE IT VERY OBVIOUS WHEN THAT IS GOING TO START. THIS UPTICK IN VIOLENCE WE ARE SEEING IN THE CONFLICT IS THAT PART OF THE INSURGENCY. KRITI:
IT'S INTERESTING WHAT INTERNATIONAL SUPPORT THIS HAS GOTTEN. WE WERE TALKING WITH OUR REPORTER OVER IN ITALY, TALKING ABOUT HER STANCE. THAT HAS LENT HER QUITE A BIT OF POLITICAL CAPITAL FROM AROUND THE WORLD. IT FEELS LIKE AS WE TALK ABOUT THIS COUNTER OFFENSIVE, IT IS MORE IN THE CONVERSATION IN EUROPE. THE KEY STORIES THE CAUGHT MY EYE IS THIS ALL TO BILLION-DOLLAR PLAN OUT OF EUROPE TO CONTINUE THE FINANCING OF UKRAINE. THAT IS SOMETHING TO WATCH.
ANNA: WE WILL TALK TO JAMES ABOUT WHY HE DOESN'T SEE A SOFT LANDING. HE IS TALKING ABOUT NARRATIVE TENNIS. THAT'S A NICE WAY TO ENCAPSULATE THOSE LOOKING AT INDICATORS. THINKING ABOUT HOW THE STANCES
OF THOSE TWO CAMPS LAYOUT FROM HERE. THIS IS BLOOMBERG. KRITI: THIS IS BLOOMBERG SURVEILLANCE EARLY EDITION. THE RBA SURPRISES MARKETS WITH A 20 POINT BASIS HIKE. APPLE UNVEILS ITS LONG-AWAITED MIXED REALITY HEADSET. INVESTORS ARE SKEPTICAL OF THE PRICE TAG.
THE SEC SUES FOR ALLEGEDLY BREAKING SECURITIES RULES. THE CRYPTO EXCHANGE CALLS IT DISAPPOINTING. EVEN THOUGH WE HAVE ALL OF THESE PIECES OF NEWS ON THE MICRO FRONT, THE MACRO IS AROUND INFLATION AND RECESSION.
ANNA: EXPECTATIONS AROUND THOSE TWO THINGS, MOVING AROUND A LITTLE BIT. THAT GAVE PEOPLE A LOT TO THINK ABOUT AFTER THE STRENGTH OF THE DATA ON FRIDAY. THIS IS THE PICTURE FOR EUROPEAN STOCKS. THEY ARE NOT GOING ANYWHERE VERY FAST. TO THE DOWNSIDE, WE SEE THE HEAVILY WEIGHTED ENERGY NAMES UNDER PRESSURE AS A RESULT OF A BIT OF WEAKNESS COMING THROUGH IN THE OIL PRICE. WE CONTINUE TO ASK THOSE
QUESTIONS. IT WAS UP BY MORE THAN 20%. THIS IS THE BENCHMARK WE SHOWED AT THE START OF THE INVASION OF UKRAINE. IT IS WHEN WE SAW A LOT OF THE CONCERN ABOUT GAS SUPPLY IN EUROPE. WE SAW THAT BIG JUMP, TALKING ABOUT ISSUES AROUND TIGHTNESS IN THE MARKET. IT MIGHT BE SUMMER NOW, THOUGHTS ARE TURNING TO THE NEXT WINTER. WE SEE SOME PULLBACK. THE POUND IS AT 124. IT IS IN CONSTRUCTION STORY.
THE PMI FOR THAT PART OF THE ECONOMY FLATTERED BY CIVIL ENGINEERING PROJECTS. THE LOWEST LEVEL OF CONSTRUCTION WE'VE SEEN SINCE 2009. THE EURO IS DOWN A 10TH OF PERCENT.
ARE WE EXPECTING ANOTHER COUPLE OF INTEREST RATE HIKES FROM THE ECB? WE HEARD FROM CHRISTINE LAGARDE YESTERDAY. IT IS STILL ACTIVE HERE IN EUROPE. WE ARE MINDFUL OF INFLATION EXPECTATIONS MORE BROADLY FROM THE EUROPEAN PEOPLE. WE ARE SEEING SOME DOWNWARD PRESSURE. WHAT YOU SEE IN THE U.S.?
KRITI: THAT SENTIMENT YOU WERE OUTLINING, THAT IS FEELING EQUITIES A LITTLE BIT TO THE DOWNSIDE. WE'RE NOT HAVING THAT MAJOR CONVICTION OR SELLOFF TONE. THAT COULD CHANGE IN JUST A FEW HOURS. THAT IS DOWN 0.1%. WE WILL CALL THAT FOR OUR RADIO AUDIENCE.
AS WE SEE THE FED GET PAST THE IDEA OF GOING HARD ON INFLATION, PERHAPS TAKE A STEP BACK AND HIT THE PAUSE BUTTON. THAT TUG-OF-WAR BETWEEN THE NARRATIVES IS HITTING THE TWO YEAR YIELD. IT'S A LITTLE BIT OF A BID INTO THE CURVE. THAT BIAS YOU WERE SEEING IT, THAT WEAKNESS REFLECTED IN THE GREENBACK. NOTHING I WOULD WRITE HOME ABOUT. EVERYTHING COULD CHANGE.
AS WE TALK ABOUT INFLATION, THE RECESSION FEARS ARE CREEPING IN. YOU RARELY SEE THAT SHOW UP IN THE COMMODITIES SPACE. KRITI: WE ARE JOINED BY THE ASSET DIRECTOR AT ABERDEEN. IT'S NICE TO HAVE YOU WITH US
TODAY. THAT MAY START BY ASKING ABOUT WHAT YOU CALL NARRATIVE TENNIS. THE IDEA WE'VE GOT COMPETING NARRATIVES IN THE MARKET. HOW DO YOU FIND THIS IS RESOLVED? IN WHICH RETCHING DO WE RESOLVE THIS? >> AS YOU SAY, THERE ARE TWO NARRATIVES. WHEN YOU SCRATCH ANY FOR THE SURFACE THERE ARE MORE.
THIS TELLS YOU SOMETHING ABOUT THE LIKELY ENVIRONMENT FOR MACRO INVESTING. WE HAVE SPENT TIME IN EACH OF THOSE QUADRANTS. THE DATA IT REALLY HAS BEEN VOLATILE AND INCONSISTENT ENOUGH TO SUPPORT EACH OF THOSE NARRATIVES AT A CERTAIN STAGE. GLOBALLY AND REGIONALLY, WE'VE SEEN EUROPE AND THE U.K. EXPECT TO HAVE SEVERE RECESSIONS BECAUSE OF ENERGY PRICES AND THEM BECOMING THIS INVESTMENT OF CHOICE.
CHINA HAS SLOWED, GERMANY IS IN TECHNICAL RECESSION. REALISTICALLY, TAKING A BIG STEP BACK TRYING TO LOOK AT THIS FROM THE HIGHEST LEVEL POSSIBLE, IT APPEARS TO BE EVERYWHERE THAT THE DATA IS TRENDING DOWN WITH A LOT OF VOLATILITY. THE MOST RECENT DATA DIDN'T LOOK GREAT CONSIDERING THAT HAS CARRIED THE BULK OF THE BURDEN IN RECENT MONTHS. THE MONETARY TYPE BEING IN A SYSTEM WE'VE SEEN. IT IS TAKING ITS TOLL ON THE SESSION. ANNA:
THINKING OF THIS LIKE A TENNIS GAME, IT IS IF WE'VE GOT A MATCH POINT AND THEN WE HAVE TO WAIT TO PLAY THAT POINT ANOTHER TIME. WE SAW THE S&P NEARLY INTO BULL MARKET TERRITORY. WHAT ARE YOUR THOUGHTS ON IF THIS A BULL MARKET OR WHERE STOCKS HIT? THE NARROWNESS OF THIS RALLY IS DRIVEN BY MOVING THE DOLLAR AROUND. THE NARROWNESS OF THIS MEANS IT'S NOT WHAT BULL MARKETS ARE MADE OF. >> EXACTLY. A LOT OF PEOPLE MADE THAT COMMENT THAT WHEN YOU START A NEW BULL MARKET, LEADERSHIP CHANGES.
THIS IS THE SAME LEAVING. I THINK IT'S FAIR TO SAY LOTS OF PEOPLE ARE UNUSUAL AND HISTORICALLY UNPRECEDENTED. IT'S DIFFICULT FOR ME TO SAY IT CAN'T BE TRUE. ULTIMATELY, IF RECESSION IS THE LIKELY OUTCOME, IT WOULD BE UNLIKELY WE WOULD START A NEW BULL MARKET WHILE THE FED WAS STILL TIGHTENING POLICY. ALL THAT TELLS ME THIS IS STILL A BEAR MARKET RALLY, A PAINFUL AND FOREBEARS AND SHORTS.
ULTIMATELY, THE OUT COME WILL DETERMINE WHERE THE INDICES HAD NEXT. KRITI: LET ME PUSH BACK ON THAT IDEA. WHY ITS LEADERSHIP BY A HANDFUL OF STOCKS SIMILAR TO WHAT WE SAW IN THE LAST BULL MARKET SUCH A BAD THING.
IT CONTRIVED IT TO PORTFOLIOS AROUND THE WORLD. THERE IS ACTUAL REAL MONEY BEHIND CLOUD, AI INFRASTRUCTURE, THINGS THAT HAVE ACCELERATED BY THE PANDEMIC. >> IT'S NOT TO SAY IT IS GOOD OR BAD.
HISTORICALLY, IT'S ANOMALOUS. WE DON'T SEE THE NEW BEAR MARKET. AS NOT TO SAY IT CAN'T HAPPEN. WHEN IT COMES TO THE FUNDAMENTALS, ONE OF THE THINGS THAT IS BEEN EASILY JETTISONED OVER THE LAST SEVERAL YEARS, INVESTING IS ULTIMATELY ABOUT VALUE. IT''S NOT ABOUT MAKING A CALL WHERE EARNINGS, OR THE ECONOMY ARE HEADED.
IT'S UNDERSTANDING WHAT IS DISCOUNTED BY THE MARKET AND INVESTING ON THE BASIS OF VALUE. AMAZON HAS BEEN AROUND FOR THREE DECADES. IT IS HIGHLY MATURE AND IS SEEN RAPID GROWTH FROM ITS NON-CORE BUSINESS. RETAIL REALLY DOESN'T MAKE MONEY. AVS HAS BEEN AN EARNINGS MACHINE.
THE INVESTORS ARE OVERPAYING FOR WHAT IS A HIGH-QUALITY COMPANY. THE EXAMPLES ARE THINGS LIKE CISCO. THEY WERE PRICED FOR THE SORT OF GROWTH THEY COULD NOT ACHIEVE, CERTAINLY NOT WELL SEEN APPRECIATION IN THEIR SHARE PRICE. THE ANNUALIZED RETURN IS SOMETHING AROUND ZERO. IT'S NOT A BAD COMPANY. IT WAS IN BAD COMPANY. THE NARRATIVE WAS CORRECT. THE VALUE WASN'T THERE AS AN INVESTMENT.
THAT'S AN INTERESTING POINT WHEN VALUATIONS ARE QUESTIONED ABOUT WHETHER THEY SHOULD BE A FACTOR. KRITI: I WANT TO BRING YOU A QUOTE ABOUT WHAT YOU WERE TALKING ABOUT. WITH FURTHER SUPPORT FROM THE FIRST QUARTER EARNINGS AND THE UNCERTAIN MACRO ENVIRONMENT. WE BELIEVE THE ROTATION MAY
CONTINUE. THESE ARE TAILWINDS TO GROWTH PERFORMANCE AS WELL. THEY ARE TALKING ABOUT THAT ROTATIONAL GROWTH.
ARE YOU THE OPPOSITE FOR US? TELL US ABOUT THE TAILWINDS IN THE VALUE TRADE. >> I'M NOT THE OPPOSITE. I UNDERSTAND THE POINT THEY ARE MAKING. THEY HAVE BEHAVED A BIT LIKE DURATION. THEY'VE GOT THIS RISING REVENUE.
IT TENDS TO BE A BIGGER DRIVER OF PERFORMANCE. THEY SHOULD PERFORM BETTER THAN LESS SITUATIONS. RECENT HISTORY HAS SET A LOT OF THESE COMPANIES HAVE BEEN ABLE TO GENERATE SOLID EARNINGS GROWTH REGARDLESS OF ECONOMIC OUTCOME. IF WE ARE HEADING INTO ROCKY PERFORMANCE I HESITATION IS THEY ARE INCREDIBLY EXPENSIVE.
THEY HAVE ALREADY DISCOUNTED A LOT OF THE POSITIVES THERE. THEY HAVEN'T DISCOUNTED A GENUINE RECESSION. SOME OF THESE COMPANIES MAY SEE THEIR REVENUES MEAN MORE. THAT CAN BE A LOSING STRATEGY. IT IS CHEAPER. ANNA: IF WE ARE DO A PULLBACK, I WONDER HOW SEVERE THAT BECOMES. THEY WERE ASKING THEMSELVES WHETHER THIS IS LIKE 1999.
THEY WONDERED IF IT COULD BE 1994 AND WE ARE IN THE FOOTHILLS OF THE EXCITEMENT. >> I HOPE IT'S NOT 1994 FROM A BOND MARKET PERSPECTIVE. THAT LED TO SOME SERIOUS LOSSES. THAT REALLY ENDED WITH THEM HAVING A TEQUILA CRISIS. HISTORICAL ANALOGS ARE A BIT
TRICKY. THERE ARE A LOT OF PARALLELS TO 1989. I DON'T THINK THE EXTREME IS QUITE AS BAD. I THINK THE LEADERSHIP IS MUCH MORE NARROW. AGAIN, APOLOGIES FOR BEING HIGHLY REPETITIVE HERE. I AM GOING TO FALL BACK ON THE ECONOMICS OF THE SITUATION.
IF THE ECONOMY AVOIDS RECESSION, IF WE FIND SOME SORT OF EQUILIBRIUM WITH LOW UNEMPLOYMENT AND WE CAN GENERATE GROWTH FROM THESE NEW BUSINESSES, EVEN IF THAT GROWTH IS NOT PARTICULARLY WELL SHARED SOCIALLY, THE EQUITY MARKET IS NOT GOING TO GO ANYWHERE NEAR THAT. I WOULD BE SHOCKED IF IT COUNTRIES AVOID RECESSION. ANNA: IT'S REALLY GOOD TO GET YOUR THOUGHTS.
THANKS VERY MUCH FOR JOINING US. COMING UP, BACK TO SOME OF THE MACRO THEMES ACROSS EUROPE. THAT CONVERSATION IS NEXT. THIS IS BLOOMBERG. THIS IS BLOOMBERG. ♪
>> PRICES PRESSURES WILL BE STRONG. INFLATION EXCLUDING ENERGY AND FOOD THAT I HAVE JUST MENTIONED, DECLINED TO 5.3% IN MAY FROM 5.6% IN APRIL. THAT IS CORE INFLATION. UPSIDE PRESSURES ON BOTH
HEADLINE AND CORE INFLATION ARE STILL COMING FROM THE PAST THROUGH ENERGY COST INCREASES AND SUPPLY BOTTLENECKS. KRITI: WE -- RATES WILL RISE FOR THE TWO GET CONTROL OF PRICES. LET'S TALK ABOUT THE ECONOMY. IN TERMS OF THE ECB, DID WE JUST CEMENT EXPECTATIONS ON HEARING THOSE WORDS, WE WILL GET FURTHER HIKES FROM THE ECB NEXT WEEK? >> I THINK SO. THERE WAS SOME WELCOME DOWNSIDE NEWS IN THE NUMBERS WE GOT LAST WEEK. FOR MOST OF THE MAJOR MARKETS, NOBODY CAME TO THE CONCLUSION THAT INFLATION WAS DEAD IN EUROPE.
THAT IS STILL WELL ABOVE THE COMFORT ZONE. THEY HIKE NEXT WEEK. I THINK THAT IS CONSENSUS ACCORDING TO THE ECONOMIST. WE THINK THEY DO IT AT LEAST ONE MORE TIME, PROBABLY TWICE. ANNA: WE GOT GERMAN FACTORY ORDERS THAT FELL BY 10%. THIS IS A REMINDER THAT AS THE CHALLENGES AROUND ENERGY CONTINUE, THERE ARE STILL PARTS OF THE COMPLEX IN EUROPE THAT ARE UP AGAINST IT.
>> ABSOLUTELY. I THINK THE MANUFACTURING SECTOR IN PARTICULAR, YOU LOOK AROUND EUROPE AND GLOBALLY, THERE IS EVIDENCE OF PRESSURE HERE. WHEN ECONOMISTS PUT THE FORECAST FOR THIS NUMBER FOR GERMANY, THEY THOUGHT WE CAN ASSUME THERE WILL BE A LITTLE BIT OF A REBOUND. WE DIDN'T EVEN GET THAT. IT IS QUITE DOWNBEAT. THERE ARE A FEW THINGS GOING ON. CONSUMERS SEEM TO ROTATED THEIR DEMAND AWAY FROM GOODS.
THAT IS A POST-PANDEMIC TREND SHOWING NO SIGN OF SLOWING DOWN. THE OTHER THING IS MANUFACTURERS DON'T JUST MAKE CONSUMER GOODS. THEY MAKE INVESTMENT GOODS. THAT IS STARTING TO GET HIT BY HIGHER INTEREST RATES. IT IS GOING TO HURT. KRITI: BETWEEN THE COVID HANGOVER AND THE WAR IN UKRAINE AS WELL, IT IS NO SECRET THAT MONETARY POLICY IS CHALLENGING. IT FEELS LIKE INVENTING A NEW ROADMAP AS WE GO.
TALK TO US ABOUT THE DECISION WE GOT OUT OF AUSTRALIA OVERNIGHT. IS THERE A LESSON THAT CAN BE LEARNED ABOUT THE ECB? >> PLEASE CENTRAL BANKS YOU MENTIONED ARE IN THE SAME QUANDARY. THEY WOULD LOVE TO BE ABLE TO STOP RAISING INTEREST RATES. THEY SEE LABOR MARKETS STARTING TO TURN. WHEN THEY LOOK AT CORE INFLATION DATA IN AUSTRALIA, WE HAD A BIG HIKE IN THE MINIMUM WAGE. THAT UNSETTLED THE FORECASTERS OVER THERE IN AUSTRALIA. THAT MEANT THEY DIDN'T FEEL
THEY WERE ABLE TO STOP TIGHTENING. THE DECISION IN AUSTRALIA TO HIKE BY 25 BASIS POINTS, IT WASN'T A HUGE SURPRISE. WE THOUGHT THIS WAS A FINALLY ALLEN'S MEETING. BROADLY SPEAKING, THE DATA ARE ALLOWING THEM TO DO SO. ANNA: THANKS VERY MUCH FOR JOINING US. SOME REFLECTIONS ON THE GLOBAL
ECONOMY. THINKING OF GLOBAL FORCES, JONATHAN FERRO POST THE OPEN LIVE FROM PIMCO IN CALIFORNIA. HE WILL HAVE EXCLUSIVE CONVERSATIONS WITH THE PIMCO CEO.
THAT IS TODAY AT 9:00 EASTERN TIME. THIS IS BLOOMBERG. ♪ KRITI: THIS IS BLOOMBERG SURVEILLANCE EARLY EDITION. SOME OF THE STOCKS WE ARE WATCHING, TOP OF EVERYONE'S MIND SEEMS TO BE THE APPLE STORY. WE KNOW THAT THEY RELEASED THE NEW HEADSET WITH A PRETTY HEFTY PRICE TAG. THOSE SHARES ARE DOWN 0.6%. I ALWAYS WONDER WHO IS THEIR MAIN COMPETITOR? THEY DABBLE IN EVERY THING.
WHO ARE THEY COMPETING WITH? ANNA: WHO ARE THEY REALLY SELLING TO IN THIS CASE? A LOT OF FOCUS ON THAT PRICE TAG AND THE NAME, IT SUGGESTS A BUSINESS AUDIENCE. THAT'S AN INTERESTING ONE TO REFLECT ON. WE ARE FOCUSED ON OTHER TECH THEMES. NOT THE LEAST OF WEST -- WITH IS INFLUENCED BY THE AMOUNT OF CAPEX. KRITI:
WHEN WE TALK ABOUT THE SUPPLY CHAIN SHORTAGE TURNED A WEAKNESS, TWO YEARS AGO, THERE WAS A MAJOR MAJOR DEMAND FOR SUPPLY CHAINS. NOW THERE IS A GLUT OF CHIPS. THE SEMI CONDUCTOR COMPANY IS TRADING HIGHER BY 0.2% AS THEY TALK ABOUT CUTTING BACK. EFFICIENCY IS A KEY PART OF THAT STORY. IT'S NOT HAVING THEATRICAL
EFFECT INTO OTHER CHIP NAMES. AGAIN IT THAT'S INTERESTING AS APPLE TALKING ABOUT MAKING THEIR IN-HOUSE CHIPS, SOMETHING THAT ELIMINATES ONE OF THE MAJOR CUSTOMERS FOR INTEL. ANNA: WE HAVE SOME NEGATIVE MOVES ON THE TECHNOLOGY SPACE. THEY ARE NOT FOLLOWING BY A
HUGE AMOUNT. ALSO UNDER PRESSURE IN EUROPE, SOME OF THE ENERGY NAMES. THIS IS BY FAR AND AWAY THE WORST PERFORMING SECTOR IN EUROPE TODAY. WE HAD A BIG MOVE DOWNWARD IN THE OIL PRICE. AND RAISES QUESTIONS ABOUT WHAT FLOOR THE SAUDI'S HAVE PUT UNDER OIL. THIS IS HAVING AN IMPACT ON EXPECTATIONS FOR OIL COMPANIES AS WE GET TOWARD THE START OF TRADE. KRITI: THE SPREAD IS SOMETHING TO
WATCH. WE ARE TALKING ABOUT TESTING THAT KEY 70 LEVEL. WHEN YOU SEE THAT WEAKNESS, THAT IS MORE WEAKNESS AND A LOT OF THOSE NAMES ARE EXTRA EXPOSED. I'M TALKING ABOUT MARATHON OIL, DOWN TO THE TUNE OF 2.8%. IT REALLY SPEAKS TO THE IDEA THESE ARE YOUR THREE WORST PERFORMERS IN THE PREMARKET.
THAT ENERGY WEAKNESS IS LIKELY TO FLOOD INTO THE U.S. AS WE GET TO THE OPENING BELLS. ANNA: A LOT OF FOCUS ON ENERGY STOCKS AND TECHNOLOGY. COULD WE GET TO A BULL MARKET? UP 20% ON THE S&P. WE DIDN'T MANAGE TO GET THERE. WE HAVE TO PLAY THAT ONE ON ANOTHER OCCASION.
MORGAN STANLEY SAYS THERE IS A NARROWNESS. THE NARROWNESS OF THIS DOES NOT MAKE IT SEEM LIKE A CLASSICAL MARKET. THAT IS IT FOR EARLY EDITION.
2023-06-09 09:59
Show Video
Other news