'Bloomberg Surveillance: Early Edition' Full (05/04/23)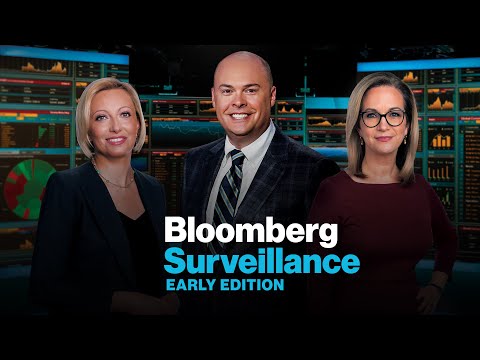 Show Video
ANNOUNCER: THIS IS "BLOOMBERG SURVEILLANCE: EARLY EDITION," WITH FRANCINE LACQUA. FRANCINE: GOOD MORNING. WELCOME TO "BLOOMBERG SURVEILLANCE: EARLY EDITION." I AM FRANCINE LACQUA, HERE IN LONDON. HERE IS WHAT IS COMING UP. PARK WEST -- PAC WEST STOCK DROPS. THEY ARE IN CONTACT WITH
SEVERAL BUYERS, OR INVESTORS. POWELL SIGNALS PAUSE AFTER THE FED SPIKES. A DOWNSHIFT TO A 25 BASIS POINTS HIKE ARE SIGNS THAT IT COULD BE TOPPING OUT. FOR ALL OF STAR WARS FANS, MAY THE FOURTH BE WITH YOU. APRIL SERVICES PMI MAY BE IN LINE.
56.2, ANYTHING ABOVE 50 MEANS WE ARE ABOVE EXTENSION TERRITORY -- MEANS WE ARE IN EXPANSION TERRITORY. IF YOU LOOK AT EUROPEAN STOCKS, A LOT OF CONCERN ABOUT EARNINGS. BE PREPARED FOR A RATE DECISION FROM THE ECB. CERTAINLY ON THE DOLLAR. ONE OF THE BIGGEST GAINERS MAINTAINING SHARE BUYBACKS DESPITE OIL AND GAS PRICES. THE EARNINGS PICTURE, MAY BE
NOT AS WELL. PRICE OF OIL, ALSO REGIONAL LENDER PAC WEST AND SOME BANKS IN THE WEST. DOES THAT SPILL OVER AND IMPACT THE ECB'S THINKING? IT COULD MOVE FAIRLY QUICKLY. RATE DEBATE RESUMES WITH DEPOSIT RATES SEEN GAINING TO 3.25%.
PAC WEST, ONE STORY WE ARE REALLY FOLLOWING CLOSELY. WE ALSO HAVE REPORTERS ON THE GROUND TO SPEAKING WITH PEOPLE FAMILIAR TO THE STORY, NOW LOOKING AT ALL OPTIONS. PREMARKET, ANOTHER HUGE SELLOFF FOR OPACWEST -- PACWEST, HINTING IT MAY BE THE LAST MOVE OF THE CYCLE. THIS FOLLOWS BLOOMBERG'S REPORT
THAT THEY WERE SAID TO BE LOOKING AT OPTIONS. WE LEARNED THAT PACWEST HAS BEEN APPROACHED BY SEVERAL POTENTIAL PARTNERS AND INVESTORS. FED CHAIR JAY POWELL WAS OPTIMISTIC. >> CONDITIONS IN THAT SECTOR HAVE IMPROVED SINCE MARCH.
THE BANKING SECTOR IS SOUND AND RESILIENT. WE WILL CONTINUE TO MONITOR THE SECTOR. WE ARE ARE COMMITTED TO LEARNING THE RIGHT LESSONS AND WILL WORK TO PREVENT EVENTS LIKE THIS FROM HAPPENING AGAIN. FRANCINE:
WE ARE NOW JOINED BY KATHARINE NEISS FROM PGIM , FIXED INCOME. I WAS IMPRESSED BY THE PUSHBACK ON MARKET EXPECTATIONS, HOW DO THINK HE DID? KATHARINE: I THINK HE DID A GOOD JOB. THE BANKS INCLUDING THE FEDERAL RESERVE ARE TRYING TO BALANCE BETWEEN NOT WANTING TO BE SEEN AS STEPPING BACK FROM THEIR MANDATE BUT NOT APPEARING TONE DEAF TO IS HAPPENING IN THE BANKING SECTOR -- TO WHAT IS HAPPENING IN THE BANKING SECTOR.
THEY DO NOT WANT TO OVERDO IT. FRANCINE: IS THE MARKET PRICING IN INKS CORRECTLY OR WILL WE SEE A FED -- PRICING THINGS CORRECTLY OR WILL WE SEE A FED PIVOT? KATHARINE: IT MIGHT NOT BE A BASE CASE BUT THERE IS A GOOD CHANCE WE COULD SEE SOME OF THESE TAIL RISKS, LIKE A MORE SERIOUS RECESSION DOWNTURN IN THE U.S. AND MORE SUPPLY SHOCKS AT THE GLOBAL LEVEL THAT HAVE SPILL OVER IN THE U.S. A BIT OF COMPLACENCY DOES WORRY ME. FRANCINE: BUT I FOUND FASCINATING IS THAT THE FED IS TRYING TO SAY, LOOK, WE ARE DEALING WITH INFLATION BUT DID NOT WANT TO DEAL WITH INTEREST RATES. I DID NOT KNOW IF YESTERDAY WAS A TURNING POINT IN THAT FIGHT.
KATHARINE: IT COULD BE POTENTIALLY A FINANCIAL STABILITY RISK, A BLUNT INSTRUMENT. THERE ARE INSTRUMENTS -- OTHER INSTRUMENTS AT THE DISPOSAL OF THE BANKING SECTOR AND OTHER SECTORS. THEY ARE GOOD AT ASSESSING THOSE POCKETS OF RISKS WHEN THEY SEE THEM. THAT IS NOT TO SAY THAT IT WILL
COMPLETELY DISREGARD THESE FINANCIAL RISKS. I THINK AFTER THE GLOBAL FINANCIAL CRISIS YOU HAVE SEEN A NUMBER OF THEM EMBED INTO THEIR STRATEGIES A RECOGNITION THAT MONETARY POLICY DOES NEED TO BE ALIVE TO THESE FINANCIAL STABILITY RISKS. TO ME, THAT MEANS EIGHT SHALLOWER RATE PATH, LOWER THAN WHERE IT WOULD BE. I THINK WE SAW HINTS OF THAT
YESTERDAY. FRANCINE: THANK YOU SO MUCH, KATHARINE NEISS. SHE STAYS WITH US. WE WILL HAVE MORE ON THE EUROPEAN CENTRAL WHAT COMES NEXT.
SOME EUROPEAN CENTRAL HAD TO POST THEIR LATEST DECISION TODAY. COOLING CONDITION IN APRIL AFTER CREDIT CONDITIONS. GOOD MORNING MARIA TADEO. WE ARE EXPECTING A HIKE, THE QUESTION IS HOW MUCH AND WHAT TOOLS THEY HAVE AT THEIR DISPOSAL? MARIA: YOU HAVE THE ECB WATCH, FED WATCH, SOMETHING FOR EVERYONE.
SPECIFICALLY HERE IN FRANKFURT, IT IS NOW UNDERSTOOD THAT THE EUROPEAN CENTRAL BANK WILL HIKE AGAIN. HOW CAN THEY NOT WHEN YOU SEE A HEADLINE INFLATION? THEIR TARGET IS TO HIT CLOSE TO 2%, STILL AROUND 7%. THAT TAKES US TO HOW MUCH, WHAT IS THE MAGNITUDE OF THE HIKE TO COME TODAY? THERE IS THIS IDEA THAT THE CALL THAT CARRIES MOMENTUM IS AT 25 BASIS POINTS.
BECAUSE OF ALL THE DATA WE HAD THIS PAST WEEK, THE LENDING SURVEY WHICH WAS PAID CLOSE ATTENTION TO BECAUSE OF JITTERS IN THE BANKING SECTOR, WHICH CONTINUES IN MID T IERS, THE ECB SAID IT IS THE ONE TO WATCH. AS THEY PUT THIS TOGETHER, THAT WOULD BACK THE CASE FOR 25 BASIS POINTS. THEY WANT TO STICK WITH THAT IN AN ECONOMY THAT IS STILL WAY TOO HIGH. THERE IS A CASE TO GO AGGRESSIVELY, BUT GOING INTO THE MEETING IT IS 25 BASIS POINTS THAT TAKES IT. OF COURSE, NOTHING OFFICIAL UNTIL THEY MAKE IT OFFICIAL. FRANCINE: WHEN YOU LOOK AT SOME OF THE OTHER THINGS, DOES THE BALANCE SHEET CONTINUE ON THE PATH WE HAVE SEEN OR COULD WE SEE MORE NEWS ON THAT? MARIA: YES, THAT IS AN EXCELLENT POINT.
ONE OF THE TRENDS WE HAVE SEEN WHEN WE LOOK AT OUR RATE DECISION LIKE THIS, IT IS A TWOFOLD PACKAGE WHEN YOU LOOK AT QT. WHEN YOU GO SOFTER, THAT WOULD MEAN IT WOULD HAVE TO GO FASTER OR APPLY ACCELERATION. THAT IS HOW YOU GET MAJORITY OR LARGE CONSENSUS AROUND DECISIONS LIKE THIS, GIVE SOMETHING TO EVERYONE. A CONSTANT GIVE AND TAKE WHEN
IT COMES TO BANKS THAT HAVE TO SET POLICY TOGETHER. THE OTHER ISSUE IS WHEN MADAME LAGARDE WILL, ON THE BANKING SECTOR. THAT IS NOT OVER. GIVEN THE UNCERTAINTY, THIS IS THE CENTRAL BANK THAT WILL FOCUS AND MONITOR CORE INFLATION, BUT ALSO TRANSMISSION OF MONETARY POLICY. FRANCINE: THANK YOU, MARIA TADEO, OUTSIDE THE ECB IN FRANKFURT. A LITTLE LATER WOULD GIVE YOU LIVE COVERAGE OF THE ECB AND MADAME LAGARDE'S PRESS CONFERENCE. STILL AHEAD, KATHARINE NEISS FROM PGIM.
HOW MADAME LAGARDE NAVIGATES, WHAT IS THE RIGHT TONE SHE NEEDS TO ADOPT? KATHARINE: TRICKY ONE. SHE DID A GREAT JOB AT THE LAST MEETING. THERE ARE SOME SIMILARITIES BUT IMPORTANT DIFFERENCES. IF WE LOOK AT CORE INFLATION, U.S., EURO AREA, IT IS MORE
TIGHTENED IN THE U.S. WHERE IN THE EURO AREA IT IS STILL IN AN UPWARD MARCH. I THINK THAT PUTS THE ECB IN A DIFFERENT SPACE. WITH TODAY'S MEETING I WOULD
THINK IT WOULD BE A NO SURPRISES MEETING. 25 BASIS POINT RATE RISE, TO SAY SOMETHING ABOUT ACCELERATING THE PACE OF BALANCE SHEET RUNOFF. I DO EXPECT THEM CONTINUE -- THEM TO CONTINUE ON THE MORE HAWKISH TONE THAN WHAT THEY SAID WITH THE FED CHAIR IN THE EURO AREA. A STEP DOWN FROM 50 TO 25 IS NOTABLE. FRANCINE:
THIS THAT MEAN THEY WORRY LESS ABOUT INFLATION OR RECESSION? THIS WOULD BE CENTRAL BANK MADE, COULD WE SEE A RECESSION THAT IS MORE SHALLOW THAN PREVIOUS ONES? KATHARINE: WE HAVE BEEN SURPRISED BY THE RESILIENCE IN THE EURO AREA THROUGH THIS WINTER. YOU MENTIONED SOME OF THE DATA THAT HAS JUST COME OUT ON THE PMI, I AND MANY OTHERS WERE THINKING WE WOULD SEE A RECESSION AS THE WINNER WAS IN SHORT ORDER HAVING TO WEAN ITSELF OFF OF RUSSIAN GAS. WE HAVE SEEN A MUCH MORE RESILIENT PICTURE, THE LATEST DATA SAYING THE RECESSION HAS BEEN ADVERTED.
I DO THINK THE ECB LIKE THE FED WILL BE WORRIED ABOUT OVERDOING IT, THEY HAVE DONE A LOT OF INTEREST RATE RISES OVER A SHORT PERIOD OF TIME, BALANCE SHEET CONTRACTION IS PUSHING IN THE SAME DIRECTION AS TIGHTENING CREDIT CONDITIONS. THE U.S. BANKING SECTOR FRAGILITY'S, EVEN WITH NO COULD CHANGE IN RISK -- EVEN WITH NO CONTAGION RISK, THE ECB NEEDS TO BE MINDFUL OF. FRANCINE: THANK YOU FOR YOUR INPUT. KATHARINE NEISS FROM PGIM. LATER WE WILL BE SPEAKING WITH -- THIS IS THE STORY WE WILL BE FOCUSED ON, YESTERDAY SAYING THAT PACWEST BANKING CORP. LOOKING AT INVESTORS. PREMARKET -- IT IS NOW DOWN 40%. 10% MONDAY, 30% ON TUESDAY.
WE WILL HAVE MUCH MORE ON WHAT THAT IS GOING FORWARD. ALSO, WE DISCUSSED THE DEMAND FOR TEQUILA, BOURBON, WITH THE FRANCINE: LET'S GET STRAIGHT TO BLOOMBERG FIRST WORD NEWS. HERE IS ALEX. >> VOLODYMYR ZELENSKYY HAS DENIED THAT UKRAINE WAS BEHIND A DRONE ATTACK ON THE KREMLIN. WHILE VISITING HELSINKI, HE SAID UKRAINE ONLY FIGHTS IN ITS TERRITORY AND MOSCOW MAY BE TRYING TO DISTRACT FROM ITS OWN BATTLEFIELD FAILURES. UNVERIFIED SOCIAL MEDIA VIDEO SHOWS WHAT RUSSIA CALLS AN ATTEMPT ON THE LIFE OF THE PRESIDENT AND A PLANNED TERRORIST ATTACK. BLOOMBERG HAS LEARNED THAT
PRESIDENT BIDEN HAS SELECTED A REPLACEMENT FOR BERNARD -- BRAINARD. ANOTHER NOMINEE WILL HELP FILL ROLES VACANT SINCE FEBRUARY. SERBIAN POLICE SAY EIGHT CHILDREN AND ONE GUARD ROOF ARE TO BE KILLED AND SEVEN OTHERS INJURED.
GLOBAL NEWS, 24 HOURS A DAY, ON-AIR AND AT BLOOMBERG QUICKTAKE, -- GLOBAL NEWS, POWERED BY MORE THAN 2,700 JOURNALISTS AND ANALYSTS IN MORE THAN 120 COUNTRIES. FRANCINE: WE WILL COME BACK TO COME PARTY FRANCINE: ECONOMICS, POLITICS, FINANCE. THIS IS "BLOOMBERG SURVEILLANCE: EARLY EDITION."
I AM FRANCINE LACQUA, HERE IN LONDON. CONSUMER DEMAND FOR APERITIFS, BOURBON AND -- BOOST BY DOUBLE-DIGIT RISE IN URBAN TURKEY SALES. PEOPLE ARE THINKING TOO MUCH. FIRST QUARTER SALES AND EARNINGS , WE ARE JOINED BY THE CHIEF EXECUTIVE OFFICER, BOB KUNZE-CONCEWITZ.
THANK YOU FOR COMING ON BLOOMBERG TO TALK TO US ABOUT TRENDS YOU ARE SEEING OUT THERE. IT IS PRETTY REMARKABLE FOR WHAT YOU ARE DOING WITH CAMPARI. COMPARED TO PEERS, YOU ARE SEEING STRONG DEMAND IN THE U.S. WHY IS THAT AND CAN YOU
CONTINUE? BOB: KENTUCKY BOURBON, TEQUILA, 100% AGAVE TEQUILA ARE REALLY THE HOT CATEGORIES RIGHT NOW. WITHIN THOSE CATEGORIES, WE HAVE STRONG BRANDS WITH GREAT EQUITY AND MOMENTUM. WHAT YOU ARE SEEING IN THE U.S. RIGHT NOW IS A TALE OF PLACES OF CONSUMPTION AS WELL AS TARGET GROUPS. IF YOU LOOK AT IT, -- IS ALIVE AND WELL. TO A LARGE EXTENT, CONSUMERS HAVE LIMITED AND ARE GOING OUT. WE HAVE BEEN STRONG ON PREMISE. WE TARGET YOUNG URBAN
PROFESSIONALS WHICH ARE NOT IMPACTED BY THE CURRENT CHALLENGES. WHERE SOME OF OUR PEERS, PARTICULARLY THOSE WHO ARE SKEWED TOWARDS COGNAC, THEY ARE BEING CHALLENGED. ALTHOUGH COGNAC IS A PREMIUM CATEGORY, THE TYPICAL COGNAC CONSUMER IS BLUE-COLLAR AND THEY ARE BEING CHALLENGED RIGHT NOW. FRANCINE: I LOVE THE WORD REVENGE -- BECAUSE THEY WANT TO GO OUT AND HOST PEOPLE SO MAYBE THEY BY MORE DRINKS. THAT MEAN ALMOST THE SKY IS THE LIMIT AND HOW MUCH YOU CAN CHARGE OR DO YOU HAVE TO BE MUCH MORE CAREFUL IN HOW MUCH YOU PUT YOUR PRICES UP BY? BOB: PRICING HAS INCREASED BECAUSE THE INDUSTRY HAS FACED SIGNIFICANT INCREASES IN COSTS LAST YEAR.
PARTICULARLY GLASS AND OUR CALL, WHICH ARE CORRELATED TO ENERGY COSTS. SOME CATEGORIES PROBABLY EXAGGERATED, MAY BE THE ONE I NOMINATED EARLY, AND THEY ARE BEARING THE CONSEQUENCES. THOSE BRANDS MORE SKEWED TO ON PREMISE ARE ABLE TO PASS MORE PRICING -- -- ARE ABLE TO PASS ON MORE PRICING. FRANCINE: CONSUMER BEHAVIORS, ARE THE CHANGING BECAUSE OF WHAT WE LIVED THROUGH IN THE PANDEMIC AND HOW LONG THAT LASTED FOR? BOB: IT IS A QUESTION OF VALUE PERCEPTION AND VALUE EQUATION IN THE CONSUMER MIND. LAST YEAR WE MOVED UP 50%-20%. IT WAS MORE OF RICE ACQUISITION -- PRICE ACQUISITION.
WE HAD TO CLOSE THE GAP AND FRANKLY WE HAVE NOT CLOSED -- WE HAVE NOT LOST ANY VOLUME. CONSUMERS ARE READY TO PAY FOR GREAT BRANDS. FRANCINE: WE HAVE FOLLOWED THE ACQUISITION TRAIL. LAST YEAR YOU BOUGHT WILDERNESS TRAIL, IS THERE ANY PART OF THE MARKET WHERE YOU'RE TARGETING ACQUISITIONS AS WELL? LOCAL OR WORLDWIDE? BOB: LAST YEAR WE DID FIVE ACQUISITIONS, A FRENCH BRAND, SUPER PREMIUM VERMOUTH, AS WELL AS WILDERNESS TRAIL. WE ARE CONSTANTLY LOOKING AT NEW OPPORTUNITIES.
WE ARE FOCUSING ON THOSE CATEGORIES AND LOOKING FOR MORE PREMIUM BRANDS. BRANDS WITH AN ON PREMISE FOCUS. IF YOU CAN ADD TO THAT, A NICE FOOTPRINT IN U.S. AND ASIA, THAT WOULD BE THE BEST. FRANCINE: IT IS EXCITING.
EVERY TIME I GO ANYWHERE, I GET OFFERED A LOWER AQUA HELL -- A LOWER ALCOHOL COCKTAIL OR EVEN KNOW I'LL CALL COCKTAIL, -- I GET OFFERED A LOWER ALCOHOL COCKTAIL OR EVEN A NO ALCOHOL COCKTAIL, IS THAT WHERE WE ARE HEADED? BOB: THEY ARE GOING TOWARDS LIGHTER COCKTAILS, MORE REFRESHING TYPE WITH BUBBLES. THAT IS WHERE THE LIKES OF SPRITZ COME IN. WITH NONALCOHOL, WE ARE DOING VERY WELL. IT IS GROWING VERY STRONGLY IN INTERNATIONAL MARKETS. FRANCINE: DO YOU WORRY ABOUT SUPPLY
CHAINS OR BEING MORE LOCAL AS THE WORLD IS FRAGMENTING? BOB: IN THE WORLD OF SPIRITS, ORIGIN IS VERY IMPORTANT. TO BE CALLED A SCOTCH IT HAS TO BE TO SKILLED INCOME -- DISTILLED IN SCOTLAND. KENTUCKY WHISKEY IN KENTUCKY. THAT WILL STAY FOR A LONG TIME. POTENTIALLY DOWN THE ROAD WE
COULD SEND OUT CONCENTRATES. WE WON'T KNOW THAT UNTIL THE TIME. FRANCINE: THANK YOU. THANK YOU SO MUCH. FRANCINE: GOOD MORNING EVERYONE AND WELCOME TO "BLOOMBERG U.K." I AM FRANCINE LACQUA, HERE IN LONDON. WE LOOK AHEAD TO THE CORONATION
OF KING CHARLES LOOK AHEAD TO THIS. WE SPEAK TO EXECUTIVES THAT MANAGE INVESTMENTS ON THE CROWN ESTATES. 16 POINT 5 BILLION POUNDS WORTH OF ASSETS. NET REVENUE OF OVER 312 MILLION POUNDS. SINCE THE DEATH OF QUEEN ELIZABETH LAST SEPTEMBER, THERE IS A NEW OWNER, HER SON, KING CHARLES. THE CROWN ESTATE IS NOT THE KING, IT IS SOUGHT -- IT IS OWNED BY A SOVEREIGN GRANT. AN AGREEMENT BETWEEN THE
MONARCH AND THE U.K. GOVERNMENT. OVER 15 BILLION POUNDS OF THESE ASSETS LINE THE PROPERTY SECTOR, NOTABLY REGENT STREAK IN LONDON. WE DESIGNED ALPHA SPACE IN THE NATION'S CAPITAL -- REDESIGNED ALPHA SPACE IN THE NATION'S CAPITAL. THE CROWN ESTATE SAYS OFFSHORE WIND FARMS HAVE PRODUCED 45 TERAWATTS LAST YEAR. MAKING IT THE UK'S BIGGEST WIND ESTATE IN EUROPE.
THE CORONATION UNIT WILL PASS KEY PROPERTIES ASSOCIATED WITH THE ROYAL FAMILY. ALEX MORGAN REPORTS. ALEX: HOW MUCH DO THINK BUCKINGHAM PALACE IS WORTH? MORE THAN ONE BILLION POUNDS. THROUGH KING CHARLES WILL TAKE IS JUST OVER ONE MILE LONG.
THAT GIVES US A SNAPSHOT OF THE MONARCHIES BILLIONS. ON THE LEFT HE WILL SEE THESE CREAM COVERED -- CREAM COLORED MANSIONS. MARBLE STAIRCASES AND A VIEW OVER THE PARK WHICH IS THERE. IT MAKES THEM SOME OF THE MOST
DESIRABLE HOMES IN THE CITY. AS THE KING MAKES HIS WAY THROUGH THE SQUARE, HE COULD PROBABLY SEE THE ART DECO OFFICES NEXT TO THE SAVOY HOTEL. THE CROWN ESTATE AND THE DUCHY OF LANCASTER ARE THE TWO MAIN ENTITIES THAT FUND THE MONARCH, TOTAL ASSETS OF ABOUT 17 BILLION POUNDS. THE KING DOES NOT ACTUALLY OWN ANY OF THESE ASSETS, NOT THE WAY YOU AND I MIGHT USE THE TERM.
THINK ABOUT THE POPE AND THE VATICAN, THE POPE DOES NOT OWN THAT IN THE SAME WAY KING CHARLES DOES NOT PERSONALLY OWN BUCKINGHAM PALACE. THESE ASSETS ARE HELD IN TRUST FOR THE U.K. MONARCH AND HIS SUCCESSORS OVER GENERATIONS. ALEX: WHILE THE CROWN JEWELS CANNOT GO UP FOR SALE, THERE ARE SOME PERKS. NO TAX ON ANYTHING RECEIVED FROM THE PREDISASTER, WHICH HELPS -- FROM THE PREDECESSOR, WHICH HELPS PRESERVE THEIR FUND. >> AT LEAST A HUNDRED MILLION DOLLARS FOR HIS PERSONAL WEALTH.
ALEX: WHEN HE COMES BACK AFTER THE CORONATION, HE COULD FEEL IRRELEVANT TO WHETHER HE OWNS IT OR NOT. FRANCINE: THAT WAS ALEX MORGAN. HERE WITH ME IS BEEN STUMBLES -- BEN. WHAT COULD WE SEE?
BEN: BUT TERRACE IS ONE OF THE PRIME TERRITORIES IN THE WORLD. THEY HAVE REFURBISHED IT, SPENT AROUND 100 MILLION. WE ALSO SEE PART OF THE CROWN JEWELS WHICH ARE NOT PART OF THE ESTATE. BUCKINGHAM PALACE, KING JAMES 'S PALACE. YOU MIGHT SEE SOME ASSETS HELD FROM THE STRAND, A PRIVATE PIGGY BANK FROM THE KING, PART OF THE DUCHY OF LANCASTER ESTATE. ALL THE GROUNDS HE WILL BE
WALKING ON SATURDAY, THE KING WILL BE SURROUNDED BY HIS RICHES. FRANCINE: THANK YOU SO MUCH, BEN STUPPLES. JOINING US NOW IS THE CHIEF EXECUTIVE OF THE CROWN ESTATE, DANIEL LABBAD. NOT MANY KNOW WHAT THE CROWN ESTATE COULD DO, DO YOU HAVE TO MANAGE THIS DIFFERENTLY, BASICALLY A PRIVATE COMPANY IF IT WERE ON THE FTSE? DAN: WE ARE VERY UNIQUE. FRANCINE: YES, YOU ARE. [LAUGHTER] DAN:
WE ARE SET UP VERY INDEPENDENTLY. OVERALL -- OUR ROLE IS SIMPLE, WE HAVE TO CREATE VALUE OR THE COUNTRY, THE TAXPAYER. DELIVERING 100% OF OUR REVENUE TO THE TREASURY, IN ADDITION, THINKING ABOUT SOME LONG-TERM NATIONAL NEEDS. HOW WE TACKLE CLIMATE CHANGE,
THE ENVIRONMENT, ECONOMIC GROWTH. SOMETHING THAT IS REALLY IMPORTANT AT THE MOMENT WITH FAMILIES SUFFERING AND WHAT IS GOING ON IN THE COUNTRY. FRANCINE: WE KNOW THAT THE KING HAS ALWAYS TAKEN A VERY BIG INTEREST IN CARES ABOUT SUSTAINABILITY, IS THAT WHY IT IS ONE OF YOUR MANDATES OR BECAUSE IT IS CLOSE TO THE TREASURY AND THE FACT THAT YOU NEED TO MAKE MONEY BUT WANT TO DO GOOD? DAN: WE HAVE AN OPERATE INDEPENDENTLY, WE HAVE TO UNDER OUR AGREEMENT. DORAL HOUSEHOLD HAS NO
DAY-TO-DAY INVOLVEMENT. THE THINGS WE ARE TALKING ABOUT ARE THINGS IN THE NATIONAL INTEREST. THINGS LIKE CLIMATE CHANGE OR THE ENVIRONMENT IS SOMETHING THAT THE HOUSEHOLD IS VERY INTERESTED IN DOING SO. WE OPERATE DAY-TO-DAY. FRANCINE: WHAT DOES THAT MARKET LOOK LIKE? DAN: WE HAVE A LARGE HANDHOLDING ACROSS COUNTRY IN TERMS OF ECONOMIC GROWTH THAT WE UTILIZE. FRANCINE: REGENERATION?
DAN: REGENERATION, ANOTHER AREA LIKE WITH THE SEABED AND MAKING SURE THE BENEFITS OF THE SEABED COME ON SHORE. WE ARE ONE OF THE LARGEST FOOD PRODUCERS IN THE COUNTRY. FRANCINE: YOU ARE EVERYWHERE. DAN: YEAH, AND THIS IS THE POINT. OFFSHORE RENEWABLES ARE A HUGE SUCCESS STORY THAT WE HAVE NOT BEEN THE ONLY PARTY TO BUT WE ARE FUNDAMENTAL IN MAKING IT THE SUCCESS IT NEEDS TO BE. COMING BACK, 100 YEARS AGO OUR
AGREEMENT WAS TO MAKE VALUE FOR THE COUNTRY. WE USED TO IN A VERY DIFFERENT WAY WITH HOW THE ENVIRONMENT IS PREVALENT. THAT IS THE EXCITING THING, IT IS FOR THE COUNTRY. MY ROLE IS TO MAKE SURE WE ARE SETTING IT UP FOR THE FUTURE.
FRANCINE: AS WE BREAK IT DOWN, WE WILL MAYBE TALK ABOUT REGENERATION. WHETHER IT GOES UP OR DOWN AND WHETHER OR NOT WE SEE CHALLENGES. DAN: COMING ON THE BACK OF COVID , PROPERTY IS FULL OF CHALLENGE.
INTEREST RATES AND OTHER FACTORS. ONE OF THE GOOD THINGS WE WILL SEE IS FOOTFALL RETURNING TO PRE-COVID LEVELS. WE PUT A LOT OF EFFORT INTO IT. WE THINK ABOUT THE SPACES BETWEEN THE BUILDINGS, NOT JUST THE BUILDINGS THEMSELVES. THAT GOES ALONG WAY.
I WAS ONE OF OUR CONCERNS, ARE WE GOING TO BE ABLE TO MAKE THAT HAPPEN AGAIN? WE ARE LOOKING AT RETAIL AND HOW THAT IS CHANGING. FRANCINE: DOES NOT MEAN YOU ARE CHANGING WITH THEM? DAN: YES. FRANCINE: DOES IT CHANGE FOREVER THE WAY WE USE AND SHOP IN CENTRAL LONDON? DAN: ANYONE GIVING A PREDICTION ON WHERE THAT WILL END UP, I WOULD LOVE TO HAVE THAT CRYSTAL BALL PERIOD I THINK THAT LONDON IS LONG-TERM GOING TO BE VERY PROSPEROUS AND CONTINUE TO BE. DYNAMICS WILL CHANGE. WE ARE SEEING THAT FROM OUR CUSTOMERS NOW. MORE THAN THERE WERE FIVE YEARS AGO. PRIME OFFICE SPACE IS STILL INCREDIBLY ATTRACTIVE.
THE CHALLENGE IS, CAN WE PRODUCE ENOUGH OF IT AND CAN WE PRODUCE ENOUGH THAT ARE OF THE DAY. FRANCINE: ONE WAS THE BURBERRY CHAIRMAN LAST WEEK DETAILING THE ENVIRONMENT AND THE FACT THAT THEY ARE NOT GIVING FOREIGNERS A CHANCE. ARE THINGS LIKE THAT THINGS THAT YOU LOBBY THE GOVERNMENT FOR OR DO YOU STAY AWAY FROM THINGS LIKE THAT? DAN: WE FOCUS ON THINGS THAT WOULD WORK FOR OUR CUSTOMERS. THE CHALLENGE IS TRYING TO WORK OUT WHAT IT WOULD LOOK LIKE FOR OUR CUSTOMERS. FRANCINE:
TALK TO ME A LITTLE BIT ABOUT THE SEABED. HOW WILL THAT CHANGE AS THE ENERGY TRANSITION ACCELERATES? DAN: THE SEABED WAS A HUGE SUCCESS STORY. 25 YEARS, SECOND ONLY TO CHINA AS ONE OF THE MORE EXCITING PLACES TO INVEST IN THE WORLD. FUTURE JOBS WHICH ARE
INCREDIBLY IMPORTANT. IT IS CHANGING FOR A NUMBER OF WAYS. THERE IS THE ENVIRONMENT TO NAME A FEW. ON TOP OF THAT, THE IMPORTANCE OF THE ROLE OF RENEWABLES. ONE THING THAT IS IMPORTANT IS THAT WE WILL NOT ACHIEVE NET ZERO TARGETS AS A COUNTRY IF WE DO NOT UTILIZE THE SEABED. WE HAVE TO EMBRACE NEW TECHNOLOGIES, WIND IS ONE.
WE HAVE TO THINK ABOUT CARBON CAPTURE, STORAGE. IN THAT CONTEXT, HOW WE PROTECT THE SEABED FROM A NATURAL PERSPECTIVE. FRANCINE: YOU ARE AT THE FOREFRONT, DO YOU WORRY ABOUT AI, RETRAINING? IF YOU WERE TO CREATE JOBS IN THESE NEW TECHNOLOGIES, WHOSE JOB IS IT TO FIND THE RIGHT STAFF WITH THE RIGHT BOTH OCCASIONS? -- WITH THE RIGHT QUALIFICATIONS? DAN: ONE OF THE THINGS WE HAVE DONE IS WORKING WITH PARTNERS IN LONDON ON HOW WE THINK ABOUT BRINGING THOSE SKILLS IN. I THINK IT IS ALL OF OUR RESPONSIBILITY. WHEN WE ALL HAVE TO WORK TOWARDS.
WE HAVE TO MAKE SURE WE ARE CREATING THE DEMAND SO THAT WE HAVE TO PULL FACTOR. I THINK RENEWABLES IS A KEY PART OF THAT. FRANCINE: BECAUSE IT IS LARGE AND INTRINSICALLY TIED TO THE CITIZENS, WHAT YOU THINK THE HARDEST PART OF YOUR JOB IS. DAN:
I THINK IT IS LETTING PEOPLE KNOW HOW IMPORTANT THE CROWN IS TO THE COUNTRY. WE HAVE DELIVERED 3 BILLION POUNDS RETURN TO THE TREASURY AND WILL BE DELIVERING MORE MOVING FORWARD. WE ARE MAKING SURE WE ARE TACKLING SOME OF THESE NATIONAL CHALLENGES IN DOING IT IN A WAY THAT WE GET MORE IMPACTFUL AND BETTER AT DOING IT AS WE GO. FRANCINE: ARE YOU LIKE A SOVEREIGN WEALTH FUND BUT WITH PHYSICAL ASSETS IN THE U.K.? WE ARE TRYING TO HELP OUR VIEWERS UNDERSTAND.
HOW DO YOU SEE YOURSELF? DAN: WE ARE LIKE A SOVEREIGN WEALTH FUND INSOFAR AS THEY TRADE VALUE FOR WHAT THE COUNTRY REPRESENTS. WE ARE UNIQUE, WE SIT BETWEEN PRIVATE AND PUBLIC SECTOR TO SERVE THE COUNTRY. IN CREATING VALUE FOR THE COUNTRY, YES, BUT THAT IS WHERE SIMILARITIES AND. -- SIMILARITIES END. FRANCINE: WE HAVE THE CORONATION TODAY. IS THIS SOMETHING LEFT TO ORGANIZERS AND ROYALS? DAN: WE THINK THE CELEBRATION IS GREAT FOR THE COUNTRY. OUR PEOPLE GET UP OUT OF BED EVERY DAY TO CREATE VALUE FOR THE COUNTRY. FRANCINE: THANK YOU VERY MUCH.
DAN LABBAD, CHIEF EXECUTIVE TO THE STATE -- TO THE COUNTY STATE. -- TO THE CROWN ESTATE. PMI 55.9. COMING UP, THE KING'S CORONATION HOLIDAY COULD PRODUCE THE LATEST DRAG TO U.K. FUNDS. WE TALK ABOUT THAT, NEXT.
THIS IS BLOOMBERG. FRANCINE: WHAT ARE THE ECONOMIC IMPLICATIONS OF THE U.K. WITH CHARLES'CORONATION? IT WILL BE THE SECOND TIME THAT ROYAL EVENTS HAVE WEIGHT ON THE ECONOMY. ANNA FROM BLOOMBERG ECONOMIC STRENGTH OF SPIRIT -- FROM BLOOMBERG ECONOMICS JOINS US. HOW BIG OF A DRAG WILL IT BE? >> IF IT IS SIMILAR IN MAGNITUDE TO THE ONES FROM LAST YEAR, I WOULD SAY THE KEY THING IS THAT IT IS JUST A TEMPORARY DRAG. ALL THE OUTPUT IS NOT PRODUCING WILL BE GAINED FOLLOWING MONTH. IT IS NOT PERMANENT.
THE BIG PICTURE IS THAT THE ECONOMY IS DOING MUCH BETTER EVEN WITH INTRODUCING VOLATILITY. FRANCINE: WHAT ABOUT THE HOLIDAY? >> THE STRONGER ECONOMY IS SOMETHING THAT THE BOE WILL CONSIDER. I WOULD SAY THE SURPRISES THAT WE SAW, THAT IS WHAT IS GOING TO MOVE THE DIAL. YOU HAVE GIVEN IT AS A FRAMEWORK. IT IS GIVING VERY LITTLE OPTION BUT TO HIKE NEXT WEEK. FRANCINE: THERE IS A COST-OF-LIVING CRISIS, INFLATION SEEMS TO BE HIGHER BUT GROWTH IS BETTER. THIS THIS COME OFF TO A HEAD AT
SOME POINT? ANNA: I WOULD SAY THAT GROWTH IS BETTER. IT IS HOLDING UP BETTER FOR NOW. IF YOU LOOK FURTHER AHEAD IN THE SECOND HALF OF THE YEAR, THERE IS NOT A LOT OF GROWTH HAPPENING. WE EXPECTED TO WEIGH ON THE ECONOMY.
AT THE BANK OF ENGLAND IS FORCED TO TAKE THINGS HIGHER, WE COULD HAVE MONETARY POLICY INDUCE RECESSION. FRANCINE: ARE CONSUMERS HOLDING UP OK FOR THE MOMENT? ANNA: I WOULD SAY SO. WE SAW A LOT OF TIGHTENING THE END OF LAST YEAR. I WOULD SAY THAT WE WILL HAVE TO SEE. IT SEEMS THAT RECENT BANKING TURMOIL HAS NOT HAD AS MUCH IMPACT AS IT HAD THE U.S..
MAY BE A PAUSE BECAUSE CREDIT IS DOING A LOT OF HEAVY LIFTING AND HERE IN THE U.S. WE HAVE JUST NOT HAD THAT START. FRANCINE: THANK YOU SO MUCH FOR COMING ON. O.A.T. URGE EVERYBODY TO LOOK AT WHAT WE ARE DOING. COMING UP, WE WILL TALK ABOUT IN THE CITY PODCAST WITH MY COHOST. HE JOINS ME NEXT. THIS
IS BLOOMBERG. ♪ FRANCINE: ECONOMICS, POLITICS, FINANCE. THIS IS "BLOOMBERG U.K."
JOINING ME NOW IS DAVID MERRITT, MY COHOST ON "IN THE CITY ECHO -- IN THE CITY." WE HAVE FUN CONVERSATIONS WITH LEADERS IN THEIR FIELD. DAVID: THAT IS RIGHT. WE HAVE OUR HEADSETS ON AND ALL THAT. THE IDEA WAS TO BRING THE LISTENER INTO THE ROOM. SITTING IN THE HEART OF THE CITY OF LONDON. THE CONVERSATIONS HAPPENING HERE BUT ALSO IN THE SQUARE-MILE AROUND US, SIGNING A BIT OF LIGHT ON THE ISSUES AND WAY TELLS US ABOUT THE BRITISH ECONOMY, THE MARKET. FRANCINE:
WE SPOKE TO NICK CANDY SAID SOME TERRIBLE THINGS ABOUT LONDON AND IS MOVING TO DUBAI. DAVID: THAT IS AN EPISODE THAT WENT VIRAL LAST WEEK. HE SAID DUBAI IS HAVING A MOMENT AND LONDON IS OVER. EVERYONE PILED IN SAID HE IS WRONG. WEEK AFTER WEEK, WE KEEP COMING BACK TO THE FACT THAT LONDON REMAINS THE BEATING HEART OF THE MARKETS ACROSS EUROPE AND INVESTORS AROUND THE WORLD. FRANCINE:
I DON'T KNOW WHETHER YOU HAVE THIS FEELING -- AND SHOUT OUT TO OUR GREAT PRODUCER SUMMER WHO PUTS IT ALL TOGETHER AND MAKES IT FUN -- DAVID: IT IS A TOUGH EDIT. FRANCINE: IT IS A TOUGH EDIT. TRYING TO FIGURE OUT HOW LONDON CAN GO ALL THE WAY. DAVID: PARIS IS ON THE UP IN TERMS OF FINANCIAL SECTOR. TIME AND TIME AGAIN WE COME BACK TO THE SCALE OF INFRASTRUCTURE AND THE TALENT, THE NUMBER OF PEOPLE.
ALEX THAT WE SPOKE TO THIS WEEK, THE EPISODE OUT TODAY, FROM BLACKROCK, HE TALKS ABOUT THE INFLECTION POINT AND HOW LONDON IS POISED TO SEE THE BENEFIT OF RETURN. THAT IS AN OPPORTUNITY FOR INVESTORS. I THINK LONDON IS WELL SERVED TO BENEFIT FROM THAT. FRANCINE:
ON ONE OF MY FAVORITE EPISODES -- TOLD US ABOUT WHEN HE WAS OFFERED A JOB AT APPLE AND HE DECIDED NOT TO TAKE IT. AND HE IS CLOSE TO THE KING. DAVID: NIGEL WILSON. HE ALSO TOLD US HIS KING ANTIDOTE. FRANCINE: PEOPLE OPEN UP. BUSINESSMAN, CHIEF EXECUTIVE, SOME ARE CLOSE TO THE KING BECAUSE OF SUSTAINABILITY EFFORTS. DAVID: THAT IS RIGHT.
IT IS A DIFFERENT REGIME THEM BEFORE. BECAUSE OF THE ENVIRONMENTAL CRUSADING THAT KING CHARLES HAS BEEN A PART OF, HE IS AHEAD OF HIS TIME. FRANCINE: CORONATION PLANS? DAVID: GET THE CAKE OUT, HAVE A GO AT THE QUICHE. THE DRINKS, OBVIOUSLY. FRANCINE: DAVID, THANK YOU SO MUCH.
MY COHOST DAVID MERRITT. WE HAVE A NEW EPISODE OUT TODAY. >> CONDITIONS IN THAT SECTOR HAVE BROADLY IMPROVED SINCE EARLY MARCH AND THE U.S. BANKING SYSTEM IS SOUND AND RESILIENT.
>> THESE STRESSES IN THE BANKING SECTOR ARE LIKELY STILL THERE, STILL COMING AND LIKELY TIGHTENING FINANCIAL CONDITIONS. >> THEY ARE TRYING VERY HARD TO SEPARATE. >> THEY CREATED PART OF THE STRESS ON THE BANKING SYSTEM THAT AROSE. THE FEDERAL RESERVE HAS SOME CULPABILITY HERE.
>> THIS IS "BLOOMBERG SURVEILLANCE, EARLY EDITION." ANNA: IT IS 10:00 A.M. IN LONDON AND 5:00 P.M. IN HONG KONG. ANOTHER U.S. REGIONAL BANK IS RAISING CONCERNS ABOUT THE SECTORS HELP. -- HEALTH.
THE FED'S LATEST INTEREST RATE HIKE MAY BE THE LAST ONE IN THE CYCLE. FED CHAIR JEROME POWELL OPEN THE DOOR FOR THE CENTRAL BANK TO PAUSE AFTER 10 INCREASES. WELCOME TO "BLOOMBERG SURVEILLANCE, EARLY EDITION." ANOTHER REMINDER COMING AFTER THE FED THIS TIME ABOUT THE TENSIONS AROUND THE REGIONAL BANKING SECTOR. INTERESTING TO SEE EQUITY FUTURES IN THE U.S. ARE NOT GAINING A GREAT DEAL BUT ARE ALSO NOT FALLING OVER SUBSTANTIALLY AS A RESULT OF THIS LATEST ROUND. MATT:
WE DID NOT FALL TERRIBLY YESTERDAY AND. DOWN ABOUT .7% IN THE CASH TRADE ON THE S&P 500. WE ARE UNCHANGED RIGHT NOW EVEN WITH A 60% DROP IN PACK WEST. RENEWED CONCERNS ABOUT REGIONAL BANK VIABILITY.
THEY ARE EXACTLY UNCHANGED RIGHT NOW. THE 10 YEAR YIELD IS INTERESTING COMING UP A LITTLE BIT. TWO DAYS AGO, WE WERE LOOKING AT 355, AND NOW WE ARE LOOKING AT 336.36. A DROP OF ALMOST 20 BASIS POINTS. NYMEX CRUDE ALSO RIGHT NOW DOES NOT LOOK AS INTERESTING AS IT DID LAST NIGHT.
WE SAW A 63 HANDLE ON NYMEX CRUDE AROUND 8:00 P.M. YESTERDAY. IT DROPPED DRAMATICALLY AND HAS RECOVERED A BIT SINCE THEN BUT STILL UNDER $70 A BARREL FOR WTI. I THINK WE SEE BRENT AROUND $73. INTERESTING BITCOIN HAS RALLIED SO MUCH.
THE DROP THAT WE HAD YESTERDAY WAS ALSO IN TECH SHARES. THE NASDAQ ALSO FELL A LITTLE LESS THAN 1% YET BITCOIN CONTINUES TO RISE. YOU DO HAVE BIG GAINS IN ASIA OVERNIGHT, CERTAINLY IN HONG KONG. THE BROADER ASIA-PACIFIC INDEX OF ONLY HALF A PERCENT.
THE HANG SENG OF ONLY A QUARTER PERCENT. THE ACTION IN TOKYO NOT SO DRAMATIC. YOU DO SEE A LITTLE BIT OF U.S. DOLLAR WEAKNESS AGAINST THE YEN.
ANNA: LET'S HAVE A LOOK AT WHAT IS HAPPENING IN EUROPE. REALLY CATCHING UP WITH CENTRAL MOVES ON THE FED YESTERDAY AND ALSO PRICING AND SOME OF THE EUROPEAN EARNINGS STORIES. YESTERDAY, EUROPEAN MARKETS CLOSED BEFORE WE GOT THE FED STATEMENT. EUROPEAN MARKETS ARE A BIT ON THE BACK. THAT IS BROADLY WHAT WE SEE, A LITTLE BIT OF NERVOUSNESS IN THE MARKETS. BRENT CRUDE IS UP.
TO YOUR POINT, BEAR IN MIND WE STARTED THE WEEK AT ABOUT $80 AT ONE POINT ON MONDAY. WE HAVE LOST QUITE A LOT ON RATE CRUDE. THAT IS DESPITE CONCERNS AROUND MAYBE THE U.S.
ECONOMY, MAYBE THE CHINESE ECONOMY DESPITE THE FACT OF SOME DATA SHOWING ON THE BLOOMBERG TERMINAL THAT MORE OIL IS HEADING TO CHINA. THAT IS REALLY INTERESTING TO KEEP AN EYE ON. SHALL IS UP JUST OVER 2%. STICKING WITH THE TRAJECTORY OF THEIR BUYBACK. BMW ALSO BEATING ANALYST ESTIMATES AND THERE IS A BUYBACK IN THE MIX AS WELL. THE STOCK IS UP BY NEARLY 2%.
IT IS ECB DAY. NO TIME TO LINGER TOO MUCH ON WHAT WE HEARD YESTERDAY. 110 IS WHERE WE TRADE RIGHT NOW, DOWN .2%. WE HAD DATA ON THE SERVICES SIDE.
ACROSS THE EURO ZONE, WHICH IS OF COURSE WELL INTO EXPANSION TERRITORY. MATT: WATCHING EUROPEAN AUTOMAKERS AND THE ECB. WE WILL CONTINUE TO COVER THAT BUT LET'S GET TO THE REGIONAL BANKS HERE IN THE U.S. A NEW FOCAL POINT OF INVESTOR
CONCERN AROUND THE HEALTH OF U.S. REGIONAL BANKS. PACK WEST SHED MORE THAN HALF OF ITS VALUE IN AFTER HOURS AFTER BLUEBIRD REPORTING THE BIG WAS CONSIDERING STRATEGIC OPTIONS. IT KICKED OFF JUST AFTER FED CHAIRMAN JEROME POWELL SAID AUTHORITIES WERE CLOSER TO CONTAINING THE TURMOIL THAT HAS CLAIMED FOR LENDERS SO FAR THIS YEAR. >> THERE WERE THREE LARGE BANKS THAT WERE AT THE HEART OF THE STRESS THAT WE SAW IN EARLY MARCH, THE SEVERE PERIOD OF STRESS. THOSE HAVE NOW ALL BEEN RESOLVED. I THINK THE RESOLUTION SALE OF FIRST REPUBLIC KIND OF DRAWS A LINE UNDER THAT PERIOD OF IT IS AN IMPORTANT STEP TO DRAWING A LINE UNDER THE PERIOD OF SEVERE STRESS. MATT: AS HE TRIES TO REASSURE BANKING INVESTORS THE SYSTEM IS SOUND, IT IS WARNED THERE ARE STILL RISKS.
WE ARE RUNNING OUT OF TIME TO FIX THIS PROBLEM. WE NEED A SYSTEMWIDE DEPOSIT GUARANTEE REGIME NOW. MICHAEL MOORE JOINS US NOW TO EXPLAIN WHAT IS HAPPENING AND WHAT OPTIONS PACK WEST MIGHT HAVE. MICHAEL: PACK WEST HAD SAID BEFORE THAT THEY WERE LOOKING AT POTENTIAL ASSET SALES. WE HAVE REPORTED THEY PERHAPS EVEN CONSIDERING THINGS EVEN BIGGER THAN THAT. THEY DID COME OUT WITH A STATEMENT CONFIRMING THERE TALKING TO POTENTIAL PARTNERS AND POTENTIAL INVESTORS ABOUT A RANGE OF OPTIONS. ALSO SAID THEIR CORE DEPOSITS
ARE UP SINCE THE END OF MARCH. TRYING TO CALL MARKETS DOWN A LITTLE BIT. ONE THING TO NOTE THAT PACK WEST IS A FIFTH OF THE SIZE OF FIRST REPUBLIC SO MUCH SMALLER BANK THAN THOSE OTHER ONES THAT RENA TO TROUBLE. AS THIS TURMOIL CONTINUES TO NOT BE CONTAINED, BETTER GO DOWN THAN UP. ANNA: WE KEEP HEARING FROM THE LIKES OF JEROME POWELL IN JAMIE DIMON TELLING US THEY THINK THE WORST MAY BE OVER AND TRYING TO DRAW THE LINE IN THE SAND.
THE FUTURES PICTURE LOOKS SLUGGISH BY THE DOES NOT DOMINATE SENTIMENTS. IS THAT A POSITIVE? MICHAEL: I THINK SO AND I THINK BECAUSE YOU ARE SEEING IT GO TO THESE SMALLER BANKS AND NOT UP THE CHAIN TO SOME OF THE BIGGER BANKS WHICH SEEM QUITE IN GOOD POSITION RIGHT NOW. IF YOU DID HAVE A SALE LIKE THERE IS A NUMBER OF BANKS THAT COULD TAKE A BANK THE SIZE OF PACK WEST ON.
I THINK THAT IS REASSURING PEOPLE. PACK WEST DID SAY THEY HAVE MORE THAN ENOUGH LIQUIDITY TO COVER ALL OF THE UNINSURED DEPOSITORS THAT THEY HAVE SO THEY HAVE NOT SEEN SIGNIFICANT OUTFLOWS. MATT: THANK YOU VERY MUCH. THE FED HAS HIKED TO RAKES BY 25 BASIS POINTS AND HINTED IT MAY HAVE BEEN THE LAST MOVE OF THE TIGHTENING CYCLE. CHAIR JEROME POWELL STOPPED SHORT OF DECLARING VICTORY IN THE BATTLE AGAINST INFLATION. FORMER ATLANTA FED PRESIDENT DENNIS LOCKHART SPOKE WITH BLOOMBERG AFTER THE DECISION.
>> THE FOCUS IS ON INFLATION. THEY ARE TRYING VERY HARD TO SEPARATE FINANCIAL AND BANKING SYSTEM CONCERNS FROM MONETARY POLICY. WE WILL SEE OF CONDITIONS FORCE THEM TO BEGIN TO COMBINE FINANCIAL STABILITY CONCERNS WITH MONETARY POLICY DECISIONS. AS OF TODAY, THEY DID NOT DO THAT AND THEY FELT A PERIOD OF RELIEF THEY FEEL THEY HAVE TO DO. MATT: WHERE THERE ANY CURVEBALLS FROM HIM? VALERIE: HE KEPT IT FAIRLY BORING. THERE REALLY WAS NOT A LOT OF
MARKET PRICE ACTION AROUND WHAT HE SAID. HE DID WITH THE MARKET EXPECTED TO DO AND SIGNALED FOR A PAUSE SAYING WE NO LONGER ANTICIPATE FURTHER RATE INCREASES BUT HE WENT ON TO TALK ABOUT WHEN HE WAS ASKED ABOUT WHETHER THEY HAVE REACHED A SIGNIFICANT RESTRICTIVE LEVEL, HE SAID WE NEED A FEW MONTHS OF DATA BEFORE HE CAN DECLARE THAT. HE IS CLEARLY TRYING TO COMMUNICATE THAT EVEN IF THEY DO PAUSE IN JUNE, ANOTHER HIGH INFLATION PRINT IN A MONTH OR TWO MONTHS TIME COULD CAUSE THEM TO HIKE AGAIN. ASYMMETRY IN THE FRONT AND PRIDE -- PRICING IS WHAT HE WANTED TO ACHIEVE.
HE ALSO ENDED SAYING IT HAS RESULTED IN EVEN TIGHTER CREDIT CONDITIONS BUT WAS ASKED MORE ON THIS IN THE QUEUE MONDAY AND DID NOT NECESSARILY PAINT A DIRE PICTURE. WHEN IT COMES TO BANKING CONDITIONS, LENDING CONDITIONS ESPECIALLY, THE FED KNOWS A BIT MORE THAN THE MARKET DOES. THE FACT THAT HE DID NOT NECESSARILY PAINT THIS DIRE PICTURE GIVES THE MARKET MAY BE A BIT MORE CONFIDENCE THAT ON MONDAY WHEN WE GET THE SENIOR LOAN OFFICER OPINION SURVEY IT WON'T BE AS BAD. ANNA: JUST AS YOU TOLD US, THERE WAS A CHANGE IN THE STATEMENT. LET'S PIVOT FROM THAT PART OF THE FED NARRATIVE TO SOMETHING ELSE BECAUSE THERE WERE OPEN ROLES AND OPEN POSITIONS AT THE FED THAT BIDEN NEEDED TO FILL AND WE HAVE NEWS ON THAT.
VALERIE: BLOOMBERG WAS REPORTING THAT BIDEN IS LIKELY TO PICK FED'S JEFFERSON FOR THE VICE CHAIR SEE AND NOT NOMINATION CAN COME AS SOON AS FRIDAY. HE THEN GOES TO THE SENATE TO BE CONFIRMED SO THE PROCESS IS STILL NOT OVER. I HAD THE MOST IMPORTANT THING THAT HAS COME OUT OF THIS MUSICAL CHAIRS OF THE FED WAS A STORY THE WALL STREET JOURNAL PUT OUT OVER THE WEEKEND SIGNALING THAT THE REASON WHY THIS PERSON LEFT THEIR VICE CHAIR SEAT WAS BECAUSE SHE FELT SHE COULD NOT BE AS VOCAL RATE SHE COULD NOT BE SEEN AS DISSENTING VERSUS POWELL BECAUSE WE KNOW SHE WAS FIGHTING AGAINST THOSE FURTHER RATE INCREASES. SO SHE HAS GONE OUT OF THE
WHITE HOUSE. MAYBE THAT IS A SIGNAL THAT THE POLITICAL FORCES ON THE FED MIGHT BE CHANGING SOON AS MAY BE MORE OF THE WHITE HOUSE WILL BE CLAMORING OUT FOR RATE CUTS. MATT: THANK YOU VERY MUCH. LET'S TURN OUR ATTENTION TO THE EUROPEAN CENTRAL BANK DECISION WHICH COMES OUT IN JUST THREE HOURS TIME.
MARIA TADEO WAS ON THE GROUND IN FRANKFURT OUTSIDE THE ECB. WE ARE EXPECTING A HEIGHT BUT IS IT 25 OR 50? MARIA: AND FOR ONCE, IT IS SUNNY OUT HERE. I'M NOT SURE IF THAT IS A MOMENT BUT IT IS CONVENIENT FOR ME. WHEN YOU LOOK AT THAT DECISION, IT IS UNDERSTOOD EUROPEAN CENTRAL BANK WILL HIKE AGAIN AND HOW CAN THEY NOT WOULD YOU SEE A HEADLINE INFLATION STILL MOVING AROUND 7%. THE QUESTION VERY MUCH IN PLACE, OVERALL, SOME SUGGEST DEUTSCHE BANK IS STILL SAYING IT IS A CLOSE CALL BECAUSE YOU CAN LOOK AT DATA AND FLIP IT BOTH WAYS. WHEN YOU LOOK AT CORE INFLATION, WHICH AGAIN, THIS IS NOT THE TARGET, BUT THE EUROPEAN CENTRAL BANK HAS MADE IT VERY EXPLICIT THIS IS THE KIND OF DYNAMICS AND DATA THAT THEY PAY ATTENTION TO IN APRIL.
WHEN YOU LOOK AT THE LENDING SURVEY, YOU CAN SEE CREDIT STANDARDS TIGHTENED AND YOU ARE SAYING THIS TURMOIL STILL PLAY OUT IN THE BANKING SECTOR. EUROPEAN CENTRAL BANK ALSO SAID IT WOULD MONITOR. THEREFORE, THE EUROPEAN ECONOMY. THERE IS SOME SUSPENSE I GUESS SHE COULD SAY, BUT OBVIOUSLY, WE ARE WAITING TO MAKE THIS OFFICIAL.
NOTHING IS OFFICIAL UNTIL SHE SPEAKS. ANNA: MARKET LEANING TOWARDS 25 AS YOU SAY. WHAT ELSE ARE WE GOING TO BE WATCHING FOR IN TERMS OF THE DECISION-MAKER AND COMMUNITY NATION TODAY? MARIA: AGAIN, THE MARKET VERY MUCH LEANING TO THAT 25 BASIS POINTS WHICH IS IMPORTANT BECAUSE IF YOU LOOK AT HOW DECISION-MAKING IS GOING ON HERE AT THE EAST BE, IT IS VERY CLEAR THIS IS A TWOFOLD DECISION. WHEN THEY HIKE SOFTER, THERE IS AN IMPLICATION THAT THEY WILL HAVE TO SIGNAL AN ACCELERATION OF THE QT.
THESE ARE 20 CENTRAL BANKS THAT HAVE TO AGREE ON MONETARY POLICY. TO GET TO A CONSENSUS A LARGER MAJORITY, YOU HAVE TO GIVE SOMETHING TO BOTH CAMPS SIDEWALK -- I WOULD ALSO WATCH OUT FOR THE IMPLICATIONS. WHEN IT COMES TO THE PRESS CONFERENCE, THERE WILL BE QUESTIONS ABOUT THE FED AND THE FOLLOW-THROUGH THAT COULD HAVE POTENTIALLY ON THE EUROPEAN CENTRAL BANK AREA THE IDEA OF THE BANK IN TURMOIL ALSO INCREASING.
AGAIN, IT WILL BE INTERESTING TO SEE IF SHE HENCE THAT THE DIRECTION OF TRAVEL IS NOT GOING TO CHANGE THAT THIS IS GOING TO BE A CENTRAL BANK VERY FOCUSED ON CORE INFLATION, THE TRANSMISSION AND ALSO TAKEN ON A MEANING TO MEANING BASIS WHICH TAKES US TO JUNE. MATT: MARIA, THANK YOU SO MUCH. STAY WITH BLOOMBERG FOR FULL COVERAGE OF THE ECB DECISION. CHRISTINE LAGARDE, HER NEWS CONFERENCE FOLLOWS THAT.
LET'S GET A LOOK AT SOME OF THE STOCKS MOVING IN THE PREMARKET THIS MORNING. SOLAR EDGE TECHNOLOGIES IS ONE. THIS COMPANY GAINING AFTER A Q1 PROFIT AND REVENUE TOPPED ESTIMATES. THE OUTLOOK FOR Q2 WAS A MIND OF ESTIMATES. SHARES ARE UP MORE THAN 11%. CONFLUENT SHARES, THOSE ARE UP AFTER FIRST QUARTER RESULTS BEAT ESTIMATES AND THE COMPANY AFFIRMED ITS FORECAST. THE SHARES UP ABOUT 6% IN THE PREMARKET THIS MORNING. QUALCOMM IS A COMPANY DOWN THIS MORNING.
AND THE GUIDANCE SHOWS THE WEAKNESS IN THE SMARTPHONE MARKET WHICH IS WHERE QUALCOMM IS SO ACTIVE WITH ITS CHIPS, WILL PERSIST UNTIL SEPTEMBER. A NEW IPHONE COMES OUT. QUALCOMM SHARES DOWN IN THE PREMARKET. WE ARE ALL WAITING FOR APPLE. REPORTS AFTER THE BELL TODAY AND WALL STREET IS BRACING FOR THE SECOND SALES DECLINE IN AROUND AS THE COMPANY BATTLES A SPENDING SLUMP.
AND MOST BELIEVE ALL OF THE COMPANIES MAJOR PRODUCT CATEGORIES INCLUDING THE IPHONE WILL SUFFER SALES DECREASES. THAT IS DESPITE IMPROVED -- AN IMPROVEMENT IN THE SUPPLY CHAIN. PEOPLE ARE JUST NOT OUT THERE BUYING THEM AT THE NUMBERS ANALYSTS WOULD LIKE TO SEE. ANNA: WHEN WE COME BACK, WE WILL TALK ABOUT THE GLOBAL ECONOMY. WE WILL ALSO TALK TO SIMON FRENCH.
AND WE LOOK AHEAD TO THE ECB. PLUS, INVESTORS ARE INVESTIGATING A SLEW OF CLAIMS. >> I THINK AFTER THE LAST COUPLE OF YEARS, THEY HAVE BEEN HIGHLY UNUSUAL WITH PROFITS ACROSS THE WHOLE INDUSTRY AND A LOT OF SUPPLY CHAIN DISRUPTIONS. WE WERE EXPECTING THIS WOULD NORMALIZE. THIS CONTINUED INTO THIS QUARTER. AS THIS IT IS NORMALIZATION,
WE'RE ALSO BEEN A FEW NORMALIZATION OF PRICES AND REVENUE AS A CONSEQUENCE. MATT: WELCOME BACK TO "BLOOMBERG SURVEILLANCE, EARLY EDITION." WE ARE THERE. I HAVE A CHART HERE THAT SHOWS WHAT THE MARKET IS PRICING AS FAR AS THE FED'S TERMINAL RATE. THE HIGHEST LEVEL IT WILL GET TO IN THIS CYCLE. THAT IS THE WHITE LION. IN YELLOW, YOU CAN SEE THE
FED'S CONSISTENT RATE HIKES. THE FEDERAL FUNDS TARGET RATE. THE TO HAVE FINALLY MET AND THE QUESTION IS, DO THEY STOP NOW? JOINING US IS JUST TINA LEE. I THINK IT IS CONSENSUS THAT THIS IS IT. THEIR DATA-DEPENDENT AS ALWAYS, BUT THE NEXT MOVE WILL MORE LIKELY BE A CUT THEM A HIKE. JUST TINA -- JUSTINA: BY SOME ACCOUNTS, NOTHING REALLY CHANGED I THINK THAT IS BECAUSE MARKETS HAVE ALREADY SHIFTED THE FOCUS TO THE BANKING PRICES AND WHAT THEY ARE EXPECTING IS TIGHTER LENDING CONDITIONS AS JAY POWELL FLAGGED HIMSELF AND NOT TO HELP TAKE CARE OF INFLATION.
ANNA: THAT IS REALLY INTERESTING THAT THE ROLE THE BANKS PLAY IN THIS IS INTERESTING. WE GOT CLUES FROM JEROME POWELL ABOUT THE LENDING DATA AND WHAT THAT IS GOING TO LOOK LIKE. WITHOUT WE WOULD HAVE TO WAIT UNTIL NEXT WEEK BUT IT SEEMS HE GAVE US CLUES AROUND THAT. IT IS SOMETHING THE FED IS WATCHING AND THAT WOULD BRING THEIR FINANCIALS TO BUILD THE CONCERNS INTO THE SAME ROOM AS THEIR MONETARY POLICY CONCERNS. JUSTINA: EXACTLY. THE BACKDROP TO THE FED MEETING YESTERDAY IS THAT WE HAVE SEEN THIS REALLY GENETIC PLUNGE INTO BANKING STOCKS THIS WEEK AND A HAS BEEN PRETTY SURPRISING GIVEN WE ALREADY HAVE A SOLUTION TO FIRST REPUBLIC BANK OVER THE WEEKEND AND JAMIE DIMON WITHOUT SAYING THE BANKING SYSTEM IS FINE.
CLEARLY, MIKE -- MARKETS ARE NOT CONSOLED AT ALL AND WHAT INVESTORS HAVE SHIFTED THEIR FOCUS ON IS THE FACT THAT IF BANKS ARE GOING TO TIGHTEN LENDING CONDITIONS, THAT MAKES A RECESSION EVERMORE LIKELY. ANNA: HE WAS NOT ENCOURAGING THE RATE HIKE NARRATIVE. THANK YOU VERY MUCH. FOR MORE MARKET ANALYSIS, CHECK OUT THE BLOOMBERG TERMINAL. MATT: THIS IS "BLOOMBERG SURVEILLANCE, EARLY EDITION." KEEPING UP-TO-DATE WITH NEWS FROM AROUND THE WORLD, HERE IS THE FIRST WORD. IN ATLANTA, POLICE HAVE
ARRESTED THE SUSPECT OF MY FATAL SHOOTING AT A MEDICAL BUILDING AFTER A MAN THAT LASTED SEVERAL HOURS. THEY SAY HE STILL A VEHICLE AFTER THE ATTACK AND LATER FLED ON FOOT. ONE PERSON WAS KILLED AND FOUR OTHERS WOUNDED. THE SUSPECT'S SISTER SAYS HER BROTHER WAS NOT MENTALLY STABLE. IN CHINA, THE ECONOMIC RECOVERY IS SHOWING MORE SIGNS OF IMBALANCE.
ANY REPORT POINTS TO A DROP IN MANUFACTURING ACTIVITY FOR THE FIRST TIME SINCE JANUARY. A SURGE IN TRAVEL OVER THE FIVE-DAY LABOR DAY HOLIDAY FUELED CONSUMER SPENDING. BLOOMBERG HAS LEARNED THE EUROPEAN UNION IS DISCUSSING A NEW SANCTIONS MECHANISM THAT WOULD TARGET THIRD COUNTRIES THAT IT BELIEVES ARE NOT DOING ENOUGH TO PREVENT RUSSIA FROM INVADING SANCTIONS. THE PROCESS WITH FOCUS ON THOSE THAT CANNOT EXPLAIN SPIKES IN TRADES OF KEY PRODUCTS OR TECHNOLOGIES. IT IS THE BIGGEST IPO IN THE U.S. SINCE 2021. JOHNSON & JOHNSON'S CONSUMER
HEALTH BUSINESS RAISED 3.8 BILLION DOLLARS IN UPSIZE OFFERING THAT VALUES THE COMPANY ON MORE THAN $41 BILLION. TYLENOL, LISTERINE AND NEUTROGENA. ANNA: THIS IS "BLOOMBERG SURVEILLANCE, EARLY EDITION." I'M OTHER U.S. REGIONAL BANK IS RAISING CONCERNS ABOUT THE SECTORS HEALTH.
PAC WEST MOVE TO, MARKET AFTER SHARES PLUNGED 60% AFTER HOURS. THE FED'S LATEST INTEREST RATE HIKE MAY BE THE LAST ONE IN THIS CYCLE. FED CHAIR JEROME POWELL OPEN THE DOOR FOR THE CENTRAL BANK TO PAUSE NEXT MONTH AFTER 10 INCREASES. THE CENTRAL BANK IS SET TO SLOW INTEREST RATE HIKES. I'M ANNA EDWARDS IN LONDON WITH MATT MILLER OVER IN NEW YORK.
WE HAVE EARNINGS STORIES, REGIONAL BANK TENSION OVER IN THE UNITED STATES, THE AFTERMATH OF THE FED AND WE WORK OUR WAY TOWARD THE ECB. MATT: A LOT GOING ON TODAY, BUT IT IS NOT MOVING MARKETS THAT MUCH AT LEAST IN TERMS OF THE BENCHMARK INDEX FUTURES. EVEN AFTER THE DROP THAT WE SAW YESTERDAY, ABOUT .7% IN THE CASH TRADE. S&P FUTURES NOT DOING A LOT. WE ALSO SAW A PRETTY SUBSTANTIAL DROP IN YIELDS. WE DON'T SEE MUCH OF A BOUNCE BACK.
WE DON'T SEE A LOT OF MOVEMENT IN TODAY'S SESSION FOR CRUDE EITHER ALTHOUGH A BIG BOUNCE BACK FROM THE LOWS THAT WE SAW YESTERDAY. AT THE END OF THE SESSION, NYMEX CRUDE DROPPED DOWN TO A 63 HANDLE AND WE HAVE NOW BOUNCED BACK TO 69. STILL UNDER $70 A BARREL BUT IT WAS A PRETTY DRAMATIC MOVE YESTERDAY AND IT IS CLEAR OPEC, THEIR SURPRISE CUT HAS NOT DONE MUCH TO UP HOLD THE PRICE OF CRUDE. BITCOIN HAS SEEN A DRAMATIC MOVE. THIS MAY BE DUE TO THE RISE WE SAW IN SOME ASIAN MARKETS THAT DID REALLY WELL OVERNIGHT INCLUDING THE HANG SENG INDEX.
BITCOIN IS GETTING ANOTHER $544 TODAY. OVER 29,000. IN TERMS OF THE REGIONAL BANKS WE ARE WATCHING SO CLOSELY, THEY CRATERED AFTER THE FED DECISION YESTERDAY AND AFTER THE PRESS CONFERENCE A FEW HOURS LATER. WE SAW PAC WEST DOWN 60%. NEWS THAT IT WOULD SEEK OTHER
OPTIONS INCLUDING THE POSSIBILITY OF A SALE, MAY BE A BREAKUP. PAC QUESTIONNAIRES ARE DOWN ONLY 37% FROM THE CLOSE. THEY WERE DOWN 60% AT ONE POINT. WESTERN ALLIANCE IS DOWN 17% IN THE PREMARKET THIS MORNING. METROPOLITAN BANK IS A HOLDING COMPANY THAT HAS BEEN DOWN WITH THESE OTHERS PRETTY SUBSTANTIALLY AND REMAINS WITH THE LOSING PAC.
THERE ARE A LOT OF OTHER MOVERS REALLY IN THE TECH SPACE ON EARNINGS. SOLAR EDGE TECHNOLOGIES, WHICH MAKES EQUIPMENT THAT HELPS YOU SORT OF SQUEEZE MORE ENERGY OUT OF YOUR EXISTING SOLAR TECHNOLOGY IS UP 11% AFTER IT GAINED IN PROFIT AND REVENUE IN THE FIRST QUARTER. IT GAVE AN OUTLET FOR THE SECOND QUARTER THAT WAS IN LINE WITH ESTIMATES AND INVESTORS LIKE THE ENOUGH TO GET IT UP 11%. CONFLUENT IS ALSO UP 6% AFTER THAT COMPANY BEAT FIRST QUARTER SALES AND PROFITS. JUST LEAVING IT'S FORECAST THE SAME WAS ENOUGH.
QUALCOMM FELL AFTER THE CHIPMAKER GAVE A THIRD QUARTER FORECAST THAT WAS WEAKER THAN EXPECTED. ANALYSTS SAY THE GUIDANCE SHOWS WEAKNESS WILL PERSIST UNTIL SEPTEMBER. QUALCOMM DOWN THE MOST 7% AND WE ARE WATCHING APPLE DOWN 3.1%. WE ARE EXPECTING EARNINGS AFTER
THE BELL AND BRACING FOR ANOTHER SALES DECLINED IN ANOTHER IPHONE SALES DECLINED. LOOKING AT A DROP OF ABOUT 5% YEAR ON YEAR. ALL OF THE MAJOR PRODUCT CATEGORIES ARE EXPECTED TO FALL. WATCH THIS SPACE AFTER 4:00 AND WE WILL GET APPLES EARNINGS.
ANNA: APPLE NO DOUBT ONE OF THE BIG CORPORATE STORIES OF THE DAY. WE HAVE EUROPEAN EQUITY MARKETS WORSENING THEIR LOSSES A BIT. CATCHING UP WITH SOME OF THAT POST FED MOVE ON WALL STREET. PRICING IN OF RECESSION RISKS A LITTLE BIT MORE MAYBE IN MARKETS. ALL OF THAT HAPPEN EUROPEAN MARKETS HAD CLOSED. BRENT CRUDE IS UP BY 1.2%.
AT THE START OF THIS WEEK, WE WERE TRADING AROUND $18 ON BRENT. STICKING WITH THE ENERGY THEME THOMAS -- THEME, SHALL UP. THEY ARE DEALING WITH LOWER GAS AND OIL PRICES COMPARED TO THIS TIME LAST YEAR BUT THEY MANAGED TO BEAT ESTIMATES. AFTER THE FACT THAT THEY STUCK TO THEIR BUYBACK PLANS AND THAT IS NOT WHAT WE HEARD FROM BP. EURO-DOLLAR IN FOCUS TODAY BECAUSE IT IS ECB DAY. DOWN .1% FOR THE EURO AS WE HEAD TOWARD THE ECB. MATT:
WE WILL CONTINUE TO WATCH ECB OR EXPECTS THE ECB TO COME OUT IN LESS THAN THREE HOURS. JOINING US NOW IS CHRIS. FIRST, I LOVE YOUR REACTION TO THE FED. WAS THAT THE LAST RATE HIKE AND DO WE GET A CUT THIS YEAR? CHRIS: YES AND YES. I THINK WHAT YOU SAW WITH THE REGIONAL BANKS PERFORMANCE YESTERDAY KIND OF SAYS IT ALL. ANOTHER RATE HIKE AND THE IDEA THEY'RE GOING TO TRY TO KEEP RATES HIGH LEVELS IS A LOT OF BAD NEWS FOR THESE BANKS.
AS YOU JUST TALKED ABOUT, OTHER REGIONAL BANKS SUFFERED SIGNIFICANTLY IN TRADING AFTER THAT ANNOUNCEMENT AFTER THE FED AND AFTER HOURS. I THINK THIS BANKING CRISIS HAS MORE LET'S TO AND THEREFORE WILL BE PRETTY SOON TO CUT RATES. THE IDEA WE ARE GOING TO STICK WITH A HAWKISH PAUSE I THINK IS PROBABLY THE TRIUMPH OF HOPE OVER WHAT WILL BE REALITY. ANNA: THOSE WHO SEE THINGS DIFFERENTLY WOULD ARGUE INFLATION IS WHEN BE DIFFICULT TO GET DOWN IN PARTICULAR, THIS LAST BIT AND THAT MIGHT GET THE FED PAUSING FOR A LONG TIME OR POSSIBLY EVEN THINKING ABOUT HIKING AGAIN AS WE HAVE SEEN THEM CENTRAL BANK RETHINK THEIR PAUSE AND ALSO SUGGEST THAT MAYBE THIS REGIONAL BANKS STORY GOES BACK UNDER THE RADAR IN THE WAY REGIONAL BANK FAILURES HAVE BEEN. YOU DON'T SEE IT THAT WAY. CHRIS: YOU NEVER KNOW. [LAUGHTER] YOU CAN NEVER SAY NEVER BUT I WOULD BE EXTREMELY SURPRISED IF THAT HAPPENS.
JUST LOOK AT WHAT MONEY SUPPLY IS DOING AND PEOPLE HAVE BEEN TALKING ABOUT THIS RECENTLY. AS I KEEP TELLING PEOPLE, YOU HAVE TO GO BACK TO THE 1930'S AND BEFORE. THE REASON IT IS CONTRACTING IS BECAUSE OF WHAT IS HAPPENING IN THE BANKING SYSTEM.
80% OF IT AS BANK DEPOSITS. THEY CONTRACT TOGETHER AND BOTH REFLECT TIGHT MONEY THAT IS TELLING US THERE IS A GLOWING -- GROWING RISK OF DEFLATION. IT IS MERGING ONTO THE RADAR AND SOMETHING MARKETS NEED TO THINK ABOUT. WE'LL INFLATION STICK AROUND? I DON'T THINK IT WILL. I THINK MONEY SUPPLY IS TELLING US IT IS GOING FAST. RECESSION IS COMING ON BIG PROBLEMS HAVE NOT GONE AWAY. ANNA:
YOU THINK THEY WILL BE CUTTING AND HOW DO WE PLAY STOCKS WITH THAT TRAJECTORY IN MIND? CHRIS: IF WE ARE RIGHT ABOUT THE RECESSION, YOU DON'T WANT TO BE IN STOCKS. THE MARKET IS FASCINATING. THE S&P HAS HELD UP NICELY FOR SIX WEEKS. 100 POINT TRADING RANGE. ANNA: THAT WAS OK AFTER MARCH. CHRIS: MAYBE, ANYWAY, UNDER THE SURFACE, THINGS ARE NOT SO GOOD OIL IS DOWN $.11 IN THREE DAYS. BOND YIELDS ARE DOWN. THE REST OF THE MARKET APART FROM THE MEGA TECH IS TELLING GOOD DIFFERENT MESSAGE FROM A IS TELLING YOU.
THIS IS A NARROW ADVANCE THIS YEAR AND THAT IS NOT GOOD. MATT: I WAS READING KEVIN'S PIECE, THE MACRO TOURIST PIECE ON HOW TO TRADE AFTER THE LAST HIKE. HE POINTS OUT THAT OVER THE LAST SIX OR SEVEN CYCLES THAT HE CHRONICLED, YOU DO SEE A RISE IN STOCKS TWO AND FOUR WEEKS OUT BUT YOU ARE LOOKING A LITTLE BIT LONGER. WHAT ARE YOU WAITING FOR TO KICK OFF THIS RECESSION OR WHAT ARE YOU WAITING FOR TO GO IN AND BUY STOCKS? WHERE WILL WE SEE THE DIP? CHRIS: I THINK I SAW THE SAME PIECE. THE LAST EXAMPLES WHEN THE FED
PEAKS, MOST OF THEM, YOU BUY THE MARKET. IF IT IS A MIDCYCLE SLOW DOWN, BY THE MARKET. THE PROBLEM WITH TAKING THE LAST SIX HIKING EXAMPLES IS ONLY ONE OF THEM INCLUDES A RECESSION. WHEN THE FED STOPS HIKING, YOU SAW THE PANTS OFF STOCKS, YOU DON'T BUY THEM. I THINK A RECESSION IS COMING.
I DON'T WANT TO BUY THESE EQUITY MARKETS. UNTIL I FEEL WE ARE AT THE END OF THE RECESSION AND THE FED HAS CUT A LOT AND I MOST OF THEIR RATE HIKES. I THINK I WOULD BE CAREFUL. MATT: IS THE ECB IN A DIFFERENT PLACE? DO YOU EXPECT THEM TO HAVE TO KEEP HIKING? TAME INFLATION? ARE WE EXPECTING THE SAME KIND OF EARNINGS RECESSION OUT OF EUROPE AS WE ARE EXPECTING IN THE U.S.? CHRIS: AS LONG AS I HAVE BEEN DOING THIS JOB, WHENEVER THE U.S. HAS A SMALL OR LARGE RECESSION,
THE EUROPEANS HAVE ONE THAT IS WORSE. I DON'T THINK THEY'RE IN A DIFFERENT PLACE AND FAMOUSLY, THEY ALWAYS SEEM TO HIKE INTO RECESSIONS. I THINK THEY WILL BE STOPPING SOMETIME SOON AS WELL. ANNA: THANK YOU SO MUCH FOR JOINING US. NEXT UP, WE WILL GET THE PERSPECTIVE OF SAMUEL FRENCH. ANNA: THIS IS "BLOOMBERG SURVEILLANCE, EARLY EDITION."
I AM ANNA EDWARDS IN LONDON WITH MATT MILLER IN NEW YORK. THE AP AND CENTRAL BANK LOOKS TO SLOW RATE INCREASES TODAY AFTER ITS LEVEL OF AND CREATION -- LEVEL OF INCREASED SLOWED. JOINING US NOW IS SIMON FRENCH, CHIEF ECONOMIST. REALLY GOOD TO SPEAK TO YOU AND WE WILL START WITH THE ECB. THEN WE WILL PROBABLY GET YOUR THOUGHTS ON THE FED AS WELL.
YOU ARE IN CAP 25 AS OPPOSED TO 25. WHY THE 25 AND I SUPPOSE MORE IMPORTANTLY, HOW LONG CAN THE ECB KEEP HIKING IF YOU THINK THE FED IS PAUSE? SIMON: CENTRAL BANKS TEND TO MOVE IN A PACK THE FACT THAT THE FED WENT TO 25 BASIS POINTS AND QUITE IMPORTANTLY, TALKED ABOUT THE INTERPRETATION OF THE LAX. THAT IS RELEVANT TO THE ECB WHO ARE OBVIOUS IN THE LAST OF THE MAJOR CENTRAL BANKS TO GET GOING AND THEREFORE, LEAST OF THE WAY THROUGH THE LAX. TO BE ABLE TO INTERPRET WITH THE OVERALL IMPACT IS ON FINANCIAL CONDITIONS, WE HAVE LESS INFORMATION IN THE EUROZONE THAN ANYWHERE ELSE. ANNA: ON THE SUBJECT OF HOW LONG THE ECB KEEPS HIKING, CHRIS AND A NUMBER OF OTHER GUESTS CITING THE OLD ADAGE THAT WHEN THE U.S. SNEEZES, THE REST OF THE ROAD CATCHES A COLD. IT IS THE PAUSE GOING TO BE
CONTAGIOUS? SIMON: SOME OF THE PRICING IS WRONG BECAUSE IF YOU LOOK AT EUROPEAN, THEY ARE LOOKING AT MARKETS EXPECTING ANOTHER 60 OR 70 BASIS POINTS INTO HIKES BY YEAR END. THE MARKET IS SEEING 80 TO 90 BASIS POINTS OF CUTS FROM THE FEDERAL RESERVE. CHRIS WAS TALKING BEFORE THE BREAK ABOUT HIS MEMORY OF CONVERGING ENERGY CYCLES. I CANNOT IMAGINE THOSE WILL BE
ALLOWED TO PLAY OUT THAT WAY. BUT FROM WHERE I PERHAPS DIFFER IS I'M NOT SURE THAT THE CYCLE NECESSARILY IS GOING TO PLAY OUT AS THE SORT OF FOLLOWING THE U.S. IN TERMS OF VERY WEAK CONSUMER LED DEMAND LEADING TO A HIKING CYCLE IN RISK OFF LENDING TRANSLATING ITSELF TO EUROPE. I THINK MORE LIKELY IS THOSE TWO WILL CONVERGE CLOSER TO THE MIDDLE WITH MORE OF A POTTER WEIGHT. LESS CUTTING THEM WE ARE SEEING PRICED IN THE UNITED STATES. MATT: I CONTINUE TO BE SURPRISED BY HOW ANY PEOPLE EXPECT THE FED TO CUT RATES THIS YEAR.
THEY WORKED SO HARD TO GET UP TO 525 AND TO TIGHTEN MONETARY CONDITIONS IN ORDER TO BRING INFLATION BACK DOWN CLOSER TO 2%. I THINK THEY WANT TO GET CLOSER THEM LIKE FOUR. WHAT DO YOU THINK AND WHAT WOULD MAKE THE FED CUT RATES ? SIMON: I THINK YOU'RE RIGHT TO BE SURPRISE METHOD GET A TALKING ABOUT THE CREDIBILITY AND ALSO, WHAT CHAIR POWELL IS SAYING BECAUSE HE HAS BEEN VERY PERSISTENT IN TELLING THE MARKET TO EXPECT A PERSISTENT PLATEAU.
THE MARKET THINKS IT KNOWS BETTER HOW ECONOMIC FINANCIAL CONDITIONS, MONETARY CYCLES EVOLVE. WE WERE TALKING BEFORE THE BREAK ABOUT DYNAMICS IN THE UNITED STATES, MAYBE THAT IS A LEADING INDICATOR THAT THE BOND MARKET IS OVERWEIGHTING VERSUS THE CENTRAL BANK. BUT I THINK YOU ARE RIGHT, AT THE MOMENT, THEY CANNOT BE CLEAR IT ANTICIPATES A PERSISTENT PAUSE BUT THE MARKET IS NOT PREPARED TO LISTEN AND THINKS IT KNOWS BETTER. MATT: BUT WHAT WOULD CAUSE THE FED TO CUT? IS IT THAT INFLATION COMES DOWN TO TWO? WILL IT CUT THEN IF WE GET A NEXT OR 1% OF UNEMPLOYMENT TO 4.5? WOULD THEY CUT THEN? I JUST DON'T KNOW WHAT FORCES
THEM TO DO THAT OTHER THAN SOME HORRIBLE ECONOMIC TRAGEDY IN WHICH YOU DON'T WANT TO OWN RISK ASSETS ANYWAY. SIMON: EXACTLY. I THINK IT IS MORE THE LATTER. I THINK EVEN IF YOU SAW HEADLINES TREND TO DO. I THINK THE MEMBER -- MEMORY OF THIS PERIOD AND AGREE TO ITS EXCESS DEMAND BEGINS TO FEEL UNCOMFORTABLE CORE INFLATION IN THE U.S. ECONOMY MEANS THAT WOULD NOT BE THE TRIGGER TO START A CUTTING CYCLE. I THINK IT IS IF YOU SEE WIDESPREAD EVIDENCE OF DEMAND AND THAT REQUIRES THE TYPE OF ISSUES WE HAVE SEEN IN THE REGIONAL BANKING SECTOR START TO TRANSLATE THEMSELVES INTO A BROAD-BASED TIGHTENING OF FINANCIAL CONDITIONS. THERE ARE POCKETS OF FINANCE
BUT A BROAD-BASED ONE AT THIS STAGE, THE TYPE THAT WOULD CHANGE THE RESPONSE FUNCTION, I DON'T SEE THAT IN THE DATA AS WE SIT HERE TODAY. ANNA: THINKING OF THE DATA THAT WE DON'T KNOW YET BUT WE WILL KNOW SOON. INFLATION DATA NEXT WEEK. BOTH OF THOSE DATA POINTS HAVE THE POTENTIAL TO SHAKE MARKETS IF MARKETS HAVE BECOME INCREASINGLY CONVINCED OF A PAUSE AND CUTS LATER THIS YEAR. SIMON: IT WAS A RATHER EASIER INTERPRETATION OF THE CENTRAL BANK RESPONSE FUNCTION LAST YEAR BECAUSE THEY HAVE QUITE EXPLICIT GUIDANCE.
EACH PRINT HAS NABBED LEVEL OF RESIDENCE AND PERHAPS THE SURPRISING PART THUS FAR HAS BEEN THE RELATIVE STABILITY OF THOSE KEY FINANCIAL METRICS AND BOND MARKETS TO THE DATA PRINTS WE HAVE HAD THUS FAR. I THINK THAT CHANGES BECAUSE OF THE SPREAD IN OUTCOMES BETWEEN THE MAJOR ECONOMIES. ANNA: THANK YOU VERY MUCH. STAY WITH BLOOMBERG FOR FULL COVERAGE OF THE ECB PARTS RATE DECISION. FOLLOWED BY CHRISTINE LAGARDE'S NEWS CONFERENCE.
MORE ON THE MARKETS COMING UP. MORE ON THE EARNINGS OF STORIES COMING UP. ANNA: THIS IS "BLOOMBERG SURVEILLANCE, EARLY EDITION."
I AM ANNA EDWARDS IN LONDON WITH MATT MILLER IN NEW YORK. EARNINGS SEASON CONTINUES. WE TALKED ABOUT SOME OF THE BIG NAMES. OVER IN EUROPE, IT IS DECISION DAY FOR THE ECB. AT 8:15 EASTERN TIME, THE CENTRAL BANK REVEALS ITS LATEST MOVE WITH PRESIDENT CHRISTINE LAGARDE SET TO GIVE A PRESS CONFERENCE HALF AN HOUR LATER. AT 8:30, WE GET AN UPDATE ON THE U.S. LABOR MARKET WITH INITIAL JOBS
CLAIMS DATA SETTING THE STAGE. AFTER THE BELL, COINBASE AND APPLE BOTH REPORT THEIR QUARTERLY RESULTS. MATT: I'M WATCHING CLOSELY TO SEE HOW THEY DO IN TERMS OF IPHONE SALES. IT COULD BE A SECOND CONSECUTIVE QUARTER OF DROPS. I'M ALSO WATCHING VERY CLOSELY WHAT HAPPENS WITH THE CARMAKERS. AFTER WE HAD EARNINGS FROM GM AND FORD, NOW WE ARE GETTING THEM FROM VOLKSWAGEN AND BMW. FOR MORE, LET'S GET OVER TO
OLIVER KROGH WHO HAS BEEN COVERING THE GERMAN CARMAKERS FOR US. LET'S START WITH VW. I SOME MEASURES, THE LARGEST CARMAKER IN THE WORLD. WHAT WERE THE TAKEAWAYS. OLIVER: FAIRLY STRONG QUARTER. SALES UP 22%. THEY BEAT ESTIMATES.
YOU ALSO HAVE MARGINS UP. HELPED BY THE HUGE BACKLOG YOU HAVE IN EUROPE. 1.8 MILLION CARS THAT THEY'RE STILL WORKING THROUGH TO GET OFF AND ONTO THE STREETS.
THE NEW LOOK AT THE DOWNSIDE OF THIS STORY AND IN CHINA, WHICH IS EVERY GERMAN AUTOMAKERS BIGGEST MARKET, SALES ARE DOWN. THIS IS ALSO IN THE QUARTER WHERE BYD OVERTOOK VOLKSWAGEN FOR THE FIRST TIME IN TERMS OF UNIT SALES. >> WE WILL DO WELL TO SPEED UP THE DEVELOPMENT. WE INTRODUCED THE AUDI SEVEN WHICH IS A GREAT CAR.
WE HAVE ALL OF THESE MEASURES IN PLACE ALREADY AND ARE QUITE CONFIDENT WE CAN PLAY A LEADING ROLE IN CHINA IN THE FUTURE. OLIVER: IN THIS QUARTER, THE ENTIRE BOARD WENT TO CHINA TO THE SHANGHAI AUTO SHOW. THEY THINK THE SOLUTION IS GOING TO BE OFFERING MORE AND MORE CARS TO THAT MARKET IN CHINA. I ALSO ASKED HIM ABOUT THE PRICE WAR WITH TESLA AND ARE THEY REALLY READY AND WILLING TO RAISE A -- WAGE A TEST WAR? THEY SAID NO. ANNA: A FOCUS ON CHINA. THE MARKET UNMOVED. THE BW SHARE PRICE NOT MOVING
MUCH. WHAT ABOUT BMW? THAT STOCK-PRICE MOVING. OLIVER: OVERNIGHT, YOU HAD A BUYBACK ANNOUNCEMENT. 2 BILLION EUROS. WHEN YOU LOOK AT THE REGIONS -- LET'S TALK ABOUT PRICING, IT HAS OFTEN ABOUT PRICING OVER THE LAST YEAR FOR THE AUTOMAKERS ROLLS-ROYCE IN THE SEVEN SERIES DURING THE HEAVY LIFTING.
THE ESTIMATE RANGE WAS AROUND 7%. EV SALES UP 112% BUT THAT WAS DOWN TO NORTH AMERICA OF 11%. CHINA DOWN 2.6%. IT REALLY IS A VERY STRONG QUARTER FOR THE AUTOMAKERS. EVERYONE IS VERY RETICENT TO GIVE A PUNCHY OUTLOOK LOOKING FORWARD AND THAT IS ALL DOWN TO WILL THIS PRICING HOLD UP. WE ALSO HAVE FORD OUT TODAY CUTTING JOBS.
YOU ARE GOING TO HAVE TO LOOK TO SAVE COSTS SOMEWHERE. ANNA: AND ALSO DEMAND IN EUROPE CERTAINLY IN FOCUS. THAT IS IT FOR EARLY EDITION. SURVEILLANCE IS AHEAD AND THEY WILL BE TALKING TO BEN. THIS IS BLOOMBERG. ♪
2023-05-08 04:06
Show Video
Other news