'Bloomberg Surveillance: Early Edition' Full (05/02/23)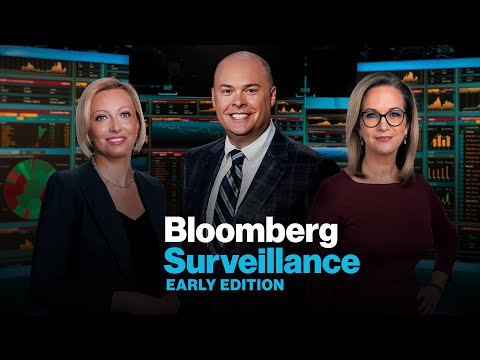 Show Video
>> THIS IS "BLOOMBERG SURVEILLANCE: EARLY EDITION" WITH FRANCINE LACQUA. FRANCINE: GOOD MORNING, EVERYONE. WELCOME TO BLOOMBERG SURVEILLANCE EARLY EDITION, I'M FRANCINE HERE IN LONDON. HSBC SHARES RALLY AFTER THE BANK CRUSHES ESTIMATES AND SAYS IT WILL REPURCHASE $2 BILLION OF STOCK. CHIEF EXECUTIVE OFFICER NOEL QUINN TELLS MANUS CRANNY THERE MAY BE MORE TO COME. JP MORGAN ACQUIRES FIRST
REPUBLIC IN A GOVERNMENT DEAL FOR THE FAILED LENDER, AS MORGAN STANLEY IS SAID TO BE PLANNING 3000 MORE JOB CUTS. AND THE AUSSIE DOLLAR JUMPED AFTER THE RBA UNEXPECTEDLY HIKES RATES. STOCKS ARE MIXED AS THE FED PREPARES TO MEET. TREASURY SECRETARY JANET YELLEN SAYS THE U.S. RISKS RUNNING OUT OF CASH AS SOON AS JUNE 1. WE ARE JUST GETTING BREAKING NEWS. WE HAVE QUITE A LOT OF DATA,
APRIL MANUFACTURING DATA PMI AT 45.8, ABOVE EXPECTATION, BUT THE ECB IS SAYING BANKS HAVE TIGHTENED CREDIT STANDARDS MORE THAN EXPECTED IN THE FIRST QUARTER. THIS IS AN EXTREMELY IMPORTANT DATA POINT BECAUSE THIS IS THE FIRST TIME WE HEAR FROM WHAT HAPPENED IN MARCH.
WE HAVE MANUFACTURING PMI FOR APRIL FOR THE EURO AREA, A TOUCH BETTER-THAN-EXPECTED. WHAT THAT MEANS FOR THE ECB GOING FORWARD, THEY ARE SAYING EURO AREA BANKS HAVE CURVED CREDIT MORE THAN EXPECTED, IT COULD WEIGH ON INTEREST-RATE HIKES. LET'S HAVE A LOOK AT WHAT A LOT OF THESE MARKETS OVERALL ARE DOING. THE OTHER STORY WE ARE WATCHING FOR IS HSBC, THEY ARE PREDICTING WEALTH REVENUE RECOVERY WILL CONTINUE. THIS IS THE PICTURE. WE STARTED THE DAY HIGHER WHEN IT CAME TO EUROPEAN STOCKS, NOW DOWN .3%. S&P FUTURES ALSO SLIGHTLY LOWER. AND AUSSIE DOLLAR 0.6695 AFTER WE HEARD FROM RBA.
HSBC SHARES ARE RALLYING AFTER THE LENDER BEAT FIRST QUARTER ESTIMATES, AND ANNOUNCED A TO BILLION DOLLAR BUYBACK. THE CEO NOEL QUINN COMMENTED ON THE GLOBAL IMPACT OF THE U.S. BANKING TURMOIL. HE SPOKE EXCLUSIVELY TO BLOOMBERG.
>> I'M REALLY PLEASED WITH THE TRANSACTION THAT TOOK PLACE OVER THE WEEKEND. THAT HELPS STABILIZE REGIONAL BANKS IN THE U.S. THESE ARE CHALLENGES AS WE GO FROM ONE ERA TO ANOTHER. BUT I DON'T BELIEVE IT WILL BECOME A SYSTEMIC ISSUE GLOBALLY. FRANCINE: JOINING US NOW IS BLOOMBERG'S FINANCE TEAM LEADER FOR EMEA.
GOOD MORNING, STELLAR RESULTS, WHAT WERE THE MAIN TAKEAWAYS? >> JUST ACROSS THE BOARD IT IS A SET OF RESULTS MANAGEMENT ARE VERY HAPPY WITH. THE BUYBACK IS PROBABLY MOST PLEASING SHAREHOLDERS. THE BIG STORY ABOUT HSBC'S WITH ITS TOP SHAREHOLDER, PAYING AND -- PING AN. YOU HAVE THE AGM ON FRIDAY, SO THE BIG STORY WILL STILL BE WHAT HAPPENS THEN. FRANCINE:
THERE IS A QUESTION WE HAVE TO ASK AFTER THE MARCH TURMOIL. THE FIRST REPUBLIC DEAL, I DON'T KNOW WHETHER WE WORRY ABOUT JP MORGAN BEING SUCH A BIG BANG, OR IT DOES TAKE CARE OF THE LAST PROBLEM CHILD. >> JP MORGAN CAN EFFECTIVELY TAKE THEM OFF OF REGULATORS'HANDS. THAT IS KIND OF WHY THEY WON
IT, THEY SAID WE CAN TAKE ALL THESE DEPOSITS AND LOANS, AND ALLOW BUSINESS TO GO ON AS USUAL. THAT IS WHY THAT DECISION WAS REACHED. THE BIG QUESTION NOW IS JP MORGAN IS BIGGER THAN EVER, WHAT DOES THAT MEAN FOR THE WIDER U.S. FINANCIAL SYSTEM? FRANCINE: WE HAVE CUTS AT MORGAN STANLEY OF 3000, WHAT DOES THAT TELL US ABOUT THIS WIND BANKING -- INVESTMENT BANKING? >> THEY ARE EFFECTIVELY SAYING WE ARE NOT CUTTING WELL AND SCHMIDT, -- WEALTH MANAGEMENT, WE ARE CUTTING MAKING A TRADING. TRADING IS DOING WELL, SO MOST OF THE CUTS WILL GO THROUGH THOSE DEAL MAKERS. UNTIL DEAL FLOW IMPROVES, IT WILL BE TOUGH TIMES THAT MORGAN STANLEY.
BUT ALSO OTHER BANKS LIKE CITI SAYING THEY WILL MONITOR THE SITUATION. I EXPECT A LOT MORE JOB CUTS TO COME IN INVESTMENT BANKING. FRANCINE: TOM METCALF, OUR FINANCE TEAM LEADER FOR EMEA. THE ECB POLICY DECISION IS THURSDAY, INVESTORS WILL BE KEEPING A CLOSE EYE ON THE DATA. ITALY PRELIMINARY FIGURES FOR APRIL ARE OUT AT 10:00 A.M. U.K. TIME. JOINING US NOW IS AN EQUITY MACRO STRATEGIST AT JP MORGAN.
THANKS AS ALWAYS FOR JOINING US. WE HAVE JUST HAD A COUPLE OF DATA POINTS FROM THE EURO AREA, BANKS HAVE CURVED CREDIT BY MORE THAN EXPECTED. IF YOU LOOK AT CENTRAL BANKS, ARE THEY WORRYING ABOUT THE CREDIT CRUNCH OR DO THEY STILL JUST A FEW NEW INFLATION? -- NIP INFLATION? NANDINI: SEEING WHAT HAPPENS WITH THE REAL ECONOMY IS GOING TO BE EXTREMELY IMPORTANT FOR THE ECB, THE FED THIS MONTH AS WELL BECAUSE FINANCING CONDITIONS ARE TIGHTENING. THAT WILL BE ONE OF THE MORE LEADING INDICATORS RATHER THAN UNEMPLOYMENT OR LABOR MARKET, WHICH ARE MORE LAGGING INDICATORS IN THE ECONOMIC CYCLE. CERTAINLY LOOKING AT FINANCING
CONDITIONS AND INVESTMENT OBJECTIVES FOR CORPORATES, AND INVESTMENT SENTIMENT FROM CORPORATE'S THAT DRIVES THE NEXT FEW QUARTERS OF ECONOMIC GROWTH. FRANCINE: WHAT ARE YOU EXPECTING FROM CENTRAL BANKS, AND HOW DOES THIS TRANSLATE TO EMERGING MARKETS? NANDINI: THIS MONTH WILL BE ONE OF LAST HIKES FOR BOTH THE ECB AND FED. THEY WILL BE CAUTIOUS ABOUT INDICATING ANYMORE HAWKISHNESS BECAUSE OF WHAT HAS BEEN HAPPENING GLOBALLY IN THE MACRO DATA, AS WELL AS FINANCIAL STRESSES OVER THE PAST FEW MONTHS. WE ARE NEARING PEAK INTEREST-RATE POINTS. THIS IS BODING WELL FOR EMERGING MARKETS WHO TRADITIONALLY HAVE BEEN MORE CHALLENGED WHEN DM CENTRAL BANKS ARE HIKING. BUT NOW THAT WE ARE HE NEARING
THE PEAK IN DM, EM BANKS MIGHT HAVE THE SPACE TO CUT. FRANCINE: THAT HAS HUGE IMPLICATIONS FOR THE DOLLAR. WE ARE GETTING MOVEMENT ON EUROPEAN BOND YIELDS WITH THE ECB, ONCE AGAIN THAT HEADLINES CROSSING THE TERMINAL SAYING THAT BANKS HAVE TIGHTENED CREDIT STANDARDS MORE THAN EXPECTED IN THE FIRST QUARTER. THE MORE WE SEE MOVEMENT, HOW DO YOU PLAY IT THROUGH EMERGING MARKETS? NANDINI: THE DOLLAR IS A HUGE SENTIMENT INDICATOR, AS WELL AS A TEMPERATURE CHECK FOR EMERGING MARKETS AS A WHOLE.
THE DOLLAR IS 25% ABOVE FAIR VALUE IN OCTOBER LAST YEAR, AND NOW IT IS JUST THREE TO 4%, THAT HUGE DROP WILL PROVIDE A HUGE BOOST TO GLOBAL MARKETS FROM A TRADE PERSPECTIVE. AND FOR SENTIMENT BECAUSE EM ECONOMIES CAN IMPORT MORE, THEIR ECONOMIES ARE STRONGER. WE ARE POSITIVE THAT THE DOLLAR SHIFT WILL PLAY OUT THIS YEAR ESPECIALLY AS WE GET MESSAGING FROM DM CENTRAL BANKS ABOUT PEAKS. FRANCINE: WE HAVE QUITE A LOT OF TALK ABOUT CHINA'S REOPENING BEING UNDERWAY. WHAT STRUCK ME IS SPEECHES FROM LAGARDE AND YELLEN TALKING ABOUT FRAGMENTATION. ARE WE UNDERESTIMATING THE
IMPACT THIS COULD HAVE GLOBALLY? NANDINI: CHINA IS ON ITS OWN CYCLE VERSUS THE REST OF THE WORLD. REOPENING IS WELL UNDERWAY, DATA IS TAKING UP, CHINA EARNINGS TAKING UP, WEHILE DM EARNINGS ARE FEELING FINANCIAL CONDITIONS TIGHTENING. SO THERE IS ECONOMIC FRAGMENTATION. BUT WE MUST LOOK AT GEOPOLITICS. SO THAT IS A CHALLENGE SOMETIMES FOR EM INVESTORS, IT IS PART OF THE LONG-TERM STORY, AND WE MODEL THAT IN TERMS OF RISK FRAMEWORKS FOR THINKING ABOUT COST OF EQUITY OR OTHER MEASURES WE CAN INPUT TO MAKE SURE WE ARE CAPTURING THE GLOBAL LANDSCAPE ACCURATELY. FRANCINE: DO YOU WORRY ABOUT FREEZING -- I DON'T KNOW WHETHER THE BANKING CRISIS IS OVER -- A LIQUIDITY CRISIS IN MARKETS THAT COULD SEIZE UP. IF WE SEE SOMETHING WITH THE DEBT CEILING, FOR EXAMPLE? NANDINI: IT IS HIGHER THAN IT HAS EVER BEEN IN AGGREGATE VOLUME TERMS. I DON'T WORRY ABOUT LIQUIDITY
SEIZING. MOST EQUITY AND BOND MARKETS ARE PRETTY SANGUINE ABOUT VARIOUS SLOWDOWNS. THEY SEEM TO HAVE QUITE A BIT OF TRADING VOLUME ACROSS THE WORLD. I WOULDN'T SAY WE ARE WORRIED ABOUT A LIQUIDITY ISSUE. SPECIFICALLY ON DEBT CEILING AND SOME OTHER CONCERNS, THOUGH THE DOWNSIDES ARE POTENTIALLY BIG, THERE HAS USUALLY BEEN A RESOLUTION AND WE DON'T EXPECT THIS TO BE A HUGE MARKET MOVER. MAYBE VOLATILITY AROUND THE MAJOR EVENTS, BUT THIS SEEMS TO BE A YEAR WHERE THE BIGGEST SURPRISE ARE HOPEFULLY OVER. FRANCINE:
IS THERE SOMETHING WE ARE UNDERESTIMATING? I DON'T KNOW WHETHER STRUCTURAL REFORMS IN CERTAIN PARTS OF E M, AND YOU LOOK AT COUNTRY SPECIFIC, AND WE DON'T KNOW WHERE AI HEADS UP? -- ENDS UP? NANDINI: THERE WILL ALWAYS BE NEW PARTS OF THE TECHNOLOGY, AND NEW PARTS OF THE MARKET THAT WE DON'T KNOW HOW IT WILL PLAY OUT. THE PAST FEW YEARS HAVE BEEN DOMINATED BY THE PANDEMIC INTERESTS OF HIGHER INFLATION. THIS YEAR SEEMS LIKE MORE GARDEN-VARIETY CENTRAL BANK INDUCED SLOWDOWN IN DM, AND A PLAY FOR REOPENING IN CHINA IN EM, WHICH IT OPEN OF THE GLOBAL EXPERT SPACE IN 2023. FRANCINE:
HAVE YOU PLAYED GEOPOLITICS? NANDINI: THE MAJOR THINKING IS ABOUT WHERE THE MAJOR ECONOMIC RELATIONSHIPS LIVE. WHEN YOU HEAR THE HEADLINES, IT IS GOING TO BE ALARMING. IF YOU THINK ABOUT THE TRADE FLOW BETWEEN EMERGING MARKETS AND THE REST OF THE WORLD THAT IS INCREASED, GLOBALIZATION IN MUCH OF THE DATA HAS NOT DECREASED. THERE IS STILL GOODS MOVING AROUND, THE DEMAND IS VORACIOUS. EM IS A BIG SUPPLIER OF BOTH RAW AND MANUFACTURED GOODS. STILL KEEPING AN EYE ON THE
ACTUAL DATA RATHER THAN THE HEADLINES IS THE BEST WAY TO PLAY THIS HAS A GLOBAL INVESTOR. FRANCINE: NANDINI RAMAKRISHNAN, EQUITY MACRO STRATEGIST AT JP MORGAN. IBM PLANS A FUTURE WHERE BOTS WILL TAKE OVER A SIGNIFICANT NUMBER OF HUMAN JOBS. WE WILL HAVE MORE ON THAT NEXT. THIS IS BLOOMBERG.
FRANCINE: ECONOMICS, FINANCE, POLITICS. THIS IS "BLOOMBERG SURVEILLANCE: EARLY EDITION." I'M FRANCINE LACQUA HERE IN LONDON. IBM IS PREPARING A FUTURE WHERE ARTIFICIAL INTELLIGENCE REPLACES A SIGNIFICANT NUMBER OF ROLES.
THE CEO EXPECTS TO PAUSE HIRING FOR ROLES IMPACTED BY AI OR AUTOMATION, THAT COULD ACCOUNT FOR 30% OF ROLES. JOINING US IS QUICKTAKE'S ALEX WEBB. GOOD MORNING, AGAIN. WHAT ARE YOU EXPECTING THE IMPACT OF AI TO BE? ALEX: A HUGE NUMBER OF JOBS WILL BE VULNERABLE TO ARTIFICIAL INTELLIGENCE. THE INTERESTING THING IS WHEN PEOPLE TALK ABOUT AUTOMATION 10 YEARS AGO, IT WAS VERY MUCH ABOUT FACTORIES. REPETITIVE, MANUAL LABOR JOBS
WERE GOING TO BE REPLACED BY ROBOTS. NOW WE SEE THAT ROBOTS ARE HUGE CAPITAL EXPENDITURE. AI AS WE SEE IT RIGHT NOW IS SOFTWARE. IT IS INFINITELY RE PLICABLE, THEREFORE IT IS THE MORE REPETITIVE, OFTENTIMES CREATIVE JOBS THAT ARE MORE VULNERABLE. FRANCINE: HOW MUCH OF THIS IS ACTUALLY NEW? ALEX: IF WE LOOK AT IBM AND OF THE POSITIONS THEY ARE TALKING ABOUT, BACK OFFICE FUNCTIONS, SOME HUMAN RESOURCES POSITIONS. THEY PROBABLY COULD'VE SAID THAT A LITTLE WHILE AGO. AMAZON ALREADY DOES SOME HUMAN
RESOURCING STUFF WITH AI, WHERE IT LOOKS AT PERFORMANCE IN WAREHOUSES. BLOOMBERG HAD A GREAT STORY LESTER, YOU SAW PEOPLE LITERALLY BEING FIRED BY A BOT. THE NEW THING IS CEOS ARE WAY MORE WILLING TO TALK ABOUT IT. EVERYONE WANTS TO SAY WE ARE USING AI, IT IS CHANGING OUR BUSINESS. THAT IS GREAT, BUT NOT FOR SOMEONE LOSING THEIR JOB. FRANCINE:
THE PACE OF CHANGE COULD THE WIDELY FASTER THAN EVEN SIX MONTHS AGO. ALEX: THE PACE OF CHANGE IS LARGELY TO DO WITH THE FACT THAT OPENAI RELEASED THIS PROJECT AS A GROUP. IN TERMS OF PROCESSING POWER, WE ARE SEEING MICROSOFT TALKING ABOUT EXPANDING CAPEX SO IT CAN ADD MORE PROCESSING POWER TO ITS DATA CENTERS. THAT IS NOT THE TAIL WAGGING THE DOG, THAT IS LITERALLY THEY SEE DEMAND FOR AI, THEREFORE THEY ARE SPENDING CAPACITY. THIS WILL BE A CLOUD PROJECT. IF YOU WANT TO USE AI TOOLS, YOU PROBABLY NEED TO USE GOOGLE CLOUD OR MICROSOFT AS YZURE, THEREFORE IT SALESPEOPLE WILL BE PUSHING IT. FRANCINE:
YOU POINTED OUT AN ARTICLE WHICH IS A GROWING NUMBER OF PEOPLE THAT UNDERSTAND AI THAT ARE WORRIED ABOUT WHAT IT BECOMES. ALEX: JEFFREY HINTON, A PROFESSOR OF AI AT THE UNIVERSITY OF TORONTO, AND IS CONSIDERED A GODFATHER OF AI. HE DESIGNED A FUNERAL NETWORKS, HE WAS ONE OF THE KEY PEOPLE -- NEURAL NETWORKS, HE WAS ONE OF THE KEY PEOPLE BEHIND THIS INNOVATION.
HE WAS AT GOOGLE, AND HAS STEPPED BACK BECAUSE HE WANTS TO TALK MORE FREELY ABOUT THE DANGERS. FRANCINE: ALEX OF QUICKTAKE ON TECHNOLOGY. INFINEON BREAKS GROUND ON A NEW CHIP FACTORY, THE BIGGEST INVESTMENT IN THE COMPANY'S HISTORY. WE ARE LIVE IN DRESDEN NEXT.
THIS IS BLOOMBERG. FRANCINE: ECONOMICS, FINANCE, POLITICS. THIS IS "BLOOMBERG SURVEILLANCE: EARLY EDITION."
I'M FRANCINE LACQUA HERE IN LONDON. LET'S GET STRAIGHT TO THE FIRST WORD NEWS WITH SAMUEL ETIENNE. SIMILAR: PRESIDENT BIDEN CALLED A MEETING OF CONGRESSIONAL LEADERS MET WEEK TO DISCUSS THE DEBT LIMIT STANDOFF. THE INVITATION CAME HOURS AFTER THE TREASURY SECRETARY WARNED THE U.S.
RISKS RUNNING OUT OF CASH AS SOON AS EARLY JUNE. SINCE HITTING THE CURRENT LIMIT OF 31.4 TRILLION DOLLARS IN JANUARY, THE U.S. HAS BEEN USING SPECIAL ACCOUNTING MEASURES TO STAVE OFF DEFAULT.
ANGER OVER PRESIDENT MACRON'S PENSION REFORM SPILLED INTO THE STREETS YESTERDAY WITH MARCHES ACROSS THE COUNTRY. THE GOVERNMENT SAYS 780,000 PEOPLE TOOK PART IN PROTESTS. THE LABOR UNION PUT THE TURNOUT AT 2.3 MILLION. MACRON PUSHED THROUGH PLANS TO RAISE THE FRENCH RETIREMENT AGE TO 64 LAST MONTH DESPITE WIDESPREAD PROTESTS. AND THE U.S. SAYS RUSSIA HAS SUFFERED OR THAN 100,000 CASUALTIES, INCLUDING 20,000 DEATHS, IN THE BLOODY STANDOFF OVER BACK MOVED -- BAKHMUT IN UKRAINE.
RUSSIAN FORCES HAVE BEEN PUSHED BACK FROM FORCES IN THE REGION WHICH HAVE SEEN INTENSE FIGHTING SINCE DECEMBER. WRITERS OF SOME OF THE MOST POPULAR U.S. TV SHOWS ARE GOING ON STRIKE DEMANDING HIGHER PAY , AMID RAPID CHANGES IN THE WAYS PEOPLE WATCH FILMS AND PROGRAMS. THE WRITERS GUILD OF AMERICA WHICH HAS MORE THAN 11,500 MEMBERS, SAYS ALMOST 98% OF THOSE VOTING LAST MONTH BACKED THE WALKOUTS. A STRIKE IN 2007 RESULTED IN A
$2.1 BILLION LOSS IN ECONOMIC OUTPUT. THAT'S GLOBAL NEWS POWERED BY MORE THAN 2700 JOURNALISTS AND ANALYSTS IN MORE THAN 120 COUNTRIES. I'M SAMUEL ETIENNE, THIS IS BLOOMBERG. FRANCINE: THE EU AIMS TO PRODUCE 20% OF THE WORLD CHIPS. RIGHT NOW IT MAKES ABOUT 10%. TODAY INFINEON BREAKS GROUND ON A NEW CHIP FACTORY IN DRESDEN. THE BIGGEST INVESTMENT IN THE
COMPANY'S HISTORY. HOLLY, HOW SIGNIFICANT IS THIS PROJECT? >> WE TALK A LOT ABOUT DIGITAL SOVEREIGNTY, STRATEGIC AUTONOMY. THIS IS THE REALITY OF THAT. THIS IS WHAT NEEDS TO HAPPEN TO GET IT DONE. SCHOLZ AND VON DER LEYEN ARE
COMING HERE TO INACCURATE THIS GROUNDBREAKING. A LOT OF FANFARE FOR A LITTLE THING. THESE CHIPS THAT GO INTO EVERYTHING FROM OUR CARS. IN GERMANY THAT IS ONE OF THE
MAIN FOCUSES. THE AVERAGE CAR HAS 1400 CHIPS IN IT. INFINEON HAS THREE FABS, THIS IS THE FOURTH. SAXONY IS THE REGION, WE TALK ABOUT SILICON VALLEY, SILICON SAXONY PRODUCES ONE THIRD OF ALL THE CHIPS EUROPE CREATES. THEY WANT TO DOUBLE CAPACITY
AND TO DO 20% OF THE WORLD'S CHIPS WITHIN EUROPE, THAT IS A MONUMENTAL TASK. THESE ARE THE CHIPS THAT GO INTO NOT JUST EV'S, BUT WIND TURBINES, IT IS AT THE CENTER OF THESE TWO MAJOR INDUSTRIAL STORIES IN GERMANY, DIGITIZATION AND THE ENERGY TRANSITION. WITHOUT THIS, YOU HAVE NO FUTURE. FRANCINE: THE EU WANTS TO DOUBLE THEIR CHIP OUTPUT, THIS SEEMS SO HARD TO DO, IS THAT EVEN POSSIBLE? OLIVER: THAT IS WHY VON DER LEYEN IS HERE.
THIS IS WHAT WE ARE GOING TO TALK TO THE CEO ABOUT IN A FEW MINUTES. CAN EUROPE ACHIEVE THIS? THE POLITICAL WILL IS THERE. THE EU CHIPS ACT HAS 43 BILLION EUROS GOING INTO IT. YOU RUN INTO THE SAME RISKS AS THE INFLATION REDUCTION ACT, WILL YOU HAVE A RACE OF THE BOTTOM WITH EVERYBODY TRYING TO ATTRACT OF THESE COMPANIES? GERMANY IS TRYING TO ATTRACT TSMC AND INTEL HAS BILLIONS OF DOLLARS OF SUBSIDIES. THEN YOU HAVE THE QUESTION OF
JOBS, DO YOU HAVE THE SKILL TO BRING ALL THIS STUFF TO FRUITION? THIS WILL CREATE 1000 JOBS IN DRESDEN, BUT DO YOU HAVE THE CAPACITY? AND ON THE BACK BURNER YOU HAVE THIS TRADE WAR CHINA AND THE UNITED STATES. THE U.S. PUTTING UP BARRIERS TO PRODUCE SEMICONDUCTORS, COULD THAT HAVE KNOCK ON EFFECTS FOR THE CHIP INDUSTRY GOING FORWARD? FRANCINE: OLIVER CROOK WITH THE VERY LATEST FROM DRESDEN ON CHIPS. WE WILL HEAR FROM THE INFINEON CHIEF EXECUTIVE LATER ON.
THAT INTERVIEW AT 10:40 A.M. LONDON TIME. THE ECB HAS SAID HERO AREA BANKS HAVE CURBED CREDIT BY MORE THAN EXPECTED. CREDIT STANDARDS HAVE TIGHTENED SUBSTANTIALLY IN THE FIRST QUARTER, ACCORDING TO THE ECB BANK LENDING SURVEY. THE DECLINE IN THAT DEMAND FROM FIRMS WAS MORE THAN FORESEEN IN THE PREVIOUS THREE MONTHS. THIS IS MOVING GERMAN BUND YIELDS. IT IS THE FIRST CONCRETE INDICATIONS ABOUT THE KNOCK ON EFFECTS OF SILICON VALLEY'S MARCH DEMISE AND THE CREDIT SUISSE TAKEOVER BY UBS.
WHAT IT MEANS IS THAT TIGHTER LENDING CONDITIONS WERE DRIVEN BY BANKS'PERCEPTION OF RISK, WHILE THE ECB RATE INCREASES ALSO PLAYED A ROLE. WE WILL HAVE A LOOK AT WHAT THAT MEANS FOR WHETHER THEY NEED TO UPDATE THEIR CALL ON 25 BASIS POINTS. BLOOMBERG ECONOMICS IS LOOKING AT THIS COMPOSITE INDICATOR TO SEE WHETHER ANYTHING CHANGES. LET'S ALSO LOOK AT THE BANKS. WE HAVE QUITE A LOT OF BANK
NEWS. NOT ONLY ABOUT HSBC WITH STELLAR PERFORMANCE, THE BANKS ALSO IN FOCUS AFTER THE CITI CHIEF EXECUTIVE SAID SHE IS WILLING TO ADJUST STAFFING LEVELS IN THE INVESTMENT BANK. HSBC ANNOUNCED IT WOULD BUY >> GOOD MORNING AND WELCOME TO BLOOMBERG SURVEILLANCE: EARLY EDITION. THE EURO ZONE CURB LENDING MORE THAN ANTICIPATED AFTER BORROWING COSTS JUMPED. REINFORCING COSTS FOR THE ECB TO SLOW THE PACE OF HIS INTEREST RATE HIKES. HS BESSIE ROUTE -- HSBC RALLIES. THERE MAY BE MORE TO COME.
JP MORGAN AGREES TO REQUIRE FIRST REPUBLIC. THE TAKEOVER COMES AS MORGAN STANLEY IS SAID TO BE PLANNING 3000 MORE JOB CUTS. HSBC SHARES RISING AFTER THE LENDER SAID IT WOULD BUY BACK AS MUCH AS $2 BILLION OF STOCK AS IT REPORTED FIRST-QUARTER RESULTS. THE CHIEF EXECUTIVE OFFICER SPOKE TO US ON HIS OUTLOOK FOR THE BANK FOR THE REST OF THE YEAR >> THE STRATEGY IS WORKING.
I AM PLEASED WE HAVE REINSTALLED THE QUARTERLY DIVIDENDS. WE ANNOUNCED TODAY A QUARTERLY DIVIDEND OF $.10 PER SHARE, THE SAME LEVEL WE HAD PRE-COVID. WE HAVE ALSO BEEN ABLE TO FINANCE A BUYBACK. THE BUSINESS IS WELL-POSITIONED GOING FORWARD FOR SUSTAINABLE PROFITS, RETURNS, AND INABILITY TO GENERATE CAPITAL THAT CAN BE RETURNED TO SHAREHOLDERS VIA DIVIDEND AND BUYBACK. THAT IS THE MOST IMPORTANT THING I'M FOCUSED ON FOR ALL OUR SHAREHOLDERS.
>> THE $2 BILLION BUYBACK WE SEE TODAY, IS THAT STEP ONE OF A MATERIAL SERIES OF BUYBACKS? >> WE WERE ORIGINALLY PLANNING A BUYBACK IN THE SECOND HALF OF THE YEAR. BECAUSE OF THE POSITIVE BUSINESS PERFORMANCE, WE WERE ABLE TO PULL THAT FORWARD. WHEN I SEE GOING FORWARD IS CONTINUE SUSTAINABLE PROFITS AND THEREFORE POTENTIAL FOR A SERIES OF BUYBACKS.
WE HAVE ALWAYS SAID BUYBACKS HAVE A PLACE ALONGSIDE DIVIDENDS TO DISTRIBUTE EXCESS CAPITAL. WE WANT TO RETAIN SUFFICIENT CAPITAL TO CONTINUE TO GROW THE BUSINESS. BASED ON WHAT WE SEE AT THE MOMENT, WE THINK WE HAVE POTENTIAL FOR A SERIES OF CAPITAL DISTRIBUTIONS VIA DIVIDEND AND BUYBACK OVER THE COMING YEARS. >> YOU SAID WHEN WE TOOK THE PRETAX, THE EXCEPTIONAL ITEMS, THAT YOU WERE HAPPY THIS WAS NOT ALL INTEREST BUSINESS. WE WANT TO GET YOUR SENSE WHETHER WE ARE AT PEAK INTEREST FLOW FOR YOU. THE FED WILL MEET WITH THE ECB
AND BANK OF ENGLAND. DO YOU THINK YOU ARE AT PEAK NET INTEREST FOR 2023. THIS GUIDANCE REMAIN STEADY? >> WE HAVE HAD A GOOD PERFORMANCE BUT WE HAVE ALWAYS SAID 2023 WILL PROBABLY BE THE YEAR THAT NII TOPS OUT PURELY THROUGH RATES. IT CAN CONTINUE TO GROW THROUGH UNDERLYING GROWTH IN THE BALANCE SHEET AND ECONOMIC ACTIVITY, BUT FROM THE RATES BENEFIT WE ALWAYS SAID 2023 WILL PROBABLY BE THE PEAK YEAR AND I THINK THAT HOLDS TRUE. AS YOU GO UP THE RATE CURVE, YOU GET RETURNS KICKING IN ON HOW MANY RATE BENEFITS YOU CAN HOLD ONTO VERSUS COMPETITIVE PRESSURE.
>> IF THE BANK IS CRANKING ON GAS CURRENTLY STRATEGY IS WORKING. MORGAN STANLEY ARE CUTTING JOBS. JANE FRASER SAID SHE IS READY TO ADJUST HEADCOUNT. YOUR PREVIOUS CFO SAID THE ONLY THING HE WAS WORRIED ABOUT WAS COSTS. ARE YOU READY TO TAKE THAT OUT
OF THE BUSINESS? IT IS A TOUGH SUBJECT. ARE YOU CONSIDERING SCALING BACK ANY OF THE AREAS? >> WE HAVE TAKEN A SIGNIFICANT AMOUNT OF COST OUT OF THE BANK OVER THE LAST YEARS. OUR Q1 COST PERFORMANCE WAS DOWN AROUND 2%.
IF YOU ADJUST ON A CONSTANT CURRENCY ON A TARGET BASIS, WE WERE UP AROUND 2% AGAINST A TARGET OF 3%, SO OUR COSTS ARE CONTROLLED. THIS IS EMBEDDED AS COST DISCIPLINE IN THE ORGANIZATION AFTER 3.5 YEARS OF STRONG FOCUS ON COSTS. IN Q1, MOST OF THE COST GROWTH AGAINST TARGET WAS TECHNOLOGY SPEND. SO THAT IS GOOD SPEND, NOT BAD SPEND. FRANCINE:
THAT WAS THE HSBC CHIEF EXECUTIVE EARLIER TODAY. FIRST REPUBLIC BANK IS OFFICIALLY DEAD. JP MORGAN OUTBID AT LEAST THREE OTHERS IN A GOVERNMENT LED DEAL FOR THE FAILED LENDER. SCARLET FU HAS DETAILS.
>> JP MORGAN'S JAMIE DIMON KNOWS A THING OR TWO ABOUT BUYING TROUBLED BANKS. 15 YEARS AFTER HIS FIRM TOOK OVER WASHINGTON NEUTRAL, JP MORGAN WON A GOVERNMENT LED AUCTION TO TAKE OVER FIRST REPUBLIC BANK, MAKING IT THE LARGEST -- MAKING IT EVEN LARGER. AS PART OF THE AGREEMENT, JP MORGAN AND THE FERC WILL SHARE THE BURDEN OF LOSSES AND RECOVERIES ON FIRST REPUBLIC MORTGAGES AND COMMERCIAL LOANS. IN THE SAME WAY SILICON VALLEY BANK TARGETED START, FIRST REPUBLIC CATERED TO WEALTHY CLIENTS IN COASTAL CITIES. THE STRATEGY WORKED WELL WHEN INTEREST RATES WERE LOW. WHEN THE FEDERAL RESERVE BEGAN AGGRESSIVELY INCREASING INTEREST RATES LAST YEAR, THOSE WEALTHY DEPOSITORS STARTED PULLING OUT THEIR MONEY TO GET HIGHER RETURNS SOMEWHERE ELSE.
THAT FORCED FIRST REPUBLIC TO PAY OUT HIGHER RATES AT THE SAME TIME FED RATE HIKES WERE REDUCING THE VALUE OF FIRST REPUBLIC'S MORTGAGE PORTFOLIO. IT TRIGGERED FEARS THAT FIRST REPUBLIC WOULD NOT BE ABLE TO MEET WITHOUT WITHDRAWING PORTFOLIO HOLDINGS AT A LOSS. STOCK TANKED, LEADING TO MORE WITHDRAWALS. THERE IS A CHANCE THAT IT IS CLOSE TO ITS END AND IT IS THE LAST BIG BANK CEO STANDING. FRANCINE: THAT WAS ON THE DEMISE OF FIRST REPUBLIC. LET'S GET YOUR BLOOMBERG
BUSINESS FLASH. >> BP HAS SLOWED THE PACE OF STOCK BUYBACKS. IT BEAT PROFIT ESTIMATES THANKS TO A STRONG OIL AND GAS TRADING PERFORMANCE.
DESPITE THIS, CASH FLOW SHRINK BY 40%. BP SAYS IT WILL REPURCHASE $1.75 BILLION OF SHARES IN THE COMING MONTHS, DOWN FROM THE PRIOR PERIOD. IBM SAYS IT WILL PAUSE HIRING FOR BACK OFFICE ROLES.
26,000 ROLES, 30% COULD BE COVERED BY AI AND AUTOMATION OVER THE NEXT FIVE YEARS. IBM CURRENTLY EMPLOYS ABOUT A QUARTER OF A MILLION STAFF WORLDWIDE. QANTAS AIRWAYS HAS NAMED ITS NEXT CEO, MAKING HER THE FIRST WOMAN TO LEAD THE AIRLINE IN IS MORE THAN 100 YEAR HISTORY. SHE WILL TAKE THE TOP JOB IN NOVEMBER, INHERITING AN AIRLINE DELIVERING RECORD PROFITS BUT ALSO FACING STRAINED RELATIONS -- STRAINED RELATIONS WITH CUSTOMERS AND UNIONS. MORGAN STANLEY PLANS TO CUT 3000 MORE JOBS.
THE GROUP IS EXPECTED TO SHOULDER MANY OF THE REDUCTIONS. THE CEO SAID LAST MONTH UNDERWRITING MERGER ACTIVITY HAD BEEN SUBDUED. IT IS THE SECOND ROUND OF TOPIC -- A JOB CUTS WITHIN SIX MONTHS. THAT IS YOUR BLOOMBERG BUSINESS FLASH. FRANCINE: IS THE WORST OF THE U.K. INFLATION SHOCK NOW IN THE PAST? THIS IS BLOOMBERG. ♪ FRANCINE: THIS IS BLOOMBERG SURVEILLANCE: EARLY EDITION. INFLATION HAS SLOWED FROM A
RECORD HIGH IN THE PREVIOUS MONTHS. DATA FROM A BRITISH RETAIL CONSORTIUM SUGGESTS BRITISH HOUSEHOLDS MAY BE PASSED TO THE WORST OF THE INFLATION SHOCK. WE HAD MANUFACTURING FOR APRIL IN THE PAST FEW MINUTES COMING IN STRONGER THAN EXPECTED. HERE WITH US, THE MANAGING DIRECTOR AND DEPUTY HEAD OF THE BLACKROCK INVESTING INSTITUTE. I HAVE A MILLION AND ONE QUESTIONS ABOUT INFLATION DATA AND WHAT CENTRAL BANKS DO. THEY ARE TRYING TO FIGURE OUT WHAT CENTRAL BANKS WILL DO WITHOUT REALLY UNDERSTANDING THE TRAJECTORY INFLATION TAKES.
>> THAT IS PROBABLY RIGHT. THERE IS NO CLEAR NARRATIVE ABOUT HOW THINGS ARE EVOLVING AND THERE'S FOCUS ON THE GROWTH DATA. WE MUST NOT LOSE SIGHT OF THE FACT THAT THE DEFINING FEATURE OF THE WORLD ECONOMY NOW IS THE PERSISTENCE OF INFLATION, WHICH REFLECT THE FACT THAT THOSE DEVELOPED MARKETS ARE OVERHEATING BECAUSE OF A MIXTURE OF LABOR SUPPLY PROBLEMS. WE HAVE SEEN IT FROM THE U.S. TO AUSTRALIA. CENTRAL BANKS ARE RAISING RATES INTO SLOWING ECONOMIES. FRANCINE: IS THE U.K. AHEAD OF THE FED OR U.S. IN TERMS OF CONCERNING TRENDS
WE COULD SEE IN INFLATION OR DOES IT JUST MIRROR BUT IT IS EXACERBATED? >> SOME OF THE FEATURES OF THE U.K. ARE ACTUALLY LAGGING OTHER ECONOMIES. RETAIL UNDER PRICES ARE STAYING HIGHER FOR LONGER THAN OTHER ECONOMIES, EXACERBATING THE HEADLINE INFLATION PICTURE. THE THING THEY ALL HAVE IN COMMON IS THAT LABOR SUPPLY ISSUES MEAN THEIR ECONOMIES ARE OVERHEATING. THEY HAVE STRONG WAGE GROWTH, STRONG CORE INFLATION, AND THEY FACE THIS DIFFICULT TRADE-OFF OF SLOWING THEIR ECONOMIES FURTHER WITH RATE HIKES.
OR LIVE WITH MORE PERSISTENT INFLATION. IT IS CLEAR AND EUROPE CENTRAL BANKS ARE DETERMINED TO GET INFLATION DOWN. THE FED HAS BEEN TALKING TOUGH AND WE WILL SEE WHETHER IT CARRIES THROUGH OR NOT. FRANCINE: THE CONCERN IS THEY DO NOT KNOW WHAT TO DO WITH POSSIBLE CREDIT CRUNCH. IS IT DIFFICULT FOR CENTRAL BANKS TO SAY THIS IS THE BANK CRISIS BUT INFLATION IS STILL TO FIGHT? >> THE CREDIT CRUNCH IN THE U.S. AND EUROPE, THINK OF IT AS
DOING SOME OF THEIR WORK FOR THEM. IT IS PROBABLY A CONSEQUENCE OF THE FASTEST RATE HIKING CYCLE SINCE THE 1980'S AND ALMOST BY DESIGN CENTRAL BANKS WANT IT TO TIGHTEN CREDIT CONDITIONS. THIS IS NOT THE OLD PLAYBOOK WHERE TIGHTEN CREDIT CONDITIONS MEANS CENTRAL BANKS COME TO THE RESCUE.
THIS IS WHERE CENTRAL BANKS HAVE DELIBERATELY RAISED RATES TO DEALS OVERHEATING ECONOMIES. WHEN IT HAPPENS, THEY DO NOT COME TO THE RESCUE FROM IT. THIS IS PART OF THE DESIGN. FRANCINE: IS THIS A NEW NORMAL? I DO NOT KNOW WHETHER THIS IS LIKE 12 YEARS AGO OR THIS IS A NEW REALITY.
>> WE THINK IT IS A NEW REGIME IN GENERAL. YOU CAN BE CAUTIOUS OF PEOPLE CALLING NEW REGIMES, BUT THAT 20 YEARS OF GREAT MODERATION WAS AN ABERRATION. LABOR SUPPLY, ENERGY SUPPLY WAS GROWING, SO THE DROP OF CENTRAL BANKS WAS ALWAYS TO STOKE DEMAND TO KEEP IT GROWING IN LINE WITH SUPPLIER. NOW WE ARE GOING TO SEE MORE FREQUENT SUPPLY DISRUPTIONS. THAT MEANS LABOR SUPPLY, ENERGY
SUPPLY, AND EVEN GLOBAL SUPPLY CHAINS MEAN MORE FREQUENT DISRUPTIONS TO SUPPLY AND PRESENT CENTRAL BANKS WITH A MORE DIFFICULT JOB THAN THEY HAD FOR 20 YEARS. >> THE 2% INFLATION TARGET, IS THAT THE RIGHT NUMBER? >> 2% INFLATION IS THE RIGHT NUMBER, BUT WHAT IS MISSING IS A DEBATE ABOUT WHEN YOU FACE THIS TRADE-OFF, WHAT IS THE RIGHT SPEED WITH RICH -- WITH WHICH TO RETURN INFLATION TO THE TARGET? IT WOULD BE COSTLY TO RETURN IT. RETURNING A SLOWLY RUNS RISKS OF CONTROLLING INFLATION EXPECTATIONS AND CENTRAL-BANK HAVE LURCHED FROM TALKING ABOUT INFLATION IS TRANSITORY TO THE FASTEST RATE HIKING CYCLE SAYS THE 1980'S. WHAT IS NEEDED IN THESE SITUATIONS IS AN OPEN DEBATE ABOUT, HERE WE ARE, INFLATION IS HIGH, WHAT IS THE RIGHT PACE TO BRING IT BACK? WHAT IS THE RIGHT TRADE-OFF? FRANCINE: WHAT DO YOU THINK IS THE RIGHT PACE TO BRING IT BACK AND WHY DID WE UNDERESTIMATE STICKY INFLATION? >> I THINK IT IS THAT INITIALLY INFLATION WAS TRANSITORY.
IT WAS THE SURGE IN GOODS PRICES AS A RESULT OF US ALL GOING OUT LESS AND BUYING MORE GOODS DURING COVID. THAT WAS TRANSITORY. THE BIT THAT TOOK PEOPLE BY SURPRISE WAS THE UNDERLYING LABOR SUPPLY PROBLEMS IN THE U.S., U.K., AND EUROPE ALL MEANT EVEN THOUGH ECONOMIC
ACTIVITY HAD NOT REALLY REGAINED ITS PRECODE LEVELS OR TREND CORE INFLATION WAS THE RESULT. IT WAS THAT UNDER APPRECIATION OF THE SUPPLY SIDE THAT MATTERED. WHAT IS THE OPTIMAL PACE TO BRING IT BACK? THE STANDARD PACE FOR CENTRAL BANK IS A COUPLE YEARS. THAT SEEMS ABOUT RIGHT. I THINK IF THEY ARE CLEAR ABOUT WHAT THEY ARE TRYING TO DO THEY HAVE MORE LEEWAY. HAVING IGNORED THE TRADE-OFF FOR SO LONG, THEY NEEDED TO REINFORCE CREDIBILITY WITH RAPID RATE HIKES. THERE MAY HAVE BEEN A BETTER
WAY TO ACKNOWLEDGE THE ISSUE AND HAVE A PUBLIC CONVERSATION ABOUT APPROPRIATE SPEED WITH RICH -- WITH WHICH TO RETURN INFLATION TO TARGET. >> HOW MUCH OF IT DO WE UNDERSTAND ABOUT NOT ENOUGH SKILLS OUT THERE OR LONG COVID AND POST-PANDEMIC THINGS HANGING ON? >> THE U.K. SEEMS TO HAVE MORE LABOR SUPPLY ISSUES THAN OTHERS. IN THE U.S., IT SEEMS TO BE THE NATURAL AGING OF A POPULATION AND DECLINING FOR DISSIPATION AS THE POPULATION AGES EXPLAINS A LOT OF WHAT HAS HAPPENED TO LABOR FORCE PARTICIPATION. IN THE U.K., THERE IS ADDED EFFECT WHICH RELATES TO LONG-TERM SICKNESS.
THE UNDERSTANDING OF THAT IS NOT GOOD NOW, WHICH OPENS THE POSSIBILITY THAT IT COULD RECOVER. RIGHT NOW, THE U.K. FACES A BIGGER LABOR SUPPLY PROBLEM THAN OTHER COUNTRIES, WHICH IS WHY IN THE U.K. WE HAVE HAD ON AVERAGE NO GROWTH FOR TWO YEARS, YET THE ECONOMY IS STILL OVERHEATING. THAT IS EXPLAINED BY THESE LABOR SUPPLY PROBLEMS. FRANCINE: HOW SHOULD CENTRAL BANKS LOOK AT AI? IT IS ALWAYS A PROBLEM OF TIMELINE. IF WE ARE GOING TO SEE JOBS
DISPLACED QUICKLY, IT COULD CHANGE THE WORK DYNAMIC. >> IT COULD. YOU ALWAYS SEE THESE BIG STRUCTURAL CHANGES IN THE ECONOMY. THAT CREATES DISRUPTION AND PRODUCTIVITY GROWTH OVER TIME.
THAT IS ONE THING THE U.K. WILL WANT OVER TIME. U.K. PRODUCTIVITY PERFORMANCE HAS NOT BEEN GREAT. THE OTHER WAY IN WHICH IT CONFUSES LIFE FOR CENTRAL BANKS IS TRYING TO GET TO GRIPS WITH WHAT IS HAPPENING ON THE SUPPLY SIDE, THE MORE DISRUPTION, GOOD OR BAD, HAPPENING ON THE SUPPLY SIDE, THE MORE DIFFICULT THEIR JOB BECOMES.
WHEN SUPPLY-SIDE IS GROWING SMOOTHLY, IT IS A CASE OF KEEPING GROWTH STUDY. WHEN THE SUPPLY SIDE IS BEEN DISRUPTED, THEY ARE TRYING TO FIGURE OUT HOW TO LET THE ECONOMY GROW. FRANCINE: THANKS FOR JOINING US, MANAGING DIRECTOR AND DEPUTY HEAD OF THE BLACK ROAD -- BLACKROCK INVESTING INSTITUTE.
ALSO COMING UP, WE ARE LOOKING AT A PIECE OF EURO AREA ECONOMIC DATA. WE WILL HAVE THE FULL ANALYSIS FOR YOU NEXT. THIS IS BLOOMBERG. ♪ >> THIS IS A CASE OF A SMALL HANDFUL OF BANKS THAT WERE NOT FULLY MANAGED. >> I THINK PARK -- PART ONE OF THE BANKING CRISIS IS OVER. DOES IT BECOME SYSTEMIC? DOES IT BRING DOWN THE SYSTEM? I DO NOT THINK SO. >> WE WANTED OUR INTERESTS TO HAVE A SAFE AND SOUND, TRUSTWORTHY, RELIABLE BANKING SECTOR.
>> WE ANTICIPATE A RECESSION AT THE BACK END OF THE YEAR. >> WE ARE GOING TO SEE A SLOWING THAT BEGINS TO HAPPEN TO AGGREGATE DEMAND. FRANCINE: GUESTS THERE AT THE MILKEN INSTITUTE REACTING TO JP MORGAN BRIAN FIRST REPUBLIC BANK AFTER IT WAS SEIZED BY REGULATORS. EUROZONE CPI DUE AT THE TOP OF THE HOUR AHEAD OF THE POLICY DECISION THURSDAY. JOINING US AS MARIA TADEO IN BRUSSELS.
A STRING OF DATA ALREADY OUT THIS MORNING AND MORE COMING UP. MARIA: THE LENDING SURVEY FOR EUROPEAN BANKS. THIS WAS ALWAYS GOING TO BE IRRELEVANT ONE. IT WAS SEEN AS A BELLWETHER, ALMOST AS A TEMPERATURE CHECK FROM THE BANKING JITTERS WE HAVE SEEN IN THE U.S. AND CREDIT SUISSE. YOU SEE CREDIT STANDARDS TIGHTENED SUBSTANTIALLY. WHEN YOU LOOK AT THE DATA PROVIDED, YOU SEE LOANS TO CONSUMERS AND HOUSING LOANS WERE MAJORLY DOWN.
OVERALL, THIS IS A PICTURE OF CAUTION. THE EUROPEAN CENTRAL BANK SAID THEY WOULD LOOK INTO THE DATA, THE IDEA THAT THAT COULD FEED INTO EUROPEAN BANKS AND INTO THE EUROPEAN ECONOMY. TAKING IT FORWARD, WE ARE GOING TO GET CPI. THE BIG NUMBER WILL BE CORE INFLATION AND EUROPEAN POLICYMAKERS WANT A SUBSTANTIAL PROOF OF INFLATIONARY PRESSURES BUT THE STICKY NATURE OF IT IS FADING BECAUSE OF WHAT WE HAVE SEEN PLAY OUT. AS SOON AS ENERGY PRICES GO
DOWN, THAT FALLS, BUT WITH CORE INFLATION THAT HAS NOT BEEN THE CASE. FRANCINE: WE KNOW WHY THIS MATTERS FOR THE ECB, BUT HOW MUCH DOES IT MATTER FOR THE ECB? >> YOU HAVE NAILED THE QUESTION. BY NOW, IT IS ALL MOST GRANTED THAT THE EUROPEAN CENTRAL BANK WILL HIKE AGAIN THURSDAY, BUT THE QUESTION IS IS IT 50 BASIS POINT OR 25 BASIS POINTS? WE ARE WAITING FOR INFLATION DATA TO COME OUT, BUT IF YOU SEE ONE WHERE -- WHERE INFLATION COOLS DOWN MORE THAN EXPECTED, IT POINTS TO A PICTURE OF CAUTION AND YOU COULD ARGUE AND INCREASES THE CASE FOR 25 BASIS POINTS ON THURSDAY HIKE. WE ARE COUNTING DOWN. IF YOU GET PRICED TO THE UPSIDE OF INFLATION, HE COULD STRENGTHEN THE CASE THAT THERE IS MORE AT PLAY. DEUTSCHE BANK SAYS THIS IS A CLOSE CALL INTO THURSDAY. FRANCINE: THANK YOU. RHEA TODAY ALL THE LATEST ON
THE ECONOMY. LET'S LOOK AT WHAT BANKING COMPANIES HAVE BEEN SAYING. HSBC REPORTING SOME STELLAR RESULTS. THE SHARE PRICE IS RISING AFTER
THE LENDER ANNOUNCED A $2 BILLION SHARE BUYBACK. BLOOMBERG SURVEILLANCE EARLY ADDITION CONTINUES THE NEXT HOUR WITH MATT MILLER IN NEW >> THIS IS A CASE OF A SMALL HANDFUL OF BANKS THAT WERE POORLY MANAGED. >> I THINK PART ONE OF THE BANKING CRISIS IS OVER. >> DOES IT BECOME SYSTEMIC? DOES IT BRING DOWN THE SYSTEM? AS WE SAW IN 2008? I DO NOT THINK SO. >> IT IS IN ALL OF OUR INTERESTS TO HAVE A SAFE, SOUND, TRUSTWORTHY, RELIABLE BANKING SECTOR. >> THIS IS BLOOMBERG SURVEILLANCE: EARLY EDITION WITH ANNA EDWARDS AND MATT MILLER. ANNA:
IT IS 5:00 P.M. IN HONG KONG. OUR TOP STORIES TODAY, THE EURO DROPS AS THE ECB SAYS BANKS CURBED LENDING MORE THAN EXPECTED IN THE FIRST QUARTER. INFLATION DATA IS DUE NOW AND WILL SHED MORE LIGHT. PRESIDENT BIDEN AND THE DEBT LIMIT. HE HAS CALLED A MEETING OF CONGRESSIONAL LEADERS AS TREASURY SECRETARY YELLEN WARNS THE TREASURY MAY RUN OUT OF CASH AS SOON AS JUNE.
3000 POSITIONS WILL BE CUT AS MORGAN STANLEY GRAPPLES WITH A SLUMP IN DEALMAKING. I AM ANNA EDWARDS IN LONDON WITH MATT MILLER AND NEW YORK. NEWS FROM THE BANKING SECTOR KEEPS COMING. WE HAVE PLENTY TO FOCUS ON WHEN IT COMES TO CENTRAL BANK NARRATIVES. >> ALL KINDS OF BANK NEWS BECAUSE YOU HAVE CONSUMER FACING BANK NEWS, EMPLOYEE FACING BANK NEWS, AND CENTRAL-BANK NEWS THAT WE ARE WATCHING CLOSELY.
LOOK AT WHAT IS GOING ON IN TERMS OF MARKETS. ALMOST NOTHING YESTERDAY. WE WERE 41-69 -- 4169 AT THE CLOSE FRIDAY.
WE SEE VERY LITTLE CHANGE IN S&P FUTURES, A DOWN -- DOWN ABOUT .1%. 10 YEAR YIELD COMING DOWN BUT STILL HIGHER THAN YESTERDAY BECAUSE IT HAD COME UP SO MUCH. THE BLOOMBERG DOLLAR INDEX IS RISING AGAIN. IT SAYS UNCHANGED, BUT IT HAD BEEN DOWN SUBSTANTIALLY EARLIER, STILL A BIG MOVE TO THE UPSIDE ONCE THAT EUROPEAN BANKS STORY CAME ACROSS, AFFECTING THE EURO BUT ALSO THE POUND AND OTHER MAJOR TRADING PARTNERS. BITCOIN IS COMING BACK UP. IT HAD FALLEN BELOW THAT LEVEL
AND NOW IS TRADING AT 28,000. IT HAD COME DOWN YESTERDAY POSSIBLY IN SYMPATHY WITH TECH STOCKS EVEN THOUGH YOU SAW LITTLE CHANGE ON THE S&P. YOU DID SEE A BIGGER DROP ON THE NASDAQ. WE SAW A RATE HIKE FROM THE RBA, CONSIDERED ONE OF THE LEAST HAWKISH BANKS NOW. IF THEY ARE WORRIED ABOUT INFLATION, SHOULD WE ALL BE WORRIED ABOUT INFLATION? THERE IS LESS INCENTIVE FOR THE ECB TO PUT UP A BIGGER HIKE BECAUSE OF THAT BANKS STORY, BUT THIS TELLS A STORY OF CENTRAL BANKS NOT FINISHED WITH FIGHTING INFLATION YET, SO YOU CAN SEE THE DOLLAR UP ABOUT 1% NOW, THE THREE YEAR YIELD IS VERY SENSITIVE TO RATE MOVES AND UP 17 BASIS POINTS AND HAD BEEN UP EVEN MORE AND THEN THE BENCHMARK INDEX IN AUSTRALIA DOWN 9% AT THE CLOSE.
THIS IS THE OPPOSITE MOVE OF WHAT WE HAVE SEEN IN OTHER ASIAN INDEXES. THE CSI 300 AND CHINA UP 1%, SO IN A LOT OF MOVES HERE, A LOT RELATED TO CENTRAL BANKS AND ECONOMIC NUMBERS. WE HAVE SOME OUT OF EUROPE NOW. >> ON THE THEME OF CENTRAL BANKS FOCUSED ON INFLATION, THAT IS THE STORY DOMINATING THROUGH THE ASIAN SESSION AND NOW WE HAVE DATA COMING THROUGH ON THE INFLATION FRONT. CONSUMER PRICES RISING BY 7% YEAR ON YEAR AND THE ESTIMATE WAS FOR AN INCREASE OF 6.9%. I LOOKED AT THE CORE NUMBER, BUT AT THE MARGIN YOU COULD SAY THAT INFLATION IS HIGHER THAN EXPECTED AND MORE STICKY THAN ANTICIPATED. IN TERMS OF THE BROADER STOCK
PICTURE, THIS IS WHAT WE SEE ACROSS EUROPEAN EQUITY MARKETS. WE TRIED AT THE BEGIN OF THE SESSION TO MAKE GAINS ON EUROPEAN EQUITY MARKETS AND MANAGED IN SOME CASES, BUT RETREATING FURTHER THROUGH THE SESSION HERE. WHAT IS WEIGHING ON THE MARKETS TODAY IS THE ENERGY SECTOR AND WE CAN BACKTRACK TO THAT LIST OF ASSETS. WE HAD BP REPORTING TODAY, WHICH CAN SHOW YOU THE SHARE PRICE MOVEMENT. THE BP SHARE PRICE DOWN BY 4.5% AFTER NUMBERS CAME IN BETTER THAN EXPECTED BUT THE BUYBACK WAS SMALLER THAN ANTICIPATED AND SOME GAINS MADE WERE DESCRIBED AS EXCEPTIONAL AND MAYBE NOT SOMETHING THAT WILL BE REPEATED.
HSBC TO THE OTHER SIDE LIFTING SENTIMENT AROUND THE BANKING SECTOR, BIGGER PROFIT THAN EXPECTED AND ALSO REINSTATEMENT OF QUARTERLY DIVIDEND. SHAREHOLDERS MIGHT HAVE BEEN ARGUING FOR SOMETHING RADICAL. THIS IS A GOODS MANUFACTURER IN EUROPE AND OUR COLLEAGUES AT BLOOMBERG NEWS CARRYING A STORY THAT WE COULD SEE CHINESE M&A INTEREST. BACK TO THE EURO STORY, HERE IS THE EURO.
WE CAN SEE THE IMPACT THAT DATA AROUND LENDING -- THIS HAS ECB LENDING CONDITIONS SURVEY AND IT SHOWED BANKS ACROSS EUROPE TIGHTENED LENDING CONDITIONS MORE THAN EXPECTED. DOES THAT MEAN THE ECB DOES NOT HAVE TO DO SO MUCH? THE EURO DROPPED ON THAT NEWS. JOINING US NOW IS MARIA TADEO IN BRUSSELS. SOME UP WITH THE DATA PICTURE LOOKS LIKE FOR US. >> THIS WAS A NUMBER EVERYONE WAS LOOKING FOR. WE HAVE CPI DATA FOR THE EURO ZONE.
THE HEADLINE NUMBER WENT UP, BUT THE NUMBER THAT EVERYONE PAYS ATTENTION TO BECAUSE OF THE GUIDANCE FROM THE EUROPEAN CENTRAL BANK, WHICH HAS STRESSED THEY LOOK AT CORE INFLATION DYNAMICS, IS THAT CORE INFLATION NUMBER, WHICH NOW GOES TO 5.6%. IT CAME IN AND LINE WITH EXPECTATIONS. FOR SOME, IT CAN SUPPORT THE CASE THAT MAYBE THE CORE INFLATION PRESSURE WE HAD IN THE PAST FEW MONTHS MAY HAVE PEAKED AND THE TRAJECTORY IS CHANGING. WE HAD THE LENDING SURVEY, WHICH ON A BIGGER PICTURE APPOINTED TO TIGHTENING IN FINANCIAL CONDITIONS.
THE EUROPEAN CENTRAL BANK SAID THEY WERE LOOKING FOR THOSE. MATT: CORE INFLATION IN LINE, BUT THE HEADLINE NUMBER INCLUDES THINGS THAT WE NEED TO BUY TO LIVE AND IS ABOVE THE EXPECTATION. IT LOOKS STICKY. WHAT DOES THAT MEAN FOR THE ECB? >> WE TALK ABOUT THE CORE INFLATION, BUT WHEN I TALK NORMAL PEOPLE, THEY SAY YOU STRIP AWAY THE FOOD, YOU STRIP AWAY ELECTRICITY PRICES, OBVIOUSLY I WOULD HAVE MORE MONEY TO SPEND ON A DAILY BASIS. THAT IS WHERE PEOPLE ON A DAILY
BASIS HAD PRESSURE TO PROVIDE. IF YOU PUT THE LENDING SURVEY ON ONE SIDE AND ADD THE FACT THAT CORE INFLATION DID GO DOWN EVEN THOUGH YOU DID SEE THIS PICK UP AND HEADLINE INFLATION, YOU COULD ARGUE GOING INTO THURSDAY THE EUROPEAN CENTRAL BANK HAS A FEW ELEMENTS TO GO FOR 25 BASIS POINTS TO SAY CORE INFLATION HAS COOLED AND JITTERS ARE FEEDING INTO EUROPEAN BANKS AND THAT COULD CALL FOR CAUTIONS AND HIKING. IT IS OBVIOUS THEY WILL HIKE, BUT WILL IT BE 25 BASIS POINTS WERE 50 BASIS POINTS? WE WILL HAVE TO WAIT AND SEE THURSDAY. MATT: ARE YOU GOING TO FRANKFURT FOR THIS? >> YES, TOMORROW. MATT: LET'S GET BACK TO THE UNITED STATES NOW. PRESIDENT BIDEN HAS SET A HIGH-STAKES MEETING WITH CONGRESSIONAL LEADERS FOR NEXT WEEK ON THE DEBT LIMIT AS THE TREASURY DEPARTMENT WARNS OF POTENTIAL DEFAULT COMING SOONER THAN EXPECTED.
SECRETARY JANET YELLEN WRITING, OUR BEST ESTIMATE IS THAT WE WILL BE UNABLE TO CONTINUE TO SATISFY ALL GOVERNMENT OBLIGATIONS BY EARLY JUNE AND POTENTIALLY AS EARLY AS JUNE 1 IF CONGRESS DOES NOT RAISE OR SUSPEND THE DEBT LIMIT BEFORE THAT TIME. SO A WARNING FROM TREASURY. >> A WARNING IT COULD COME AS SOON AS JUNE. I AM NOT SURE MARKETS ARE PREPARED FOR THAT. I THINK IT WILL STOP RISK APPETITE.
WE GO BACK 2011'S DEBT CEILING DEBACLE TO GET A PICTURE OF HOW VOLATILE IT CAUSED MARKETS TO BE. 10 YEAR YIELDS RALLIED TO 75 BASIS POINTS AND GOLD SCREAMED HIGHER. IN MAKES THIS CASE TODAY DIFFERENT THAN 2011. INVESTORS ARE WORRIED ABOUT NOT WHAT THE MARKET IS DUE TRADING INTO IT BUT WHAT HAPPENS TO THE BOND MARKET AFTER IT. THE TREASURY HAS FALLEN BEHIND ON ITS ISSUANCE OF LONG-TERM SECURITIES. AT THE SAME TIME, YOU HAVE A BALLOONING BUDGET DEFICIT DUE TO THE HIGH INTEREST PAYMENTS ON ITS DEBT PILE.
THIS MEANS THE TREASURY COULD HAVE TO CONFRONT THE MARKET WITH MORE LONG-TERM TREASURY ISSUANCE AT THE SAME TIME WE KNOW THAT FOREIGNERS ARE PULLING BACK, NAMELY CHINA, PULLING BACK ON TREASURY BOND BUYING. IT COULD BE A VOLATILE TIME GOING IN AND FOR THE BOND MARKET COMING OUT AS THE TREASURY READJUSTS. >> THOSE ARE THINGS WE KNOW ABOUT 2011 AND TREASURY ISSUANCE. MONDAY'S SESSION SAW A HEALTHY
AMOUNT OF U.S. CORPORATE INTERESTS -- ISSUANCE. >> A LITTLE RELIEF THAT THE FIRST REPUBLIC SITUATION IS OVER. THERE WAS A HUGE AMOUNT OF ISSUANCE YESTERDAY, $22 BILLION WORTH, ESPECIALLY TODAY WHEN HALF THE WORLD WAS ON HOLIDAY. 11 ISSUERS CAME TO THE MARKET. IT WAS THE BUSIEST SESSION SINCE FEBRUARY. TREASURIES DID NOT REALLY
ABSORB IT WELL. WE SAW YIELDS RISE ACROSS THE CURVE. 10 YEAR YIELDS ROSE 15 BASIS POINTS, CAUSING WEAKNESS FOLLOW-THROUGH ACROSS EUROPE TODAY, BUT WE ARE RALLYING THIS MORNING AND TREASURIES, A SIGNAL THAT A LOT OF THE MARKET HAS DIGESTED THE SUPPLY. MATT: WE WILL CHECK BACK IN WITH HER TOMORROW MORNING FOR SURE. AHEAD OF THAT FED RATE DECISION.
NOW MORE JOB CUTS ON THE WAY AT MORGAN STANLEY IN THE MIDST OF A DEALMAKING SLUMP. SENIOR MANAGERS ARE DISCUSSING PLANS TO ELIMINATE ABOUT 3000 JOBS BY THE END OF THE QUARTER. A BLOOMBERG FINANCE EDITOR JOINS US NOW WITH DETAILS. WHAT WE KNOW ABOUT WHERE THE JOB CUTS WILL BE IN WHICH UNITS? >> I THINK YOU ARE GOING TO SEE IT PRETTY BROAD TO GET TO THE 3000 NUMBER, BUT INVESTMENT BANKING IS WHERE THE SLOWDOWN HAS REALLY HIT, DEALMAKING DEFINITELY TOOK A DIVE LAST YEAR AND HAS NOT SHOWN SIGNS OF REVIVING SO FAR IN THE HIGHER INTEREST RATE WITH A LOT OF VOLATILITY IN MARKETS, SO I THINK THAT IS WHERE THE FOCUS IS NOW. WE HAVE SEEN OTHER BANKS TALK ABOUT JOB CUTS.
CITIGROUP AND OTHERS HAVE TALKED ABOUT IT. THERE WAS A PAUSE IN HIRING FREEZES WHEN A LOT OF CREDIT SUISSE TALENT CAME ON THE MARKET, BUT IT SEEMS THE ECONOMIC PICTURE IS PLAYING OUT. >> THAT IS THE MORGAN STANLEY STORY. LET'S PIVOT TO WHAT WE HAVE
LEARNED TODAY WITH REGARDS TO THE ASIA AND EUROPE GIANT THAT IS HSBC. HSBC REPORTED FIRST-QUARTER EARNINGS THIS MORNING. THE NUMBERS BEAT ESTIMATES. THE BANK WILL BUY BACK AS MUCH AS $2 BILLION OF STOCK AND RESUME PAYING QUARTERLY DIVIDENDS FOR THE FIRST TIME SINCE 2019.
LET'S LISTEN TO THE CEO, WHO SPOKE WITH BLOOMBERG AFTER THE RESULTS. >> WHAT I THINK WE SEE GOING FORWARD IS CONTINUED SUSTAINABLE PROFITS AND THEREFORE POTENTIAL FOR A SERIES OF BUYBACKS. WE HAVE ALWAYS SAID BUYBACKS HAVE A PLACE ALONGSIDE DIVIDENDS TO DISTRIBUTE EXCESS CAPITAL.
ANNA: INTERESTING THEN TO THINK ABOUT THIS IN THE CONTEXT OF THE PRESSURE THIS BANK HAS BEEN UNDER TO SATISFY DEMANDS FROM QUITE RADICAL DEMANDS FOR ONE SHAREHOLDER. DOES THIS EARNINGS REPORT READ AS A REBUTTAL TO THE DEMANDS THEY HAVE BEEN FACING? >> I THINK IT DOES. HSBC HAS MADE THE CASE THAT WE ARE PROFITABLE AND MAKING STEPS IN THE RIGHT DIRECTION. I THINK OTHER INVESTORS, EVEN IF THEY ARE NOT ON BOARD ON THAT, WOULD LIKE TO SEE MORE CAPITAL RETURNS, SO HSBC STARTING THIS BUYBACK, I THINK THAT WILL HELP SATISFY SOME SHAREHOLDERS THAT HAD SOME QUESTIONS.
MATT: THANK YOU FOR TALKING TO US ABOUT BANKS ON BOTH SIDES OF THE ATLANTIC. WE WILL CONTINUE TO FOLLOW THE STORIES. LET'S LOOK AT OTHER STOCKS IN THE U.S.. CHEGG IS A COMPANY THAT YOU MAY NOT HAVE HEARD OF.
THEY PROVIDE TUTORING SERVICES AND HELP KIDS GET BETTER GRADES. THE STOCK DOWN 45% AFTER A WARNING THAT CHAT GPT IS THREATING THE GROWTH OF ITS HOMEWORK HELP SERVICES, ONE OF THE MOST NOTABLE REACTIONS YET. LORDSTOWN MOTORISTS MAY BE FORCED TO STOP OPERATIONS AND FILE FOR BANKRUPTCY AFTER MANUFACTURING GIANT FOXCONN TOLD THE ELECTRIC VEHICLE COMPANY IS PREPARED TO PULL OUT OF A PRODUCTION PARTNERSHIP. LORDSTOWN IS STILL IN OPERATING BUSINESS.
I HAVE NEVER SEEN ONE OF THEIR TRUCKS ON THE ROAD. APPARENTLY THERE ARE SOME. THERE MAY NOT BE MANY MORE AS THE STOCK DROPS ANOTHER 20% IN THE PREMARKET. DELL TECHNOLOGIES, THOSE SHARES ARE UP 2.3% AS MORGAN STANLEY
UPGRADES THE COMPUTER COMPANY. HE EXPECTS DEALT UPPER FORM IN THE PC MARKET. ZOOM TECHNOLOGIES, NOT THE VIDEOCONFERENCING COMPANY BUT A MARKETING SOFTWARE AS A SERVICE COMPANY THAT COLLECTS DATA, BOOSTED ITS ADJUSTED EARNINGS-PER-SHARE GUIDANCE FOR THE FULL YEAR. THE GUIDANCE BEAT ANALYST ESTIMATES, SO ZOOM TECHNOLOGIES, WHICH IS AN $8.7 BILLION COMPANY, IS UP ANOTHER 5% IN THE PREMARKET.
>> A LOT OF PREMARKET MOVERS. WE WILL TALK MACRO. HOW MUCH DOES THE LENDING DATA AND INFLATION OUT OF EUROPE CHANGE HER VIEW ON THE ECB OR NOT? WE WILL LOOK AHEAD TO THE FED AS WELL, PLUS IT IS DAY TWO AT THE CONFERENCE. >> WE ARE ANTICIPATING A RECESSION AT THE BACK END OF THE YEAR, BUT THE AMOUNT OF PENT UP DEMAND, THE STRENGTH OF THE CORPORATE'S, OF THE CONSUMER COMING INTO THIS, THE USUAL AMPLIFIERS OF THE CONTRACTION ARE NOT IN PLACE AND I THINK WE WILL SEE THE U.S. ECONOMY PULL OUT OF WHATEVER RECESSION ENVIRONMENT QUICKLY. MATT: WELCOME BACK TO BLOOMBERG SURVEILLANCE. I AM MATT MILLER IN NEW YORK, AND EDWARDS WITH US OUT OF LONDON. WE ARE LOOKING NOW AT THE
RELATIONSHIP BETWEEN STOCKS, WHICH I HAVE HIGHLIGHTED HERE IN BLUE, AND BONDS. THESE ARE TREASURY 10 YEAR FUTURES AND WHITE. THE PROBLEM WE HAVE HAD OVER THE LAST COUPLE YEARS IS OCCASIONALLY THESE TWO ASSETS GET CORRELATED WHEN YOU HAVE A BY EVERYTHING OR SELL EVERYTHING RALLY. THAT LEADS THE PORTFOLIO TO A BAD SPOT. NOW WE HAVE RETURNS TO THE HISTORIC RELATIONSHIP -- RETURNED TO THE HISTORIC RELATIONSHIP BETWEEN THE TWO GOING IN OPPOSITE DIRECTIONS. SO THE CORRELATION HAS GONE AWAY , I GUESS THANKFULLY FOR AVERAGE INVESTORS.
>> IF WE LOOK AT THE SHORT-TERM MOVE, IT HAS TURNED NEGATIVE SINCE MARCH AND BANKING TURMOIL PLAYED A ROLE. INVESTORS WERE FOR SAFETY. THAT SHIFTED THAT CORRELATION. AND OF COURSE IF THAT CORRELATION REMAINS STEADY THAT WILL BE GOOD NEWS FOR THOSE STRATEGIES, INCLUDING RISK PARITY AND SIMILAR BOUNCING BETWEEN THE TWO. THIS WILL MEAN A MARCHER SHALL ENVIRONMENTS OF RISK ON AN RISK OFF, WHICH WE SEE IN 2021 AND 2022. THIS WILL MEAN GOING BACK TO EQUITIES RALLYING AND BONDS SELLING OFF. THE TWO BIG FACTORS ARE THE FED AND INFLATION, SO OBVIOUSLY POLICY WAS KEEPING THAT CORRELATION PAUSED FOR A LONG TIME.
THAT MEANS CORRELATION CAN GO BACK TO POSITIVE TERRITORY. INFLATION REMAINS STUBBORN. WE MAY SEE THAT CORRELATION. ANNA: ONE PART OF THAT IS WHAT STOCKS DO AND WHO IS BUYING STOCKS. YOU HAVE BEEN LOOKING AT MORE
SKEPTICISM ELSEWHERE. DENITSA: THEY HAVE PRACTICALLY BEEN THE ONLY FEW BUYERS IN THE LAST FEW WEEKS. THEY HAVE BEEN BUYING UP STOCKS, OBVIOUSLY BASED ON VOLATILITY BEING SO LOW THEY WERE KIND OF PRESSURED TO BUY STOCKS IN THE LAST FEW WEEKS, BUT DISCRETIONARY TRADERS SHOW A LOT MORE SENTIMENT ABOUT THE MARKET. THEY HAVE BEEN SELLERS OF STOCKS AND WE HAVE SEEN THAT REFLECTED IN SENTIMENT. SENTIMENT HAS TURNED MORE BEARISH. GOING FORWARD, THE LOCATION OF
THIS IS THE SUPPORT WE SAW FROM SYSTEMATIC TRADERS MAY NOT BE HERE ANYMORE BECAUSE THEY HAPPEN BUYING A LOT OF STOCK SO THEY ARE QUITE OVERWEIGHT. THE SECOND APPLICATION IS OF THERE IS A SELLOFF IN WILL QUICKLY TURN INTO SELLERS AND AMPLIFY MOVES DOWNWARD THE SAME WAY THEY DID UPWARD. ANNA: FOR MORE MARKET ANALYSIS, CHECK OUT MLIV GO. THIS IS BLOOMBERG.
>> THIS IS BLOOMBERG SURVEILLANCE: EARLY EDITION. THE ECB SAYS BANKS CURBED LENDING MORE THAN EXPECTED IN THE FIRST QUARTER WHILE DATA THE SHOWER SHOWS UNDERLYING INFLATION IN THE EURO AREA EAST FOR THE FIRST TIME IN 10 MONTHS, BACKING THE CASE FOR A SMALLER ECB HIKE. PRESIDENT BIDEN AND THE DEBT LIMITS. HE HAS CALLED THEM MEETING OF CONGRESSIONAL LEADERS FOR NEXT WEEK AS TREASURY SECRETARY YELLEN WARNS THE TREASURY MAY RUN OUT OF CASH AS SOON AS JUNE. MORE JOB CUTS ON THE WAY AT
MORGAN STANLEY. 3000 POSITIONS WILL BE CUT AS THE BANK GRAPPLES WITH A SLUMP IN DEALMAKING. PLENTY OF STORIES FROM THE BANKING SECTOR, AS WE HAVE DISCUSSED THIS HOUR. FUTURES STUMBLE A LITTLE AS WE
GO IN SEARCH OF NEW CATALYSTS FOR THESE MARKETS. MATT: WAITING FOR THE FED AFTER THE RBA, CONCERNED THAT THE HAWKISH MOOD MAY RUN AROUND THE GLOBE. CHECK OUT S&P FUTURES NOW, DOWN ABOUT .2%. IT SHOULD BE SAID WE HAVE
RALLIED UP THERE. WE ARE AT $41.67 IN THE CASH TRADE. INTEREST RATES ARE COMING BACK DOWN A LITTLE, ALTHOUGH THEY CAME UP YESTERDAY. WE WERE LOOKING AT A 10 YEAR YIELD YESTERDAY. NOW WE ARE ON THE WAY BACK DOWN BY FOUR BASIS POINTS AS INVESTORS BUY SOME OF THAT DEBT. THE BLOOMBERG DOLLAR INDEX IS ON ITS WAY UP, A HEADWIND FOR STOCKS AND NOW IT IS ONLY UP ABOUT .1% BUT IT HAD BEEN DOWN
EARLIER, SO THIS IS A REVERSAL, AND THEN YOU HAVE BITCOIN AROUND 28,000. IT IS NOW AT 27,000 -- 27,963 BECAUSE IT HAD FALLEN YESTERDAY. LOOK AT PREMARKET MOVERS. AI PLAYS PROMINENTLY INTO ONE
OF THEM, CHEGG, WHICH IS AN ONLINE TUTORING COMPANY. IT SAYS CHAT GPT IS THREATENING GROWTH ON ITS HOMEWORK HELP SERVICES, ONE OF THE MOST NOTABLE REACTIONS YET TO SIGNS THAT AI IS UPENDING INDUSTRIES. LORDSTOWN MOTORS, WHICH REPORTEDLY MAKES AN ELECTRIC PICKUP TRUCK, MAY BE FORCED TO STOP OPERATIONS AND FILE FOR BANKRUPTCY AFTER FOXCONN TOLD THE COMPANY IS -- IT IS PREPARED TO PULL OUT OF A PRODUCTION PARTNERSHIP. YOU CAN SEE THOSE SHARES DOWN
IN THE PREMARKET, BUT IT IS ALREADY A PENNY STOCK. IT ONLY TRANSFER $.40 AT THE CLOSE YESTERDAY. DELL TECHNOLOGIES IS UP ABOUT 2.3%.
MORGAN STANLEY UPGRADING THE COMPUTER MAKER TO OVERWEIGHT FROM EQUAL WEIGHT. THE ANALYST THERE SAYS THE WORST OF THE PC DOWN CYCLE IS LIKELY BEHIND US AND HE EXPECTS DELTA OUTPERFORM A REBOUND IN THE MARKET. THEN RESUME INFO, WHICH MAKES MARKETING SOFTWARE AND ANALYST ASIAN -- ANALYST SOFTWARE ARE BOOSTING THEIR GUIDANCE FOR THE FULL YEAR. SO UP ANOTHER 5% ALREADY. ANNA: WE SEE A BIT OF SOFTNESS IN THE EUROPEAN SESSION. FURTHER INTO THE SESSION, EUROPE IS A LITTLE WEAKER. WHAT IS SUPPLYING THE BIGGEST
DOWNWARD PRESSURE IS THE ENERGY SECTOR, BIG ENERGY NAMES LOSING GROUND TODAY. BP DOWN BY 4.75%. THE NUMBERS WERE BETTER THAN EXPECTED BUT THE BUYBACK WAS SMALLER THAN ANTICIPATED. THESE COMPANIES COMING OFF RECORD PROFITS AND 2022. THE WAY THEY HAVE DESCRIBED THE
TRADING PROFITS AS EXCEPTIONAL, PERHAPS THAT SUGGESTS THEY WILL NOT BE REPEATED. HSBC PROVIDING A COUNTERWEIGHT TO THE DOWNDRAFT FROM BP, SO WE SEE THAT UP BY 5%. IT IS A STORY OF BETTER THAN EXPECTED NUMBERS AND REINSTATING THE QUARTERLY DIVIDEND. WE HAVE BEEN ON QUITE A RIDE
WHEN IT COMES TO EURO-DOLLAR AND THIS IS WEAKER THAN WE SAW EARLIER IN THE SESSION. EUROZONE LENDING DATA, A SURVEY OF BANKS SUGGESTED THAT CREDIT CONDITIONS HAD TIGHTENED. WILL THAT MEAN THE ECB HAS LESS TO DO THURSDAY? MATT: GOOD QUESTION. THIS IS A CONCERN NOT ONLY FOR EUROPEAN BANKS AND THE ECONOMY BUT ALSO FOR THE U.S.. ARE WE SEEING BANKS TIGHTEN CREDIT EVEN BEYOND THE TIGHTENING THAT COMES WITH HIGHER RATES? >> I AM NOT SURE WHETHER THERE TIGHTENING BEYOND BUT THE FED AND ECB ARE PLAYING THE HAWKISH TONE, EVEN THOUGH THE UNDERLYING DATA IS SUGGESTING THAT THEY HAVE DONE ENOUGH AND SHOULD STAY PUT AT THIS STAGE.
LENDING STANDARDS FOR THE EURO ZONE SENT A CLEAR MESSAGE. INVESTMENT IS BEGIN TO SOFTEN. OVER AND BEYOND OVERALL DEMAND IN THE HOUSING MARKET. SO THE SURVEY CLEARLY SIGNALED THE ECB, ANY TIGHTENING FROM HERE ONWARDS IS GOING TO BACKFIRE IN TERMS OF INVESTMENT AND EVENTUAL PRODUCTIVITY GAINS. >> SO YOU ALREADY SEE SIGNS -- WE ALL SEE THAT SURVEY, THAT CREDIT IS TIGHTENING, AND YOU THINK THAT MEANS THE ECB DOES NOT HAVE TO DO SO MUCH. DOES THAT CHANGE YOUR THINKING ON WHAT THEY DO THURSDAY OR WERE YOU ALWAYS IN THE CAMP THAT THEY SHOULD STAY PUT OR JUST TO 25? >> WE THINK THEY WILL HIKE ANYWAY THURSDAY BECAUSE THEY HAVE COMMUNICATED TO THE MARKET. THEY WILL PROBABLY DO 25 HERE
AND IS STILL PLAUSIBLE BECAUSE THEY HAD 4% IN THEIR HEAD AS A KEY THRESHOLD, BUT THE UNDERLYING DATA NOW IN OUR VIEW SIGNALS THEY HAVE DONE ENOUGH, EVEN THOUGH OUR FORECAST AT THE END OF 2024 IS NOT YET IN LINE WITH THE 2% TARGET. YOU HAVE TO CONSIDER THAT WE ARE SEEING ALL OF THE SLOWDOWN OF MONEY AND LENDING ACTIVITY NOW, WE STILL HAVE A LOT OF GEOPOLITICS AND TWISTS COMING. HAVE AI UNFOLDING THAT WILL AFFECT INFLATION AND THE LABOR MARKET AND WE HAVE THE NEW FISCAL FRAMEWORK WHICH WILL TIGHTEN FISCAL CONDITIONS NEXT YEAR, SO IN MY VIEW NOW IS THE TIME TO PAUSE AND LET THE ECONOMY ADJUST TO THESE MOVES, WHICH ARE CHALLENGING FOR EVERYONE TO PLAN.
BUT THEY HAVE ALREADY COMMITTED. >> IN THE UNITED STATES, I WONDER HOW MUCH AN ECONOMIST FOCUSES ON THE DEBT CEILING DEBATE. WE JUST HAD A NICE OPINION PIECE THAT SAYS, I HAVE ONE MESSAGE FOR THOSE INVOLVED IN THE STANDOFF OVER RAISING THE U.S. FEDERAL DEBT LIMIT. BE AFRAID. SO QUOTING FROM 1980'S HOLLYWOOD. HE SAYS, AT THIS POINT THE CONSEQUENCES OF FAILING TO REACH A DEAL WOULD BE PARTICULARLY DIRE.
AS AN ECONOMIST, WHAT DO YOU WATCH FOR HERE? >> AS AN ECONOMIST, THIS IS A WAR OF ATTRITION, SO WE THINK THE MARKET WILL BE NERVOUS BUT WE EXPECT A DEAL TO COME AT THE END OF THE LAST MINUTE BECAUSE CONDITIONS ARE SO SEVERE. THERE IS NO DEAL. IN OUR VIEW, AND MAY BE AN INTERESTING BEGINNING OF THE ELECTION CAMPAIGN THAT UNFOLDS IN THE FOLLOWING YEAR AND THAT TO ME IS IMPORTANT BECAUSE IT WILL SHAPE TAXATION AND FISCAL MATTERS IN COMING YEARS. SO TO ME THE LONGER TERM ISSUES ARE THE MOST INTERESTING BUT FROM A MARKET PERSPECTIVE THE MONETARY POLICY WOULD BE JUSTIFIED TO STAY IN LINE BECAUSE OF THE VOLATILITY.
>> WHAT KIND OF RECESSION ARE YOU EXPECTING FOR THE U.S. ECONOMY? I HAVE HEARD PEOPLE SAY THEY FEEL THE RECESSION IS GOING TO BE SHORT AND SHALLOW CUT WITH A STRONG RECOVERY ON THE OTHERS. >> WE THINK THE RISK OF RECOVERY IS SLIM, SO IF YOU LOOK AT OUR FORECAST, 2024 LOOKS OVERALL A BETTER YEAR WITH THE SLUM COMING AT THE END OF THIS YEAR, MAYBE BEGINNING OF NEXT YEAR. BUT IN OUR VIEW THE RISK IS THAT YOU GET A SLOWDOWN THAT IS MORE PROTRACTED AND NEXT YEAR'S NOT NECESSARILY A FULL CONTRACTION YEAR BUT MAY BE STAGNATION, SO CLOSE TO ZERO. THAT IS ANOTHER FACTOR WHY
INFLATION FORECASTS TODAY IN THE U.S. ARE ALIGNED WITH A TARGET, THERE IS NO NEED TO TIGHTEN MONETARY POLICY ANYMORE. ANNA: THANKS FOR JOINING US, RAFFAELLA TENCONI. THE GLOBAL CHIP RACE IN FOCUS. WE ARE LIVE IN GERMANY AS NVIDIA BREAKS GROUND ON A NEW SEMI CONDUCTOR FACTORY. THIS IS BLOOMBERG.
ANNA: COMING UP LATER TODAY, AN INTERVIEW WITH THE APPLE COFOUNDER STEVE WOZNIAK. THIS IS BLOOMBERG. ♪ THIS IS BLOOMBERG SURVEILLANCE: EARLY EDITION. THE E.U. IS AIMING TO PRODUCE 20% OF THE WORLD'S CHIPS.
RIGHT NOW, AND MAKES ABOUT 10%. THE BIGGEST INVESTMENT & CO. HISTORY. WE HAVE BEEN SPEAKING WITH THE COMPANY CEO. >> IS THE SINGLE BIGGEST INVESTMENT EVER. WE ARE CAN BEATING TO THE DIGITAL AND GREEN TRANSFORMATION. THE PRODUCT WE ARE GOING TO MAKE HERE IS A CRUCIAL PART OF THE ELECTRICITY CHAIN FROM ENERGY GENERATION TO STORAGE TO CONVERSION AND CHARGING CONSUMPTION IN YOUR ELECTRIC CAR. ON THE DIGITAL SIDE, WE ARE
GOING TO MAKE IT THE SMART IOT IN THIS CONSUMER INDUSTRIAL SPACE. WITH HIS PROJECT, WE CONTRIBUTE TOWARD THE TARGET OF 20% PRODUCTION IN EUROPE. WE WILL REDUCE ONE-SIDED DEPENDENCY AND IT FITS PERFECTLY INTO THE LANDSCAPE. >> SO THERE IS FUNDING FOR THE INDUSTRY AND EXCITEMENT.
WHAT IS MISSING FOR EUROPE TO ACHIEVE AND A BISHOPS TARGET? >> THE LANDSCAPE IS IN PLACE. WHEN NEEDS NOW IS ENTREPRENEURS TO DO WHAT WE ARE DOING TODAY AND MAKE IT HAPPEN AND REALIZE AND GET GOING. THE POLITICAL FRAMEWORK DOES EXIST. >> THESE FANS ARE CRUCIAL PART BUT ALSO YOU NEED
RAW MATERIALS AND OTHER THINGS. DO YOU HAVE EVERYTHING YOU NEED FROM THAT PERSPECTIVE? >> LABOR 20 BE A CHALLENGE EVEN THOUGH THE SECTOR NOW EMPLOYS PEOPLE IN THE SEMI CONDUCTOR INDUSTRY. IT IS A GOOD BASE. WE HAVE NINE UNIVERSITIES AND COLLEGES IN THE AREA, BUT WE NEED TO INVEST. WE INVEST INTO VOCATIONAL TRAINING, WHICH IS CRUCIAL FOR MAINTENANCE. THESE MACHINES NEED TO RUN THE WHOLE DAY, AND THEREFORE NOW WE ARE EDUCATING OURSELVES, TWO HUNDRED 50 PEOPLE IN VOCATIONAL TRAINING. PEOPLE ARE CRITICAL. IN TERMS OF MATERIAL AND MACHINERY, I THINK WE WILL GET IT DONE.
WE ARE ALIGNING OUR PLANS WELL WITH SUPPLIERS AND I THINK IT IS GOING TO WORK OUT. MATT: WE HEARD THE GOALS AND AIM. WHAT IS THE SIGNIFICANCE OF THIS PROJECT IN GERMAN AND EUROPEAN TERMS? >> YOU HAVE THE URSULA VON DER LEYEN ANSWER SHORTLY, UNDERSCORING HOW MUCH OF A PRIORITY THIS IS LYRICALLY. THE SHIPS ARE THE BACKBONE OF THE FUTURE OF THE ECONOMY, EVERYTHING FROM EV TO WIND TURBINES. THEY NEED A HUGE AMOUNT OF CAPACITY TO DOUBLE WHAT IS ALREADY IN A BISHOPS TARGET, SO EUROPE ALREADY CONSUMES ABOUT 21% OF THE WORLD'S CHIPS AND PRODUCES ABOUT 10%. HERE IN SAXONY, ONE THIRD OF ALL THE CHIPS PRODUCED IN EUROPE ARE PRODUCED HERE. IN DRESDEN, INFINEON ALREADY
HAS THREE FACTORIES. THIS WILL BE THE FOURTH, THE BIGGEST INVESTMENT YET. THEY HOPE TO GET $1 BILLION FROM THE GERMAN GOVERNMENT. WITHOUT THESE CHIPS, YOU HAVE NO PRAYER OF BUILDING THE WIND TURBINES AND DIGITALIZE ASIAN -- DIGITALIZE ASIAN -- DIGITALIZATION. ANNA: WE HEARD YOU TALKING ABOUT THE RISKS THERE COULD BE TO THESE AMBITIOUS GOALS AROUND LABOR AND RAW MATERIALS.
>> THAT IS WITH THE CEO WAS STRESSING, ISSUES THEY ARE GOING TO HAVE AROUND LABOR AND RAW MATERIALS AND IF YOU HAVE THIS ESCALATED FIGHT WITH THE U.S. AND CHINA COULD THERE BE UNINTENDED CONSEQUENCES? HE TOLD ME WHAT HE WOULD LIKE TO SEE IS A MORE COORDINATED APPROACH. IT IS THE SAME CONVERSATION WE HEARD AROUND THE INFLATION REDUCTION ACT, WHERE YOU HAVE RISK OF A SORT OF RACE TO THE BOTTOM WHERE YOU'RE COMPETING FOR THE SAME MATERIALS FROM COMPANIES AND LABOR. WE SHOULD MENTION ONE OTHER THING. THESE CHIPS ARE THE ONES THEY
ARE GOING TO BE BUILDING. THESE ARE KEY FOR THE BACKBONE OF THESE PARTS OF THE ECONOMY. WHAT THEY ARE NOT ARE THE HYPER ADVANCED CHIPS THAT INTEL BUILDS. YOU ARE NOT GOING TO GET AWAY FROM THE DEPENDENCE ON THOSE THROUGH THE USE. -- THROUGH THESE. ANNA: AT LEAST THESE ARE BIG ENOUGH WE CAN SEE THEM ON TV. COMING UP, WE WILL TALK ABOUT THE EARNINGS STORIES WE ARE COVERING TODAY.
WE WILL GET A PREVIEW OF WHAT TO EXPECT NEXT. THIS IS BLOOMBERG. >> THIS IS BLOOMBERG SURVEILLANCE: EARLY EDITION. IN HER OPINION, JUST A HANDFUL OF BANKS WERE POORLY MANAGED. FRAZIER SPOKE WITH SONALI BASAK. >> IT IS ALWAYS A SAD DAY WHEN YOU SEE A BANK FAIL, BUT WE ARE ALL VERY PLEASED TO GET THE MAJOR SOURCE OF UNCERTAINTY THAT WAS REMAINING FROM THE RECENT BANK TURMOIL. FUNDAMENTALLY, THE U.S.
FINANCIAL SYSTEM IS SOUND. THIS IS A CASE OF A SMALL HANDFUL OF BANKS THAT WERE FULLY MANAGED. YEA -- GETTING THIS ADDRESSED IS IMPORTANT.
THE 11 MAJOR BANKS PUT $30 MILLION TO WORK TO BY THE TIME TO GET THE RIGHT SOLUTION AND ANSWER PUT IN PLACE. THAT WAS OUR INTENTION. IT WAS NOT TO PROVIDE THE ANSWER, IT WAS TO GIVE THE TIME FOR CONFIDENCE TO GET RESTORED AND OUR REGULATORS TO DO THEIR JOB, WHICH THEY DID.
DARK EYE WITH FIRST REPUBLIC OUT OF THE WAY, THAT WAS THE WILL IN THE ROOM. WHAT YOU EXPECT NEXT IN TERMS OF ANY FUTURE? >> I AM MORE OPTIMISTIC AROUND IT. I THINK THE U.S. FINANCIAL SYSTEM IS STRONG GUARANTEED LARGE AMERICAN BANKS GLOBALLY ARE IN AN ENVIABLE POSITION. OUR FINANCIAL SYSTEM HAS A STRUCTURE TO IT. REGIONAL BANKS AND COMMUNITY BANKS, EVERYONE PLAYS A DIFFERENT ROLE. WE PLAY A DIFFERENT SCALE AND
DIFFERENT CUSTOMER BASES, BUT IT IS A STRONG SYSTEM. I ANTICIPATE THERE WILL BE MORE C
2023-05-05 04:11
Show Video
Other news