'Bloomberg Surveillance: Early Edition' Full (03/24/23)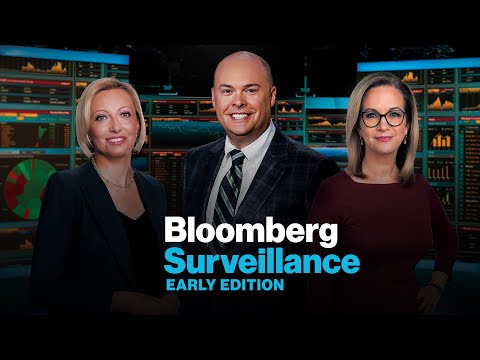 Show Video
>> THE STRONG ACTIONS WE HAVE TAKEN ENSURES THAT AMERICANS DEPOSITS ARE SAFE. CERTAINLY, WE WOULD BE PREPARED TO TAKE ADDITIONAL ACTIONS IF WARRANTED. >> THEY DO NOT HAVE THE AUTHORITY WITHOUT CONGRESSIONAL ACTION TO ENSURE THE DEPOSITS IN OPEN BANKS. >> WHAT THEY DID WAS BROADLY APPROPRIATE.
THERE WAS A LOT OF UNCERTAINTY AND A LOT OF CARDS ARE GOING TO BE TURNOVER. >> THE NEXT FEW WEEKS WILL BE CAUTIOUS FOR THE BANKING SECTOR. >> THEY HAVE TO SHOW THEY CAN MANAGE BOTH RISK AS WELL AS THE RIGHT TO'S INCOMPETENCE. >> THIS IS BLOOMBERG SURVEILLANCE EARLY EDITION WITH ANNA EDWARDS AND MATT MILLER. ANNA: 9:00 A.M. IN LONDON AND 5:00 A.M. FOR NEW YORK.
THE TOP STORIES TODAY. MORE FALLOUT FROM THE SWISS BANK DEAL. U.S. -- UBS TRIED TO PREVENT THE EXODUS OF CREDIT SUISSE TALENTS IN ASIA. BOTH LENDERS WILL FACE A PROBE INTO WHETHER EMPLOYEES HELP RUSSIAN OLIGARCHS EVADE SANCTIONS. JANET YELLEN TRIES TO REASSURE MARKETS SAYING THEY ARE READY TO TAKE FURTHER STEPS TO PROTECT THE BANKING SYSTEM IF NEEDED. EU LEADERS WILL RENEW THEIR PUSH FOR A BANKING IN THE RECENT TURMOIL.
THEY'LL BE JOINT AND BRUSSEL BY THE ECB PRESIDENT CHRISTINE LAGARDE. WELCOME TO BLOOMBERG SURVEILLANCE EARLY EDITION ARID I AM ANNA EDWARDS IN LONDON. MATT MILLER IS OFF TODAY. KRISTIN AND IS NICE TO BE BACK WITH YOU TODAY.
I MISSED A WILD RIDE OF MARKETS. WHETHER THAT IS OVER IS A BIG QUESTION BECAUSE EUROPEAN STOCKS ARE SELLING OFF AGAIN TODAY. KRITI: THERE WILL BE PLENTY MORE TO COME. TO YOUR POINT, YOU SEE IT IN
EUROPE AND STATESIDE. TAKE A LOOK AT WHAT TEACHERS ARE DOING RIGHT NOW. THEY ARE DOWN .2%. NO MAJOR CONVICTION OR SELLOFF JUST YET BUT CERTAINLY COULD BE SETTING THE TONE FOR THE REST OF THE DAY. IT IS GOING TO BE A WEEKEND HERE SO THERE'S GOING TO BE THIS NATURAL SENTIMENT GIVEN THE BANKING TURMOIL THAT THEY ARE TO PULL OUT AHEAD OF WHATEVER NEWS THE WEEKEND MAY BRING. I WANT TO GET TO THE BOND MARKET BECAUSE THE MARKETS WENT
INTO A TIZZY. THE 2-YEAR YIELDS 3.71 IS WHAT WE ARE LOOKING AT. A LOT OF THAT COMING OUT FROM DATA THAT YOU ARE SEEING OVER IN EUROPE HAVING A READ THROUGH INTO THE U.S. MARKET. WHAT IS STRIKING IS THE 2-YEAR YIELDS IS SUSTAINABLY BELOW 4% WHICH MEANS THE MARKET AT THE END OF THE DAY IS PRICING IN RATE CUTS EVEN THOUGH THE FEDERAL RESERVE HAS BEEN VERY CLEAR THAT THEY DON'T HAVE RATE CUT ON THEIR MIND AT ALL. AS YOU SEE YIELD DROPPED, THE DOLLAR IS STRONGER. THIS IS FROM WEAKNESS IN THE
EURO AGAIN FROM THE EUROPEAN DATA. IT FEELS LIKE WE ARE IN THE DRIVER SEAT. THE DOLLAR HIGHER BY .4%. AS WE INCHED CLOSER AND CLOSER TO POTENTIALLY $100 A BARREL EVEN THOUGH THE WALL STREET CONSENSUS IS WILL NOT GET THERE, 68 ON NYMEX CRUDE. ANNA: LET'S LOOK AT THE EUROPEAN
PICTURE. WE ARE SEEING WEAKNESS COMING THROUGH HERE. EUROPEAN STOCKS DOWN BY MORE THAN 1% IN THE FTSE AND THE CAC. IN FOCUS, THE BANKING SECTOR. LET US SHOW YOU WHERE WE ARE ON THE BANKING STORY BECAUSE THE BANKING SECTOR IS THE WEAK SPOT TODAY EUROPEAN MARKETS. DOWN BY JUST OVER 3%. WE ARE SELLING OFF AGAIN ON
EUROPEAN BANKS. BACK TO WHERE WE STARTED THE YEAR SO WE HAVE UNWOUND ONCE AGAIN ALL THE GAINS OF 2020 IN TERMS OF THE YEAR IN BANKING SECTOR. WE WILL SEE IF WE BOUNCE AGAIN. INTERESTING TO SEE THE UBS GROUP DOWN 5.2%. DOWNGRADES ON THE BANKING SECTOR WITH DEUTSCHE BANK AND ANALYSTS AROUND UBS GROUP AS WELL. ANALYSTS ARE HAVING THEIR SAY ON WHAT THEY SEE AS A FUTURE SHAPE OF CREDIT SUISSE AND UBS AND WHAT THAT DOES TO THEIR ABILITY TO MAKE ESTIMATES THERE.
JEFFREY'S IS TAKING A DOWNGRADE TO UBS. A DOWNGRADE TO DEUTSCHE BANK. ARE WE THROUGH THE ACUTE PHASE OF THE STORM? THAT IS HOW WE DESCRIBED IT BY SOME. THAT IS ONE OF THE BIG QUESTIONS AS WE WATCH WHAT IS
HAPPENING. IF YOU NEED A DRINK, WEATHERSPOON IS A PUB CHAIN AND THIS IS WHERE MANY PEOPLE'S HEADS ARE AS WE HEAD INTO FRIDAY. PEOPLE ARE LOOKING FOR SOMETHING DIFFERENT THAN HERE IS A HOSPITALITY BUSINESS AND THE STOCK IS UP BY 7%. YOU HAVE SEEN SUPPLY CHAIN ISSUES NOT SO MUCH IN FOCUS. BACK TO THE MACRO, HERE'S THE WEAKNESS IN THE EURO.
I'VE PULLED TOGETHER A FEW THEMES. IS THE WEAKNESS DO TO THE DOLLAR? WE ARE SEEING DOLLAR STRENGTH AMIDST THE TURMOIL AND OTHER MARKETS TODAY. THAT IS WEAKENING THE EURO AND THE POUND. IS IT DUE TO WEAKNESS IN THE EUROPEAN BANKING SECTOR? OR IS IT DID TO DO WITH DATA THAT WE JUST SAW, MANUFACTURING PMI THAT CAME IN AT 47.1 BELOW THE FORECAST. WE SAW FROM GERMANY AND FAYETTE -- FRANCE THERE'S WEAKNESS ON THE MANUFACTURING SIDE.
IN CONTRAST, THE SERVICES SIDE IS ABOVE FORECAST. A MIXED EXTRA COMING THROUGH ON THE PMI'S. KRITI: WHAT CAME FIRST, THE CHICKEN OR THE EGG? THAT SEEMS TO BE THE STORY IN THE CURRENCY IN THE BOND MARKET.
UBS WEALTH TOLD CREDIT SUISSE STAFF ASIA THAT RETENTION PACKAGES COULD COME AS SOON AS NEXT WEEK. WE ARE JOINED BY TOM METCALF. WHY IS YOU WILL BE ASKED -- UBS TAKING SUCH DRASTIC MEASURES? >> INTERESTING INSIGHTS. THEY ARE LOOKING AT THIS CREDIT SUISSE WILD THINKERS AND ONE OF THE MAIN REASONS THAT UBS WAS INCENTIVIZE TO BUY CREDIT SUISSE AND THEIR DESPERATE CANNOT WALK OUT THE DOOR, PARTICULARLY THE TOP TALENT. THEY LOOKING AT REWARDING BANKERS WHO WOULD SAY THEY WOULD MOVE TO ANOTHER RIVAL. THEY MIGHT TAKE HUNDREDS OF
MILLIONS OF CLIENT ASSETS WITH THEM. IT SHOWS WHERE UBS IS IN THE WEALTH BUSINESS, ASSET MANAGEMENT BUSINESS, AND THAT IS WHERE THEY WILL BE SEEMINGLY HAPPY TO PAY UP A BIT TO MAKE SURE THEY GET WHAT THEY BOUGHT. ANNA: THEY WANT TO MAKE SURE THEY GOT WHAT THEY BOUGHT AND FOCUS ON WEALTH CLIENTS. INTERESTING TO SEE THAT RULE THERE. HE HAS WORKED AT BOTH CREDIT SUISSE AND UBS.
BLOOMBERG HAS ALSO LEARNED THAT THE U.S. IS INVESTIGATING BANKS INCLUDING CREDIT SUISSE UBS OVER WHETHER THEY HELP RUSSIAN OLIGARCHS DODGE SANCTIONS. IT IS NOT JUST THESE TWO BANKS OF WHAT THEY STAND OUT. TOM: THAT IS NEVER GOOD NEWS AND IF YOU LOOK AT HISTORY, SOME OF THESE PROBES RESULT IN THE BILLIONS OF DOLLARS OF FINES. THE UBS AND CREDIT SUISSE WE UNDERSTAND THERE WERE SOME U.S. BANKS INVOLVED AS WELL. IT COULD WELL BE PRETTY
SIGNIFICANT AND I WONDER WHETHER THOSE BANKS YOU ARE OUTLINING, THEY ARE DOWN BECAUSE THEY IMPACTED BY THIS NEWS. KRITI: TOM METCALF, THANK YOU FOR BREAKING DOWN THAT STORY. STATESIDE, THE TREASURY SECRETARY JANET YELLEN SAYS REG LEADERS ARE PREPARED TO TAKE MORE STEPS TO PROTECT THE BANKING SYSTEM ONLY IF WARRANTED. THAT COMMENT CAME AFTER A DAY OF HER REMARKS ON DEPOSIT INSURANCE THAT RATTLED MARKETS. ENDA CURRAN JOINS US NOW FOR MORE. WHAT IS THE THINKING HERE ON
HOW THAT WILL GET FUNDED? >> I GUESS THE FIRST POINT WAS THE TREASURY SECRETARY WAS TRYING TO CALM MARKETS AND REASSURE INVESTORS LIKE YOU SAID AND ROLLBACK CONFUSION THAT CAME OUT OF HER EARLIER REMARKS TO LAWMAKERS. SHE SAID THE TREASURY'S WILLING TO TAKE WHATEVER STEPS ARE NECESSARY TO BACKSTOP DEPOSITORS WHEN IT IS MERITED. SHE IS TRYING TO TREAD A FINE LINE AND NOT WANTING TO SUGGEST THAT THEY HAVE THE AUTHORITY TO GIVE OUT BLANK BACKSTOPS TO BANKS AND DEPOSITORS BUT SHE REALIZES THE WORST IT'S A FRAGILE SITUATION.
SENTIMENT TOWARDS U.S. REGIONAL BANKS AND SHE IS TRYING TO MAKE CLEAR REGULATORS TO HAVE OPTIONS THAT THEY COULD CONSIDER WHEN AND IF IT IS NEEDED. IT IS A COMPETENCE PLAY -- CONFIDENCE PLAY TRYING TO REASSURE INVESTORS THAT THEY ARE WILLING AND READY TO TAKE WHATEVER STEPS ARE NEEDED. SHE HAS TO BALANCE THAT AND MAKE SURE CONGRESS IS ON HER SIDE AND TRY TO HOLD THE HAZARD DEBATE. ANNA: THERE MIGHT SEEM TO BE TENSION BE FROM -- BETWEEN THE COMMENTS FROM HER ONE DAY TO ANOTHER.
THE FORMER FED MEMBER SAID THERE IS A DIFFICULTY HERE BECAUSE THERE ARE LIMITS TO WHAT THE TREASURY CAN DO ALONG WITH THE FDIC WITHOUT THE SUPPORT OF CONGRESS. THAT IS WHAT IS BEING REFLECTED IN THE TWO DIFFERENT TESTIMONIES THAT WE GOT FROM JANET YELLEN. ENDA: POLITICS IS A BIG PART OF THIS. THE TREASURY WOULD HAVE TO MAKE
SURE THEY HAVE THE POLITICAL BACKING AND THE BACKING OF MAIN STREET GO OUT AND SAY BACKSTOP THE BANKING SYSTEM IN ONE SHAPE OR ANOTHER. THAT IS NOT ALWAYS POPULAR. THINKING DEPOSITORS ARE ONE THING BUT BACKSTOPPING OTHER BANKS DOES NOT NECESSARILY ALWAYS GO DOWN WELL WITH THE PUBLIC AND MAKING SURE THE TAXPAYER IS NOT ON THE HOOK. THERE IS LOTS FOR THEM TO NAVIGATE AND IS THE SAME STORY FOR REGULATORS AROUND THE WORLD. RIGHT NOW THE BIGGEST FOCUS FOR
MISS YELLEN AND OTHERS IS TRYING TO DRUM UP CONFIDENCE THAT THE REGIONAL BANKING STORY IN THE U.S. IS UNDER CONTROL AND THERE IS NOT A SYSTEMIC THREAT THE BROADER BANKING SYSTEM AND THE BIGGER BANKS. THAT IS THE CORE MESSAGE THAT THEY ARE TRYING TO GET OUT THERE AT THE MOMENT. ANNA: BLOOMBERG'S ENDA CURRAN JOINING
US WITH THE LATEST FROM JANET YELLEN AND THE BROADER BANKING STORY. EUROPEAN LEADERS ARE GATHERING AND WILL CONTINUE A HIGH LEVEL MEETING TODAY, A SECOND DAY OF THOSE MEETINGS TAKING PLACE IN BRUSSELS. YESTERDAY THE FOCUS WAS UKRAINE AND TODAY IT IS THE ECONOMY AFTER A WEEK OF TURMOIL. CHRISTINE LAGARDE WILL JOIN
LEADERS TO BRIEF THEM ON THE ECONOMIC AND FINANCIAL SITUATION IN EUROPE. LET'S BRING IN MARIA TADEO WHO WAS IN BRUSSELS. WHAT CAN WE EXPECT FROM PRESIDENT LAGARD? >> THIS IS A MEETING I BELIEVE SHOULD HAVE STARTED BUT IS ACTUALLY NOT BECAUSE I CAN STILL SEE MOTORCADES COMING IN FROM EUROPEAN LEADERS GATHERED HERE AND OF COURSE THE BIG STAR OF THE MORNING IS GOING TO BE THE HEAD OF THE EUROPEAN CENTRAL BANK CHRISTINE LAGARDE. THERE IS A LOT OF APPETITE HERE AND YOU CAN REALLY SEE IT FROM THE POLITICAL SIDE OF THINGS TO REALLY HEAR FROM THE CENTRAL BANK, THE ASSESSMENT OF WHAT HAPPENED ON A VERY TURBULENT WEEK FOR BANKS. AGAIN, YOU ALLUDED TO THIS AT THE START OF THE SHOW, WE HAVE SEEN A RENZI OF COMMUNICATIONS FROM THE HEAD OF THE EUROPEAN CENTRAL BANK. THIS IS THE FOURTH TIME SHE
SPEAKS IN A WEEK, BUT SENTIMENT KEEPS FLIPPING. EUROPEAN BANKS ARE DOWN THIS MORNING SO SHE WILL HAVE TO GO BACK THIS MESSAGE OF INSTILLING CONFIDENCE IN THIS MARKET. I PRESUME ONCE AGAIN HAMMERING DOWN THIS MESSAGE THAT THEY CAN HANDLE BOTH PRICE STABILITY AND FINANCIAL STABILITY.
THAT MEANS BRINGING INFLATION BACK TO THE 2% TARGET. IT IS A TOUGH ENVIRONMENT FOR THE HEAD OF THE EUROPEAN CENTRAL BANK BECAUSE THE SENTIMENT CONTINUES TO FLIP OVER AND OVER. THE QUESTION IS WHAT KIND OF REMARKS SHE WILL TELL EUROPEAN LEADERS. THIS WILL BE BEHIND CLOSED DOORS BUT WE WILL TRY TO BRING YOU ANYTHING THAT WE CAN HEAR.
ANKRITI: PRESIDENT ZELENSKYY SPOKE TO LEADERS YESTERDAY VIA VIDEOCONFERENCE. WHILE COST WHAT HE SAID. -- WALK US THROUGH WHAT HE SAID. MARIA: HE DID PARTICIPATE AND HE HAS DONE IT FOR EVERY EUROPEAN SUMMIT THE WAR STARTED.
A SOURCE TOLD ME THAT IT CAME DOWN TO TWO MESSAGES. ONE IS THAT HE CONCEDES THAT HE CANNOT PUT A DATE TO THE END OF THE WAR, BUT HE IS CONVINCED THAT THIS JOINT EFFORT, THE STAMINA FROM THE WEST TO DEFEAT RUSSIA CANNOT RECEDE. THOSE WERE HIS WORDS. SECONDLY, HE REPEATED THIS IDEA OF WE NEED THE AMMUNITION, NO MORE DELAYS, AND HE QUESTIONED THE RATIONALE AS TO WHY UKRAINE CANNOT GET ACCESS TO MODERN FIGHTER JETS. A LOT OF THE SAME NARRATIVE
THAT WE HEARD IN A WEEK WHICH WAS GEOPOLITICALLY VERY IMPORTANT. THE LEADER OF CHINA XI JINPING WAS GOING TO MOSCOW AND ALLOWED THIS OVERSHADOWED BY THE VIBRATIONS OF THE MARKET. THE WAR IS STILL GOING AND THAT WAS THE MESSAGE FROM ZELENSKY YESTERDAY. THIS IS STILL FIGHTING IN THE PACE OF FIGHTING HAS INTENSIFIED TO THE EXTENT THAT THE EUROPEANS HAVE NOW PROMISED THAT THEY WILL DELIVER ONE MILLION ARTILLERY SHELLS IN 12 MONTHS. THAT GIVES YOU AN IDEA OF HOW
INTENSE THIS IS. KRITI: A CRUCIAL AND A CRUCIAL AND HEARTBREAKING CONVERSATION. MARIA TADEO AND BRUSSELS. THANK YOU. I WANT TO GO BACK TO THE
MARKETS. THE PAYMENTS COMPANY BLOCK IS EXPLORING LEGAL ACTION AGAINST HINDENBURG RESEARCH CLAIMING IT FACILITATED FRAUDSTERS. BLOCK SAID THE REPORT IS INACCURATE AND MISLEADING. BLOCK IS DOWN 2.4% AFTER SUFFERING ITS BIGGEST INTRADAY
DECLINE IN THREE YEARS JUST YESTERDAY. I WANT TO GET TO THE OTHER STOCKS WE ARE WATCHING AS WELL BECAUSE BLOCK FORMALLY KNOWN AS SQUARE IS NOT THE ONLY ONE THAT IS DOWN. FIRST REPUBLIC IS DOWN AS WELL. IT IS ONLY DOWN .2%. THESE ARE NOT THE BIG SWINGS IN EITHER DIRECTION THAT WE ARE USED TO OVER THE PAST COUPLE OF WEEKS. HOW MUCH OF THE TRADE IN THESE BANKS IS ACTUALLY BASED ON FUNDAMENTALS AS OPPOSED TO OTHER FACTORS LIKE TECHNICALS OR SIMPLY VEHICLES OF VOLATILITY? ON THE OTHER HAND, YOU HAVE SOME MAJOR GAINERS. NVIDIA ON TRACK FOR A 10TH STRAIGHT DAY OF GAINS. LACKING CONVICTION THE
PREMARKET BUT KEEP AN EYE ON THIS NAME BECAUSE IT'S HIGHER BY .2%. EVERY TIME WE SEE SOME SORT OF DEFENSIVE INTO THE MARKET, NVIDIA RALLY IS EVEN MORE. INVESTMENT NAI TO BE A THEME IN TECHNOLOGY. ANNA:
WE WILL TALK ABOUT THE BROADER MARKETS IN THE SELLOFF INTO THE WEEKEND HERE IN EUROPE, HOW MUCH WE NEED TO READ INTO THAT. WE WILL SPEAK TO HENRIETTA PACQUEMENT. THIS IS TO DO WITH BANKING WEAKNESSES IN THE CENTRAL BANKS AND FED FACILITIES. WE WILL ALSO DISCUSS TIKTOK'S
FIGHT AGAINST U.S. LAWMAKERS. LINDSAY GORMAN JOINS US, SENIOR FELLOW FOR EMERGING TECHNOLOGIES AT THE GERMAN MARSHALL FUND. WHERE DOES THIS LEAVE TIKTOK? WE WILL GET INTO THAT CONVERSATION SHORTLY. THIS IS BLOOMBERG.
KRITI: IT HAS BEEN A FASCINATING DAY FOR WEEK OR MONTH AND THE MARKETS. IT WAS LIKE WE ARE GOING BACK TO HABITUAL TRADING WHEN IT COMES TO HOW YOU PLAY A MARKET WE DON'T KNOW WHAT THE FEDERAL RESERVE IS DOING AND HOW BAD THE BANKING CRISIS IS. YOU REALLY DON'T KNOW HOW EFFECTIVE THE MOVES TO TAMPER DOWN INFLATION ARE GOING TO BE.
THE TIMELINE AND ALL THAT IS SCARY. WHEN YOU HAD THE UNCERTAINTY, IT ONLY MAKES SENSE TO BUY THE DEFENSIVE STOCKS. THAT IS EXACTLY WHAT WE ARE SEEING. TAKE A LOOK AT THIS CHART. WE ARE LOOKING AT THE QUARTERLY PERCENTAGE CHANGE OF THE MSCI WORLD GROWTH INDEX RELATIVE TO THE VALUE INDEX. ANYTHING THAT HAS LONG-TERM VALUE ADD, THOSE ARE THE STOCKS THAT ARE OUTPERFORMING BY THE MOST GOING ALL THE WAY BACK TO 2000. IT SPEAKS TO THE IDEA THAT YOU ARE SEEING A DEFENSE OF TRADE AND POTENTIALLY THE START OF ANOTHER BULL MARKET RALLY IF YOU ARE DEFENSIVELY LED INDEX LIKE THE S&P 500. JOINING US NOW IS BLOOMBERG
CROSS ASSET REPORTER. WHAT DO YOU MAKE OF THIS TECH RALLY? >> WHAT WE HAVE SEEN REALLY IS THAT PERFORMANCE REALLY WHAT WAS SOFT VALUE IS DOING WELL FOR A LONG TIME AND NOW TECH IS BACK. A LOT OF THIS TIES IN WILL -- WITH WHAT WE ARE SEEING IN MARKET EXPECTATIONS FOR THE FEDERAL RESERVE. THE MARKET HAS BEEN POSITIVE AND WE ARE SEEING PEAK RATES AND RATE CUTS GOING FORWARD, WHICH OF COURSE PEOPLE WERE SAYING WILL HAPPEN, EVEN THE FED HAS BEEN RELUCTANT TO SAY THAT AND THERE ARE NO RATE CUTS. OF COURSE, THIS BIG BET ON TECH'S RELIANT ON WHAT THAT FED DOES NEXT AND WHAT WE WILL SEE FROM THE INFLATION PRINT. ANNA: THE NASDAQ NOW IN BULL MARKET TERRITORY ISN'T IT? LET'S TAKE US BROADER AND THINK ABOUT THE ATTITUDE TO RISK THAT WE ARE SEEING IN MARKETS HERE BECAUSE WE ARE SEEING SOMETHING THAT THE COLLEAGUES ON THE MARKETS BY BLOG SAID IT REMINDS THEM OF 2008. NOT THE SCALE OF CRISIS BUT THE
WAY THAT WE ARE SEEING MARKETS POSITION AHEAD OF THE WEEKEND. WE ARE SEEING A SELLOFF IN RISK ASSETS AHEAD OF THE WEEKEND IN EUROPE. DENITSA: WE SAW THE VIX DOWN AND WE SAW BOND VOLATILITY.
THE S&P HAS BEEN UP FOR TWO WEEKS. TODAY IS THE MOST HOLD THE. PEOPLE READ THAT THINGS HAVE NOT BEEN A NEGATIVE, BUT WE ACTUALLY SAW IN TERMS OF GLOBAL FLOWS, PEOPLE WERE SELLING EQUITIES AT THE FASTEST PACE IN SEVEN WEEKS. THERE IS SOME REDUCTION OF RISK EXPOSURE. IT'S IMPORTANT TO REMEMBER THAT INVESTORS WENT INTO THIS WAS SLIGHTLY UNDERWEIGHT EQUITIES.
THERE HAS NOT REALLY BEEN A HUGE MOVE, BUT INVESTORS ARE DEFINITELY REDUCING RISK. ANOTHER INTERESTING THING WE ARE SEEING AS INVESTORS HEDGING VOLATILITY. WE HAVE SEEN A RISE IN INVESTOR BUYING VIX OPTIONS, BUT THAT'S NOT FOR THE IMMEDIATE FUTURE BUT FOR THE NEXT COUPLE OF MONTHS. THERE IS DEFINITELY ANXIETY THAT THERE MAY BE A SPIKY VOLATILITY AND MORE DOWNTURN FROM HERE. ANNA:
UBS SHARE PRICE DOWN BY 2.5%. THANK YOU FOR THE ANALYSIS. FOR MORE MARKET ANALYSIS CHECK OUT MLIV <GO>. THAT IS THE FUNCTION TO USE ON YOUR TERMINAL. KRITI: THIS IS BLOOMBERG SURVEILLANCE EARLY EDITION. MATT MILLER IS OFF TODAY. KEEPING UP-TO-DATE WITH NEWS FROM AROUND THE WORLD HERE'S THE FIRST WORD. U.S. PROSECUTORS ARE TO SEEK THE
EXTRADITION OF TERRAFORM LABS CO-FOUNDER DO KWON AFTER CHARGING HIM WITH FRAUD. HE IS SAID TO HAVE WIPED OUT $40 BILLION IN MARKET VALUE. HE WAS ALREADY A FUGITIVE FROM CHARGES AND SOUTH KOREA AND WAS ARRESTED IN MONTENEGRO. JEFFREY GUNDLACH IS JOINING THE JEROME POWELL IS WRONG COURSE.
THE CHIEF INVESTMENT OFFICER OF DOUBLELINE CAPITAL THESE THE RESERVE CUTTING INTEREST RATES SUBSTANTIALLY SOON. MARKETS ARE SIGNALING THE FED IS WRONG BUT TALKS ABOUT THE PROSPECT FOR FURTHER INTEREST RATE HIKES. ON CAPITOL HILL, THE APPEARANCE OF TIKTOK CEO FAILED TO PLACATE LAWMAKERS EAGER TO BAN THE VIRAL VIDEO SHARING SERVICE. HE TOLD THE HOUSE COMMITTEE THAT TIKTOK OPERATES INDEPENDENTLY OF THE CHINESE PARENT FIRM. MEMBERS OF THE PANEL DID NOT BY HIS ANSWERS ABOUT WHETHER CHINA COULD ACCESS THE DATA OF THE APPS AMERICAN USERS.
TWITTER WILL START REMOVING SO-CALLED LEGACY VERIFIED MARKS FROM USER ACCOUNTS AS NEXT WEEK. THE PLATFORM IS WORKING TOWARDS A MODEL WERE ONLY PAID SUBSCRIBERS OR MEMBERS OF A GROUP OR ORGANIZATION HAVE THAT STATUS. THEY MADE IT A MAJOR FEATURE OF THE TWITTER BLUE SUBSCRIPTION OFFERING. ELON MUSK PRICE TO AT EIGHT DOLLARS A MONTH. -- PRICED IT AT EIGHT DOLLARS A
MONTH. ANNA: WE WILL GET BACK TO THE MARKETS CONVERSATION. HENRIETTA PACQUEMENT JOINS US. WE HAVE SEEN VOLATILITY AT THE SHORT END OF THE U.S. RATES CURVE WHICH CONTINUES WITH A SIZABLE 2-YEAR YIELDS COME DOWN ANOTHER 13 BASIS POINTS THIS MORNING. 3.69%.
WHERE DO YOU EXPECT THE TREASURY STORY TO HAD NEXT? THIS IS BLOOMBERG. KRIANNA: THIS IS BLOOMBERG SURVEILLANCE EARLY EDITION. MORE FALLOUT SWISS BANK DEAL. UBS TRIES TO PREVENT AN EXODUS OF TOP TALENT IN ASIA. BOTH LENDERS ARE SET TO BE FACING A PROBE INTO WHETHER EMPLOYEES HELP RUSSIAN OLIGARCHS TO EVADE SANCTIONS.
JANET YELLEN TRIES TO REASSURE MARKETS. SHE SAYS REGULATORS ARE RED -- READY TO TAKE FURTHER STEPS TO PROTECT THE BANKING SYSTEM IF NEEDED. EU LEADERS WILL RENEW THEIR PUSH FOR A BANKING UNION IN THE WAKE OF THE RECENT TURMOIL. I'M ANNA EDWARDS IN LONDON. MATT MILLER IS OFF TODAY. THE EUROPEAN EQUITY MARKETS
SELLING OFF ONCE AGAIN AFTER RESULTS OF CONCERNS AROUND THE BANKING SECTOR. THEY PERSIST INTO THE WEEKEND. U.S. FUTURES LOOKED UNSURE OF WHICH DIRECTION TO HEAD INTO. KRITI: A LACK OF CONVICTION AND MOMENTUM BUT ALSO COMPLETELY NATURAL ON A FRIDAY. IN THE LAST COUPLE OF WEEKS, WE HAVE SEEN THIS HESITATION TO HOP INTO THE MARKET ON FRIDAYS GIVEN THE BANKING NEWS.
A LOT OF THAT HAPPENS WHEN MARKETS ARE CLOSED WE ARE WAITING ON NEWS FOR ACQUISITIONS OF FIRST REPUBLIC STATESIDE IN THE READOUT ON THE UBS CREDIT SUISSE DEAL. THAT MIGHT TAKE PLACE FULLY AT THE END OF APRIL IN TERMS OF THE ACTUAL MERGER. A LOT TO DIGEST. A LOT OF IT HAPPENS OVER THE WEEKENDS. FUTURES DOWN .4% ON THE SIDE OF THE ATLANTIC.
2-YEAR YIELDS ABOVE 4% AND WITH NO SIGN OF HEADING BACK THE KEY LEVEL. 3.69 ON THE FRONT END OF THE CURVE, A 13 BASIS POINTS MOVE ALREADY BAKED INTO THE MARKET. SOME OF THIS IS GOING TO BE THIS MASSIVE AMOUNT OF RATE CUTS AT THE MARKET IS PRICING IN GOING INTO THE BACK HALF OF THE YEAR. THAT PUTS A LID ON YIELDS WHEN
IT COMES TO THE U.S. BOND MARKET. AT THE DOLLAR MOVING IN THE OPPOSITE DIRECTION STRONGER BY .3%. I AM TOLD A LOT OF THAT WAS HAPPENING WHEN THE EUROPEAN MARKETS OPENED AND NOT DATA DRIVEN. STRONGER BY 3/10 OF 1%. NYMEX CRUDE TRADING AT 69. THAT IS THE MACRO PICTURE.
SQUARE IS TOP OF MIND OR BLOCK I SHOULD SAY NOW THAT IT IS KNOWN AS. BLOCK FORMALLY KNOWN AS SQUARE, JACK DORSEY'S CHILD BASICALLY DOWN FOR PERCENT ON THE DAY AFTER THEY VOWED TO FIGHT BACK AFTER HINDENBURG RESEARCH HAD A REPORT YESTERDAY ALLEGING LAPSES IN THE COMPLIANCE PROCESS. A LOT THERE. BLOCK HAS OPENLY SAID THEY ARE GOING TO FIGHT THE POTENTIALLY HINDENBURG AND SEC ON THOSE ALLEGATIONS BECAUSE THEY DON'T WANT THE PAIN IN THEIR STOCK MARKET. FIRST REPUBLIC REMAINING VOLATILE AFTER IT WHIPSAWED FROM YELLEN'S COMMENTS YESTERDAY. HOW MUCH OF THAT NEWS WILL WE GET THOSE SHARES HIGHER BY .2%. NVIDIA PARING A LOT OF THE EARLIER GAINS. NOW IT LOOKS UNLIKELY THAT THEY
WILL HIT 10 STRAIGHT DAYS OF GAINS BUT IT HAS HISTORICALLY REFLECTED IN NVIDIA. WHAT IS GOING ON IN EUROPE? ANNA: I WILL SHOW YOU BIGGER MOVES IN THE BANKING SECTOR HAPPENING IN EUROPE. THIS IS A PICTURE FOR OVERALL EQUITIES DOWN BY 1.2% ON THE STOCKS EURO 600. THE BANK SECTOR IS WEAKER DOWN 3.4%. A DOWNGRADE TO DEUTSCHE BANK.
THERE IS A FOCUS ON WHAT IS HAPPENING WITH THE REST OF THE BANKING SECTOR. IT IS THE WEAKEST SECTOR FOR EUROPE. OUTSIDE BANKING BUT IN FINANCIAL SERVICES, THE WEIGHTY SECTORS FALL, UBS GROUP IS DOWN JUST SHY OF 5%. A DROP AT THE START OF TRADE. THERE COULD BE A LINK THERE WITH THE WEAKNESS IN THE EURO. A BIT OF REPOSITIONING AWAY FROM RISK ASSETS AS WE HEAD INTO THE WEEKEND.
A LOT TO WATCH. FURTHER WEAKNESS IN THE BANKING SECTOR IN FOCUS FOR US. WE TALKED ABOUT THE EURO ZONE PMI DATA FROM HALF AN HOUR AGO. WE JUST GOT THE U.K. PART OF THAT. THE MANUFACTURER PMI COMING IN AT 48. ONCE AGAIN WE SEE THE MANUFACTURING SIDE OF THINGS
DISAPPOINTING. THAT WAS THE STORY FOR THE EURO ZONE. THE SERVICES SIDE, U.K. MARCH SERVICES FALLING TO 52.8. THE FORECAST WAS 53. IN EXPANSION TERRITORY BUT THAT NUMBER WEAKER FOR THE U.K. THEN HAD BEEN EXPECTED. DO WE SEE MOVEMENT ON THE POUND? A WEAKER POUND AHEAD OF THAT NUMBER. WE GOT THE RETAIL SALES NUMBERS
OUT EARLIER ON IN THE U.K. ECONOMY. THEY WERE BETTER THAN HAD BEEN EXPECTED AND RELATIVELY SUBDUED. A GREAT DEAL OF MARKET ACTION IN A MARKET DOMINATED BY A STRONGER DOLLAR THIS MORNING. KRITI: IT WILL BE INTERESTING TO SEE WHAT THE DATA HAS A REFLECTION ON WHEN IT COMES TO THE YIELD PICTURE BECAUSE ONE OF THE THINGS THAT IS MIND-BOGGLING IS THE BOND MARKET. WHO BETTER TO CLARIFY THINGS FOR ME THAN HENRIETTA PACQUEMENT WOULD -- HAD A GLOBAL SIX INCH -- INCOME AT ALLSPRING GLOBAL INVESTMENTS. TO WHAT EXTENT IS IT PRICING IN CUTS AND TO WHAT EXTENT WILL WE SEE IT GO BACK TO 4% ON THE 2-YEAR YIELDS? HENRIETTA: I THINK THERE HAS BEEN A BIG CHANGE GIVEN THE VOLATILITY THAT WE HAVE SEEN OVER THE PAST 10 DAYS OR SO. SOME OF THE NOISE THAT WE HAVE
BEEN SEEING IN THE FINANCIAL SECTOR PARTICULARLY IN THE U.S.. THE MOVES THAT WE ARE SEEING THERE ARE A REFLECTION OF THAT. THE FACT THAT THE FED IS GOING TO GET A BIT OF HELP AND ITS BATTLE AGAINST INFLATION AS WE EXPECT CREDIT CONDITIONS TO TIGHTEN, GIVEN THE VOLATILITY THAT WE ARE SEEING IN THE FINANCIAL MARKETS, PARTICULARLY IN THE REGIONAL BANKS. ANNA:
WE ARE FOCUSED ON CREDIT CONDITIONS AND WATCHING DATA CLOSELY. WHAT ELSE ARE YOU WATCHING? THE CHART SHOWS THE FED FOREIGN CENTRAL BANKS A FACILITY THAT WAS TAPPED FOR $60 BILLION, AND THE HAS BEEN NO INFORMATION PROVIDED AS TO WHO ACCESSED THAT FACILITY. WE KNOW WHERE THE STRESS IN THE BANKING SECTOR HAS BEEN OF LATE SO WE CAN ONLY ASK AND WONDER. IS THE STATUS THAT WORRYING FOR YOU? HENRIETTA: THESE ARE ALL THE PIPES THAT WE ARE LOOKING AT THE MOMENT MAKE SURE THAT THINGS ARE WORKING AS INTENDED. IT'S BEEN INTERESTING TO SEE
WHAT CENTRAL BANKS HAVE DONE IN TERMS OF THEIR LATEST RATE HIKES . THEY HAVE TRIED TO DISASSOCIATE WHAT THEY ARE DOING IN TERMS OF THEIR HIKING CYCLE WITH THE CONDITIONS IN THE FINANCIAL MARKETS. WE THINK THAT MAKES SENSE, BUT IT IS STILL THOUGHTFUL AND WE ARE KEEPING AN EYE ON ANY METRICS THAT MAY SHOW SIGNS OF STRESS IN THE PIPING OF THE BANKING SYSTEM. ANNA:
SOME PEOPLE POINT OUT THAT IS ORIGINAL BANKS OF THE SMALLER BANKS IN THE U.S. A DO A LOT OF THE LENDING TO BUSINESS AND INDIVIDUALS IN THE UNITED STATES. ARE YOU KEEPING AND AVAILABILITY? IS THAT THE KEY FACTOR HERE AS TO WHETHER WE SEE A PULLBACK IN CREDIT AVAILABILITY? HENRIETTA: PRECISELY. OUR THOUGHTS ARE THAT THIS IS GOING TO HELP THE FED IN ITS FIGHT AGAINST INFLATION. IT IS A CAREFUL BALANCE TO STRIKE GOING FORWARD BUT YES, IT IS GOING IN THAT DIRECTION.
IT SHOULD HELP SLOW GROWTH WHICH IS WHAT THEY ARE LOOKING FOR, AND IN TIME, AS WILL CONTINUE TO HELP GETTING INFLATION DOWN. ANNA: SOME PEOPLE HAVE THROWN AROUND THE PHRASE CREDIT CRUNCH WHICH ECHOES 2008. WHERE DO YOU SEE A DIVIDE BETWEEN THE TWO? HENRIETTA: WE ARE IN A DIFFERENT SITUATION TO WHAT WE SAW IN 2008. HOWEVER, WE ARE LOOKING AS I MENTIONED IN TERMS OF CREDIT CONDITIONS, AND THAT IS SLIGHTLY -- LIKELY TO FEED INTO FUNDAMENTALS IN CERTAIN AREAS OF THE MARKET. THAT IS WHAT THE CENTRAL BANKS ARE LOOKING FOR, BUT IT IS A TIGHT POSITIVE STRIKE AT THIS POINT. KRITI: PUT A TIMEFRAME ON THE CREDIT CRUNCH.
WILL WE SEE A LINE WITH THE CALLS OR RATE CUT CALLS IN THE BACK HALF OF THE YEAR OR IS THIS AN ISOLATED EVENT GIVEN THAT IT IS NOT A SYSTEMIC RISK TO THOUSAND EIGHT AS YOU POINTED OUT? HENRIETTA: IT WILL BE INTERESTING TO SEE. A FEW FACTORS COMING TOGETHER AT THIS POINT. RATE HIKES WORK WITH A DELAY, CALL IT 12-18 MONTHS.
WE ARE GETTING THERE. TOWARDS THE MIDDLE OF THE YEAR WE WILL BE IN THAT TIMEFRAME WHERE WE SHOULD MORE IMPACT OF THE RATE HIKES THAT WE HAVE SEEN SO FAR. HAS BEEN A VERY FAST HIKING CYCLE AS WELL, BE IT THE EUROPEAN SIDE OR U.S. SIDE. IT IS STARTING TO HAVE
CONSEQUENCES, AND IS STARTING TO SHAKE OUT SOME OF THE MORE FRAGILE AREAS. WE HAD THE LDI CRISIS IN THE U.K. AND NOW WE HAVE THE NOISE ON THE ORIGINAL BANKS. THAT IS WHAT WE ARE EXPECTING, A BIT OF A SHAKEOUT THIS POINT. WE NEED TO SEE HOW IT FEEDS INTO THE ECONOMY, AND IF YOU LOOK AT THE NUMBERS EVEN OUT OF EUROPE, WEAKNESS ON THE MANUFACTURING SIDE.
THAT'S ALSO THE CASE IN THE U.S.. WE NEED TO SEE MORE OF A TURN IN TERMS OF INFLATION AS WELL. KRITI: I IF THE BANKING TURMOIL IS DOING THE WORK OF THE FEDERAL RESERVE IN TERMS OF THE CREDIT CRUNCH RAMIFICATIONS, AND TERMS OF THAT POLICY LED THAT YOU MENTIONED, IS THAT A FASTER OR SLOWER AFFECT REACHING INTO THE ECONOMY RELATIVE TO A RATE HIKE? HENRIETTA: I THINK THEY ARE LINKED. WE ARE GOING TO SEE THIS
FEEDING THROUGH OF THOSE RATE HIKES INTO THE ECONOMY CONTINUE AND ACCELERATE OVER THE NEXT FEW WEEKS. AND THE NEXT THREE MONTHS. FURTHER RATE HIKES, WE ARE CLOSER TO THE INFLECTION POINT. WHEN WE TALK TO OUR STRATEGISTS, THAT'S THE WAY THEY LIKE TO TERM IT PARTICULARLY IN THE U.S. AND THE U.K.
AND TO A DEGREE AS WELL IN EUROPE. THAT BEING SAID, SOME OF THE TURN ON THE INFLATION DATA AS MAY BE A LITTLE DELAYED COMPARED TO THOSE GEOGRAPHIES IN THE EUROPEAN ZONE. ANNA: THANKS FOR YOUR TIME. HENRIETTA PACQUEMENT OF ALLSPRING GLOBAL INVESTMENTS JOINING US ON SET IN LONDON. COMING UP, WE WILL TALK ABOUT THE CEO OF TIKTOK DEFINING THE APP TO A FAIRLY HOSTILE CONGRESS. WE WILL DISCUSS WITH LINDSAY GORMAN SENIOR FELLOW FOR CEO JIM FARLEY AT 12 P.M. NEW YORK TIME. THIS IS BLOOMBERG. ♪
>> I HAVE SEEN NO EVIDENCE THAT THE CHINESE GOVERNMENT HAS ACCESS TO THAT DATA. THEY HAVE NEVER ASKED US AND WE HAVE NOT PROVIDED. >> I FIND A ACTUALLY PREPOSTEROUS. >> I HAVE SEEN NO EVIDENCE OF THIS HAPPENING, AND IN ORDER TO ASSURE EVERYBODY HERE AND ALL OUR USERS, OUR COMMITMENT IS MOVE THE DATA INTO THE UNITED STATES TO BE STORED ON AMERICAN SOIL BY AN AMERICAN COMPANY, OVERSEEN BY AMERICAN PERSONNEL.
ANNA: THAT WAS A TIKTOK CEO SHOU CHEW TESTIFYING BEFORE THE U.S. HOUSE COMMITTEE YESTERDAY. HE WAS GRILLED BY MEMBERS OF BOTH PARTIES ON CHINESE CONTROL OF THE SOCIAL MEDIA CONTENT. U.S. LAWMAKERS ARE WEIGHING HOW TO FORCE THE PARENT COMPANY TO SELL ITS SHARE OF TIKTOK OR FACE A POSSIBLE BAN. JOINING US IS LINDSAY GORMAN, THE SENIOR HELLO FOR EMERGING TECHNOLOGIES AT ALLIANCE FOR SECURING DEMOCRACY AND A FORMER WHITE HOUSE ADVISOR ALSO WITH US. LINDSAY, IF I COULD COME TO YOU FIRST. THE HEADLINE FROM THIS,
DO YOU NOW SEE A PATH FOR TIKTOK AND UNITED STATES THAT AVOIDS EITHER A BAN OR SEVERE RESTRICTION ON ITS OPERATION GIVEN WHAT WE SAW ON DISPLAY IN WASHINGTON YESTERDAY? LINDSAY: WELL, I THINK THAT AT THIS POINT, TIKTOK'S BOOST MAY BE COOKED IN THE UNITED STATES IN TERMS OF ANY POSSIBLE ACTION TO ALLOW IT TO CONTINUE BUSINESS AS USUAL. RIGHT NOW, THERE ARE SEVERAL POSSIBLE PATHS ON THE TABLE, AND I THINK WHERE CONGRESS AND THE ADMINISTRATION MAY BE HEADING IS TOWARDS REQUIRING A FORCE DIVESTITURE OF THE APP FROM ITS CHINESE PARENT COMPANY BYTEDANCE. FOR THE AVERAGE AMERICAN THAT MIGHT NOT ACTUALLY AFFECT TIKTOK'S OPERATIONS ALL THAT MUCH BECAUSE USERS WOULD STILL BE ABLE TO USE THE PLATFORM. ONE OF THE STRONG TALKING POINTS THAT SHOU CHEW MENTIONED YESTERDAY WAS APPEALING TO TIKTOK'S EXTREMELY LARGE READER BASE AND USER BASE OF 150 MILLION AMERICANS. THAT IS ALMOST HALF THE COUNTRY WHICH IS ENORMOUS. ANY ACTION IS GOING TO HAVE IMPACTS, BUT I THINK POLICYMAKERS WHO SOME OF THEM THEMSELVES ARE ON TIKTOK WILL BE LOOKING FOR AN OPTION THAT MITIGATES THE IMPACT FOR THE AVERAGE USER. ANNA:
WE HEARD A LOT YESTERDAY FROM THE CONVERSATION IN WASHINGTON THAT WAS FOCUSED ON THE EXTENT TO WHICH U.S. USER DATA IN THE CHINESE COMMUNIST PARTY HAS DATA. THAT IS A LOT OF WHAT THE CONVERSATION CAME DOWN TO. IS THERE ANYTHING TIKTOK COULD SAY? WE TALKED ABOUT PROJECT TEXAS WHICH IS SUPPOSED TO PROVIDE THAT. IS THERE ANYTHING FURTHER THE
COMPANY COULD DO TO REASSURE U.S. LAWMAKERS HERE? >> THEY TALKED ABOUT TIKTOK HAVING A GLOBAL R&D AND SHARING DATA WITH THE FOLKS WHO ARE PROBABLY IN CHINA. THAT IS WHERE IT BECOMES HARD TO DECOUPLE OPERATIONS BECAUSE WHEN YOU HAVE A GLOBAL PARENT COMPANY AND THAT IS WHAT IS DRIVING INNOVATION ON THE ALGORITHM SIDE , THE REASON WHY TIKTOK IS SO GOOD IS BECAUSE OF ITS CONTENT RECOMMENDATIONS. THEY ARE NOT WILLING TO SHARE THAT IN TERMS OF THE ALGORITHM OR WHAT IS BEHIND IT. THAT WILL BECOME A STICKING POINT I THINK, AND A LAB THE DISCUSSION YESTERDAY WAS AROUND THAT ASPECT, ARE THEY WILLING TO SHARE THEIR PROPRIETARY ALGORITHM? KRITI: SOCIAL MEDIA IS NO STRANGER TO SCRUTINY FROM THE GOVERNMENT. TALK ABOUT THE READTHROUGH YOU ARE GETTING INTO OTHER SOCIAL MEDIA COMPANIES LIKE SNAP, META, PINTEREST EVEN. MANDEEP:
WE DID A PROPRIETARY SURVEY AND IT WAS CLEAR THAT YOUTUBE IS PROBABLY ONE THE BIGGEST FISH AREAS BOTH IN TERMS OF USERS AS WELL AS CREATORS BECAUSE THEY HAVE A REVENUE SHARING MODEL. META IS CLOSE SECOND WITH FACEBOOK AND INSTAGRAM. THEN, WE WERE SURPRISED BY NETFLIX ACTUALLY BENEFITING BECAUSE THEIR CONTENT RECOMMENDATION IS SO GOOD. IT IS ALL ABOUT WHERE USERS SPEND THEIR TIME.
OBVIOUSLY, A LOT OF THE SMALL BUSINESSES HAVE BUILT THEIR BUSINESS ON TIKTOK AND META AND SO THEY CAN MOVE TO NETFLIX, BUT WHEN IT COMES TO THE USERS, THEY WILL MOVE THEIR VIEWING HABITS ON PLATFORMS OUTSIDE OF SOCIAL MEDIA, WHICH WILL INCLUDE STREAMING AS WELL. KRITI: LINDSAY, TALK TO US ABOUT THE READTHROUGH FOR AMERICAN TECH REMAIN GEOPOLITICAL PERSPECTIVE. NOW THAT YOU HAVE TIKTOK UNDER SUCH SCRUTINY IN CONGRESS, DOES THAT INCENTIVIZE ANOTHER WAVE OF SCRUTINY ON THE SOCIAL MEDIA COMPANIES THAT MEN DEEP WITHOUT LANDING? LINDSAY: IT MAY AND ONE OF THE THINGS THAT WAS SURPRISING AND ENCOURAGING TO ME AT THE HEARING YESTERDAY IT JUST HOW BIPARTISAN IN NATURE THE CALLS AND SCRUTINY OF TIKTOK WAS BUT ALSO THE CALLS FOR BROADER TECHNOLOGY REGULATION.
THIS IS SOMETHING THAT LAWMAKERS HAVE BEEN TALKING ABOUT IN CONGRESS FOR FIVE YEARS NOW EVER SINCE MARK ZUCKERBERG FIRST TESTIFIED BEFORE CONGRESS IN 2018. AND FOR THE FIRST TIME, WE REALLY SAW BIPARTISAN CALLS FOR THINGS LIKE FEDERAL DATA PRIVACY LEGISLATION THAT WOULD APPLY TO ALL SOCIAL MEDIA PLATFORMS. THERE IS SOMETHING UNIQUE ABOUT TIKTOK HERE, AND AS MANDEEP SAID EARLIER, THERE WAS REALLY A DISCONNECT BETWEEN WHAT TIKTOK WAS SAYING WITH THE POTENTIAL TO FIREWALL OFF DATA AND WHAT LAWMAKERS ARE REALLY GROWING HIM ON -- GRILLING HIM ON BECAUSE HE WAS SAYING IS NOT ABOUT OWNERSHIP BUT OVERSIGHT. THE QUESTIONS THAT LAWMAKERS
WERE ASKING WENT RIGHT TO THE VERY HEART OF TIKTOK'S OWNERSHIP, PRECISELY BY ITS CURRENT OPENING BYTEDANCE ASKING ABOUT THOSE FINANCIAL TIES, WHETHER THE CEO HIMSELF RECEIVED COMPENSATION FROM A CHINESE COMPANY, WHETHER HIS EMPLOYEES DO. I THINK THESE HAVE BROADER IMPLICATIONS FOR THE BUSINESS COMMUNITY AND CEO'S WHO HAVE TIES TO CHINA AND WHO HAD THESE VERY COMPLEX MULTINATIONAL GEOPOLITICAL OPERATIONS THAT WE ALL NEED TO BE THINKING ABOUT OUR RELATIONSHIPS WITH CHINA WHEN WE ARE DOING BUSINESS NOW BECAUSE U.S. LAWMAKERS ARE ON ALERT. ANNA: IT FELT LIKE THEY WERE TWO WIDER STORIES BEYOND TIKTOK. ONE WAS A REGULATION OF SOCIAL MEDIA AND SOME OF THE THINGS THAT WERE BEING LEVELED AT TIKTOK AS THE CEO SAID TO BE LEVELED AT OTHER SOCIAL MEDIA BUSINESSES IN THE U.S.. THE OTHER WAS THE COOPERATION ACROSS BORDERS TO MANUFACTURE, TO MAKE THINGS. WE SAW THE CEO OF TIKTOK TALKING ABOUT THE COOPERATIVE WAY THAT CERTAIN THINGS WERE PRODUCED AND TRYING TO DRAW PARALLELS WITH OTHER U.S.
BUSINESSES. I SUPPOSE THERE WILL BE U.S. BUSINESSES ASKING THEMSELVES ONCE AGAIN ABOUT THEIR LINKS WITH CHINA FOR MANUFACTURING OR OTHER PARTS OF THE SUPPLY CHAIN. LINDSAY: ABSOLUTELY, PARTICULARLY AS REGARDS CHINA''S POSSIBLE RIGHTS ABUSES WITH HIS UIGHUR MUSLIMS. THAT IS THE ISSUE THAT CONGRESS AND THE ADMINISTRATION HAVE BEEN HAMMERING ON AND MAKING SURE THERE ARE SUPPLY CHAINS NOT INADVERTENTLY FEEDING CHINA'S SURVEILLANCE STATE AND HUMAN RIGHTS ABUSES. THE WHOLE CONCEPTION THAT BUSINESSES HAVE BEEN ACCUSTOMED TO DEALING WITH WHEN IT COMES TO CLIMATE RISK AND OTHER ESG TOPICS REALLY IS GOING TO TAKE ON THIS NEW DIMENSION OF HUMAN RIGHTS WHEN IT COMES TO CHINA. THIS DOES APPLY TO ALL BUSINESSES. OBVIOUSLY, TIKTOK IS AN ANOMALY
IN THE SENSE THAT IT HAD THAT OWNERSHIP TIE TO CHINA, BUT ALSO TIKTOK WON'T LAST SOCIAL MEDIA PLATFORM THAT COMES FROM CHINA AND IT WILL BE THE LAST POPULAR TECHNOLOGY COMPANY THAT COMES FROM CHINA. IT'S NOT THE FIRST AND IT WILL BE THE LAST. MY HOPE IS THAT AUSSIE MAKERS PUT STRONGER GUARDRAILS IN PLACE IF FOR NO OTHER REASON THAT BUSINESSES CAN KNOW WHAT TO EXPECT WHEN THEY ARE DEVELOPING THESE OPERATIONS. KRITI: MANDATE, I WILL GIVE YOU THE FINAL WORD HERE. 60 SECONDS. IT TALK TO US ABOUT THE VALUATION ON TIKTOK ITSELF.
MANDEEP: WHEN WE LOOK AT THE OVERALL REVENUE IT IS CLOSER TO 16 OR 20 BILLION AND THE U.S. IS HALF OF THE REVENUE. WHEN YOU USE THE CURRENT SOCIAL MEDIA MULTIPLES, WE ARRIVED AT A 40 TO $50 BILLION VALUATION, SOMEWHAT OF A DISCOUNT FOR THE FASTEST GROWING SOCIAL MEDIA ASSETS BECAUSE OF ALL THE REGULATORY CONCERNS. WITH THE CONSUMER INTERNET APPS, IT IS ZERO IF YOU LOSE ENGAGEMENT AND THAT IS A RISK WITH TIKTOK. ONCE OF THE USERS MOVE OUT OF THE PLATFORM, IT'S NOT WORTH ANYTHING. I THINK THAT'S WHAT YOU HAVE TO PUT A DISCOUNT AND WE ARRIVED AT THAT 40 MILLION TO $50 MILLION EVALUATION. A BUYER COULD BE ORACLE OR
MICROSOFT OR A CONSORTIUM OF PRIVATE EQUITY BASED ON OUR EXPECTATIONS. ANNA: THANK YOU BOTH FOR YOUR TIME. LINDSAY GORMAN AND MANDEEP SINGH. THANK YOU BOTH FOR JOINING US. AS WE WERE HAVING A CONVERSATION FURTHER DEVELOPMENTS ON THE EUROPEAN BANKING. WE HAVE SEEN WEAKNESS AND
EUROPEAN BANKING AND THAT IS WEIGHING ON THE STOCK STORY. LET'S FOCUS ON WHAT WE ARE SEEING BE BECAUSE DEUTSCHE BANK IS THE WORST-PERFORMING OF THESE BANKS THIS MORNING. THEY ARE DOWN BY 11.1% INTRADAY. WHAT IS DRIVING THIS? SOME COLLEAGUES LINKING THIS WITH THE MOVES IN CDS SUGGESTING A SPIKE UP IN BS AS DEUTSCHE BANK SHARES SOMETHING. AS WE HEAD INTO THE WEEKEND, A SENSE THAT INVESTORS ARE TRYING TO DE-RISK PORTFOLIOS AND WARY OF WHAT CAN HAPPEN OVER THE WEEKEND AS WE HAVE SEEN OVER RECENT ONES. WE ARE SAYING THIS AND FX MARKETS AS WELL.
THE DOLLAR IS GAINING AN YEN IS GAINING. THE EURO AND POUND LOSING. RISK OFF THIS MORNING. AS WE LOOK TO HAND OVER TO THE UNITED STATES. THIS IS BLOOMBERG. ♪ ANNA: WELCOME BACK TO BLOOMBERG SURVEILLANCE EARLY EDITION. A FOCUS ON DE-RISKING IN EUROPE. DEUTSCHE BANK EXTENDING ITS
DROP DOWN 11.1%. COMMERZBANK DOWN. COLLEAGUES ARE TALKING ABOUT BUSINESSES THAT ARE EXPOSED TO CORPORATE LENDING HERE BEING IN THE FOCUS. KRITI: WE ARE SEEING IT STOP AND CREDIT DEFAULT SWAPS.
AND IN THE FX. THE EURO AT A 1.0 SEVEN HANDLE BEGINNING AS WE SPEAK. ANNA: SOME OF THE EUROPEAN EQUITY MARKETS DOWN BY MORE THAN 2%. THE CAP DOWN BY 2%. WE WORK OUR WAY TOWARDS THE STAR OF U.S. TRADING. THAT IS IT FOR EARLY EDITION. SURVEILLANCE IS JUST AHEAD. THIS IS BLOOMBERG.
2023-03-27 07:31
Show Video
Other news