تسريب كامل لمستند رسمي إجتماع موقع اي ماركتنج ai marketing بالمصدر منهم. حصري!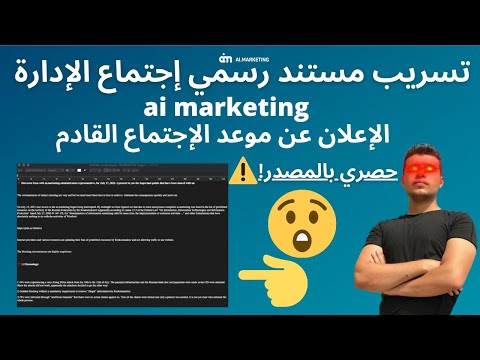 Show Video
Peace, mercy and blessings of God be upon you. Everyone asked why you did not make a video about the ai marketing meeting and what was the reason. I was answering that there is no official statement yet, but today I reached the document of the meeting through an official source. I am not transmitting circulating information, but I publish official sources after verifying them myself. This was the reason for the delay. First, how did I get to this information? I would like to thank my friend Amr Mohamed, who showed me the beginning of the path for information.
I found this information myself after a personal search, but the reason was my friend Amr Mohamed . My friend Amr offered an official group on the telegram of ai marketing, which is a chat group and updates, and these screenshots are sure The group is official and the founders of the group are ai marketing with the guide We will go to the document now translated and displays all the questions and details Start: Summary of the meeting on 7-17-2021 The beginning is known that they were banned on 12-7-2021 and the rest of the details are known to everyone We will move to the new section 1) We were witnessing a very strong DDos attack in the period from 10 to 12 July. The payment infrastructure and the Russian bank that paid with cards in the CIS were attacked. Since the attacks were unsuccessful, the attackers apparently decided to go the other way: 2) sudden blocking without a mandatory requirement to remove "illegal" information by Roskomnadzor. 3) We have been informed through "unofficial channels" that there are no actual claims against us. That all the allegations were official and only an excuse was needed. It is not yet clear who started the whole process. 2) When you try to access the website from Russia, it says that the website is prohibited in accordance with Clause 15.3 of the Federal Law "On Information, Information Technologies and Information Protection" of July 27, 2006 N 149-FZ for "publishing information that includes calls for mass riots and the conduct of extremist activities . ..". 1) The company has never launched political slogans and Wexford's activities have nothing to do with calls for riots, carrying out extremist activities ... "and other formulations of the claimed law. 3) As a result: 1) the site is not accessible by most Internet service providers in Russia 2) Customers from all over the world were not able to sign in to accounts opened with Google and VK because these resources were blocking connections to the "blocked" site. - Measures were taken to restore customers' access to the accounts. All accounts are now accepted.
Infrastructure affected For payments in general. The API has been disconnected with banks that accept payments, as well as with payment companies that provide cashback payments to customers. This may cause delays in depositing and withdrawing funds. Cashback operators have stopped cashback payments until Roskomnadzor removes the site from the blacklist meaning ban On services and entire site activity Cashback aggregators constantly monitor traffic sources so that they are "clean" as retailers do not want to receive "malicious" traffic that could in some way affect their reputation. Money from traffic sources against various blacklists. When you move from our website to the collection site, the browser sends a "referral" - a value that allows the website to be determined - the source of the traffic. - We are launching a standalone cashback platform similar to Letyshops, so our traffic will pass, and this traffic will not be blocked by collectors. The platform is technically ready. We are connecting the new platform with cashback programs, CPA networks, etc.
5) Blockchain operations are discontinued It takes a long time for us to get a cashback after the retailer pays the pool. Wexford has always paid the refund once it was confirmed by the retailer in fact "up front" long before the money was received from the collector. It was done in order to reduce the actual waiting time for customers. Once we received a delay in cashback payments from the cashback aggregators, we had to stop the cashback 'advance' payment. All refunds will be paid immediately after the decision to remove the site from the blacklist of Roskomnadzor. Active advertising campaigns are blocked. Accounts with the same ad balances are not lost. But advertising campaigns must be re-created for new domains. New domains in the registration process. Recreation of advertising campaigns for unspent budgets will begin gradually as new areas are launched. The problem of payment gateways in Russia. We cannot transfer or process back cards temporarily. Processing companies monitor the blacklists. The financial control departments of payment companies have stopped operations on our accounts until all circumstances are clarified and the issue with Roskomnadzor is resolved.
New Status Plan: 1) Launching a new cashback platform 2) Launching advertising campaigns for new ad purchases. *** We recommend not to purchase ads until official notice that the situation is back to normal. 3) Recreation of existing advertising campaigns for unspent budgets 4) Integration of Chinese processing of RMB payments. Integrate UAH and Euro processing to reduce the risk of facing similar problems in the future. 5) Appeal against Roskomnadzor's decision to blacklist the site. 6) Open cashback account balances. Pay all refunds using funds from the sandbox as necessary. Question: Is it possible to predict the timing of the restoration of the normal work of the company, what do lawyers say about this, and how can we help resolve this situation? Answer: There should be tangible results within one week Lawyers say the blocking is a "complete mess" in terms of content and procedural views. We have always done what we promised, and this time we are confident that the situation will soon return to normal. Question: Transfers from inb to ai partners account did not come from July 12, as well as transfers to banks and cryptocurrencies. Do I need to write about these transactions to tech support or will everything be returned automatically?
Answer: You don't need to write anywhere. We know what went and what was not. You will only need to write when we announce that everything has been returned to its place and you have not found your money in your account. Question: All questions closed, just wanting to post all the step by step as we go through the agent chat, not once every two weeks, but as soon as at least some news comes out. Answer: I totally agree. Given the situation, we and the Steps will publish and hold meetings more often Question: What is the estimated payback date for payments and normal general operation? I can't give you any specific dates at the moment. We expect to recover most operations within a week or so.
Question: Anything from us if you need any help? I have two brothers who are lawyers. They are also our partners. Ready to help ANSWER: The company has in-house lawyers who handle this case. Thanks for your suggestion. Question: Perhaps it makes sense to use our community support in the form of signatures in electronic form to support the company? Answer: I am afraid that electronic or real signatures in Russia do not solve anything. A large and strong community of interconnected people can only alert the authorities and they will find another reason to "get rid" of us. We think that it is better to do our work without scandals and without drawing attention to the situation. Question: What will happen to the ads bought and reinvested and from the balance the partners have been doing for the past 3 days and this money is hanging on the card, will it be launched in the near future? ANSWER: It seems to me that ads purchased in recent days should go into new campaigns in the first place. However, I will be willing to provide minute technical details point by point for the next meeting. Question: It is technically possible to implement at least one of the following algorithms: 1. Create a "Cancel Withdrawal" button (for quick manual cancellation of unauthorized withdrawals of funds by the account owner) 2. Confirm the withdrawal of funds via email (upon customer request ). Answer: 1) There is a problem with the cancel checkout button. We immediately pass the output for processing to processing, and if you cancel the output, we can't "catch up" and stop processing.
2) Practice shows that customers themselves provide fraudsters with all the data in their accounts. They provide screenshots, photos, videos, transaction history and remove Google Authentication. Adding an email will not help in this case. The person also makes access dates to their mail. Question: Since card payments are suspended, why is it impossible to pay with cryptocurrency? Answer: Blockchain operations stop. After the cashback is confirmed by the retailer, the retailer takes a long time to pay the cash to the collector, and the collector in turn pays the cash back to us. Wexford has always paid the refund once it was confirmed by the retailer, in effect, "up front", long before the funds were received from the pool, in order to reduce actual customer waiting time. As soon as we received information about the delay in cashback payments from the cashback collectors, we had to stop the cashback payment "in advance". All refunds will be paid immediately after the decision to remove the site from the blacklist of Roskomnadzor.
Question: eMarketing is blacklisted on Roskomnadzor... We went to see it for ourselves on the site. ...... and no report appears.. is this normal? Answer: In general, the situation is abnormal and 100% illegal. To check if we are on the list, you can: 1) You can ask any customer from Russia to go to the site and send a screenshot of what he sees. Question: Did we understand correctly that a new hedge fund will be created with the possibility of compensation for new deposits? Answer: We do not create any new money. We have an old chest in which to accumulate reserves to deal with unexpected situations. All transactions within the current fund. Question: Do you think people can continue to invest, can we make new registrations? Answer: Wait about a week to return to the normal process. There is absolutely no problem with new registrations, but I would suggest waiting until everything is back to how it was before. At the end of the article, the next meeting will be announced on Saturday 24 July at 18:00 GMT.
2021-07-21 23:10
Show Video
Other news