2022 Google Workspace Summit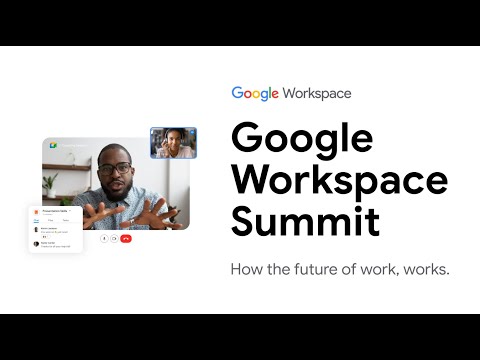 Show Video
[MUSIC PLAYING] THOMAS KURIAN: Hello, everyone. Welcome to the first ever Google Workspace Summit. We're excited to share our latest Google Workspace product innovations with you today and demonstrate how they can help your organization thrive in this era of hybrid work.
In 2020 everything changed about the way we work. We've had to adapt, improvise, and innovate. For all of the employees in our company, Google Workspace has been the foundation of these efforts, allowing us to collaborate, to build great products, to work with customers and partners, and to move our business forward, even when we couldn't be physically together. Many of our offices are starting to open for hybrid work in the United States and many other places across the globe. Over the past two years we at Google have been rethinking a physical office space, experimenting with different types of individual, small group, and larger collaboration spaces for brainstorming and creative problem solving on campus. We've taken the same approach to Google Workspace products.
For example, we've launched Companion Mode and Whiteboarding in Google Meet to help make hybrid meetings more productive and inclusive. We continue to optimize how Google Workspace works on mobile devices, to enable people to work effectively from more places and during commute hours. We're integrating conferencing and chat into Google Docs to enable informal ad hoc communication and to reduce meeting fatigue. Google Calendar now provides the ability to indicate your work location and set working hours. And we continue to enhance Google Workspace and our Work Safer Program to enable secure and private communication and collaboration whether you're working at your office, on the go, or at home, and no matter what device you use to collaborate. Today, we're sharing more about these learnings with you.
And you also hear from our customers, including Airbus, Castlight Health, Carrefour, and Salesforce about how Google Workspace is helping them transform the way their teams work. We recognize that our common scenarios that many organizations feel the urgency to address, from how to empower frontline workers, to transitioning our office to hybrid work, to securing your organization. We'll share how Google is addressing these challenges, and opportunities ahead, and how we're building product experiences to help you and your organization achieve your goals in this new hybrid work environment. We've also created breakout sessions to discuss these topics further.
Finally, partners play a pivotal role in meeting the needs of Google Workspace customers. And we're grateful to our sponsors, especially our premium sponsors, Citrix, OpenText Palo Alto Networks, and SADA for their support of this event. We encourage you to attend their breakout sessions. I would like to thank you again for joining us today and taking the time to understand how Google Workspace can support your business as we all continue to navigate hybrid work. Before I turn it over to Javier, here's a quick glimpse of what our vision for the transition to hybrid looks like. SPEAKER 1: You're serious about business, right? Then it's time to get serious about doing things differently.
Work has changed. It can be here, there, any time, anywhere, online, on site, on the redeye. And that means getting serious about how we collaborate, across oceans or soccer fields. [MUSIC PLAYING] SPEAKER 2: It means getting serious about how we come together, to create, ideate, and make the big plans without the long hours. [MUSIC PLAYING] SPEAKER 3: How we get everyone in the same space and syncs up without having to meet up. [MUSIC PLAYING] How security and privacy are a must have, not an add on.
And how important work doesn't interrupt important moments. SPEAKER 2: We need to think seriously about building community and equity because the people you want to hire, well, they already do. You need to look like the future, not the past.
SPEAKER 4: Serious businesses don't just need tools that work. They need tools that work better for everyone. SPEAKER 5: The kind we believe in building to help billions every day. DALLAS DOLEN: The last two years have shown us that Google Workspace has the resiliency and flexibility to allow us to be successful. So no matter what comes next, we believe that with the product, we can continue to deliver to our clients in a really effective and high quality way.
ELIZABETH LEHTONEN: We use Google Workspace inside and outside of everything we do. Makes it super simple to coordinate within documents and collaborate with our teams. [MUSIC PLAYING] JAVIER SOLTERO: That's right, serious businesses don't just need tools that work. They need tools that work better for everyone Hello, and welcome.
I'm Javier, and it's great to be here with you all. As Thomas mentioned, we have a lot of great sessions prepared for you today. So be sure to check out the full agenda on the main page of our website where you will also find our on demand content. Now, let's jump right in. The last two years have transformed everything about the way we work. Every day we've been asked to adapt and boost our resilience.
We've gone from yearning for work to get back to normal, to re-examining everything about the way we work. Some headlines call this the Great Reset. But however you want to label it, there's a real sense of urgency for organizations to make lasting changes that will help them thrive in this new world.
Businesses are ready to break free from the status quo. At the beginning of the pandemic, it became clear just how fragile that status quo is, as operating models were disrupted and organizations scrambled to adjust. Tools that were designed for the PC era of desktop collaboration and workplaces designed for the era of behind your desk work were suddenly put to the test in supporting remote employees. Millions of at home workers struggled with outdated VPN technologies just to access information.
And on the rare occasion when they did go into the office, they often found meeting rooms designed only for the people in the room with the remote colleagues reduced to a maze of digital tiles on the wall. We realized just how much work was actually enabled by spontaneous conversations in the many moments in between meetings. In fact, frontline workers, the people who make up most of the global workforce, remained in place when the rest of the world went remote. This left a lot of them feeling disconnected from each other and from their employers. To cope, they reached for whatever tools they could find to get things done and to stay connected to each other and to the rest of the business. In the end, the tools they improvised with weren't effective and they weren't connected with what the rest of the organization was using.
In some cases, they even introduce security risks. But now as we transition forward and establish new norms, it's clear that hybrid work isn't just about where people work. It's about how people work and the magic that happens when they're working together.
It's time to move past a one size fits all approach to work and ask how we enable everyone to do their best work from anywhere. Google Workspace was built for this moment. In fact, 16 years ago when we launched Google Docs and Sheets, we introduced the world to a new way of working. For many, it was the first time they worked in a digital space together, in real-time, without the burden or the risk of sending documents back and forth. Today, this new way of working has become second nature for billions of Google Workspace users around the world. If we think about how work really happens in organizations, in every industry we find that there's a diverse set of functions and roles with their own distinct communication and collaboration needs.
Organizations need to be extra vigilant to prevent information silos, especially in a fast moving environment. Solving for this requires a solution that is flexible enough to help people thrive in their individual roles while opening up collaboration and bringing together work that's happening across functions. This intersection of empowering individuals and bridging organizational workflows is where business success really starts to take off.
We need solutions that are complete and connected, modern and secure by design. Technology can be part of the connective tissue that brings together entire organizations regardless of role, from the front lines, to the back office, and everywhere in between. Having a complete and connected solution is about more than just empowering people through a set of tools that bridge email, documents, meetings and chat.
Today's collaboration happens throughout the day, not just in scheduled meetings or chat messages. It happens in the trail of comments in documents and presentations, and that sidebar in the meeting, and in the digital tools teams used to keep on top of what's more important. Only by having an integrated solution and bringing all roles into a shared flexible canvas for collaboration can your organization avoid the information silos that discourage innovation.
The beauty of this approach is that you enable people to collaborate in the places they're already working together instead of having them switching tabs and tools all day long. It turns out it's also easier for IT to manage a single solution than to be managing a handful of point solutions. But a complete solution shouldn't be confused with a closed proprietary system. In fact, extensibility is a core part of the Workspace approach, connecting users and teams to tailored experiences for specialized work, whether with a third party app from the Workspace Marketplace, or even apps that you make on your own with AppSheet.
The power of Google Workspace is that it is both complete and extensible, bringing together the Google Apps you use every day, Gmail, Docs, Meet, Spaces, Chat and more with your other favorite apps. We know our customers have deep investments in line of business solutions, and that any productivity tool is made more powerful by the integrations that streamline everyday tasks for their employees. SAP is one of the world's leaders in this space and plays an outsized role in this arena. A key to their success is their ability to address customer needs and enable digital transformation for hundreds of thousands of organizations, including some of the most recognizable brands in the world. Today, I'm delighted to announce that we are expanding our relationship with SAP and addressing one of the top requests we hear from our customers, delivering native integration between SAP S/4HANA and Google Workspace. This new integration enables you to bring together your most critical business systems with tools that can transform how work gets done.
This means that a financial analyst working on SAP systems day to day can work on SAP data while collaborating with colleagues in Sheets or Docs. Because of this extended partnership, application data and documents will be tightly integrated and accessible from both Google Workspace and SAP S/4HANA. We're really excited to be a strategic partner with SAP and thrilled about what this integration will unlock for our customers.
The next critical question for an organization is whether their collaboration solution is truly modern; whether it's built for the way that work happens today and for the way that work will happen in the future. You can't build or secure your future with legacy tools and infrastructure. They prevent collaboration and create friction that makes it hard for people to get work done, and they've been proven time and time again to carry security risks.
Google Workspace is a modern solution that helps teams of all sizes across entire organizations connect, create, and collaborate. Collaboration and connection, the foundation of our tools, are also a critical success factor for hybrid work. For hybrid models to be successful they need to thoughtfully connect people, physical locations, and digital tools, and they need to help address three basic collaboration needs.
Number one, people want to be seen, heard, valued, and recognized no matter where or how they work; number two, people need a means for developing the deep connections that allow for collaboration and innovation; and number three, tools need to empower people in the way they use their time to get things done. Addressing these needs is at the heart of the innovation we're continuing to deliver in Workspace. To help people be seen, heard, valued and recognize, we build tools and experiences that allow people to fully participate regardless of their location, language, device preference, or physical and technical ability.
We launch Companion Mode and enhancements in Google Meet so hybrid meetings aren't two meetings in one divided by those that are in person and those that are remote. And to help teams make progress on projects and build stronger connections regardless of time zones, we delivered spaces in Google Chat to provide a more effective way for people to engage in topic based discussions and share knowledge and ideas, both in real-time and asynchronously. A group of people can come together directly in a space to move projects and topics along, whether it's a team of 10 working on an event plan, a team of 1,000 participating in an all company conversation, or a team of frontline workers sharing best practices and connecting with their partners at headquarters. You can even invite partners from outside your organization into your spaces to enable secure cross company collaboration. And to honor that most precious resource of time, we've launched features like focus time and working hours to help people and teams better organize their time and promote individual well-being.
Protecting the finite amount of time each of us has in a workday is just the start. We've also put the power of Google AI to work with new features like built in summaries in Docs that automatically generate an overview of the main points in a document, so users can quickly parse the information that matters and prioritize where they should focus. All of this innovation comes together in an integrated experience that brings email, documents, meetings, and chat much closer together. And because of this integration, we're able to deliver new experiences like Smart Canvas, collapsing the boundaries between applications to enable new hybrid friendly collaboration across Google Workspace. In fact, since we launched Smart Canvas last year, customers have embraced this flexible intelligent Canvas for collaboration.
Smart Canvas usage now exceeds comments and Docs, which is a stunning testament to its utility and its ease of use. Now let's talk a little bit about how we help you build resilience and agility into your business. You see, security lies at the foundation of resilience. It's a basic need for every organization and requires advance capabilities that adapt over time as threats evolve.
We believe security should be built in at the architectural level and pulled through to the user experience. Having confidence that your company's data secure is also obviously a must. Google Workspace is secure by default because it comes with enterprise grade access management, data protection, encryption, and endpoint protection built right in. We also make it easy for end users to just do the right thing. We've designed sharing, content storage, and collaboration in a way that intuitively helps users make more secure choices. We all know when your employees are more secure your entire environment is more secure.
The risk of cyber attacks is urgent and real for every business. Attackers are creative and determined. Google has built one of the most advanced security infrastructures to protect ourselves and our users against the most sophisticated attackers every single day.
Over a decade ago we pioneered an approach to security that is known today as Zero Trust. What we've learned about security and some of our most powerful capabilities are built in to help secure your hybrid workforce. We keep more people safe online than anyone else in the world, blocking more than 99.9% of malware, phishing attempts, and spam. And because we operate as a Cloud first service, you're always running the current version without the need for patching or end of life support. This means your security can be up to date everywhere and new risks are mitigated automatically.
With our recent FedRAMP High Authorization, any Workspace customer can rest assured that they are collaborating at this high level of security without having to purchase and deploy a separate GovCloud instance. This approach removes the barriers of cost and complexity for customers working in or with the highly regulated US public sector. Privacy is also top of mind for us.
We're building some of the most advanced privacy preserving technologies into our products to keep your data private and to give you more control over it. If you're a commercial or public sector customer in the European Union, the recent announcement of the new EU/US data transfer framework is likely top of mind. We welcome these efforts to enable trusted transatlantic data flows and remain committed to meeting our customers' digital sovereignty requirements through industry leading protections and powerful controls that go well beyond legal and policy requirements. To that end, we're announcing that Workspace will provide the ability to monitor and control data transfers to and from the EU by the end of 2023.
This commitment builds on our existing support for data regions by giving you the capability to define where your data is processed and where it is stored. You will also be able to more precisely define and control the conditions under which your data can be accessed by Cloud Support or administrators through enhancements coming to our assured controls offering. Client side encryption capabilities will also serve as a powerful tool here.
Our unique approach to client side encryption gives you authoritative privacy control as the sole owner of private encryption keys. We will deliver this control without the need for legacy desktop clients and without compromising any part of our user experience. We're making these investments to help you stay on top of this rapidly evolving landscape. We've covered a lot today, but it's worth re-emphasizing that solving for the interface between your people, your tools and your physical workspaces will be an enduring part of defining hybrid work success.
Having a complete modern collaborative solution that securely spans the types of work and locations it takes place in, both now and in the future, will be essential. And while we can't predict the next bend in the road, we do know that Google Workspace designed from the ground up for flexibility and people first collaboration was built for this moment and for what comes next. Now we're going to move on to the demo on the other set over here, where I'll join my friend Alli McKee who will kick things off to show us how Google Workspace is fueling hybrid collaboration.
ALLI MCKEE: Thanks, Javier. Hi, everyone. I'm Alli, and I'm a product manager here at Google, and today I'm excited to show you how Google Workspace can help transform collaboration at your organization. As Javier mentioned earlier, many organizations are struggling to equip their people with the tools they need to thrive in a hybrid workplace.
As someone who joined Google during the pandemic, I know how important it was for me to be able to easily connect and collaborate with colleagues, whether we were working from home, the office, or elsewhere. So let me tell you Myra's story. This is Myra, who's about to start her first day at Cymbal Superstore, a global retail company that recently started using Google Workspace to transition to a hybrid model. Myra is based in Singapore, so she'll be tackling her first day remotely, meeting her new manager, colleagues, and even starting her first project. As Myra sits down at her desk, coffee in hand, she's ready to get started.
I'm sure some of you know how it feels to start a job remotely. It can be a little daunting. So let's see how it goes for Myra. First things first, she opens her new laptop and logs into Gmail.
She's used Gmail in her personal life for years, so she already knows the basics. It looks like Myra already has a few emails, a welcome email from her new manager, Amit, and a couple of event invites. Like any great manager, Amit has included a few tips to help her settle in. He suggests setting her working hours and location in Calendar to keep her team in the know, and carve out any personal time she needs during the week.
Amit also asks Myra to put together a rough onboarding plan for her first two weeks at Cymbal, and to get feedback from the project management team during their meeting later. It's a team tradition to pass along a few words of wisdom to every new hire. And he even has some info on her very first project.
She'll be opening the Cymbal Superstore location in Singapore. Go Myra. Amit would like her to introduce herself to the rest of the project team today.
Myra is big on organization, so she'll go ahead and start her to do list. Tasks are a great way for her to make sure she keeps track of everything, big or small. Now let's check out those event invites. Looks like she has a new hire orientation coming up later today.
Now, Myra can go straight to her calender to see what the rest of her day looks like. She accepts the invites to her new hire orientation and team meeting later in the day, and notes she'll be joining the Team Sync virtually. Myra definitely wants to block off some time to work on her onboarding plan before the Team Sync.
Focus time is great for eliminating distractions, like last minute meetings or pings from colleagues. While she's here, she might as well set up her working hours and location, like Amit suggested. She'll be available 9:00 to 5:00 Monday through Thursday and 9:00 to 4:00 on Fridays so she can get to her weekly yoga class.
Priorities, right? And since Cymbal is hybrid, she'll be alternating between working from home and in the office. Now that Myra's day is all planned out, she's feeling much better. Starting a job remotely isn't nearly as stressful as she thought it would be. Now it's time to start diving into those to do's.
But first, she'll spend a bit of time chatting with her new manager. [MUSIC PLAYING] It's a relief to know the team meeting will be casual. And I bet that Asana bot will come in handy on her first project. Myra's used Asana as a project manager in previous roles, and it will be great to easily get details on her projects without leaving Chat. It looks like Myra also has a notification in Spaces.
This probably has something to do with that Singapore project Amit was telling her about. What a warm welcome from her project team. This will be a great way for Myra to get to know colleagues from all parts of the business, from finance to marketing, to retail associates on the front line. Speaking of, Myra has a new message in her project space from Sarah, retail associate at the store in Malaysia.
Sarah is going to be sharing customer insights with the team for the store launch, and she wants to help Myra get up to speed. This project planning doc should help. How convenient. Her doc and chat are in the same place.
At her last company, she had a different app for everything, from email, to chat, to documents. But having everything connected here will be a huge time savor. The doc stretches across her entire screen and has a lot going on. But with interactive elements like voting and smart chips it's a lot easier to digest.
Myra can easily find helpful links, discover who's doing what, and even see the most popular proposed store location in Google Maps. Myra won't have time to read all of this today, but the automatically generated summary helps her to quickly understand the key points. And just like that, Myra's first task of the day is done. So it's time for her orientation. Myra's ready to connect with some of her fellow new hires and learn more about life at Cymbal. The company has been growing quickly and there are a ton of new employees, so this meeting will be happening in a livestream format, which is a great alternative to a standard video meeting when the guest list is large.
Myra takes a look at her calendar, opens the event, and easily joins the livestream. The session host, Fatima, head of HR, kicks off the orientation. To get started she'll see where everyone's tuning in from. [MUSIC PLAYING] Myra's excited to see how global the company is, with new hires joining from every continent. Additionally, new hires often have a lot of questions, so Fatima uses the Q&A feature to let them add questions during the session. People have already asked a couple of questions, and Myra will upload the questions she's most interested in.
She also adds a question to better understand how Cymbal will help new hires thrive in a hybrid workplace. Her previous jobs, Myra often found that live streamed events weren't the most engaging, and it was really challenging to feel connected to the other attendees. But here polling and Q&A helped her get to know fellow new hires and Cymbal a bit better, and Myra is excited to continue her onboarding journey. So Myra made it through her first orientation, and she actually had fun. Now she can start creating her onboarding plan.
How will the next few weeks hold for Maya, I wonder? Thankfully it's not going to be too difficult for her to figure out since Slides makes it easy to quickly get started. There are also lots of other slides she can choose from, which will definitely save time on future projects. She wants this plan to be in solid shape before the team meeting. First impressions are important, right? Plus, it'll be helpful to get advice from her team members who've been in her shoes before. Myra finalizes her slide and has a bit of time before the team meeting. So she decides to take her dog, Scout, to the neighborhood dog park.
[MUSIC PLAYING] While Scout plays with this dog park crew, Myra sits down to review her slide on her phone. Good thing she caught a tiny typo. A ping arrives over Chat, and it's from Sarah, the store associate that sent her that project doc for the Singapore store opening earlier.
Sarah was busy working with customers at the time, but now she has time to connect. It'll be good for them to find time to talk face to face later in the week since they'll be working closely with one another over the next few months. Myra's able to quickly and easily add this meeting to both their calendars directly on her mobile device, and there's even a suggested title and time slot that works for both Myra and Sarah. At Myra's previous company, store associates didn't have access to the same technology she did, which made it hard to get customer insights and build relationships with them. Connecting with Sarah has been much easier so far. Back from the park, Myra is feeling refreshed and relaxed after a little outdoor time.
Perfect since she's about to introduce herself to her new project management team for the first time. She's happy to see that the edit she made to her onboarding slide on her phone carried over to her laptop. Let the meeting begin. Like Amit suggested earlier, she'll share her onboarding slide in the meeting and gather feedback from her peers. Myra's a little nervous, but she's got this. Since they'll be working on the content together, the whole team can join the meeting directly in Slides, which makes it easy to connect and collaborate with all of her new colleagues in one place.
Myra walks the team through her onboarding plan and can easily make changes in real-time based on the feedback from the meeting. Her teammates are also able to add comments directly to her slide, which Myra can address after the meeting. That was a success. Scout even barked during the middle of it, and her new teammates didn't hear a peep, thanks to the magic of noise cancelation. So it's official. Myra's first day is done, and may I just say she did an amazing job with a little help from Google Workspace.
I hope you saw how Google Workspace is a modern all in one solution that helps teams of all sizes across entire organizations connect, create, and collaborate. These are the foundations of our tools that are critical success factors for hybrid work. And with that, I'd like to invite Javier back to the stage for some closing remarks. JAVIER SOLTERO: Thank you, Alli.
That was an awesome demo. It's incredible to see Google Workspace in action and what it enables for individual workers and for organizations. I'm inspired every day by how Google Workspace is helping people and businesses achieve their most ambitious goals, whether they're business results, personal outcomes, or tackling important issues like sustainability. We're really excited to continue on this journey with you.
Thank you for joining me and Alli today, and stay tuned for our live Q&A segment, which we'll be doing over there in the other set in just a minute. [MUSIC PLAYING] BAO LAM: That was a great demo Alli, and it's always so valuable and fun to see the tools in action. We are so excited to continue the day with you all. And just in case this is your first time tuning in, I'm Bao Lam, head of marketing for Google Workspace, and I'm live on set in Sunnyvale, California joined by Javier Soltero.
JAVIER SOLTERO: Thank you, Bao. Good to see you. I'm Javier Soltero, vice president and general manager of Google Workspace, and I am thrilled to be spending the rest of the day here live on set and excited to hear what our audience cares most about and has questions on. BAO LAM: That's wonderful.
Before we jump into the live Q&A, Javier, I want to remind everyone to submit your questions below the video player. We'll be pulling questions and answering as many of them as we can in the next 20 minutes. JAVIER SOLTERO: Great. BAO LAM: Yep.
While we give people a chance to submit their questions, I have one to kick things off. JAVIER SOLTERO: You do? BAO LAM: I do. I'm ready. Are you ready? JAVIER SOLTERO: I'm ready. BAO LAM: Awesome. Our first question comes from Corey in North America.
Corey asks, I work at a large enterprise company that's currently using Microsoft Office. We often hear feedback from employees that they prefer Workspace because they use Google tools in their everyday lives. We'd like to start the move to Workspace, but there are concerns about change management, migrating data, training users.
Javier, can you share your thoughts on how best to approach this? JAVIER SOLTERO: Sure. Thank you for the question. Let's start with the training user's part because I think in Corey's question there's something really important that is actually maybe my favorite quality about Workspace; the sense that people really do want to use it; this idea that people have lots of tools they can choose from certainly in their personal lives, and that they would want to use Google Workspace at work as well because of its simplicity, its effectiveness, the familiarity they have. And so that makes this task of actually educating users and getting them trained up on the products a lot simpler.
Certainly there's still things that you have to do to make sure that people are not only able to use the tools effectively, but use them in a manner that is consistent with the policies and approaches of the particular company. But that aspect of it is actually one of the most compelling reasons to consider evaluating Google Workspace in your enterprise. Now, there are two other parts of this. One, which is, of course, making sure that as part of the deployment experience of Google Workspace, you are able to connect it to all the right places, even interoperate with other systems, including actually Microsoft Office, which we've done a lot of work to ensure that there is a rendering fidelity in terms of content formats between Docs, Sheets and Slides, and Office, as well as better more scalable interoperability between things like calendaring and other aspects of the Office suite. So along with that, the third part, of course, is migration. So you have to be able to get data that may be in other repositories or in other formats and actually move it into a more Workspace friendly environment.
And we've made a lot of progress and a lot of investments over the last couple of years, in particular enhancing our migration tooling and making it as simple as possible to realize all the benefits of Google Workspace and make the deployment journey I guess for customers smooth, seamless, and effective. We don't succeed if these products don't actually really capture that sense of choice and the interest that they'd have to ask their IT organizations to allow them to use them. So that's a very important part of what guides us as we evolve these products and certainly a big part of how we're growing the enterprise. So thank you for the question, Corey.
BAO LAM: That's great. It's so wonderful that we have all these tools and training to make it easy for customers to migrate toward a space. Now, let's go ahead and get our first question from the audience.
This question comes from Tyson. How can you best use Chat spaces for enterprise communications and collaboration? What's on the roadmap, and/or what are the best practices? JAVIER SOLTERO: Great. So Tyson, thank you for the question. Let's see.
Before I get into Chat, let me highlight one of the important parts of what role does Chat actually play in the overall Google Workspace story? We now have as part of Google Workspace multiple forms of communication available to users. We have email, which is an asynchronous, more turn based, if you will, can potentially lead to longer messages, which done right can be a good thing. We have video calls through Google Meet, which everybody is very familiar with. They are very much real-time, and they are the closest thing I guess to the richness of actual physical interaction and normal communication. And then you have Chat, which is also real-time, and plays this very interesting role in between the asynchronous communication in email and the more real-time face to face contact that Meet enables. So our interest in using chat is to not just make the actual usaging experience of our messaging product incredibly effective.
We've added a lot of enhancements to the overall user experience. We've integrated into the Gmail surface so that it actually is something you can access very quickly. We have enhanced the mobile experience as well to make the most out of the mobile format, if you will, and make it easy for people who are on the move to respond to chat messages and participate. And then with respect to Spaces, the way we see Spaces evolving is actually oriented around topic based communication.
So normally when people think of Spaces or any kind of container of chat use, they say, well, this is like a representation of a organization or a group within my team. And oftentimes that can be the case. But we find that actually one of the most powerful aspects of Google Spaces is when you look at it as a place for discussion of topics amongst potentially a group of people that actually transcend organizational boundaries. May even include external partners, customers, et cetera. And the activities that they share there, the actions they take go far beyond just being able to send messages back and forth to each other and react to them with emojis and GIFs and so forth.
They also include this very unique and very compelling user experience that we've added to Spaces to make it so that if say you're in a chat space and somebody says, hey, Bao? Can you send me the document for Project X? And you say, OK, yeah. Here it is. And you paste it into Chat, that the people that are in that chat space can actually click on that.
And within the Gmail Workspace surface we actually open the document right next to the chat, preserving a sense of context, making it easier, bringing you closer I guess to the content and the actions that you want to take as part of the natural discussion. We do similar things with tasks as the demo showed. I mean, there's a lot of ways in which you can both have a very effective chat product, as well as really succeed by bringing it closer and integrating it more effectively into other parts of Workspace. So that is where we're headed, Tyson.
Thank you for the question. BAO LAM: That's great. And I know we use Spaces all day, and it's a great knowledge repository as well. Our next question, Javier, comes from Jess. How do we increase belonging using Google Workspace? JAVIER SOLTERO: Oh. This is a very, very good question.
So thank you for that. I think I've said in the past that maybe the three guiding elements or the lessons that we've learned from these last two years of some really disruptive changes to the way we approach work and life are the following. First off, that what we do is no longer governed by where it happens. So work isn't just a specific place. It can be wherever you're able to work.
Second, that people's time and attention remain the most precious resource they have, and their success in their personal life and at work is very closely tied to how good they are at managing that time and that attention. In going back to the prior question about Chat, we have all these things coming to us, sending us notifications, demanding our attention, all these ways we can communicate, but people's ability to control that effectively and use those tools well, ultimately it depends on their ability to manage their time and actually direct their attention at the right place. And third, that human connection remains really the essential ingredient in any worthwhile endeavor, whether it's teaching a child to read, or launching a satellite into Orbit. All of those things require people to connect and trust each other and believe that things are possible, et cetera. And so throughout Workspace we are using these three guiding elements, if you will, to drive a lot of innovation, whether it's the ability for something simple like hey, Bao, let's say you're going on vacation.
We were talking about spring break just a minute ago. Like you'd say, OK, well, I'm out on vacation. I'm not available. By switching your status in Google Calendar and in Workspace, you are now actually able to tell people, hey, I'm not around.
So if you need somebody, you should reach out to my delegate or somebody else on your team. And that as people try to communicate with you, whether it's via email or chat or even scheduling meetings with you, they'll have a little bit of a head start and knowing that you're not available and the product will guide them towards alternate paths. Similarly, when we look at something like Google Meet, we all spend a lot of time on video calls these days. And they're great, but we have to figure out ways in which we can ensure that we are connecting effectively even when we're all-- just being able to look at each other and hear each other isn't enough.
Enhancements to reactions, how we do hand raising, how we support hybrid meetings, all of these areas add up to people really feeling like they belong in an organization, especially as we've talked so much about today in a scenario where you're talking about distributed work and hybrid work for knowledge workers that have the freedom to move around and work from a variety of locations. And certainly the need for belonging for frontline and deskless workers that are actually not in the same situation I guess as their knowledge worker colleagues, they have to be able to be connected to each other and they have to also feel connected and feel like they belong as part of a larger organization. So thank you for the question.
Work isn't done there ever I don't think, and it's going to be an area of continued innovation for us over the next few years, I'm sure. BAO LAM: Yes, absolutely. So our next question, Javier, is from Cody. We've heard a lot about Google's AI/ML capabilities and how those are being used to enhance security protections like spam, phishing, et cetera.
Can you tell us more about Google's first party advanced security capabilities, and also where third party solutions fit into the broader ecosystem approach? JAVIER SOLTERO: Sure. Thank you for the question. Let's see. I think I mentioned in my keynote just a little bit ago that one of the things that we-- obviously we take security very, very seriously at Google.
We have an enormous responsibility as a company to secure the most important parts of the lives of billions of people around the world. And as part of all the work that we've done and all the things we've learned just as Google, even before we get to Google Workspace and Google Cloud, we've been able to innovate tremendously, whether it's things like the Titan Security Keys or the Zero Trust model or things like the BeyondCorp Alliance. All of these things are things that spawned from Google's unique approach as a company to meeting the demands of securing the lives and data for billions of people and millions of customers around the world. As far as how we apply AI to that, well, look, I think it's safe to say that Google's advanced and holistic approach to artificial intelligence permeates just about everything we do. I think the question had some really good examples, like indeed, yes, things like spam and phishing detection, as well as other aspects of how we approach the securing of content, how we detect usage patterns, how we can tell, for example, whether a user is accessing Workspace from an unusual location that doesn't correspond to the way they normally access their services or a new device. All of these things add up to this vision of a Zero Trust environment where we simply start from the premise that we don't trust anything and we observe everything, and therefore are able to actually guide both users and the organizations they work for to make better choices around how to secure their infrastructure.
Two more things I'd like to add to that. First is that in terms of the overall security approach that Workspace takes, it's important to note that by guiding users to use the products correctly, by having a sharing model that is simple and easy to understand, by adding things like labels to drive content or client side encryption, we make the usage pattern that the user has to follow familiar while ensuring that they are always doing the right thing. But there's no sort of side routes they can take that might compromise the overall security of the solution. And the second thing I wanted to add to close on this question is, there is a good question around third party.
So obviously, look, for all the innovation Google has done and will continue to do in the security space, it's important to note that we can't do this alone. Whether it's in security or in other areas of our ecosystem, Workspace is special because it's an amazing and complete first party solution, but it's also backed by a ecosystem of amazing partners. We mentioned SAP earlier today, but along with that on the security side, we've partnered with some of the leading security companies out there to complement our solution and actually create combined product experiences that actually really meet the unique needs of our customer base. And we expect to continue to do that over the coming years as well.
BAO LAM: Such an important topic. Thank you, Javier. Our next question, which is from Stacy, is what, in your opinion, is the most vital or favorite productivity feature or workflow within Workspace? JAVIER SOLTERO: That is a very good question. I'll answer this one quickly.
And it's a personal favorite of mine, even though it's actually something that is now rolling out. I love the way in which we've incorporated Meet into Docs, Sheets, and Slides. We pioneered real-time collaboration with these products about 15, 16 years ago, and we have now introduced a big part of the Workspace vision, which is the ability to go from real-time collaboration in a document by seeing people's cursors and comments and so forth, to with the press of a button being able to actually move or initiate a Google Meet call directly within the content surface that you're actually editing. That opens up some really powerful capabilities. So that's a personal favorite of mine.
But with a surface area that's large, I'm sure there's plenty of it. BAO LAM: It's hard to pick a favorite. JAVIER SOLTERO: Yes, indeed.
Indeed. I love all my children. BAO LAM: All right.
So it looks like we're out of time. But I want to say thank you to everyone, for joining this Q&A. It really flew by but we really loved having everybody here today. Be sure to stick around as our breakouts will begin shortly. These sessions will cover everything from the future of hybrid work to frontline workers and so much more. We want to say thank you to everyone for joining once again.
JAVIER SOLTERO: Yeah, thank you. This has been a great experience. Thanks for everybody joining us today from all parts of the world I'm told.
It's been quite an event. I think this is a first for us. So very, very good. Thank you, everyone, for tuning in for the questions and we look forward to continuing on this journey with everybody. BAO LAM: Yes. And please stay tuned for the breakout session.
JAVIER SOLTERO: All right. Thanks, everybody. BAO LAM: Thanks, everyone. [MUSIC PLAYING] DAVE CITRON: Hi, everyone.
My name is Dave Citron, and I'm a Director of Product Management for Google Workspace. I'm delighted to welcome you all to this breakout session on hybrid work as part of our Google Workspace Summit. I'm going to walk you through some of the ways we're bringing hybrid work to life in Google Workspace, and then jump to a customer conversation. As we all know by now, hybrid work is here to stay and millions of organizations and employees around the world are embarking on their own hybrid work journeys.
We recently commissioned economist impact to complete a global hybrid work survey, and we found that more than 75% of respondents said hybrid flexible work will be a standard practices within the organization in the coming three years. Based on research and our own experiences at Google, we think there are three main areas to solve for with hybrid work. First, time is more precious than ever and we need to help people make the most of it; second, collaboration equity is essential to ensure all voices are heard and valued; and last, human connection is crucial to fostering meaningful relationships at work. To be sustainable, hybrid work models must reimagine how we combine physical spaces with digital tools to build productive, immersive experiences that meet the needs of remote and in-person employees equally.
And what we call collaboration equity is an important part of that. The ability to fully participate regardless of location, language, technical or physical ability, or even device preference. We'll see some examples shortly of how technology can help to address collaboration equity in a hybrid work setting.
But technology by itself isn't enough. We also need cultural changes to ensure a hybrid first mindset. Based on the experience of our customers and our own experience at Google, we've identified five common meeting types and build blueprints to help organizations optimize the mix of technology, spaces, and norms to get the most out of each hybrid interaction. For example, a team conducting a working session to collaborate on an annual plan will be very different from an all hands meeting to share that plan and kick off the year. Thoughtful meeting planning is a must for teams to get the most from their time together.
Security, meanwhile, is the foundation upon which all hybrid collaboration needs happen. With a Zero Trust secure by design approach, legacy tools will hinder an organization's future of work ambitions. So with this context in mind, what innovations have we brought to Google Workspace to empower hybrid organizations and their employees? To answer that, let's look at a hybrid collaboration scenario and see how it comes to life in Google Workspace. A hybrid team is working across time zones and locations on a product launch.
Some of the team comes together in the office for a few days a week, but the rest of the time they're all remote. They can use integrations between AppSheet and Workspace for desk booking and to optimize how and when they come together in the office. To stay online on availability the team also uses Calendar to keep everyone up to date on work locations, schedules, out of office, as well as time blocks for focus time. Additionally, when they accept meeting invites they can also specify whether they'll be attending in person or virtually to help with planning.
The team uses Spaces and Chat as a central hub for preserving all of the content and conversations for their launch project. Spaces are tightly integrated with tools like Calendar, Drive, Docs, Sheets, Slides, Meet, and Tasks. So they're a great place to centralize knowledge sharing both in real-time and across the team's availability. When we launched Docs and Sheets 16 years ago, we introduced the world to a new way of working.
For many it was the first time they worked in the same digital space together in real-time without the burden or risk of sending documents back and forth. That flexible way of working has become second nature for billions of Google Workspace users around the world. Today, smart campus builds on this flexibility as an intelligent canvas for collaboration in apps like Docs, Sheets, and Slides. In our collaboration example, smart canvas allows the project launch team to quickly add a brainstorming table into a doc and then use At Mentions to pull in the right people and generate a checklist to assign action items. Once the doc is shared across the team everyone can quickly and easily drop in their ideas. And when it's time to discuss their ideas in real-time, the team can pivot directly from a brainstorming doc into a Google Meet call without the need to schedule a meeting.
It all happens with one click. We also recently introduced automatically generated summaries in Docs as part of smart canvas, so that team members can quickly get up to speed with longer documents as the project continues to evolve. Summaries provide a brief overview of the main points in a document. A key part of empowering hybrid work in Google Workspace is helping people get more done and have a greater impact with Google's industry leading AI technology. And for their regularly scheduled hybrid meetings, participants in conference rooms use Google Meet Companion mode on their personal devices while leveraging the best of in-room audio and video from Google Meet hardware.
This gives everyone the ability to participate in polls, chat, and Q&A in real-time. They can also use their device webcam to better engage remote attendees and give context for who's in the room with a personal video tile. Attendees can express themselves with reactions, bringing energy into the meeting and giving immediate feedback. These reactions will appear in a participant's video tile or overflow alongside their name if their video tile is invisible. The team can also harness their creative energy with Whiteboarding in Google Meet. Using the upcoming Series One Board 65 in the Office, along with the Jamboard app for remote participants, they can brainstorm and visualize ideas for their product launch together as a team from any location.
The hybrid collaboration experience is enhanced by machine learning in Google Meet that automatically provides noise canceling, camera zoom adjustments, and optimized lighting, helping to ensure that everyone can be seen and heard no matter where they're joining from or the device they're using. Additionally, live captions and translations in Meet calls ensure that language and hearing ability are never barriers to collaborating across time zones and physical spaces. And all of these team activities and collaborations, from Chat and Spaces to the first brainstorm doc to the Google Meet calls, happen on a secure zero trust foundation. Our browser based born-in-the-cloud approach means that hybrid teams can collaborate securely from anywhere on the devices of their choice. There's no need to install thick client applications or store sensitive data on local devices. And Google Workspace is built on our own BeyondCorp security model that enables simple and secure access with integrated threat and data protection.
We also offer clients at encryption for organizations and regulated industries that need additional protections. When taken together, these innovations in Google Workspace are helping organizations embark on their own hybrid work journeys, keeping their employees securely connected and collaborating no matter where and how they work together. And with all of this context, we'll pivot to our customer conversation to learn more about how hybrid is coming to life within the large enterprise. I'd like to welcome Lenneke Alves-Bakker, the head of Digital Workplace Change and User Adoption at Airbus. LENNEKE ALVES-BAKKER: Thank you, Dave. I'm happy to be here.
And thanks to everyone for joining. DAVE CITRON: I know Airbus is a large and complex business. As an organization, you push the boundaries of aerospace research and you make airplanes that carry millions of people around the globe. But in our previous conversation I was surprised to learn how many employees and suppliers need to work together across multiple countries to make this all happen. Can you give us some insight into how Google Workspace enables this and how you've successfully driven its adoption? LENNEKE ALVES-BAKKER: Absolutely.
So yes, indeed. Airbus is a very large organization that builds extremely complex products. We have 130,000 people working all over the world, and we have a supply chain with around 5,000 different suppliers. So it's essential for us to have the world's best collaboration solutions. Our executive committee decided four years ago to move everyone in Airbus to Google Workspace.
And even though we had executive sponsorship for this decision, we were perfectly aware that in a business as complex as ours we needed to have a dedicated approach for each business function. So we met with the executive of each function to explain why we were moving to Google Workspace and what was concretely going to change for their people. We also asked volunteers from the business to become champions. Today we have around 3,500 champions who are directly supporting colleagues in the business on Google Workspace, and they are also helping our change teams by taking over some training sessions, answering questions, in the chat rooms, and by writing some support articles. Now, of course the move to remote work during the pandemic accelerated everything.
So what happened in Airbus is that at the start of the pandemic, we didn't have enough VPN connections available for everyone to work remotely, but people could access to Google Workspace without the use of VPN. So that means we had to migrate everyone within the shortest possible time to Google Workspace, and we were very glad to have a solid change management process in place to draw on. But most importantly, people really recognize the benefits of Google Workspace. So an example that I always like to use is that at the start of the pandemic, we had to recalculate all our budgets within the frame of a cache containment exercise.
And thanks to Google Workspace, we were able to do this very rapidly in a collaborative and transparent way by using Google Sheets. DAVE CITRON: That's amazing. I love hearing stories of rapid transformation.
In your transition to remote work, how did Google Meet help you and the team? LENNEKE ALVES-BAKKER: So Google Meet definitely helped us to make quick connections. Throughout very often we moved from an email or a chat conversation to a Google Meet to quickly connect and quickly discuss and quickly take decisions on important matters. So the availability of Google Meet made us definitely more efficient and we felt more engaged by being able to connect to each other. DAVE CITRON: That's great. So as millions of organizations begin transition to a hybrid work model, what changes are taking place at Airbus? LENNEKE ALVES-BAKKER: Yes. So for sure Airbus also moved to a hybrid working model with a recommendation to work maximum two days per week from home and to come three days per week to the office.
Now, a fully remote workforce is not an option for us because a large part of our people are working in manufacturing and production. Therefore, it's decided team by team what is the best approach for them. Now, in my opinion, the move to a hybrid working model would not have been able without the use of Google Workspace. So we've clearly recognized that Workspace is providing us with equal opportunities to connect and collaborate from any location. DAVE CITRON: Including people across geographies and different parts of the organization is obviously a big part of what hybrid work needs to solve for.
Could you speak to that a little? How do you keep everyone connected and collaborating? LENNEKE ALVES-BAKKER: Yes. So of course, we have always been working in different locations, but the fact that we started using Google Workspace and also that we all have to work remotely really changed a lot of things for us. So basically we took on new habits, better habits of connecting to each other and to everyone no matter the location of the people and including them more in the decision taking. So I think in terms of equality we made a big step forward.
And also now with hybrid working, this is what we continue to do
2022-07-20 15:00
Show Video
Other news