Stellantis: EV DAY 2021 [REPLAY]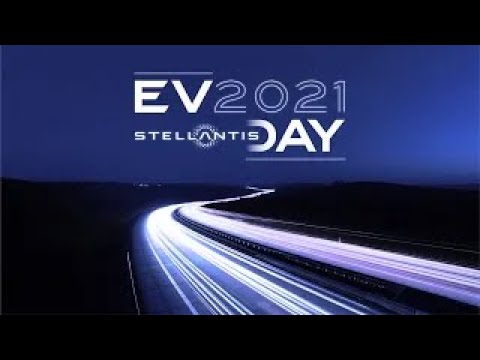 Show Video
English Subtitles. Any forward-looking statements that might be made during today's call are subject to the risks and uncertainties that are noted in the safe harbor statement, and the call will be governed by that language. Welcome, everybody, to an exceptional event, Stellantis' EV Day 2021.
We have an exciting program for you. We're going on a journey together into the core of Stellantis' electrification strategy. The stars are here, and they are aligned.
The star iconic brands, of course, are up first; then the star technologies; the batteries; the platforms. But these must be aligned with ecosystems that really serve sustainability. Then we will turn to the financials and, finally, the conclusion. All these stars aligned with one aim, to answer customer needs, customer expectations and customer desires. We know that you, investors, financial analysts and the media, you want to look under the hood and see what's really going on. Well, you're going to find out.
And please, if you have any questions, note them down because we have a dedicated Q&A at the end of the session, where we will be pleased to answer all your questions. My name is Paul Barrett, and I will be your moderator for the session. To begin this cornerstone event, I'm going to call on stage a man who has lived and breathed cars for more than 40 years.
And he has a mission: to make them safe, sustainable and affordable for every citizen on earth now and for generations to come. Please welcome the CEO of Stellantis, Carlos Tavares. Good morning, ladies and gentlemen. Welcome to this Stellantis' electrification event. I trust that you and your families are well.
Please take care. We know that you are very busy people, and therefore, we value your time. Thank you for your interest in Stellantis. The purpose of today's session is to demonstrate to you that Stellantis is now in full execution mode, at full speed on its electrification journey. 5 months after its birth, powered by its diversity of people and brands, Stellantis accelerates to lead the way the world moves, a deeply vertically integrated strategy that increases our activity against the previous business model.
4 battery electric vehicle-focused brand-new platforms, state-of-the-art platforms, platforms that carry the best of our engineering expertise, platforms that want to compete, and they raise the bar in terms of performance. Those platforms, those 4 dedicated platforms, will have performance with ranges moving from 500 for the most compact one to more than 800 kilometers of range for the largest one. 5 giga battery factories and supply contracts to support our business in Europe and the United States, with more than 260 gigawatt-hours of supply capacity. In Europe, after France and Germany, we have now agreed with the Italian government on the support to transform our powertrain plant internally.
And this plant will be transformed into the third giga factory that we will have in the European continent. A dedicated and separated software division to reduce our lead time, create new businesses and change our life-cycle management through OTA upgrades. By 2025, across our 14 iconic brands, 98% of our models in Europe and North America will be electrified. As a consequence, we forecast that by 2030, 70%-plus of our European sales and 40%-plus of our U.S. sales will be LEV. To support this exciting and fast transformation, we will invest, thanks to Stellantis' scale, no less than € 30 billion over the next 5 years. We have gathered enough ideas, synergies and new initiatives to share with you today that from 2026, our fully electrified business model will deliver a sustainable double-digit adjusted operating margin.
As you know, at Stellantis, we love to compete. This transformation period is a wonderful opportunity to reset the clock and start a new race. We love it.
And we will demonstrate today that this is not a one-man show. You will feel the passion and the vision of our brand CEOs, the depth of our functional experts, the business acumen of our regional leaders. Stellantis' top executive team is fully aligned and raising life. Let's start.
Thank you very much, Carlos, and see you later for the conclusion. So now customers and brands. Let's discover how customer-centric Stellantis is. And please welcome Thierry Koskas. - Hi, Thierry. - Hi, Paul.
So must be a very exciting day for Stellantis but hopefully also for your customers. Yes, and a lot of them, Paul. Imagine that in 2030, low-emission vehicle sales will account for more than 70% of our sales in Europe and more than 40% of our sales in the U.S.
And this is obviously a huge increase compared to current status as we will end up 2021 at 14% of our sales in Europe in low-emission vehicles and 4% in the U.S. Wow, these are really impressive figures. I mean how can you be so sure? Well, what I would suggest is let's listen first to our customers. Okay. Listen to the customers. I would say I'm an early adopter, yes.
I don't know anybody else who has purchased one apart from myself. My honest hope is that the 4xe as a plug-in hybrid becomes a nonissue and it just goes full electric down the road. This is a much more environmental friendly form of transport.
It's just lovely to drive. It's quiet. You just put your foot down and go. It's just effortless, really. Driving around the city streets, I could always accelerate as I needed to. The kids love it.
And it's just so easy and practical and cost-saving. My favorite thing about the AMI was how it looks, and it was very easy to park. With the extension of the long range, we can cover 75% of our fleet. The only negative I can pick upon is the range. As a DHL, we have a full commitment to really be serious about our role, to make the world a better place. Electrification is part of our future.
As a matter of fact, we don't have any other option. I can't ever see me going back to petrol and diesel car. It's just a no-brainer for me. So Thierry, okay, we saw some happy early adopters there. But there were some road box - road blocks that they did mention. What do you think about that? Why are you so confident that despite that, that we'll go on to make these sales? We don't ignore that, obviously, Paul, but we are very confident for 3 reasons.
The first one is it's really a demand for our customers to drive eco-friendly vehicles. When you look at all the trends survey, it shows that eco-consciousness, preserving the environment is the fastest-growing trend on the - over the last 5 years, everywhere in the world for all generations. So it's something that is becoming very, very important. And this is like central in terms of electric vehicles.
Absolutely, absolutely. And the second reason is the range. So yes, there were some objections on that. But thanks to the improvement of the batteries that Patrice Lucas will detail later, also thanks to the development of the domestic and the fast-charging infrastructure that Brigitte Courtehoux and Alexandre Guignard will also explain, we will be able to satisfy most of the customers.
And just to give you some figures, in the small car segment, 80% of the customers will be able to enjoy an electric car without changing the habit whatsoever. And if you look at compact and midsize segment, not only in Europe but also in the U.S., it's 90%. And if you look at light commercial vehicles, all the customers, 100% of the customers will be, I would say, compatible with zero-emission cars without changing the way they work and the way they use it. So where do these figures come from? It's very scientific and very simple approach, assuming that for daily trips, you use the range of the battery. But when you have to do longer trip, you do some small stops, very short, very short, using fast charging, like 20 minutes, for example. A few stops that enable you to do much longer, much longer trips.
So we really, really are compatible with most usage of the customers by 2030. And the third reason why we are confident is the cost. That was also highlighted by the customers we listen to, especially the British lady. And I think that it's very important to be able to offer affordable vehicles. What we will be able to do is by 2026, to have similar total cost of ownership compared to a conventional car without any government incentive. Total cost of leadership includes depreciation of the car, maintenance, the energy and the insurance.
So all the costs related to owning a car. So for these 3 reasons, we are very confident. So we can all look forward to some very happy holidays and at low cost.
- Exactly. - Okay. Thank you very much, Thierry. So aligning with customer needs, yes, it's very important. But the next step is to discover how they actually - how this actually pans out in practice with the 14 iconic brands over the world. Customers love these brands.
They're a part of their everyday lives. So the iconic brands, here they are. Choosing only 6 wasn't easy, but we're off to Germany for our first snapshot because we wanted to start with a brand that has always been about delivering emotions to their customers, that is close to their customers, approachable, or as they say in German, Menschlich. Over to you, Michael. Hello and herzlich willkommen in Rüsselsheim here from our design center. Electrification at Opel means emotions for our customers.
And we deliver pure emotions with electrification. And you can actually see it in our logo, the Opel Blitz. We have a flash and a wheel, and bring this together, the Open Blitz. And we, the Opel brand we are very approachable human or in German language, Menschlich. Now have a quick look how we connect in a very emotional way to our customers. We have taken the legendary Manta A, put electrification in it and have an ElektroMOD.
And this is really an emotional connection to our customers. This is how we drive into the future. And Opel has a long history, a pioneering history in electrification, starting in 1971 with the Electro GT.
Again, we are modern, approachable, very human brand. We drive renovation. And we love emotions for our customers.
Another great example is Opel is the first brand rallying electric cars, the Corsa-e e-Rally Cup. And we at Opel, we are on a journey from cold to cool. Just in this year, we have 9 electrified offers. We will have the fuel cell in our Opel Vivaro this year. And we electrify our entire portfolio by 2024.
And here's the first important news of today. By 2028, Opel will be purely electric in Europe. Opel is really the zeitgeist energy for the new world. And what does that mean? We are young-minded, green and global. Talking about globalization. Here is the second very important news of today.
Opel will go to China and, of course, 100% electric. And green is the new cool. Here comes the third very important emotional news of the day. Opel will reinvent the Manta A by mid-decade and bring a very emotional car to the market. And this will excite our customers.
So what are the 3 key messages of this important date? First, Opel will go purely electric in Europe by 2028. Opel will go to China and, of course, 100% electric. And third, very emotional news for our customers, Opel will bring the legendary Manta A to the market by mid-decade. With this, back to the studio, see you and good bye. Thank you, Michael.
Green is the new cool, everybody. You can still buy other colors, but they have to be green, right? Now let's go over to the States for a somewhat different approach. We're talking muscle here. We're talking power.
And also, we're talking history. We're here on location at the historic Dodge family home, with over 100 years of amazing Dodge heritage parked behind me. And today is an important milestone, embracing the brand's history while looking to the future. The Dodge brand all but defines pure American muscle and was born to push the boundaries of horsepower. For over 100 years, at the core of everything we do, you'll find a foundation of American ingenuity. And pure performance has been the Dodge purpose.
Half a century ago, Dodge hit full stride when we introduced the Charger and Challenger. They quickly became icons of performance and attitude. Today, they set the benchmark by embracing ingenuity to push the performance envelope to deliver the most exciting and engaging muscle cars. And that's why Dodge will not sell electric cars. Dodge will sell American muscle.
So if a charger can make a charger quicker, we're in. And while that may sound like a nuance, it's not, not to our customers anyways, because our customers purchase an experience, not a technology. And it may surprise you to learn that Dodge attracts one of the youngest and most diverse customers in the industry with the highest concentration of millennials, who now account for 1/4 of the U.S. population,
with the highest spending power of any generation. And equally, if not more important, millennials also have the highest acceptance rate of EVs. That's why the convergence of a demographic with spending power and the adaptation of electric power creates the perfect gateway for a brand that's all about horsepower. The customer profile of the Dodge brand today will be a key enabler to getting muscle car buyers into EVs tomorrow.
And EV technology will enhance the attributes that matter most to our customers. It's not unlike the formula we followed for over a decade as we continuously improve the Hemi power plant and its power output. With every gain in horsepower, we delivered a gain in market share. But even for a brand that's known for pushing it a bit too far, we've pushed this pedal to the floor. Our engineers are reaching a practical limit of what we can squeeze from internal combustion innovation.
They know, we know that electric motors can give us more. And if we know of a technology that can give our customers an advantage, we have an obligation to embrace it, whatever it takes to keep them in the lead. Again, we won't sell electric vehicles. We will sell more motors, better, faster Dodges. Because Dodge doesn't view EV technology as a revolution but, instead, as a natural evolution of the modern muscle car.
Let's face it, car and muscle aren't changing. And modern has an obligation, too. Dodge has made it this far by embracing evolution. And it's the same way that hammerhead shark has thrived at the top of the food chain, evolution enable to become one of nature's most aggressive predators.
So just as we did a half century ago, Dodge will embrace the sea of change in the marketplace to stand out by embracing electrification. Every ounce of technology we integrate will be done to amplify the elements that define not just Dodge but the muscle car itself. And in 2024, Dodge will launch the world's first full battery electric muscle car. Through intelligent evolution, we expect to thrive and define the future of American muscle to tear up the streets, not the planet.
Thanks, Tim. I love that last line, "Tear up the streets, not the planet." So that was Dodge. Over to Europe, again, for a very French brand, a brand that has centered its energy on giving choice to its customers, quality time with Peugeot.
Over to you, Linda. Thank you, Paul. Well, ladies and gentlemen, welcome to Peugeot. And for 3 years now since the launch of the fully electric Peugeot e-208, the Peugeot brand has been acting as an LEV pioneer for Stellantis and has taken on the role of frontrunner. Providing electric mobility for demanding customers is already a reality at Peugeot, with 70% of all models in Europe available in an electrified version, from passenger cars to vans, not to mention, Peugeot e-bikes and e-mopeds. Electrification is at the heart of our Power of Choice strategy.
It means we are committed to offering the brand's customers the choice of powertrain that best suits their needs. Peugeot's full electric models have had great success. For the first 5 months of 2021, Peugeot is the second best-selling generalist brand in Europe for overall model sales and the third-best generalist LEV brand. The Peugeot e-208 and e-2008 have posted strong results as second most registered models in their respective BEV segments, gaining segment share year-on-year. Our power of choice strategy is bearing fruit, not only proving successful in terms of sales but also contributing to our profitability. Indeed, there is parity in margins between Peugeot internal combustion engine models and electrified models.
And furthermore, 45% of our LEV sales are upper versions. With this, strong sales performance supports our energy transition journey. In Europe, our transition is intensifying, 85% of our models will be electrified by 2023, and this will be 100% by 2025. And internationally, we will use our strong EV model portfolio to stand out as an inventive, high-end generalist brand in emerging EV car markets. And tomorrow, well, tomorrow, the dedicated BEV platform will bring new customer benefits, further enhancing the Peugeot pleasure of driving. Thank you.
And now back to Paul in the studio. Thank you, Linda. So back to the U.S. again, this time in the heart of Michigan,
where the future is being made while we speak, always on their quest for excellence. They are blazing their own trail. Over to you, Mike. Hello, everyone. We are coming to you from the heart of our tech center in Auburn Hills, Michigan, where the future of our brand is right here.
And today, we'd like to walk you through Ram's vision for the future. As the only dedicated truck and van brand, Ram's foundation is strong. We are built to serve. And this is a promise we make to our customers every day.
And it is our promise to serve the next generation of Ram customers with a next-generation portfolio of products that delivers on their real-world demands. Challenging convention, we will push past what competitors have announced, past what the customer expects, to a fuller portfolio of technology, with more range, more power, more productivity and more convenience. Now the fact is our focus is on bringing the right product at the right time. Research has shown us that the truck customers are open to electrification but are not willing to sacrifice power, performance or capability. And that's why as we are in full motion on our portfolio of solutions, we are addressing the real-world demands of our customers. Now for pickup owners, capability is critical since so many are towing and hauling regularly or with aspirations to do so.
And van segment capability requirements are focused on payload and cargo space with some lighter towing but always with an eye on commercial and business needs. It is our responsibility to listen to our customers, understand what they need and to bring tailor-made solutions since one size fits all doesn't address our customer needs. There is no reason why electrification should limit the choice of solution we owe to our customers. And that's why Ram will differentiate itself from competitors by offering a full portfolio of electrified solutions to better meet these customer needs.
We will be customer first. Our technology will alleviate customer concerns, improve the product and deliver on real-world demands. We will offer a better range of Ram e-technology with architectures that are designed to evolve in the future, based upon changing customer needs, usages and expectations, adoptable across a wide variety of products. And in 2024, with full knowledge of what our competitors are doing, we will surpass their offerings with the Ram 1500 battery electric vehicle built to, again, redefine the full-size segment. In summary, we are not following in the footsteps of our competitors. Our plan is on track to start production on the class-shattering Ram 1500 battery electric vehicle in 2024.
And as the only dedicated truck and van brand, Ram will offer a fully electrified solution in the majority of our segments by 2025 and a full portfolio of electric solutions for all of our segments no later than 2030 because it is our responsibility to serve our loyal following of Ram owners, who believe in our products and who are proud to wear our badge today, but also bring in a greater number of new customers to our brand by continuing to be bold and challenging tradition. Because when you think about the disruption that Ram has created in the last decade, just think about what can happen in this next one. Thank you for your time. Thanks, Mike, and thanks for talking disruption because, very shortly, we're going to start talking technology and batteries. And you will see, there's going to be even more disruptive technologies in the pipeline.
Now change of scenery, change of mood. We're going to Italy for a little bit of dolce vita and fun. Green is only green when it's green for all.
And the CEO of Fiat is going to say a few words from an iconic place in Turin. Hi. So did we really need a lockdown to get that message? Well, now it is time to move in the right direction. So here is just one idea. As you can see around me, we are turning the roof of our old factory in Turin into a garden, a hanging garden soon to be open to all the people of our city. This, I think, is a strong signal that we are on an ambitious path to sustainability embodied in our tag line, "It's only green when it's green for all."
That's Fiat DNA for all. Now what is Fiat about? It's about simplicity, fun and social relevance, typical Italian DNA. And today, that DNA is priceless. I mean simplicity, it is a real asset in such a complex world. And so it's fun in a culture of worry. And now what made us so relevant in the first place, mobility for all evolves into sustainability for all.
Now what does electric bring to cars? Well, we all know it brings car simplicity, with no gearbox and one pedal. Then it brings more fun to drive with tons of talk. Just try a new Fiat 500 electric. And last, it brings obviously more care for the planet, which is the biggest concern of our time.
Bottom line, electricity just enhances Fiat. More simplicity, more fun, more relevance. And that is really good news because it means that we won't have to reinvent our brand, and we won't need to justify or explain or twist it like a pretzel. You see, Fiat going electric is just a fit. So no surprise. The new lineup we are cooking is going to embrace full electric, at least in Europe.
So starting from today, the first EV-dedicated model is already on the suites. The Fiat 500 going electric only is a pretty radical choice. It means that we are going all-in. It's an iconic car with a cost. And as you can see here, so far, it's working. Next, totally electrified LCV lineup at the end of next year, which, by the way, includes fuel sales.
And from 2023 and '24, you will see an unprecedented passenger car offensive that will bring electric versions on every nameplate. And the same year, 2024, Abarth, too, will switch to full BEV. Now the question is when do we shift to just BEV.
Well, the answer is simple. With a democratic DNA like ours, we will do so as soon as we can offer electric at the price of thermic, which, in Europe, should happen by 2025, 2030. Now obviously, we don't want to just sit and wait and follow the trend. We want to disrupt and accelerate. And the ingredients for that are in our Centoventi concept presented in Geneva. This is exactly the kind of animal our DNA can generate.
It's a pure people's electric car, affordable and using the concept of simplicity to cut the fluff and make way for batteries. So let me say, we are convinced that electric will bring new power to the brand by bringing new power to the people. So after 500, we are going all in once again because electric will reach our Fiat and because it's only green when it's green for all. Thank you. Thank you, Olivier. I love what he said about the brand's DNA, such a central part of really meeting a huge diversity of customer needs worldwide.
Each brand that you see is proud of its DNA, I can tell you. Next one up. We're going back to the U.S. It's Jeep. Over to you, Christian.
Hi, everyone. Jeep is more than a brand. It is a community. And I'm a lucky guy because I was inducted into this community by my father, who used to take me to the mountains in a Jeep release similar to this one.
Those open-air trips are some of the fun and exciting memories of my life. And today, my mission is for the Jeep brand to deliver zero-emission freedom for the generations to come because Jeep 4x4 owners are much more than just clients, customers or target audiences. They're part of a community that lives and loves the Jeep brand value, freedom, adventure, authenticity and passion. This has been the cornerstone of our brand for 80 years. And to honor core values, we're committed to zero emission, 100% freedom.
To build this future, first, we need to imagine it and then to make it happen. This video feels like a dream, but the future is today. This year already, we're forging ahead into an electrified future with our 4 best-selling models, including the upcoming all-new Jeep Grand Cherokee 4xe we build here for the first time. We're also installing solar-charging stations to support our community where it matters most, the trail.
And very soon, in 2025, we will have a zero-emission Jeep 4xe in every SUV segment. 4xe is Jeep brand's exclusive electrification approach to develop the most capable and sustainable 4-wheel drive vehicles in the world. 4xe allows us to give our community more of what they love about the Jeep brand; more capability by increasing on-demand torque for maximum traction, acceleration and 4-wheel drive performance; more fun by enjoying open air in nature and absolute silence; more style by opening the doors to new design possibilities and creating more space for people and gear. Let me be clear, 4xe is good for Jeep.
It's good for the Jeep community. And more importantly, it is good for our planet. In 2021, 100% of our SUV lineup in Europe offers 4xe technology.
Jeep Compass and Renegade 4xe are the best-selling low-emission SUVs in Italy, our largest market in Europe. And just 2 months after launch, Wrangler 4xe is already the best selling PHEV in America. And it is sold out for the rest of the year. Hardcore enthusiasts like those at Four Wheeler and financial media like Bloomberg both agreed that 4xe is the way forward for the Jeep brand. And this is only the beginning.
By 2025, we'll be offering a zero-emission, fully electric Jeep 4xe in every single SUV segment. 70% of all Jeep vehicles sold will be electrified. And Wagoneer, as the premium extension of the Jeep brand, will expand to offer zero-emission vehicles in the most profitable premium SUV segment.
4xe is the most significant change ever. It is the opportunity to future-proof the Jeep brand for long-term profitable growth and value creation for our shareholders. I started today by saying that I was lucky to be introduced to the Jeep community many years ago by my father. Today, it is my commitment to all of you to continue this upward, forward and zero-emission path for the generations to come because 4xe is the new 4x4, and our future is zero-emission freedom. Thank you, Christian.
Zero-emission freedom for the Jeep community. So we're going to stop the catalog of brands there. We don't want you to get too dizzy going back and forth between Europe and the U.S.
But you can discover some of the other iconic brand statements we didn't have time to cover today, Chrysler, Citroën, Lancia, Maserati. Oh, my God, and the list goes on. Now we asked Mike to also talk to us about a segment in which Stellantis looks to be well positioned to becoming a world leader, commercial vehicles. Over to you, Mike.
Our electrification strategy is enhanced as we think of our family of brands underneath the Stellantis' umbrella. And with our already strong sales position, in particular, the #1 position in Europe today and our strength in light- and heavy-duty Ram pickups in North America, Stellantis is perfectly positioned to become the world leader in e-commercial vehicles. Our strategic road map is clear and is already being delivered on. We will leverage the synergies we have within Stellantis to expand our electrification plan across all products and all regions over the next 3 years.
We have a 100% electrified van range in Europe with midsize and large already launched and delivered and compact van first deliveries scheduled for the last quarter. And already today, we are taking this deep knowledge of electrification in our European operations and using it to accelerate electrification in North America, with the first beneficiary being the Ram ProMaster in the U.S. And our electrification leadership will quickly become even more concrete with the introduction of new technologies, with the delivery of our first fuel cell vans by the end of 2021. But that is just the beginning.
Environmental trends and business conditions are motivating customers across all segments to consider new technologies and new innovations that serve their demanding and ever-changing needs. Their business needs are many, from delivery to construction to people mover to recreation and more. And their usage requirements are clear.
So it's our #1 priority to understand our customer demands so that we could deliver a full portfolio of products that exceeds their expectations in all ways. And that's why we have focused on a customer-centric approach: to deliver the widest and deepest range of products, from the small omni cargo van to our largest Ram pickups and all the segments in-between; to develop products that are the best-in-class for capability, safety, strength, durability and innovation; and to offer a customer-driven range of electrified alternatives, to create platforms that are conversion-friendly, opening possibilities to customize the product exactly as they need it; and to provide an unparalleled customer experience with our customers' business through an extensive network of service support with focus on reducing the total cost of ownership and overall maintenance costs, all supported by a growing charging infrastructure that will be outlined in more detail later in these sessions. So to recap, these are transformational times for the commercial vehicle business. And make no mistake, there is no global company that is better positioned than Stellantis to deliver the right portfolio of solutions for the commercial customer. We are ready. Our ambition is strong.
We will become the global leader in e-commercial vehicles. Thank you. Thanks, Mike. I think the message here is that we are leveraging knowledge to become a world leader in affordable, sustainable and clean commercial vehicles. Okay. So far, we've talked about the market evolution and how having 14 iconic brands on both sides of the Atlantic is a considerable advantage when it comes to answering customer needs.
But what about technology? Let's find out with our next chapter how platforms, powertrains, software and batteries are aligned and perfectly positioned to deliver on customer needs. So to give us an overview, let's turn now to Harald Wester speaking to us from Italy. Hi, Harald. Hi, Paul, and hello, everybody, from Italy. As you have heard, electrification is at the core of our strategy and the chosen path towards our future. Our approach is not just about meeting compliance goals. It is, above all, about respecting all our customers by meeting and exceeding their expectations, reinforcing the DNA of each brand and offering a new sustainable and affordable mobility enabled by continued evolution and innovation in all areas.
Having in mind what matters most to our customers in the era of electric mobility, the range, charging time, price and product variety, combined with the core values of our brands we have developed four fully dedicated BEV platforms. You'll hear more details about them shortly, but I can assure you, they will unlock new facets of our brands, taking their efficiency and performances to the next level. Let me give you some examples. The STLA Small platform reinforces efficient city mobility solutions for the Fiat and Citroën brands. STLA Medium was designed for our premium DS and Alfa Romeo vehicles. STLA Large is dedicated to a wide variety of SUVs, a highly innovative electrified pickup truck and the next generation of American muscle cars with breakthrough performances.
And last but not least, STLA Frame creates convenience, capability and practicality for our commercial vehicle range for pickup trucks and full-sized SUVs. Electrification for us is about making our products like our world-renowned SUVs under the Jeep brand more relevant for the trail and the streets. It is about enjoying the instant target of fast response and delivering more fun and exciting driving experience in a sustainable way.
It is about using electrified powertrains and high-efficiency batteries to enhance the true nature of each brand, the experiences they produce and the emotions they steer. We will take the lead in transforming the mobility concept the Stellantis way. Our solution to the equation is based on 4 by design BEV platforms with the most efficient common toolbox and systems, 3 core electric drive module families to ensure modularity and performances, and 2 battery cell chemistries to provide affordability to all. This strategy is supported by a strong core technology portfolio that will put Stellantis among the best-in-class players, if not setting a new benchmark in the industry.
Our leading performances include over 800 kilometers or 500 miles of range, best-in-segment efficiency for energy demand in all 4 platforms, best-in-class efficiency per mile or kilometer traveled. That is under 12-kilowatt hours per 100 kilometers or 4.3 miles per kilowatt hours in the U.S. market; acceleration from 0 to 100 kilometers per hour in as low as 2 seconds; class-leading fast charging of 20 miles per minute or 200 miles in only 10 minutes; and best-in-class energy storage efficiency because our platforms will provide the highest energy density, reaching almost 60-kilowatt hours per meter.
And we will offer over-the-air updates throughout the entire life of the vehicle as the software transformation is an important part of our EV transition puzzle. We are living in a period of disruption and radical transition, a truly defining moment for the industry, for all of us. And like everyone, we are facing many risks and headwinds. And who doesn't look far enough might fail.
This is why our thinking and our vision goes far beyond our business plan period. We have developed a comprehensive strategy center around flexibility in order to extend the life of our platforms well into the next decade. And we like to call this a future-proof concept.
It will allow us to constantly update, upgrade and enhance both the software and the hardware as the needs arise in terms of competitiveness, cost efficiency, weight and capabilities. In simple words, it enable us to naturally evolve over time. We will execute this strategy with a very passionate, highly dedicated and talented team, working side by side with either our partners or specifically forged strategic partnerships and joint ventures. And you've already heard and seen some examples, from the creation of the ACC joint venture to master technology and produce batteries with a highest level of performance and efficiency; to our partnership with Archer to develop electric vehicle vertical takeoff and landing devices for urban mobility; to the recent joint venture with Foxconn to develop breakthrough digital cockpits and personalized connected services. The most promising aspect is that our industry is in the midst of a transformation process. And this is being rebuilt tile by tile.
This process is spurring initiative, creativity, innovation. And in the end, it will make our company and most importantly, our environment, a better and healthier place. And we, at Stellantis, we intend to lead that process. I will now leave the stage to my colleagues who will take you even deeper into our technology strategy. And we will start with Patrice Lucas and the platforms.
Thank you all. Thank you, Harald. So this is about technology, which provides leading performances, best-in-class efficiency, class-leading fast charging and storage efficiency. In other words, the intention here is to lead the game. So next step, deep dive into the platform. So please welcome, Patrice Lucas.
Hi, Paul. With Stellantis, we have defined a clear platform strategy with different modules and technology to cover the total and diverse customer needs and market needs, a strategy that will allow us to propose the most efficient solution for each category of vehicle size, attributes and usage from ultra compact car up to pickup, from arch, 2-door, SUV, van and truck silhouettes, covering the full market segmentation but will still remain after the shift to electrification. This strategy is the foundation of our product offensive from now to 2030. This strategy is based on 4 platforms: 3 unibody and 1 body on frame. It is not a theoretical one-fits-all-needs strategy, but an optimized segmentation to cover our customer different usages and expectations with optimized performances and cost efficiency.
We owe our customers the power of choice. We are driven by the performance. And these platforms, our design are the first place around the battery pack, and as a result, will provide the maximum embedded energy. This is leading to a best-in-class range performance and electrification efficiency. The Small platform will offer up to 500-kilometer range; the Medium, up to 700 kilometers; the Large and the Frame, up to 800 kilometers.
These 4 platforms will be complementary in size and model flexibility to address all profit pools and market coverage. Each platform is optimized around vehicle width and length with a defined bandwidth. This is providing flexibility to build our vehicles to answer to mainstream or premium attributes and to answer to each of brand DNA to comply with customer expectations. To show what it means, let's take the examples of the platform, Large.
This platform will address the midsize to full-size vehicle. That is a vehicle between 4.70 to 5.40 meters and width between 1.90 to 2.03. This platform - we'll have this - that on the other platform.
The Medium, compact to midsized cars; the Small will address ultracompact to compact cars; and last, the Frame will address the full-size SUV and pickup trucks. We will have different battery sizes for each of them from 37 to more than 200-kilowatt hours to offer solutions for range anxiety and affordability. Efficiency being core, our optimized design around the battery, will provide a 94% useful energy efficiency compared to 92% for base competition. This platform will use common assets, which is a key lever for the business model sustainability.
They will cross share electrified best-in-class components with stronger capability to adapt over time to technology evolutions for forever best-in-class performance. Cross-sharing all the major components is a real success factor for complexity reduction and volume bundling to sustain the economic performance. Versatility of this platform is also a strong asset. Technology is a must, but passion and attractiveness remain at the core of our duty towards customers.
We'll be able to provide a large degree of liberty to let our styling studios making very attractive design and stick to the DNA of our 14 brands. Who is better placed to talk about that? Let's have a specific view with Ralph on the Large and Frame platform. Well, the reality of having 14 brands is that they each have their own deep legacies appeal and adoring customers.
As designers, we see this as a tailwind, an exciting opportunity to take our loyal customers on a new journey. Along the way, we will continue to conquest and bring new customers into our brands while being careful caretakers of what our brands have come to define and represent. Thank you, Patrice.
The STLA Large platform is an outstanding opportunity to take our customers and our brands a new journey to the future with us. The work on STLA Large is already well underway in our design studios. So far, they look to be some of the most beautiful cars we've designed yet, fully connected and fully electrified on the outside as well as on the inside. We're hoping to bring a new level of digital delight to our customers. And then my favorite aspect, creating the dream machines for the community of enthusiasts that consider their mobility as a form of expression. The STLA Large platform has outstanding fundamentals, with the batteries nice and low, the EDM motors at the edges, allowing for a variety of wheel sizes, suspension heights and widths.
All these components are out of the way, allowing us to do just about whatever we want on the top surface, allowing us to create a long-range luxury sedan, an all-conquering muscle car, a heart-of-the-market DUV, a heart-of-the-market SUV, a very capable Jeep off-roading white space opportunity vehicle as well as a new midsize truck. Now we're working on these vehicles together, which allows us to share some of the most costly components in a way never before done. So 8 vehicles are now being created that will come to market in the next 3 to 5 years.
But that's just the beginning. Eventually, the STLA Large platform can actually touch all 14 of Stellantis' brands. And one of the most important segments in the North American market, as we all know, is a segment the Ram truck plays in, the 1500. And there's a new platform we're working on with engineering called STLA Frame.
Similar ideals. The battery pack is nice and low, nestled in the strong frame; the EDM motors at the edges align for outstanding capability, but also giving us an opportunity to redefine what the full-size truck looks like and also how it works. Stay tuned because there's some pretty cool looking Ram trucks coming your way.
And with that, back to you, Patrice. Thank you, Ralph. You have demonstrated what we will be able to deliver, make different vehicle size from sedan to SUV, including a pickup on our Large platform.
But to cover the full scope of a pickup usage, our Frame platform is going to be a must. The Frame platform will offer to our truck customers the choice between a BEV and a new solution. On one hand, our BEV with full capability with a best-in-class range up to 500 miles. On the other hand, a new solution, which is going to break the paradigm. We call it REPB for Range Electric Paradigm Breaker. And we consider it as a unique selling point, which will make the difference versus competition.
So we have decided to keep it confidential today. More will come in an appropriate timing. Just want to tell you that with this new solution, we will answer to the customer range anxiety, with a specific customer usage expected by such vehicles. In particular, in towing conditions, we will get the benefit of an electrified vehicle without range anxiety, with a range at the level of a traditional powertrain, with no compromise on the key characteristics being payload, cargo volume.
Again, our customer will have a power of choice, a full BEV of this unique REPB offer. Finally, yet importantly, thanks to our 14 brands portfolio and worldwide footprint, we'll have for each platform the critical volumes to ensure purchasing and manufacturing efficiency. Each platform will be, at a point of time, up to 2 million units per year. This will guarantee our critical size for optimized investment and competitive unit cost. This is a key success factor for our value optimization.
Thank you. Thank you, Patrice and Ralph. Any questions so far? Well, don't forget, there's a Q&A at the end. So note them now, and we'll deal with them later. Four platforms built around our energy density batteries that provide infinite variations.
It's not one size fits all. But it's maximum commonality, maximum differentiation to cover the profit pools from small cars to big trucks. But what about the software? What are the critical factors in mastering the power of software? Please welcome, Yves Bonnefont. Thank you, Paul. EV is all about energy efficiency, charging and integration in the ecosystem. Software will help on 3 fronts.
The inverter, we drive traction control and regenerative braking, so fundamental to the energy efficiency. The battery management system for charging and for the lifetime of the battery. And of course, the smart cockpit and remote operation to integrate the vehicle in its ecosystem.
On the inverter and the BMS, we have in-sourced the development of software. On the smart cockpit and connectivity, we have announced a joint venture with Foxconn to leverage their capabilities in terms of consumer electronics and connectivity in the mobile Internet. With this increased control on the software value chain, we will be able to deliver over-the-year updates on a frequent basis to our vehicle. OTA is at the core of our software strategy. This software strategy is based on 3 components: the design of fluid customer experience. This is a customer-driven strategy, not a techno-push strategy.
Second, data. We want to leverage the 12 million active connected vehicle Stellantis has on the road. We want to leverage them in order to understand how customers use our vehicles, how they use our features to provide the data needed for the development of our artificial intelligence-based features; and also, of course, to share data with third parties and create new services to integrate the vehicle in its ecosystem. Third, thanks to the over-the-air update strategy, we will continuously improve and upgrade the experience of our customers by delivering updates over the air, and we're targeting more than 15 million updates by 2023.
So you see, the software strategy is fully there to support the EV strategy of Stellantis. Thank you very much, Paul, and thanks to all of you. Thank you, Yves.
And now let's dive deeper under the hood and look at the powertrains, the drive units, the EDMs. Please welcome, Micky Bly. Thank you, Paul.
Now let's take a look at our drive units and how they will play a fundamental role in our electrification strategy, putting us in the front row in our race to innovate and improve the way our societies move. As was the case with our platforms, we've developed a comprehensive strategy also for electric powertrains centered around flexibility and modularity. This will lead to Stellantis' third generation of technology that is focused on providing a scalable design that is compact and with a high level of reuse. Our optimized, integrated 3-in-1 drive module assembly is scalable from 70 kilowatts all the way up to 330 kilowatts. The design has also been optimized to allow for flexibility in the drivelines to include a front-wheel drive option, rear-wheel drive option, all-wheel drive and of course, our patented, 4xe. Stellantis will utilize 3 different electric drive modules so that we can go all the way from the STLA Small up to the STLA Frame platform, covering all of our vehicles worldwide and sharing a high level of commonality and optimizing the overall cost with efficiency.
A very important part of our strategy is to develop 1 power inverter for all 3 EDMs with scalable technology, a common microprocessor and in-house proprietary controls and software. It is based again on a specific approach to optimize costs, reduce complexity and improve our development efficiency for faster market. This inverter will run at both 400 and 800 volts and has phased current capability from 350 to 750 amps to deliver up to 350 kilowatts of power.
The heart of this inverter is the power device. We will employ a selectable power device that is either silicon-based or silicon carbide-based, the most advanced wideband gap semiconductors that are better suited to efficiently handling the electric loads, switching rates and other performance capabilities to best control energy consumption on the vehicle. This degree of interchangeability and flexibility allows us to go from very cost-effective to extreme high-performance vehicles.
Underneath all of this hardware will be our Stellantis in-house control and software, with brand-unique calibrations to capture the essence and the nature of each brand, as we said at the beginning. With these 3 EDM families, we now have a complete solution for every 1 of our platforms worldwide, all of our brands, a solution that's focused on performance and cost, ensuring the highest level of flexibility and efficiency. And we will use our global manufacturing footprint to produce drive units locally. Europe will be supplied by NPe, our joint venture with Nidec.
In North America and China, production will be a combination of inside of our Stellantis manufacturing plants and with our strategic partners. As you've seen, we have adopted an uncompromised, customer-centric approach and development of our electric drive modules, which will allow us to meet all the customer expectations at the best level performance, and all of this in the most affordable and cost-effective way. And now I will hand it back to Paul. A 3-family solution that's focused on performance, ensuring the highest level of flexibility and efficiency. Thank you, Micky. Obviously, at the heart of customers' concerns for the electric vehicle is the battery.
Can you make it last longer, please? And maybe the central question is, what can Stellantis offer that the others can't? Please welcome Jean Personnaz. Hi, Paul. Hi, everyone. To serve all its customers, Stellantis is developing, from 2024, a dual chemistry strategy based on 2 different operating points with a high level of synergies in between, nickel, cobalt free on one hand, without any raw material concern, offering a low and stable cost, 20% lower than the nickel based with, nevertheless, optimizing energy density between 400 and 500 water per liter at cell level, enhanced with the cell-to-pack installation. Nickel based, on the other hand, with the high gas energy density between 600 and 700 water per liter at cell level, one unique module-based design for all our platforms and further improvement by 2026 with the cell-to-pack installation.
Those 2 chemistries are several points in common, same process, similar and active material, separator, electrolyte, aluminum foils, copper foils. And from 2026, we will use the same cell-to-pack installation by design, where we'll be able to be upgraded depending on our customer needs, cost reduction, energy density improvement or charging speed increase. And 2026 will be also the time to introduce the first competitive solid-state battery by reusing our industrial assets. I mean most of the sales manufacturing equipment pack assembly line because we have considered the solid state in our decisions from the beginning. We work on each and every items on vertical integration from the pack down to the cells to get all the benefits from the chemistry active materials that are so useful and precious. Our partnership with Total/Saft, the JV ACC, automotive sales company, and sustainable businesses with the most competitive sales supplier allow us to save more than 40% cost in 2024 versus 2020 at module level, module simplification, cell size increase and chemistry upgrade.
On the battery pack, Stellantis is using its knowledge in mass production to propose a very simple 1-layer concept deployed on all our new platforms from 2024, with more than 40% saving compared to 2020. And last but not least, the battery management system features have been designed using our experience in complex system to maximize the useful energy in real life, pushing the depth of discharge limits while controlling the hedging, enhancing the voltage measurement accuracy and cell-balancing strategy. Thanks to that, for a given embedded energy that we buy, we increase the usable energy by 4%. We are competitors.
And as competitors, we need to know where the others are, where they will be in the coming years versus our own position as far as energy density and costs are concerned. We precisely know the current situation. And following the announcement, the suppliers on maps they are working with, it is possible to quite well forecast where the major competitors will be, and so where we'll be the head of the race in 2024 and 2026.
Based on all the improvements we are currently implementing on our dual-chemistry strategy towards 2024, energy density increase for the nickel cobalt-free chemistry, cost reduction for the nickel-based chemistry, we expect to be ahead of the race in 2024. For 2026, we will adopt the same cell-to-pack installation without modules anymore for the 2 chemistries and further improve by 15% the chemistry, energy density itself to stay ahead of this race. On top of that, the introduction of the first competitive solid-state battery in 2026 will bring a decisive advantage. So the plan is defined with our partners.
This is now all about execution, and you know, with Stellantis' execution, this is our passion. Thank you, Jean. Execution is our passion, I love to hear that. Thank you, Paul. So what is key here is thanks to an aggressive innovation policy and dual-chemical battery strategy, we will be a frontrunner by 2024.
And with solid state and a powerful software strategy, we will lead the market. But if we want to deliver on sustainability promises, we have to have a comprehensive and in-depth strategy for another major factor, which is charging times and availability and battery life cycle. So let's talk ecosystems that really serve sustainability.
And to give us an overview of the subject, please welcome, Alexandre Guignard. Hi, Paul. What we want to share with you now is how we take care of our customers with our global ecosystem management to remove any worries and do it in a sustainable way. The first concern is the charging. We want to make it easy with the best customer experiences, easy private charging, easy public charging for B2C and for B2B usages. The second question is the battery life cycle.
We want to manage the whole battery life cycle in a full circular economy strategy. It means a battery life span for automotive use. It means the second life of the batteries, and at the end, recycling. And last but not the least, in our quality, we want to guarantee the availability of our EV products for our customers. It means securing the batteries and the raw material supply. So let's sit together how we're going to manage those priorities.
Thank you, Alexandre, and we'll see you later to talk about battery reuse. Thank you. So one of the major concerns we have mentioned for our customers is charging. So here to tell us about charging services, please welcome Brigitte Courtehoux.
- Hi, Brigitte. - Hi, Paul. How are you? - I'm good. How are you? - Good. Thanks. So I think we're going to have to start with the main pain point for customers.
I realized that during this transition phase, things are changing very quickly. But still, the main - or one of the main pain points for customers is charging. So how does Stellantis hope to tackle this issue? You know, Paul, that we are developing a strong strategy to support our customers. We are here for our customers. So we offer a 360-degrees offer for both our private and B2B customers.
So it's an end-to-end customer providing wallbox, installation, charging stations. And on top of that, we provide a day-to-day smart charging offer, which is a bundle. As a customer, when you want to buy an EV car, you also have a bundle of wallbox, the installation, the home green energy and the charging solution when you're out of home. And it's a peace of mind for the customer. But is this something that you buy as a bundle? Or can you customize it? Can you change things? In fact, we customize some of our solution.
For instance, when our customers need us to tailor-made some solution, we are there for them. So we partnership with third parties. For the example, we have done one partnership between Jeep and Electrify America with solar-charging station in America. I saw that. It's very impressive.
Cars are coming through with solar charging. - Yes. It's wonderful. - Yes. So I'm thinking about the future because I can see that you're answering customer needs for today, but what kind of new technologies are coming up that are going to answer future needs? Yes. We want to be at the cutting edge of the future of the smart grid. So we innovate in the GI technology. Why? In order to really well integrate EV cars into the smart grid. So we already have a pilot in Italy.
We are also doing agreements, and we have done agreements with big B2B customers in order to start by 2022, in the field, those kind of solution. But more than that, we also intend to launch the largest fast-charging network in South Europe first, and we will deploy the rest of Europe after. And what do we do? In fact, we are partnering with NGOPS. NGOPS is one of our big partner. So as Free2Move eSolution, we design, produce and deliver the fast charging, and NGOPS will develop the network and invest in the network.
This is new. And this is also - on top of that, we also - with those fast-charging stations, it's new, so world premiere. This is with storage energy, and it's plugged with the grid. So smart grid will be there also. I think there can be a lot of people very interested in that. But it's in Southern Europe, right? So that's where it's going to start.
So what's the strategy for geographical development after that? All our solutions. So we have started all our solution, our 360-degree solution in Europe. And we intend to launch in Americas, in North America first and in Latin America. Great. Well, thank you very much, Brigitte. Thank you, Paul. So we're now going to move on to another subject, take a quick dive into something that I think people haven't thought enough about, which is battery reuse and battery repair.
So please welcome, Alexandre Guignard. Let's see now the battery life cycle. Our strategy is to manage a sustainable battery life cycle within a global secular economy strategy. Our first concern is to ensure the customer satisfaction. The battery must last as long as the vehicle life span and beyond the guarantee period. And to do that, we are able to monitor, by software management, the state of health of a battery, and if necessary, to provide unique services to our customer to maintain the performance above 70%.
Thanks to the e-repair center in each and every country where we operate, 21 centers up and running by end of the year, including Japan and Korea. And for deeper or longer operation, what we call remanufacturing, we have the battery expertise center. The first one is operating in Rüsselsheim, it's scalable and reputable.
Then when the battery level of performances is not sufficient anymore for vehicle usage, the battery can be reused for a second life, our energy storage capacity. Our JV, Free2Move eSolution is a dedicated entity to commercialize different kinds of products based on second life as key mobility charging station or third-party storage in some buildings and condominium. The repurposing is integrated in our battery expertise centers. And ultimately, once batteries are no more suitable anymore for automotive or for second life, they are recycled with qualified partners. But with the volume growth, on the battery per year today, 5,000 by '24 and above 500,000 by 2045 for Europe only, and with a new recycling technology for raw material extraction between 90% to 99% recycling of different raw materials, we are going to integrate the recycling through a new partnership in our Stellantis footprint in Europe, then in North America. The extracted raw materials will be used to remanufacture new batteries and close the loop of battery life cycle and reduce deeply the cost, logistic, prioritization of raw materials.
That battery life-cycle management is the core of our circular economic business model and contributes to the sustainability of our EV products. Thank you very much, Alexandre. So now we're going to see how that remanufacturing works out in practice at the battery expertise center in Rüsselsheim.
So thank you, Alexandre, and thank you, Rüsselsheim, the research center there. As Alexandre mentioned, mastering the battery life cycle is also about supply chain continuity and access to raw materials. So please welcome, Michelle Wen. - Hi, Michelle. - Hi, Paul.
So the first question is really about your strategy in terms of - from a purchasing standpoint in terms of securing battery availability in order to meet your customers' demands. Well, I propose that we first have a look at the medium-term horizon. From a purchasing strategy standpoint, Stellantis is applying a multi-sourcing strategy at platform and module technology level. By doing so, we are making sure that we guarantee the best competitiveness and the total landed cost and the higher agility to react to the flexible customer demands. In 2025, we will contract a minimum 130-gigawatt hour, of which 80-gigawatt hour for European needs through our ACC joint ventures, investments in Douvrin, SOP plant in 2023; and in Kaiserslautern, SOP plant in 2025; as well as thanks to our best Asian battery partners such as CATL, BYD, SVOLT, Samsung and LG.
In North America, we will secure 50-gigawatt hour in partnership with a major battery partner, with whom we are in final step of contracting. And so in total of 3 gigafactories established in Europe and North America. So moving forward, what would be your outlook for 2030? Well, now looking into 2030, our customer demand will represent a minimum 20x more gigawatt hour compared to 2021.
Our strategic direction is to secure a minimum of 260-gigawatt hour of capacities. This means that in 2030, in North America, a minimum of 90-gigawatt hour available capacities through the continuation of our partnership, which we have already established in 2025, and also potentially a second partnership, including the possibility of establishing an ACC plant in North America. And in Europe, a minimum of 170 gigawatt hour available capacities through extended collaboration with ACC, minimum 50% of our needs targeted in 2030 to be expanded by increasing size of production blocks and by establishing a new plant, for example, in Italy, and on top of the existing 2 giga factories, Douvrin and Kaiserslautern, which will already be operating in 2025; and the sourcing partnerships with our best Asian suppliers, including localizing their production in Europe. So at the end of the day, this means a minimum of 5 giga factories established in Europe and in North America.
So you can see that we have a clear strategic direction for 2025. And for 2030, we could summarize in 1 slide. I love it when we summarize everything all on 1 slide because you can see in one glance, a very clear road map for the future. So thank you, Michelle.
But what about the raw materials that are used to manufacture the high-voltage batteries, which is another key issue? What's your strategy to secure them? You are right. We don't just stop there. Not only we are guaranteeing our customer demands, growth through capacity investment, but we are also securing at our raw material availability and sustainability. In particular, we have identified lithium as the most critical raw material with regards to availability, and we have taken 2 upstream value trend initiatives by signing 2 MOUs for new direct offtake of lithium with lithium geothermal partners in North America and in Europe. And indeed, our tier 1 battery suppli
2021-07-23 02:45
Show Video
Other news