NEW 2022 CUPRA Born Review: UK FIRST!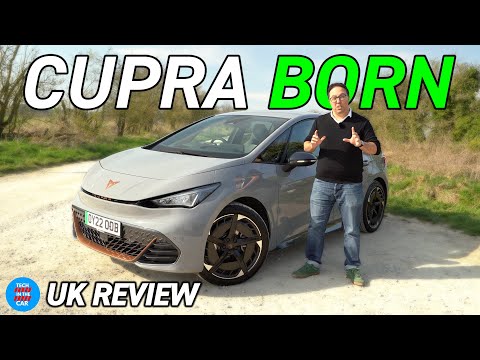 Show Video
Welcome to Tech in the car I am Oliver  and this is the all-electric CUPRA Born!   I have to start off by saying a big thank you to  Marshall SEAT and CUPRA here in oxford for lending   me this car so there haven't been any videos of  this car in the uk yet so this is one of the first   so in this video i'm going to show you  around it but first of all let's start   talking about this car what it means what it's  about and what is CUPRA so i've done videos   on the cooper for mentor and on other CUPRA cars  as well on this channel please check them out but   this is say that's first all-electric car and this  car is based off the meb platform that volkswagen   group uses same as the ID.3 and this is indeed the  ID.3 sportier cousin it takes everything that vw   put into the id3 and makes it even better this  has got more power depending on the trim and it   goes even further this color vapor gray this is a  free color there are six color options including a   really beautiful metallic blue called aurora blue  which is a premium metallic the one thing that you   get with all CUPRAs is you get these beautiful  copper accents and I love them you got the CUPRA   logo here and then you've got the copper accents  down the front here of the bumper which just makes   it really really stand out you've got a lower nose  than the ied3 and it comes together with these   triangular headlights which actually light up when  you come over to the car when you turn it on and   they look fantastic at the night as well a little  details in the headlamps as well including little   triangles there which also light up and we've got  a much shorter bonnet there's no front on this car   but you do have access to fluids that you need  to top up if you open up this which would do in a   little bit in terms of shape and overall size and  dimensions is very very similar to the id3 and as   you look around it you will see those similarities  happen let's talk about batteries with a 58   kilowatt hour battery you get around 264 miles of  range you get 204 ps or around 200 horsepower and   you can do 0 to 62 in 7.3 seconds if you go up to  the 77 kilowatt hour battery then you can also get   230 horsepower with the e-boost mode and that will  give you up to 330 miles range which is a really   good range and then there's a middle as well you  can still get the 58 kilowatt hour battery however   this time you can get horsepower and this can do  zero to 62 in 6.6 seconds so the fast is out of  
all of them but it hasn't got as much power it  doesn't have quite as much range as the top 77   kilowatt hour with the e-boost this car has it on  the road price of 33 735 pounds for the v1 trim   with a 58 kilowatt hour battery and 204 horsepower  which like i said does about 260 miles range up to   about 44 000 pounds for the v3 top spec this is a  v3 as well which has as i mentioned 230 horsepower   and a range of 330 miles let's talk options  there's two options with the tech pack there's an   m and an l with the m you get keyless entry  wireless charging and vehicle 2x and then with   the l you also get automatic parking which is very  handy you can press a button in the car or park   itself and they both include something called car  2x which lets your car communicate with other cars   and it will be able to share information such  as traffic and also communicate with traffic   lights potentially when the technology comes so  it's quite foolproof of that and also that is   available on the id3 so that's something the range  of electric cars can talk to each other with and   it's a clever clever idea you also have the option  of dynamica inside we'll look at the inside of the   middle but that's basically alcantara suede finish  and you've got two options you've got a gray or   a blue color option and then you also got the  ability to add the dcc the dcc being the dynamic   chassis control which changes how the suspension  handles depending on the button that you press so   if you want to be firmer it'll be firmer if you  want to be soft it'll be softer and there are   different mode buttons that's about seven hundred  pounds the tech pack m is about seven hundred   pounds back l is about nine hundred pounds we also  have the option of beats audio which is a nine   speaker system with 325 watts of power and then  maybe the most useful feature for an electric car   a heat pump which is about a 900 pound option and  heat pumps are really good because they take the   air from the outside and they basically turn it  into colder or warmer air depending on what's   needed which means they don't need to use the  battery as much and it means you save efficiency   and you save range heat pumps are really really  good and i would recommend it if you buy an ev if   it's an option because it helps future-proof the  car and it makes it more efficient as well let's   talk about the side design so i think the best  place to start is probably with these wheels this   car has 20 inch wheels there are choices of 18 19  and 20 inch wheels there are five different wheel   choices in the uk these are some of the sportier  looking wheels these are similar to the wheels i   had on my cooper leon 310 estate if you watch that  video and they're really cool wheels there's also   the option to get copper accents on these wheels  so it's a really cool wheel design i love it   probably cupra have the best alloy wheel designs  along with genesis check out my videos on the   genesis cars i really like the aloe wheel designs  are all really really good and very striking   down the side here this is very much similar to  the id3 you've got the same front quarter here   which is quite large and unusual we got black  mirrors and then we've got some interesting   things down the side here this side skirt at the  bottom sort of kinks in at the front and at the   back in a very aerodynamic way that makes it look  very very sporty and then at the back here we've   got this matte and glossy checkered kind of design  which makes the roof look a bit like it's floating   and which is a very nice design detail it brings  up this area which otherwise might just be a bit   plasticky to make it look like a design feature  which is very clever then we've got sort of   wheel arches here which come out quite a bit very  reminiscent of the id3 of course built on the same   platform and they come around here to these cooper  wraparound rear lights we have a little spoiler   here which comes down and the rear window is quite  small similar to id3 there's plenty of visibility   for the rear of the cooper ball we've got this  fantastic design it continues into the back we've   got this light bar which is a sign of electric  car which i love a light bar they look amazing   we've got the cooper logo with this carbon  fiber background we've got the cooper logan   these beautiful copper accents which i really  love we've got an interesting design down the   side here and then we've got this diffuser which  is body colored which looks really really good   it's really really cohesive design which i really  really like let's have a look at space in the rear   so we got 385 liters of space at the back of the  cooper born we've got plenty of tether points and   hooks where you can attach stuff to this has got  folding 60 40 seats and we've got a pass-through   as well i can't put the seats down unfortunately  from here but i can do it from the inside we've   got a lip here which is there and we've got  some sort of protection on the inside here   we also can have the option of a  12-volt socket as well so you can charge   at the back let's put these seats down so  just you can see the space going through and there we go you can see now in its split mode  and also with the seats fully down so it's not   quite level but there's lots of space here to fit  lots of luggage in the back so 385 liters here and   then we got the extra storage space in front of  it as well so a very practical spacious stylish   comfortable ev with little handles here that you  can use to pull down and close it so you don't   get your hand dirty in the winter i've partnered  with exchange my car to give you a great deal on   your car you can get a price for your car or part  exchange with exchange my car which is the smart   way to sell your car with exchange by car they  will give you the price that you were quoted   as long as you're accurate in your description  they'll arrange for somebody to come and collect   it on a truck and they will pay you before you let  them leave with a car you'll get the money first   plus you can pass exchange if you want to  against over 80 000 cars from reputable dealers   and they will even settle your finance for you and  if you have a van you can also trade it in or sell   it to exchangemycar.com cooper is a lifestyle  and sports brand with a passion for racing you   can see that with this design this is designed in  barcelona it has that CUPRA flair spanish flair   and it's built in germany just like all the other  vw cars are on this range on the meb platform   so you've got that german build quality and you've  got that fantastic passion the powertrain on the   cooper reborn uses a 16 000 rpm fully synchronous  magnetic motor which is rear-wheel drive across a   single speed gearbox and that goes through a  rear differential which makes it very very sporty   to drive and of course as i mentioned already  it's got wider wheels in the id3 which again   adds to that sporty feel along with the design  the CUPRA born uses a water cooled lithium-ion   battery which is located low down in the car  to add to that stability and give it a sporty   dynamic driving style now we talked about  the battery powers but let's talk about the   charging this car can do 135 kilowatt fast  charging which means seven minutes can add   62 miles of range to this car and you go from five  percent to 80 in about 35 minutes if you have a 77   kilowatt hour battery option what about rear space  in the back of the cooper board so the first thing   these doors open very very wide so that's great  if you're trying to get in and out of the car   i'm about 178 and i've got quite a lot of space  above my head here this is very spacious it's   quite upright in the back like the ied3 we've got  this beautiful dynamic alcantara suede finish on   these seats at the back the interior of this  car is all recycled materials we've got suede   alcantara plastics all feel really really nice and  it's also delivered to the dealer with net carbon   zero emissions which is great to know as well in  terms of space here we've got these sport seats at   the front these bucket seats which i love which  look amazing which we'll look at in a minute at   the front they do have pockets here we have two  usb type cs down here to charge your phone we've   got no climate control on the back we have a large  enough rear pocket in the rear door to put a small   bottle in and then we've got a pull down center  console with two cup holders and this is a split   way so you can pull down the middle here with  this pass-through and put stuff through from the   back and like i said it's 60 40 split folding  rear seats as well so it's very very spacious   at the back if you have the option to go for  the glass roof i would recommend it i think   glass roofs add a lot to cars and make them  feel more spacious and just nicer to be in   and that is the only thing if you have that choice  as an option not available now but if it becomes a   choice to add that then i would certainly do that  let's talk about the interior of the cooper board   now i think one thing that cooper do really really  well is interiors it is super super modern and   fashionable and sporty inside this car from the  beautiful steering wheel which is flat bottomed   which has got perforated leather which has got the  copper cooper logo which i love and then of course   we've got our capacitive touch buttons on the  steering wheel some people have issues with them   they work well ferraris have them so you know i'll  survive if you'll be fine we've got our little   five inch display here which gives us our driving  information our lane assists what gear we're in   and then we've got our gear selector which just  like the id3 is on the side of the center display   and for the drivers and you turn it to go into  reverse into neutral into the regen braking mode   and then press a button at the end to go into park  very simple to use and we also head up to display   in front of me which i really really like which  actually even shows you when you're drifting out   of lane by highlighting the lane on the road using  the augmented reality head-up display which is   very very clever we've got a 12-inch infotainment  system on the vw i3 it's 10 inches so this is two   inches bigger it's based off the same software  it's fine it does what you want you can very   easily see what's going on you can go through  the modes i personally would use android auto   and apple carplay and use google maps it works  brilliantly like that having a nice big screen   is awesome to adjust climate there are climate  controls on the bottom and you can run your finger   up and down to turn them on the side and then  volumes in the middle so nice and easy to use   these are not backlit at night which is the only  advantage but you can use the buttons at the top   which are on the screen to adjust the climate  yes unlike what you may have been told by others   there is a button at the top which lets you  turn the climate control on and off we've   got these widgets in front of us so this takes us  straight through the navigation straight through   to the media and i can swipe up between radio and  then our media here and likewise i can go between   here and i can see our recent destinations  this will show me any phone calls i've made   when the ignition is on which is now i  can see our cooper drive modes as well   see our air conditioning and we've got our  tutorial as well and i can go between the   air conditioning like this so i don't need  to use these slidey buttons at the bottom   here which not everybody likes i can just  do it like this and then we've got our car   controls here this takes us to our car settings  we have driver assist drive profile e-manager   background lighting and settings and i love that  you can see your driving assistance features here   it's an amazing idea but you can do it on  the screen we've got a glove box here which   is actually quite a small glove box interesting  design here we've got space for our connector   down here and a small bit of storage there we've  got these beautiful dynamic alcantara seats with   the little triangle details in them which look  fantastic and you can actually feel them as well   and these are beautiful bucket seats i really  really like these bucket seats i you know all   seats should be like these they're beautiful they  also have a massage function on this the v3 trim   so i was having a massage we're sitting in this  car driving over here and then we've got two cup   holders we've got a little door here which i  can pull down to cover up that area we've got   a space for your phone here which can be optioned  as wireless charging we've got a cubby which goes   a long way down with two usb type-c chargers and  you know it's just a very very comfortable place   to be we've got enough space with big bottles  of water down the side of doors here it's got a   very raked windscreen so it feels like you're very  far away from the front of the car but because a   bonnet drops down very quickly you're not so it's  an interesting design choice in terms of materials   we've got alcantara here i mean that feels really  really nice interesting plastic design here feels   really really soft but also has perforated design  we've got these cooper style triangles here of   course there as well it just it feels very very  nice we got our of course ambient lighting inside   here as well it's a much higher quality feel and  more sporty than you get in the id3 in my opinion   it works the same way have when you get in there's  a sensor in the seat it knows you're sitting down   and then it turns the car on and then you  just put it into gear and go it's really   really nice interior i like it a lot and it is  definitely a more sporty feeling car than the ied3   right now based on my exterior interior this is a  better car and i would recommend it over the id3   in terms of price they are very similarly  priced but uh i think this is just a step   up and it's better all around in my opinion in  the cooper born so this is the 204 horsepower   car with around 264 miles of range you can do zero  to 60 in about 7.3 seconds with a 58 kilowatt hour   battery and this is the v3 trim so it means  it's got the massage seats it's got the wireless   charger and it's got lots of other cool bits as  well with the tech pack too so there's lots of   technology in this car how is it to drive well  this is as i mentioned a rear wheel drive ev   just like the ied3 and just like the ied3 it's got  a 16 000 rpm fully synchronous rear motor driven   through the one speed gearbox and there is a rear  differential to make it more sporty now let's try   out range mode first so this is range mode i'm  going along i'm accelerating fine it's comfortable   nice and relaxing to drive in this this mode  is designed to maximize my range or he gets   close to that 260 miles as i can do if i go into  comfort mode i can definitely feel the suspension   getting a bit softer there's a bit more it just  feels more relaxing to drive in comfort mode   now if we go into performance mode i immediately  can feel that acceleration if i put my foot down   i can accelerate and it definitely feels a lot  more fun in the corners there's a bit of a kick   out at the back you can kind of feel the back  moving which is obviously what you want from   a rear-wheel drive car although you know you're  not going to be wanting for any grip in this car   there we go that's a lot of fun going through that  corner there we've got the acceleration we've got   the power we've got the different modes in terms  of actual driving the steering wheel fantastic   i love the steering wheel i love the CUPRA  steering wheels they're really really really good   don't forget this starts at around 33 000 and  seven hundred pounds and so i think it's really   good value we've got our head up display with  the augmented reality now one other cool thing is   even though i'm running android auto on here right  now it is showing me my directions on the head-up   display and in the main driver display this is  quite unusual it's not giving me the augmented   reality directions which i need to use a built-in  system for but it is showing me directions on here   which is very very unusual and it's good the car  manufacturers doing this obviously with wireless   android auto and carplay this car has got the  latest tick too as i drive along over bumps   in the road speed bumps i don't feel a lot of  shaking i feel quite stable i'm slowing down now   and you know just very very comfortable i've got  really good visibility out the front window here   because it's very wide window and like i mentioned  even though the window is quite large quite long   i feel like i'm the pilot in the airplane i  know that exactly where the front of the car   is because it is a small bonnet and it's not got  a long way to go down there so that's pretty great   to know that you have that reassurance with that  if we're talking about the driver assistance   features i've now turned on the adapter cruise  control and the lane assist and i'm setting my   speed for 30 miles an hour and i'm getting the  information in that display in the middle and   also on the head-up display telling me still tell  me where i'm going still giving my directions also   telling me where i am on the road in terms of the  adaptive cruise control i can see it in the head   up display to the distance to the car in front  and my speed so very straightforward and easy   to understand i think having a car which kind  of shrinks around you and makes you feel very   confident in its capabilities you know where  it is on the road you know when you turn the   steering wheel i mean the steering is pretty  precise as well you know that is going to go   where you want it is a really beneficial thing  to do and then we haven't talked about the camera   we've got a great reversing camera nice clear easy  to see what's going if you option the tech pack   l then you get your reverse assistant as well and  you get an even better camera system so there's a   lot to like and what about these seats these seats  not only do they look good but they're incredibly   comfortable i've got my ability to control them  and get them exactly how i want because they're   12 way adjustable with a massage function so  i can turn the massage function on now i'll do   that i tried it earlier and it is a really quite  strong massage function you really really feel it   that's great to have that functionality when  you're driving also be good if you're charging   the car you can give yourself a massage while  you're sitting there at the charger not that it   will take very long because we know this car  can add about 60 miles in about 10 minutes   seven minutes something like that so it charges  pretty quickly if as long as it's 135 kilowatt   fast charger and if you're on the 77 kilowatts  our battery which gives you the faster charging   as well and the question might come up how does  this compare to a tesla so i've driven in a lot   of evs you can see them on my channel i've  been in ev trucks i've been in luxury saloons   and the range on the top 77 kilowatt hour battery  of over 330 miles is very very good it's more than   most people will ever need in all honesty and  then you can charge the car fast as well i think   that as an all-round package this is a really  really good car i'm here at marshall CUPRA in   oxford where they have CUPRA and there is seya and  this is one of the first cooper dealers in the uk   and it's very unique and it's special  there's a lot of cool things going on here   we obviously have two CUPRAs here we have a  layout estate here behind me or behind the   camera is a born and then in this corner of the  room we have the CUPRA wall with the CUPRA logo   and we've got a really nice relaxed vibe in  this dealership so i really appreciate them   lending me a board for me to do a video today  please come and check them out if you're after one   as well they're really friendly and  knowledgeable and it's a great place   to come what's my conclusion on the CUPRA born  well this is a fantastic ev it's more stylish   with better range and available in a more powerful  trim as well than other competitors like the vw   ied3 it's got a fantastic interior it's got all  the latest technology i really really like this   car you should definitely check one out please  give a visit to marshall say and CUPRA in oxford   who loaned me this car definitely give me a  like and subscribe for more and if you have   any questions let me know down below i also  have an infotainment video on this car coming   so check that out as well if you want to know  how that works thank you very much everyone!
2022-03-28 01:16
Show Video
Other news