Mua trước trả sau- Nguyễn Ảnh Cường, Co-founder, CEO tại FUNDIIN | Vietnam Innovators VN EP13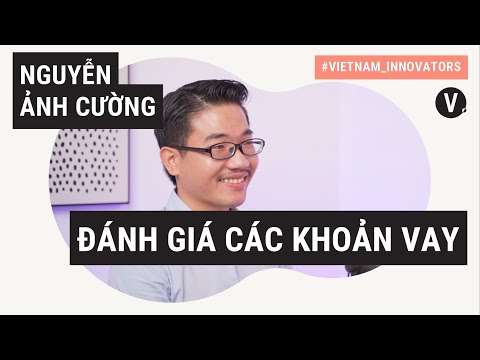 Show Video
Welcome back to today's episode Vietnam Innovators, Vietnamese edition. Today, we'll talk about a familiar and dear to our daily lives: It's about personal finance. And to talk about this, I have a very special guest. He's Nguyễn Ảnh Cường. Co-founder and CEO of Fundiin.
A startup with some remarkable successes in term of consumer finance. It's mean "tài chính tiêu dùng". And Fundiin is a company with an innovative, creative and unique operating model in Vietnam.
We'll hear more about Fundjin later on. First, welcome to our show. Thanks, Ruby. And hello to all viewers of Vietcetera. To know more about Fundiin and also you, can you give us a little more about the company that you started, as well as your founder's story.
The "câu chuyện sáng lập" of Fundiin, so that everyone can know. Agree. So, Fundiin is a technology company, providing smart consumer solutions, help customers shop but can pay after 3 interest-free payment periods. And immediately.
Through that, Fundiin also helps retail units, partner to increase sales by 30%. The reason I started Fundiin's foundation in the first place is because, back then, when I was an overseas student, I had a lot of revenue and expenditure managing problems. monthly costs, something like that. There was a time I went to the hospital. Hospital costs in the Australia are very expensive. It cost me about 300 dollars, that was my living expenses for the whole month.
I had huge financial pressure. Because I didn't want to ask my parents for money soon. That whole month, I survived only by eggs. Eggs every day. I was wondering, "Why is there no solution that can help consumers like me?" Can pay bills, shopping over time. Because next month, my salary will come, or some sort of income to pay it back.
That's the origin of Fundiin. And Fundiin was started in 201... Actually, I have started a company in a field of postpaid in mid 2017. But the Fundiin model started in early 2019. I remember in 2019, when I was working at Elsa, at Elsa, I met you, we talk about how to help Elsa's user who want to learn English but can afford the tuition, then they can use Fundiin's service.
At that time, Fundiin was just launched a product. And now, after 2 year, the product is ripe for the picking. And it seems like you have shifted from offering you product for education department in general... No, it's for education department only. Now it's for other shopping activities.
Can you share why you came up with those changes? Right from the start, actually, I really like education. And, I actually think education can change our lives, widen our knowledge. So the direction of Fundiin is how to do our best as well as how to support the education department. All the people that bought the English learning package, or training courses, they're quite actually progressive people, quite... - And demand? - And demand. Exactly.
So, they're the people that Fundiin should help. And the reason for shifting is actually involved COVID-19. Fundiin's first launch into the market was in December 2019. In early 2020, we ran into COVID, at that time, Fundiin offer... We worked almost 100% with training and education institutions. And then came COVID, all those institutions were shut down to avoid the pandemic.
That led to Fundiion's revenue returns to zero. The question is: What will Vietnamese's market be like in the next 1 or 2 years, being affected by pandemic? Fundiin determined that it was almost impossible to control the pandemic, in a stable way. Maybe it'll flare up again from time to time. So, the products and services that were provided offline, it'll be very risky for Fundiin to do that. So, base on that, we decided to shift from providing products for offline units to online. And we don't just limit Fundiin to education, we have to expand.
The most online transactions are fashion and cosmetics. That's why Fundiin shifted from offline education to fashion and cosmetics. Can you share about Fundiin's target consumer? And with that target group and the same products, Is there any direct competitor to Fundiin in the Vietnam market? If you say customers are the ones that pay for the existence of Fundiin, our customers are retail units. As for the customer, they are completely free.
Fundiin's target customer and target unit are fashion and cosmetic units. With the direction of developing online channel. As for customers, the type of customers who use Fundiin the most are the young people from 22 - 30 years old, max.
The shopping rate at Fundiin's online channel is currently 80%. These are the ones with smartphones and like online shopping. In that case, can I call Fundiin a fintech company? Is that definition correct? Fundiin is a cross between technology, finance, commerce and e-commerce. 4 factors.
Technology, finance, commerce... - E-commerce is a part of commerce. - Exactly. E-commerce is a part of commerce. Let's talk about all 3 factors, right? First, finance. Fundiin allows users to borrow money to buy now and pay later, mua hàng bây giờ và trả sau, in how many period? In term of products, Fundiin will assist customers to buy a certain product, or a certain service. And pay after 3 interest-free payment periods.
First period, customer will have to pay 1/3 out of the total to receive product an service. The remaining periods will be paid after one and two months. Completely free and interest free.
In addition, Fundiin's solution has certain benefits, in term of customer experience. First, it's the fastest, customer will get result in 5 seconds. and provided with a postpaid feature. Fundiin also doesn't require too much customer's information. we only need a photo of the ID card. Customers don't have to download the app, take a selfie or download any other data.
Financial security, right? So, in term of technology, What is the core technology so Fundiin can create a product that so easy to use and have good user experience for your customer? Technology is indeed our core. So, in order for a "buy now pay later" solution to succeed, It consists of two factors. Firstly, how can this solution can minimize the risks? Secondly, provided that the customer experience is the best. In other word, If the risk is high, the more you expand, the more you lose.
And, if the risk is low, but your experience requires a lot of information from customers, like downloading apps and taking selfies, no one will sign up, and you won't be able to expand. So to ensure two factors at the same time: low risk and requires little customer information. It is a difficult and complicated problem in the current Vietnamese market. So we have to apply the most advanced technology to solve that problem. Currently, in general, Fundiin is using AI and big data. Our goal is to how collect all information that can be collected.
To evaluate and categorize a transaction, a customer, see if they and the transaction are at risk. With high precision and it's get better over time. That's Fundiin's core. And the last factor, commerce and e-commerce. Can you describe more about the role of the Fundiin in this area? The value... The reason for Fundiin's source of income
to grow and survive will assist by providing last consumer convenience. Sales units and partners of Fundiin can increase sales by 30% The source of that increase in sales comes from from increasing conversions. That means from a customer who hasn't purchased a product. Now, with Fundiin's solution, maybe they will buy the first product.
To increase the average value of an order. For example, usually they only buy one unit. Now... Or they buy a cosmetic bottle of 100ml Now, they buy a 200ml bottle, double the amount but half the price.
That means they can save - and you can increase your value - Exactly. Fundiin is always oriented to create value for consumers and for Fundiin's partners There was a part when you talked about the business model, that was very interesting. There's one thing I'm curious to know: How... Beside building technology,
How Fundiin can manage its risk? Because, actually, I think This a model where you give the buyer a loan and then collect it. But you don't ask for much information, regarding income and bank accounts. For example, when I went to make a credit card, the card making process needs a lot of proving. However, with your financial loan product, users can still get a loan without proving anything. How can Fundiin control its risk financially? Yes, a very deep question about financial risk.
First, regarding Fundiin's operating model, Fundiin doesn't lend money to customers to buy a product, but on the contrary, we will buy that product and resell it to customers. That's the operating model. And in term of risk management, Fundinn's risk management system includes... many layers. In one of those layers, to control and manage risks, we have to restructure the product.
For example, it's easy to imagine, a cash loan product. The risk is very high. How should Fundiin restructure the product to ensure risk? First, the period will be short.
For example, a 12-24 months period will be riskier than 3-2 months period. And second, is the prepayment. The higher the prepayment, let's say, 50% prepayment wil be less risky than 30%. Right now, Fundiin's products... Customers are paying a third in advance, and paying within the next two months. That's restructure the product to ensure risks.
And another important thing, to use technology to manage risk, Fundiin must... Our main core is: With a limited source of customer data, customers don't need to provide too much information, we can accurately predict the rate... or categorize whether the transaction is trustworthy.
Do they buy as real person, or do they use bots to buy. And once you've made sure of that... Sometimes Funiin doesn't work at its best.
And the problem is how to continuously learn to reduce that risk over time. And I don't want to get technical about technology because I'm not the one handling the tech, Mr Võ Hoàng Nam, the CTO, will handle that. But the main idea is still using technology to minimize the risk.
Recently, I noticed that Fundiin has raised the A or pre A round fund. - Maybe just seed. - Seed. All right. Seed round came from Zone Startups Ventures and 982 Ventures. What made you decide to raise capital? And what's the plan after successfully raising capital? Actually Fundiin raised capital from Zone Startups Ventures and 1983 Ventures.
And also lucky to receive support from two angel investors in Vietnam with experiences like Doctorate Lawyer Lê Minh Phiếu, or Mr Trần Quốc Tuấn, the former CEO of Chứng Khoán Thiên Việt. And Nguyễn Thị Minh Thu Senior Investment Specialist of Mekong Capital. There are 2 reasons to raise capital. First, we realized that we were have achieved product market fit.
This means that Fundiins solutions and products have been achieved, firstly, with low risk, secondly, widely accepted by customers. We have now shifted from the phase of finding the right solution to the market, to the phase of expansion. With the expansion phase, Fundiin needs more capital. To expand more. Provide this utility to more consumers and partners. That's one of the reasons.
And secondly, We realized that to expand, we needed a lot of experience and support from our predecessors. That's why we're looking for more angel investors. They are people with a lot of experience. For example, Mr Lê Minh Phiếu will support us on how to adopt new technologies and models while still complying with current Vietnamese laws. So your fundraising is actually very smart. Because you don't just get the investment, but also strategic guidance and cooperation There are many talented and successful people in the field of finance and investment, and banking, right? - Exacly, I'm very happy about it. - So,
What's your ambition after raising capital? Actually, Fundiin and I don't have a big ambition. Our goal is how to solve each problem every day. New problems come out every day.
Had to sit back and deal with it. - The story of startup. - Yeah, the story of startup. There are small problems and big problems.
As long as we can continuously solve each problem every day. Then you can go a long way. Fundiin doesn't think too far. Just how to have enough motivation to wake up every day with a problem and like, "Okay, let's go. Let's do it." And solve it. There was a question you didn't answer.
Are there any current competitors to Fundiin? From the very beginning Fundiin has determined that we should only operate in the blue ocean. That means markets that no one has provided yet, or that they provide but are not yet focused on. So first, we... Actually, the postpaid solution is already very popular in Vietnam. Also known as installment.
For example, at Thế Giới Di Động or Điện Máy Xanh, up to 40% of customers use installment services to pay for shopping orders. However, except for the field of electronics and telephones, Fashion and cosmetics have no solutions to support consumers. That's what we're going to focus on. That means the segment where the total order value will be lower, right? Exactly.
Sometimes it's too small for banks. Sometimes it's too small for financial companies. And their system is not yet targeted to solve such small problems.
What Fundiin is also targeting are the types of customers who still don't have a credit card. For example, in Vietnam, Only 4-5% of the population has a credit card. the rest have needs too, they are consumers, and they want to consume smart, they want to pay later.
Actually, the current credit card is buy now pay later. We swipe the card and pay after 30-40 days. - Pay late and the interest rate will be high. - Exactly.
Even the bank's interest rate are high. And sometimes, for credit cards, there's still an annual fee if you don't use it Fundiin always hopes to... Once you've done it, you've got to do it better.
Because if it was a little better, no one would use it. If the customer doesn't use it, there will be no charge. When they use it, it'll also be free, as long as payment is on time. But if they're late, there will be a fine.
However, Fundiin... I have a financial contribution so I understand that the most dangerous thing is piled up interest. This means that interests are decreasing. - You mean increasing? - Yes. They keep multiplying. In general, after a while, it'ill become huge.
How to have a scheme so that customers are motivated to pay on time. That's the first thing. And second thing, how to make sure customers are not affected by this product.
So, how... We have to limit the increasing interest. Fundiin has a system that Whether the customer is 2-3 years or 10 years late, the total fine never exceed 25% of the order.
Wow. May I ask in reverse a little bit? With such a business model, where does Fundiin's sales come from and how profitable is it? Currently, nearly 100% of Fundiin's sales come from retail units. The reason they pay Fundiin, help Fundiin to survive, is because we help them increase sales. The money they pay us comes from the budget for marketing. That means, how much should marketing spend for 1 VND.
They will give us 1 VND, a part of that 1 VND, so we can increase sales for them, increase conversions and increase the average value of an order. That's Fundiin main income. We almost do not collect from customers.
Just a small amount of fine from late payment. And they're very happy about it. This is a very sophisticated business mod.el Because it has many layers.
If I'm not mistaken, it's like this: Fundiin will buy from merchants at a preferential price, then sell it back to consumers and allow them to pay in installments, the first installment is 30%. No consumer fees and interest except in case of late payment. But the hardest factor of this problem is risk management. To avoid too much debt evasion from consumers.
Back to the risk management. Back then, if I'm not mistaken, I heard you talked about used to let consumers buy motorbikes. Loan and... Buy now and pay later, in term of motorbikes. What makes that product no longer available? Earlier, you said that just want to focus on the group of small value transactions, right? What is small, by your definition? 6 million or less.
Motorbikes are definitely not 6 million. What happened to that product? You can say it's a big disappointment, for me and the company. At that time, I was actually just starting out.
After having some success in investing and work. With that streak of success, when I came out, I didn't think it through. Jumped into a very competitive field.
For example, there are many financial companies that have been providing pretty good solutions in that market. And, you can say that I was quite reckless to jump into that segment. And there are things that we...
Although we have researched, read through in-depth reports, but those figures do not represent the true nature of a business. We have to really do it to understand the problem. However, the problem Fundiin encountered was that I got scared too quickly, too soon, before achieving what I said earlier, product market fit. market fit, as well as whether the product is economically viable.
I expanded before I even knew it. Does that mean you let too many people buy motorbikes? Exactly. Fundiin expanded within a year and a half from mid-2017 to the end of 2018, having sold 1234 motorbikes. So many.
That leads to... At the moment I looked at the data and realize that it doesn't work.   It can be seen that it was a bit late. Late leads to failure, failure affects a lot. Almost lost all capital. Almost all available capital.
What happened? Do people buy motorbikes and then don't pay and avoid debt? Debt evasion also known as risk, that's the nature of this industry. The question is, is the risk high? And what to do to control that risk? Back then Fundiin operated with very little technology. And the operating model is not new and different from other competitors. And another thing, In terms of professional ethics and ethics of each individual in the company, myself included.
In this field, there should be a competitive advantage, in debt collection. This means that other partners will be willing to collect debts, forcefully. Fundiin can never do that. - Forcefully? - I was very restless, I can't have an employee come to that customers' homes to remind them to pay or something. While other opponents can be very rough. That's one of the reasons why I stopped supporting the purchase of motorbikes on installment.
I switched to less risky products. And use technology more to solve problems of reducing risk at the source. rather than providing easy support and then having to go to collect debts. And it seems like a big financial loss product. Can you reveal it or not? It's actually very big. Big here means percent.
The damage is... Before that, the money I earned, after the first failure, I lost about 50,000 USD. Yes. It was one of the most painful lessons I've ever experienced. So from that lesson, what makes you... That means you've lost all your initial capital, right? What helped you to keep getting up and get over that setback? Actually, I've lost...
Because before that, I had a lot of profit from investing in stocks. And I have succeeded repeatedly. And that capital, I lost everything I made a long time before that, it's my pride. I lost all of that.
Come to think of it, first, the lesson is When we are overconfident, it leads to a chain of wrong actions. So now, I'm always slow, studying, and wait until the data proves the product is reasonable at the right time and effective, and then expand. The reason... Some current investors asked, "Why are you guy moving so slow?" So you have to tell the $50,000 USD story for them to understand, right? So the reason I can stand up is... I think back...
I've talked to a few people who have had some success. They told me to calmly think about the reason I started in the first place. I remember when I resigned from the investment fund, an interesting and nice job, good salary. I told my boss, "This job is fun, it's no problem, I'm resigning because I want to create a valuable product for society." I see my influence upon millions of people. And I can see consumers using that product, they smile.
That's the happiest thing I can get. It's not about money. That's why I quit my job at the investment fund and started a business. And at the point of failure, I still think I have that desire, there's still the desire to create something left behind. So I got up, breathed, and thought where failure came from.
and how to deal with it. So that I can keep going. And, as I said, There are always problems to solve. Every time you solve a problem, the probability of success will increase over time. If I were a Fundiin investor right now, I would feel more confident.
If I knew you learned such a great lesson, I would invest in Fundiin. And learn a great lesson with your own money. - Exactly. - Not from a investor. That's what one of the angels told me. "I've been watching you for a long time, and I've known you for a long time.
Seeing you fail but keep on going down that road and solving problems one by one. Although it's very painful. Until you find the light at the end of the tunnel." They're willing to support. Do you feel like you see the light at the end of the tunnel now? It's lurking. It's a good sign, right? It's good to see the light.
Fundiin has been going through a dark time for a while. But it's all in the past now. And I really admire your courage. After having such big failures, still standing up and continuing to find new solutions. And it's important to learn from mistakes.
Maybe this you MBA's tuition. - The MBA school is unlikely to teach this. - Exactly. There are 2 sayings that I really like: What doesn't kill you makes you stronger, in a song. That's exactly what I felt.
And the second saying is in a movie about finance, The Big Short. It's about the financial crisis in 2007-2008. There's an interesting part in the beginning of the movie. It said: It ends, what you don't know that get you into trouble.
It's what you know for sure, that just ain't so. It means... Không phải những gì bạn không biết sẽ dẫn bạn đến sự rắc rối. Mà đó chính là những gì bạn nghĩ là đã biết chắc chắn rồi, nhưng thực tế nó không phải vậy.
The easiest to imagine is in investing in stocks. If you think you know for sure that stock will go up tomorrow, Your next action is to borrow many people. Ton invest in that stock. But if your certainty is not correct, the stock price falls, as if you from 1 VND you borrow 9 VND, You can lose all your money. Wow. That was a profound lesson. Thank you for sharing this story.
Congratulations for overcome those difficulties and can see the light at the end of the tunel. Now, let's talk about dreams. We already talked about the past. What's your dream for Fundiin? Beside solving big and small problems? Looking further, what is Fundiin's dream?   I often ask the question why my parents' previous lifestyle was so hard? For example, no movies, no concerts, no coffee shop or restaurant to eat. There are no experiences like ours. No social media to interact.
The present life, compared to the past, has many conveniences, many nice things. For example, if you need to eat, just order, food arrived in 30 minutes. So, the vision...
What we think about in the next 20 years, our children will ask the same question. It means, "How can my parent can live a life like that." There are so many problems like that.
So, with an interesting future like that, there will be so many innovative products, services, that can fix many of consumers' problems. Fundiin hopes to contribute a part to the solution so that consumers have a more comfortable life, easier life. Those are Fundiin's dreams. Especially in financial solution, consumer solution. Even closer, in the next 5 to 10 years.
We hope that our solution can... As soon as they step out of the checkout counter, all customers will use Fundiin's solution. At that time, maybe the postpaid method will be as easy as holding the card and touch the machine to buy. Wow. I think this dream... Maybe with the courage and talent of Fundiin, it will be realized within the next 5-10 years. But, may I ask a twisted question? I really like this service.
However, it will have some equilibrium. For example, if it is a little more than that, it's an effect for people to consume too much. So, look at the big picture.
Surely not to that extent now. But in the big picture, how to provide a service to make our customers' life better, but don't encourage them to become addicted to excessive consumption, or follow excessive consumption. Actually, it's important to have the right goals.
Fundiin's goal is how to help customers have a better life. If consumption doesn't make their lives better, we will have to have solutions. Because it's already our goal.
Our goal is not for customers to shop more. - It's not that the more you buy, the better. - Yes. It's not that the more you buy, the better, More importantly, are they happy to use it? So, just like taking medicine. Medicine is good, but overdose has side affects.
Fundiin , with the hope that this solution is definitely providing value now. But when consumers show signs of overuse, Fundiin always have an intercept mechanism. For example, late payment, that's the sign of financially unstable. Fundiin wil intercept.
Minimize their shopping. Or, in term of education, Fundiin will have a thorough consultation mechanism in the future, more for consumers. Especially for Fundii, it's a little manual.
In case the customer fails to pay, just let us know so we can help. We don't call them every time they're late. That's what we think... The importing thing that our goal is help consumers have a better life.
Obviously, we will go on that path, there will be everyday problems to solve. A very good answer. I would like to ask a couple more question.
2 more. First question before we end the show. What keeps you up at night to find the solution to that problem? Actually, almost every night I worry. Is that right? It's not a problems, it's many problems.
As I said, startup is hard. Especially in a new field. New means we do everything differently. That leads to always things coming up It's like we fix one place, the other is broken.
Every night I have to toss and turn thinking. Not only night, every time I wake up, I think. I even think in my dreams. Another thing, when I travel with my family, I also think about it.
I think about it when I'm driving. It's not the only problem, there are many problems. It affects my life a lot. Only when... My personality is that I want to solve that problem, for a better future, to continue walking on that path. Because it's too painful.
It's too painful. Many people look at startup's overnight-success stories, story of successful capital raising, becomes this and that millionaire. Everyone thinks they want to be an entrepreneur, but after hearing your real stories, stories that give people a more realistic view, about starting a business, it's true that we need a passion for problem solving that never end. And pursue a mission much bigger than yourself. Must have patience, persistence, solve problems every day.
If you were tossing and turning, if you were given a superpower, what would you choose? - It's a very... - This is a fun question. I almost never think about it. If I had a superpower, I still remember when I was a kid, my house had a terrace, surrounded by lower houses, no lights. my family used to go up there to watch the stars at night. I always wonder what's on it.
And go to the end. - The sky? - Yeah, the stars. The end. If I keep going, is there a limit? And what's after it? It's a certain curiosity. I always...
I hope if I have superpower, I want to be able to fly at the speed of light to see what's out there. Wow. Maybe someday, who know? Maybe a few centuries later, we can fly at the speed of light. At least hopefully Elon Musk can do something. Okay. Thank you for sharing very openly.
And gave... I myself feel that I have learned interesting lessons on your startup journey. I wish you and Fundiin all the best. Thank you for coming to the show. Thank you for inviting me. And I'm also happy to share my stories.
You can listen to the full version of this Podcast at playlist Vietnam Innovators Vietnamese version in Spotify and Apple Podcast. Don't forget to subscribe to Vietcetera's channels to hear more stories of innovators. Thank you Jio Health for accompanying the program. Jio Health is one of the innovative investors in the field of technology as well as health care in Southeast Asia. For more information, You can install JO Health app, available Appstore and Googleplay. Furthermore, you can tour the smart clinic headquarters.
of Jio Health at mPlaza Saigon. to directly experience the premium services here.
2021-06-12 11:04
Show Video
Other news