Je vous montre mes 500 000 € de technologies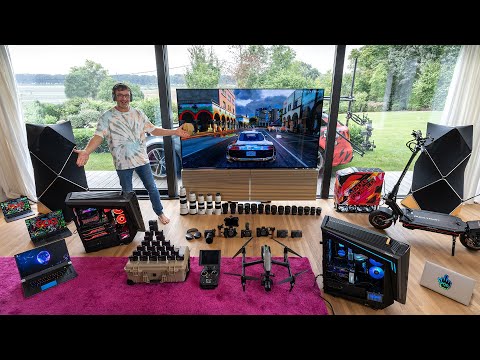 Show Video
Welcome to my house. You know that I am a car enthusiast. But what you may not know is that I am also a geek.
I have not yet had the chance to tell you about it. Lately I've been buying a lot of high-tech gear. I'll show you everything, I've brought it all out here. These are my computers. I got myself the ultimate PC.
My laptops, I have the latest Alienware X17, which costs 6000 euros. My cameras. I have 9 Sony cameras, 25 lenses, 24 GoPro. There are my earbuds and headphones. I've got 20 of them, and I'm giving them all away. There is also my home cinema with 8K 88-inch TV and 8200-watt speakers.
I will also unveil my new ride. There is also my camera-car, my cinema drone and my FPV. I always want the very best, but not just in cars.
What you are about to see is state-of-the-art, the best of what is available today in all these areas. This is going to be a home tour, but a high-tech one. Let's start with... my dining room. I'll give you the theory of evolution of my computers.
In the beginning, there was POG-POWER. It's from 2018. This is the first computer I bought for YouTube.
It's also for playing video games and working in 3D, like all my computers. I gave it a wrap. I've put a lot of memories of my childhood here. Here, for instance, is "#Adventure" on Atari 2600 VCS. The first game that turned me upside down at the age of eight.
Here is "#DefenderOfTheCrown100victories". It's on the Amiga. I have won 100 times. There is "#ForeverInLeftysBar". That's because I'm a character in a video game. It's in the game Leisure Suit Larry: In the Land of the Lounge Lizards, the 2013 remake, to be precise.
It is a classic of the adventure game, the original one. I am a character in it. You can see me in Lefty's Bar.
The character has my face. He has a Belgian accent, etc. It bears my name. That's why I'm in Lefty's Bar until the end of time.
Then, but I didn't put it on the table due to a lack of space, came SUPER-POG-POWER. One year ago, MEGA-POG-POWER. That's all well and good, but what comes next makes a complete fool of the rest. I just received these two monsters.
This is the top of the PC food chain. Let me introduce you to... ULTRA-POG-POWER and ULTRA-POG-POWER-FUSION! Just look at these monsters. The inside. You get 2 RTX 3090 graphics cards, knowing that the 3090 is the most powerful graphics card available.
€ 5600 just for these. Take a look at this. Behind this fan block, you will find a processor. But not just any processor: it's an AMD Threadripper with 64 cores latest generation, so € 5900 for this alone. 256 gigabytes of RGB RAM.
32 terabytes of hard drives. 32,000 gigabytes of NVMe M.2 SSDs in Raid 0. Again, about € 5000 just for this.
So the whole ULTRA-POG-POWER: € 25,000 euros. This is clearly the setup that will make Spielberg's editor jealous. And that's not all, so ULTRA-POG-POWER-FUSION which I also received at the same time.
What does "FUSION" mean? This means that, in my nomenclature, because I'm the one who gives these nicknames, that it is the same thing, but with some differences, so that I can try it out and decide for myself. The differences: Still two RTX 3090, but water-cooled this time. The CPU at the back is different. It's still an AMD CPU, this time with only 16 cores but faster ones. Especially as I boosted it to the max. I've overclocked the whole thing.
€ 17,000 for ULTRA-POG-POWER-FUSION. If you want me to make a video just about these two beasts, ask me in the comments. If there is enough demand, I will do it. I will still test them for myself and push them to the limit. I wonder how this will perform on GTA V on my 8K TV.
How many frames per second, for instance in RTX mode? If you wish more information or if you want me to make a more detailed video on everything I'm going to show you, ask me and I'll do it. I can happily talk about this for hours. Let's continue with... my kitchen. So, laptops.
I want everything in a laptop. I want power, battery life and lightness. Have I found the perfect laptop? I will answer this question.
These are the Dell XPS I've bought over the years. You can see that I have a couple of them. And I even have all the flavours, I mean all the sizes: 13 inches, 15 inches and 17 inches.
You're probably thinking, "OK. Pog, loves the Dell XPS, It must be very good." The truth is, I hate the Dell XPS. I've had enough. I'll show you why. Take a look at this. Great screen, 4K, a very powerful i9 processor. Lightweight.
It is the thinnest and lightest 17-inch in existence, weighing only 2 kg. That's all very well, but it's overheating. It's too thin and it's the same for the whole range. When it overheats, the power drops like a stone.
The battery life is 2 hours. It took me a while to admit it, but I'm done with the Dell XPS. You can find the newest products here.
Macs. The acclaimed MacBook 13 with the Apple M1 processor. Many believe that it is the return of baby Jesus himself. Let us not exaggerate. So yes, it certainly is a computer that is thin, stylish and has great battery life. But I wouldn't call it powerful.
€ 2600 for this one with lots of options. Compared to its big brother, the 16 inches over there, it is 2 to 3 times slower for large computing tasks. For the 16 inches, it's very simple: don't buy it. This will be my only advice.
It costs € 4900. It is 50% more expensive than the Zephyrus over there. But it is 20% less powerful. So there is no need for it.
Wait for the next generation of MacBook Pro 16 with the Apple M1X processor. That one will certainly be interesting. I'm going to test it, but forget about it for now, especially as the Mac and games combo isn't great. We're moving on to my baby. The amazing Alienware X17.
I went for all the options, as always. RTX 3080. The newest Intel i9. 4K 120 Hz screen. And above all, check this out.
A LED trackpad. So € 6000, a record for a laptop. It's really powerful. It really is a mini POG-POWER. But weight is an issue: 3 kg for this baby. It's on the edge of being transportable, and where it crosses the line, it's definitely with the power supply. This huge brick weighs 1.5 kg
and is necessary to get maximum power. So that's very limiting. Then the battery life: it's one hour. So not good. But here we have the little ASUS ROG Zephyrus G15. "Small" refers to the weight: 2 kg.
Which is fine by me. It is powerful. RTX 3080. It has an AMD processor that is more finely processed than the Intel. Battery life of 4.5 hours, which is fine by me.
Not as powerful as the Alienware, but enough for me. So you'd think that's it, this is it. The perfect laptop... well, no, because the screen is not great, not bright enough and prone to reflections. Not so good for photo editing. Unfortunately, the screen, uh- the perfect computer does not exist yet.
But I keep on the look out. I won't give up, because I think that very soon, given the progress, I will find it. Anyway, I'll keep you posted on whatever I find. Well, please follow me to my office.
As you can see I have quite a few cameras and also some lenses. But actually, a camera is missing. And yet, it is the camera which is my most faithful companion. The camera that offers smoothness and speed of framing unmatched by these.
A camera with which I made videos that have, millions of views on YouTube. I'll show you which camera it is. This is the one. Yes, my phone.
Never underestimate the power of a phone. So, in terms of phones, I got myself the iPhone 12 Pro Max Soon the 13. I like it a little more than the Samsung S21 Ultra.
These are really the two best for photography and video. Speaking of phones: the RhinoShield Pog cases, ultra strong You get a 10% discount with the promo code POGPOWER. Follow the link in the description. I have the Pogtador case, the Minipog case, the Pogini case, the Pista case... So that gives you 10% off on Pog cases as well as on their new products. Rick and Morty, PSG, Harry Potter, Gryffindor, One Piece, etc.
And that applies to the whole site! And after this week, it goes down to 3% off. So, take your chance right now: it's POGPOWER So, if you want something better than your phone, I recommend this in terms of camera. This is the Sony α 7S III. I have 4 of them, at € 4200 each.
Or the Sony FX3. I have 3 of them, at € 4700 each. Actually, these two cameras are quite similar. Only the body changes. I prefer the FX3 which has a more video-oriented body.
I feel like I've been waiting for this camera ever since I was born. Finally, a camera that offers us cinema quality while being really practical and usable in many conditions. As far as I'm concerned, it's absolutely... I'm happy with it. It has a killer autofocus.
It can auto-focus on eyes and faces and in low light, it is quite good. There's another camera that I really like and which I use increasingly. It is less flexible and more expensive. It is the Sony α1. Excluding lens, it costs 7200 euros and I have 3 of them. Amazing camera. But the thing I am interested in is its ability to shoot in 8K.
I'm looking more and more into 8K. So-called unnecessary. I disagree. Even for vlogging, it allows you to crop. It is very interesting.
And when it comes to lenses, I'm completely in love with them. They are real treasures. By the way, they're called "pebbles". I will show you, this one, for instance.
These are my favourite lenses. This is the stunning 12-24 mm F2.8 which is brilliant for filming inside cars. These are true optical masterpieces at € 3200.
There's also the 16-35 mm. It's a YouTuber classic. I have four of them that I use a lot.
The 135 mm is also one of my favourites. Not exactly easy to use, but it offers a beautiful depth of field and is very pleasing for portraits. I also have telephoto lenses, for the track. And here you can see that I have my 24 GoPro. Now I' m sure you're wondering: "But Pog, why all this? You don't need ULTRA-POG-POWER, MEGA-POG-POWER, ULTRA-POG-POWER-PRIME-FUSION.
You don't need all that power."  And I will answer you: "I do need all that power, for you!"  Because everything I have shown you here, is only to make YouTube videos. But in fact, what prompted the purchase of all this stuff, what started it all, was my desire to treat you to some exceptional videos to celebrate my 1 million YouTube subscribers. And this video series, it's "Pog on Track". Let me explain.
So what is "Pog on Track"? It's the story of 3 friends who booked a full track for 3 days, and a drag strip. Well, I am one of those friends. We each took a huge truck to transport all of our cars, which means that we have gathered 22 outstanding cars. I'm not going to spoil anything, but there were like 5 Ferraris, 5 Porsches... and some very special cars... and we swapped them like kids for three days. We also determined which was the fastest in drag race.
And I wanted to share everything with you. I really wanted you to be there, with us, which means that a lot of cameras were used and were filming non-stop. Let's consider a drag race. Well, I figured out that for you to truly feel at the centre of the action, we needed 16 cameras running simultaneously. We needed an FPV that would fly over the track and follow the cars as they go. We needed cameras at the start, trackside cameras, cameras in the middle of the track to make you feel the speed cameras inside the vehicles to capture the drivers' reactions, cameras.
on the cars to make you feel the gaps, a drone to get an overview, and of course, a camera at the finish line. That's it. Sometimes I also shot in 8K, for a total of 18 terabytes of footage in 3 days. This is why I need powerful computers.
I hope you enjoy it. In any case, if not, I enjoyed it. I will have had my fun. [Fart] So of course, in the future, I will sometimes make videos using a single camera or even my phone, by making a video just like that. But now I have the potential to make you an occasional Pogish blockbuster and I will certainly use that opportunity. You may be wondering: "What about money? How will you make it profitable?"  But the truth is, I'm never going to make it all profitable.
Everything I have shown you here: € 50,000 of cameras, € 50,000 for lenses, and everything else... It's just impossible with the YouTube economy for me to break even. It's not with my € 750 YouTube money for 1 million views nor with my 3 yearly product placements, that I'm ever getting that far. But anyway, I think it's totally worth it. So, subscribe to my YouTube channel. Turn the little bell on, because some of you have told me that no matter how much I post, they don't know about the new video.
The little bell allows you to receive an alert for each new video. Subscribe. Enjoy it. For "Pog on Track", and for everything that's coming next, because from this video onwards, we're one a roll: one video per week until the end of the year, and even beyond, even next year. And it's going to be big, I promise.
For instance, there is a the Gumball series you have been waiting for a while. 4 hours in total. You will get to witness this ultimate rally from within. There is also the Pogtour and the tech. videos you're going to ask me about,
and which I will also do. Plus everything else that will come my way as I go along which I will share with you on YouTube. Well, here I am, letting my hair down.
We spent our whole summer editing videos. Enjoy it, it's free! Everyone is welcome, including the haters... [Sarcastic laughter]. except those I have banned. I'm sure you love music as much as I do.
That's perfect, because I have all this to give away. That's 20 earbuds, the best, wireless. It's also 3 headphones and a big free Instagram giveaway. There will be plenty of winners. For instance, you will win these AirPods Max from Apple. Very nice, € 630.
Also available in black. Actually, I have everything twice, with different colours. Or here the Bang & Olufsen H95 which costs € 800 and is really good. I have to make a big comparison of the whole thing. I haven't had time to do it yet. Then I'll do the giveaway.
It's no big deal that I didn't have time, because I am adding the new earbuds to the video and I will add them to the giveaway. I'll show you quickly, I'll spoil the great comparison that will be released on YouTube. These are my 3 favourites. Right there, these are the Sony WF-1000XM4 which are among the top 3. The Sennheiser MOMENTUM. And perhaps my favourites: the Bose QuietComfort.
It continues this way. So, to continue with the audio, but slightly bigger, here is the Beolab 90. It is an 8200 watt speaker which contains 18 loudspeakers. € 35,000. Made by Bang & Olufsen, which is a 90-year-old renowned Danish company. For more than 90 years actually, since the Beolab 90 is celebrating their 90th anniversary.
It is a synthesis of their expertise. They are renowned for their design. Some of their products are even on display at MoMA, the Museum of Modern Art, New York. That's what makes me curious. Well, yes, but I use it as a home cinema. I need more than just one Beolab 90.
I've got another one here. And another one there. And also one there. 4 Beolab 90! It is the only place in the world to have four. Can you believe it? 4 × 8200 watts! So, my dear telly! It is a Beovision Harmony 88. That means 88 inches, 8K, OLED, HDR This is a central speaker that unfolds nicely, but not very fast. Honestly, it's great. Wow!
The picture is better than at the cinema. It's uh-the colours, the... It's not 8K, unnoticeable, then 8K content doesn't exist, apart from upscaling, but it's really the dynamic range. It's better than the cinema, because at the cinema, it's a screening. There is a bouncing and a loss of light. This is not the case here. There is a uh-, light scattering. I actually have a projector there.
A Sony 4K laser projector. A projector screen comes down and goes in front of it. That way I have a bigger picture over it. But the truth is, I prefer TV. I no longer use my projector screen,
because the quality is truly Wow! In all, € 250,000 just for the home cinema. But I am not satisfied. [Forced laughter] Well, yes, because in reality, there are a lot of technical issues that take months to be fixed. Bang & Olufsen are not up to the task. And the other little thing is that the central speaker that you see it is not as good as the Beolab 90.
You can hear it, so it loses its magic. As a result, I often remove the central speaker and I lose the directional aspect of the sound. I'm missing the voices... quite a shame to do that. So, this is madness, it's very expensive, but I don't regret it, because, for me, it is a form of achievement. I have always been in love with cinema and pictures. The little teenage Pog who spent his time in cinemas would be proud of me.
That's it. For me, this is an achievement. And it's magical! It is truly magical. Despite the problems. The picture in particular, it's completely stunning.
So is the sound. Sometimes it gives you goosebumps. If it rains in the film, I look outside to see if it's not actually raining. I feel like I'm getting the full effect of all the talents of the films and series that are now film-like. It makes sense to have a home cinema now.
Now that films are being released at the same time in cinemas and on streaming, and that quality of series is increasing. So, yes, that's really awesome. By the way, this entire video is shot in 8K. Yes, yes! You can, down there, on YouTube, press the little button, click, and then bang! And you choose the uh-. Come on, do it! 8K! So you'll see an 8K video... all in 8K. Oh, yeah! You don't have an 8K screen, do you? [Exhale] I know the type.
Now, my new ride. It is over there. Take a look at this. It's a scooter, but not just any scooter! It is a scooter that goes up to 90 km/h. This is the Dualtron Storm.
Electric scooter. 60 km of range. And as usual, if you want me to review it, simply ask. I fear for my life on this one. This is Batman's scooter. [Laughter] [Electric motor sound] [Tyres screech] [Laughter] Well, let me also show you my camera-car I already had the opportunity to show it. It can be upgraded, as can all my equipment.
So, here it is, the uh- the main thing, with a Black Arm that costs € 7000 and which stabilizes thanks to these springs. Then, below, you will find a Ronin 2 which is also worth € 7000 and which is also used for stabilization and can be controlled. Then an α1 8K, also with stabilisation technology. Actually, I'm going to change the lens so I can adjust the angle from the inside. And 8K is very handy, because you don't get a chance to frame properly when you're driving. So we can extract uh-. This is the control area.
It is quite possible to extract a cropping that suits us. There is also a camera at the front. This is another α1. Come over here and have a look at my drones. The DJI Inspire 2.
It's a cinema drone. Roughly speaking, it costs € 15000 all around. [Propeller noise] This camera is called an X7 and the lenses are interchangeable. It is very high quality. It's about making beautiful shots.
And it can be stationary. I also use more and more FPV. [Propeller shutting down].
Here is the FPV. This is the DJI FPV. I think it's € 1300, but we often use DIY FPVs.
The difference is that it goes much faster. The FPV we used on "Pog on Track" does 0 to 100 km/h in 1 second. [Laughter] A lot quicker than my cars. It also goes up to 150 km/h.
However, it cannot be stabilised. It is inevitably always in motion. And that's how you fly it, with a small joystick. There is video transmission. We are completely immersed. It's very impressive.
That's it, that were my high-tech wonders. We are in a time of constant technological development. It's a very exciting time. I am a man of my time. I'm lucky enough to be able to enjoy all this, to be able to see it and I'm very curious. So, I'm, uh-, I'm having fun, and there's so much we can do always better, more and more unique.
You get a quality that was simply unthinkable, which is available to everyone and which was undreamt of 5 or 10 years ago, and it doesn't stop. FPV allows you to make impossible shots or never seen before. And I love this idea of making different shots.
Of course, this is completely over the top for YouTube, but that's my style. In the end, the most important thing on YouTube is to remain true to yourself. Social networks are very personal. One must express oneself in one's own way. Well, that's my way. But all this does not prevent me from doing things, uh- to be as close to you as possible, to try to create a sense of intimacy.
And this too is growing. It's how to interact together, you know? How to show you my life, my intimacy, what I think, share... There are many things. It's like the beginning of filmmaking on YouTube. Many things are to be created, there are no actual rules, and I am exploring... and I shall continue to explore for a long time to come.
And with you, if you will. Because, uh- because finally, I uh- I am having a great time with it all. I plan on talking more about technology from now on, sharing this passion with you as well. I think you have understood that I am definitely a total geek. [Cyberpunk Industrial Darksynth - Eliminator]
2021-09-18 20:45
Show Video
Other news