Intelligent Enterprise: Source to Pay | SAP TechEd in 2020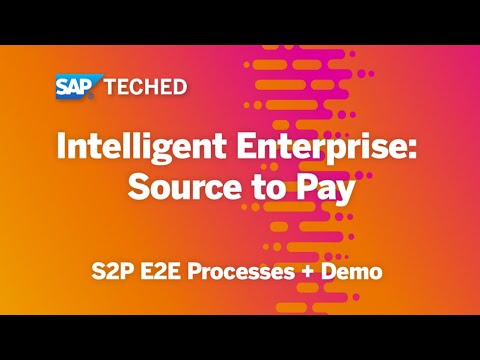 Show Video
[MUSIC PLAYING] Hello, everyone. Good morning, good afternoon, good evening from whatever part of the world you are dialing in. Welcome to the session Intelligent Enterprise, Source to Pay.
My name is Sourabh Kothari. I'm part of product strategy, and I will be joined by my colleague Spomenko Opacak, who is part of product management at SAP procurement team in SAP. Today, we have a full agenda, but we'll start with the motivation and overall strategy for intelligent enterprise.
We'll walk you through source to pay end to end processes. We will deep dive into demo to walk you through all the innovations that have been delivered so far. My colleague Spomenko will take you through adoption of suite qualities as part of the journey. We'll also look at the upcoming roadmap, and we'll end the session with summary and key takeaways. So if I look at the desired outcomes that most of our customers are looking for across industries, today, one of the key aspects is obviously creating compelling products for our customers, having improved customer experience, engaging the changing workforce and your organizations. When it comes to source to pay, it is also about controlling entire spent on enabling new business models and utilizing the intelligent technologies in the process and all the innovations that can feed into data driven insights and recommendations for the end user.
To achieve this outcome, SAP has come up with a framework for intelligent enterprises. We believe that any best run organization is an intelligent enterprise. The enterprises that leverage the best practices, run on agile landscapes, and use intelligent technologies are already on their path to becoming an intelligent enterprise. To support them, we offer business processes across various different products at SAP as part of the solution. The business processes are offered with the best of suite solutions that we have-- our intelligent suite solutions across different product lines. We also support this with the complete end to end stack, which is business technology platform, that helps us deliver innovations in terms of data and insights on applying intelligent technologies across an end to end process.
So for our customers, what they get is an end to end business process rather than having to worry about the underlying products that support those business processes. So look at it in terms of having the business processes as a service if you will. To top that, what we are also embarking on is a complete SAP Business Network that was recently announced at SAPPHIRE that will help us bring together all the networks across SAP to give you a complete end to end collaboration option across enterprises or have that multi supply chain orchestration, whether it's procurement, whether it's logistics, whether it's assets you can have all of it come together as a part of the process. We'll also add experience management to it so that you can get real time insights or feedback from all your stakeholders and can take necessary action to derive the necessary business outcome. Having said that, if I look at the complete portfolio to date, most of the solutions, or I would say 80% to 85% of the solutions in SAP, can be rather divided into three or four major processes-- [INAUDIBLE] lead to cash, design to operate, source to pay, or recruit to retire. So we bring together all the underlying products, which is out intelligence suite.
We offer the business technology platform, so that we can offer more innovations in terms of intelligent technologies and data driven insights. And to top it up, we are moving one step ahead. Rather than just providing a transactional integration between the applications that support an end to end process, we'll offer our customers a complete business process integration.
So when I say a complete business process integration, apart from just a transaction moving from one application to other, what we'll be looking here is certain suite qualities that would be delivered as part of our end to end flows. Some of the suite qualities are highlighted on the screen. One of them is seamless user experience, or how a user will have a seamless experience, or harmonious experience, from moving between multiple applications to complete an end to end flow. An example other one is one workflow inbox. How I can approve everything in one place rather than having to log into multiple applications seperately How I can have embedded analytics as a part of the process? As well as the cross product analytics with data that flows across applications, and is not only restricted to a certain application? These are some of the suite qualities, and we'll obviously look into all the suite qualities into details in the next few slides as well the demo. And this is the core of how we offer intelligent enterprise framework for our customers across all of our products.
With this framework in mind, if I drill down to today's topic, which is source to pay, what we have moved away is from the conversation of talking about products, but to basically define a taxonomy for the processes. If I look at source to pay, I could immediately divide it into a couple of buckets. One of them is source and contract, which is upstream procurement. The other one is plan and forecast. That is procurement for direct spend, wherein I can collaborate with design to operate products such as IBP and with the suppliers in the planning and forecasting space.
Then we have operational procurement with buy and deliver, as well as invoice and pay. It's more of my execution procurement from creating an order until the payment is done to the supplier. All of this processes would be supported across spend categories, so whether it direct, whether it's indirect, whether it's services, whether it's MRO or whether it's contingent labor, SAP can support in all the spend categories, and the platform to collaborate with the trading partners would be a single platform which is ARIBA Network across the spend categories, across the processes.
This would be, obviously, provided with a robust trading partner management as well as onboarding options, and then we also have risk capabilities embedded within the processes along with the analytics and intelligence part of it. With this portfolio and with the suite qualities that we spoke about in the previous slide, if I look at source to pay, we'll offer end to end processes across SAP SAP S/4HANA, SAP Ariba, SAP Fieldglass. When it comes to the space of direct spend, we'll have IBP included in the portfolio, and we'll add up to all the suite qualities that are mentioned on the screen, whether it's the seamless user experience, whether it is one workflow inbox.
We will also provide end to end business blueprints that would help a customer to understand the end to end process or the flow of documents and the various applications. We'll align the master data with one domain model alignment as well as master data integration services with consistent view of the master data. We'll have harmonized provisioning set up in operation as well as consistent security and identity management along with analytics. With these suite qualities, there will be a drastic, drastic change in terms of the total cost of ownership for our customers, and it will help them to faster time to market to adopt the solutions based on the processes. Now, if I look at how-- if I basically deliver this with respect to end to end processes, with the respective solutions and aligned solutions and a consistent user experience, using the business technology platform, what we are trying to say here is it will increase the end user adoption and satisfaction.
It will support intelligent decision making. As I said, it will reduce the total cost of ownership and integration effort to basically implement an end to end flow across different application, and reduce time to go-live by simplifying the ID operations. Today, we have delivered various processes across different SAP applications, along with adoption of certain suite qualities. To name a few, as of August 2020, we have delivered seven different scope items, or end to end processes. Some of them are related to pure trading partner collaboration, such as 42K, which is commerce and code automation. There's more about collaboration with the supplier on PO invoices, and we have an end user experience collaboration of end to end process, wherein as an employee, you can log into the guided buying experience and purchase products within an organization.
This is supported with SAP S/4HANA cloud and SAP Ariba Buying and Invoicing, and we have sourcing contracts, sales side integration with the supplier having a back end SAP S/4HANA cloud system as well. We have central procurement scenarios with respect to guided buying and contracts that have been delivered as well. We have started our journey with delivering all these processes with S/4 cloud as the code system. Reason being, cloud systems are basically on a quarterly release, and we can then basically downport all the work that we have done in last few releases to on prem in that given year.
With all this processes, let's look at one of the demos that will give you a flavor off end to end processes and how they are delivered with adoption of the suite quantities that we already saw. In this demo, we are going to see the available end to end process flow or central requisitioning with guided buying and trading partner collaboration with Ariba network. The flow adapts to various suit qualities under intelligent enterprise program and is available for both SAP S/4HANA cloud as well as SAP S/4HANA on prem customers. In this demo, we will go through two best practice group items, that is 3EN and 42K. The diagram on the screen depicts the step by step processes that happen across various SAP applications that is central procurement hub, back end SAP S/4HANA or ERP instance, guided buying, and Ariba network in completing the end to end flow.
We will start by logging into central dashboard for the end user that is Fiori launchpad. The same is powered by SAP Identity Access Management from provisioning and access management point of view across all SAP applications. As the user logs into the central dashboard, he will see various applications required to complete his day to day tasks. User clicks on Guided Buying an application to buy new items.
Due to single identity and access management, he is directly taken to Guided Buying without having to login to multiple applications to complete an end to end process. Guided Buying provides a consumer grade user experience for multiple procurement channels, and with compliance via the business policies. Users can select items from the respective catalogs or can type the item required in the search box.
Under suite quality that is adopted is a consistent user experience. As the user navigates between different SAP applications to complete an end to end process, it will have a harmonious experience across the integration suite. In this case, the user is looking for an iPhone 128GB device to be purchased. User can select the item, add it to the card, and checkout.
As we checkout, we can view the requisition. Here, the requisition will undergo an approval based on the workflows that have been configured for this particular category. As an approver, I can log into the procurement app on my mobile devices anywhere anytime and complete my actions. I can go to my to-do list in this case and click on the one that we recently created. Go ahead and approve it. Once approved, the status of the shopping cart will change to Ordered.
If I click on the details of the shopping cart, the user can see that the purchase requisition is created in the hub system as well as it is created in the back end system. It also shows that the requisition has been converted into the order in the back end system. The order from the back end will directly flow to the supplier over Ariba network. As supplier logs into the network, he will experience a completely redesigned user interface with new Supplier portal and Workbench. The supplier can search for the order from the search bar, the supplier users can personalize the workbench based on the actions and the roles in the organization.
The suppliers will also see the widgets, which will highlight the key KPIs based on the commerce with single or multiple customers. Suppliers can click on the feedback app that will open up a Qualtrics survey for them to provide the inputs on the product and the announcements that can be delivered for a seamless experience. As the end user, if I click on Help with Enable Now, the system will navigate the supplier for various processes required to complete his job. As the supplier the user clicks on What's New, the system will highlight the recent changes and innovations on the network that can be leveraged to complete the day to day tasks. Users can click on the new orders to review and take follow-up actions. Workbench is completely customizable and can be personified based on the role of the user within an organization.
The suppliers can also edit the filters or add new filters based on the common, day to day tasks they are supposed to perform. We can see the new order is now available for the supplier to take follow-up actions. The suppliers can review the order and take the actions quickly from the actions column within the workbench. As a supplier, let me go ahead, and confirm the order as well as ship the order for the customer.
As I confirm and ship the order, the respective documents that is confirmation and advanced ship notice are now available in the related documents section with in the order. As the goods arrive, the end user who has requested the items can go ahead and confirm the goods receipt He can select the items and confirm the receipt of the goods. As the goods are received by the end user, the message is transmitted back to the supplier, and the order status on the network for the supplier changes to received. Based on this, the supplier can go ahead and flip the order into an invoice. Once done, the invoice will appear in the related documents, and the supplier could also see the relevant goods receipt was generated in the back end ERP in addition to the confirmation and ASN that was initiated by the supplier.
Apart from the end user, operational buyer also has a complete view of all the requisitions and orders that are managed centrally. As an operational buyer, if I click on the app Manage Purchase Order Centrally, I can get a complete overview of that particular order. As I deep dive into the order and to the respective items, within the process flow for that particular item, I could see that relevant purchase requisition in the back end instance, the purchase order in the back end instance, the respective goods receipt, as well as the supplier invoice that was created for this particular item.
In addition, the respective status of the shopping cart in Guided Buying application is also updated. We could see the status of the shopping cart is invoiced, and if I navigate to the history of the shopping cart, I could see the relevant goods receipt as well as the invoice document from the back end system simultaneous are automatically updated within the Guided Buying application. To summarize, what we saw in the demo is the end to end operational buying and trading partner collaboration, best practice processes delivered with adoption of suite qualities such as business process blueprints, align business APIs for integration, consistent user experience, and single identity and access management, or single sign on, to complete the end to end flow across SAP applications seamlessly. Hello, I'm Spomenko Opacak from the product management in the SAP procurement area, and yeah, let's have a look at the suite qualities what was just showed before. So the adoption of the suite qualities, so let's start with the first important what we are working on, and I have to switch, sorry.
So let's have a look at the adoption of the suite qualities, and the first topic, one of the most important topic, is a consistent user experience within all of our applications. So what our customer challenges are? So we have a different look and feel in all of our applications, like SAP SAP Ariba, SAP S/4HANA, SAP Fieldglass, and that leads to an interaction of the execution of business tasks. So what we are working on that is really a challenge for the customer is to have, really, a consistent user UI, harmonized UI, that whenever you would look into the SAP Ariba system or to SAP S/4HANA or to SAP Filedglass you will have the same UI elements visible on the screens. And this is something what we are working on. This is currently what the users would love, and the customers as well. So the next important piece of our suite qualities is called integration and the offering of business APIs.
What are the customer challenges in general? And so with the integration between applications is quite complex, and the mappings have to be managed by the customers. And to make these things easier to support our customer, so we have a growing number of aligned business APIs on our SAP API Business Hub. So that means we are offering, just to give you some examples, around about 400 APIs for SAP S/4HANA, around about 50 APIs for the SAP Ariba part.
For SAP Fieldglass, around about 150 APIs, and this is a growing number to support and to fulfill customer requirements. Then this is blueprints and reference architecture. So customer challenges is that they have to explore how the end to end scenarios are breaking down into applications, into technology, services, modules, and so on, which is not easy. Let's say it that way. They have to map out the roadmap to adopt a solution from the current landscape to the target landscape. And what is the target for-- what we are working on, what we're offering here, is that the customers can drill down here into the business processes directly.
They will see the whole flowchart, the data flow, the process in detail. And for sure, the API Business Hub, where the customers can see the provided business APIs on our platform here. One of the next topics is the creation setup and the automated provisioning of configurations. So for customers today means that the integration is mainly managed by the customer himself. So most of the connections, the integration scenarios, they have to be done manually, and for a customer, that means effort There's a high need of knowledge and high expertise to set up this whole scenario from the integration point of view. So the target for us is really, here, to provide the customer a framework to automate as much as possible the whole integration scenarios and the configuration of the whole configuration scenarios.
So there will be one simple entry point where customers can step into and do the whole needed configurations for their business needs. So the cloud integration automation service is a tool which provides tasks, either automatically, or it will be guided manually, based on workflows to support the customers here to set up their scenarios, to configure their systems, and to have as much automated as possible. One key part as well is to make the customer's life easier, is really to have a really a working single sign on system. So currently, to execute one business process, sometimes users have to log on twice or three times to different systems with different identities sometimes. For the customer, this is-- multiple authentication mechanism, and that needs to be maintained and needs to be supported, and it leads, at the end of the day, to heterogeneous identities and user identifiers between applications. And the target tier's really need to have a consistent way of enabling single sign on and single sign out to have a central tool, centrally administered tool, easy tool for identity user role provisioning, and to really have one login to the system and to execute all your business processes within your company.
So let's have a look bit through the roadmap, what is planned for the next features, for the next releases. So currently, the source to pay end to end processes, you can see here on the screen, we have what is already done is the indirect spend with guided buying, sourcing, contract management, commerce automation, quote automation. And then in future, we're going more to direct spend via direct material sourcing, contract manufacturing, supplier management eventually, and quality management.
And as well, the next steps after that will be more service orientated-- service estimate, service POs, work orders, statement of work, service entry sheets, and so on. So just to give you an brief overview what is planned, let's have a look at the analytics part. So on the left side, we will see the embedded analytics, where we are providing customers all the reporting functionalities they need for their procurement solutions. And for the future, the right side, you will see the cross application analytics, where we have all your cloud systems reporting over all your cloud systems, or it can be Success Factors, SAP Concur, SAP Ariba, SAP S/4HANA, whatever.
You can drill down into each of the areas and business processes and do an analytics and reporting for your company. Another very important aspect as well on the roadmap is the one workflow inbox. So currently, we have several inboxes for multiple systems for the same user. If this user is seeing SAP Ariba or in SAP Fieldglass, he has to put something, he has an own inbox.
For SAP S/4HANA, there's an own inbox. And we are currently working on, really, a central place where all of the work items for all different systems, from SAP Ariba, SAP Fieldglass, SAP Concur, SAP S/4HANA, within one application, and the approver can easily do whatever he needs to do for his daily work and approval of purchase orders, contracts, leave requests, whatever. The approver has the ability to jump into details of each of the tasks, into the target applications. And what SAP's is going to deliver is the mobile application for tablets and for mobile devices so that approvers can do their work as well on mobile devices.
One important aspect on our roadmap as well, the master data topics. So the customer challenges what our their point to point integration, and other aligned models are leading to a high implementation effort and maintenance. So this is really a challenge for our customers, and so what we are working on is on an aligned domain model as an enabler for consistent APIs, and to deliver translation of all the data structures and values between applications.
So for example, we have Success Factor, SAP Concur Cloud, there applications, which are feeding the massive data integration service with data, and this data can be then consumed by other SAP applications. And the one massive data integration service is really a central piece and point for the massive data integration within the whole enterprise, intelligent enterprise suite here. And more and more, the applications are using the same domain models, the easier it is to really reduce the number of mappings between all the systems. One important topic as well is the integration monitoring.
As long as you have several systems connected to each other, you have to log on to different transactions, use different tools. For example, on SAP S/4HANA side or SAP Ariba or SAP Concur side to really monitor the integration or business processes, what is going wrong, do we have any network issues, any other problems? What is the outbound, inbound, or where do we have issues? This is currently not easy. It's more or less managed by different tools, which is a pain point for our customers.
And what we're working on here is really to have a central tool in the future, to have really an overview on the whole integration monitoring here. So that's it, and from my side, thanks a lot. And giving back to-- going back to Sourabh.
Thank you. Thank you, Spomenko. So what we saw so far is basically the overall intelligent enterprise framework How do we really provide end to end business processes in the space of source to pay across all of the solutions, underline solutions, within SAP S/4HANA, SAP Ariba, SAP Fieldglass, or SAP Concur for your entire spend management. What we saw was an end to end demo between multiple applications and your suppliers, from how an employee orders for an item, and how you could have an end to end flow with the trading partners with multiple scopes or end to end business processes that we have delivered.
In the process, we also saw the suite qualities that have been adopted to provide you a complete business process integration rather than just the transactional integration, and the roadmap that has been planned over the next few quarters in terms of adoption of new processes, as well as a new suite qualities. As an end user, what you could always do is basically go to the SAP Roadmap Explorer. Earlier, we used to have our roadmaps published across different products in silos. You would have a different roadmap for SAP S/4HANA and SAP Ariba and SAP Fieldglass. You could really drill down into the roadmaps based on the processes. So when you go to the Roadmap Explorer, you can go to the intelligent enterprise scenarios, go to source to pay, and then you'll find all the innovations across various applications and end to end business process flows that we are delivering in the entire source to pay bucket for our customers.
So if I look at the summary and key takeaways, it's more of what we're trying to do with our intelligent enterprise framework is provide an end to end consistent harmonious experience across all applications to complete the end to end flow. We are going to provide source to pay as a service rather than looking at it as individual products. We'll have intelligence embedded within each and every process from an end user perspective. User experience doesn't only stop at the screen part of it or basically the look and feel part of it.
But it's all about how the system can provide more intelligence in the process, how the system can provide more recommendations, how I can monitor everything at a single place rather than having to log into multiple applications. This is all part of the user experience that is going to be changed. With one business technology platform, it becomes easier for SAP to basically provide analytics across products, so that our customers don't have to worry about the wealth of data that has to be normalized, synchronized, mappings to be done, and then basically come out with the KPIs type across multiple products.
This is something that is going to be part of our suite qualities that we deliver And ultimately, it's all about guided outcomes. What are the business outcome that you want to achieve? And you add on the certain process. We want to make sure that all your business outcomes and KPIs are well met with a greater user experience embedded analytics, insights, and recommendations. And we will definitely make sure that more and more intelligent technologies are applied when we really deliver these end to end processes to you, whether it's AI, ML now, whether it's RPAs, wherever automation is possible.
This will help you to basically move into the pace of digital transformation, and in future, to a semi-autonomous or autonomous organization in your journey of becoming an intelligent enterprise. You could find more documents with respect to intelligent enterprise and source to pay in the links that have been highlighted here on the screen. You could also attend one of our architecture sessions, which is IIS200 as part of the TechEd sessions that we have planned for you. And I would encourage you to continue your learning experience from SAP TechEd in 2020. You will definitely have deeper learning experience with multiple sessions as well as multiple solution offerings that are being offered as a part of this event.
Having said that, thank you. Thank you for attending this session, from both of us, Sourabh and Spomenko. [MUSIC PLAYING]
2020-12-21 17:55
Show Video
Other news