HI-TEC 2021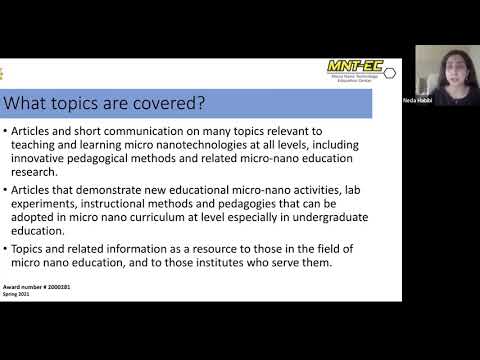 Show Video
Hello everyone, thank you for watching this presentation. This presentation is being recorded for the HITEC conference. I'm going to talk about the Journal of Advanced Technological Education, which is being published and launched at the MNT-EC Center. I'm going to introduce my team members which have been part of launching and starting this journal. Starting with myself, I'm Neda Habibi I'm a faculty at Northwest Vista Community college in San Antonio. Dr. Kazarinoff, which is a faculty at Portland Community college.
Dr. Ashcroft at Pasadena City college also the PI of the MNT-EC Center. Dr. Cakmak which is a faculty at NACK Center at Penn State University and Dr. Mel Cossette From Edmonds Community college, which is also a Co-pI of the MNT-EC Center. In this presentation I'm going to talk about the start and launch of the Journal of Advanced Technological Education. At the MNT-EC Center. The Micro Nano Technology, Education Center and I'm going to introduce
the journal and talk about dissemination and outreach to Community college faculties for publishing their papers. In this presentation first we're going to talk about the gaps that are in providing publication service to Community college faculties and the reason that we started Working on this journal. I'm going to talk about the benefits of publishing papers and benefits of having access to papers for community college faculties. I'm going to talk about different types of journals
open access and subscription, and what is the policies of our Journal in terms of access and copyright. we're going to talk about how you can contribute as an author your role as a reviewer and also your role as being an editor in this journal I'm going to introduce the author guidelines we're going to introduce the website author guidelines and we're going to talk about publishing in the Journal of Advanced Technological Education. One of the reasons that we started to work on this journal, is that we recognize there's a gap in providing publication service to community college faculties.
There is a lack of educational journals, especially in the field of micro nano and other advanced technological education area. So if you're a faculty and you're teaching a course and you want to have access to a resource that you can use, for example, for teaching a lab components, the technical skills teaching a new software, A journal, an academic educational journal, is a great resource that you can reach out and use for teaching your courses. But there is a lack of these kind of journals, especially in high tech areas such as micro nano that these journals can provide content that is used by faculties, especially community college faculty that are teaching technical courses.
community college faculty usually don't have access to academic journals, and this is because their institutions are not subscribed and they don't have access to academic and educational journals. and if a faculty wants to have access to these articles, they have to pay a fee And download an article. Also, on the other hand, if you're a faculty and you want to publish your paper, for example in open access journals you have to pay a large fee, which is again Limiting your access to these publications. Publication is usually not prioritized by community college faculties and maybe the reason is, this is something that is not a requirement for promotion of Community college faculties to higher levels. versus compared to faculties that are in universities and for this reason, publishing papers, is not something that Community college faculties will Think about more often, but all of these will result in a lack of resource that faculties, especially those that are teaching advanced technological education, such as microtechnology, nanotechnology and biotechnology, a lack of resources that they can use In teaching their courses.
The benefits of launching an educational journal is that Community college faculties can have access to published articles. When they are teaching a course they can have access to an academic Journal and use article for teaching the courses. Community college faculties can also publish their work. if If you are a faculty you're using new hands on skill in your lap or teaching a new software, you can actually publish your work and make it accessible to others. Others can also use your work. There are no fees associated with publishing or access with this journal so access is going to be free. And faculties can use the published article as a curriculum resource as a very important curriculum resource For teaching their technical courses, especially in high tech areas such as micro technology nanotechnology and biotechnology.
And also faculties can stay on the cutting edge of research, they can stay on the trends that is happening in those areas which is very important for high tech areas. Informing students about the cutting edge and trends that is happening in industries involved in micro nano and bio technologies. benefits of publishing articles for Community college faculties is they can make their work accessible to other Community college faculties, they can document their educational and research methods. If they are using technical skill teaching a technical skill, they can document that work and make it accessible, they can use those publish articles for updating their portfolios for promotion. because publication is something that will help faculty for promotion either is a book or an article, it will help a faculty for upgrading their resumes. Also, if you have ATE grants, if you are a PI or Co-PI in an ATE grand, its a great way to disseminate your at project and publish your articles and The disseminate what you have been doing in your projects also when students are working in an undergraduate research project, one of the main outcomes that we expect from these, is Students will be able to write a paper from what they have been doing in the research project and publish it. So if a faculty has been involved in the process of publication
In a process of submitting, writing an article, submitting that and the process of peer review and revise they can teach students on writing their own articles and is a great way of student getting involved in documenting their research projects as well. Examples of similar journals in the in this area, we have a great journal, which is called Journal of chemical education. Journal of Chemical education provides content that is used by educators at all level ,high school Community college and universities that are teaching chemistry classes, and chemistry courses. Also, another one is Journal of engineering education, so these two journals are good educational journals that provide content, specifically for educators. And, to the best of our knowledge there isn't any journal focused on advanced technological education, for example, microtechnology, nano technology and biotechnology Because nano technology is somehow related to chemistry, if you do a search in the journal of chemical education, you can find some articles that are related to teaching nano technologies such as synthesizing nano particles, but really there isn't so many articles related to nanotechnology so because of these reasons, there is a gap that we can fill in, and by publish an educational Journal in the field of advanced technological education and make it accessible to Community college faculty so they can easily have access and use.
So as a team, we came together and we discuss different ways of processing and launching Journal in the field of advanced technological education, so we discuss different process, one of these processes is starting publications with known publishers, such as IEEE, ACS, Elsevier and so on, so we made an outreach We contacted this publishers and we talked about our idea which is opening and launching, publishing a new Journal in the field of advanced technological education. And one of the main advantages of working with known publishers, is that, because these are big publishers, they are known publishers. We can make a connection to a broad community of authors, and so this is good for making this journal sustainable receiving articles publishing them and articles will get citation so we can upgrade the journal a year by year, with working with these known publishers. But other other hand, there is a disadvantage of working with this known publisher is that these publishers either a subscription type of journals or the open access type of journals. The subscription type is where readers have to pay for accessing to an article, for example, for downloading an article and reading them. They have to pay or their institution has to be subscribed to that journal which usually for Community colleges.
The institutions are not subscribed to academic journals and if the journal is open access authors are the ones that have to pay for making for documenting their work and publishing their work and article processing fees are around. Which is a very high number is, if you don't have funds to support it it's very unlikely that you can pay this fee and publish your paper. For this reasons, we decided to launch this journal within the MNT-EC the journal of Advanced Technological Education launch at MNT-EC Center. This Journal is going to focus on two year institutions, especially Community colleges that are educators, that are teaching technical workforce Program. In high tech areas and faculties can have access to these articles without paying a fee, and it will be free for both ends.
Either authors that want to publish and document their article or readers that want to have access and use those articles in there courses a resource curriculum and faculty can become familiar with the process of writing a journal, with the process of submitting a journal revising a article. and finally publishing that in an academic Journal. So how you can contribute, first of all your role as author in writing your papers or writing your article, and if you want to document your work, your teaching a course You want to archive the technical hands on activities that you're using in your courses, is a great way to write your articles and submit this in the journal. and also your role as reviewer this is going to be a peer reviewed journal, so the articles that we receive are going to be sent out for review and if you have an expertise in a specific area and you'll receive an email from this journal.
kindly asking you to review based on your expertise and you know that you can provide comment that would be a great way of contributing with this journal. Reading those articles that we receive a making comments and informing the journal, whether that article can be submitted has to be modified or has to be rejected. Also, your role as associate editor, especially if you have been involved in being an editor in an academic journal The process of.
Being an editor which is usually are receiving the papers sending for the peer review process, we would be happy to have you as an editor in our journal. The journal scope is providing means of communication and providing a platform among people that are interested in teaching micro nano and other high tech areas. This will include to your Community colleges stem instructors for middle school, all the way to high school and also graduate school for universities, so we are trying to provide a platform that.
will serve those educators, that are teaching high tech areas, especially micro nano technologies. The topics that are covered, we are covering articles and short communication, which is basically short papers on many topics relevant to teaching and learning micro nano technologies at our level. This, as I mentioned includes our lab activities technical skills new student learning outcomes that you have used in a course.
All relevant content that is In teaching micro nano. education articles that will demonstrate new educational micro nano activities are very interesting for us to publish. hands on skills so other faculties can use this as a resources for teaching their courses and topics and related information. that can be used as a resource to those in the field of micro nano education and to those institute's and that are serving them, these are all topics that would be very interesting for publishing in the journal of advanced technological education.
Examples of articles that you can write and publish is, for example, if you are having a lab work that you have implemented or. An already existing lab work that you have somehow modified or used with a new learning outcome with the new perspective in your courses for example synthesizing. Nanomaterials characterizing nano materials, software's and simulation that, especially in a virtual environment can be used for teaching new concepts to undergraduate students . Also reporting on student learning outcomes for specific micro nano activities. These are also interesting ideas that you can write and publish in this journal. reviewing
recent educational trends in micro and nano area are also very interesting to be. published in this journal, which is making a Community college faculty aware of what is happening in this field, what kind of research is going on in this field, what is the new trends that are going on. Especially in the field of research, or in industries what. What field industries are more looking into which can inform faculties and faculties can use this as a resource teach their students and making them aware of what is happening in these fields. And the type of articles that you can submit are also found in the web page, these are going to be original articles which is a full length article from anywhere to 3 to 10 pages, and these are usually articles that are. implemented by the Faculty and they have not been submitted elsewhere review articles are articles that.
is actually a report of the activities or articles that have been published so far in a specific area, so a review Article is not an original Article or original work, but they are reporting what has been done in this area. For a specific area, for example, micro nano research in undergraduate education. A rapid communication is actually a short paper . rapid communication is informing our audience for a specific topic.
Very briefly, and this could be a very important topic, but it's not an original Article and it's shorter it goes around 1-3 page, and it could be. any type of lab work that you're using writing how you're using it, what is the result of using the lab work which is usually. shorter around 1-3 page and also conversation, which is these type of articles are initiated by the editors of the journal. And the proposal of conversational articles, is to inform the audience about what is happening in this journal, in this specific journal if we have an event or informing audience about.
new trends. Conversational articles will be used by the editors of the journal. different sections of your manuscript will include, first of all, all all manuscript will include these different sections it starts with the abstract section. And then you will have the introduction section, and then you will have the experimental materials and methods section.
And then, is the result and discussion, then we have the conclusion and the references, I want to discuss more about these sections, how you can buy these sections and what they should include. The first part of the manuscript is the abstract abstract is a brief summary of the work that has been carried out the significance of that study and a little bit talking about the result of that study. It will provide an overview of brief overview so readers can actually review that and see if this is matching their interest or they don't want to read that article or downloaded so abstract is a very important part of an article, and it provides a brief summary of the work that has been carried out and is explained in this article. Next comes the introduction section, the introduction statement is outlining the scientific motivation of this work a little bit history background for the work that has been being carried out so far, the statement should clearest pacify the relevance of the work to. The metadata a methodology that has been. The introduction section should clearly outline the scientific motivation for this article, the statement should clearly specify the relevance of the work.
To the publication, the problem that has been solved by doing this work and in original articles which is a long format of the article, the introduction section is separate from other parts. And next comes experimental section experimental shakes sections should clearly provide details of the materials that has been used. Detailed information such as purity batch, manufacturing details in a way that if someone wants to repeat this experiment, or repeat this method. They actually know exactly what to do what materials to purchase and what methods they can use to repeat that experiment and use this.
experiment in their courses this section should also provide detailed detailed information from the experimental procedures, the laboratory equipment stuffers and everything, so it will be a repeatable process for other readers that are reviewing this article. Next comes the results section, the results section should explain the main findings of that work, the results of the lab section if you're. If the purpose of this work is teaching a specific student learning outcome, what was the result of teaching that. concept analyzing the data and the result, and this question section, the authors should discuss the significance of the work observations, measurements computational models and any kind of data that they have obtained by us by by that research or. By implementing their work also the results section is a separate section which comes after the materials and methods section.
Very important part of an article is a figures. figures should be concise are very easy to read, which should sufficiently provide sufficient and detailed information of what. reviewers award readers are looking into a figure caption should also provide enough information that a reader without going back to the article can clearly understand what is going on in the article and what this picture is trying to explain. The resolution of figures is.
expected to be high, because the editorial board will not work on the figures and make it higher resolution, so we publish a what we receive so we expect those figures to be in a good shape, have clear captions so the audience and readers can. identify them and can. know what this picture is trying to explain. The references are following that all as a style and an example of how to write and reference is indicated here also you can find all of this information in the website. You can either do your references write them manually and prepare them manually, especially if you don't have a lot of references, you can do this manually and also another.
efficient way of referencing your work is using endnote or the word also has insert citation capabilities that you can easily use. And if you're doing some modification to your article revising it the end node and insert citation will automatically revise your article and revise your references without any problem. Once you have written your article, the checklist is checking your article checking all the figures and tables, everything should be clear, without any errors, without any. grammatical errors or references should be in the style of the the format of the journal, so you can overall avoid publishing articles that are not in the format listed by the journals author names and affiliation, whoever has been contributed in this journal should be named and also.
Auditors are corresponding author is required to write a cover letter. and submit with their articles, so what is a cover letter a cover letter is. Is a brief letter that you write to the editors you can indicate why do you think your manuscript is appropriate for this journal.
And you need a statement that is confirming this manuscript has not been published elsewhere, so we are not. duplicating, we are not publishing a work that has already been. published by other journals authors are agree to the terms of submission and all co authors, should have been notified, and they should be aware of the submission.
Also, the types of manuscript, you have to indicate whether your article is original one is a rapid communication is a review one, and you can suggest up to three potential reviewers that the journal editorial both can potentially use this editors and. Make the peer review process easier. If you go to the journal or website or the MED tech website, which is a micro micro education.org and clicking on the journal page, you will go to this page.
All the information that I mentioned are available for reviewing guideline for authors, you can download and review and then you have the. The icon submit your article, which is a very easy easy to use, user friendly format for submitting is a Google form that you have to fill out and publish submit your. So i'm going to end the presentation here Thank you so much for watching this video we really we are looking forward to working with you and contributing with you as an educator to the success of this journal.
2021-07-07 23:06
Show Video
Other news