Farm Monitor - January 15, 2022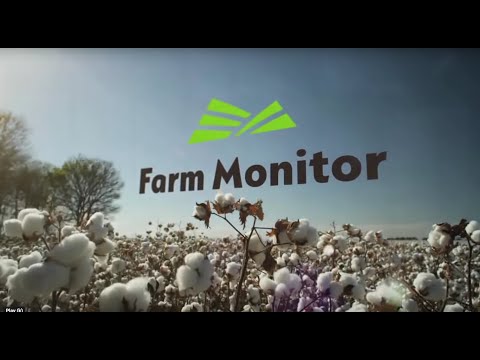 Show Video
[Music] This is the Farm Monitor. For over 50-years, your source for agribusiness news and features from around the southeast and across the country, focusing on one of the nation's top industries, Agriculture. The Farm Monitor is produced by one of the largest general farm organizations, the Georgia Farm Bureau.
Now, here are your hosts, Ray D'Alessio and Kenny Burgamy. [RAY] WELL YA KNOW, MR. RODGERS WE ARE NOT. BUT IF HE WAS HERE, I'M SURE HE WOULD SAY; IT IS A BEAUTIFUL DAY IN THE NEIGHBORHOOD, AND A BEAUTIFUL DAY TO TALK AGRICULTURE. WELCOME TO OUR HOME AWAY FROM HOME. TRUTH BE TOLD THOUGH; I WAS MORE PARTIAL TO UH DANIEL TIGER ANYWAY.
[KENNY] OH, WELL YOU LOOK LIKE MORE LIKE LADY ELAINE FAIRCHILD. [RAY] Touché [KENNY] ENOUGH OF THE JOKES. COMING UP ON TODAYS SHOW; THIS MIGHT NOT BE SUCH A BEAUTIFUL THING. UGA CLIMATOLOGIST PAM KNOX WITH YOUR WINTER WEATHER OUTLOOK. PEACH GROWERS, WORD OF CAUTION, YOU MAY NOT BE SO CHILLED WHEN YOU HEAR WHAT SHE HAS TO SAY. ALSO ON THE SHOW; THE MORE THINGS CHANGE, THE MORE THEY STAY THE SAME, RIGHT? - YEAH, WRONG! NOT WHEN IT COMES TO PRECISION AGRICULTURE.
JOHN HOLCOMB ON WHAT TECHNOLOGY EXPERTS AT UGA ARE DOING TO HELP FARMERS AND PRODUCERS STAY CURRENT ON THAT PART OF THE INDUSTRY. PLUS! [Ranger Nick] Well hey everybody, Ranger Nick. Coming up a little bit later. I'm gonna introduce you to some of the youngest dairy farmers in Georgia who are involved in this little lady and some of her friends in interactions with kids in classrooms, with technology.
You're not gonna believe it. All that and so much more starts right now on the Farm Monitor. [RAY] Brace yourself. This winter an ornery little girl will grace us with her presence. Her name, La Nina - which tends to bring drier and warmer conditions than normal across the southern U.S. Damon Jones tells you what it means for growers,
and which commodities will be affected the most. [Watkinsville/Damon Jones – Reporting] Typically, the same weather pattern is unlikely to occur in back-to-back years. However, that's exactly what farmers can expect in 2022 as it appears La Nina will be sticking around. As for what that means for their long-range weather forecast... [Damon] And so far, that forecast has played out, as many parts of the state have seen a sever lack of rain. And that could pose a major problem when growing season rolls around.
[Pam Knox/UGA Agricultural Climatologist] There's a couple of places in November that were record setting lows for the amount of precipitation. We had no severe weather at all in November which is quite rare. Um, so, I think people are starting to be glad for whatever moisture that we do have, I got about a half an inch the last couple of days.
That was good because it had been really dry. Uh, and so, we do need to have that rain in the winter because that's the pool of water that we have available once we go into the next growing season. [Damon] As for the crops that will be affected the most in the immediate future, peach growers should be the most concerned. [Pam] One is the, is the fruit farmers because of the chill hour issue. Um, they don't get enough chill hours and that kind of throws off their plans for next spring.
Ad that can affect the amount of bloom that they get and, you know, how it happens. It also makes it a little more vulnerable to a late frost because if the plants do get enough chill hours, they're going to be ready to go in the spring. If we have a warm spring, warm February, the plants are going to come out of dormancy pretty fast and that really makes them more vulnerable to a late frost.
[Damon] That's not the only industry a warm, dry winter could impact as cattlemen rely on forage to supplement their herd's dietary needs. [Pam] The other group that's um, probably affected the most is people who are doing winter pastures and forage and small grains as well, because they need that moisture in the winter to kind of get their crops established. By now, it's pretty late in the year. So, if they're not established, I think they're kind of out of luck but um, you know, they have to have that moisture so that the pastures are ready in the spring so that livestock, which they're running out of hay usually by that point, that livestock have something to graze on.
[Damon] While a number of the staple crops are still months away from being put into the ground, farmers should still keep a close eye on the weather throughout the year as it will affect them come planting time. [Pam] Typically, in Georgia, after we have a La Nina winter, especially if we switch back to neutral or to El Nino conditions, we are more likely to go into drought in the next growing season. There's a couple of reasons for that. One is that um, we don't have as much recharge over the winter. And so, there's not as much soil moisture that's built up our bank account of water if you will. Um, but also the warmer temperatures mean more evaporation over the winter.
So, that also takes moisture out of the soil. [Damon] Reporting from Oconee County I'm Damon Jones for the Farm Monitor. [KENNY] Between higher input costs, stagnant prices, and shrinking bottom lines, farmers and producers need to be as efficient as possible in order to remain profitable, and more importantly, stay in business. Thankfully, as John Holcomb reports, precision Ag research currently being done by UGA Extension is hoping to help producers, right down to the seed. [Watkinsville/John Holcomb – Reporting] Throughout the years, technology has certainly helped the agriculture industry keep up with growing food demands and remain profitable; a trend that doesn't seem to have an end in sight, which is why research being done like that of Simerjeet Virk, a Precision Ag Specialist with UGA Extension is so important, as he and his team can help producers in the state by knowing what precision technology tools work best. [Simerjeet Virk/Precision Ag Specialist, UGA Extension] Some of the research we're doing is primarily focused on the different evaluations of technologies so we can provide growers options on, what options are available out there but how these technologies can help at their farm and their operation because not every technology will fit on each farm.
You know, there are, I think of precision ag as a toolbox with different options and each farm will need a different set of tools that are working or combined together, along with the data to make the smart crop production decisions and help them increase the productivity. [John] And in the age of skyrocketing input costs, it's more important than ever to be as efficient as possible starting with the seed, up until it's time to harvest the crop, which is exactly what these new technologies, like yield monitors, field drones, GPS Systems, and others do. [Simer] It's not always about uh, increasing the seeding rate or increasing the fertilizer. What technology is also helping us do is maximize the crop input efficiency. So what that means is that we, we may be putting out more fertilizer in one part of the field but it also kinds of helps us lower in other parts of the field, so it's more of where it's needed in the field, how much it is needed, and even when it's needed and the technology is helping us making sure that we're meeting all those checkmarks to apply the right amount of crop inputs at the right place at the right time. [John] The problem, however, is that a one size fits all approach doesn't work, which is why the new technologies out there and the data they can provide, can certainly help producers on their operations.
[Simer] There are lot and lot of technology and even data options available right now in the precision ag area. And not all of them are equally applicable, if not some of them that all to every farm. So each farm in itself is a very different production environment. Even on a same farm of one field can have a very different soil type and other production environment than the other field on the same farm.
[John] At the end of the day though, it all comes down to being able to use these new technologies and being able to afford them, but Virk is confident that no matter how big or small, every producer can benefit from them. [Simer] If you are a farmer who um, has a lot of acreage you know, and a cash flow, it is easy for those growers to justify some of the newer technologies which are expensive and advanced, and then some of the basic technologies we have figured out that their return on investment, it just depends on the farm size, Uh, uh, a grower with small farm may see the return over a longer period of time, whereas a grower with large acreage would be able to pay for itself within one or two years. [John] Reporting in Watkinsville for the Farm Monitor, I'm John Holcomb. [Ranger Nick] Well, hey everybody coming up next.
I'm milking this next segment for all it's worth. We're talking about a dairy, bringing it into the classroom, and introducing kids to these wonderful critters. After this. [Music] [Music] [Narrator] All around us challenges are growing.
Populations, climate, demand for resources. At the University of Georgia's College of Agricultural and Environmental Sciences we are growing with these challenges. Joining with fellow researchers around the globe, we are merging traditional agriculture practices with advancing technology and modern tools to improve our world. From the clothes we wear, to the food we eat, to the water we drink, our scientists are doing the work that is needed now to create a more sustainable future for generations to come.
Through teaching, research, and extension, we are equipping producers and the next generation to become our nation's leading advocates for progress and conservation. Our researchers are examining the tiniest molecules and largest industries to transform the way we grow our food, protect our environment, and care for our people. From rural landscapes to urban communities, our experts are on the ground working to build safe and sustainable food systems, improve environmental stewardship, and better people's lives, In Georgia and beyond. We are CAES. Join us as we commit to the health of our planet and the well-being of the people on it. [Music] [Dr. Nick Fuhrman/UGA Professor, Warnell School
of Forestry & Natural Resources] Well, happy late new year everybody. Boy, we start out this new year, and maybe you've got a resolution that involves encouraging others to get more into agriculture. And I wanna introduce you to somebody that was a former student of mine, and she still wants to hang out with me. And that's Shelby Waldroup.
Shelby is one of the youngest dairy farmers in the state of Georgia. And I'm gonna introduce you to her husband here in just a little bit. But Shelby had an opportunity here not too long ago to begin a program, she was working with me called "Moo Masters". Shelby, tell us a little bit about this idea of moo masters, and how it links teachers with little ladies like this.
[Shelby Waldroup/Waldroup Dairy in Lagrange, Georgia] Yes sir, it would be a pleasure. Um, I'm a Ag teacher and, hearing from other ag teachers, especially since elementary ag is coming up. Um, there was a lack of resources for our teachers, especially in the animal science segment, and because of my love for, um, the dairy industry and working as the women's committee chair for the Troup County Farm Bureau, I wanted to make resources, um, during my time at UGA, um, dealing with dairy. And so, I created a series called the Moo Master Series, and this allowed students to learn different segments of the dairy industry.
And at the end of their program, they became certified Moo Masters, and they were challenged to actually go out and become agriculture advocates for our industry [Nick] And what a great speaker and teacher that Shelby is doing. Shelby, so we are looking at this little lady right here. Folks at home, teachers in a classroom here in Georgia, or even in the Southeast, could learn about this lady.
How long is she gonna spend time in here before going elsewhere on your farm? [Shelby] So, in this particular place, she's actually gonna spend approximately ten weeks in here. [Nick] Okay. [Shelby] Um, during this facility, she gets two bottles a day along with grain, and then after she leaves this particular area, she'll go into the waning pen [Nick] Which is over there. And the friends, the teachers, the students are learning about this online and they're engaging with agriculture and you and these calves that way. Now what I wanna do, is I want to take the folks inside of the barn and introduce your husband and learn about some of the things that he's done to bring that connection to ag and what wonderful things ag in the classroom has done for him.
So let's move there next. [Nick] Well, let me introduce you to Shelby's other half. This is Austin Waldroup.
Hey Austin, good to meet you. [Austin] Hey! good to meet you. [Nick] Thanks for letting us come out to your farm.
Austin got started in this business, Austin. I'm gonna just tell him that you're twenty-five years old, been farming as a business owner, as a dairy farmer for six and a half years here. This all started for you as a teenager in an ag classroom.
You want to give a particular shout-out to any ag teachers out there. [Austin Waldroup/Waldroup Dairy in Lagrange, Georgia] Yes, Doctor, Dr. Riley, and Ms. Lou Anne Jones. They were my high school ag teachers [Nick] The power of a teacher.
And look at what Shelby was talking about, bringing the classroom right there to this farm with technology. So, I wanna learn from you some of the things that you've learned as a dairy farmer, as a businessman. I wanna start with what's in this bucket down here, cuz a lot of folks at home, maybe you've seen a dairy before you think about what dairy cows eat.
Tell me something, I'm looking at this bucket full of feed and kind of feed my ego here a little bit. So what kinda stuff are you feeding these cows out here that's maybe a little different than a typical dairy operation? [Austin] Well, see, my dairy operation is a grazing operation. Which means my cows are housed on pasture three hundred sixty-five days a year, instead of being confined in a free-stall barn and their feed brought to 'em. My cows go graze.
So when my cows come into the polar to milk, they get ten pounds of feed each milking, and so twenty pounds a day of a custom-blended ration. [Nick] And it smells great. I gotta tell you, and I smell a little orange in here too.
[Austin] Yes, it does have byproducts from orange juice and which is orange peelings into a pellet [Nick] Interesting. And there's corn in there and there's cottonseed you told me as well? [Austin] Yep. It's the byproduct from your blue jeans and your t-shirts from a cotton gin. [Nick] No kidding. And I'm seeing kind of that lint in here that they're eating and that's how incredible stuff you learn. [Austin] It's high in protein, which is really good for the cow to make milk.
[Nick] Interesting. [Austin] And the orange is a high energy. So it's a high-energy protein feed. [Nick] This stuff you learn. I can't believe it. So Austin, I gotta ask you something.
The stuff that's around us, this used to not be in this barn. You took this farm over six and a half years ago. Changed a lot of stuff. Tell us about these things. We see 'em on TV sometimes, but I didn't grow up on a dairy farm. I don't know.. what is this thing?
[Austin] Yes, me and my brother and dad, we took over this farm six and a half years ago and this farm was built in 1940. It's an existing facility. And without my brother and daddy, we would not be; Waldroup Dairy would not be where it's at today. So, we all, we made some management improvements to better the farm and [crosstalk]. Yes efficient.
[Nick] Good, good, that's good [Austin] And better for the cows. [Crosstalk] what you're looking at, it's called an automatic takeoff. [Nick] Okay. [Austin] So what it is, when the cow comes into the parlor, which we milk in a herringbone milking parlor, So the cows come in, and they sort of go kick-off to an angle.
[Nick[ Okay. I can see that here in the stalls. Okay. [Austin] Yes. After we prep 'em which we prep 'em with an iodine solution, and we fore strip'em to make sure there's no mastitis and the milk is not discolored.
Okay. Then we'll wipe 'em with a microfiber rag, to wipe the iodine off. And that will stay on em for about thirty-five seconds. Then we'll wipe 'em off. Then we'll turn the milker on, which is not on cause the system is not on. We'll turn, press this button to green, which the vacuum will come on, and this chain will release and will attach the milker to the cow.
And after this, has a flow sensor in it. And after it senses that cow has about a pound and a half to two pounds of milk left in her utter, it will sense that she's done milking... [Nick] Time to stop.
[Austin] It's time to stop where we're not over milking like they did in the old days. Cause in the old days they would just say, we need to get all the milk out of the cow, all the milk. Well, over years of research, we have learned, that's not the best way to milk a cow. It's better to leave a little bit of milk than get all of it out.
So after about two pounds, it will come off and suck back up. It also tells us how much milk that cow is given at each milking. [Nick] So you can track that as well. [Austin] Yeah. So if she comes in and she's off milk, that means she's not eating enough feed and grass, and she's either sick and we can catch it quicker versus not having it. [Nick] And looking out for that animal's welfare.
Right. So important for folks to know about. I love it.
Thanks so much. And y'all thanks so much for checking this out this month. Listen, while you're online, checking out the Farm Monitor Facebook page, go on over to discovery, dairy.com. You can search Georgia and look up this farm right there. If you wanna bring this farm into your classroom or show your folks in your living room, check out the Ranger Nick Facebook page while you're online, see what I've got going on.
And until next time for the Farm Monitor, as I always say, enthusiasm is contagious, so pass it on. Y'all thanks so much for watching. Look forward to seeing you right back here again this time next month. See ya.
[Music] [KENNY] When we come back; It's a detailed look at how air pollution, specifically excess nitrogen, and sulfur deposition, affects soil quality and tree's native to Georgia. Stay with us. [Music] [Music] [Narrator] In 2017, the U.S. Department of Agriculture Forest Service estimated forest land comprised seven-hundred sixty-six million acres or thirty three percent of the total land area of the United States. The U.S Department of Agriculture Natural Resources Conservation Service indicates there are nine hundred and fifty tree species native to North America.
There are also over one-hundred non-native tree species that have escaped cultivation and are naturalized in the wild. These forests and trees provide us with a wide variety of ecological goods and services such as food, medicine, clear air, fresh water, timber, wildlife habitat, and recreation opportunities. People of all ages, and from all walks of life enjoy our national forests. Human caused air pollution is a threat to these areas.
Once pollutants from industry, transportation and agricultural activities are released into the atmosphere they are transported downwind where they may be deposited onto the ground and into waterways as components of rain, snow, fog, gases, and other fine particles. Most people are familiar with one of these phenomena, acid rain, which has impacted key tree species like the Sugar Maple and Red Spruce. When excess sulfur or nitrogen is deposited into a terrestrial ecosystem, like a forest, changes to soil chemistry may occur. One of the results is soil acidification, which removes nutrients like calcium, magnesium, and potassium from the soil causing nutrient imbalances and deficiencies in higher plants like trees. Additionally, soil pH can decrease, and the amount of dissolved aluminum in the soil, which is toxic to plants can increase. A second impact is Eutrophication, which happens when an ecosystem receives too much nitrogen.
Although nitrogen is a fertilizer and can stimulate growth in many forests, too much available nitrogen in the soil can upset the competitive balance among different tree species. The species that respond well to higher amounts of nitrogen may grow faster and better, out competing those that are adapted to poorer nutrient conditions. Ultimately both acidification and eutrophication can lead to decreased tree health, a change in species composition, and a reduction in overall forest health, including the productivity of the forest.
Species that are sensitive to excess nitrogen or sulfur deposition can become stressed and more susceptible to drought, freezing, extreme temperatures, insects, and pathogens. These trees may experience reduced growth, damage to their crown or foliage, and increased mortality. These changes also impact the humans and animals that depend on these trees and forests for the ecological goods and services they provide.
This brings us to the concept of critical loads, which are used to identify when an ecosystem or a part of an ecosystem begins to experience harm from sulfur deposition, nitrogen deposition, or both. When the deposition from these elements reaches or exceeds the critical load damage is expected to occur. Tree species also differ in their sensitivities to nitrogen deposition, as it can act as both a atrophying and acidifying agent. As a result, tree species in the same forest can have different critical loads. For example, American beach responds positively to a medium amount of nitrogen deposition and will increase growth under these conditions.
In the same forest however, Yellow Birch responds negatively to nitrogen deposition and may exhibit a reduction in growth. Furthermore, the sensitivity of a tree species to deposition may differ by location because of soil conditions. For example, in some forests, soils are thicker and have developed from base cation rich parent material, giving the soil the ability to buffer acidifying nitrogen and sulfur deposition. The soil chemistry in such forests is therefore less impacted by air pollution and acid sensitive species, such as sugar maple have a higher critical load than those found growing in forests with poorer soil conditions. It is therefore import for forest managers to understand the tree species and forest ecosystems that they manage to better understand how air pollution may be impacting their forests and the services they provide.
[Music] [RAY] SOME REALLY GOOD INFORMATION THERE. HEY! BEFORE WENT SEND YOU ON YOUR WAY, A FRIENDLY REMINDER THAT FOR ALL THE LATEST AG NEWS REGARDING FOOD, RECIPES AND WHAT'S HAPPENING ON GEORGIA FARMS, BE SURE YOU CHECK OUT ALL OF OUR SOCIAL MEDIA PLATFORMS INCLUDING FARM-MONITOR.COM. YOU'LL STAY INFORMED AND SEE WHAT'S UP IN THE WORLD OF AGRICULTURE AND WITH US HERE AT THE SHOW. [RAY] TAKE CARE EVERYBODY, WE WILL SEE YOU NEXT TIME, RIGHT HERE ON THE FARM MONITOR. [KENNY] HAVE A GREAT WEEK
2022-01-20 08:26
Show Video
Other news