Dahua HDCVI TEN Year Anniversary Launch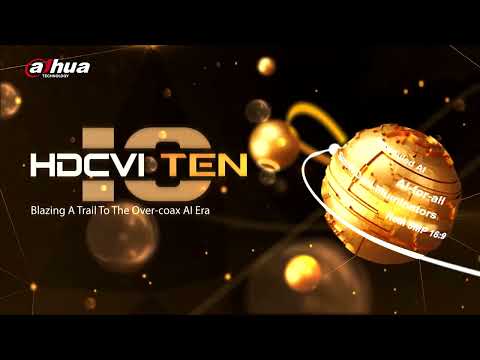 Show Video
Good afternoon ladies and gentlemen. I'm pleased to welcome you to our HDCVI TEN YEAR ANNIVERSARY LAUNCH. I'm Jeffrey Chiang, It's my greatest pleasure to be your host, and I would like to thank you all for joining us here on this special occasion. In 2012, Dahua Technology launched its in-house HDCVI technology, which has led the industry's evolution of analog video monitoring from standard definition to a high-definition era. For the past ten years, HDCVI technology has continuously led the industry, while HDCVI products have been loved and supported by countless customers worldwide.
Ten years is a milestone. In the coming decades, Dahua will be committed to leading the HD-over-coax technology into the comprehensive AI era and creating value for our customers with technological innovations. Today, We have an exciting agenda for you, including the opening remark by Dahua Senior Vice President and General Manager of overseas business – Jason Zhao, followed by a HDCVI Team Interview, the Introduction of HDCVI TEN technology, clients stories with Dahua HDCVI, and the celebration from our global clients. Without further ado, to kick start the event, I would like to invite the Dahua Senior Vice President and General Manager of overseas business – Jason Zhao, to deliver his speech. Ladies and gentlemen,good afternoon! My name is Jason Zhao and I am the Dahua Senior Vice President and General Manager of overseas business. Welcome to the opening ceremony of the Dahua HDCVI 10 year anniversary global celebration.
Today, we are gathered here to celebrate the 10-year milestone of HDCVI, together with our valued partners who have accompanied and supported HDCVI throughout the decade. Today is a grand celebration for everyone in our HDCVI family. Again, welcome everyone! Ten years ago, Dahua first released the HDCVI technology with independent intellectual property rights. This was an innovative technology with generational significance at that time. The HDCVI technology offers high-definition, long-distance, lossless and no delay transmission, transforming the analog video monitoring industry from standard definition to a millionth level high definition era. At the same time, the simple and seamless upgrade of HDCVI technology also enables hundreds of millions of traditional analog video surveillance users around the world to truly enjoy the benefits brought by this technological revolution.
Over the past decade, HDCVI has led the HD-over-coax industry to climb new heights. In 2013, HDCVI was adopted as the first international standard in the security industry and has released the first independently developed chipset. In 2017, HDCVI released the Digital Audio-over-coax technology. From 2019 till now, with our constant industry-leading technologies including 4K Real-time, SMD Plus, AI Coding, Super Adapt, and more, HDCVI provides users with clearer and more accurate monitoring experience, and more intelligent and efficient video analysis. This year, HDCVI will lead the HD-over-coax industry into a new AI era. We will promote the in-depth AI upgrading of the HD-over-coax industry through AI technology and AI-for-all products.
We will release a new Scheduled AI technology that can intelligently adapt to all kinds of applications. Our new Smart Dual Illuminators technology will integrate smart target detection and full-color monitoring. Overall, we will provide users with more comprehensive and easy-to-use HD-over-coax AI intelligent solutions. Over the past decade, HDCVI products have covered all walks of life in more than 180 countries and regions around the world, with a total global sales volume of more than 200 million units. We are very fortunate to witness the growth of thousands of our global HDCVI partners. Their team is growing and their business is increasing.
They grow together with Dahua and share the success brought by technological innovation and business development. In the future, HDCVI will continue to adhere to our primary goals, address customer needs, and deeply cultivate technological development. We will create more sustainable development value for our global customers and partners through our strong technological innovation capabilities. On this occasion, the 10 year anniversary global celebration of Dahua HDCVI, I sincerely invite our new and old customers and partners around the world to celebrate with us. Let's enjoy the joy of success and look forward to a brighter future together.
We hope all of you will enjoy this celebration, and now let's watch an interview with the HDCVI founding team. Thank you! A big thanks to the HDCVI founding team for sharing their stories. Next, Please welcome my colleague,Danny, who will introduce the HDCVI TEN.
Hello everyone. I'm Danny, from the Dahua Overseas Product Marketing Department. Today I'm very honored to introduce the HDCVI TEN to you.
As you can see, this year, our theme is "Blazing a trail to the over-coax AI era." It means HDCVI has been in the leading position in the analog market and will continue to innovate and develop new ideas and features to bring more value to our customers. Before introducing this new technology, let's review the basic HDCVI features together.
HDCVI is Dahua's patented in-house technology. It is an over-coaxial cable video standard that enables long-distance HD video transmission over a wide range of application scenarios at a friendly cost. It supports 4 signals transmitted over 1 cable, up to 4K resolution, up to a 1,200 m long-distance transmission, and seamless upgrades. Since HDCVI technology's first launch in 2012, 10 years have passed, and we haven't stopped innovating. This year, HDCVI has entered a new phase —HDCVI TEN. HDCVI TEN has four core technologies: AI-for-all, Scheduled AI, Smart Dual Illuminators, and Real 5MP 16:9.
With these technologies, we are leading the over-coax evolution of AI and high resolution. Let me introduce the specifics of AI-for-all. What is AI-for-all? I'll sum it up in three aspects. Firstly, all XVRs are upgraded to AI. Dahua released the Cooper-I series XVR, the first entry-level XVR on the market equipped with AI. Secondly, the AI function can benefit all people by saving time and labor costs.
Last but not least, in the past, there was a reluctance in accepting AI due to its difficulty of use. But now, all users can configure AI more easily with its user-friendly design. The AI XVR supports AI functions based on the AI chipset and deep-learning algorithm, achieving precise recognition of humans and vehicles.
Some supported AI features include SMD Plus, Perimeter Protection, and AI Coding. SMD Plus, short for Smart Motion Detection Plus, can recognize human and vehicle shapes based on motion detection to reduce false alarms. SMD Plus enables accurate alarm and only alerts for human/vehicle intrusions, helping users focus on what really matters: saving time and labor costs from checking false alarms. SMD Plus enables quick target search. Users can freely choose the target type, significantly improving search efficiency. SMD Plus can be applied to scenarios such as small stores, villa yards, warehouses, and especially when the site lacks a security guard.
With SMD Plus, users can receive an immediate alarm when a person or vehicle is trespassing. Meanwhile, the active deterrence camera wards off the intruder with white light and siren, effectively reducing property loss. The next function is Perimeter Protection. It is based on IVS and can filter false alarms caused by unnecessary objects.
Also, when playing back surveillance, human or vehicle options help realize quick search. This year, we made efforts to improve the channel numbers of Perimeter Protection. Now, Perimeter Protection supports a maximum of four channels to meet users' requirements. Perimeter Protection allows users to set tripwire or intrusion rules according to actual needs.
For example, users can configure a specific area where uni-directional crossing is prohibited. Perimeter Protection's Push notification also includes intrusion-type information of humans or vehicles. Using Perimeter Protection can significantly reduce time and labor costs wasted on checking false alarms.
The next function is AI Coding, which emphasizes humans and vehicles while encoding, protecting the target image quality while saving 50% bandwidth and storage costs compared with standard H.265. When users choose the AI Codec encoding method on the XVR UI, the default stream bit rate will automatically drop to half of the standard code stream. Meaning users could lower the bit rate according to their actual needs. For example, suppose we calculate 1-month of video storage for eight 2-mega-pixel cameras using the default bit rate. In that case, users will need 12TB of hard disk drive space for recording when using H.264 and 6TB of hard disk drive space for H.265. But, when using AI Coding based on H.265,
users only need 3TB. Therefore, AI Coding technology significantly saves bandwidth construction and storage space costs. Unlike H.265+, which adopts Variable Bit Rate (VBR), AI Coding uses Constant Bit Rate (CBR), which has a relatively steady stream, making it easy to deploy bandwidth and improve bandwidth utilization. AI Coding is applicable to various scenarios where the details of humans and vehicles should be guaranteed.
It can be widely used in warehouses, villas, shopping malls, and more. This year, aside from AI, we also have an amazing function called Scheduled AI. In the past, only one AI function could be enabled on a channel. Users needed to configure the switch between other functions manually.
Now, with Scheduled AI, the AI functions can be set according to different time frames, improving efficiency and expanding applicable scenarios. For example, retail stores: During operating hours, you could schedule SMD Plus to detect customers and give them a friendly greeting. The Scheduled AI would then switch to Perimeter Protection to deter potential threats when the store is closed. Or maybe you've got a pesky neighbor who constantly allows their friends to park in your driveway! Schedule Perimeter Protection during workdays to let them know "No Parking!" Then protect your home throughout the nights and weekends with SMD Plus, discouraging unwanted visitors by informing them that they are on "private property" and should "keep out!" Similarly, Scheduled AI can be used in an abundance of scenarios like coastal areas, schools, public swimming pools, and more. In summary, Scheduled AI allows you to select the day and time of each AI function for when you need it! Instead of having to switch between them manually.
Also, the HDCVI XVR supports linkage with the TiOC 2.0, allowing you to broadcast different voices linked to different AI functions. In order to bring more convenience and flexibility to end-users, the TiOC alarm can be customized according to actual needs. Users may upload the customized ringtone by both XVR and DMSS app.
The XVR also supports One-click arming/disarming to the whole CCTV system. When disarming is enabled, users won't be disturbed by the alarm notification, including the warning light and siren. And in the new XVR firmware, users can freely choose not to be disturbed by the app or platform when the event notification is disabled. What's more, aside from the XVR UI and DMSS app, the XVR arming/disarming can be controlled by a device's local alarm. For example, users can press the alarm switch to achieve quick arming/disarming control of the device for added convenience. Full-color cameras are popular for their performance at night.
This year, we released Smart Dual Illuminators cameras based on Full-color, further broadening the application scenarios of Full-color. The Smart Dual Illuminators of HDCVI are a complete system. The camera's supplementary white light will only activate when the target is detected by the SMD Plus or Perimeter Protection function of the AI XVR, significantly reducing light pollution at night. With two kinds of fill lights, Infrared and white light, the Smart Dual Illuminators cameras support multiple illumination modes, which can better meet the various scene requirements of the customers. In Smart Illumination Mode, the white light will only turn on when AI XVR detects a target in the rule area.
When the target leaves the rule area, the white light will turn off, and the IR illuminator will turn back on. With Full-color features, the camera can collect more effective information for further analysis. The camera also adopts a high-performance chipset, a large aperture lens, and a warm white light to ensure image quality in low-light conditions. In monitoring scenes like shops late at night, there are usually no humans or vehicles.
Smart Dual Illuminators can significantly help reduce light pollution while ensuring effective information collection. The last part is Real 5-mega-pixel 16:9 When we talk about Real 5-mega-pixel cameras, many people may be wondering why it is called "Real." The Real 5MP 16:9 camera can present real monitoring scenes and support real-time transmission and real image optimization. Image quality loss caused by stretching from traditional 5MP 4:3 video output has become an issue for consumers and users, especially in surveillance, where image clarity and effective target identification are paramount.
Real 5MP Cameras with 16:9 video output can better fit standard HD displays, thus providing undistorted image performance with optimized visual experience for HDCVI users. Compared to the previous 5MP@20fps output, the Real 5MP camera is the first camera with 5-mega-pixel real-time video output. It effectively restores the monitored scene with a more fluent visual experience.
The Real 5MP 16:9 camera also supports industry-leading Super Adapt technology, which can recognize and adjust to various monitoring environments such as indoor, outdoor, or areas with intense lighting, providing excellent image performance. Real 5MP 16:9 is applicable to Parks, Casinos, Museums, and other scenarios that need clarity and fluidity in video surveillance. Real 5MP 16:9 monitoring helps to guarantee security in critical areas. Here are the key products of HDCVI TEN. As for the HDCVI cameras, there are 1080P and 5MP —two kinds of Smart Dual Illuminators products, and a complete Real 5MP 16:9 product portfolio. As for the XVR, all products have been upgraded to AI, making AI accessible to everyone.
With the mission of "Enabling a safer society and smarter living," HDCVI will continue being innovative. We have been imitated by many but surpassed by none. We will continue to work hard and bring more possibilities to our customers in the future. Thank you! Now let's take a look at some client stories clips and how theythey've grown with HDCVI
2022-04-07 16:54
Show Video
Other news